You've gone to the nursery to source soil and seeds for your fabulous new herb garden. You've got the whole set up in mind and you can't wait to be able to season your roast lamb with fresh rosemary from the backyard (delicious!). But the only problem is, you don't have the space… Let me show you the most perfect vertical herb garden ideas.
When it comes to growing a garden, one of the most common misconceptions is that you need a lot of space to work with. But the good news is that you don't need a huge backyard to grow your favourite herbs.
You can start your herb garden even if you have a small backyard or live in a tiny apartment.  This vertical trend allows you to create your very own herb garden on any wall – even inside. By planting upward instead of outward, you'll be able to make enough space for any combination of herbs.
The best part is that you can DIY a vertical herb garden all by yourself. As you'll see, the process is fairly simple. Think tin cans, clay pots, wooden planters, bamboo baskets, classic terracotta pots, wire frames and more. There are so many options that will help you save on both space and money.
Ready to find an option that's best for you and your family? Explore 35+ vertical herb garden ideas below.
1. Timber herb garden
I love this simple garden solution. Timber is a great choice that will always look good. And the great thing about timber is that you can leave it exposed and natural or you can paint it any colour you like – the choice is yours.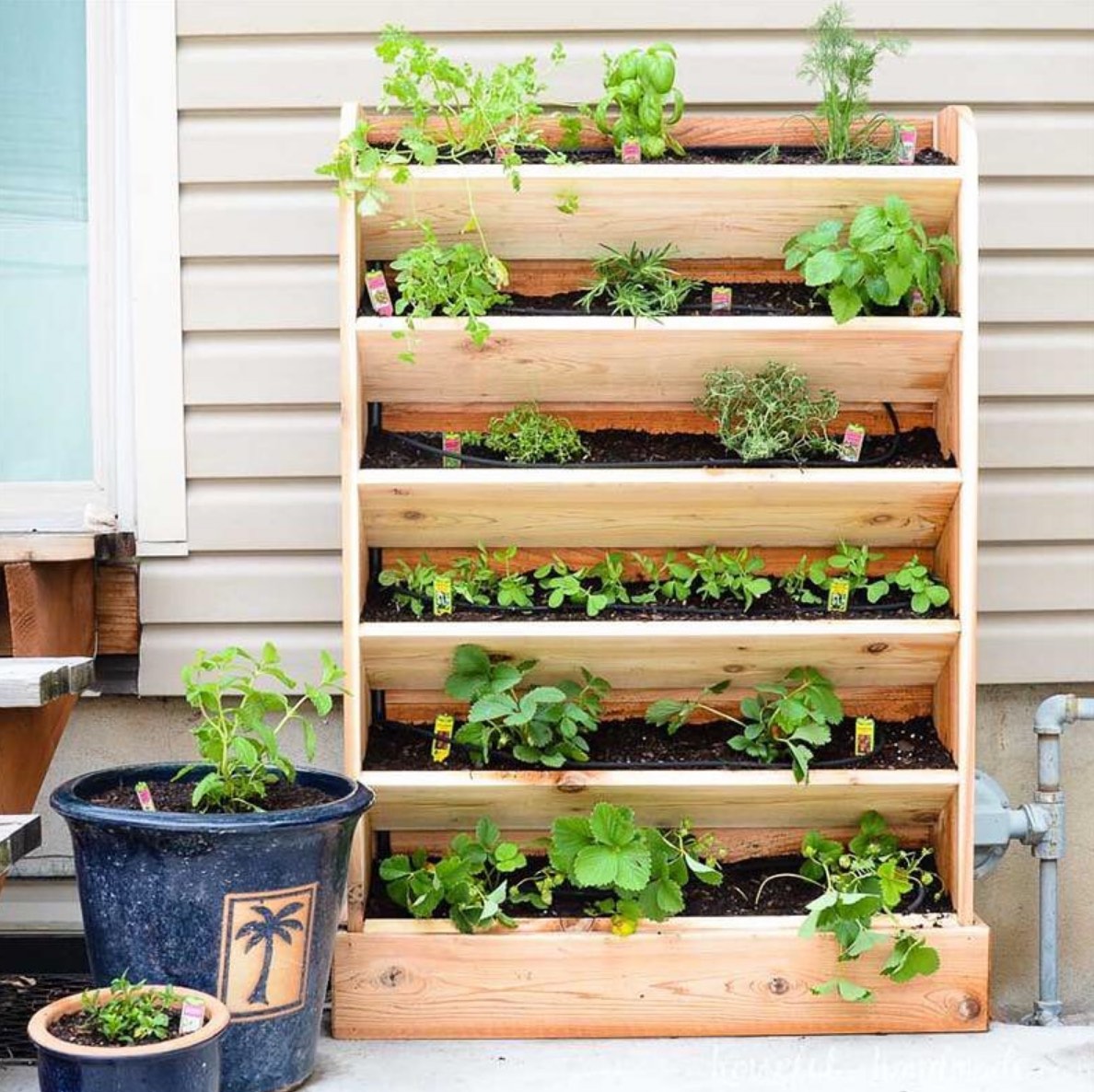 2. Wire frames
How clever is this installation? I love how the pots have been carefully arranged on this black wire frame. This is both aesthetically pleasing and incredibly practical. And this kind of setup is one that you could have outside on an exterior wall or inside near your kitchen (just make sure your plants get sun!).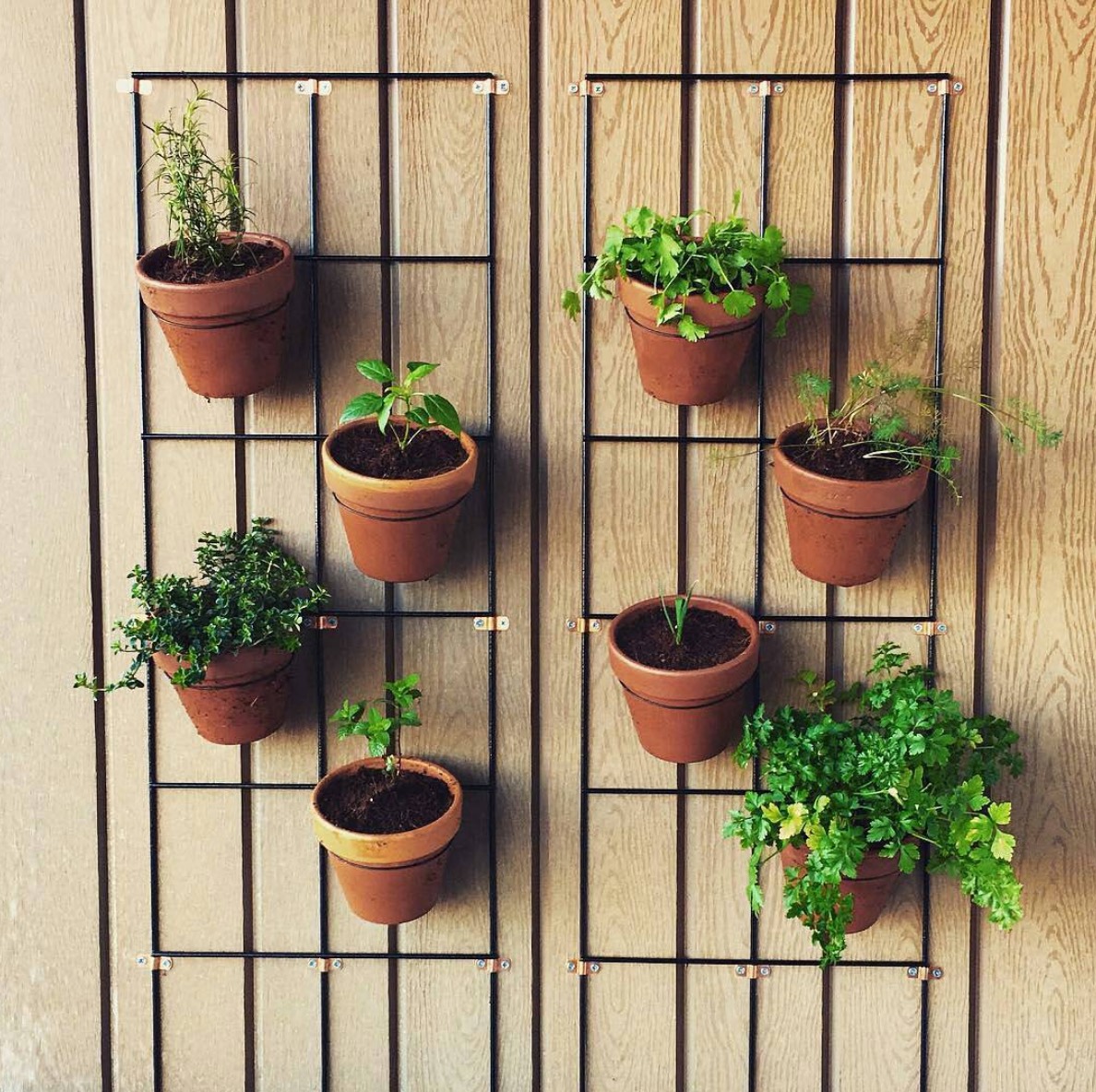 3. Make it white
Light and bright – how perfect is this white setup? This is a great choice if your want your vertical herb garden to blend in to an exterior white wall. I love how this planter has spaces for two plants on each level, creating interest and intrigue. You can also position your planter so it sits perfectly underneath a light fixture, like in this design.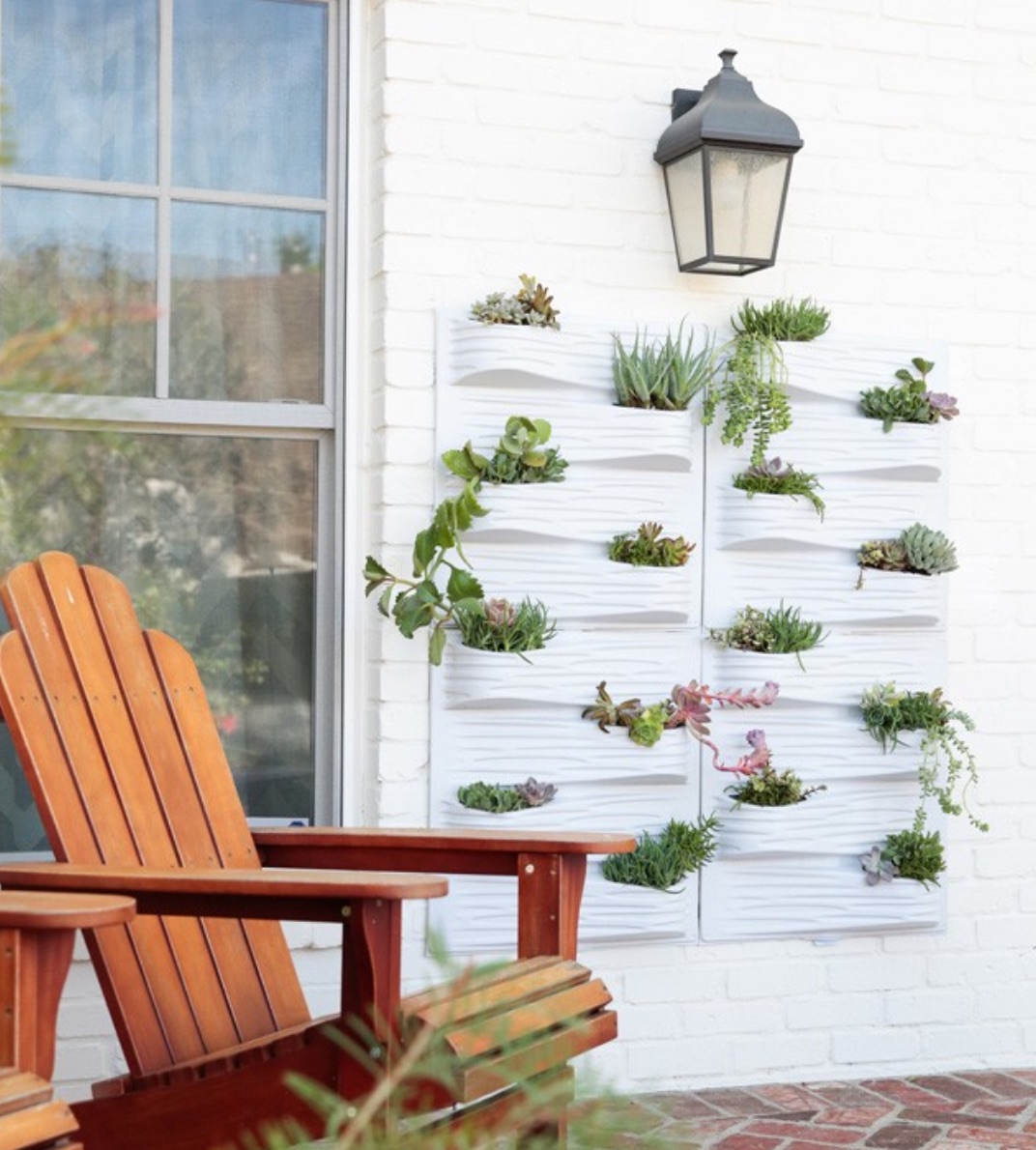 4. On the side of the house
Ooh, this has got to be a sure favourite. I love how this vertical herb planter is integrated with the exterior wall of this area. In fact, it is the wall! This makes plants accessible from any side of the wall. And they look so gorgeous flowing down over the timber boxes.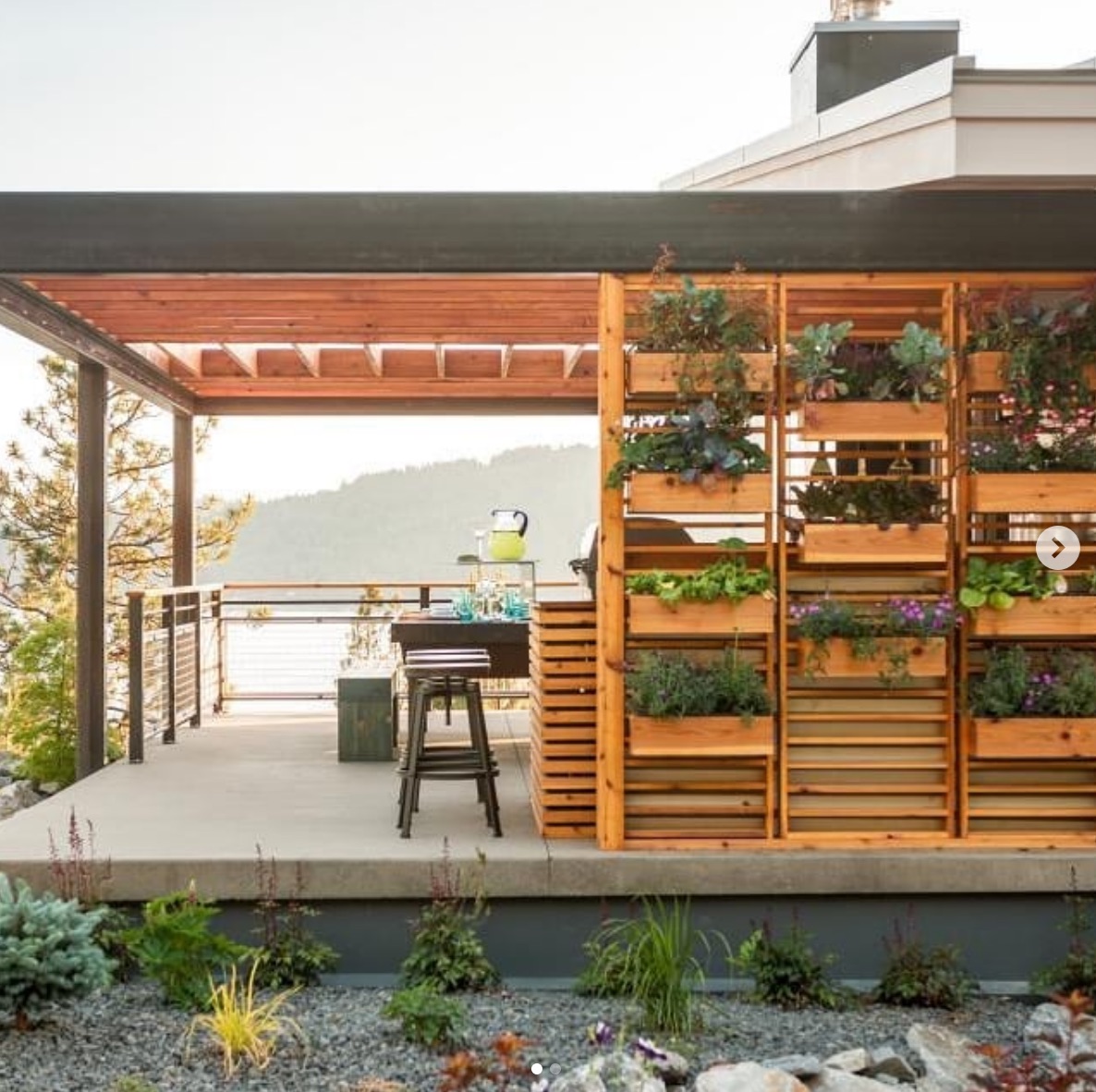 5. Simple and small
Keep things minimal by hanging little tin pots over a metal frame. The benefit of having pots with handles is that you can detach and re-attach them at any point, making it easy to water, feed and care for them.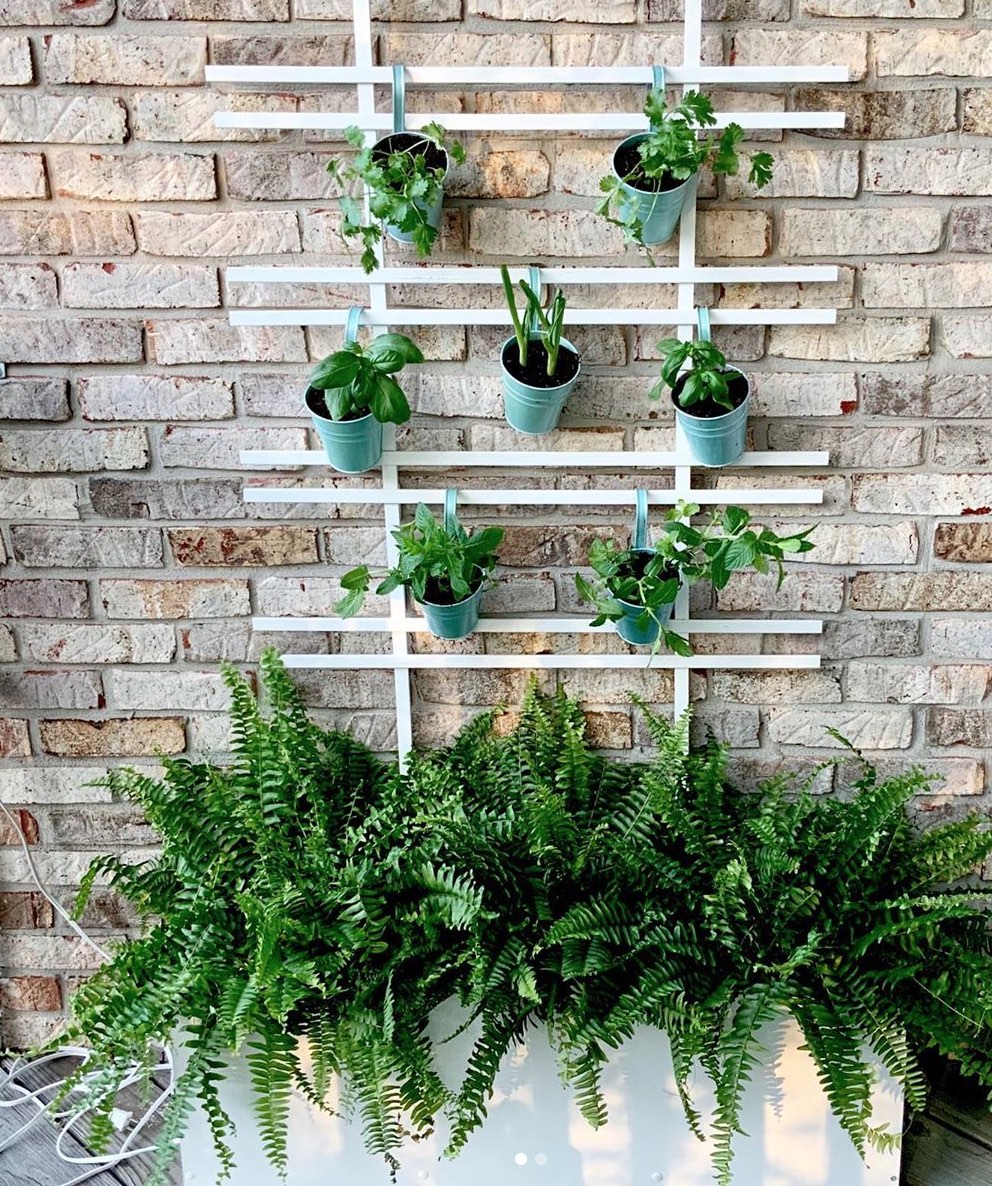 6. Apartment herb garden
If you're in a tiny space, the balcony is your friend! Take this vertical garden as inspiration for your next DIY project. It makes the most of a simple metal frame which houses all different shapes and sizes of herbs that are fresh for the picking!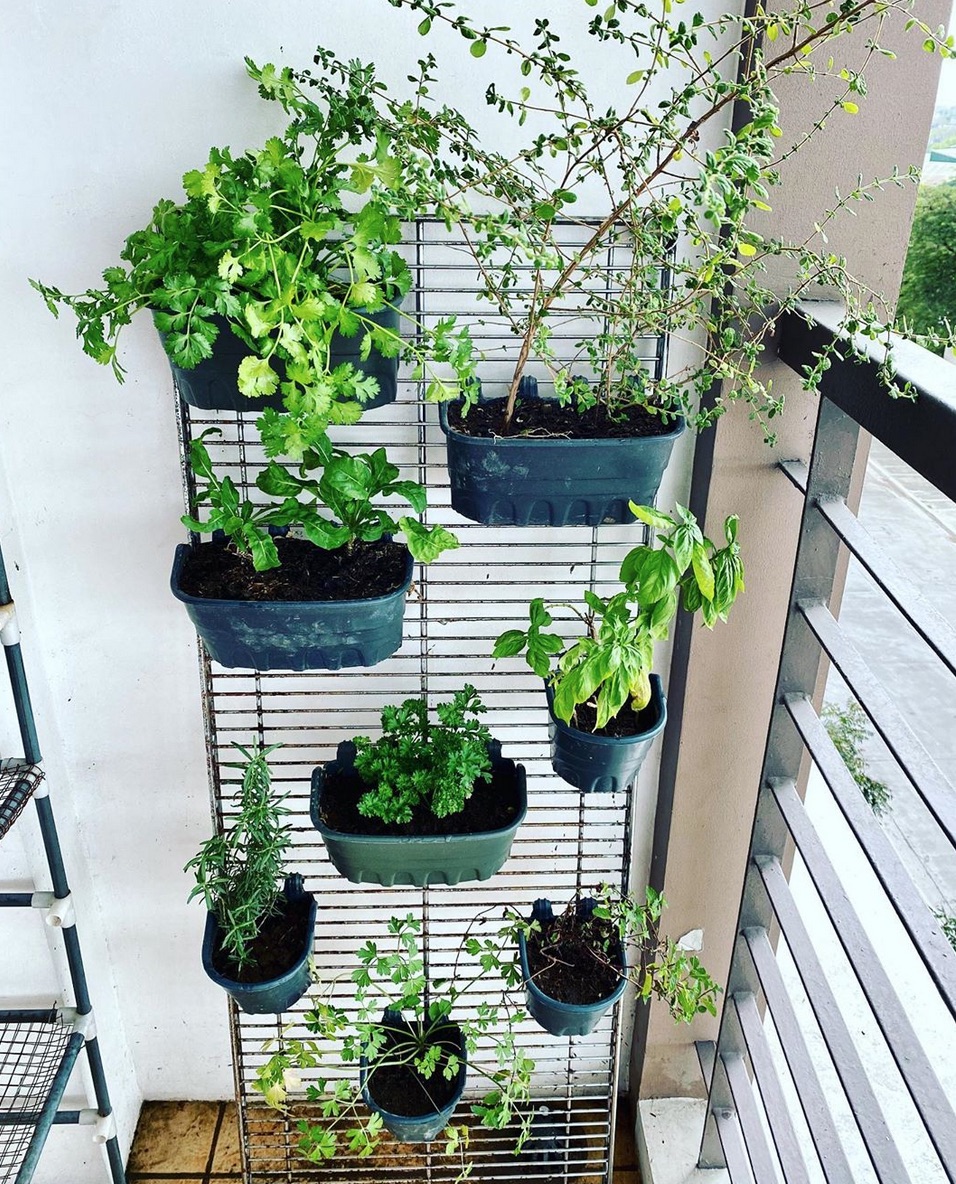 7. Black on brick
Don't like to blend in? Stand out with two contrasting colours. I love how this black timber frame has been fixed on this light stone brick wall. And I love how the pots have been carefully chosen in black as well, so to blend in and create a perfect finished product.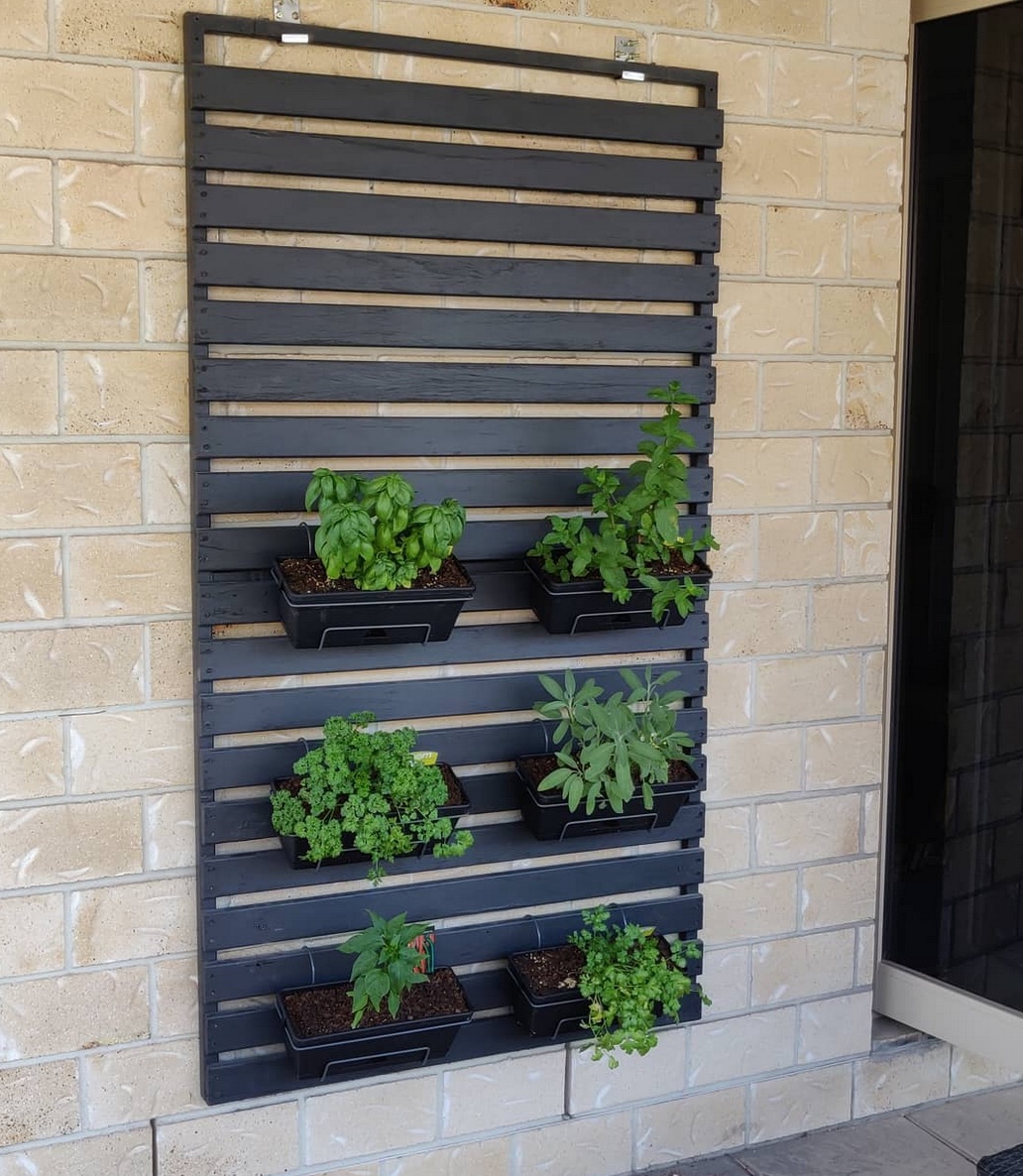 8. Simple rungs
Here's a gorgeous little indoor vertical herb garden. And this design gives me all the cottage vibes. The detailing on the white pots and the curved edges of the black rungs make this a very cosy and homey setup – perfect for a country style house.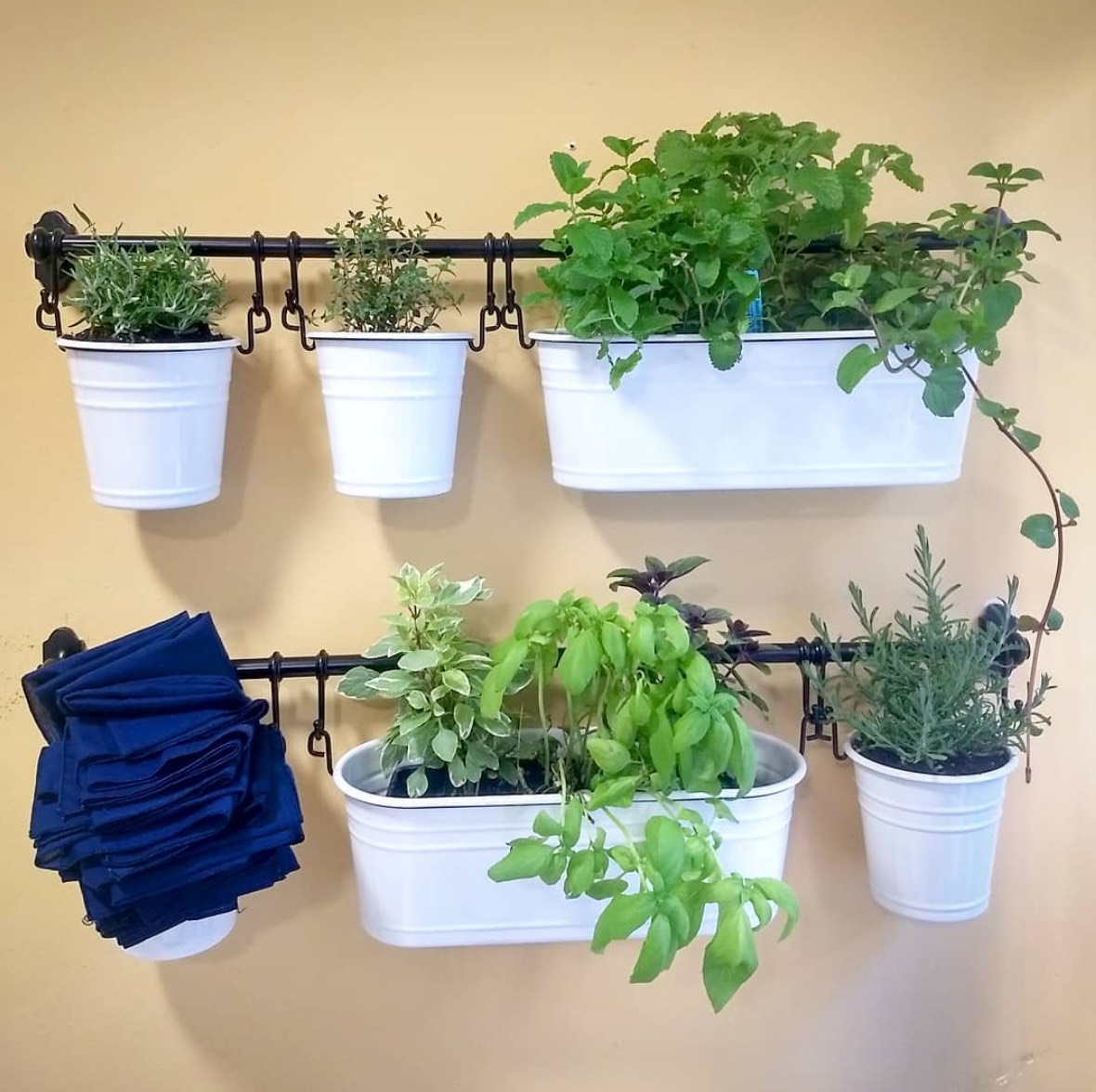 9. Kitchen herb garden
Why put your herbs outside when you can have them at the ready in the kitchen? These little terracotta pots are filled to the brim with all sorts of herbs that are ready to be picked. When choosing herbs for an indoor setup, make sure you select ones that can live without 100% direct sunlight. Some great choices include coriander, basil, mint and chives.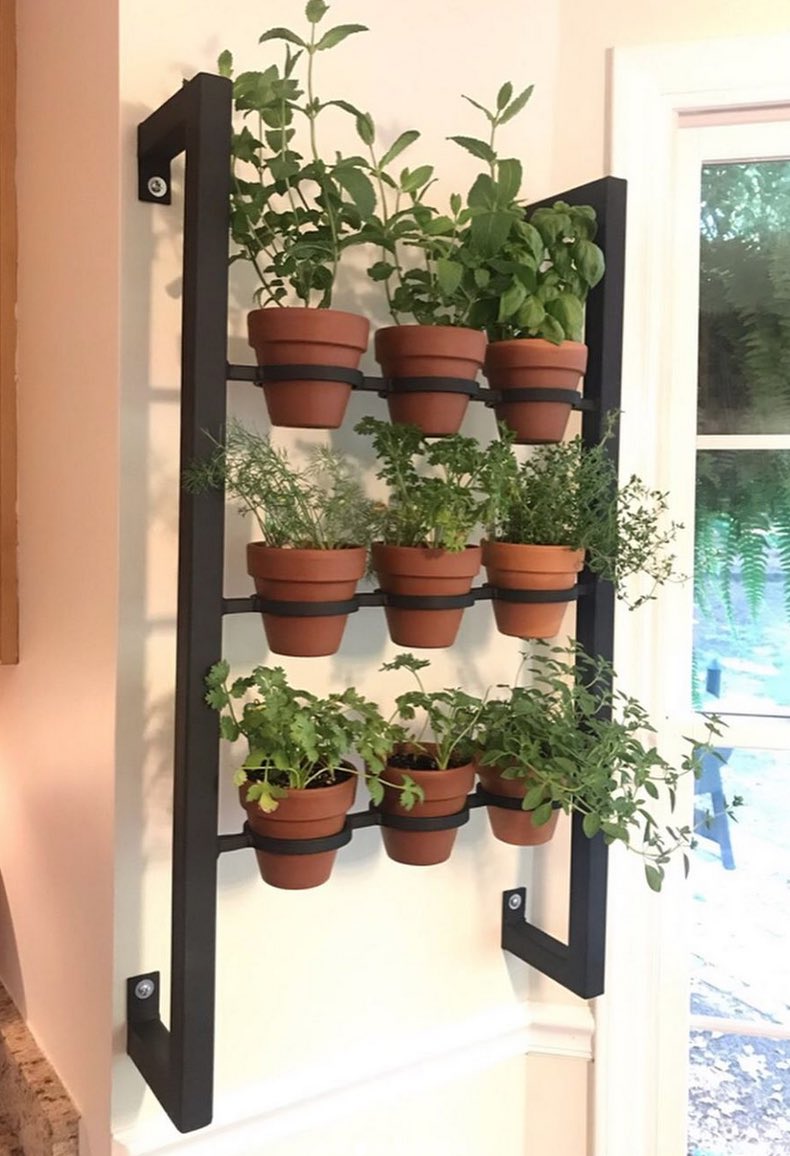 10. Get creative with jars
Your next DIY project doesn't have to cost you your arm or leg… You can create a vertical herb garden with items you have lying around the house. Put used pasta sauce jars and glass containers to use by filling them with soil and planting seeds. You can even use reclaimed timber to create a fixture to hoist them onto.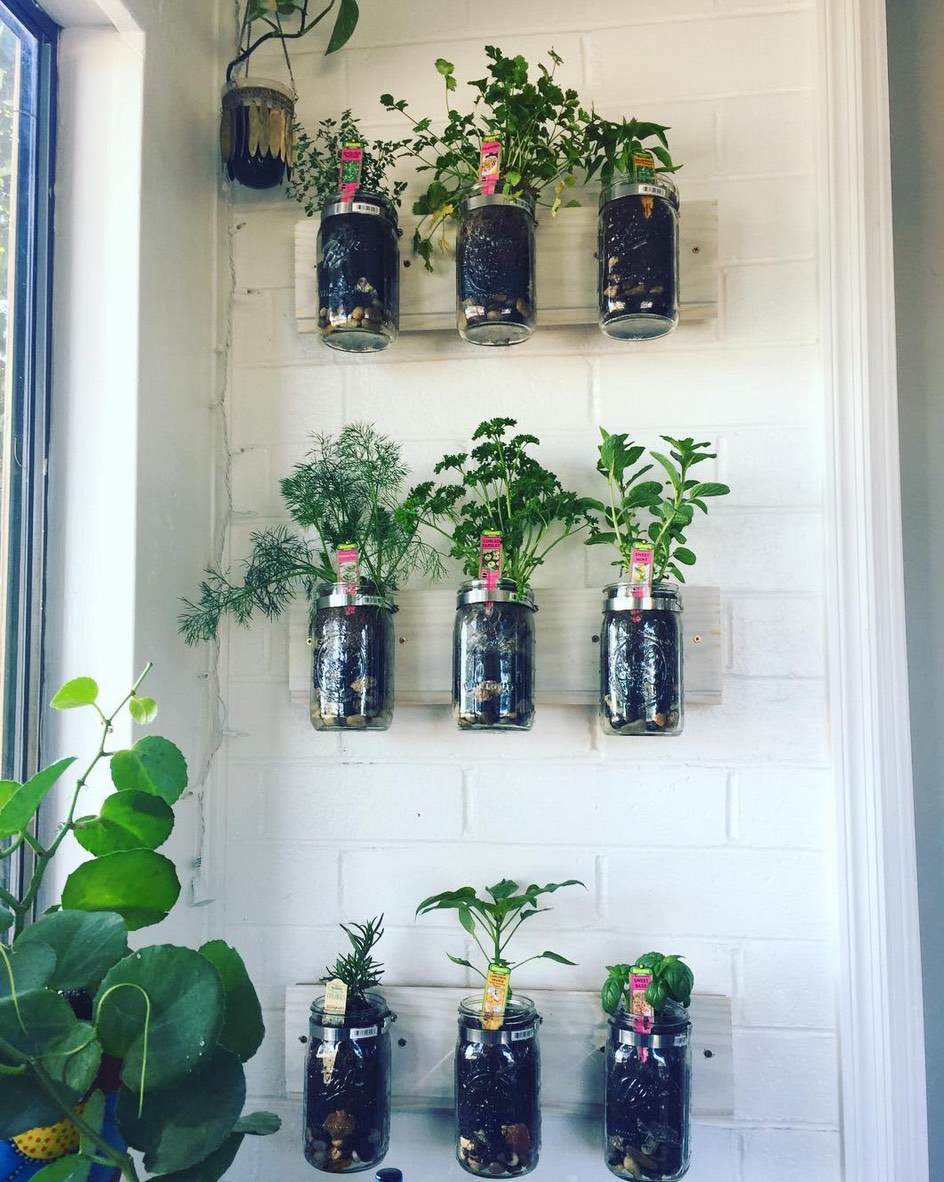 11. Use recycled materials
Here's another one for all of you avid recyclers. This design includes used tin cans – how cool? You can leave them as they are or you can wrap them with paper or paint them with any colour you like!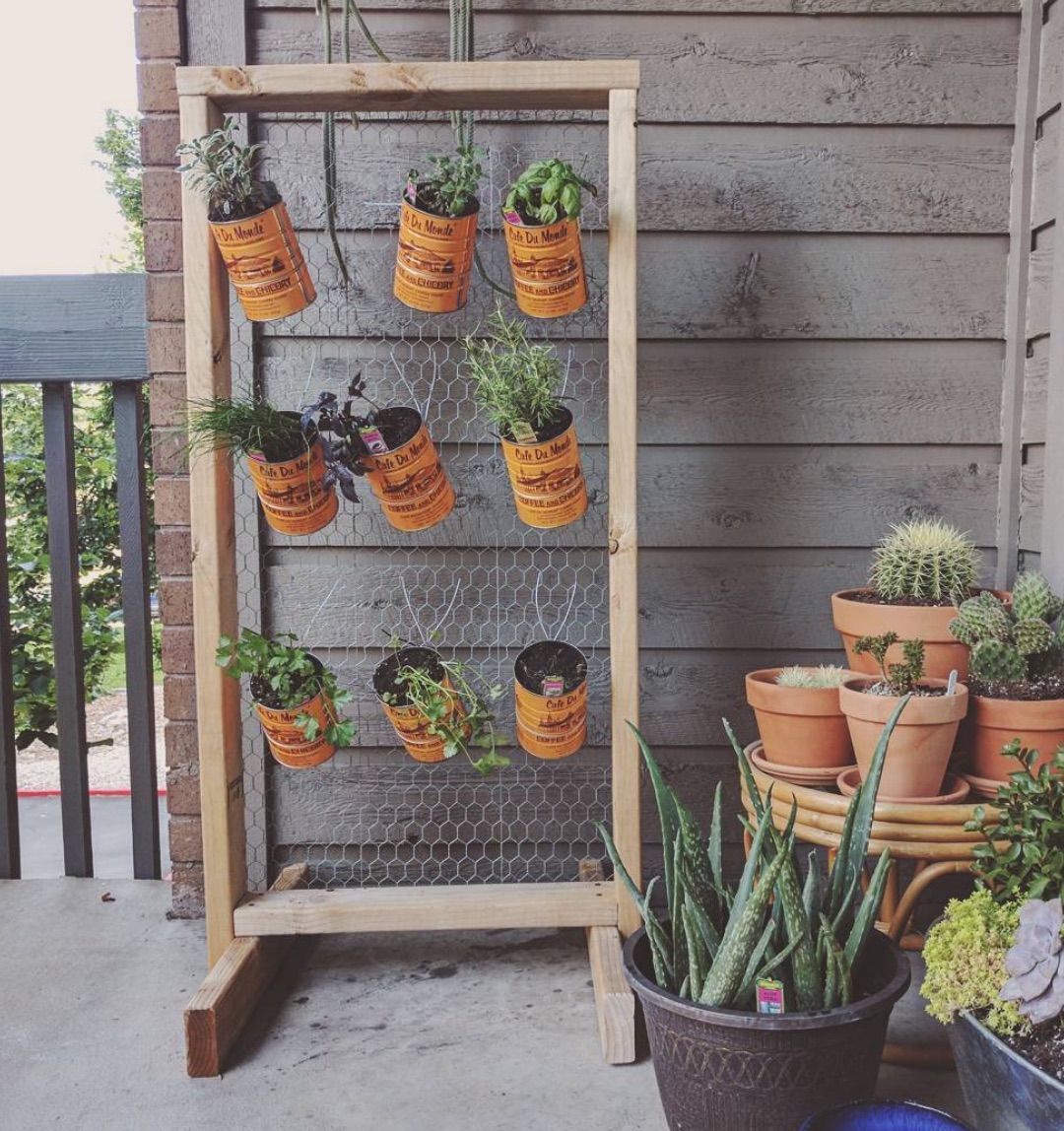 12. Silver buckets
Keep things streamlined and simple by sticking to one colour. And these silver buckets are the perfect easy choice. I love how they're hung on a timber pallet that's been painted purple – how fun.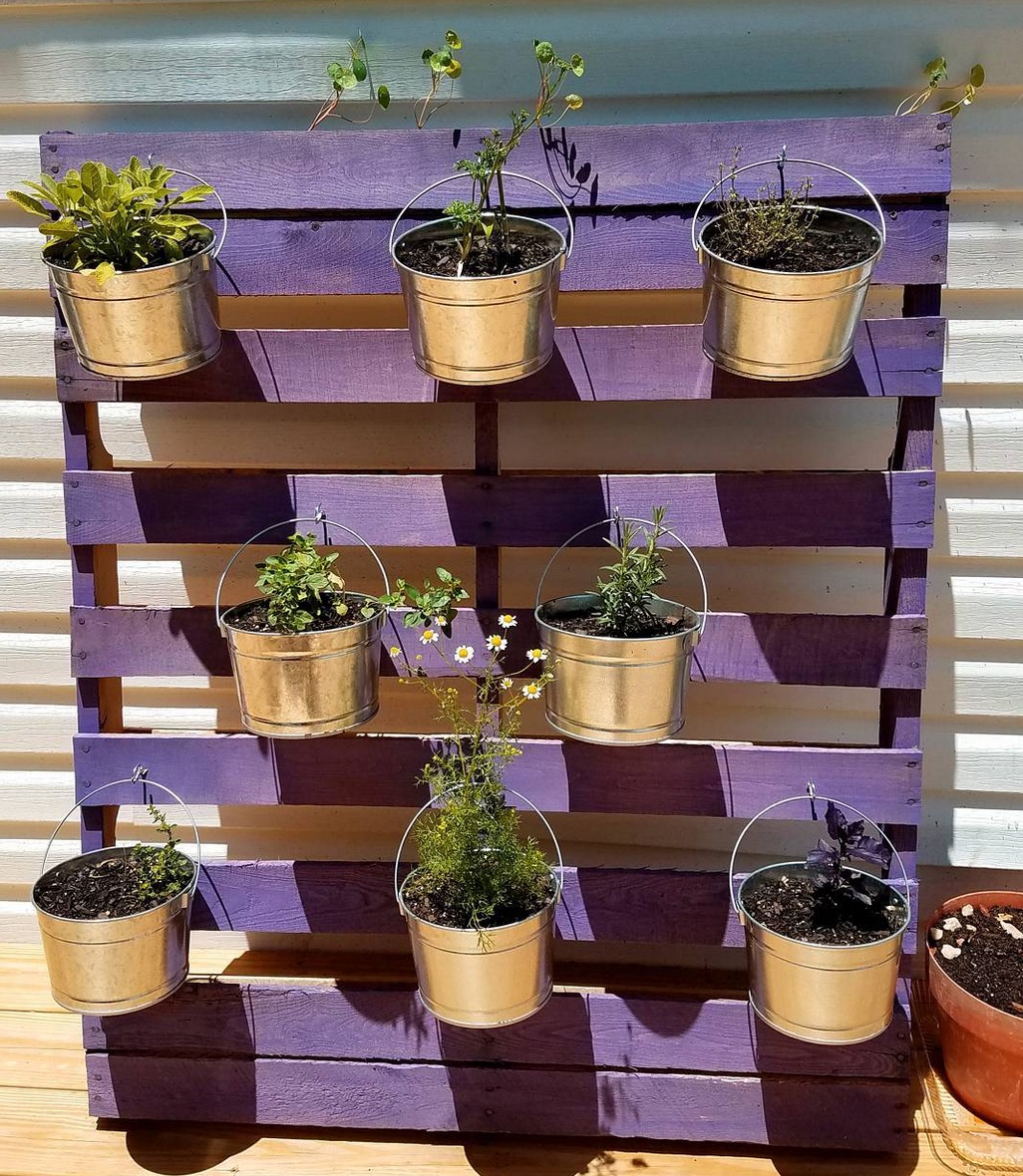 13. Clean and green
Ooh, this is another favourite for sure. While I know we're not talking about kitchen design, I've got to give a special mention to the gorgeous deep green cabinetry in this space. I love how the green in the plants compliments the green cupboards. The whole look comes together perfectly!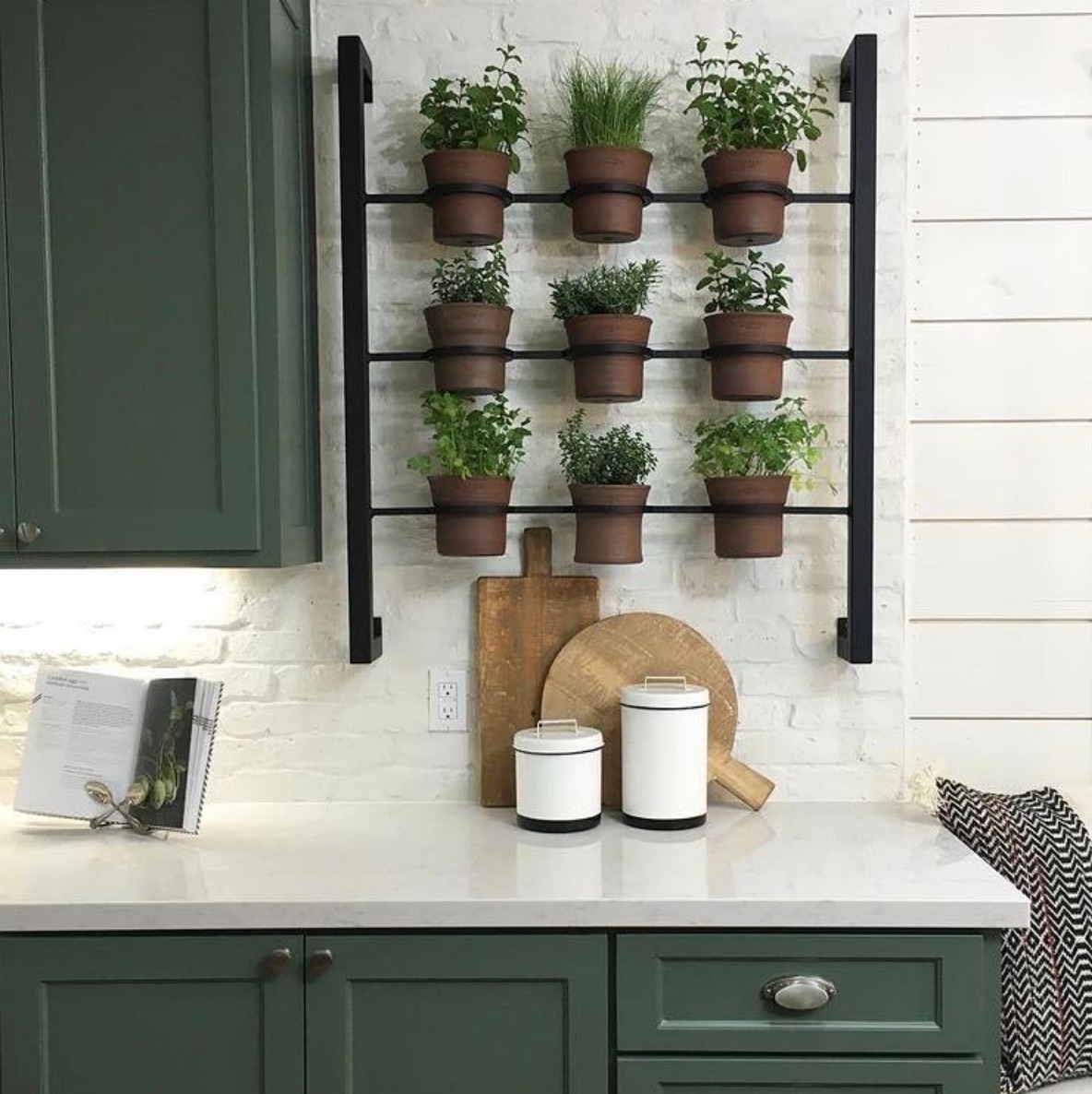 14. Timber boxes
This one is for those of you who like your ducks in a row… metaphorically speaking, of course… These timber planter boxes are so neat and tidy. So even if you're not a perfectionist, they'll have you looking like one in no time.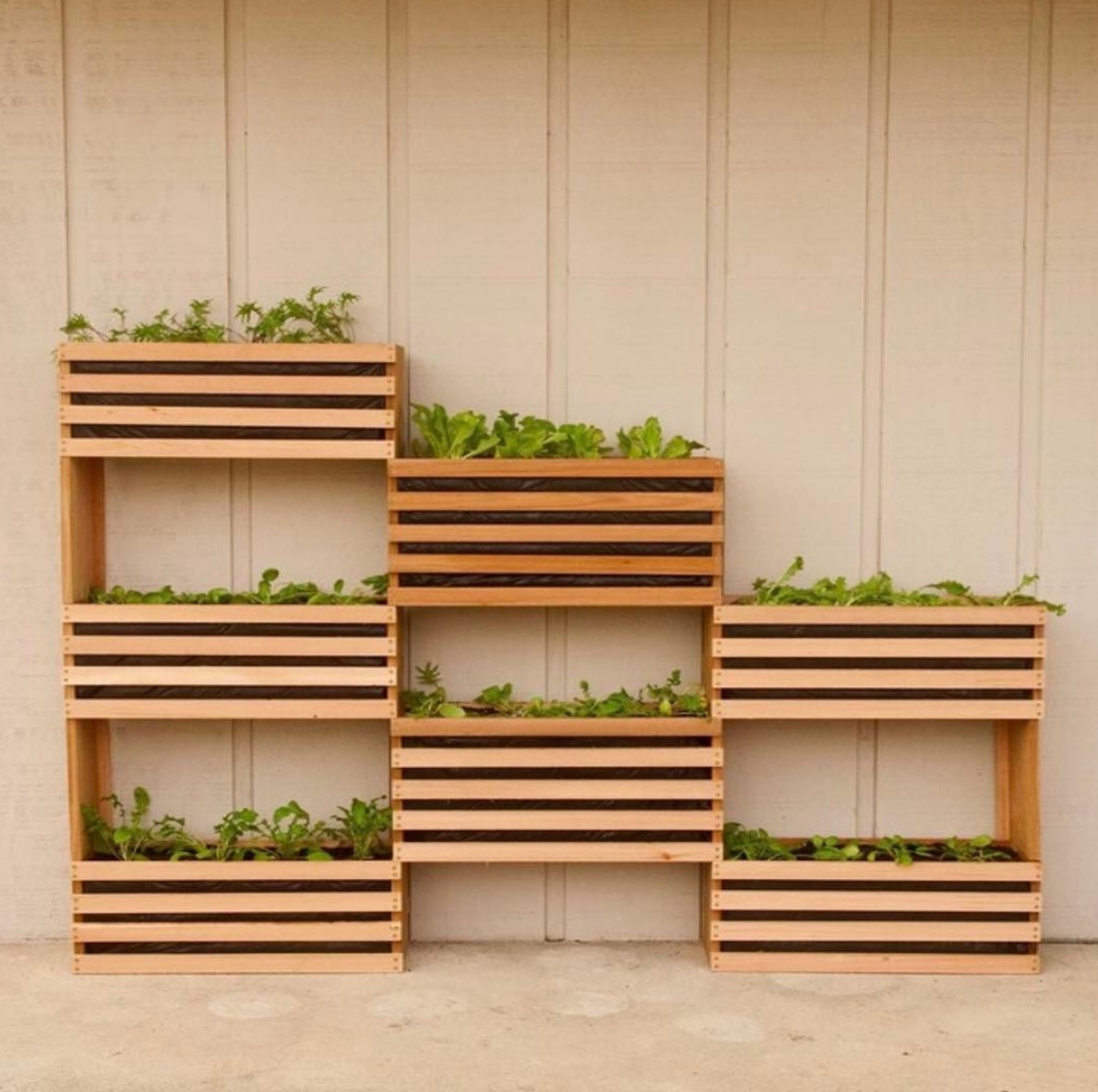 Make sure you're getting the right solution for your home with this guide to planter boxes or if you're still on the lookout, these raised garden bed ideas might be just what you need.
15. Create labels
I hate to admit this but I know that I would plant my herbs and then forget what they are straight away… I'm clearly not so much of a green thumb. But a simple organised system would make all the difference. By labelling your herbs, you can be sure you'll always know which one is which. And that's very helpful for when it comes time to water and care for them.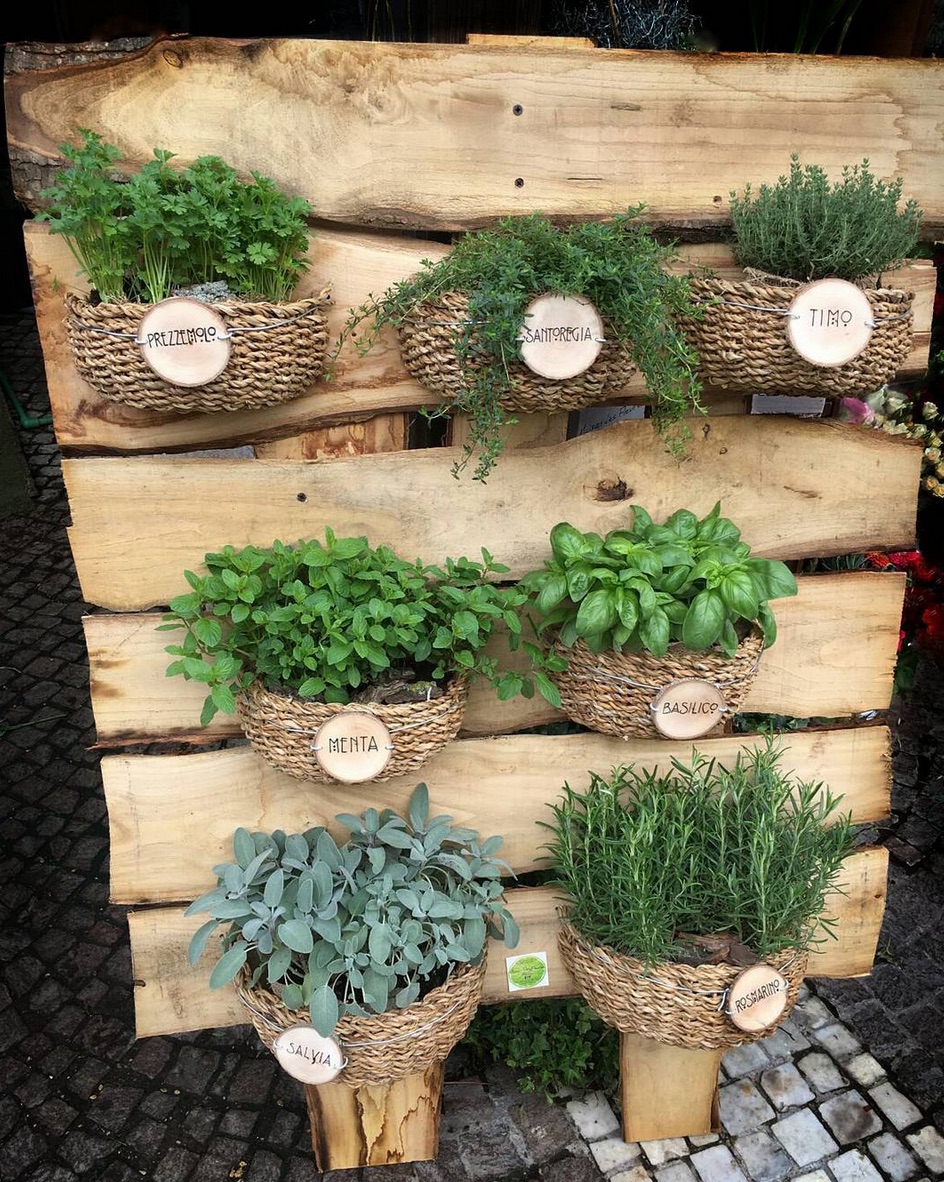 16. In a timber palette
Back to cheap and easy DIY options, this one is a winner! It's pretty easy to find timber palettes – just take a look on Gumtree and you'll find businesses giving them away for free.
Once you've got your palettes, close up the back of them with fabric. And then get to work! Add soil and then plant your favourite herbs or succulents in each row.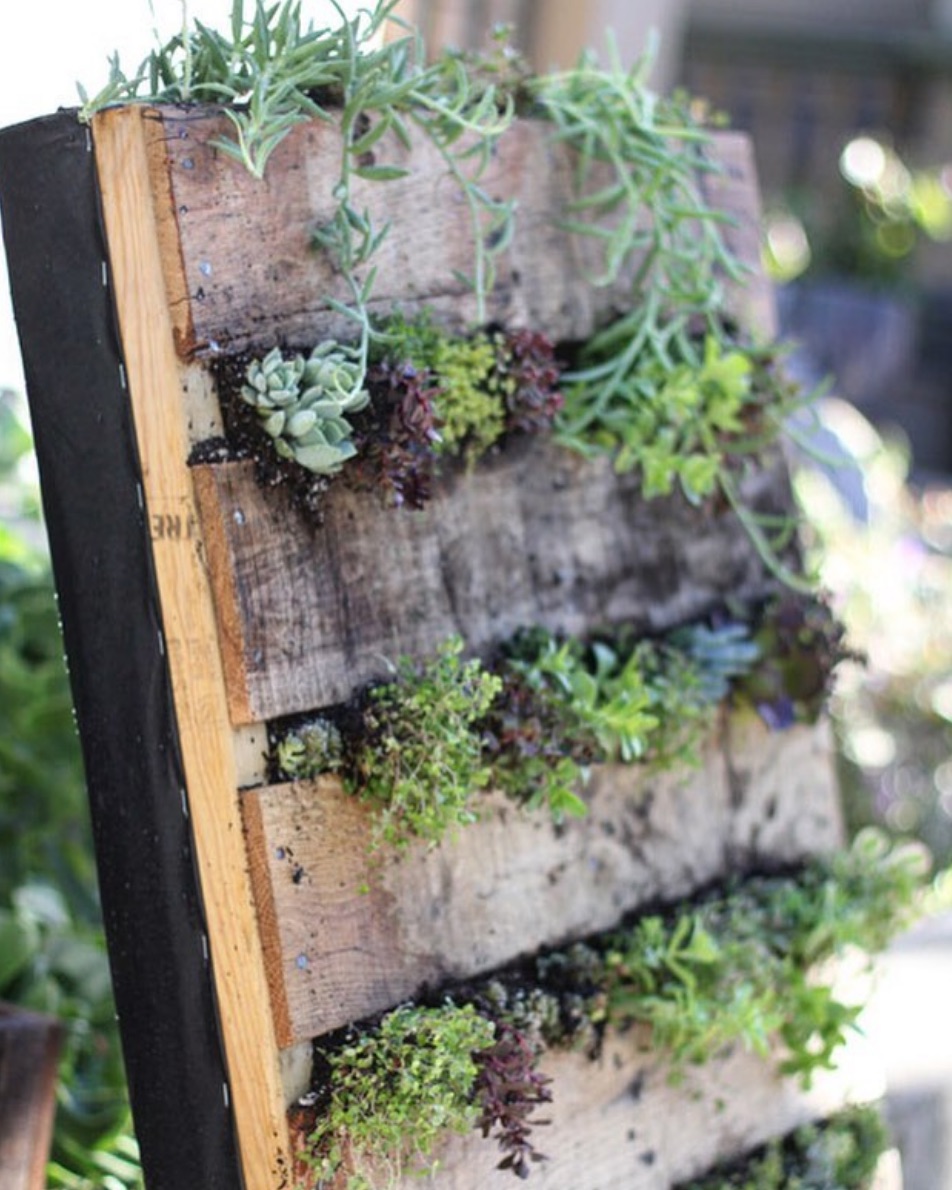 17. Terracotta herb garden
Go all out with warmth by creating a terracotta wall. I like how the old ceramic pots add so much character to the old orange brick wall. This is a space that's used and homey – and something that you can easily recreate yourself.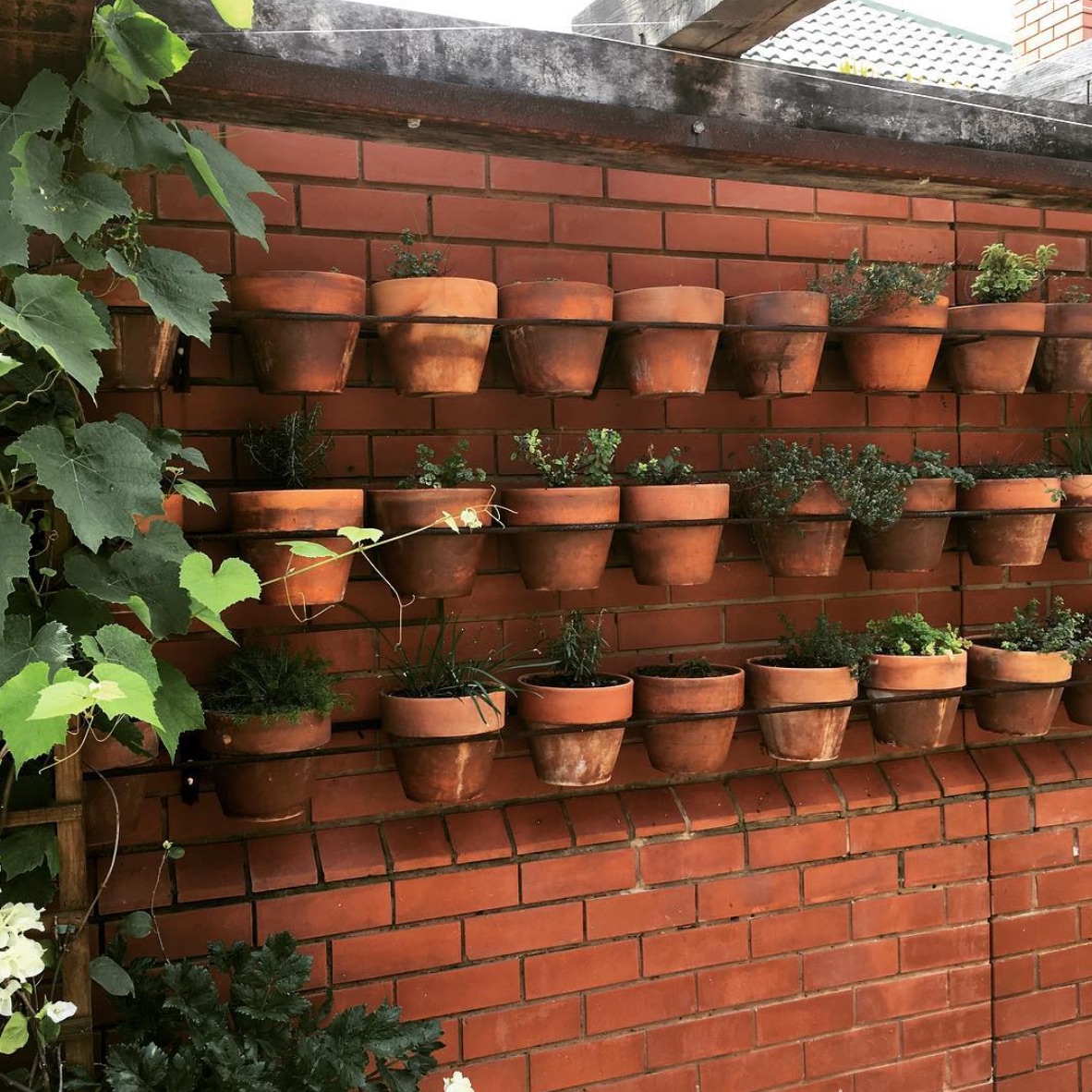 18. Keep it simple
A little bamboo ladder, some metal buckets, a bag of soil and a collection of seeds and you'll have yourself a quaint vertical herb garden. This just proves that you can create a vertical herb garden without much space.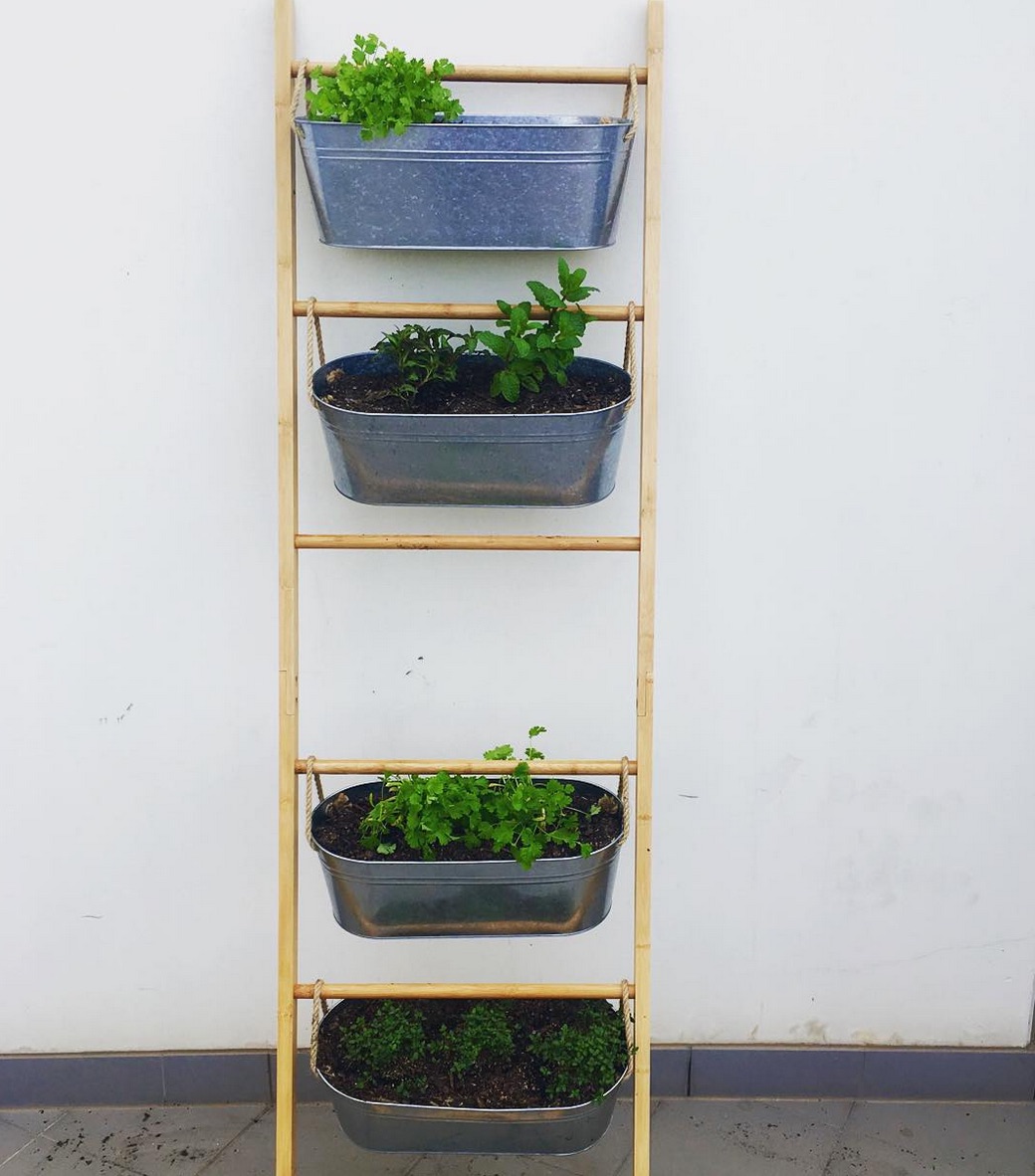 19. On timber slats
If you're looking for something a little more rustic to suit your country style home, then this vertical herb garden is for you. And creating this is simple. You can place timber slats on a wall and then hang little pots on each of them. This makes for both a practical and a pretty piece!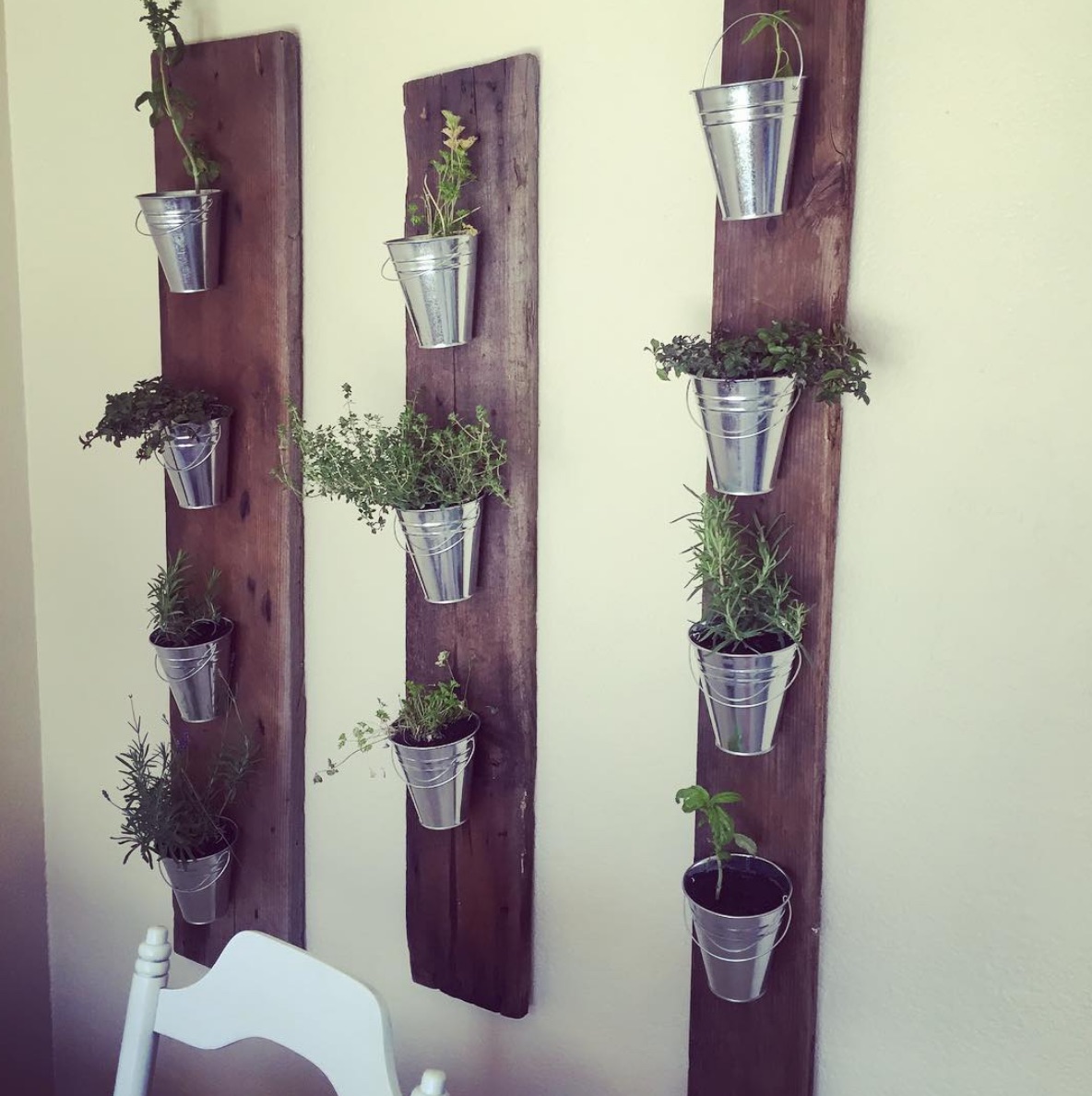 20. Upcycle old palettes
Here's another palette creation. I love how the names of the herbs have been painted underneath each herb – how cute! And the great benefit of palettes is that they can be easily transported from one place to the next.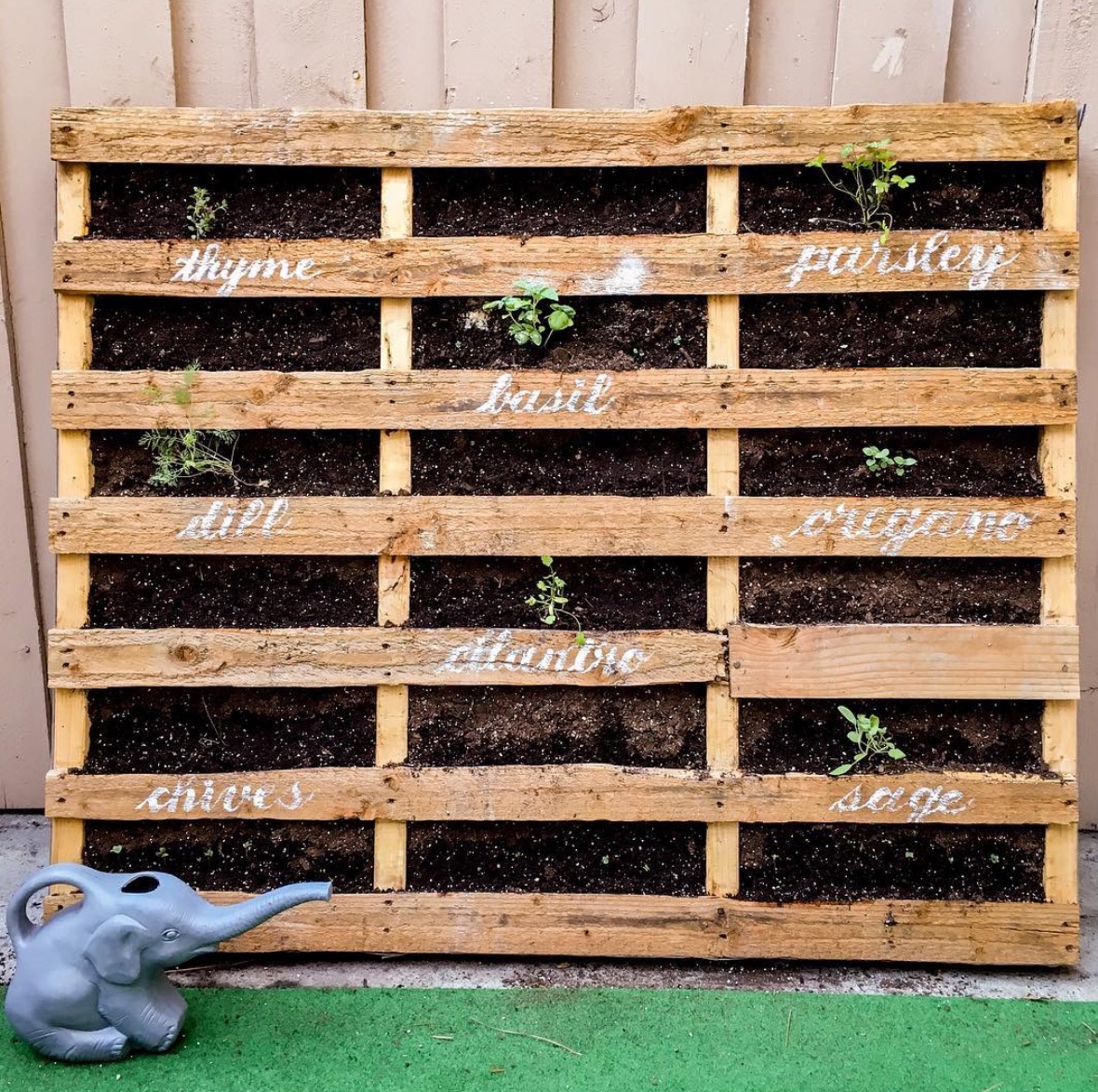 21. Decorate it
How adorable is this little planter box? It's filled with herbs… But there's also a little friend waiting to say hi! This is a great example of how you can add decor to your herb garden.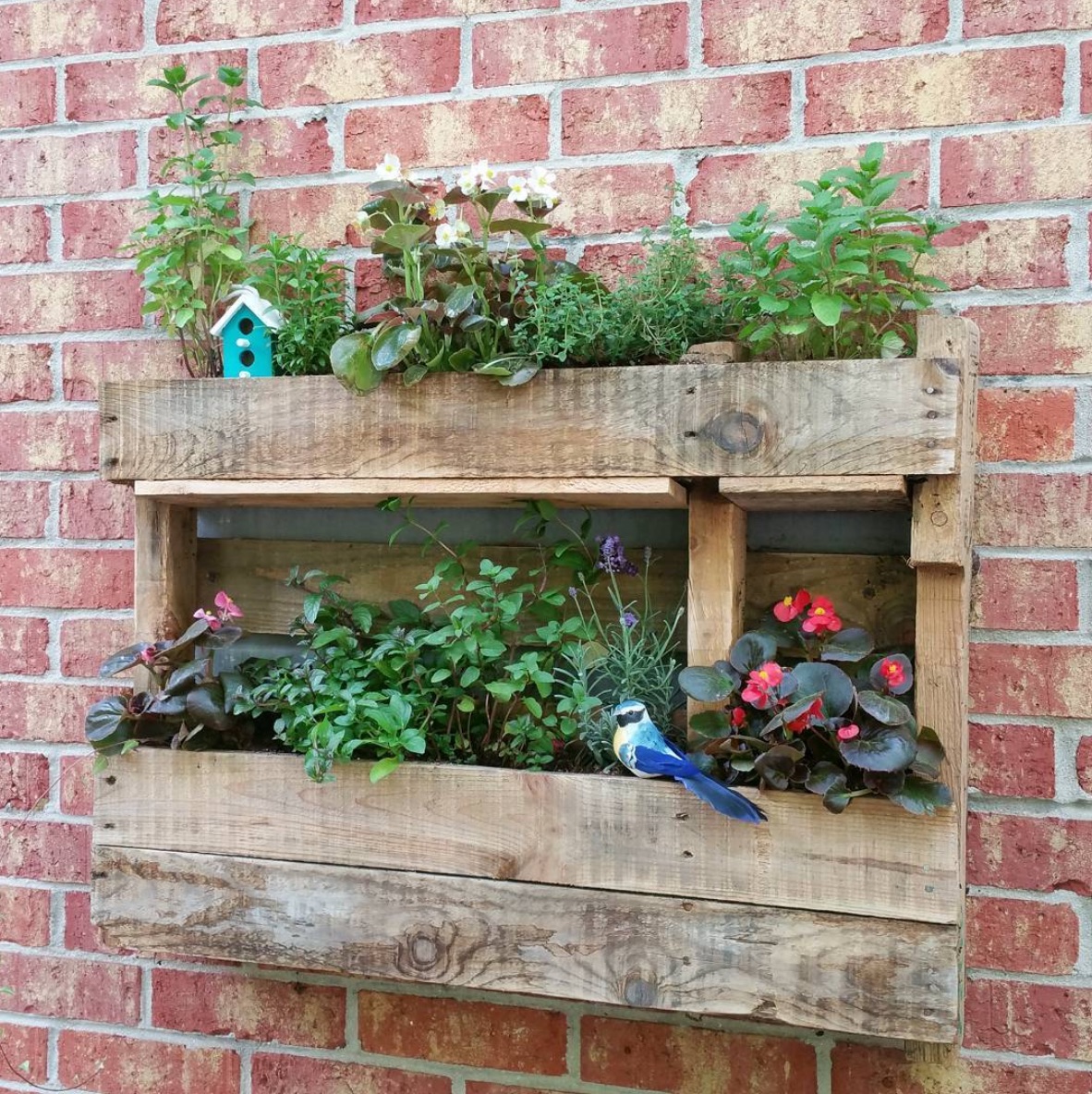 22. In the sun
We all know that herbs love their sun. So to keep them happy, make sure they're in a bright warm spot, like this one. You'll also want to make sure they get the right irrigation, as well. To help with this, you can use removable pots. They're also a great help for when it comes time to replanting.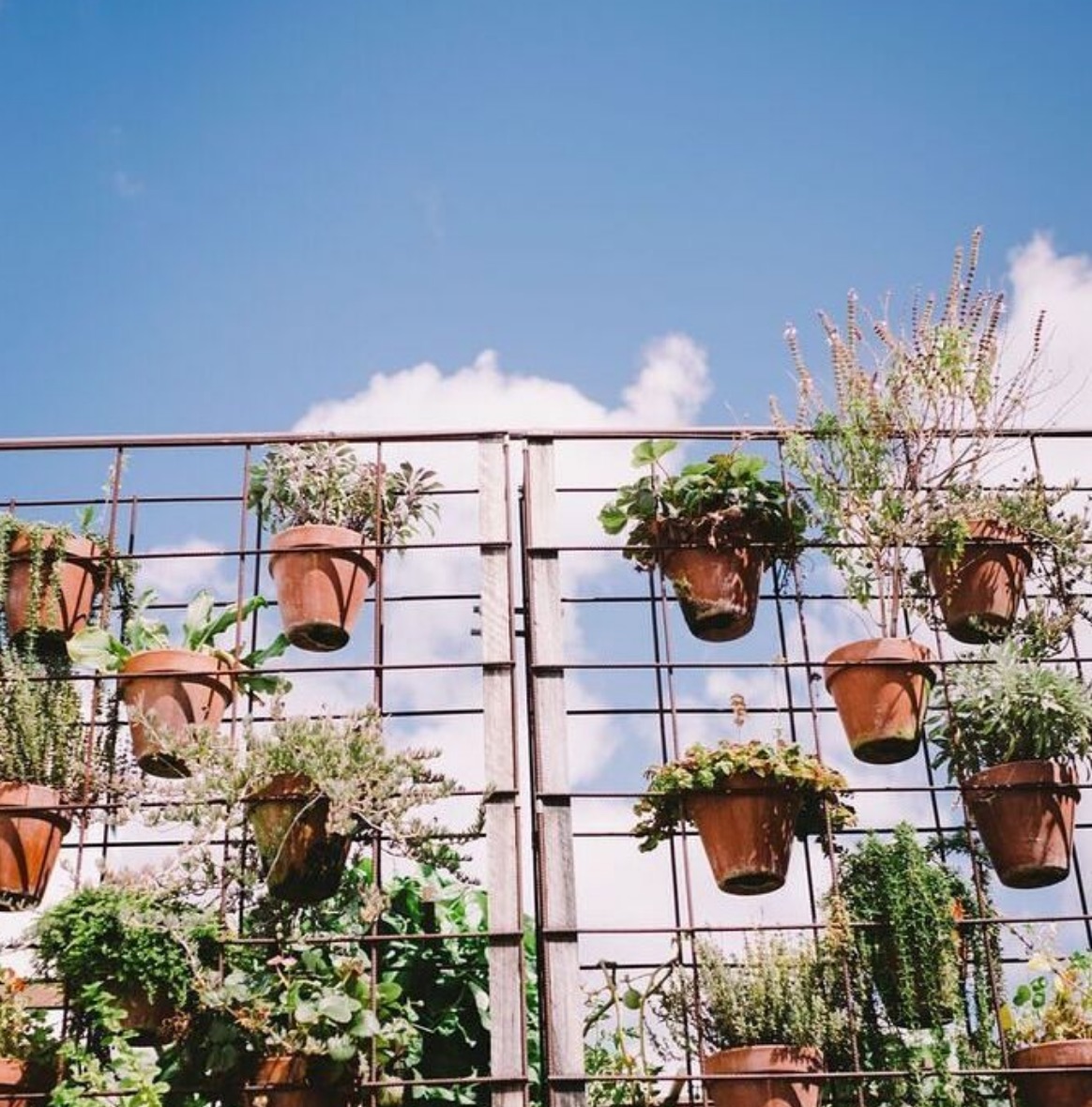 23. In shelving
How cool is this in-kitchen vertical herb garden? The herbs have been placed on shelves inside a cupboard which has a handy door with slots where each shelf lies. This is a very handy solution for when it comes time to prepare dinner.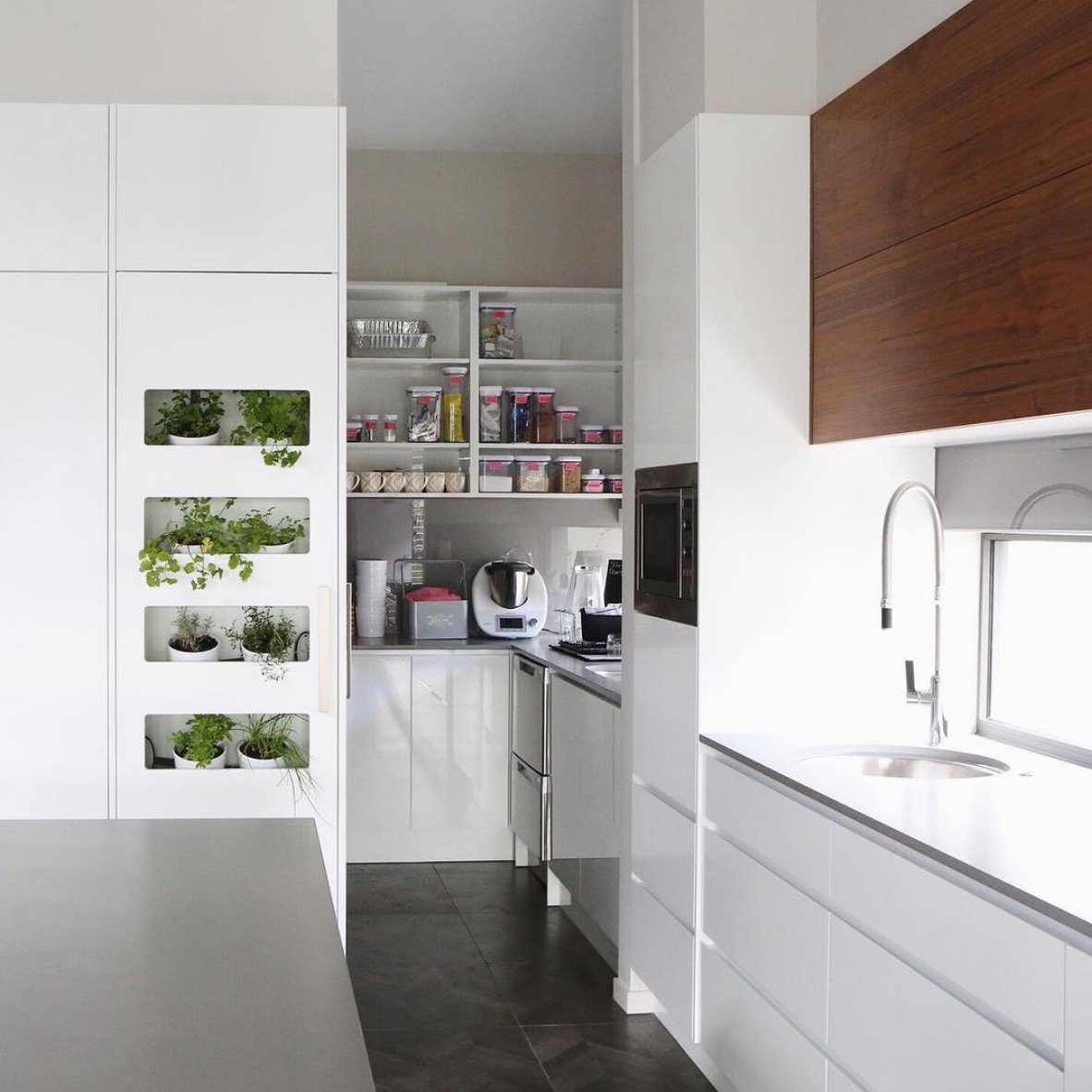 24. Rustic herb garden
If you live in an older home or have a garden full of old planting materials, you might find you have some rustic metal planters around. While old, they can still do the job of holding your herbs. After all, that's all you need, right? Plus, if you have a cottage garden, rustic will work in perfectly.
25. Grow what you've got
Did you know that you can replant herbs? Yup, it's true. This is one of the very best ways to reduce food waste. All you need to do is place your herbs in water first to let them grow roots. Once the roots have sprouted, plant them firmly in good soil, water them, and watch them grow.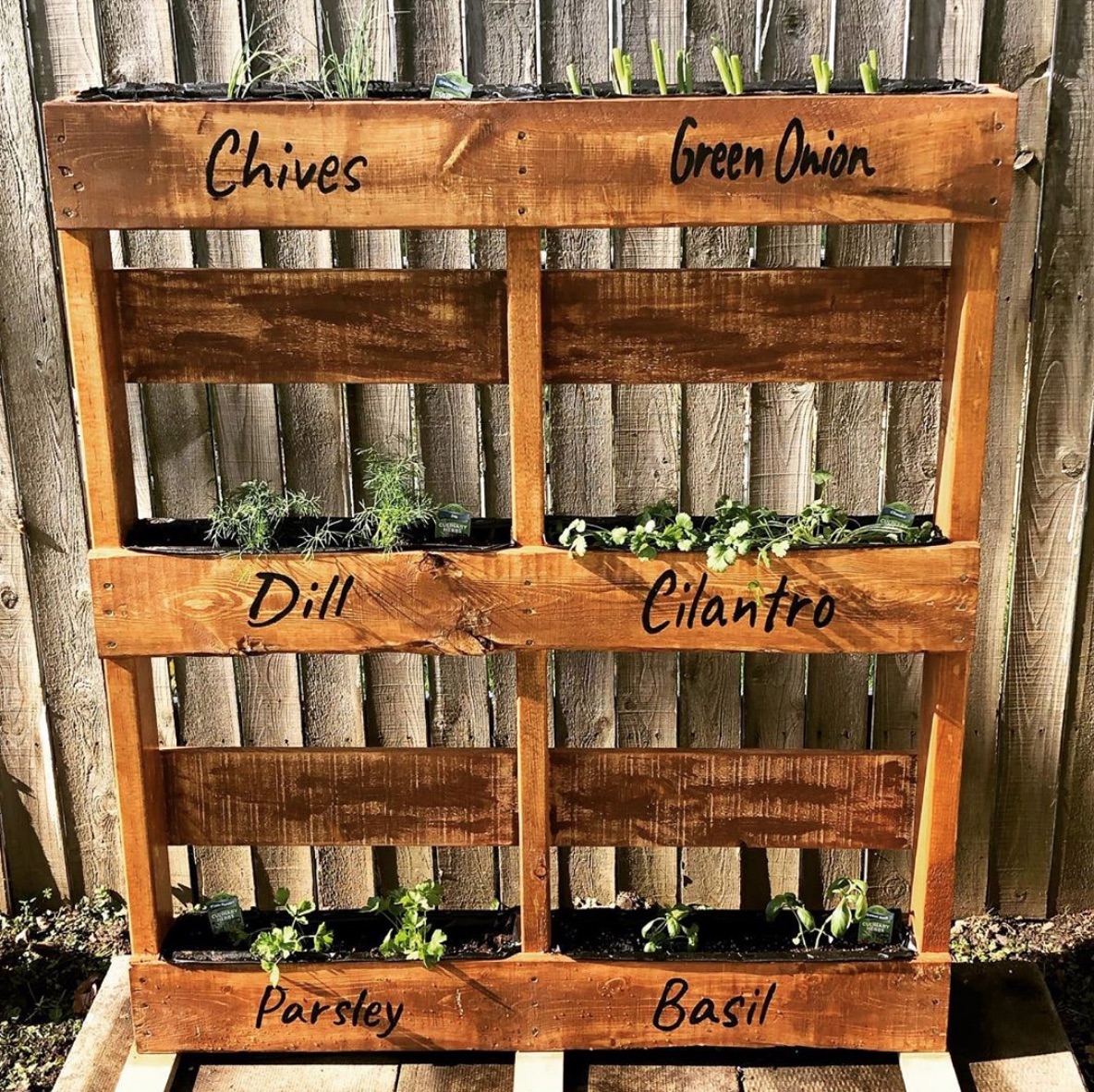 26. Keep it on a cart
You've heard of bar cars but have you heard of herb carts? Well, now you have! Planting your herbs on a cart means that you can move it around. This is super handy if you're a renter who frequently moves houses.
It's also great for those of you who live in cooler climates… You can simply wheel your herbs out to get some sun and bring them inside when the cold strikes. And, speaking from experience, I've got my very own herb cart at home and I love it!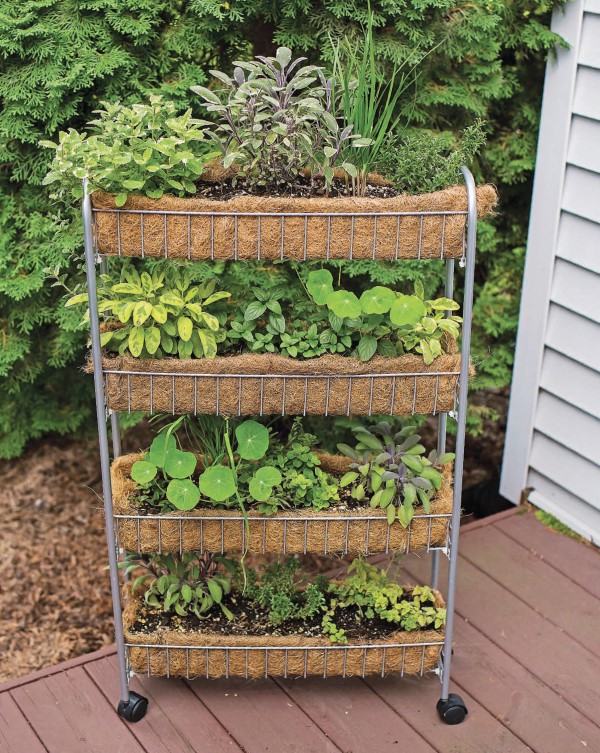 27. Grow with love
You know what they say about plants – all they need is water and a whole lot of love! And I adore this cute sign that hangs above this wall filled with herbs. Can we take a moment for the animal-shaped pots? This just proves that you don't have to stick to the same old boring pots but that you can infuse your personality with whatever you create.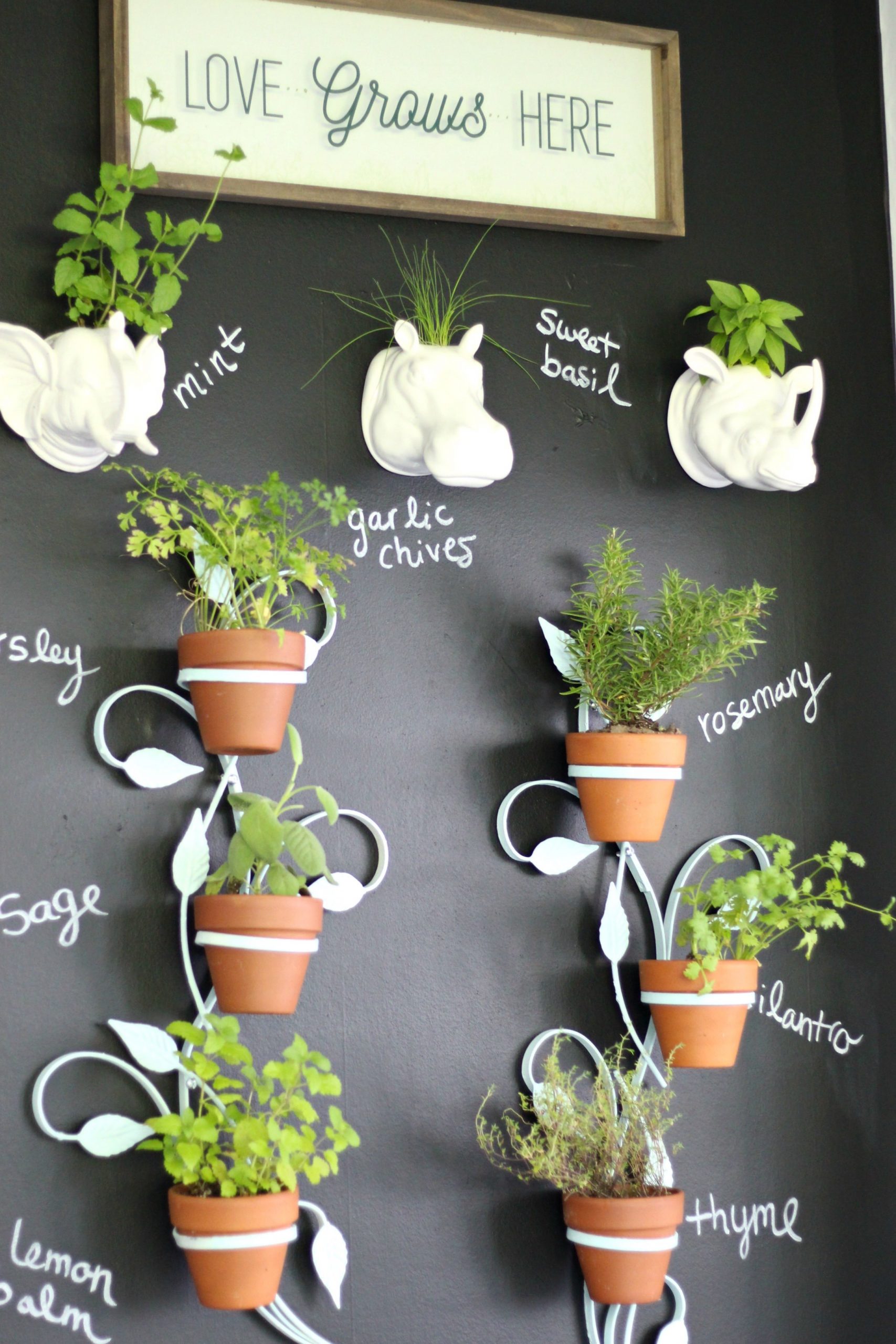 28. Make it blue
Have a bit of fun with colour. This blue palette is so gorgeous and it stands out in contrast against the red brick exterior of this home. And combined with the green from the herbs, it makes for a lovely finish.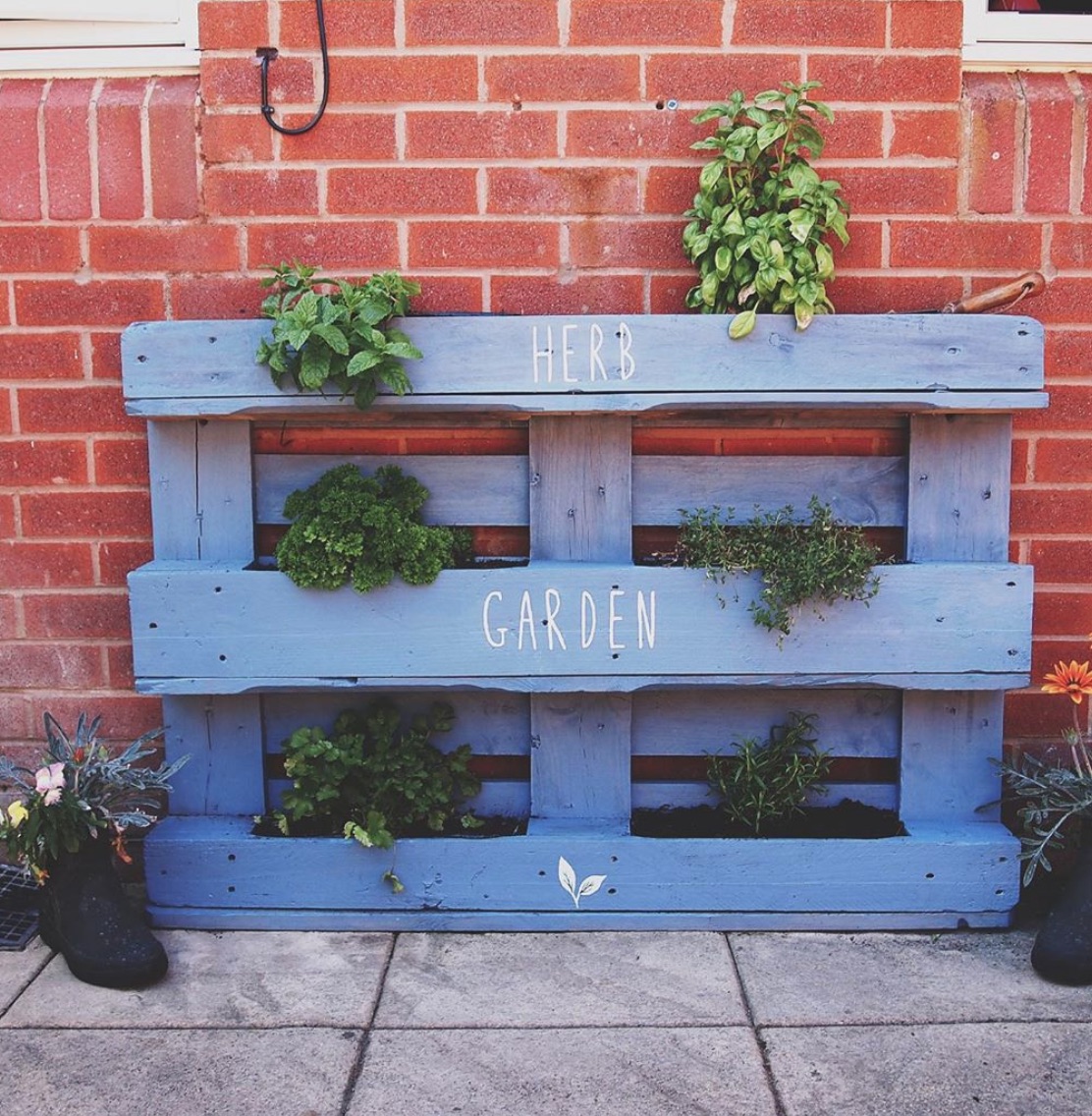 29. Start with something
When you read the words "DIY your vertical herb garden" you might think you need to head to Bunnings and spend a fortune. But you don't! All plants need are a place to live and a little bit of love. So save yourself the big bucks and use what you have lying around at home. This could be simple old pots or containers – anything will do!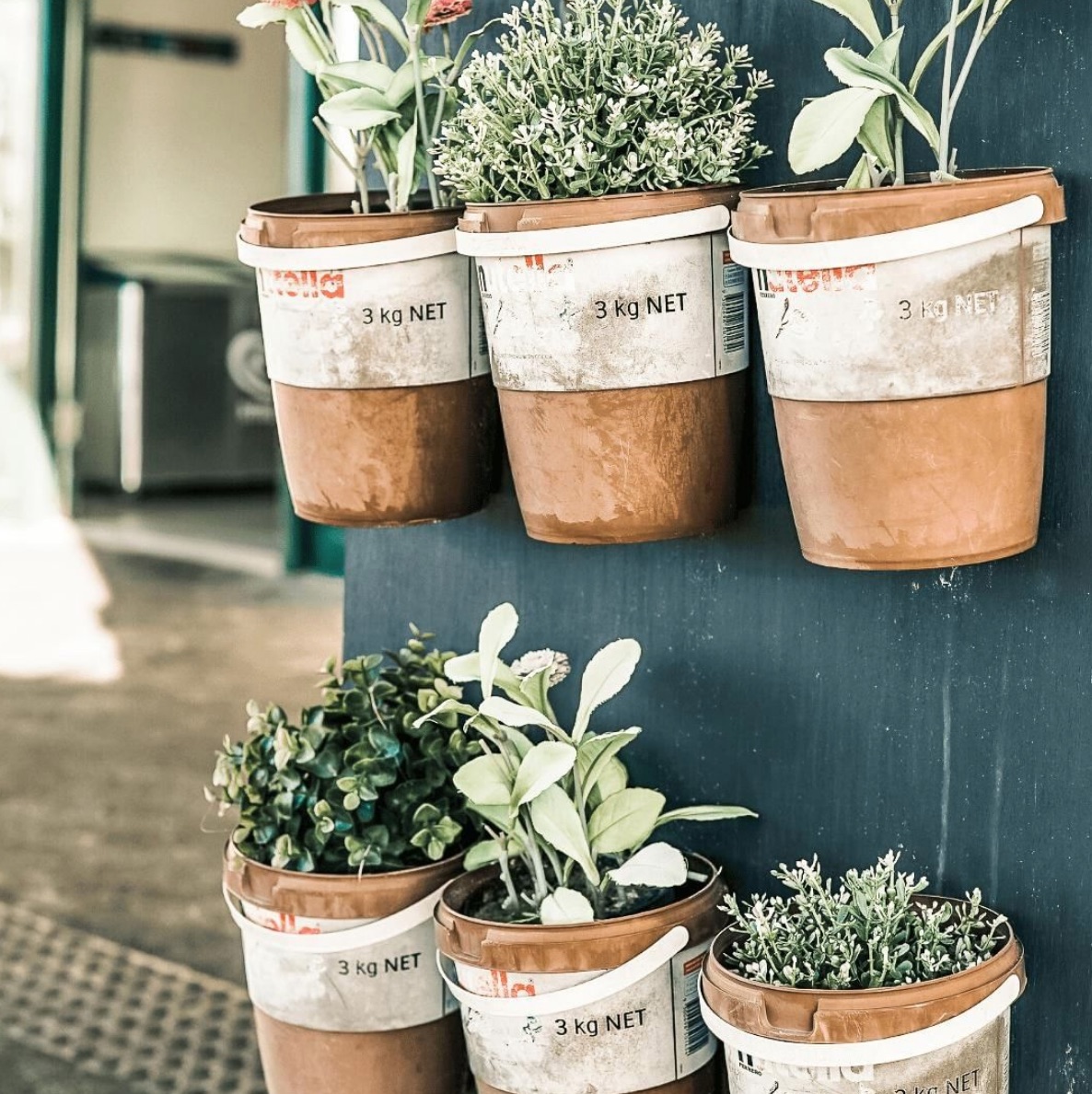 30. Pocket shoe garden
I love how innovative this little herb garden design is. It uses a fabric shoe hanger to hold herbs. What a clever way to create an easy vertical herb garden. Now you've just got to make sure your shoes are organised!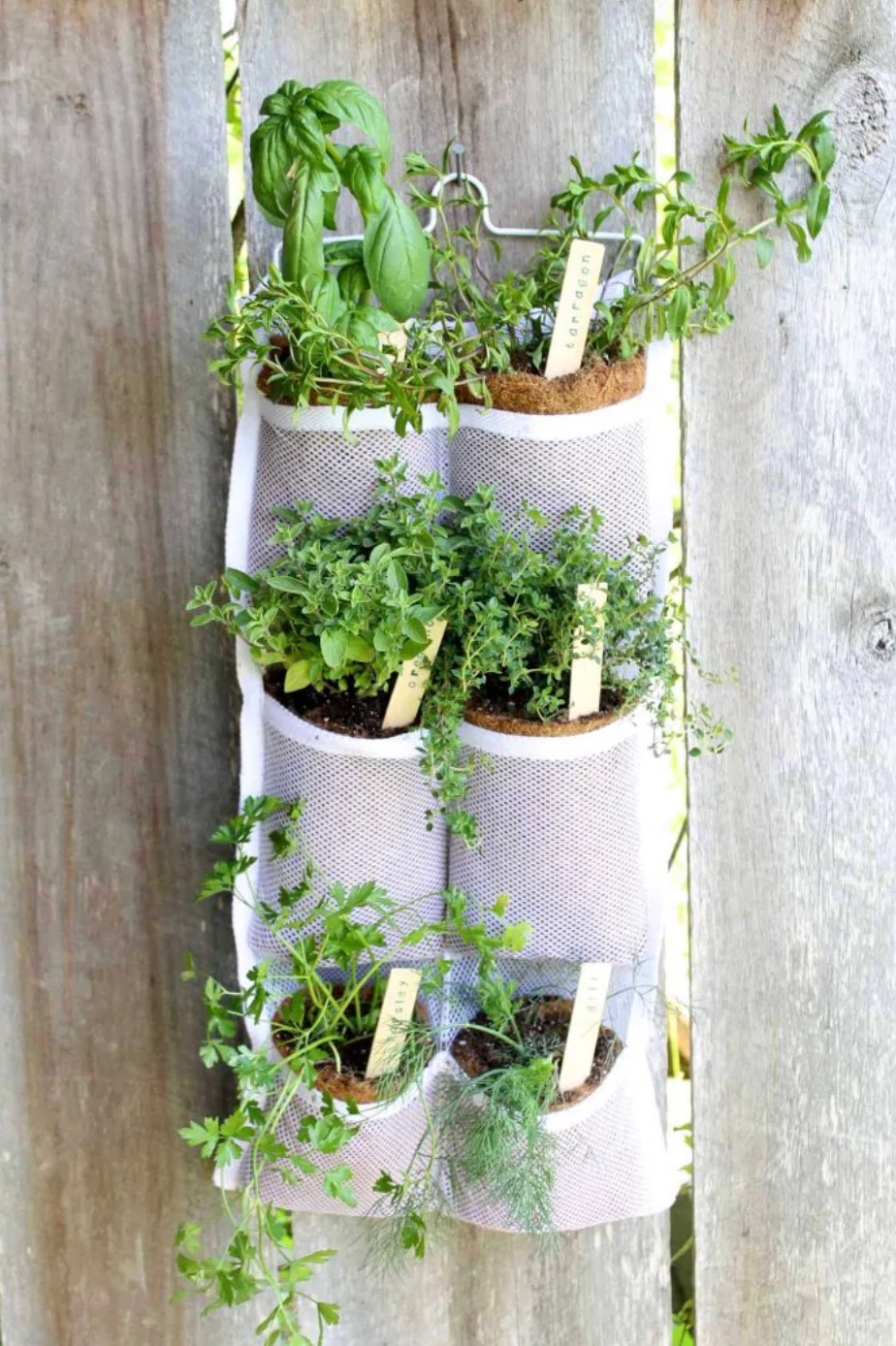 31. DIY vertical hanging planter garden
Bored of plain old ceramic or have some dirty pots lying around the place?  Give your old planter pots a makeover with a lick of paint. Think bright, bold colours like pink, green, blue, orange or yellow. They'll pack a punch and add so much personality to any area of your home.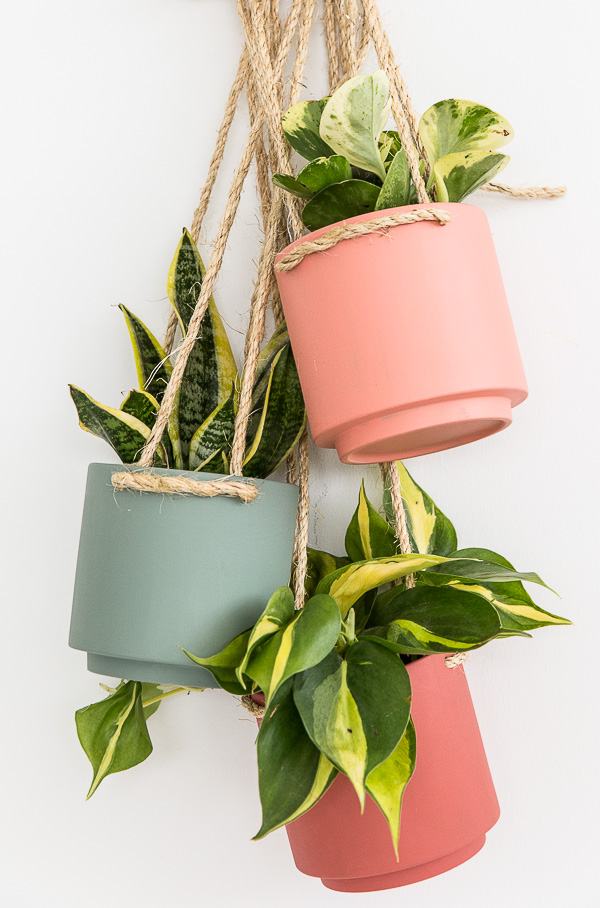 32. Use landscape fabric
Don't know where to start? No worries. Landscape fabric is an easy material that's both sturdy and unassuming. You can fold it over a metal rod and hang it up against any exterior wall for an easy vertical herb garden.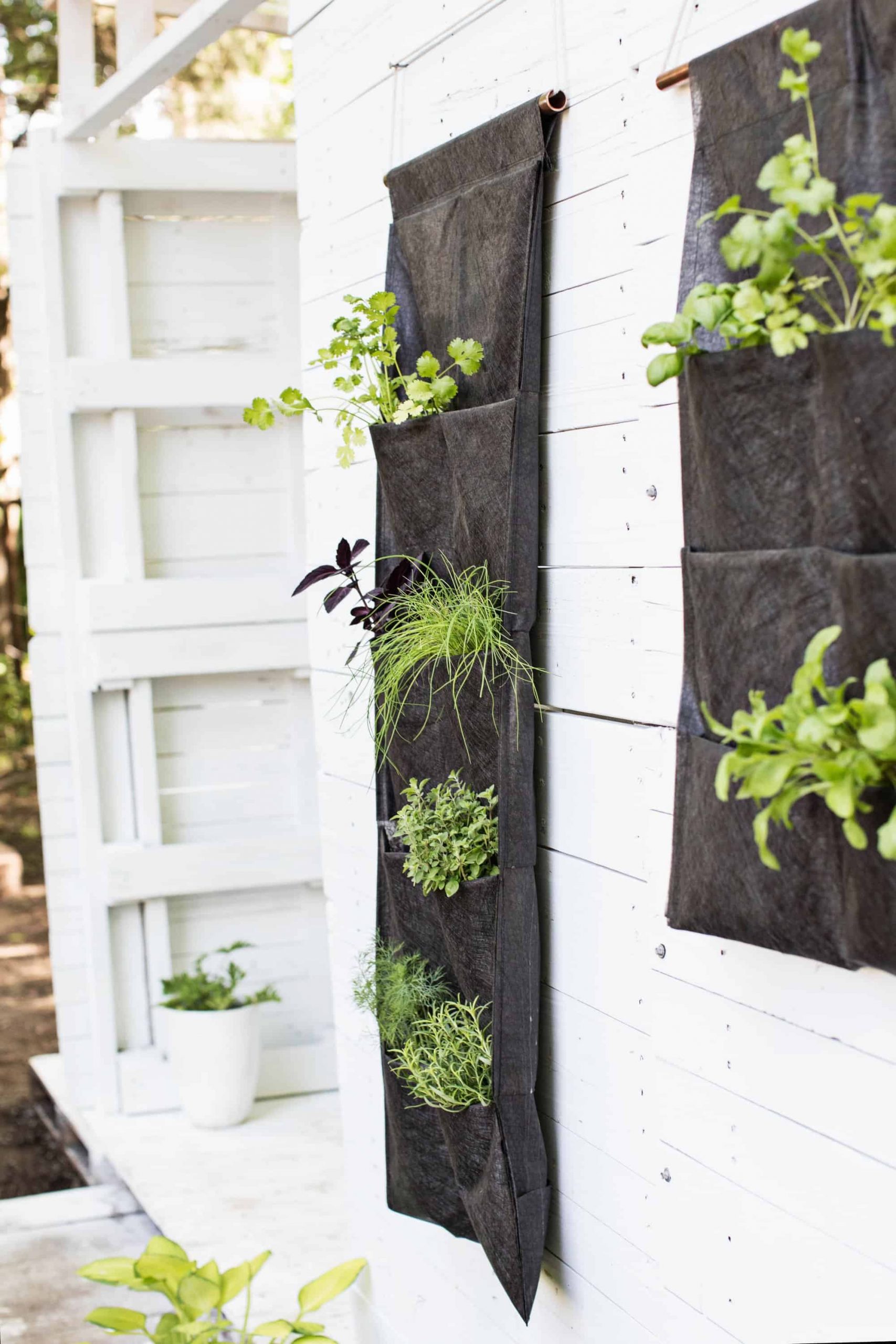 33. Timber ladder
I love a good ladder garden! In fact, I just love seeing a ladder put to creative use (there are so many ways you can use them). But in this case, you can create a vertical herb garden simply by leaning a ladder against the wall and hanging pots over the rungs with metal hooks.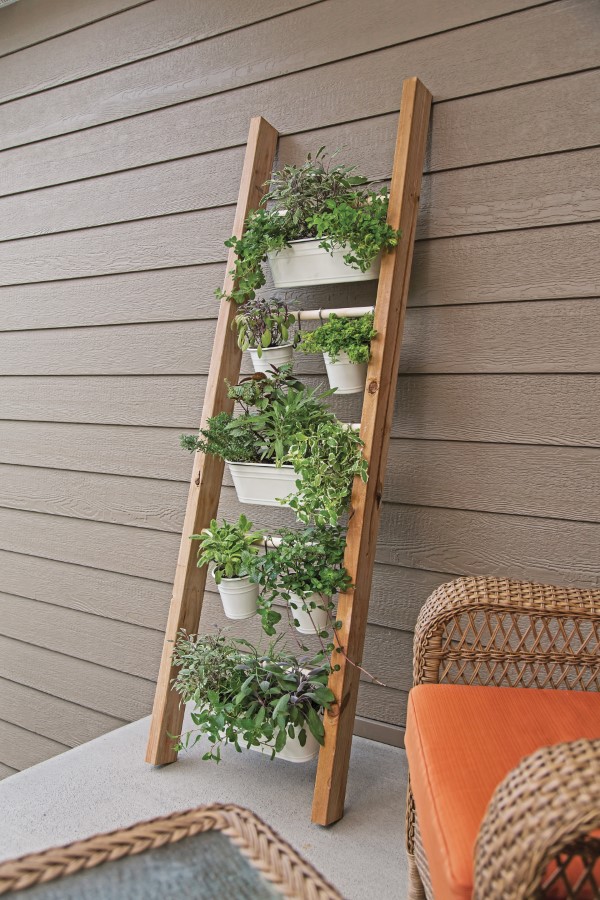 34. Modern kitchen garden
Why grow your herbs outdoors when you can grow them right where you need them – in your kitchen, of course. You can take inspiration from this design and easily customise it to suit your style. Think colourful pots, different shapes and sizes and an array of herbs.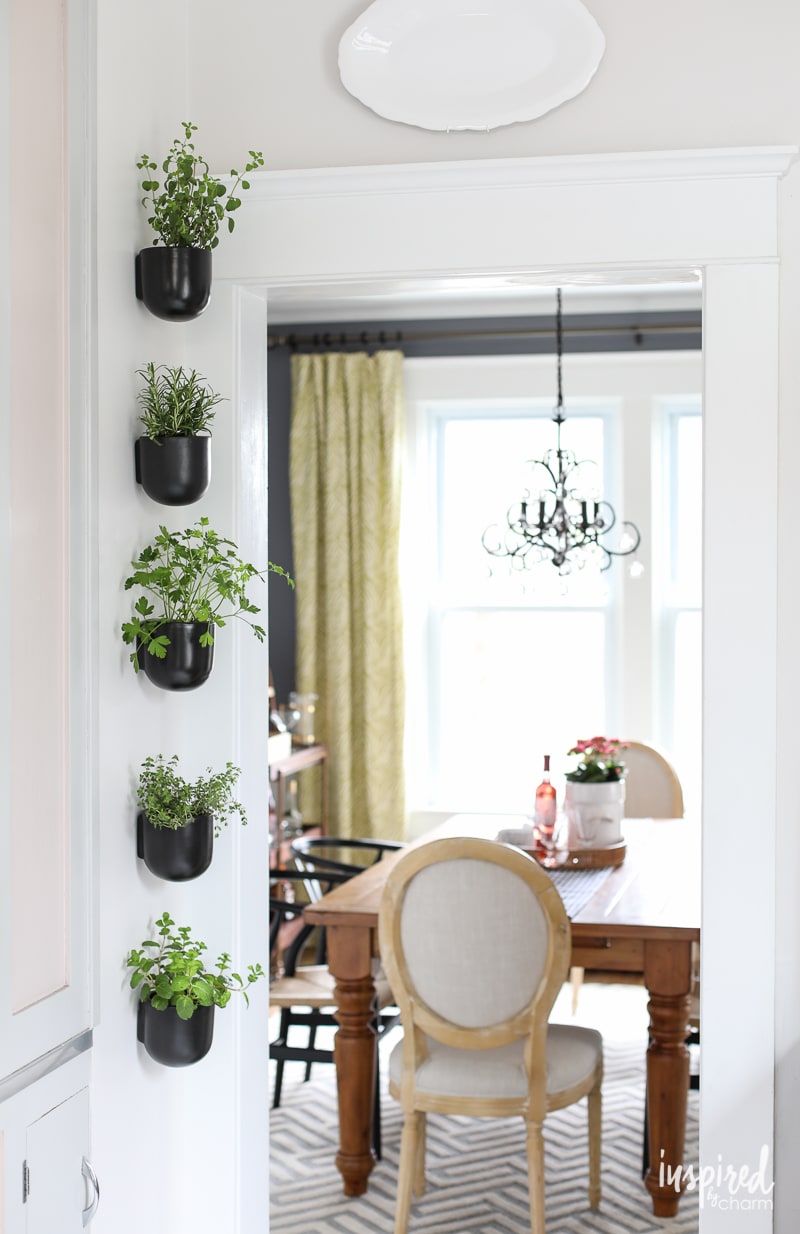 35. Tin can fence
How cute is this display? It's not only a great use of space but it also adds colour and life to this backyard. And it's proof that you don't need a lot of space to create a vertical garden – you can work with what you've got. Simply collect used tin cans, paint them blue, pack them with soil, place your seed, water them and watch them grow.
You can maximise your space even more by installing a rectangular timber planter along the bottom of the fence. This can be filled with extra herbs or flowers for colour.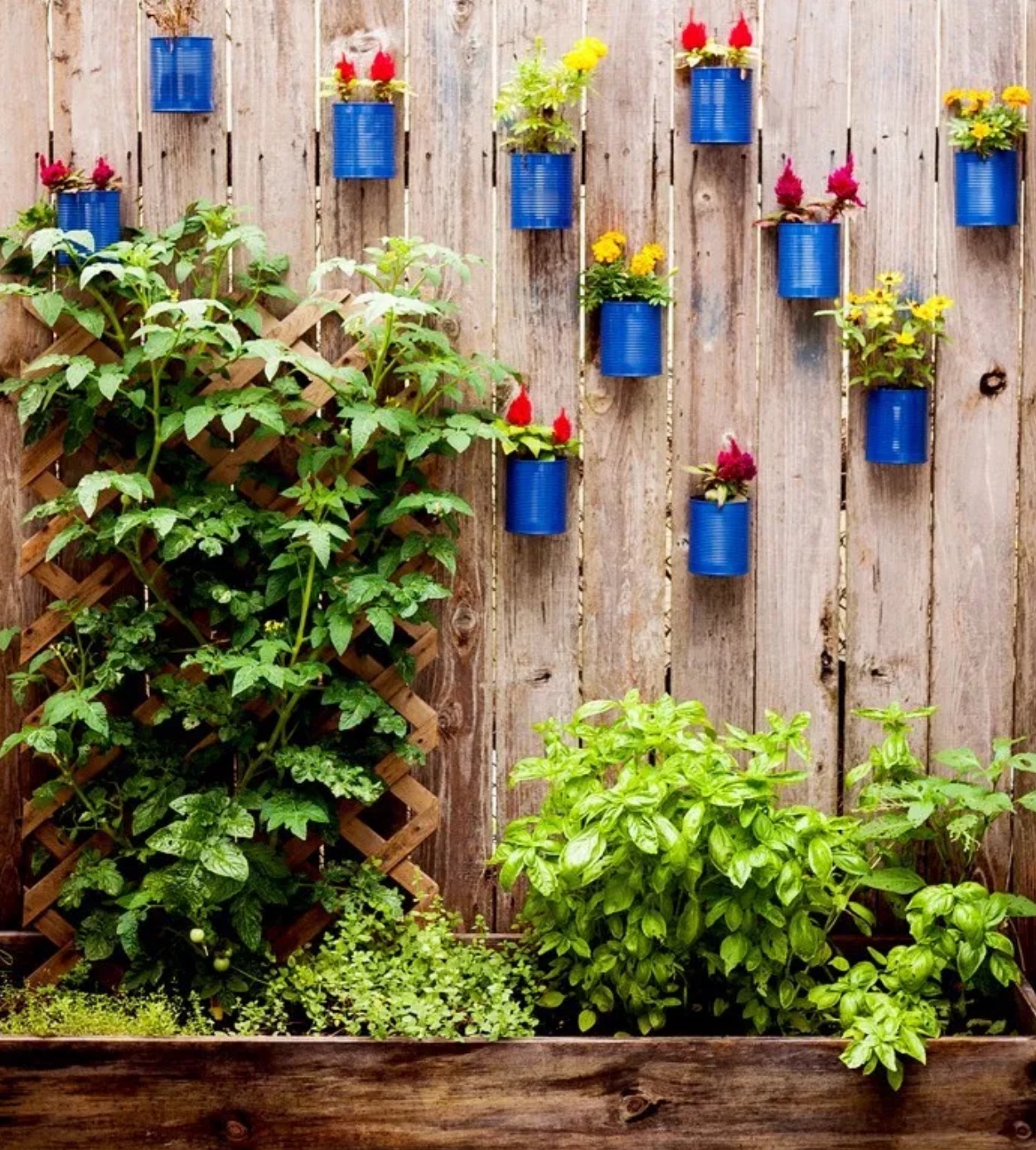 There you have it, 35 amazing vertical herb garden ideas. Which design did you like the best? Comment and tell us.