The best tropical garden designs recreate the calm, warm and lazy vibes of exotic destinations. Hawaii, Bali, Fiji and Tahiti or even local holiday hotspots like Byron Bay or Noosa. We're talking bold landscapes and dramatic, bright foliage with pretty bursts of flowers.
The overriding feature of a tropical garden is that it's designed to be abundant and dense. Teeming plants crowd each other and jostle for attention. Tropical gardens can appear as if randomly planted but usually a lot of thought has gone into their design. Plants are selected for their purpose. Certain ones are best suited as a canopy or a backdrop, while others make the perfect fillers, climbers or groundcovers. Others you might choose simply for their luxuriant foliage or gem-like blooms. Layering up the planting palette this way creates a dynamic display of shapes, textures, contrasts and colours.
….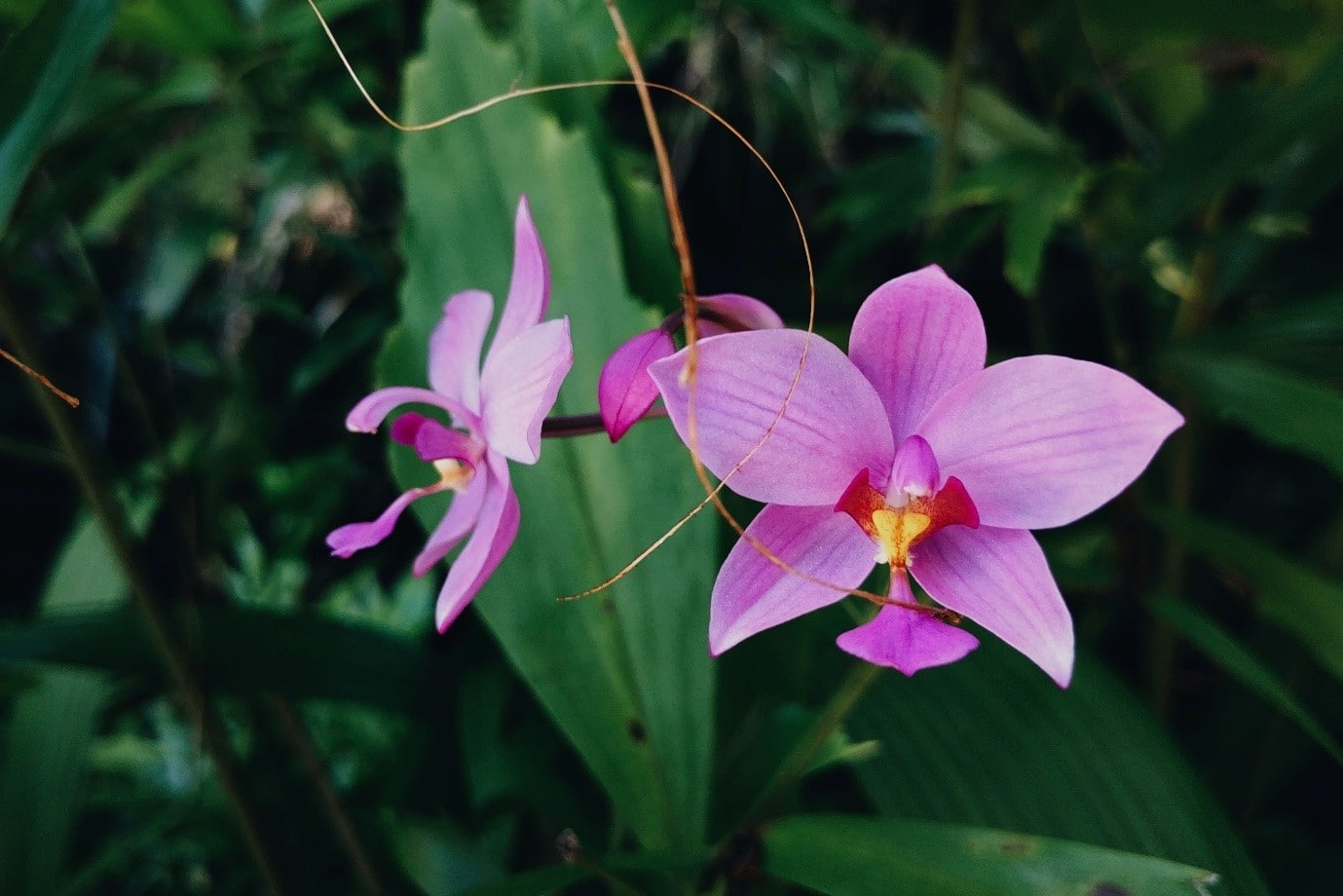 Choosing plants that thrive in a tropical climate
It's easy to emulate the lush gardens of a tropical retreat at home. There are so many wonderful choices of tropical garden plants that suit our climate. Hiring a landscape designer is naturally your best bet to get your planting palette just right. But here's a (very) short list of my favourite exuberant, vibrant tropical plants with fantastic growth rates:
heliconias
banana leaf plants
canna Lillies
pink cordylines
bromeliads
giant bird of paradise
frangipani,
crotons
bamboo
phododendrons
bougainvillea,
And, of course, for tropical vibes you can't beat…
You can also add Asian herbs and spices. Lemongrass, coriander, kaffir lime and cardamom are ideal for fragrance, pest deterrence and the kitchen!
So let's take a wander through some ideas for evoking the languid and lush environs of an island resort. When you can't travel to a tropical destination, why not make sure the heat is on in your own backyard?
1. Surround yourself with lush greenery
The aim of great tropical garden design is to create a sense of being enveloped by a rainforest canopy. For a truly immersive experience, you want to feel you're surrounded by wild, untamed foliage.
Set up a relaxing space for outdoor entertaining with swaying plants and hanging lights overhead. Keep it contemporary with a chic black, green and silver palette, wood and cane elements and charming hanging garden lights.
2. Colour and contrast
Bursting with colour and texture, a tropical-inspired garden should be exuberant. Juxtapose brightly coloured oversized plants with exaggerated physical forms for interest and drama.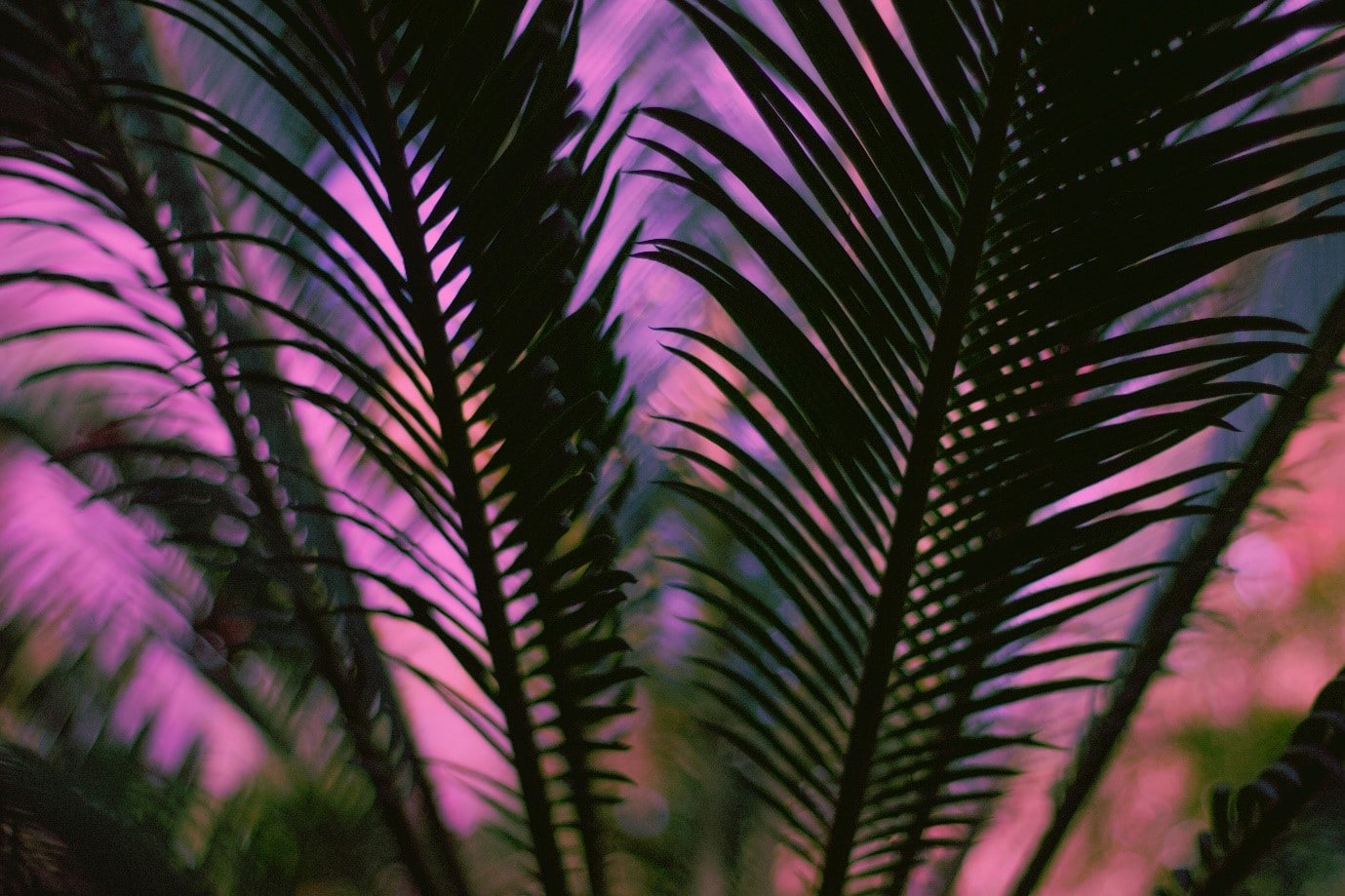 3. Verdant pathways
Density is a vital part of tropical garden design since tropical plants grow entwined and entangled with one another in the wild. To replicate the jungle look, plant your tropical plants closely together. Fill gaps between taller plants with clumping and spreading plants.
Densely planted jungle walls add a sense of mystery and adventure to a winding pathway. Keep things neat with low-growing ferns and grasses to line the sides of the path – it's a great garden edging idea.
Feeling overwhelmed about designing your garden? Instead of doing everything on your own, why not consider hiring a garden designer? This Garden Designer Cost Guide should help you decide!
4. Rainbow hues
Turn up the heat by planting tropical plants that boast multi-coloured foliage in sunset colours. Choose plants with leaves in vibrant shades of reds, oranges and yellows. This will add flamboyance and warmth to your glossy-green foliaged landscape.
5. Scale and drama
Palm trees can grow to extraordinary heights. So they provide the necessary scale and drama that defines a striking tropical garden design. If you only have a smaller garden space, you can also find plenty of dwarf species of palms that will still give a fantastic tropical flavour.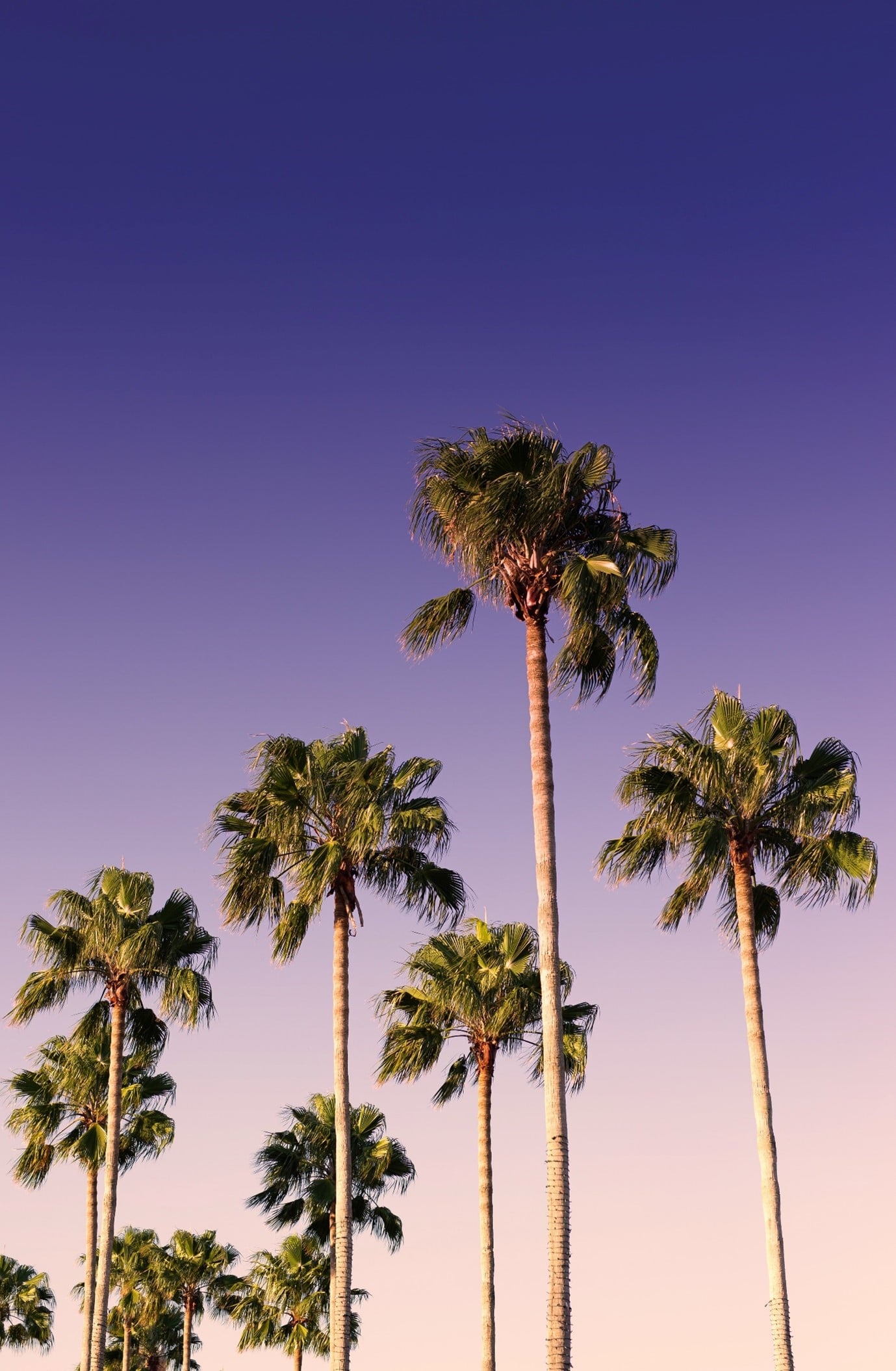 6. Tropical entryways
Give your front garden a lush makeover with the addition of some luxuriant, colourful tropical plants. Try a set of bromeliads, palms and plumerias, maybe punctuated by striking red ti plants. For more front garden inspo, you may also like to see our article on front garden ideas.
7. Décor with resort vibes
Your choice of décor and furniture will also help set the tone for a tropical garden. Go for colourful, happy, beachy textiles and a comfy cane or reed sun lounger. Or make a statement with a hotel-style luxury piece of garden furniture.
8. Modern monochrome
Oversized, broad-leafed plants create plenty of contrast in a tropical garden. Layering plants in different sizes keeps a limited planting dynamic, while the stepping stone pavers can be added for texture.
9. Sweet spots
Adding benches or other seating in secluded corners is a simple way to add tranquil tropical charm.
10. Splashes of colour
Go troppo with exotic plants whose foliage comes in vivid colours. Rainbow-hued leaf plants look gorgeous when packed tightly amongst glossy dark green ones. Aim to grow dense, luscious walls of over-sized foliage in clashing colours like orange and pink. While your wall is still establishing itself, you may like to add in a bamboo or reed screen as filler or plant a fast-growing vine up on a trellis behind it.
11. Raw materials
Pale, natural-looking timber like recycled tallowwood contrasts beautifully with tropical plants. Decking and bench seats or planters can be made of the same wood.
Get some ideas on raised garden beds design, or find an expert in planter boxes to help you get the design just right.
12. Tropical pond
Garden ponds suit the tropical aesthetic really well. Keep the materials natural, even if you just use an interior finish that has a natural effect look. Adding some shimmer to the finish always brings a dash of tropical mystique.
13. Paths and bridges
Add a focal point with a little timber bridge over your pool or pond. Laying a path of natural stepping stones is also an easy tropical DIY. Paths and bridges speak subtly of journeys and exploring and help increase the drama of your garden.
14. Colour inspo
When you're planning your tropical planting, aim to create stunning dense walls of foliage interspersed with bright flowers. For suitable flowers, think hibiscus, birds of paradise, canna lillies and frangipani.
15. Great heights
Choose plants for your tropical garden which have an exaggerated size or unusually shaped foliage for maximum impact. Here, towering palms create a showy backdrop for simpler plantings below. This cascading mix of luscious palms—cycads, king, queen and pygmy dates—looks especially authentic.
16. Native tropical vibes
For a coastal tropical look, paint from a palette of natural tones from our native and indigenous rainforest plants. They look stunning with landscaping materials like corten steel or stone.
17. Light the way
Make your tropical garden really inviting by lighting the way along a path with traditional looking lanterns. Authentic Polynesian-style barkcloth wrapped lanterns work well. But any kind of rustic looking lantern will play the part.
18. Tropical poolscape
Tropical garden design favours pools that have a more natural aesthetic rather bright aqua Olympic Pool feels. Selecting tiles, paving and coping materials which are made of natural stone is a good way to achieve this. Exposed aggregate paving also has that natural pebbly beach look.
Your tropical garden planting should grow so that it impinges on the pool space itself. This creates both atmospheric reflections and that all-important jungle canopy effect. Garden umbrellas in natural materials and colours, comfy sun loungers and a stone statue can complete the look.
19. Green screens
Vigorously growing tropical plants can help conceal walls and fences. They also help give the illusion of having a larger garden space extending beyond your borders. Even when you are planting with density in mind, you'll want to keep things a bit neater around the seating.
So, perhaps consider enlisting the help of an experienced gardener who can help you keep your urban jungle garden tidy up. I'd love to chill on this relaxing timber bench snuggled into densely planted heliconias.
20. Heaven scent
Shade your tropical garden by studding it with dwarf and larger palms as well fragrant trees and shrubs, like lemon trees. Lemon trees have a sweet, light scent. But if you struggle to grow citrus trees, you could also add lemon-scented herbs to your garden. For example, lemongrass, lemon verbena, lemon balm and lemon mint!
21. Woven decor
If you have a water feature in your tropical garden, why not float some little woven decorations? You'll often find them used as décor for tropical-styled weddings. But little woven decorative elements are also perfect for everyday tropical charm.
Source authentic garden decor from an Asian garden supplier. Or just copy the look and DIY some pieces using easy-to-find craft materials and foliage from your garden. It's an easy way to add interest and tropical flavours.
22. Water feature
Whether a small waterfall or pond, a water feature is always another way to make your tropical garden complete. Even if you can only add a simple concrete water bowl, you'll have an instantly cooling focal point. And it looks beautiful filled with floating aquatic plants like lotus flowers or water lillies.
23. Tiki torches
Their relentless appearance on TV show Survivor may have dimmed their appeal a little. But traditional island-style garden torches do suit the tropical garden aesthetic perfectly.
In search of tropical landscape lighting ideas other than torches or lanterns? Why not have a chat with a local expert in landscape lighting?
24. Tropical green wall
If order and neatness in the garden is more your cup of tea, you can still enjoy a lush tropical planting arranged into a defined space. Fill your vertical containers with low-maintenance plants. For example, small parlour palms and Ctenanthe (aka 'the never plant'). This has gorgeously coloured variegated foliage. It's a great way to spruce up your privacy fence.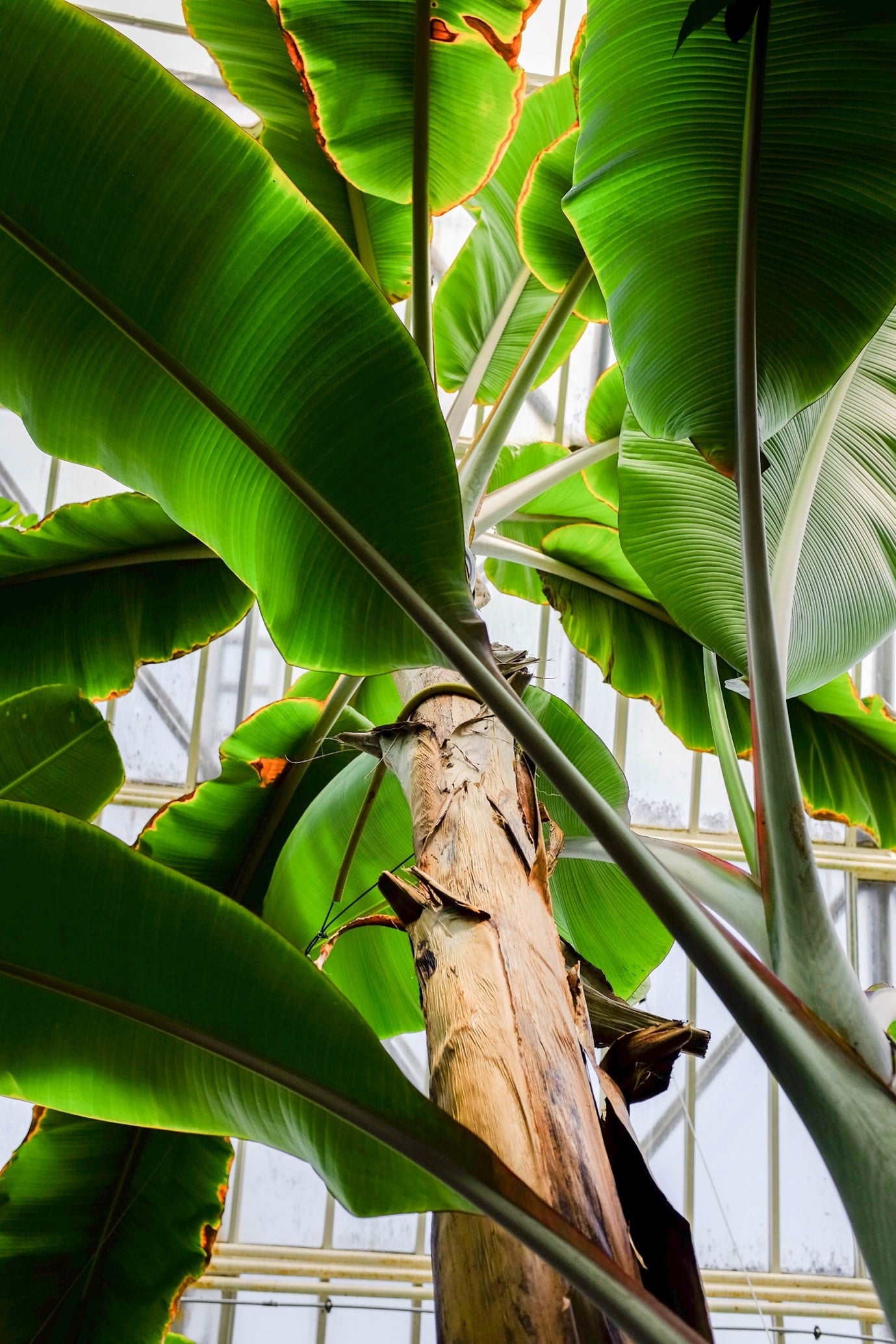 25. Tropical deck
Decks are perfect for relaxed outdoor living and entertaining. And by reducing the amount of lawn in your yard space, they're lower maintenance. A natural timber deck has plenty of tropical vibes. And the orderly, linear look of decking contrasts well with the unruly, riotous aesthetic of a dense tropical planting. Need more ideas for how to design a stunning decking area for your garden? You can also see our article on decking ideas for your garden and/or pool.
26. Meditation pavilion
A little thatched wooden hut or a pergola that can be styled as a meditation pavilion will give your tropical garden design all the holiday feels. It doesn't need to be an elaborate or expensive structure—in fact, the simpler and more rustic, the more Zen. Just add some sheer white curtains. Add your comfiest garden furniture and you have an instant tropical-style outdoor living room.
27. Tropical decorative items
Enhance your tropical garden aesthetic with traditional decor from tropical destinations. For instance Balinese penjor. These long bamboo poles are seen lining the streets of Bali outside homes and establishments. They droop down holding little cage-like structures at the ends and are often decorated with coconut leaves.
28. Carved wooden elements
Traditional wooden carvings add little bursts of interest and uniqueness to your garden and set the tone. Here, a carved door signals tropical style, amplified by the sprawling frangipani. Natural stepping stones in the lawn add to the beach house feels.
Other tropical garden decoration ideas, include items made from natural materials like stone or wood. Paths, benches, sculptures and carvings, firepits, garden furniture and even little thatched huts.
These features break up the plants and create atmosphere while bringing your outdoor entertaining to life. Adding lanterns or torches is also a popular way to amp up night-time drama.
29. Green dining room
Darker timbers look especially appealing in a tropical garden design and when wet, they give off steamy monsoonal vibes. And a small table setting tucked into the greenery makes the perfect spot for an intimate al fresco dinner. Punctuating the foliage above with little timber lanterns will add Asian flavour to your outdoor dining setting.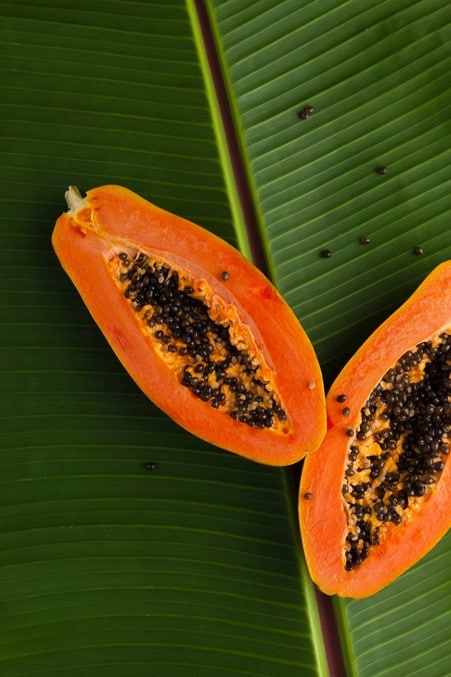 30. Tropical containers
They appeal to those of us who favour an organised, neat aesthetic. But keeping tropical plants in containers also just gives you more flexibility. You can move them according to your changing mood or the season.
31. Bougainvillea
Fast-growing, drought-tolerant tropical vine bougainvillea is always a brilliant addition to any garden. Its intensely coloured flowers saturate a space with rich, ripe colour. Standalone as a statement plant and allow to creep up your house exterior (they can reach heights of 30m!). There are actually around 250 species of bougainvillea in a range of colours from magenta to white. So you're sure to find a variety that suits your home and garden aesthetic.
32. Stone deities
You can't go wrong with a statue of Buddha or another deity as they'll always bring instant tropical garden vibes. If you're worried about being cliched, don't be! The trick is simply finding one with an appropriately serene and wise expression. Avoid those that look cartoonish.
33. Tropical outdoor shower
If your home is full of water babies, installing an outdoor shower is a practical and pleasing addition to your tropical garden design. For a modern tropical look, juxtapose plants against black timber. Matte black wood just contrasts so well with glossy green leaves and will also retain the heat better than lighter coloured timbers.
34. Rainforest frame
Emulate the feeling of the tropics by surrounding your home with densely planted palms and ferns. This will create tapestries of flourishing foliage. Add faded timber walkways to complete the picture.
35. A touch of the tropics
Finally, don't have the space for a sprawling jungle aesthetic? You can still bring the relaxing flavour of the tropics to your patio or sunroom. For a minimalist tropical look, just add a few large potted tropical plants, plenty of woven and wooden décor and lots of bright, white paint.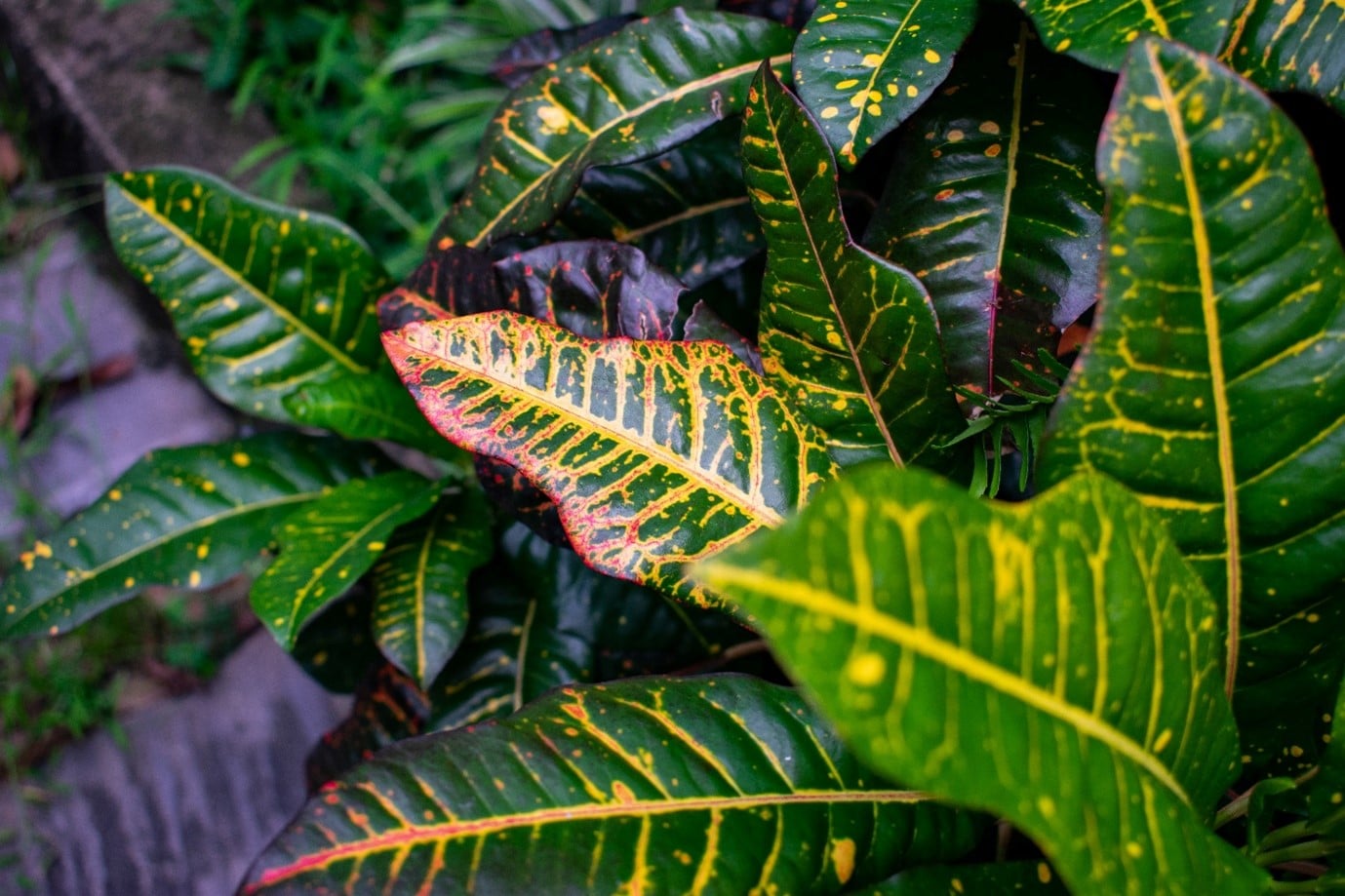 Tips for mimicking tropical conditions
Frost-prone regions will find tropical plants just won't grow. But elsewhere, you can achieve a tropical aesthetic even in cooler areas provided you follow some simple guidelines.
Ensure you are planting into nutrient-rich, well-draining soil. Prep the ground well by layering compost, leaf litter, garden clippings and thick mulch.
Aim to recreate the microclimate of a jungle or rainforest, where plants grow very densely in a way that encourages humidity.
Layer them so that more vulnerable plants are protected by a canopy of hardier, more wind tolerant ones.
If possible incorporate physical structures for added shelter. Consider green shade cloth, or planting near stone or brick walls as this helps retain heat as well.
Finally, expect to spend a little time on maintenance. You'll need to regularly feed with mulch and seaweed spray and prune rampantly growing plants. (If you like, you can get some local help with garden maintenance.)
So there's my guide to creating sultry, steamy green sanctuaries with all the holiday feels of an equatorial oasis. I'm ready to put on my lei, pull out my sun lounger and fix myself a daiquiri. Which tropical island do you find most inspiring when it comes to tropical garden design? Drop me a comment below!