Garden edging is one of the most overlooked aspects of garden design – but it can make a huge difference to the overall appeal of your outdoor space. Whether you use it to define flower beds, create raised sections, pronounce garden paths or act as a border between pavers and grass, lawn edging is sure to add character to even the most simple of gardens. But it's something that you might not realise that you can be a bit creative with, so let's take a look 50 gorgeous garden edging ideas.
Having a garden border is more than just making your garden look pretty, it makes the surrounding grass easier to look after. This way you don't need to worry about trimming around any awkward edges.
1. Bamboo edging
This is an eco-friendly option that not only looks beautiful but also protects your plants. Bamboo edging is a great option for a DIY garden project because it is flexible and easy to cut to size. This kind of edging is designed to be placed above the ground, so it prevents rotting and lasts longer!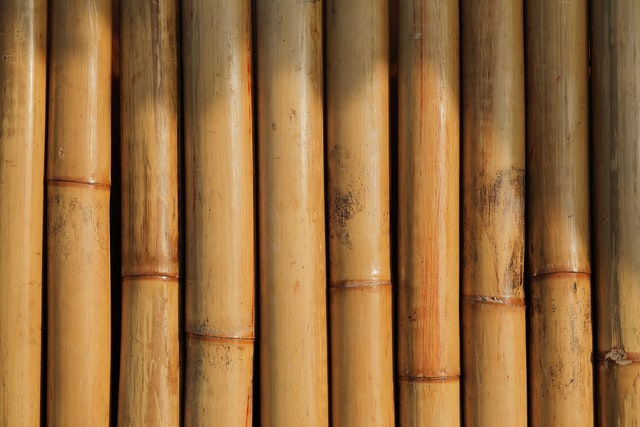 2. Rusty pipes
This may not be the first option you think of when you consider edging for your garden. But it's a great way to upcycle unwanted pipes that wouldn't be used otherwise. You can also add a little more detail by filling the pipes with stones or even planting succulents and cacti inside them. It's great for a rustic garden.
3. Terracotta tile
If traditional is more your style, then you might want to go with classic terracotta tiling. This is a design that is always on trend because it perfectly highlights your gorgeous garden. Add some terracotta pots to your front porch or back deck, and you'll have a consistent style throughout your outdoor space.
4. Pallets
Pallets are a great DIY building material, and with good reason – you can usually find them for free! Check Gumtree or ask local businesses for their leftover wood pallets. Cut them yourself, or get someone to do it for you, and then paint them white or any colour you desire. For a 'vintage' look, leave the wood slightly unfinished.
5. Stone garden edging
This is an elegant choice that will last the test of time. Choose large pieces of stone to pull this look off, and fill in the gaps with sand to hold it all together!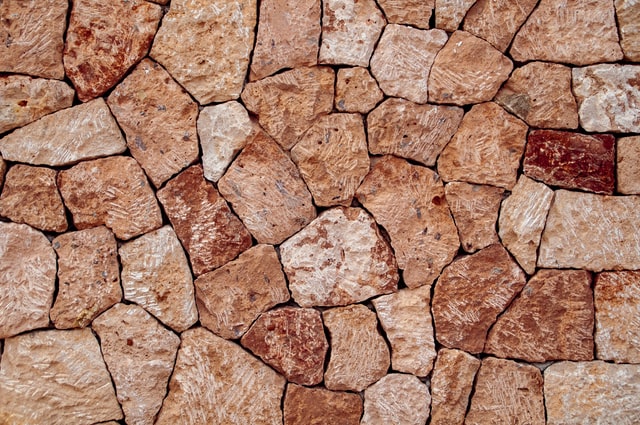 6. Horizontal logs
This is an effective garden solution that can also serve as a planter box for your herbs, flowers and vegetables. Use a single log or stack multiple logs to create height.
7. Wrought iron fencing
This is a simple yet beautiful way to define your garden bed, border or path. Wrought iron edging not only adds a bit of pretty detail to your garden, but it's also a practical addition to protect your garden and flower beds.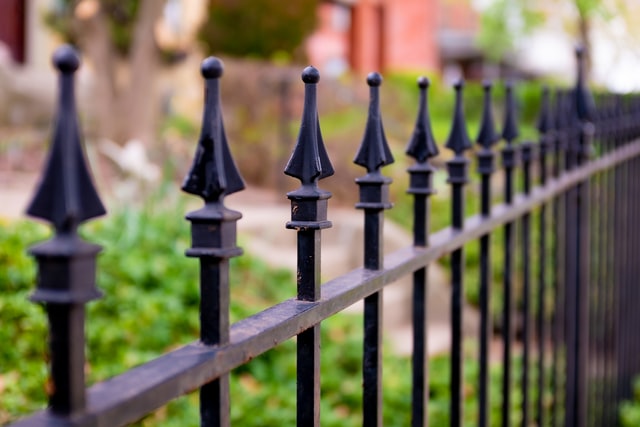 8. Garden beds
Garden beds elevate your plants and protect them from getting damaged. They also separate your fertile soil from what is natively grown in the ground, giving you more control over the nutrients your plants receive. If you set your garden beds to drain over the rocks, you protect the roots from drowning, which is the number one cause of plant rot.
9. Plates
If you're looking for a quirky option, then why not use decorative plates? You can find secondhand plates at op shops or vintage stores. Choose different shapes and sizes or even different colours to line your garden.
10. Woven wattle
You simply can't deny the charm of woven wattle – and the great thing is that it's actually really easy to make! Not only does it look great, but wattle can actually insulate young seedlings by blocking the wind. It can also elevate an otherwise average raised bed into a charming focal point of your garden.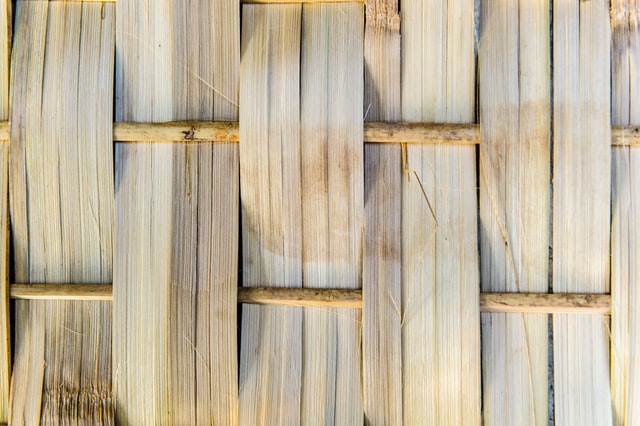 11. Curved brick edging
Add a touch of detail to your garden by swapping out the usual straight bricks for curved bricks. Even the most simple of styles will look good! And the great thing is that you don't have to move your garden beds. Simply pave your bricks around your existing gardens, and voila – you've got charming garden edging.
12. Terracotta pots
Layer small terracotta pots around your garden bed and include larger pots with herbs, flowers or other plants in the centre of your bed.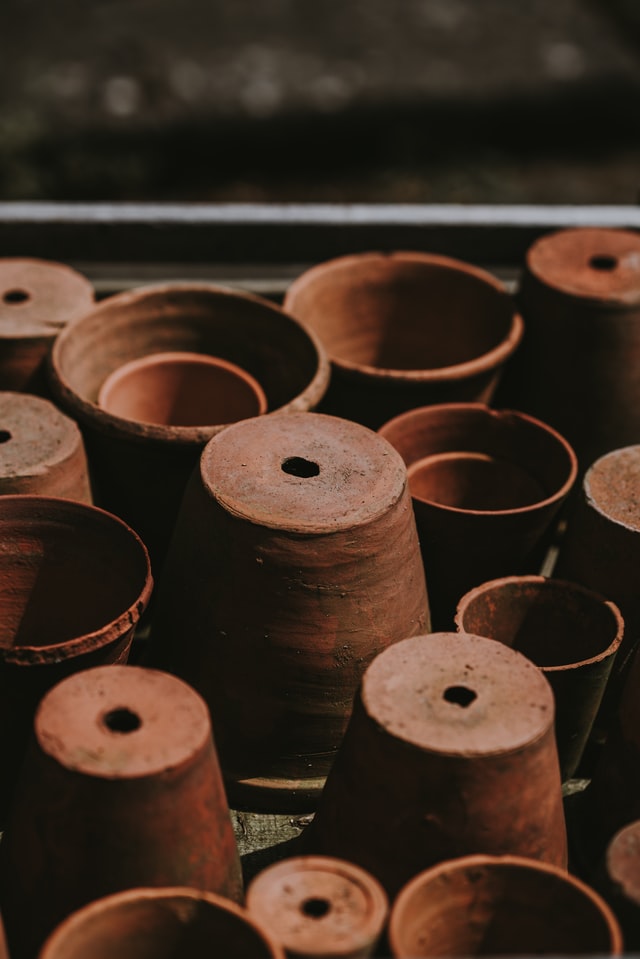 13. Glass bottles
You probably have plenty of these lying around or use them regularly enough to collect them. Simply clean out glass bottles of any kind – wine bottles, soft-drink bottles or even pasta sauce bottles – and push them head down into the soil on the outside of your garden bed.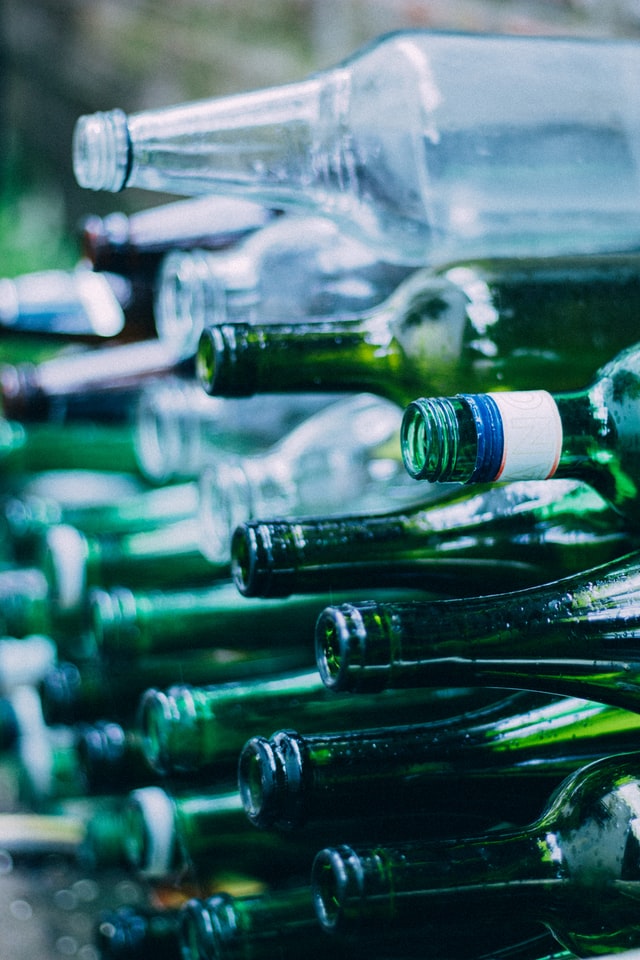 14. Pebbles and rocks
Use large rocks to complement the pebbles on your garden path. This is a really simple approach that looks good, especially if you're going for a more natural look. And the great thing is that you can find pebbles and rocks anywhere – by the beach or in the hinterland. Alternatively, you can find them at your local plant shop or Bunnings store.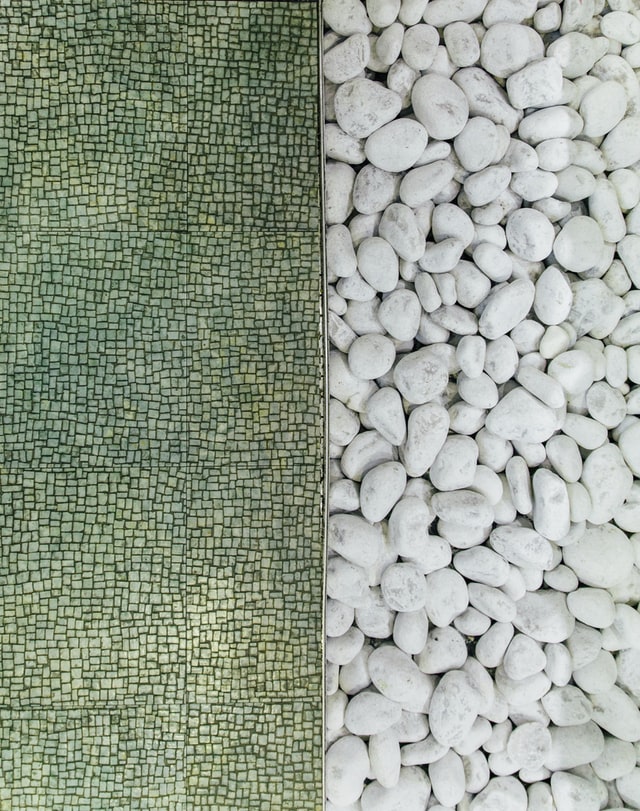 15. Hedge
This is a classic garden edging idea that is inspired by European gardens. Hedges will add a formal look to your backyard and keep everything green.
However, you need to keep in mind that hedges will require a lot more maintenance than your simple plants or flowers, and will be much less forgiving if there are any problems. You'll need to make sure that your hedge always looks well-kept with regular
hedge trimming
.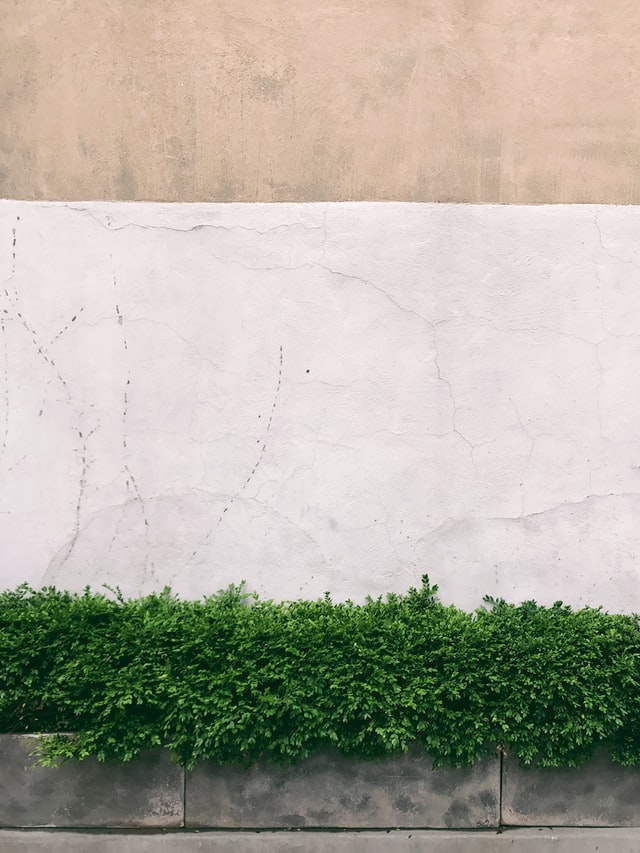 16. Broken concrete
If you have pieces of concrete lying around from a recent home renovation, put them to good use by lining your garden bed with them. The jagged edges are good for a more wild, unstructured garden with a mix of plants and flowers.
17. Poured concrete
This is a simple yet effective garden edging solution that will last the test of time! It isn't prone to rotting, warping or separating, even in extreme weather conditions.
18. Scrap wood
This is a great option if you have some lying around! But be careful – unless it's been treated, very few timbers will last more than a few years on the ground. It won't be long until rot and termites find them. However, there are some timbers that are resistant to both. Use Australian turpentine, cypress and cedar to stay on the safe side. If you aren't sure what type of timber you're using, be careful not to bring the edging up to any building as termites are likely to migrate from the edging to the timber in your house.
19. Woodblocks
Timber blocks look great as edging but you should take the same caution as with scrap wood. Select your timber with care or make sure it has been treated before using it to line your garden.
20. Wood logs
This is another great timber solution for your garden. You can have a bit of fun with wood logs. You can make them the same height, place them in height order or change things up a bit by making different levels throughout.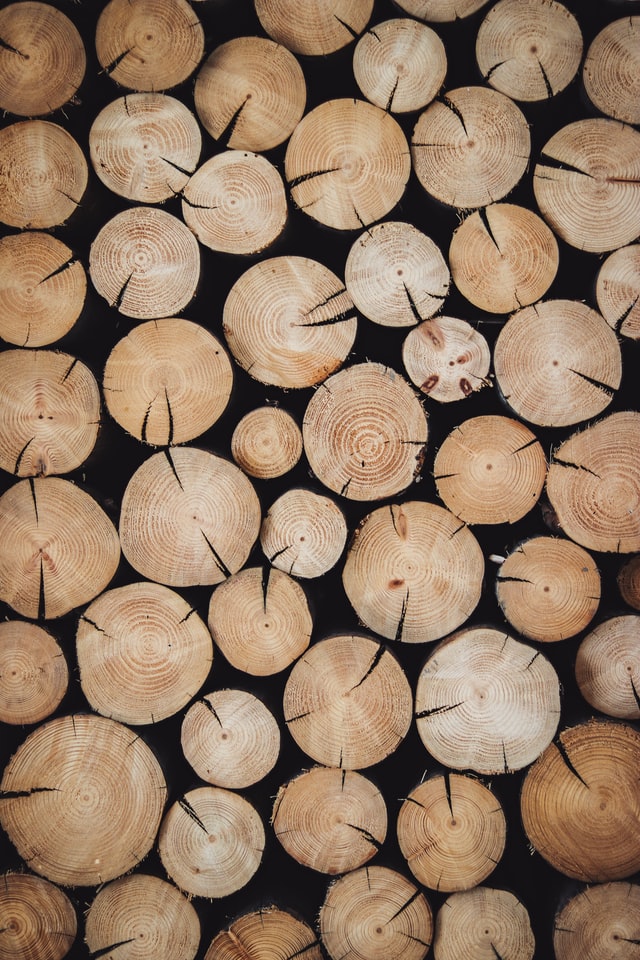 21. Cinder blocks
Cinder blocks or concrete blocks are a cheap and easy option for lining your garden. You can also paint cinder blocks any colour you like, and add extra plants like succulents and cacti in the middle!
22. Gabion edging
Gabion walls are not only a great retaining solution but the combination of natural river rocks, timber and mesh looks great in every outdoor setting.
23. Use light to highlight your edging
Light edging is a great idea for a modern garden. Simply use rope lighting, which you can find at Bunnings or on Ebay, and line it around the edges of your garden. Be sure to turn them on in the evening so you can enjoy the gorgeous glow–better still go solar!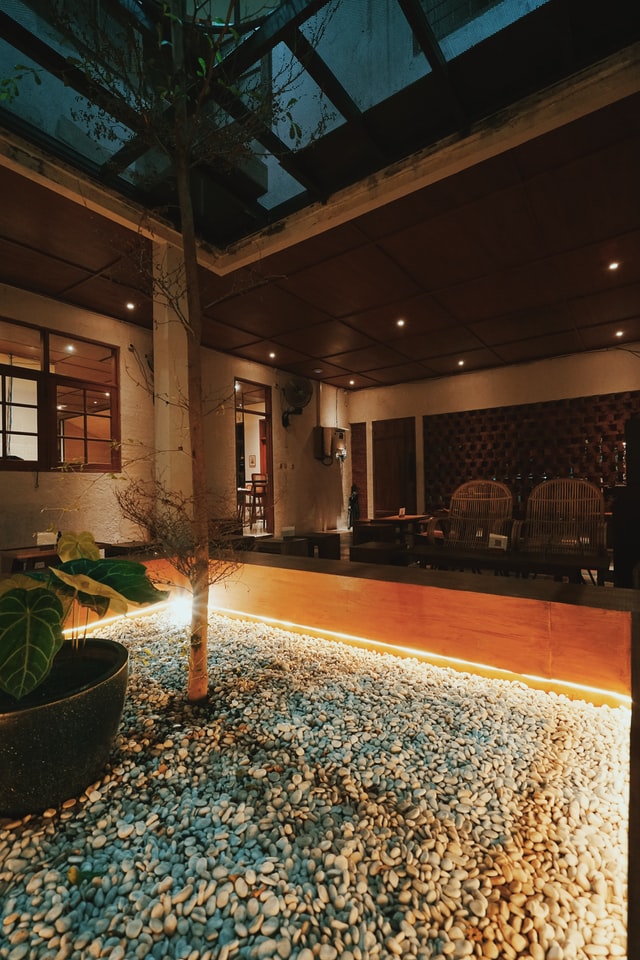 24. Rock and brick pattern
Shake up your style by using a mixture of patterns in your garden edging. Combine rock, pebbles and brick together for a great look.
25. Mosaic art
If you're after something a little bit different and colourful, consider lining your garden with mosaic tiles. You can connect this edging to your outdoor tile setting to make it seamlessly flow to the garden bed. Choose a base colour, like white or black, and add in a couple other colours and styles to bring it all together.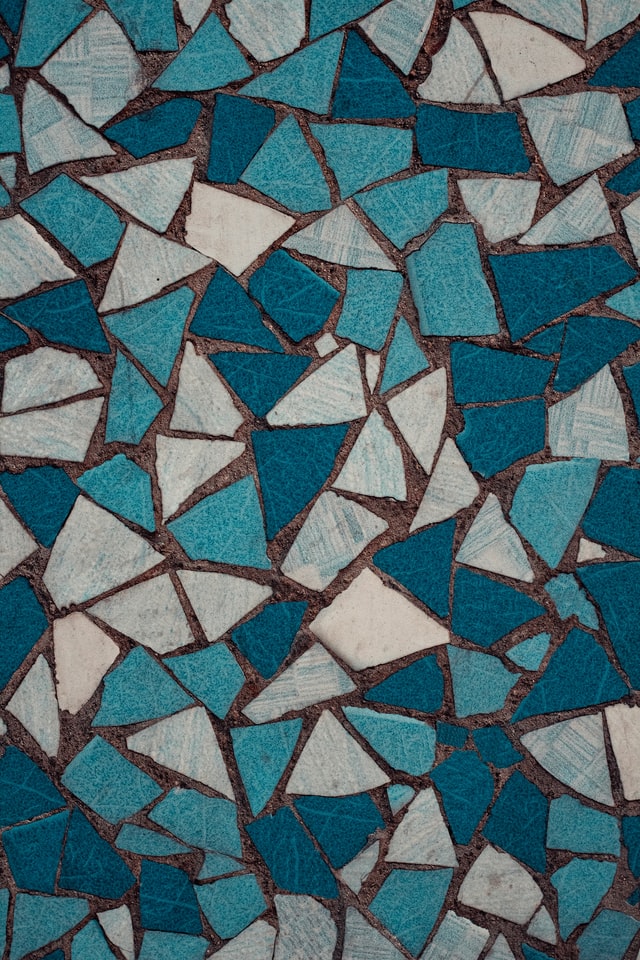 26. Steel fencing
This is a handy option to hold your raised garden bed together. Use steel on its own for a more industrial look or combine it with wood to soften it and match your wooden fence or outdoor furniture.
Fences need to be well planned and organised, especially when it comes to getting the right approvals. Finding the right fencing contractor for you is a great place to start.
27. Raised edging
Use timber planter boxes (or build your own) to raise your garden bed. This helps your flowers and plants stay contained to one spot and makes them easier to maintain.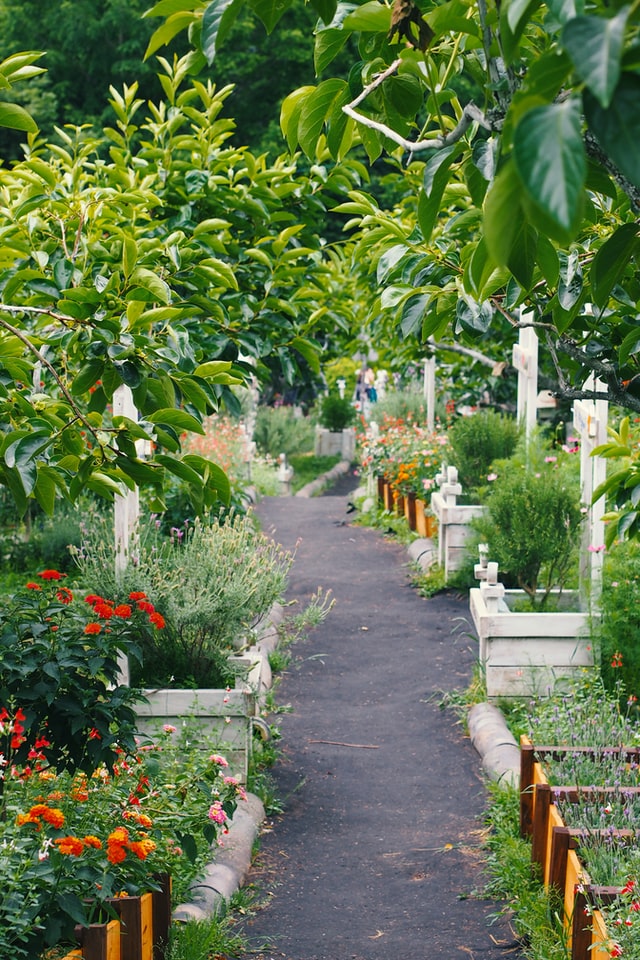 28. Formal edging
Use curved and straight concrete edging for a more formal look. To keep your garden consistent, stick to just a few plant options and keep them in a similar colour scheme.
29. Detailed with refined borders
If you like the clean-cut look, choose edging that has defined corners that will be sure to make your garden stand out. This works really well next to hedging, as the straight lines of garden edging complement the box-shaped hedges.
30. Plastic stone-look
If you're after something that's low maintenance and affordable, then plastic stones might be the best option. You can find these on Ebay, from Bunnings, and even from garden centres. They are usually interlocking, which makes putting them together really easy!
31. Drainage edging
This is a smart landscaping hack that is often overlooked. But if you have issues with drainage or simply get a lot of rain in your area, you might want to consider drainage edging. Stones or gravel will allow water to easily pass, and you can even plant some cute succulents for extra appeal.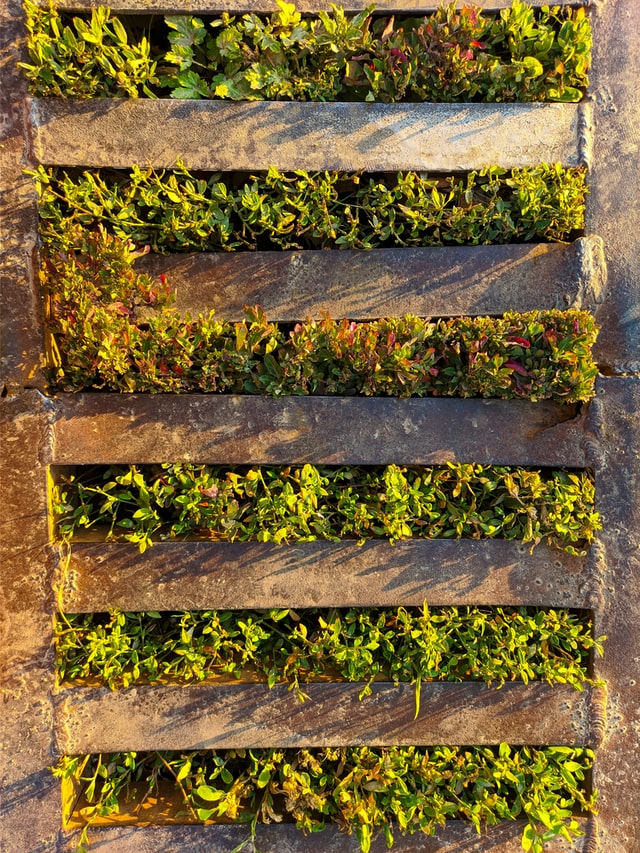 32. Patio bricks
Stack patio bricks on top of each other to create garden edging for a raised flower bed. This is a great way to tie your colours into your existing patio design.
33. Shells
Line your garden bed with large seashells to create a coastal vibe. Gather shells in different shapes, colours and sizes from the beach or purchase some online to create this coastal vibe.
34. Natural sandstone garden edging
If you're looking to reproduce the rustic-looking garden of times gone by, then you simply can't go past natural sandstone. It's a classic design that will last the test of time and look great in years to come.
35. Rope terracotta
Terracotta rope-top garden edging provides a touch of Victorian elegance and is an attractive border solution for flower beds. The terracotta colour, combined with the rope top finish, will give your outdoor space a more traditional look.
36. Scalloped
If you're looking for edging with a contemporary twist, look no further than a scalloped design. The flowing curves and clean lines add a touch of sophistication to any garden, whether it's traditional or modern!
37. Add a few layers
If you can't decide on one style, then why not line your garden with multiple types of edging material. Use rough pieces of concrete to create a raised garden bed, then add stones or pebbles around it, and add a final layer of brick pavers.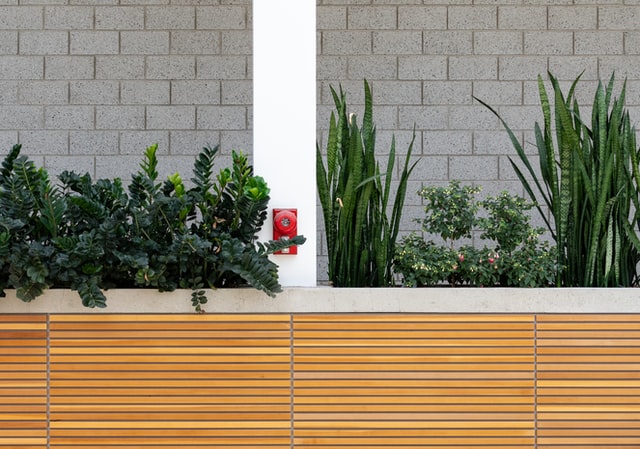 38. Coastal rope
A coastal rope design is perfect for bringing beach house vibes! It uses simple white rope through wooden holes in the garden bed. You can add shells to the gap between the garden bed and the grass to create a unique, beach-inspired look for your coastal home.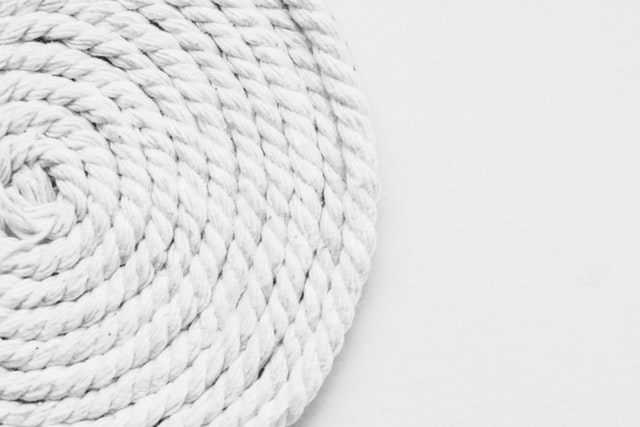 39. Glow-in-the-dark log edging
If you want to light up your garden with something different, why not crack some logs open and add warm LEDs. Of course, this is going to take a little bit of work but the finished result is pretty impressive!
These light-filled logs can be used as a border for your garden or serve as a stool or small table for a garden BBQ. Because each log will be different, this will be sure to add a beautiful ambience to your outdoor area. These would also look great at Halloween.
40. Raised bed in stone finish
Stone is another classic solution for garden edging. Use stone as a foundation and border for your raised garden, and use similar colour tiles and pavers throughout your outdoor area to maintain a consistent look.
41. Pine raised bed
Treated pine is designed for long-term outdoor use, so it will be protected against nasty termites or fungal decay. So it's not only an attractive option, but it's a practical choice for your garden.
42. Steel planters
Steel planters make a clean, simple look for your garden beds – and they look great against white or light grey stone pavers. Use small rocks or white pebbles to fill in the gaps between your planter boxes.
43. Simple pavers
You can't go past pavers, especially when they're simply lined up against one another. This is an easy garden edging solution to maintain, and it's something that you could install yourself (if you're into DIY) or get someone else to complete over a weekend.
44. Tiered
If you're wanting to create levels in your garden, then you must use edging to hold it all together. There are so many different options, but simple curved steel edging will work a treat and will ensure your plants are the main feature. Fill each level with gravel or stones and add in your favourite plants like succulents, cacti, spider plants, or herbs.
Looking to build a retaining wall like this but still not sure of the final look? I've put together my favourite retaining wall ideas here to help you get inspired.
45. Aluminium edging
When it comes to garden edging, it's really important to not only choose what looks great but also what's going to last. While steel is strong, perfectly holds any shape and is not affected by erosion, it isn't resistant to corrosion. However, the process is slow and it may take decades before your steel garden edging needs to be replaced.
On the other hand, aluminum garden edging is softer than steel edging and a perfect choice for any curvaceous installations. Aluminium garden edging doesn't rust but, because of its softness, it can bend and lose shape over time. So when it comes to your edging, make sure you think about your exact garden situation before you make a choice!
46. Terracotta lookalike edging
If you're after terracotta rope borders to create a classic look but don't want to break the bank to afford this option, then consider lookalike edging. This design is made in moulds to replicate traditional terracotta garden edging – and it's a great solution to the traditionally expensive edging.
47. Marble
This will look good in any backyard, but especially in a contemporary home. But beware, marble can get expensive! So before you go ahead with this option, make sure you know the exact measurements and how much marble edging you will need so you can make an informed decision.
48. Graphite
This is an extremely strong and weather-resistant option that is also super soft and smooth. You can find graphite in different shades of grey from light through to dark, almost black options.
50. Granite
Granite is another tough option for your garden edging. It also comes in a range of colours from yellow to grey to dark grey and everything in between. It's a natural stone, which means it will work in seamlessly with your green garden, plants, grass and stones.
I hope that by reading through all of these garden edging ideas, you're inspired and ready to take on your next garden project! I know it might seem like a lot of work, but you'll be so glad once you've completed it because your garden is going to be looking fantastic.
Remember to always check and double check the specifications and measurements of your garden so you can source the right amount of edging for the job. And why not have fun with your garden edging by choosing something a little bit out of the box. After all, you can always change it in the years to come.
Comment and let me know which option you're going to choose!