Have you ever caught yourself scrolling through endless Instagram photos and Pinterest pictures daydreaming about your next summer escape? There's no better way to do this than to create a peaceful pool oasis to not only focus on the pool, but it's surrounding area to suit your needs. So it's time to dive into pool landscaping!
If you don't have a pool yet, consider what kind of pool could work in your space (above ground, below ground, lap pool, plunge pool). And if you do have a pool, think about how landscaping can enhance the area e.g. lawn, low-maintenance plants or a tropical paradise. But before you get started, I recommend asking yourself the following questions:
What's my budget for my pool area?
Are there any restrictions for landscaping my area?
What safety requirements do I need to have in place?
What time frame do I want this projected completed in?
And now it's time to get the creative thoughts flowing. Be inspired by these 25+ amazing pool landscaping ideas.
1. Green wall
If you prefer to keep things more simple, then you can't go wrong with an all-encompassing green hedge or leafy bushes. This space looks like it's straight out of a magazine with the white walls, oversized black framed windows and the bright blue pool in the foreground.
Looking to add a hedge or green wall to your space? Find an affordable hedge planting expert for the job.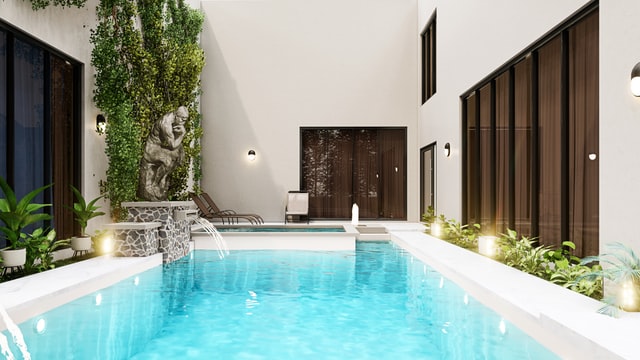 2. Plenty of greenery
If you can't decide what kind of plants you want in your pool area, why not go all out and combine them all? Think a mix of fresh purple bougainvillea with tall palm trees, towering trees, and lush leafy greens of all shapes and sizes.
3. Among the palm trees
While living near the beach is a good excuse for planting palm trees in your yard, you don't need a coastal property for permission to plant them! Palm trees will instantly make your outdoor space feel more relaxed. And they look pretty impressive when they grow nice and tall.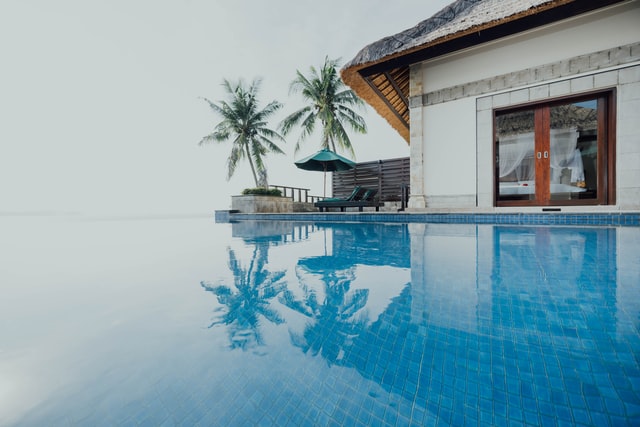 4. Add fun elements
If spending time outdoors is a priority for you, then why not go all out with a fun installation? How about a slide going into the pool – so much fun for the kids (and the kidults!). If you're thinking about incorporating a slide with your pool, you can make it appear more "natural" by adding large rocks on either side.
5. Wild and free
While orderly pool areas are something to admire, there's nothing wrong with keeping things a little more au naturel. Don't be afraid to make the most of what you've already got–hedges, bushes and all! Just be sure to give it a little trim from time to time so it doesn't get too overgrown.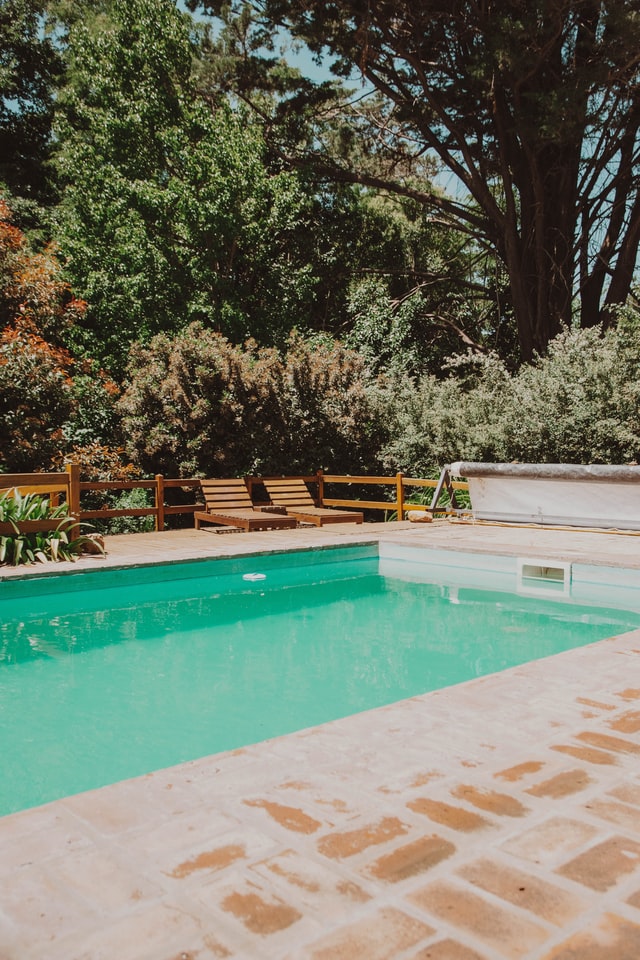 6. Mediterranean style
Transform your outdoor area into a Mediterranean dream with a U-shaped pool design, surrounded by simple palm trees and small shrubs. Get the authentic look with a mix of rustic stone and mosaic tiles.
7. Santorini style
If Greece is more your style (and I mean, who wouldn't want a Grecian-inspired space to lounge around in), then go for natural blues and whites. The key here is to keep things simple. You don't want to go overboard with colour, but you can play around with textures and patterns. Be inspired by the gorgeous tiles in this beautiful setting.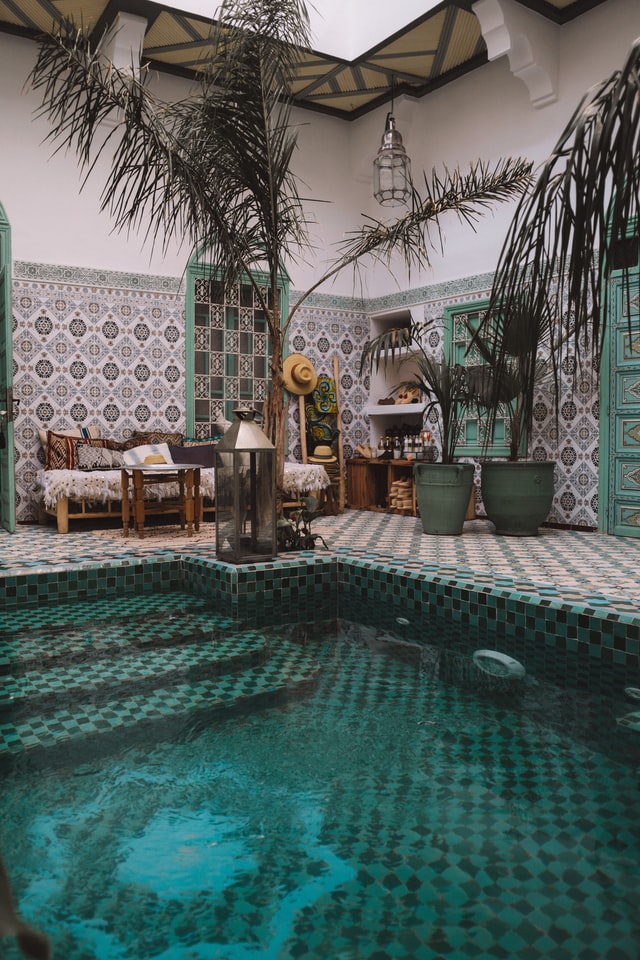 8. Grass pool landscaping
Just because you're landscaping your pool area, doesn't mean you need to planting trees. For a low maintenance option, you can always stick to green grass. All this will require is a regular mow and water, and you're set.
9. Hamptons pool landscaping
There are few places that have more grandeur than America's classic seaside spot, the Hamptons. With its exclusive beaches, great open spaces and fancy architecture, it's definitely the place to be. But while we can't all escape to this delightful collection of towns, we can bring a bit of Hamptons luxury to our own backyards.
If you want to recreate this classic style, think plush white lounges and daybeds, and pool chairs. You really can't go wrong with the Hamptons colour scheme of neutrals plus a dash of blue – so decorate with a mix of these colours for the perfect finish.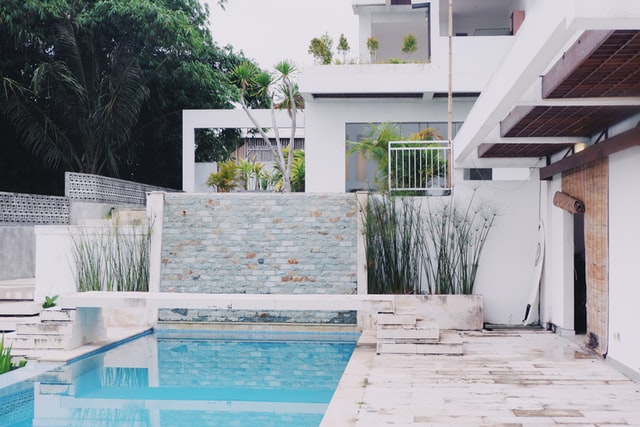 10. Outdoor shower
A handy addition to every pool is an outdoor shower area. It provides the perfect place to rinse off before and after a swim in the pool. You can even add handy hooks for hanging your towels.
On the hunt for something a little bit different when it comes to outdoor showers? Check out these other outdoor shower ideas for your home.
11. Make it interesting
Landscaping around your pool doesn't have to be boring. Go all out with a mix of beautiful timber decking or stone pavers, an elevated fountain that pours water into the pool and a pergola which provides a great area for entertaining.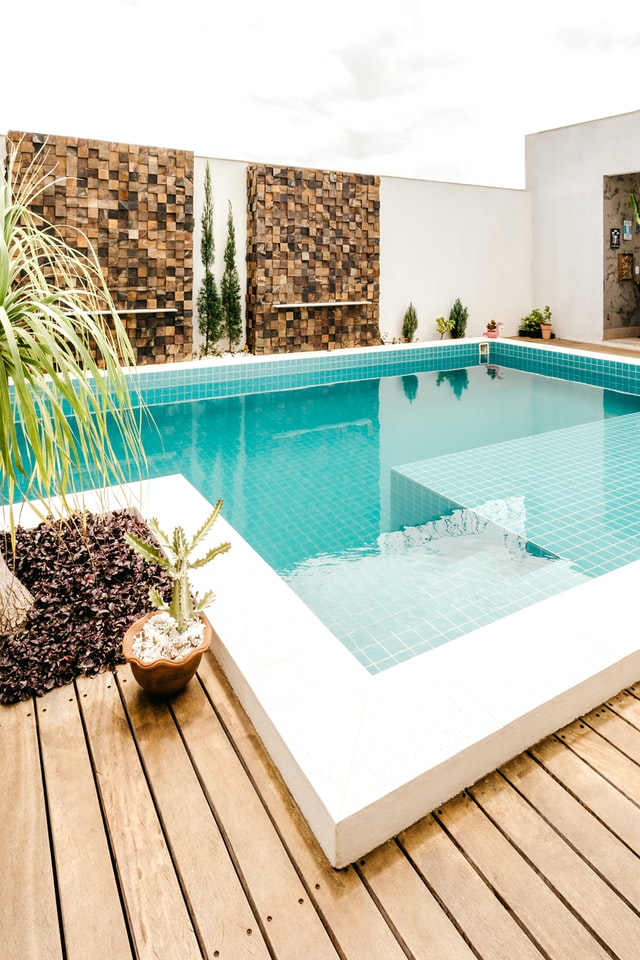 12. White pebbles
Add little details to your pool edging by filling any gaps. For instance if you have large pavers and timber decking, spruce it up with white and natural pebbles and green succulents.
This is a great example of modern paving and if you want some more paving ideas or succulent garden ideas we've got that covered too.
13. Simple pool landscaping
Not all pool landscaping requires plants. Exude deluxe relaxation by paring things back—sometimes less is so much more. Instead of a jungle effect, why not stick with a perimeter of large natural stone pavers and a stone dwarf wall around your pool. You can still have a regulation pool fence behind it, but you might like to disguise it with a hedge!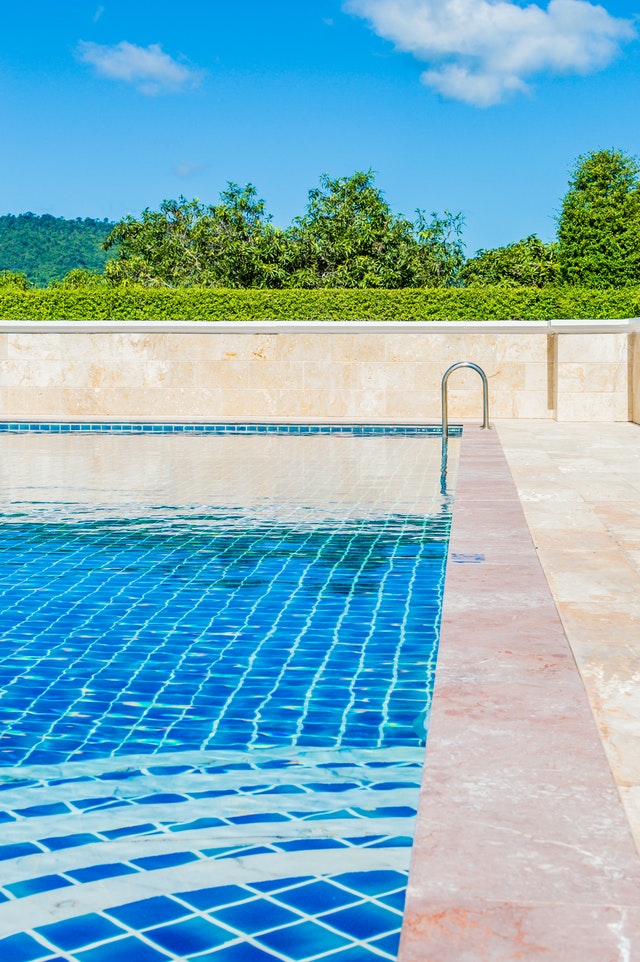 14. Tropical pool landscaping
From one extreme to another… Well, sometimes more is more! If a jungle oasis is more your style, go all out with hanging plants. This works especially well if you have a multi-levelled home with a balcony that you can hang vines or pots from.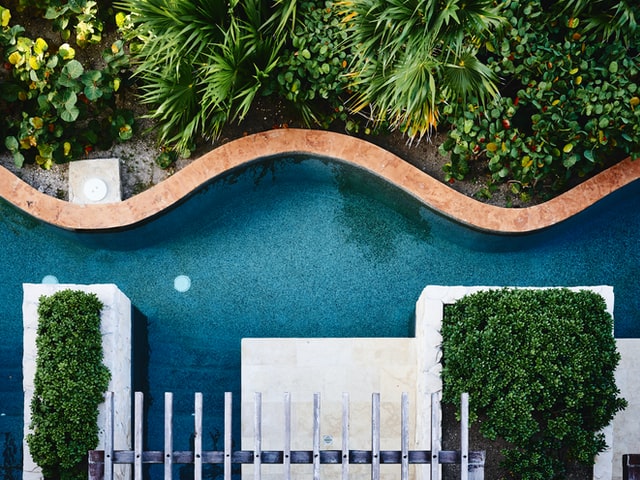 15. Winding paths
Why not design your outdoor area to have a mix of structured and unstructured elements for a striking look. It might be something like a grey stone path leading to the house, a winding black fence, a glass barrier and simple grey tiles around the pool. If you want to keep the gardening simple, just add a single tree for interest.
16. Create symmetry
If you like everything inside your house uniform and in its place, then you're going to want to make sure the landscaping around your pool does the same. You can do this by employing symmetry with vases, shrubs and hedging. Most importantly, you'll want to make sure your yard is always tidy and trimmed.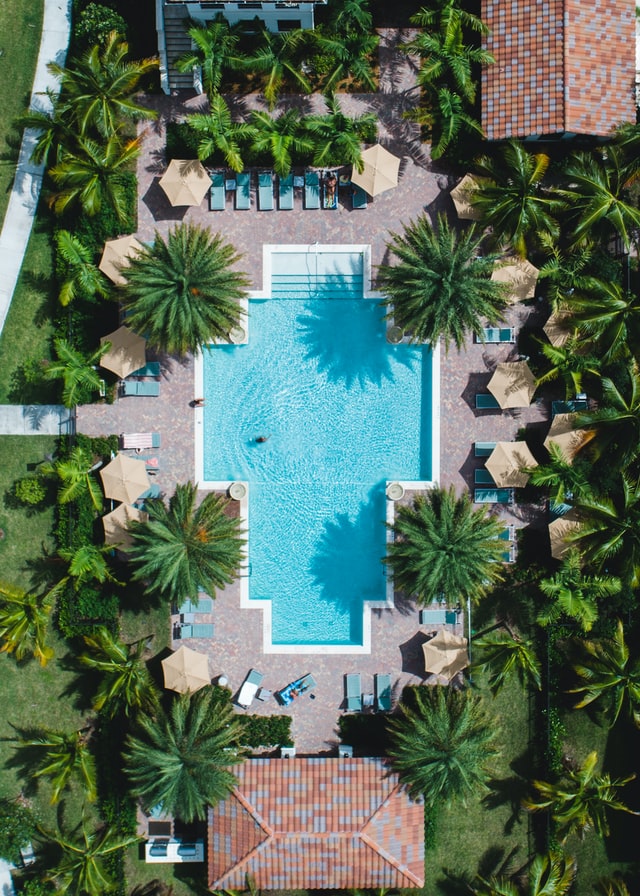 17. A row of greenery
Have you got a small backyard? The good news is that you can have a pool – you'll just have to be smart about it! Opt for a little plunge pool with glass edging on one side, opening it up to the rest of the yard.
You can also add a privacy fence around the pool area too.
18. Create a waterfall
There's nothing like the restful sound of trickling water! So if you want to take your pool area to the next level, why not install a cool feature piece like this one? It'll be sure to impress guests and create a lovely ambience for your next poolside dinner party.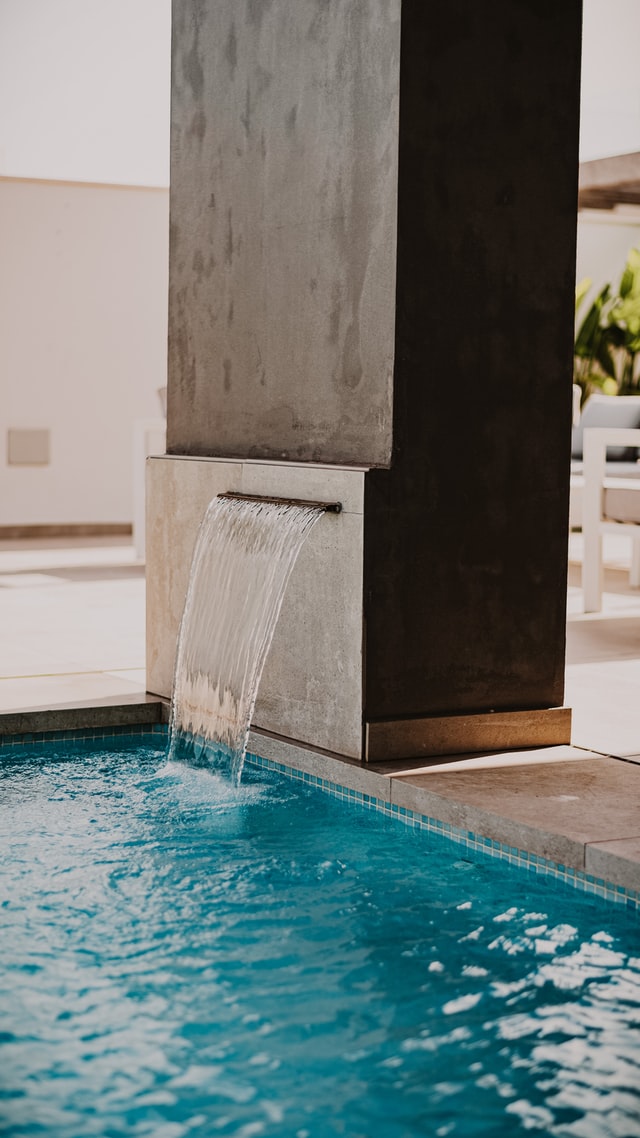 Want a fountain feature of your own? Look for someone in your neighbourhood who can help with your water feature requirements.
19. Indoor-outdoor
One of the great things about living in Australia is that you can spend most of the year outdoors. With this in mind, an integrated indoor-outdoor space is the way to go! Keep things simple with natural timber decking and a strip of dark greenery along the fence.
20. Desert style pool landscaping
Take inspiration from Palm Springs and create your very own desert oasis in your backyard. While you may not have the advantage of a classic rocky backdrop, you can still incorporate desert elements. Think minimal greenery, cactuses and large rocks. And when it comes to your furniture choices, go all out with a pops of yellow and blue!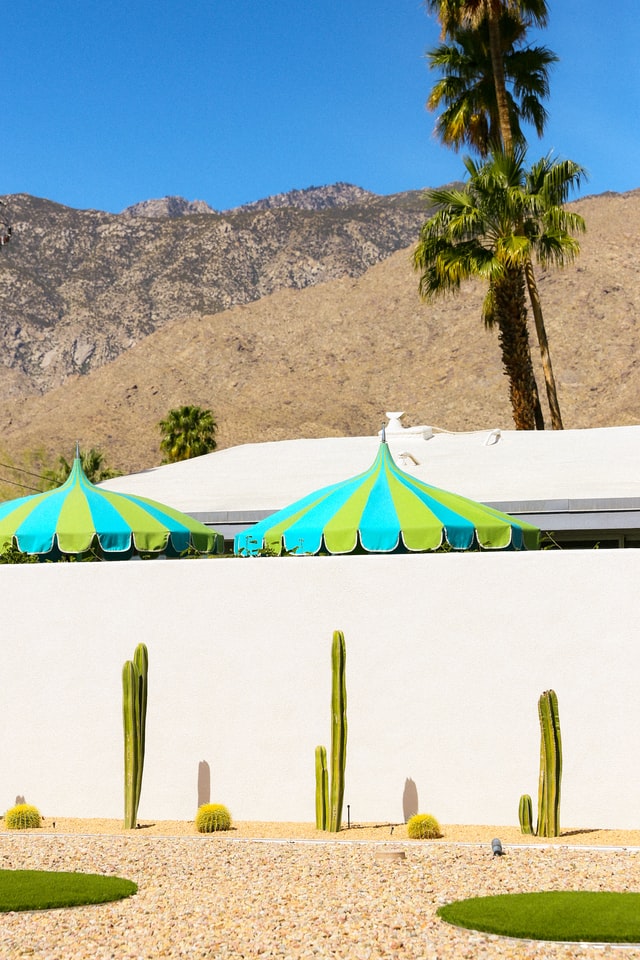 21. Coastal pool landscaping
You don't have to plant hedges and bushes to create a beautiful pool area. Simply fill any gaps around the border of your pool with white pebbles and plant small hardy shrubs like succulents. Then add in big, rustic pots with your favourite outdoor plants. And when it comes to creating a nice area to sit, go Boho and use rattan chairs, natural baskets and a bamboo umbrella.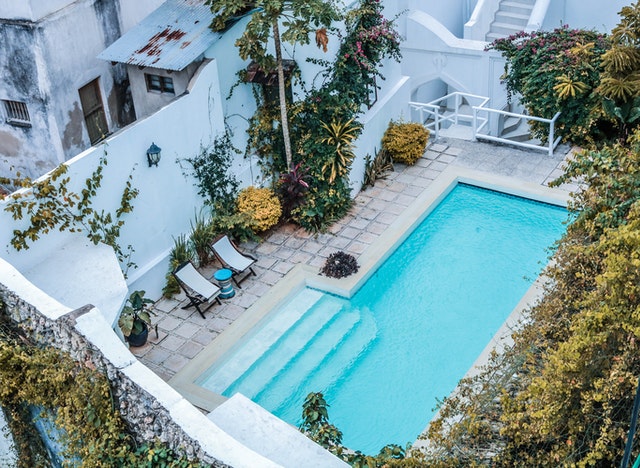 22. Bamboo fencing
Get your inspiration from the villas of Bali with a jungle-style pool area. You can recreate this look in your own yard by installing a bamboo fence and planting hanging vines along the walls. Plus, a daybed or two will help to get you in the holiday mood all year round.
23. Luxury pool landscaping
One way to add life to your pool area is to install large pots or boxes of flowers. This is an easy low-maintenance option for anyone who wants to enjoy the smell of fresh blooms without the added maintenance of having to trim them back all the time. Plus, they look oh-so-fancy!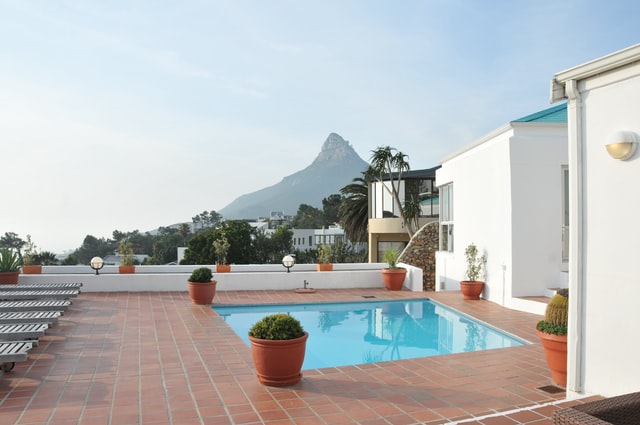 24. Multi-level entertainment
Create an entertainer's delight around your pool area. If you're planning on having friends around for BBQs this summer, think about how you can maximise your outdoor living area. Consider a sunken entertainment area and a simple deck above, handy for taking your drinks from the pool to the house!
25. Resort-style
When you ensure your lawn is well manicured, your home will feel much more like a resort. And if that's the vibe you want to create, go all out by adding fancy coloured lounge chairs with rolled-up towels on them. Have a lot of plants? Just make sure you've got a plan to maintain the space–having a regularly gardener booked in can prove handy!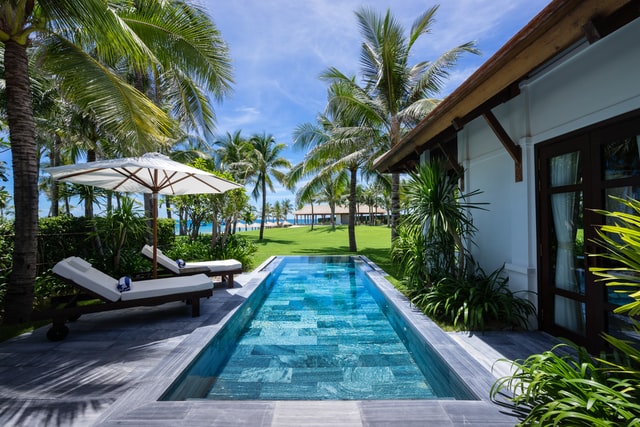 There you have it, 25+ amazing pool landscaping ideas. Which one do you want to use for your pool redesign? I personally love the classic Greek style outdoor area but you might prefer something a little more modern like concrete or timber panelling. Comment and tell me which one you like best!