Nothing is more quintessentially English than a green-hedged, rose-covered English garden. Summer and gardens are highly celebrated in the UK, as everyone is keen to make the most of the warmer weather outdoors.  In fact, over 30,000 people attend The Queen's Garden Parties in London and Scotland. So yes, a garden is a big deal and that's why we have put all of these stunning English garden ideas together just in case you're looking for a bit of inspiration for your own home.
So what makes a garden English? Is it the rich-coloured roses, the climbing vines or large sprawling trees? Here are the 4 key factors to achieve the perfect English garden:
Romance
One of the characteristics that make an English style garden so special is the romance that's created with climbing rose bushes, sweet decor and tones of pinks and reds dotted throughout.
Organic
The landscape in England is vast and lush, so creating an organic look with overflowing plants, flowers and produce will look oh so divine!
Order
If you're not into that overflowing, unkempt look then creating order is for you! Another way you can design a very opulent looking garden is by giving everything in the garden a specific place and keeping it all very neat. One way to do this is by incorporating a well-manicured hedge display.
Whimsical
All in all, you want your garden to look right out of a fairy-tale or a storybook. So think kings and queens, princes and princesses, fairies and elves, and all the magical characters in between. Imagine where they would like to live and enjoy creating a story about them within your very own garden.
If you're wanting to create a garden fit for royalty, then an English garden is what you need. Check out these 20+ English garden ideas to get your creative juices flowing.
1. Bloom covered cottage
How gorgeous is this little hideaway shed, all covered in foliage and blooms? It's straight out of a fairytale! And what a stunning array of red and pink flowers?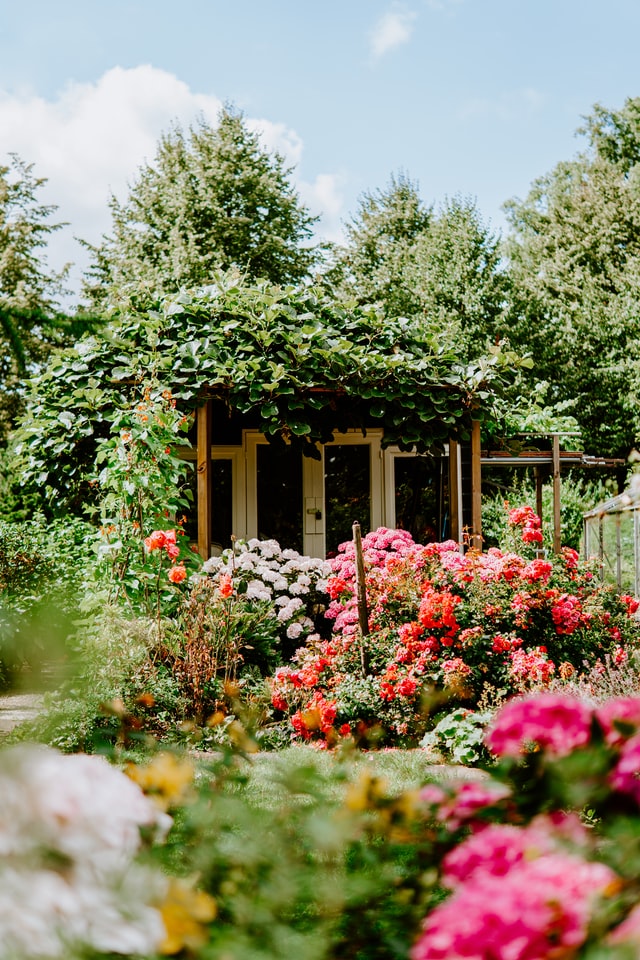 2. Bursting windowboxes
An easy way to bring in a little English garden charm if you don't have a lot of space is to pot up some colourful and whimsical window boxes. Remember the trick to layering a window box: have a thriller, fillers and spillers!
3. Flower archway
How beautiful is this archway? I would love to take a stroll along this stunning pathway and take it all in. Creating this kind of design would take a lot of patience – installing the arbour, then training the plant vines up and around the instalment. But boy oh boy would it be worth it!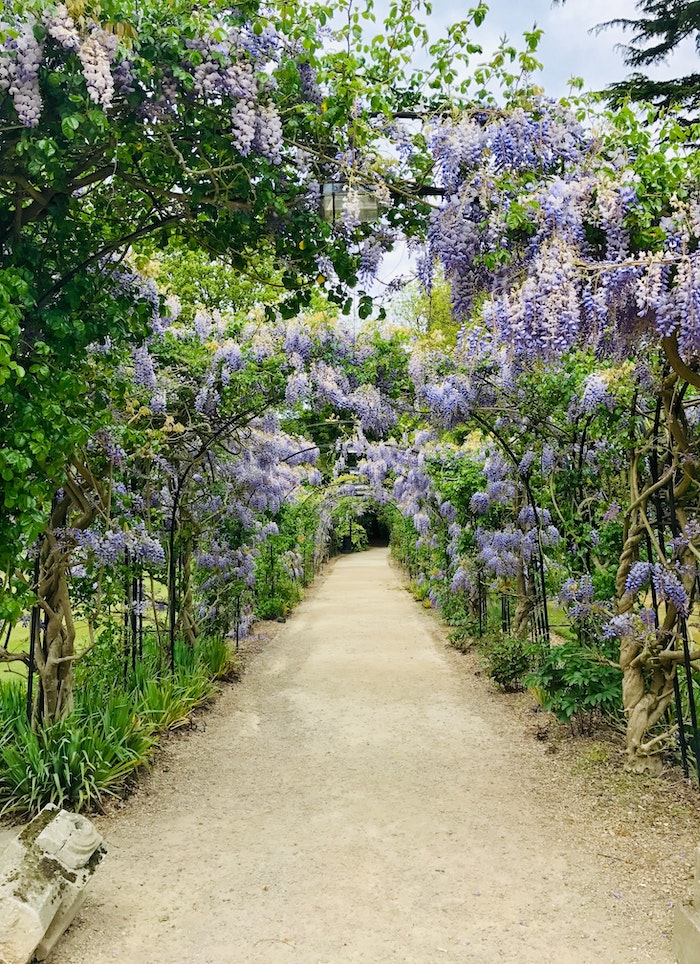 4. Symmetry at the gate
Create a welcoming entrance with English garden flavours by decorating either side of your timber gate with the same dramatic flowers. Here, it's hydrangeas which come in such lovely pastel shades.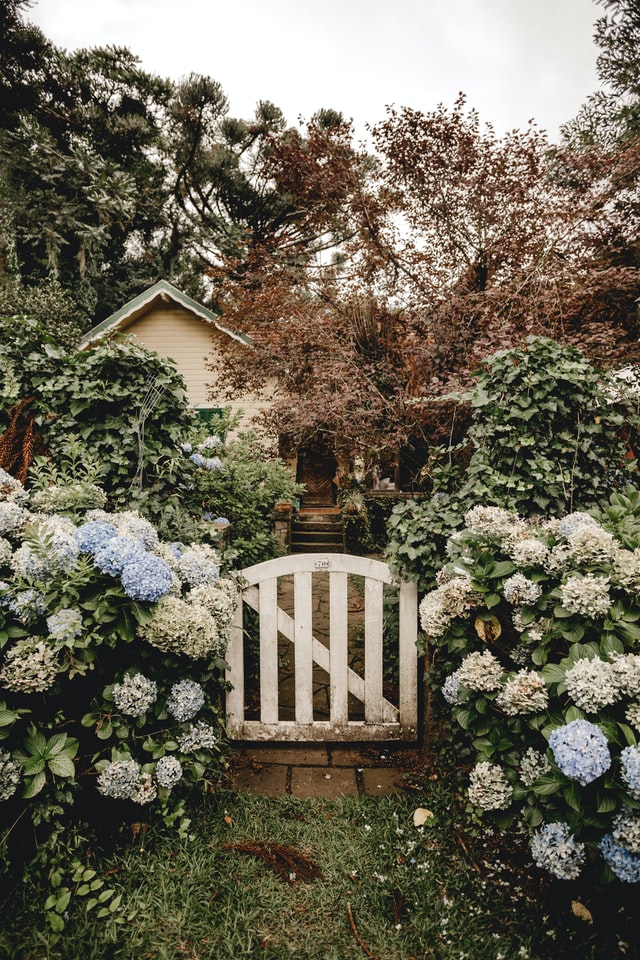 5. Climbing purples
Here we have some purple blooms that look as if they are climbing up the side of this heritage building. An English garden up a wall! I love how the shape of the flowers almost look like a covering of purple snow that has settled on the roof of the building. This building is such a show stopper.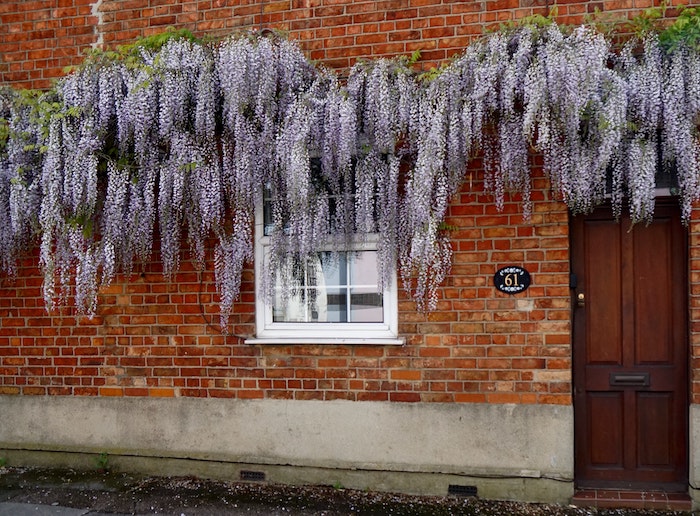 6. Rosebush
If you live in an inner-city area, you don't have to just settle for a place with no garden. This stunning rose bush is a beautiful pop of colour against the white building exterior. In this instance, the rose bush also doubles as a fence that provides privacy.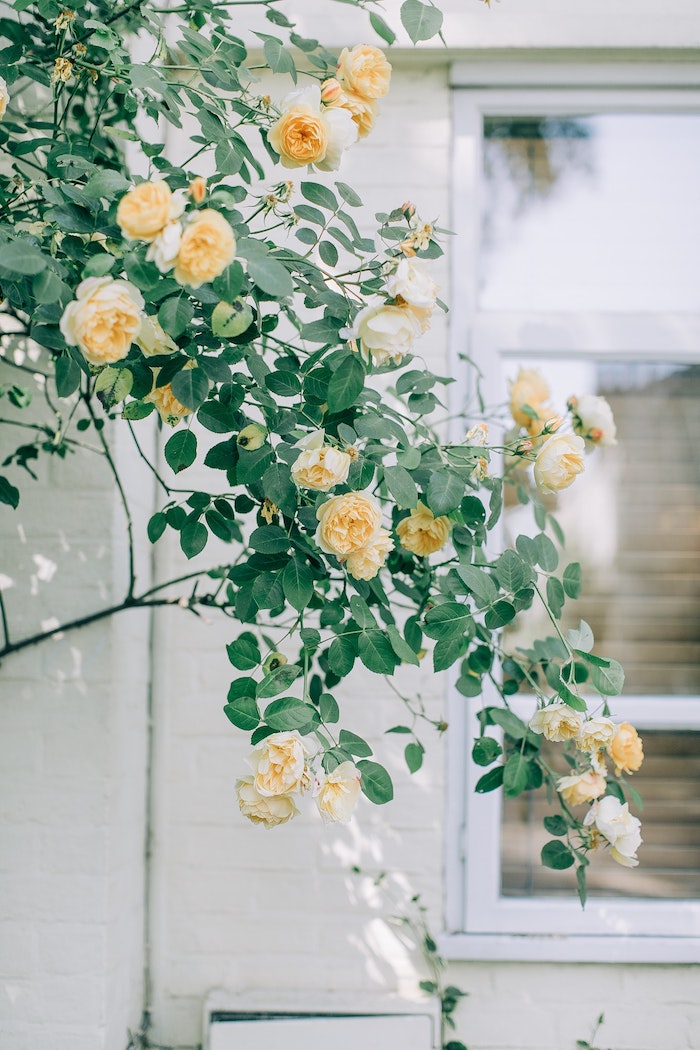 With roses, pruning becomes super important to make sure that they stay healthy and continue to grow.
7. Overgrown opulence
This overgrown garden looks like it is a part of a very opulent, magnificent manor. This goes to show that you don't need to always have a manicured garden, as an overgrown and organic style can look just as breathtaking. I love how many different colours and varieties of plants have been used.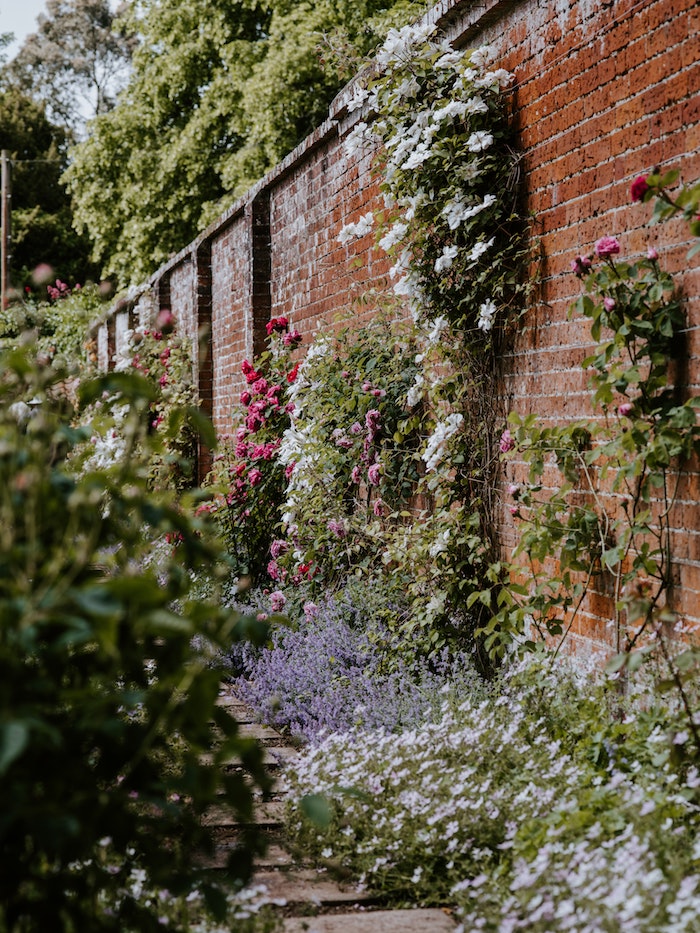 8. Assorted pots
If you want the English garden look but are limited for space, grab an assortment of pots and a variety of plants. You'll have your very own garden in no time. And the beauty of doing it this way is so that you can completely customise the size and look of your garden, no matter how big or small your space is.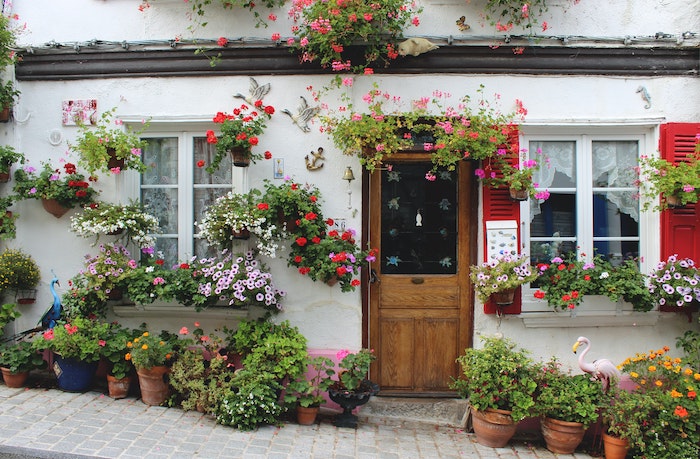 9. Garden bunting
This reminds me of my aunt's garden in England with the cute little strings of bunting running through the yard. They blow in a gentle breeze, making for a very pretty scene. The rest of the garden is in a limited palette of greens and whites so the pastel colours in the bunting really add a special touch.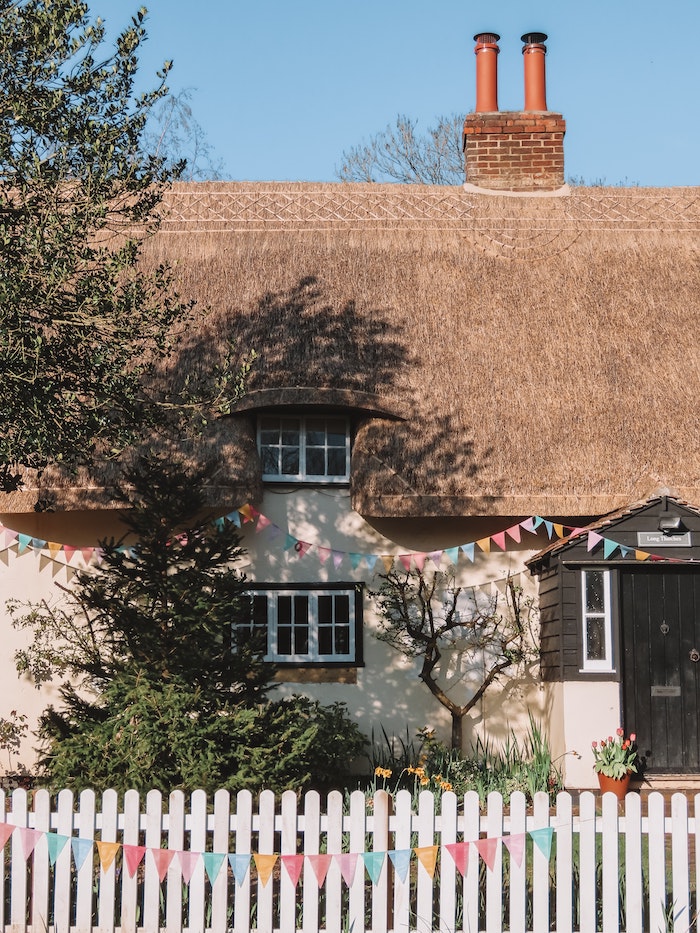 10. Country living
What a stunning country garden this is! Here is another example of an overgrown style garden that looks oh so lush and healthy. I love the river as well, it's like a house out of a Jane Austen novel.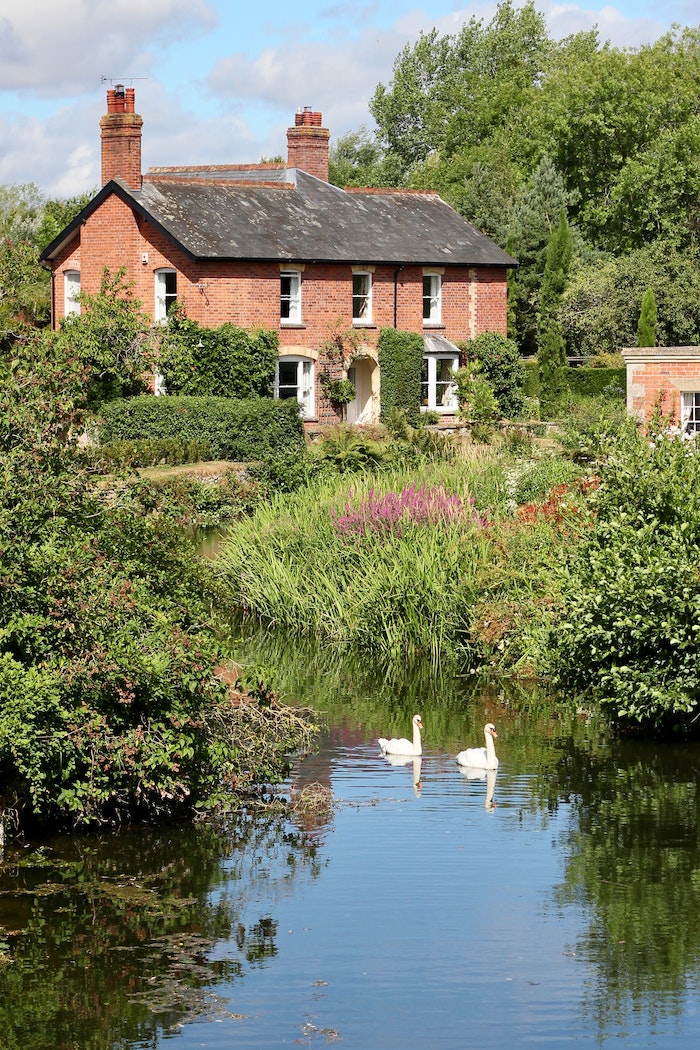 11. Teapots and teacups
Make your garden feel that bit more British by incorporating some quirky containers for your flowers. And you can't get much more British than tea! So scour the op shops to find some vintage kettles to repurpose, or even some cute little teacups for a miniature English garden.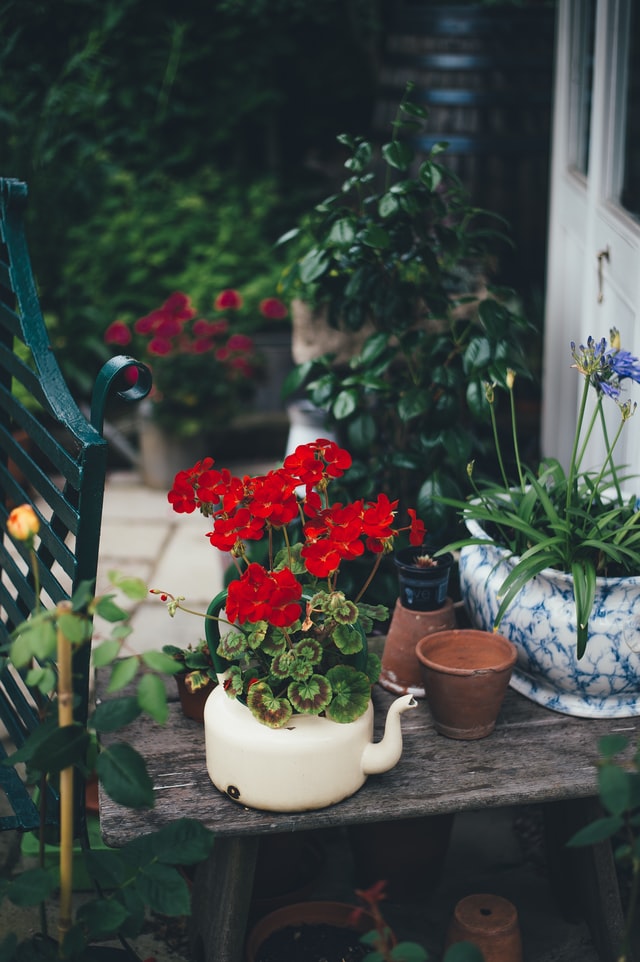 12. Thatched cottage
It doesn't get much more English than a thatched roof and a garden full of blooming flowers! I can almost smell the sweet flowers and hear the cows mooing in the background.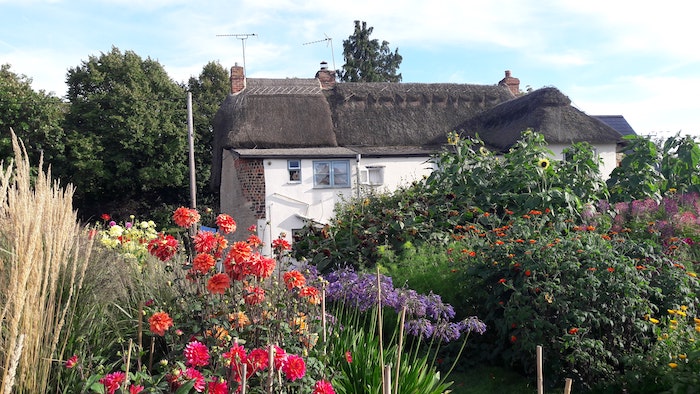 13. Hedges
Pick a hedge, any hedge. We've got round, triangle and every odd-shape you can see below. If you like this and want a hand with the design, hedge planting and hedge trimming are two areas you might need a helping hand with.
14. Secluded seating
This English garden scene would be perfect if you have a large acreage property. Or you could even take some ideas from it and utilise it on a smaller scale. I love the little secluded seating area that reminds me of that beautiful spot at the end of the movie Notting Hill. This would be the perfect place to relax with a picnic and a good book.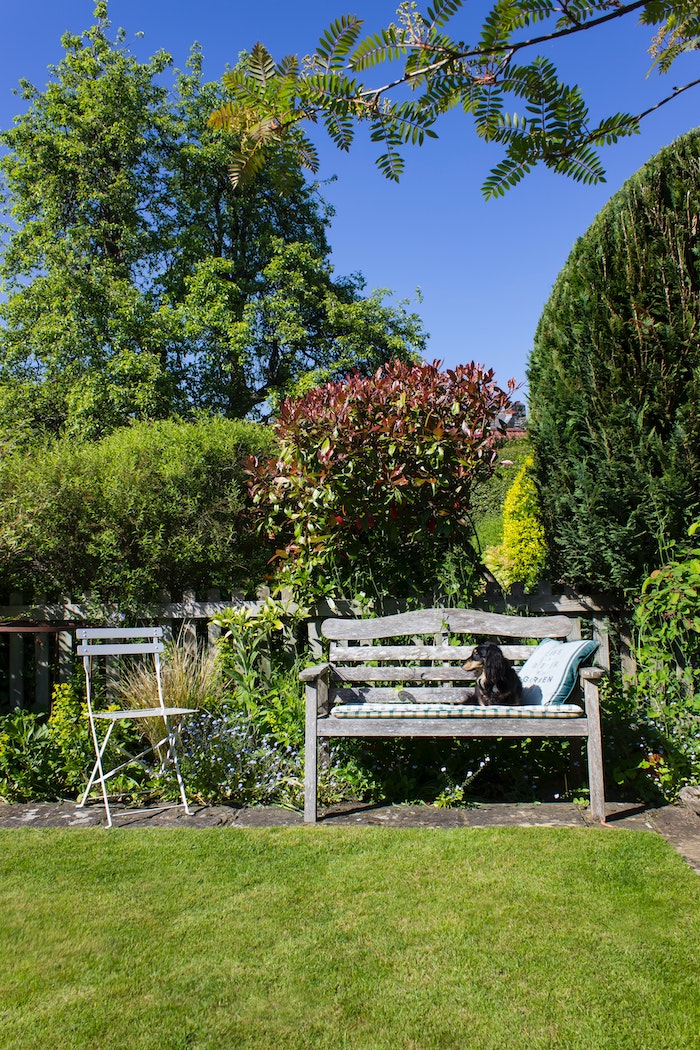 15. Green and lush
This is for you if you prefer a tidy and neat garden. This garden looks like it gets a lot of water with those bright green colours! I love the hedges that are lining the area as well as the hedge arrangement in the centre of the space. This is definitely something you could recreate on a large or small scale.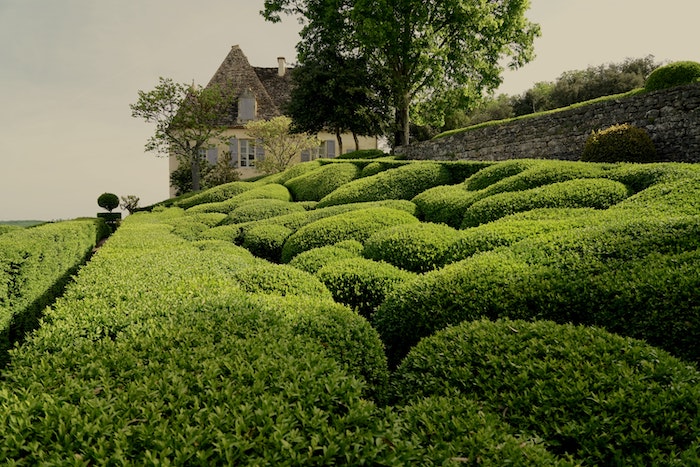 16. Secret garden
This little door reminds me of the entrance to the secret garden – full of colour and greenery! The side that we can see is merely a taste of what's to come on the other side.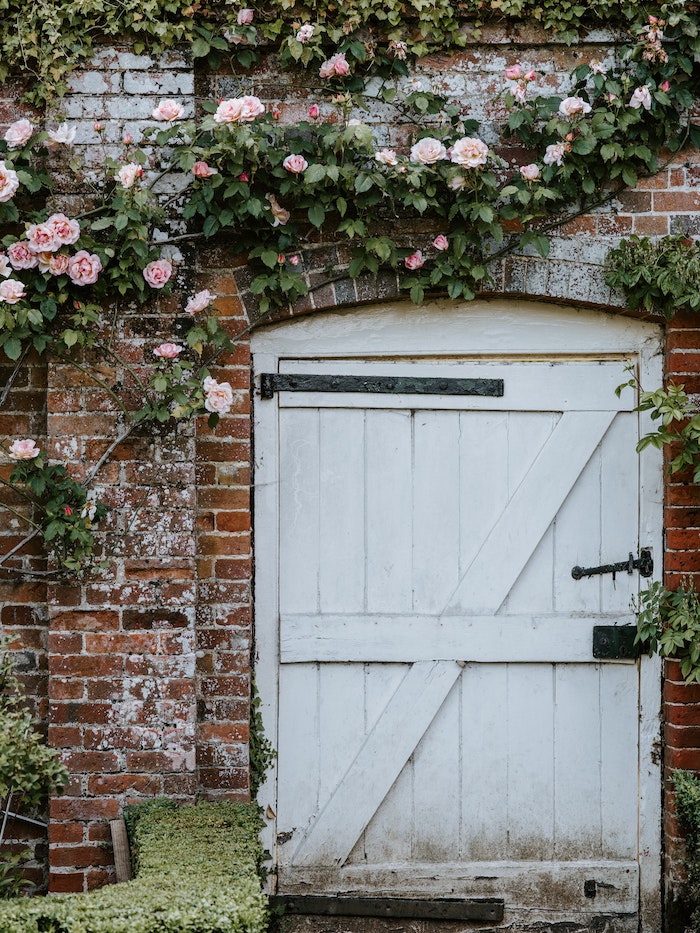 17. Climbing blooms
This home is quintessentially English with its cottage-like feel and the climbing blooms up the side of the building. I can only imagine the history that this place holds – its walls would be hundreds of years old!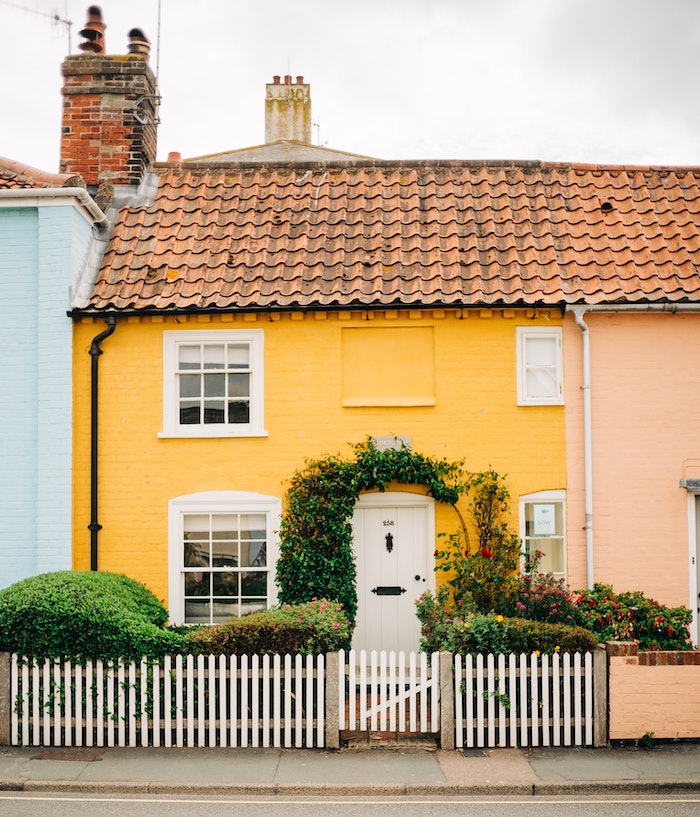 18. Fountain courtyard
Make a statement with this fountain courtyard! If you have the space for it, an extravagant fountain is just what you need for your English style garden. Fit for royalty, this area screams extravagance and opulence.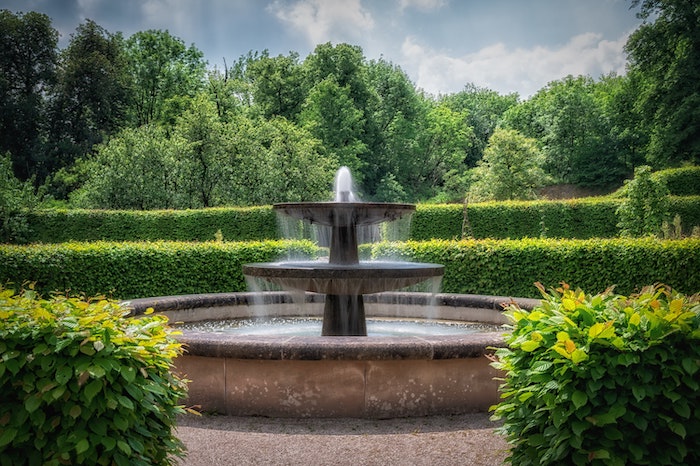 19. Bursting with colour
This garden has so many colours and plant varieties, you would have to be a keen gardener to keep them all looking this good! The overflowing garden along with the chimney make this home look very cosy.
20. Vintage style
Finally, your English garden will look that much more authentic if you add in a few antique, vintage style pieces, the more weathered the better. Cracked paint on flowerpots can also have its own charm!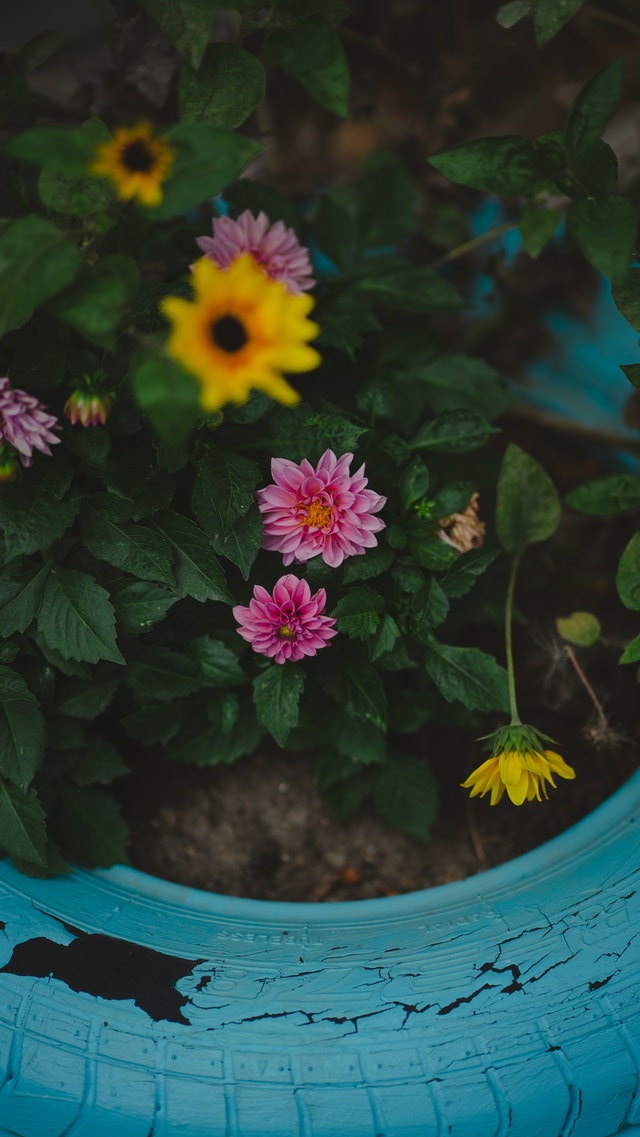 So there we have it, 20 English garden ideas! I absolutely love all the gardens with the multitudes of plant varieties as well as the gardens that have arbours with roses climbing over them. What do you think? Which English garden ideas do you want to incorporate in your yard? Let me know in the comments below!