Nothing is more quintessentially English than a green-hedged, rose-covered English garden. Summer and gardens are highly celebrated in the UK, as everyone is keen to make the most of the warmer weather outdoors.  In fact, over 30,000 people attend The Queen's Garden Parties in London and Scotland. So yes, a garden is a big deal and that's why we have put all of these stunning English garden ideas together just in case you're looking for a bit of inspiration for your own home.
So what makes a garden English? Is it the rich-coloured roses, the climbing vines or large sprawling trees? Here are the 4 key factors to achieve the perfect English garden:
Romance
One of the characteristics that make an English style garden so special is the romance that's created with climbing rose bushes, sweet decor and tones of pinks and reds dotted throughout.
Organic
The landscape in England is vast and lush, so creating an organic look with overflowing plants, flowers and produce will look oh so divine!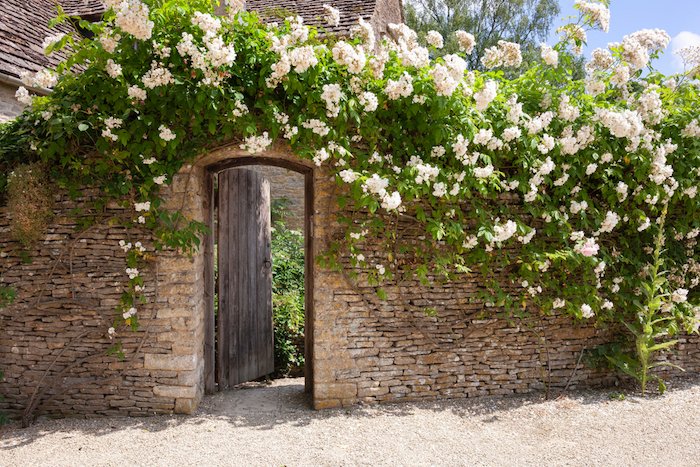 Order
If you're not into that overflowing, unkempt look then creating order is for you! Another way you can design a very opulent looking garden is by giving everything in the garden a specific place and keeping it all very neat. One way to do this is by incorporating a well-manicured hedge display.
Whimsical
All in all, you want your garden to look right out of a fairy-tale or a storybook. So think kings and queens, princes and princesses, fairies and elves, and all the magical characters in between. Imagine where they would like to live and enjoy creating a story about them within your very own garden.
If you're wanting to create a garden fit for royalty, then an English garden is what you need. Check out these 35+ English garden ideas to get your creative juices flowing.
1. Rose covered pergola
How beautiful is this pergola? I would love to take a stroll along this stunning pathway and look up and smell the roses. Creating this kind of design would take a lot of patience – installing the arbour, then training the rose vines up and around the installment. But boy oh boy would it be worth it!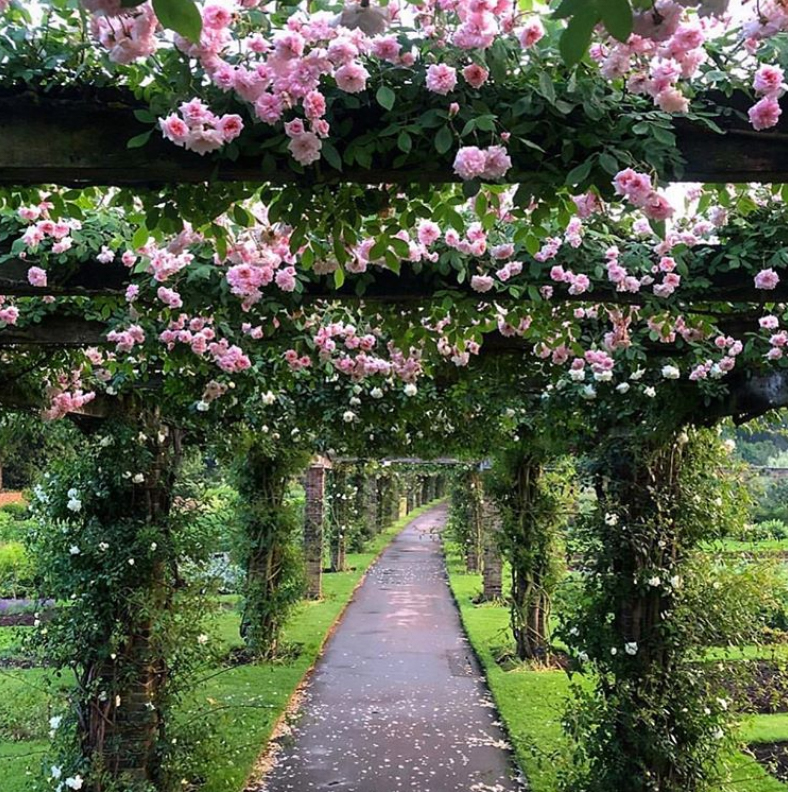 2. Greenhouse goals
Oh, I just love a greenhouse and this one is stunning. Greenhouses are often found in English residences due to the colder unpredictable climate. They allow the owners to have more control over the elements when looking after their more delicate plants. I would love to spend an afternoon here tending to the beautiful flowers.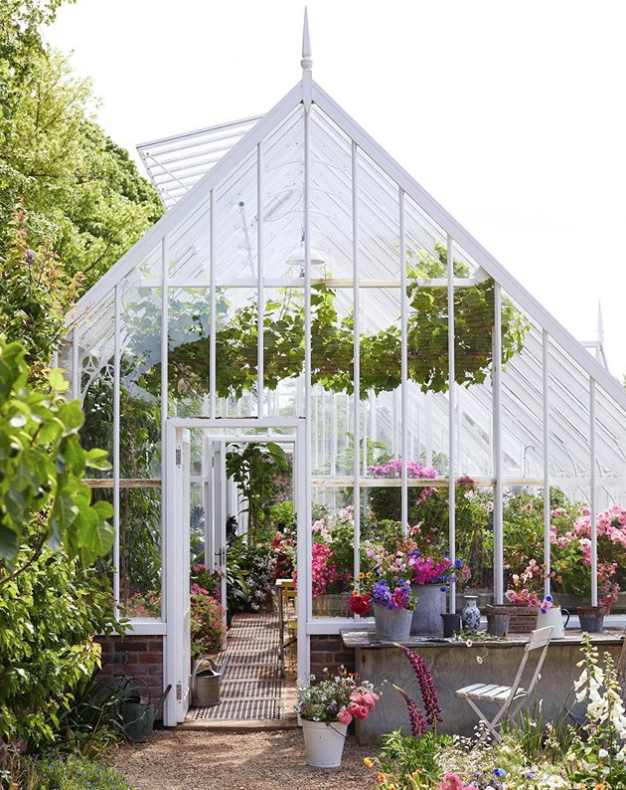 3. Climbing purples
Here we have some purple blooms that look as if they are climbing up the side of this heritage building. An English garden up a wall! I love how the shape of the flowers almost look like a covering of purple snow that has settled on the roof of the building. This building is such a show stopper.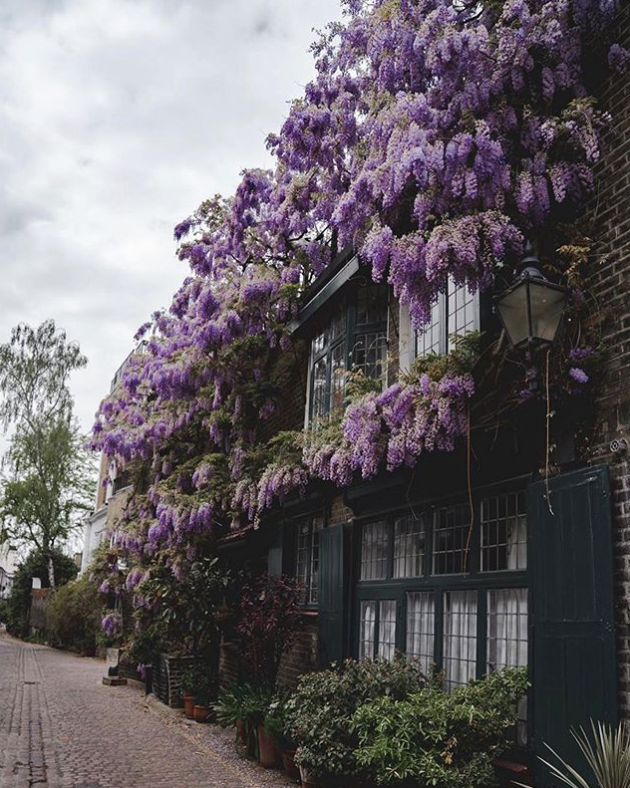 4. Rosebush
If you live in the inner-city areas, you don't have to just settle for a place with no garden. This stunning rose bush that is a beautiful pop of colour against the grey building exterior. In this instance, the rose bush also doubles as a fence which provides privacy.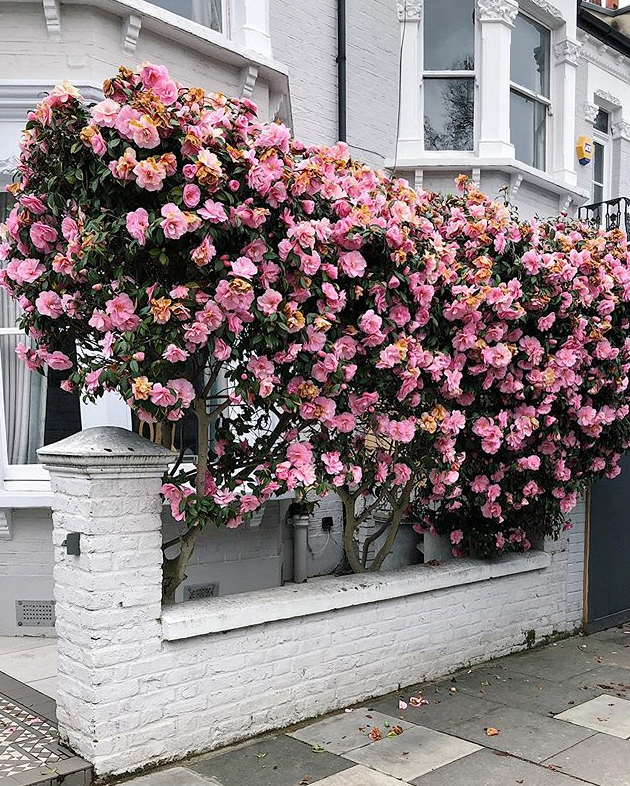 With roses, pruning becomes super important to make sure that they stay healthy and continue to grow.
5. Feature tree
Here is another beautiful garden set amongst buildings. The feature tree in the front yard is so stunning as is the overgrown greenery that softens the look of the hard brick walls. Even if you don't have much room for a full garden, this proves that a single tree can have so much impact.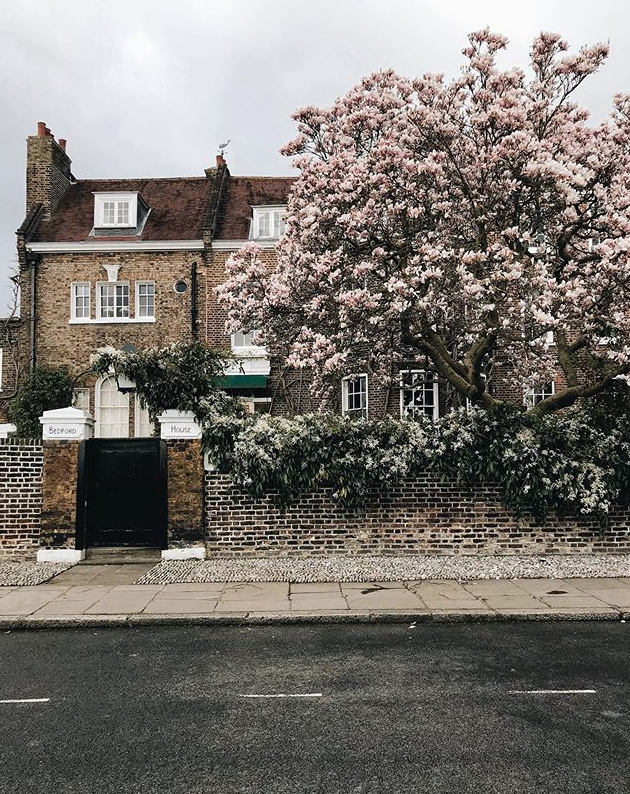 6. Overgrown opulence
This overgrown garden looks like it is a part of a very opulent, magnificent manor. This goes to show that you don't need to always have a manicured garden, as an overgrown and organic style can look just as breathtaking. I love how many different colours and varieties of plants have been used.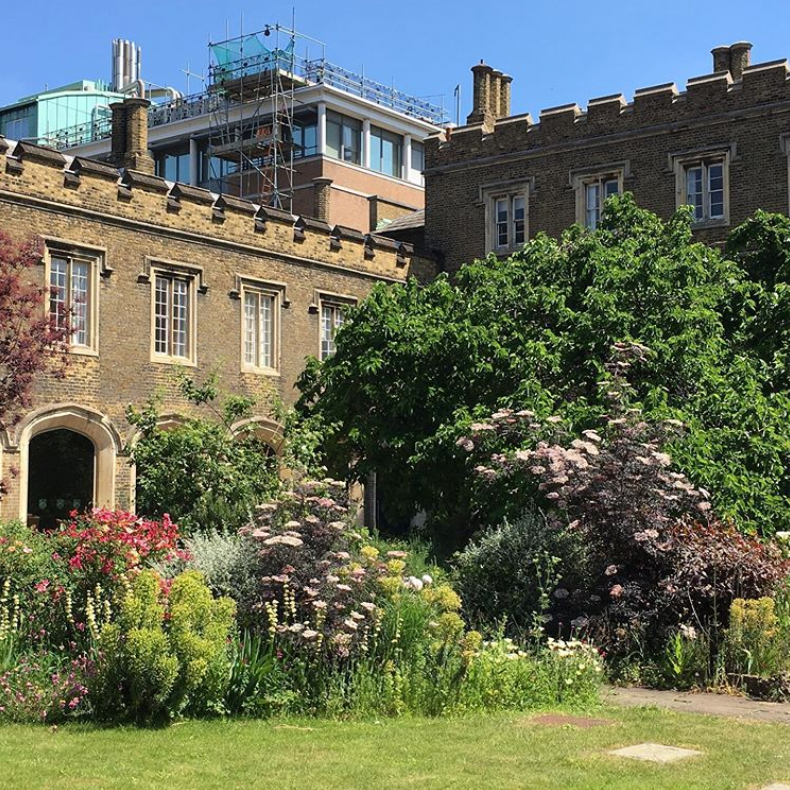 7. Assorted pots
If you want the English garden look but are limited for space, grab an assortment of pots and a variety of plants. You'll have your very own garden in no time. And the beauty of doing it this way is so that you can completely customise the size and look of your garden, no matter how big or small your space is.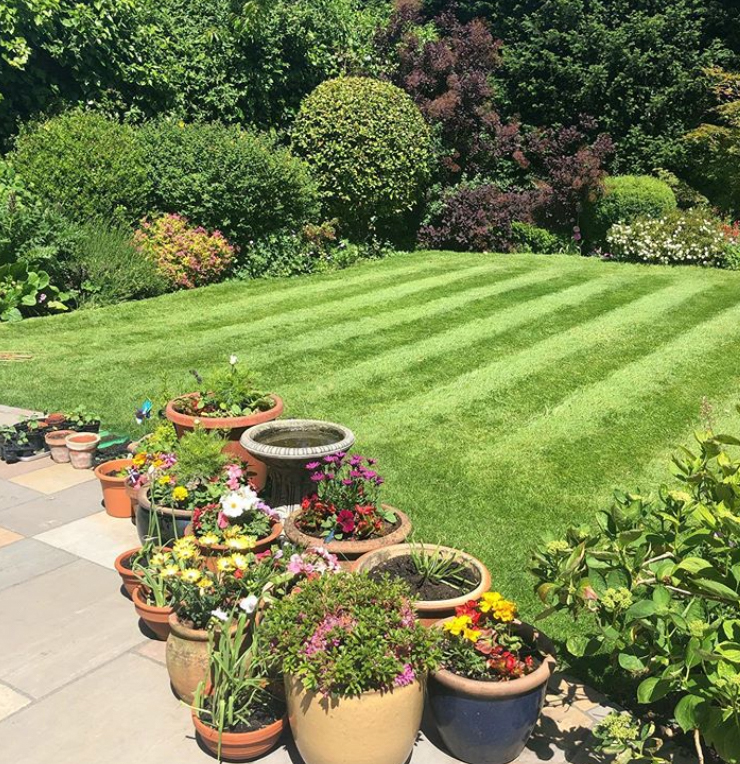 8. Cottage courtyard
How sweet is this little cottage courtyard? I just love the white little seat which would be so lovely to sit with a cup of tea in the morning whilst pondering the day. I love the tall purple blooms as well as the ball style hedges that are both delicate features.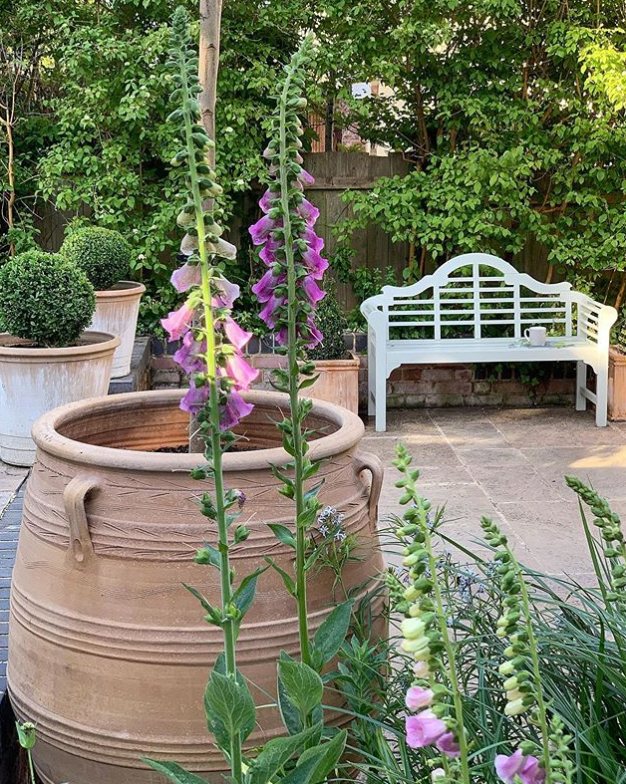 9. Garden bunting
This reminds me of my aunt's garden in England with the cute little strings of bunting running through the yard. They blow in a gentle breeze, making for a very pretty scene. The rest of the garden is in a limited palette of greens and whites so the pastel colours in the bunting really add a special touch.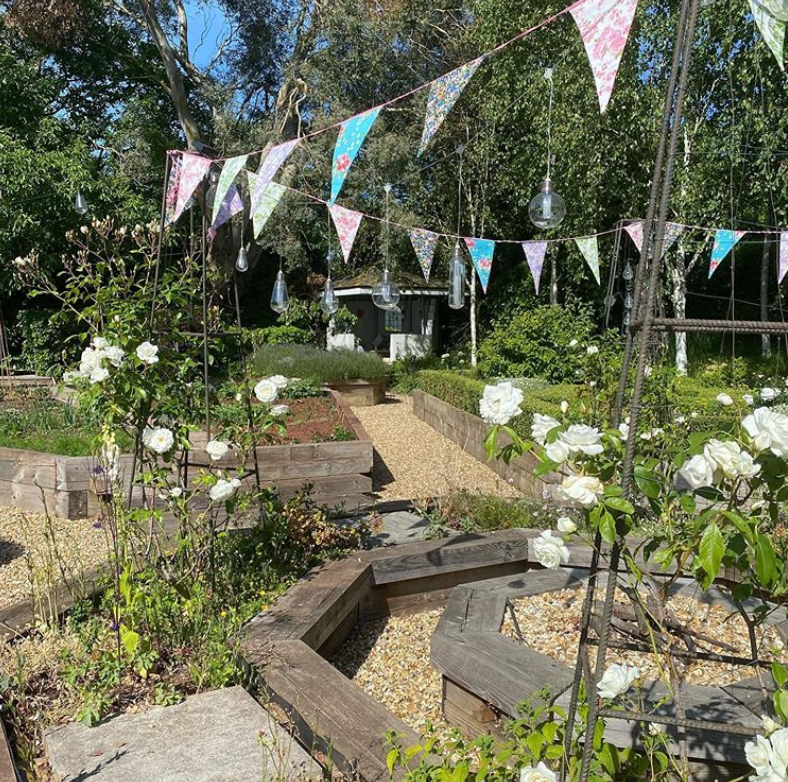 10. Country living
What a stunning country garden this is! Here is another example of an overgrown style garden that looks oh so lush and healthy. I love the little shed in the background which I imagine either has many gardening tools inside, is a playhouse for the kids or is a very extravagant chicken coop!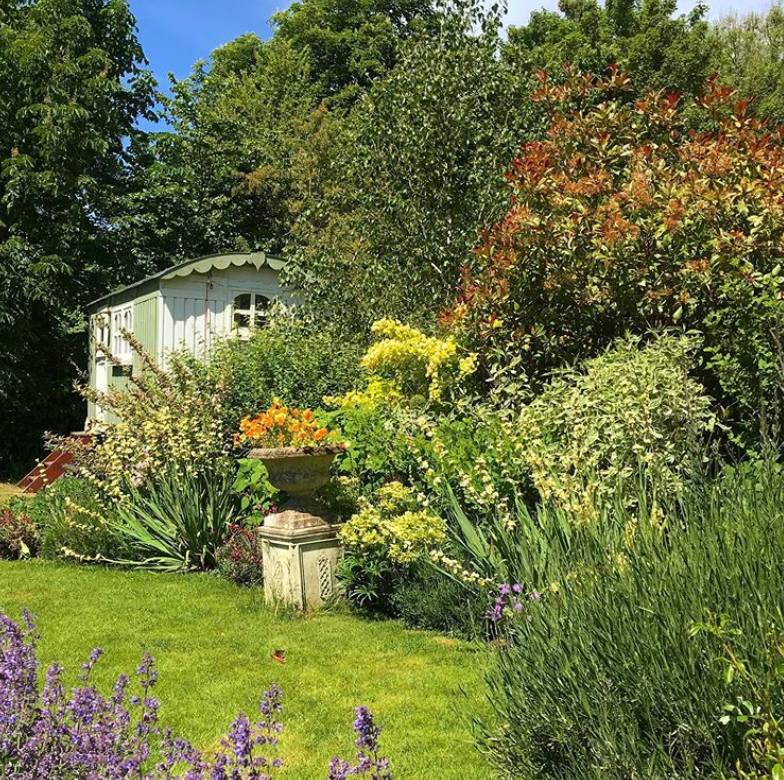 11. Thatched cottage
It doesn't get much more English than a thatched roof and a garden full of blooming flowers! I can almost smell the sweet flowers and hear the cows mooing in the background.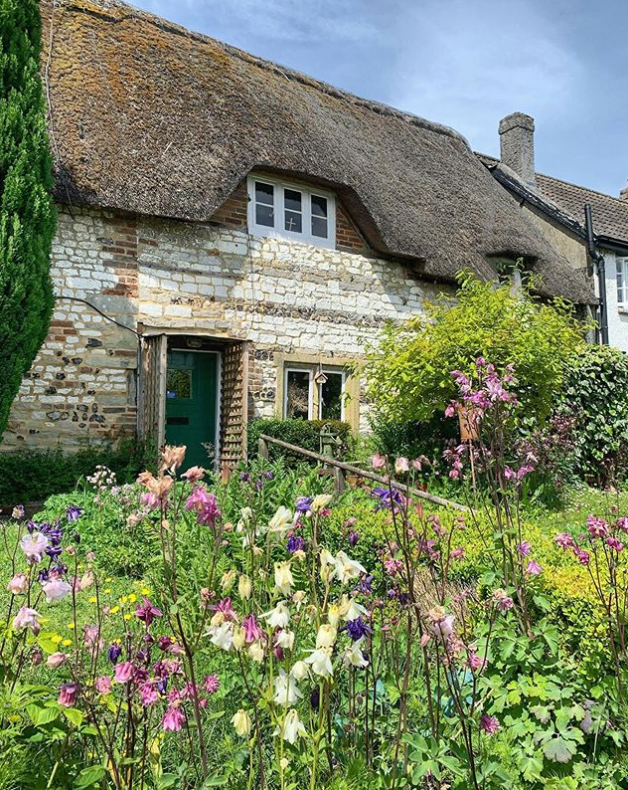 12. Basket blooms
Here is another alternative if you are limited for space but still want to enjoy a garden full of beauty and colour. Plant your blooms in a rattan basket! Rattan is so in fashion right now so this would be a lovely touch for any home and one that your guests will admire.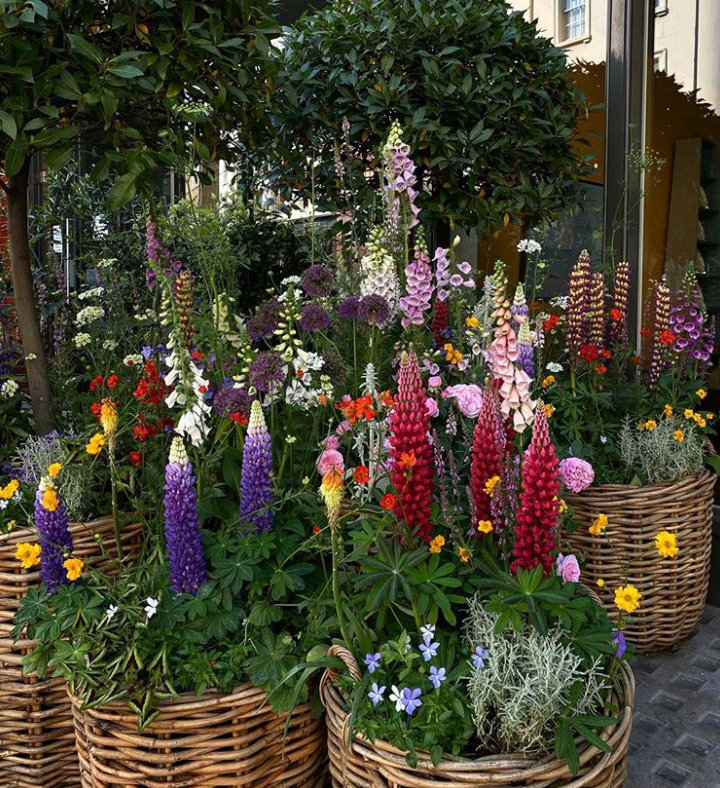 13. Aged wall
I absolutely love this aged wall that looks like it's straight out of a scene from Outlander. I love the white roses that are trailing down from the top of the wall. And the colourful garden peering through the archway of the wall looks so beautiful and makes me want to explore what's on the other side.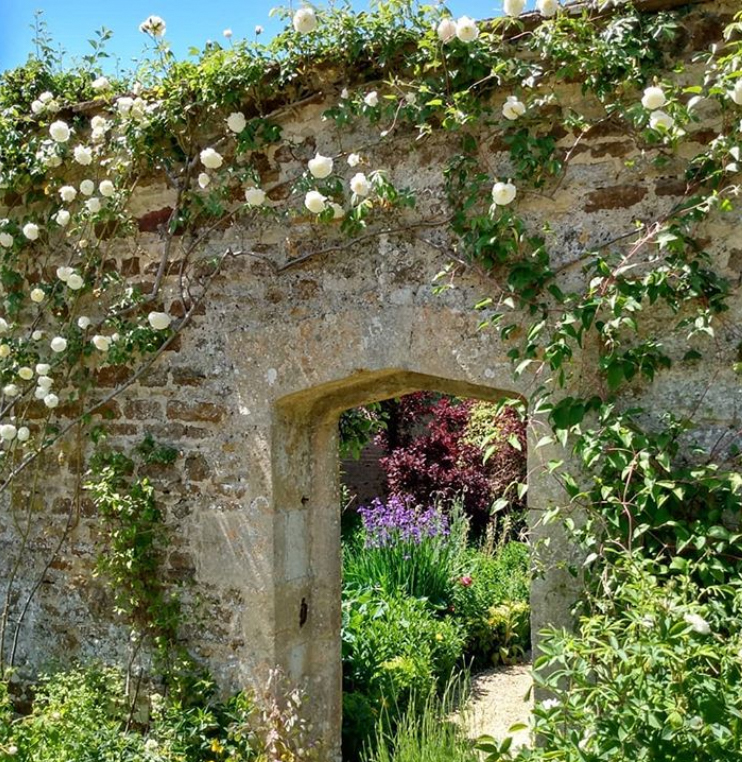 14. Curvy hedges
These hedges are oh so curvaceous with their round design. They almost look like little faces that are watching out to see if a bird will drink from the  bath in the middle. The pops of pink and orange from the flowers add life and joy into this creative space.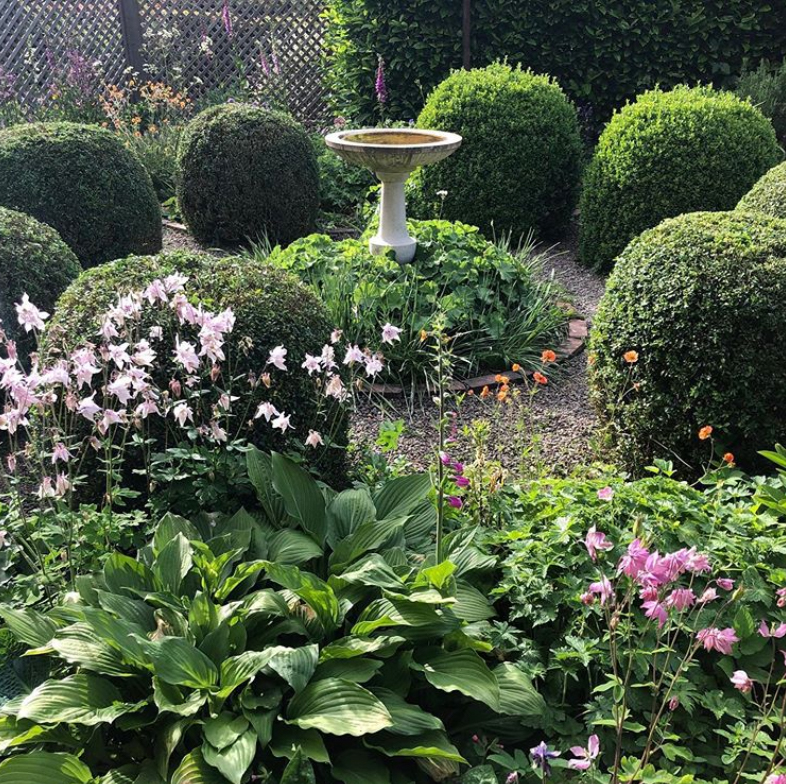 If you like this and want a hand with the design, hedge planting and hedge trimming are two areas you might need a helping hand with.
15. Secluded seating
This English garden scene would be perfect if you have a large acreage property. Or you could even take some ideas from it and utilise it on a smaller scale. I love the little secluded seating area that reminds me of that beautiful spot at the end of the movie Notting Hill. This would be the perfect place to relax with a picnic and a good book.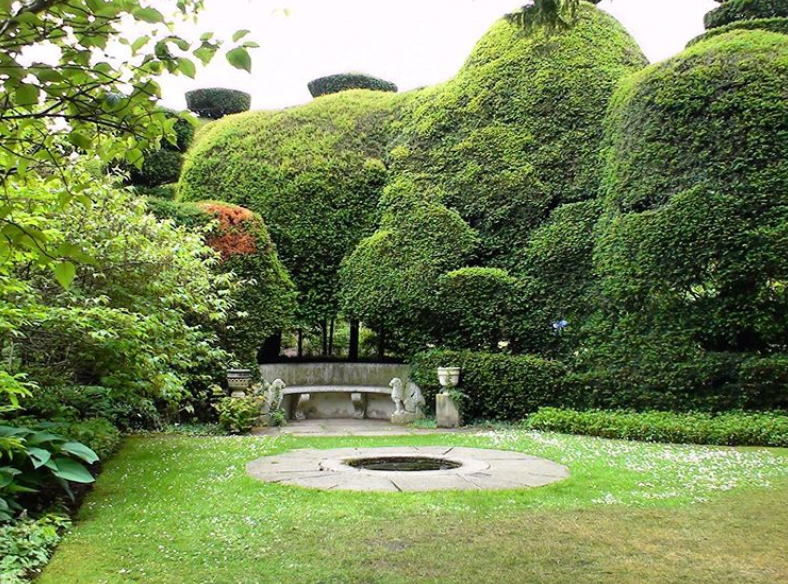 16. Aligned roses
How extravagant is this! This garden area looks as if it is part of a castle or a huge estate. The framing provides an area for the rose bushes to climb up and the other bushes appear to run wild whilst still looking uniform and aligned. I would love to have a wander through this beautiful area.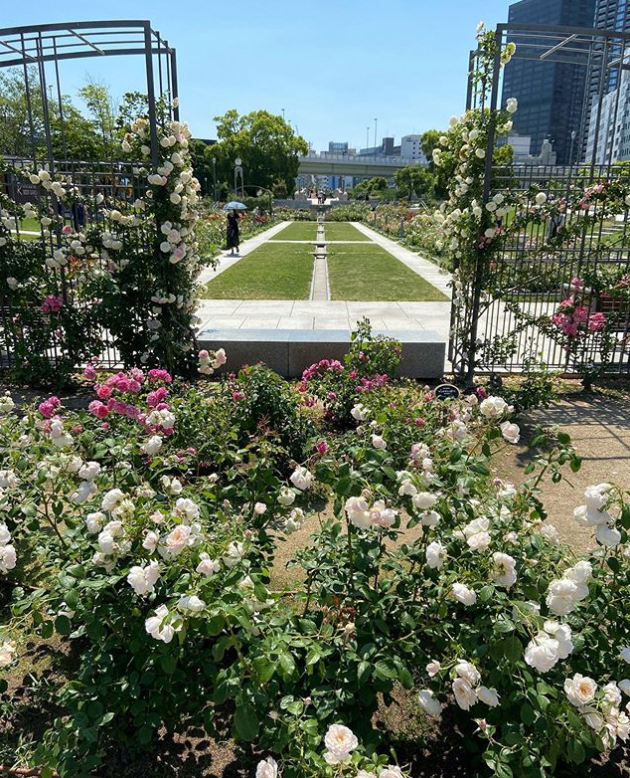 17. Through the window
What a stunning scene to peer out onto every day. I can just imagine relaxing out there on a balmy evening. The yellow rose bush that has been planted right next to the window is such a great idea as it is in the foreground of the view out the window. Plus, you can't go wrong with the addition of a birdbath which would attract so many beautiful birds your backyard.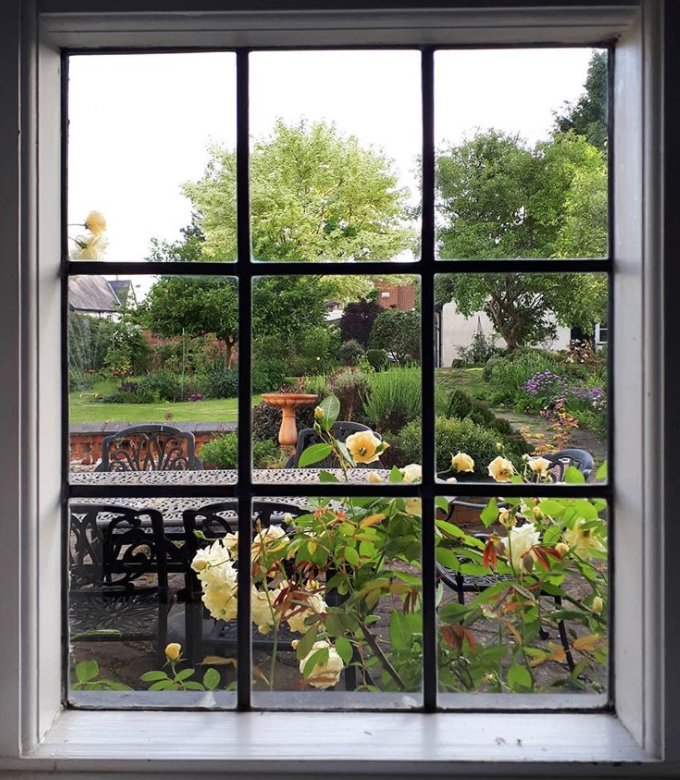 18. Green and lush
This is for you if you prefer a tidy and neat garden. This garden looks like it gets a lot of water with those bright green colours! I love the hedges that are lining the area as well as the hedge arrangement in the centre of the space. This is definitely something you could recreate on a large or small scale.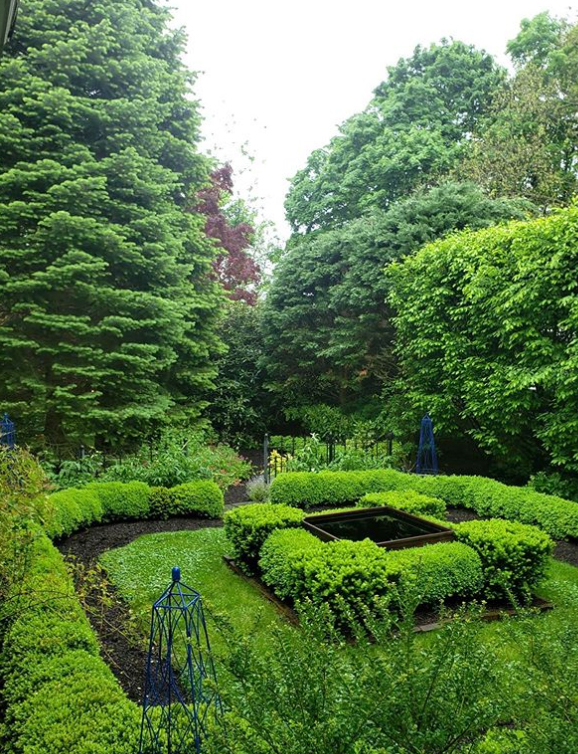 19. Secret garden
This little door reminds me of the entrance to the secret garden – full of colour and greenery! The side that we can see is merely a taste of what's to come on the other side. And check out that furry little friend that is also enjoying exploring the garden.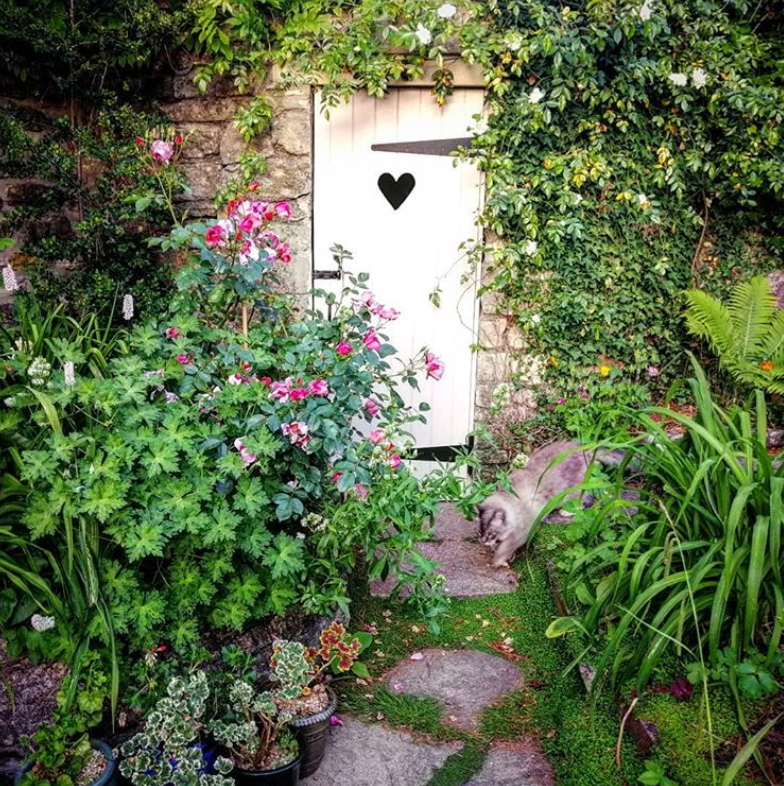 20. Pretty little playhouse
How sweet is this pretty little playhouse! I can just imagine all the make-believe games and giggles that are shared in that darling little space while mum and dad tend to the garden. This space looks so warm and inviting with all that beautiful sun beaming in.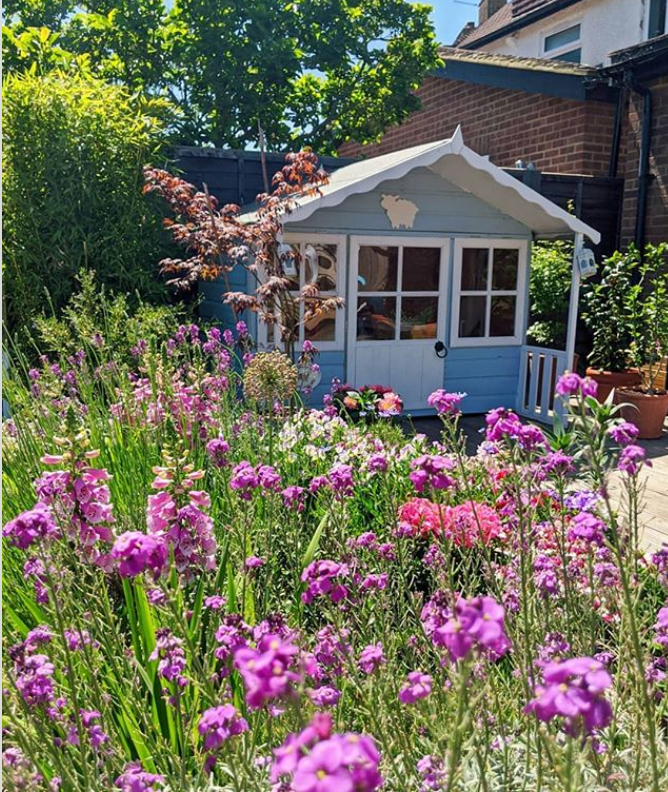 21. Archway entrance
Here is another little gate that looks like it would take you to a secret garden filled with roses. I love the manicured hedge that is connected to the wooden gate as well as the arbour entrance with the rose arbour which looks so inviting. And I can only imagine the amazing things that lie behind that little door.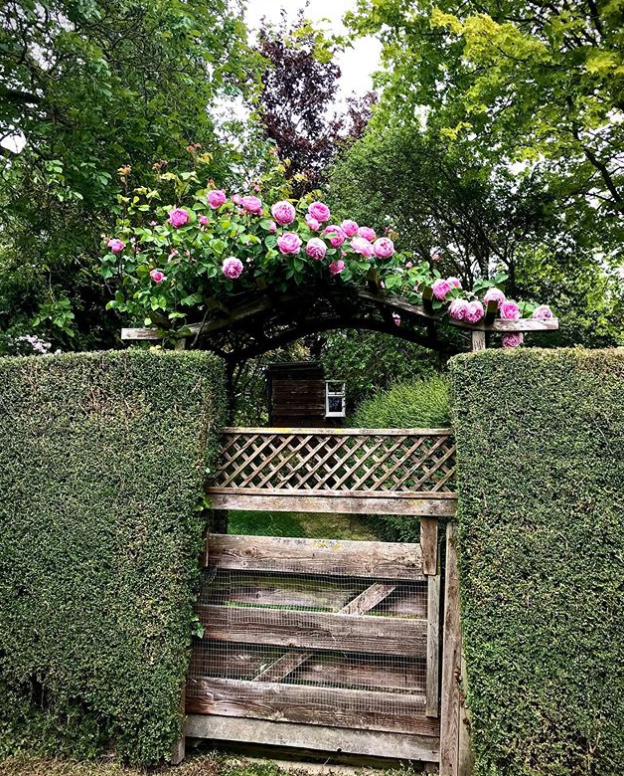 22. Climbing blooms
This home is quintessentially English with its cottage-like feel and the climbing blooms up the side of the building. I can only imagine the history that this place holds – its walls would be hundreds of years old!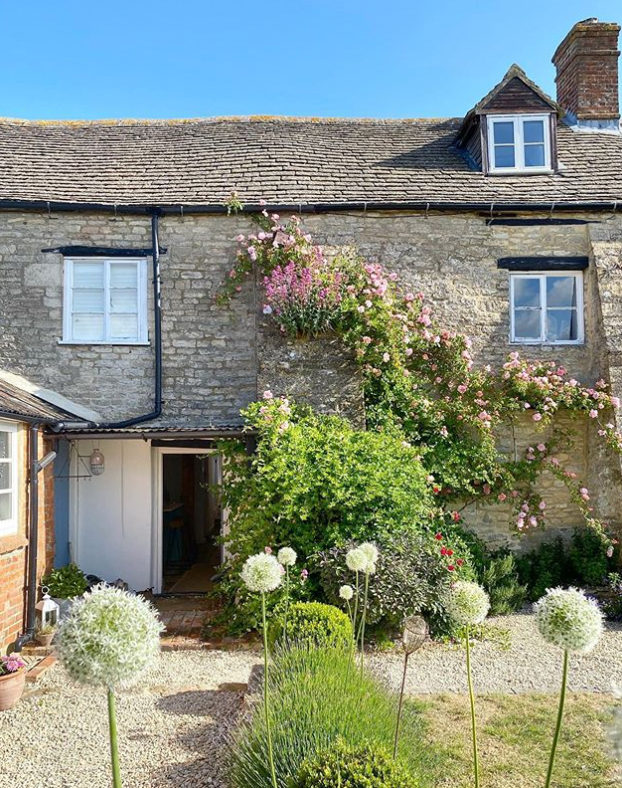 23. Vintage apple tray
If you're wanting to create an English garden look but don't have too much space to work with, then a little vintage apple tray on a table would do the trick! This would be the perfect space to display flower pots or herbs. And I just love the pastel birdhouses behind – how cute!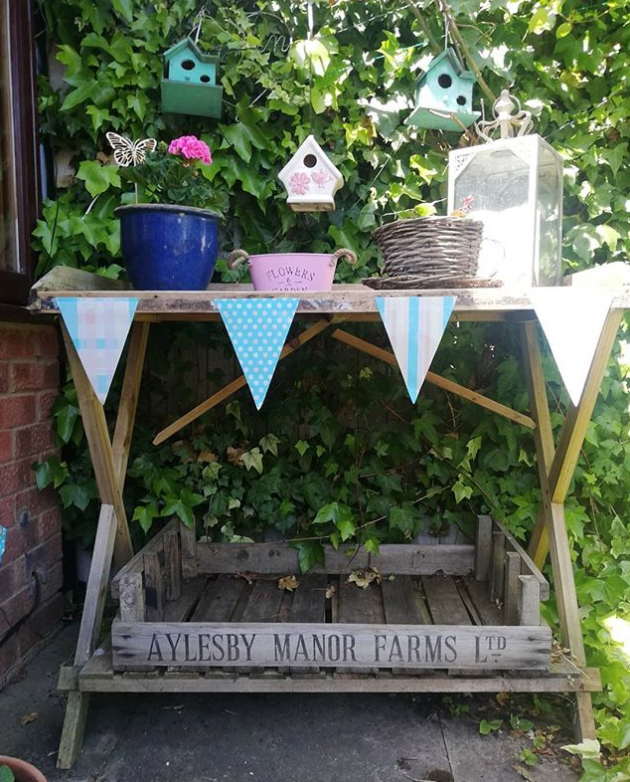 24. Fountain courtyard
Make a statement with this fountain courtyard! If you have the space for it, an extravagant fountain is just what you need for your English style garden. Fit for royalty, this area screams extravagance and opulence.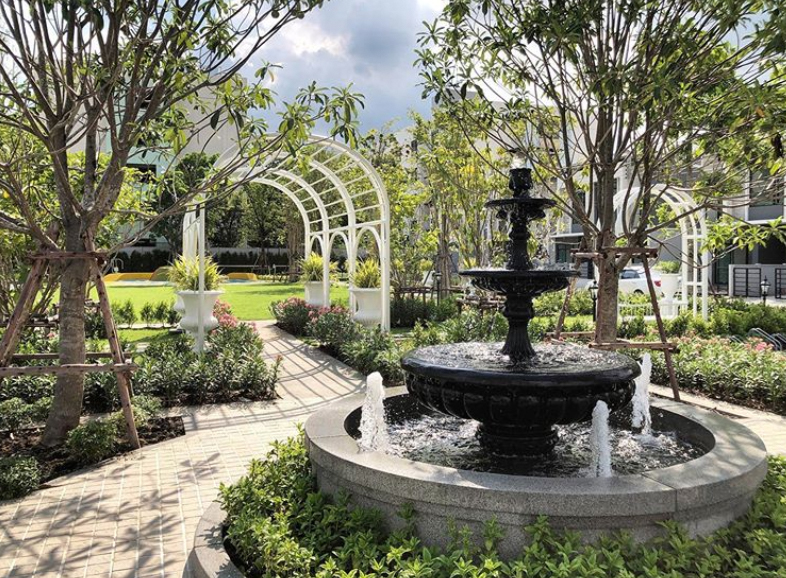 25. Stepping stones
Check out this beautiful English garden! Grab a boat and a paddle and enjoy an afternoon on the water. I absolutely love those stepping stones that curve around the corner behind the beautiful pink flowers. This would be the most perfect spot for a picnic.
26. Estate exploring
This is a stunning archway with flowers growing across it that welcomes you in. I also love the birdbath in the middle that is filled with greenery. If this is just one little corner of a garden, I can only imagine the extravagance of the estate that this garden is a part of.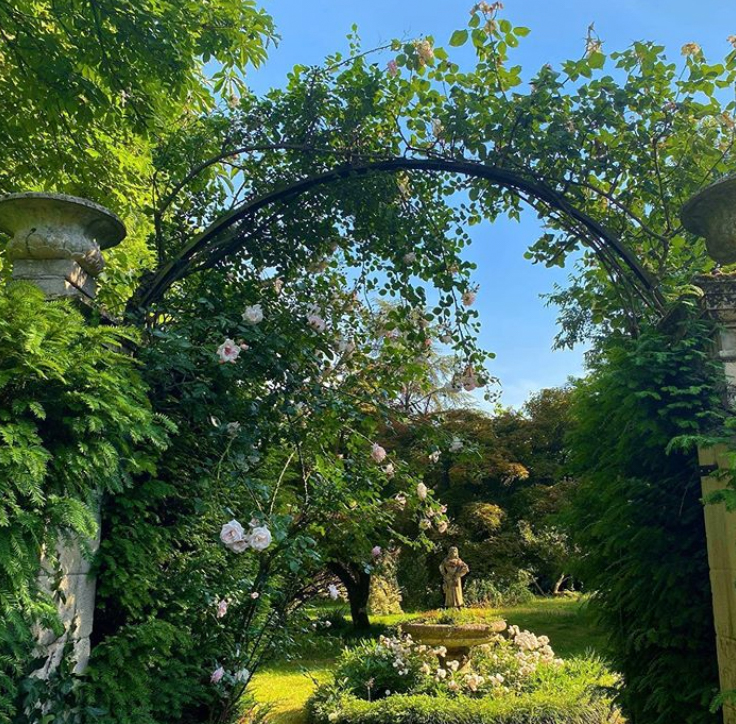 27. Pointed hedges
How sweet is this relaxing space? The sun is kissing the surfaces of the garden and bringing in so much warmth and light. The pointed hedges create height and variety among all the different trees. I also love the little table and chair – what a great place to relax and enjoy a cup of tea.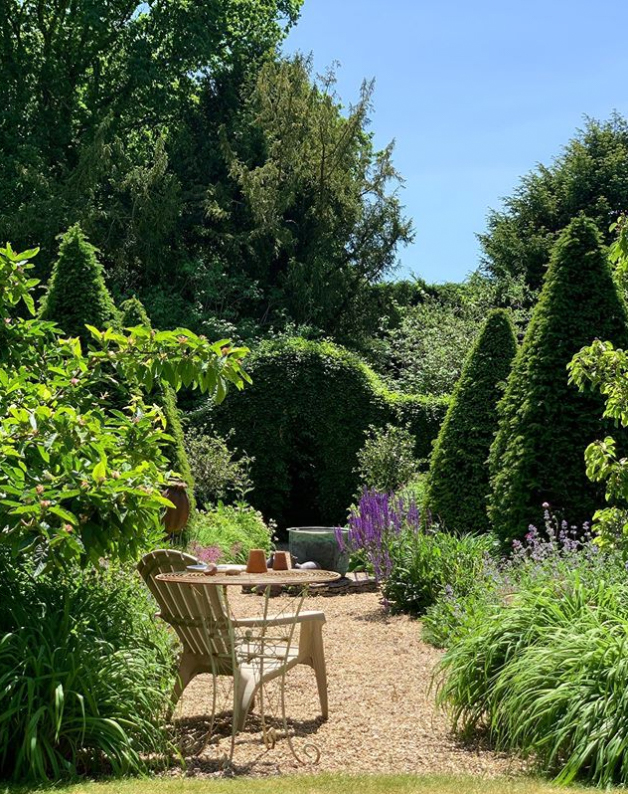 28. All the blooms
All the blooms in all their glory. If you want your garden to look instantly English, the best thing to do is to plant all the varieties of flowers in as many colours as you can. What a special place!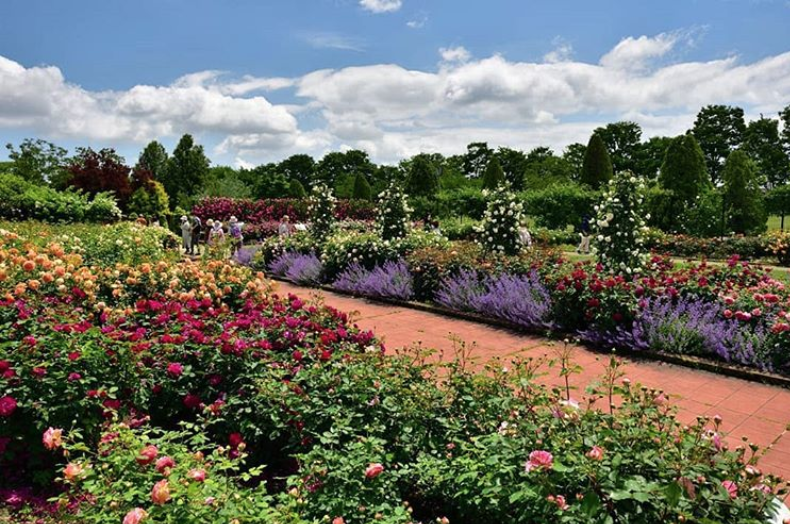 29. First impressions
It's so important to make the most of your front garden as it is the first impression people see when they drive by or enter your house. Your front garden should be neat and inviting. And that's exactly what this lovely space is. I love the white chair that's perfectly placed to look over the garden and watch as people pass by.
If you're looking for some different (or similar) inspo, take a quick look at these front garden ideas to see if there's one that works for you.
30. Off for a ride
Some of the best bike rides I've ever had have been in England. Probably because of the beautiful garden landscapes and the crisp fresh air. These bikes make me want to go on a picturesque ride around the countryside! I just love the colourful bushes that are lining the garden along with the climbing vine of roses up the front of the building.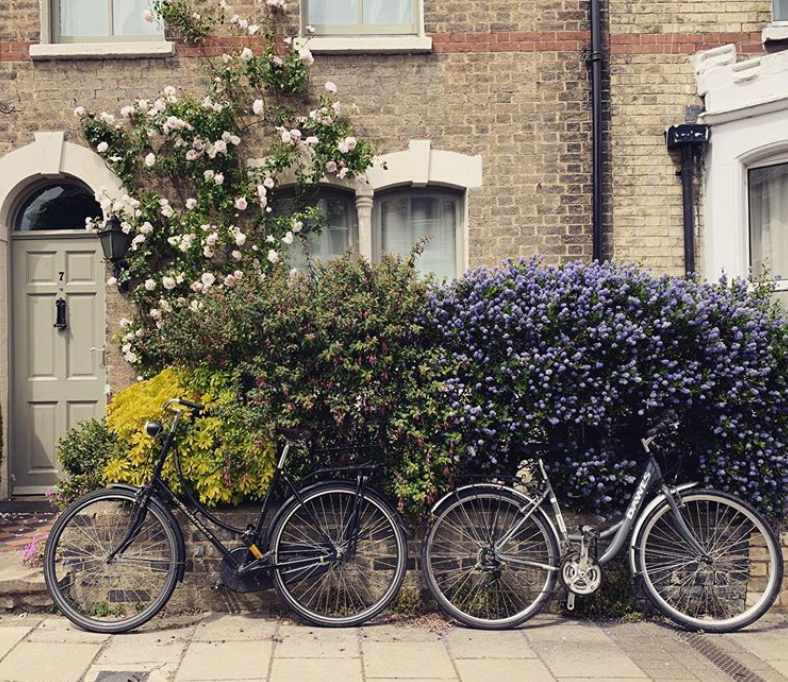 31. Canal boat towpath
Another memorable experience that I've had in England is staying on a canal boat and enjoying the scenery along the way. This is a very typical house and garden that you would see on your canal boat adventure. If you look closely you'll see that a small bush has been planted along the edge of the property creating privacy so that foot traffic doesn't walk straight into the house.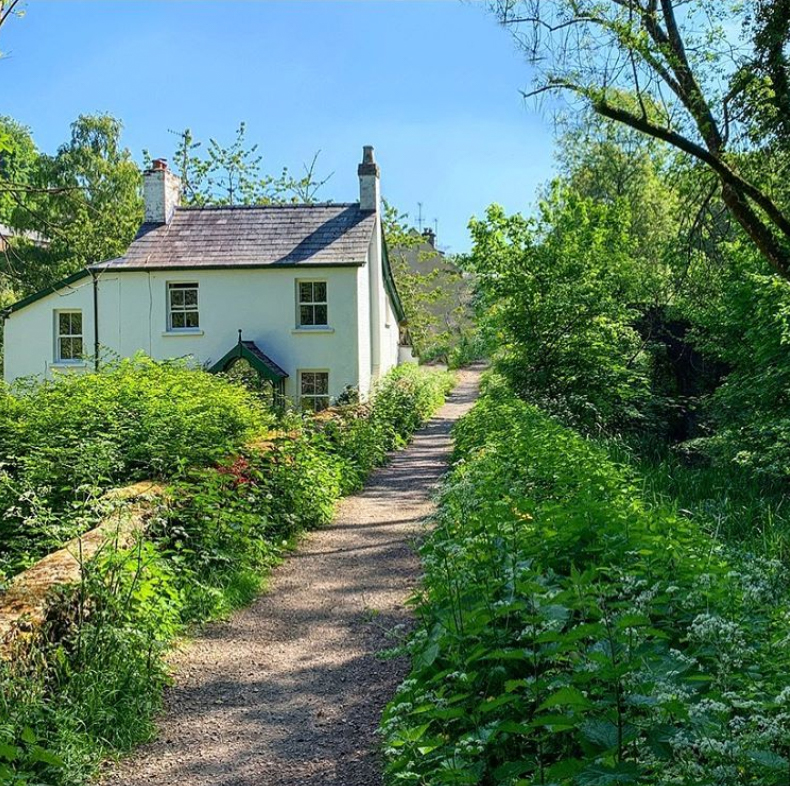 32. Bursting with colour
My oh my, how beautiful is this sweet cottage! This garden has so many colours and plant varieties, you would have to be a keen gardener to keep them all looking this good! The overflowing garden along with the chimney make this home look very cosy.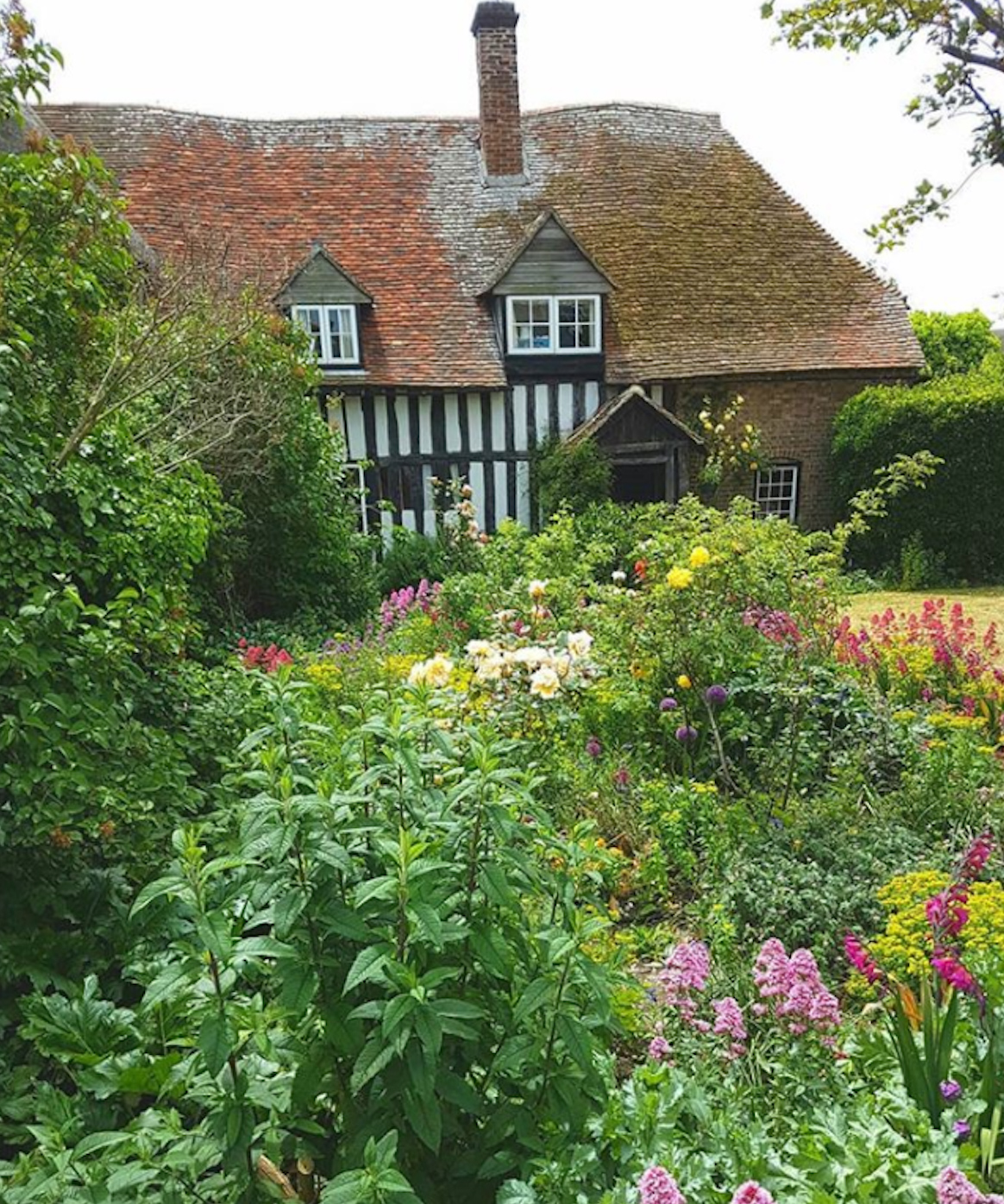 33. Lined pathway
This lined pathway is so spectacular to look at! The trees have been strategically placed on either side so that the two sides look like a mirror image of each other. The hedges have also been cut so they are exactly the same height and size on each side. I would love to take a stroll through this clever pathway and would love to know what the extravagant scene is waiting to meet me at the end.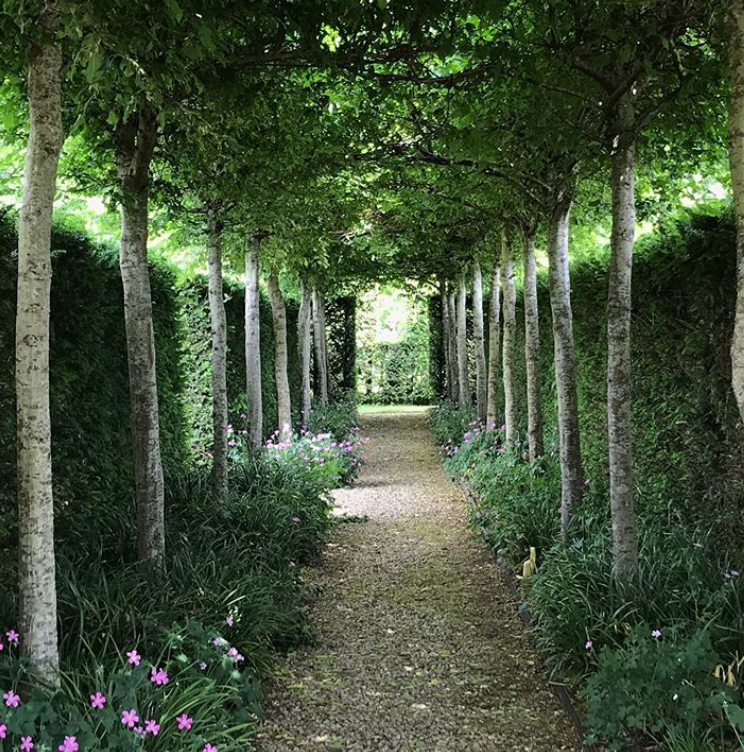 34. Veggie patch
There is just something so special about having your own vegetable garden. When you grow your own produce it is both educational and so rewarding. Plus everything tastes better when it comes from your own backyard! This luscious veggie garden looks like it would produce the most amazing greens – delicious!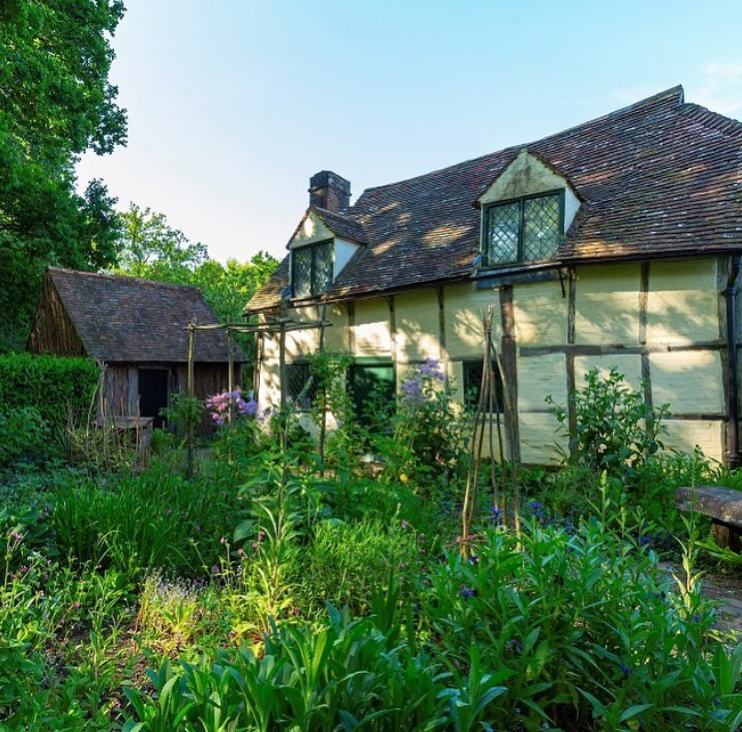 35. Pretty as a picture
And last but certainly not least we have this beautiful scene that literally looks picture perfect! Even though the plants seem to be overgrown and obviously thriving, they still have their own spot and have been strategically placed. I love the arbour in the middle of the garden as well as that stunning typical English house that's peeking through the trees in the distance.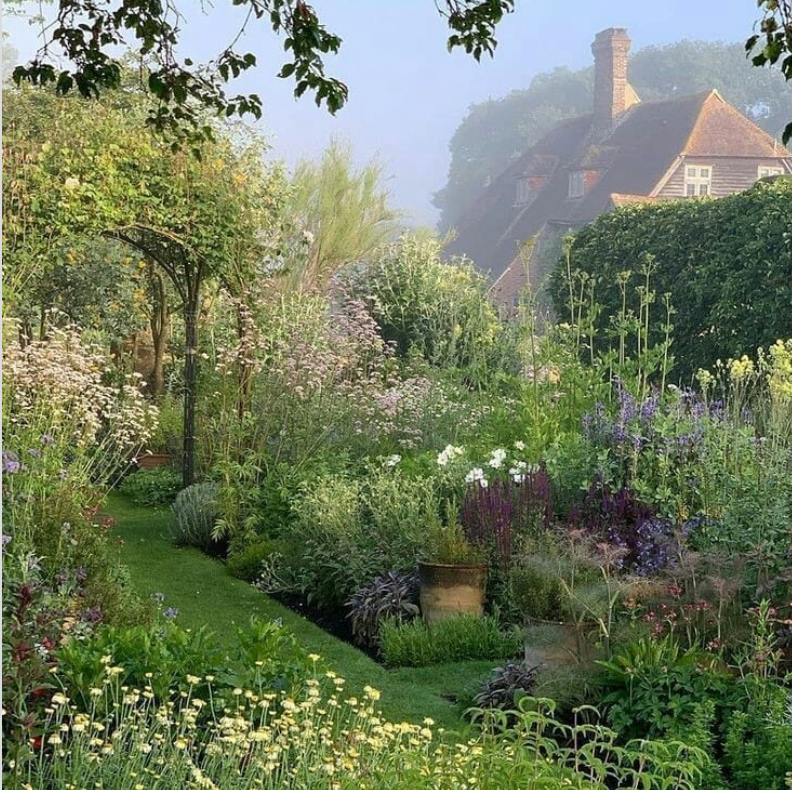 So there we have it, 35 English garden ideas! I absolutely love all the gardens with the multitudes of plant varieties as well as the gardens that have arbours with roses climbing over them. What do you think? Which English garden ideas do you want to incorporate in your yard? Let me know in the comments below!