Whether you call it desert landscaping, xeriscaping, dry gardening, water-wise gardening or drought-friendly gardening, gardening with succulent plants is becoming more and more popular around the world.  Eco-conscious homeowners are searching for ways to create beautiful but low-water gardens that can thrive in a dry (or any) climate. And the good news here is that there are so many stunning succulent garden ideas that will work for any backyard, front yard or even inside an apartment.
Succulents come in a dizzying array of shapes, colours and sizes, from drought-tolerant grasses to mats of spherical rosettes to statuesque columnar forms. Graphic plants boasting unusual textures, luminous colours and sculptural silhouettes. The one thing that unites them all is their ability to store water in their leaves, which lets them survive and thrive in dry and drought-prone climates.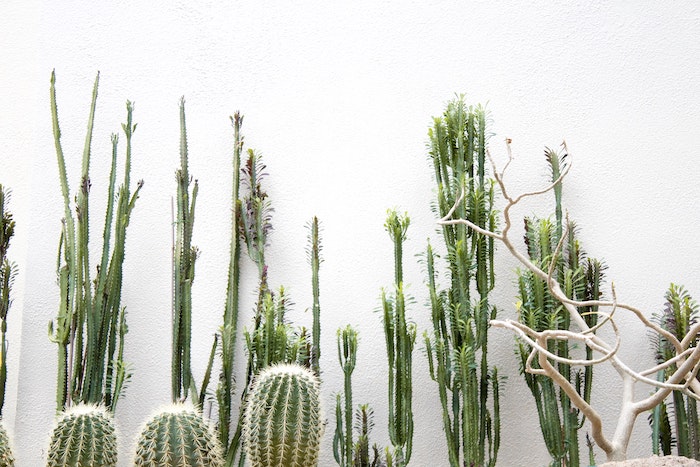 There are generally two types of succulents – the ones that don't do well in the cold (e.g.: crassula, echeveria, aeonium, jade plants, portulacaria, senecio, aloe) and the ones that do (e.g. agave, stonecrop). Your best bet is to shop at your local nursery as they will know which ones suit your local environment best. But generally speaking, cacti from places in the world that have a similar dry, windy, salty, coastal climate will also do well in a variety of locations.
Creating a succulent garden generally follows the same steps:
Begin with your hardscaping of paths and walkways
Then add your drought-resistant plants
Place your largest items (e.g. palms, large cacti)
Then fill with smaller, lower-lying succulents (e.g. agaves, chalksticks)
Let's take a look at 34 succulent garden ideas that are chock-full of foliage and blooms that are hardy enough to live in our harsh climatic conditions.
1. Front yard succulent garden ideas
Succulent garden design is all about mixing unexpected combinations of these hardy plants to generate high contrast and create a striking landscape that effortlessly thrives in our climate. The front garden below features a mix of natives and imported succulents, including Senecio Serpens (blue chalksticks) and chrysocephalum apiculatum (yellow buttons).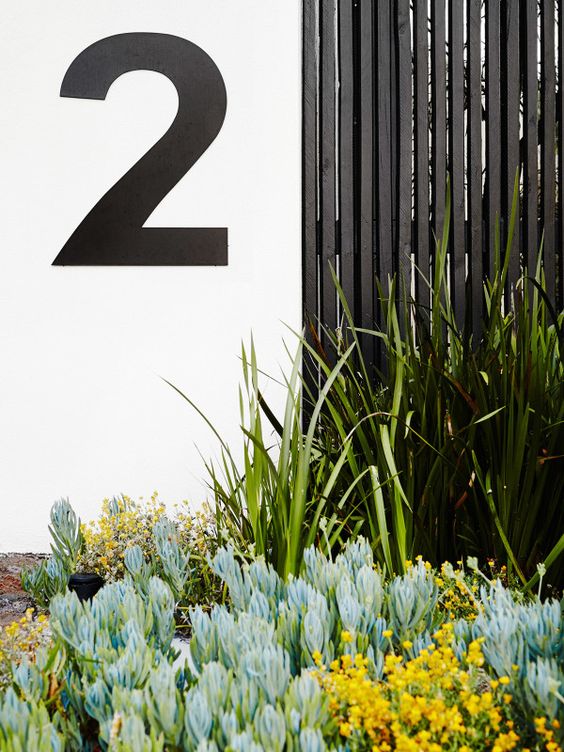 Improve your curb appeal (you know that first impression that people have of your home) with these fabulous front garden ideas.
2. Bold contrasting succulents
Blending a variety of succulent shapes, sizes, foliages and textures creates plenty of drama and dynamism, as you can see in this succulent garden in the Sydney home of pub baron Justin Hemmes. With a simple muted blue and green palette, the varying heights and shapes create a pleasing sculptural effect.
Get an experienced garden designer help you achieve your ideal succulent garden ideas for your.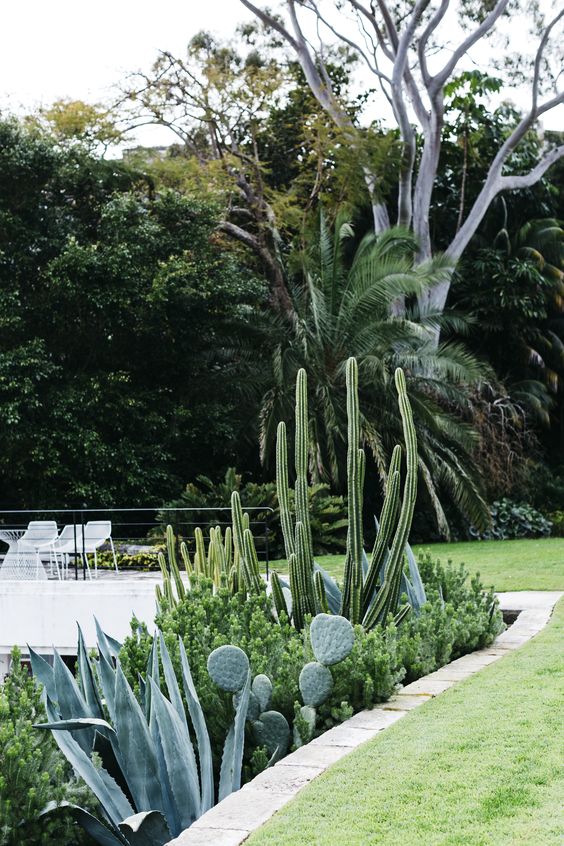 3. Wild colour
How stunning is this succulent garden with its mix of gold barrel cacti and pink-bloomed penstemons? Penstemons are native to the Joshua Tree National Park region in the US. I love the fuzzy halos that these American cacti have, as though the plants have magical glowing auras.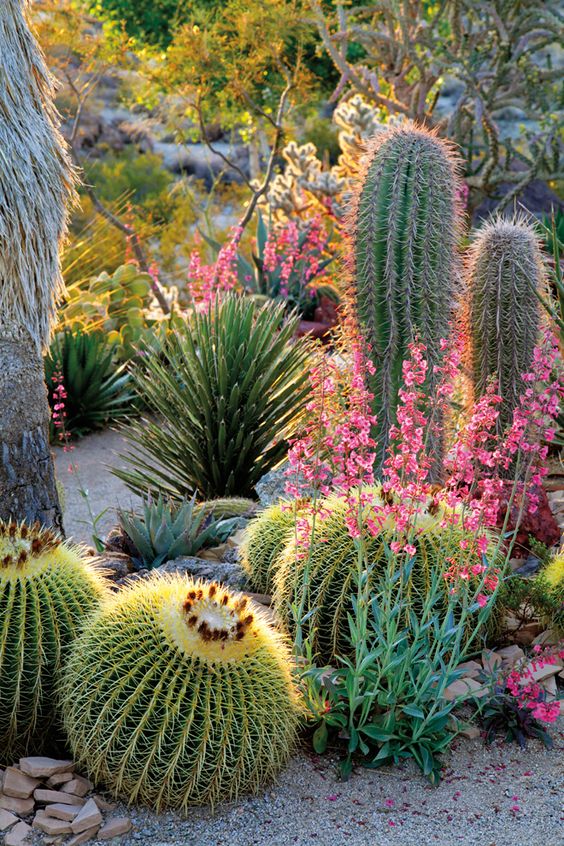 4. Accent plants
Succulents make wonderful accent plants thanks to their striking structural shapes. They're very well suited to a minimalist aesthetic where their impact can be enhanced by contrasting them against pale crushed gravel, as has been done with gorgeous agaves in this Californian backyard. The landscape designer also added birch trees as well as asparagus ferns (which have similar water needs to the agaves).
If you intend to pursue a clean, minimalist look like this, you'll probably want to start by clearing out your garden space to achieve a blank slate and you can easily get some help with that—whether with a general garden tidy-up or with woodchipping as well.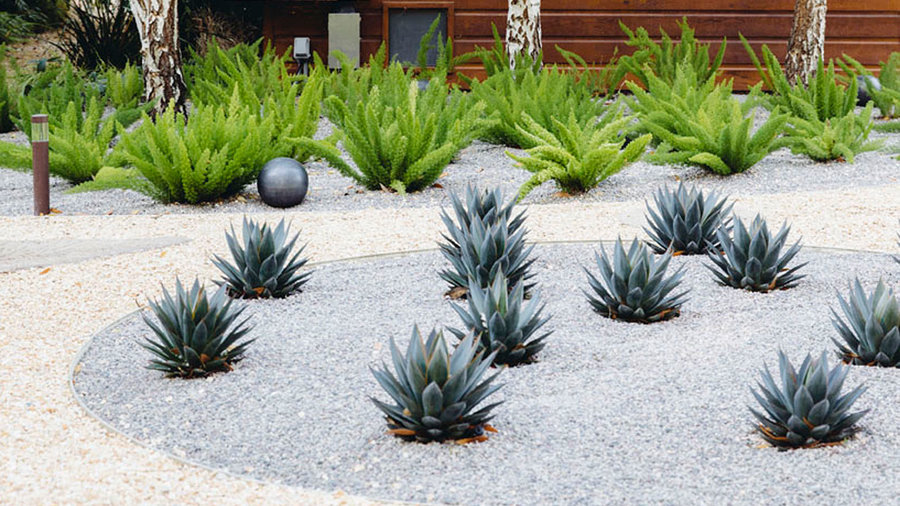 5. Towering cacti
What a beautiful example of a well-established succulent garden at the home of artist Philip Drummond. He has created what's been described as a botanical masterpiece from a bustling combination of native Australian trees like banksia and a variety of traditional cacti ranging from small barrel cacti with orange blooms to large columnar cacti. His vision was to have a rambling pathway walled in by plants that make walking through it "an adventure".
If you love the look of large cacti, your best bet is to buy them already fully grown, as they are usually quite slow-growing, but be prepared to pay more.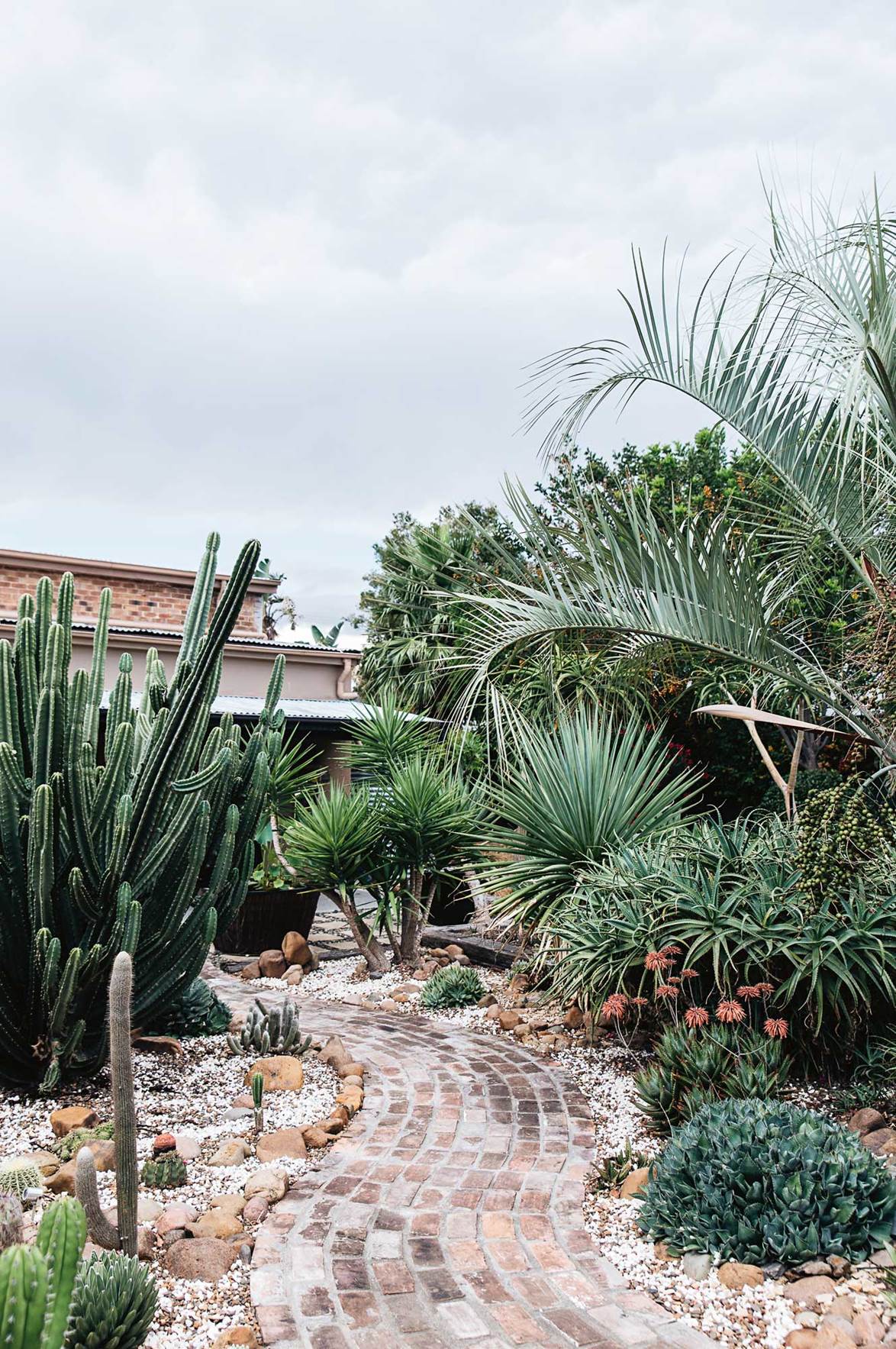 6. Native succulent garden ideas
The benefit of using native succulents is that they will usually establish themselves more quickly and they also work very harmoniously with other native plants. Here, a beautiful front garden has been put together with contrasting textures and a rainbow of colours using natives like kangaroo paw, colourful grasses and a few sculptural plants.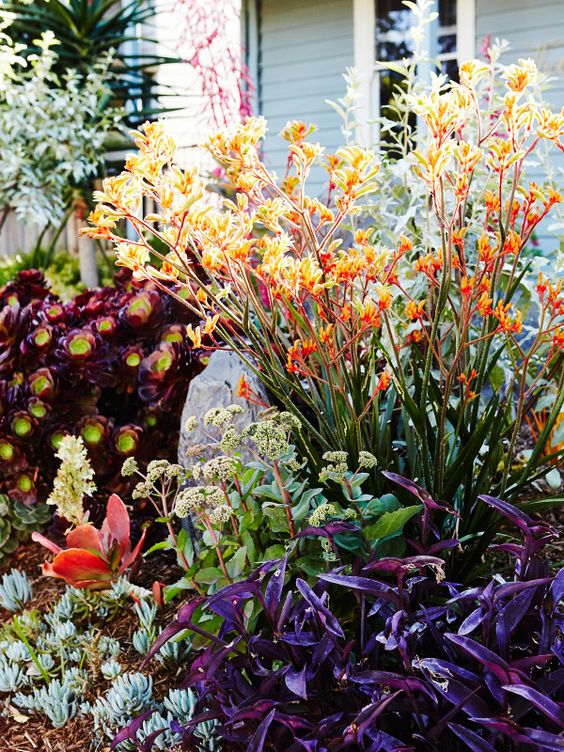 Knowing what will work in your garden, due to sunlight, climate and access to water can be a little tricky. You can either get help from your local nursery, or from a landscaper in your area.
7. Desertscape
Here's another example of a classic succulent garden in the backyard of a mid-century home in Beverly Hills in the US, where just a simple selection of plants combine to create a killer aesthetic. Amongst the gravel and pavers there are golden barrel cacti, columnar cacti, spiky agaves and plenty of iridescent blue senecio (chalksticks)—a super low maintenance garden for these modernist-architect homeowners.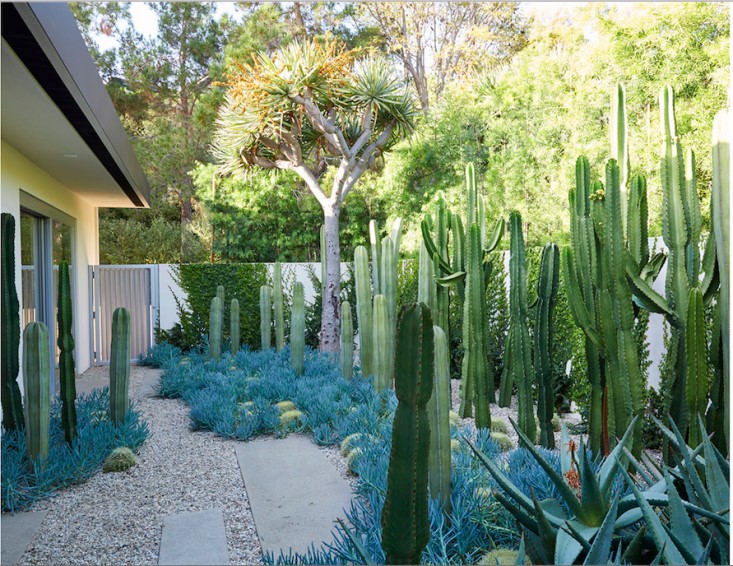 8. Palms and succulents
Palm trees and traditional cacti are a much-loved pairing as they evoke the classic "Palm Springs" coastal aesthetic that is popular both in the US and in Australia. Below, the home of style influencer Amanda Shadforth in South Queensland is said to be a perfect example of modern, minimalist coastal style. It features a low maintenance combo of palms and cacti in a gravel setting, surrounded by a similarly graphic paving design.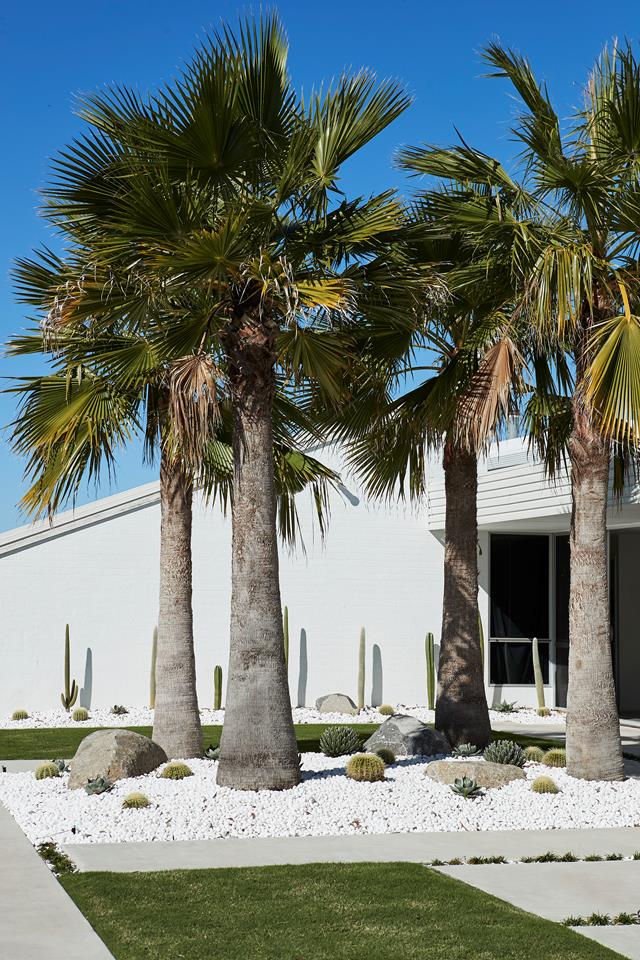 Interested in paving? You might also check out our recent article on paving ideas.
9. Yucca succulent plant
The Mexican Yucca plant is not, in fact, a true succulent but is still often favoured for inclusion in succulent gardens because of its architectural aesthetic and its ability to withstand very dry climates. With its impressive palm-like appearance and coarse, sword-like leaves, it makes an awesome statement plant that offers substantial privacy to houses, as you can see below. Smaller yuccas also make wonderful container plants, especially when contrasted with finer-textured foliage.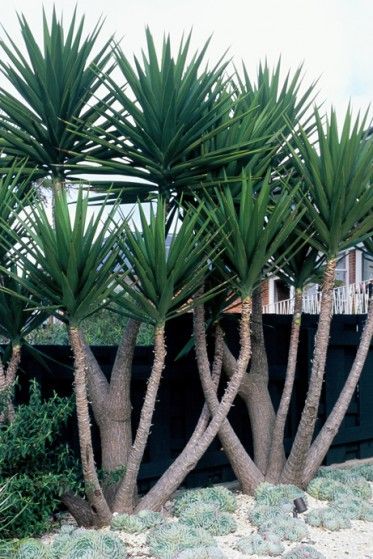 10. Front yard feature
I love this landscape, it's almost from another planet. With all the large boulders and the scattering alien-like golden barrel cacti, it all adds up to create a magical desert landscape.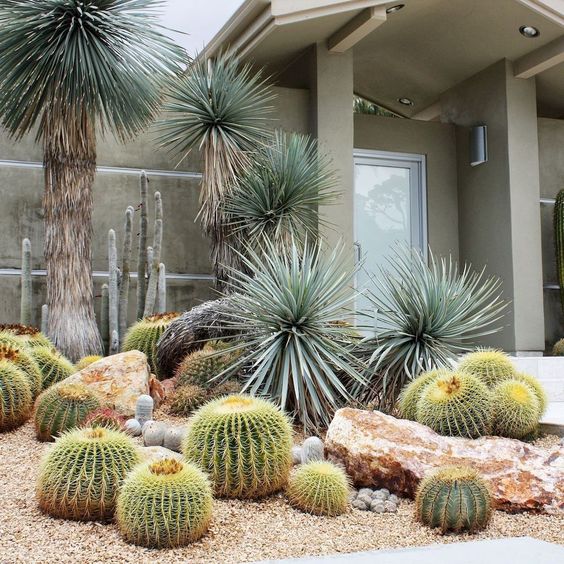 11. Aloe succulent garden idea
We've all heard of the amazing succulent aloe vera (or "true aloe"), with the plant being well known for the healing properties of the latex in its leaves, but there are actually another 399 varieties of aloe out there, ranging in size from fat little midgets to tall trees. Landscape designers will often incorporate larger aloes into their planting mix, sometimes choosing them for their colourful blooms.
In the low-maintenance balcony space below, five kinds of succulents have been used: a blueberry cactus or crested Myrtillocactus, a kind of agave called the Furcraea Macdougalii, sansevieria (snake plant), golden barrel cacti and a tree aloe called Aloe Barberae. Despite the variety, the plants share similar colour tones, keeping things harmonious.
12. Beachy boho succulent garden ideas
Many of the imported succulents and cacti work well due to similar dry climates. Many come from coastal towns in Mexico and the US, in harsh, salty beachy climates. They've grown to withstand the blazing sun and windy, salty air. Below, we have concrete walls softened up by feather grass and dwarf olive trees along with succulents like agave for an overall laidback coastal vibe.
If you're like me and you're a busy working person who sometimes forgets to keep up with the garden maintenance, don't be shy about getting some help with it!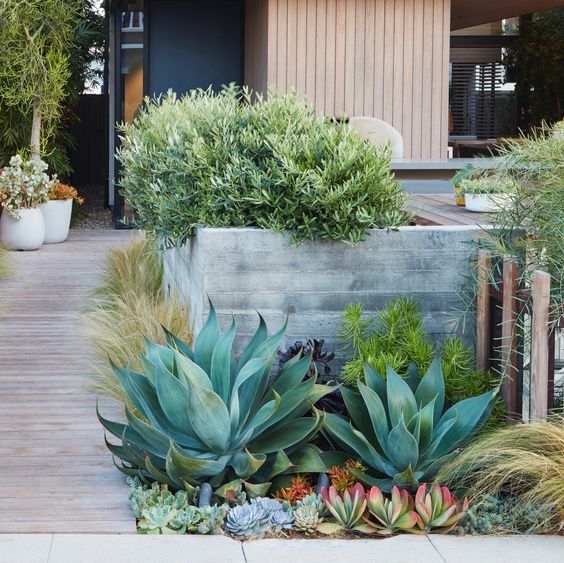 13. Water wisdom
One of the most gorgeous succulent gardens I've come across is that of American elder Ruth Bancroft, aka her "secret garden". She's regarded as something of a pioneer in water-wise gardening in the US, and in championing the huge diversity in the world of succulents. Her garden is an exquisite example of how to combine plants creatively in ways that conserve water. And her dramatic landscape compositions elevate foliage to the same status as flowers, with a premium on texture, form and contrast.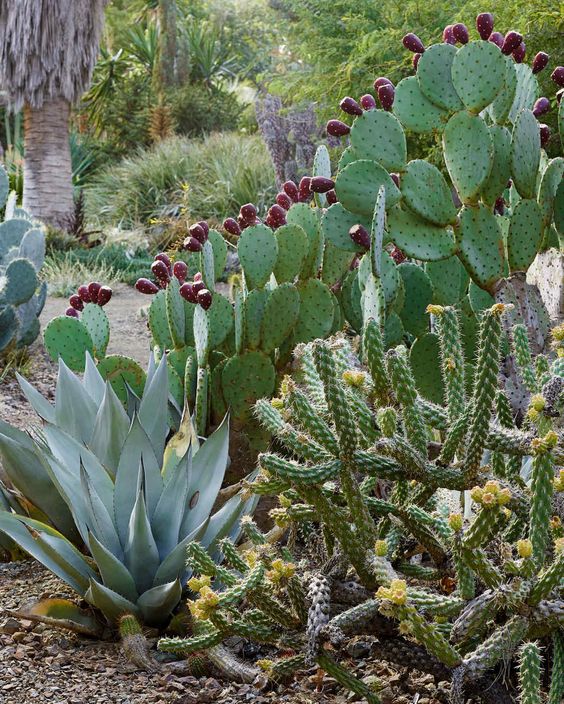 14. A simple collection of cacti
Their unusual, somewhat prehistoric and sometimes quite wacky, shapes and silhouettes make succulents perfect for an eye-catching container arrangement. A patio setting like this is ideal for these plants that love a dry, sunny spot.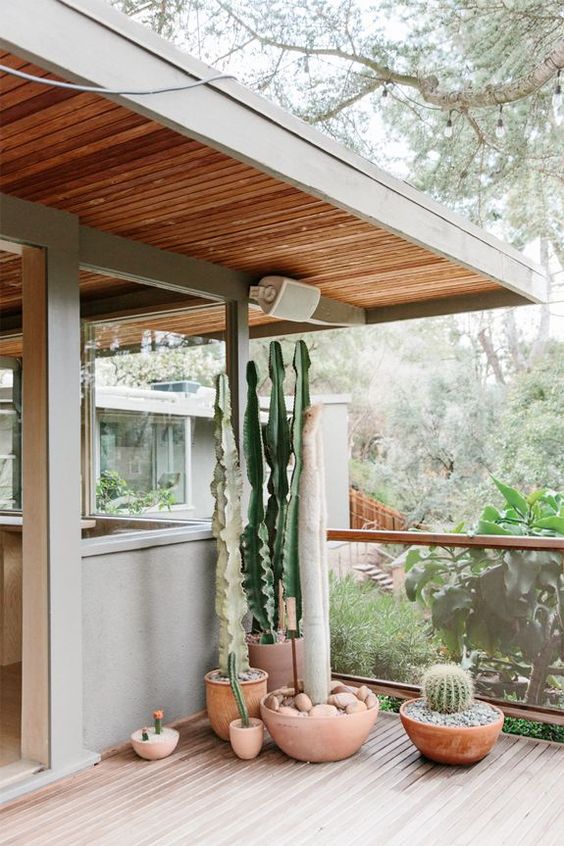 15. Iconic cacti
Here's another example of an attention-seeking group of classic, Wild West flavoured cacti in gorgeous terracotta pots that blend perfectly with the terracotta backdrop. This simple yet stunning container arrangement really highlights the striking forms of these traditional succulents which make such fabulous statement plants.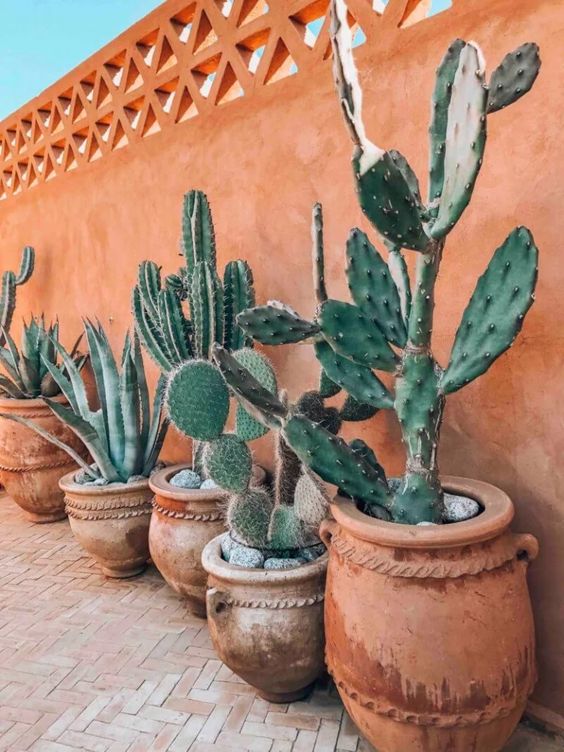 Need more info on retaining wall design? We have heaps of suggestions in our article on retaining wall ideas.
16. Succulent wall garden idea
I love the harmony and order created by the way this homeowner has neatly arranged their indoor succulent collection at varying heights up the wall. Although the plants and pots are all different sizes and shapes, the simple colour scheme brings it all together. If you love the classic Tex-Mex vibes of cacti like these, consider incorporating euphorbia acruensis, aka Cowboy Cactus, as they look the part and they really thrive in a dry climate.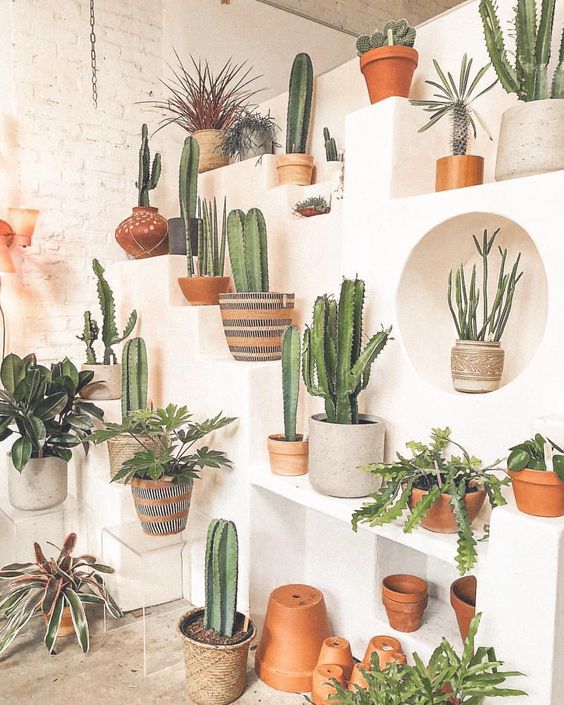 17. Pool cacti
Because of their strong graphic form, succulents create bold reflections in the pool water so they're an ideal choice to place in containers around the perimeters of your pool. They look especially striking when grouped—the more the merrier. But you don't need the pots or the plants to be absolutely identical. Just keep them within the same style family to harness the pleasing visual effect of repetition and pattern.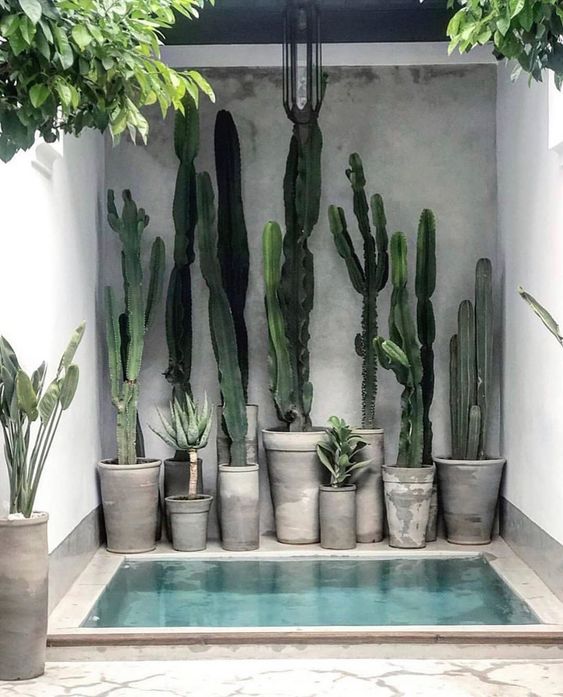 18. Ghostly blues
Pale and interesting grey tones help soften up a black and white colour scheme and contrast nicely with green-hued foliage. Here, green-black agaves put the containers beautifully in relief.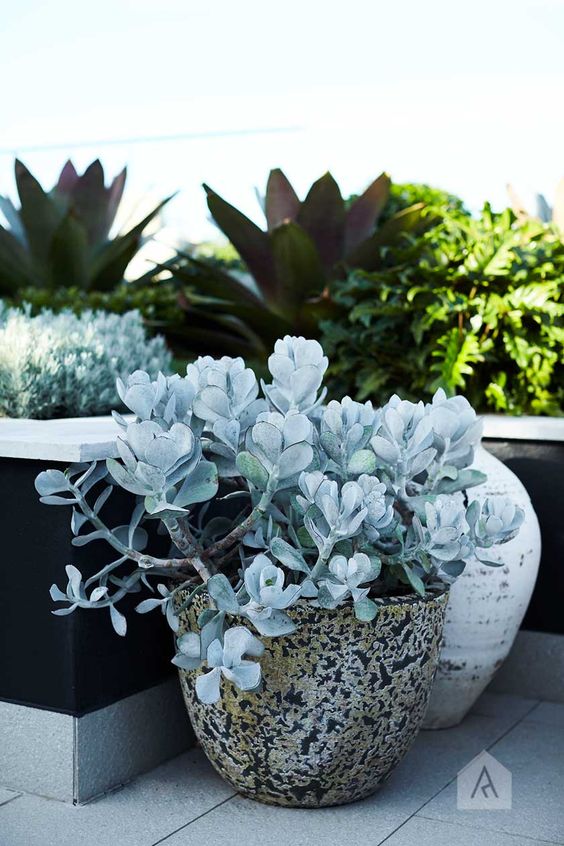 19. Agave
You can't go wrong with these large silvery-blue spiky plants. Hypnotically symmetrical, they form graphic spines in pretty rosettes. I really like how the shadows of these agaves make beautiful patterns on the walls. You can enhance the drama of your succulent garden by adding judicious lighting—find a landscape lighting expert near you.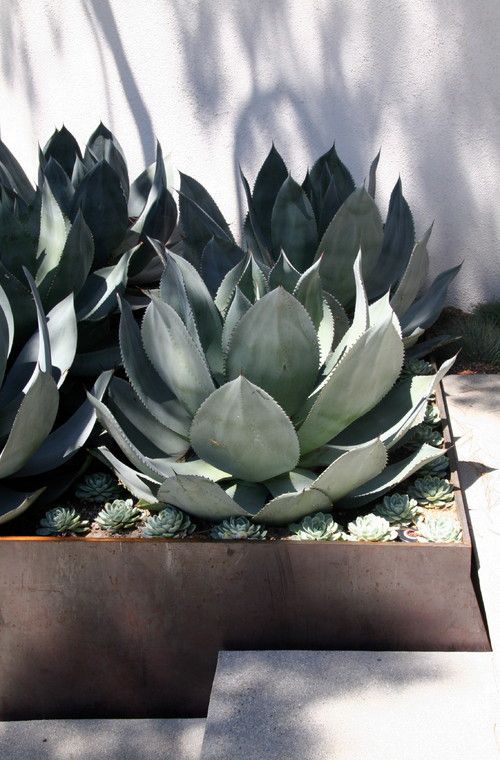 20. Dragon tree
Similar in appearance to a palm tree, but a true succulent, the dragon tree (Dracaena Draco) is another show-stopping plant that makes a fabulous feature whether planted in the garden or in a pot.
Prized by landscape designers as an architectural or structural plant for their strong impact as a focal point in gardens. Dragon trees look amazing paired with succulents with contrasting foliage, like the Senecio (blue chalksticks) in the containers below. Their genuine succulent nature means they are ideal drought-tolerant plants for dry climates.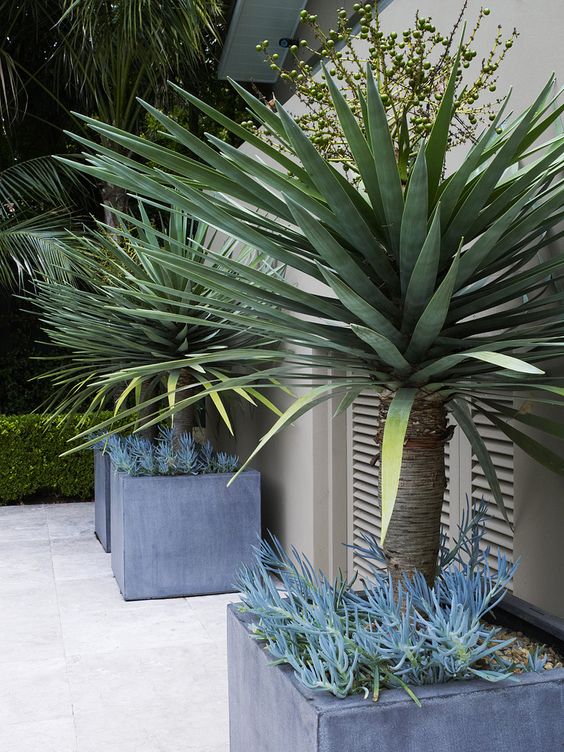 21. Celebrate diversity
For maximum impact, contrast drastically different succulents and containers. Here, they look quirky with their wildly varying forms against white sandstone tile. I love the minimalist setting that allows the plants to take centre stage.
Succulents thrive in containers as long as you give them a fast-draining cactus mix and ensure they have good drainage and then water really sparingly.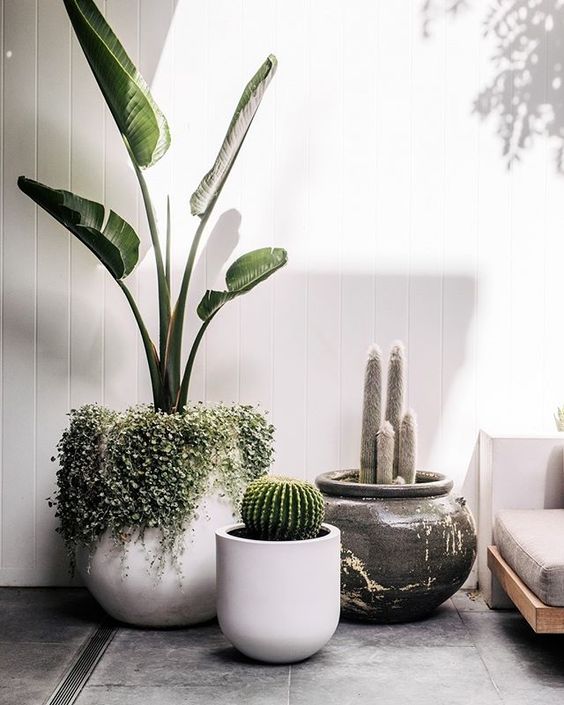 22. Laying elements
The great thing about planters is that you're not locked into long term design and you can change things up depending on your mood or the season. When you're putting together a container of succulents, go for maximum textural impact and colour saturation to make a statement. Try to contrast at least three to six plants by texture, height or colour.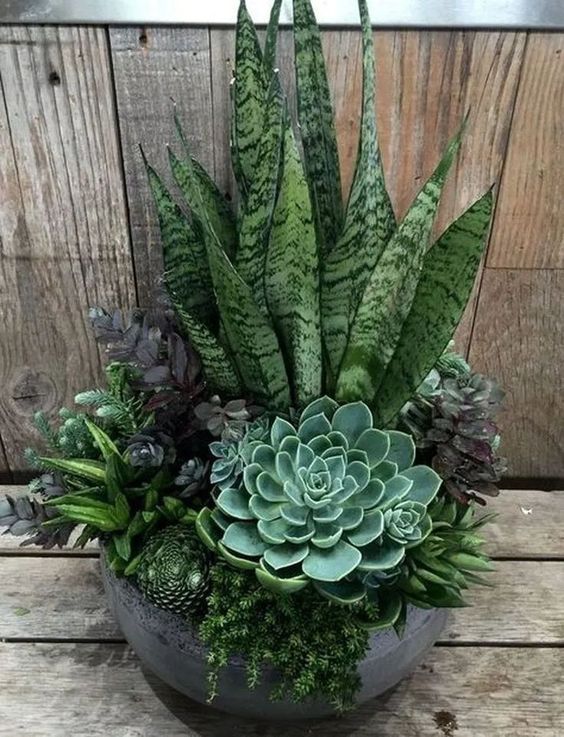 26. Mini succulent garden ideas
Not all succulent gardens are dramatic outdoor landscapes. At the other end of the scale are little container arrangements of miniature succulent gardens. Typically found indoors, aficionados of these tough little guys keep them in everything from teacups to terrariums.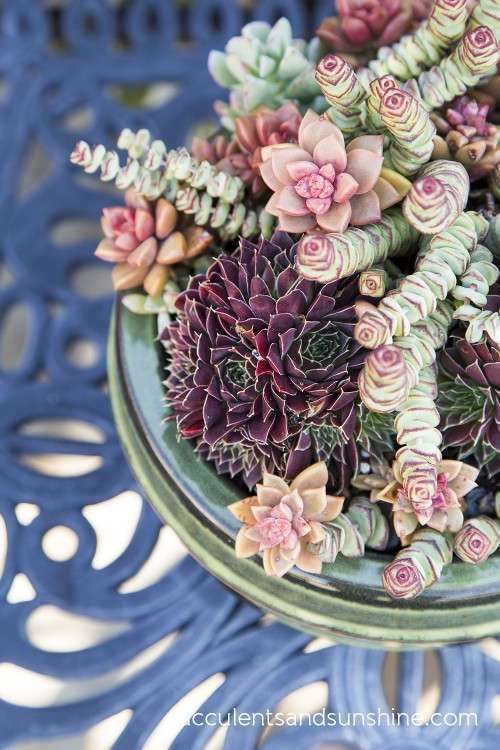 23. DIY succulent garden ideas
The trick to miniature succulent gardening is to choose species that stay small like echeverias, sedums (stonecrops), haworthias and kalanchoes (like the bright purple kalanchoe pumila). With their inevitable cuteness due to their adorably small and pastel appearance, these petite and romantic miniatures make gorgeous indoor succulent gardens.
They also look magical in little kids' rooms, fairy gardens, even living picture frames. Or place in a farmhouse bathroom in charming old wooden crates like this one.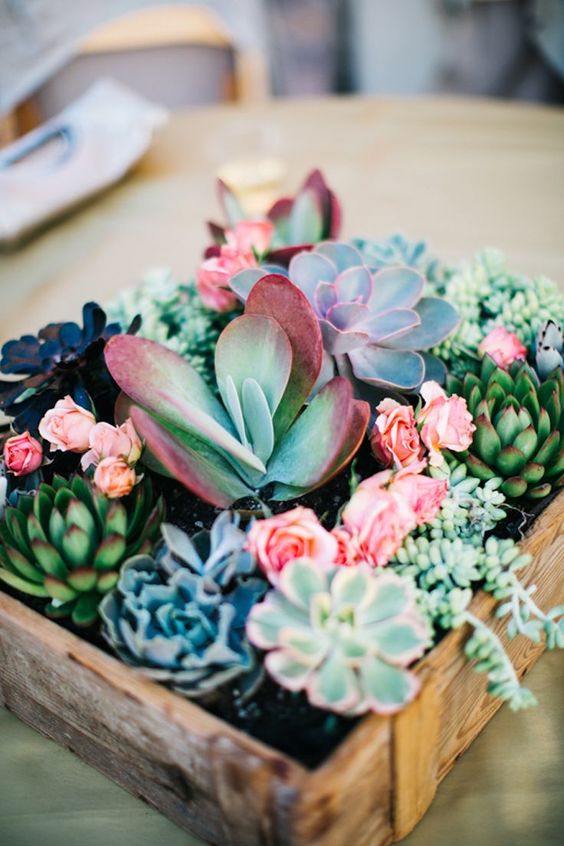 24. Patio succulent garden
I love this pretty design and colour scheme. There's something about the blue succulent species that makes them seem a little other-worldly. Growing your mini succulent garden in interesting containers naturally makes them portable, which is a huge plus for renters or city dwellers without gardens.
25. Succulent pathway trim
Succulents are ideal for edging garden beds, borders and paths, especially if you choose gorgeous low-lying rosette-forming plants like echeveria or sempervivums. Their natural symmetry is visually stunning and they will happily reproduce to form dense clusters to fill the space. You can find succulents in almost any colour, from pale pinks to blues to blacks, so that you can create the palette of your dreams. And they'll reward you by being low maintenance compared to thirsty annuals.
For more inspo, you might also like to read our recent article on garden edging ideas.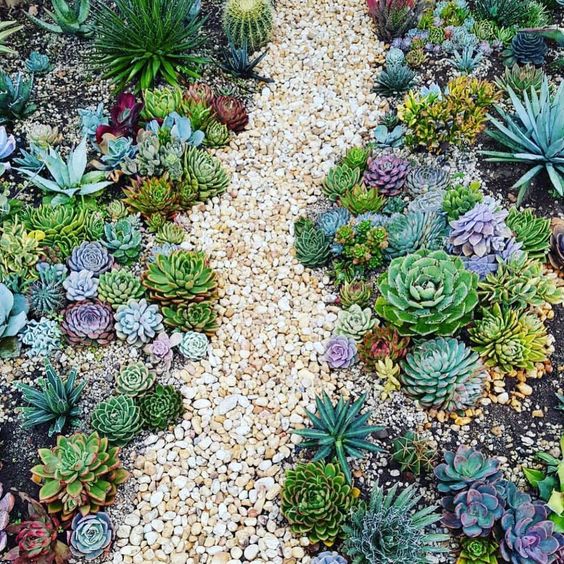 26. Side path succulents
You can vastly improve the look of a boring side path or that super narrow side yard by creating a pretty succulent garden in the often neglected space. Choose a simple, beautiful colour scheme but pick a range of different kinds of foliage to generate a texture, as has been done below. Or go nuts with colour, succulents come in so many gorgeous colours.
You're unlikely to want to grow lawn along a narrow strip like this, so it's recommended that you fill the ground with rocks, which succulents are more than happy to grow in. And then it's almost set and forget!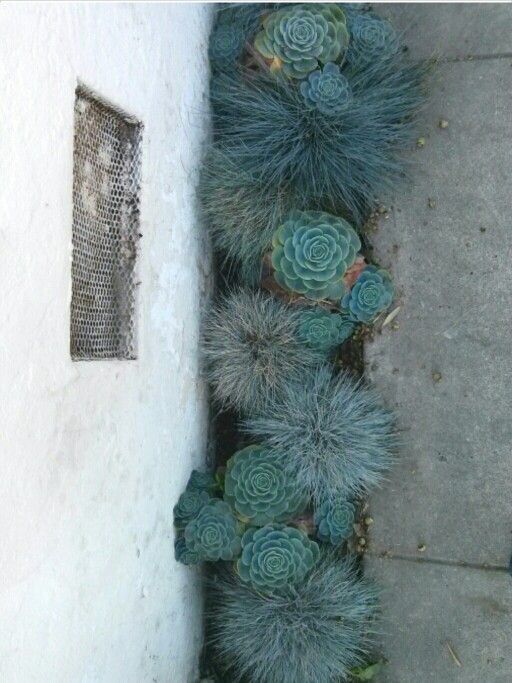 27. Go for the wow factor
Use colour to make a statement, picking bold singular colours for a dramatic impact.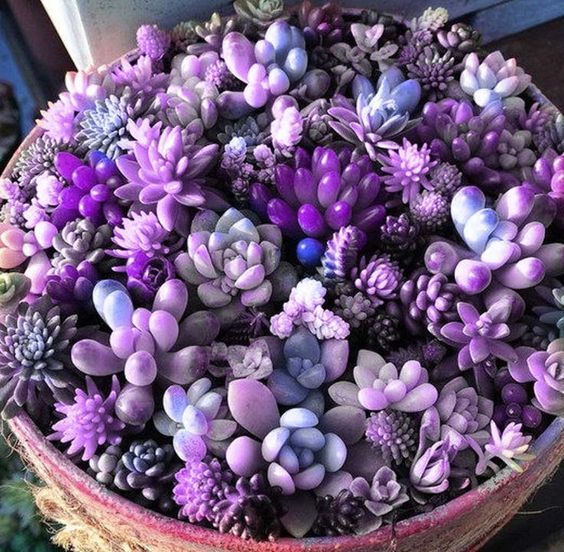 28. Box them in
Succulents lend themselves well to creative container compositions thanks to the huge variety of striking architectural shapes and gorgeous colours to choose from. Go for a randomly-spaced mix of heights and textures like the one below, or layer them from tall at the back to shorter at the front.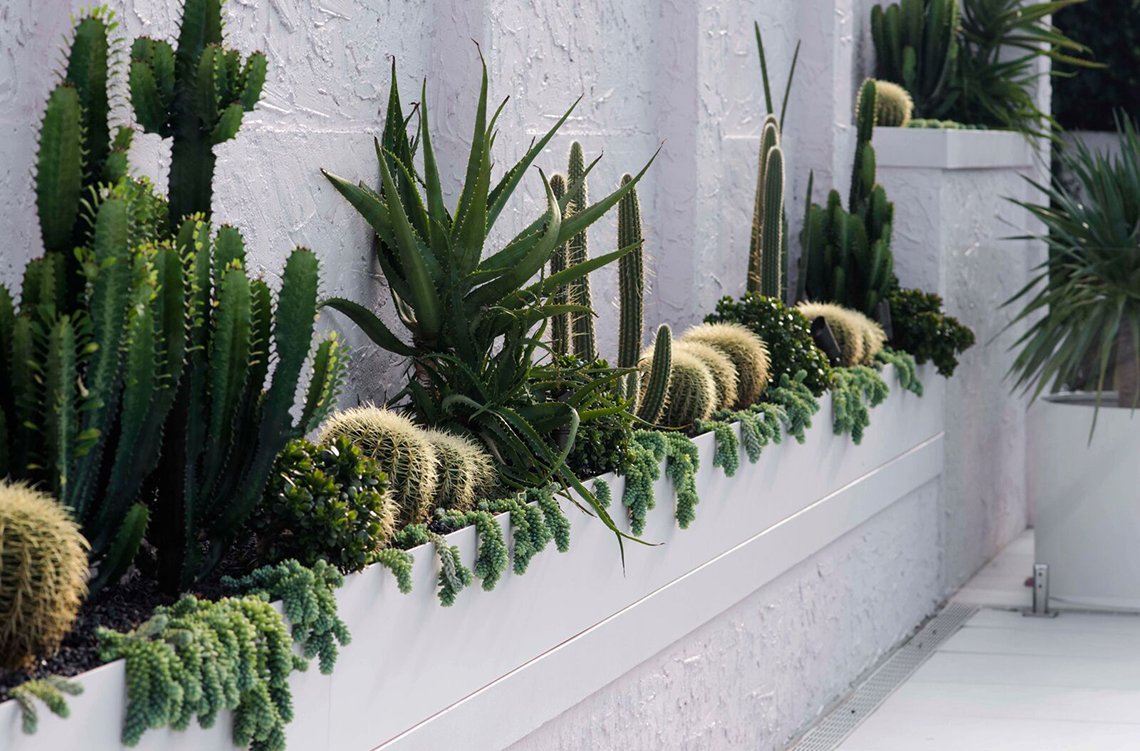 For expert advice on creating gorgeous planter boxes, you can find someone near you to help or get some inspo from our article on raised garden beds.
29. Banding together
Create visual interest with bands of colour and texture by combing plants with differing characteristics, and choose a visually unobtrusive container that allows the plants to shine. In this stunning planter: at the base, trailing silver ponysfoot (dichondra argentea Silver Falls'), as a filler in the middle is purplish spiderwort (tradescantia pallida 'Pink Stripe') and soaring up to three feet above is mother-in-law's tongue (sansevieria trifasciata).
You can get a similar texturally contrasting effect as spiderwort by using Euphorbia Hybrid 'Diamond Frost' which also constantly bears white flowers.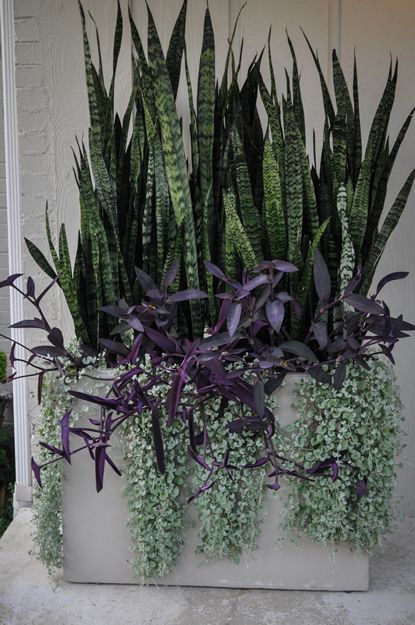 30. Succulent surprise
Beautify a tiny crevice or a bit of broken path in your garden or on the patio with a sprinkling of succulents in a magical colour. Succulents are very happy wedging themselves between rocks and into cracks and will colonise the space, so you don't need to overthink the planting.
Some of the little rosette-formers like echeverias and sempervivums are ideal hardy survivors to let ramble between gappy bricks or to cover up ugly cracks in concrete. While, not a "succulent garden" as such, planting up succulents into rock walls and crevices is a rewarding way to feature these sweet little critters.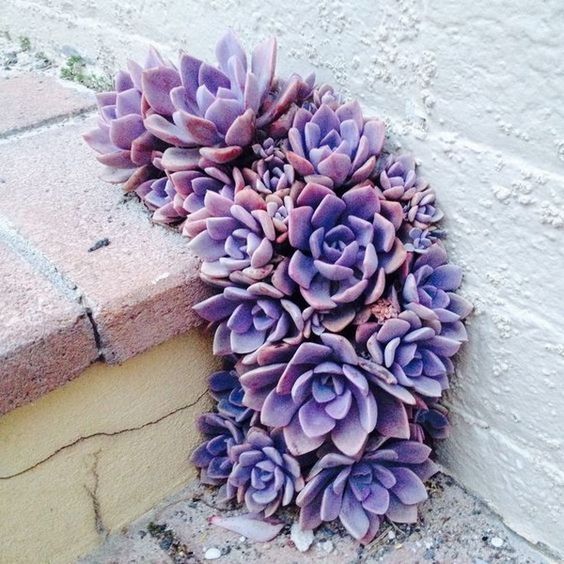 31. Patio feature
A gorgeous selection of low-maintenance succulents with a similar form but in a mosaic of colours make the ideal patio planter out the front of this weatherboard home. The crisp white container really pops against the plants, the blackbutt timber decking and the limestone patio walls, creating a classic coastal look that some describe as "desert modernism".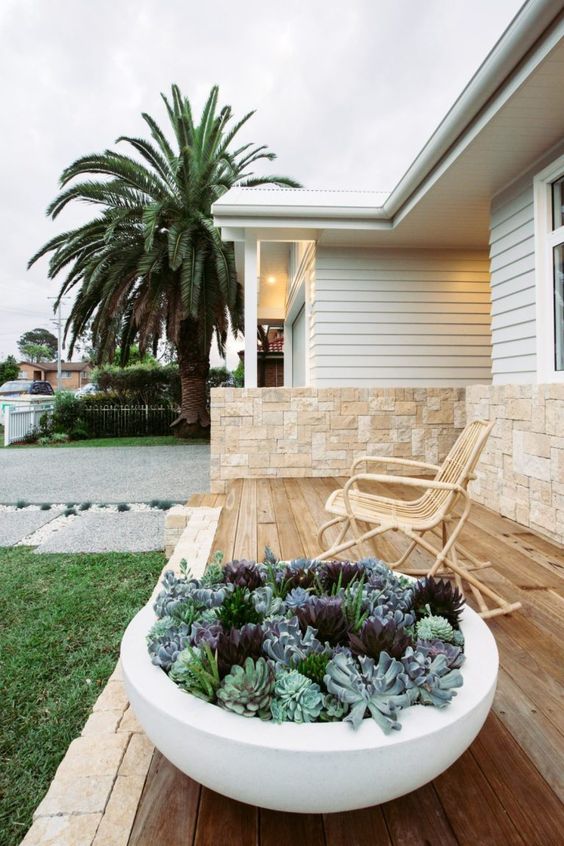 If you're searching for more inspo for your patio decking, make sure you check out our article on beautiful decking ideas.
32. Monochromatic magic
If you love a monochrome colour scheme, group your succulents in a matching set of striking black containers like these matte black ones. The stark simplicity of the pots will allow the gorgeous architectural forms of the plants to really stand out and be appreciated.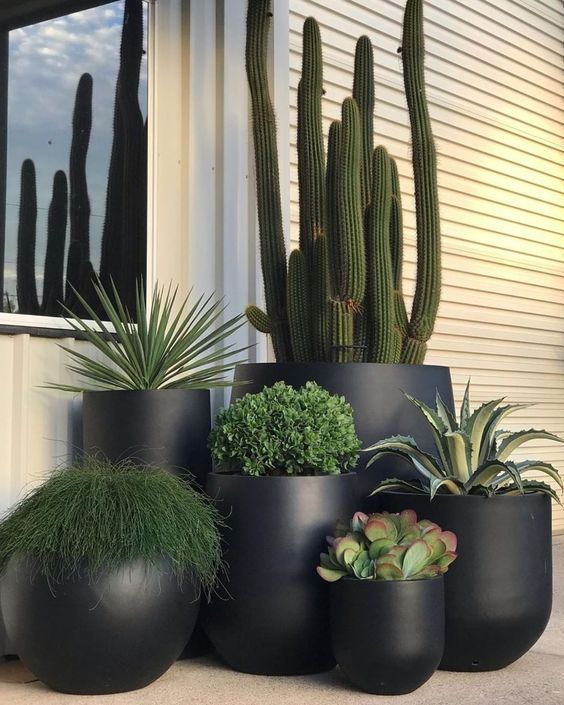 33. Donkeys tails
Go for something with a striking natural shape to make a statement, such as one of the cascading succulents like these donkey's ears? Trailing succulents are wonderful for softening up hard edges in your garden and add a touch of romance with their gently weeping form.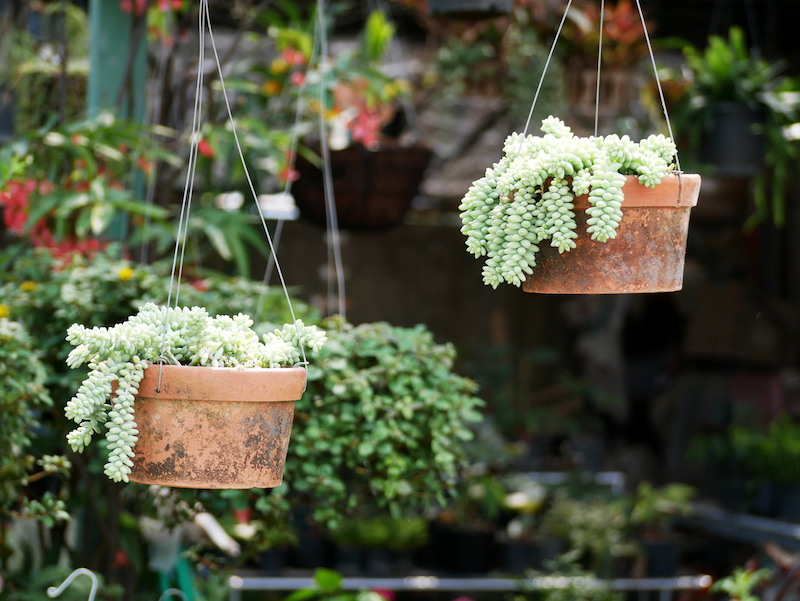 34. Indoor cactus
Finally, while a single statement plant does not exactly qualify as a "succulent garden", I've included this solo potted cactus simply because it's so visually pleasing. I love the rough-hewn concrete pot against this iconic Tex-Mex style cactus. Just one of these characters can totally transform your living space and give it all kinds of Boho feels.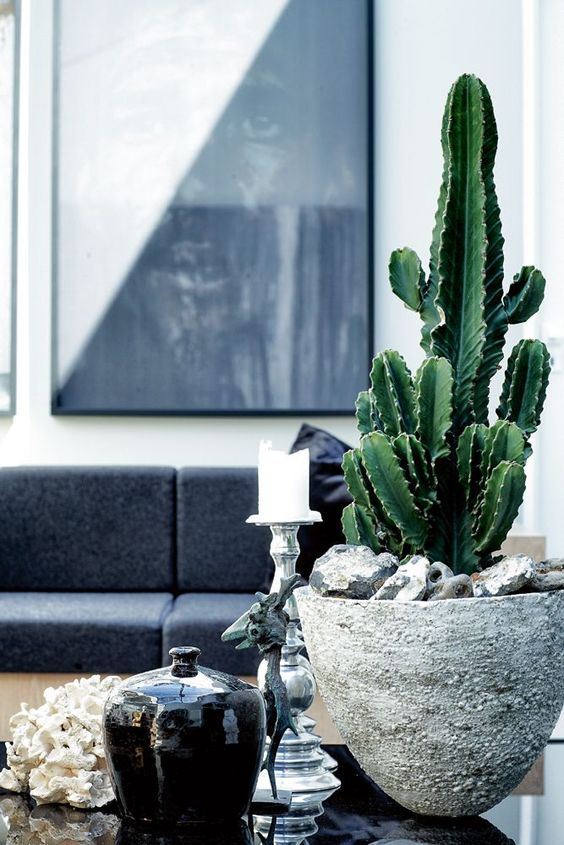 There are so many different ways you can incorporate succulents and cacti into your garden. I hope that these succulent garden ideas have given you a taste of the design possibilities that these wonderful plants have to offer. Or perhaps you already have a succulent garden and would like to share your experiences of succulent gardening in the comments below? I'd love to hear!