How often do you sit on your front porch with a cup of tea or a glass of wine? I'm guessing it's probably not as often as you would like. But if you're lucky enough to have the space, you may as well make the most of it with some of these front porch ideas!
There are so many ways that you can spruce up the entrance to your house, such as:
Potted plants
Flowers
Add pops of colours with paint,
Put in a table and chairs
Install a pendant light
Or even just a funky doormat
And those are just the obvious ones, so let's take a look at over 60 different ways to create a beautiful entrance for your home.
1. Make it cosy
First things first. If you're revamping your front porch, then you want to make sure it's a relaxing space. Choose cushioned outdoor chairs and add pillows and throw rugs for extra comfort.
2. Lay graphic tiles
Add tiles to your front porch to really make a statement. When choosing tiles, make sure you do your research! Porcelain tiles are a good choice for outdoor use. Another option is to create a faux cement tiled floor. Simply use a stencil and white paint to make the pattern over cement.
3. Add a pop of colour
A coral front door is perfect for summer! It adds a whole lot of vibrancy to your front porch and you can accessorise with teal and light grey for a fun colour combination. Or try it in reverse, with coral walls and a white door!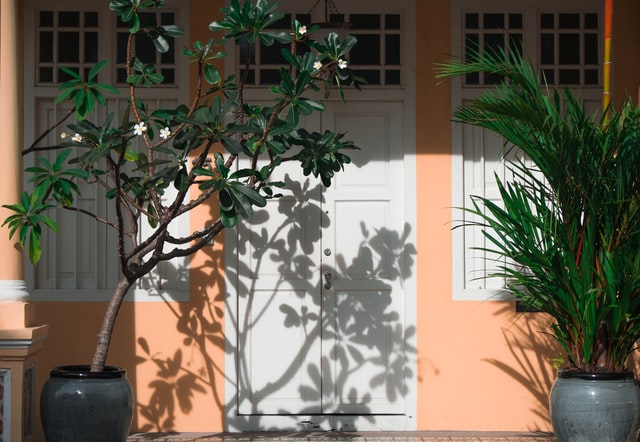 4. Make it grand
If you're going to commit to a theme, then hold nothing back! This Spanish-inspired front porch truly makes a statement. It's inviting, charming, elaborate and ornate all at the same time.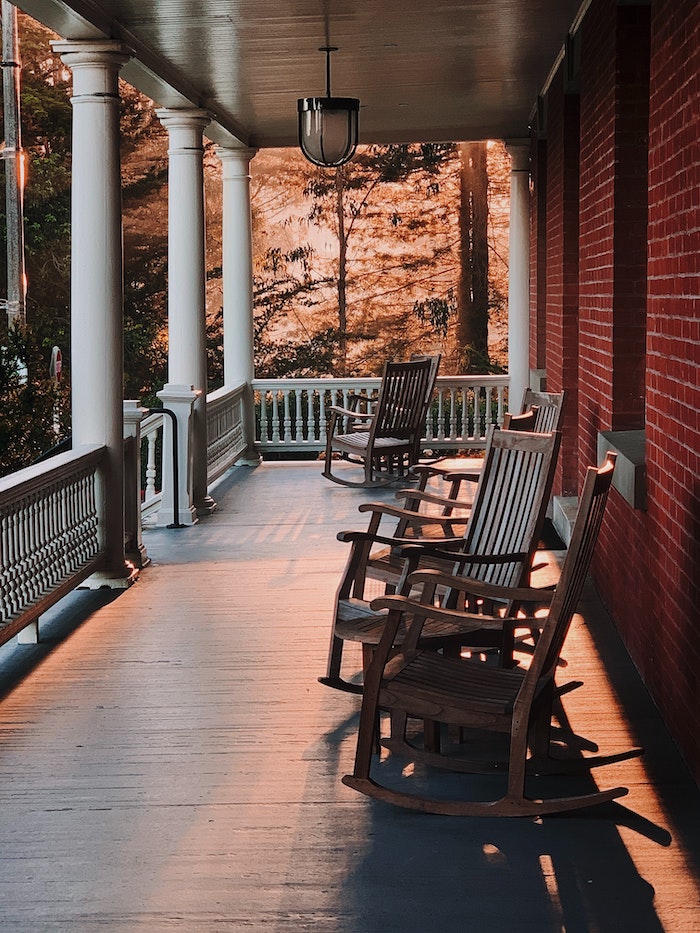 5. Consider scale
The size of your front porch will determine what you will be able to do with it. If you have a large porch, you may be able to add in multiple components like a dining area, a relaxing area, a bar cart, and somewhere to cook food. However, if you are limited with space, you may want to simply choose a few plants or thin bench seats.
6. Add a wicker set
A white wicker set is a gorgeous addition to any porch. If you're lucky, you might even be able to pick one of these up from your local thrift store. Just make sure you keep it undercover, as wicker can change shape if it is exposed to water.
7. Get a hanging chair
How gorgeous is this sweet swing? It provides the perfect place to rest, relax or even work from (if you work from home!). Add pillows and a throw blanket and you're all set for an afternoon of reading with a cup of tea or glass of wine in hand.
Need some help to install a swing? Get an assembly expert to take care of it for you – then you can just sit back and relax afterwards with a cup of tea!
8. Choose a colour palette
To create a porch that'll have everyone exclaiming 'wow,' try to stick to a consistent colour scheme. For example, a mix of cream, white and copper can be absolutely striking, especially when set against a lush green yard.
9. Add a bench
You can't go wrong with a bench seat – especially when it's this fun! Bright colours like orange, pink, red or green can add a fun pop of colour to a simple white front porch.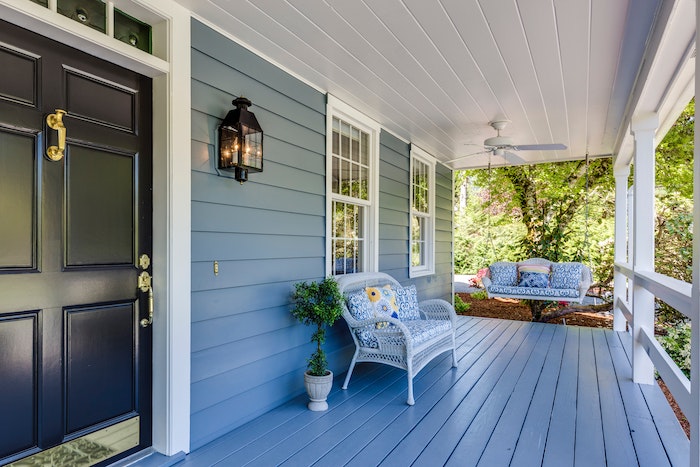 10. Remodel the floors with wood
It may not be the most common choice for outdoor flooring, but wooden floorboards can make a front entrance look really great! Just make sure they are under cover so they aren't affected by the wet weather.
11. Keep it relaxed
A simple, laid-back style is perfect for a beach house. All you need is a couple of white timber chairs, an art print and some greenery, and your home will look just like your typical Byron Bay beach abode.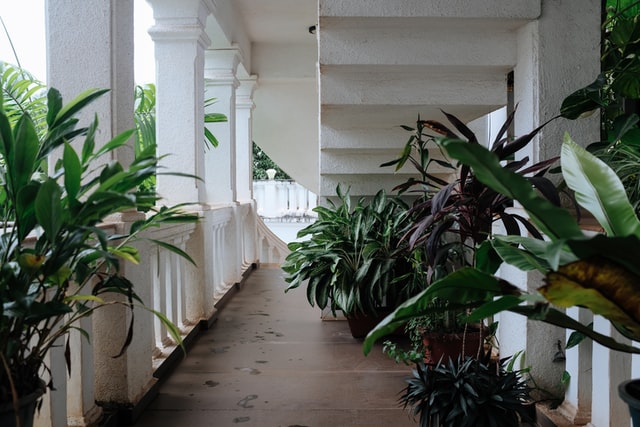 12. DIY a side table
If you're looking for a surface to place a bunch of flowers on, why not use a side table? You can grab an old one that's just lying around at home or pick one up from your local secondhand store. Use the table as is, give it a fresh coat of paint, transform it into shabby chic style or make it into something completely different!
13. Set the theme
What feeling do you want your visitors (or yourself) to experience when they sit on your front porch? There are so many wonderful front porch ideas that you can use. You can create that experience with your furniture and colour choice. If you want your guests to feel relaxed and calm when they arrive at your home, consider blues, greens and natural colours. If you want them to feel inspired and excited, consider bold pops of colour.
Whatever you do, make sure you stick to the same theme for all of your furniture and colour choices – this will help tie your front porch together.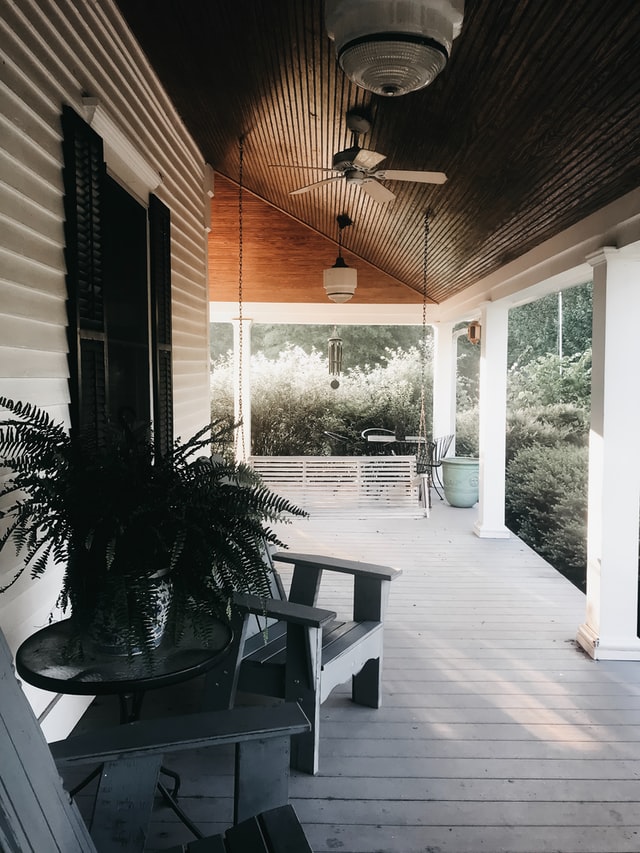 14. Add a rug
You might think that rugs are only reserved for indoors, but that simply isn't true! There are plenty of outdoor appropriate rugs that you can use in your front entrance. Choose from eclectic patterns to stripes to Morrocan colours to a simple white.
Rugs are a great way to tie the colours of your furniture together with the exterior of your home. Plus, they look beautiful and feel great under your feet.
15. Add a copper light shade
While copper may be popular in kitchen and bathroom fixtures, it's not often the first thing you'd think of when you're looking for lights for your outdoor areas. But a little bit of copper can completely glam up your front porch and serve as a great feature piece.
16. Style it for spring
Have you ever thought about switching up the style of your front porch as the seasons change? It's a fun way to show off a bit of your personality. Natural fabrics and colours like whites, blues, greens and soft pinks will have your porch looking fresh.
17. Decorate it for Christmas
While you probably start decorating a Christmas tree in the early days of December, you may not have ever thought about adding a little seasonal sparkle to your front porch. But you might be surprised to know that there are so many ways to decorate your entrance for Christmas. Of course, there's the classic wreath. But you can also add signs, more Christmas trees, flowers, decorations, lights and more.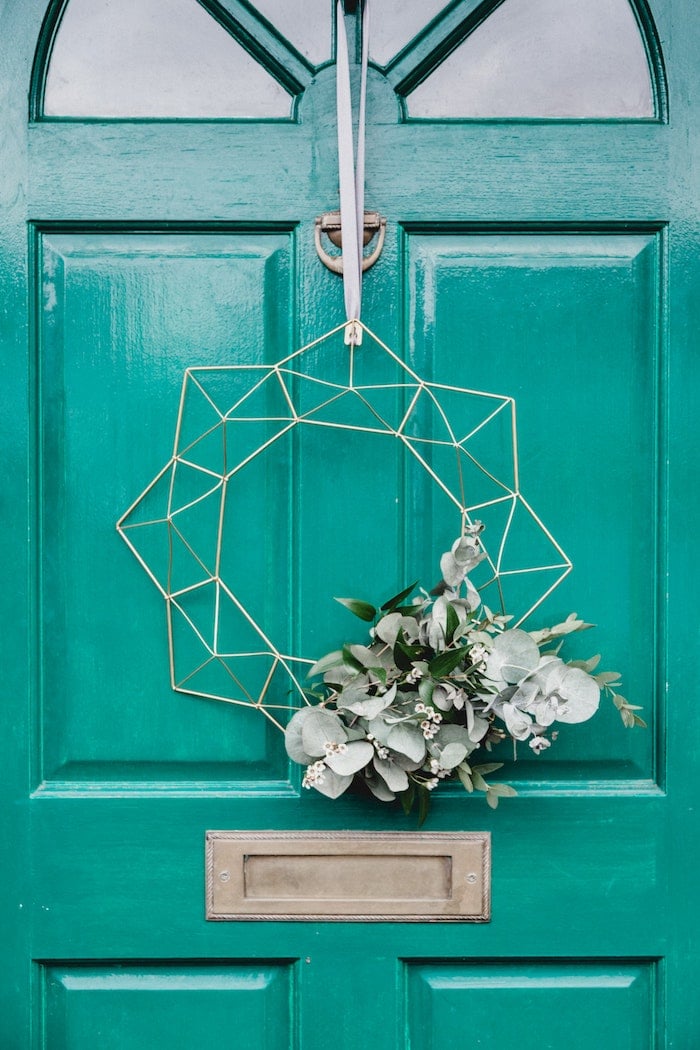 18. Small front porch ideas
Now you may think there isn't much you can do with a small porch but believe me, you can do so much more than you think! Just a little bit of decor goes a long way in this tiny space. All you need is a patterned doormat, a small planter box and maybe even an umbrella bucket.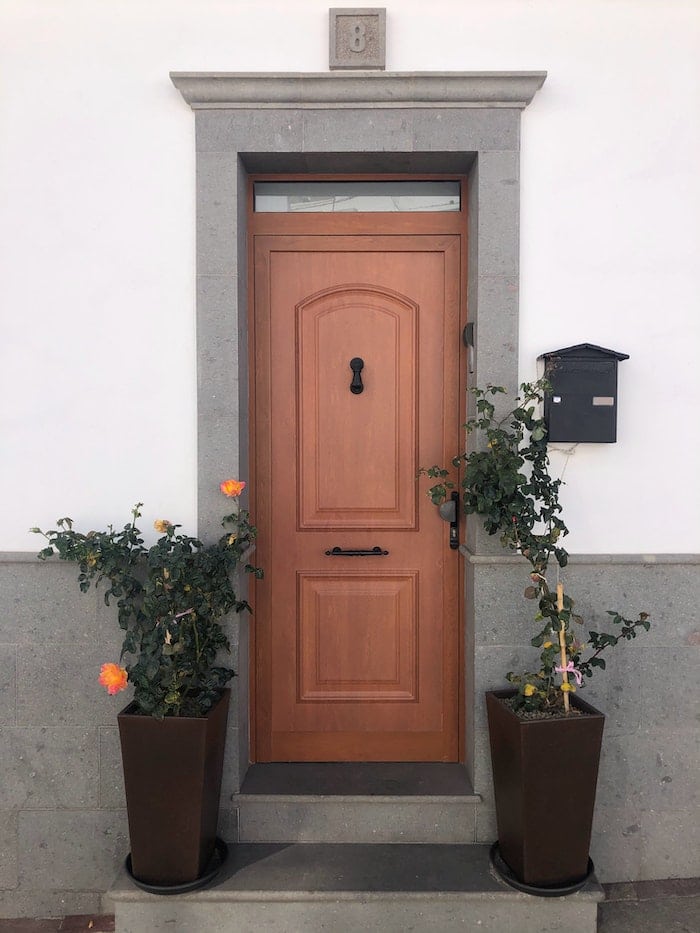 19. Make it scary for Halloween
Choose from the usual pumpkins, lanterns and even flying bats. Whatever you use, make sure you include hints of orange!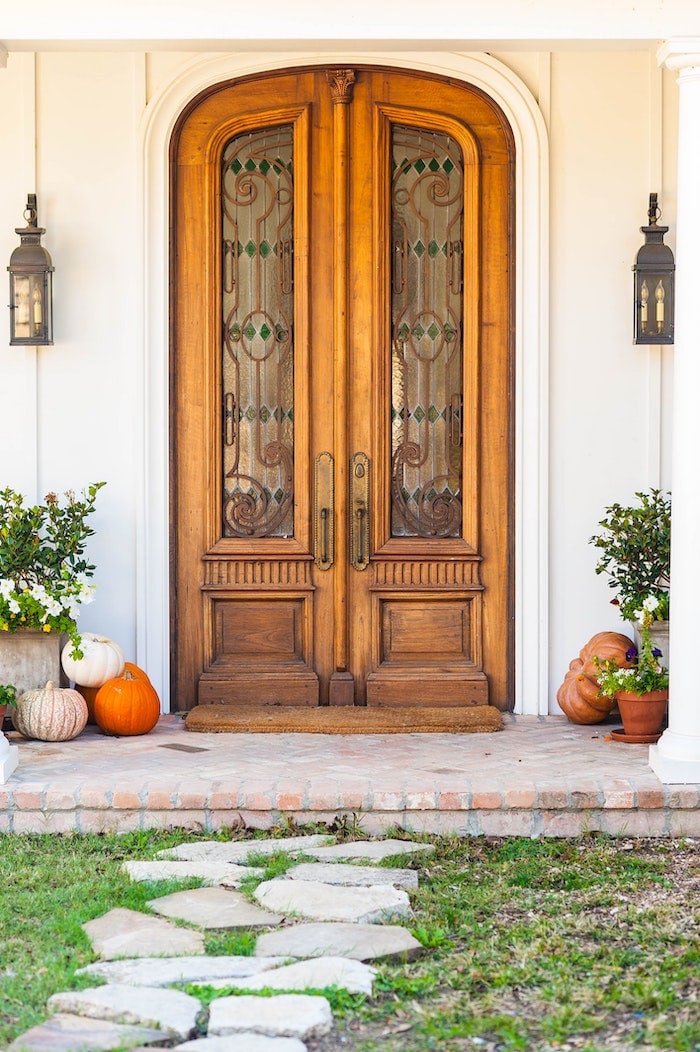 20. Keep it cool
Install a fan in the porch ceiling to keep the airflow moving during the warmer months of the year.
21. Vintage porch
Salvage vintage items from holidays, op-shops, hand me downs and side-of-the-road treasures to add character to your front entrance. This is a great front porch idea for anyone who loves collecting things.
22. Covered porch
In the 1800s, farmers built covered porches as a place to relax and enjoy their land. Nowadays we still love to make the most of our front garden with the shade from our eaves, and a covered porch lets you do so all year round. Who doesn't want to enjoy a view of flowers with a cup of tea in hand?
23. Forgo seating
Who said your front porch had to have seating? Let's be honest, not every porch has the right kind of space for a seat anyway. In some homes, there may only be space for a few pots and plants. Place at varying heights to create visual interest and pack more into a limited space.
24. Add steps up to the front porch
Tiled steps up to the front porch makes for a cute, welcoming entrance! Consider how you can add little details like steps, patterns or tiles to your front entrance.
25. Rustic porch
This simple rustic front porch decor would be easy to recreate with just a few pumpkins, seasonal textiles and flowers.
26. Choose a coloured door
Make a statement with a coloured door. A yellow front yellow will always put a smile on your face when you walk through the front door. It really stands out against a navy blue or black painted house.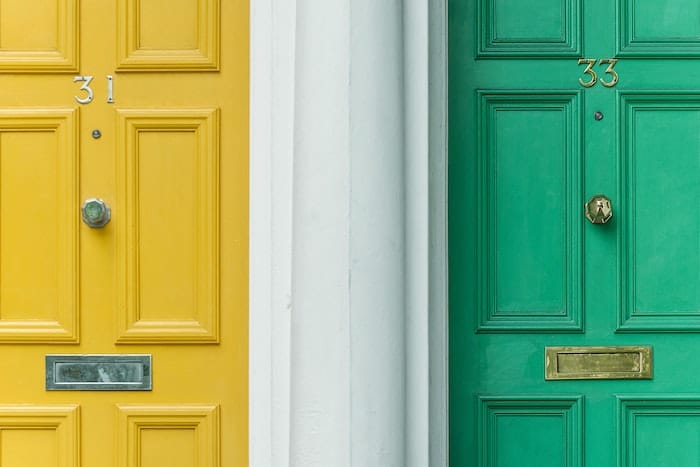 27. Match your decor to the door
Bring your theme together by choosing one main colour and weaving it throughout your front porch. For instance, large black planters and lanterns look great beside a black statement front door.
28. Give it a modern twist
Match your front door to the rest of your house. For instance if you love the modern ranch look, add in boxy metal lights to balance out a heavy use of timber.
29. Add flower containers
Brighten up the entrance to your home with yellow flowers in big containers. Flowers not only look beautiful but are a warm welcome for guests!
30. Blend it in
If you would rather have a more unassuming front porch, blend it in by keeping the colours, materials and textures the same as the rest of the house.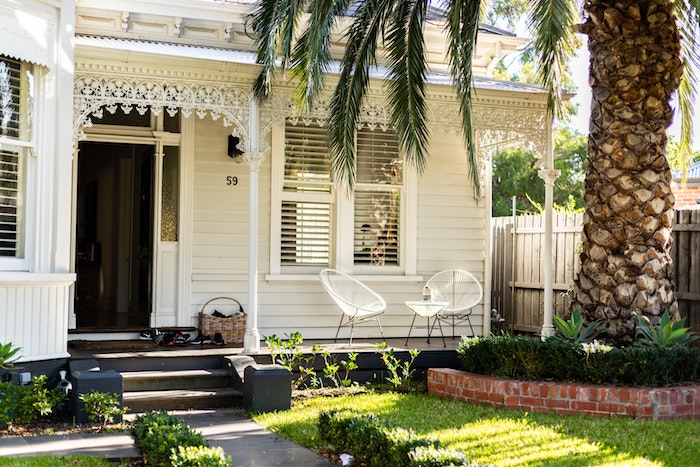 31. Add a table
If you've got a big enough front porch and a gorgeous garden, then why not add a table in to the mix? It's the perfect place for morning breakfasts, coffee and slow lunches.
32. Make it retro
Nothing screams Palm Springs more than palm tree prints, pops of pink, greenery and retro furniture. When it comes to picking furniture, choose something that has a bit of character. It might be something like a bench with a fun silhouette that makes it stand out amidst the bold colours.
33. Add hanging plants
You can't go wrong with plants, especially if they're hanging! They simply add another layer of interest to your front porch. When choosing hanging plants, the trick is to pick the ones that will flow down the edges of their pots. My favourites are the tassel fern, 'marble queen' pothos and cascading roses.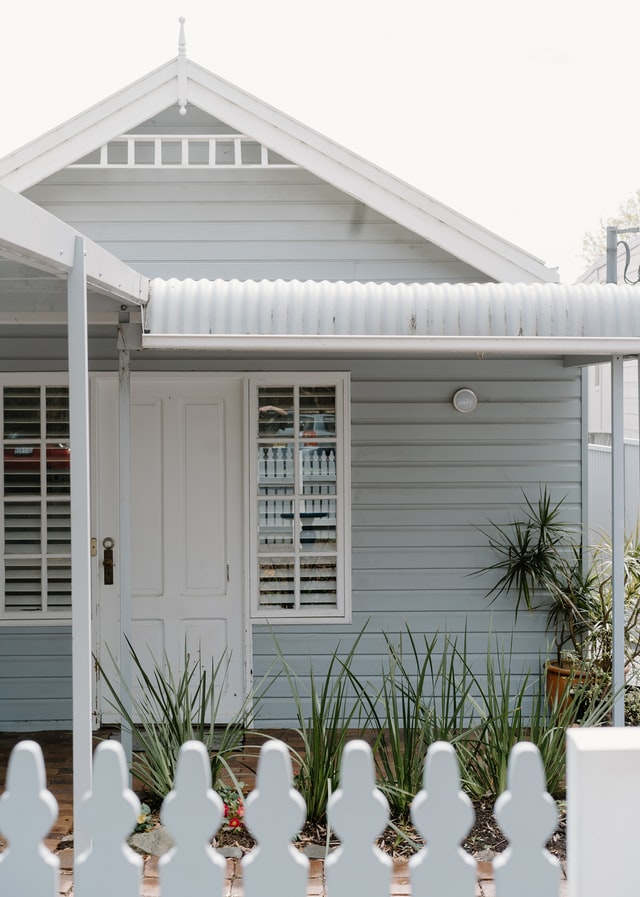 34. Paint the steps
If you have steps, make them a feature of your front porch by adding a lick of paint. I love a monochrome look with black paint against a white porch. Choose whatever colour you like best, but make sure you keep it consistent with the rest of your house.
35. Choose black details
If you want to make your front porch a little more grown-up, consider a black table and chairs. While it may not be the first colour you think of when you're looking for an outdoor seating arrangement, it really does look striking against light flooring and walls.
36. Farmhouse style
If you want a front porch that's warm, cosy, relaxing and full of charm and character, adopt the farmhouse style. To keep your front porch from looking too country kitsch, you need to strike the right balance between old and new. Blend traditional country furniture like timber chairs with modern elements like bold black light fixtures.
37. Choose black, navy & neutrals
Most people think you have to choose between navy and black, but the truth is you don't! You can make both black and navy work together if you throw in some neutral colours like whites and greys. Tied together, these colours create a sophisticated look for your front porch.
38. Make it wintery
OK, you don't have to have a white Christmas to turn your front porch into a winter wonderland. Bring the snow to your neighbourhood with white Christmas trees, wreaths and other white, gold, silver and red decorations.
39. Make it a space for everything
Forget the simple entryway, make your front porch an area where you can do everything – from drinking your morning coffee to sipping a glass of wine in the evening, to playing with the kids or hosting guests for dinner. A mix of furniture will accommodate all your needs. For instance, have a small table and chairs for dinner and jute pouffs surrounded by flowing greenery and flowers.
40. Add wood shutters
Shutters are not only practical for protecting against the light and heat inside, but they also add a lot of character to the outside of your home. Black and white windows look great against a coloured house facade.
41. String fairy lights
Let's face it, fairy lights look great in any space in the house! Add ambience to your front porch with warm fairy lights. They always look beautiful from the street.
42. Add a pop of yellow
One way to make your house stand out from the rest is to use a colour that screams 'look at me!' Yellow is definitely this kind of colour. Add yellow flowers, pillows and a yellow bench for a bright and fresh look.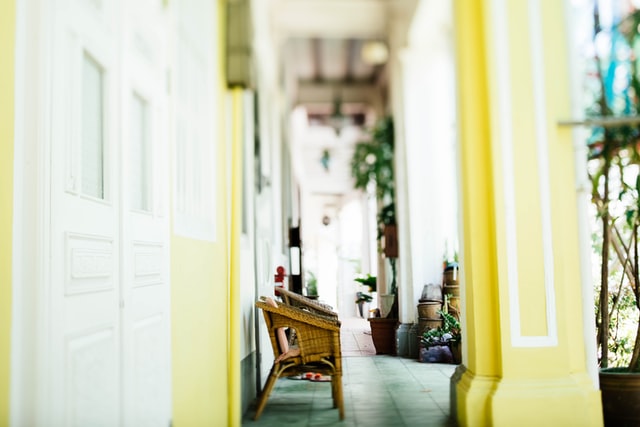 43. Keep it simple
There's no need to go overboard with decorating your front porch. Sometimes simple is best! Pretty up your front entrance with a few small plants and a candle lantern for a beautiful finish.
44. Use levels
Add different decorations and potted plants to different levels of your stairs to add character to your front porch.
45. Add a hanging pot by the door
By now, I'm sure you know I'm a big fan of hanging pots. But there are just so many ways to hang them! Have you considered placing one right next to your front door? A hanging flower arrangement is a lovely welcome for guests.
46. Keep the flies out
Do you want to sit out on the front porch but get frustrated by the bugs and flies? Use a screen to protect yourself from insects once and for all!
47. Give it a fresh coat of paint
Your old, unloved porch could be letting your house down. Increase your curb appeal by giving it a fresh coat of paint.
Pro-tip: Don't forget to keep some extra paint to cover any chips
48. Go red
There's nothing quite as striking as a large red door. But this option certainly isn't for those who want to blend it. It's a bold choice that will make your front porch stand out from the rest!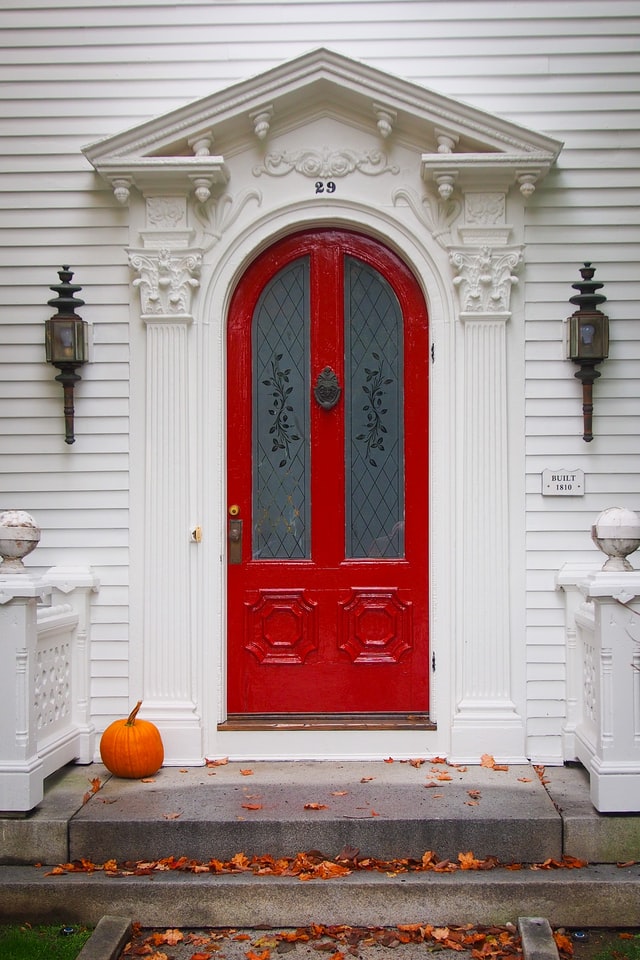 49. Greek inspired
You'll feel like you're always on holidays with a porch styled like Santorini. To get the look, paint everything white, add pops of blue and use timber furniture.
50. Add a wreath to the door
You don't have to wait until Christmas to make your front door pretty. Add a floral wreath to your door any time of the year. Choose from roses to lavender to peonies, hydrangeas, greenery and more. The options are endless!
If you're into DIY, you can even make these yourself. First, you'll need to gather your tools – a good pair of floral clippers should be at the top of your list! Then you'll need a wreath base, some wire and greenery or flowers. Grab bunches of flowers and use the wire to tie them into place on the wreath. Continue this process until you're happy with the end result. Voila, your very own wreath to brighten up your front porch.
51. Spruce up your apartment porch
When you live in an apartment, it may not be very inspiring to decorate your front porch. But if you have one, you should pay attention to it! Even on a budget, you can always add a simple coloured chair and a plant or two to add a little character.
52. Go pink
If I could have a pink door in a heartbeat I would. Doesn't this colour look incredible, especially against the off-white house paint? I'm here for it!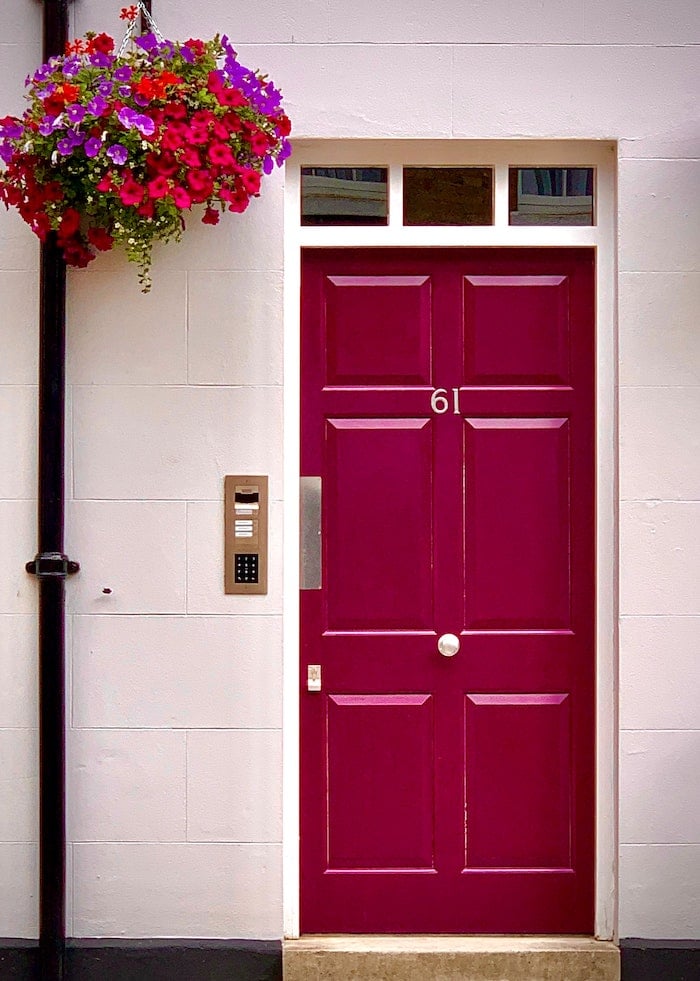 53. Add a wall sconce
Your front porch needs lighting, so you may as well make it look stylish. Add a rectangular black lantern to add a modern twist to your entrance.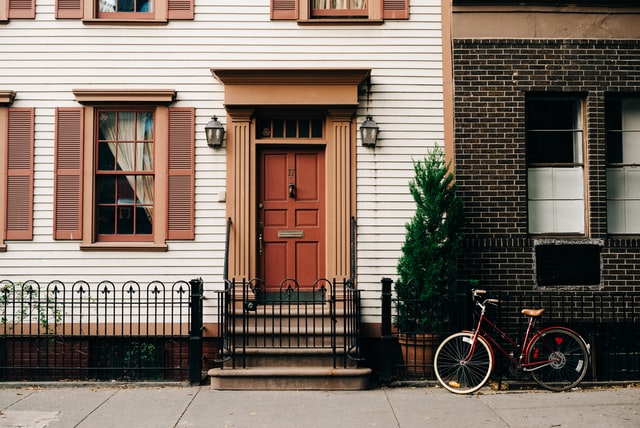 54. Large numbers
It's all about the details! Add clean-cut numbers next to your door so visitors can clearly find you.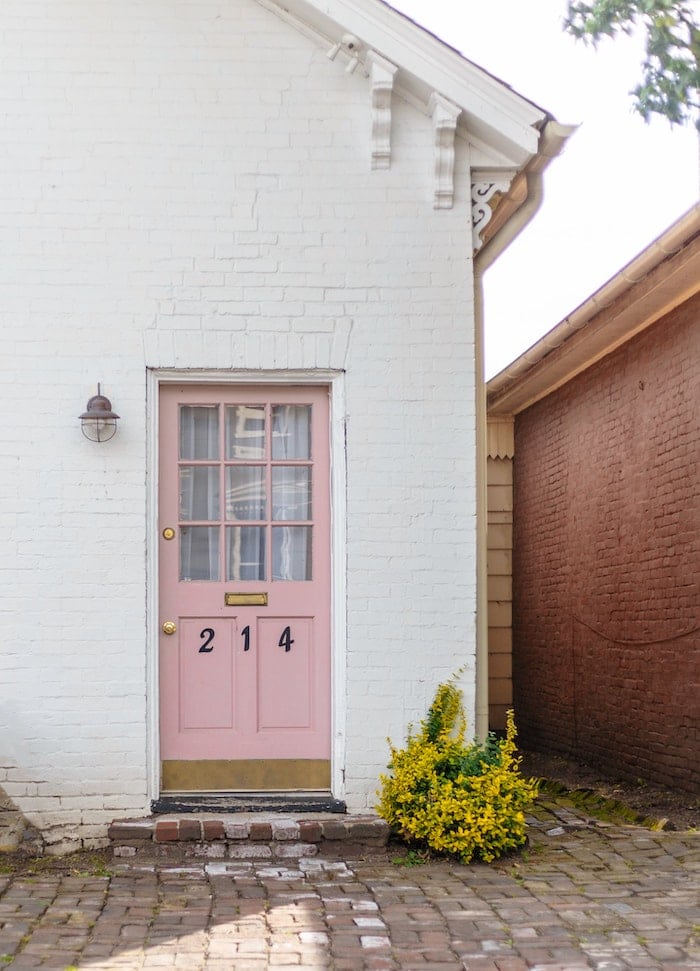 55. Install a hanging lantern
A hanging lantern can make a great feature piece, and there are so many options to choose from. There are pendant lights or multi-light lanterns in all shapes and sizes from round to square to rectangular.
56. Get personal
Adding a personalised doormat gives an extra special touch to people visiting your house.  You can also get lots of other funny or inviting doormats.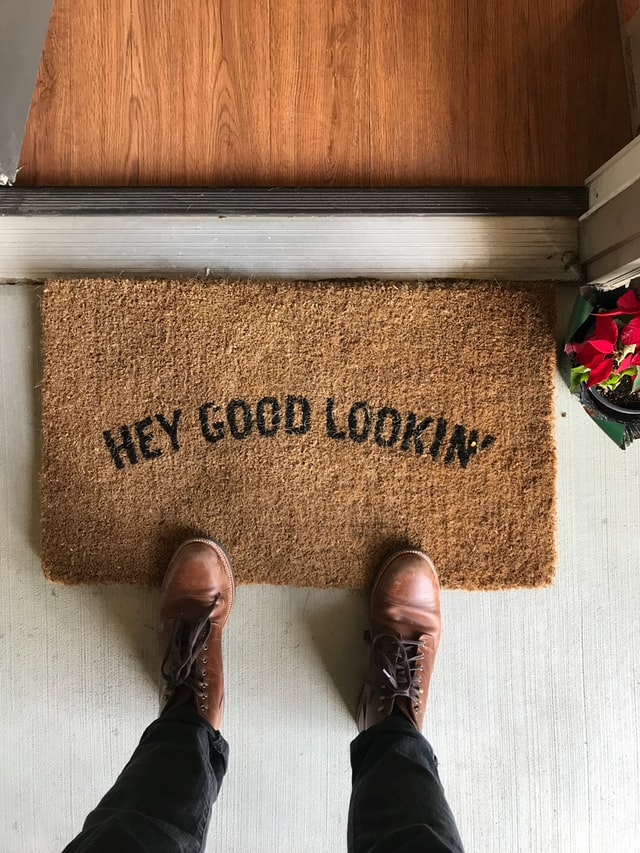 57. Mediterranean-inspired patio
Whisk yourself away on holidays with a Mediterranean-inspired patio. Combine rustic furniture with warm tones and interesting textures. You'll feel like you're in Italy every day!
58. Include a bar cart
Keep the drinks flowing and your porch looking extra cute with a gorgeous bar cart. There are so many different styles and colours, and they really help to complete a space.
59. Add a church pew
Long, bench-style seats help fill out a front porch, especially if it's an extra long space. You might be able to nab an old church pew off Gumtree, eBay or even a secondhand store. Simply sand it down and give it a new coat of paint, and it'll be ready to go!
60. Solid and stripes
This is the perfect pair for decorating! Add striped cushions and throws to solid-coloured furniture to pull off this look.
I hope these 60 ideas have inspired you to begin transforming your front porch. With so many possibilities for what you can do, I know it can be a little overwhelming. But start somewhere, even if it's just adding a few potted plants, a piece of art, or introducing a new colour. Don't be afraid to step outside your comfort zone and try something new like a coloured door or outdoor rug. And remember, sometimes simple is best!
I would love to hear what stood out to you the most. Comment and tell me how you're going to improve your front entrance. And let me know if you have any other ideas!