Paving is probably not too high on the priority list when you're revamping your garden or front yard but it's such an important element of the landscape. Beautifully laid pavers can add a lot to your home's curb appeal, being one of the first things people see when they look at your property. So it's important to choose well and that's why I've put together this complete list of paving ideas.
Having paving that is aesthetically pleasing and complements your home's architecture is vital, but because these areas—the driveway, garden, and pool—are highly functional areas, they need to be designed to really suit your needs as well.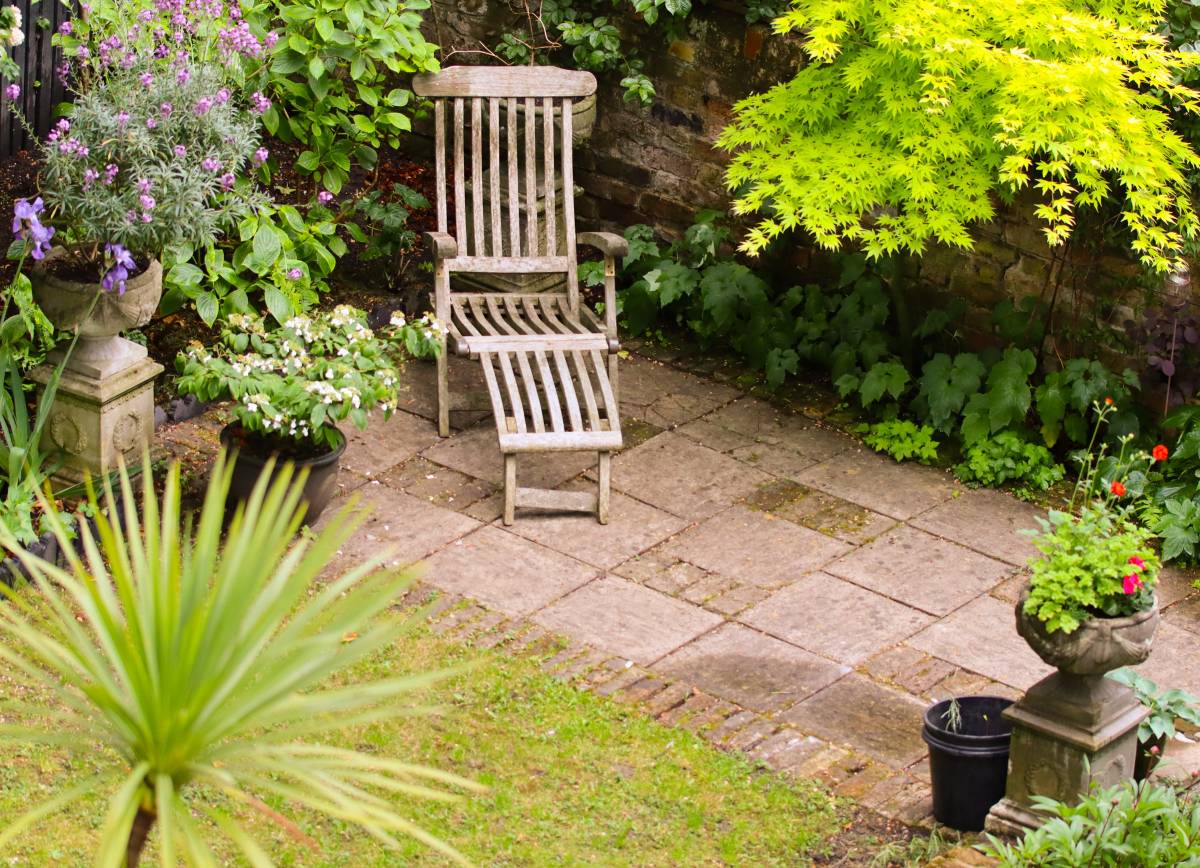 Your choice of paving material will be guided by several design considerations. Some of the things you'll want to bear in mind are: how harsh your climate is, how much use your paved area will get, the durability of your favourite material (because some materials need refreshing sooner), your architectural style and naturally your budget.
Most common types of pavers:
Brick pavers
Concrete pavers
Natural stone pavers
Terracotta pavers
Granite pavers
Slate pavers
Bluestone pavers
Sandstone pavers
Limestone pavers
But let's find out in a little bit more detail…
Natural vs. composite pavers
Pavers can be put into two basic categories: natural or composite. Natural materials include bluestone, limestone, sandstone or granite which are cut into thin layers to create flagstone pavers, and also timber or brick (which is actually made of clay).  Sandstone and limestone varieties look especially stylish but are more porous so you need to beware of staining. Other natural paving materials include stones, river rocks and gravel.
Composite materials include non-stone materials like concrete pavers, porous pavers and composites made of bamboo, hardwood or plastics. For pool surrounds, it's very important to install non-slip paving, and often the most effective non-slip pavers are made from composites.
Non-stone composite pavers, such as those made of concrete, have advantages over natural stone, including their versatility and the variety of finishes they come in. On the other hand, if you love the look of natural stone but are worried about a prohibitive price tag, rest assured stone pavers are much less expensive than they used to be.
Pavers have certain advantages over uniform materials like poured concrete or asphalt because they come in so many sizes, colours and patterns. They are able to unify spaces and be customised into geometric designs to create a unique look. You can also replace a single damaged paver rather than have to fix a whole driveway. Usually designed to be interlocking, they're quick to install and long-wearing. On the downside, patterns can become dated, they can be disturbed by tree roots, and they can sometimes be more costly.
Concrete pavers can actually be stronger than poured concrete and offer all the benefits of stone pavers without the cost and disadvantages.
Poured paving materials
Solid paving materials such as liquid limestone, asphalt or poured concrete can be an economical alternative and can be very stylish too, coming in a huge range of looks.
No matter what material you use, you should look to have a paving contractor install the pavers correctly. They will need to make sure that the ground is properly prepared and any sealing elements correctly done.
Paving design ideas
1. Natural slate in earth tones
The beautiful slate pavers used to surround this pool blend perfectly with the native garden setting, using a palette of bush-inspired tones to create the feeling of it being an extension of the nearby Yarra River.
2. Timeless travertine
Used for centuries now, travertine is a lovely dense natural limestone paver material which comes in a wide range of colours from white to greys to reds. It has a pleasant, organic feel underfoot, is stain resistant and low maintenance, and is great with regulating temperature, keeping cool in summer and warm in winter.
How modern does this travertine paving at Mies van der Rohe's Barcelona Pavilion appear – can you believe it was created in 1929? Proof that travertine pavers will never go out of style!
3. Natural stone pavers
Natural stone pavers work with many architectural styles and are making a lovely comeback. Their organic shapes contrast beautifully with the strong angles and neat lines of this contemporary shack.
4. Pool paving
Natural stone pavers in beige and tan tones have a gorgeous organic, loose form to them. You also don't need to lay them one by one because these days they often come on mesh for extra easy installation.
5. Easy white stone deck paving
Stone deck tiles that are machine cut and hand-polished are an economical alternative to natural stone pavers. When the tiles are mounted on plastic or fibre mesh interlocking bases they can just be snapped together without needing glue or grout. They come in a variety of materials from marble to slate to sandstone and the prices range from the low DIY end to high-end architectural choices.
6. Classic cobblestones
Cobblestones are the most durable choice but can be expensive, in which case you may consider just a cobblestone apron surrounding a composite or concrete driveway or garden area. Cobblestones are the classic way to add texture and pattern and suit a variety of styles from rustic to coastal contemporary.
7. Exposed concrete
Concrete is a very flexible and durable construction material that also has pleasing aesthetic qualities and the ability to brighten up a space. It can also be easily customised. For example, this home's driveway has been created by adding black oxide to regular concrete for a striking dark grey finish that contrasts perfectly with the house.
8. Liquid limestone
This is an economical and attractive alternative to concrete pavers. A mix of concrete, crushed limestone and other additives that is poured and spread like concrete. It can be coloured, textured or stencilled to give a natural paver effect without the disadvantages of real pavers.
9. Bluestone pavers
The term 'bluestone" simply refers to around 20 different varieties of sedimentary rock (such as sandstone and limestone) which appear blue-grey in colour. It comes in a range of textures and patterns and is a very popular choice for pool surrounds and driveway paving. In Australia, there are two main types of bluestone in use: Victorian bluestone (which is a kind of basalt) and South Australian slate (mainly made of quartz and usually pale grey to beige).
10. Go sleek and minimalist
Modern bluestone pavers can give a sleek and chic look.
11. Line it with limestone
A traditional and often expensive material that gives classic appeal. It comes to a wide range of colours including reds.
12. Brick it up

Cost-effective brick (or clay) pavers provide texture and visual interest. They're typically red but can come in various colours and can be laid in many patterns (though the more complex ones will add to labour costs). Brick paving can integrate well with your brick walls or pathways or even the neighbourhood style, and give a rustic appearance full of character.
13. Brick paver patio
Brick pavers on the patio work perfectly with the neighbouring red brick wall. I love how they have turned this into a boho oasis.
14. Choose light colours
Unless glare will be a problem, choose light coloured pavers which offer an uncluttered, modern and minimalist appearance. And if you have the same pavers run through multiple areas, it makes the space look larger.
15. Crisp white concrete
This courtyard appears clean and chic thanks to the use of white concrete as a paving material. It just might require a little more upkeep to always look clean.
16. Choose a pale composite
Poured concrete (a mix of cement and aggregates like sand, gravel or rock) is a popular choice for paving driveways and pool surrounds, thanks to its minimalist look and its durability and low maintenance requirements.
17. Go bold with colour
Aggregates with coloured pebbles offer up a wealth of style choices, which can suit any style, from Victorian to Mid-Century Modern.
18. Go for shades of grey
Concrete pavers laid in a mix of grey tones will give a contemporary look. You can pick them up cheaply at any home improvement shop – they make an easy DIY.
Looking for some more inspo about how to add to your front curb appeal? Here are another 40 front garden ideas no matter how big or small your budget is.
19. Pastel concrete pavers
Interlocking concrete or cement pavers come in a wide range of colours including gorgeous pastels. Economical and offers unlimited options for creating patterns.
20. Gravel
The least expensive paving material, traditional gravel or crushed granite is low maintenance, comes in many colours and is relatively eco-friendly. However, it can look messy and be tracked into the house. The cost of stones and river rocks varies greatly, but they are worth considering if an unstructured, organic style is your cup of tea.
21. River rocks
Smooth river rocks give a stunning naturalistic look and as you'd expect they come mainly in earth tones. They make a cost-effective long-term solution.
22. Explore mosaics
Risseu, the traditional pebble-mosaic technique hailing from Genoa, Italy, has been put to great effect here. An ancient art form inspired by flowers and the sea, the risseu technique involves laying hundreds of white, black or red pebbles into intricate designs.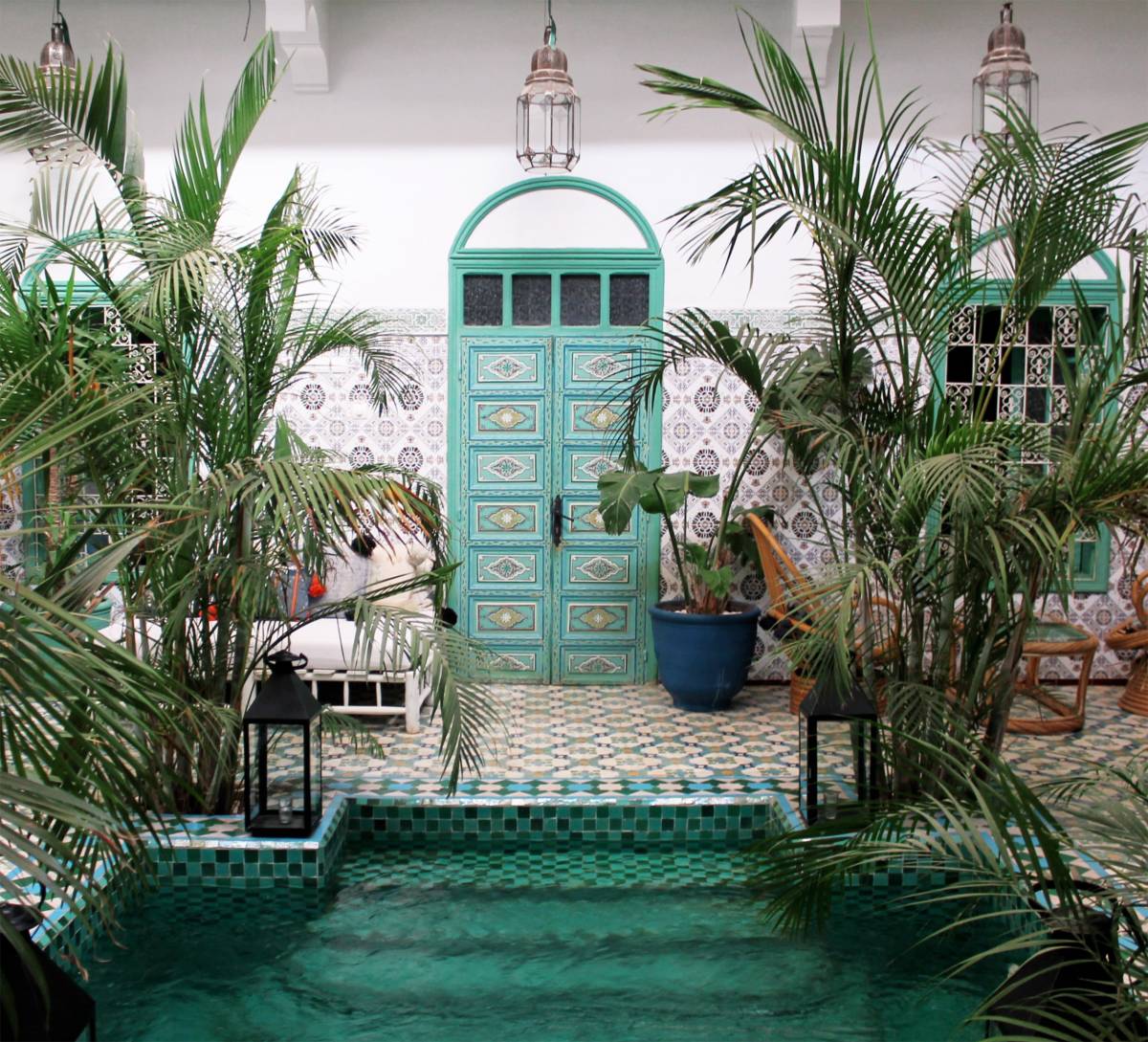 23. Try a confetti mosaic effect
After something a bit quirky? This unusual design appears as if a seam of jewels is scattered between the pavers.
24. Consider encaustic feature tiles
Patterned encaustic (pressed cement) tiles that merge with bluestone pavers are perfect for a Bohemian vibe. The pavers here have had kidney weed planted between them as a groundcover.
25. Paint your concrete pavers

Personalise your space by painting plain concrete pavers in a pattern or bold colours. Here, a patio has been painted in a beautiful Moroccan tile pattern.
26. Add textured pavers
You might like to choose pavers featuring textured surfaces for extra visual interest, such as these:
27. Permeable/pervious pavers
Whether called open concrete grids, ecogrids, grass block pavers, turf block pavers or grow-through pavers, pervious paving grids are an increasingly popular eco-friendly alternative to traditional pavers. These porous grids provide open spaces to install drainage-friendly materials (gravel, soil, turf) while allowing you to plant greenery that will grow through, adding texture to soften the landscape. Made from concrete or recycled plastic, these pavers come in a variety of looks including natural stone.
Here, permeable pavers have been beautifully planted with perennial thyme:
28. Ribbon permeable pavers
These provide a neat look that's perfect for driveways and allow you to build in a nature strip to effectively contain plants and define the space.
29. Lay wood deck tiles
Slatted timber decking tiles (made from woods such as acacia, teak and hardwoods) are another attractive, easy to install option. Interlocking, you simply clip them together or you can lay them a row with decorative stones between.
There are so many other lovely ways to rejuvenate your chilled out deck. Here's another 40 decking ideas for your home.
30. Make the most of a small space
Even if you only have a very narrow space, neaten things up with a tiny patio strip made of pavers.
Paving pattern ideas
There is a plethora of paving designs available to choose from, so you'll be sure to find a paver pattern that appeals to you.
31. Hexagon pavers
You've seen these in bathroom tiles, but they make for a nice paver design too. Allowing you to make interesting and uneven lines with your paving.
32. Freeform patterns
Use curves to create interesting patterns and also clearly define garden beds.
33. Diamond pattern
If you're wanting a stately feel, opt for grand squares that will be laid as a diamond with other types of pavers and tiles surrounding it to really emphasise the design.
34. Geometric designs
Nothing says modern like a geometric pattern.
35. Tonal gradients
This is a lovely way to transition into different areas.
Pool paving
36. Show off your 'wet edge' pool
Here, a wet edge pool is surrounded by a gutter of white river stones.
37. Frame a glass wall pool with loose stones
How gorgeous does this glass wall pool look, framed by a natural stone paved wall as well as a border of pale river rocks?
38. Contemporary mosaic coping
Olive green tiles and black and white mosaics offer plenty of texture, colour and pattern in this award-winning pond-like pool.
Here's a close up of this gorgeous pool coping:
39. Demarcate a seating area with paving
This pool features pavers which have been designed to provide a circular seating area.
40. Create an attractive border
A traditional pool with slate coping is outlined by a ribbon of pebbles.
41. Highlight a path to the pool
42. Don't forget the heat
Your choice of colour of pavers will be influenced by the scorching sun:  darker coloured pavers will absorb more heat, while lighter colours can create too much glare. In this case, a mid grey colour will actually provide the most comfort for both the feet and eyes.
Garden path paving ideas
43. Make a path of stepping stones
Large, linear pavers make perfect orderly stepping stones to guide a path down the side of the house and achieve a neat, uniform style while visually enlarging the space.
44. Natural stone stepping stones
Stepping stones provide visual interest in a garden and also slow down how fast people move through the space, which is perfect if you're going for a contemplative, calming vibe. Stepping stones look their best when they aren't uniform in shape or colour.
45. Create a neat garden path
Pavers are perfect for constructing an all-weather surface for your garden foot traffic and will give your landscape a polished look.
46. Install illuminated pavers
These sit flush with the surface of your driveway or path. They provide light without being intrusive fixtures and are powered by LEDs that can be recharged by solar power.
Illuminated pavers are especially useful to highlight steps:
47. Consider an unusual floating paver design
48. Go oversized for added drama
This coastal bushland garden features mondo grass planted between oversized pavers.
49. Mix paving materials
Of course, you're not limited to using a single type of paving material. A blend of paving materials can be particularly effective, providing visual interest and demarcating spaces.
50. Elongate a space with pavers
This courtyard has been transformed with the use of light-coloured, rectangular natural stone pavers alongside a gravel section. The pavers create parallel lines for the eye to follow which work to extend the space.
So there you have it – a little inspiration for paving your driveway, patio or pool surrounds, whether you plan to DIY or you intend to enlist some experts (and don't forget you can easily find a trustworthy tradie to help with all your paving needs right here on Airtasker).