With summer just around the corner, you're probably dreaming of hot days in the sun, enjoying BBQs with family and friends, and heading to the beach. But without a pool, it'll be hard to fight off the heat. The good news is that you don't need a huge space to have a pool. In fact, you can have a tiny backyard and still enjoy a refreshing dip. That's why we've compiled these 25+ incredible small pool ideas to show you how. Ready to be inspired for your Summer renovation? Read on!
1. Lush oasis
This small pool area has been styled to perfection! And while it does remind me of Bali, it could certainly be recreated anywhere. I love how the large concrete walls break up the pool and create interest. Plus, the addition of the cane and timber furniture add a stylish touch.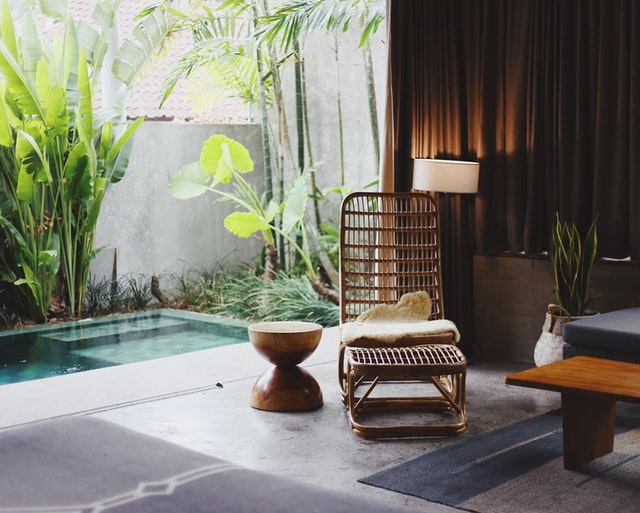 2. Create a fence
When planning your pool area, you're going to need to factor in pool fencing! While it is an important requirement that keeps the little ones safe, that doesn't mean it has to look bland and boring. Create something interesting with a mix of materials like timber and steel. Ideally, your timber fencing will have slats so you can see through to the pool area from the other side!
3. Gate it with glass
Glass is the perfect solution for those of you who want to protect your view of the backyard or anything else, for that matter. Glass pool fencing is so elegant and creates a seamless transition from your pool and deck area to the rest of your space.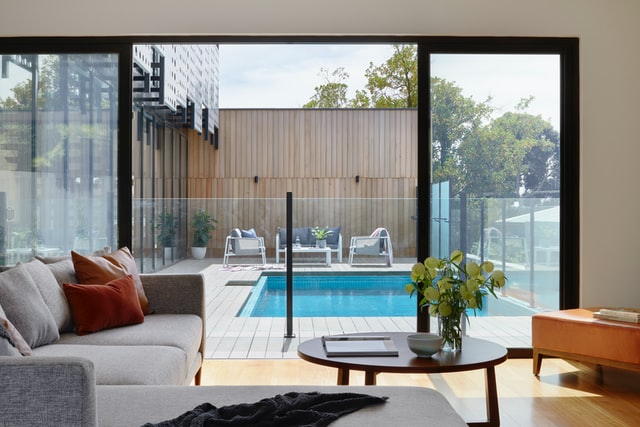 4. Surrounded by greenery
The greener the better, in my opinion! Why not build in a long planter box along the horizontal edge of your pool area? This will serve as a great place to plant heaps of greenery and let it grow beautifully with the help of professional landscape designers.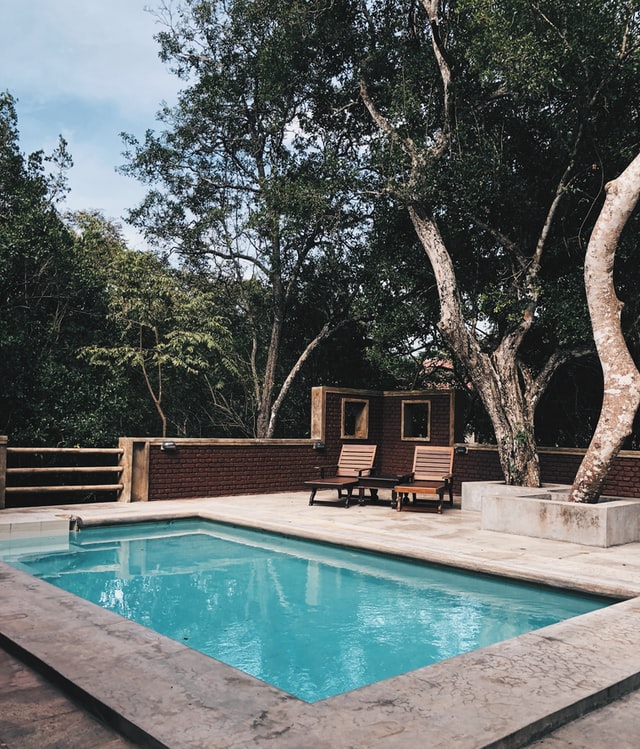 5. Perfect outdoor area
Modern home? Check. Timber decking? Check. Now all you need is a lush pool to enjoy. And this one takes the cake! It's blue and oh-so inviting. Plus, I love the addition of strategically potted plants around the edges… They make for a natural environment.
See how you can create your own patio oasis with a swimming pool builder.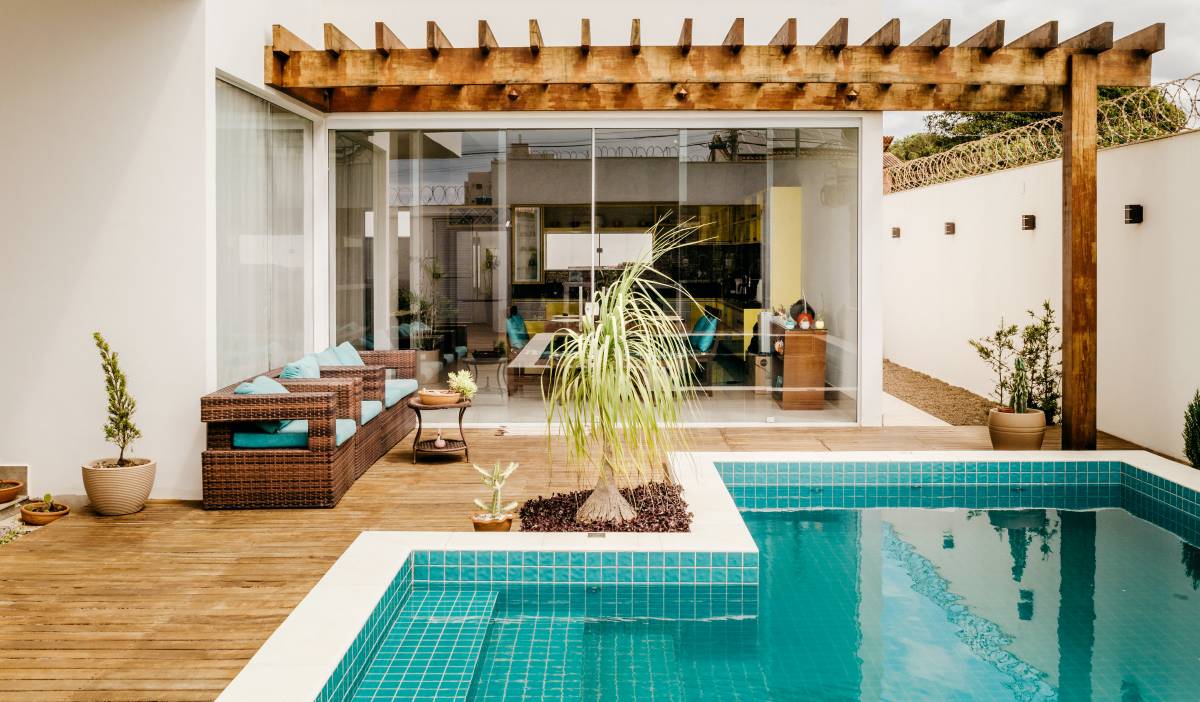 6. Enjoy the mountains
If you've got a mountain view (or really any view for that matter!), make the most of it by positioning your small pool in the right spot. I can only imagine how lovely it would be to relax in this pool early in the morning or late in the afternoon as the sun is setting… the colours would be divine!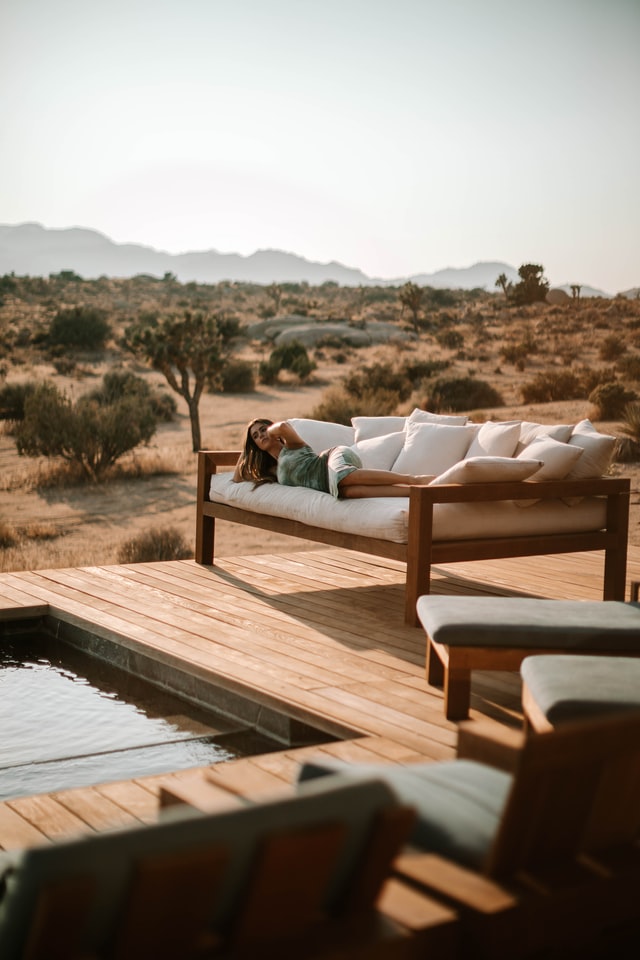 7. Above-ground small pool ideas
Go the DIY route and use a large industrial-style above-ground pool. It's the perfect simple solution for all of your hot-weather needs. Plus, it won't cost you as much money as an in-ground pool.
8. A place to sit
If you've got a pool, you're going to want a place to sit and relax when you're not swimming. Or, a place to read a book and watch the kids as they splash around! You don't have to go all out with marine-safe outdoor furniture, particularly if you don't want to overcrowd a small space. That's why these simple egg-shaped chairs are absolutely perfect.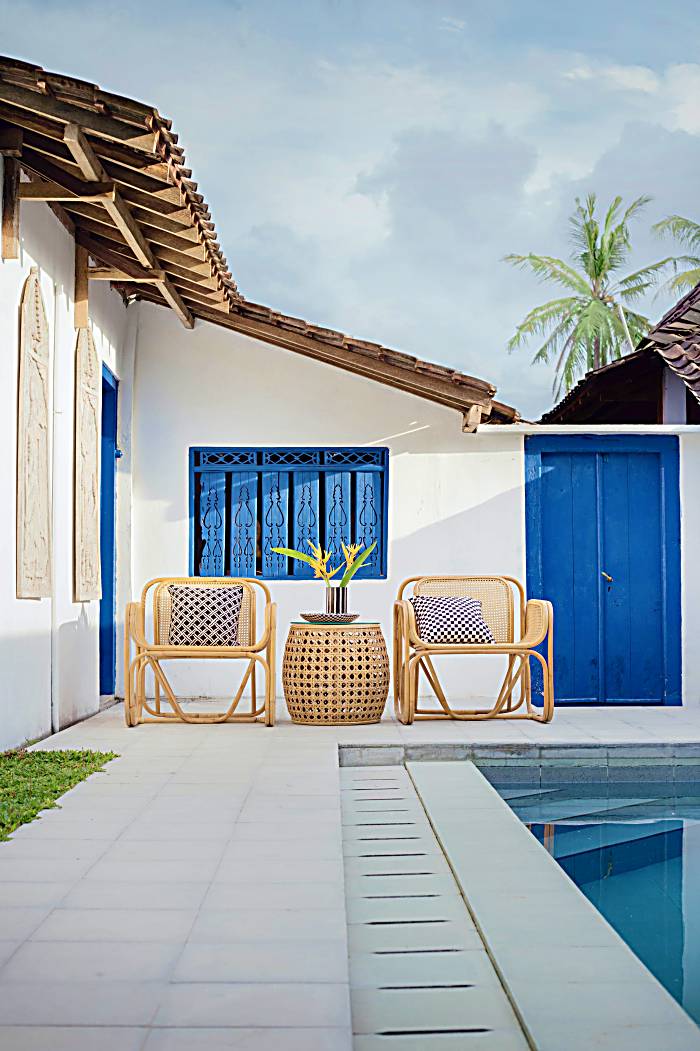 9. Down the stairs
Create a lovely entrance to your pool area by adding stairs. This is a great way to create levels and layers in your space. And your stairs can add a blend of Greek/Bali vibes. Plus, I love the addition of foliage hanging down from the roof and dotted around the perimeter of the pool.
10. Plunge pool
Got a thin space between your house and the fence? No worries! This otherwise unused space can be transformed into a perfect plunge pool. After all, you don't need a huge pool to get the benefits of cooling down on a hot Summer's day.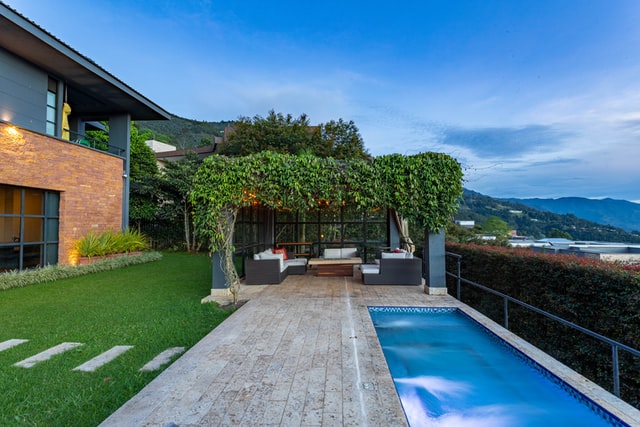 11. Show off your view
If you've got a beautiful view that you want to protect, make sure you use low-to-the-ground hardscape and furnishings so you can enjoy it.
12. Concrete plunge pool
Only got space for a tiny pool? Don't stress! A small plunge pool like this one will do the trick. While they come in all sorts of materials (we'll look at more options soon), this one is made out of concrete. And it's tiled with thousands of tiny dark blue tiles to create a pool that looks deep and calming.
13. Miami fresh
For a space that exudes Miami cool, opt for a square cut pool lined with gorgeous stone. You can add dramatic blue pool lights into the design to enhance the colours even more. A pool like this would be a sight to see in the evening!
14. Among the trees
This Bali-inspired pool looks like the perfect place to lay back and relax with a good book in one hand and a refreshing drink in the other. I love how the thin pool is surrounded by lush greenery with palms bowing down over the edges. And my favourite part of this area is the little gazebo. It's the best tropical garden design!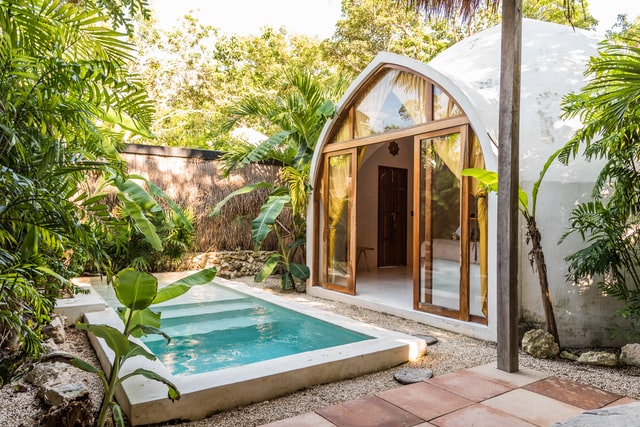 15. House to backyard
Creating a truly seamless flow between indoor and outdoor really allows you to enjoy the best of both worlds. So aim to have your back deck designed to flow perfectly into your pool area. And you can easily enjoy a BBQ, splash around in the pool, then head back inside for drinks. If you're looking for more ideas for how to create this kind of experience, check out these decking ideas.
16. Courtyard pool dreams
Fancy a trip to Morocco? Why not take inspiration from this stunning pool area. The heroes of this design are the patterns. So if you're planning on recreating something like this, go all out with mosaic tiles, pretty colour schemes, and plenty of greenery. You'll feel like you're in paradise in no time!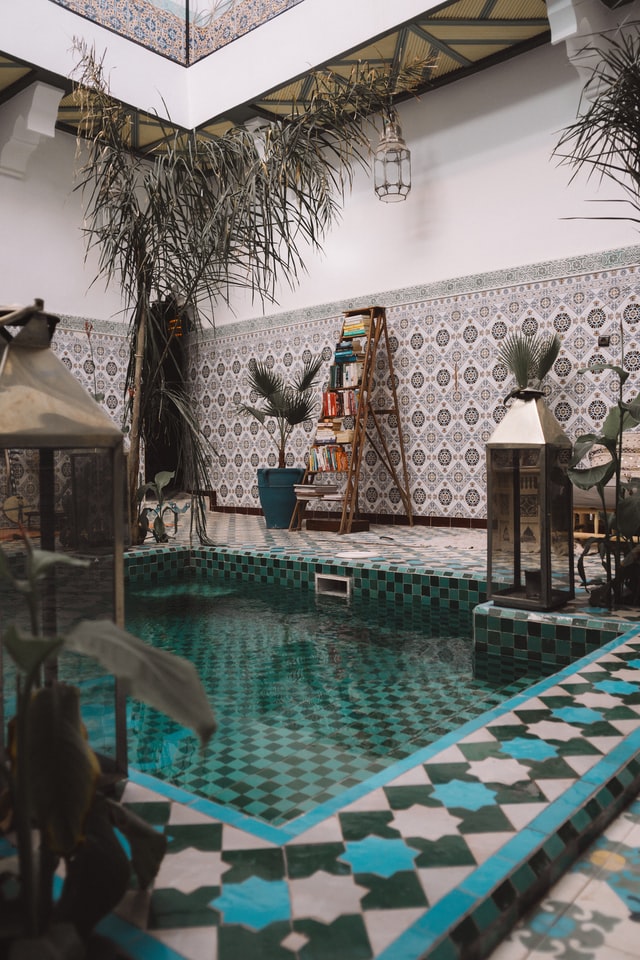 17. Pool with a view
Wow. Isn't this absolutely breathtaking? A naturalistic landscaped swimming hole is increasingly popular these days. I particularly love the curved shapes of this natural-style pool!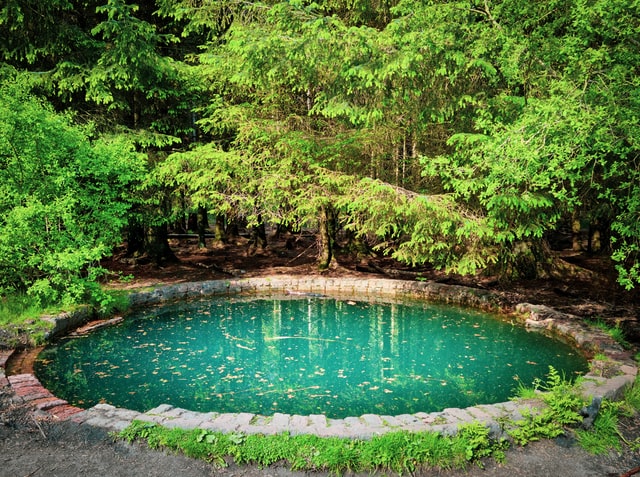 18. Stock tank
For a budget-friendly option, consider a stock tank. Yes, this is something that's usually used to provide drinking water for animals like cattle or horses. Stock tanks can range in size from 100 L to over 5500 L and typically are made of galvanised steel. And the best thing is that they come in so many different sizes, so you'll be able to find one that meets your needs.
19. Cacti galore
Plants are always a good idea, especially when you can keep them alive… If you wouldn't call yourself much of a green thumb then cacti are the plant for you. Layer them around your pool in pods. The best thing is that you'll hardly have to water them because they're so low maintenance!
And if that doesn't do it for you, there are always native garden plants as well that would fit in just as well.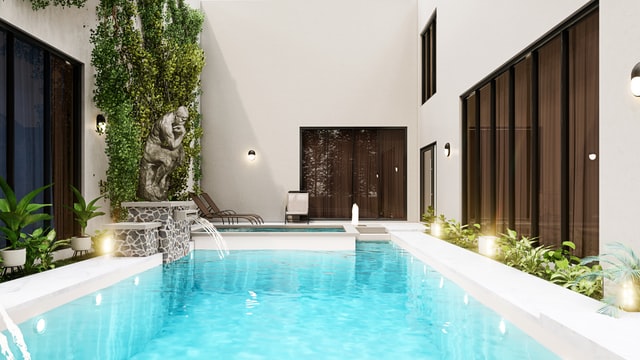 20. Structured
If you're a minimalist at heart, then you're bound to love this small pool design. I love how it has a simple geometric style. And the entrance into the pool create a warm welcome. This looks like the perfect place to spend a sunny Summer's afternoon.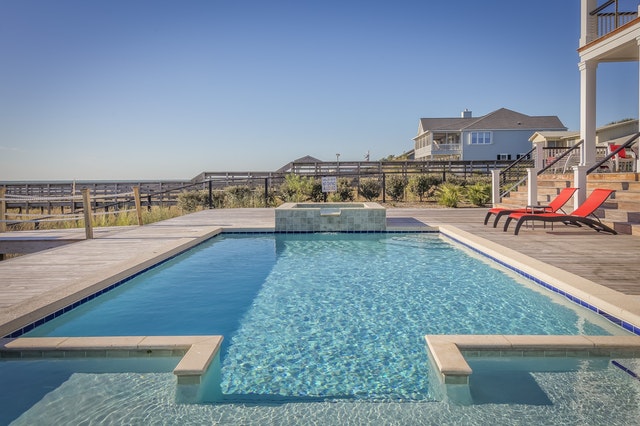 21. Over the edge
An infinity pool design seamlessly integrates with the surrounding view. So if have one, why not consider an infinity pool. Even if it's only small, it'll certainly be a great place to take in the view.
22. Surrounded by wood
For those who like things a bit more simple, this spa-style pool takes the cake. The rectangular structure is built into the surrounding timber deck. This would make it great for a Summer pool party!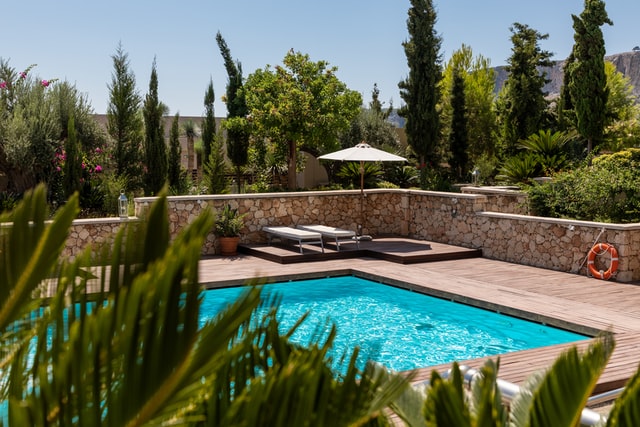 23. Cottage style
Have a cottage garden? Consider using high-end materials to uplevel your space. One of the best choices for this kind of design is stone. It's not only timeless but it always looks sophisticated.
24. Potted palms
How lush is this pool area? I love how the palm trees add so much detail to this tiny space. This is proof that you can have a gorgeous, relaxing pool area even if you only have a tiny backyard. And the potted palms keep things very neat.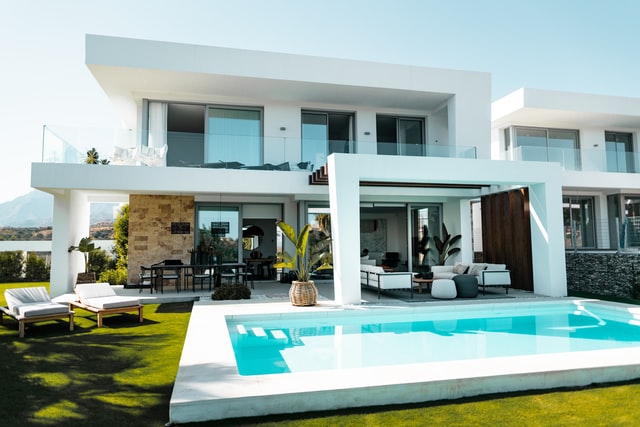 25. Greek-style small pool
Greek design is one of my all-time favourites. I just can't get enough of the striking combination of stark white with cool, calming blue. And this tiny pool takes the cake, for me! It's proof that you can create a gorgeous, relaxing pool area even if you only have a tiny space. And that space could simply be a rooftop or a tiny backyard.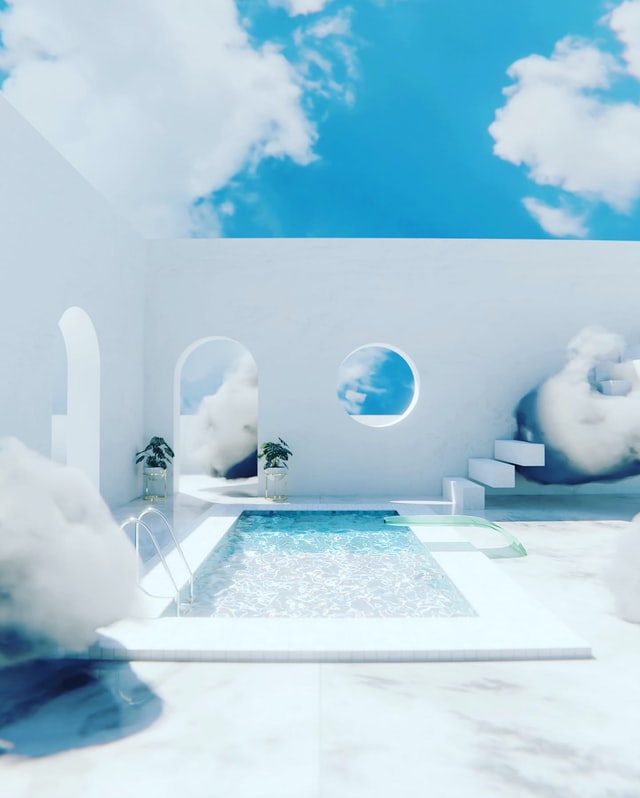 There you have it, 25+ amazing small pool ideas. I personally loved all of the creative DIY pools like the above-ground options and stock tanks. It's so nice to realise that there are options out there like this and that they can suit any kind of backyard. And I also loved all of the pool designs that included plants around the fencing – I'm a sucker for anything that makes me feel like I'm in a lush rainforest!
What about you? Which small pool designs were your favourites? I'd love to hear. Comment below and let me know!