Apartment living has it's perks; no lawn to mow, no garden beds to weed. It is nice to have the satisfaction of growing your own vegetables though. Whether you've just got an indoor area, a small balcony, or if you're lucky enough to have a rooftop, you'll find there are a number of vegetable gardening ideas that will suit your apartment.

Source: Pinterest
Here's how to grow vegetables in your apartment
1. Container planting
Container planting is a great option for growing vegetables like broccoli, cauliflower, bush tomatoes, climbing beans, root vegetables, lettuce and salad leaves. Containers come in all different shapes, sizes and materials. Do some homework on the required growing conditions of whatever it is you'd like to plant to and check the size required. The best thing about container planting is if you do move out, you can take your crop with you.
Wooden planters – construct your own using old pallets (often free from industrial sites if you ask politely) or find some gorgeous planter ideas online

Source: Pinterest
Need some help putting your wooden planter together? Get some help from an Airtasker handyman in your neighbourhood.
Plastics planters – plastic pots are cheap and readily available from gardening and hardware stores, or you can recycle old plastic bottles to make your own apartment planters

Source: Just Imagine
Terracotta and ceramic pots – they look great, especially for things like citrus and olives – but beware they can get a bit heavy

Source: Balcony Garden Web
Smart pots – made from porous, lightweight material, they encourage drainage and root growth, and can be washed and folded up when not needed
Tip: A small hessian bag will work just as well for planting potatoes.

Source: Nutriculture
3. Herbs and micro-herbs in tins
Use old tin cans and biscuits tins to house herbs and micro herbs. Although they're not technically vegetables, they are perfect for growing indoors and outdoors in apartments.

Source: Pinterest
4. 'No dig' wheelbarrow veggie patch
A wheelbarrow is a fantastic way to create a mini, movable vegetable patch that you can chase the sun with. The 'no dig' or 'lasagna' (layered) method of preparing a garden bed will work great for this style of gardening as it provides maximum nutrients with little effort to maintain. Follow the steps below to get started:
Step 1
Scout out a pre-loved wheelbarrow at a second hand store or pick up a cheap one from a gardening and hardware retailer. Make sure you bring your wheelbarrow to your balcony or rooftop before filling, otherwise it will be too heavy to move.
Step 2
Create some drainage by either drilling holes in the base (you'll need to keep a container underneath the wheelbarrow to catch any excess water that leaks through), or by filling the bottom few inches with light stones.

Source: Lushome
Step 3
Prepare the 'no dig' garden bed:
Start with a layer of newspaper – wet it
Add a layer of mulch – lucerne hay or sugar cane mulch works well
Add a layer of manure – chicken, cow or horse manure work well for vegetable growing
Add a layer of straw
Add another layer of manure (clearly this type of gardening is best kept to outdoor areas)
Add a layer of good compost
Depending on how deep your wheelbarrow is, repeat
Check out the ABC's step by step guide to No Dig gardening. If you'd rather leave the garden bed construction (read: manure layering) to someone else, get an Airtasker gardening professional to help you out.
Step 4
Plant your vegetables. It's up to you to decide if you want to start with seeds or seedlings (for beginner gardeners, seedlings are a great head start). You can even use vegetable scraps from your crisper; they'll do remarkably well! Try celery, shallots, carrots, lettuce and chili.
5. Root vegetables in glass
Make a masterpiece out of your indoor vegetable garden by planting brightly coloured root vegetables or herbs in a glass jar or container. Start collecting mason jars, vases or vintage jugs and try planting a spring mix of carrots, spring onions and raddish. Most root systems prefer to be kept in the dark while the leaves enjoy a little light, so tinted glass containers are ideal for planting vegetables and herbs that require a decent amount of sunlight.

Source: Wonderful DIY
Strawberries 
Not technically a vegetable, but so great to grow in an apartment that we couldn't leave them out!  Strawberries do well in containers or hanging baskets. There are even varieties that require no sun and can be completely grown indoors, such as the Alpine variety.
Mushrooms
Don't have much sunlight available? No worries! Mushrooms love cool, dark places. Get a complete starter kit online for as little as $20 (Enfield Produce Pet and Garden Supplies).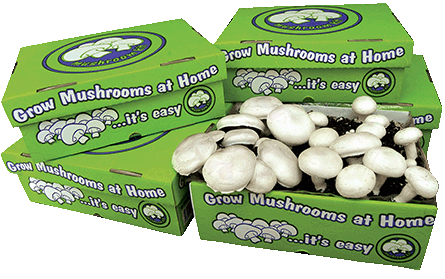 Source: Mushroom Kit
Have you got any more fantastic vegetable gardening ideas suitable for apartment living? Leave us a comment below.