Are you making the most of your side yard? It's typically small, narrow and often a challenge to turn into a usable space. But there's no reason you can't turn it into something attractive and generate more usable (and valuable) outdoor space for your property with some clever side of house ideas.
Whether you just improve the overall look of it so that you'll be proud for guests to use it as a walkway, or you turn it into a private, mini sanctuary that you'll want to actually spend time in. There's absolutely no need to waste this space.
There are lots of easy ways you can beautify your side of house area – so let's take a look at 33 side of house ideas that will inspire you to give it a total makeover.
1. Show the way
One of the most obvious things to do is create a well-landscaped path that really emphasises the main function of the side yard space, which is to enable travel between the front and back parts of your garden without needing to go through the house. Define your path with pavers, rocks or steppers that will visually lead the way, but feel free to make it an asymmetrical, meandering pathway for more visual interest. For example, adding a mixed planting around flagstone pavers.
2. Make it orderly but interesting
Maybe you prefer a neat, ordered pathway? Even so, the space doesn't have to be a plain, boring rectangle. Make a straight path more interesting by adding asymmetry. A row of beautiful hedges on one side and a bare house wall on the other, for example.
For help with the right kind of hedge for your side yard, why not speak to an expert in hedge planting!
3. Blur the boundaries
When you're deciding what to plant in your side yard area, use some of the same plants you've used in your front and back yard for continuity of style and to link it all up nicely. This is especially important if you can see the backyard from your side of house area. Have a coastal home? Use indigenous and native plants, leaving garden borders undefined and obscured by the planting. This gives the illusion of having a much larger backyard.
4. Create a destination
Rather than have your side of house area be just a means of getting from point A to B, why not use the space to create a relaxing destination in itself? Just the addition of some comfy outdoor furniture or a few beanbags can totally transform the area so that it becomes a little nook for you to escape to.
Of course, it depends on how much space you have to play with. But it doesn't have to be the biggest space in the world—just try to keep other decorative elements minimal so it doesn't feel too cluttered.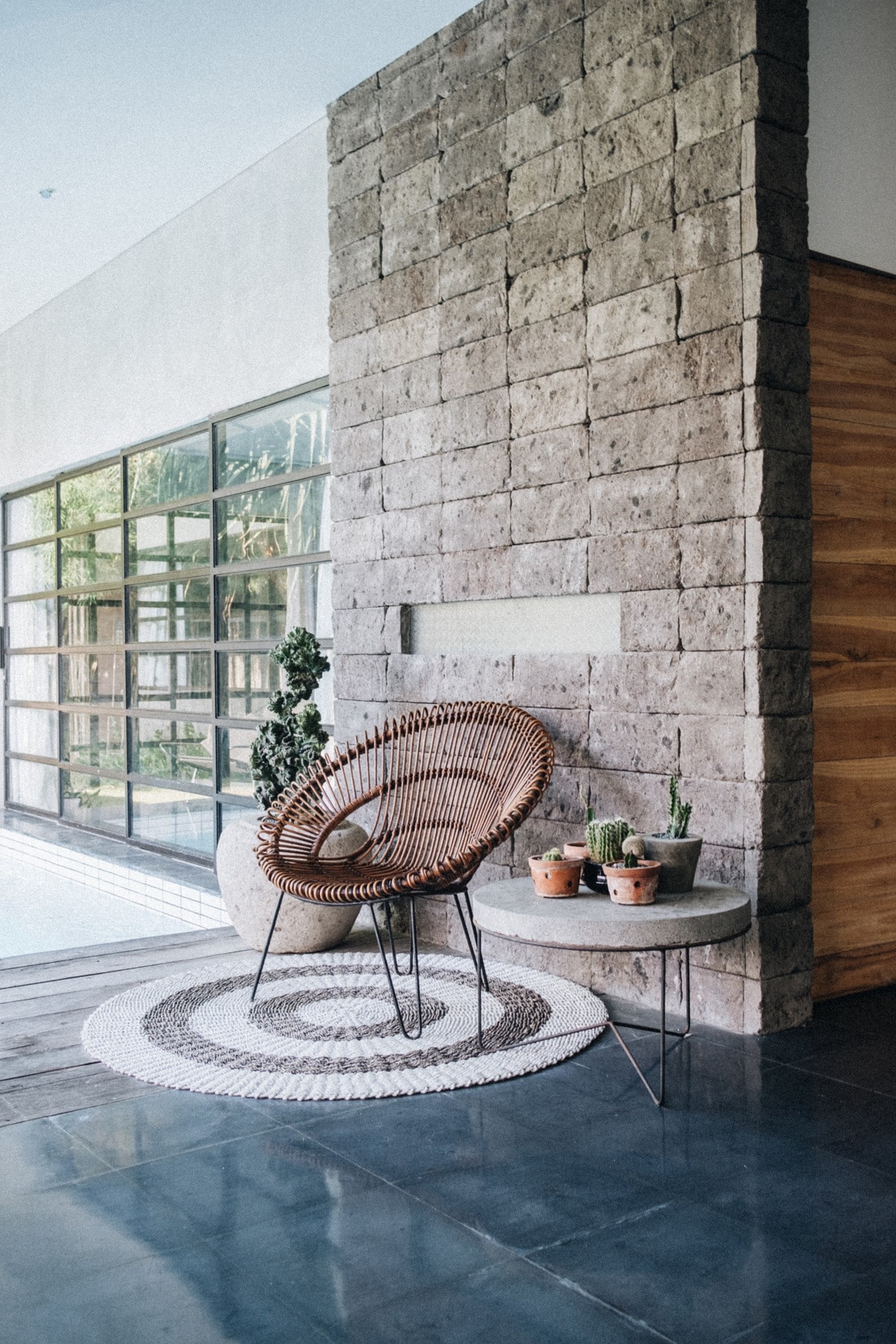 5. Add dramatic pavers
The type of pavers you choose are an opportunity to create visual interest and drama, just as much as your choice of plants will. A popular choice is "crazy pavers", aka flagstone pavers, which typically come in bluestone, sandstone or quartz. These wildly-shaped stones really liven up an area and especially complement a contemporary home with lots of linear structure.
If you're thinking that paving is the way to go, see here for some more paving ideas for your garden.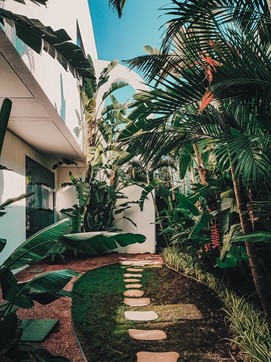 6. Be creative with your side of house ideas
I know what I said above about continuity through your various garden spaces. But you don't actually have to be all matchy-matchy with the style of your side yard and your front or back garden—it's fine to break that rule! Please yourself with a themed side of house garden of your choice. Love tropical gardens? Why not style up your side of house area with tropical plants and timber decking, even if your backyard isn't resort-style? If you do this though, it's a good idea to create a visual barrier between the two garden areas, with a fence or shrubs, for example.
7. Palm Springs perfection
If you love the Palm Springs desert-style aesthetic, a neat and low maintenance planting of the barrel and columnar cacti set amongst white rocks will look the goods. Place along the side of a whitewashed wall to deliver iconic minimalist, laidback elegance. It's a simple look to recreate at home.
8. Draw from Japanese style
Let Marie Kondo at your yard and spark some side return joy. Borrow from the distinct hallmarks of Japanese decorating style. Such as, a focus on airiness and lightness, a sense of visual balance, a love of sophisticated simplicity and the keen use of white and illumination.
Want to use narrow trees along the side of your house but don't want a "runway" effect?  Planting skinny, columnar varieties of the tree draw the eye upwards, adding height to the elongated space and making it seem much larger.
9. Embrace natives
It's a great idea to use native plants as they are typically far lower maintenance than other kinds of flora. They also easily deliver a laid-back coastal aesthetic, with a gorgeous colour palette of silvery greys, blues, greens and browns. A pathway of crushed decomposed granite can amplify the coastal flavour.
10. Grow a privacy screen
A popular material that works well as a privacy screen along the side of your house is a non-invasive clumping bamboo, which is tall, fast-growing and easy to maintain. As well as creating privacy along your boundary line it will also act as a sound barrier and a windbreak. For your side of the house area, choose a narrow, upright bamboo, like Goldstripe. It works really well as a solid contrast to a home's walls. Combined with a faded timber walkway and leafy plants in concrete containers, it will give off serious tropical vibes.
Add even more privacy for your backyard with these privacy fence ideas.
11. Dreamy glass bricks
Something a little different that could work as an alternative to conventional screening materials is chic modern 'frosted lozenge' glass bricks. A wall of these opaque glass blocks creates both privacy and delightfully ethereal filtered light as well as beautiful shadow patterns that will change as the sun moves across the sky. I'm in love with the look of this material.
12. Play with texture and light
Another example of an experimental side of house design is playfully using timber screens to manipulate the light. A walkway can feel claustrophobically tunnel-like so add visual excitement and airiness caused by the dappled light and shadow through the perforated wood.
If you decide to forego vegetation in your side of house, you can keep things really intriguing by using different surfaces, materials, colours and textures like this.
13. Layer it up
Enliven plain walls with a dynamic planting of flowers, shrubs and trees. The variety of textures, forms and colours are so pleasing to the eye. Try the Lagerstroemia indica, a tree of the Nachez variety, which landscape designers say will grow to a maximum of 6×4 feet in its lifetime and is easily pruned.
14. Cascade plants down a fence
A beautifully textured side of house design might feature crazy pavers in a meandering pathway, and a range of plants chosen specifically to change colour throughout the seasons. White plaster walls look amazing adorned with delicate climbing vines while lush foliage also spills over the top of the walls, creating privacy from neighbouring homes. Cascading plants will create a green waterfall down the side of a fence, but your side garden will probably need a little garden maintenance.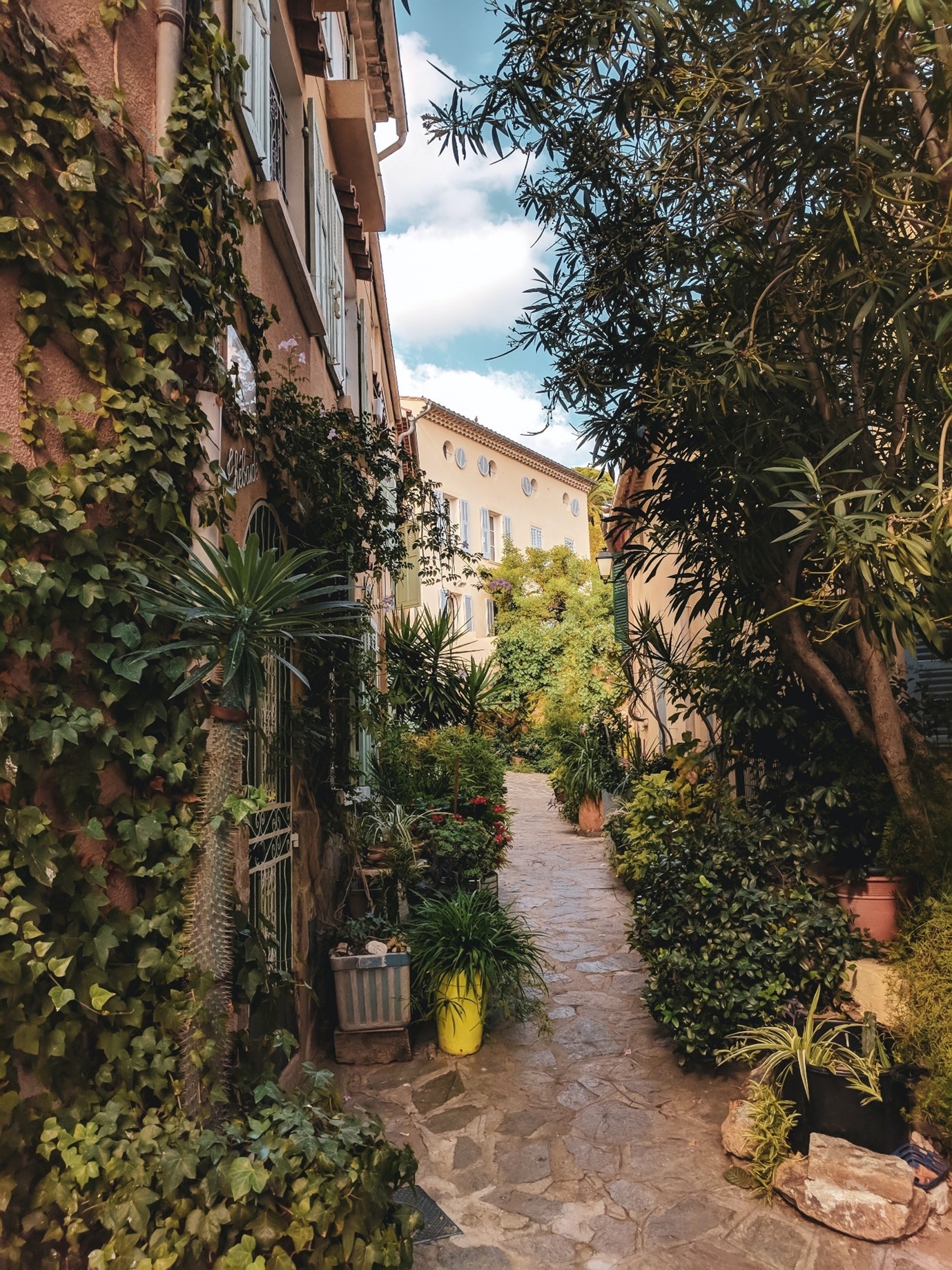 15. Add timber for warmth
Create a timber side of house walkway which seamlessly connects to the flooring used throughout your house. Or, complement oak window frames with oak sliding door frames.
16. Go vertical
If your space is so narrow that you don't even have room for a row of narrow shrubs let alone trees, plant climbing vines that will creep up your walls to provide much-needed greenery against plain house walls. A popular choice is star jasmine but there are many other choices—why not hire an expert in garden planting to design the perfect planting palette for your home.
17. Soak up the ambience
Turn your side of house area into a relaxing and private haven where you can escape the world by setting up a little table and chairs and adding a touch of magic with a string of lights. It's the perfect place to read the weekend papers, do some journaling or enjoy a cup of coffee.
18. Decorate with planters
If you only have a narrow strip along the side of your house, garden with plants in containers or raised garden beds rather than ground level beds as they will take up less room as well as be much easier to maintain and keep neat. Side yards are also perfect for space-saving vertical gardening structures, including trellises and arches.
To have someone help you with your side path garden design, why not speak to a local who specialises in planter boxes or if you're not quite ready, check out this guide to planter boxes.
19. Grow a side yard veggie garden
You can have fun growing edibles along the side of your house where they will be out of the way but still handy to reach for maintenance and harvesting. Just make sure your space gets at least eight hours of sunshine a day and you'll be able to grow your choice of herbs, fruits and veggies with no trouble. Mini-greenhouses look neat and are functional. Or, growing vines like cucumbers, passionfruit or beans up your fence or on a trellis is another solution for the narrow side of house space.
Make sure you check out this handy guide on winter vegetable gardens, and also look at these vegetable garden, raised garden beds, and herb garden ideas for your home
20. Create a canopy
It's a landscaping trick, apparently: walking through a compressed space into more open space is known to create drama and mystery. So growing tall, leafy plants that will droop over a walkway and create a tunnel effect is a great way to generate that sense of interest. Not only that, but canopies create shade, which is great if the side of your house receives a lot of sunshine. Gently canopy a side path, building in a water feature, for the ultimate tranquillity.
21. Use contrast
This monochromatic look is high contrast, which is visually very appealing, as are the many parallel lines. The solid white and black walls also provide an excellent backdrop to the plants which edge the neat pathway. The fencing is shou sugi ban (Japanese charred wood), a technique which is becoming quite popular here, thanks to its many benefits and distinctive look.
It's environmentally friendly, low maintenance, durable, flame-retardant, naturally insect-resistant, and resistant to moisture damage. And of course, it is a unique, bold visual style.
Love shou sugi ban cladding? Bear in mind darker coloured walls and fences will absorb sunlight and increase the radiant heat of the space—so may be best suited if you live in a cooler region.
22. Add drama up above
Overhead architecture, like arbours and pergolas connected to the side of a house, helps draw the eye upward and make a small and narrow space appear larger. They also help create that sense of moving through a compressed space that I spoke about earlier, which creates drama. And of course, you can plant up an arbour or a pergola with vines and other climbing plants to envelop you in greenery and create mesmerising light play and dynamic movement in the breeze.
Speaking of adding some cover, here are our favourite pergola designs.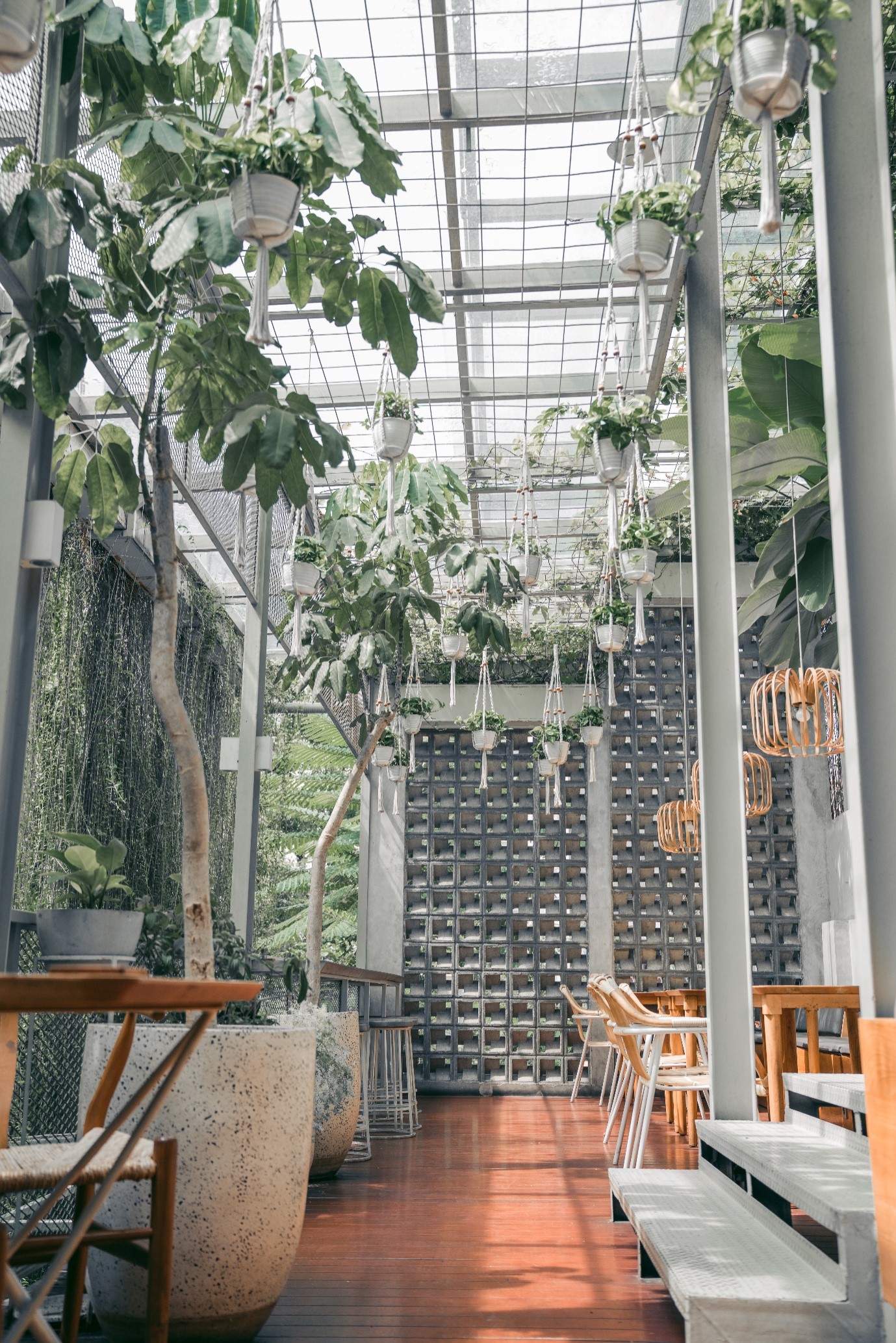 23. Create a dry stream bed
Landscaping with river rocks is a popular way to achieve a naturalistic side of house design and one of the benefits of creating a path out of rocks or pebbles is that it can force rainwater out from along the side of your house and prevent pooling. Stones in a dry stream bed can give you a lovely monochrome aesthetic, broken up by little shrubs serving as pops of colour.
You could even turn part of a dry stream bed into a Zen rock garden with the addition of sand and enjoy some meditative raking, creating attractive ripples or overlapping circles and feeling blissfully at one with your Buddha-nature.
24. Add atmosphere with uplights
There are so many options for gorgeous landscaping lighting and one is to install uplights at ground level to illuminate certain features of your side of house garden. Uplights can be placed into a side path as well as at the bottom of trees to highlight their beauty as well as guide people along the path at night. Solar or low-voltage lights are best but speak with a landscape lighting expert to get the ideal lighting solution for your side of house design.
25. Make it pet-friendly
If you have pets, you'll want to create a side of house area that is safe for them as well as able to withstand heavy paw traffic without ending up with ugly, patchy worn grass and trampled flowers. There are various tips and tricks you can look into, for example:
Use hardscaping to make winding paths that dogs enjoy following, with layers and dimension that will stimulate your furbaby;
Add brick pavers or gravel in high traffic areas
Plant hardy, pet-friendly plants that are non-toxic and can withstand urination (there are plenty of flowering woody shrubs which do this well);
Use soft mulch that won't hurt paws.
26. Pet-proof it
Unless you decide to make your side of house area pet-friendly and able to withstand their activities, you probably don't want it being overtaken by your pets, dug up and generally turned into a muddy mess. In that case, simply corral the animals behind a gorgeous gate, like a gappy timber one that allows a filtered view of the backyard.
27. Open up a side servery
Indoor/outdoor living spaces are a popular way to create a transition between the interior and exterior of your home and opening up a side servery increases your alfresco dining options. Changing a standard side window into one that fully opens up can totally transform your side of house into an additional entertaining space, provided there is enough space for seating and it gets enough sunlight to be inviting. Add some bar stools and you have a perfect spot to enjoy on a balmy summer night.
28. Turn it into a play area
A fab idea if you have enough room at the side of your house and if you'd like to avoid your front and back gardens from being visually assaulted by kids' playground clutter! Add a cubby and grips from a local hardware store to a concrete boundary wall to create a nifty little playground that's safely enclosed and tucked out of sight from the streetscape.
29. Make a spot for garden storage
If you don't have a shed, the narrow side of house area is the perfect place to unobtrusively stash a slim little gardener's storage cupboard. Add a long, narrow bench for potting up and you'll have a nicely private nursery area that doesn't detract from your backyard garden design.
30. Add unique seating
If the side of your house is a little boring but gets a pleasant amount of sun then simply add a variety of quirky stools and chairs to create a place for some calm contemplation, away from the hustle and bustle of the street or the busyness of backyard occupants.
31. Choose bench and planter combos
When you only have a long narrow side of house area to work with, kill two birds with one stone and install combined planter/bench designs. They keep everything neatly flush to the wall or fence and provide pleasing symmetry while being eminently functional both for humans and plants!
32. Add a lap pool – or a moat
Maybe you can swim, or maybe you can just to dangle your legs in refreshing water. Either way, adding a water feature to the side of your house is a gorgeous way to amp up the tranquillity and summer vibes, and it's much less costly than putting in a backyard pool.
If you have the space though, go ahead and add a lap pool to increase the functionality of the space (and the value of your home). Add boulders and a low maintenance planting along a side—succulents like agaves and aloes give it, even more desert-oasis feels.
For inspo you can't beat architect Olle Lundberg's Californian redwood cabin and outside plunge pool. The entire house is made of salvaged and reclaimed materials, including the pool that's actually a former livestock watering tank made of 80-year-old virgin-growth redwood.
33. Add an outdoor shower
The side of your house is also ideal for installing an outdoor shower as they take up very little room and yet provide a practical way to wash off after swimming or getting dirty playing sports or enable you to just enjoy a shower out in nature. They're an easy DIY and can be very aesthetically pleasing, especially if you source gorgeous vintage-style fixtures. A vintage silver rainfall outdoor shower looks gorgeous against a black fence, crushed granite and organic décor elements.
And that's a wrap on my selection of side of house ideas which show you how you can make the most of this under-utilised, and often neglected space. In the comments, why not let me know which of these side yard ideas is up your alley, or if you've done something interesting with your side of house area – I'd love to hear your input!
When you're ready to get started on your side of house ideas, it's a good idea to start with a general tidy-up of the area, and then if possible, enlist the expertise of an expert to ensure you get the garden design right before you go ahead and DIY.
…
…
…