There's nothing like picking fresh herbs and adding them straight into a fresh meal – yum! Do you know how much better your food would taste if the herbs were grown from your very own garden? I do! I've always loved having a herb garden as it's not only a great way to save money because you no longer have to buy herbs but it is SO rewarding to grow and tend to your own produce. And the best news yet is that it doesn't matter how big your home is or small your apartment, there are plenty of herb garden ideas for any space.
Growing your own herbs is also an amazing practice to teach kids. From planting seeds, giving the plant enough light and water, seeing it grow and then being able to enjoy it provides so much joy. Nurturing and seeing things grow right before my eyes really gives me a deeper appreciation for the earth and how we can positively impact it.
1. Two-tiered herb garden
First up we have this beautiful herb garden that looks ever so neat with its two tiers of cascading herbs and pots surrounding. This look would be very achievable for most spaces as it doesn't take up too much room and you can easily adapt it to suit any space. I just love that little kitty who is also enjoying the leafy green surroundings!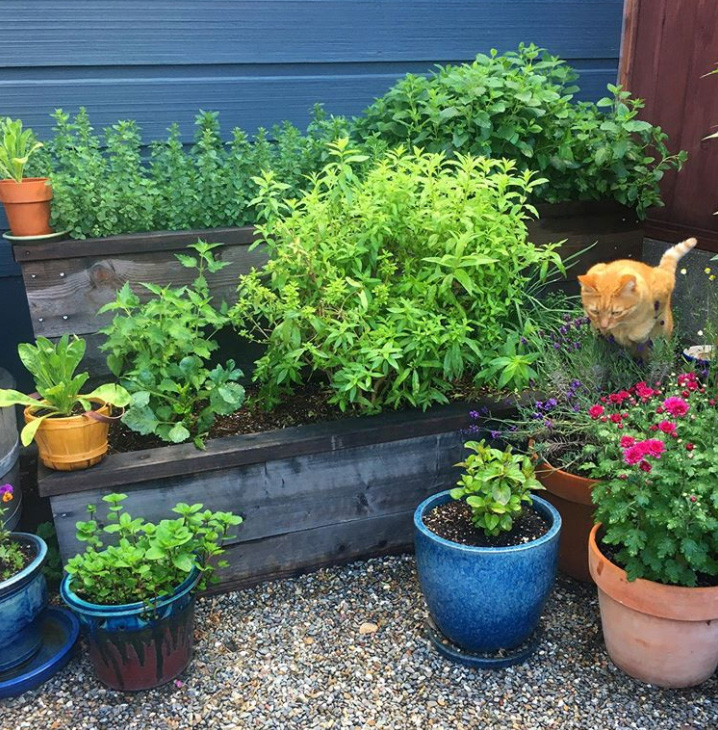 2. Urban gardening
How cute is this little urban, inner-city garden set up? This would be a great little project to do with kids. It's also a great example of what you can create even if you live in a tiny space! All you'll need is some biodegradable cups, soil, seedlings and some little sticks to label your produce – easy peasy!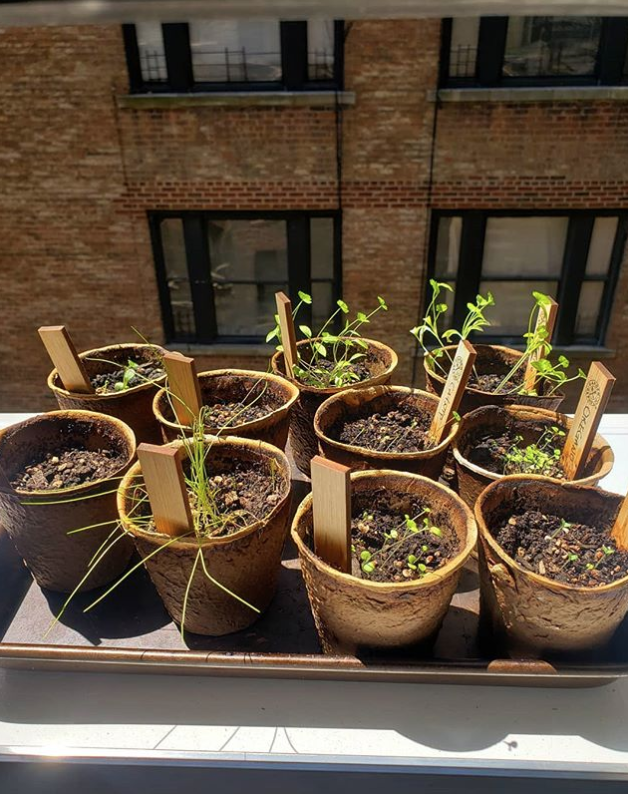 If you're wanting to grow your own herbs, learn more about how to propagate plants successfully from both cuttings and seeds.
3. Fenced herb garden
It doesn't get much more beautiful than this! I can just imagine that this garden is a part of a picturesque homestead in the countryside and the owners spend many hours tending to their produce. The perfect white picket fence would keep animals from spoiling your garden unless you lived near Peter Rabbit and his friends!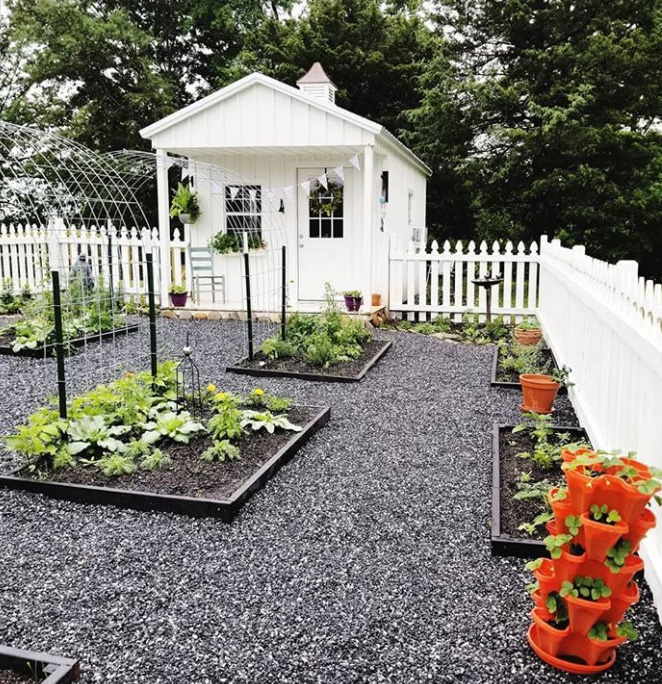 4. Watering can decor
How sweet is this little watering can sprouting delicious mint leaves? This would be the perfect decor addition to any indoor or outdoor space. Plus, you'd always have mint at the ready for a mojito or two – cheers!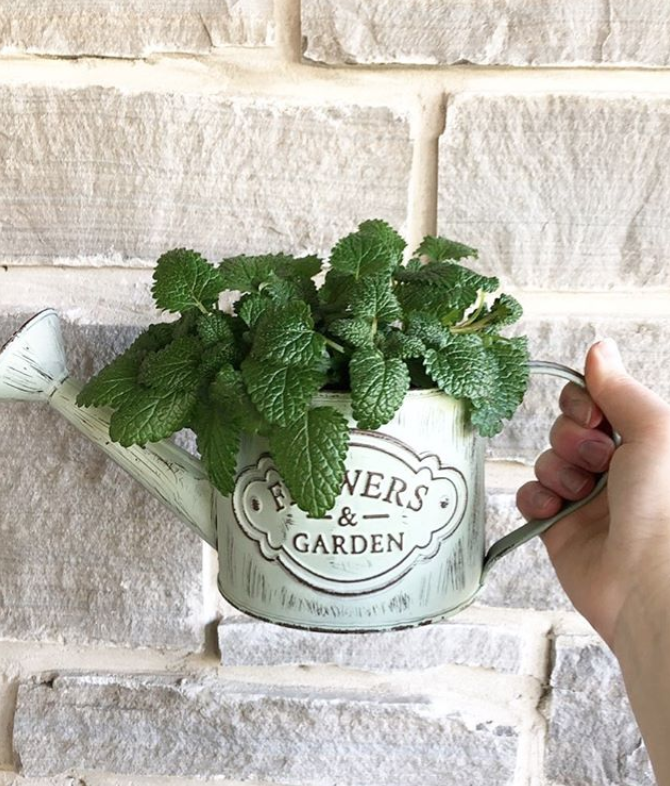 5. Hanging herbs
Using macrame is such a great way to liven up a space and the green macrame in this picture makes it look as if the herbs are all joined together and holding the whole display up. Watering would be a breeze because when you water the top layer, the bottom pots will get watered as well!
And I love the addition of the little name tags that label the contents of each pot.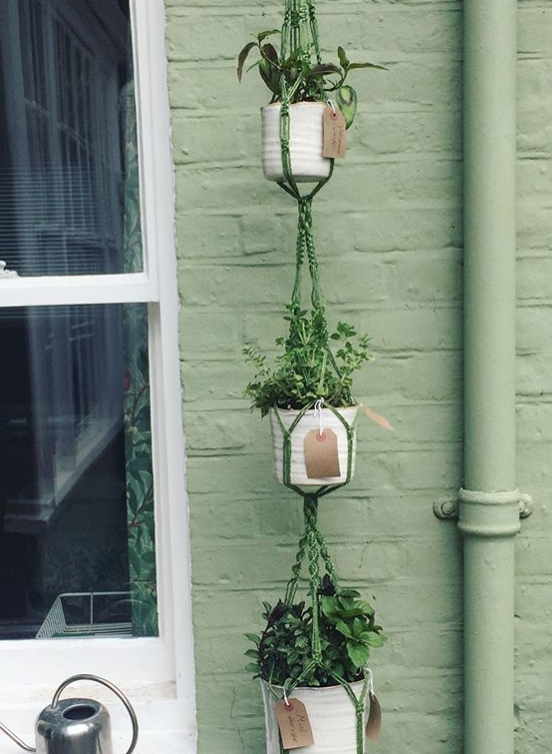 6. Pot variety
If you've got random empty pots hanging around at home, now is your chance to get your DIY on and do some planting. I love how even though the garden pots are mismatched, they still work so well as an ensemble. And that little furry passerby looks as if he is enjoying the pots just as much as the healthy herbs are.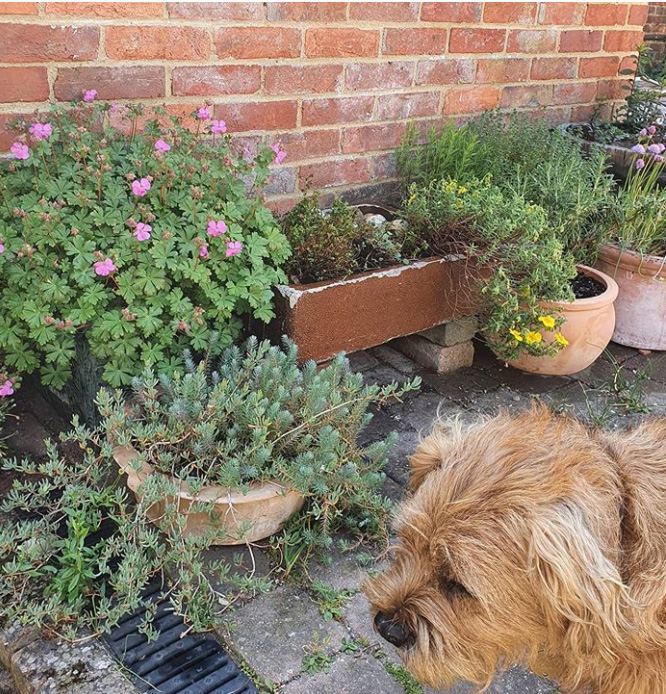 7. Ladder shelf
This ladder shelf is all things sophisticated and chic. The neat white shelves, labelled sticks and colourful pots really make this area look organised and tidy. How convenient would it be to have all your favourite herbs in the one place ready to go? Plus this special display would be so easy to recreate.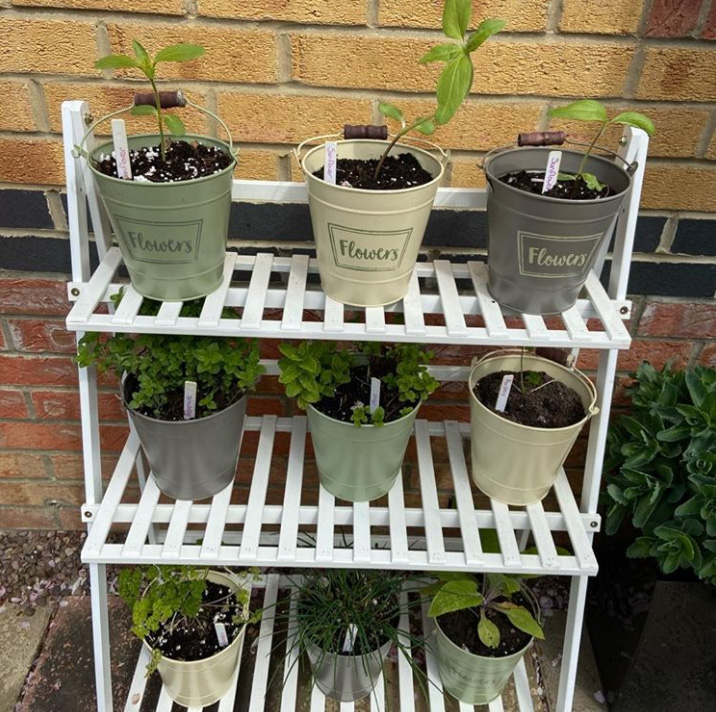 8. Brick spiral
How clever and creative is this brick spiral design? This project would take a little bit of skill and a whole lot of patience (especially stacking those bricks one at a time). I love how not only is the design something you don't see every day, but it is also practical and will show off all your delicious herbs in a creative way!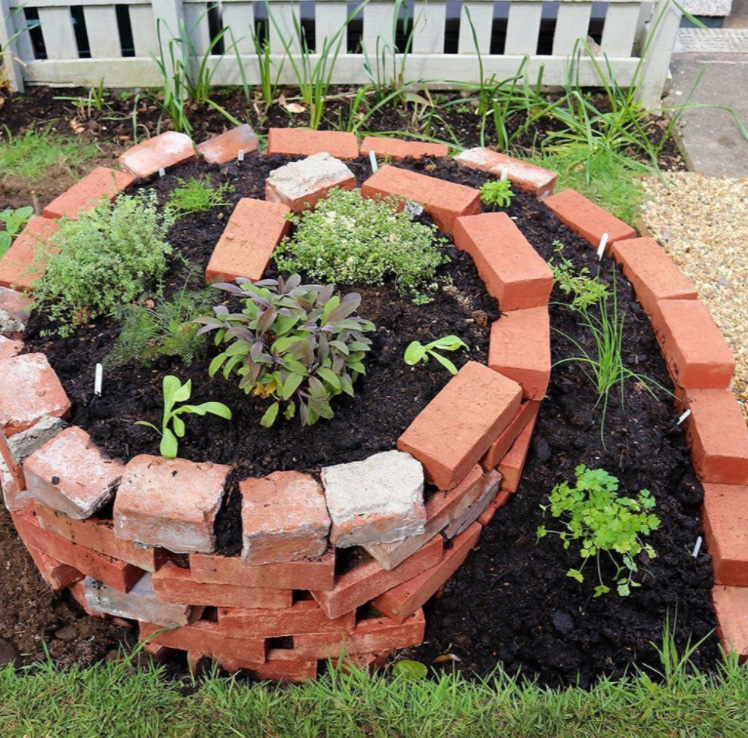 Draw inspiration from more creative raised garden bed ideas.
9. Stone border
Here's another clever way to create a border around your herbs… A stone border. Putting a border around your herb garden will not only keep things neat and tidy but it will also (hopefully) keep little feet from running through the middle! A large garden such as this would be perfect for large growing herbs such as rosemary.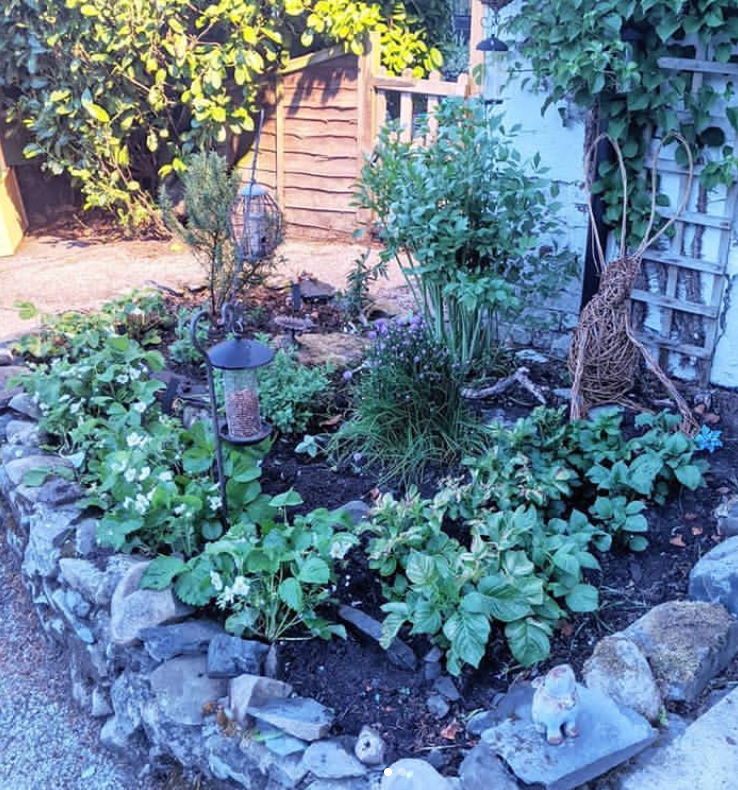 10. Wooden planter herb garden
So often we see planter boxes of many shapes and sizes, but I love the idea of using a table-like design to bring the plants to eye level. I love how the wood on this planter matches perfectly with the fence behind which makes the whole instalment blend into its surroundings seamlessly.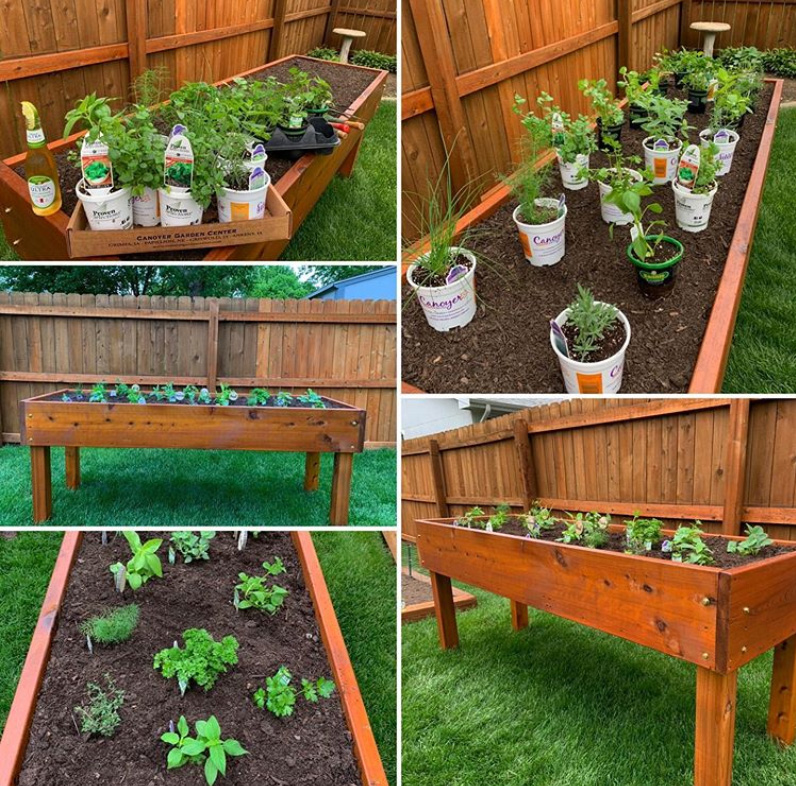 11. Up the wall
I just love how rustic this herb garden approach is! I love how the wooden planter climbs up the wall and compliments the wooden white slats of the house. The creator of this garden has used a different type of herb for each level which works oh so well!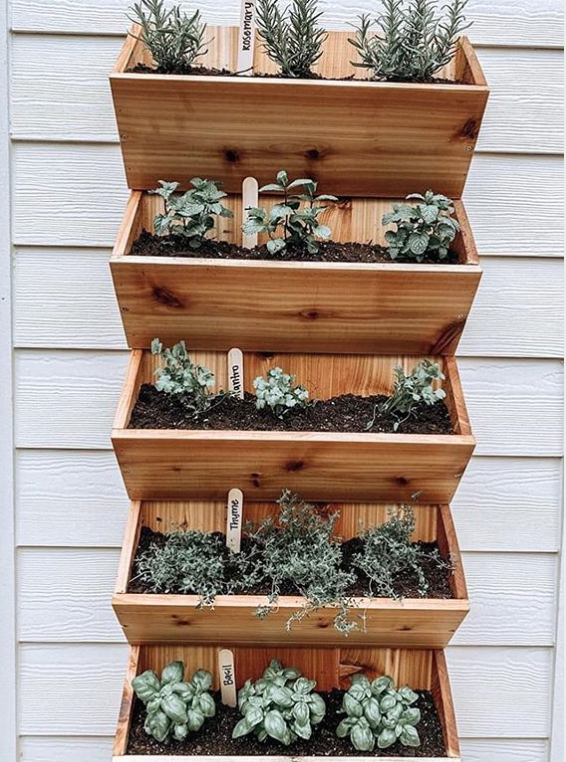 12. Caged structure
A caged structure around your herbs is a great way to keep them contained, while also training them to grow tall in an enclosed space. Having mint in your garden will attract handy little insects that will repel any creatures you don't want lurking around.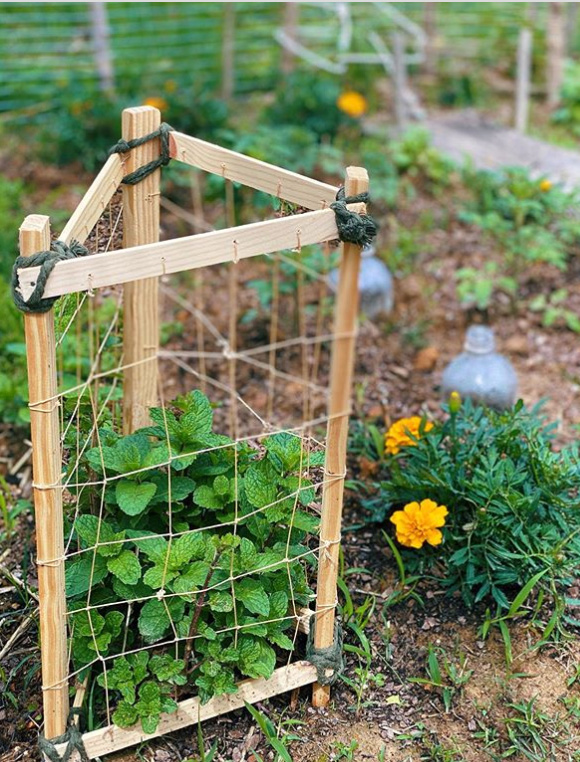 13. Inner city rooftop
Oh, I just love this scene and could imagine many afternoons basking in the rooftop views. If you live in the city and share a rooftop, perhaps you could chat to your neighbours about creating a community herb garden. Not only would it be a cool hang out spot but you'll always have fresh herbs available all the time.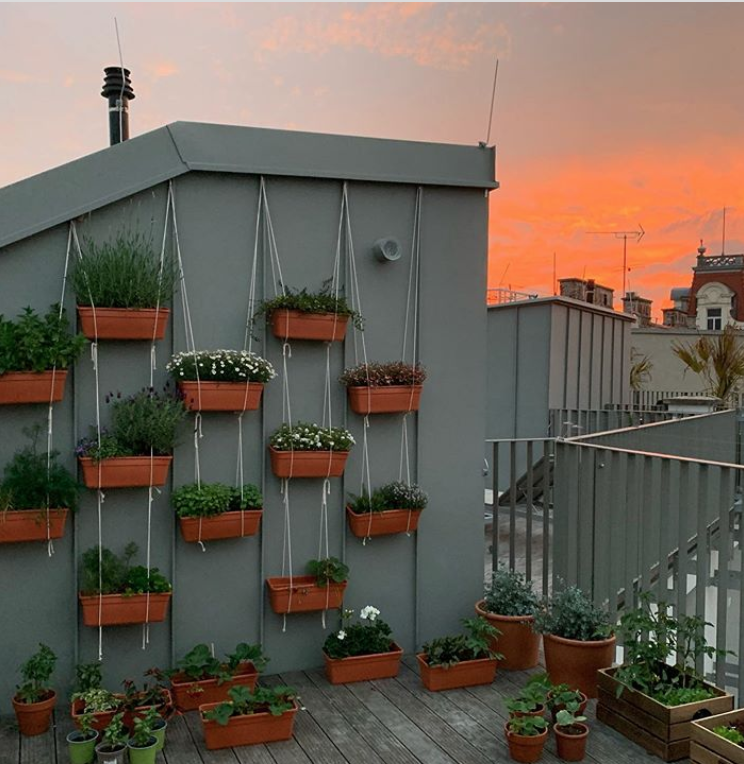 14. Dress up the stairs
How sweet is this idea? If you have a boring staircase that's looking a little bare, grab a few pots and plant some herbs in them! This little trick is so easy yet effective and will definitely be a crowd pleaser for all your guests as they come up and down the stairs.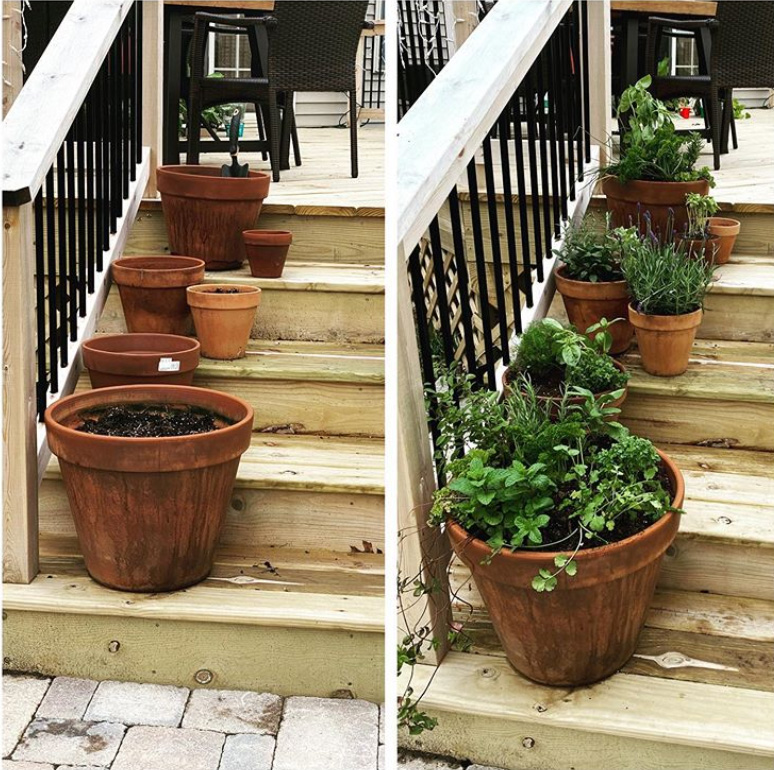 15. Indoor jar decor
If you're wanting to add some greenery to your home, this is the trick for you. All you'll need is some mason jars to put the soil into, your favourite herbs and brown jute twine to tie it all together.
Make sure you place your herbs in a sunny spot or take them outside every so often so that they can bask in the rays and stay happy and healthy! Here are some more indoor plants. if you're looking for something a little different.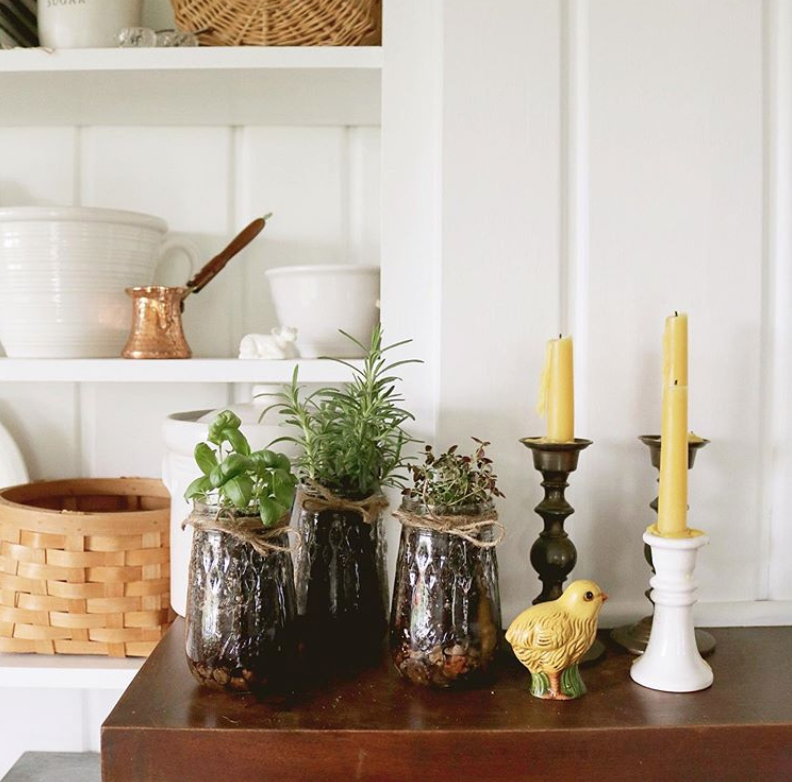 16. Convenient cart
Here we have the sweetest and most convenient little cart with all you need in one place. To create that country homestead feel, adding a slick of pastel paint to a cart such as this will give it the country-style lift it deserves. I love how the mint, basil and thyme pots are also in the same perfectly pastel colour scheme. How cute!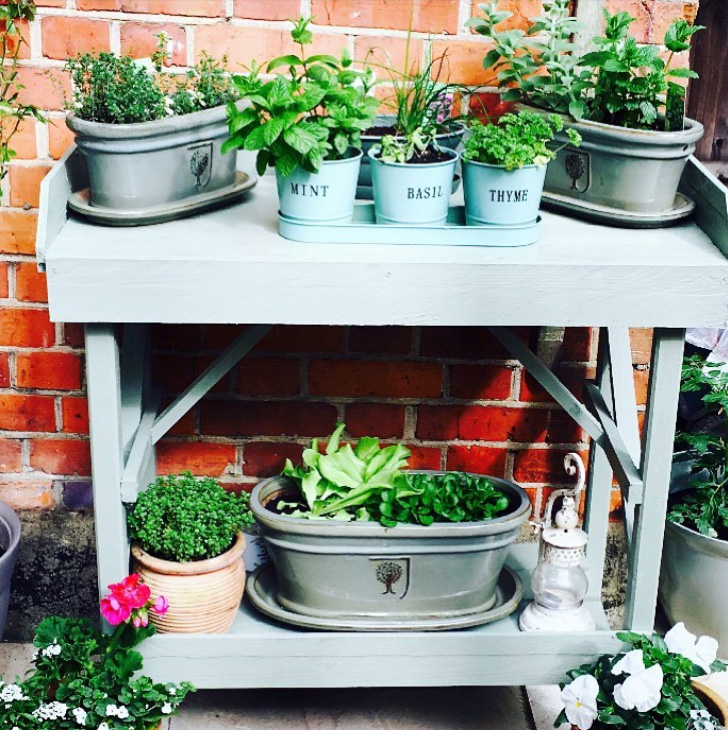 17. Recycled pipes
If you've got some old pipes lying around, why not make them into your very own herb garden?! The beauty of this DIY project is that you can customise it and the overall design is entirely up to you.
You could have all the same herbs on one level and a different type on the next, or you could just randomise them and have as many types of herbs as you like all in the one convenient place.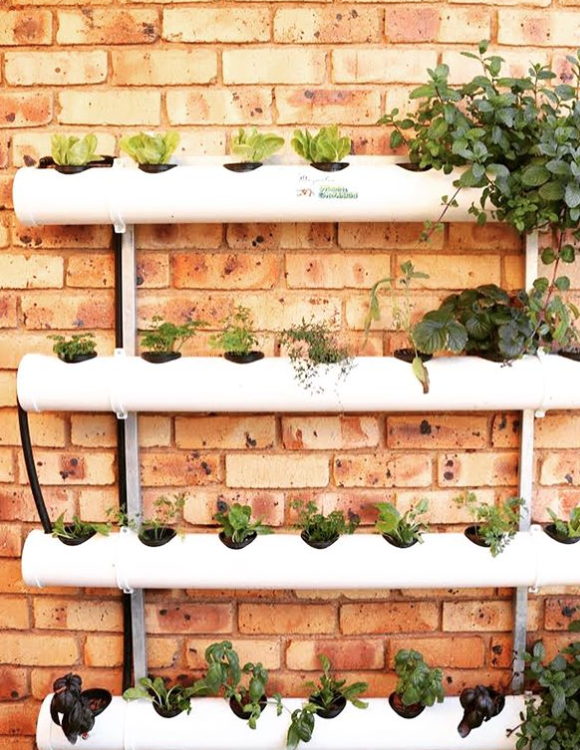 18. Kokedama herb garden
Kokedamas are so in right now and I just love the idea of incorporating herbs into them! These could sit on a table as a decor piece or even hang from a ceiling – the placement of them is totally up to you! But no matter where they're placed, they will look so on trend and will be a feature of your space.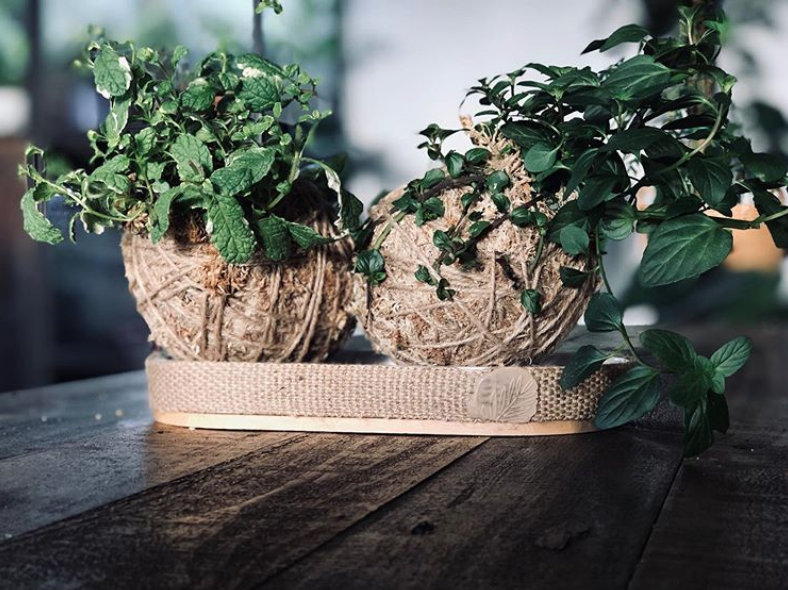 19. Eggshell sprouts
I think I remember doing something like this in primary school – so cute and very innovative indeed. If you're looking for a zero waste solution to a herb garden, planting your seedlings in an eggshell is such a cool idea. Then once they are ready to go, they can very easily be transported and planted straight into a larger scale herb garden. This would also be such a fun project to do with the kids!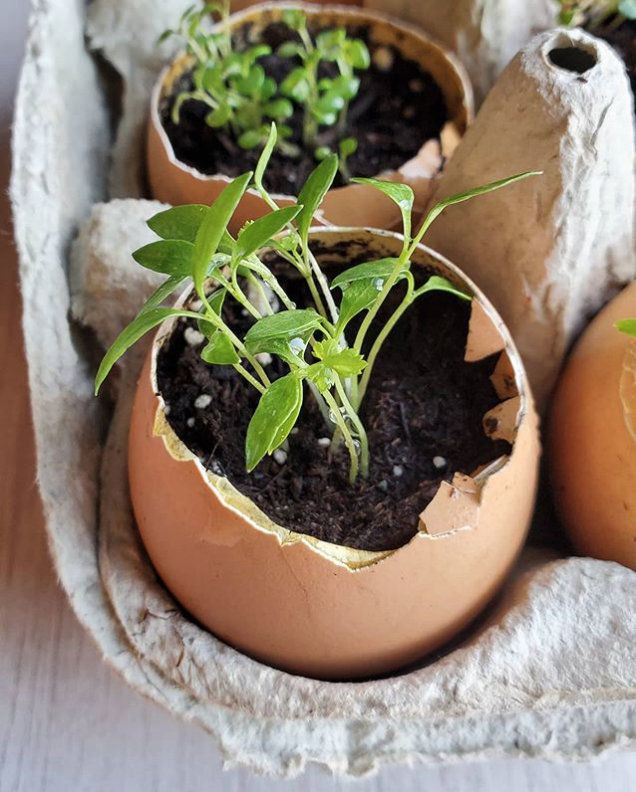 20. On the window sill
If you're not really much of a gardener, don't let that stop you from growing your own herbs. You can totally start small and build up to something a little bigger once you're feeling more confident. I love the idea of having a couple of little pots growing mint and basil sitting on the window sill ready to freshen up all your meals.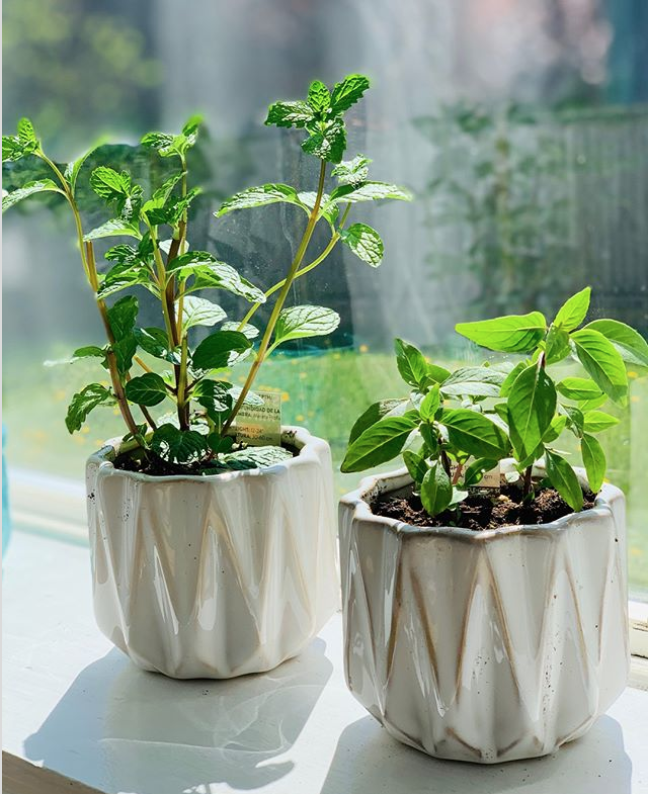 21. Burlap planters
How cute are these little burlap planters?! If you're wanting something a little different than a standard pot to plant your herbs in, then a little burlap bag will do the trick!
This would also be such a sweet first home gift or just something to make someone feel special as it looks cute and it's practical.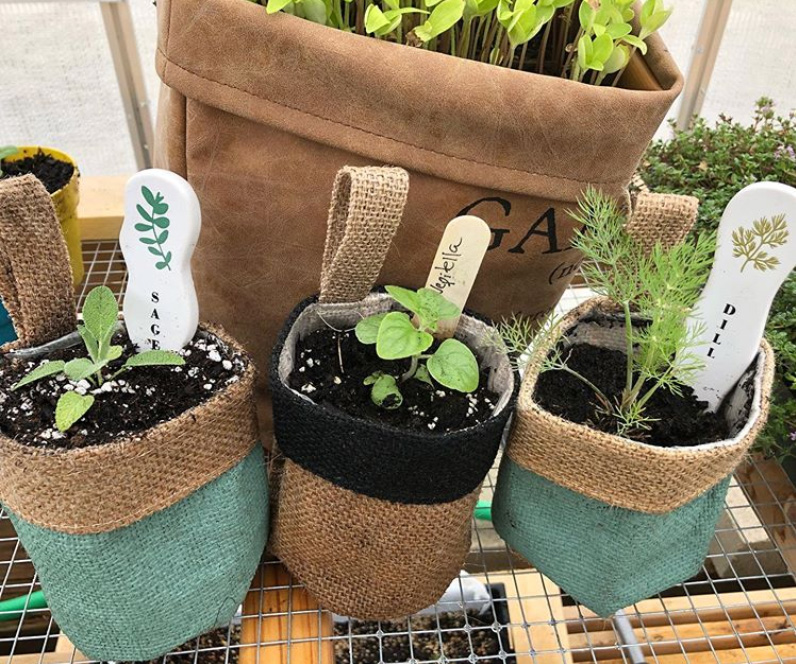 22. Floating herbs
If you've got a boring privacy fence that needs something but you're not sure what, here is the perfect solution for you! A floating shelf herb garden is the perfect feature for any fence, especially with the addition of cascading fairy lights.
I can just imagine having a backyard BBQ next to this beautiful display and picking out what herbs I will need to add flavour to my meal.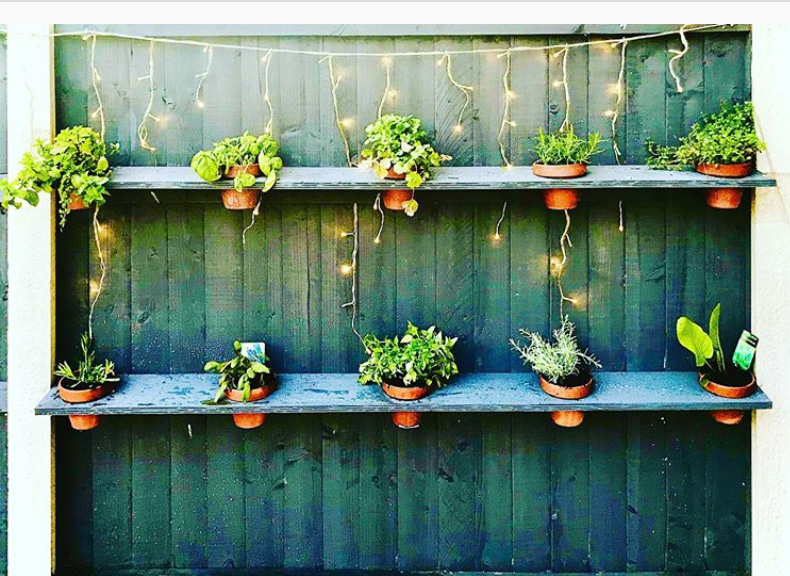 23. Levelled herb garden ideas
This solution is simplistic and minimalistic, yet effective in its approach as it makes the most of a small space. I love that you can clearly see the array of plants and herbs that are just asking to be picked and enjoyed.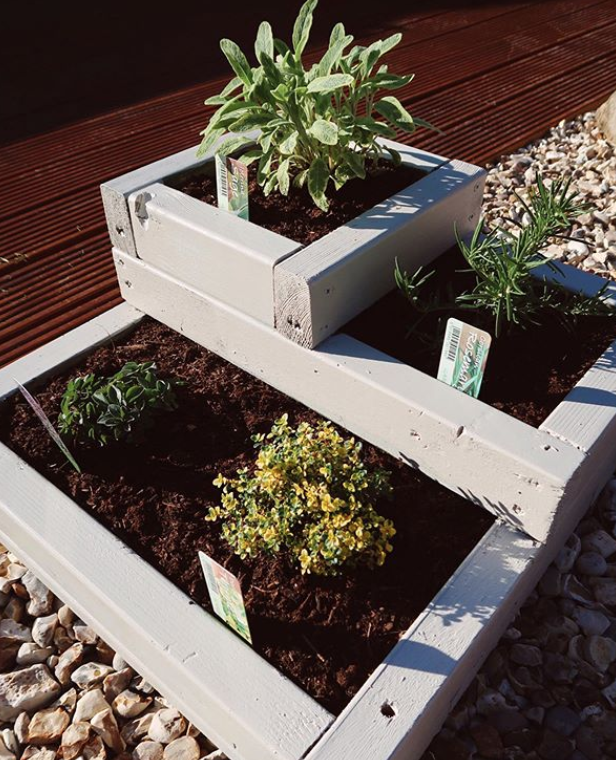 24. Colourful corner
This colourful corner just looks so happy and cute! The greenery of the herb garden is perfectly contrasted against the purple wall which is all tied together with that cute and colourful bunting.
Also, planting foliage inside of a pair of gumboots is just the coolest idea, isn't it? Make sure you ask before filling up your significant others boots though!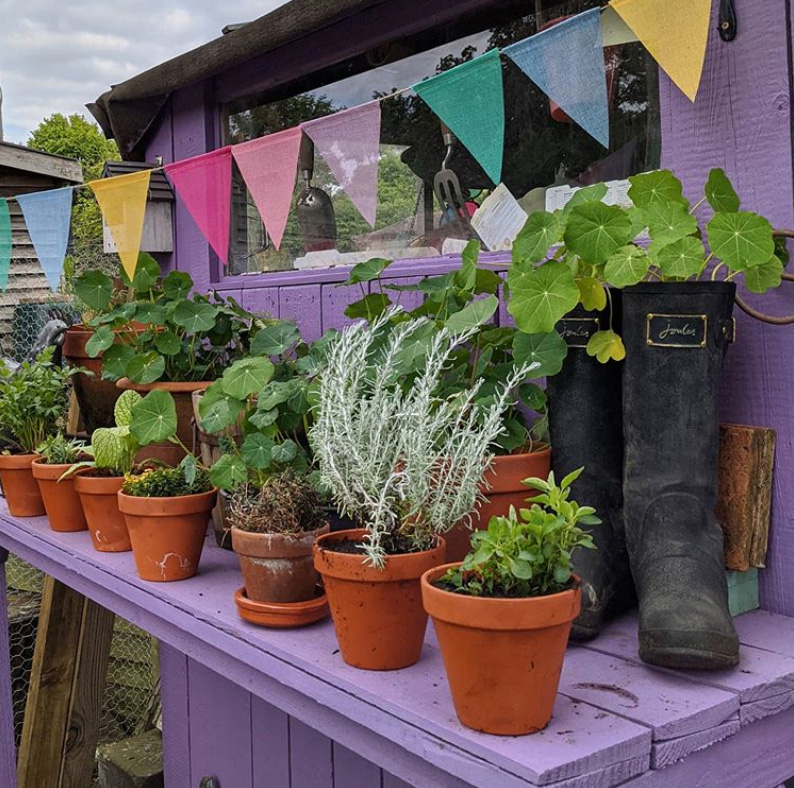 25. Repurposed mugs
If you're anything like me, you probably have one too many mugs and possibly some that don't even get used. So why not repurpose some of them? Planting herbs into old mugs will give them new life and also double as cute decor for your kitchen. How very sustainable!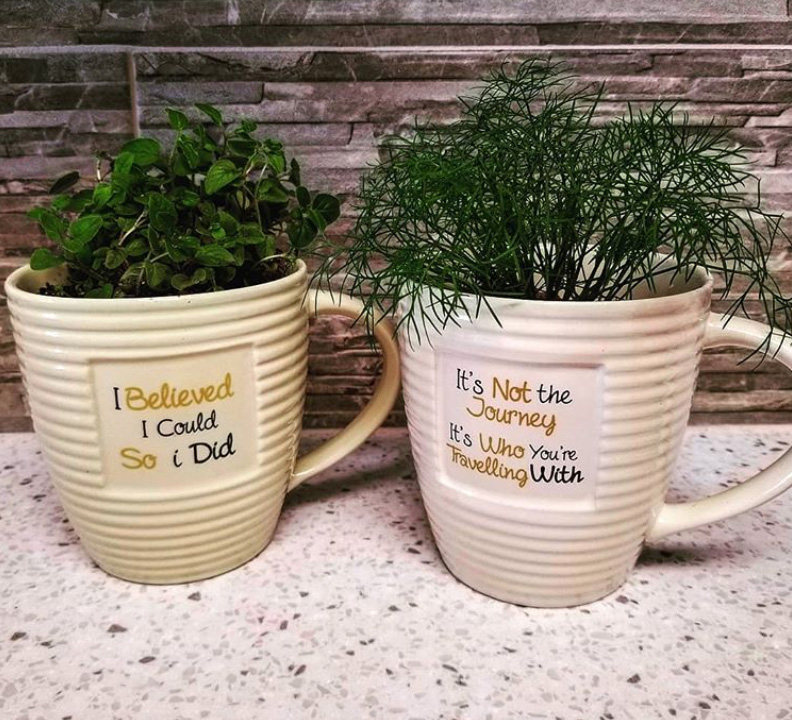 26. Creative planters
Imagine guests arriving at your place and greeting them with this creativity as soon as they arrive. I'm sure it would be a great way to break the ice. You could let some herbs grow wild on the ground and then have some contained in the little elevated hanging watering cans. What a memorable and novel concept!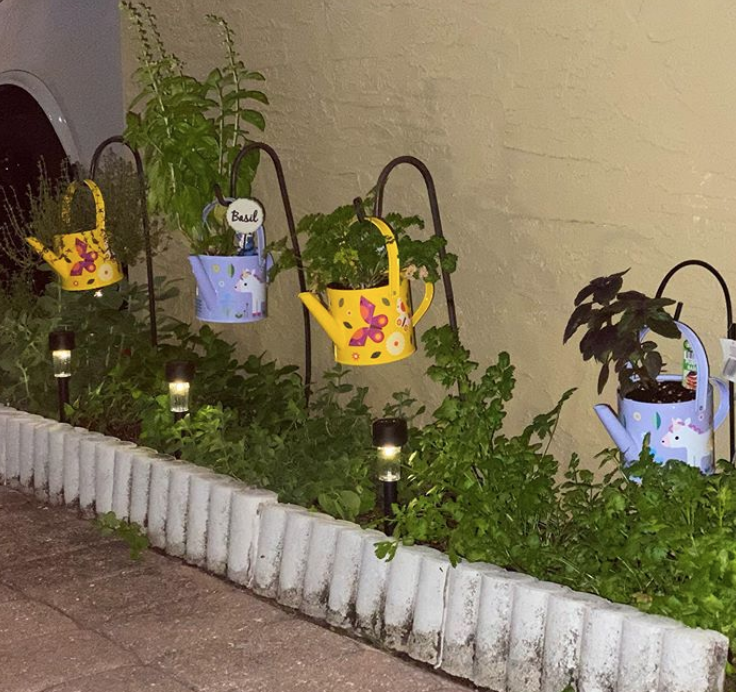 27. Bold lettering
The black pots against the cream wall make them stand out and are definitely a welcomed feature of this space. I love how the pots almost look like they are floating in mid air while the plants cascade up and hang down. The bold lettering against the black would be super simple to do with just a white chalk ink pen.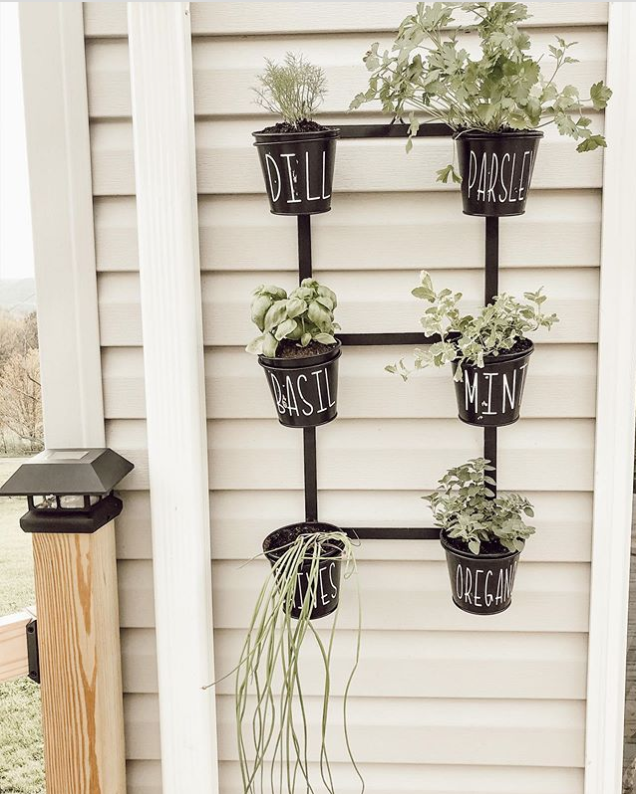 28. Kitchen convenience
The convenience of this kitchen herb garden is making my heart sing! If you're lucky enough to have a kitchen that allows for plenty of light beaming in, then this is the perfect herb garden solution for you! I can just imagine cooking up a storm and taking my pick of all my lovely homegrown fresh herbs on offer.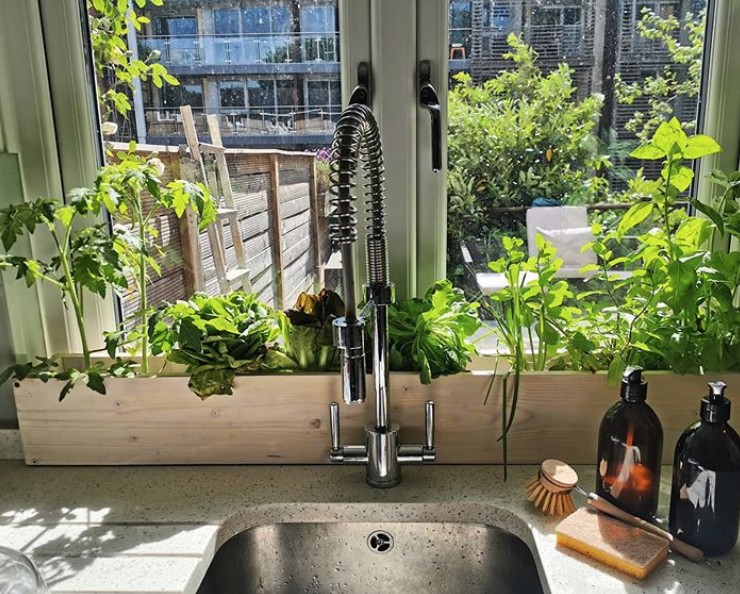 29. Swirling plant frame
This swirling plant frame would be a very ornate way to style the pots from your herb garden. Getting them off the ground and onto a display such as this will definitely make your garden go from drab to fab in the blink of an eye.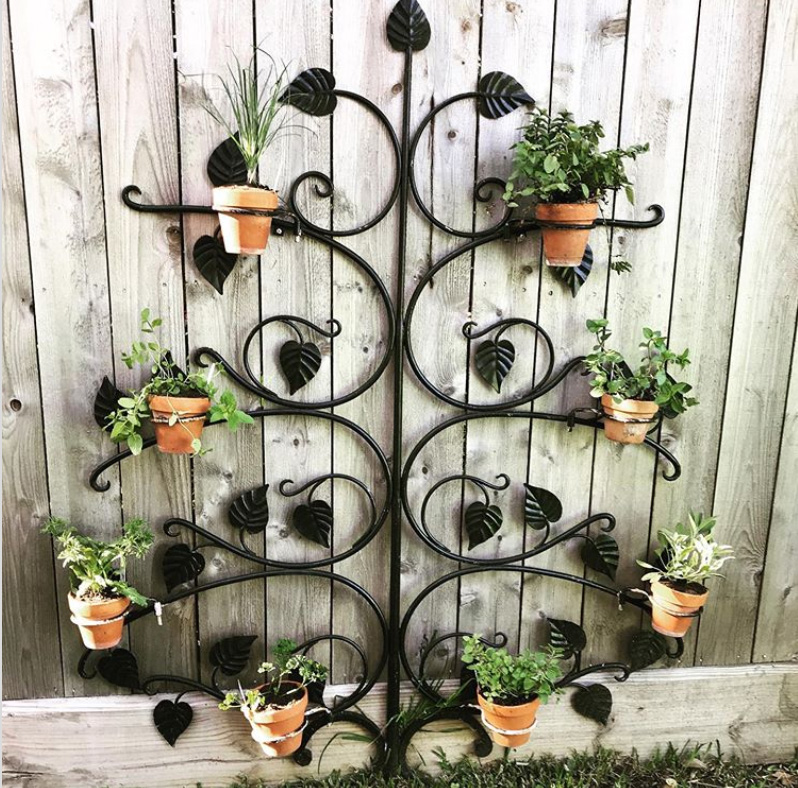 30. BBQ DIY
What a cool way to repurpose an old BBQ! All you'll need to do is give it a clean with a high-pressure hose then dry it down thoroughly and then it will be ready for soil. I love that this BBQ turned planter DIY is so simple and effective. You can barely even tell what its past life involved!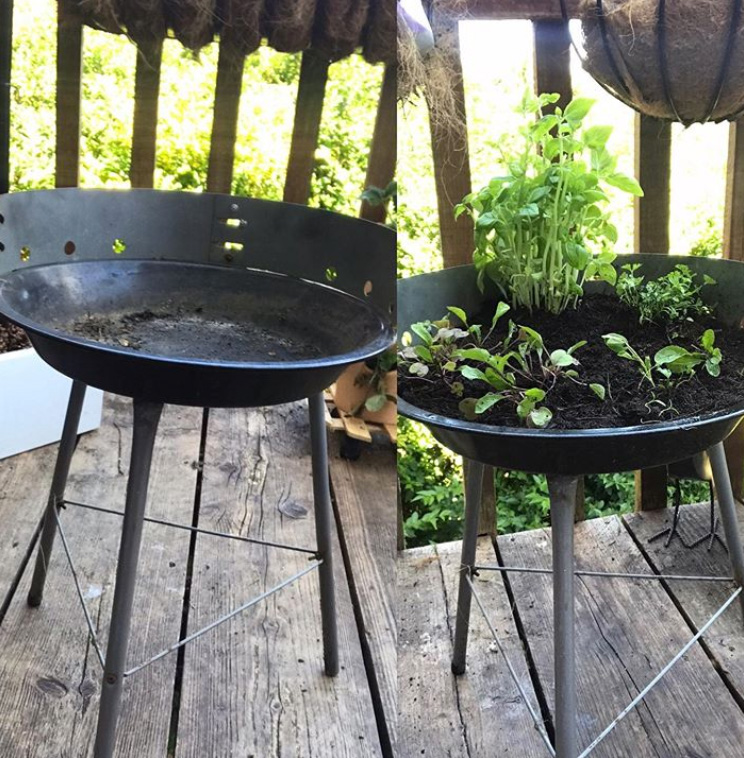 31. Clever courtyard
This clever courtyard has so many sweet little features in it. The identical planter boxes have been perfectly matched with the white of the fence which makes them a feature of the garden. And I just love that bright peach chair that stands out amongst all the natural elements and colours. I could just imagine lying back and relaxing after a long day and admiring all my hard work.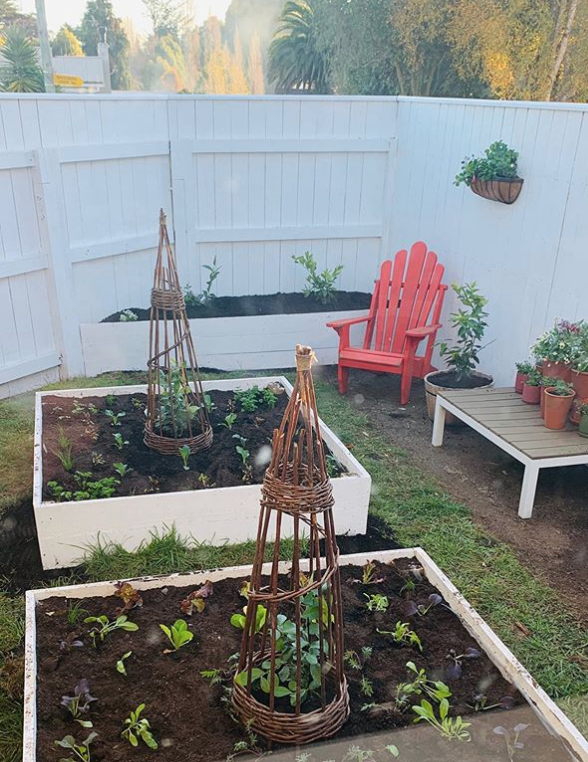 32. Fountain freshness
How classy is this planter that uses a fountain as its 'pots!' This herb garden is also another great hack for those with limited space. All you'll need is three differently sized bird bath type structures that go from large to small (or a fountain).
Stack them on top of each other using an extremely strong exterior adhesive that is waterproof. And then surround the structures with soil, add your herbs and voila! There you have your very own fountain of freshness.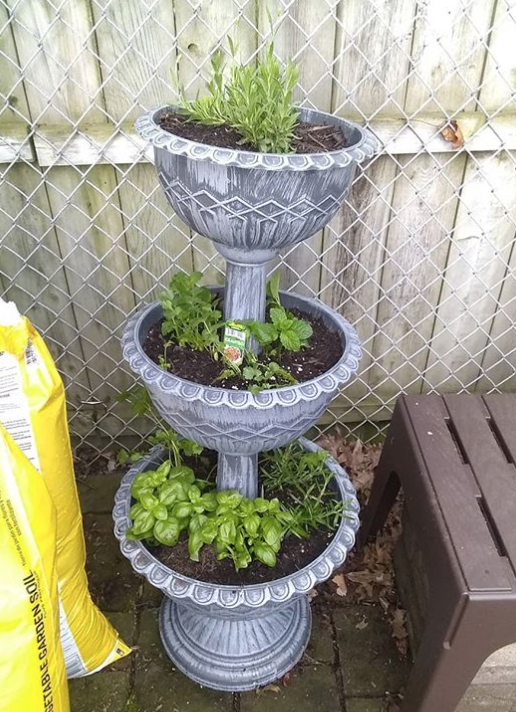 33. Herb drawers
Here is another clever way of utilising something that may not be necessarily intended for plants but works so well! These planters are reminiscent of drawers with the knob on the end of them. I love how the dark grey of the drawers matches with the grey fence which compliments the green herbs perfectly. I can also spy another little furry friend enjoying the sun just as much as the herbs.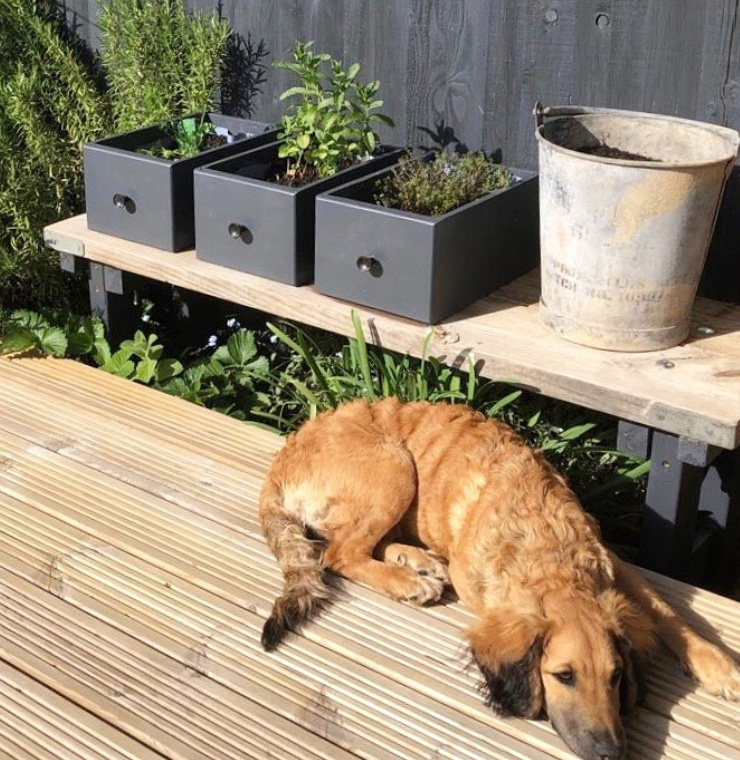 34. Labelled garden
What a cute little planter providing the perfect home for these herbs! And in case you forgot what was in there, note the large 'herbs' on the front as well as the sweet blackboard signs that clearly label each plant. You will never wonder what's in your planter ever again!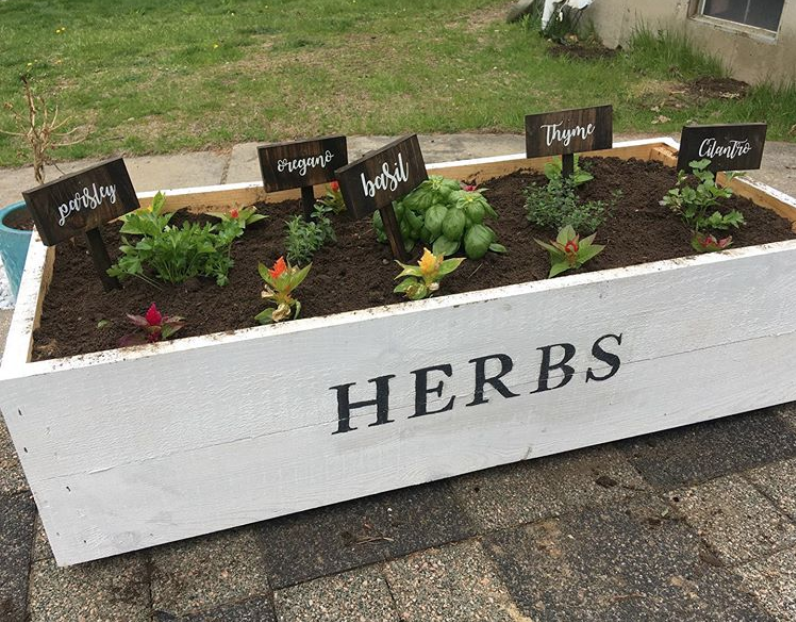 35. Floating shelves
Last but not least we have these lovely floating shelves that would go perfectly against any window sill that brings in lots of light. If you're handy with the tools, grab a plank of wood from the hardware store, cut out some pot shaped holes and attach it to your desired wall. This little system allows you to change the pots when you need, so you can switch different plants in and out as you like.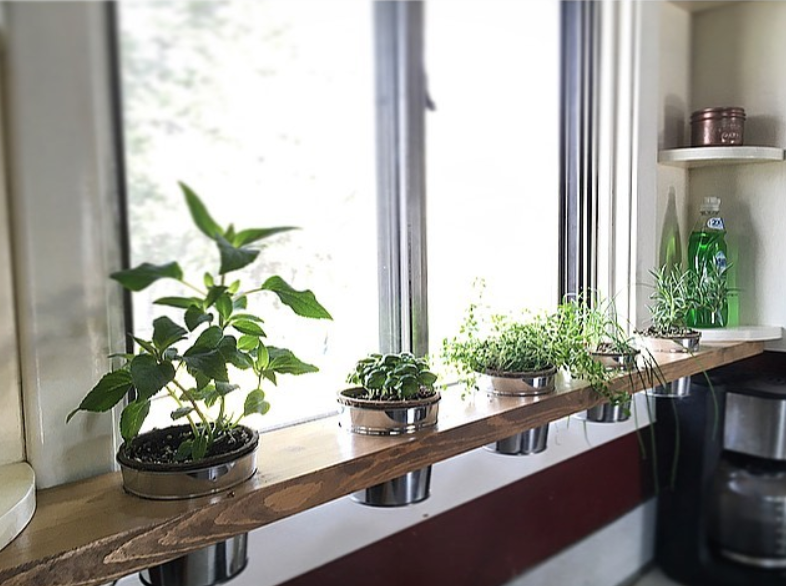 So, there we have it – 35 herb garden ideas to get your creative thoughts flowing! I especially love the creative ways to bring herbs into the house so they are nice and convenient for the kitchen. And I also love the herb gardens that are picture perfect with fairy light instalments. Which herb garden ideas are do you want to try? Let me know in the comments below!