Whether you just want pretty flowers to gaze out onto in your garden, or you'd like to establish a genuine cutting garden (where flowers are grown in rows similar to veggies and for the specific purpose of cutting them for bouquets and vases), Mother Nature has ensured you have a wealth of choice when it comes to garden flowers. Either way, you really want maximum flower production with minimal maintenance, and there are definitely particular types of garden flowers that do that job the best.
If you're planning garden design you'll need to think about things like bloom times (so that you have plenty of colour through the seasons) and colour schemes (stick with a theme or have a random wild-looking planting?). You'll want to include different flowerhead sizes and shapes, fillers (like baby's breath) as well as appealing foliage plants so you can make gorgeous, professional-looking bouquets. Don't be afraid to enlist the help of an expert in garden planting!
Garden flowers do best when you follow some simple tips:
Grow in the sunniest part of your garden,
Define garden paths and beds so you don't have to walk on growing area,
Create at least 40cm of workable topsoil (raised garden beds are a brilliant way to do this) and add soil amendments like mulch,
Add composting worms to the mix,
Grow annuals closer together than the packet says (there'll be less room for weeds and you'll get more flowers in),
Have an irrigation routine planned (automatic timers and drip lines are excellent), and
Spend a bit of time on garden maintenance, but mainly deadheading spent flowers to encourage new production.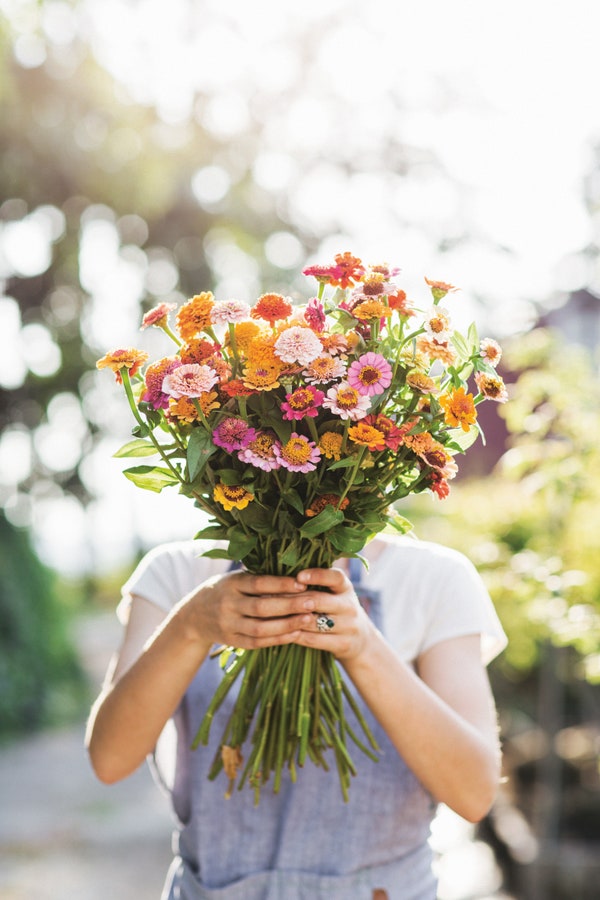 Below, I've put together a selection of gorgeous blooms that you can plant in your garden and enjoy cutting for DIY floral arrangements as well. There's such a daunting variety of flowers in the world, and they frequently come in so many different colours and varieties. It would truly be impossible to post a comprehensive list here, so I've picked 50+ garden flowers that appeal to my personal taste (and simply listed them alphabetically).
Many of them are easy to grow for beginners, and many are perennials so they'll keep on giving you joy, year after year. There are functional flowers—medicinal and edible ones for your vegetable garden —in the mix too. And I've got some very classic flowers on the list that are in really unexpected colours.
Purple garden flowers
1. Alliums
These are actually a kind of ornamental onion so while they look pretty, the scent of their bulbs and foliage is quite strong! Prized for the massive, starry-shaped flower heads and their long, grassy, blue-green stems, these flowers are very dramatic and graphic and come in a range of bright colours (whites, pinks, reds, blues, violets and yellow). Some species of this flower have been thought to offer protection against demons, so that's handy too!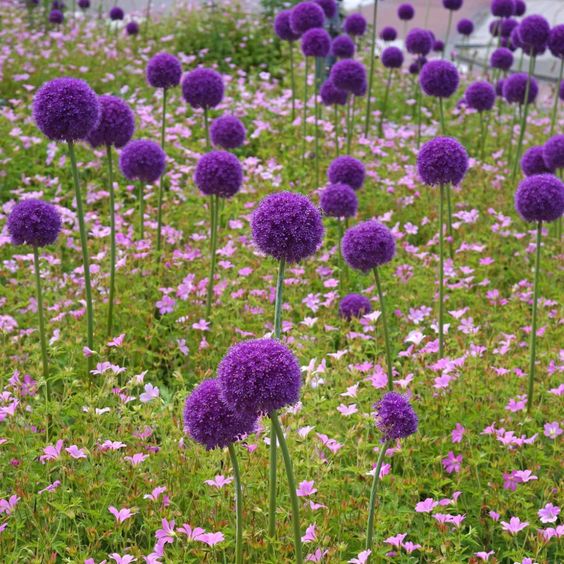 2. Grevillea
These are one of my favourite plants, however, they do come in up to 500 species so there's a very diverse range of shape and colour in the flowers and the foliage out there. This cultivar is the Grevillea 'Dorothy Gordon', which is a stunning compact grevillea (up to 3m high) with two-toned flowers in lilac and burgundy.
Grevilleas are wonderful in your garden as they attract so many birds and other fauna. And they're great for new gardens as they give lots of flower colour very soon after planting.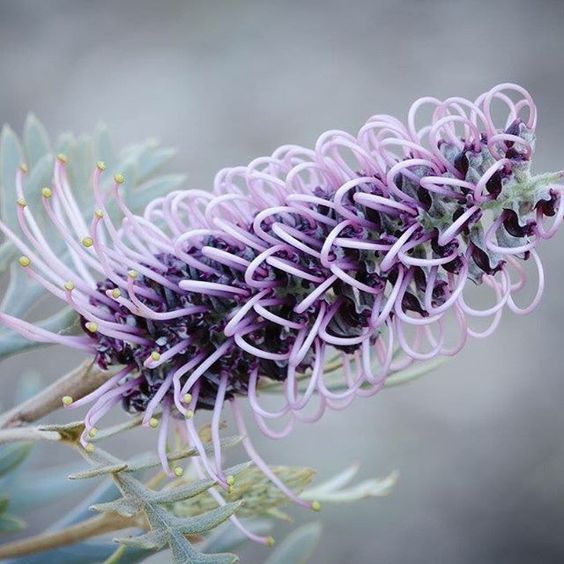 3. Bergamot
You may know this as a type of tea, or as an ingredient in organic cosmetics and balms—bergamot offers plenty of healing uses thanks to its anti-microbial properties (meaning its great for sore throats and colds). It's a mound-forming plant that will spread somewhat but is not invasive.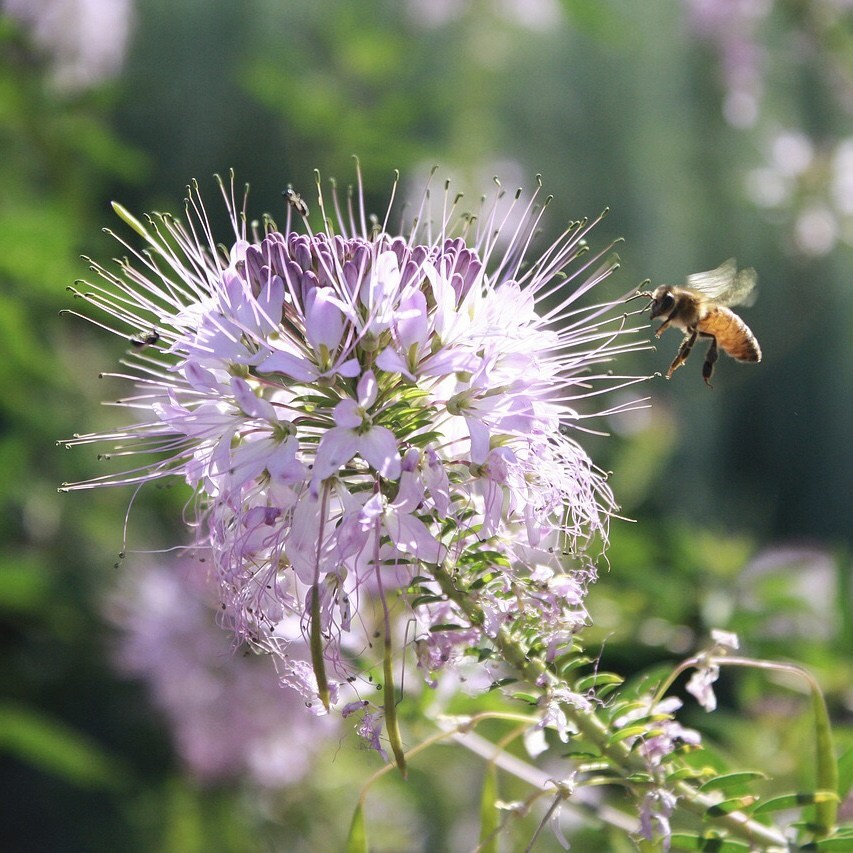 4. Geraniums
These simple traditional flowers in pinks and purplish-blues are also known as Cranesbill. They're hardy and self-sowing which makes them great as a groundcover, and they do well in full sun. The geranium plant has long been used in traditional medicines, while scented geraniums are a subgroup that features fragrances that mimic other perfumed plants and the leaves and flowers are edible as well and can be used to flavour cooking.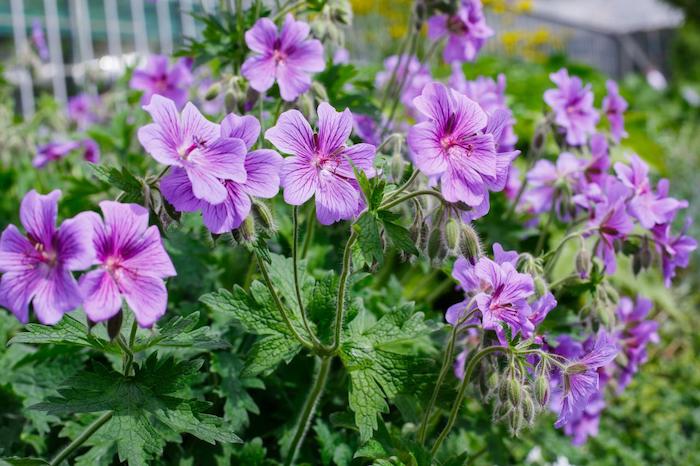 5. Campanula (bellflower)
This plant is known for its delicate, bell-shaped, mauve blue flowers but it comes in many forms, usually as a hardy groundcover and for borders but can also be planted with tall flower spires in cottage gardens. It flowers for several months, creating a stunning sea of blue. Easy to maintain, only needing deadheading to promote flowering, and drought tolerant.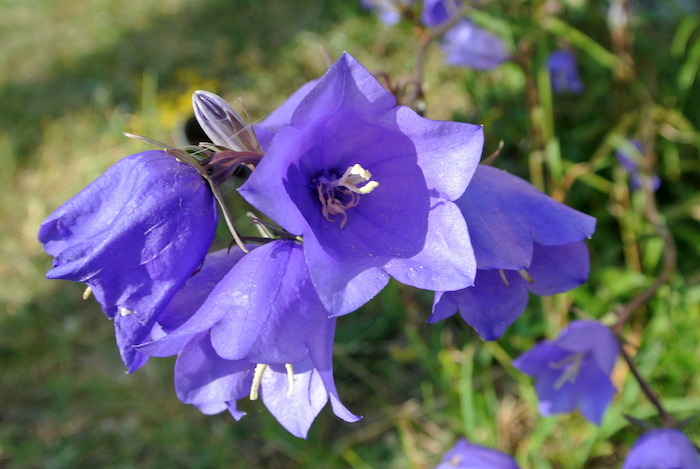 6. Cyclamen
Cyclamen are enjoyed for their long flowering, continuing when few other plants are in flower. They'll provide a vibrant tapestry of colour (whites, pinks, reds, purples) and look wonderful planted around the base of trees and shrubs. The hardy plant comes in a large range of varieties but the most popular are the smaller flowered, fragrant, true miniatures. Collect the unusual seed pods to pot up and create new tubers.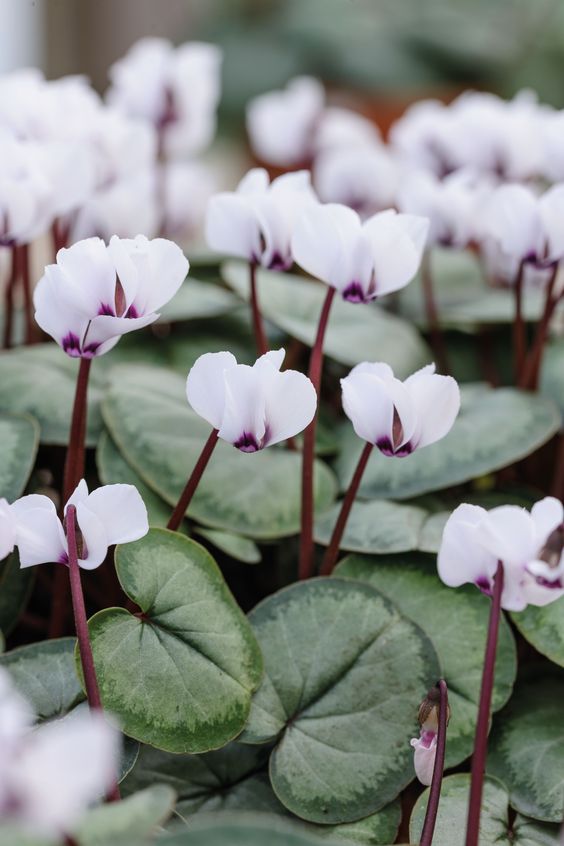 7. Hardenbergia
This is another gorgeous native and it's known as the "happy wanderer" due to its habit of twining and climbing so is perfect to train up fences. It loves well-drained soil and part shade and will flower in winter as it can handle cooler temperatures. Bloom colours range from intense fuchsias to dark purples to bright whites.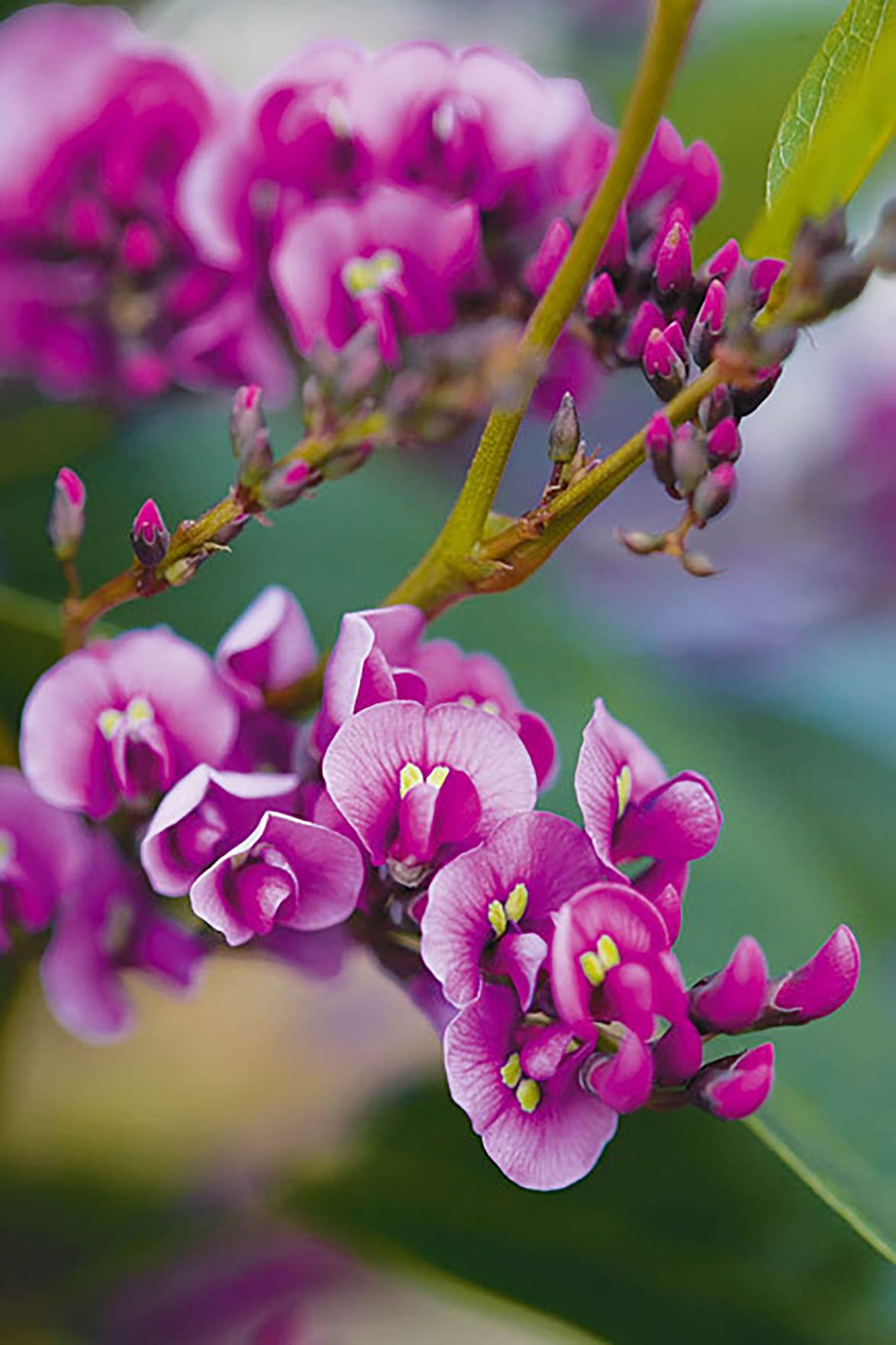 Red & orange garden flowers
8. Azaleas
These are a classic, gorgeous ornamental plant whose meaning is the sweet "Take care of you for me". With over 1000 cultivars, azaleas come in all colours, including this gorgeous burnt orange variety, Mandarin Lights. Azalea flowers will last a long time (two to four weeks) with one bloom per stem. They're slow growers that don't need much pruning other than deadheading, and they'll do best out of the direct sun.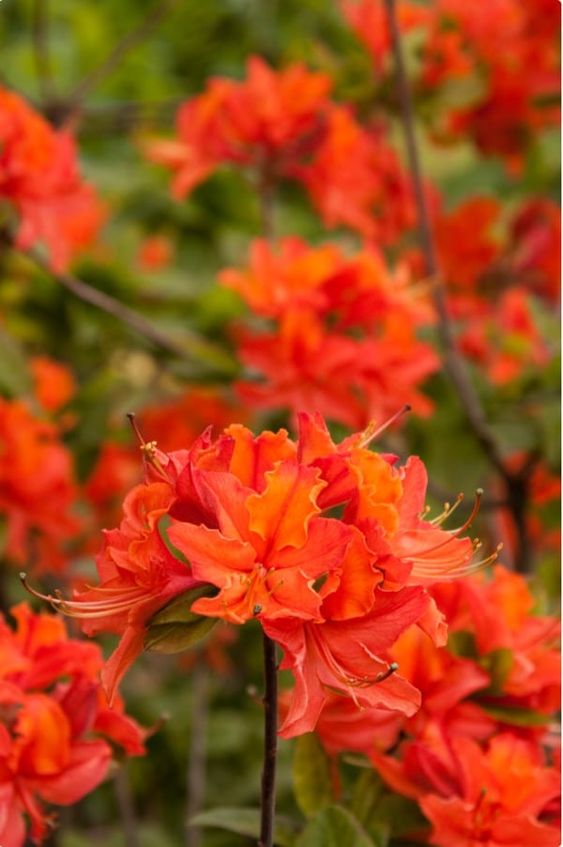 9. Calendula
This is a plant with a long history of medicinal and kitchen use—the petals are edible and add wonderful colour to salads, while the whole plant is used in tonics, healing agents and skin lotions. Flowering almost all year round, the aromatic calendula has a long flowering period and produces many bright orange, yellow or cream-coloured daisy flowers. A useful, undemanding border plant that loves the sun.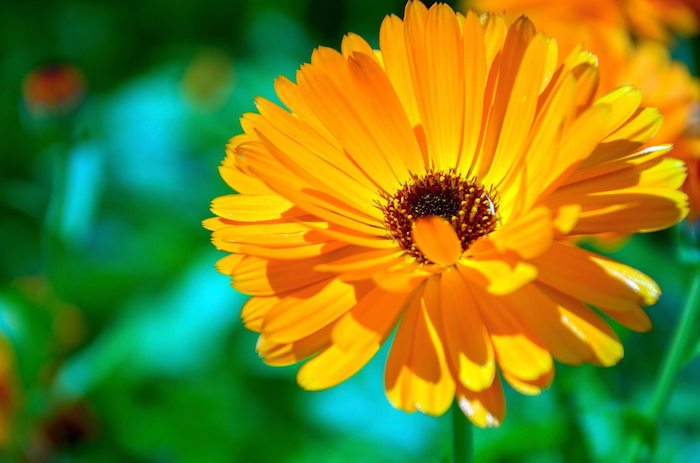 10. Geum
These pretty orangey-yellow flowers have delicate double petals and wrinkled, green leaves on tall stems rising up to 60cm, making them an excellent cut flower. But they also work really well in cottage gardens, mass plantings, beds and borders if there is full sun to part shade. You might also find them labelled "Geum Gold Ball", "Chilean Avens" or "Grecian Rose".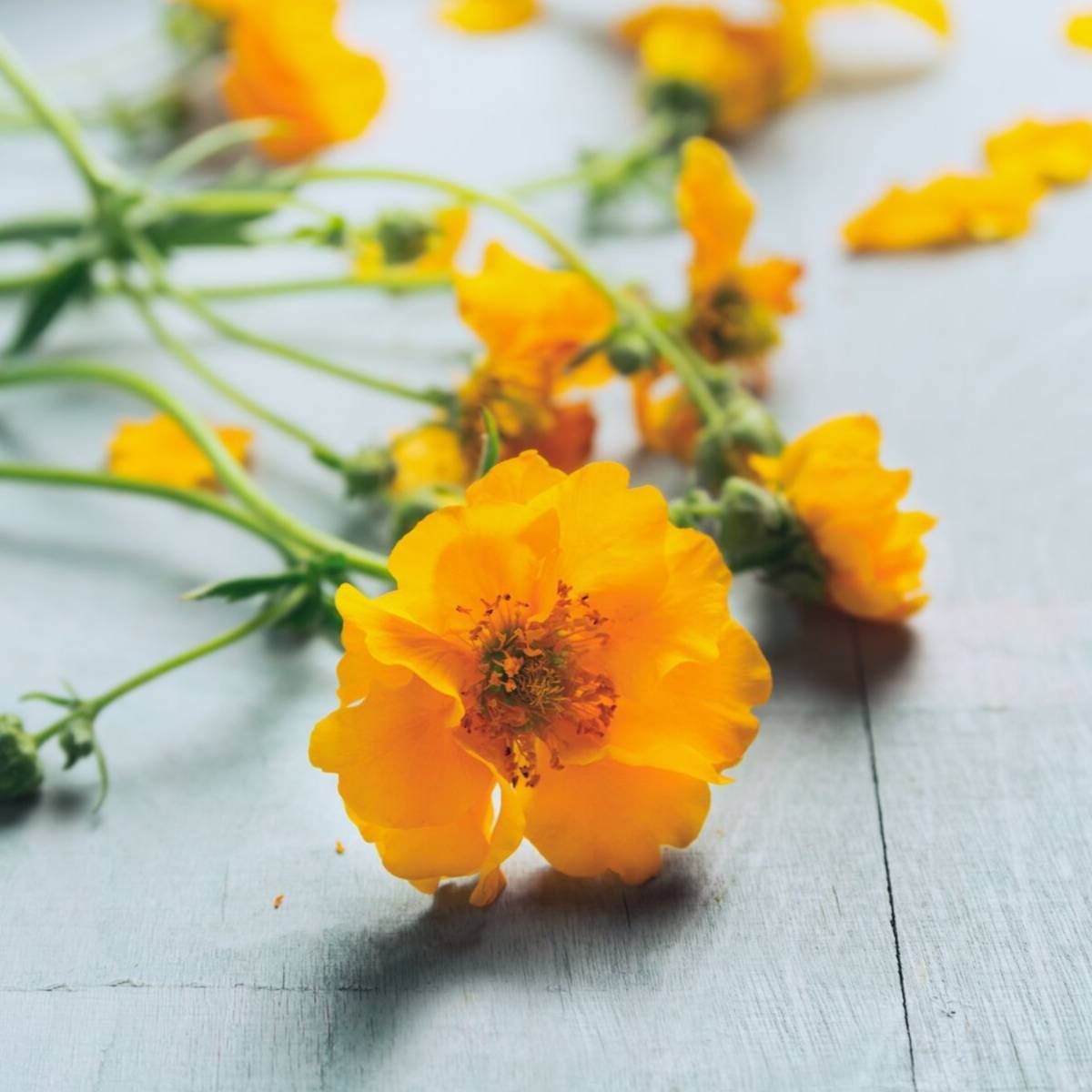 Native garden flowers
11. Banksia prionotes
These are a wonderful statement-making plant to grow as a shrub or small tree in your garden, and when it flowers (late summer-winter) it will reward you with these spectacular, acorn-shaped orange flowers (aka Acorn Banksia). These are easy to propagate as well, which if you want to learn more about–read our guide on how to propagate plants.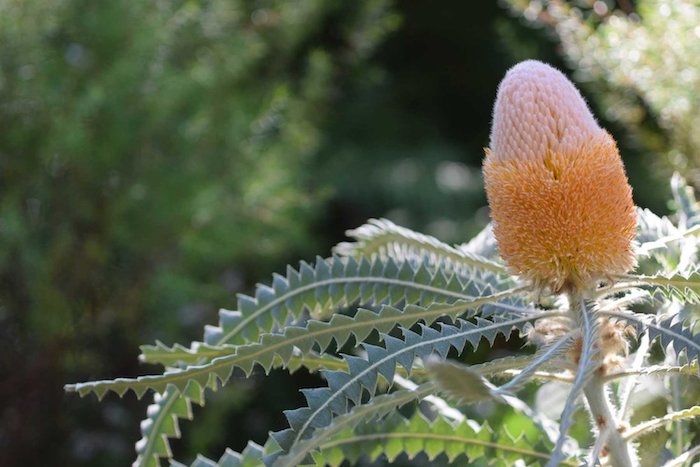 12. Callistemon (bottlebrush)
There's no mistaking the famous native bottlebrush with its distinctive soft feathery flower spikes. These native shrubs or small trees have a long blooming time over the summer and generate intense pops of pink, red and crimson colour in your garden, especially the front garden. Here, a pink Weeping Bottlebrush "Pink Alma" (Callistemon Viminalis).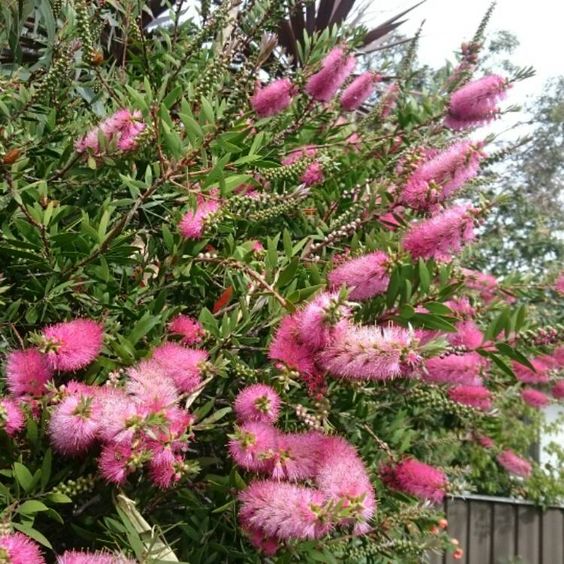 13. Eucalyptus flower
How lucky we are in Australia to have so many gorgeous natives, including our flowering gum trees. These are fast-growing and vigorous, loving a sunny, sheltered position, and requiring little maintenance. Apart from their beautiful aromatic shimmering leaves, they feature absolutely stunning blooms in an array of oranges, reds and pinks. I just adore them.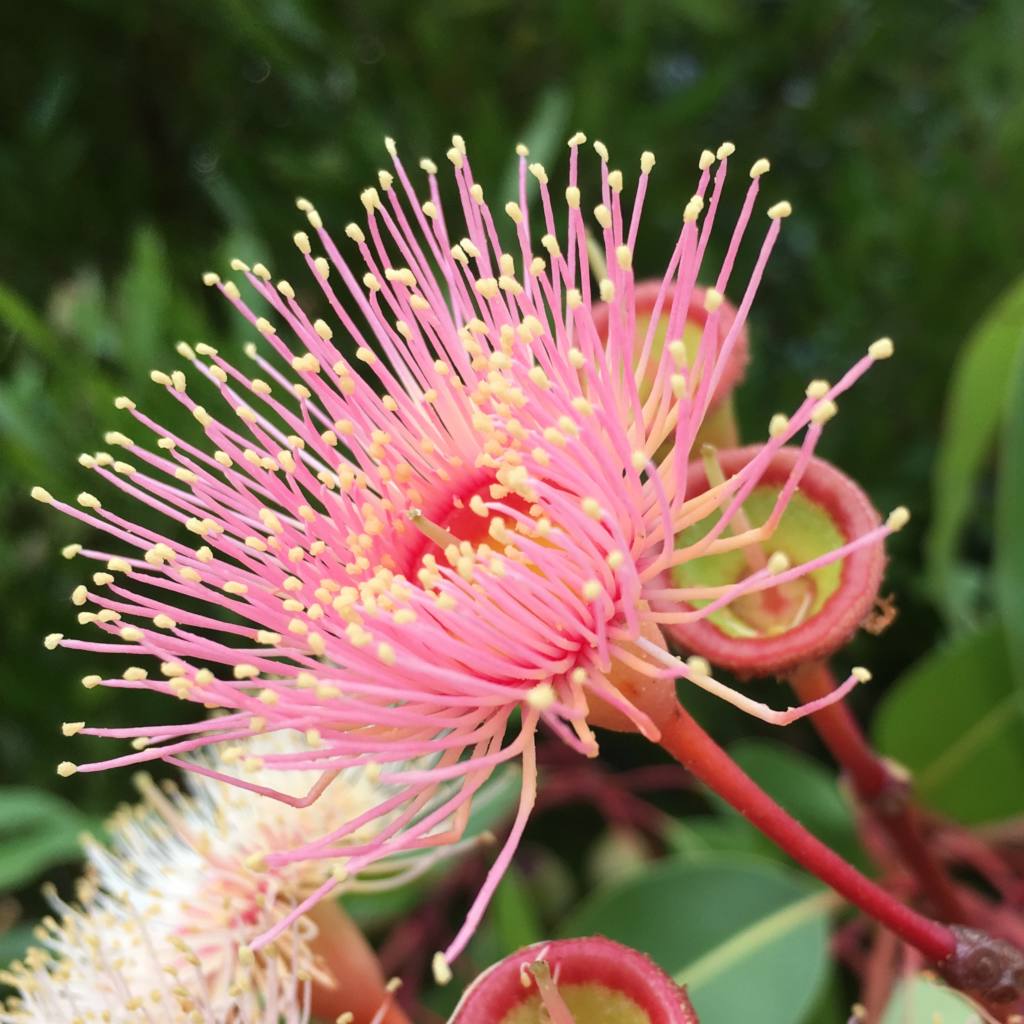 14. Hakeas
Also known as needle bush or pincushion hakeas, there are 140 species of this evergreen shrub, part of the same family as grevilleas and banksias, as you may be able to tell! Just like their native compatriots, hakeas are low maintenance and drought-tolerant natural beauties which have unique, prickly flower clusters, quirky seed pods and a honey scent loved by birds.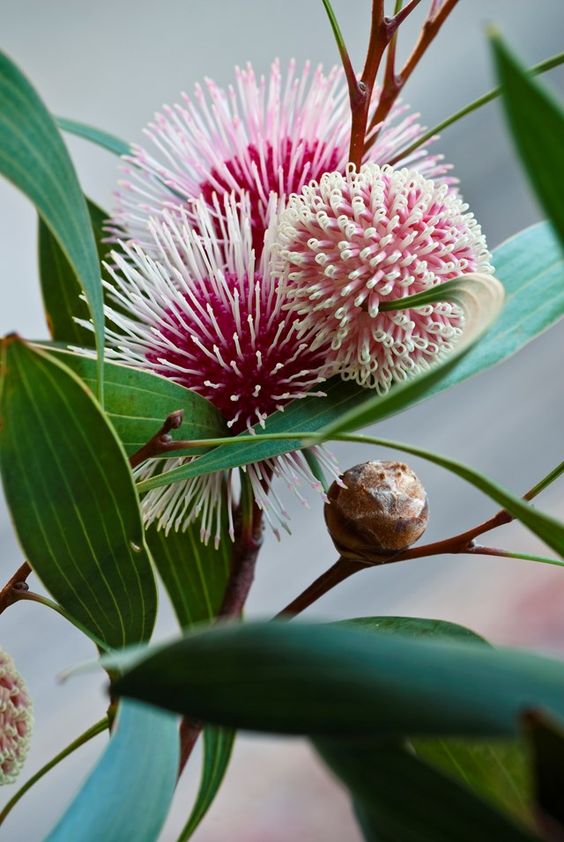 15. Kangaroo paws
You might automatically think of kangaroo paws as being a red flower, but these natives also come in other gorgeous intense shades, such as these bright pink Anigozanthos Kanga Pinks (or Dwarf Pink Kangaroo Paw). These are compact and great for smaller gardens where they love full sun to part shade and will attract birds and butterflies.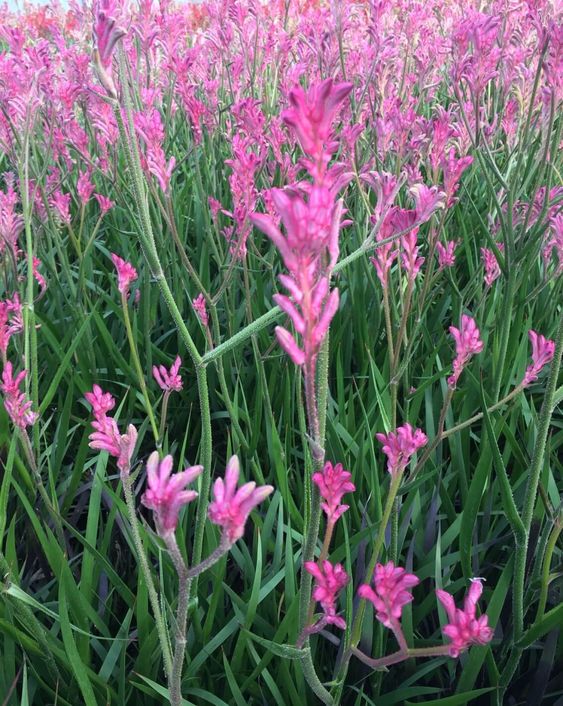 16. Melaleuca
This native is a close cousin of the Callistemon and in fact, the botanical classification is currently changing so that the two genuses are to merge together under the name "Melaleuca". Meantime, Melaleucas are commonly known as honey myrtles or paperbarks, while their oil is used medicinally (marketed as tea tree oil). Blooms come in many colours (pinks, purples, oranges and yellows) and produce nectar that attracts birdlife—perfect for hedges and screens.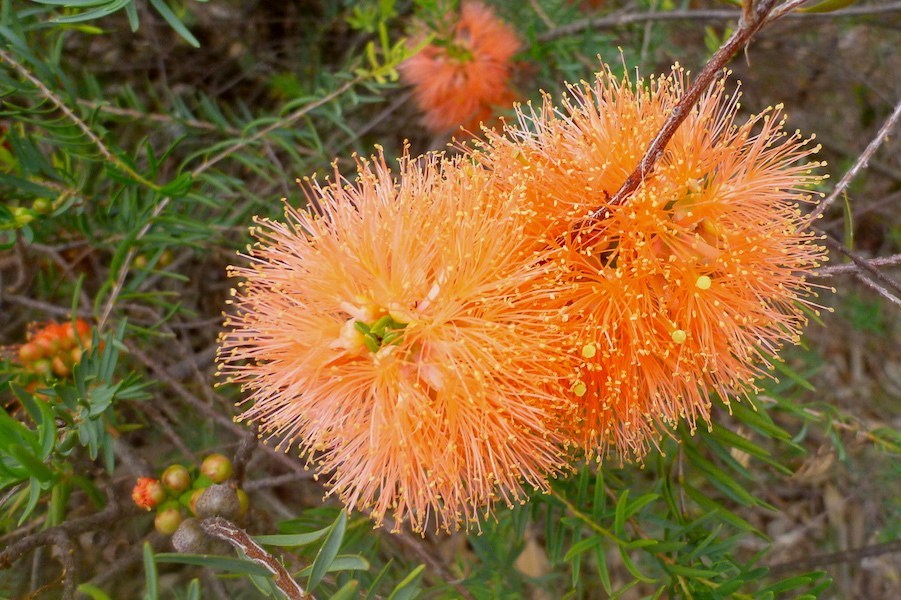 If you're looking for drought-resistance and water-saving plants, here are lots more native garden ideas.
Traditional garden flowers
17. Camellia
Wildly popular camellias will never go out of fashion. Camellia blooms are so classically stunning, with colours ranging from pinks to deep purples. And it's a strong foliage plant too, with its glossy dark green leaves. Camellias grow well anywhere in Australia but do need shade from the scorching midday sun. Some varieties drop their petals daily, creating those gorgeous carpets of petals on the ground.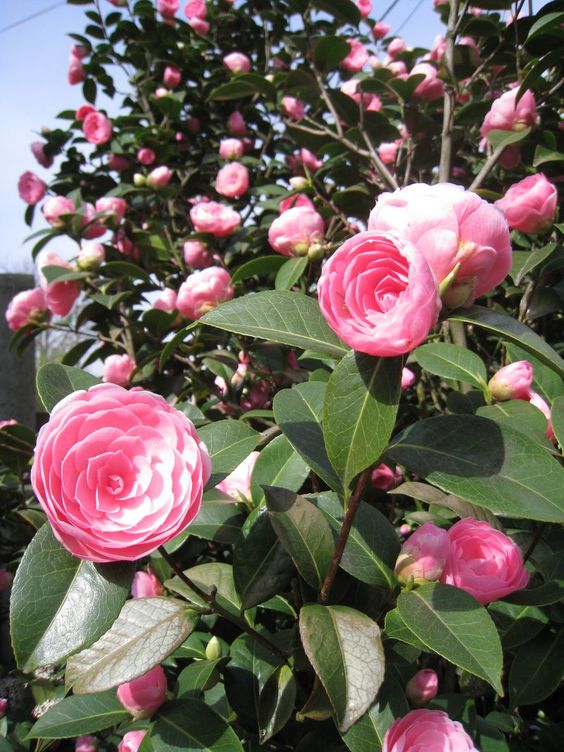 If you want your garden to flourish, keeping on top of pruning at the right time of year is the key.
18. Chamomile
As one of the most ancient medicinal herbs there is, chamomile is well known in folklore for its many healing properties but these are actually now being confirmed in modern scientific studies. This amazing antioxidant plant (which is typically found in Roman or German varieties) will establish well in your garden and require low maintenance to bring you these pretty summery blooms.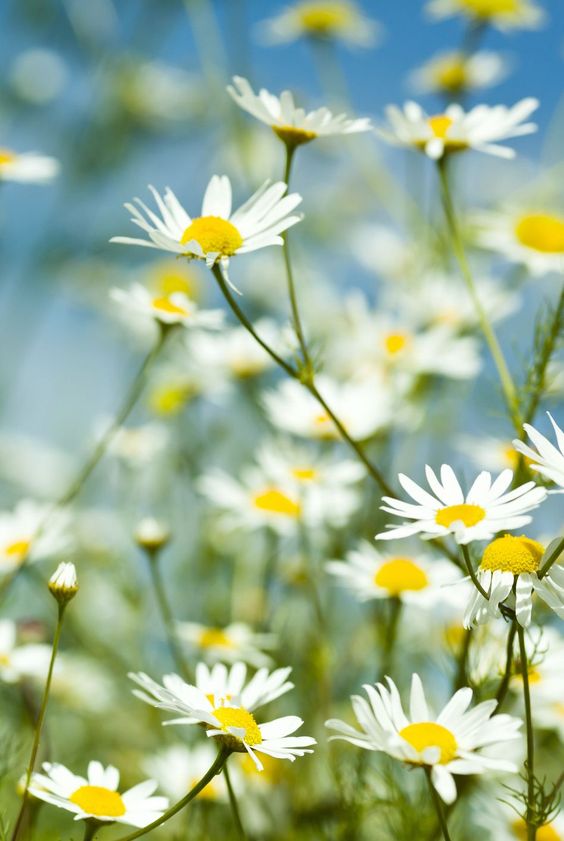 19. Chrysanthemum
These large, dramatic flowerheads on sturdy stems with aromatic leaves have been popular for more than 2500 years and aside from their beauty, are valued for their medicinal and flavouring purposes. The flowers themselves come in all colours from luminous white to pink to bronze and even lime green, meaning they're an easy way to get bright splashes of colour throughout your garden. And they'll last up to three weeks in a vase.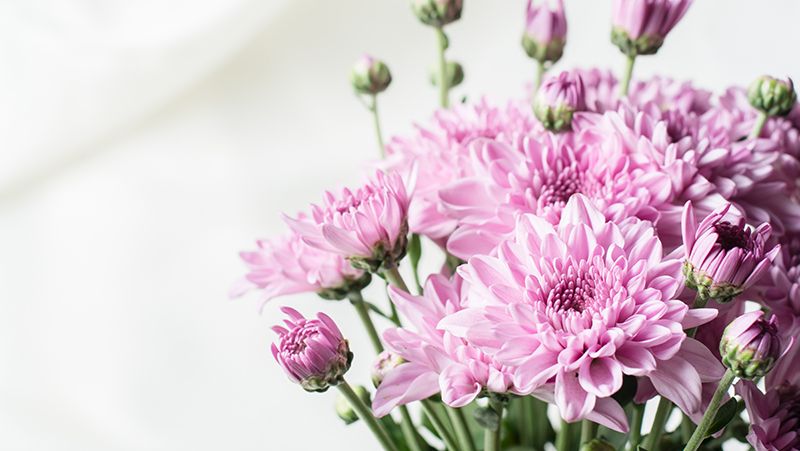 20. Cornflowers
Who doesn't love gorgeous blue cornflowers? Such a simple but beautiful traditional flower. There's actually 450 species of cornflower but they are easily identifiable by their similar thistle-like flowerheads and most have pretty feathery silvery-green foliage. Plant them somewhere sunny in well-drained soil and deadhead regularly.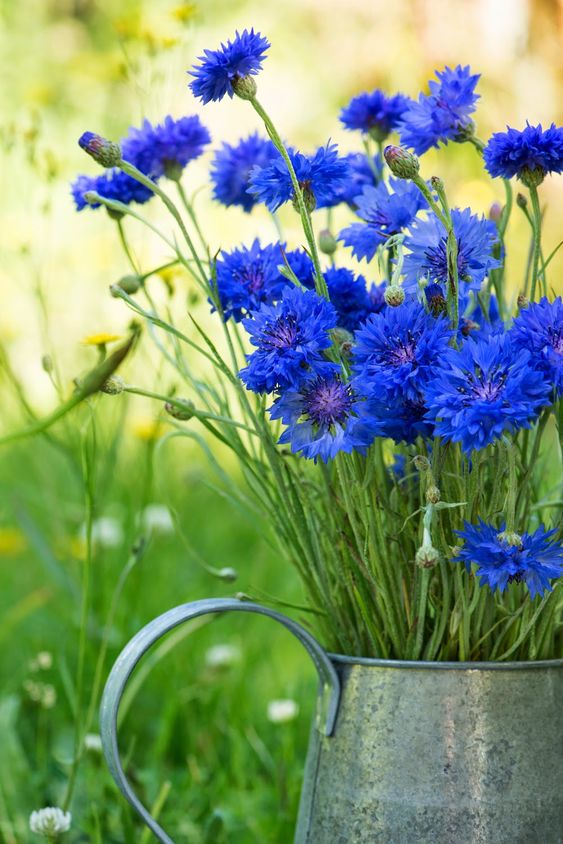 21. Dahlias
Ah, an absolute favourite, the flamboyant, dramatic dahlia! These gorgeous flowers deliver continuously for up to three months and provide masses of blooms for years. They come in a huge array of shapes, sizes and colours, from dwarfs to giants including the impressive 30cm diameter flowerhead Kotara variety. They're sun-loving but need protection from wind, and you'll want to stake the taller growers.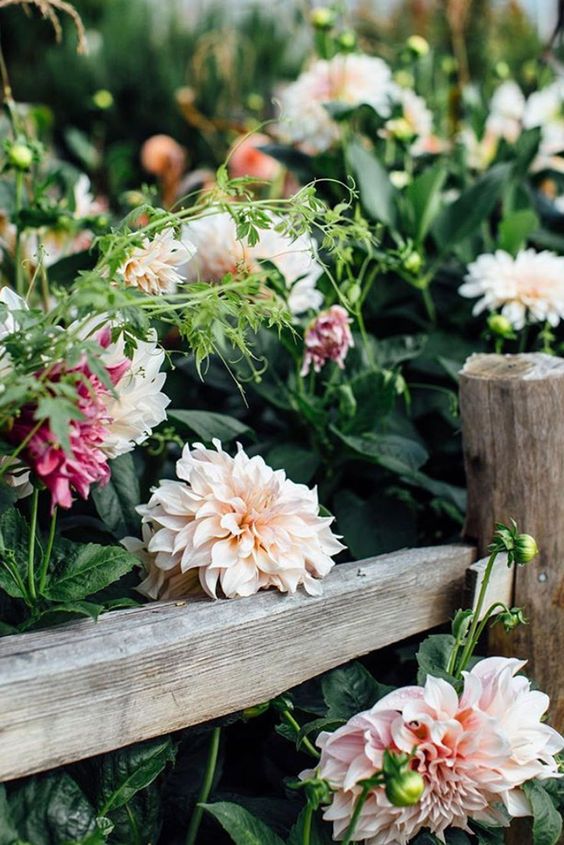 22. Echinacea
Here's another respected medicinal flower, whose root has proven antibacterial, antifungal and antiviral properties. Tonics and tinctures using echinacea are used to help everything from immunity to inflammation infections. And they look stunning in cottage gardens or in a vase–how pretty is their dusty pinkish-purple flower colour?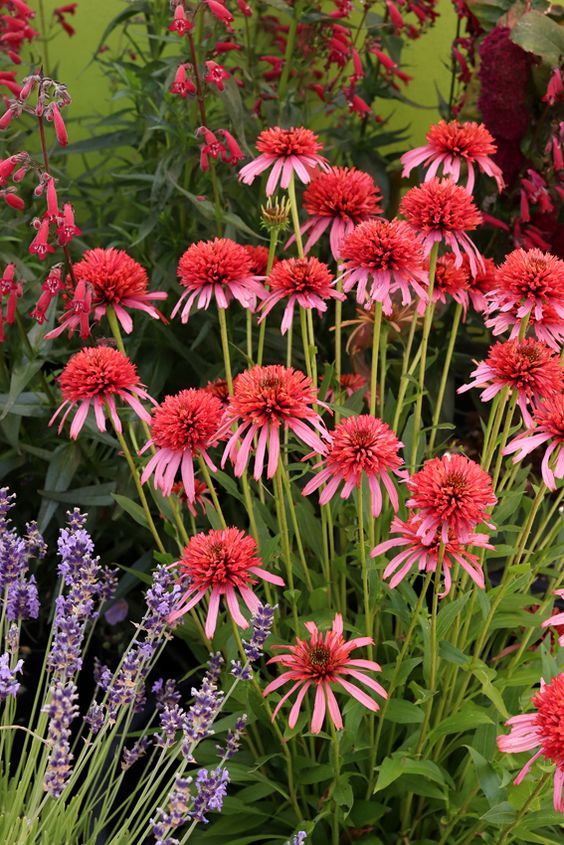 23. Echinops
How beautiful are the soft violet-blue flowerheads on the Echinops (aka Globe Thistle)? This bold ornamental is undemanding and generous, providing masses of gorgeous flowers for more than one season. Thanks to their shape, they add wonderful texture and structure to your garden, and they also look amazing in a vase.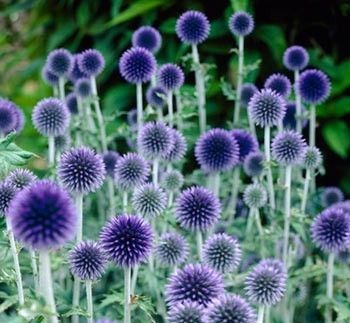 24. Evening primrose
These showy flowers are very popular all over the world, with their stunning scented, satin-like crumpled petals of rose to deep pink. The blooms open every evening and close every morning, giving them their name. Loving the full sun, they are perfect for beds and garden edging and as a groundcover, but you need to ensure you stop it from overspreading as it can become invasive.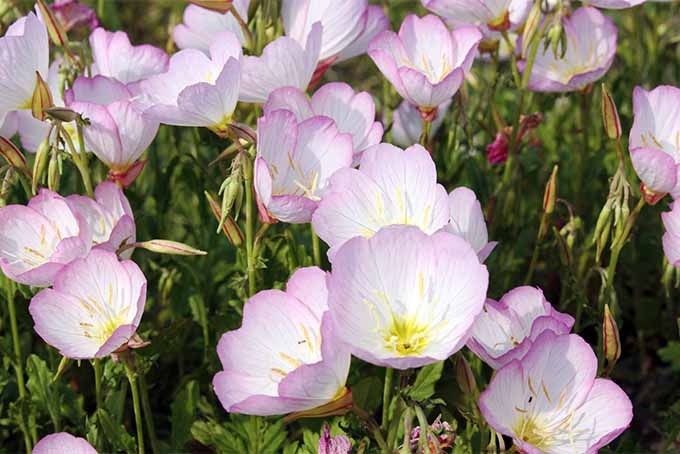 25. Forget-me-nots
If you love blue garden flowers you must be a fan of the quaint forget-me-nots! Such a stunning sky blue, with soft, pale foliage, it's no wonder they are so popular to plant in garden borders. Easy care and preferring milder climates, forget-me-nots will flower about 12 weeks from sowing.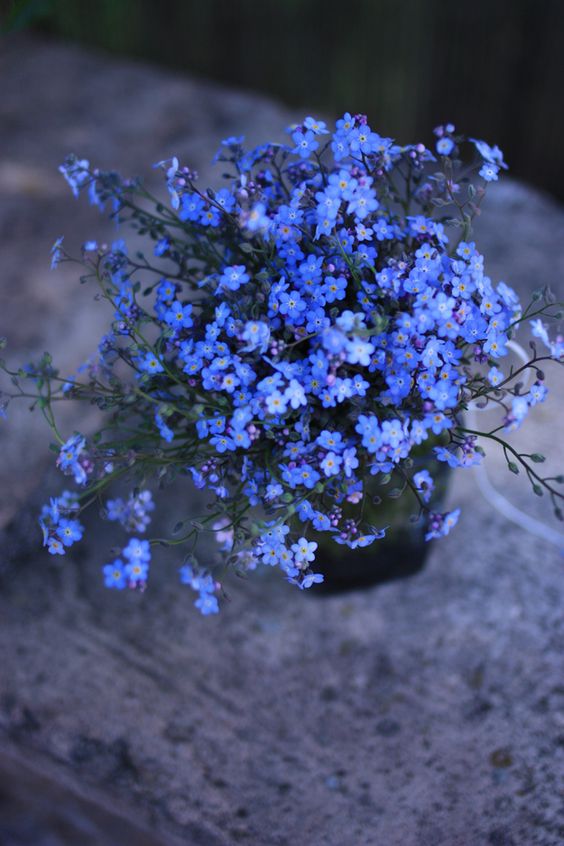 26. Gardenias
Another absolute classic garden flower is the Gardenia. Its creamy white blooms have a giddy perfume and contrast beautifully with the glossy, dark green leaves. They come in a variety of species in sizes from dwarf to giant, but the most commonly grown variety in Australia is Gardenia augusta. Gardenias are warm-climate plants that flower through spring, summer and autumn, and are perfect for mass plantings, groundcovers and informal hedges.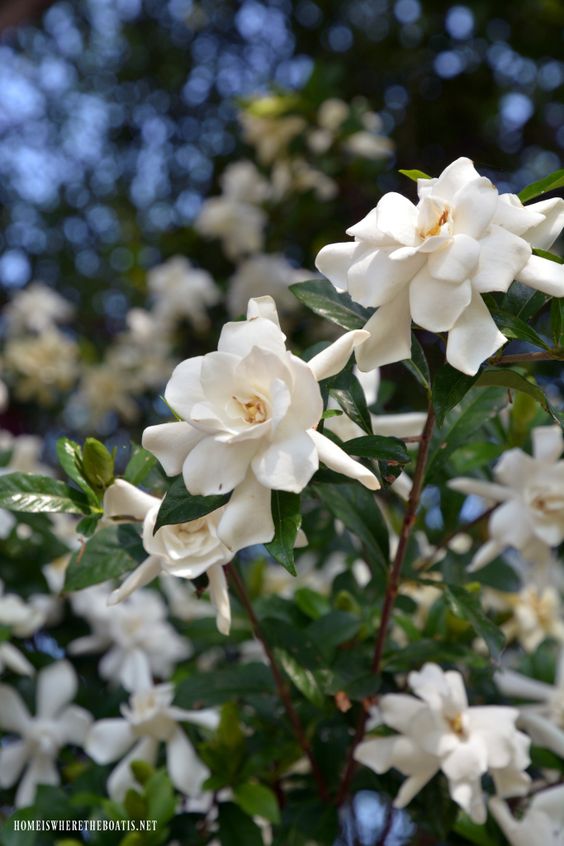 27. Gerberas
These playful, exuberant and bold flowers are also known as Transvaal daisies. Loved for their happy, vivid colours (pinks, oranges, yellows) and their symmetrical perfection, they perch their large flowerheads on tall, slim stalks with deep green leaves. They need lots of sun but not extreme heat. When cutting gerberas for vases, keep them upright immediately, to avoid the flowerheads drooping.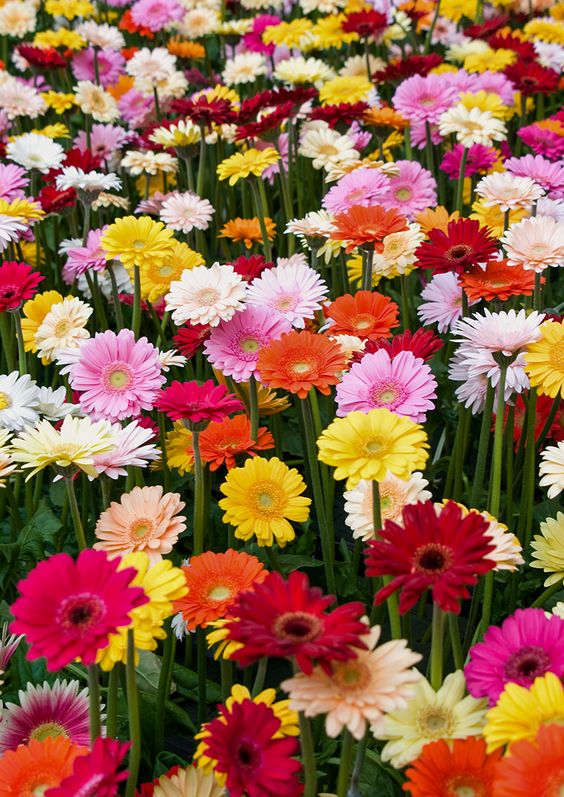 28. Hydrangeas
These are a very well known and much-loved garden flower prized for their stunning bunches of blooms, flowering in spring and summer in such pretty pastel colours. Their flower colour actually depends on the soil (acidic soils produce bluer flowers while alkaline soils produce pinks and reds). A resilient plant, hydrangeas can adapt to a wide range of conditions.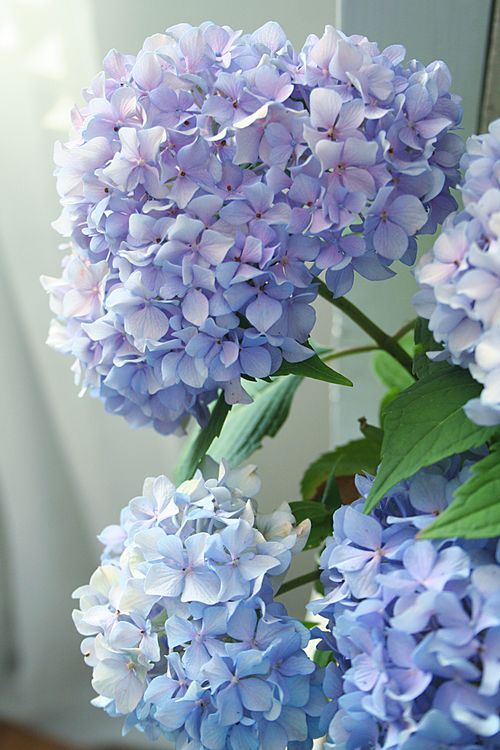 29. Iris
Looking for a black accent plant for your garden? Well, look no further as the Iris Chrysographes "Black Night" and "Black Beauty" cultivars are magical dark stunners with eye-catching, extravagant flowers. The blooms are a deep violet, almost black with a velvet texture and bloom in summer. Growing well in sun or part shade, the black iris is perfect for flower beds and borders and also makes a great cut flower thanks to its gorgeous strong scent.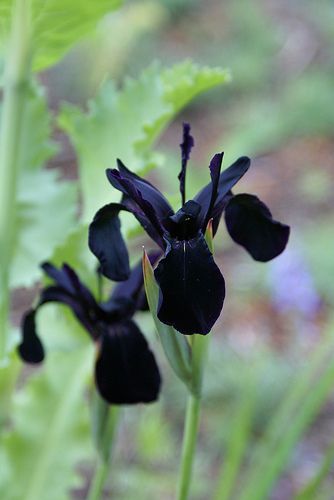 30. Lavender
Such a gorgeous and versatile garden flower plant, lavender includes 28 species of this evergreen aromatic shrub belonging to the mint family. Loving exposed, sunny conditions, lavender works well planted as a hedge or mass planted as a feature. Its flower spikes range from pinks to purples to even white, while its oils are antiseptic and often used in aromatherapy applications.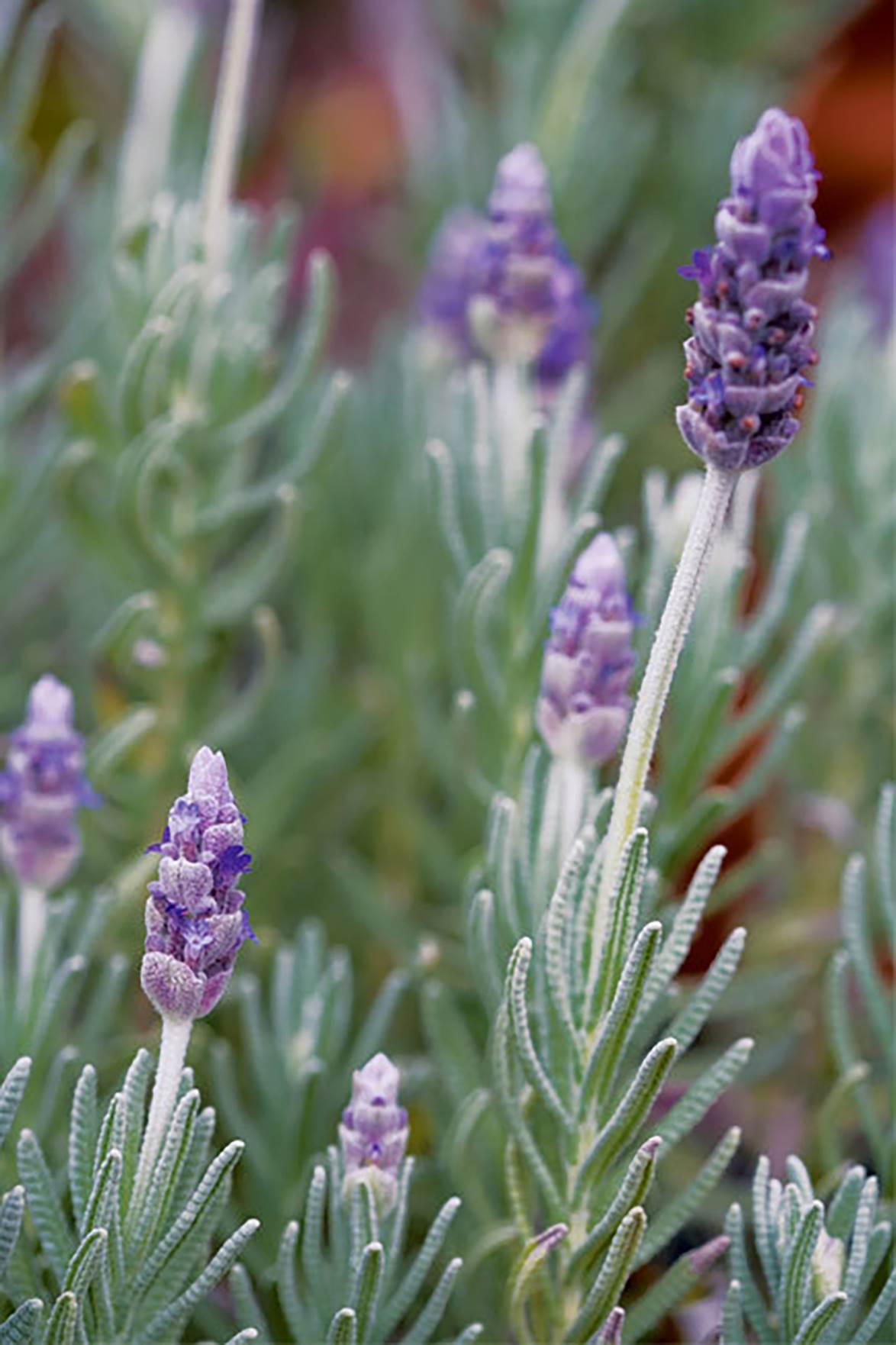 31. Lilac
These are another one of those classic, romantic, pastel purple flowers widely used in single-bloom wedding bouquets, where their subtle dappled shading adds interest. In the garden they're easy to grow and hardy, provided you give a well-drained, sandy or gravelly soil and a position of sun or part shade.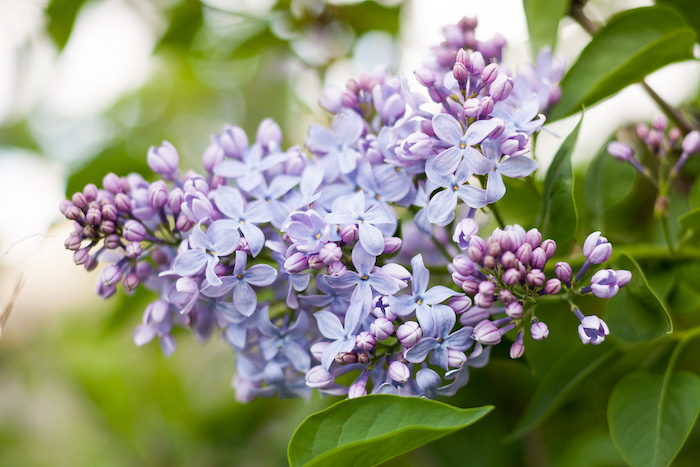 32. Lobelia (Great Blue)
Lobelias are such pretty little dwarf garden flowers that look amazing planted in rows in front of garden beds and as borders. They also work well as a groundcover and are especially good on slopes where they'll prevent soil erosion.  The bell-shaped blooms range from blues to whites to pinks, but the most commonly grown is blue so if you're a fan of blue garden flowers, this is for you.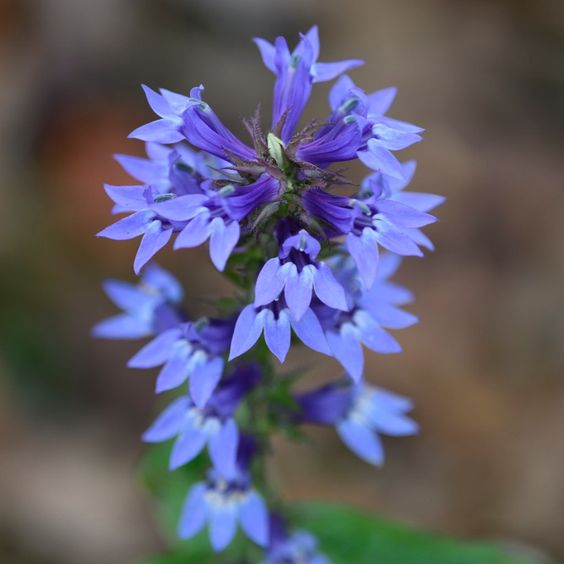 33. Magnolia
If you're in search of a garden flower with class and sophistication you can't go wrong with the magnolia plant, featuring gorgeous lemon-scented flowers. Sophisticated and with truly magnificent blooms, there's definitely a reason why they became so popular. These so-called 'garden aristocrats' prefer wet, cool winters and warm, humid summers and a well-draining spot is essential.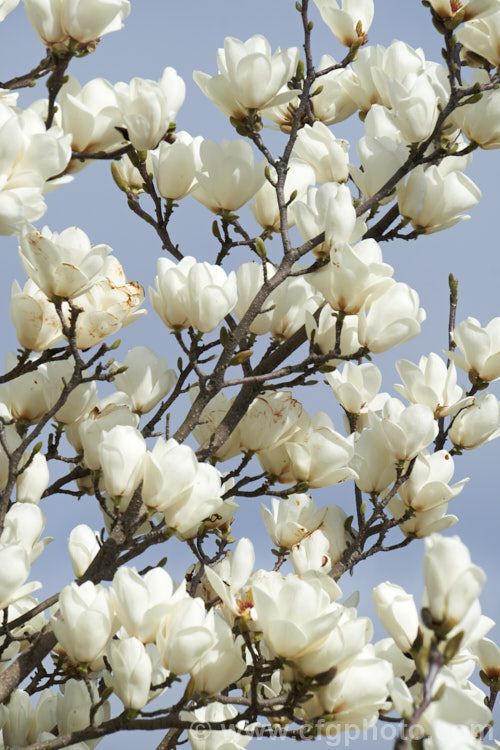 34. Marigolds
You probably think of marigolds as being yellow or orange but they also come in shades of creamy white like this. A very easy to grow flower, it affords year-round cultivation and will add bold colour swathes to your garden. They're also popular companion plants for veggie gardens because their pungent foliage deters pests. (Not to be confused with "pot marigold", which is Calendula and not actually Marigold!)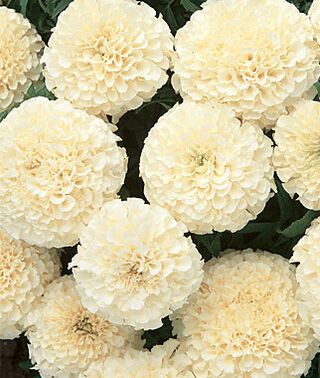 35. Nasturtium
Another flowering plant for your kitchen garden, nasturtiums are prized for their pretty, edible, peachy-yellow blooms that look so stunning in salads. Nasturtiums also attract aphids and cabbage white butterflies, so if you plant them near your more vulnerable veggies the pests will eat the flowers instead of your crop!
36. Orchids (Australian native)
There are many stunning kinds of orchids in the world, but these native Australian orchids are a real conversation starter to have in your garden– flying duck orchids (Caleana major). Their tiny red, purple and green blooms have been designed by nature to look exactly like flying ducks and are so shaped to entrap pollinators (sawflies, who see the 'ducks' more as female sawfly sirens). These beautiful and unique orchids are currently on Australia's vulnerable plant list.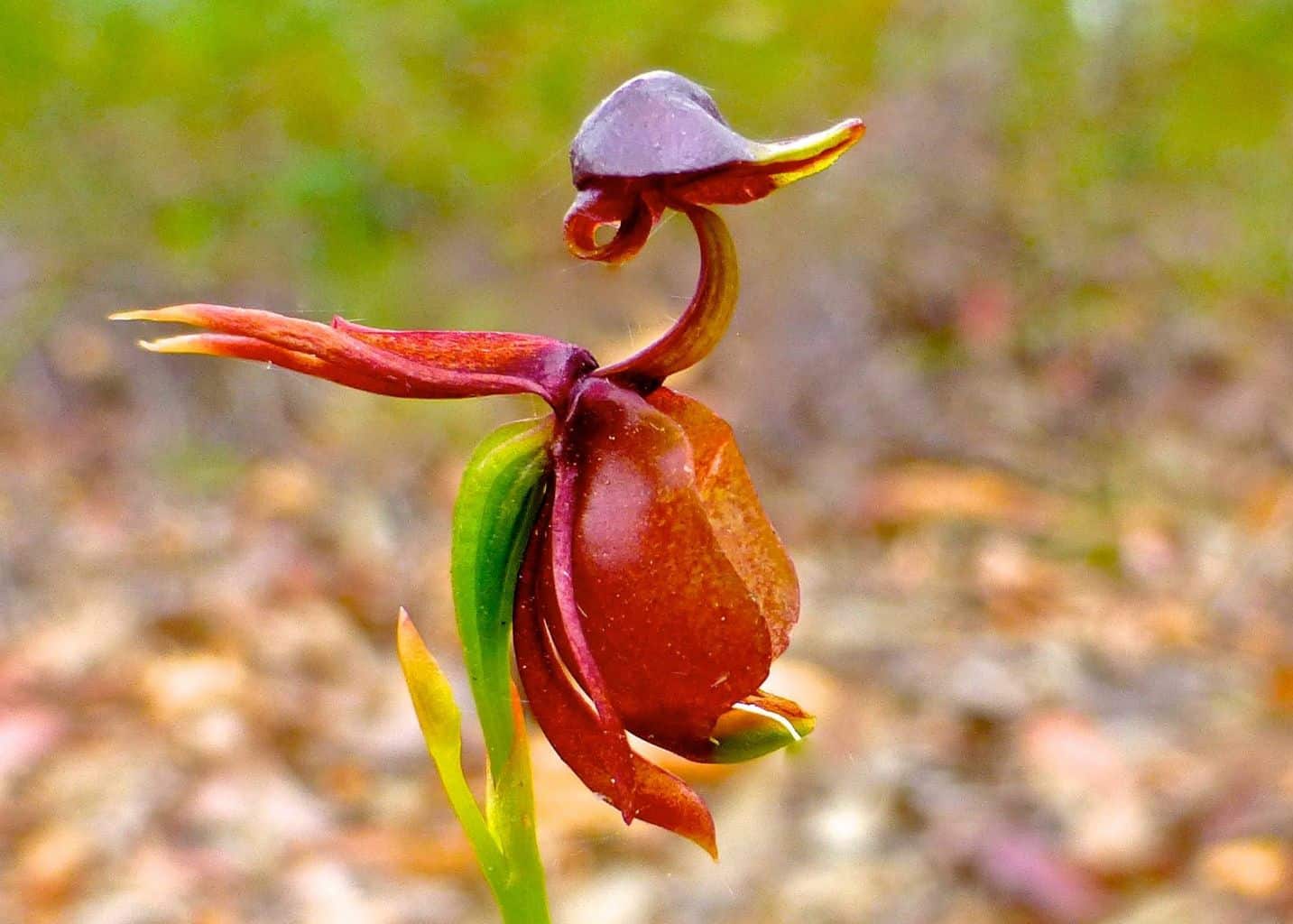 37. Paper daisy
These Western Australian natives are also known as the everlasting daisy thanks to how long the blooms last. A low maintenance, drought-resistant flower that provides bursts of colour (whites, pinks, reds, oranges and yellows), you can use them to create informal drifts of colour for your garden every spring. View the largest paper daisy display on the east at the Australian Botanic Garden Mount Annan, where the mass rainbow planting will inspire you.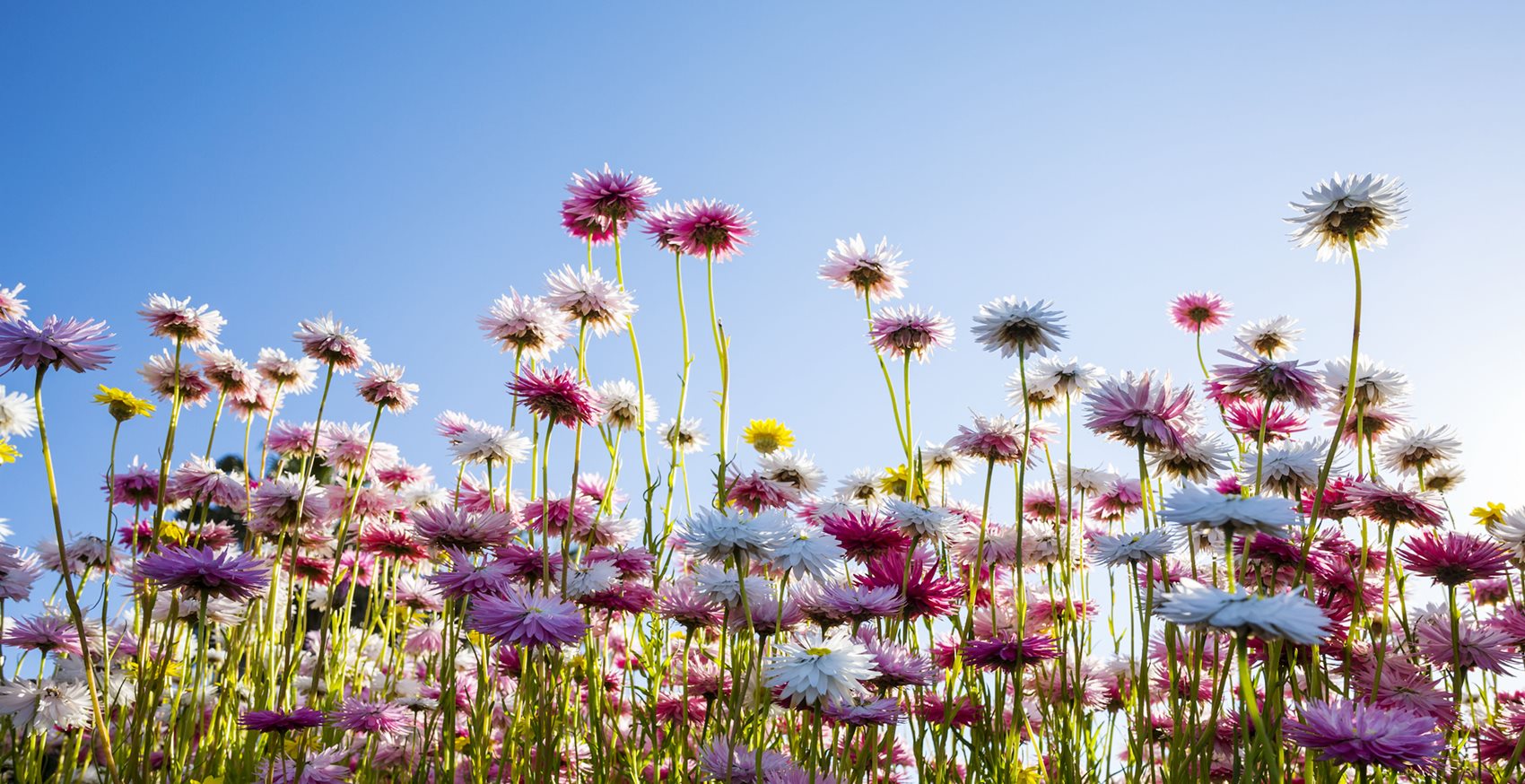 38. Pansy
This group of flowers includes the viola or violet and the plant is much prized by gardeners due to its adaptability. It will thrive in many conditions and blooms for a long period of time, festooning the garden with bold splashes of white, purple or yellow. Some varieties are also fragrant. A small, low growing clump former, it works very well as a groundcover.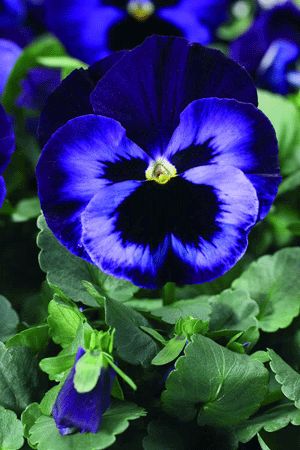 39. Petunias
Distinctive, trumpet-shaped blooms make petunia a showy flower but its prettiness belies its strength: this is a tough customer, very weather resistant and in a mild climate, will flower all year round with abundant blooms in white, pink, red, blue and purple and a range of multicoloured varieties as well.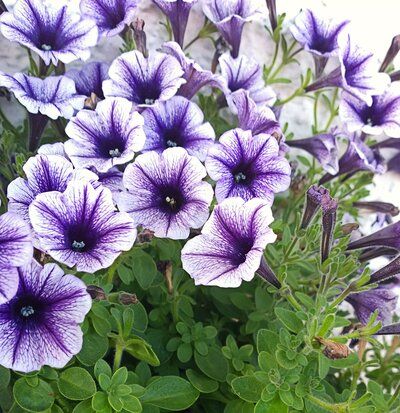 40. Peonies
Fragrant peonies are such a classic, traditional flower to grow in gardens and gather for vases, and the wonderful thing is that once the plant is established, your peony flowers will only become more beautiful over time. The available colour palette ranges through all the warm tones, but I think pinks and whites like these are the prettiest.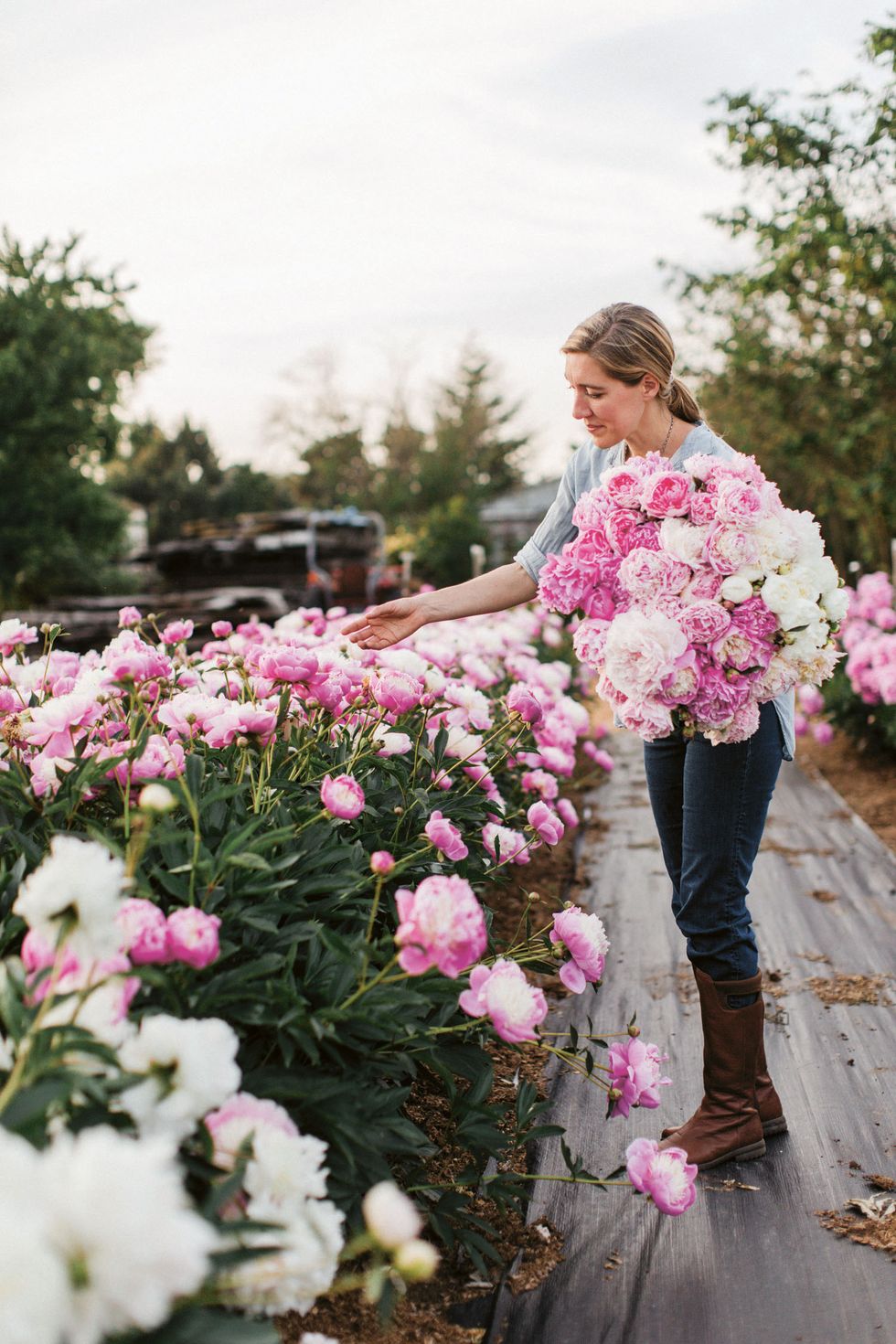 41. Poppies
Poppies are a much-loved flower, not only for their beauty but also their special significance in honouring the fallen at war. The classic little red Flanders poppy is actually a great poppy to plant in your garden as it is a simple, single flower that is easy for bees and other insects to access. But nature doesn't hold back in the colour department with poppies so you've got a big array of options!
How about this stunner? The ravishing Meconopsis betonicifolia, aka the Himalayan Blue Poppy, has one of the most beautiful shades of cerulean blue blooms that I've ever seen. They're a bit fussy about where they'll live though (liking only well-drained, slightly acid, composted soil, in part shade that's sheltered from wind).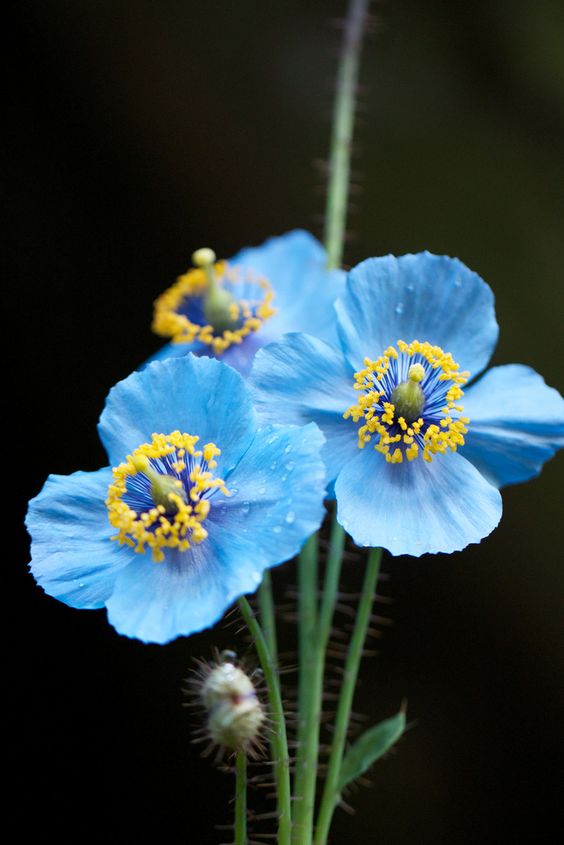 42. Ranunculus
These spring bulbs are extremely rewarding to grow and represent great value for money as you can get up to 20 flowers from one bulb. Absolute stunners that come in gorgeous shades of yellows, oranges, pinks, reds and whites, and there's even a black variety (Black Pearl) for the monochrome minded. In the garden, you can plant them as a cluster or adrift, cover a whole garden bed, or use dwarf forms for borders.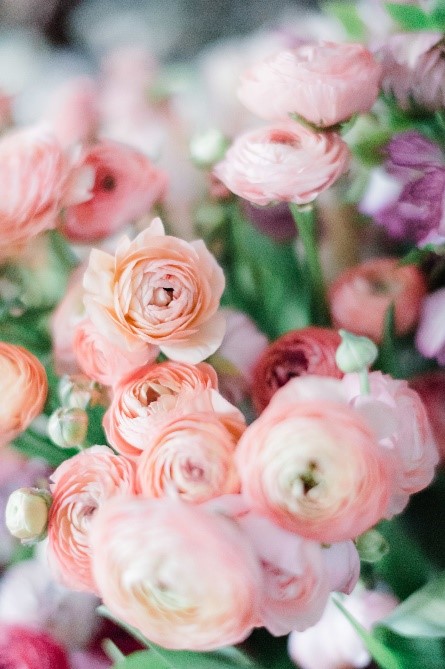 43. Roses
Well, you can't have a list of garden flowers without including the rose! But of course, the bewildering range of roses available out there means choosing a variety is really just down to a matter of personal taste (and what will grow in your area). I love this apricot-coloured rose called the Honey Perfume, which has a scent evoking cloves, cinnamon, allspice and nutmeg.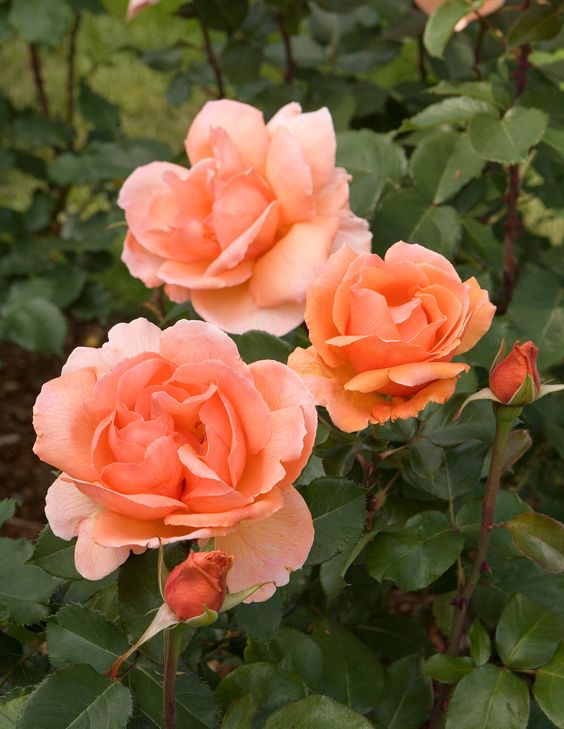 44. Snapdragons
These gorgeous double-petalled annuals have the habit of gaping open when a bee lands on the curved lip, probably giving rise to the name! A plant that bears spikes of long-lasting blooms, snapdragons are prized for their beautiful scent and are much loved for vases where they'll last up to 10 days. Typically flowers in bubblegum pinks, whites and lemon yellows.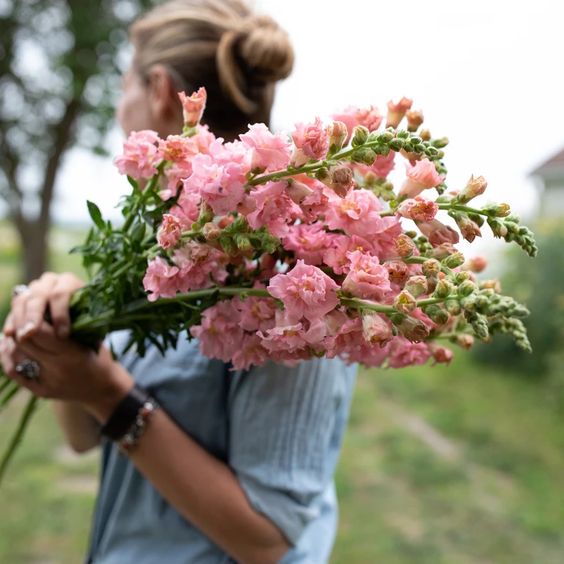 45. Sunflowers
As Boho a flower as you can get, sunflowers are synonymous with radiant joy and happy days and their massive yellow blooms will always bring a smile to the face.  The tall-growing varieties reach over 2m tall so they need to be planted in the ground, where they'll create a gorgeous cacophony of summery colour in your garden, often all year around.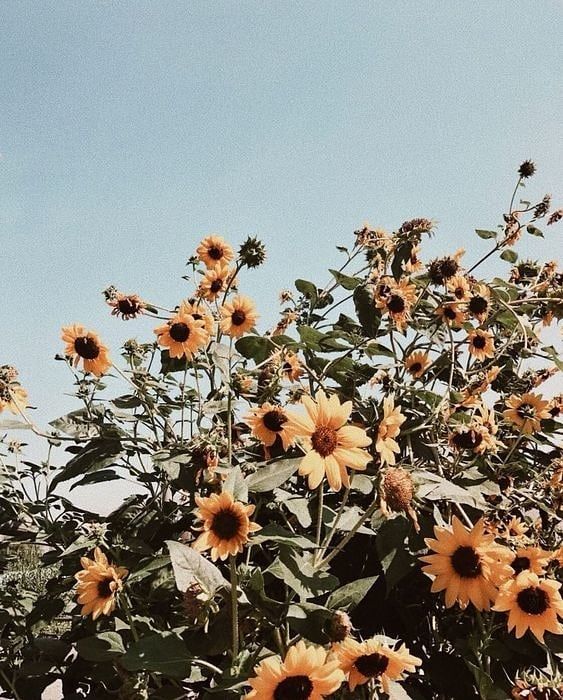 46. Sweetpea
Sweetpeas make a very appealing cut flower and are very popular thanks to their distinctive scent, colour and shape. These hardy annuals come in a huge variety of types, from small, highly scented wild varieties to bigger, showier, frillier versions.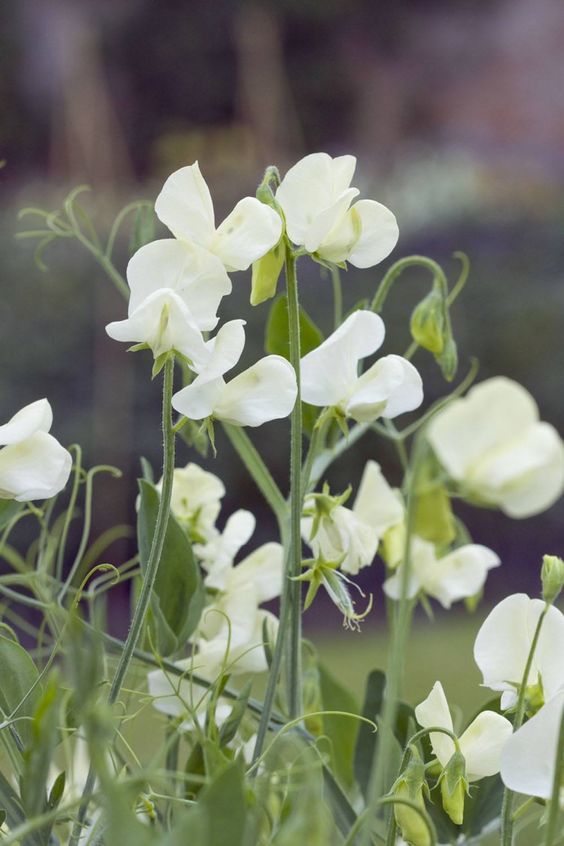 47. Tulips
These flowers need little introduction as they are so easily recognisable. However, with over 6000 cultivars now available, there's a wide variety of shapes and colours out there to choose from. Shapes range from the typical goblet or wine glass shape to fringed and feathery edged blooms, and colours across the spectrum. Here's one of my faves—the black/deep purple "Queen of the Night". It's such a statement-making variety that it can be found in the home gardens of monochrome loving designers, Oscar de la Renta and Tom Ford. Tres chic!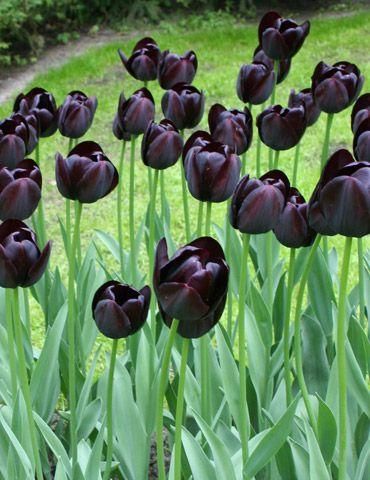 48. Verbena
For vivid pops of fragrant blooms in colours ranging from purples to pinks, reds and whites), this plant (aka vervain) has a long flowering season and makes a wonderfully colourful addition to your garden. Its speedy growth habit means it's also perfect for quickly filling in bare spots in the garden. Historically it has medicinal uses, including as an aphrodisiac.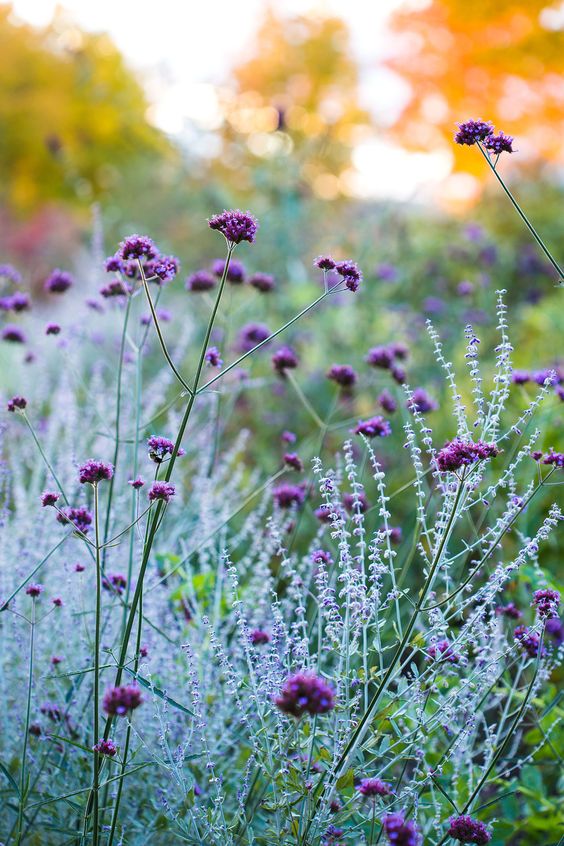 49. Wallflowers
A long-flowering, generous flowering plant from the cabbage family, that will add stunning colour to your garden. Delicately perfumed, the plant should be cut back regularly to stimulate new growth. Colours range from purples to reds to yellows and everything in between. I love this vivid apricot and purple variety with its contrasting dark buds.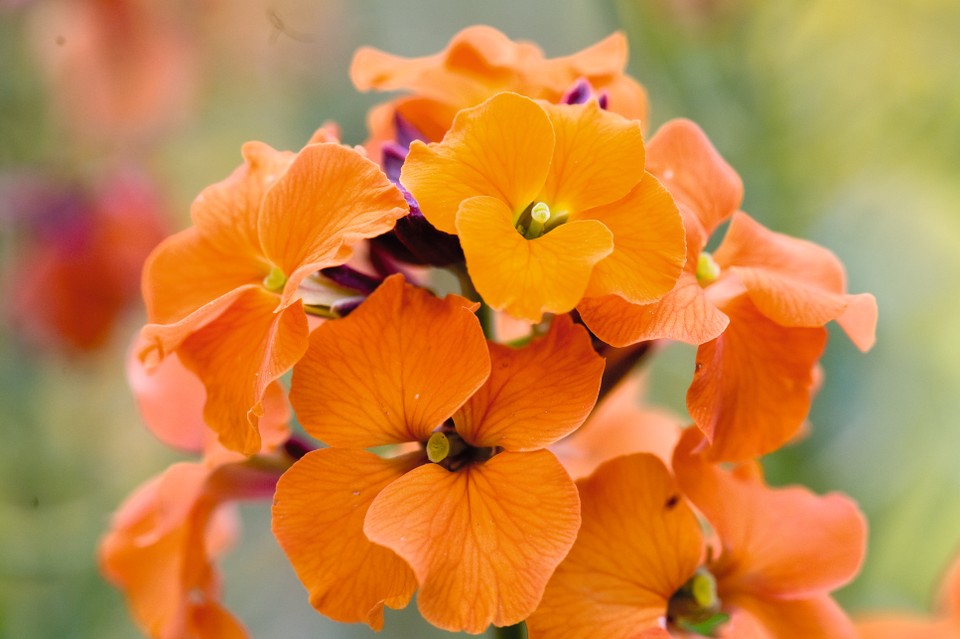 50. Zinneas
So easy to grow and so rewarding in terms of flower production, the zinnia is a fast grower that creates a brilliant mass of colour in your garden. Although they are annuals and will only grow for one season before producing seeds, you can plant multiple rounds at two-week intervals to generate non-stop blooming for your season. Zinnias are for everyone as they come in so many shapes, colours and heights, with taller plants best for backgrounding garden beds and shorter varieties great for borders.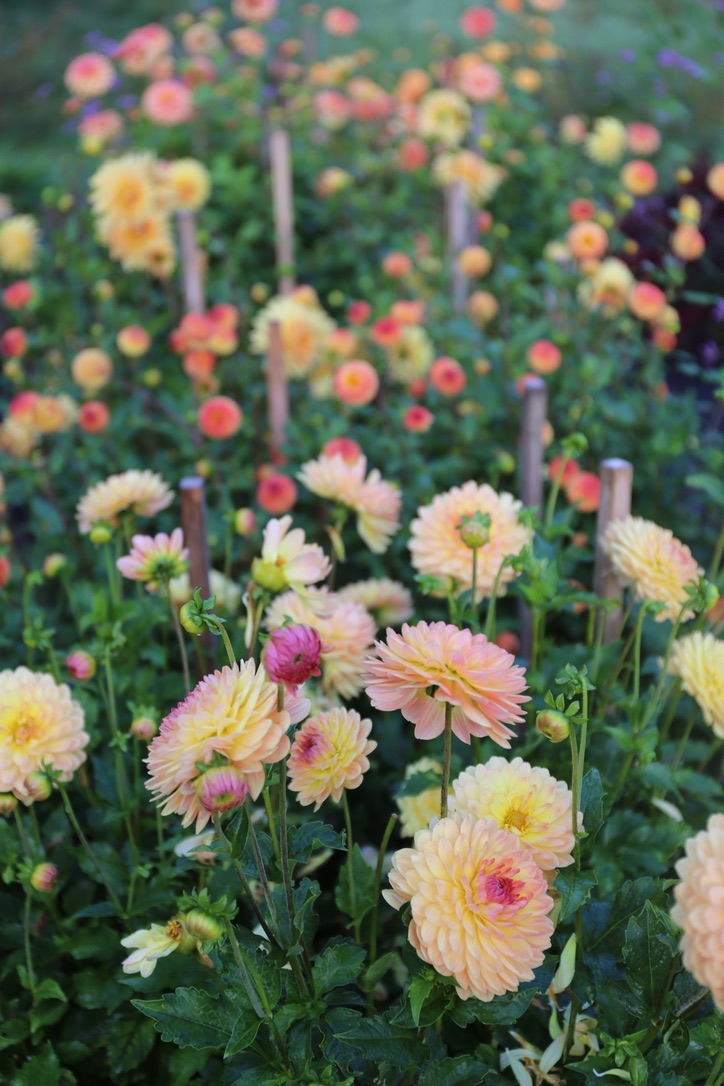 And there's my pick of some of nature's prettiest and most distinctive blooms, which will add romance and charm to any garden, not to mention any vase. Which are your favourites? Let me know in the comments!