Outdoor showers remind me of being at the beach or on holiday. And why not bring the relaxation of the beach or holiday to your own backyard?! You could use your outdoor shower to wash off after the pool, a long day at the beach or even a cheeky shower in the great outdoors underneath the stars. And the beauty of outdoor showers is that they're super easy to DIY and a very functional backyard addition.
From rustic to luxurious and extravagant to simple, there are so many different options when it comes to outdoor showers. Check out these 20+ breathtaking outdoor shower scenes to get your creative juices flowing!
1. Framed with frangipanis
Fancy a shower after a dip in the pool without walking wet footprints through the house? This outdoor shower feature looks classy and almost looks like a doorway into another area of the garden.
The dark brown wood is a beautiful contrast against the concrete walls whilst the boxed frangipani gardens give the shower area privacy and framing.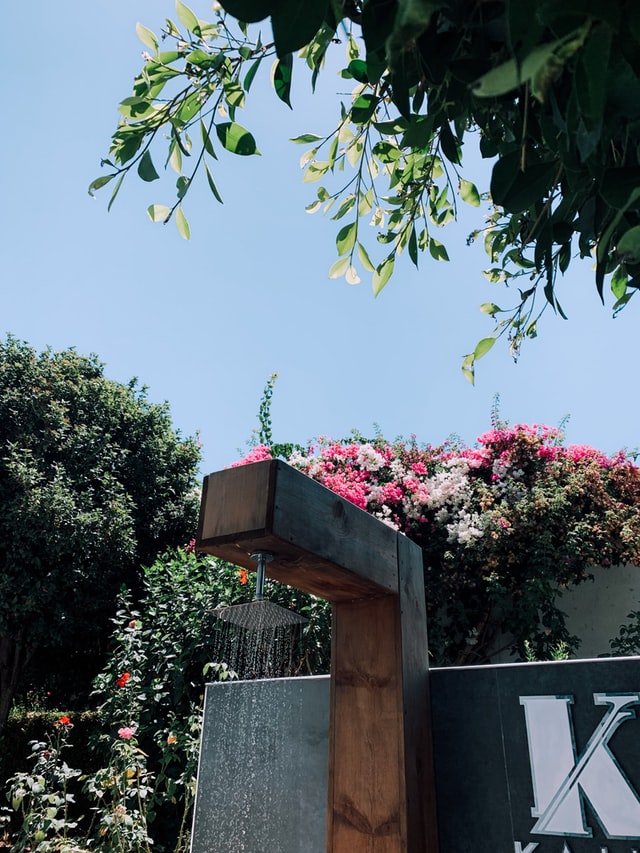 2. Foraged beachy vibes
The use of raw untreated timber in your outdoor shower area will give off a rustic and very outdoor vibe. Adding decorative shells or foraged driftwood helps create a beachside feel. Wandering off a sandy beach and rinsing off in your extension of nature would make you feel alive and refreshed.
3. Rocky wall
Adding a rock wall makes every outdoor shower space feel rustic and atmospheric. You could even add in a timber ledge like this for a pretty freestanding sink and bath décor.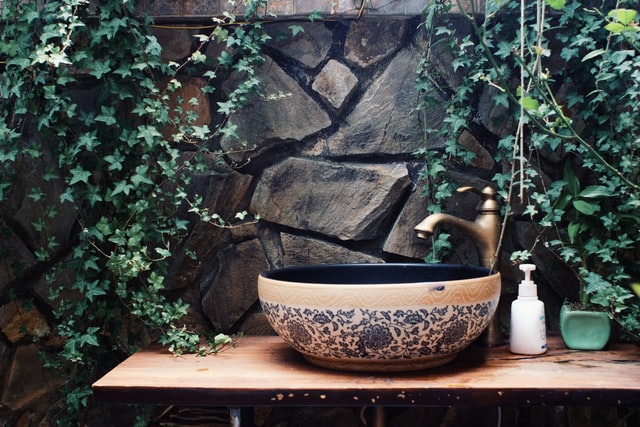 4. Straight from the pool
Most people prefer to shower in private (even if still wearing their bathers). So to be able to hide behind a private slatted wooden screen is perfect for those who are a little shower shy. The run-off from the shower can flow straight onto the pebbles and the ground which would water the soil underneath.
5. Practical aspects
If you are creating a shower this close to your house and outdoor furniture, ensure that all surfaces are waterproof and there is plenty of drainage. Adding a recessed shelf in the wall next to the shower is also a great idea, to house shower gel and shampoo, so once out of the pool you can be showered and ready for the rest of your day! Position your shelf at a good height and position for using bathroom products. Also, adding towel hooks is an easy, convenient and user-friendly touch.
6. Shower or bath?
I'm loving that this outdoor bathroom is virtually a room without a roof. All surfaces are weather-proof so it wouldn't matter if the heavens opened as it would all dry on its own, anyway. Plus, it would be so easy to keep clean with a quick wipe of the bathtub and mop of the tiled floor. The hidden showerhead next to the palm brings a resort feel to this beautiful outdoor room.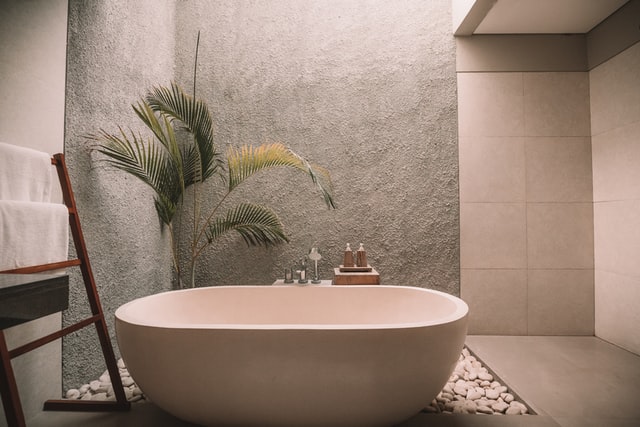 See also these amazing outdoor bathroom ideas.
7. Feminine touches
Want to create a pretty area to have an outdoor shower in? Think rose gold showerhead and pipes and add in Turkish towels in blush pink hues. A curtained off area is a brilliant idea as a changing room so you don't have to go inside to get dressed. You could also add a cute white ladder, that's practical and on-trend for use as a towel rail.
8. Boho outdoor shower
A Boho styled outdoor shower is simple, classy and oh so on-trend. Go for a rainfall shower head, add a cute little wooden stool with lush towels and some outdoor cushions or woven baskets.
9. Open-air shower
An outdoor shower that flows through from an indoor bathroom is a great idea for busy people who just need a quick shower whilst others may be using the main bathroom. And if your shower has the luxury of both hot and cold water, you won't have to brace yourself for a cold shower.
10. Privacy screen
There's nothing better than beach shack vibes for your cool outdoor shower.  From a rainfall shower head to wash off the salt and sand to a slatted wooden privacy screen,  an outdoor shower is the perfect add on to a beachside holiday home. You can even add potted plants to give even more privacy and interest to this your outdoor shower area.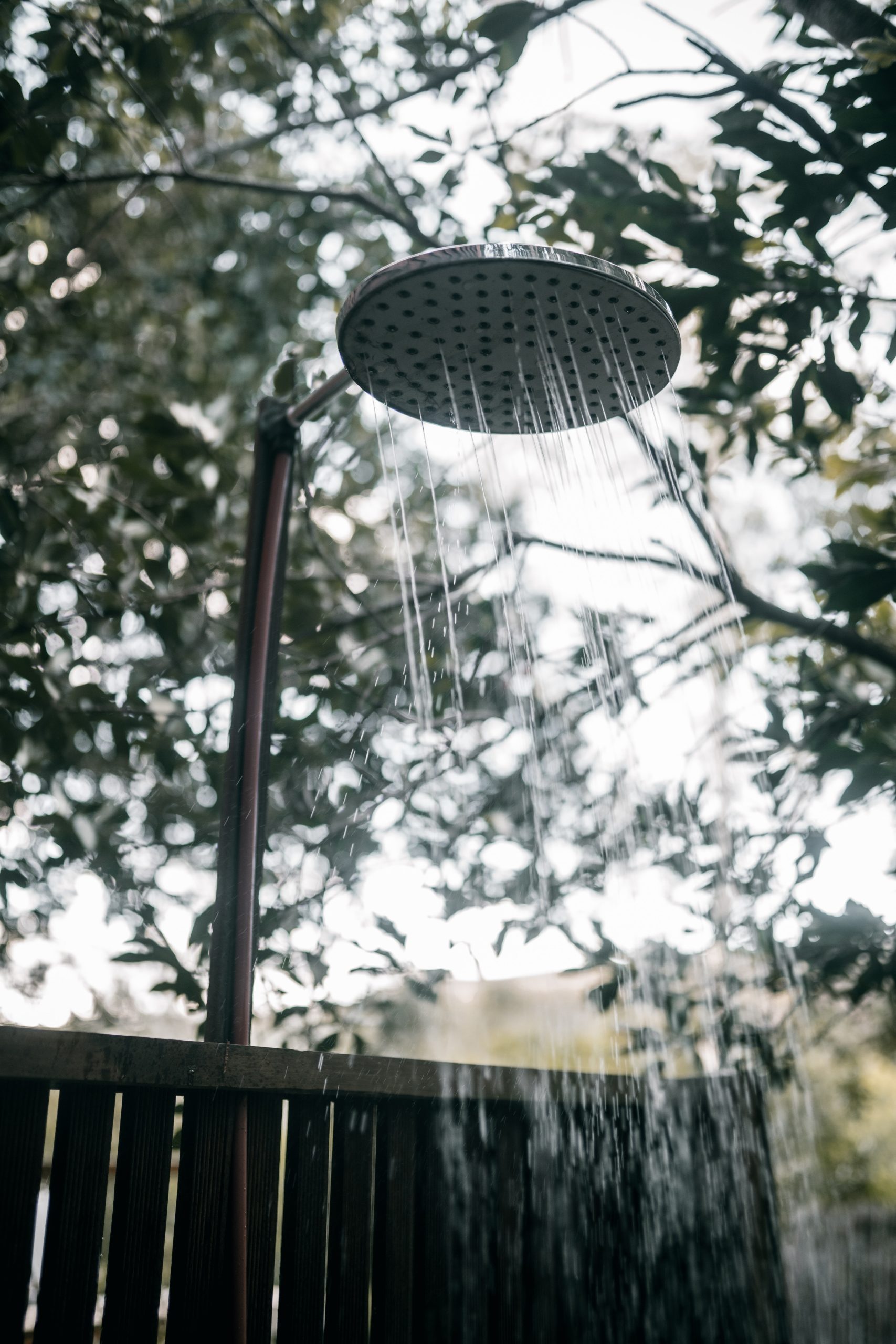 11. Magnificent mosaics
Adding a mosaic tiled feature wall adds interest and an artistic look to an outdoor shower area. Surround it with wooden decking for a gorgeous effect.
12. Surfboard shower
This is the coolest and most inventive use of a surfboard ever! The board is the perfect height for an outdoor shower and how clever to use it as an outdoor shower. You'll find the perfect second hand surfboard on your local marketplace or on Gumtree.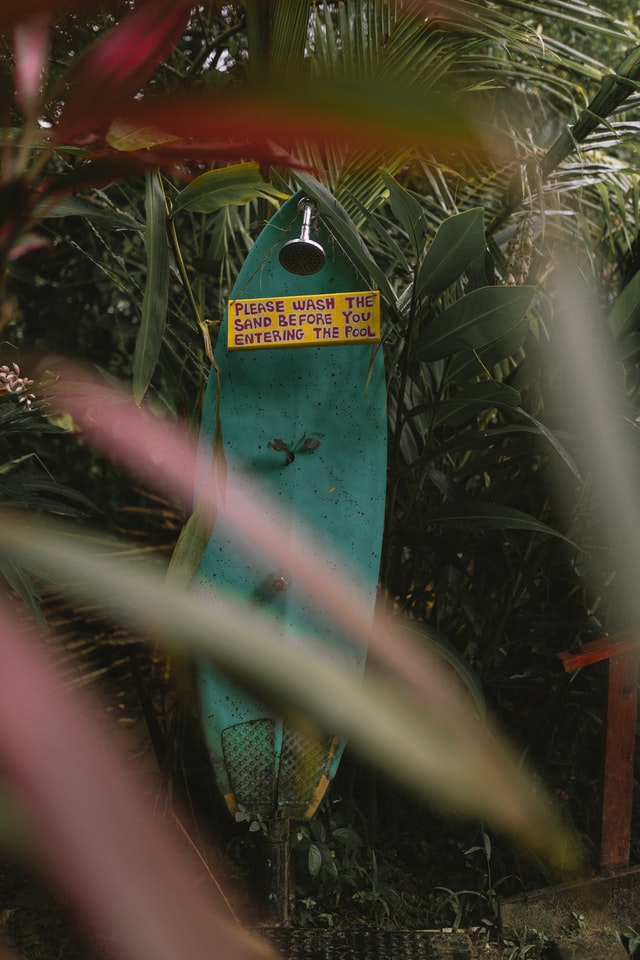 13. Palm perfection
Nothing screams tropical-like perfectly placed palms. Whether this is a beach house or a family home with a pool, a palm is an outdoor shower must-have to include in your alfresco space. Set against a white standalone wall with a bronze shower head, pipe attachment and beautiful slate area to stand on whilst showering and you'll be adding a very classy feature to your modern backyard.
14. Watch your step
This formal outdoor shower area reminds me of a floating raft in the middle of a moat-like barrier between the castle garden and the castle wall. Whilst standing on the floating raft under the panel shower head, one would need to be alert to avoid falling into the moat! What a very classy and unobtrusive outdoor shower.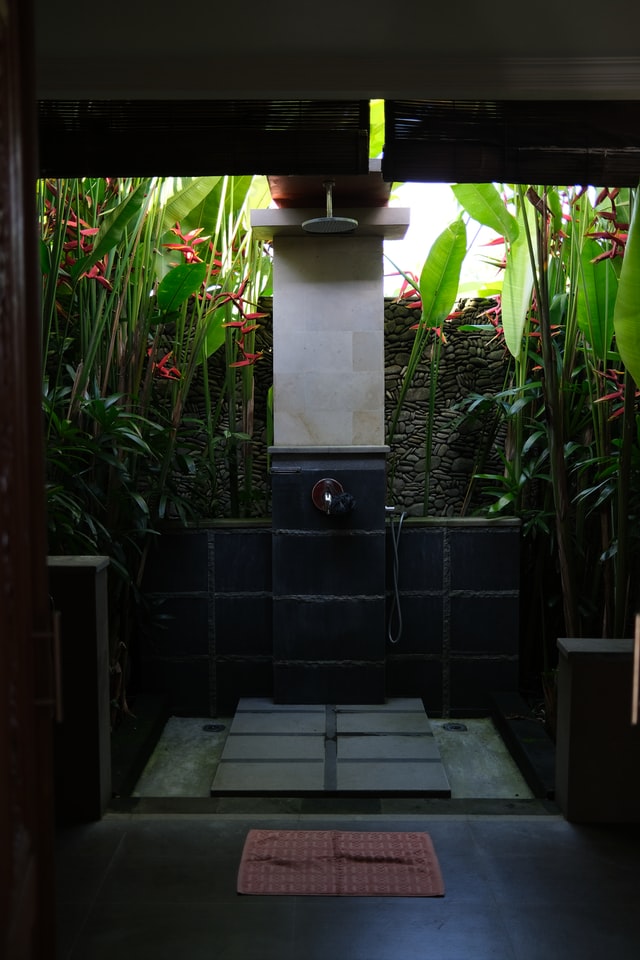 Need some smart flooring ideas for your outdoor shower space? Call on a bathroom flooring expert!
15. Blue and white tiling
Create a tropical holiday vignette for your outdoor shower with pretty tiling in a blue and white colour palette. Feature dual hot and cold taps and a large rainfall shower head for those spa vibes!
16. Add lots of climbing plants
Trailing plants and other greenery really add to the outdoor feel for your shower space as well as providing more privacy, so add as many lush plants as you can.
17. Timber courtyard
A neat lined and organised timber-heavy outdoor shower room reminds me of a Japanese onsen—just add a simple handheld shower option and stool to sit on whilst showering. A bush view creates a feeling of peace and calm so make the most of yours if you have one! It's the perfect place to meditate, bathe and let go of all the stresses of a busy life on the outside world.
Here are some other wooden bathroom ideas if you love this look.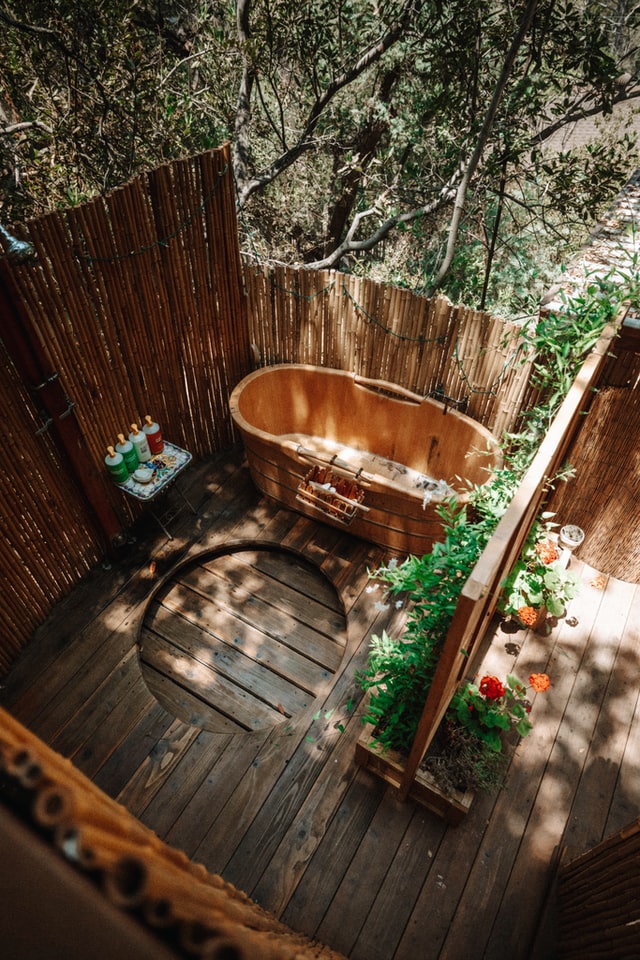 18. Greenery wall outdoor shower
Why not nourish your climbing ivy vine with lots of water from your outdoor shower? Gorgeous vines can completely take over your space, giving the shower area complete privacy with a green living wall.
19. Brass details
Brass shower fittings and tap always look chic and classy, especially for an outdoor shower.
Brass fittings are consistent with natural colours so they look perfect against outdoor features near your shower, like a tree trunk or a rustic timber floor.
20. Feature the pipes
A modern open courtyard shower room is fresh and airy with lots of clean lines. And if you feature your shower pipes, you'll have an interesting industrial look (a plumber could help you create such a look).
21. Vine backdrop
This shower attached to the outside fence blends so well with the surroundings, so much so that you have to look twice to see the shower itself! With it being a copper colour, it is almost camouflaged by the plants here. I love the creeping vine on the fence which provides a pretty backdrop for this shower area!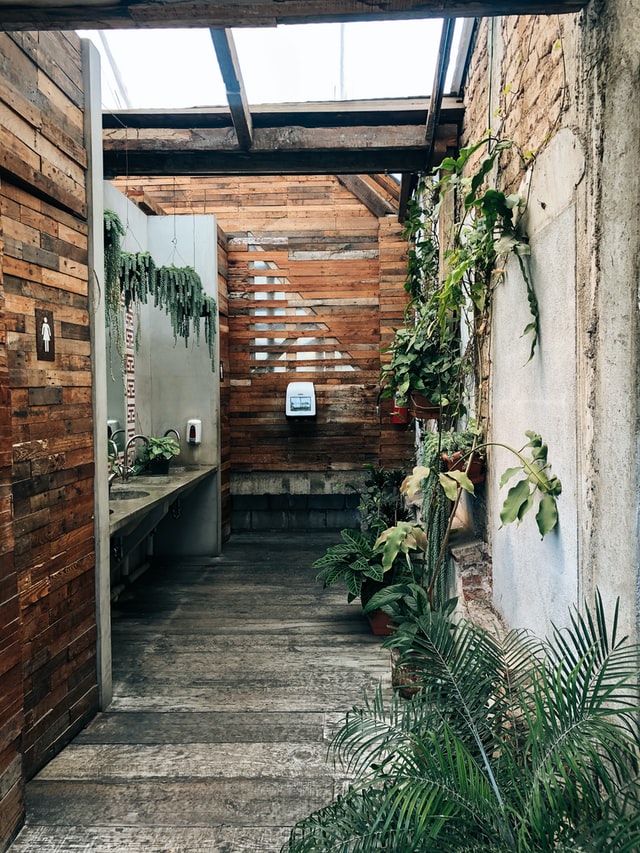 22. Cosy touches
Make your outdoor shower cosy as well as practical with a mix of vintage décor and furniture. For example, charming touches like jugs with flowers, or an antique sewing table repurposed as an outdoor vanity. A tiled floor also adds a lot of character, so get in contact with a bathroom tiler to see what they can create for you!
23. Go big
A rainfall shower head is the most popular choice for an outdoor shower as it gives the illusion of showering in the rain and being outdoors. So opt for a lovely big rainfall shower head if you want to make the most of your outdoor showering experience.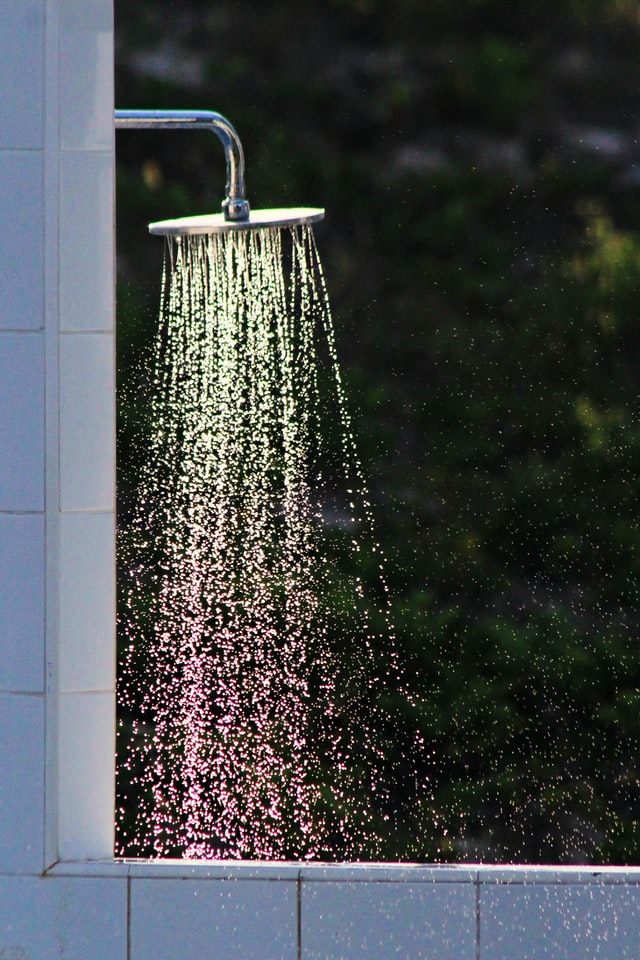 There you have it, 20+ outdoor shower ideas for your next weekend DIY project! I especially loving outdoor showers that incorporate surfboards and outdoor spaces that are covered in greenery. What were your favourites? What elements will you be adding to your outdoor shower space? Let me know below!