When I think of outdoor bathrooms, I think of relaxing in a tropical place, being surrounded by plants, watching the stars appear one by one or just the convenience of being able to wash off after a dip in the ocean. Outdoor bathrooms are both tranquil and functional. And the beauty of building an outdoor bathroom is that you don't need a big budget or a massive space to create one.
One of the great benefits of creating your outdoor bathroom is that you can make use of your existing plants and walls for privacy. And, as we all know that items left outside can perish, you can reuse old baths and fittings so that it doesn't matter if your set up gets a little beaten up.
All in all, an outdoor bathroom is something you should definitely consider as your next house DIY project. Check out these dreamy outdoor bathrooms for some ideas!
1. Repurposed bathtub
Scrub a dub dub, how cute is this tub?! What a great idea for a hot day or just some outdoor water fun with the kids. Use your outdoor shower to fill up a large tub for the kids to splash around in. Or you could even use it to wash your furry friends outside. Bonus!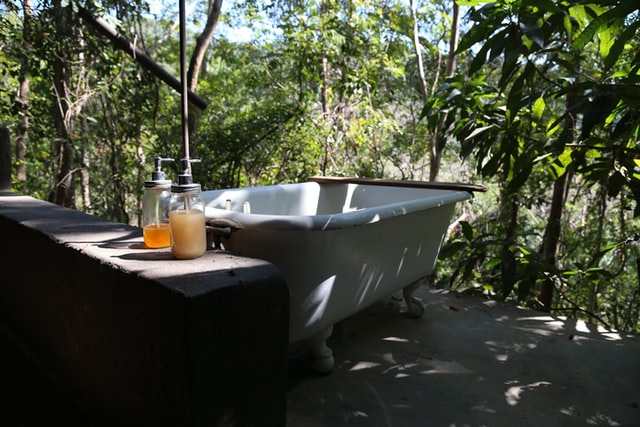 2. Indoor-outdoor bathroom
Enjoy the best of both worlds with a bathroom where you can easily walk from the inside into the outdoors and in this case, enjoy a soothing bath. The little wooden deck brings the natural outdoorsy vibe that the designer is going for here.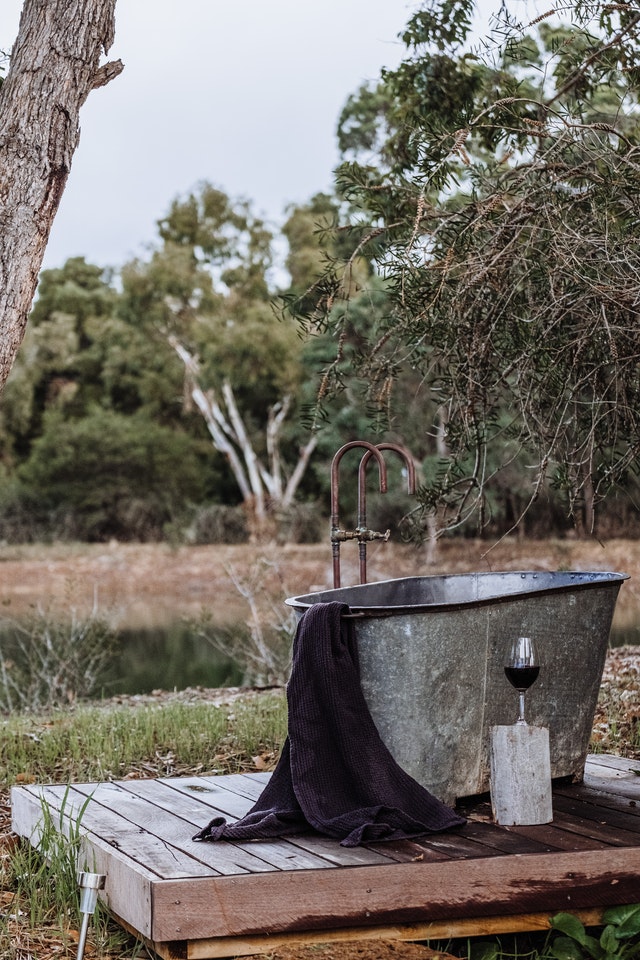 3. Bamboo tub
Who else needs to curl up in this tub under the stars right now?! All wood gives such a rustic vibe. And you can always pretty things up with a string of fairy lights!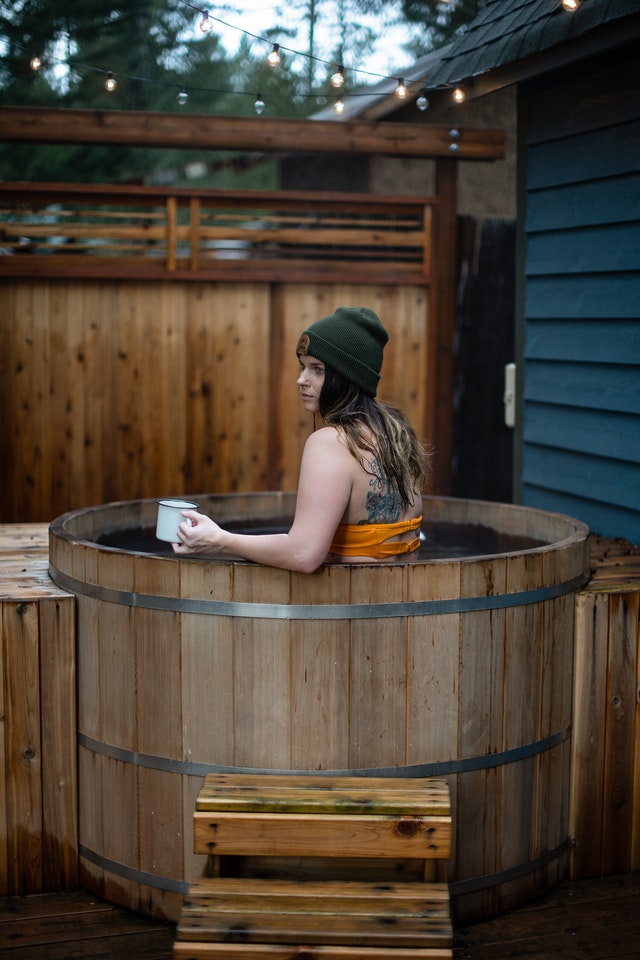 4. Just the basics
How simply genius is this set up? It's pretty much just a bath with absolutely no fuss. Simple and effective. And I love the addition of the wooden plank to place your book and bath products. You could easily recreate a setup like this, even if you have limited space.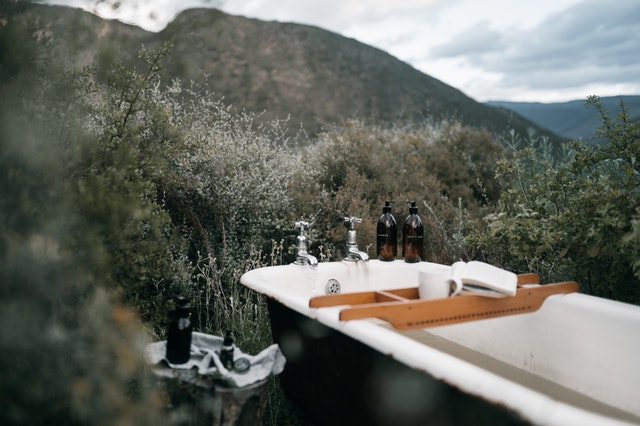 5. Sunken tub
What a perfect place to relax after a long day! Instead of just plonking a bath in the middle of your courtyard, you could talk to your bathroom renovation builder about cutting into your deck and inserting a spa bath into your space.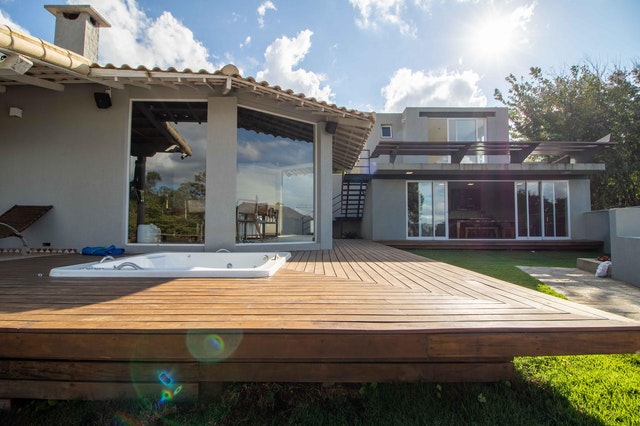 6. Coloured tub time
If you're wanting to make your outdoor bathroom a feature of your garden, using a bright colour for your tub will do the trick! The eyes are immediately drawn to a vividly painted tub that looks oh-so-inviting.
7. Gimme shelter
Even if it's a rainy night, you can still enjoy an outdoor bath if you build a shelter. Not only will you enjoy the blissful sound of raindrops on the roof, but it's a great idea to have some shade and privacy for your outdoor bathroom area. (Find a pergola expert to help you design and build a shelter!).
8. Natural elements
This design utilises many natural elements that really enhance the small space. The pebble flooring along with the tiled slats to stand on are a great idea as the stones give a softer look to the area, whilst the tile provides a smooth place to stand on so you aren't stepping directly on rocks. I also love the hanging plants that have been strategically placed so that they look like they are growing from the external garden beyond the walls.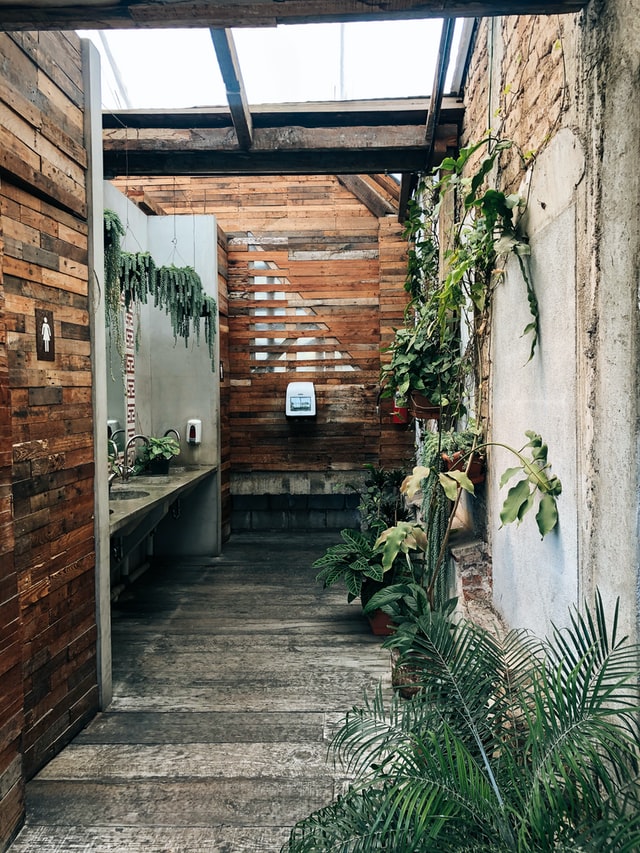 9. One with nature
Feel like a goddess and be one with nature in a divine shower area created by setting up your outdoor shower on a rustic tree trunk stand. This is such an innovative idea for when you're wanting to create an outdoor space to wash off without making it too noticeable. A tree trunk fades into the environment so well that if the shower was turned off you would barely notice it!
10. Countryside living
Rolling hills, the sound of cows mooing in the distance and a place to unwind – it doesn't get much more country chic than this! I would love to step into this makeshift outdoor bath area whilst enjoying these beautiful surroundings. This is literally just a round tin tub with a faucet attached to it. Perhaps you could put a hole in the bottom to drain the water and double it as a watering system for your plants under the deck!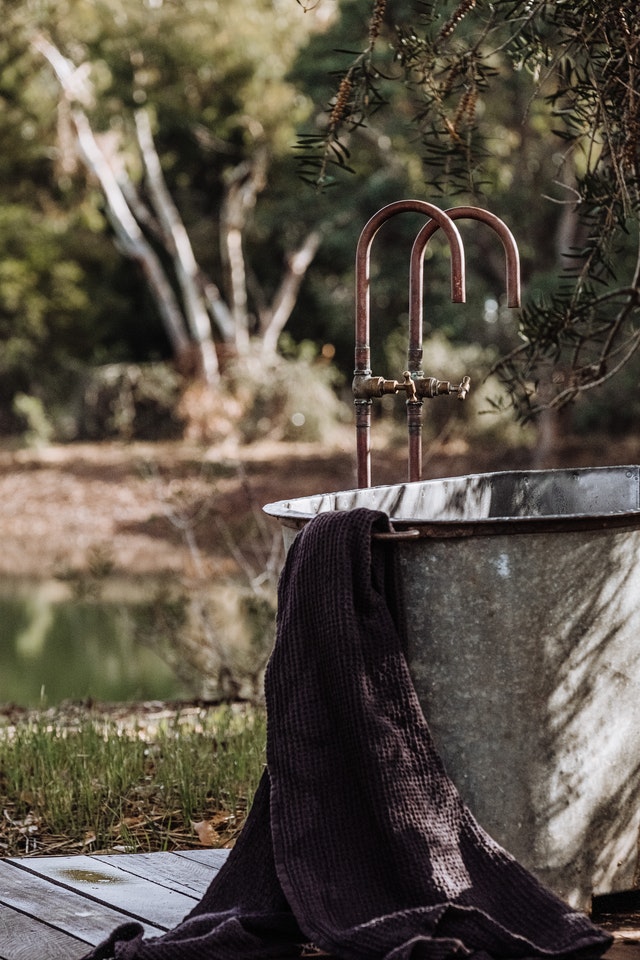 11. Black privacy screening
Privacy is everything and modern screening in black keeps everything oh-so-chic.
12. Outdoor hut vibes
How about this tropical hut style outdoor shower setup? Hot showers out in the middle of nowhere? Yes, please!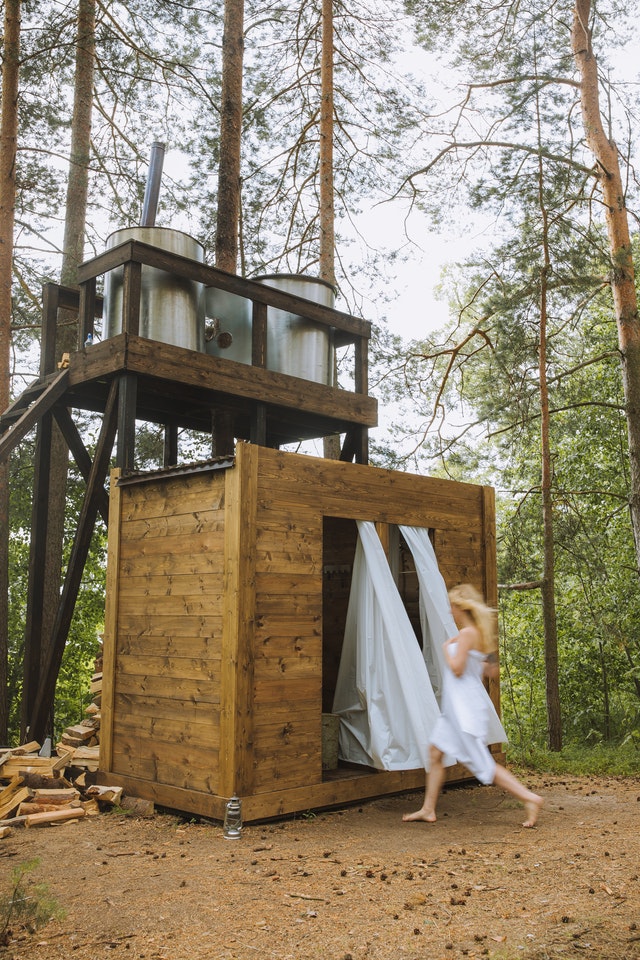 13. Open and freeing
Living on acreage definitely has its perks, especially when you can have an open outdoor bath area that looks out to the wide rolling hills of green grass! This setting is absolute bliss with simple round tub.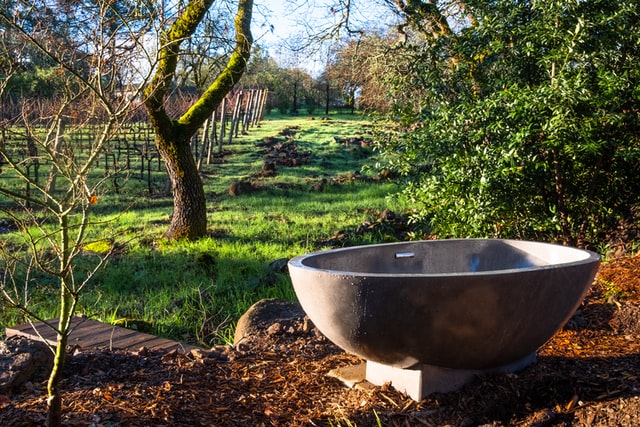 14. Cleansing corner
Create a beautiful cleansing corner that's the perfect place to wash off after the beach. Opting for a rainfall showerhead will make things that much more luxurious! Set up a small floating shelf nearby to keep your favourite products ready to go. If it's private enough, you may well end up having daily showers here too!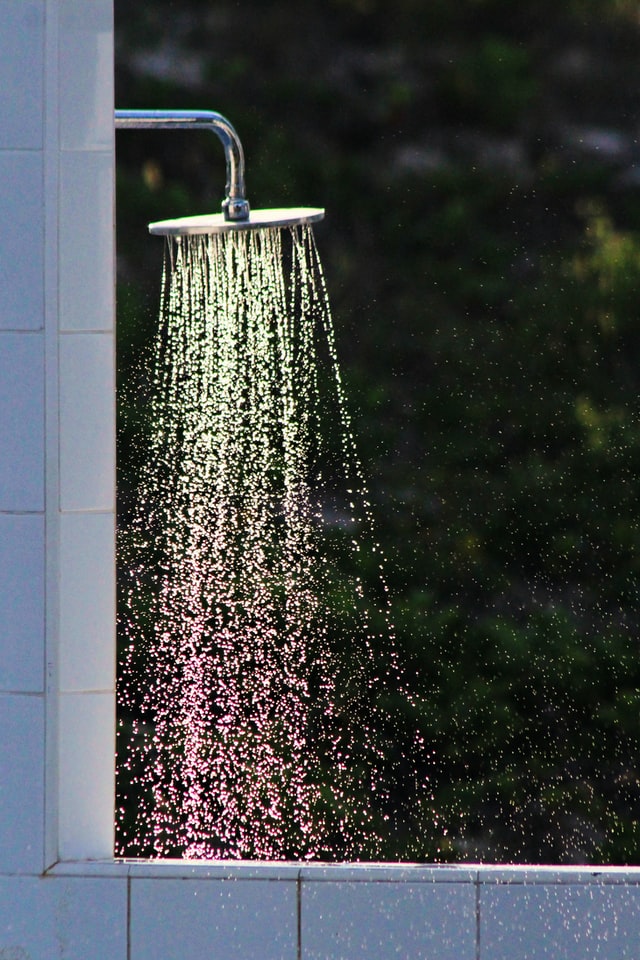 15. Towels within reach
Don't forget to keep towels within easy reach in your outdoor bathroom. Especially if you are using your outdoor shower right after the beach and need somewhere to hang up towels instead of bringing sand inside everywhere.
16. Country chic outdoor bathroom
What a stunning rustic space to chill out. Imagine having these views when you have your languid soak in your outdoor bathroom! One can only dream…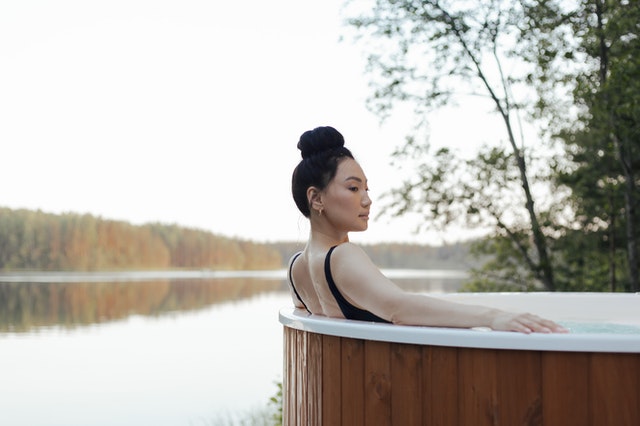 17. Hampton's coastal
Create the perfect coastal Hampton's outdoor area. Even just adding blue and white striped towels will give your space those holiday feels. You could also perch an old surfboard beside it to amp up the beachy vibes.
18. Simple stone
This shower area is super simple with the central tub resting on a bed of pebbles. The use of plenty of natural stone also adds into the outdoor bathroom vibes, even though it appears this bathroom may be in an open-air courtyard. I love how much interest is created when you add a single, simple statement plant!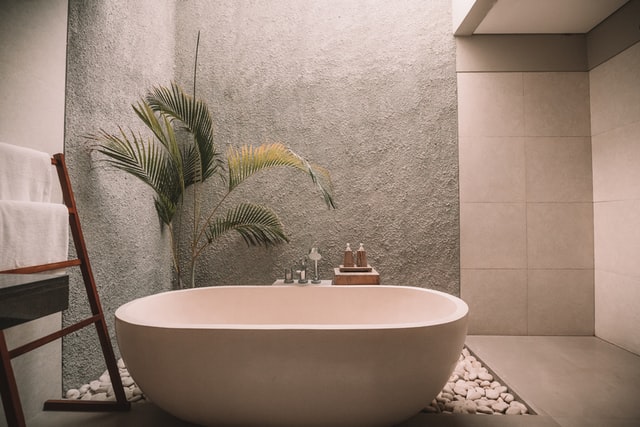 19. Bathing with bougainvilleas
For an outdoor bathroom that looks like it could belong in the pages of Vogue Italia and located in the Italian countryside, consider planting a stunning pink flowering bougainvillea beside your outdoor shower. It will look absolutely spectacular as it grows and drapes down into your bathroom.
20. Sanctuary courtyard
How divine is this sanctuary courtyard?! It looks like it could be right out of a resort in Bali where the rainforests are lush and the mood is nothing but relaxing. Drop a few rose petals in the bath, get yourself something yummy to sip on and you won't want to leave this pleasant paradise.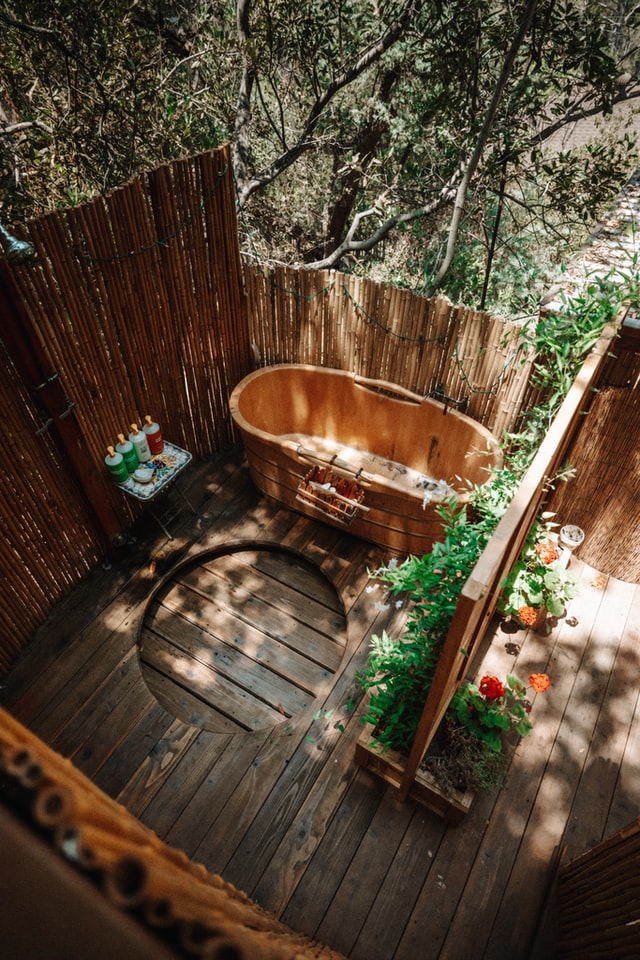 21. Magical mosaics
Wow, how magical is this mosaic outdoor bathroom?! While the green tones fade beautifully into the green trees, the wall still provides added privacy with a touch of elegance. I love the hanging lights draped across the bath!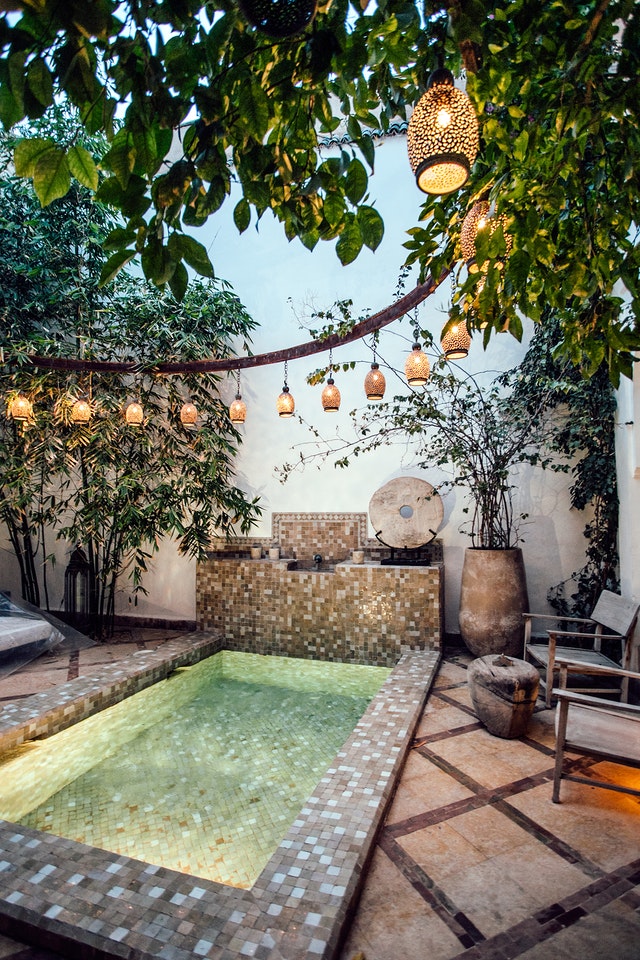 There you have it, 20+ outdoor bathroom ideas for your next house project! My personal favourites are the bathrooms that incorporate candles and lanterns for added relaxation and, of course, the bathrooms that have glorious views to look out onto! Which ones stood out to you? Would you be game to create an outdoor bathroom yourself? Let me know below!