Are you looking for new and creative ways to spice up your garden during this crazy season? Well, pallet gardens not only look cool but are an awesome sustainable way to use upcycled materials by giving them a new life! As pallets are generally used for transporting goods, they are made of sturdy treated hardwood that is made to last! Thousands of unwanted pallets end up in landfill every year, so as well as creating an innovative garden solution that looks great, you will also be contributing to a better environment for us all – so gardening with pallets is a no brainer!
As we've all been spending extra time at home lately, it's a great opportunity to get some jobs done around the house! Here are 35 pallet garden ideas to try while you're stuck at home.
1. Succulent display
Vertical wooden pallets are the perfect way to display these pretty succulents. Planting muted green succulents at the base and scattering the same colour throughout gives this garden symmetry and some order whilst still allowing lots of creativity with bright colour and interesting shapes.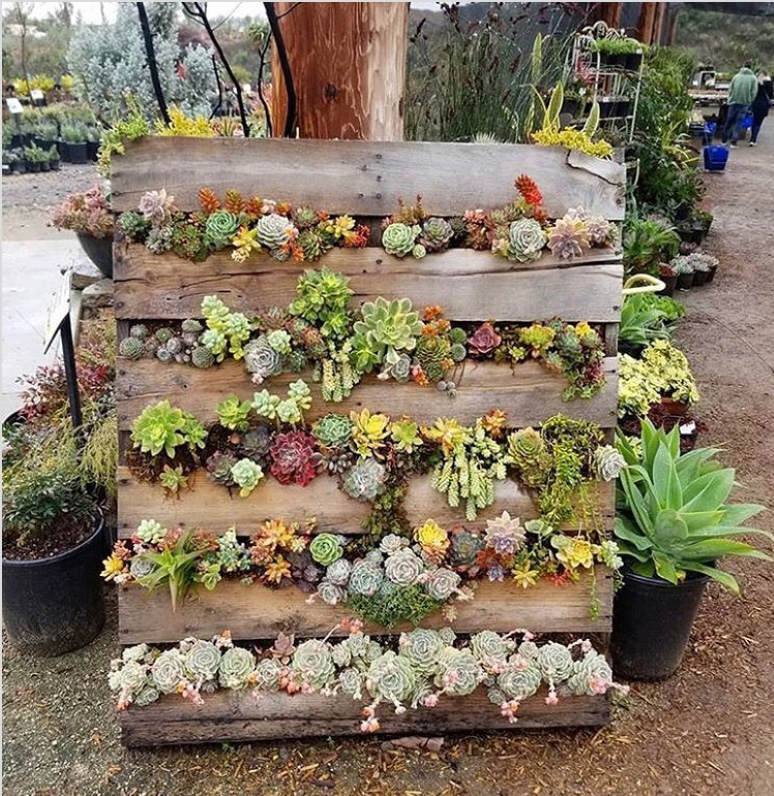 2. Flower pots
So, you don't have a green thumb? No problemo! Buy flowering potted plants and cute white pots and replace the plants as needed. Paint your pallet white, pop on your pots and voila – you have an instant garden palette. Hang your ivy down the middle for that wow factor!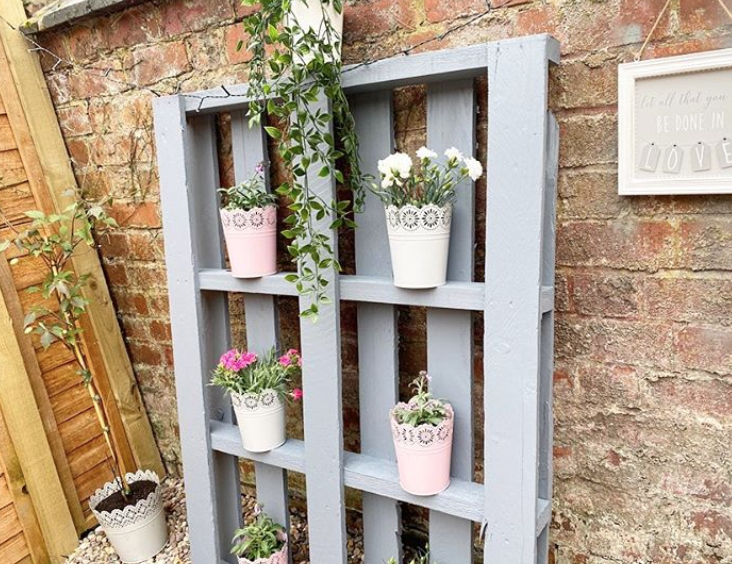 3. Veggie patch pallet
If you lay your pallet down flat, you will have the perfect veggie garden with simple planting rows ready to add soil and seedlings! You will get fabulous drainage and the already elevated beds means no digging in hard ground. Just add your soil ready for planting. Nothing is better than eating what you have grown yourself in your very own kitchen garden.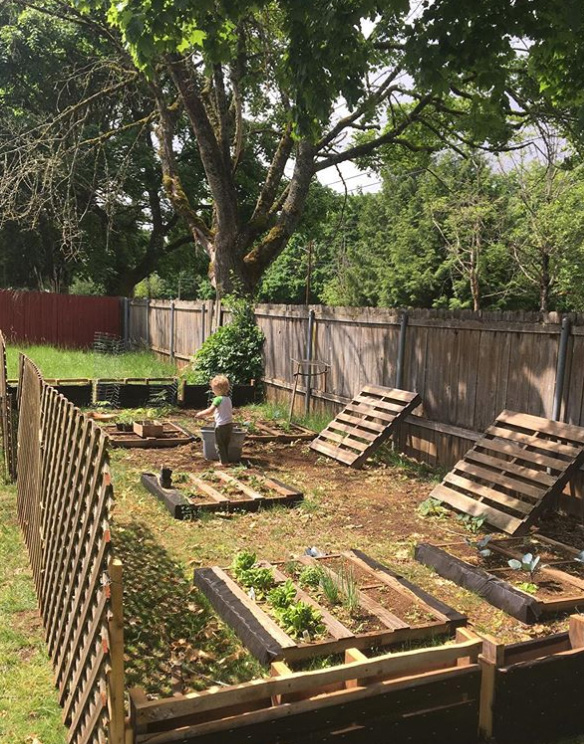 4. Painted pallet
A couple of pallets joined together and fixed against a fence creates an ideal planter for your herbs. The triple decker means more planting room and versatility. The best thing is minimal bending over whilst picking and planting your herbs. That's got to be a huge plus when cooking up a storm and having your herbs at the ready!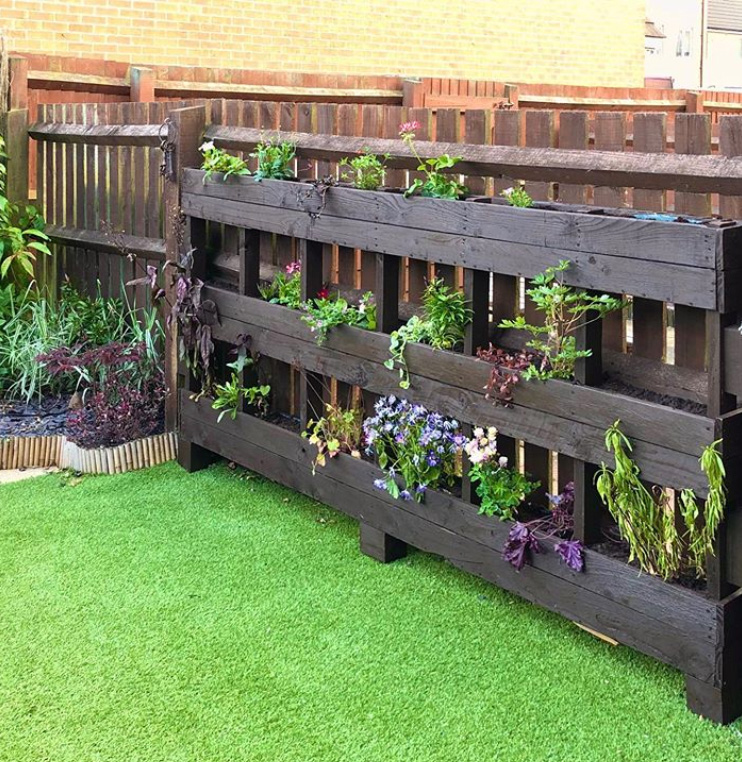 5. On the fence
No one likes a fence sitter… Except when they are holding pretty potted plants, of course. If you paint the pallet the same shade as your fence, it will look like it's always been there. The pots fit perfectly into the pallet shelf and add such a cute pop of colour and life.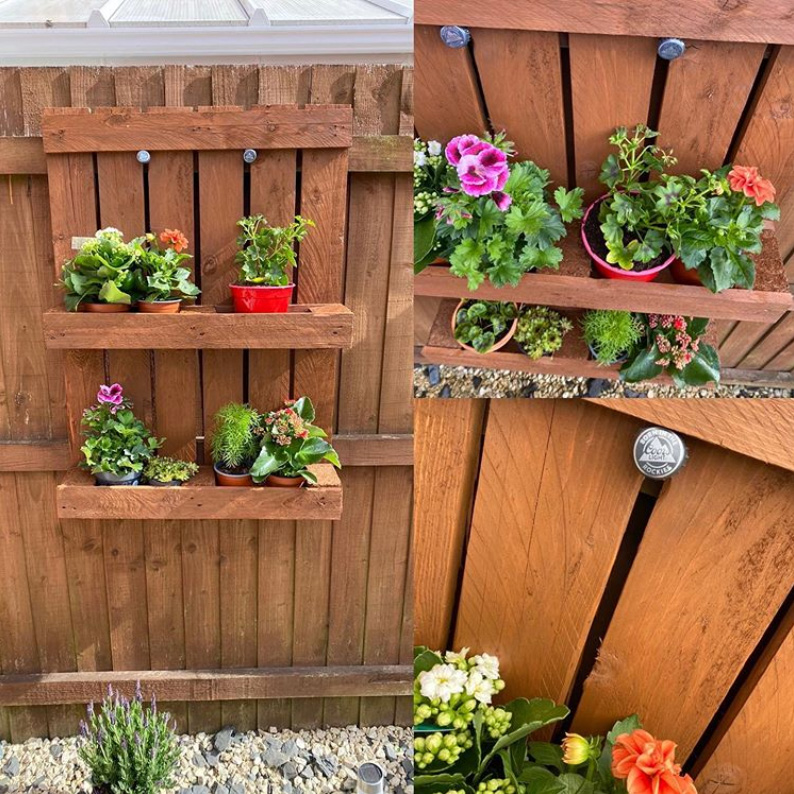 6. Little festoon lights
A pretty pallet garden can look fun and fabulous during the day, but add some lighting and it takes it to a whole other level when the sun goes down. Impress your dinner guests with your lit up garden. A string of light bulbs certainly adds that wow factor here. And there's no doubt this bright white garden wall spruces up the grey timber fence.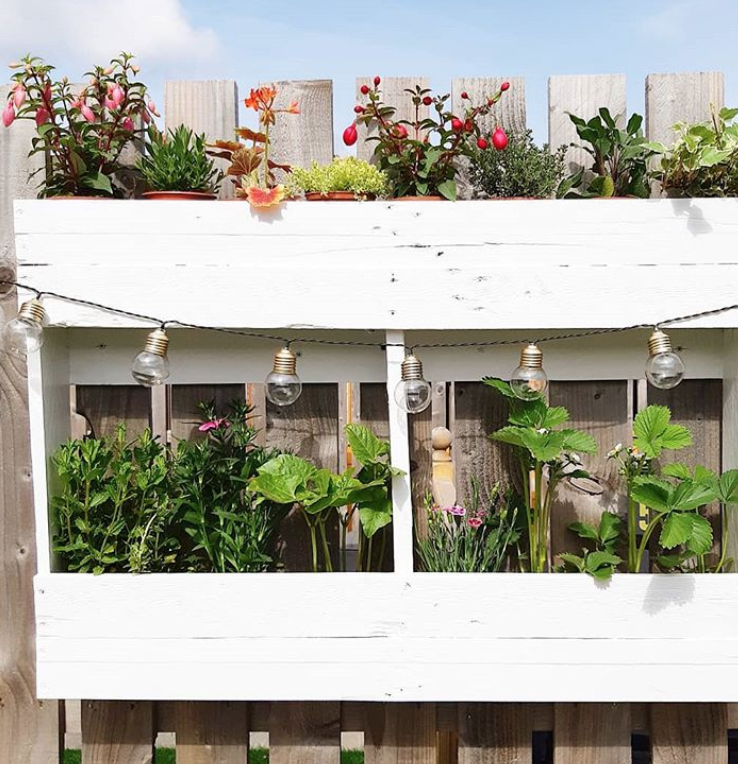 Here are a bunch of other fairy light ideas as well that will would outside (and inside) the home.
7. Pastel posies
Paint your pallet garden green and fill it with colourful yellow and purple pansies. It will look oh so pretty against the brown of the wooden fence. This little pallet popping with turquoise paint adds so much happiness and love to this quaint cottage garden.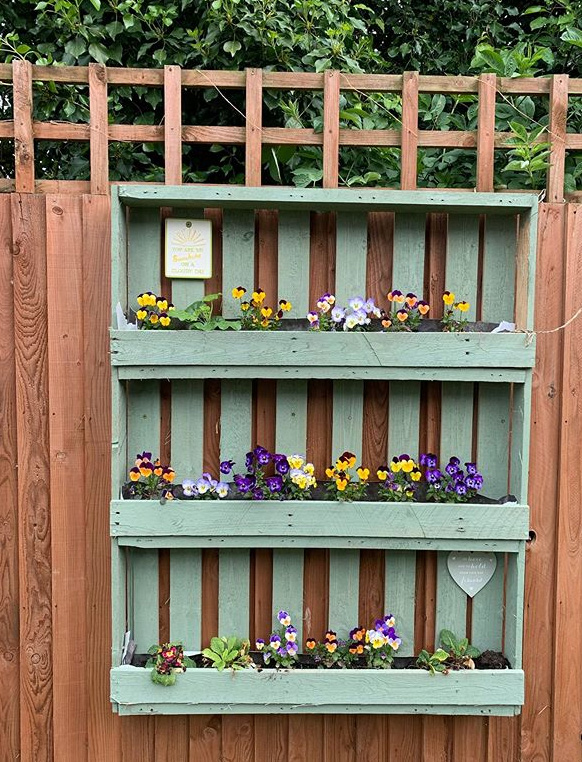 8. Clever climber
Plants that love to climb would work perfectly on a pallet or two like this. You can train their inquisitive tendrils to climb vertically and horizontally on the trellis. Face your pallet towards the sun for optimum growth of your clever climbers.
Imagine how lush your pumpkin vine will look as it works its way up the pallet and along the top of the fence. And, if you're lucky… You may even find Jack at the end of your beanstalk!!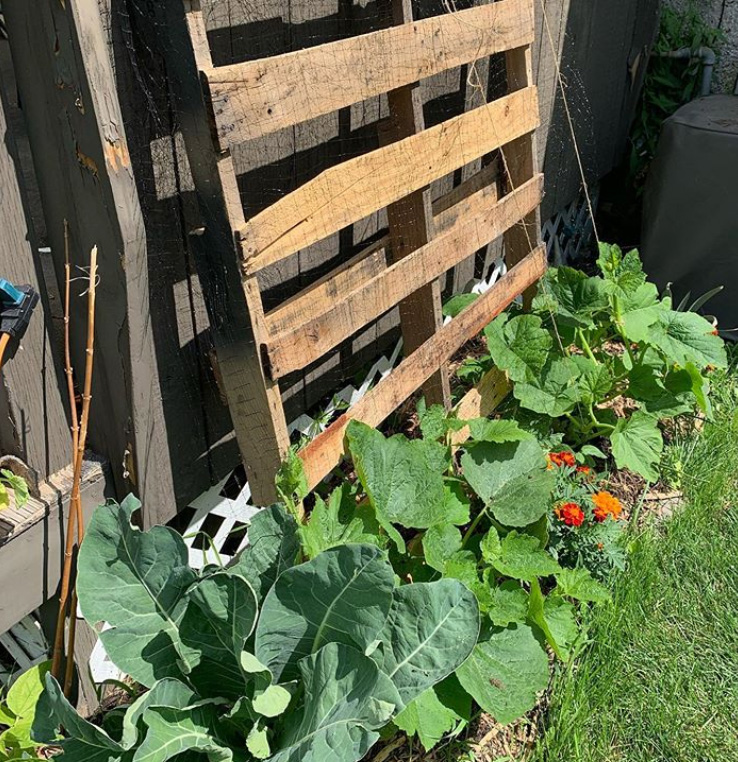 9. Flowers galore
Oh, this is my kind of garden – an instant one! Get your pallet sanded to its raw state to give that rustic look. Head to your favourite garden centre and buy potted flowered plants in an array of striking and contrasting colours. I love the idea of using a palette as a table top and using another one upright for your garden shelves.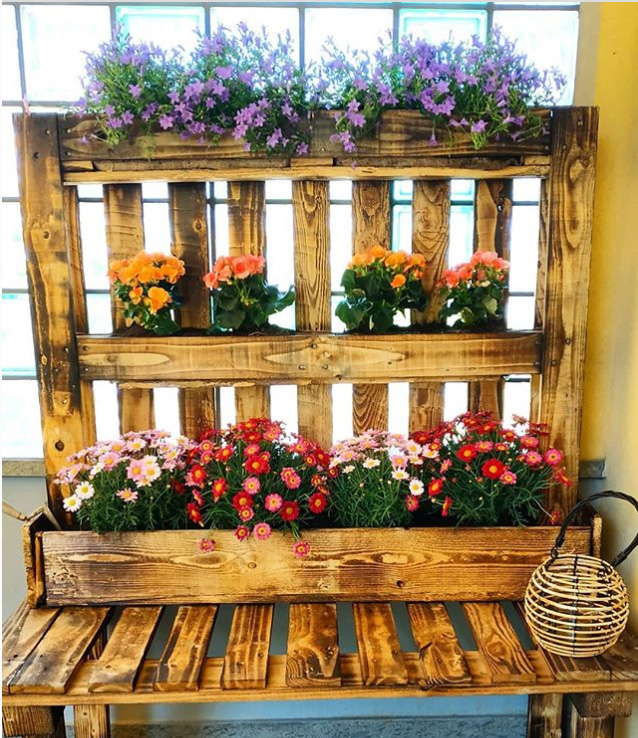 10. Convenient herbs
The beauty of using a wooden pallet for your herbs is that you can have it situated close to your kitchen. A pallet can be as permanent or temporary as you wish. If you find your herbs don't flourish where you've put them, you can move the pallet to a different position. Be sure to read labels to see how much sunlight and how much shade they need… And make sure you water them!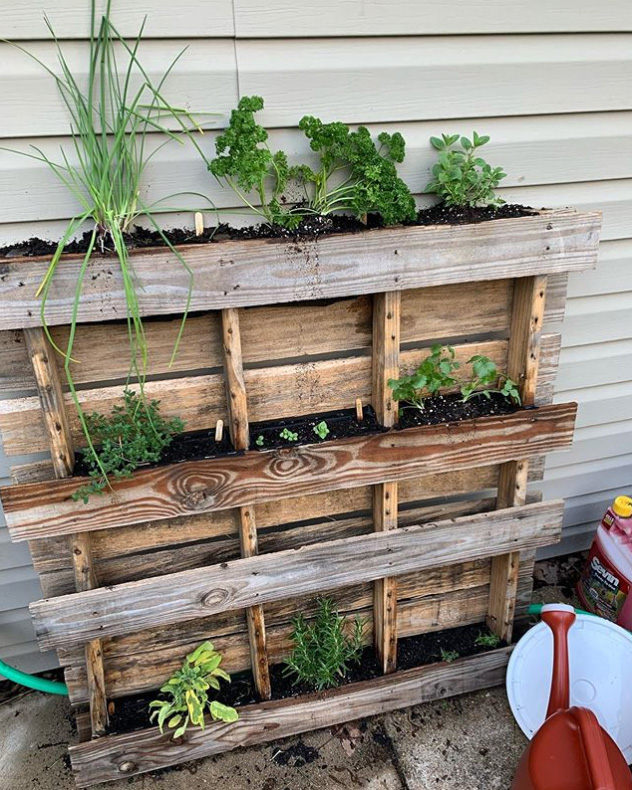 11. Labelled pallet
It's a bit inconvenient when you forget what those herbs are that you have planted in your pallet garden! For those very organised people out there, here is the perfect solution for you – label your pallet! Be as creative or as neat with your labels as you like.  When you ask your sous chef to grab some oregano, you won't end up with basil.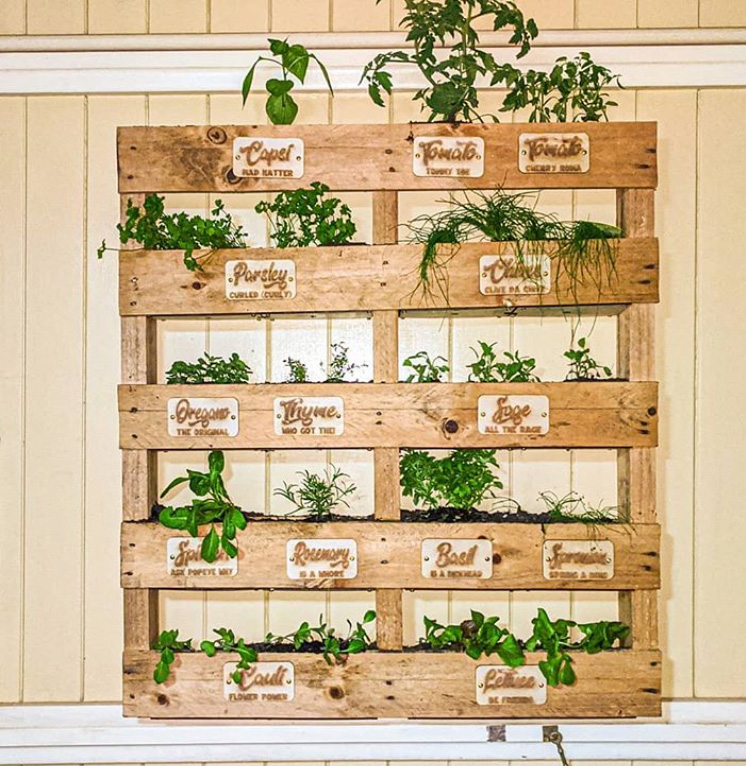 12. Planting box
Deconstruct your pallet and grab your nail gun. Build yourself a square to the height of your choice. Throw your soil in and plant your plants. Give them a good watering and you have yourself a rustic, budget friendly planter box that has great drainage and is also eco friendly.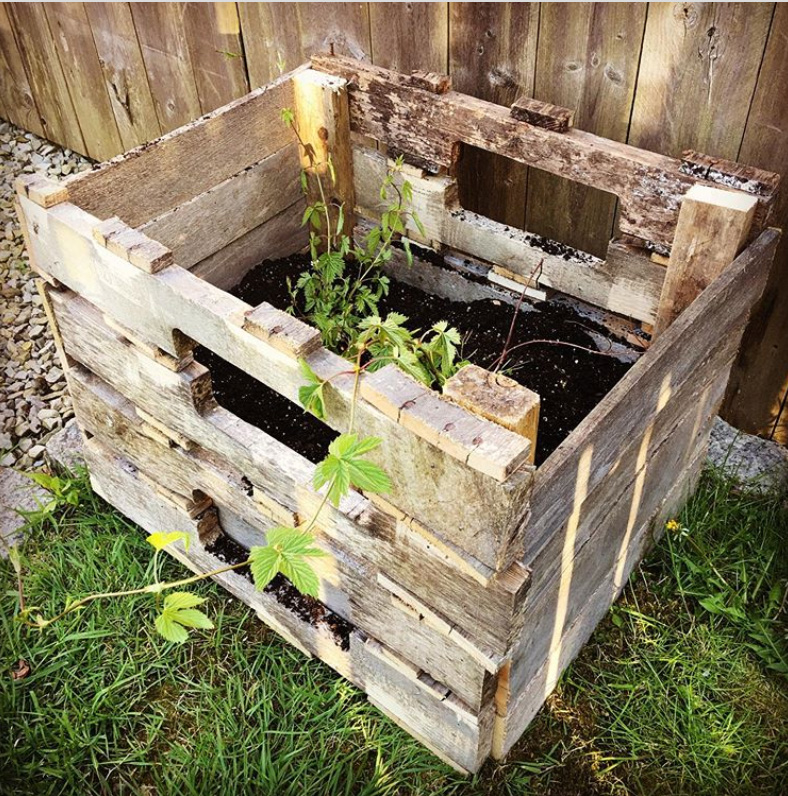 13. Plant bar
I can see this cute plant bar at a roadside stall. Grab a plant or two and throw your money into the honesty box! Some clever person has taken off half of the pallet and made it into a shelf to hold the plants, while the top part has been used for the signage. It really takes the meaning of "The Garden Bar" to another level.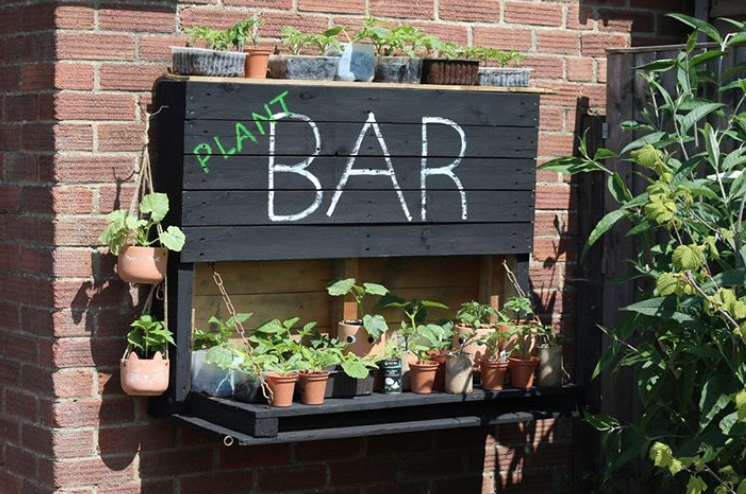 14. Homegrown produce
It is so satisfying to eat the produce you have grown yourself. Not only does it make you feel healthier, it makes you feel great knowing you're making a sustainable choice. A wooden pallet is one of the easiest and quickest ways to achieve your very own home vegetable garden. Keep it organic and healthy and get those greens into you!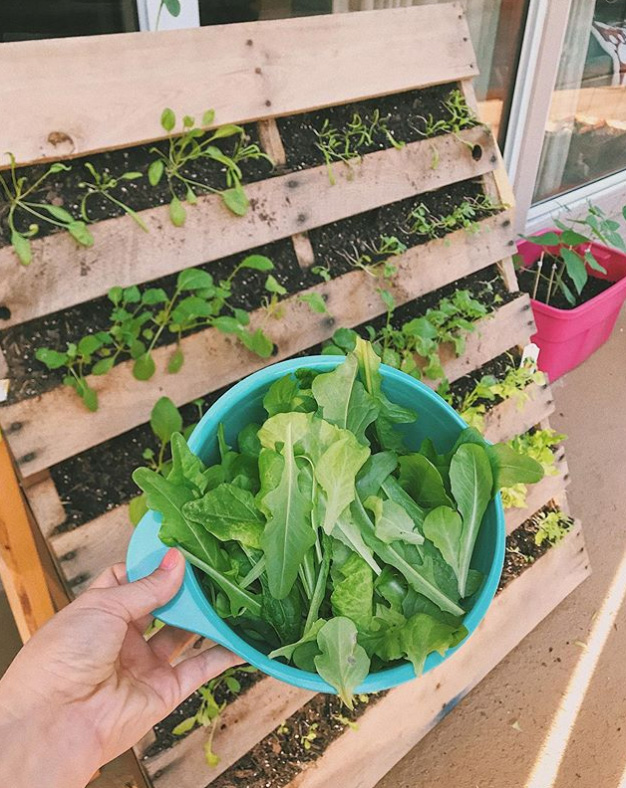 15. Pallet shelving
If you have limited space for a garden or you live in an apartment, a wooden pallet makes the perfect shelving solution for your pot plants. Instead of scattering your plants around the balcony floor or the patio, place them on a pallet of shelves. Terracotta always goes well with soil and plants and wood, so you can't go wrong with this simple idea.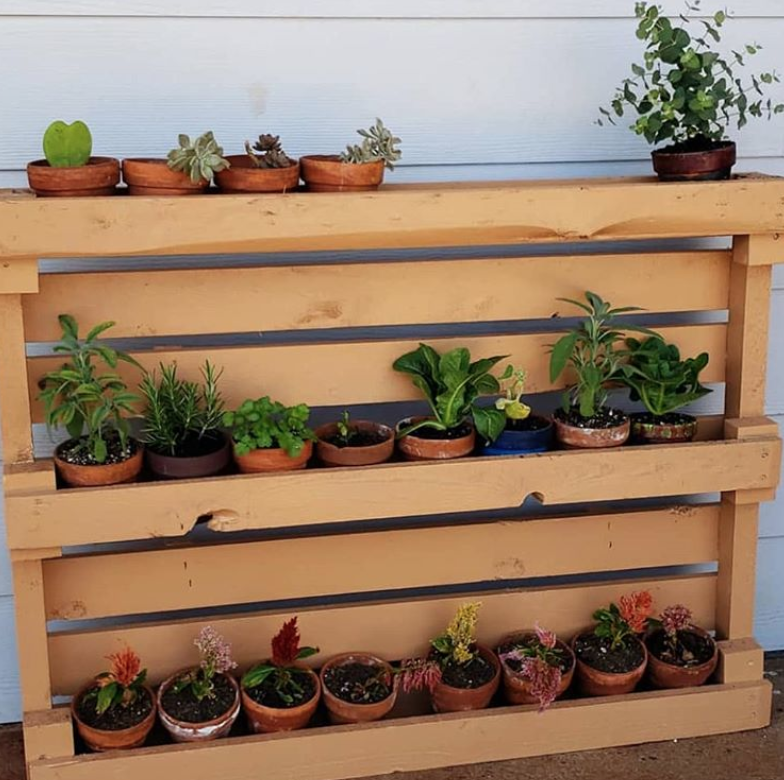 16. Floating pots
Hanging your pots from a wooden pallet fence keeps them looking neat and organised. It really makes it easy to swap pots around when you need to replace plants or want a different look. Adding hooks here and there creates a stunning garden wall with an added piece of garden art. This can also double up as a pretty privacy wall.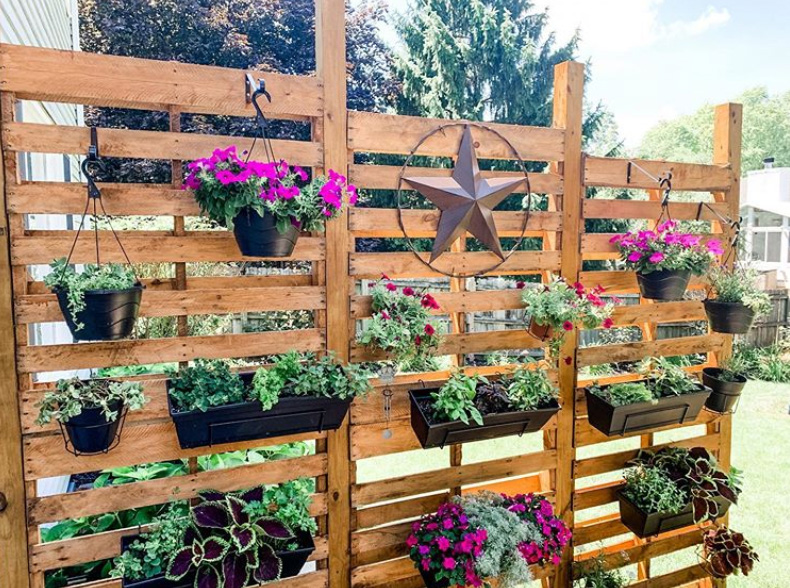 Of you want to add a little bit more privacy in your garden rather than just a pallet, here are privacy fence ideas that you could use in your home.
17. Space saver
A little can go a long way. Wooden pallets used as planting boxes give three levels of planting space. A perfect way to enjoy a variety of your favourite flowering plants in a small space. Whether you have your pallet garden actually in your garden or on a balcony, it is an easy way to showcase your plants.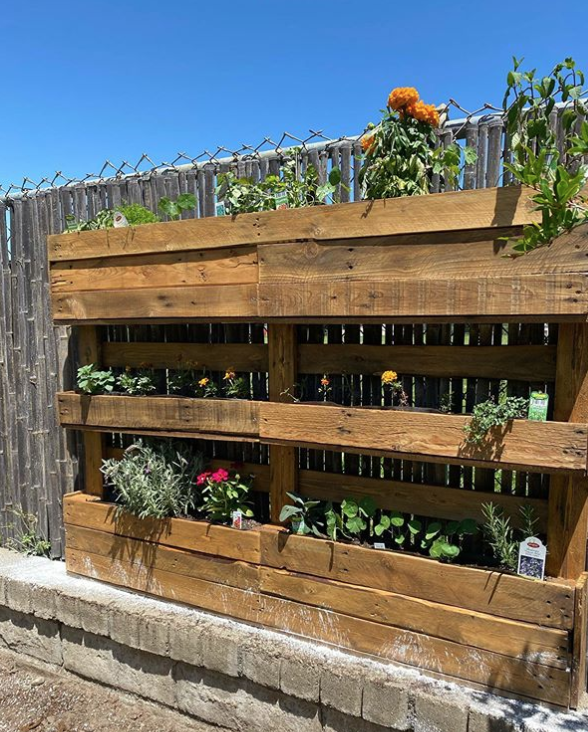 18. Take your pick
Another great way to showcase your herbs is by growing them in an upright wooden pallet. You may consider seeing how your herbs grow before permanently engraving their names into the wood grain. And remember, the herbs you choose for your top shelf need to be the sun lovers, whereas the ones on the middle and bottom shelf can enjoy a bit of sunshine and shade.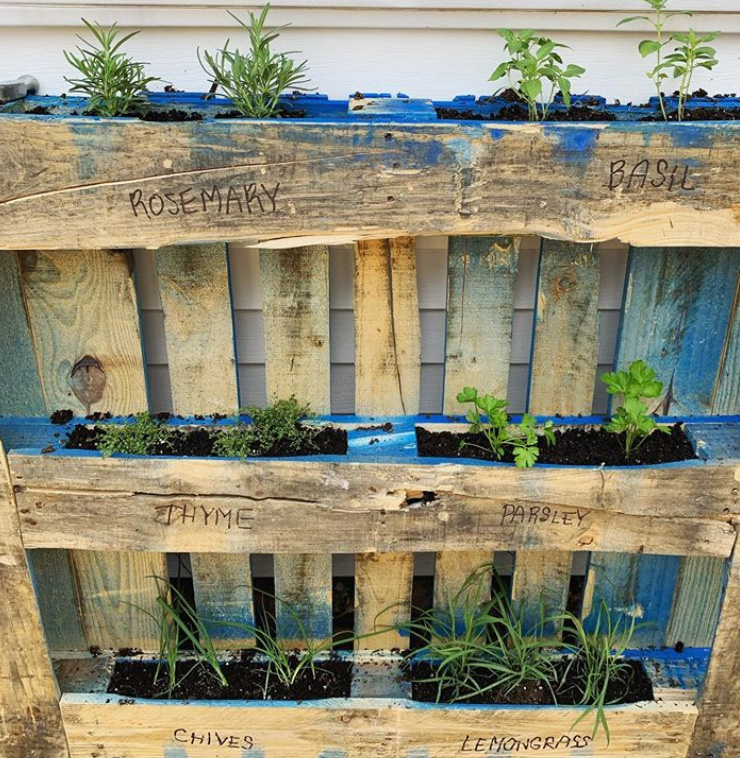 19. Herb garden
This cool wooden pallet looks sturdier than most. In fact, it almost looks purpose built for this cool herb garden. Growing fewer types of herbs can be more successful if you know what works best in your own particular area and climate. Plus, the white name labelling is neat and on trend.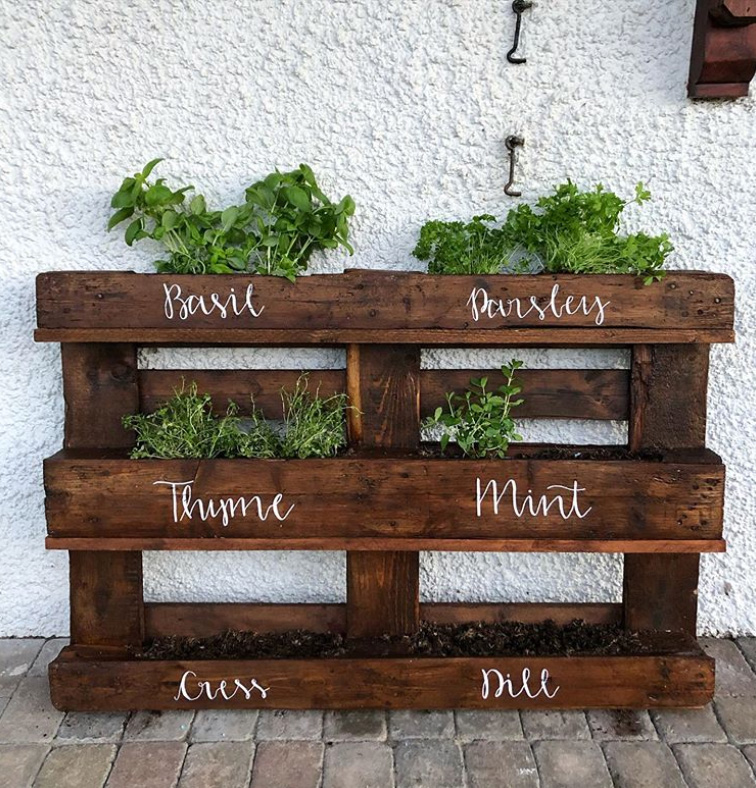 20. Garden bed
Now here is a clever play on words… When you said to hubby that you'd like a garden bed in the backyard, he took it quite literally! Quirky and fun solution to a raised garden bed. This little addition to the garden will create a lot of comment and interest.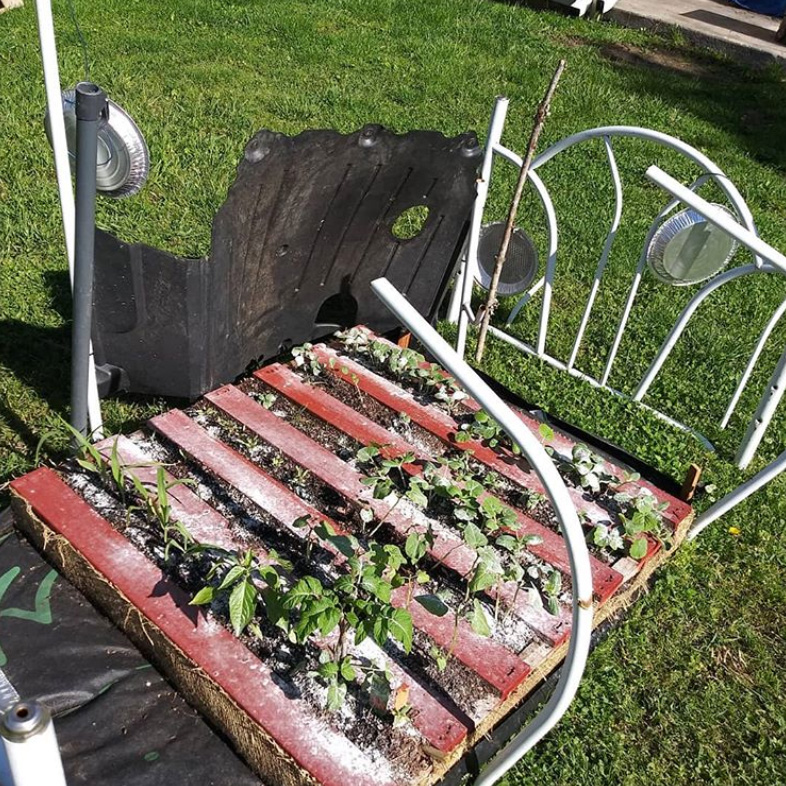 21. Hanging bottles
There is no end to crazy, clever ideas. Who would have thought of cutting the bottom off a bottle, turning it upside down and filling it with dirt to grow plants? Hang these from your wooden pallet and you have yourself a strawberry garden and herb garden.  What fun when you start picking your home grown strawberries for breakfast.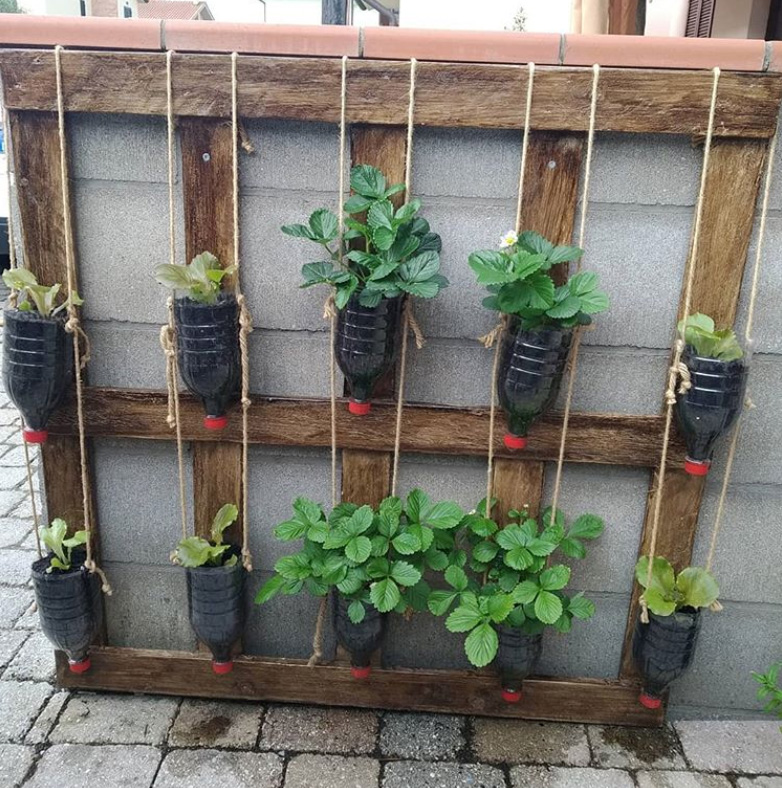 22. Rustic planters
I'm just loving these little pots hanging on the wooden pallet in this upright timber garden. The matching white pots are ever so neat. Hang up a cool watering can to complete the look. Lots of green plants will make this display look fresh and alive. And the raw rustic timber blends beautifully into the surrounding nature.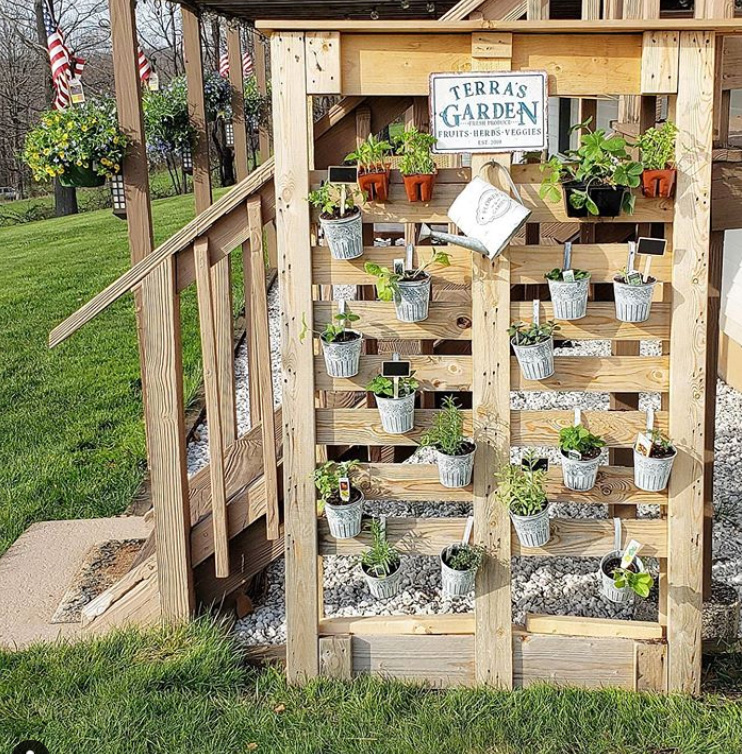 23. Colourful feature
Why not get creative and colour your wooden pallet? A striking use of primary colours certainly makes a statement, showcasing these terracotta potted herbs. A feature like this will create a talking point and give others creative ideas.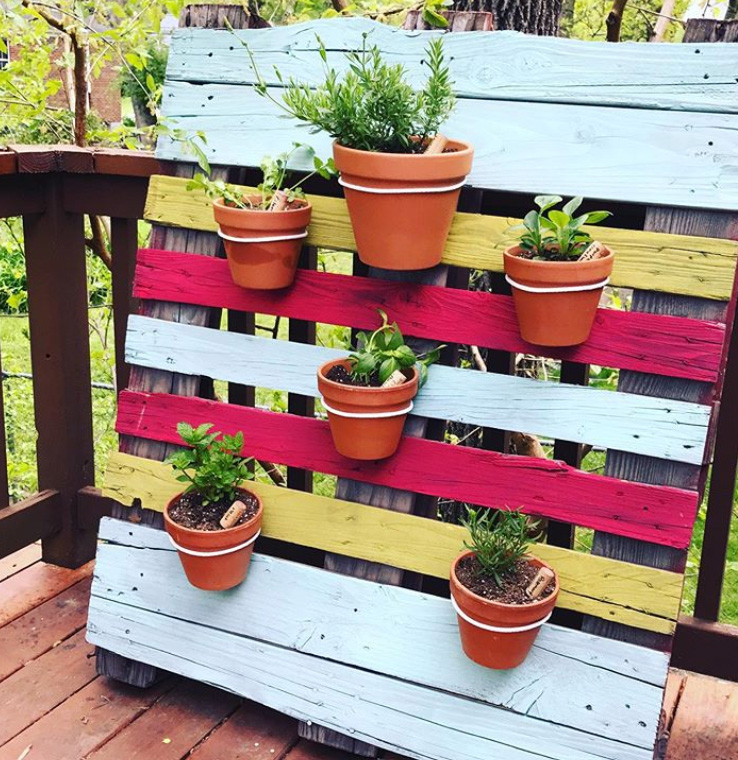 24. Floor pallet
I'm really getting memories of my childhood picking ripe, juicy strawberries planted by my father when I look at this image. So neat, so precise and so exciting to see the pop of red peek through those green leaves as the strawberries ripen. Ready to pick and ready to eat – yum yum!
There has been a lot of thought put into the placing and positioning of these strawberry plants in the wooden pallets. And they are perfectly lined up and ready for yielding the very best fruit.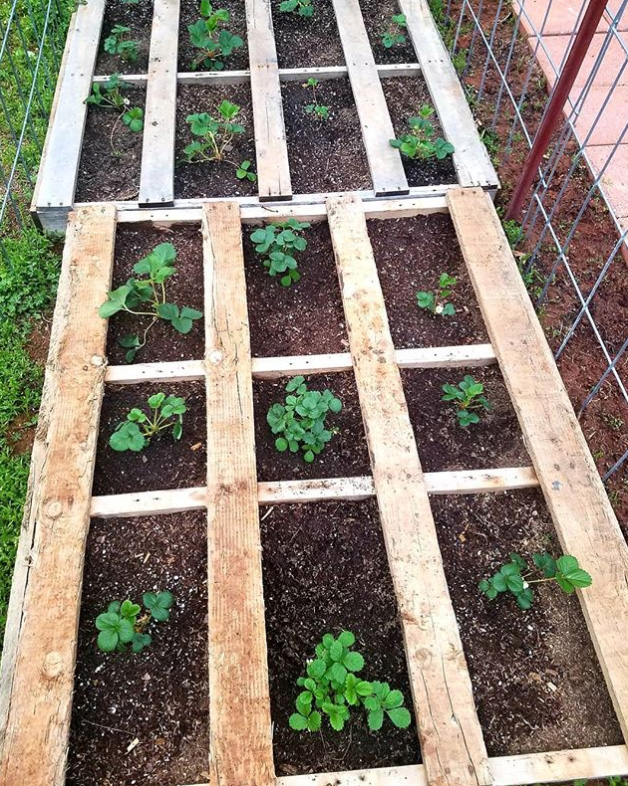 25. Red, yellow, green
It's so cool to colour code and name your herbs! But keep in mind that it might be time to sprinkle some water over them or plant some fresh herbs altogether. Herbs can be seasonal, so either cutting them right back to rejuvenate them or simply replacing them with a new plant will ensure your herb garden always looks at its best and enhances your culinary skills.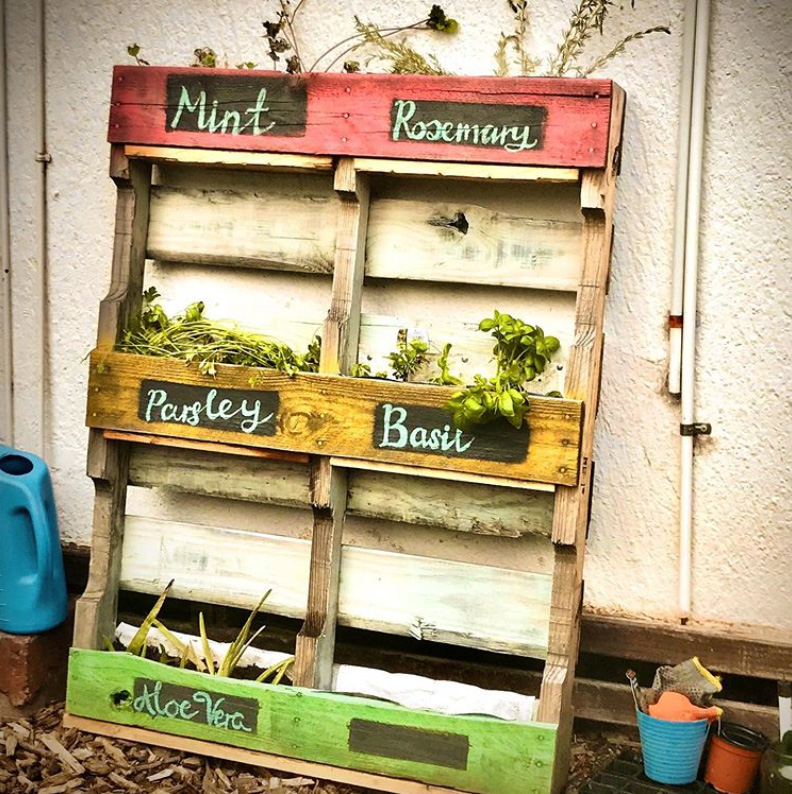 26. Cute little corner
White paint and green leaves… What could be more on trend and fresh? Here you can create your own calming, tranquil space to sit with your morning coffee as you contemplate your day ahead. This is a place to put all your favourite things: plants, candles, hearts and even plants in teacups.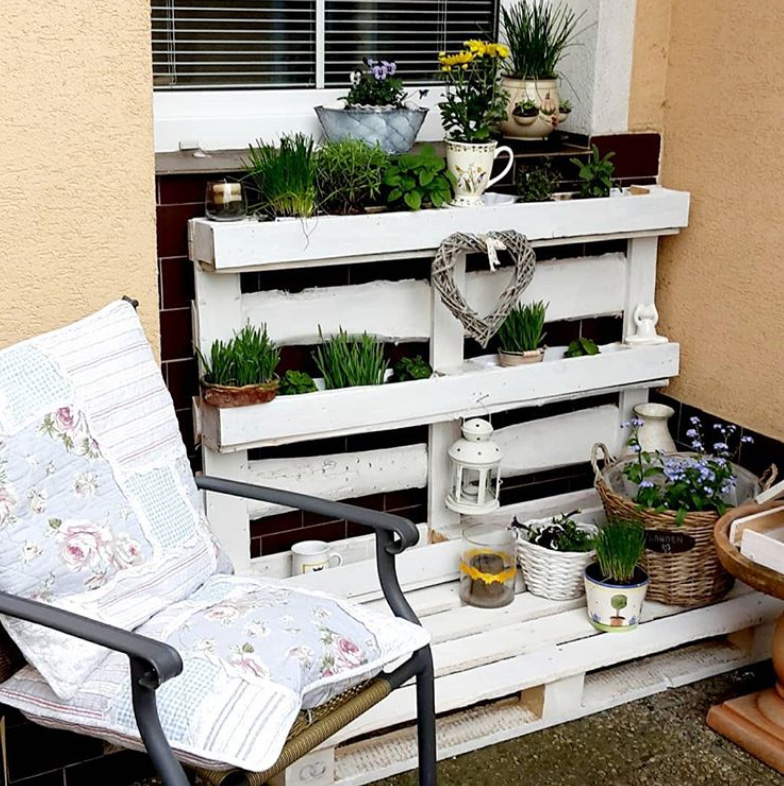 27. Staggered Flower Display
The symmetry of these flower boxes gives an order to this upright garden. The wooden pallets create a beautiful backdrop to the flower box in the foreground. There is a clever mixture of flowers and herbs. Who doesn't like practicality and beauty living side by side?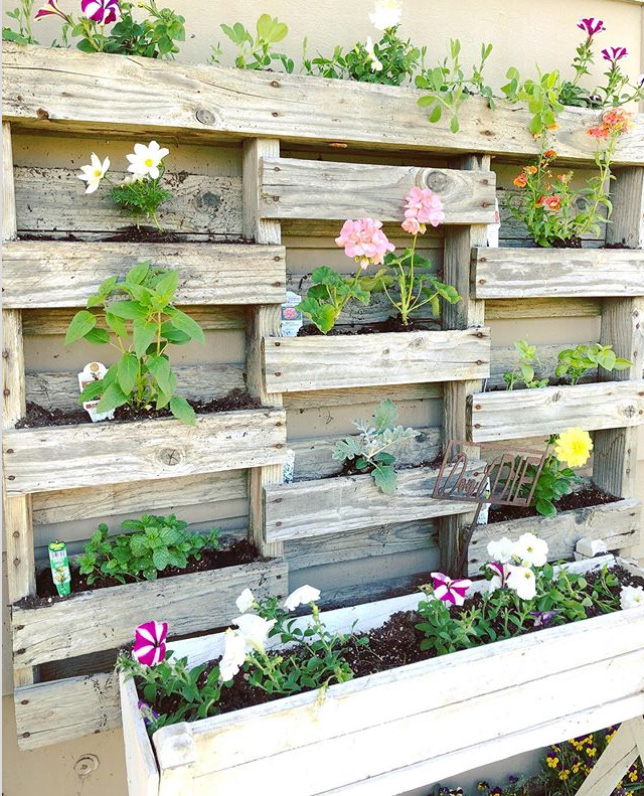 28. Countryside vibes
Would you look at this space? It's got me dreaming of a cottage in the countryside. White painted pallets showcase the potted flowers perfectly. Spring has certainly sprung with these vibrant reds and subtle mauve tones. What a cute corner of coloured country charm!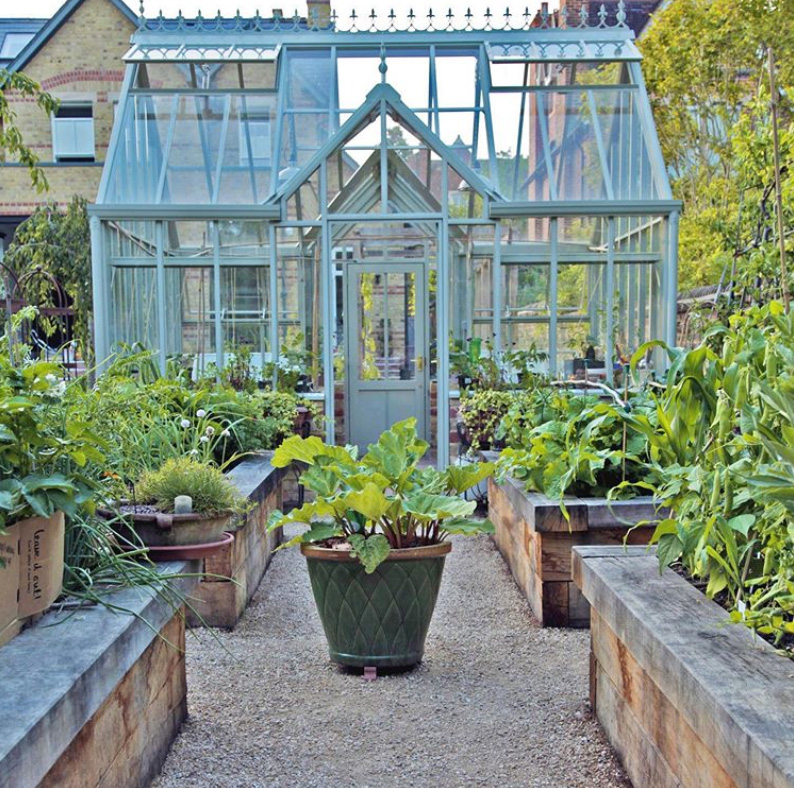 29. Balcony convenience
Clean, bold and oh so sturdy. Think durable and long lasting. This pallet has been made to last. What a great addition to a balcony that brings a garden feel to apartment living. It is also such a fabulous idea to put a mini blackboard in front of each garden bed so each plant can be labelled in chalk and rubbed out when the plant is replaced.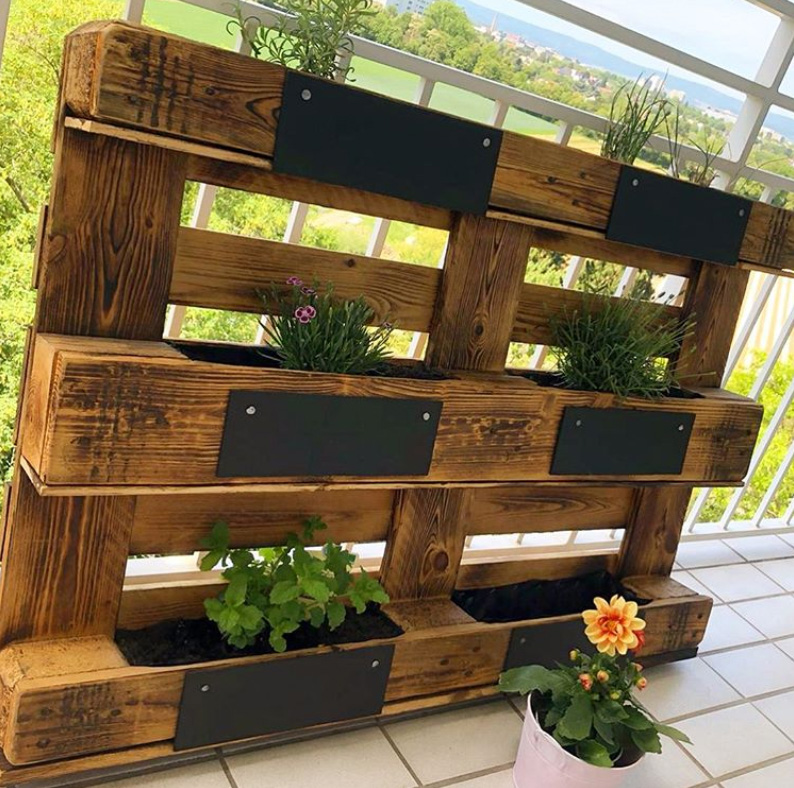 30. Colourful planters
A pop of coloured pots really brightens up this wooden pallet that's propped against a brick wall. When the herbs are all shades of green, the contrast of the different colours is so pleasing to the eye. A few more herbs to plant and this will be complete!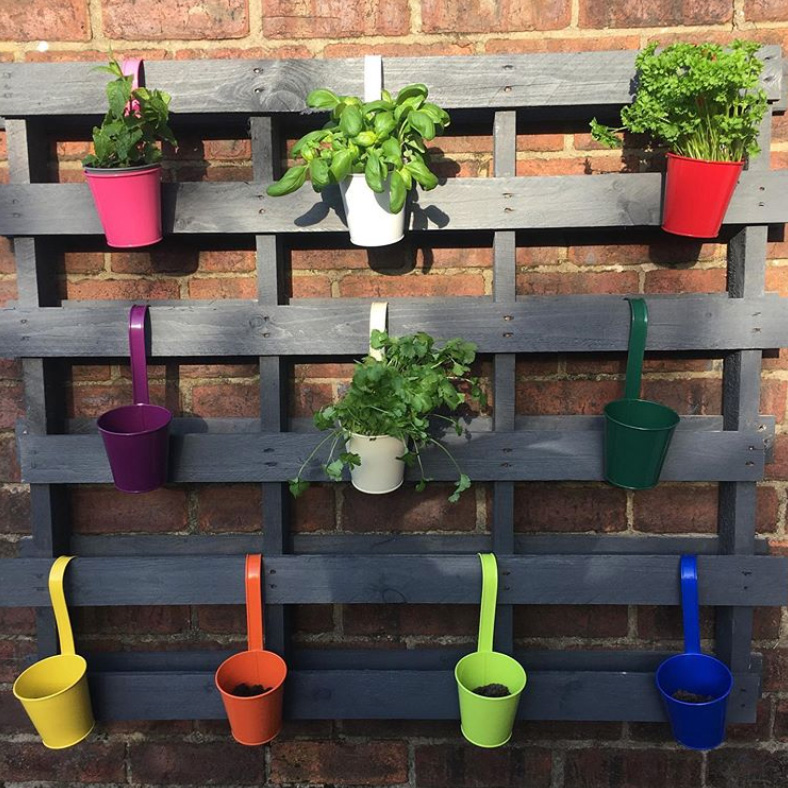 31. Dried herbs
Dried herbs have never looked so interesting! Hanging a wooden pallet from the ceiling is a perfect way to hang herbs to dry or indeed to ripen a hand of bananas. Lots of hooks provide plenty of room to hang all of your goodies… I'm thinking a hanging string of garlic would work well and ward off any unwanted visitors!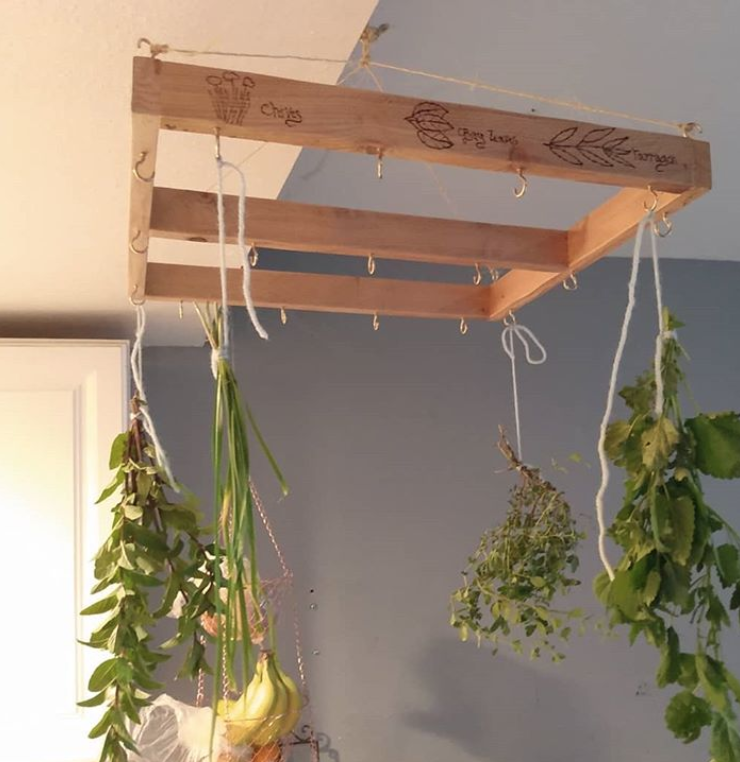 32. Dainty details
I just love the simplicity of this pallet herb garden. This cute little planter is the epitome of no fuss – it's uncomplicated and aesthetically pleasing. Blending perfectly with the fence behind, the white hearts and trees of life add a little loving touch.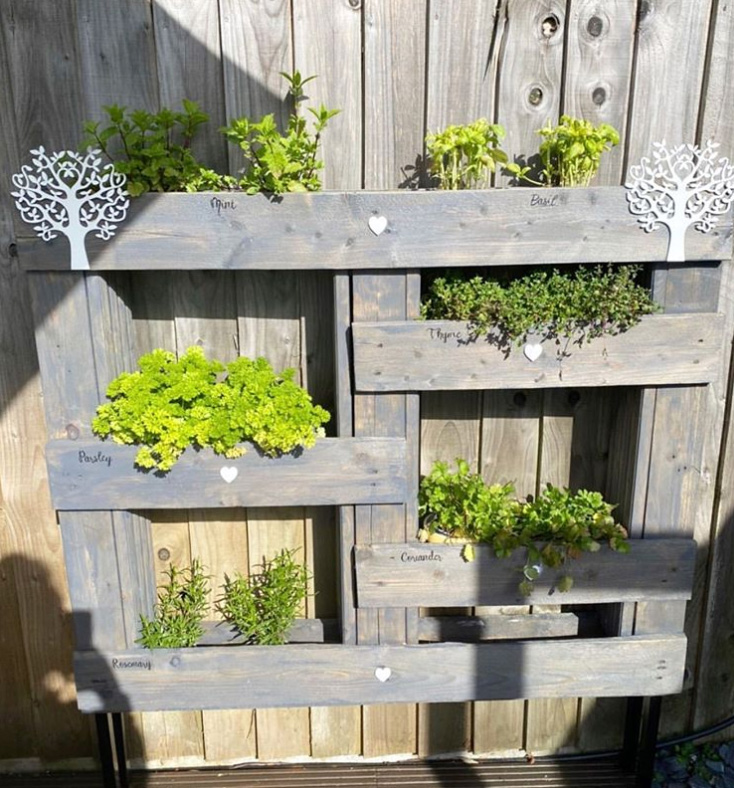 33. Pallet table
Painted in baby blue, this converted pallet tall table is a clever addition to this backyard garden. I love the garden tools hanging from the edge of the bench table – how handy! This is the perfect place to do a little repotting, great for your resident green thumb.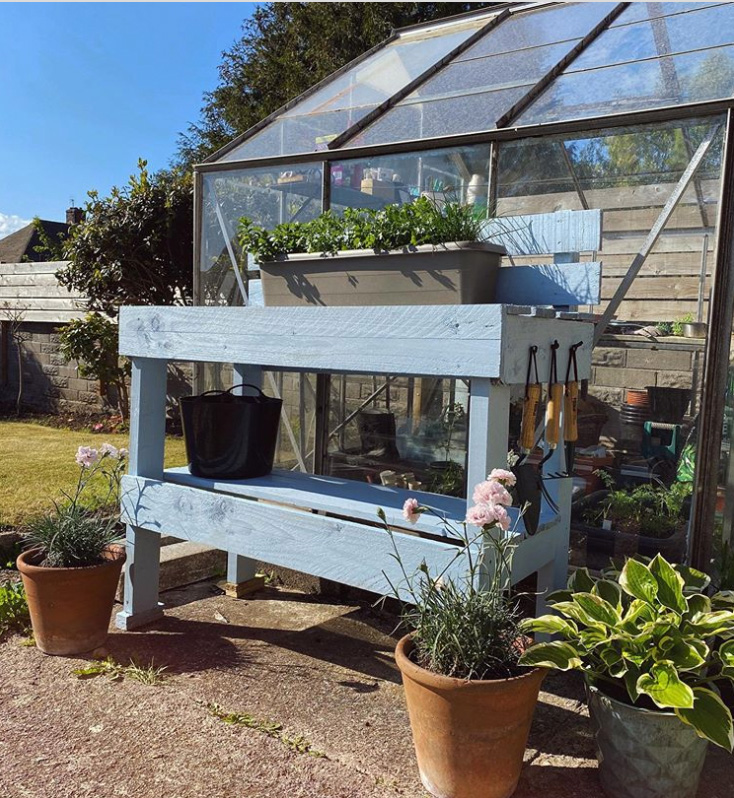 34. Levelled garden
Stagger your pallets in a step like formation. The plants have been thoughtfully placed so they grow with plenty of room to flourish. The lattice behind the garden bed will also encourage the creepers. This is going to be so oh so lush in full bloom!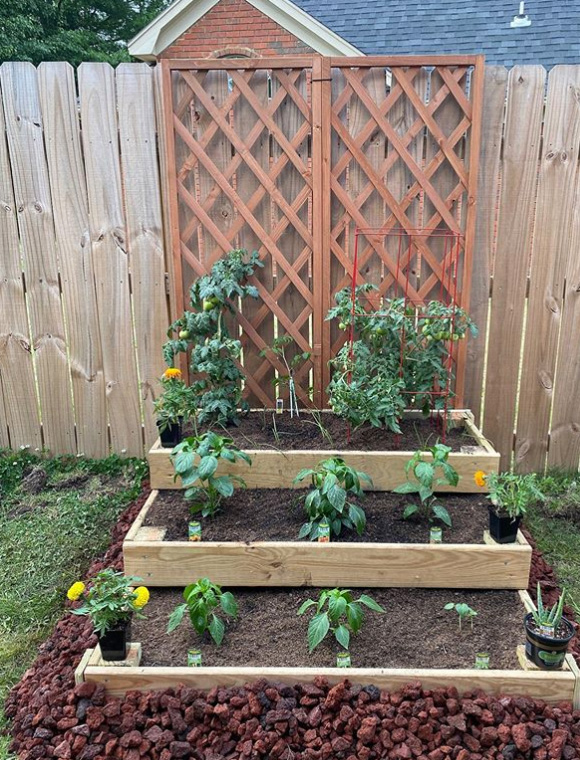 35. Stylish addition
The tin pots hanging from the upright wooden pallets are bucket-like and add a rustic touch.  They contrast fabulously against the greenery of the herbs and the earthiness of the wooden planks. Nothing screams home garden like an authentic watering can to complete this perfect quaint scene!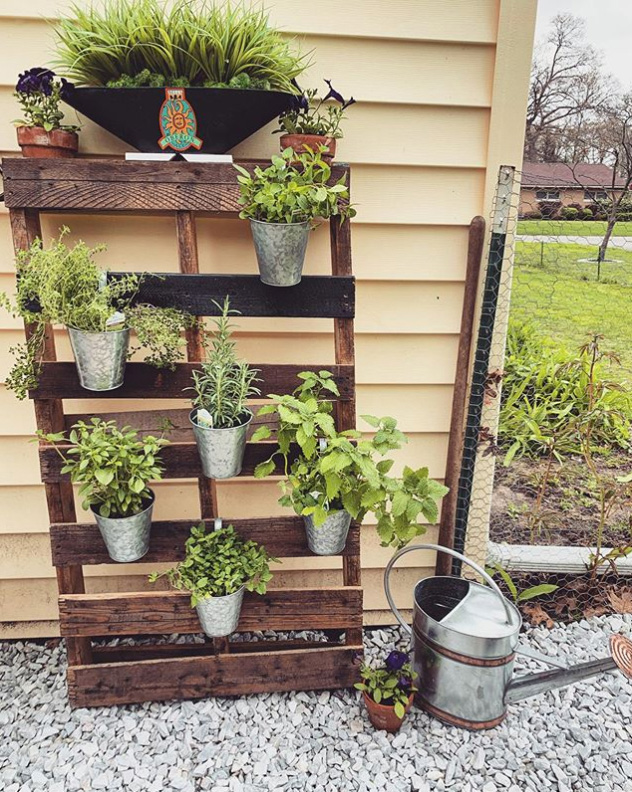 And that concludes our 35 pallet garden ideas! I absolutely love the pallets that include herbs or flowers as well as that cool and creative 'Plant Bar' from number 13… What do you think? Which idea are you going to try? Let me know in the comments below!