Your wardrobe is an extension of your personality – it reflects your style, holds special memories and says a lot about your philosophy about clothes. It's as much personal expression as it is a function that serves your every-day life, so why leave it unorganised and unseen? Sometimes you just need a little bit of inspo to put you in the right direction and so that's why I've put together these 32 stunning wardrobe ideas just for you.
So what type of wardrobe design works for you?
If you're a glitz and glam kind of person, you might want to create a wardrobe with mirrors and lights. Or if you live by the beach, you might want your wardrobe to reflect your laid-back lifestyle with neutral tones. Or if you're squeezed for space, you might want to add some extra hooks and floating shelves to store your clothes or even consider a minimal wardrobe. And what about the renters? You'll need something portable yet stylish that doesn't cost the world (especially if you're only there for a year or so).
Now if you're going ahead with a new wardrobe design, it's the most logical time to also spring clean your clothes and see what you have/ have not worn over the past 12 months – you need to be really honest with yourself. This will make the end result taste just that bit sweeter.
Whether you have a spacious walk-in robe or a tiny apartment, you can transform your wardrobe into an attractive, easy-to-navigate space with these inspiring wardrobe ideas.
1. Style a clothing rack
Styled clothing racks not only look good but they save on space. This is the perfect option for you if you live in a small apartment or house. It's also great to help plan out your outfits for the week, which means you'll be super-efficient with getting out the door on time, or a trip so that you can see what you're taking.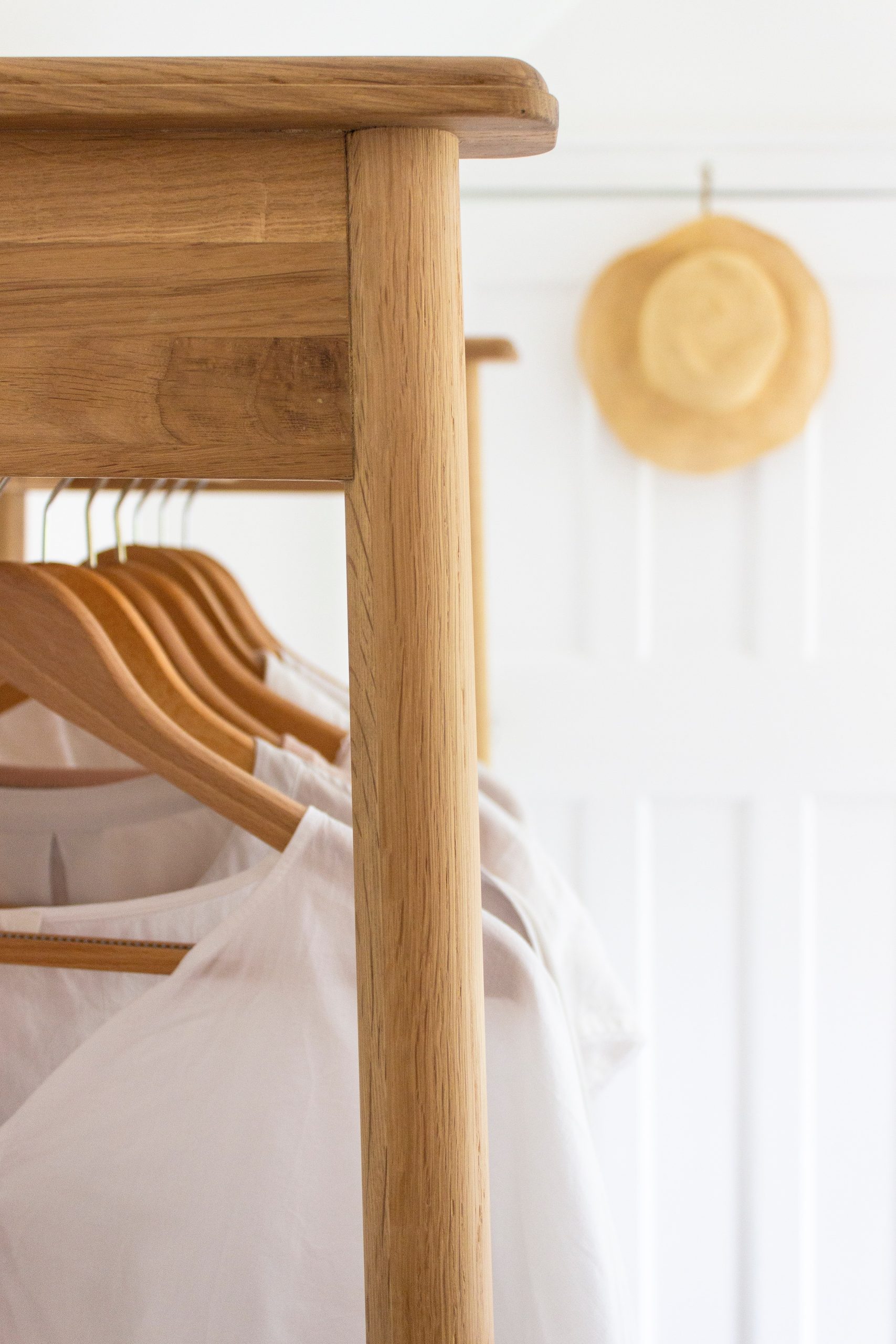 2. Hang your clothes at the right height
Figure out how you can best use your space by looking at the types of clothes you already have. Do you own a lot of full-length dresses or do you wear shorter dresses, blouses and skirts? This will determine what sort of furniture you should use in your space. If you have a lot of shorter items, hanging clothes from a rail above a dresser might work best for you. But if you have a lot of longer items, it might be best to invest in a full-length hanging solution. Be sure to always grab out the measuring tape and to ensure you make the right choice.
3. Install sliding doors
These sliding doors will save you so much time and hassle! This is something that you will need professionally installed if you're not confident to do it yourself.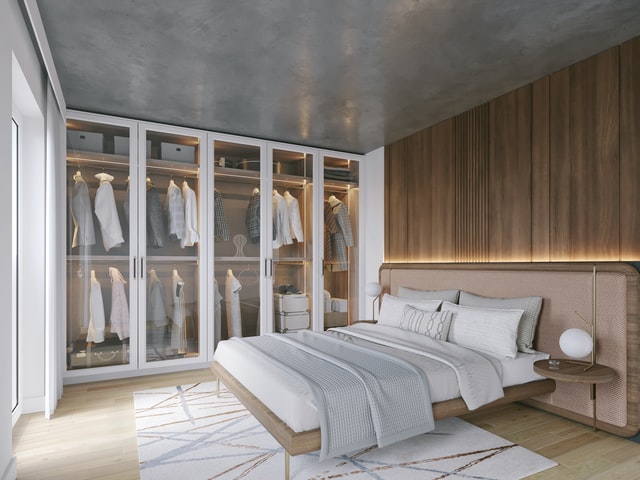 4. Arrange by colour
This is a no brainer! Organising your clothing by colour will help to keep it looking clean and visually attractive. Start with the lightest neutrals (white and cream) and move through the colour wheel, placing colours next to each other from lightest through to darkest.
5. Choose a fitted cupboard solution for an awkward space
If you've got a tricky space, don't despair! Simply install shelving that works with the room.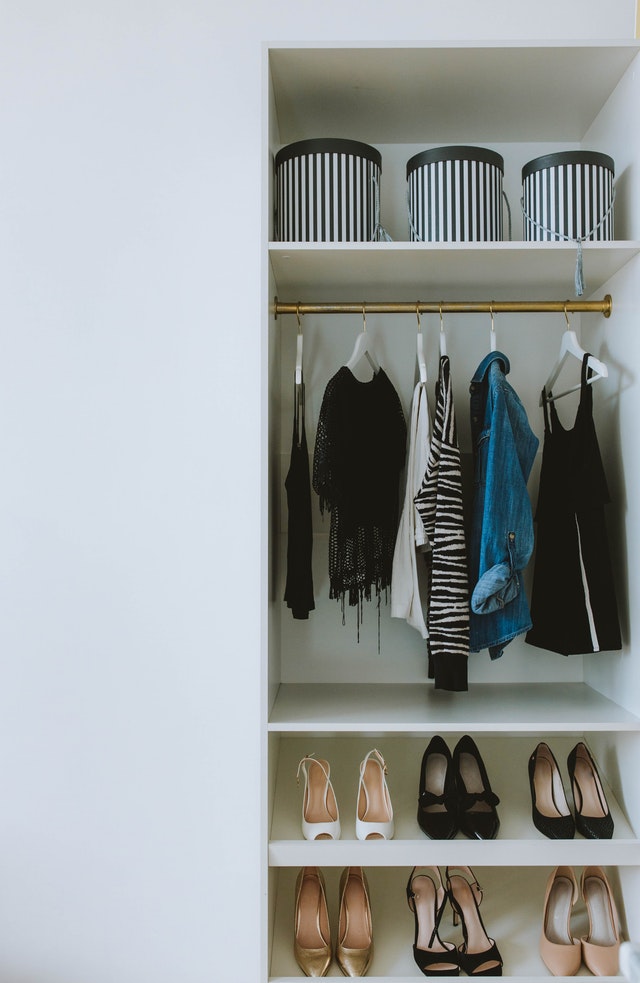 6. Organise by category
Grouping your clothing by categories is the oldest trick in the book – but it is the most important one. Categorising your items by dresses, pants, skirts, shirts, jackets, pyjamas and more, will help you find everything you need quickly. No more making a mess or rummaging around the back of your closet for that missing blouse!
Top tip: To see everything easily, organise by item followed by style, length, and colour.
7. Add a stool or chair
A stool not only adds extra interest to a walk-in wardrobe but it's also a practical solution for helping you reach items that are on high shelves. Choose a colour that complements your existing furnishings or one that adds a pop of colour to a minimalist room.
Stools come in all shapes, sizes and styles. Velvet is always a popular choice to add a touch of glam to a wardrobe. But always remember to choose something that you love that suits your personal style! You could also upcycle an old timber chair.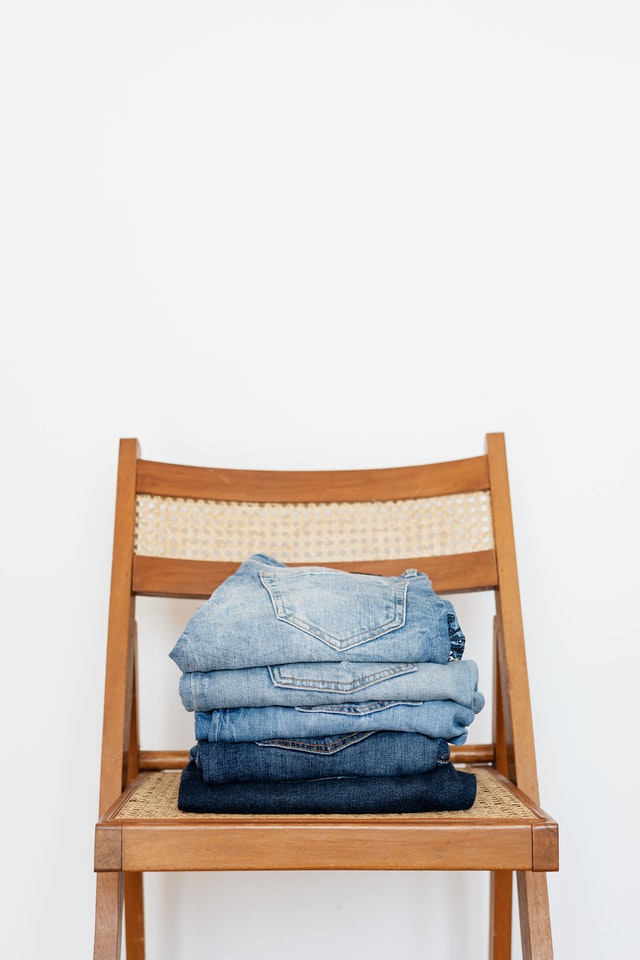 8. Use the KonMari Method
Have you heard of Marie Kondo and her KonMari Method of decluttering? Marie gets people to hold their belongings and ask the simple question "does this spark joy?" It's by this principle that you can clean and order your wardrobe, discarding and donating those items that you no longer have a connection to and keeping the ones that, well, make you joyful!
9. Use lots of drawers
Never underestimate the handiness of drawers, especially if you have an open closet. Drawers help keep your clothing tidy and out of sight. Remember, not everything has to be on display!
Key items to fold away in drawers include underwear, pyjamas, activewear, t-shirts, sweaters, jeans and out-of-season clothing.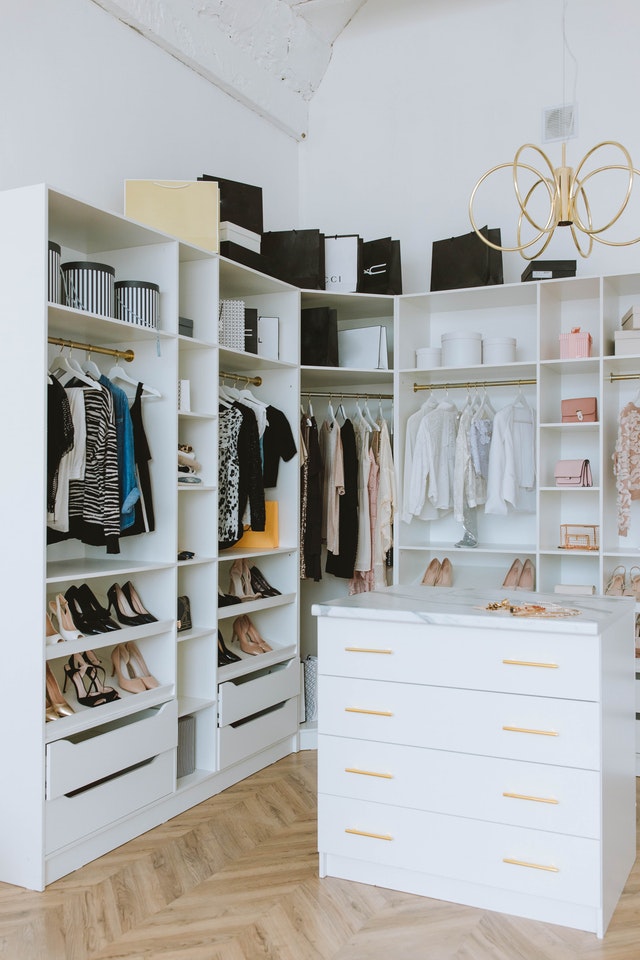 10. Build a dressing table into your closet
If you need to save on space, then this is the solution for you! Transform a built-in wardrobe by incorporating a clever dressing table into its design. Add a mirror and some shelving and you've got plenty of space to store your makeup, jewellery and more.
Related: How much do built-in wardrobes cost?
11. Add a bunch of flowers
If you have a walk-in wardrobe, or even a spare shelf on an open closet, pretty up the space by adding in a fresh bunch of flowers. This instantly makes your room more glamorous and put together.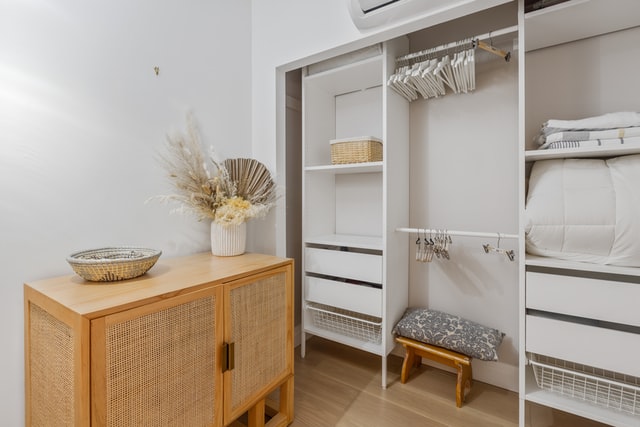 12. Use drawer inserts
It's one thing to have a pretty wardrobe design, but it's another to keep it constantly well organised. Well then, let me introduce you to drawer inserts that will help you separate your socks or help you to horizontally store folded clothes, rather than vertically.
13. Wardrobe lights
If you have the budget, add in some LED strip lights inside the wardrobe to easily see all of your clothes. Or you could place it below to give the wardrobe a floating effect.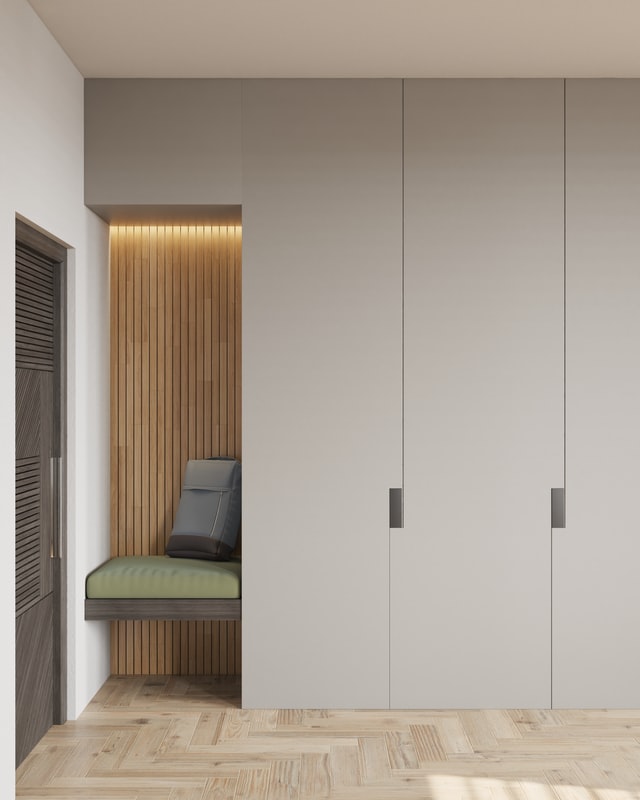 14. Reallocate hanging space
When it comes to winter, people often find their wardrobes are stuffed to the brim. The problem is that people often don't forget to put away summer clothes to make way for bulky winter items like coats and jackets.
Get into a habit of putting away summer clothes as winter comes and vice versa as the season changes again. You'll find you have a lot more room in that wardrobe and you'll only have the clothes out that you'll actually use.
15. Use mirrors
If you're adding a walk-in robe to your bedroom, having a mirror in there too is a must-have. There are just so many different options, from inbuilt mirrors to just propping an oversized mirror up against a wall – either result will look fabulous.
16. Use storage boxes
Keep your accessories and smaller items tidy with pretty storage boxes. Simply choose colours that compliment your current theme for a seamless look and put all your little knick-knacks away in there.
Top tip: Storage boxes are a great way to put away your seasonal items such as jumpers or t-shirts but still have them nearby for when the odd cool or hot day comes along.
17. Go for classic timber in a muted shade
Neutrals are all the rage right now! But honestly, you can never go wrong with a touch of wood. Combine with sleek white furniture and greenery, and you've got yourself a clean modern wardrobe. The key to making this style work is to keep the colours balanced and consistent.
Not sure how to make this work with your bedroom? Maybe it's the perfect excuse to change things up in that department too! Take a look at our favourite 65 bedroom ideas for any home.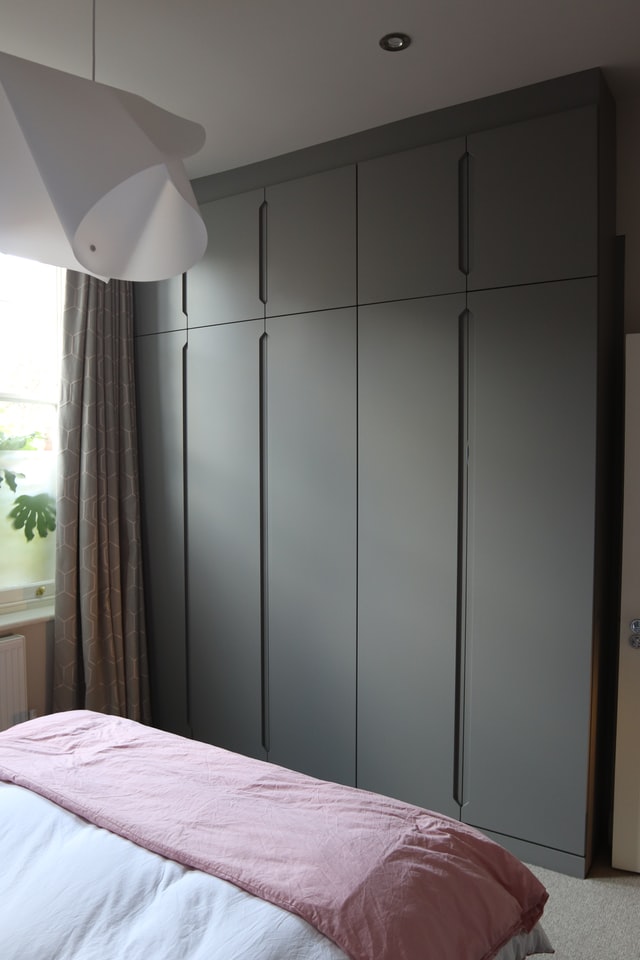 18. Hooks on doors
Hooks are the ultimate space-saving solution! Use them on the backs of your doors to hang your accessories. If you're renting and your landlord won't allow you to add permanent hooks to the walls, you can always find stick-on hooks at your local hardware store.
19. Create a capsule or portable wardrobe
A capsule wardrobe is a collection of essential items of clothing that never go out of fashion. The clothes should be able to be worn interchangeably with one another, to maximise the number of outfits that can be created. The ultimate aim is to have easy to put together outfits that can be worn for every occasion – work, out to dinner, on the weekend and around the home.
To achieve this kind of wardrobe, you ideally want to choose a couple of pieces from each category (shirt, trousers, shoes, etc) and select them in coordinating colours. And because you're only picking a few items, a portable wardrobe that can sit in your bedroom is a great option.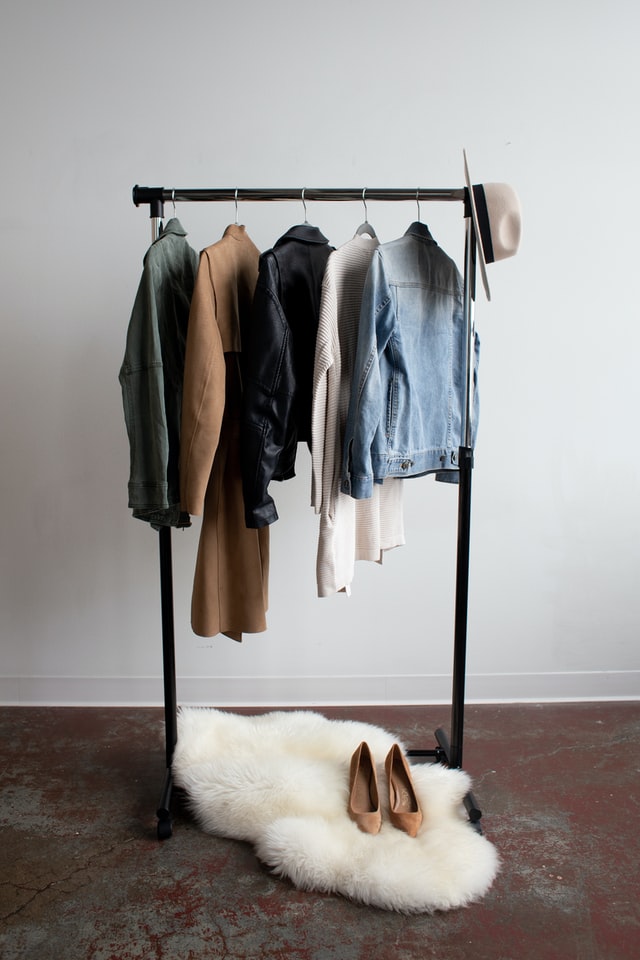 20. Upcycle an old closet
If you're on the hunt for a new wardrobe, why not consider revamping an old one? There are always plenty of interesting closets to be found at vintage stores, op shops or even on the curb! Use shabby chic styling to make your closet look brand new while still keeping its vintage touch.
21. Show off your handbags
If you've invested in pretty handbags, then don't just leave them lying around! Display your beautiful handbags, purses and wallets in a clever shelving unit. This not only provides a stunning feature display but also helps you keep a track of each of your beloved accessories.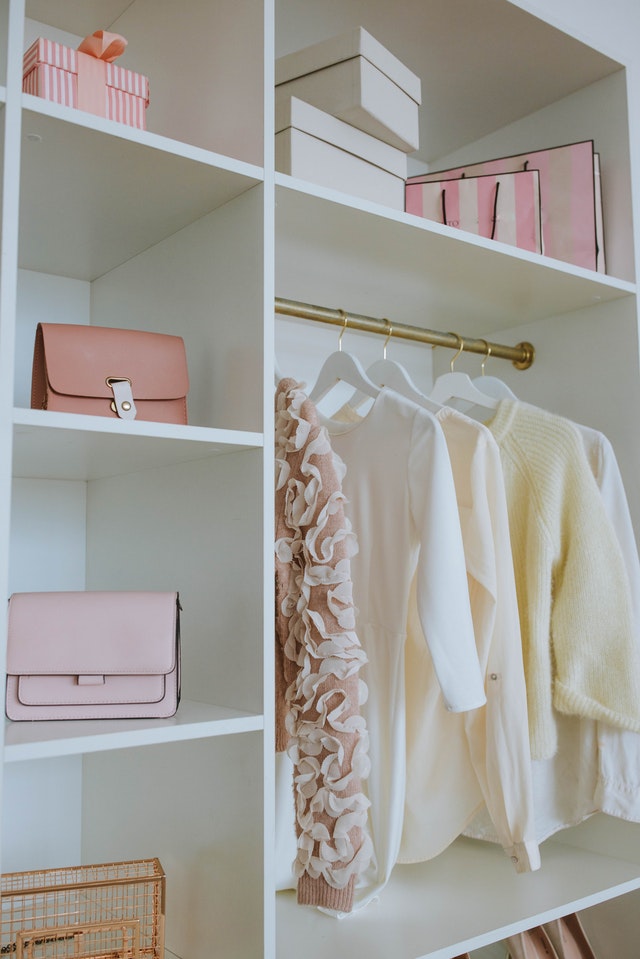 22. Stack your t-shirts upright
Have you ever had that moment when you finally found that top in the bottom of a drawer that you forgot you had? Well, then it's time to change how you fold away your clothes. Once folded, place in vertical and not horizontal – that way you can see all of your clothes and easily pick the one you want.
23. Go all out with glass
Want to add a little glam to your wardrobe? Consider using all-glass doors. This creates an ultra-sleek look that makes the room appear larger by reflecting the tones of the room. It's not one for the budget-conscious though.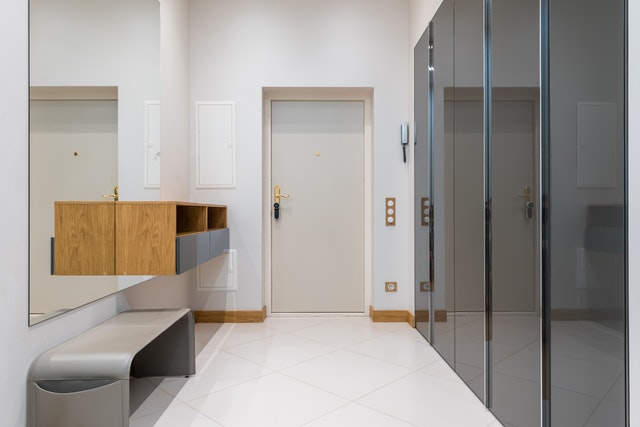 24. DIY ladder wardrobe idea
If you're tight on space and handy with tools, why not create a ladder wardrobe? Drape your handbags over it, a cute potted plant, store your shoes, and hang your favourite tops. Not only is this a clever solution for your room but it can also serve as an industrial feature piece.
25. Use floating hangers
For a minimalistic approach or if you're tight on space, you can install a bar to hang your clothes on in your bedroom.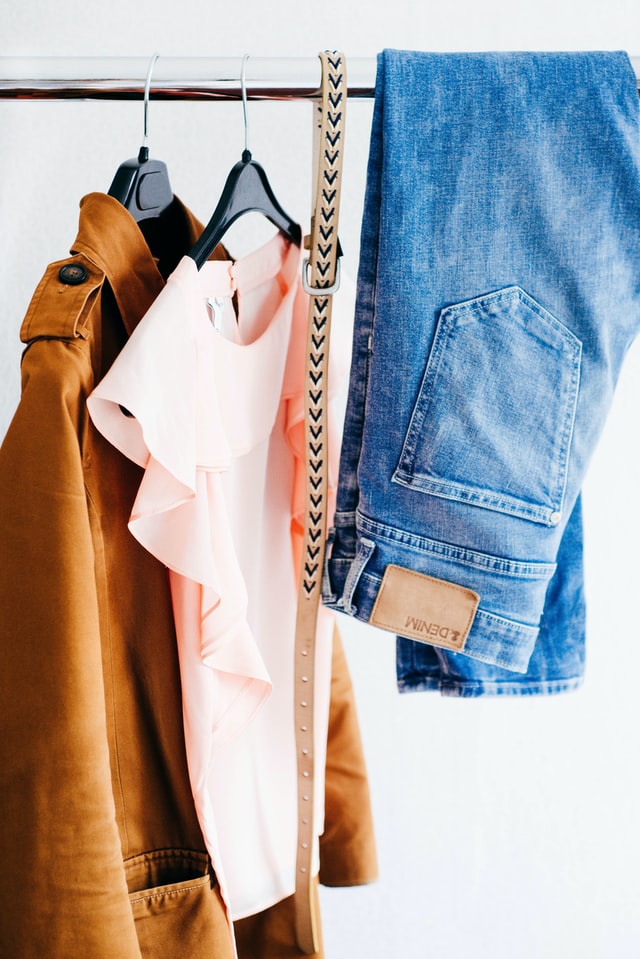 26. Switch it up with a PAX wardrobe
If you're looking to make your closet uniquely yours, then look no further than the IKEA PAX wardrobe. It's one of the most customisable solutions on the market. They have so many options to suit your space and style. You get to choose the size, colour, style and the type of doors you want. From there, you can add in and swap out any interior organisers you need. These can include trays, compartments, baskets, hanging rods and more. The best thing is that if you want to change something down the track, you can!
Don't forget to let someone else take care of deciphering those ghastly instructions with an IKEA assembly expert near you.
27. Display your favourite pieces
Double your wardrobe as decor by using your shelves to display all of your favourite pieces and products. This is one way to really represent your own personality and style! Choose your favourite sunglasses, heels and jewellery and team them with pretty packaging and candles to complete the space.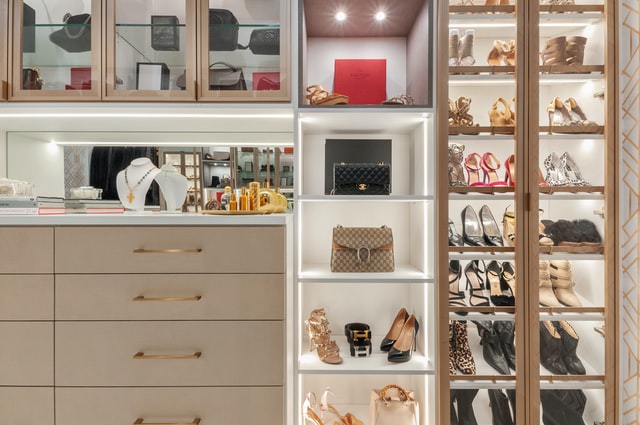 28. Use a bed storage solution
Don't let the space under your bed go to waste. If you live in a tiny apartment, invest in a bed frame with storage space to keep all of your handbags and accessories.
29. Invest in the right hangers
The easiest way to get your closet looking more organised is to swap out all your old mismatched hangers for hangers that match. Choose from wooden, white or wire hangers. It will make a drastic change to your closet that will instantly make everything look more clean and cohesive.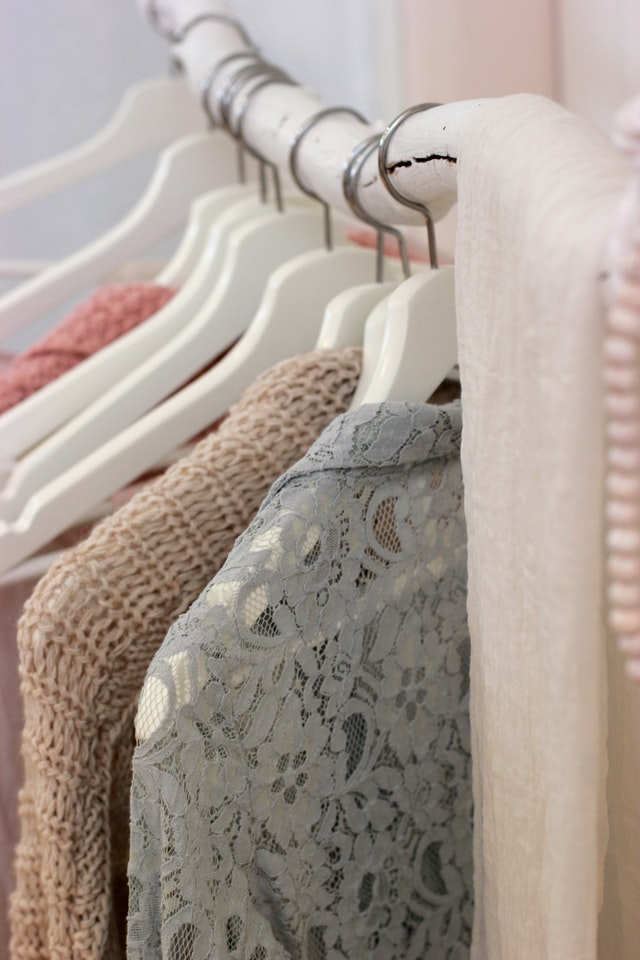 30. Make a shoe feature wall
If you're a shoe-a-holic like me, then you're probably pretty proud of your collection of heels, boots, sneakers and sandals. But there's nothing more frustrating than when you've got the perfect outfit in mind and you can't find that one missing shoe… Creating a shoe wall solves this problem!
Use an open cupboard storage solution or bookcase to display your shoes. You'll also probably find that you'll reach for different shoes more that you can see them – it's a win-win!
31. Create a hat wall
A clever way to decorate your room or wardrobe is to create a hat wall. If you have a decent hat collection, this will put your hats to work while you're not wearing them and save you from having to buy art pieces. All you need is about five hats (an odd number looks best) and some wall hooks. Add them to your wall and voila, you've got your very own feature wall!
32. Combine your office with your closet for a 'cloffice!'
If you live in an apartment or small home, you know just how precious space is. If you have a walk-in wardrobe or dedicated wardrobe room, add in a desk to use it as an office too. Choose a storage solution and desk that compliment each other. But be warned, to pull this look off (and stay sane!), you need to make sure it's always sparkling clean!
PS. This is just one of many ways you can make your office multi-room functional. There's also a mudroom combo and kitchen… See how to make an office fit with any room in your house with these home office ideas.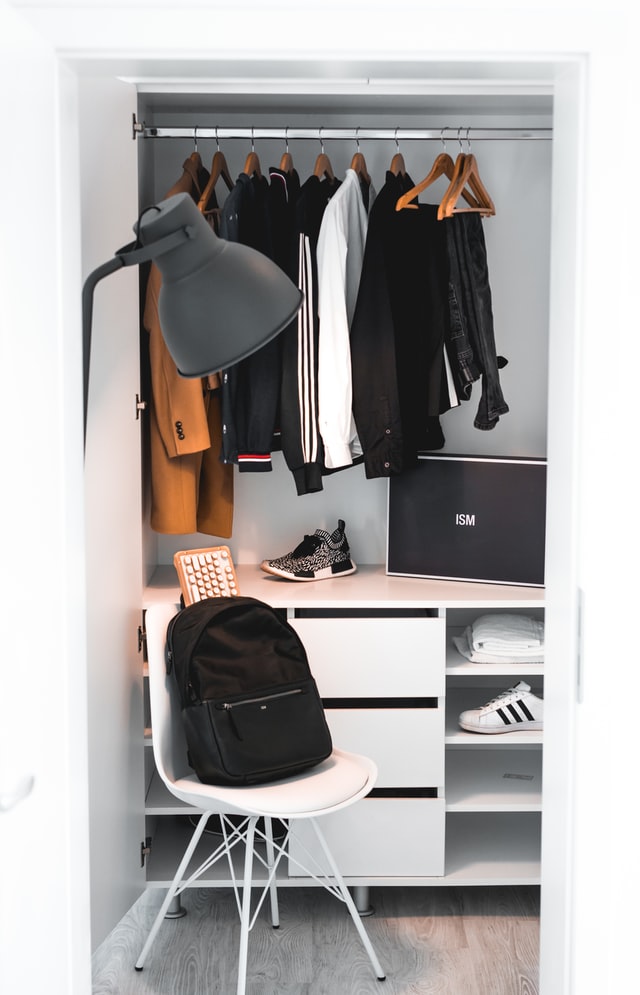 We can often look at our wardrobes as boring old storage units and not give them much thought. But there's also so much more we can do with our wardrobes to make them a space that truly reflects our personality, not too mention works well functionally too.
I've had a blast putting these ideas all together for you and hopefully, it's given you some wardrobe inspiration for your home. If you know any more inspiring wardrobe tips, comment and share them with me below.