For many of us, our bedroom is a sanctuary, a space to collect our thoughts, calm our minds and relax our bodies. We spend a lot of time in our bedroom, a third of our day actually, so it's important that you love the space you're in. If you're stuck for bedroom ideas when it comes to styling or just want to change it up, we have over 65 ways to change your décor, up-cycle items, create themes in your room, as well as use texture, patterns or accent features to create a focal point.
Here's our 65 DIY bedroom ideas
One of the best (and most affordable) bedroom ideas is to use what you already have. Creating a new look in your bedroom doesn't have to be about spending money. You can easily DIY a new piece with items you may already have in your home.
Check out the below up-cycled ideas to create a new look in your bedroom.
1. Room divider turned bedhead
Up-cycling items for another use is a fantastic way to use items you already have or may be able to find cheap to create a new look. This room divider has been placed behind the bed to create a bedhead look. The new bedhead fits in with the bohemian look of this room.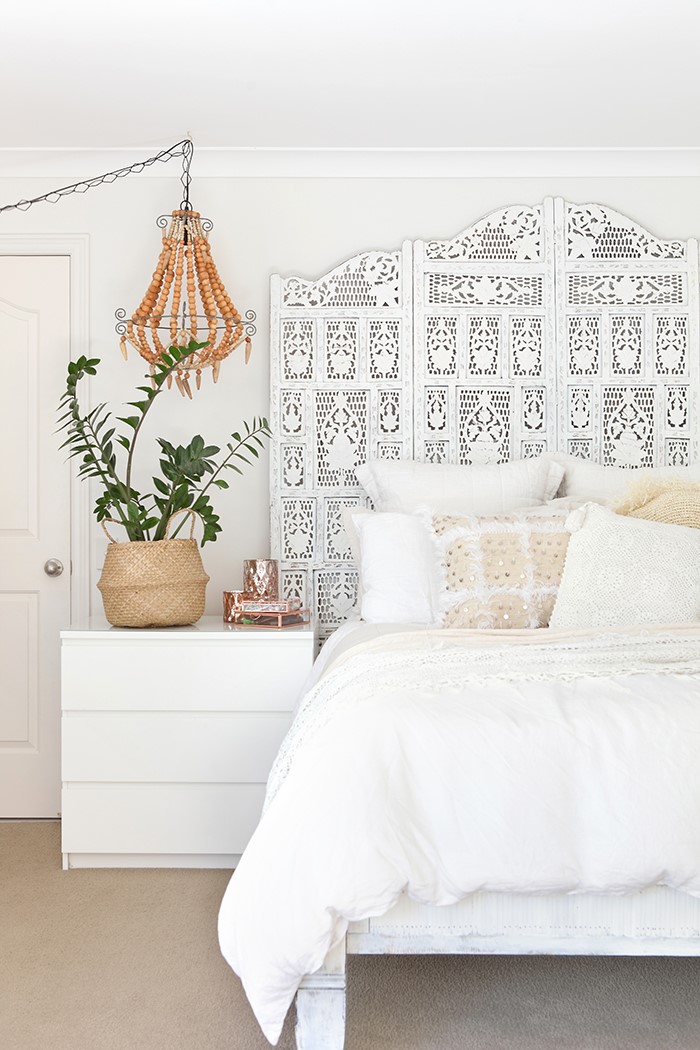 2. Lattice bedhead
Re-purpose a lattice frame which you can pick up at your local hardware store as a bedhead. All it needs is a touch of paint and a steady hand but if that's not your thing, you can get a painter to help you.
3. Macramé Wall Hanging
Macramé art is on the rise again, and it might not be as hard as you think. A macramé wall hanging, blanket or even plant holder will add texture to your room.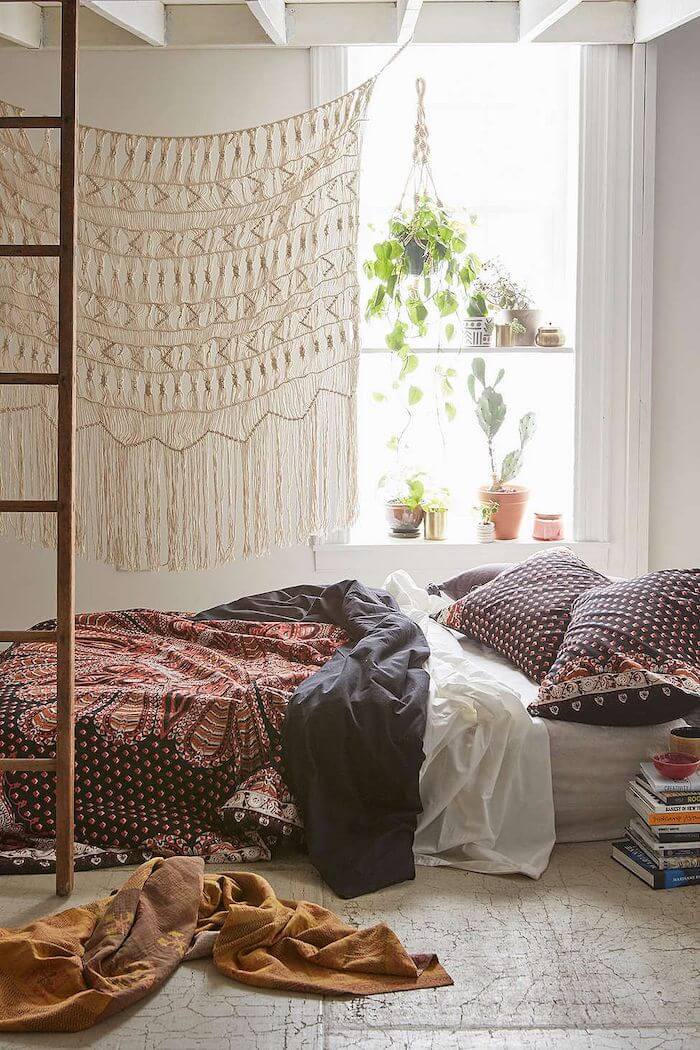 4. DIY art
Combine string lights and photos to get this DIY wall art that can be changed and edited whenever you like. String lights can be found at most department stores and are a great addition to create warmth in your room.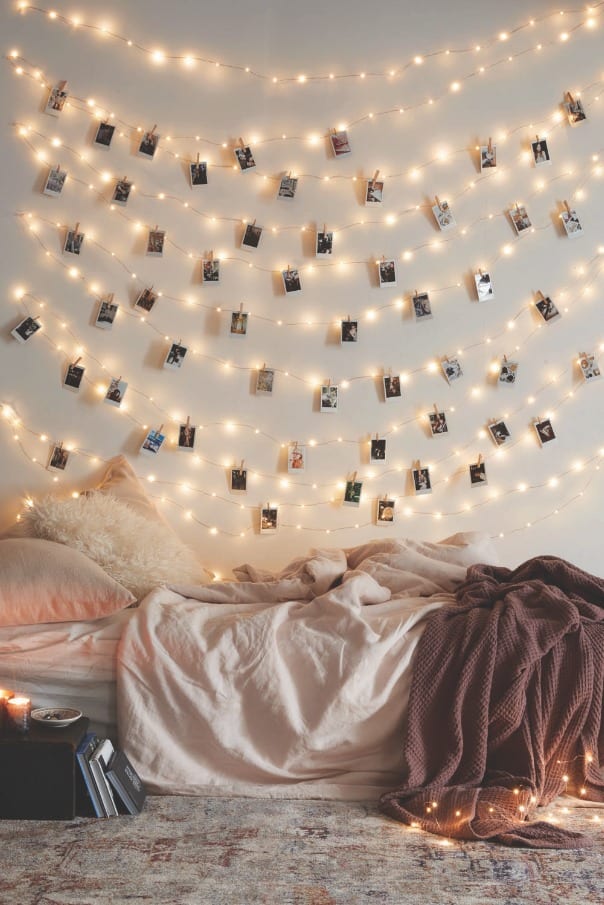 5. Distressed furniture
Distressed furniture can be created with whitewash paint and a light sanding. The distressed look is commonly seen in a country or rustic-style rooms. It can make use of pieces you already own meaning you don't need to purchase new items.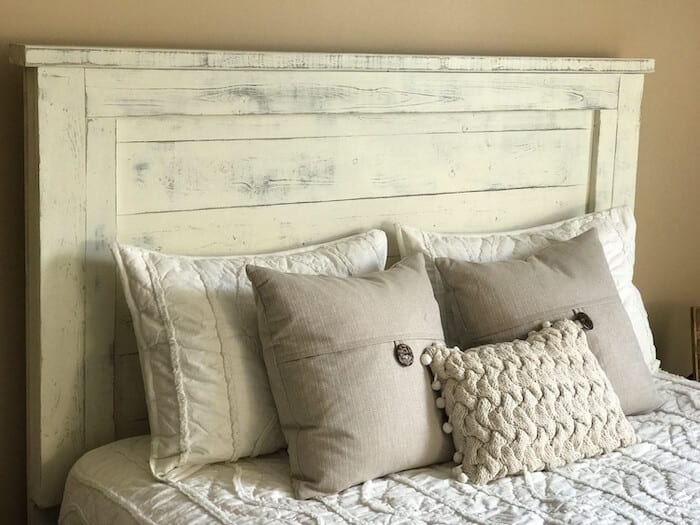 6. DIY Macramé lampshade
Create something different like this Macramé lampshade. It will bring a little bit of boho to your bedroom.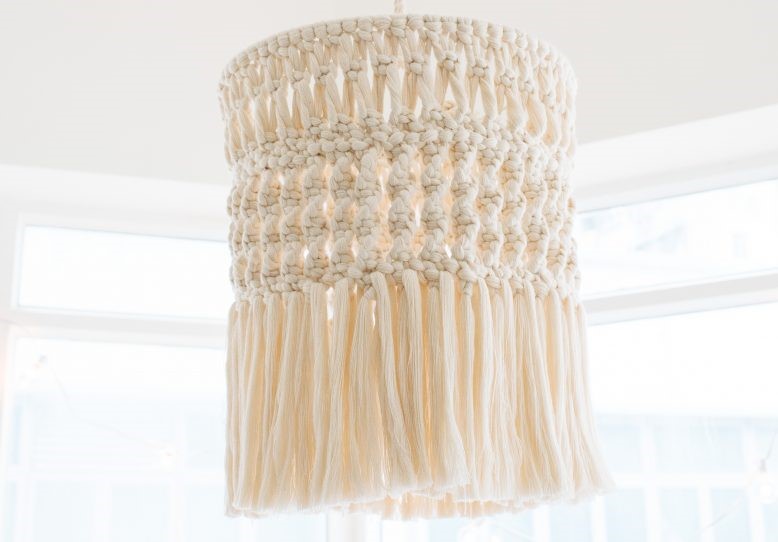 7. Driftwood Art
Bringing the outdoors in can be as simple as finding some driftwood or branches, attaching some lights or some greenery and hanging on the wall or ceiling.
If you aren't too clear on how to hang things from your ceiling or what hooks to use, leave it to a professional to help with hanging your art.
8. Glass bedside table
We love a good 'hack style' bedroom idea. This simple hack features an IKEA bedside table which has had glass applied to the sides.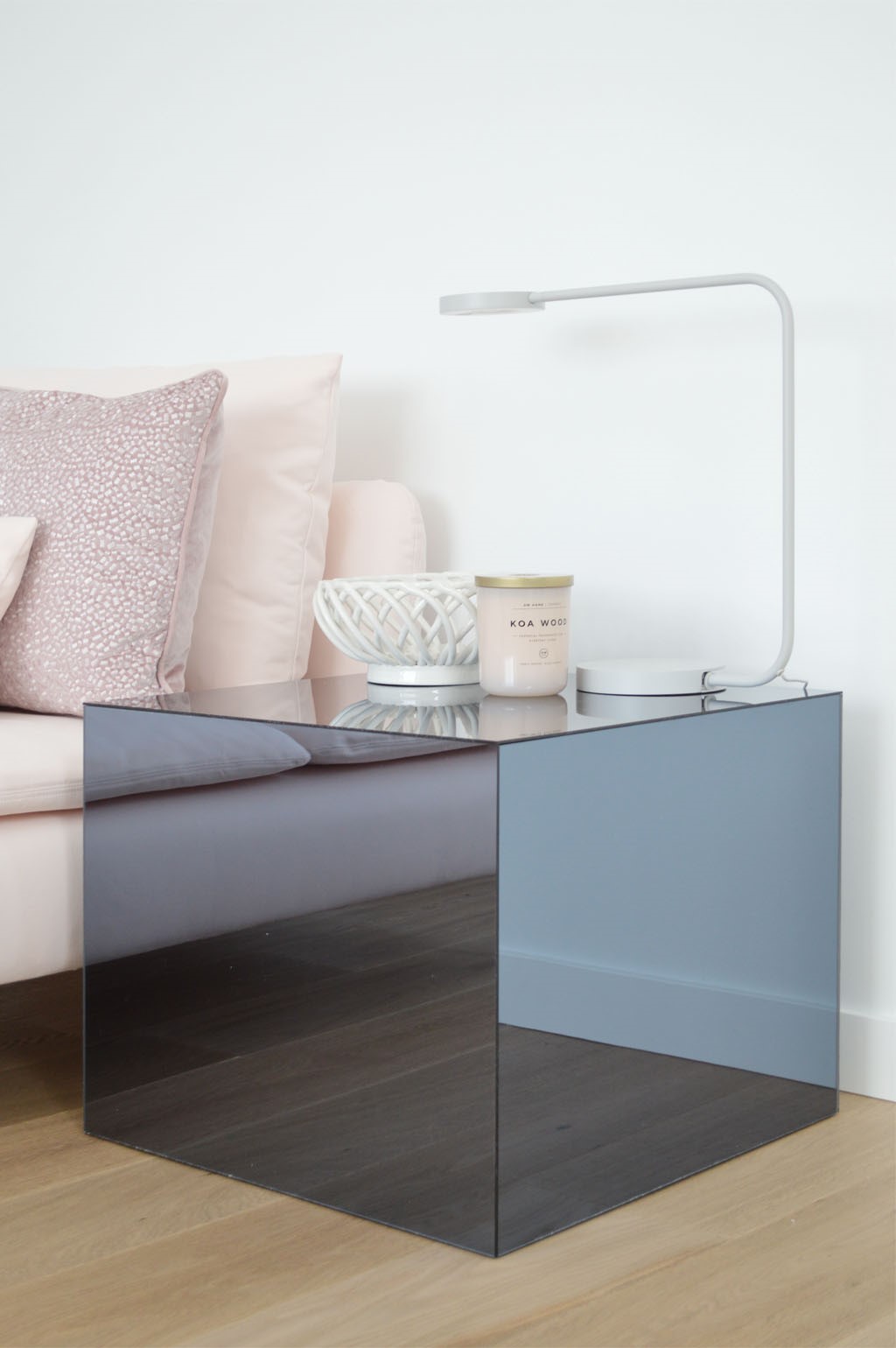 Sustainable & eco-friendly bedroom ideas
Our bedrooms need to reflect who we are, and these days, many of us are becoming more and more eco-friendly. Creating an eco-friendly and sustainable space doesn't have to be difficult. Here are some simple bedroom ideas below so you can get a beautiful room which is also eco-conscious.
9. Pallet Bed Frame
Pallets are one of the classic DIY style pieces. They can be used to create so many things including, these bed frames and bed heads.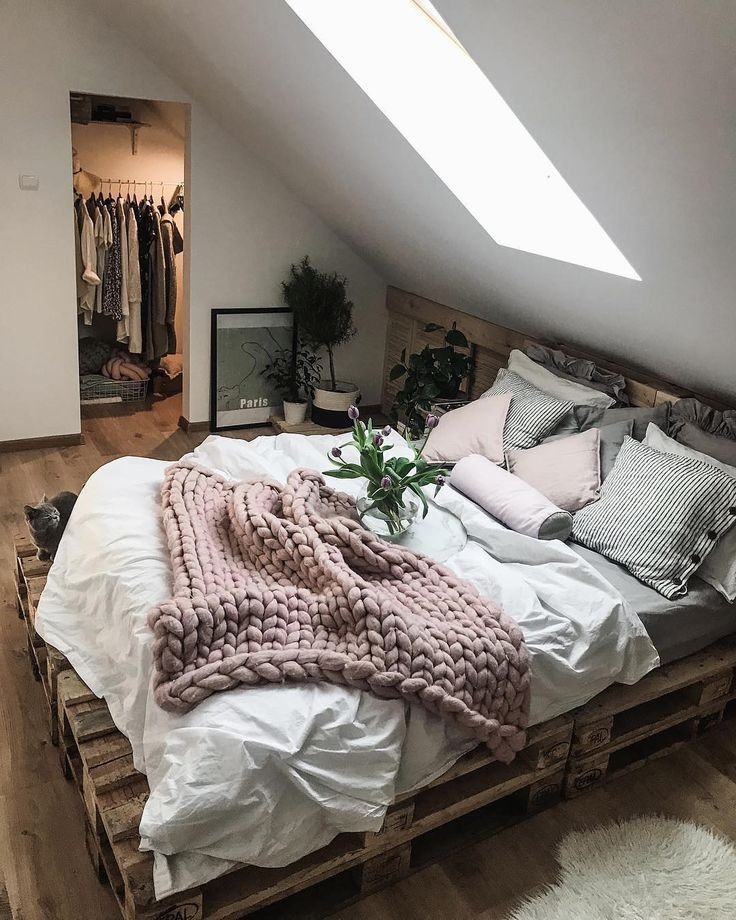 10. Pallet Bedhead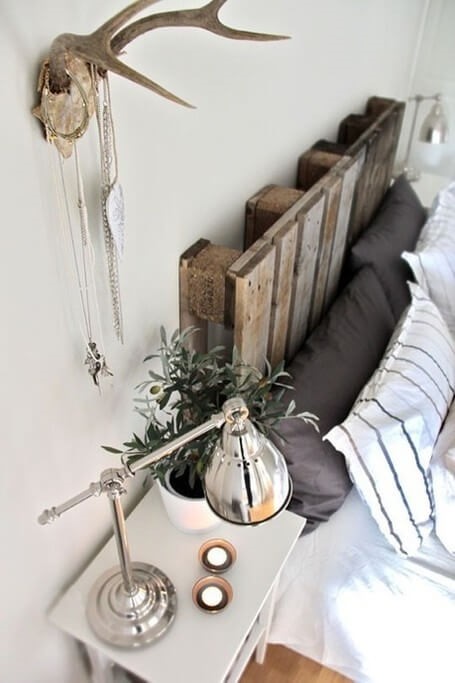 11. Timber Planter bedhead
Take your pallet bedhead and some plants, and you've got a planter bedhead!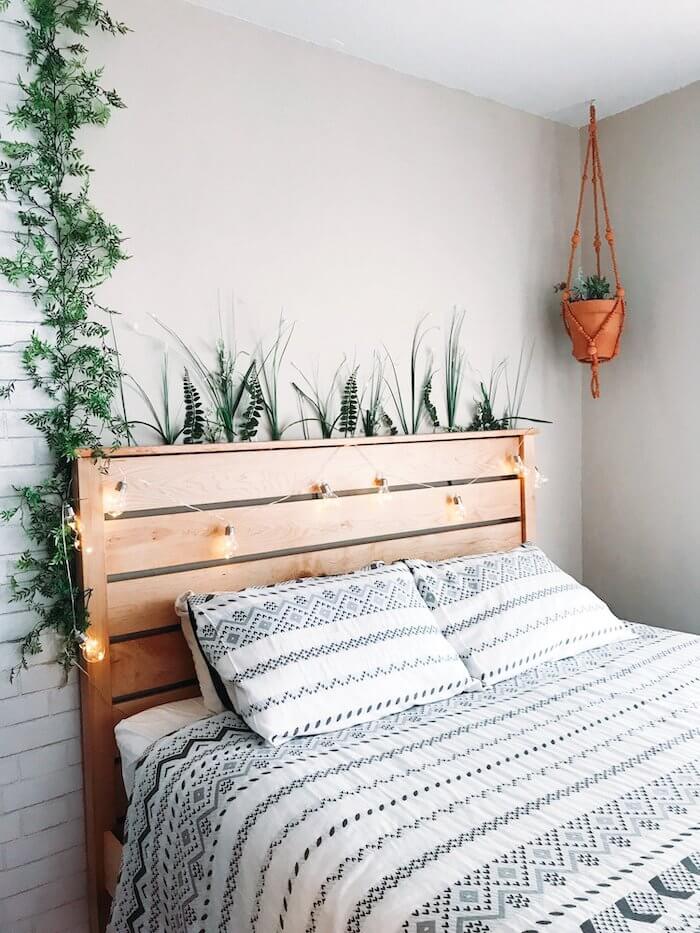 Adding a touch of greenery is one of the simplest bedroom ideas. Not only will it make the room seem brighter, but greenery also provides health benefits, with many experts agreeing that plants can help to clean the air, reduce stress and increase happiness. Plus, hanging plants create a luxurious bohemian vibe.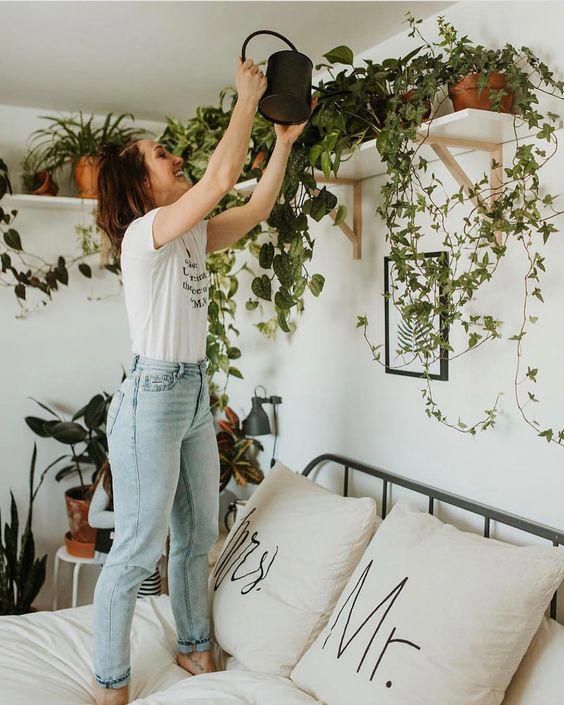 13. Plants as wall climbers
There's no need to paint your wall when you can train plants to climb up it. Pothos or Devils Ivy is the perfect plant to train up your wall.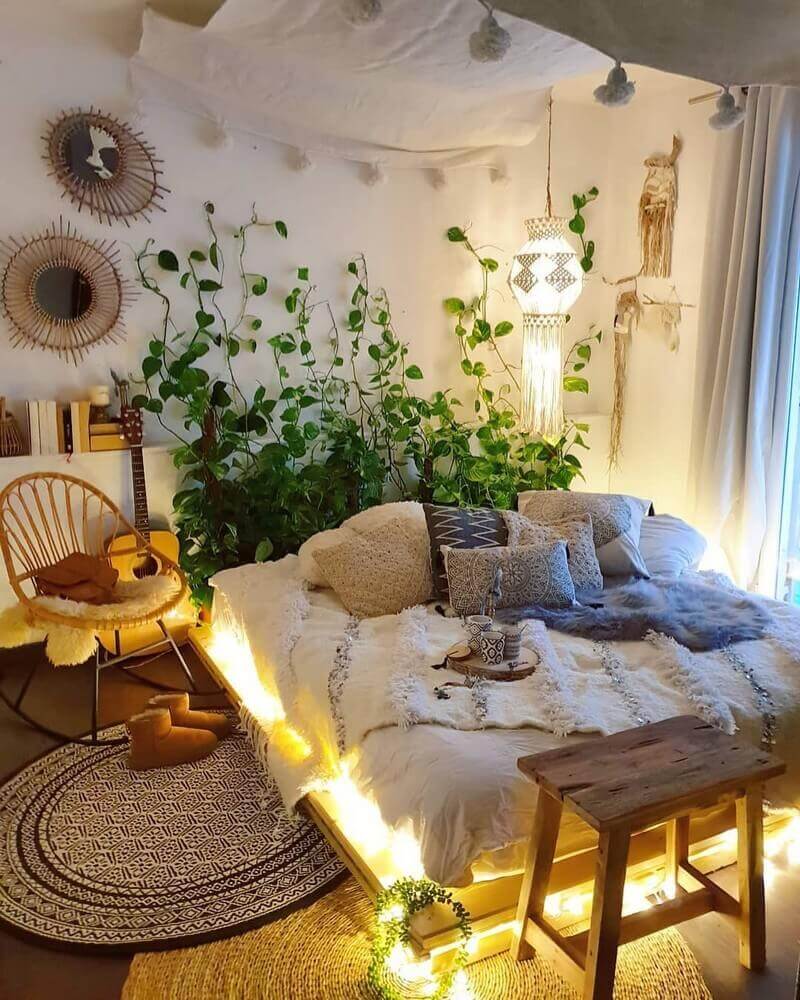 14. Wooden art installation
This room features a unique art installation created from wooden pieces. This draws the eye to the piece. Bring out your inner artist with wood off-cuts which you can find at most hardware stores.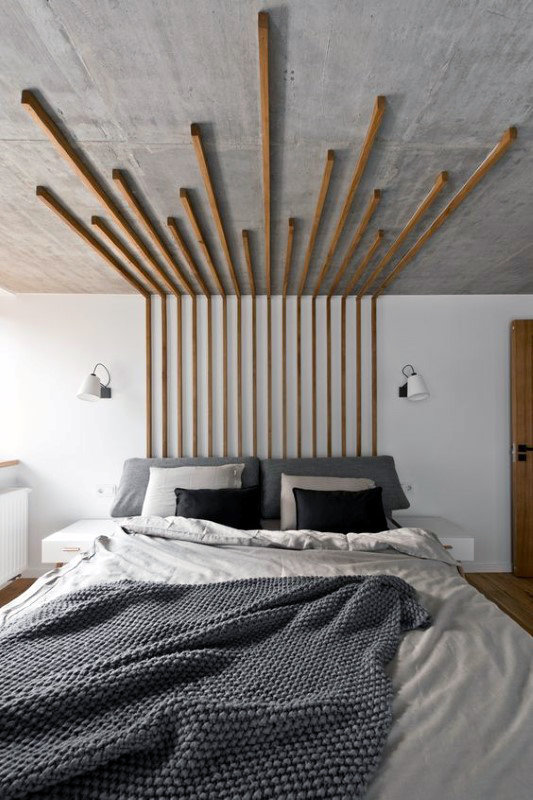 15. Cardboard Furniture
Originally from Australia, Eco-friendly company Karton has created a range of cardboard furniture. The furniture is produced with recycled materials and is free from toxins. The pieces are constructed with a high-grade corrugated board.
You can now furnish your whole bedroom with this sustainable furniture with everything from the bed frame, nightstand and chest of drawers available. The annoying thing with flat pack furniture is putting it together. So if it's not for you, get an Airtasker to take care of the flat pack assembly.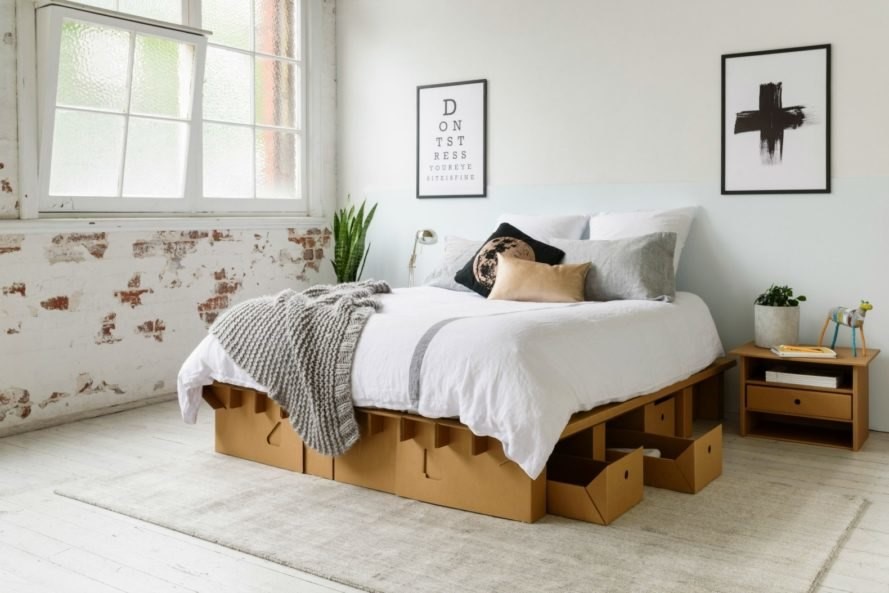 16. Hemp Rugs
If you're looking for a new rug, consider a natural fibre such as hemp. Hemp is warm and textural and a great eco-friendly alternative.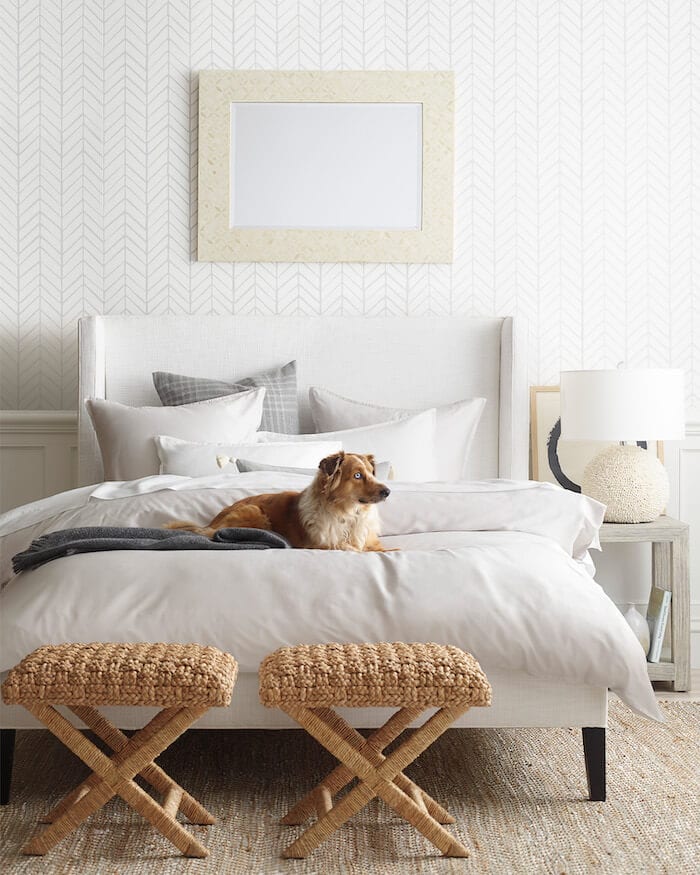 17. Up-cycled furniture
Up-cycling furniture is a great way to re-use a piece you've got in your home or even a hand-me-down piece. Bedside tables, for example, can be made from various pieces, including bookshelves, wooden stumps or stools.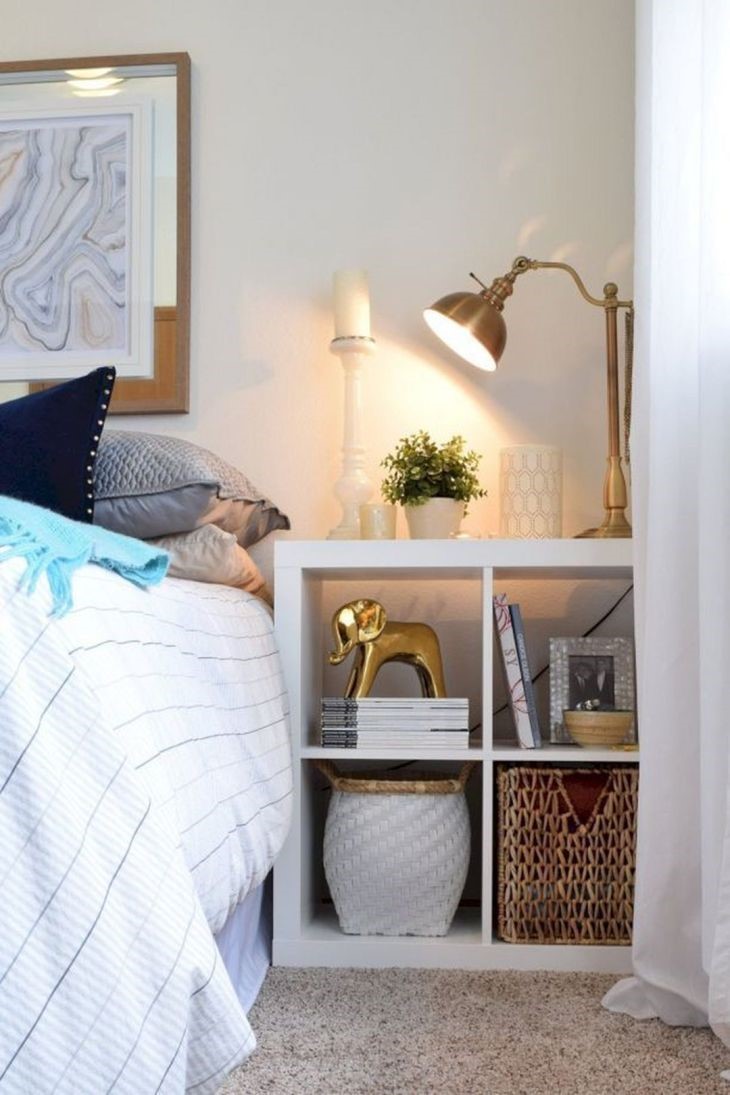 18. Wooden stump side table
This wooden stump has been turned into a bedside table providing a usable space while also being eco-friendly.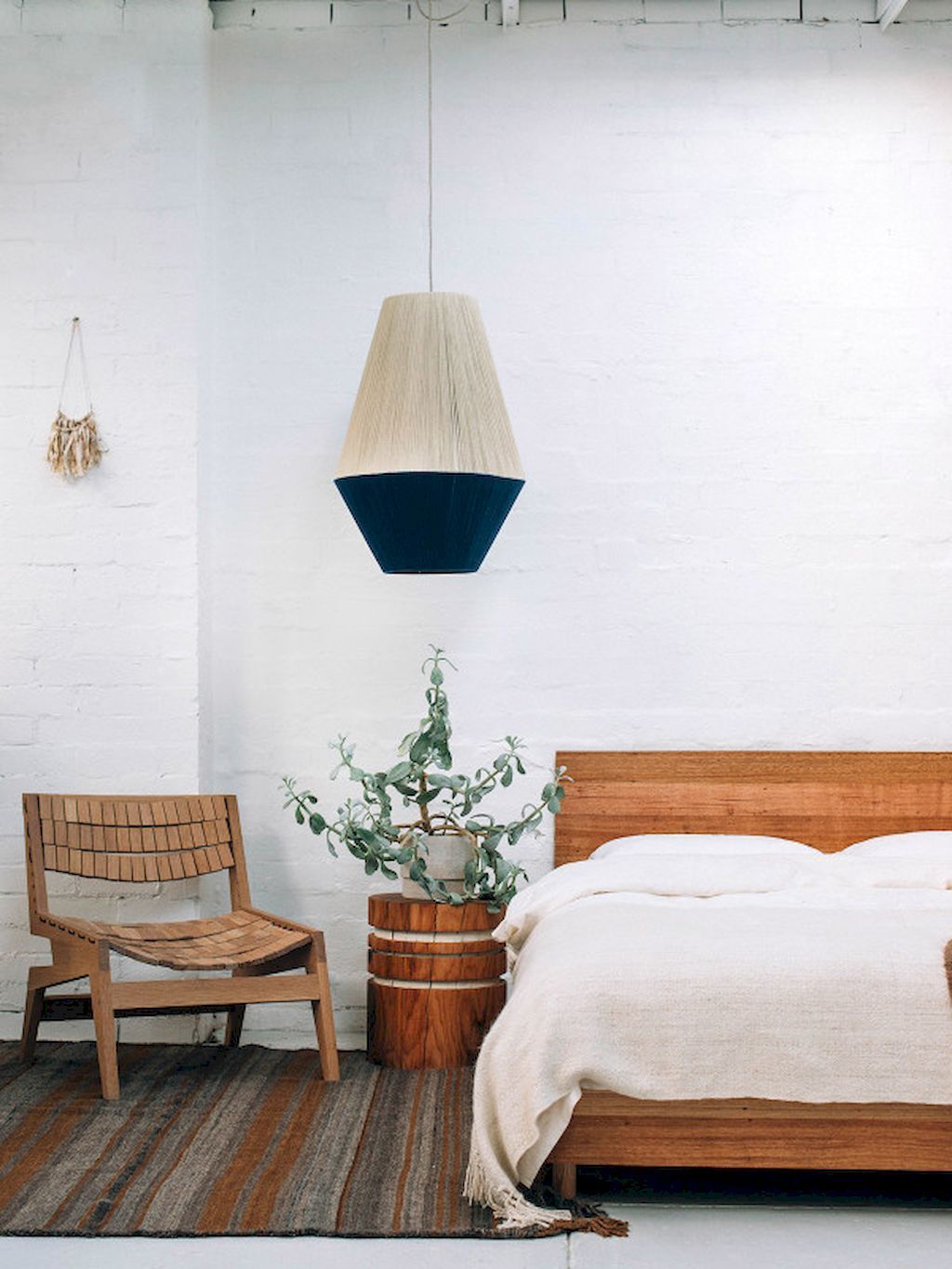 19. Use a chair as a bedside table
Turning a chair into a bedside table has never looked so pretty. Chairs can be easily sourced second hand and can act as seating when required.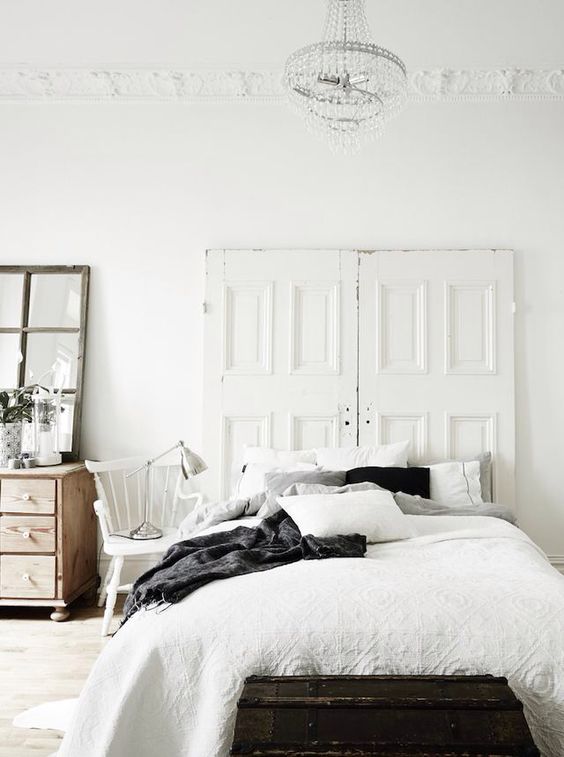 20. Re-purposed doors for bedhead
This country chic look re-purposes barn doors to be used as a bedhead. To accentuate the look, distress or whitewash the piece.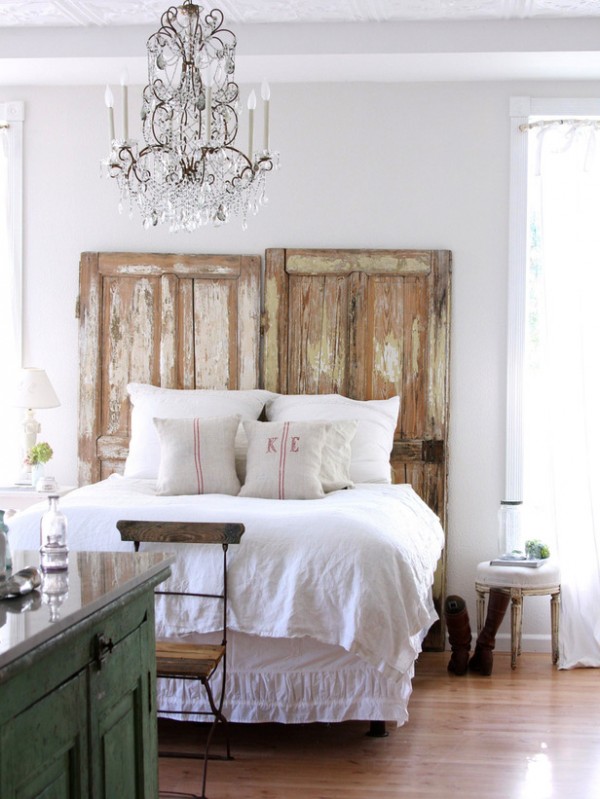 Bedroom styling ideas
Individual changes to décor can make just as much of a change as creating new pieces. These smaller changes are quicker and more budget-friendly and can be changed with each season.
21. Texture
Bringing different fabrics and surfaces into your room can easily change the theme and styling of your room. Whether it's a rug or a throw blanket, texture draws the eye. Different compositions give balance and contrast to the décor.
From the rug to the layered throws and the woven basket, this space is overflowing with texture, creating an abundance of warmth. Here are some of the best bedroom ideas which incorporate texture.
22. Combine texture and colour
Seasonal colours such as yellows and burgundy for winter throws bring a sense of comfort and cosiness.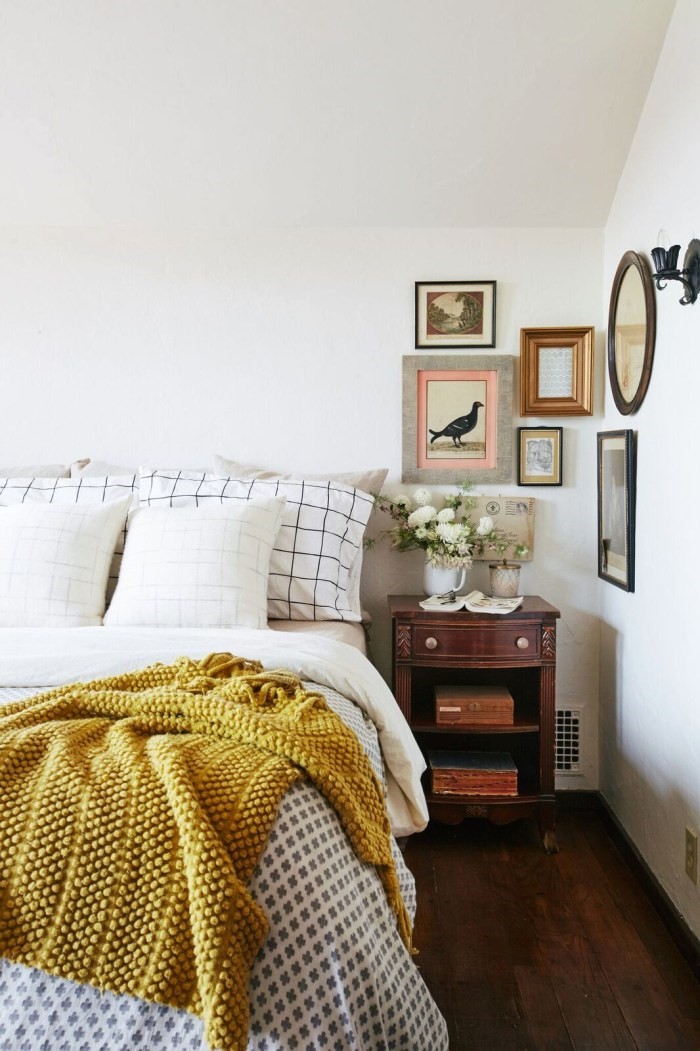 23. Patterns
When you're keeping the rest of your room neutral, patterns can help to give it a bit of wow factor. Patterned bedspreads can be changed out to create a different look each time.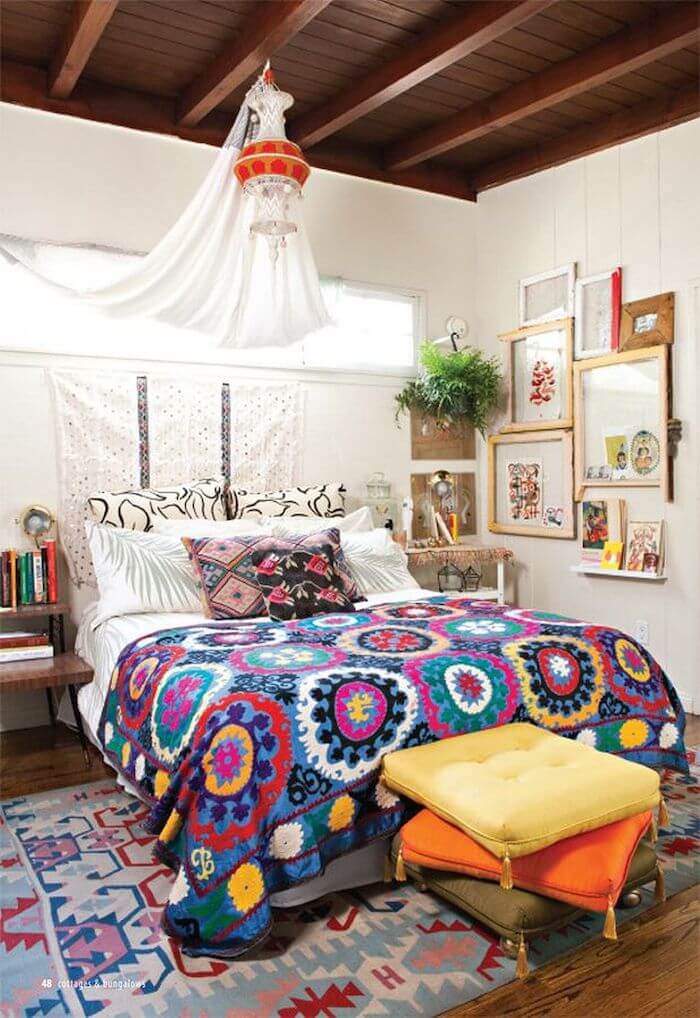 24.Rugs
If you live in a rental, a rug is a must. If you've got stained carpet or scratched floors, you can easily cover it up with a rug. They also minimise noise, which is great for apartments.
Rugs come in all shapes, sizes, textures and patterns, so you'll be sure to find one out there that suits your style.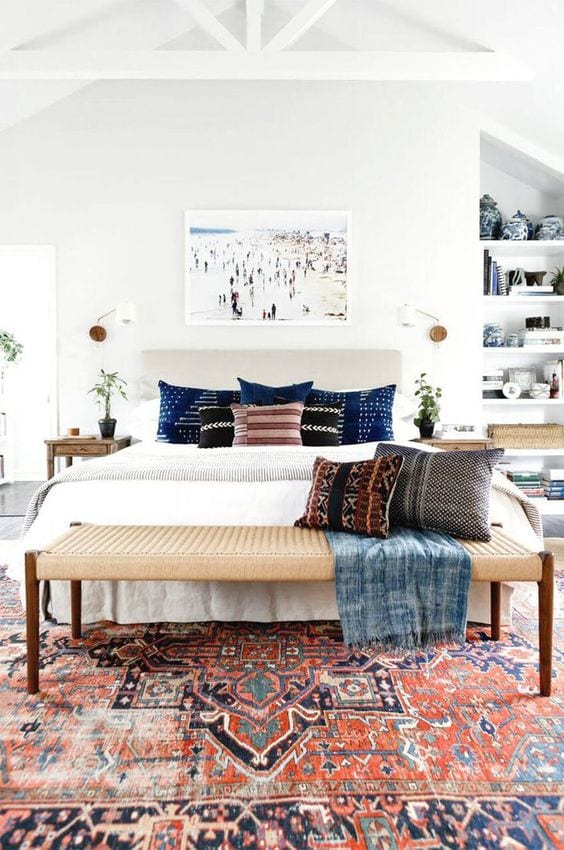 25. Hang a guitar
Make use of vertical space by hanging a guitar or even a surfboard. This serves both a functional and aesthetic purpose.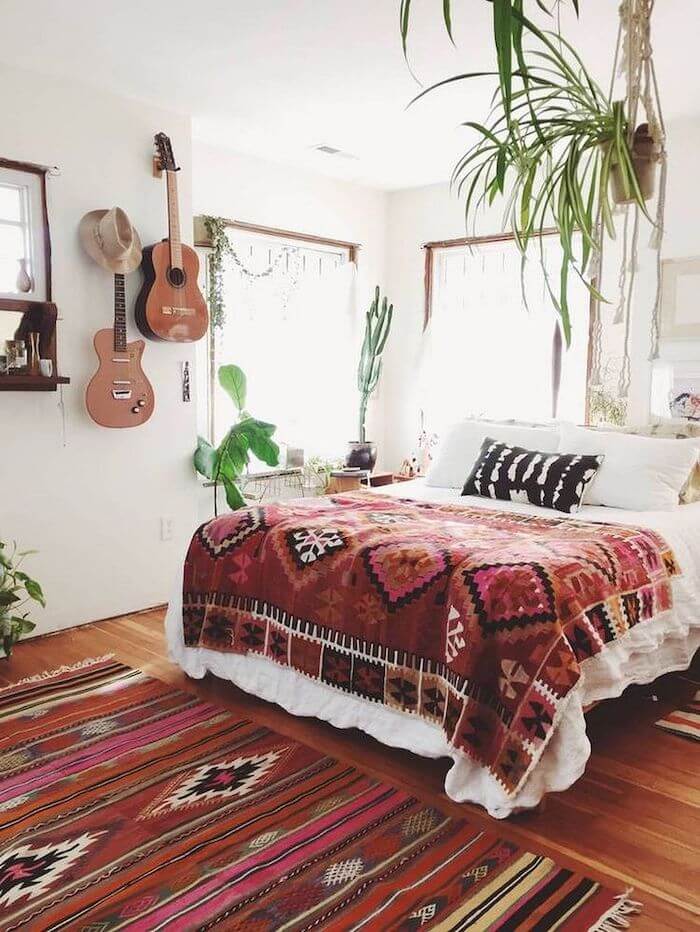 26. Faux canopy
Curtains don't have to go directly on the windows. Curtains hanging from the roof or above a wall can provide a canopy feel without having to have a canopy style bed frame.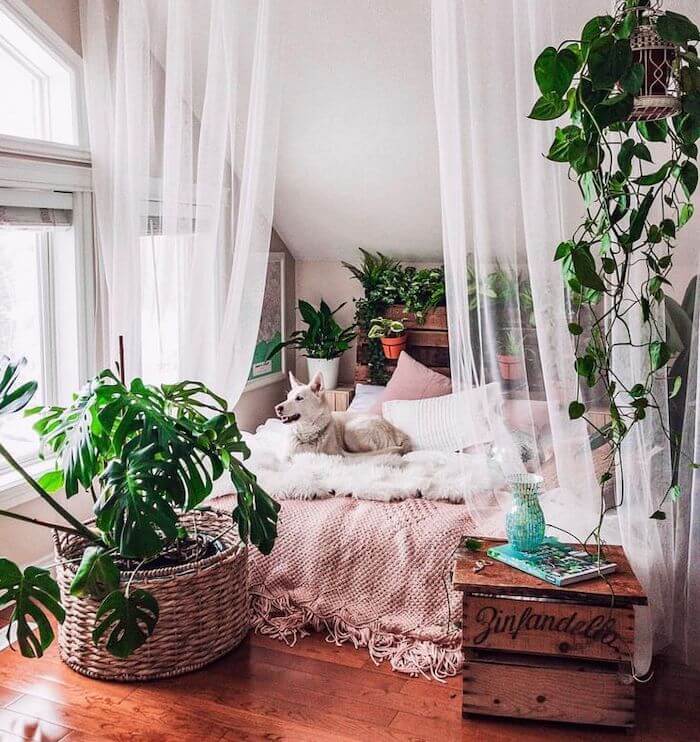 27. Curtains
Simple white flowing curtains can bring together a space. To create extra height make sure the curtains are long. You can even hang them higher than the window to create the illusion of a higher ceiling.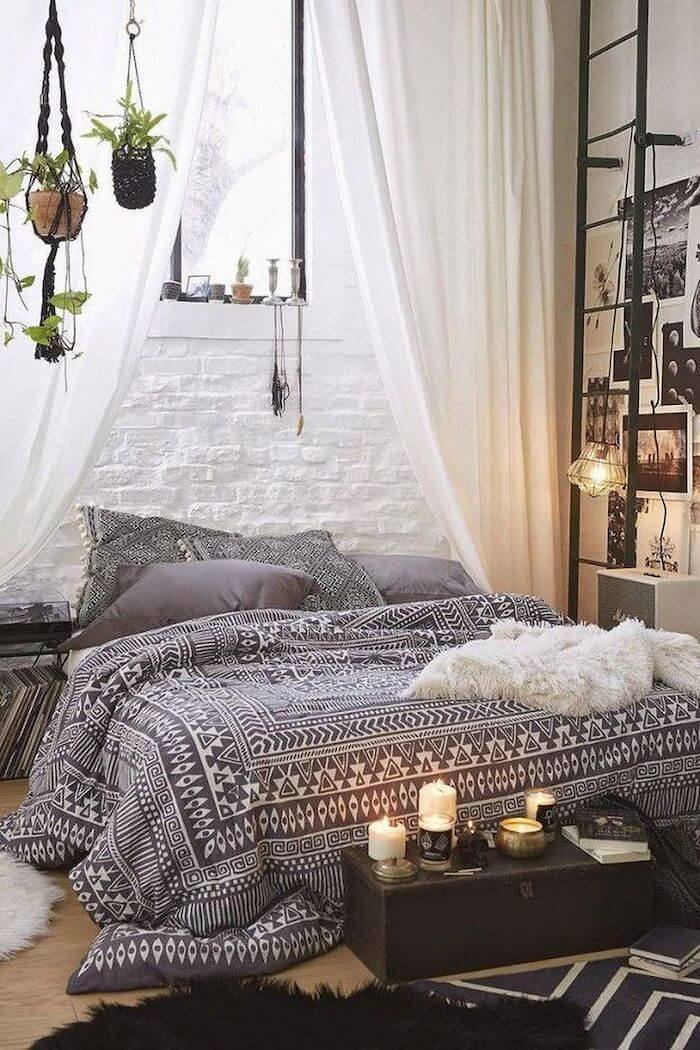 28. Colour block curtains
Combine two colours of curtains to tie in different colours in your décor.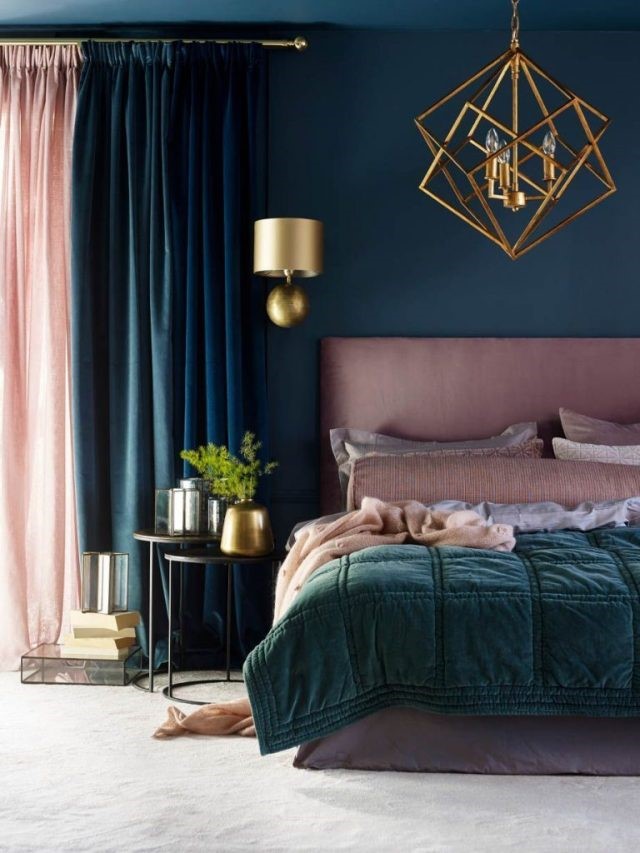 29. Bed canopy
Ever wanted to feel like a real royal? Add a canopy to your four-poster bed for that regal touch.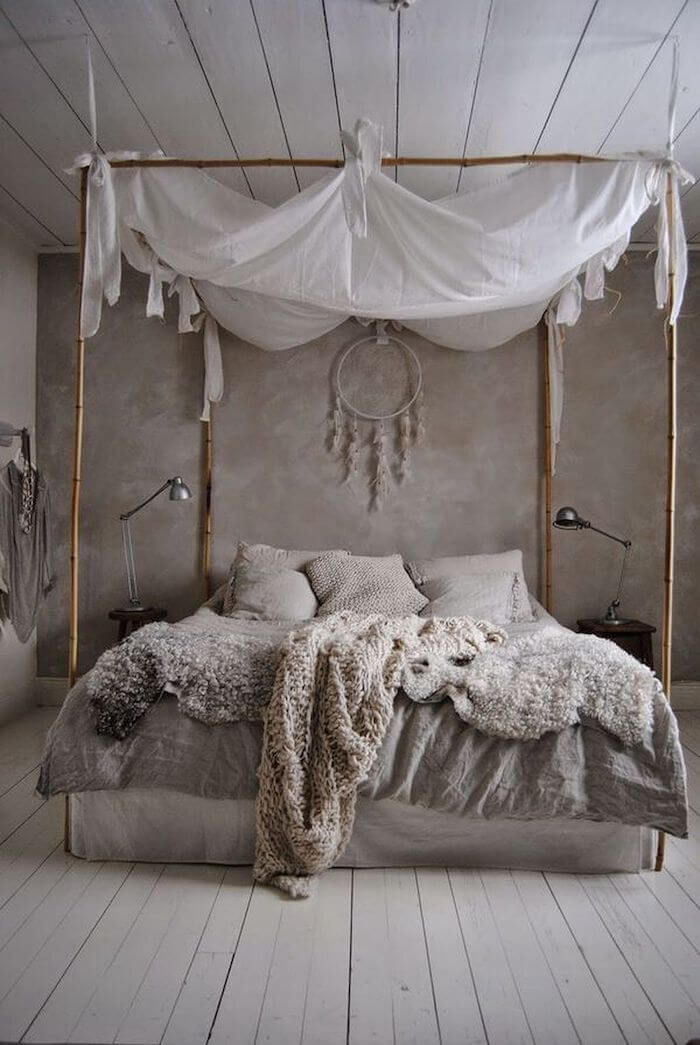 30. Mirrors
Large mirrors can be used to give the impression or a larger space. They also have a very functional purpose. Adding a large mirror to your room can inject a dash of personality. This mirror below combines the distressed look to create a modern, rustic vibe.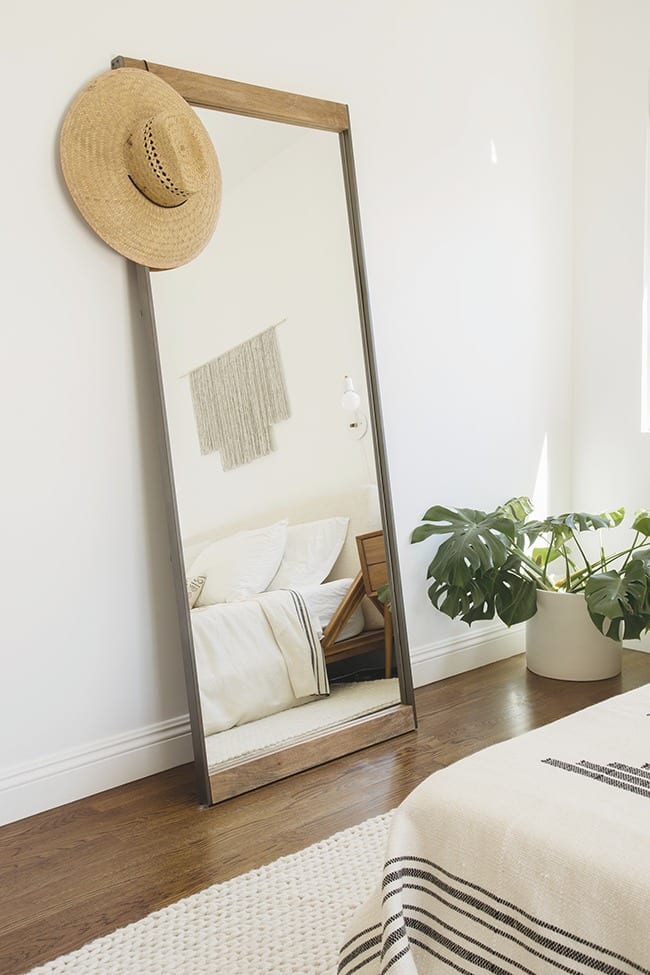 31. Storage shelves
Combine function and style by creating a bedhead with built-in storage. This bedhead also uses curves to draw the eye to the area.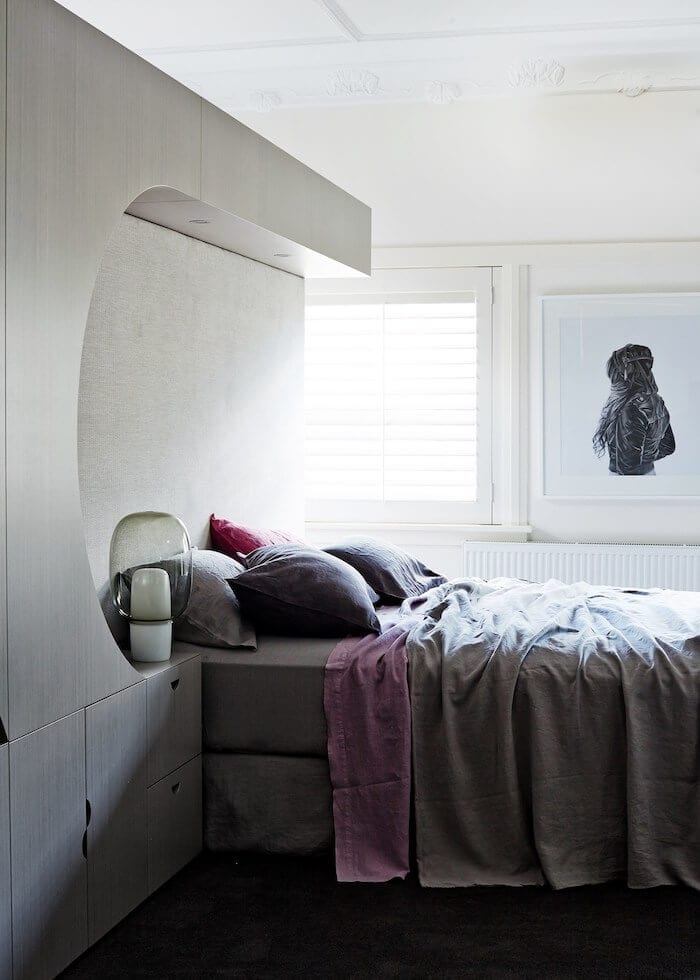 32. Seating
In a large bedroom, seating can be used to fill in the space. Placing seating at the end of the bed also serves a functional purpose. Take a break in the morning with your coffee or use it to read before bed.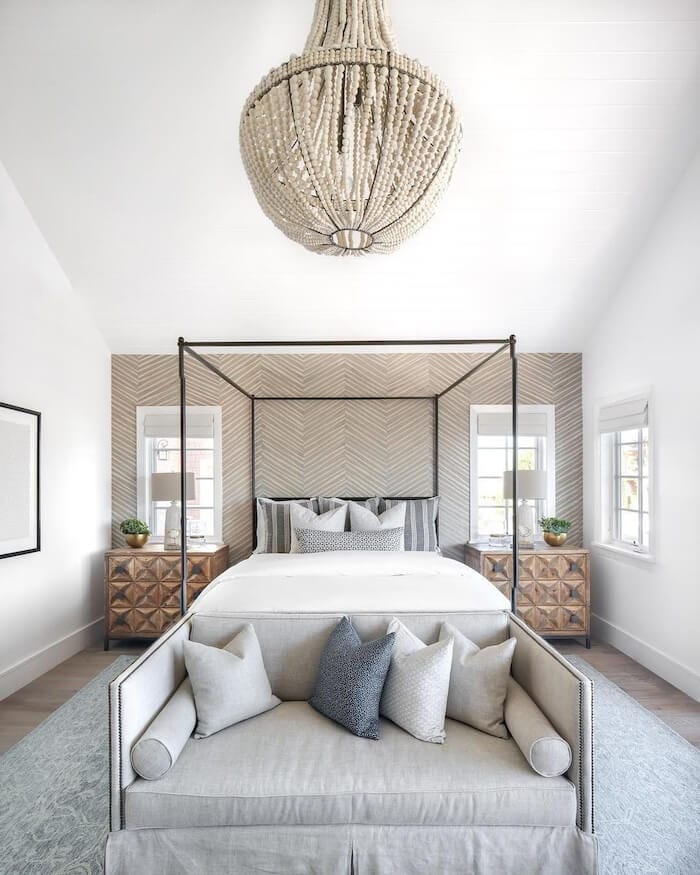 33. String Lighting
String lighting is a budget-friendly alternative to dimmer lighting. They can help to create a soft, calm mood in the room.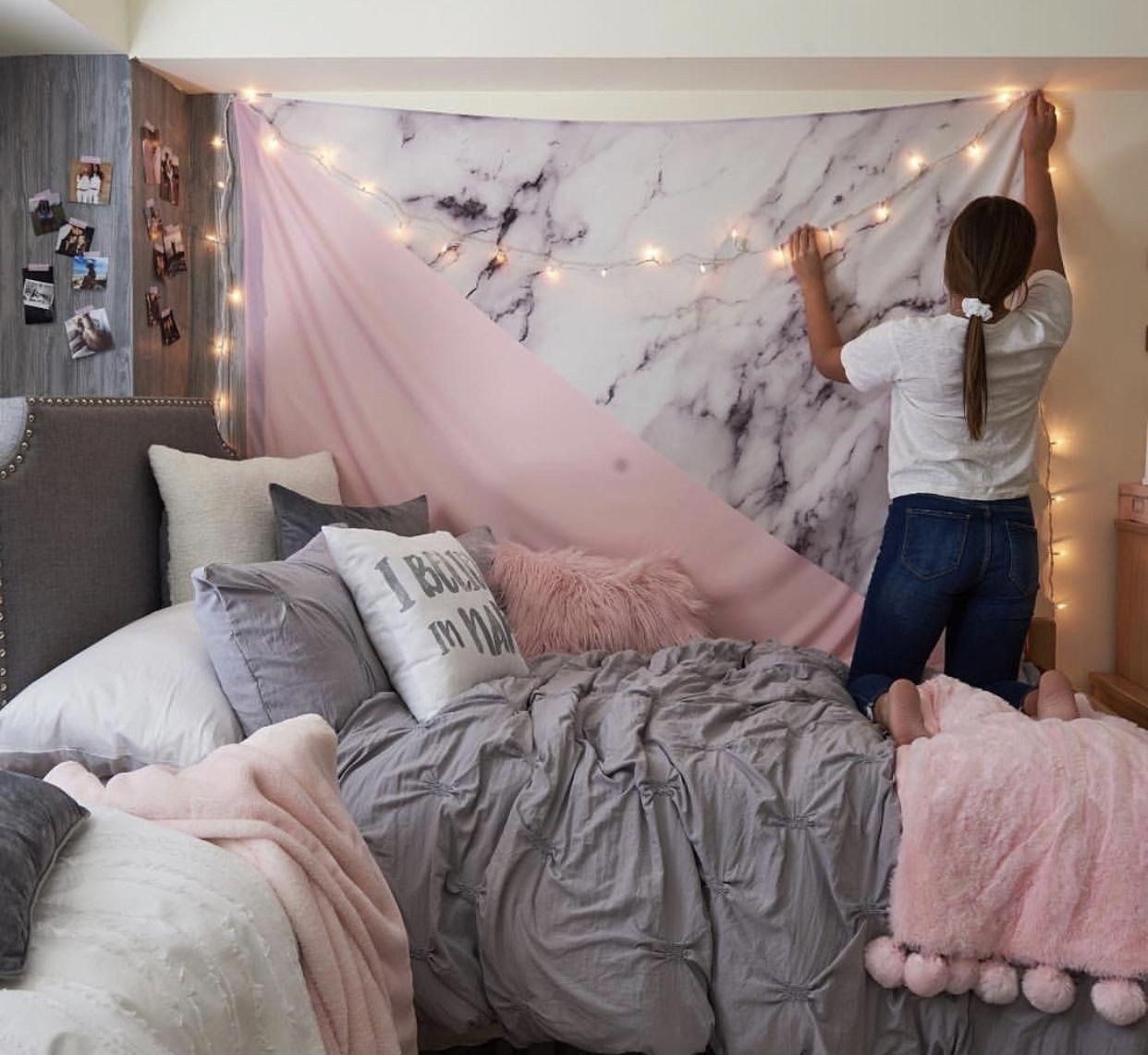 34. Textured Lighting
Lampshades come in all shapes, sizes and textures. Use different textures that compliment the rest of your décor. Lampshades don't need to be plain white anymore.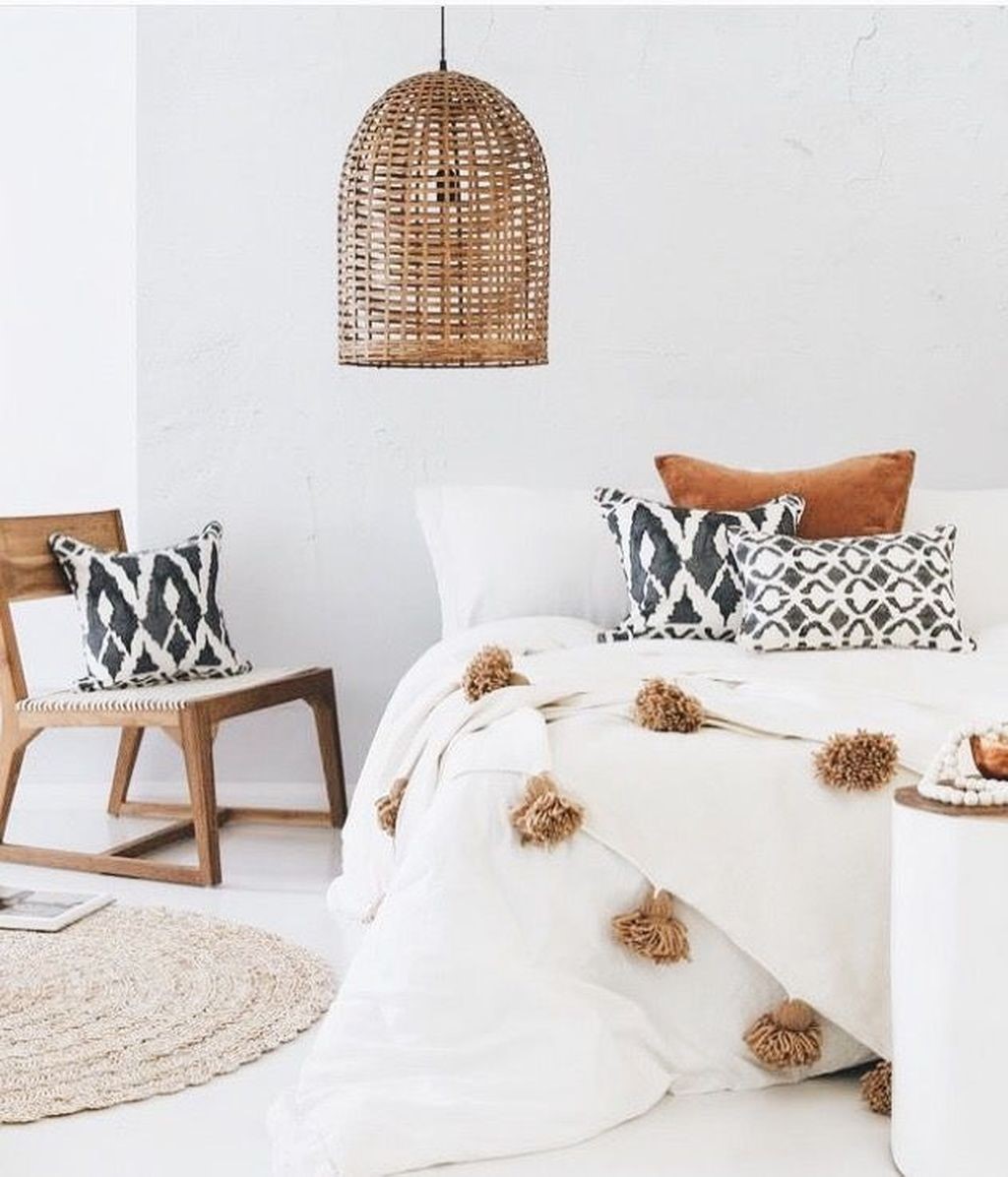 Accent features
Finding an accent feature helps draw attention to one area of the room. If you're looking for a bedroom idea that will wow your friends, this is it.
35. Bedhead
An accent bedhead is a wow piece in any bedroom. There are many styles including lattice, wood, fabric, patterned and textured.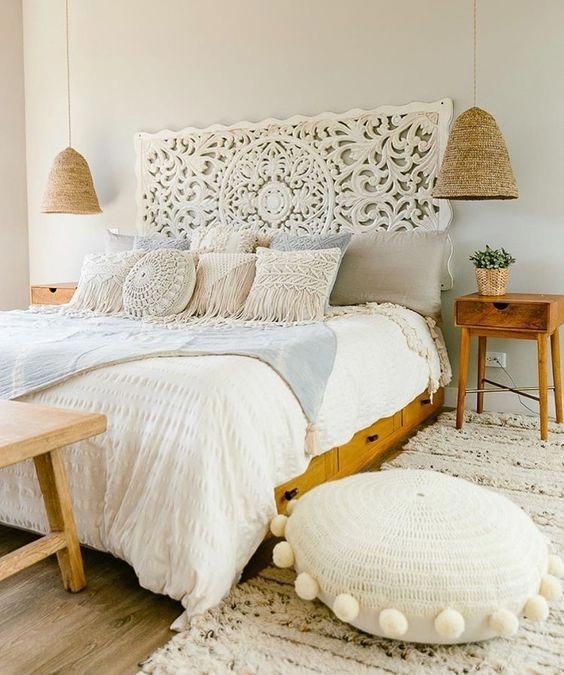 36. Hang a quilt or tapestry
Bring vivid colour to your space with a patterned tapestry. The elaborate pattern creates a bohemian style in your space.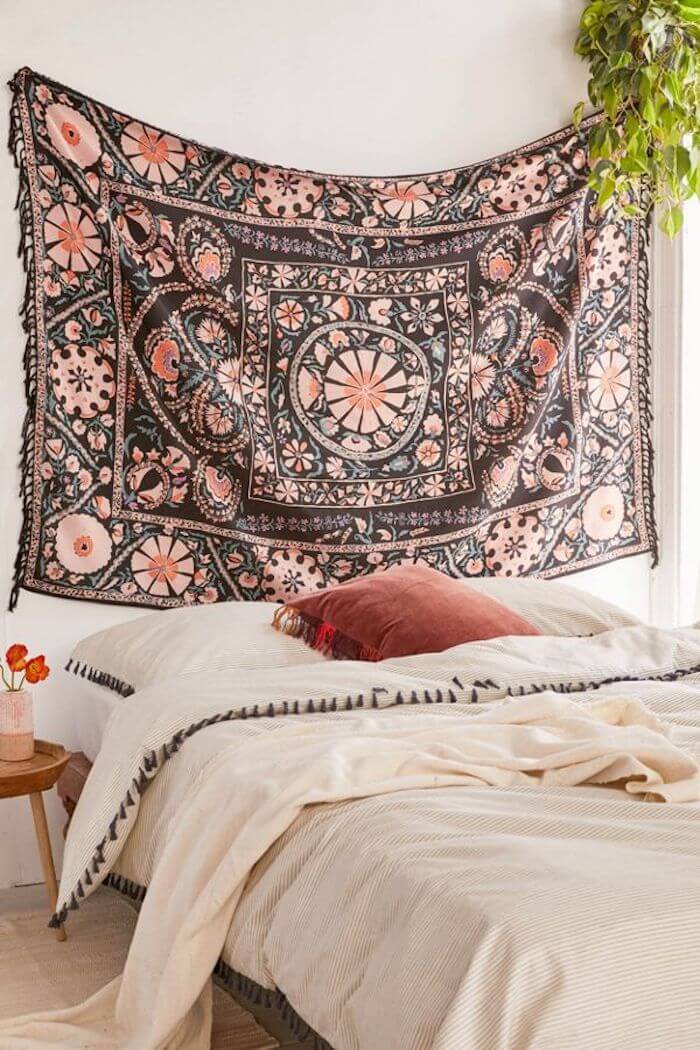 37.  Solid colour wall
Painting a feature wall is one of the simplest things you can do to change up a room. Choosing the colour is the hard part. Colour itself can change the whole look of a room.
Keep in mind that you are not limited to whites or other neutral palettes, darker colours can make a space feel small and moody if that's your style.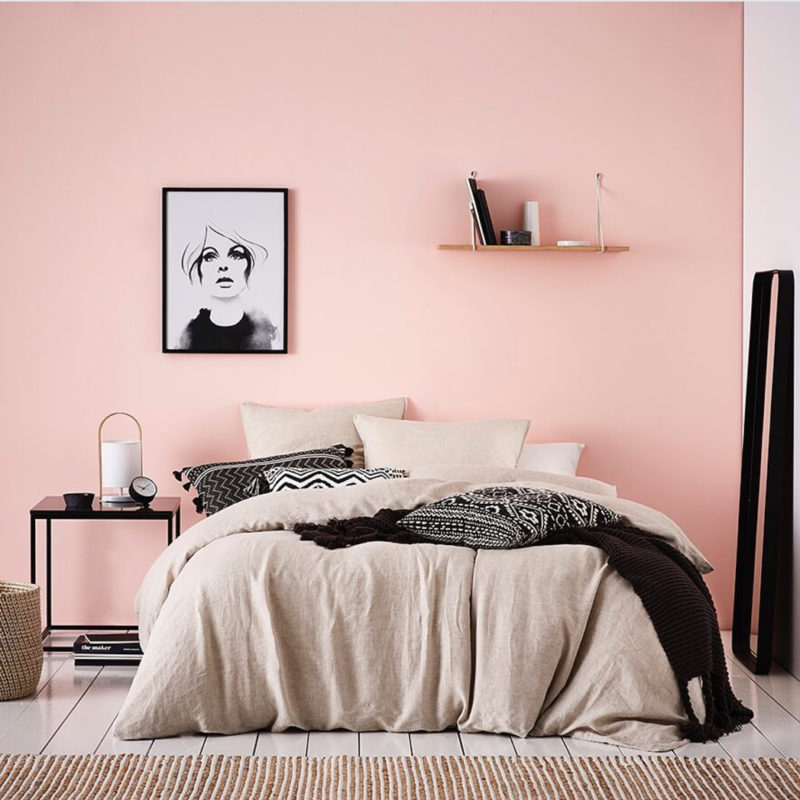 38. Scenery wall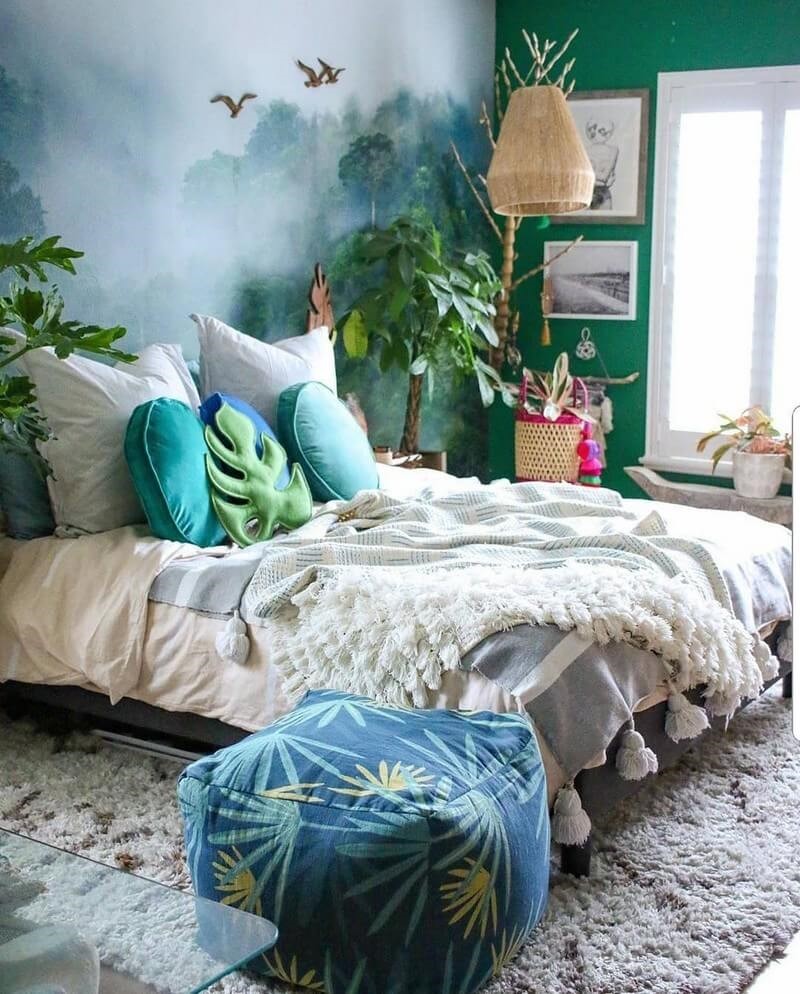 39.  Watercolour wall
Get creative with colour and paint a masterpiece on your wall. Tie in the colour with complimenting bedspreads and décor.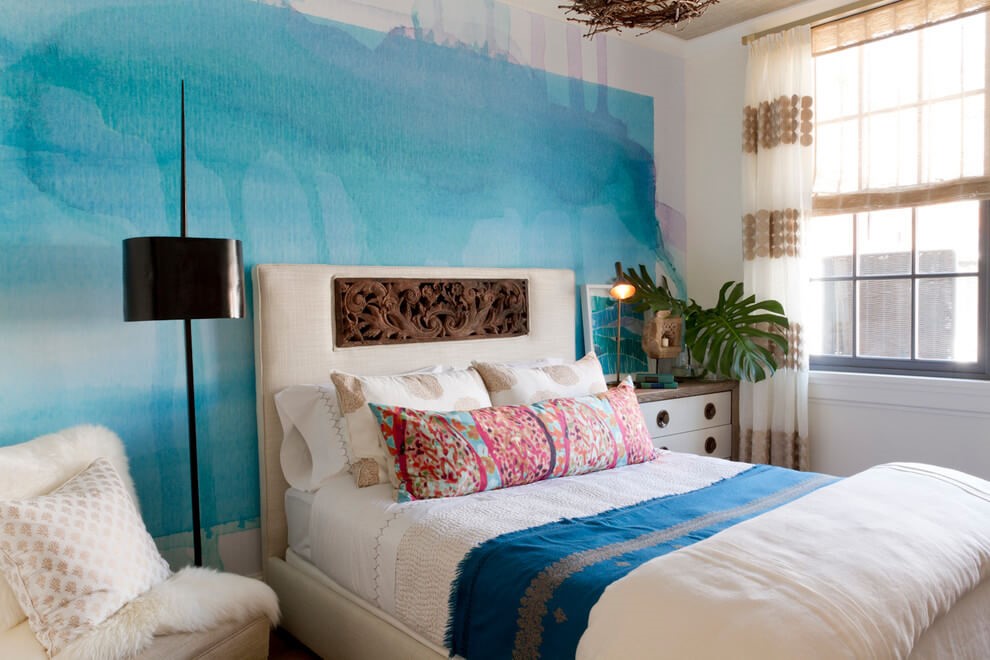 40.Chalkboard walls
If you've ever scrubbed coloured markers off a wall, you know how much kids love to draw on walls. Whether they like to draw or practise their writing, they can do it on their bedroom walls if you use chalkboard paint. Keep it to just one wall or part of the wall and use a contrasting colour such as white for the rest of the room.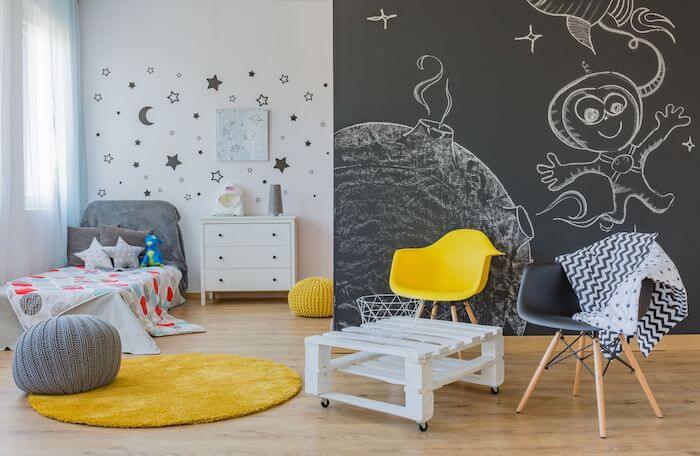 41. Geometric Walls
Geometric paint effects are very trendy – so why not add your own bold design to your bedroom walls with little more than a roll of masking tape. Use white as your base, and select some pastel tones to complete the look. For a budget-friendly option, you may even be able to use tester pots for the lesser-used accent shades. Team with bedding in similar shades to complete the look.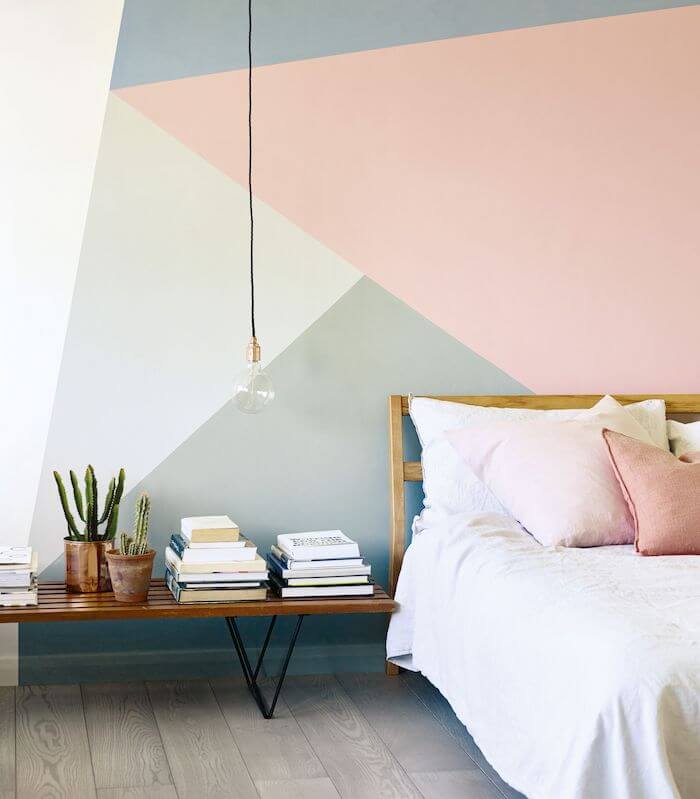 42. Polka dot walls
Want to take your accent wall up a notch? Not just something for the 80s anymore; wallpaper is making a comeback! In many patterns from dots to floral, you'll find a wallpaper to suit your taste.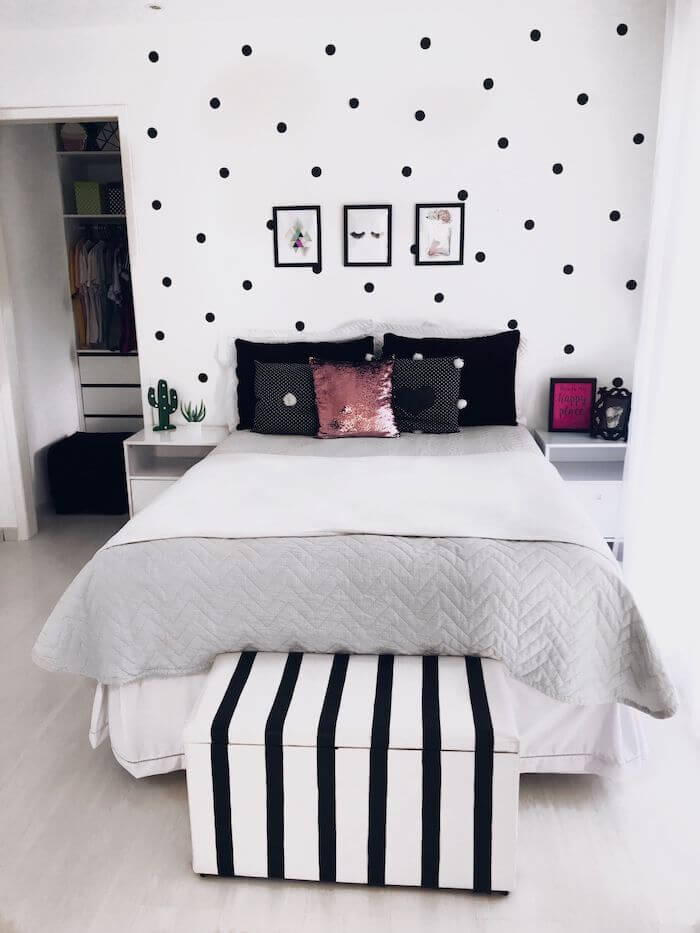 43. Foiled wallpaper
This foiled wallpaper gives a serious touch of glamour to the room. With feature walls this bold, you'll want to make sure you keep the rest of the room quite neutral so that you don't overwhelm the eye.
The only thing to be wary of is that wallpaper can be tricky to get done perfectly, so it's time to call in the professional wallpaper installers.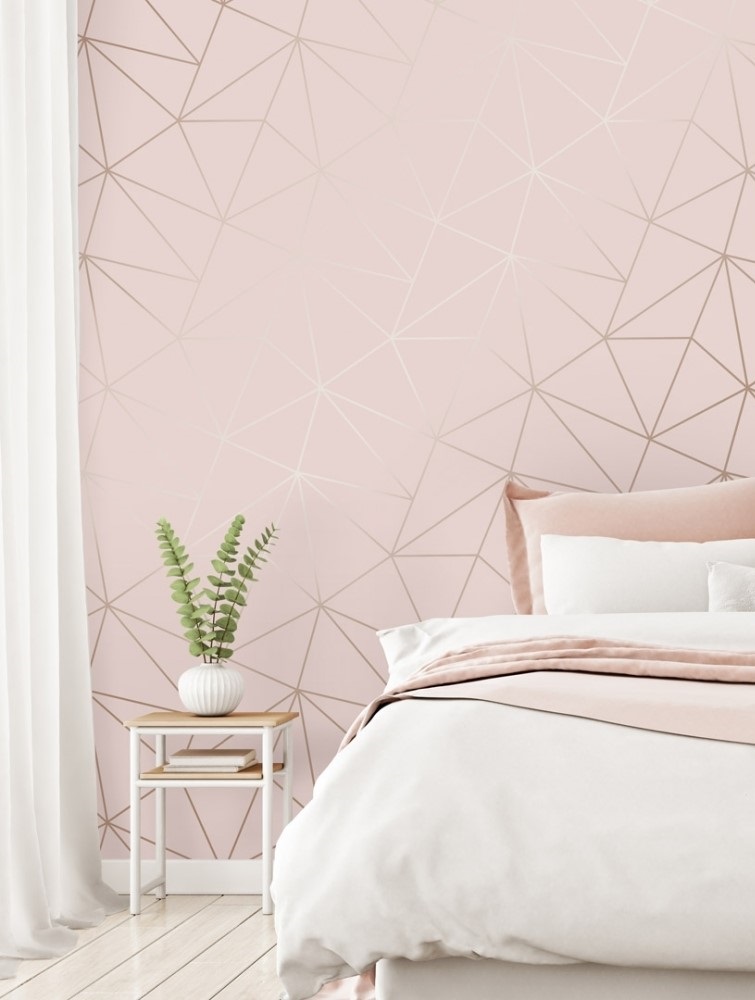 44. Horizontal stripes
Lengthen the look of a room and inject some personality by painting horizontal stripes in contrasting colours.
45. Panelling
It's easy to create this look yourself with lengths of MDF pinned and glued to the wall and painting it in a dark shade will give your bedroom a unique look.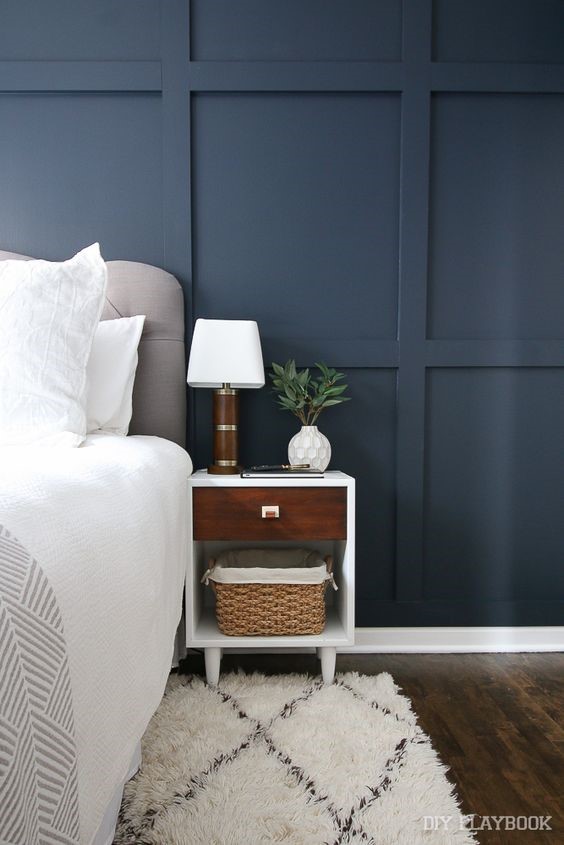 46. Gallery feature wall
A gallery wall is an inexpensive way to create a focal point in your room. Using photos or art prints in various sizes and frames, you can create a gallery that can be changed as often as your bedsheets.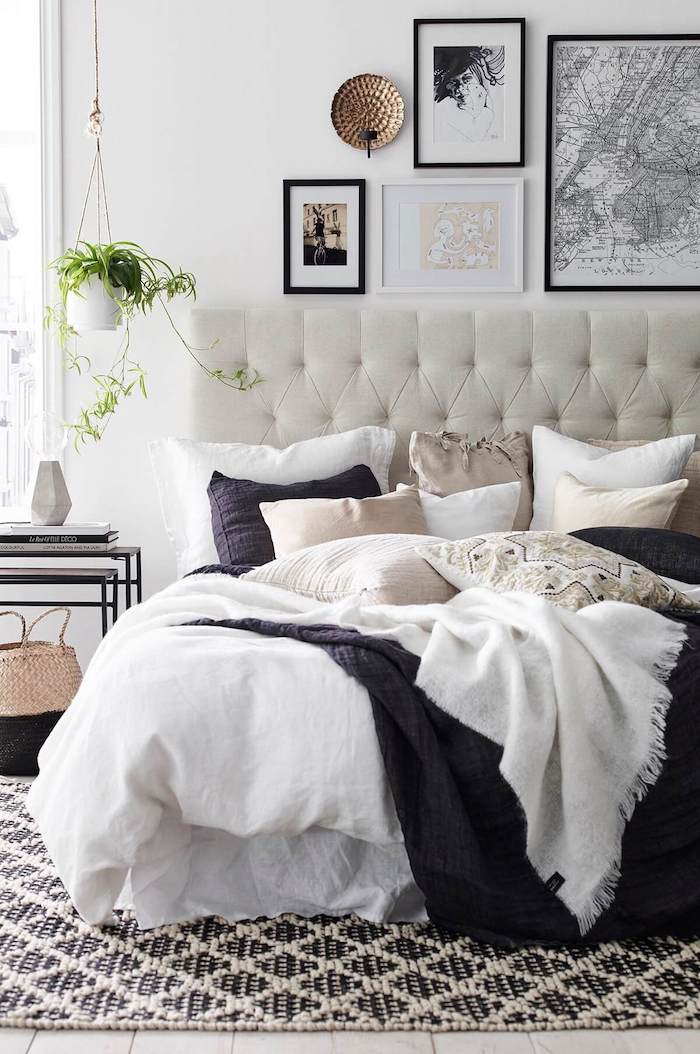 47. Horizontal Gallery Wall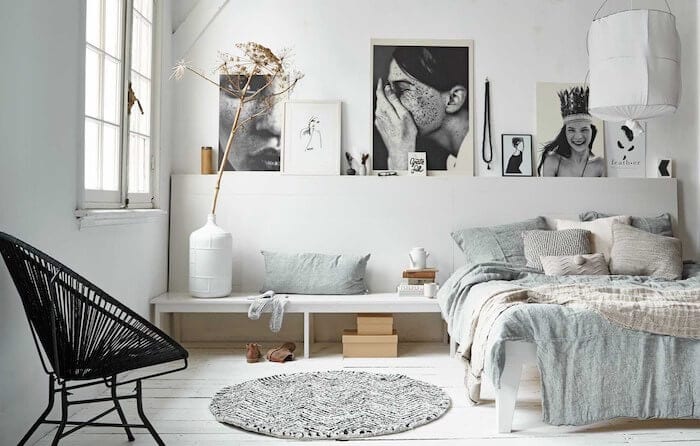 48. Natural brick walls
Exposed brick is a feature in a lot of older homes and it's one that is very 'on trend'. Exposed brick can create a feature or focal point in your room. Remember to leave the rest of the room quite minimal.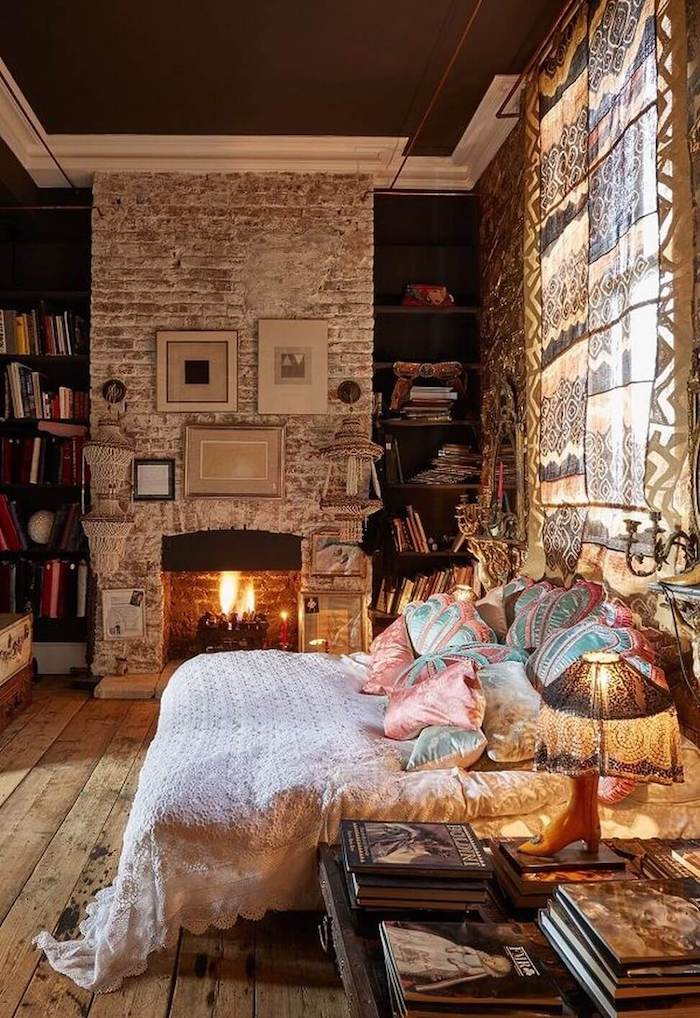 49. Whitewashed brick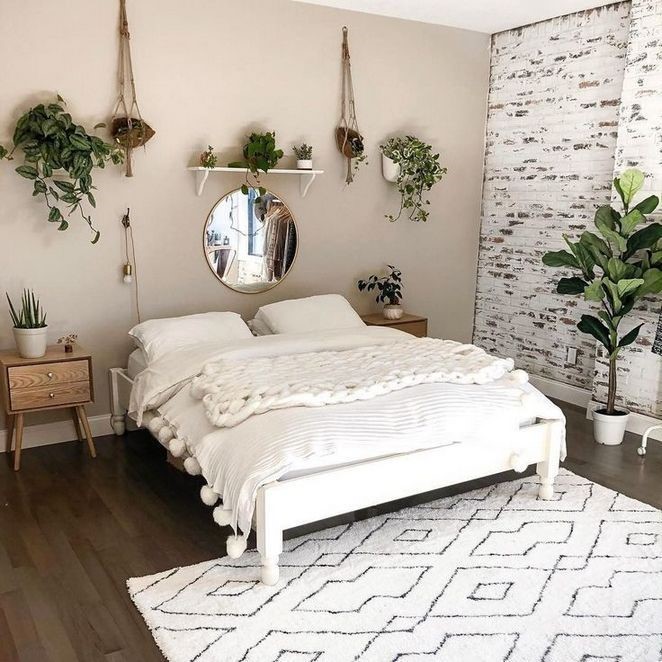 50.  Artwork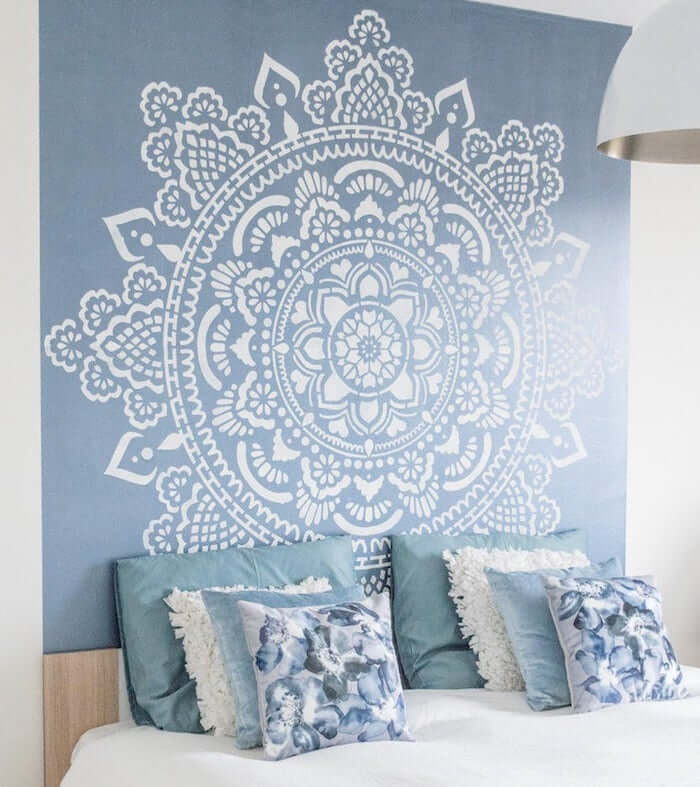 51. Typography
A commissioned piece of typography is a unique bedroom idea that is sure to wow.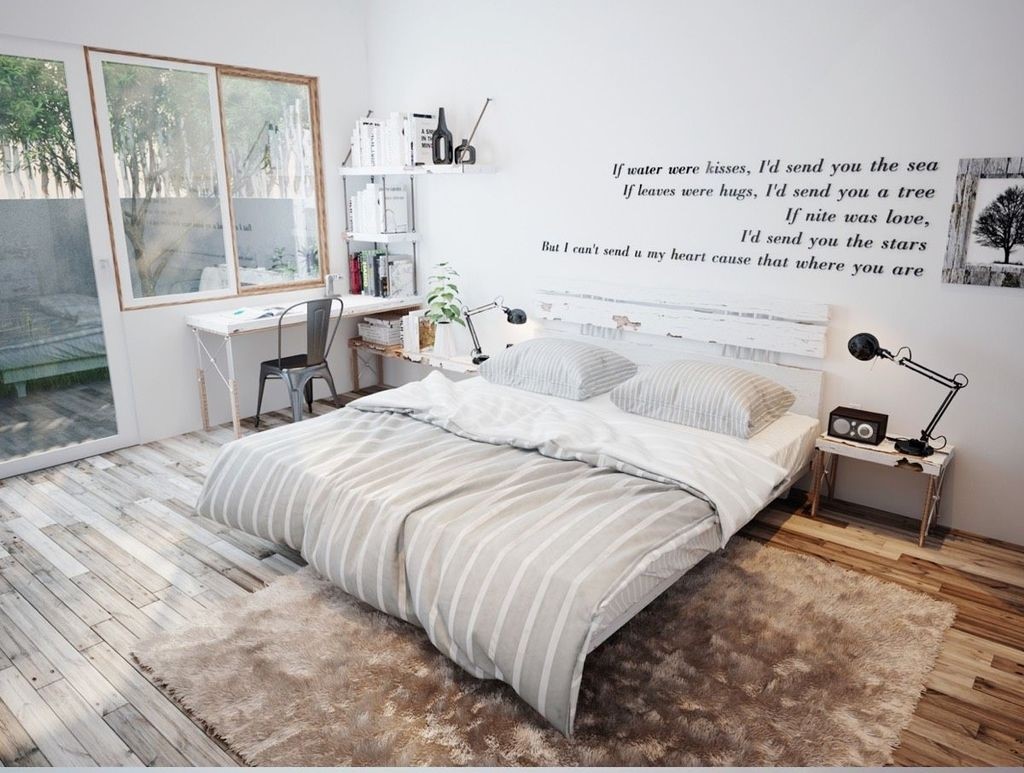 52. Typographical art print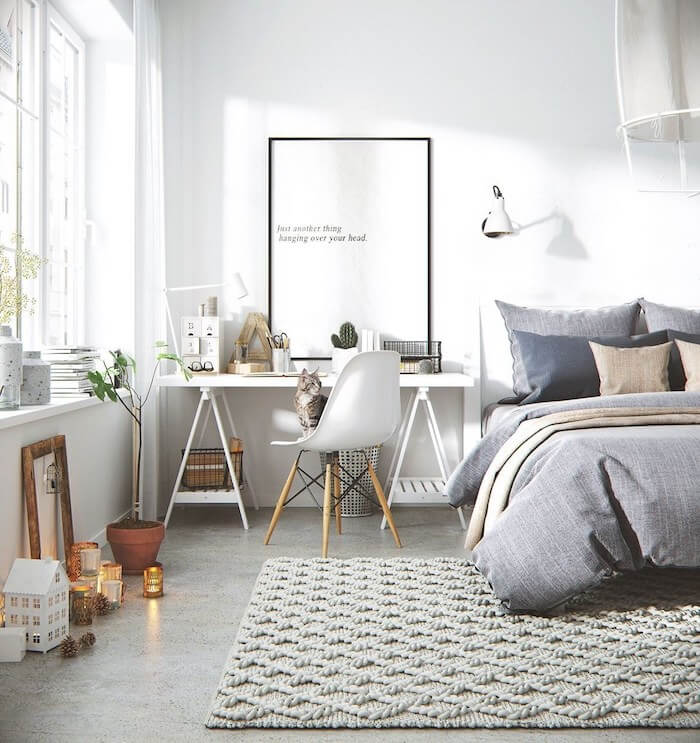 53. Coloured carpet
Who would have known that a blue carpet could look so good? And it's perfect for a kids room that you don't want to look too 'kiddie'.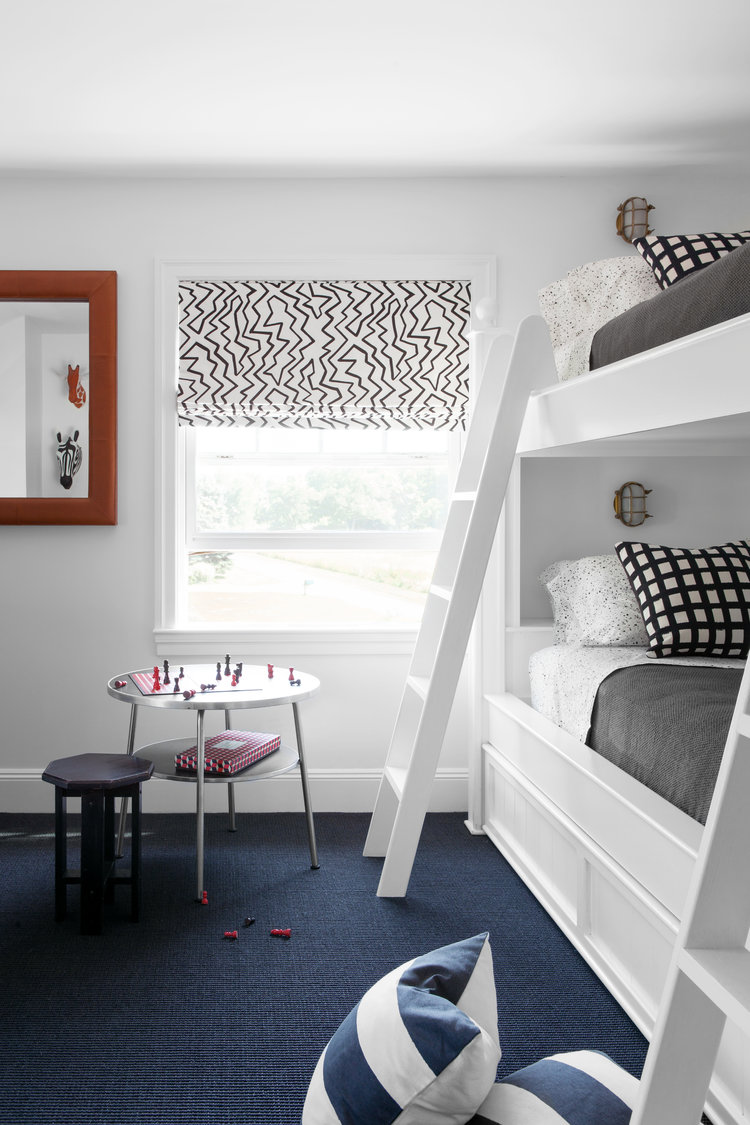 Looking for some more inspiration for your little guys? Here are all of our wonderful kids bedroom ideas for boys.
54.Wooden flooring
Wooden floors don't have to be brown wood, white floors can work well to brighten any room. The long lines also help to make the room appear longer and therefore more spacious.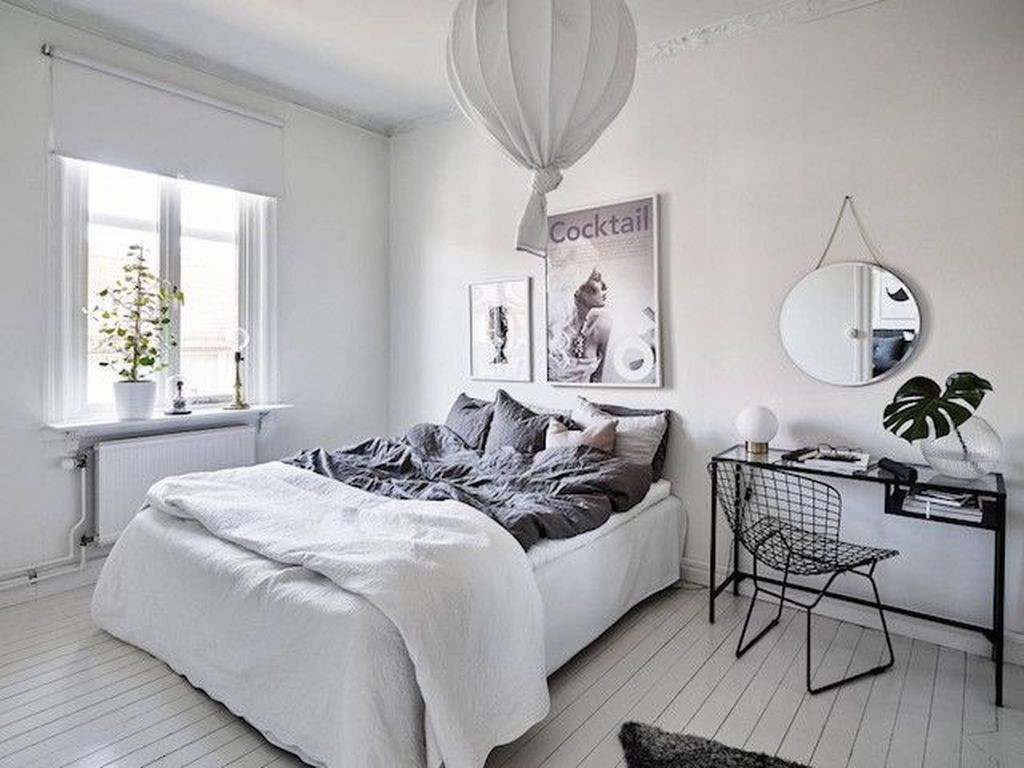 55. Divider wall
A dividing wall can help break up the spaces in your home. In the bedroom, this might be for a walk in wardrobe or ensuite.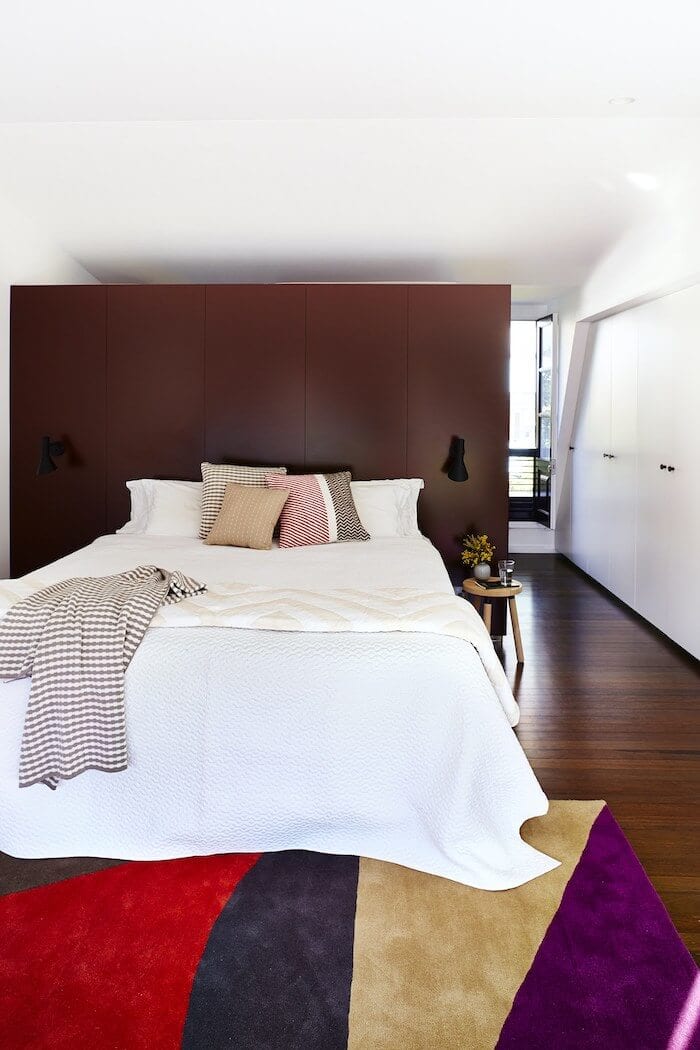 56. Painted ceilings
Turn style on its head by painting the bedroom ceiling. It's another bedroom idea that will be a hit with the kids.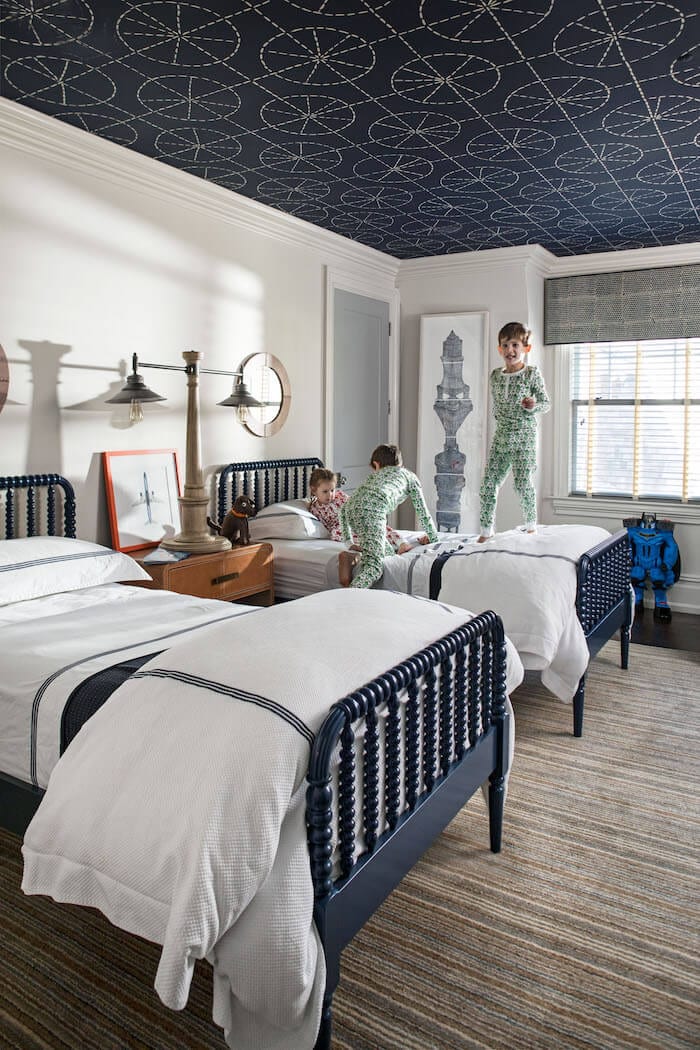 57. Wooden ceiling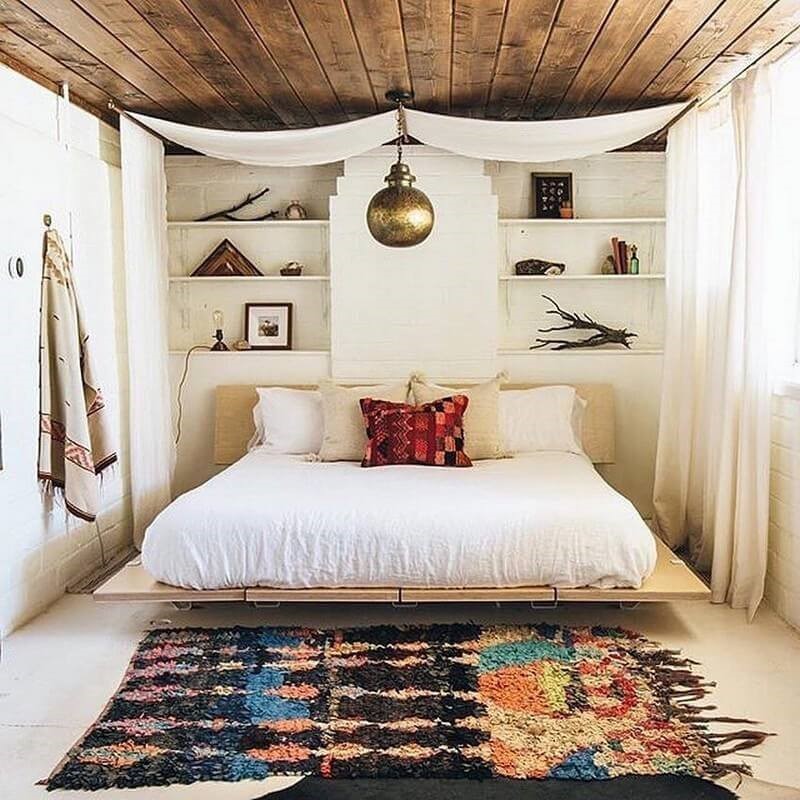 Bedroom themes
Instead of just a change or two, if you're looking for a complete design overhaul it's worth embracing a whole new theme. There are so many different bedroom styles to choose from but here are our favourites.
58. Rustic
Creating a rustic bedroom is all about combining different elements. The room below combines wood walls, cane, wood in the lighting, as well as the stone wall to create a country feel.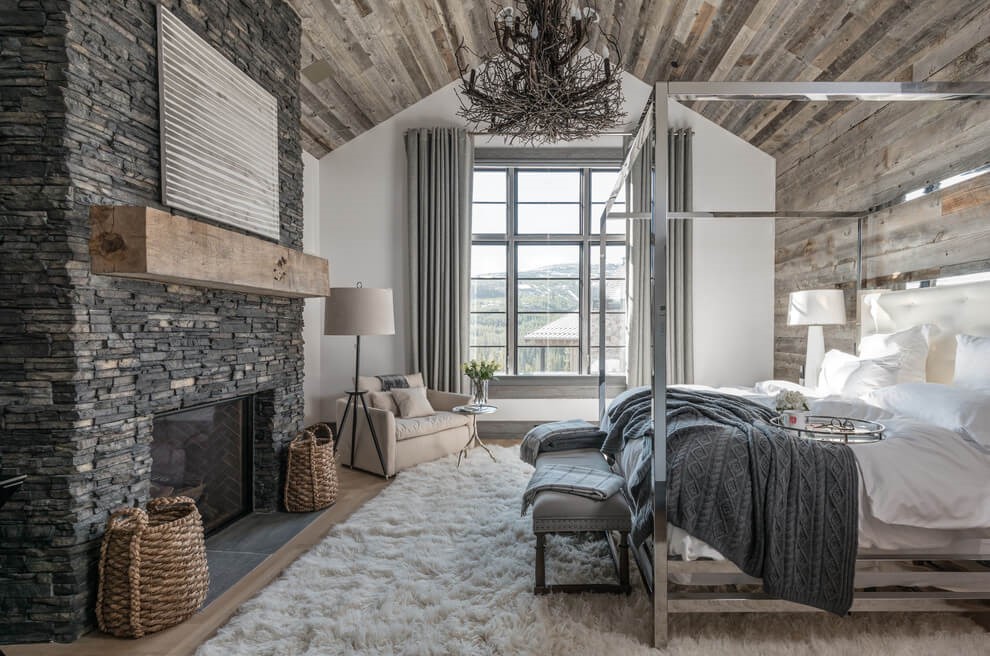 59. Coastal
Coastal Hampton style bedrooms will put you in a holiday mood all year round. Combine soft blues, wood and greenery with woven textures and neutral pieces to create a beach style bedroom that everyone will be envious of. You'll never want to leave the room with this resort feel.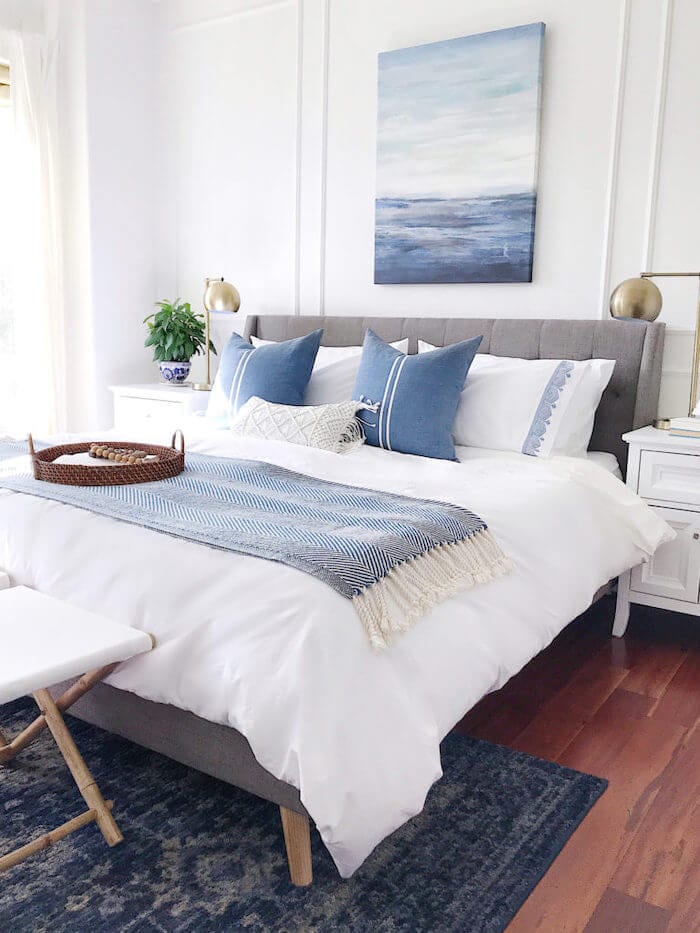 60. Modern
Crisp, clean lines and soft furnishings create this beautiful modern look. And if you got bored of it or a little dated, you can just change a few smaller items and it will always be up-to-date.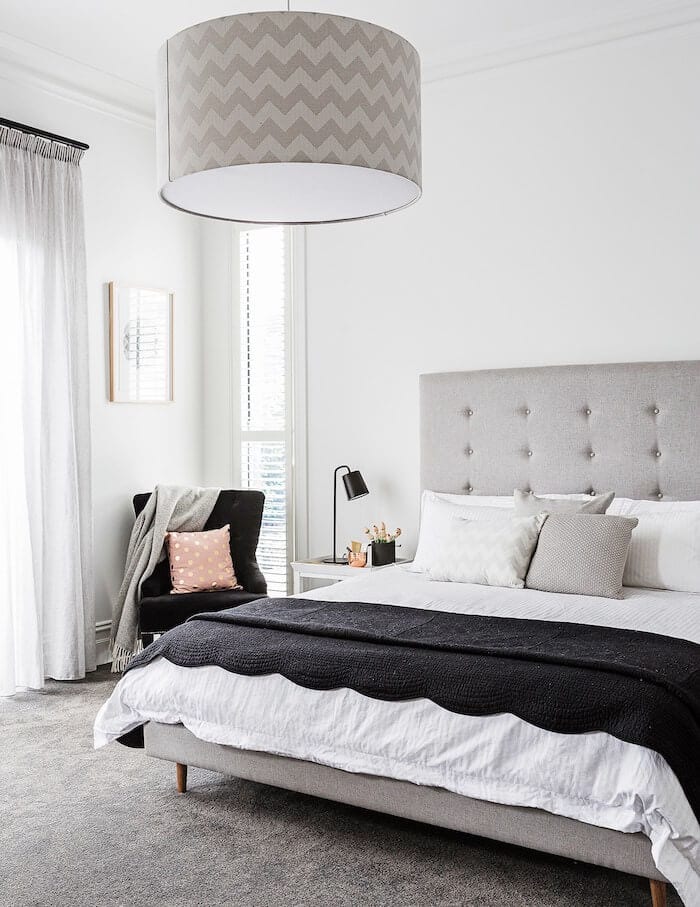 61. Elegant
Add a touch of glamour to your room with Victorian-esque furnishings and a statement chandelier.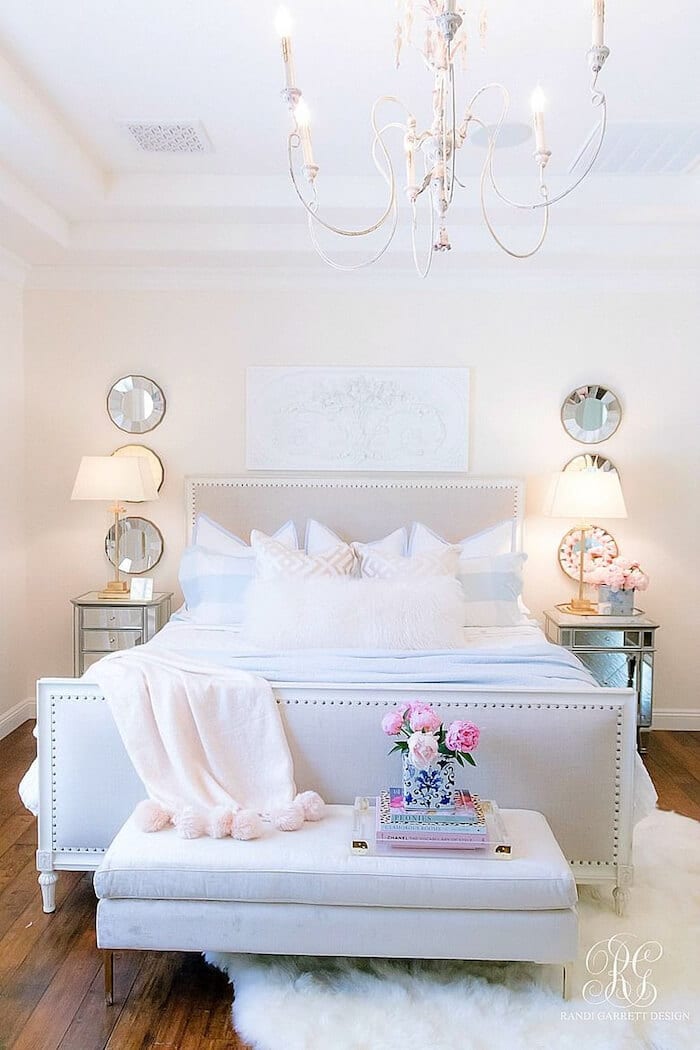 62. Minimalist/ Neutral
Does your room spark joy? That's what Marie Condo implores us all to ask ourselves and as a result, the minimalist look is very 'on trend' right now.  A minimalist space can help you feel less cluttered and stressed. Teamed with crisp white walls and flooring, it makes the space appear more open.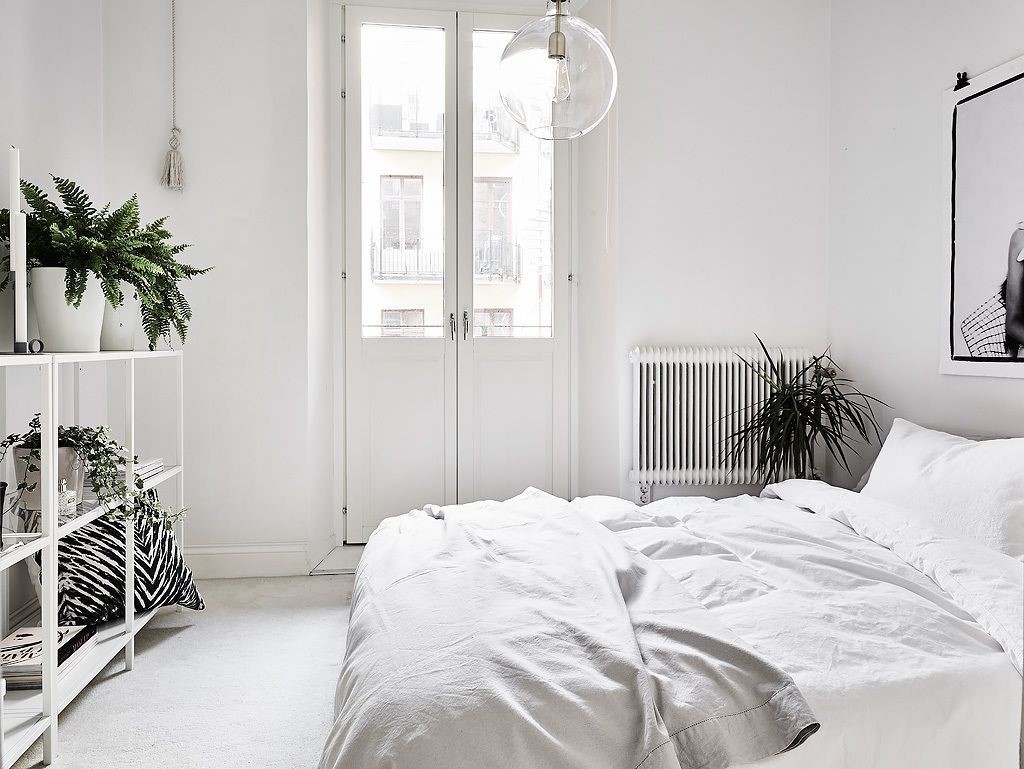 63. Country farmhouse
Mixing wood with texture and light patterns can help create a country look. It's all about the large furniture with an added warmth from rustic furniture.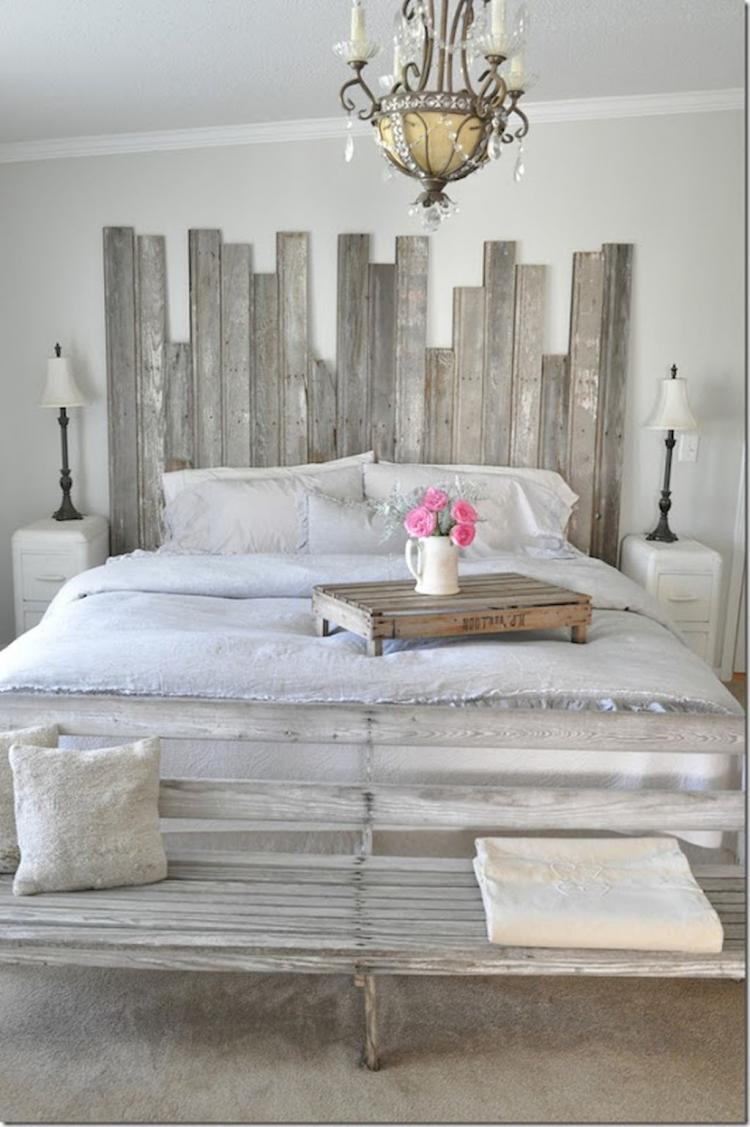 64.Bohemian
The modern bohemian style is to use a collection of similar accessories to pop against a white blank canvas. Add some greenery to help create a bohemian look that you will love.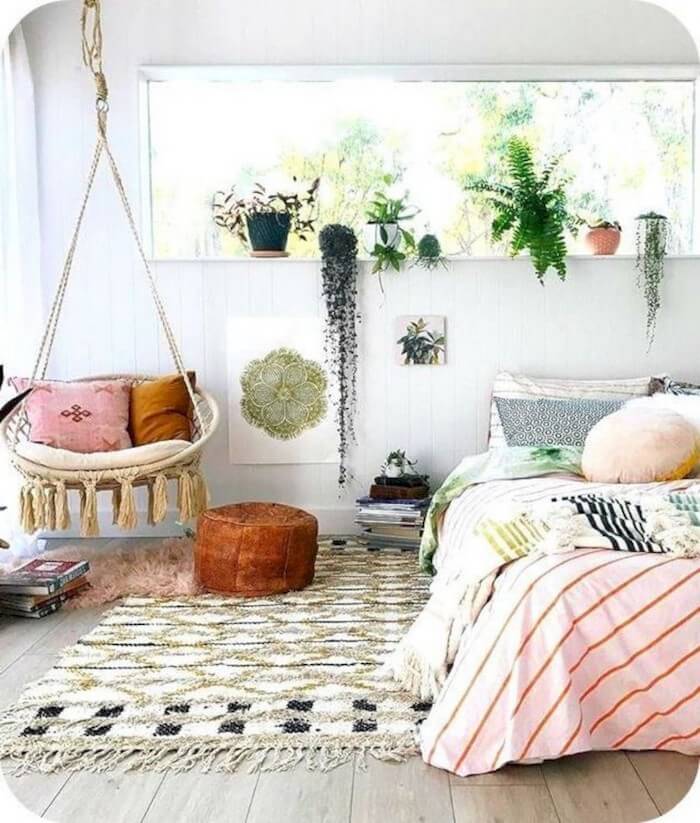 65.  Scandinavian
Perhaps we thought that the Scandi style would come and go, but it's been a constant in interior design for the past decade. To update to a modern Scandinavian look, use stone colours, linens and a dark accent or two.
If you love the Scandi look but you're on a budget, we've put together just the article for you. Here's how to makeover your guest bedroom Scandi style with these budget IKEA pieces.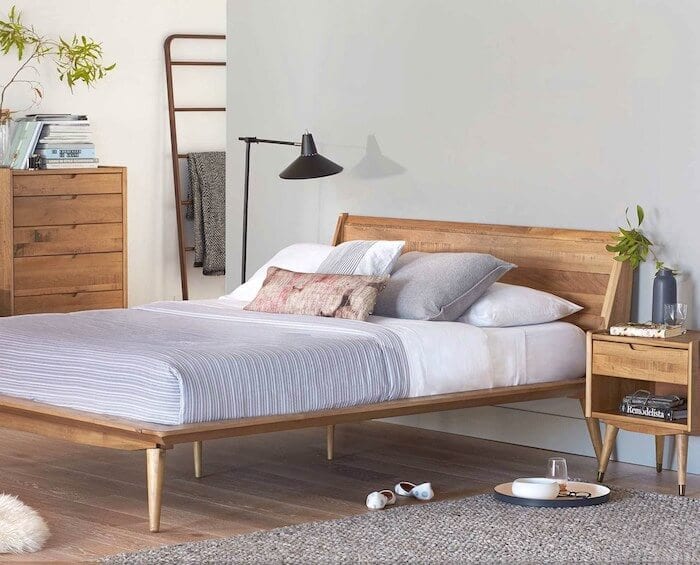 Feature image: Photo by Yasmine Boheas on Unsplash
There you have it, 65+ beautiful bedroom ideas to inspire you to create the bedroom of your dreams. If you have any other ideas, please let us know in the comments below.