Rustic farmhouse bedrooms have long been popular thanks to their emphasis on comfort and simple practicality. But in recent years, the style has evolved into something called modern farmhouse. It's a fresh spin on rustic and decorators say we can't get enough of so-called "peasant chic".
Scroll through our favourite 45 farmhouse bedrooms that have "contemporary yet country" written all over them, along with our tips for how to easily achieve this style.
1. White and bright
A quintessential farmhouse staple, shiplap walls add neat lines and texture to a farmhouse bedroom and give it instant barn flavour. This bedroom has a lovely uncluttered minimalist farmhouse style, with a simple timber bed contrasting with the shiplap walls and beachy linen in soft grey and white. More texture is brought in with the area rug, while small black metal wall sconces add a subtle industrial touch.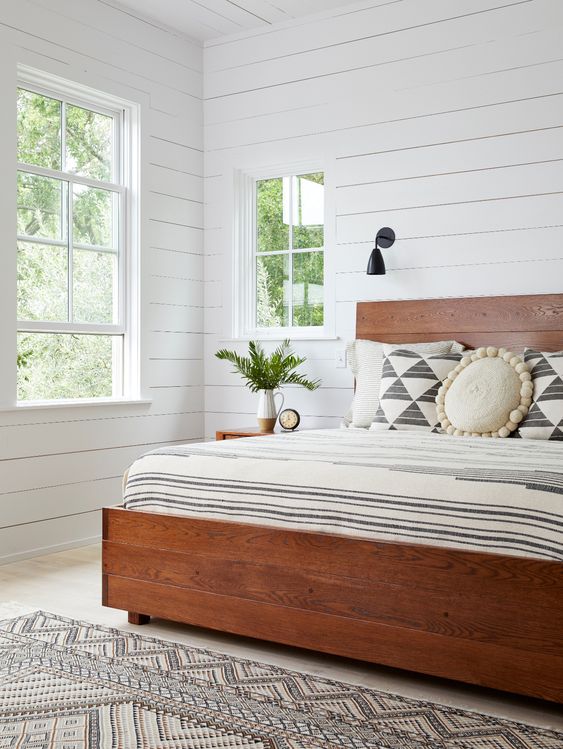 2. Dark modern farmhouse
Although the whitewashed palette is most common for farmhouse bedrooms, give farmhouse a contemporary spin with dramatic dark walls like in the bedroom below. The heaviness of the dark feature wall is balanced by the light-coloured bedding and the black and white area rug, while warmth is added through the leather cushions, weathered timber bench and gold-toned mid-century modern atomic wall sconces. A black statement lampshade ties it all in together and adds a nice contemporary element.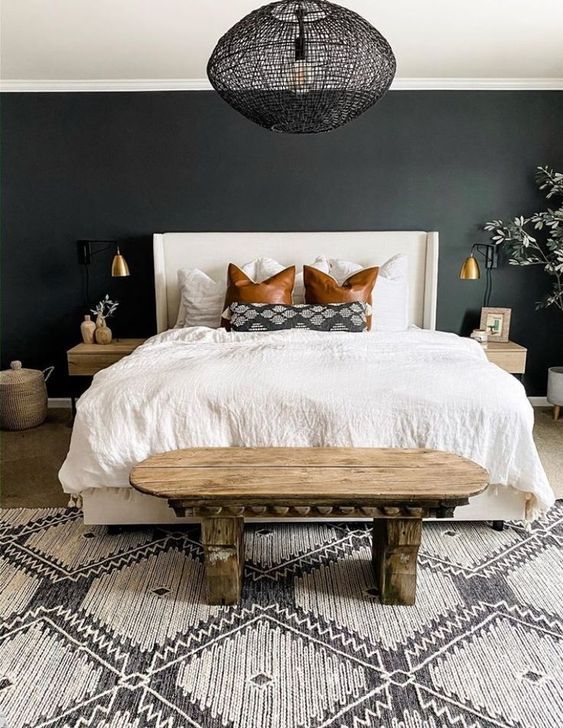 3. Wood, wood and more wood
Timber bedroom furniture is par for the course for a farmhouse bedroom. But it certainly doesn't need to be all matchy-matchy. You can add interest through creating tonal shifts, by incorporating a variety of wood finishes. And wood grains, whether the wood is pale or dark or somewhere in between, will always complement each other.
The bedroom below mixes timber beautifully and further signals its farmhouse theme with mounted antlers on the wall.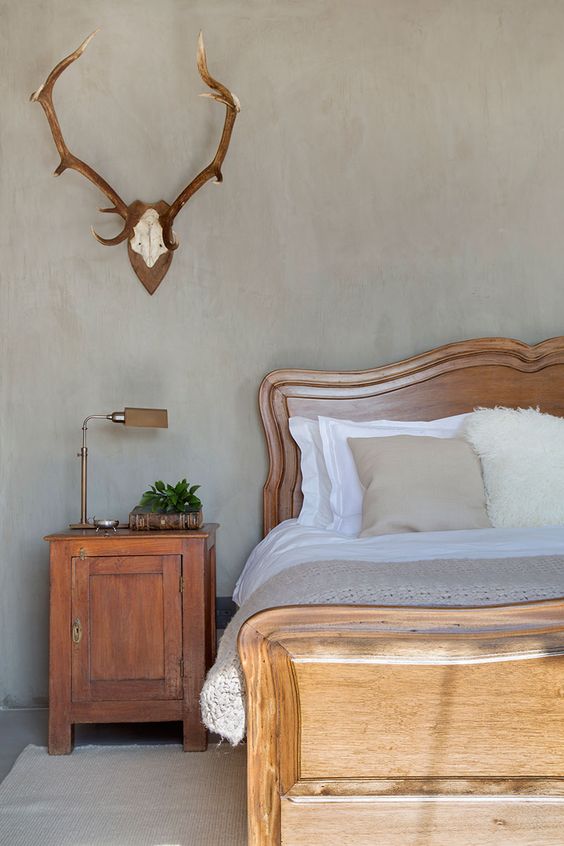 4. Vintage furniture
The fastest route to a farmhouse bedroom is to find yourself an antique or antique-style timber bed, like this richly carved one making a statement in a French country flavoured farmhouse bedroom. Then simply cosy it up with snuggly throws and cushions in neutral colours, add some vintage keepsakes, maybe a simple print on the wall and a vase of fresh flowers on the bedside.
I love these little white bedsides with their Cabriole legs—they're full of the charm of yesteryear and the fresh white really pops against the dark bedding, eggshell white walls and dove grey carpet.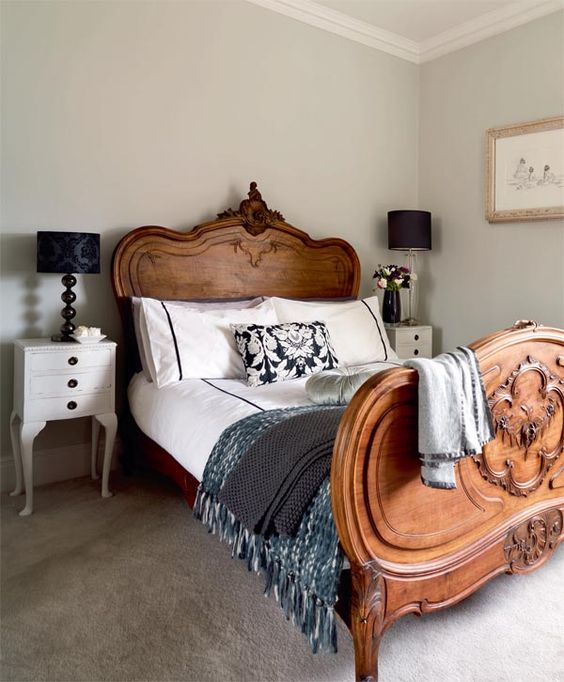 5. Creamy and dreamy
How cosy is this modern farmhouse bedroom? It features the classic farmhouse elements of white walls and weathered wood as well as modern elements such as the white metal pendant light. I like how they've used a variety of textures and finishes to create a beautifully layered space. But I think the heroes here are the rich chunky knitted throw, pillows and ottoman which make the space so warm and inviting.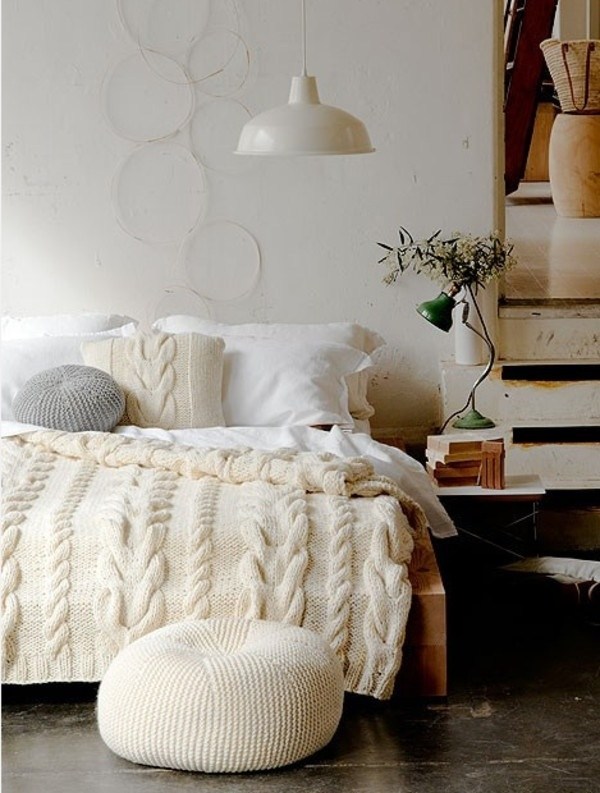 The evolution of farmhouse style
Classic farmhouse style mimics days gone by and draws its inspiration from the farm homes of early American settlers. Characterised by its warm, comfortable and practical nature, it features lots of natural and weathered wood: walls are panelled, floors have wide planks, ceilings have exposed beams and well-loved vintage wooden furniture and accessories are plentiful.
Modern farmhouse, on the other hand, melds the comfort of a classic farmhouse space with sleeker contemporary elements. Décor is less rustic, more polished: pull back on the quaintness but keep the charm and character.
Both aesthetics rely on rough, distressed or reclaimed wood and barn-styled elements, as well as layered texture with plenty of textiles in natural fibres in simple patterns. And while both favour a minimal, neutral colour palette, modern bedrooms experiment with colour more and incorporate more gloss than classic farmhouse bedrooms.
A fundamental element of farmhouse bedrooms is the inclusion of industrial metal touches, particularly in the lighting fixtures. With modern farmhouse bedrooms, lighting can be much more contemporary and dramatic.
Another key difference is that with modern farmhouse, you mix and match vintage and modern materials and elements—this gives you the authenticity of the vintage pieces combined with the added functionality and style of contemporary design.
6. Natural palette
A modern farmhouse bedroom usually has either a timber bed or a vintage-style metal frame bed, often in black. Here, a modern farmhouse bedroom styled with a black metal bed frame, which contrasts nicely against the white walls. Soft furnishings in chocolate tones complement the bedsides, bench and timber floors, while the natural colours also help give the space farmhouse flavour.
I love the Sputnik chandelier for those mid-century modern vibes that go so well with farmhouse bedrooms. And the lush plant hanging in a corner adds just the right pop of freshness.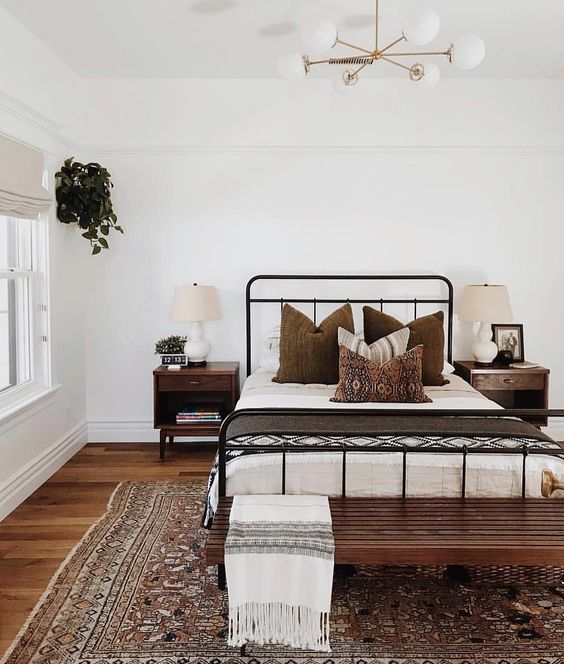 7. Coastal flavoured palette
This classic farmhouse bedroom has a coastal feel to it, or perhaps it simply brings to mind a field of blue flowers. Either way, there's lots of fresh white paired with powder and baby blues. A blue bed makes a refreshing change from natural wood tones, and it harmonises beautifully with the lamp here. A still on-trend fiddle leaf fig brings the room into the contemporary age and adds a burst of life.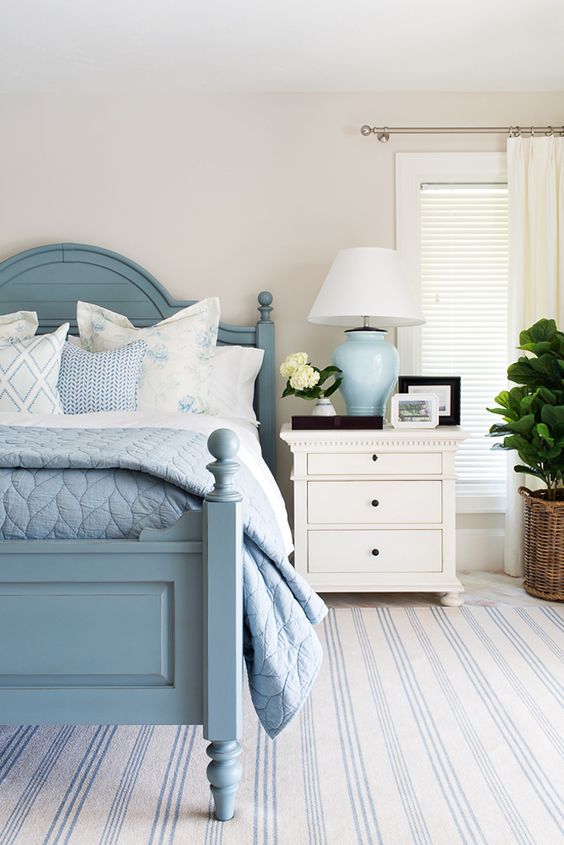 8. Rustic palette
Simply begin with whitewashed walls and add soft furnishings in muted, natural tones, like the chocolate and slate bedding in this modern farmhouse bedroom. Then layer in salvaged items, such as a vintage burlap pillow and old wooden stool as a bedside, and industrial elements, like a striking hanging metal pendant light. The portraits propped up on the picture railing add so much personality and character to this quite minimalist setting.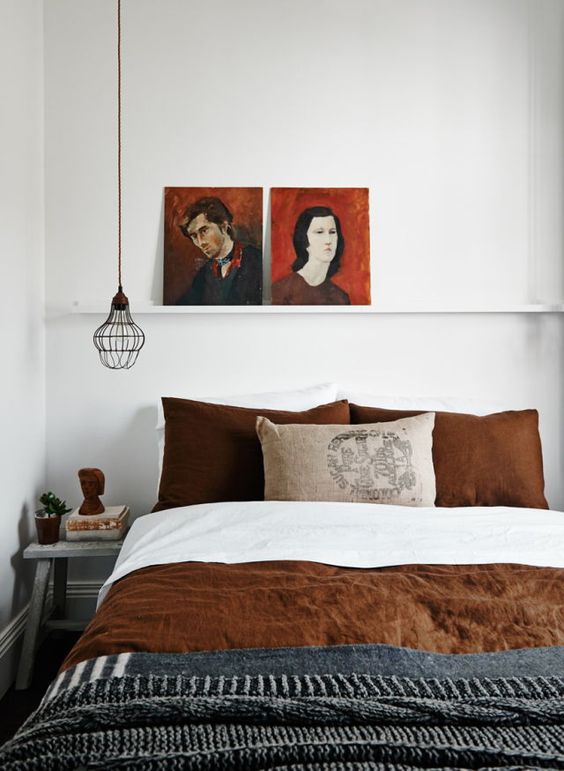 9. Coastal farmhouse blues
Another coastal farmhouse bedroom, this time a more updated, modernised version. Farmhouse is a style that's so easily achieved just by drawing together a small set of very distinctive elements.
Here, it's a stunning oversized wicker lampshade, a simple salvaged wooden stool as a nightstand, and a night-sky blue and white bedding colour scheme.  The overall effect is warm, comfortable, and comforting. And how gorgeous is the whitewashed cathedral ceiling too? I'm having serious ceiling envy over here. White ceilings and white walls are always a good combo as they make your bedroom space appear bigger – get help with your ceiling painting.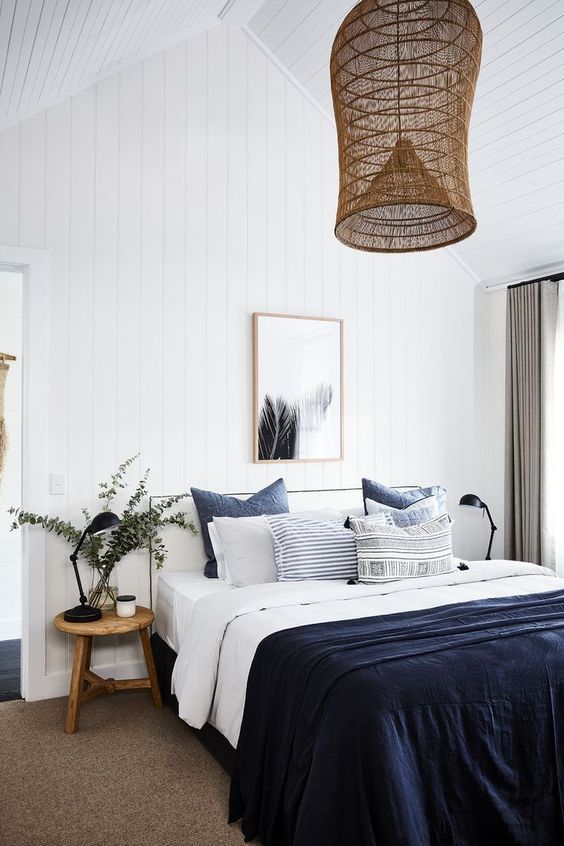 10. Cool whites
This cool-toned farmhouse bedroom would be ideal for homes in hotter climates, as all the brilliant whites and pale greys means the space is comfortably light and airy. A Scandi-flavoured, minimalist space, it features an abundance of natural materials, from the pale timber floorboards to the white linen and soft knitted throw and cushion. And the little wooden tray table and white lamp are subtle, contemporary touches.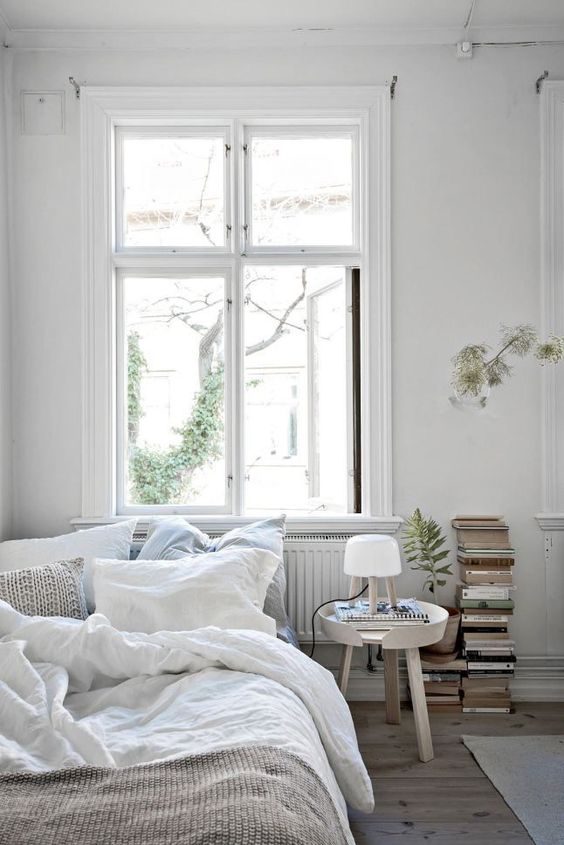 11. Board and batten walls
Board and batten siding is a really popular choice of wall treatment for a farmhouse bedroom. People love it because it's an easy and fast DIY and it conveys instant barn vibes–farmhouses being where the technique originated.
Board and batten siding is simply large sheets of plywood with timber battens that run vertically at equal intervals, but its effect is to create the character and also interesting shadow lines for visual interest. You'll often see it painted white in farmhouse bedrooms, but I love this modern farmhouse take on it in charcoal.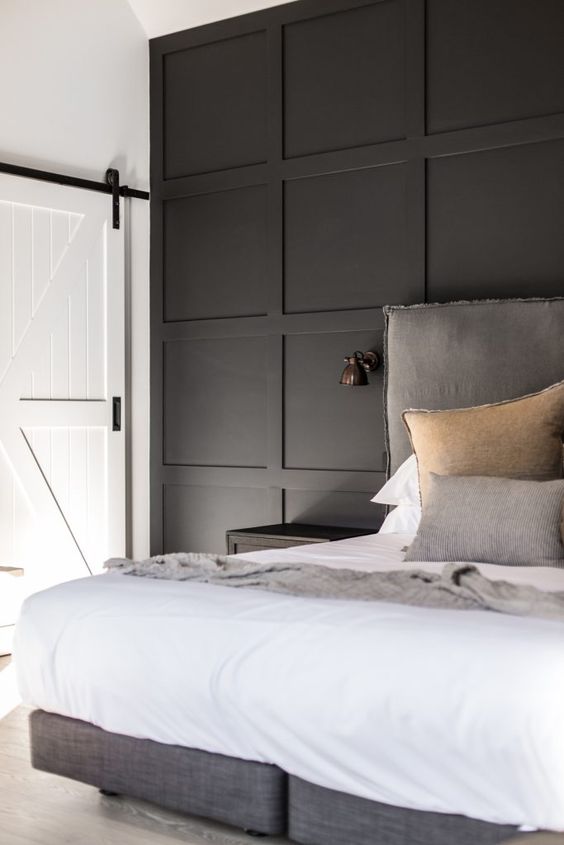 12. Rustic ceilings
A strong classic farmhouse aesthetic in this loft bedroom thanks to the abundance of white and wood tones and especially the addition of rustic exposed beams on the ceiling. These pine beams have been kept unfinished in order to enhance their raw, organic look, and the warmth created overhead adds a lot of cosiness to the room.
13. Add something practical
Below, a cute little farmhouse bedroom with a predominantly white palette except for dark stained timber floorboards and a few complimentary soft furnishings in dark natural tones. A little flash of bright colour and warm metal accents provide lively pops. In the bedroom, a simple bed is decorated in homely hand knits; meanwhile, the above-bed shelf is highly practical, in keeping with farmhouse love of functionality.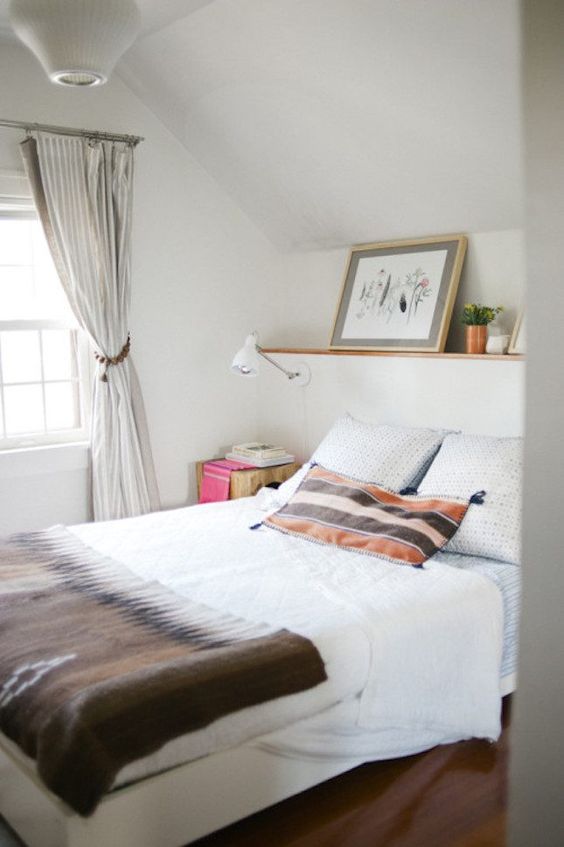 14. Cosy rugs
With the emphasis on comfort and cosiness, farmhouse bedrooms often incorporate a huge area rug picking up one of the room's accent colours. Colourful, sophisticated Persian rugs are ideal, adding extra pattern and texture to a flat space.
Here, a farmhouse bedroom aesthetic is easily achieved with a gorgeous timber bedframe over a beautiful midnight blue and rose-toned rug. The rustic ladder and yarn wallhanging are just the right farmhouse décor touches needed to complete the look.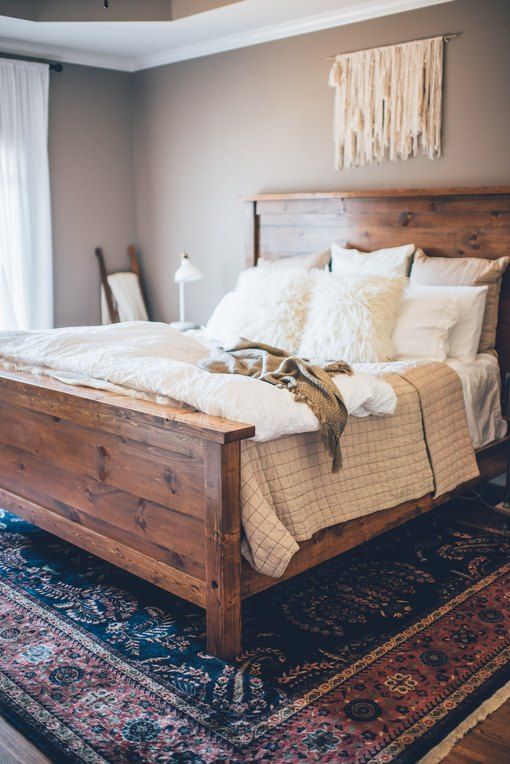 15. A little bit fancy
Farmhouse style is all about nostalgia for days gone by, so you really can't go wrong with an ornate vintage timber bed if you want to signal this aesthetic. Contrast it with white shiplap walls and generous layers of white linen, and add colour pops with floral and paisley cushions. Extra points if your pillows are handmade from recycled vintage fabric!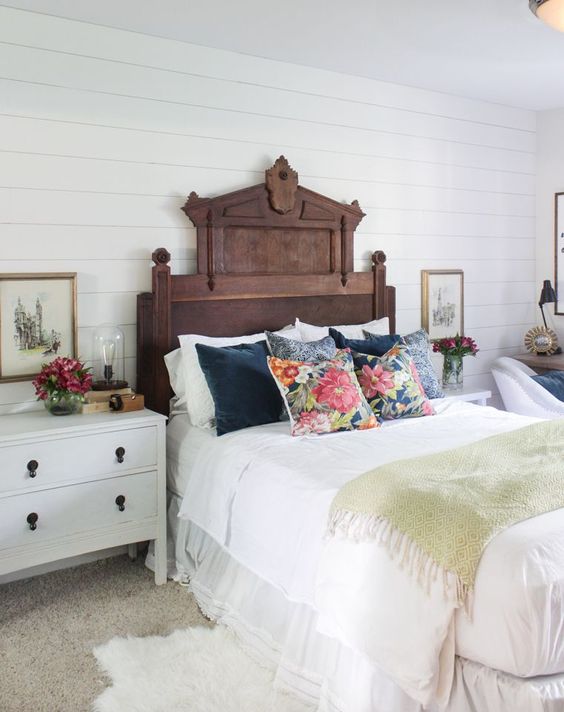 16. Mix timbers
While rustic raw wood is standard for a farmhouse bedroom, don't be afraid to mix a variety of timbers and finishes. Because farmhouse bedrooms are supposed to look like they evolved over time, it's perfectly fine to incorporate different kinds of wood, from hand-me-down antiques to Ikea basics to op-shop or fleamarket finds.
Here, a contemporary walnut bed on delicate tapered legs is juxtaposed with golden timber floorboards, dark timber skirting boards and a pale timber shelf above the bed.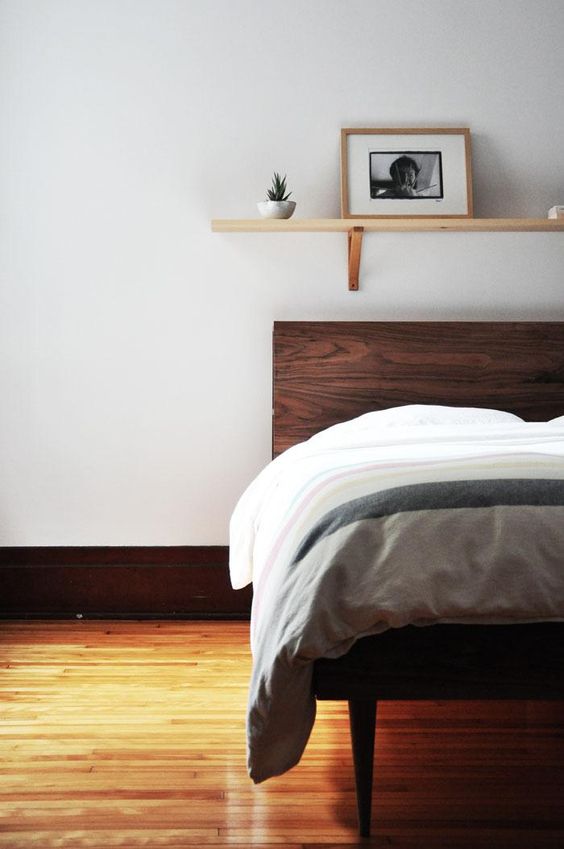 17. Pops of colour
Classic farmhouse bedrooms usually have a palette of warm, natural, neutrals but you can modernise the look with splashes of vivid colour. Here's a simple farmhouse bedroom styled with a graphic red, white and black rug which adds energy and interest to the fairly basic space. A natural, raw wood stool serves as a bedside to hold a chic industrial-style metal lamp, and the landscape artworks on the wall help set the farmhouse tone.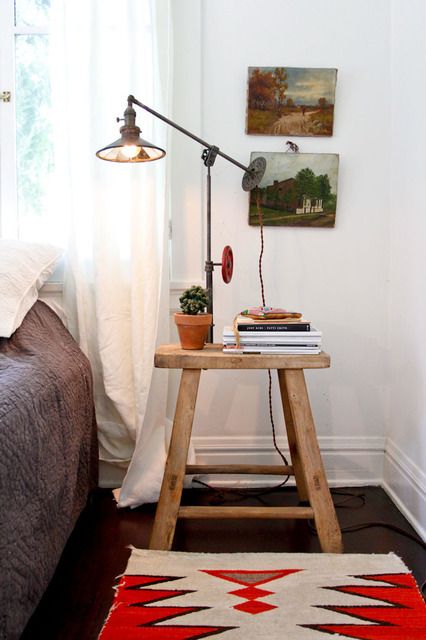 18. Just add antiques
This bedroom typifies the French country style, which is essentially classic farmhouse style infused with an extra elegance, sophistication and femininity. Antique beds (especially with those distinctively French cabriole legs), ornate mirrors and fancy chandeliers deliver this aesthetic with ease. A pretty and characterful style of bedroom with plenty of authentic olde-worlde charm.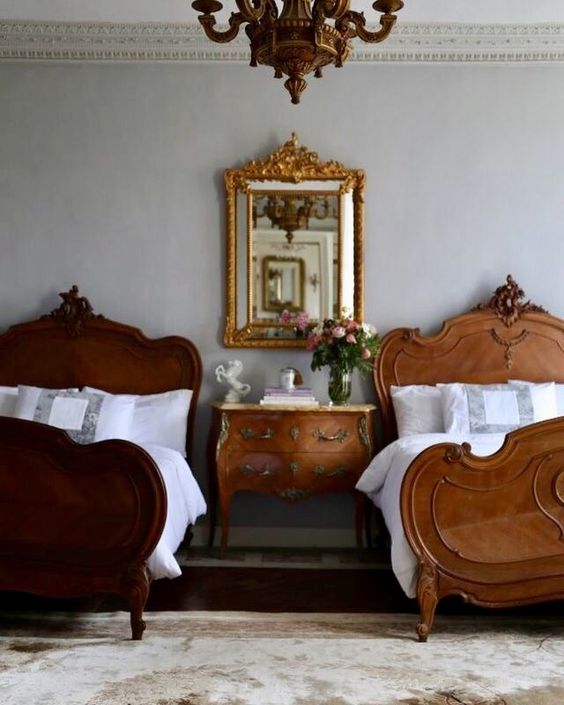 19. Only natural
The owners describe this bedroom as "mid-century modern treehouse" but it could equally be seen as a modern farmhouse. There's a luminous, neutral palette, a super comfy bed, a dash of warm, dark timber, natural simplicity and of course those whitewashed ceiling beams.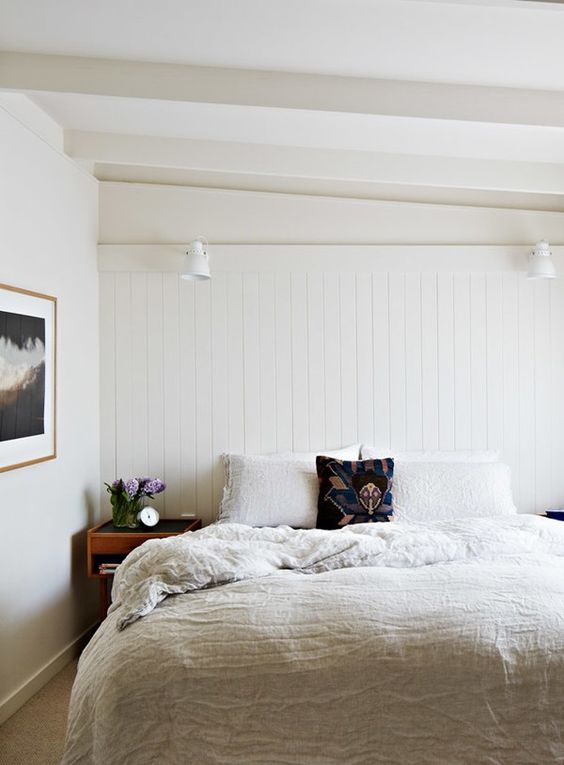 20. Add a giant jute rug
Layer as many natural fibres in as you can, from the ground up. Many modern farmhouse bedrooms feature massive boho flavoured jute rugs under the bed. They add a neat rustic touch which you can refine with a few metallic elements, like these planters containing diehard Mother-in-law's Tongue.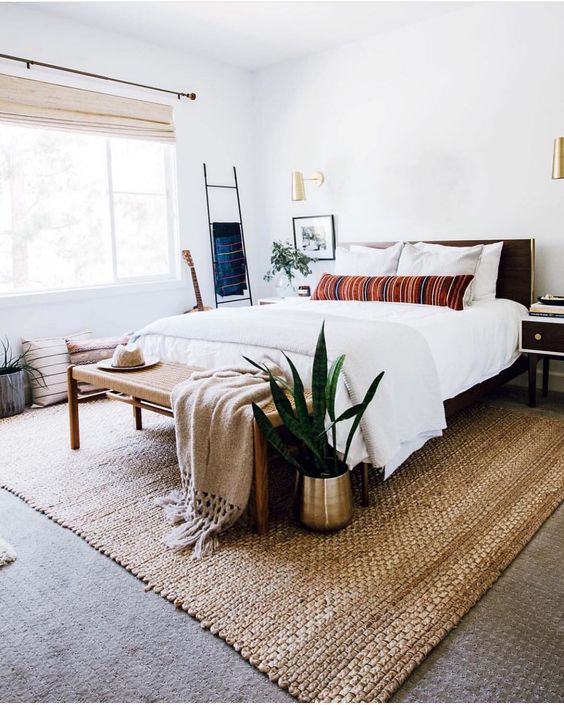 21. Moody greys
It's also very popular to update the classic farmhouse look by changing up the expected colour palette. Below, wall panelling painted dark cloud grey looks beautiful against the cream tufted bedhead. Farmhouse décor in the form of an upholstered timber bench and soft furnishings in nature tones bolster the farmhouse look. And all the colours are cleverly pulled together in the little landscape painting.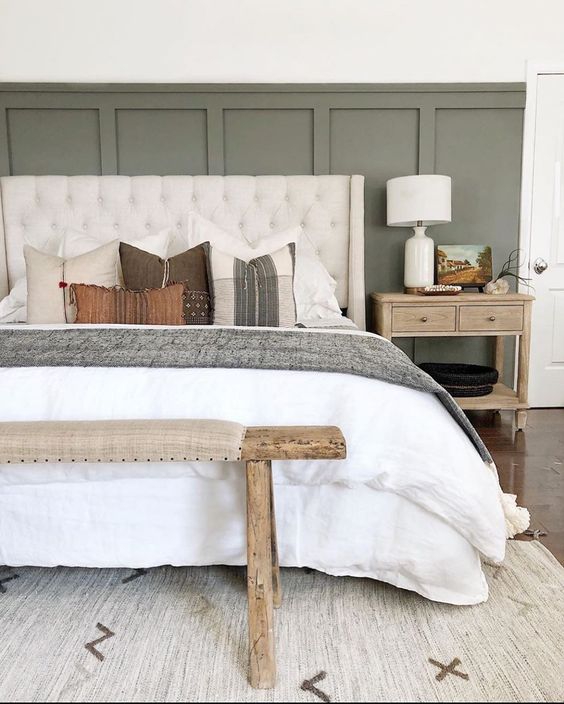 22. Soothing white with burst of blue
This striking but very minimal farmhouse bedroom features the classic farmhouse elements of white shiplap walls and beautiful timber floors, the lines of the slatted wall treatment nicely complementing the lines of the floorboards.  The bright white space really benefits from the refreshing denim blue throw, with the space punctuated by the black industrial wall sconce.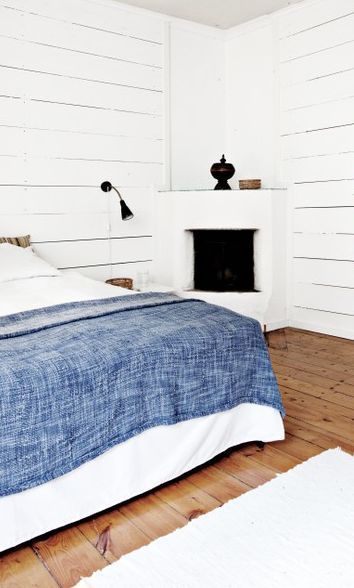 23. Pallet accent wall
Why not consider a feature wall made of pallets, like this one? It's so rustic and unmistakably farmhouse. The rest of this space is simple and uncluttered, but to avoid an all-natural interior like this from seeming too raw and rough, add industrial light fixtures in steel or iron for that chic contemporary touch. As for bedding, a handmade quilt has oodles of country charm.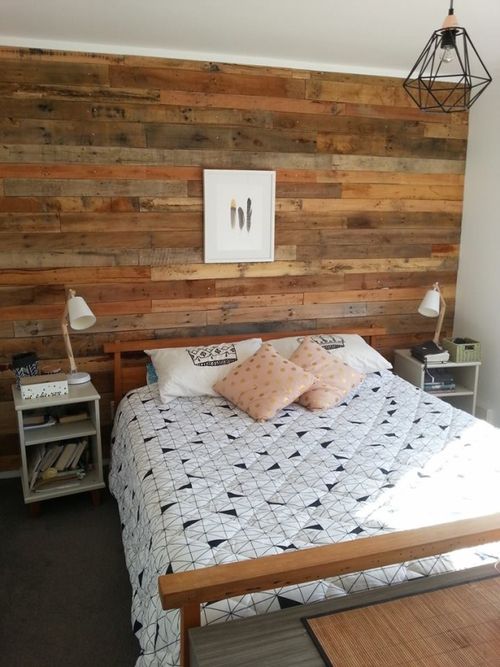 24. Add a barn door, but make it modern
A black barn door has more of a modern edge than a white one. Below, the sleek lines of the door contrast with the intricately-carved vintage bed and simple, country-style linen. Unobtrusive white powder-coated steel sconces blend into the white walls, keeping things feeling uncluttered.
Annnnd…wreaths. To some, wreaths are quaint and charming. To others—me–they veer into kitsch and cheesy. What do you think? Have your say in the comments below!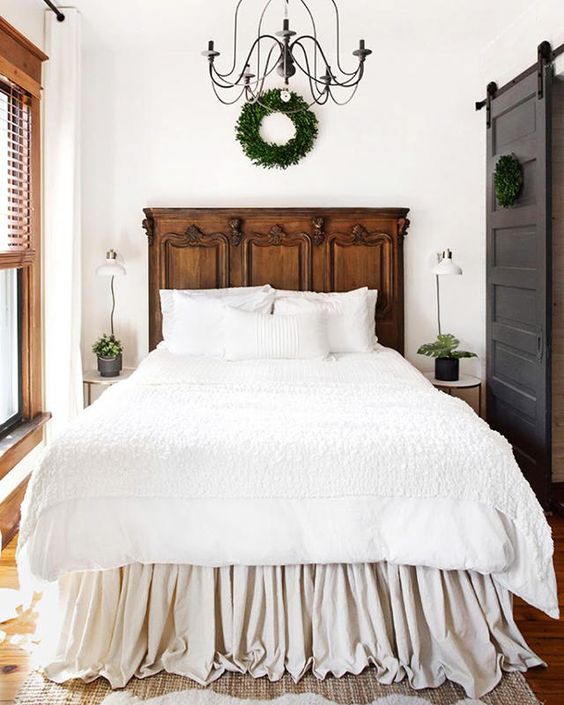 25. Boho modern farmhouse
Boho and farmhouse style bedrooms share a love of organic fibres and a natural-hued palette but modern farmhouse bedrooms tend to have cleaner lines and less clutter. Below, space rich in texture and natural Boho vibes made farmhouse with brilliant whites, woods and shiplap. It's given a modern edge thanks to the slimline black steel four-poster.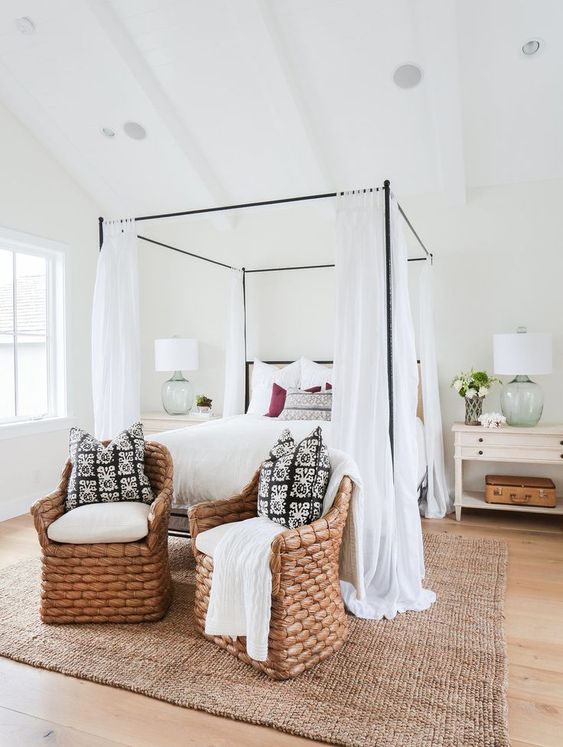 26. Beam with sheer curtains
Even if you don't have timber beams overhead to expose, you could think about installing just a single feature beam, from which you could drape romantic sheer white curtains, like in the bedroom below.  A neutral colour scheme takes advantage of this space's abundant natural light, while all the ethereal brightness is grounded by the black vintage-style bed.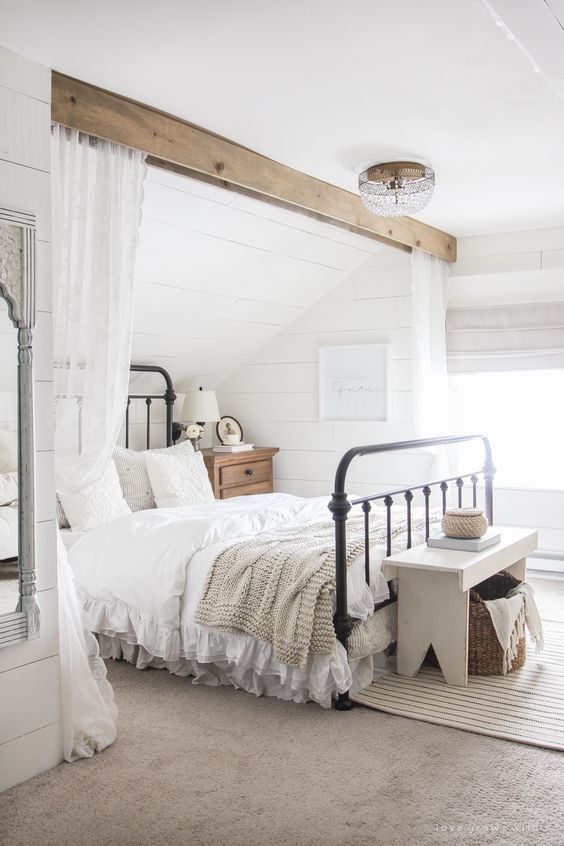 27. Four-poster beds and windmill fans
Here's a farmhouse bedroom that's more in the classic farmhouse vein featuring an antique (or perhaps reproduction) four-poster bed in a traditional neutral setting with those de rigeur shiplap walls. Adding a timber windmill ceiling fan underscores the farmhouse aesthetic, not to mention keeping things pleasantly cool.
In keeping with the farmhouse spirit of salvaging vintage items to use as décor, the owner has created a small feature above the bed, repurposing an ornamental piece of a vintage metal screen door belonging to her grandparents.
28. Modern four-poster beds
If you're keen on the four-poster bed concept but prefer a modern farmhouse aesthetic, you could also go for a more contemporary spin on this piece of furniture, like this simple, linear dark timber frame. I like the contrast with the white bedside here, which keeps the space light and airy and the focus on the bed. Pendant lights either side of the bed also cleverly create the illusion of the ceiling is higher than it really is.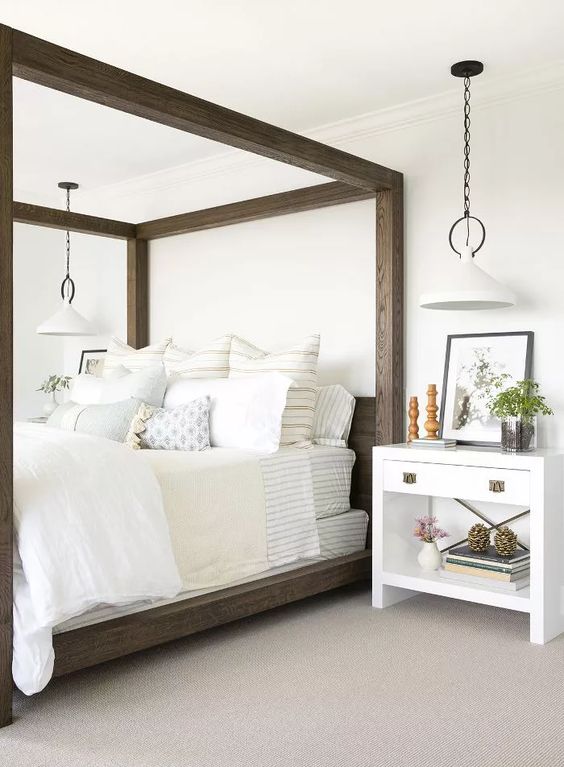 29. Super cosy
Farmhouse bedrooms are ideally warm, welcoming and inviting spaces. How cosy is this casual, fresh modern farmhouse bedroom with its raw timber bed and snuggly sheepskin? Whitewashed plank floorboards contrast nicely with the old metal stool doubling as a bedside and the industrial-style hanging pendant to create a timelessly modern look.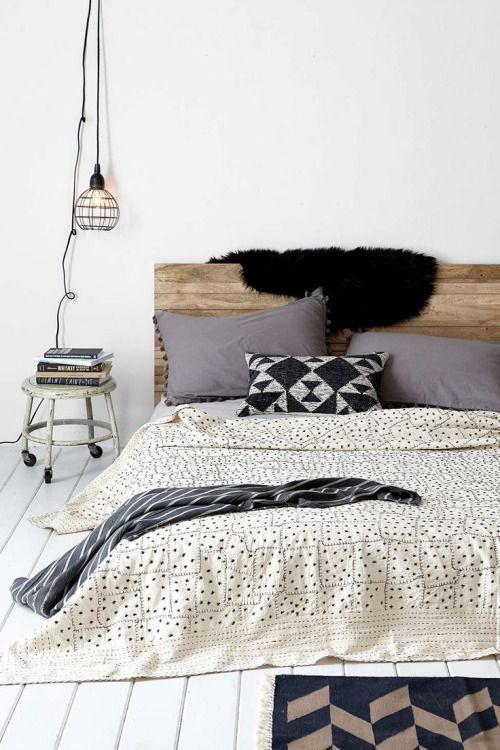 30. Plain bed + vintage commode
Farmhouse bedrooms typically mix old and new items, so it's neither necessary nor desirable to have a matchy-matchy bedroom suite. If you decide to go with a contemporary bed, contrast it with a retro commode which will instantly bring all the farmhouse flavour. This intricately carved piece with mirrored doors is so elegant and delicate, and its polished nature also contrasts beautifully with the rough-hewn jute rug.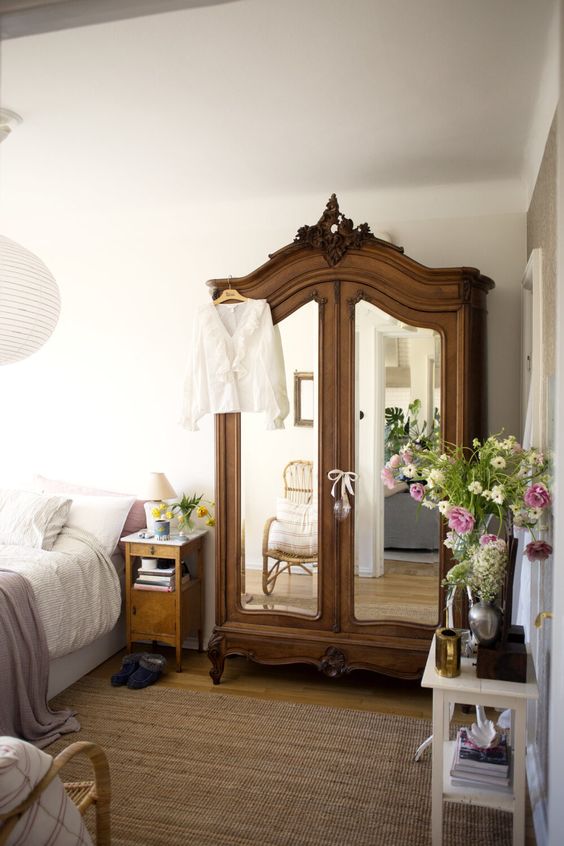 31. Clean lines
Overwhelmingly white with a few wooden accents, this minimalist farmhouse bedroom is an unfussy, clean and luxe space. Dressed in crisp white linens, cosied up with a throw and accented by navy cushions, it's a very modern take on this much-loved decorating style.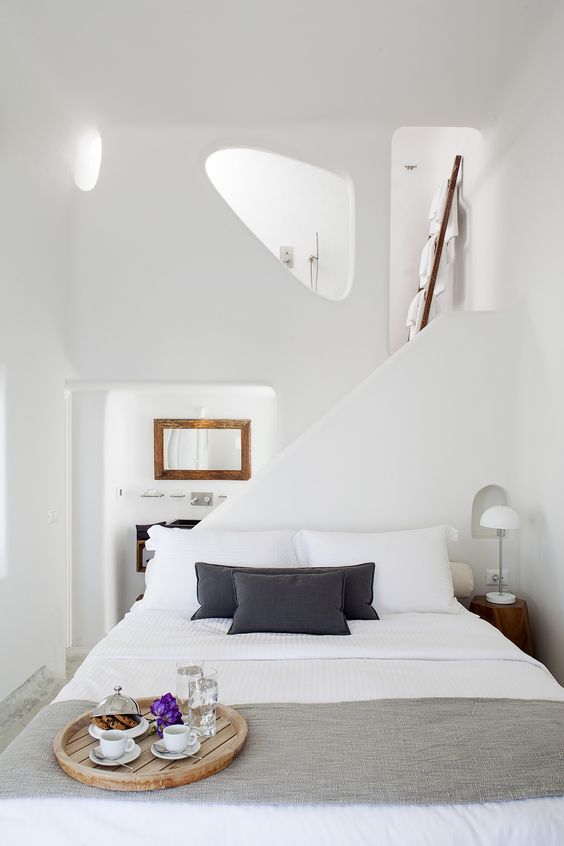 32. Pick a modern pattern
Traditional textiles for a classic farmhouse bedroom are usually patterned with stripes, plaids and florals, but you can give the look a modern spin by choosing more contemporary patterns, like the abstract geo designs here. This space blends the country elements of raw timber floorboards and a mounted deer sculpture with sleep contemporary silver lamps for an updated modern farmhouse aesthetic.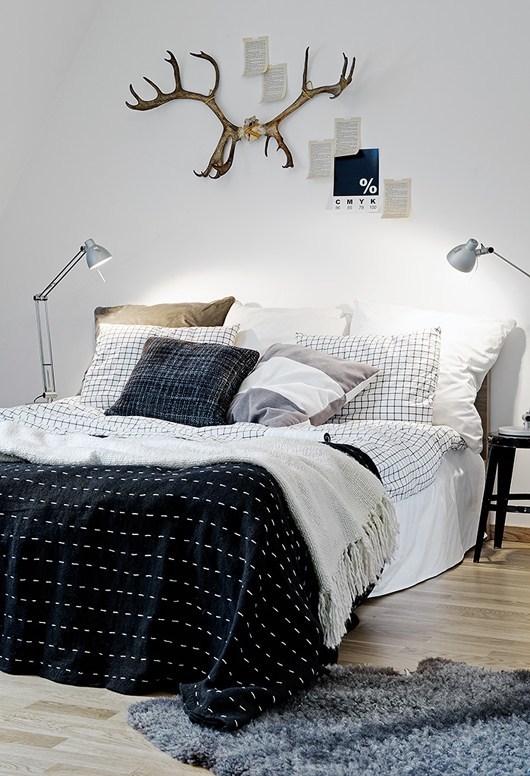 33. Spacious modern farmhouse
It's the huge barn-style vaulted ceiling here that is the statement-making feature of this modern farmhouse bedroom. Minimalist and Scandi-style, the room is simply suffused with light—no need for drapes with windows like that. The long, wide window ledge in raw timber is a practical as well as beautiful touch. Streamlined contemporary bedroom furniture in black add depth to the space.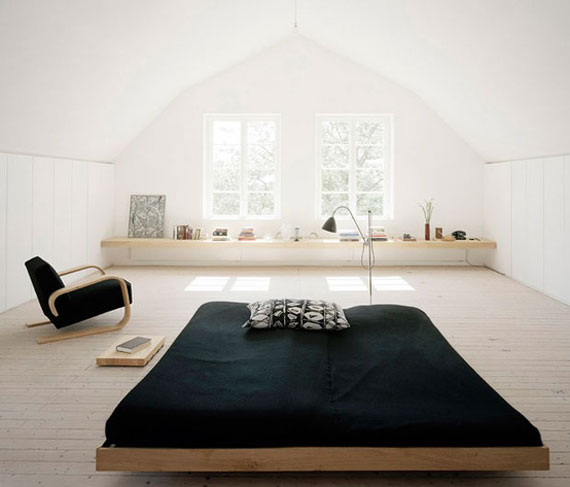 34. Crisp blues and stripes
Going back to a more classic farmhouse vibe with this one, with crisp white and blue stripe colour scheme giving it a coastal flavour, amplified by the artwork. Retro whitewashed wide plank panelling on the walls, together with an antique timber bed and a jute rug, make it feel country straightaway. Black barn-style lamps are also a décor element that is a natural-born fit for a farmhouse bedroom.
35. Buffalo
Another print you'll see in lots of farmhouse bedrooms is the oversized check print, buffalo plaid. It just feels immediately country, especially if made of flannel and coupled with woollen throws and knitted cushions. Crisp white linen freshens it all up.  Add a jug of fresh flowers and it feels like afternoon nap time at Nanna's.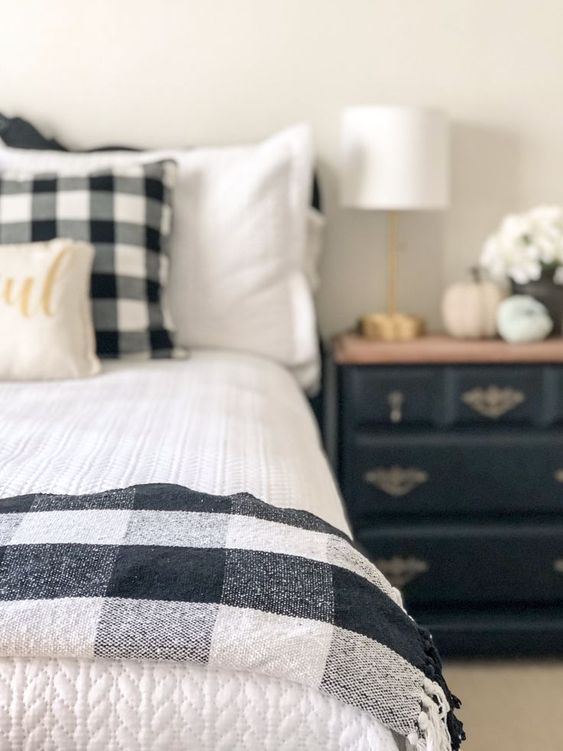 36. Farmhouse in greys
A grey colour scheme with black accents presents a modern take on the classic farmhouse's earthy natural tones or bright blues and whites. This black and white bedroom gets its modern farmhouse vibes simply from plaid cushions, soft rug, homely lamp and vase, and of course that elaborate vintage wrought iron chandelier,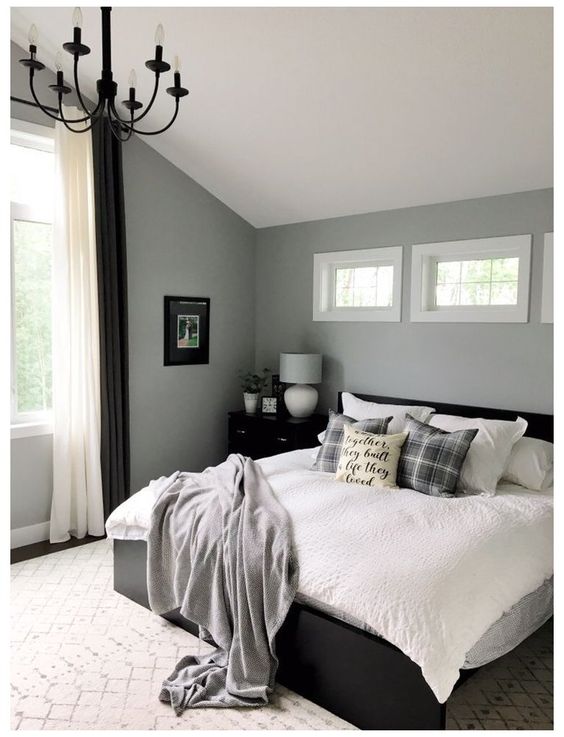 37. Simple and clean
The simpler the bedroom, the better, really. Farmhouse bedrooms are typically clean, uncluttered, practical spaces. Ideally, your farmhouse bedroom has just the essentials to create a comfy little nest: fluffy pillows, deliciously clean and soft white linen, a useful bedside with a lamp, a rug warming up a timber floor, and lashings of bright white. A simple row of pictures, a plant and a hessian bag is all that's needed for décor.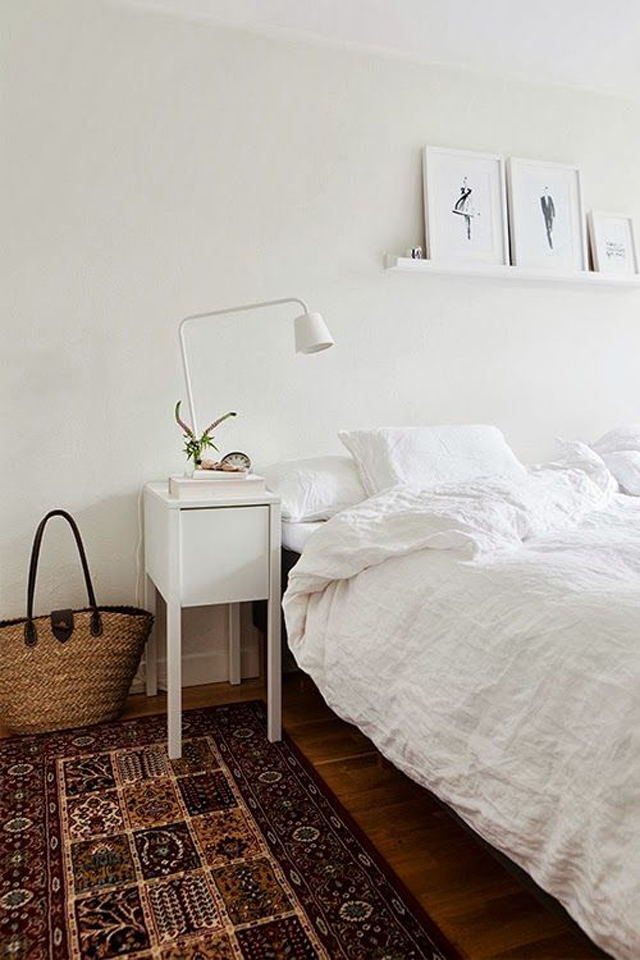 38. Farm fresh
One of the hallmarks of farmhouse style is the generous use of white, often paired with pops of sky blue. The mix of vivid blue and white is just so fresh and summery, drawing inspiration from the wide-open skies of traditional prairies. Easily style up a farmhouse bedroom by pairing white or light-coloured walls with a plain white timber bed, and adding layers of crumpled blue and white linen, ideally in plaids or stripes.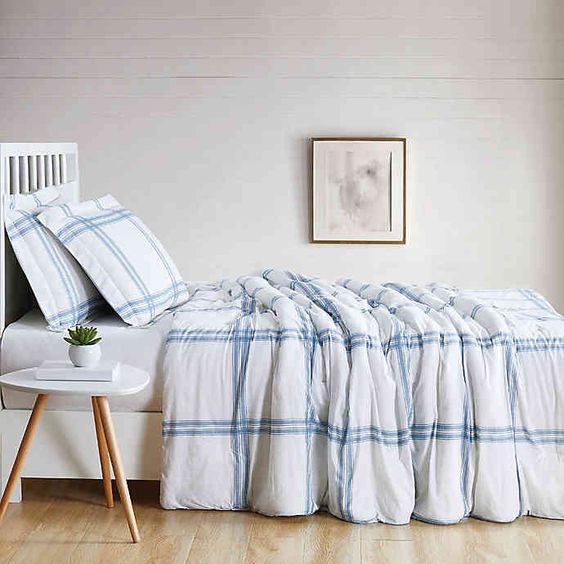 39. Scandi modern farmhouse bedroom
A modern tweak on the classic farmhouse four-poster bed, this raw timber bed with simple, clean lines evokes Scandi style. To add interest, the bed's contemporary design contrasts with the country-style vintage chest of drawers, meanwhile, the neutral palette is the perfect backdrop for gorgeous statement bedroom plants.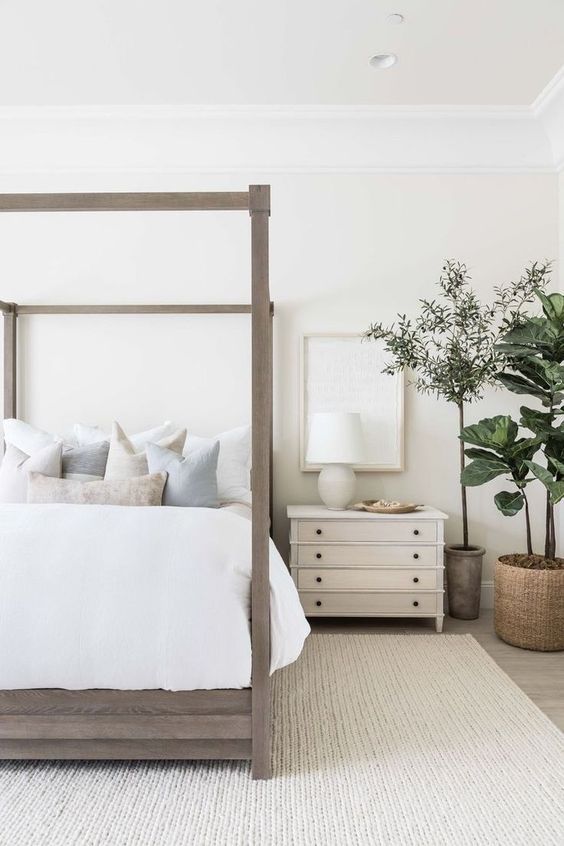 40. Add animal wall art
Evoke the natural beauty of the land with beautiful images of horses, bulls or sheep, like the simple black and white horse print in this farmhouse bedroom. I like the mix of patterns in nature tones here, and that vintage-style industrial table lamp. It all adds up to a simple, unfussy modern farmhouse bedroom.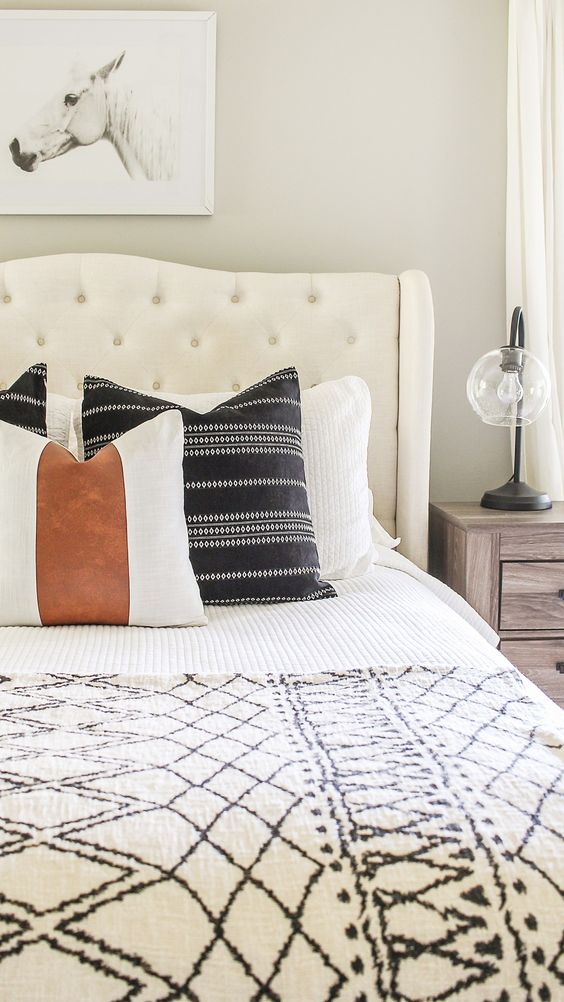 41. Exposed bricks
The great thing about the farmhouse aesthetic is that it's possible to conjure it up with just the inclusion of three or four classic elements. Below, a farmhouse bedroom that simply relies on exposed brickwork for a feature wall and a rustic timber ceiling, contrasted with a black steel bedframe, to convey "farmhouse".
An elaborate light fitting breaks up the two warm materials a little, meanwhile, a wreath makes me place it more in the classic farmhouse category as all of the more classic farmhouse bedrooms on Pinterest seem to be drawn to add wreathes! Personally, I think they're a bit much. What about you?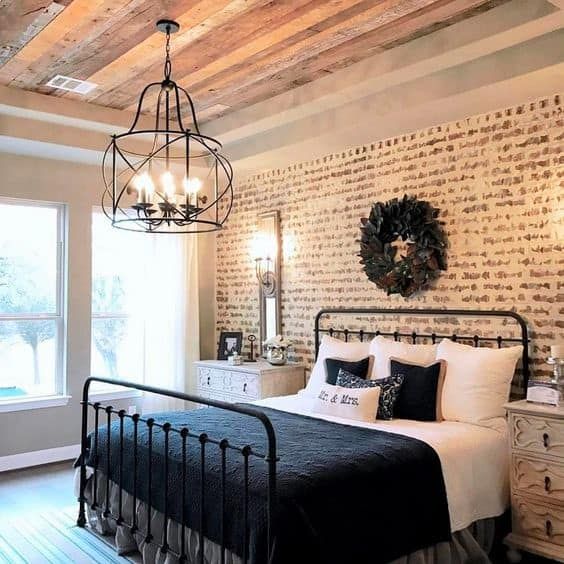 42. White + blue + orange
Fresh clean farm vibes in this classic farmhouse bedroom, with an abundance of bright white, accentuated with cheerful bursts of orange and cornflower blue. A battered old bench and a barn door signify farmhouse while a statement light fitting gives it a modern feel. If your bedroom paint needs new life, why not find a local bedroom painter to spruce it up?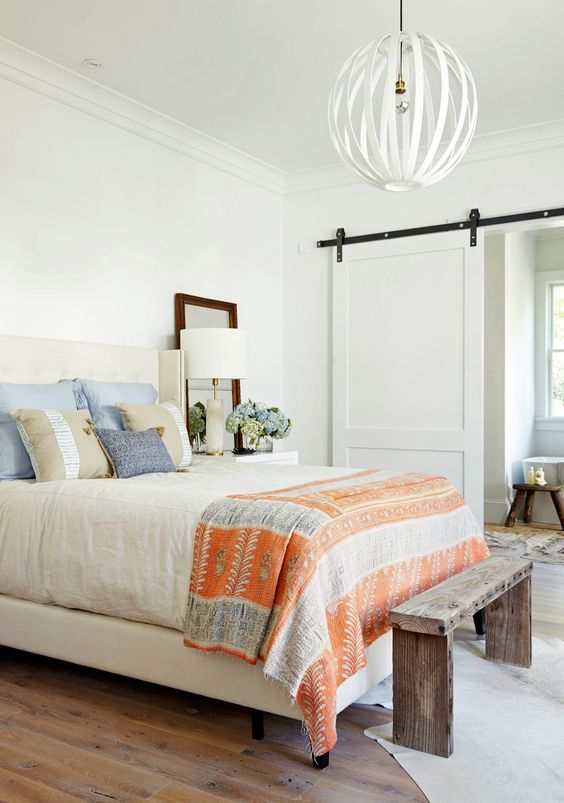 43. Fresh white + exposed beams
OK, so we can't all have cathedral ceilings like this, but if you've got it, definitely go ahead and flaunt it! If you can, show off exposed ceiling beams as they give a space such strong farmhouse vibes—just look at this gorgeous modern farmhouse bedroom below.
I love that they've mixed old and new, with a blend of contemporary furniture the slimline four-poster frame, the comfy white armchair and an antique-style bench. An airy-looking statement chandelier further draws the eye upwards, while the white rug below creates unity.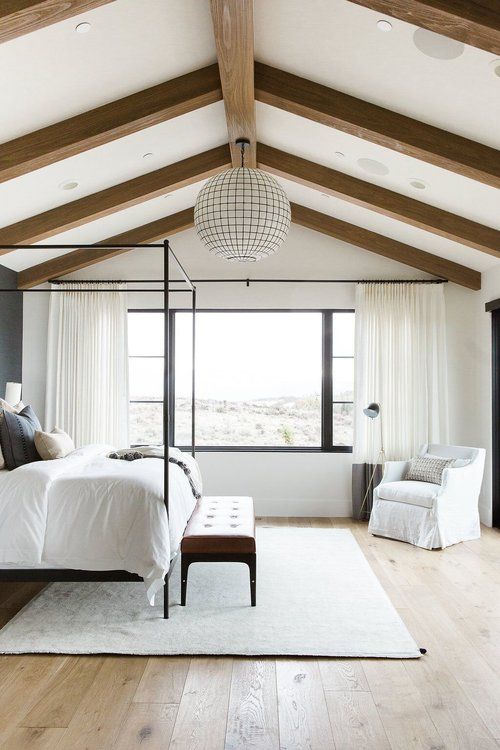 44. Pale blue barn door
This bedroom is really the epitome of the "modern farmhouse" style, with its distinct classic-farmhouse elements like a barn door and the liberal use of white, but tweaked in a contemporary colourway with a pale blue barn door and monochromatic feature wall, curtain and bedding. Warmth is introduced with a designer chair in natural wood and incorporating organic fibres in the woven seat.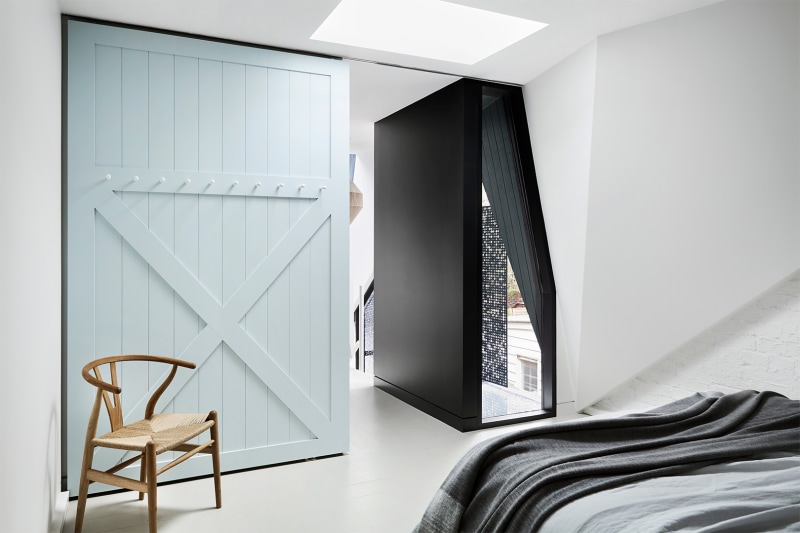 45. Understated farmhouse touch
If you don't want to go the whole hog with farmhouse style, you might just like to give your bedroom space a hint of modern farmhouse vibes. No need to overthink it—simply achieve this by paring everything back, allowing as much light in as possible, bringing in golden timber tones and adding fresh white and floral bedding.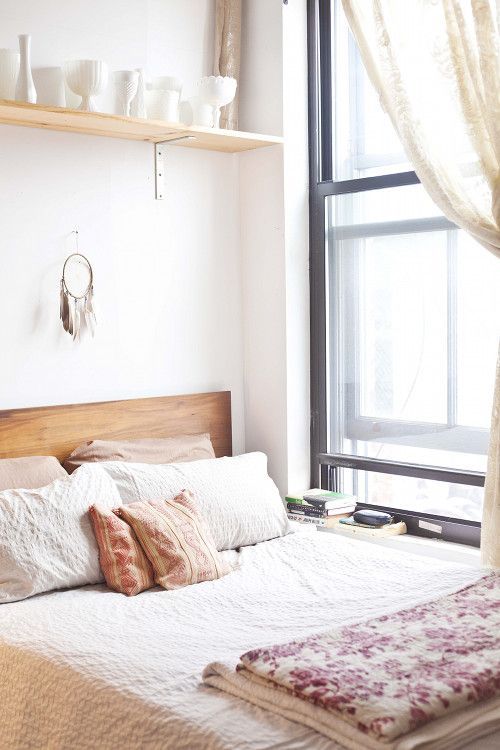 And that's a wrap on my pick of 45 farmhouse bedrooms that nail this aesthetic so well, both in the classic farmhouse and modern farmhouse style. Are you a more of a classicist, or do you like a modern edge to your farmhouse aesthetic?
I'm definitely in the modern farmhouse camp–it's such a gorgeous way to create a comfy, practical and timeless country look while taking advantage of the benefits and aesthetics of the contemporary design. Let me know which is your favourite farmhouse bedroom in the comments below!
Need help assembling new bedroom furniture, whether it's a bed, daybed, dresser, wardrobe, bedroom desk or something else? Or find the right help installing bedroom built-in wardrobes.