From subtle sage to elegant emerald, a green scheme is inherently calming thanks to the restful feelings that nature tones generate. As far as bedroom colours go, it's definitely one of the most relaxing, tranquil colours you can choose.
But exactly which shade of green to go for? The shade really depends on whether you intend to paint your bedroom walls a green hue all over, or you simply wish to add bold colour pops into a more neutral space. That's because there are several shades of green best suited to painting your bedroom walls, and there are other tones that are ideal as accents.
For instance, painting your bedroom walls in the so-called "new neutral", sage green, is chic and sophisticated as well as calming. Sage is a kind of eucalyptus pale grey-green that is both subtle and saturated, making it a very popular choice of green bedroom colour right now. Or perhaps you'd prefer the richness and mysteriousness of a bedroom with deep, dark green walls?
On the other hand, if you want to introduce a green as more of a vibrant accent, you may decide to go with something more like apple green or even chartreuse.
If you're thinking of a mint green bedroom, you'll find it's actually a much less common colour choice for bedrooms than you might expect. This is probably because mint has such a youthful profile and can really bring unwanted nursery vibes to a master bedroom if you're not careful. Rather than opt for full mint walls, you might be better off simply adding a dash of mint, such as mint-toned linen or a gorgeous mint knitted throw.
From green bedroom walls to verdant bedroom furniture, we've got plenty of green bedroom ideas here for you to explore, so let's get started.
1. All the sage
Sage is a beautiful naturalistic tone of pale green with grey undertones, and it has really found its place in interiors lately. This muted neutral is grounded in nature and therefore really helps set a suitably gentle, calming mood for your bedroom. And its natural tone perfectly complements other organic materials like wood.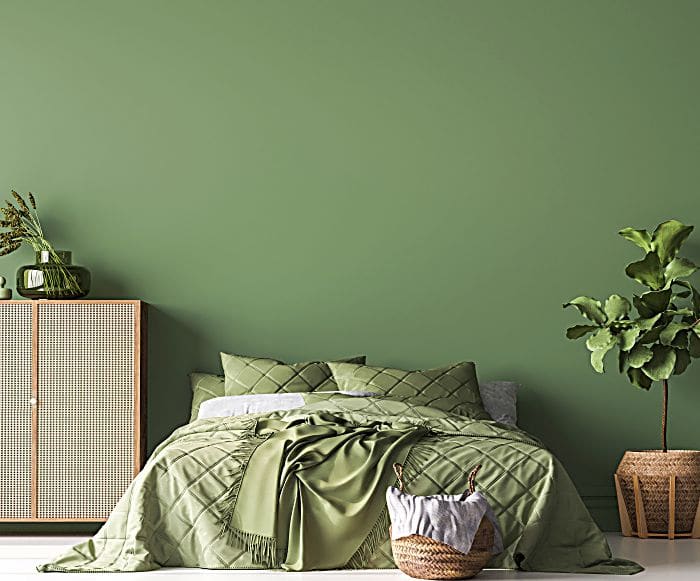 2. Very dark green walls
There's no denying an intensely dark feature wall will add impact and drama to a simple room, but dark walls also add cosiness so they're especially suited to a bedroom. Go for lush, deep shades of green, like an almost-teal green. The beauty of having an intense wall colour is it makes the perfect backdrop to allow statement furniture or accessories to stand out.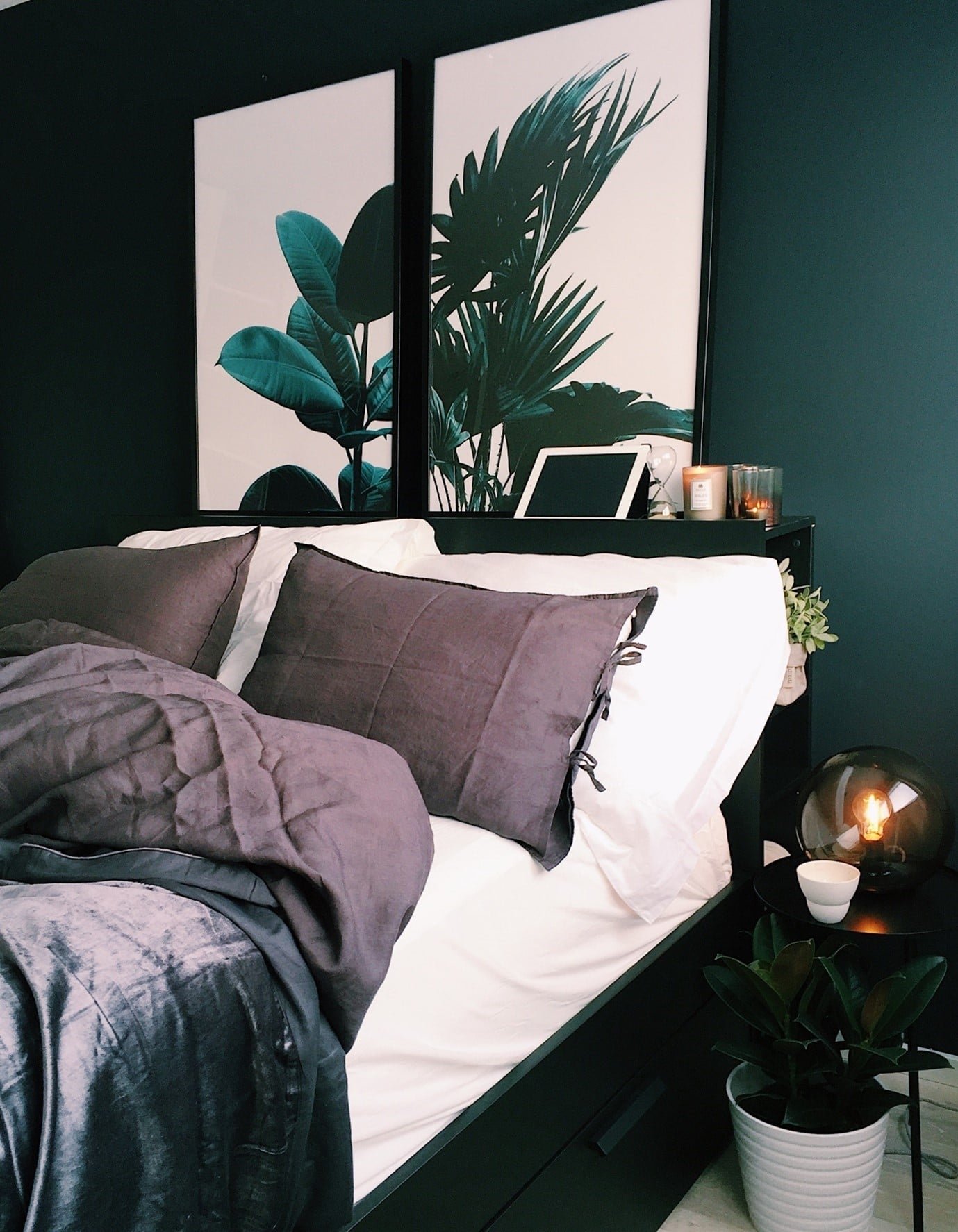 3. Jungle vibes
Take green literally and transform your bedroom into a lush green paradise with an abundant array of indoor plants. Not only do they look amazing but they purify your air and help improve your sleep quality.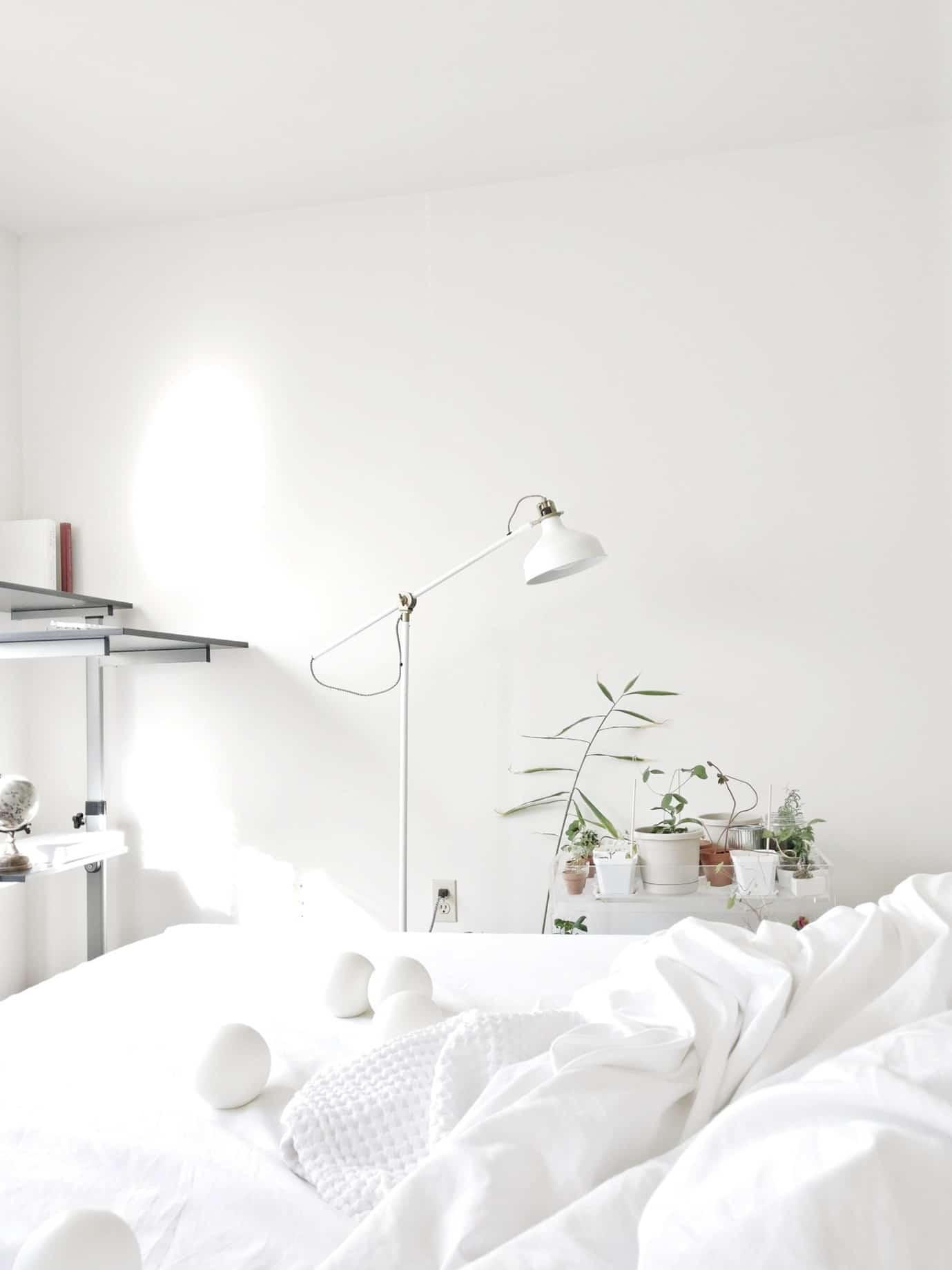 4. Pale green half panelling
What I love about a pale shade of grassy green is that it brings to mind the fresh air and meadows of the countryside. It's perfect for a modern farmhouse bedroom with a vintage flavour. Pale green is a colour that looks so dreamy against light-coloured timber furniture.
5. Timber and green
Green bedroom walls go perfectly with timber—wood is just such a natural match for shades of green. But you don't have to limit yourself to just timber. Mix materials and finishes for added texture; it also helps avoid a too-matchy-matchy look. For example, go for a mix of timber, leather and woven textiles.
6. Green wainscoting
Add a burst of green to your bedroom space without necessarily covering the entire walls by painting wainscoting just halfway up the wall. The wainscoting acts as an extended headboard for the bed.
7. Mid green accent wall
Create a bold space with a statement-making mid-green accent wall. Drenching your room in a strong shade of green like this means you can pare back the rest of the décor—all you need is a bed decked in simple white linen, a neatly framed painting, a few thriving potted plants and a graphic black and white area rug that's bold enough to balance the dramatic wall colour.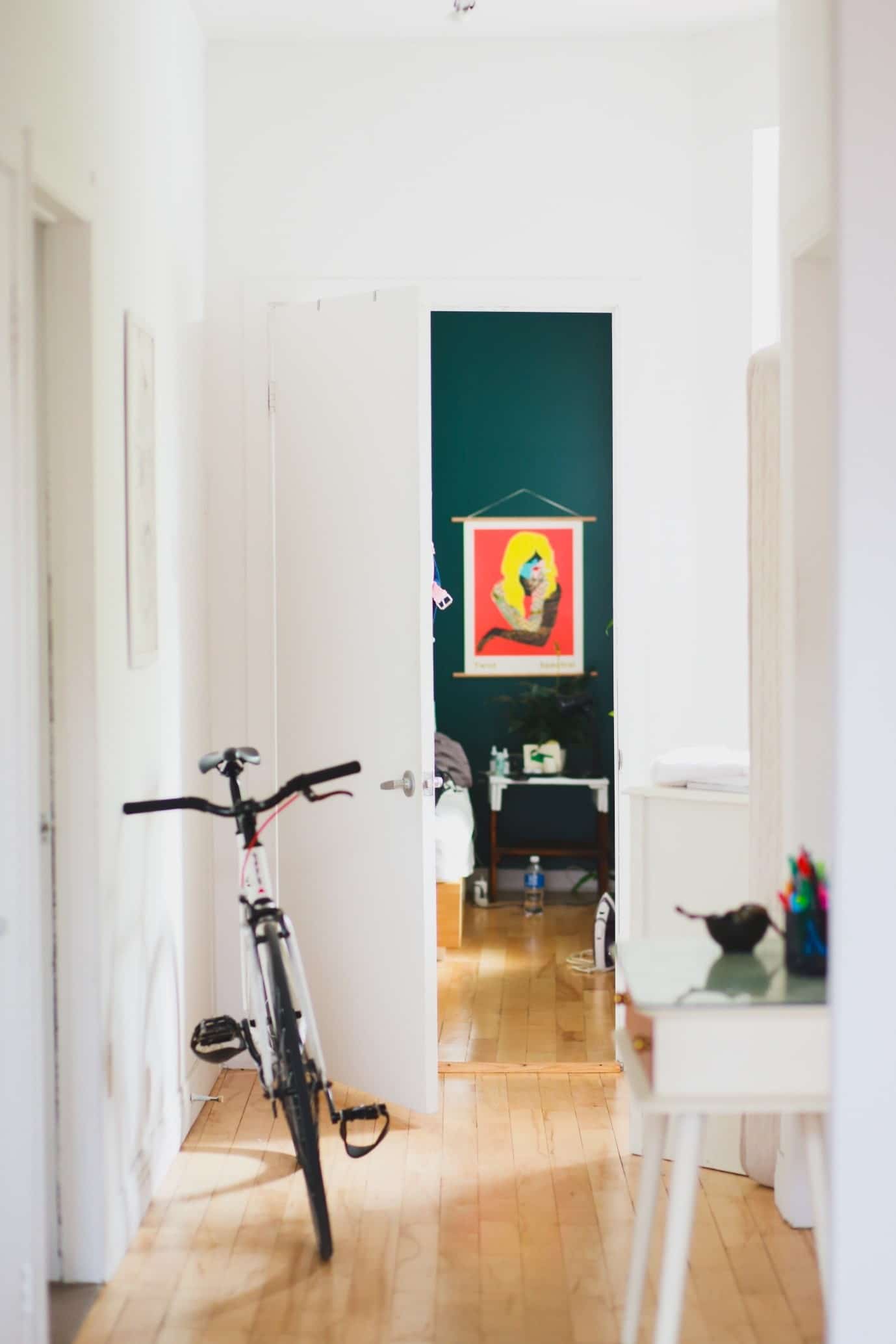 8. Grass green throw
Bring the great outdoors in with a grass green throw on your bed—try a cheeky Mohair version that has a texture like actual grass—breakfast in bed will seem like a picnic. Keep the rest of the space bright white, with a few more dashes of colour here and there.
9. Neo mint
Mint always spells freshness (thanks, toothpaste companies), so adding mint-toned bedding is a super-easy way to invigorate your bedroom space. However, try to go for a more natural, neutral "neo mint", rather than something too aqua toned which can feel overly childish. Mint based on natural green also better complements natural materials and brings more of the tranquillity of nature in.
10. Seaweed headboard
For a cosy but luxurious look, incorporate a velvet headboard in a gorgeous earthy shade of green like moss or seaweed. Unusual enough to be visually exciting, but also innately relaxed and natural, an earthy green hue looks best contrasted against crisp white bedding and warmed up with golden timber.
11. Emerald and pink
Love a good colour clash? Then emerald green and candy pink is the classic pairing for you. Bold but also cosy, deep teal green wall paint contrasts beautifully with soft pink tones. Add a bit of glam with brass fixtures, and maybe some shimmer in the bedding too.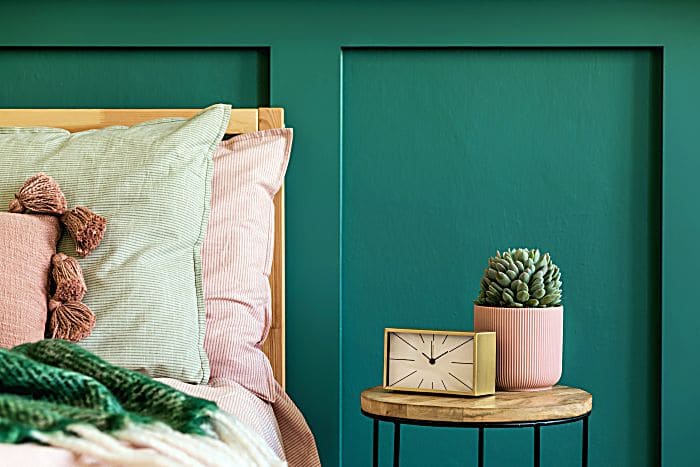 12. Forest green + forest mural
Sleep out under the stars–with a bedroom wall mural depicting a realistic forest scene. Keep the décor minimal and the colour palette in nature tones befitting the scenery, like a forest green plush throw. And although these days it's pretty easy to DIY a wallpaper job, you'll get a perfect result when you hire a helper who specialises in wallpaper installation.
13. Opulence
If you want to go for a luxe and glam bedroom aesthetic, choose furnishings in jade or emerald green that evokes precious gemstones. For instance, an upholstered bedframe fitted out in jade-coloured corduroy, complemented by green-toned marble elements.
14. Moss and timber
A strong connection to nature is created when you decorate with natural materials like timber and wool in a colour palette that speaks of the outdoors. A setting with a mossy throw and beautiful timber furniture is the ideal space for nesting and resting.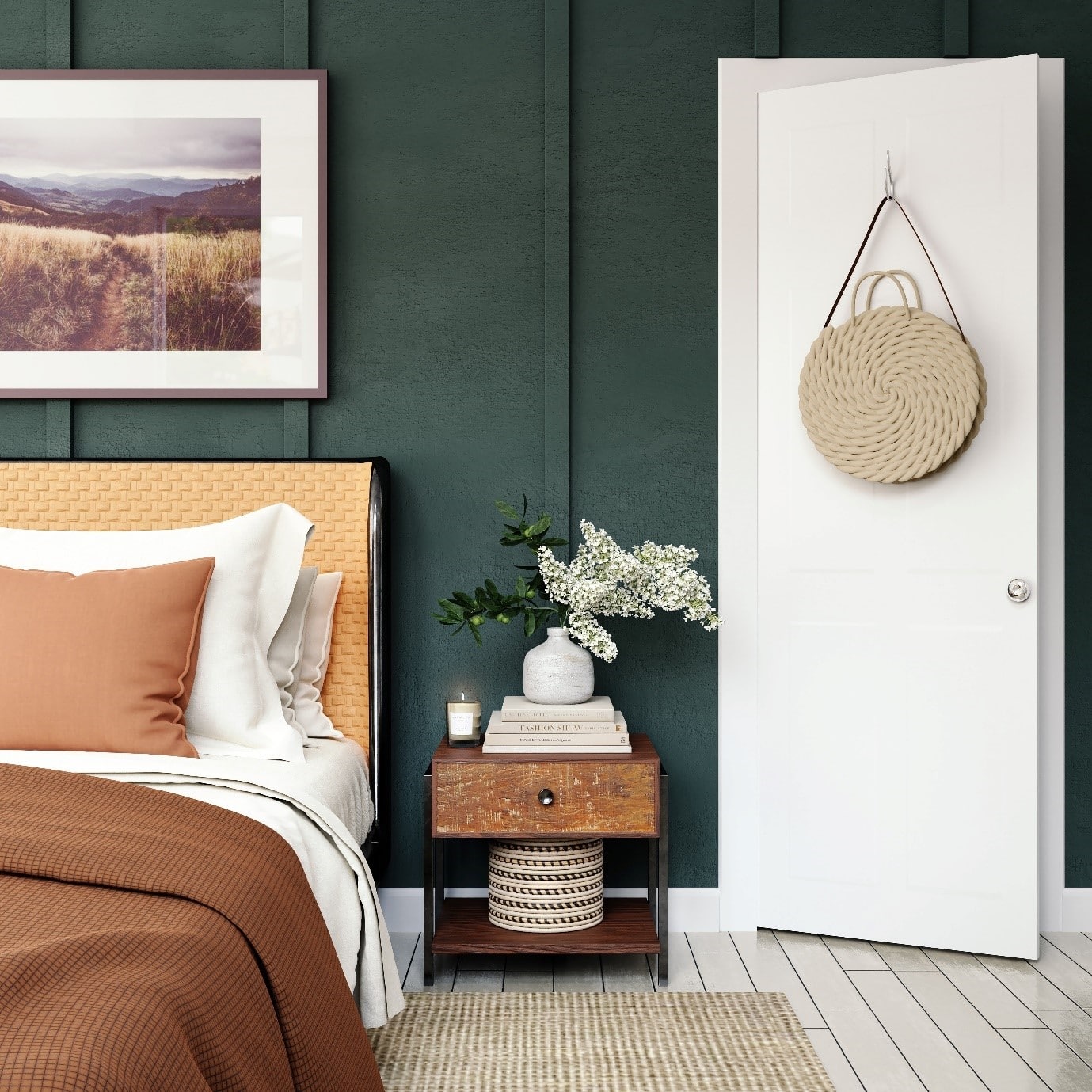 15. Green walls and mustard
The shade of forest green goes especially well with mustard yellow. Paint your walls in saturated green, including the ceiling, to create a cosy-cocoon-like effect. If you're planning on a DIY paint job, make sure to read our guide on painting those tricky ceilings.
16. White with a splash of mid-green
Green doesn't always have to be in natural tones or in a farmhouse setting! It also works well (in small doses) in a relaxed, coastal Hampton's aesthetic. A clear, bright green throw and cushions add zest and vibrancy to an all-white, timber bedroom.
17. Forest green bedroom walls
For a gorgeous, cosy bedroom go for forest green walls and plenty of timber to emphasise a connection with nature. Add midnight blue and cloud-white bedding and vintage brass and leather elements for warmth and character.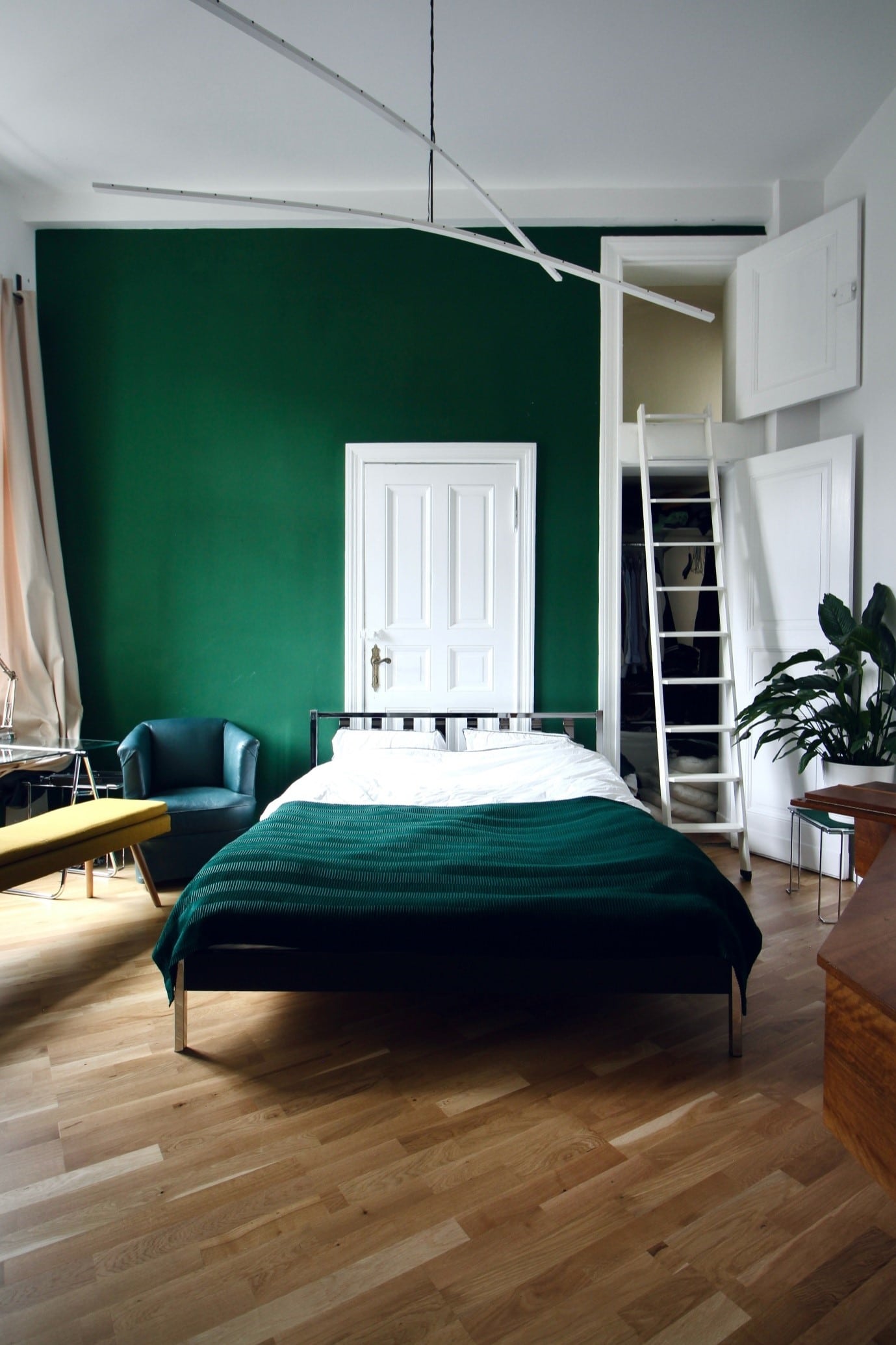 18. Grey-green bedroom
Love to work the sage bedroom trend? This muted tone of greyish green has been wildly popular as people have noticed what a calming effect the colour has on us, making it ideal for bedrooms. Interior designers also love sage because it acts as a neutral but isn't as drab as a grey, instead of having a hint of mystery and intrigue.
19. Boho luxe
You can't get much more Boho than a velvet vintage style headboard, and for a unique look, why not try one in green? Accessorising with a bright statement headboard means you can stay simple with other elements and allow plenty of white in the palette.
20. Vintage and velvet
If a paint job doesn't appeal, why not experiment with green in your furniture and décor instead? Maybe it's a bottle green velvet cushion. Maybe it's a faded sage vintage filing cabinet that can act as a bedroom dresser. Echo the grey undertones of the sage with dove-grey wainscoting or paint, or simply mid-grey throws.
21. Green and black Boho
Green is the ideal colour to introduce to create a Boho bedroom, giving you those strong nature vibes that you can then amplify with lush indoor plants. Natural fibres and materials are always the perfect match for indoor plants. And black and green work well together—so why not try a black cane headboard and French linen in natural green tones?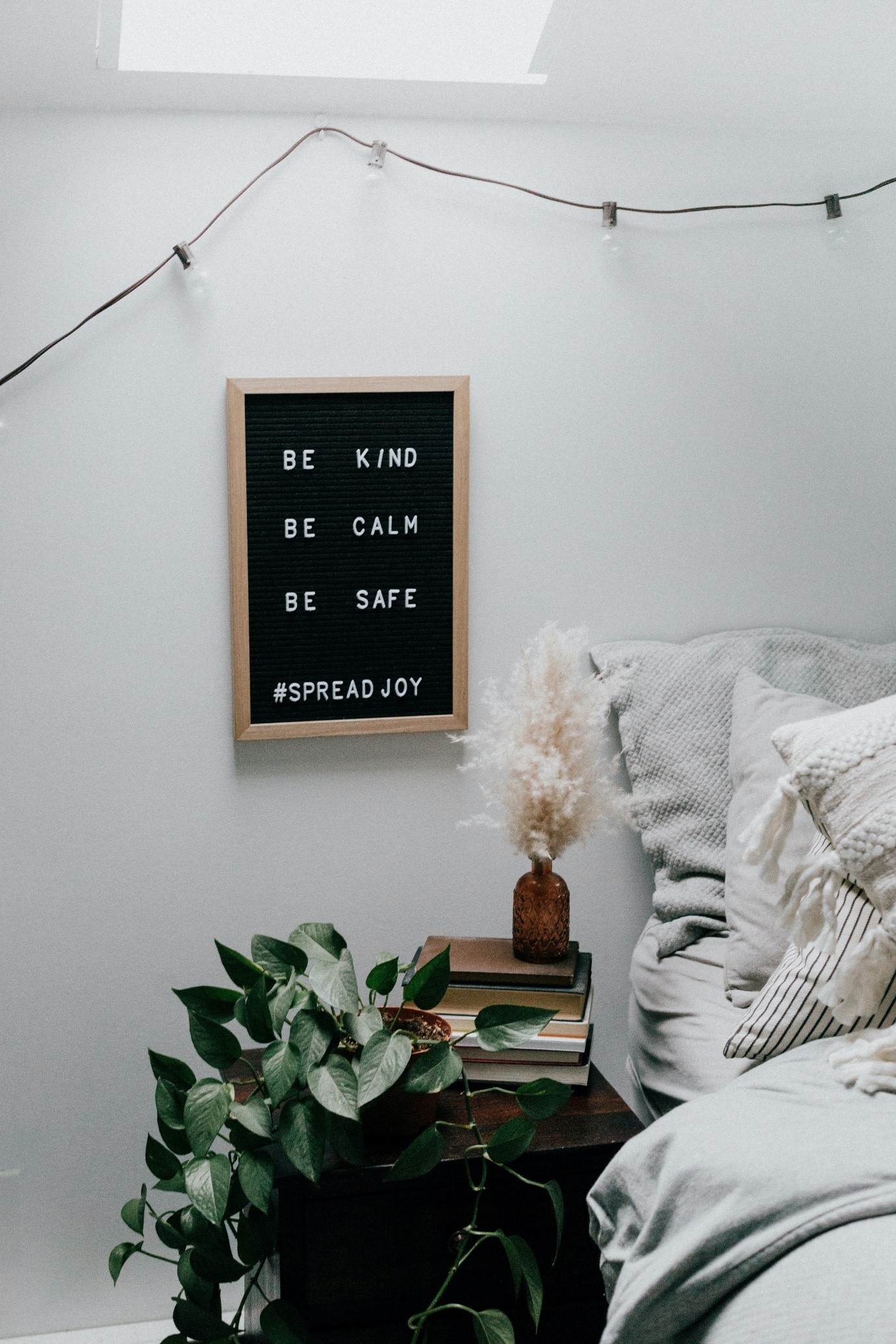 22. Mid green bedroom walls
If you decide to go with something as bold as an apple green, then wind back the rest of the palette and include white to freshen it up. It's always a good idea to balance a bold hue with fresh white bedding. Or, if the walls are a solid swathe of colour, break it up with a framed black and white print.
23. Maximalist with dramatic green
Love a maximalist look? Even when there's a lot going on, you can bring it all together nicely with unifying green tones. Beautiful saturated green bedroom walls in a bright bottle-green can be echoed in the bedding and cushions. Add natural timber accents to complement the green, and lively pops of contrast in black, white and even candy pink.
24. Modern farmhouse with sage walls
Modern farmhouse bedrooms incorporate the muted nature tone of sage perfectly. Create a sophisticated space, with dark grey floorboards harmonising with ghostly-greyish sage painted wood panelling. Further complimentary nature tones can be added in the décor, such as with a touch of burnt orange textiles adding some warmth.
25. Blackish green
For authentic Scandi style here, style it up in nature toned greens, greys and blacks. A chic, mysterious greyish olive wall paint plus stonewashed cotton bedding in a mix of curated tones is perfect. Add a striking hanging pendant light for some industrial flavour. (You can get some help with installing bedroom pendant lights by hiring electricians.)
26. Mint conditions
Going for a pastel mint bedroom colour scheme? Choose a mint that's more grown-up and based on a very natural green. Mint pairs beautifully with a pale cloud grey wall. And if you want to reinforce the nature vibes of your setting, add a botanical print on the wall.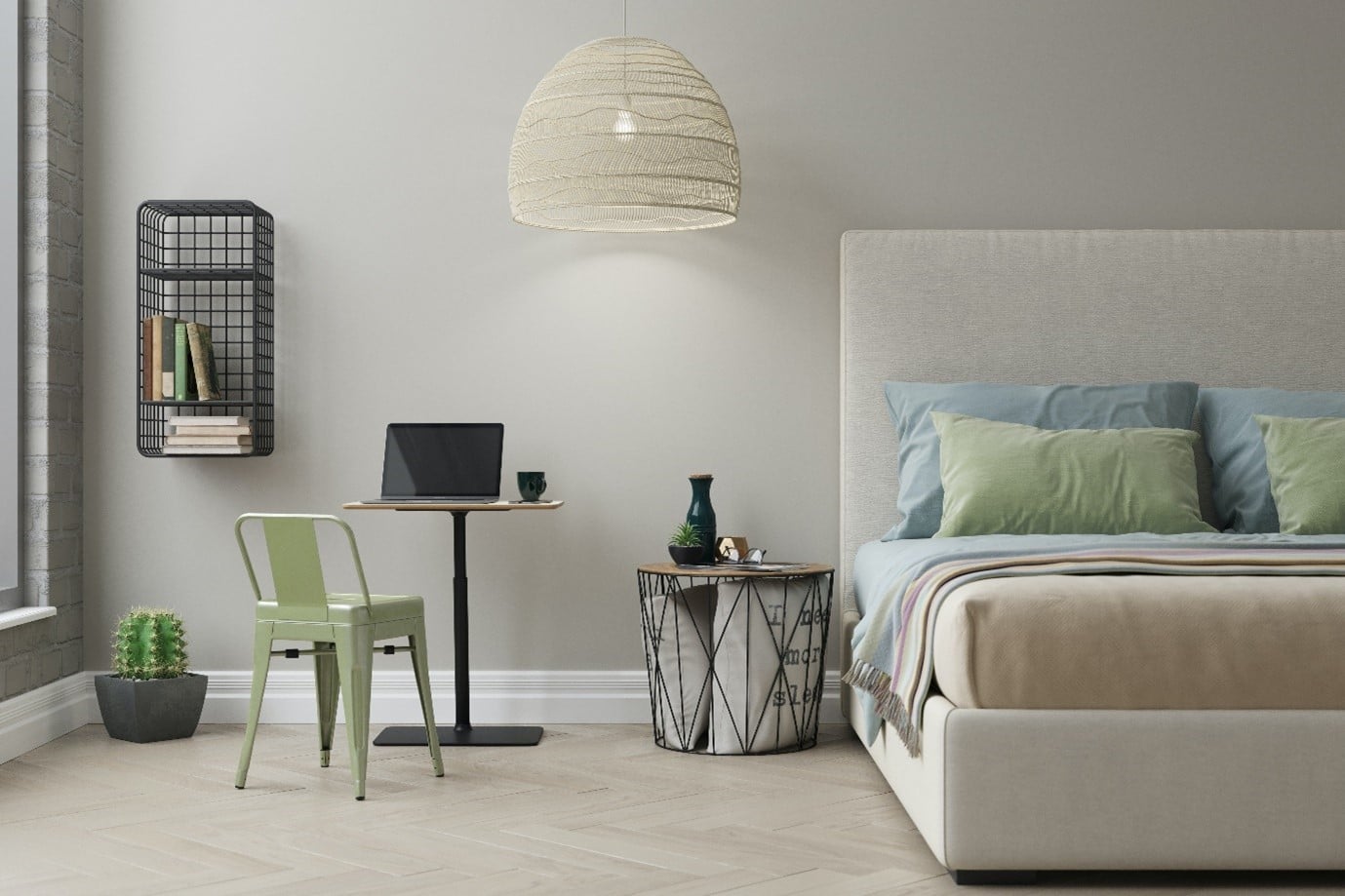 27. Green and gold tones
For a hotel-style luxe bedroom aesthetic, opt for the classic colour combination of deep green and gold. You could add a green velvet headboard as a focal point. Then add gold-toned lamps for warmth and elegance. Unify the green with the gold by introducing tiny pops of olive, with undertones of each colour.
28. Sage and white
Transform a minimalist white and timber bedroom to a pale green dream with soft, cosy cotton bedding in sage for a peaceful, serene space.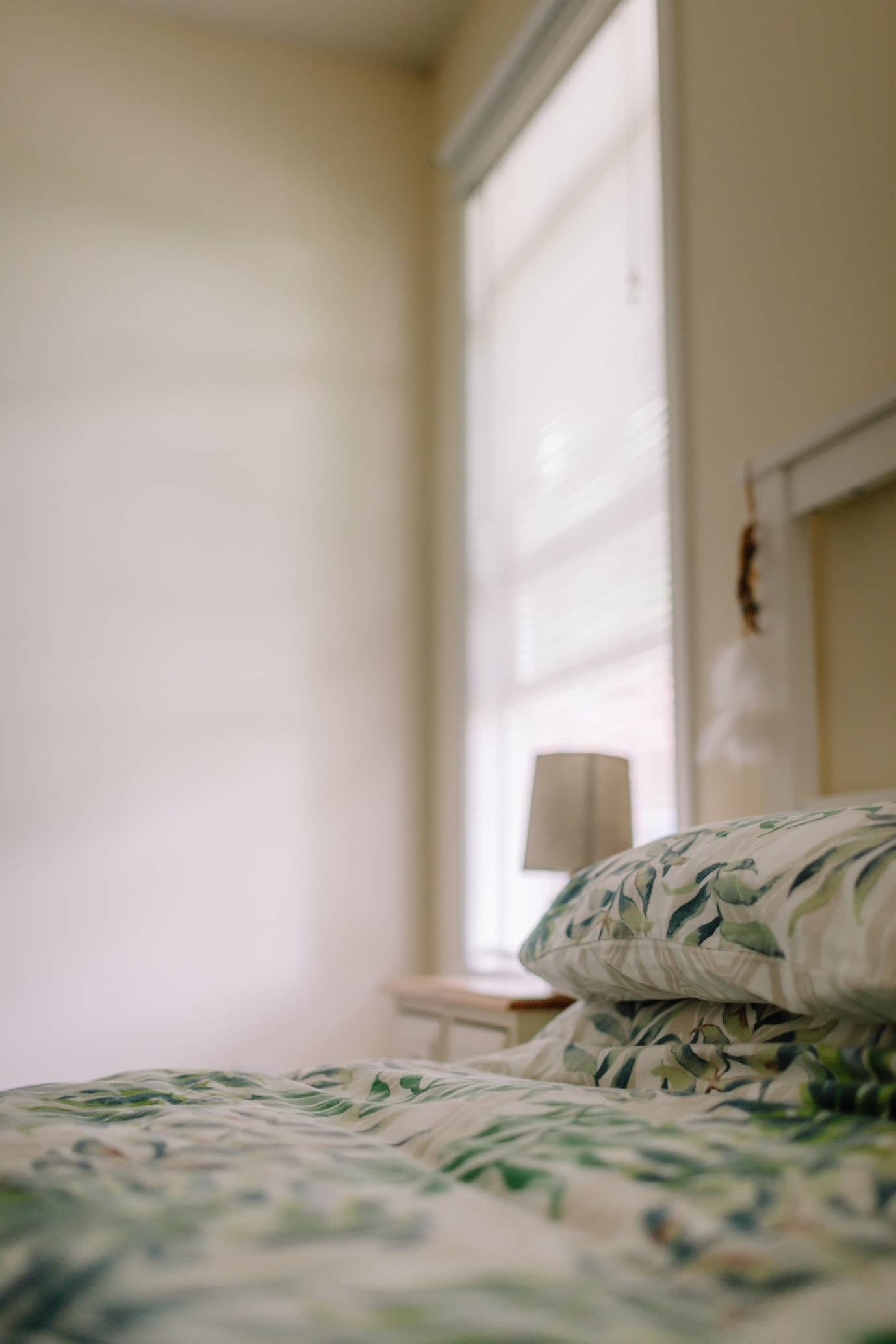 29. Dark green and leather
For a simple and stylish bedroom, go for a deep shade of green on the wall to create an impactful but also intimate and cosy space. Add mid-century modern flavours with a leather bedhead and simple bulb pendant light.
30. Jewel tones
Make your bedroom feel luxurious thanks to the mix of materials and a palette based on vibrant jewel-toned blues and greens. Think teal, peacock blue, emerald and glossy jade green.
31. Sage panelling
The colour sage is regarded as an interesting new neutral in that it is both a gentle base shade but can also deliver a dose of powerful colour. Sage wall panelling adds texture while melding beautifully with shades of buttercream in the bedding.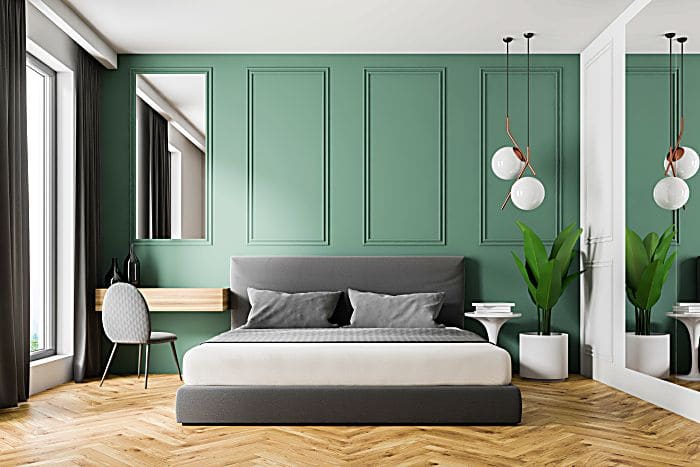 If you're leaning towards green, hopefully, this selection of green bedroom ideas has helped crystallise your ideal choice of shade! I'm fond of moss and olive tones myself, and I'm quite happy to just introduce green in the bedding or throws. I may yet get around to a paint job eventually, but I think I'll have much more luck getting it done if I hire a painter to do it! Now it's over to you—which is your favourite shade of green for a bedroom?
Want a hand?
If you'd like some help with your bedroom styling, why not find yourself a home decorator? Or, if you need some help with technical aspects of your bedroom reno, you can find a local professional who specialises in things like downlights installation, built-in wardrobes and floorboards. There are even people out there who love to assemble bedroom furniture for you—for people like me who hate jobs like that!