Art Deco (short for Arts Décoratifs) was a major design style of the 1920s and 1930s but has made a huge comeback recently, revamped to feel fresh and new. In its original aesthetic Art Deco was an unashamedly exuberant maximalist style, sophisticated and glamorous with a focus on luxury and opulence; the modern Art Deco bedroom continues the visual drama but the addition of contemporary elements gives the style new life. Here's how to integrate Art Deco style into your bedroom.
Signature elements of Art Deco style
Boldness
More is more with this style. Art Deco is characterised by strong, unfussy, statement-making visual drama.
Geometric shapes, forms and patterns
Bold geometric shapes and strong, angular lines are de rigeur.
Exaggerated curves
On the other hand, shapes may also be curvaceous yet still streamlined and stylised.
Symmetry
Art Deco favours symmetry wherever possible, so think pairs of light fixtures and pairs of nightstands.
Luxurious materials
Lavish materials are in abundance in the Art Deco bedroom. You'll see lots of velvet and other luxe fabrics, as well as plenty of shiny metals (especially brass, copper, gold and chrome) and beautiful natural stone like marble. Natural materials like cane are often present, along with rare woods and leather and hides.
Playing with scale
Furniture is often larger scale than usual. For example, Art Deco bedheads are typically oversized and extended.
Rich colour palette
Colours in the Art Deco palette can be bold, striking jewel tones (like deep greens, plums or sapphire blue). Alternatively, you can go for pastels (like blush pink, creams and neutrals). Either way, add plenty of contrast with graphic black and white accents, bright colour pops and sparkly metallics.
Layered patterns
The texture on texture is the way to go here, so don't be afraid to mix plenty of patterns in. These can be geometric motifs,  large scale botanical prints, solids, abstracts, nudes, trapezoids, chevrons and sunbursts—but definitely avoid dainty florals or plaids.
Atmospheric lighting
Lighting is super important to this decorating style. Ideally, you'll have oversized, sculptural, statement lighting made of glass, especially crystal, with fittings in brass, gold-tones or chrome. But with modern Art Deco style, you're not limited to period pieces—a killer modern light fixture works beautifully and adds a contemporary twist.
Adorned walls
Walls are often ornately decorated, with a feature or adornment of some type. Wallpaper is very effective at creating an Art Deco vibe, especially if it's geometrically patterned and in deep colourways with gold leaf detailing.
Ornate mirrors
This is also a big element of Art Deco. Antique finished or gilded mirrors are perfect especially a massive leaning wall mirror, but modern mirrors can also be incorporated well. Look for fan, sunburst, arched or curved mirrors to instantly convey Art Deco.
Vintage décor
A modern Art Deco bedroom layers a mix of old and new, modern and vintage. Architectural salvage items, artworks and sculptures are popular décor items.
Now, discover how to master this glamorous look with our collection of stunning Art Deco-inspired bedrooms and add a dose of sumptuous, timeless elegance (or is it decadence?) to your boudoir!
1. Curves and cane
Let's start with this absolutely stunning Art Deco style bedroom with a unique wraparound woven headboard with black trim. Warm blush and mauve tones are paired with bright white bedding and delicate touches of brass (how pretty is that elegant built-in bedside table?). And the patterned rug and beautiful parquetry floors add layers of texture to the space.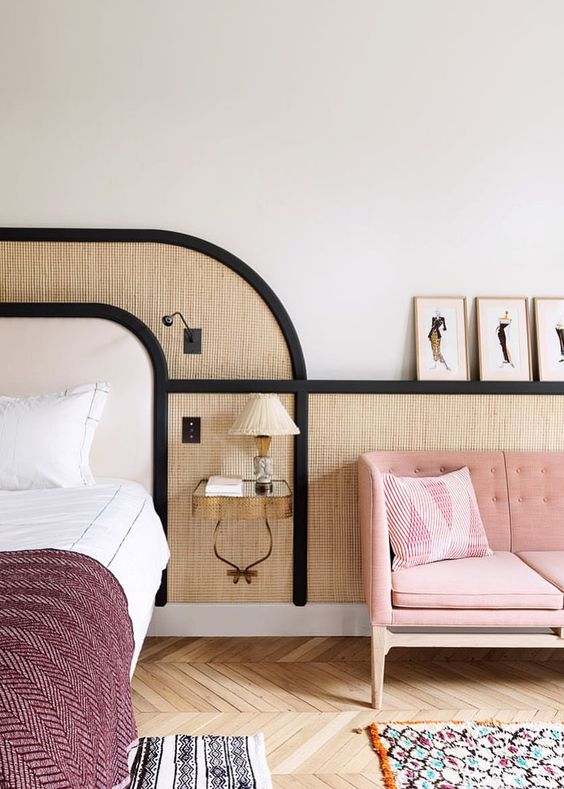 2. Velvet and brass
An upholstered velvet bed is a classic Art Deco element—here, it's in a gorgeous bottle green which complements the brass bedside table perfectly. Graphic black and white bedding fit the Art Deco bill, while all the bold elements are balanced by the tiny, dangling, pendant light.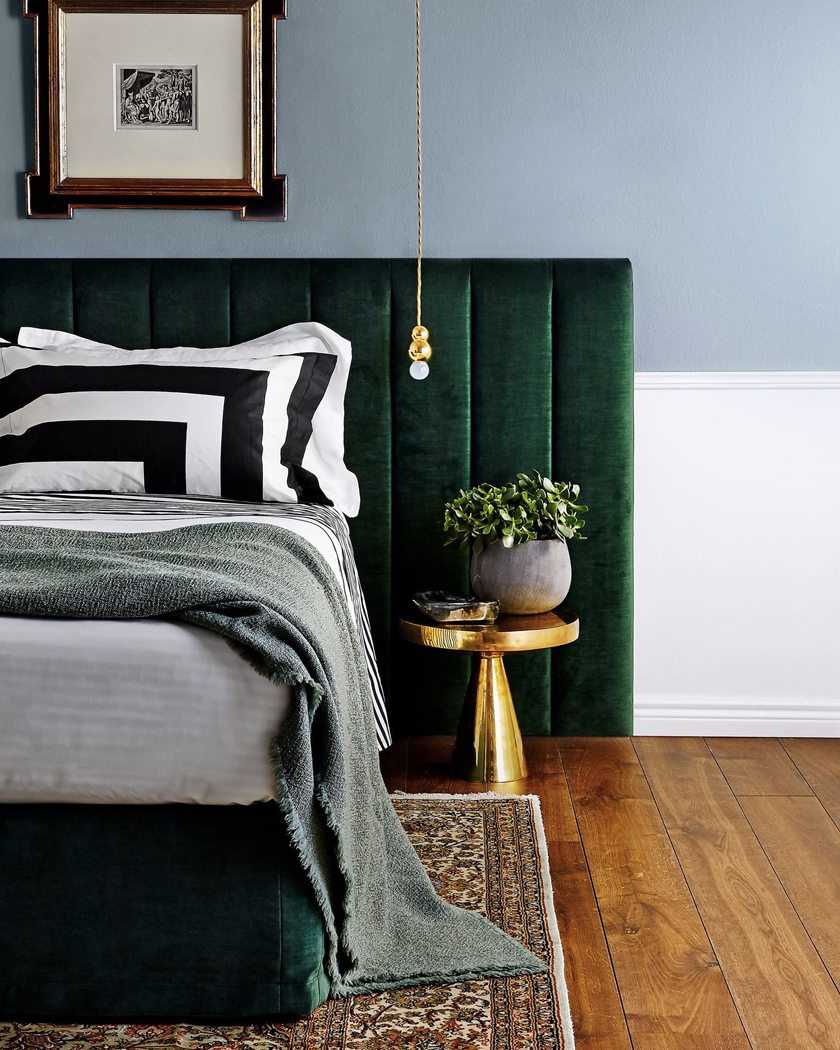 3. Dramatic headboards
There's nothing basic about an Art Deco bed—the more elaborate and sculptural the bedhead, the better. Here, the boldly shaped, scallop-edged bed remains the focal point of the room. Art Deco style wall sconces blend in beautifully, bringing further gentle geometric shapes to the space. The walls are a little extra as well, with a Venetian plaster finish.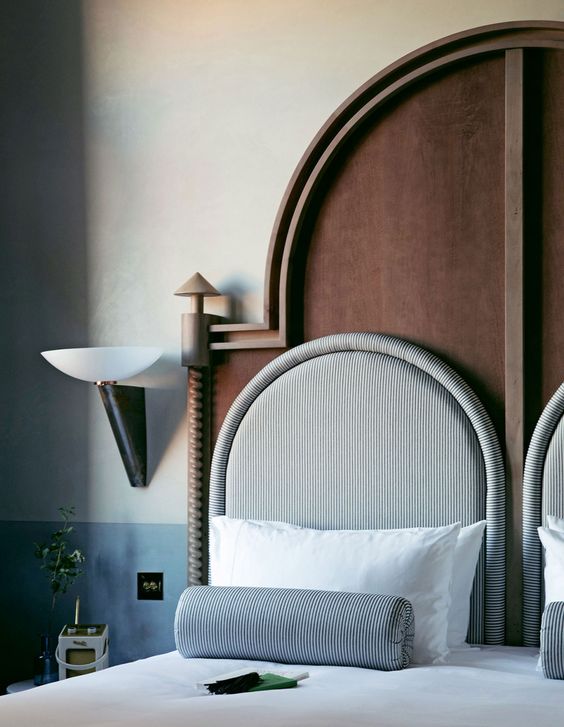 4. Powder blues
This Parisian hotel bedroom mixes captivating blue tones to create a soft, sophisticated monochromatic look. A custom velvet headboard, graphic black and white rug and iron wall sconces all add up to plenty of Art Deco flavour. And simple white bedding always works well with the vibrancy and drama of a modern Art Deco bedroom. Love blue bedrooms? Check out our favourite blue bedrooms.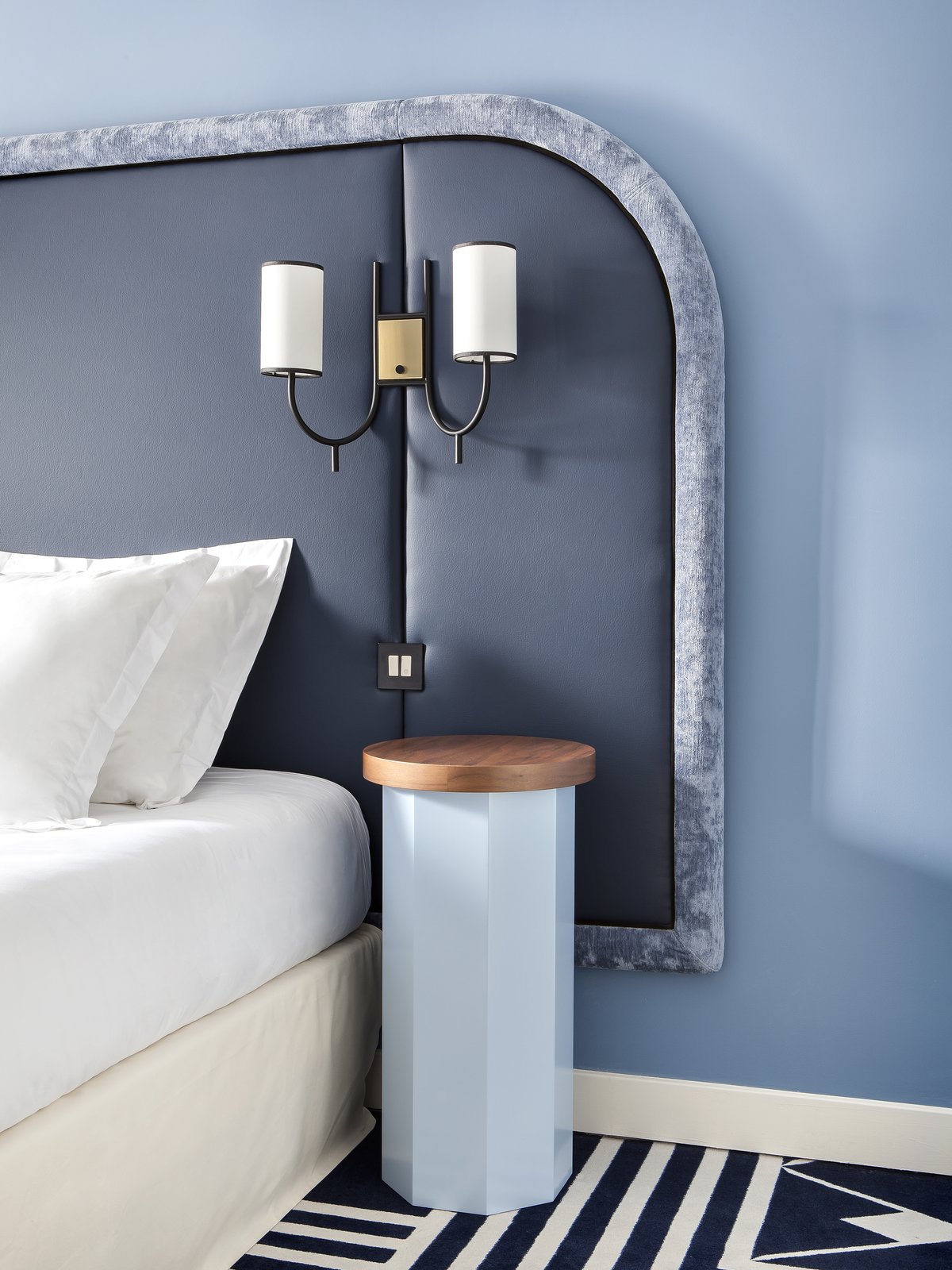 5. Powder pinks
Like the previous one, this bedroom is found in Paris's Hotel Bienvenue and is another gorgeous pastel colourway in their mix. To prevent the pink-toned space from appearing flat, the sunshine yellow stool provides a welcome burst of clashing colour, and the geo patterned rug adds depth to this space too.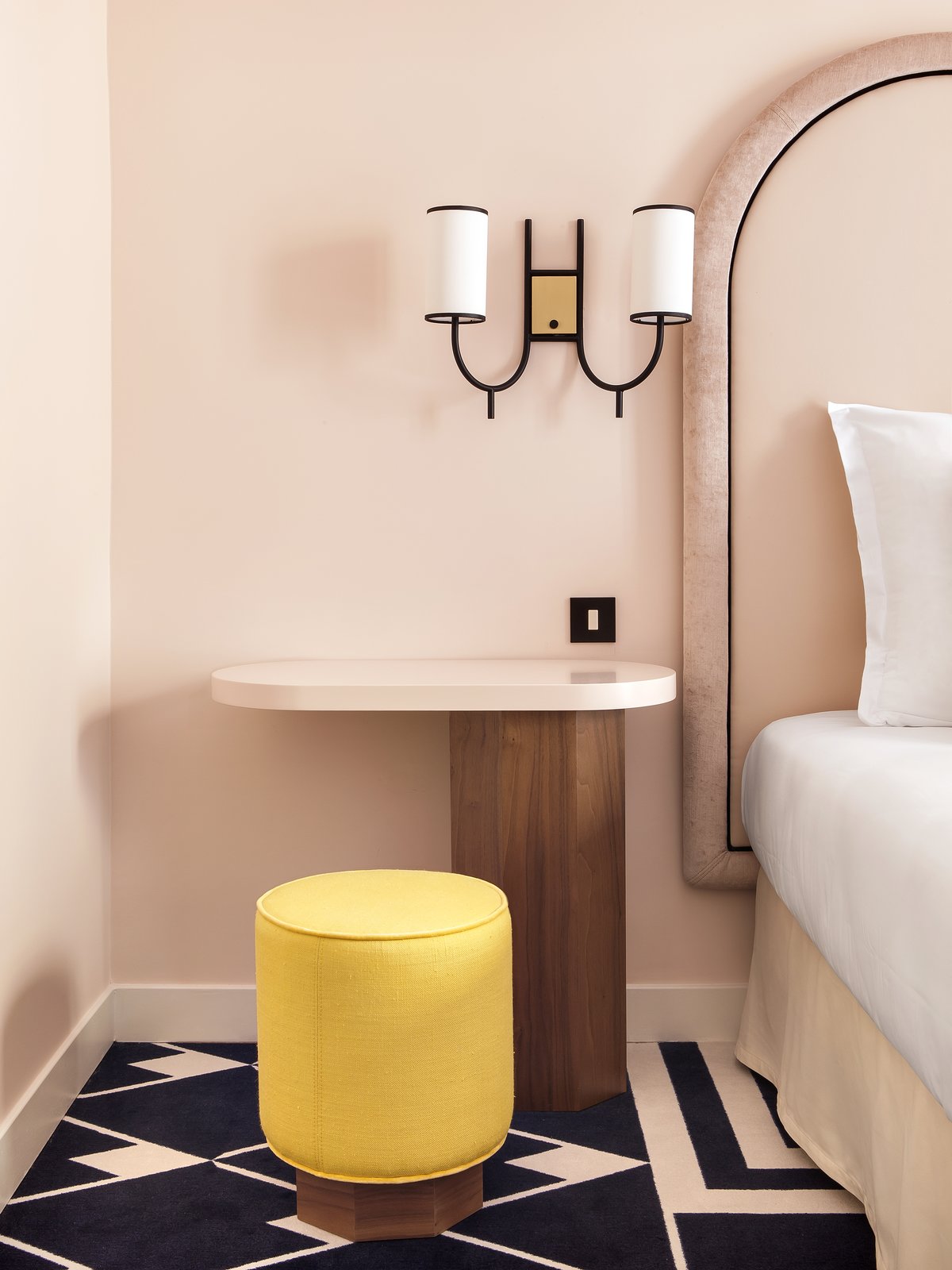 6. Burgundy velvet
Deep, saturated burgundy is another classic Art Deco colour, and it works just beautifully here paired with soft greys. There's plenty of texture in this space thanks to the wall treatment and the velvet fabric contrasting with the smooth bed linens, while further Art Deco touches abound, in the glass ball-and-brass pendant lamp, and unique sculptural furniture like this quirky bedside table.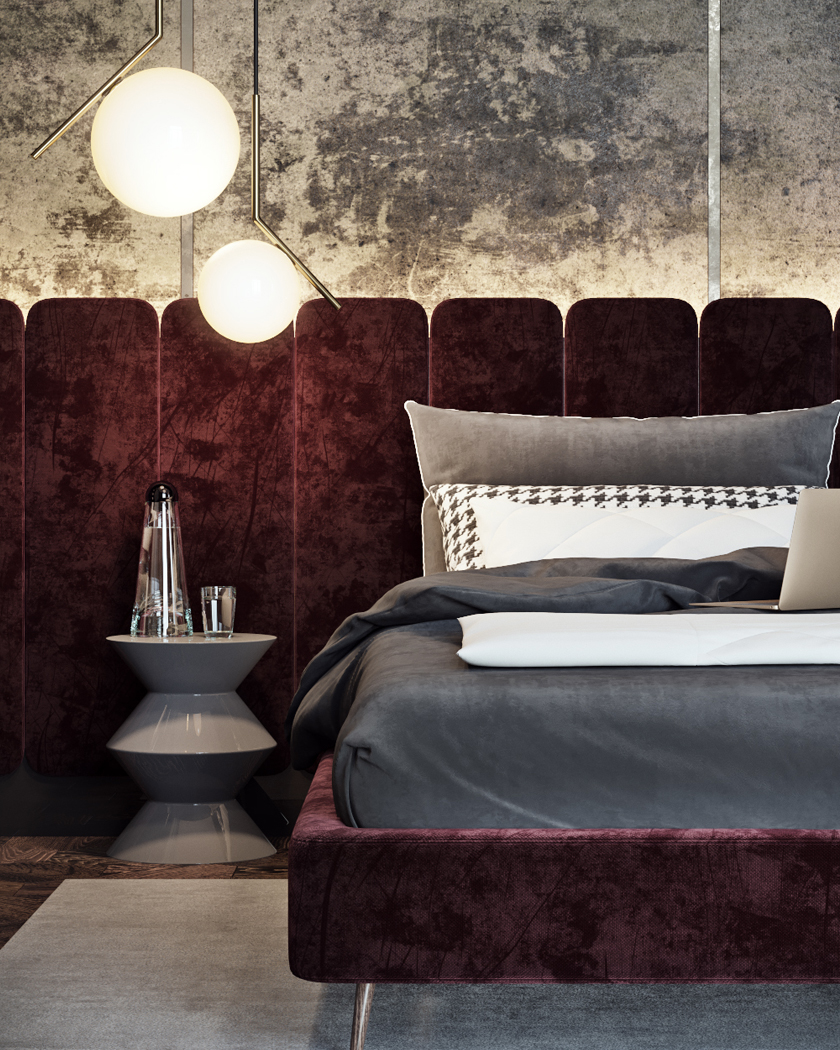 7. Sharp angles and bold lines
This bedroom in the Hotel Doisy in Paris is a gorgeous example of an Art Deco space featuring a lovely streamlined, woven bed frame with bold, hard angles. I love the generous use of natural materials and the strong botanical references, giving it a tropical flavour.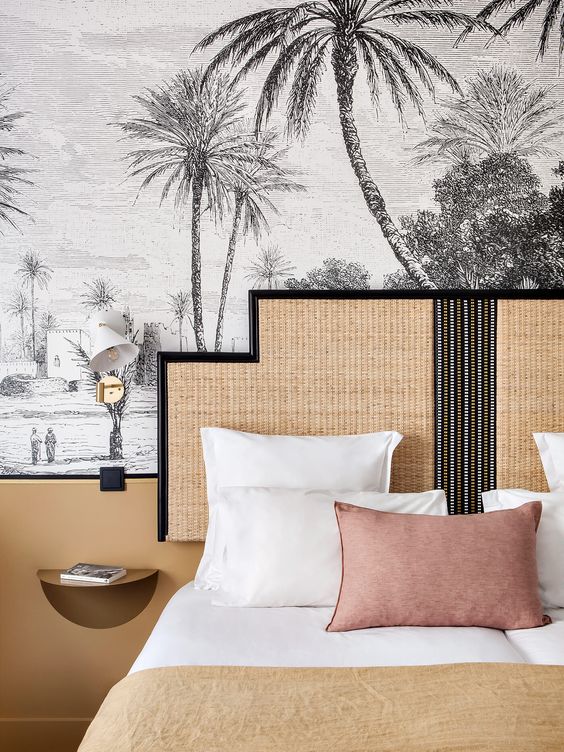 If you love the idea of wallpaper like this in your bedroom, consider enlisting the help of an expert in wallpaper installation for an absolutely perfect application.
8. Hotel luxe chic
Given the French roots of this style, it's no surprise that modern Parisian hotels are awash with beautiful examples of Art Deco interior design. If there's anywhere you should look for inspo, it's these updated modern Art Deco-styled hotels, which capture the new look just perfectly. This one is at the Grand Hôtel de Bachaumont and features a stunning palette of soft blues and greys, a beautifully upholstered bed, custom marble and wood bedsides and cute retro globe lights.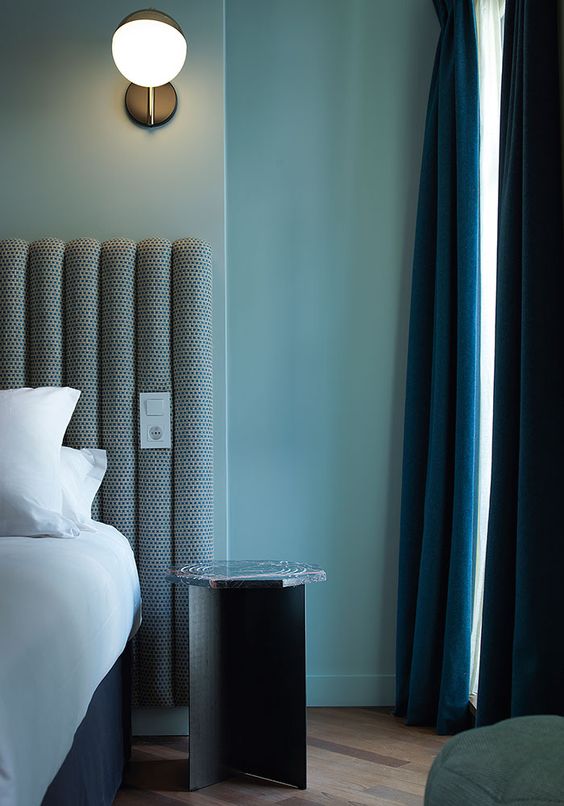 9. Opulence and glam
Here's an Art Deco-styled bedroom incorporating several key elements of the style: velvet textiles, brass (in the sconce, geometric chandelier and bedside vase), and a colour palette of muted pink and deep teal blue. I love the combination of curtains, harmonising perfectly with the rest of the décor. See more bedroom curtain ideas.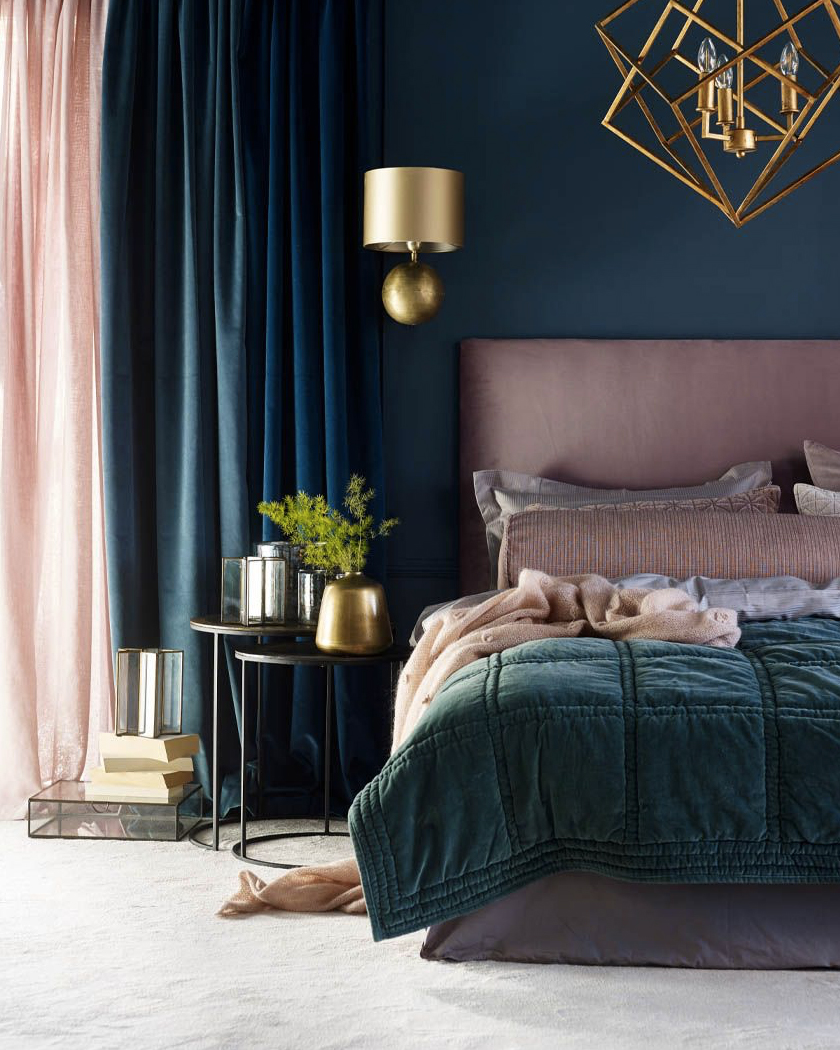 10. Mix styles
The beauty of contemporary Art Deco style is that it combines so well with other décor styles, like Boho or mid-century. Below, a bedroom with Art Deco flavours due to the upholstered velvet bed, brass touches and bold symmetrical bedside lamps. But it also has a slight mid-century vibe, thanks to the simple tan-coloured '50s style chair.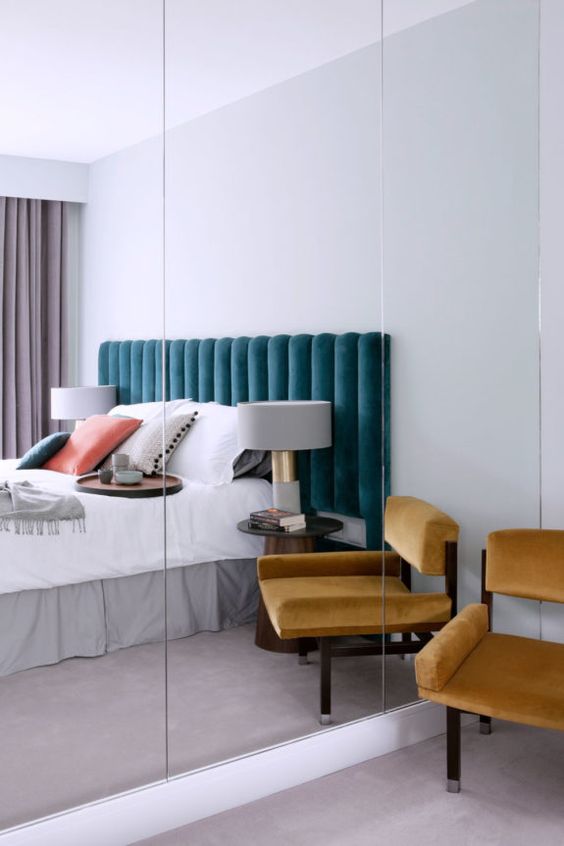 11. Bold opulence
Being over the top is permitted—in fact, encouraged when you are styling an Art Deco bedroom. Here's an example of a glam Art Deco bedroom fully decked out in Art Deco style. A fluted velvet headboard is paired with a hand-painted screen feature wall, a large-scale geometric black and white rug, a leopard print bench, a glam chandelier and brass accents. And a fringed bed skirt brings those authentic 1920s "flapper" vibes.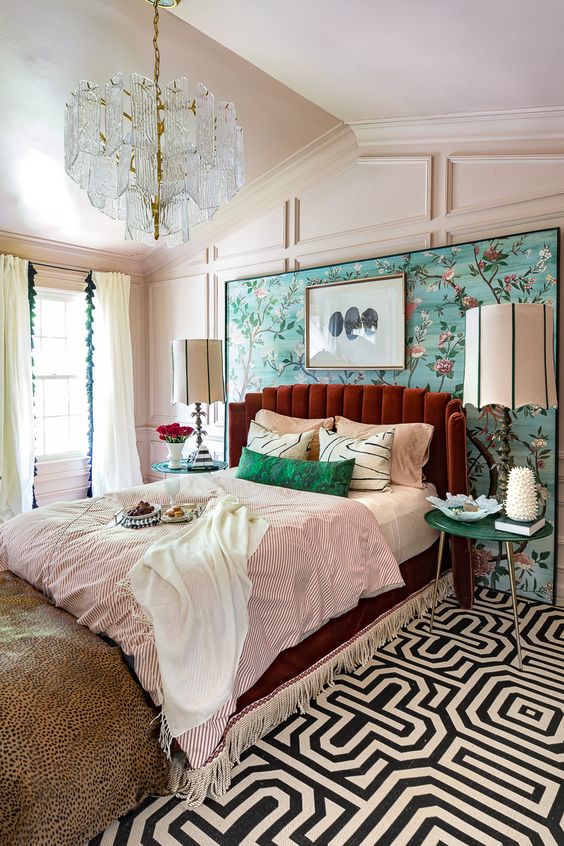 12. Art Deco wallpaper
Set an elegant and glamorous tone for your bedroom with gorgeous, dimensional Art Deco wallpaper in geometric patterns. Below, an Art Deco bedroom with mid-century overtones thanks to that bedside and lamp.
A classic Art Deco upholstered bedframe delicately blends into the wallpaper, while the palette of soft greens and greys is given a colour pop with the deep burgundy velvet cushion. Plenty of patterns here—but perhaps the doubling up of the same print for the walls and bedding is a bit much. What do you think?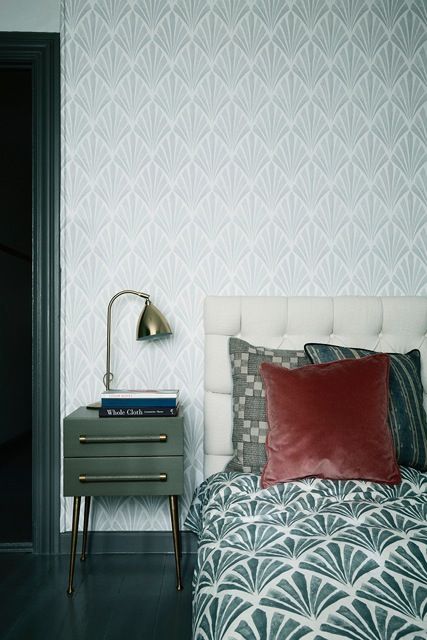 13. Curves and symmetry
Once more, an Art Deco-styled contemporary hotel, but this time in London. The design of the Henrietta Hotel is the work of French interior designer Dorothée Meilichzon, who was also behind the Parisian hotel Grand Hôtel de Bachaumont, above. It embodies the Art Deco love for sensuously curved, bold, dramatic bedframes, the use of mirrors and a traditional muted pastel palette accented with black, white and brown. Brass bedside lamps add to the perfect symmetry, also a hallmark of Art Deco style.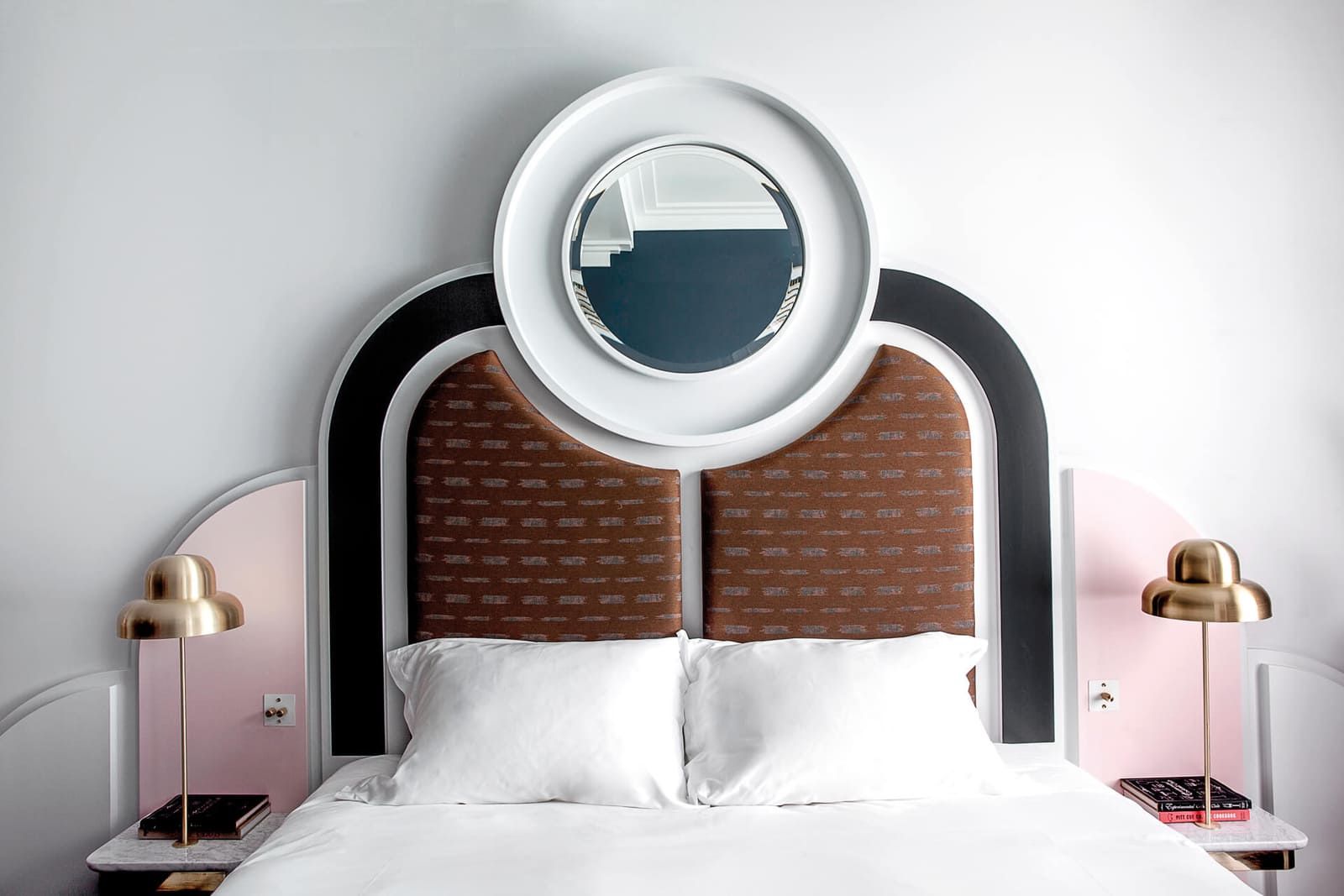 14. Jewel tones
Incorporating rich, deep blues, purples, greens and burgundies goes a long way towards evoking Art Deco style, especially when accented with shimmery metals. How about this dramatic and unique wall treatment?  The walls appear to be luxuriously quilted in fabric, and there's strong Art Deco flavours due to the linear, gold-toned inlay. A smoked glass bedside table gives a beautiful nod to the era as well. I also love the unusual floorboard design (by the way, you can find an expert in floorboards, if you want to explore your flooring options).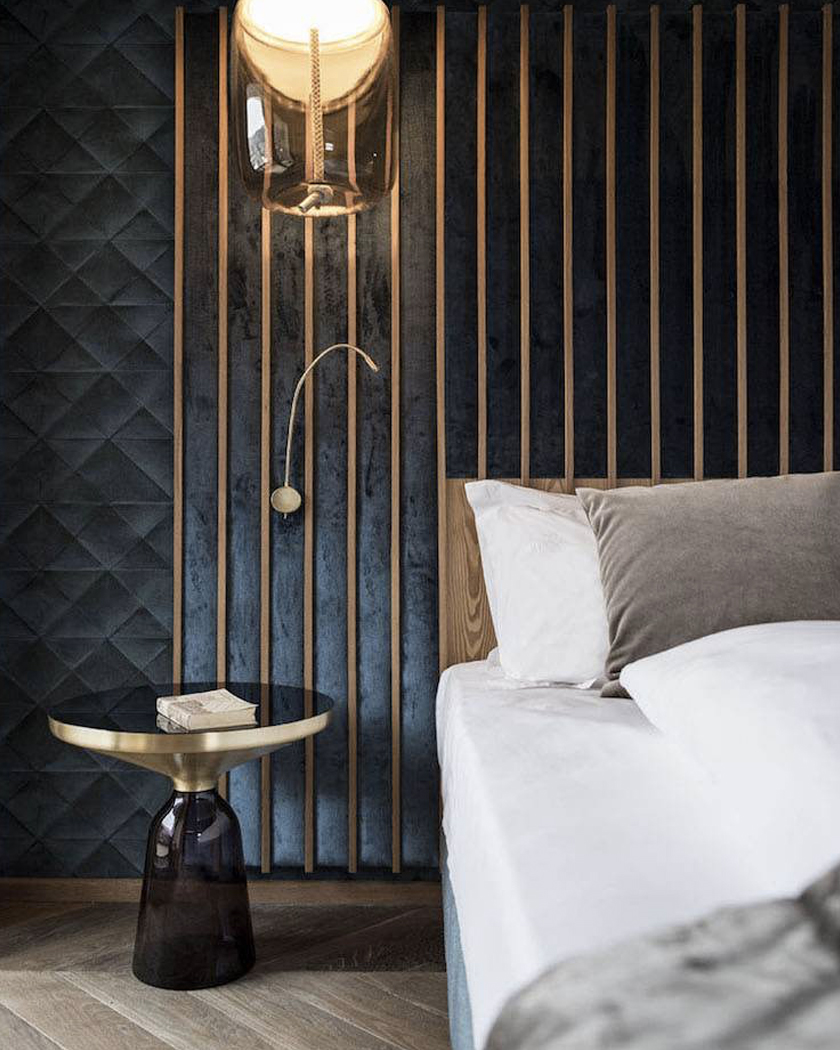 15. The keyword is "bold"
Here's an example of an outrageously over-the-top, maximalist to the max, Art Deco style bedroom. It's a little Luna Park for me personally, but it definitely showcases the exuberance and visual drama that is synonymous with Art Deco. Not only is the wall treatment extravagant, so is the oversized bed, the chandelier, the fluffy pair of pouffes and the bedside lamp that mirrors the chandelier's shape. A plush carpet adds to the deluxe feel—if your bedroom carpet needs an upgrade, why not have a chat with an expert in carpet laying?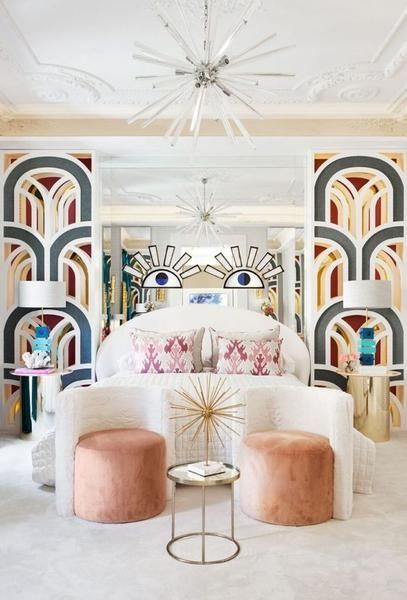 16. Black and gold
I read somewhere a description of Art Deco as "bold and gold" so an easy way to derive that look of glam luxury is to choose shiny metallics in your textiles and gold-toned metal fixtures and bedframe. Stick to a limited palette of gold and black if you want to recreate this 1920s look.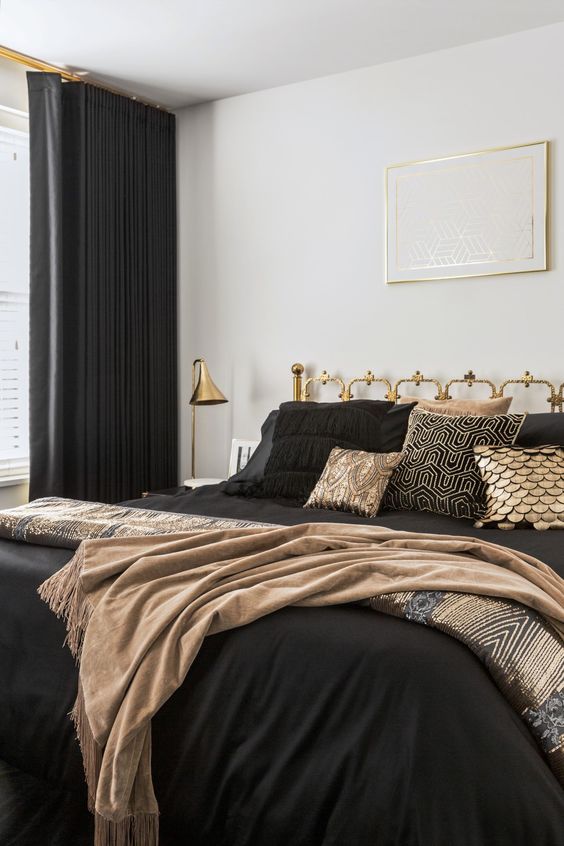 17. Mint and greys
A highly stylised space here, with the curves of the bold graphic upholstered bedhead contrasting with the lines of the wall panelling behind it. I love the colour palette here—so many shades of grey that work so well together. And the piece de resistance? The sculptural concrete table, bringing this vintage vibe fully into the 21st century.
18. Geometric gem
It seems that the go-to interior designer for contemporary European Art Deco hotels is French  Dorothée Meilichzon—here she is again behind the Hotel Panache in Paris. The rooms here are simply stunning, with intricate sculptural cane headboards as a focal point.
Cane was already popular in the décor style preceding Art Deco, namely Art Nouveau, but its popularity was solidified with Art Deco and it's currently wildly trending again. Also giving this space Art Deco vibes is the abundance of geometric shapes and patterns, especially triangles: there are triangular mirrors, triangle-patterned carpets, and corner cupboards.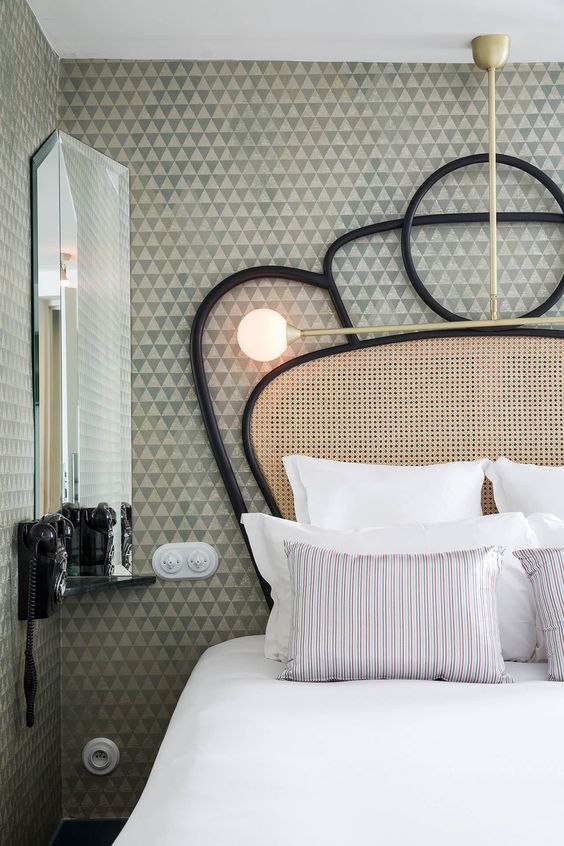 19. Lavish Art Deco bedroom
A perfectly symmetrical arrangement here, with a brass canopy bed making a grand statement and providing plenty of sharp lines and angles. The mirrors help magnify the space and add further shimmery metallic accents, while the geometric, sculptural bedsides add even more drama. And I love the unusual paintwork here, with the muted teal colour rising only to the height of the bed frame and a pale pink continuing up across the ceiling. For help with a paint job like this, you can find a local painter.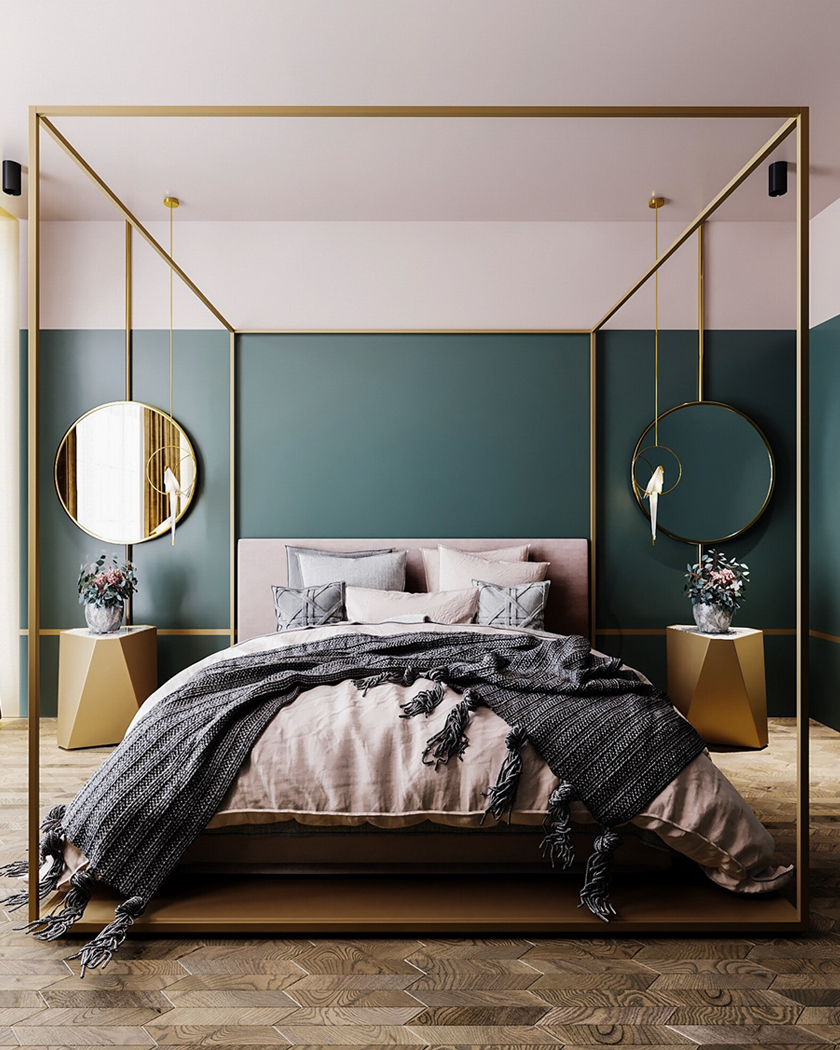 20. Cubist flavours
The bedroom below was designed by Alisa and Lysandra of The Block fame. It's in a Melbourne heritage home so an Art Deco bedroom suits the architecture here perfectly.  The bold shapes and strong colours are traditional Art Deco elements, but the look is modernised with contemporary artworks inspired by Cubism, which was a classic Deco style of art. My favourite part of the room though is that ethereal layered chandelier.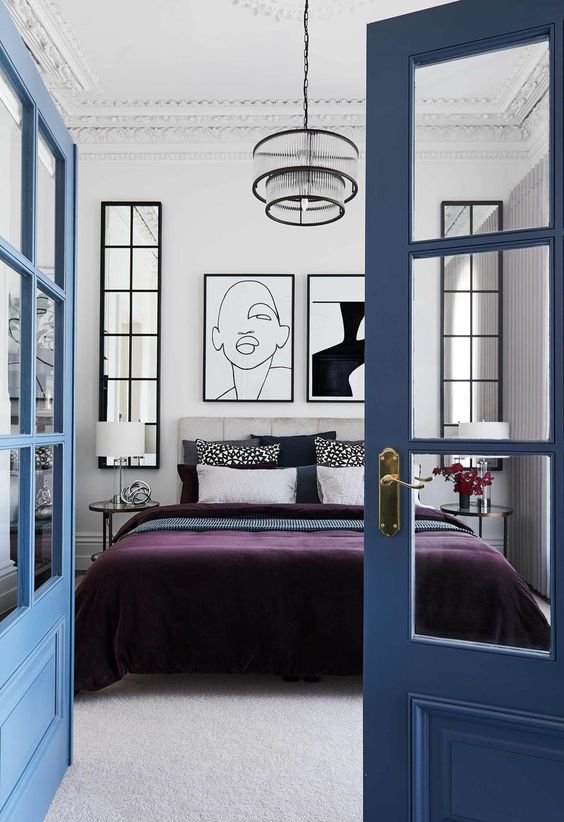 21. Rounded headboard
Graphic round shapes are just as frequently seen in Art Deco as angular ones. Below, a neo-Art Deco bedroom aesthetic that is another signature Dorothée Meilichzon design. Along with the graphic curved headboard, the vintage atmosphere, symmetry, fluted mirrors at the bedsides, brass touches and deep, rich colour palette all artfully spell Art Deco.
22. Leafy wallpaper, graphic cushions
A lovely and simple Art Deco bedroom here, with the traditional extended velvet headboard, graphic black and white bedding with pops of pale green, a vintage brass floor lamp, and a faint, large leaf print feature wallpaper. The result is a timeless yet contemporary design, sleek and sophisticated and with plenty of visual interest thanks to the variety of patterns and textures.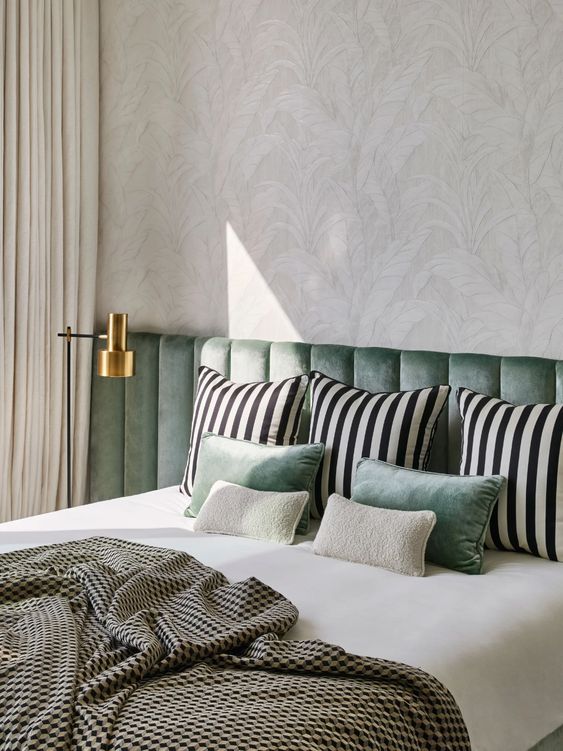 23. Geometric metal bedframe
A surefire way to instantly convey an Art Deco aesthetic is with a statement metal bedframe, like this geometric brass one. The design of this is reminiscent of a city skyline with skyscrapers, evoking the classic style of Art Deco architecture seen in buildings like New York's Empire State Building and the Chrysler Building.
With a dramatic bedframe like this, allow it to stand out by keeping the rest of the décor quite neutral and simple. (Don't forget to add a bedside plant— find out which plants are best for your bedroom.)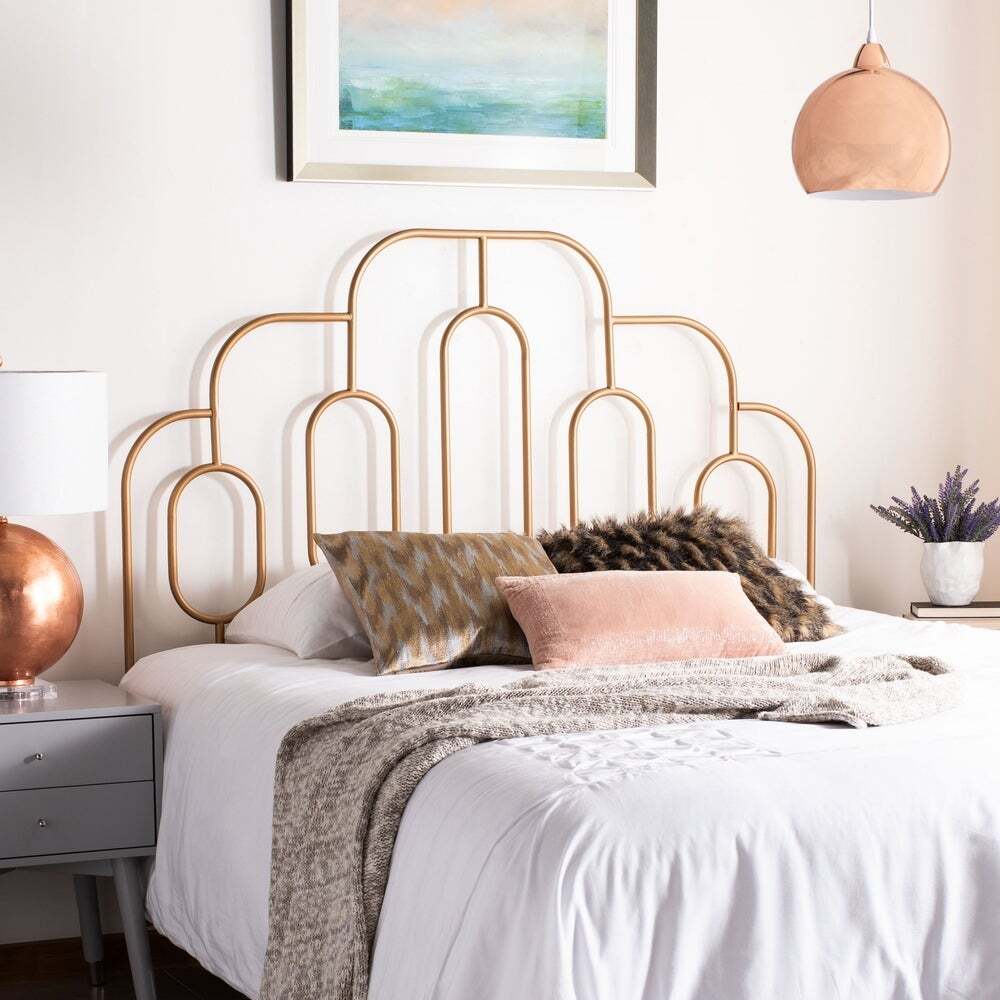 24. Wallpaper with nudes
How about this amazing cane and brass bed? It brings strong vintage Art Deco vibes to this simple space and yet somehow looks completely contemporary as well. Another nod to Art Deco style is the quirky wallpaper, this time featuring stylised dancing nude figures. Nudes speak to the decadence and sensuality of the Art Deco style, and like animal figures, are often seen in this décor style.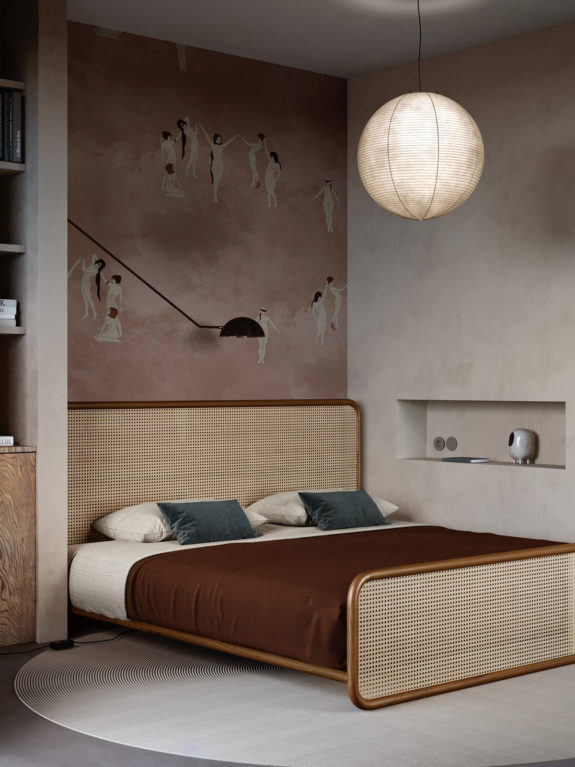 25. The oversized velvet bed
This one is your never fail, go-to, instant Art Deco bedroom piece. Just add velvet. If you have a velvet bed, contrast it with crisp white bedding. Or if it's a metal or timber frame, just add lots of velvet in the bedding. If you want to fully commit to the Art Deco aesthetic though and go way extra—wall-papered ceiling anyone?—go for a really oversized velvet bed: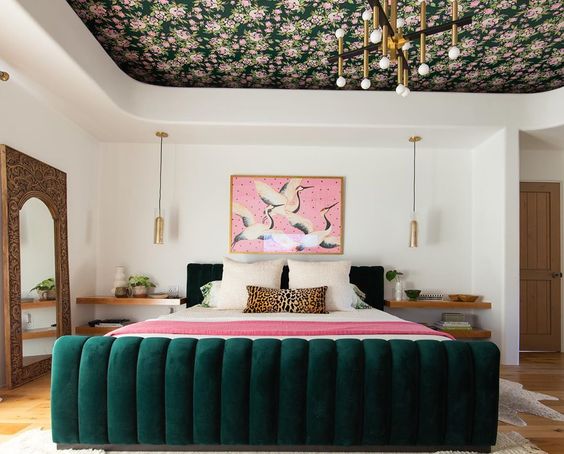 26. Sunburst décor
A popular element of Art Deco style, sunburst designs on furniture and décor are a quick and easy way to incorporate some playfulness and character into the space. Below, a gorgeous antiqued metal bed frame featuring a series of sunbursts is complemented by a brass and glass bedside table–brass and glass is a quintessential Art Deco combo that always looks sleek and glamorous. Complete the look by adding some sumptuous velvet bedding.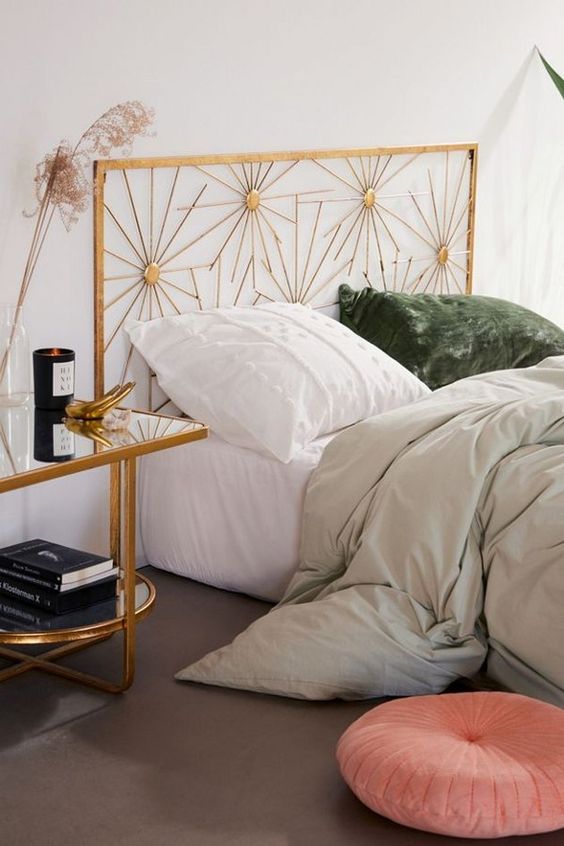 27. Padded pink half wall
I love this subtle Art Deco flavoured bedroom with its blush pink, upholstered half wall acting as an extended headboard. A pretty frosted glass and brass wall sconce add to the femininity of the space, while further vintage touches abound in the cute bedside table and vintage brass alarm clock. Here you can see how easy it is to play with scale: just pair an oversized, extended headboard with tiny light fittings, incy artworks, and delicate bedroom furniture.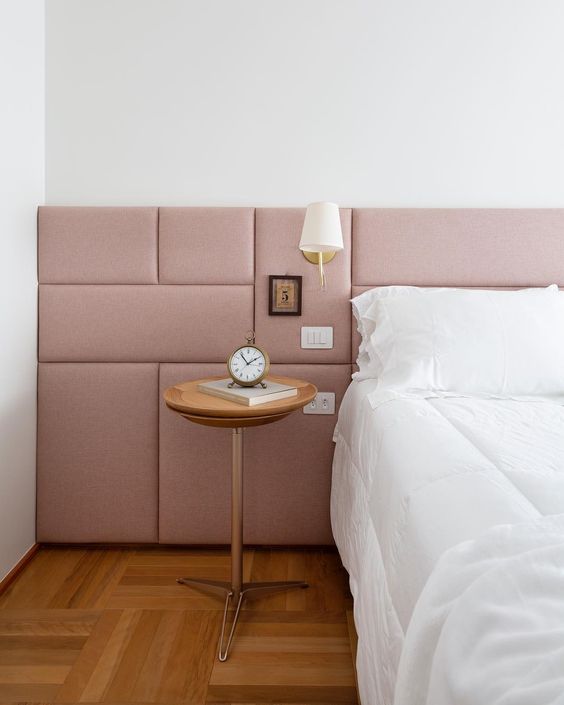 28. Screens and sunburst décor
An easy way to add Art Deco flavour to your bedroom is to incorporate round shapes, especially scallops. Here, a unique screen has been placed behind the bed as a headboard, decorated with a little sunburst, while the tiny corner bedside shelf amplifies the pink and blue of the bedding. The muted pastel tones of this room also suit the modern Art Deco look; soft pinks and pale greens, contrasted with deep blue trim.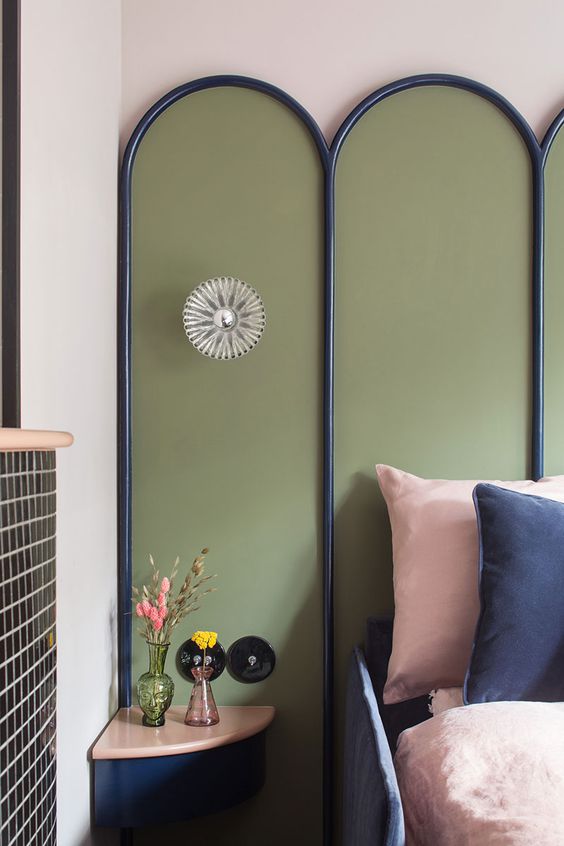 29. Scalloped headboard
A vintage timber headboard in a simple, scalloped/fan shape with bold black lines brings the classic look of Art Deco to your bedroom. Just couple it with vintage glass and brass wall sconces and keep the bedding very simple for a romantic, elegant look with oodles of 20s flair.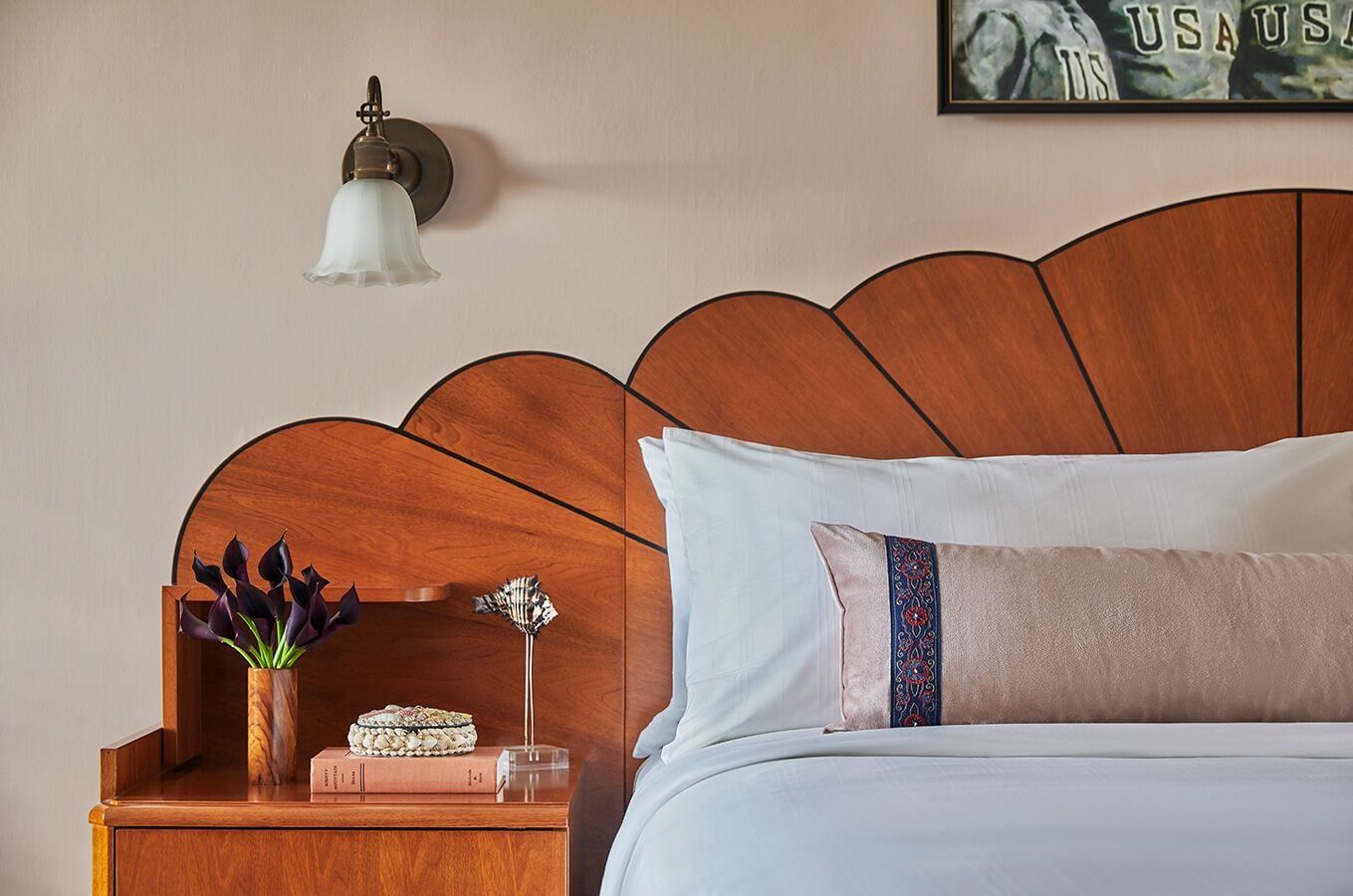 30.            Geo cane and leaf motifs
Here's another modern Art Deco bedroom that fuses the vintage style with Boho and tropical flair, thanks to the palm print wallpaper and liberal use of natural materials.  This room fulfils the Art Deco brief of incorporating graphic, round shapes, but both the unusual headboard and the statement light with their cane circles are fresh and original. (Love Boho bedrooms? Find more inspo here.)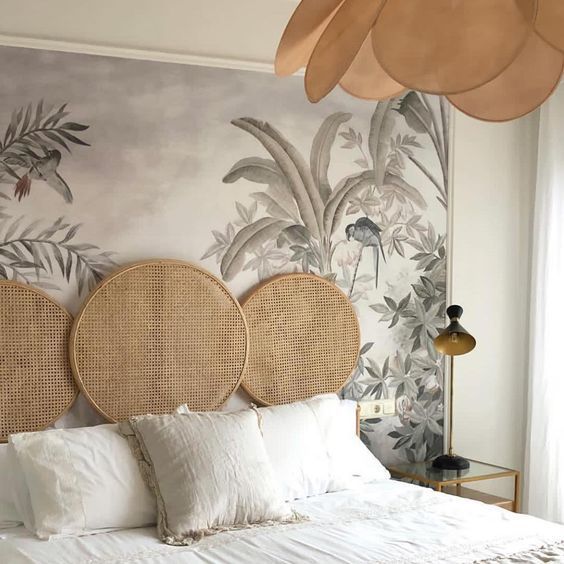 31. Statement lights
Be brave and choose extravagant, deluxe, oversized light fixtures, like these unique metal chandeliers and sculptural pendant lights. It's a simple way to amp up the visual drama of your Art Deco bedroom and make the requisite big, bold statement. I also love the way the ceiling here has been painted a darker grey than the walls, making the space extra cosy and tying the colour scheme together beautifully.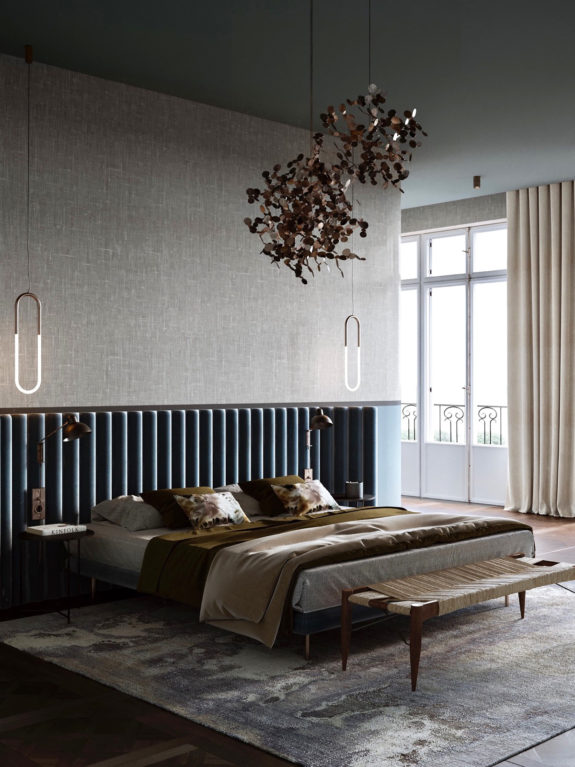 32. Bold and graphic bedframes
Here we have another Art Deco-styled Parisian hotel bedroom, at the La Planque Hotel. It features dramatic upholstered bedframes with unusual cut-outs and built-in sculptural light fittings, plenty of antique décor and interesting, patinated walls. The rich deep colours and all the geometric shapes deliver classic Art Deco vibes in spades.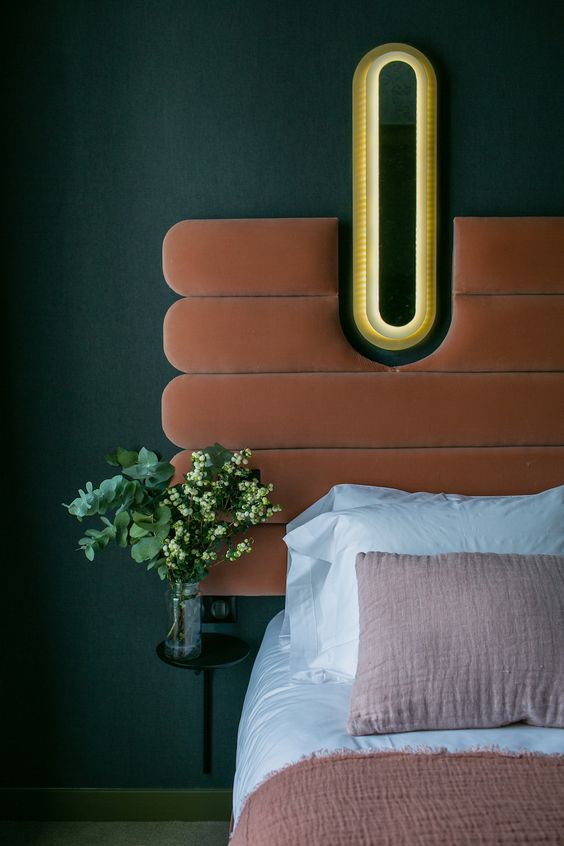 33. Graphic patterns
Here, I have another French hotel bedroom (natch!) styled with clear Art Deco influences. Bedrooms in the Hotel Saint-Marc in Paris feature beautiful inlaid walnut headboards with geometric motifs, against a backdrop of strong, saturated walls.
The designers have blended modern elements (for example the extravagant column/pendant lights) with vintage furniture and fleamarket décor, as well as custom art made by Italian artisans, for a richly textured space.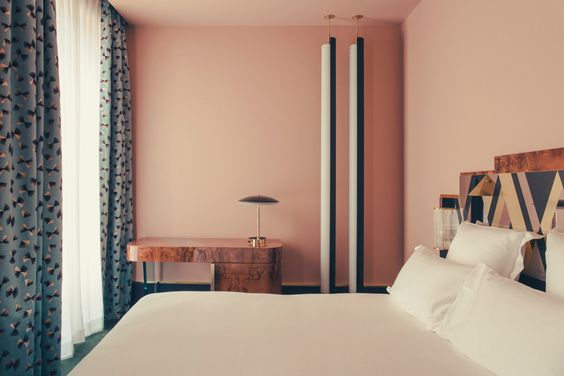 34. Arches and scallops
The built-in wardrobes in this Art Deco bedroom feature the classic rounded tops and scallop edges that are key elements to the style. You could even use paint and stencils to DIY scallop edges like this. The arched façade would probably require the expertise of a specialist in built-in wardrobes though.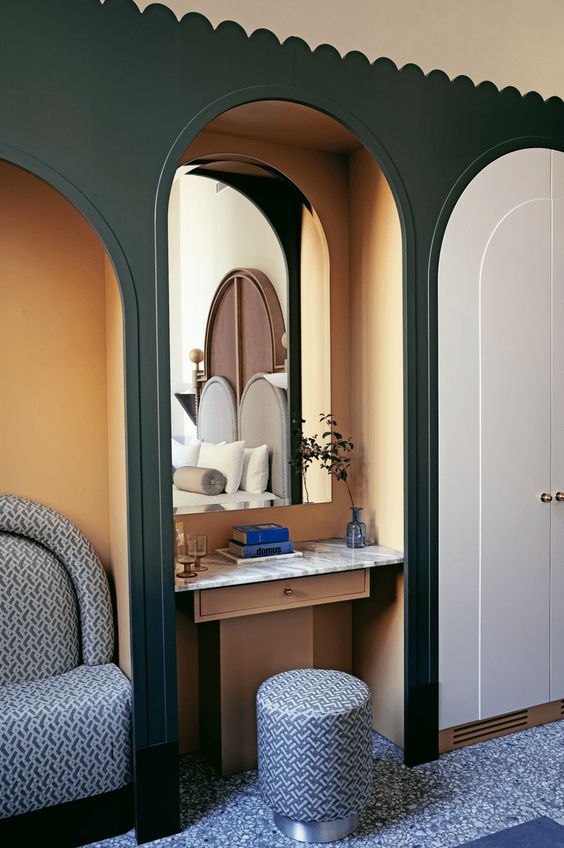 35. Sunset colours
I'll finish up with this happy and bright gently Art Deco-inspired bedroom. I love the saturated warm colours, the plant floating shelves and the painted circle behind the headboard. This bedroom is proof you don't need to go all out with a full-on Great Gatsby-themed bedroom in order to convey an Art Deco feel.
The overall symmetry, rich colours, dramatic bed and oversize bedhead and plush velvet soft furnishings all place this room firmly in the modern Art Deco category.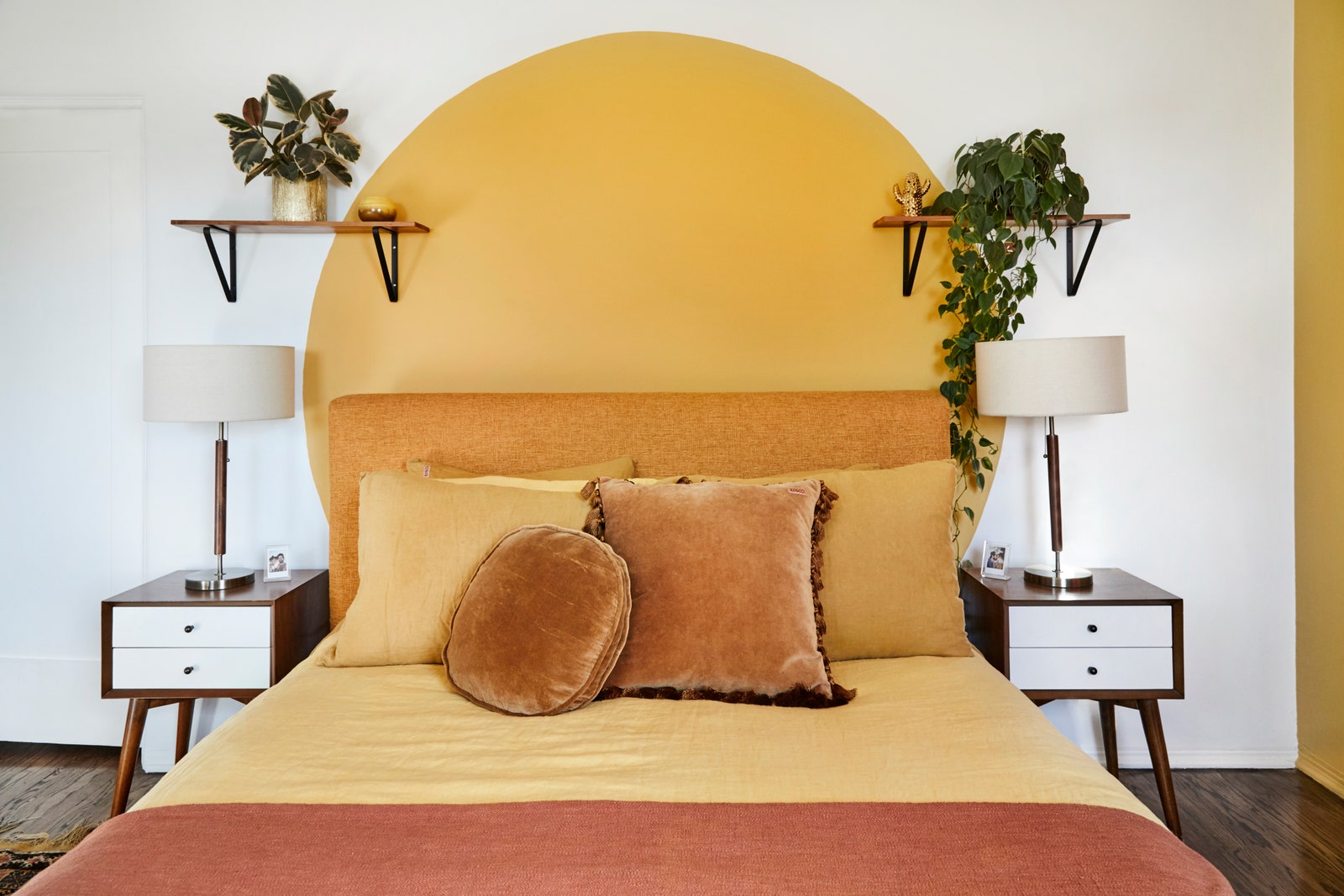 Love this painted circle idea? Find a bedroom painter who can bring it to life for you.
Love this dramatic décor style? I really love the simpler, more subtle modern Art Deco bedrooms above, and I'm a sucker for cane bedhead. Which bed style is your favourite? Let me know in the comments!
Need a hand putting together your Art Deco bedroom?
It's super easy to find a local who will help you put together your Art Deco bedroom. There are Taskers who specialise in assembling:
And if you already have your own bedroom ideas but want to get a fresh set of eyes on the design side, you can also find a home decorator close to you.
Main image credit: Wall Street Journal