Contemplating a yellow bedroom colour scheme? Bedroom colour trends come and go but one colour that always comes back into fashion is yellow, and it's currently vibing in interiors in sophisticated mustard tones. But that's not to say you can't work with other gorgeous yellow tones, like canary, gold or lemon. One thing's for sure, a bedroom with a yellow colour scheme will always make a striking statement. Ultimately, though, it all just depends on whether you like the colour yellow or not.
Perhaps you're drawn to yellow because of its positivity and warmth because you want to brighten up a bland bedroom, or perhaps you just love the cheerful, whimsical aesthetic it creates. Whichever shade of yellow you prefer, it can be a risky decorating choice unless you really focus on creating a balance between making an impact and veering into over-stimulation. After all, bedrooms should be peaceful spaces, and not too energising.
But the trick to decorating with yellow is to calm down its innate vibrancy with softer, neutral accents. Alternatively, introduce yellow as an accent itself into a neutral space.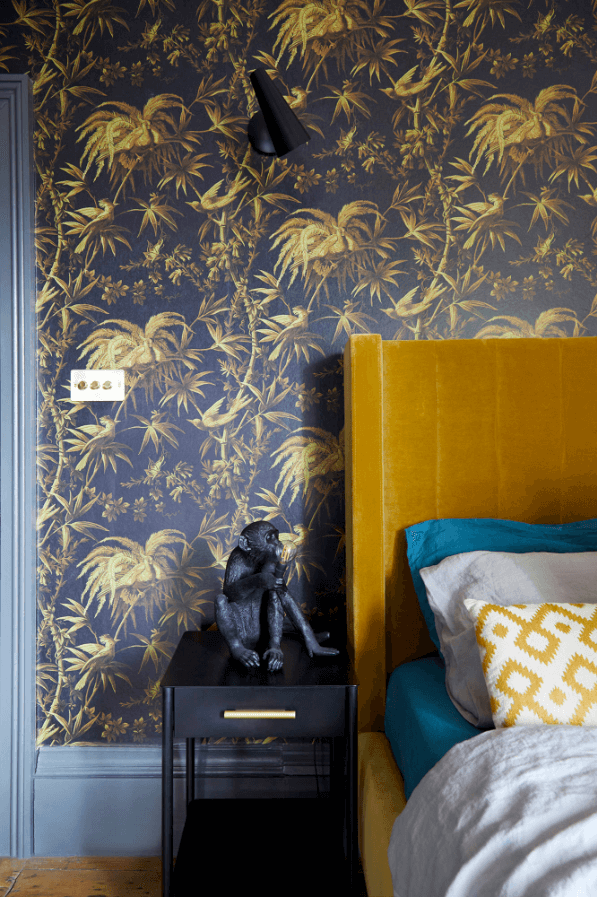 If you're bold enough to use yellow as a main colour, add neutral accents (incredibly cool ones) which will balance its warmth. Also, use plenty of natural furnishings which will further soften the palette.  Think of going for a classic pairing, like a grey and yellow bedroom or a white and yellow one.
Or if you'd prefer just to dip your toe in and bring yellow in as an accent, it pops well against neutrals, cool shades like grey, or other contemporary colours. A dash of yellow adds a spark to a duller palette, preventing a space feeling sterile. Working with yellow as an accent colour is easy and low on commitment, too. Simply change up your sheets or cushions, or add a lamp, vase, textural quilt or another yellow décor to give your bedroom a sunny personality. For the most harmonious look, try to stick to an odd number of yellow accents.
Below, I've gathered 35 yellow bedroom ideas that are warm, bright and chic. If yellow is a colour you love, these bedrooms will give you plenty of inspo for decorating your own sleep space with this hue.
1. Mustard yellow bedroom
With mustard being on the interior decorating radar at the moment, let's start by adding just a touch of yellow to a neutral bedroom in the easiest way possible–by switching up the bedding. This contemporary space blends natural wood and fibres into the mix to soften up the brightness of the ochre yellow. I also love the practical ledge and the way the wall has been designed with a built-in nook.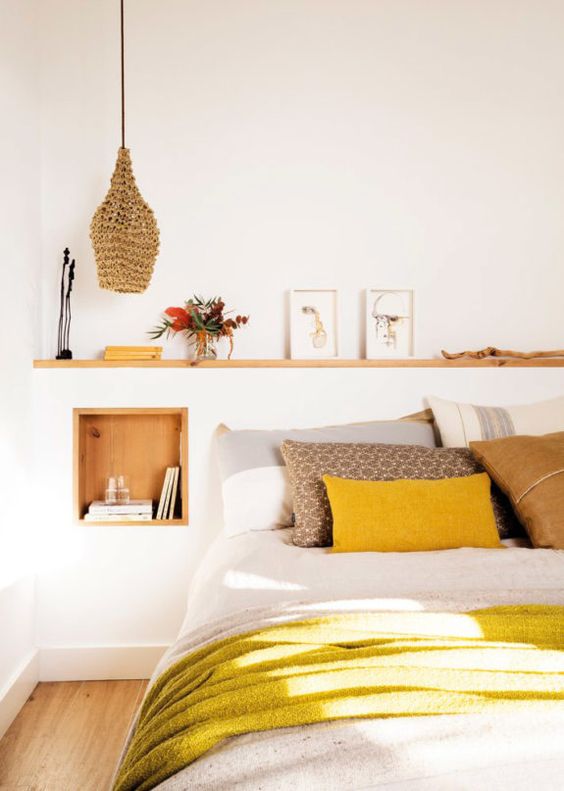 2. Yellow bed
Once again, bringing just a little sunshine yellow into a space with plenty of timber and natural materials adds oomph without making a major change to the overall aesthetic. This bright, Scandi style bedroom gets a modern farmhouse feel from the metal bed frame, as well as the white walls and timber floors. A sunny yellow floral cushion adds a little sweetness.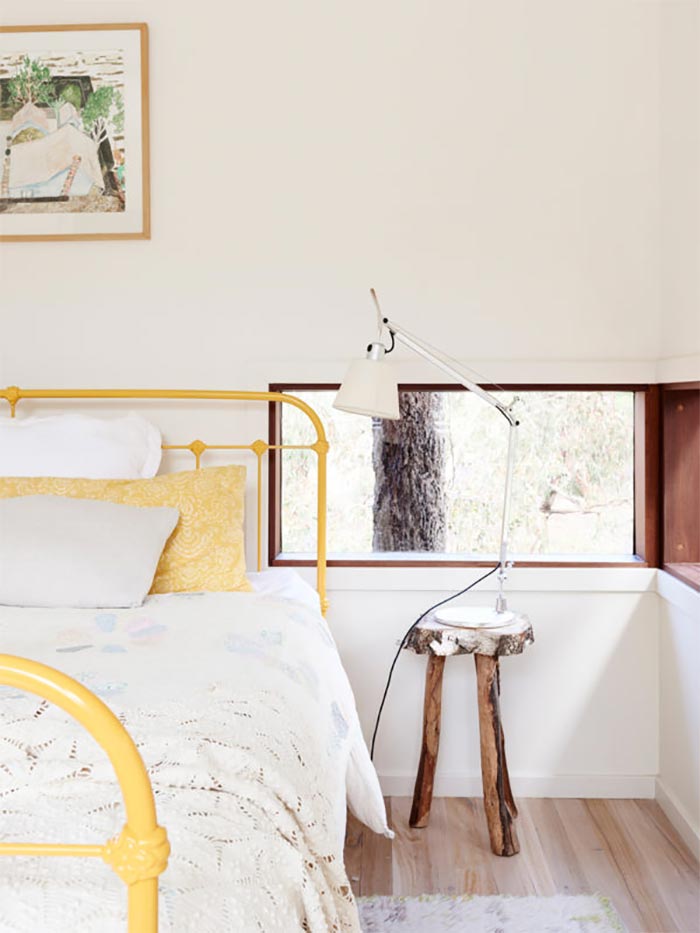 3. Boho with yellow
A muted, natural yellow is the perfect colour to introduce if you are going for a Boho bedroom aesthetic. Just add a few elements in sunshine yellow, together with décor in other natural tones and plenty of organic materials like wicker, rattan, seagrass, jute or sisal for texture.
Hardwood floors always look the goods but soften them up with soothing rugs like this Moroccan style one with diamonds. Complete the Boho look with masses of bedroom plants!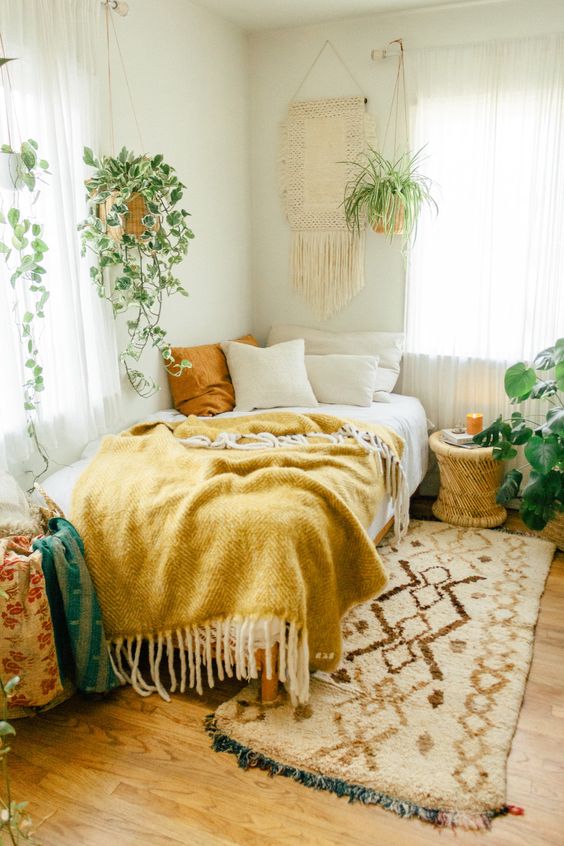 4. Blue wallpaper with yellow pops
This contemporary bedroom has a bold colour palette, the brights all tied together with flashes of white. Yellow comes in as an accent in the bedside and the graphic cushion, where it's just enough to add zest while not competing with the stylised bedroom wallpaper. If you want to get some patterns added to your walls, find the help you need with the wallpaper installation experts.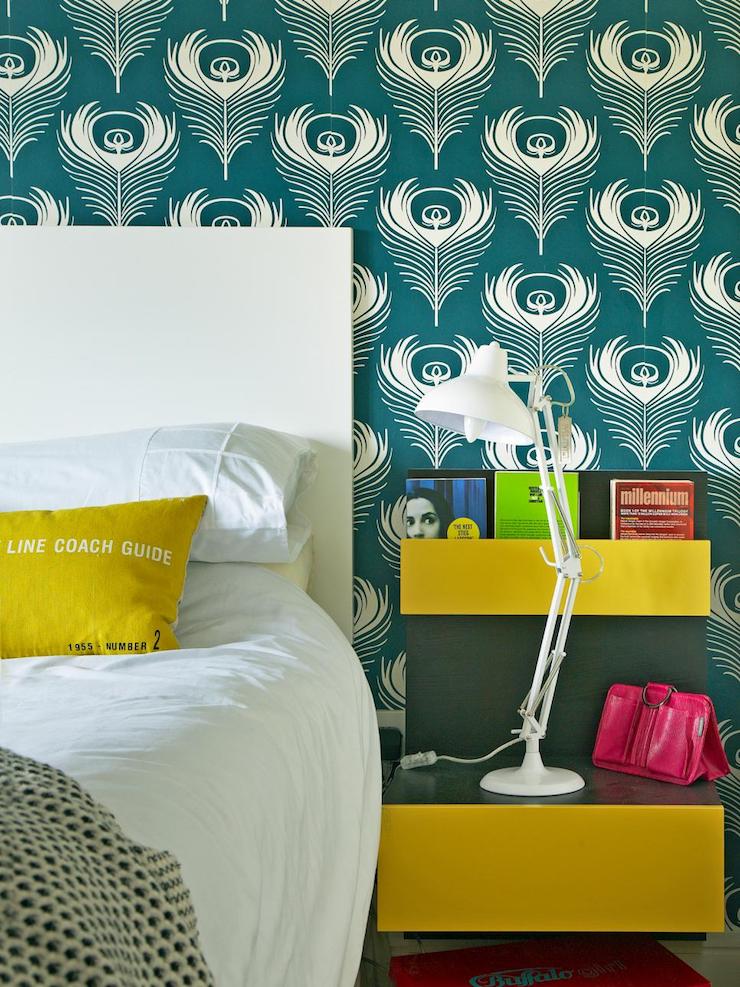 5. Gold tones and shiplap
This bedroom is another contemporary bedroom that has been taken from plain to pretty, simply with the addition of some honey-coloured linen and a statement golden vintage lamp. And how well do soft blush tones mix with this mustard shade? It's unexpected but it works.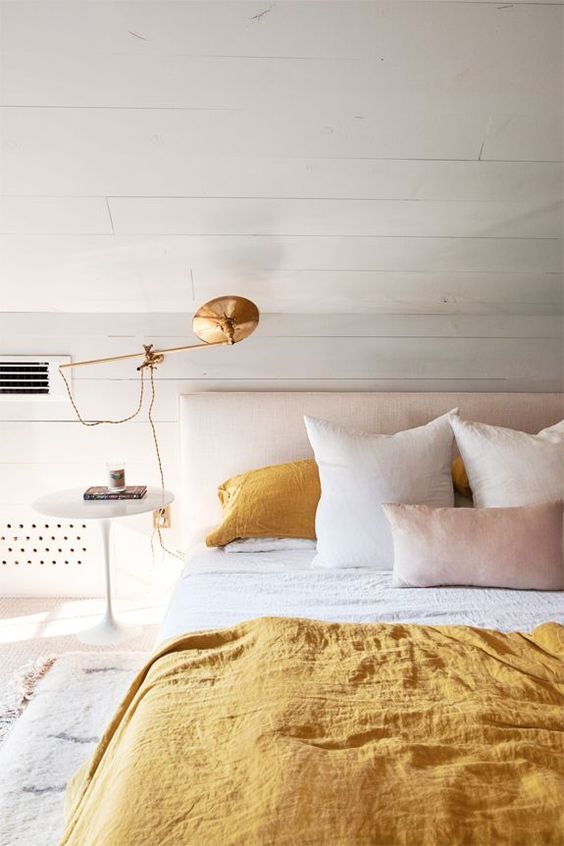 6. Lemon bedding, yellow locker
Here we have a stunning Boho bedroom with a more dominant yellow colour scheme, mixing canary yellow with soft lemon. If you want to go for a monochromatic look like this, make sure to introduce lots of texture to liven up the limited palette. In this room, the texture comes through via the macrame, rattan bed frame, the soft bedding and the smooth hard metal of the locker.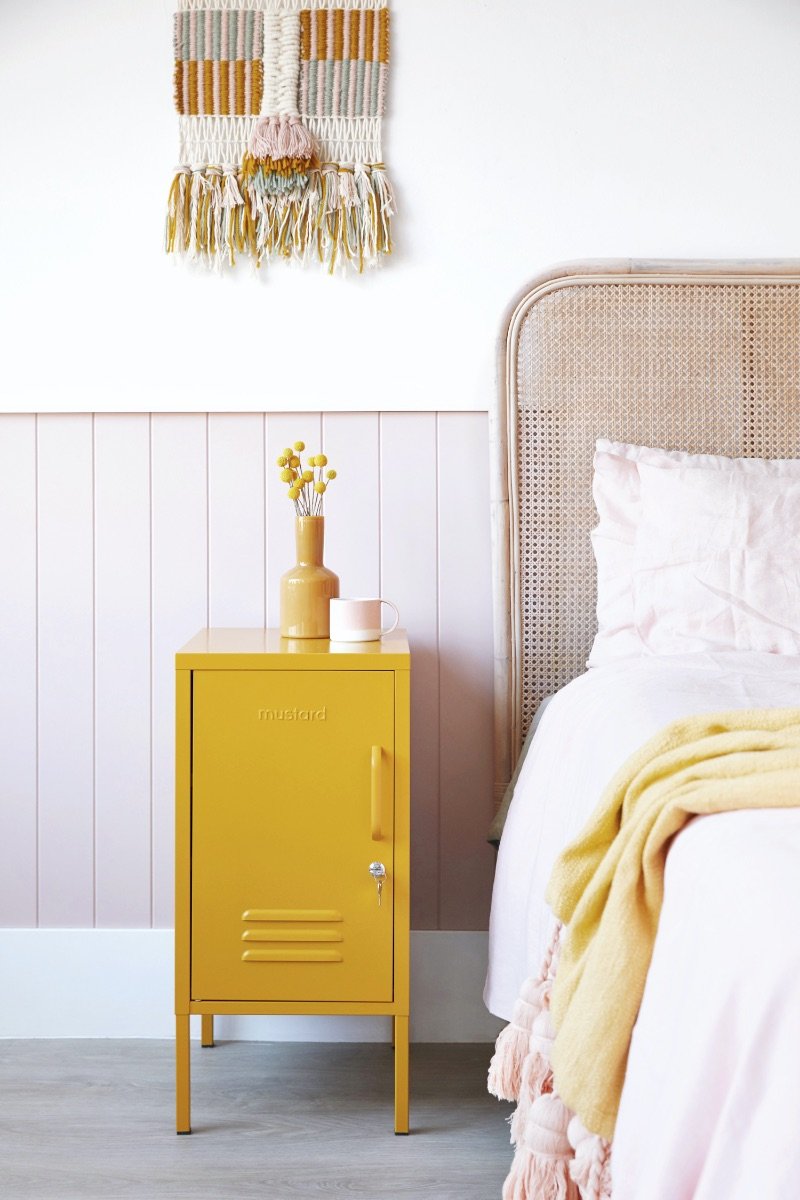 7. Mustard bedhead with gold wallpaper
A subtle yellow bedroom here, with gold and midnight blue wallpaper combining with a luxurious mustard velvet bedhead. Warm yellow does a great job of brightening up a room, so it's a good choice of accent if you are going for darker wallpaper.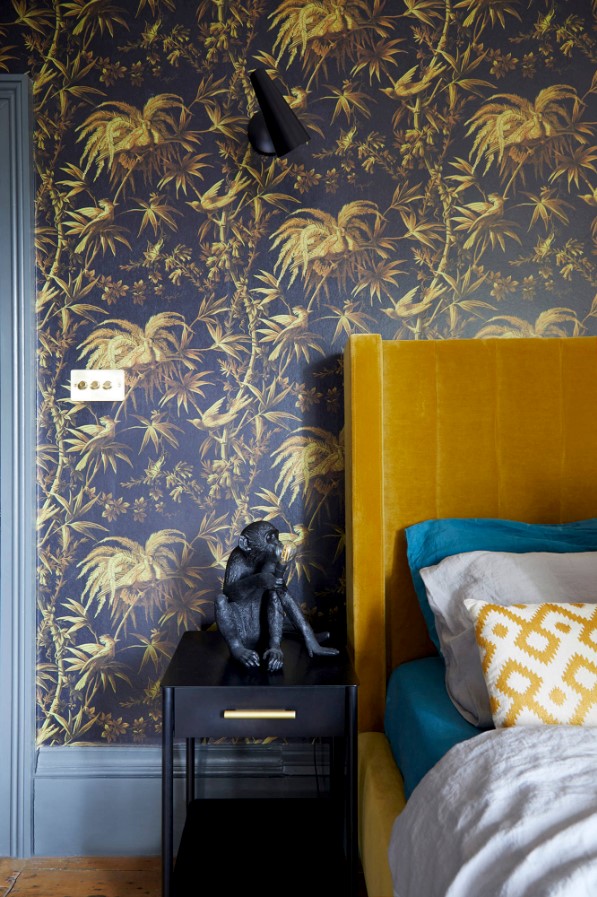 8. Yellow patterned quilt
This crisp, simple, all-white bedroom with timber flooring and furniture is given much more character by the addition of an abstract, modern quilt with its dabs of bright yellows and oranges. And it's such an easy way to add a burst of yellow to a bedroom. How beautiful are these polished floorboards, though? To get yours looking this good, you can find an expert in floorboards.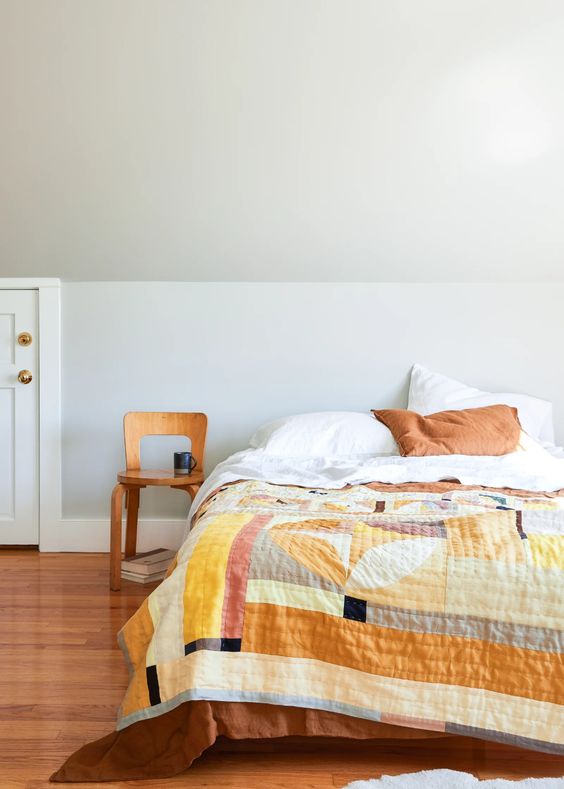 9. Yellow half wall and grey curtains
If you're brave enough to go for bright yellow paint on the walls, it will be less overwhelming if you only paint a half wall and allow the rest of the wall and ceiling to remain white. This gives you a generous dose of yellow without completely saturating your bedroom in it.
A grey and yellow bedroom is a tried-and-true contemporary look, so think about bringing in grey as an accent to balance the egginess of a yellow and white combo. I love this sheer grey window treatment but if you are looking for more bedroom curtain ideas.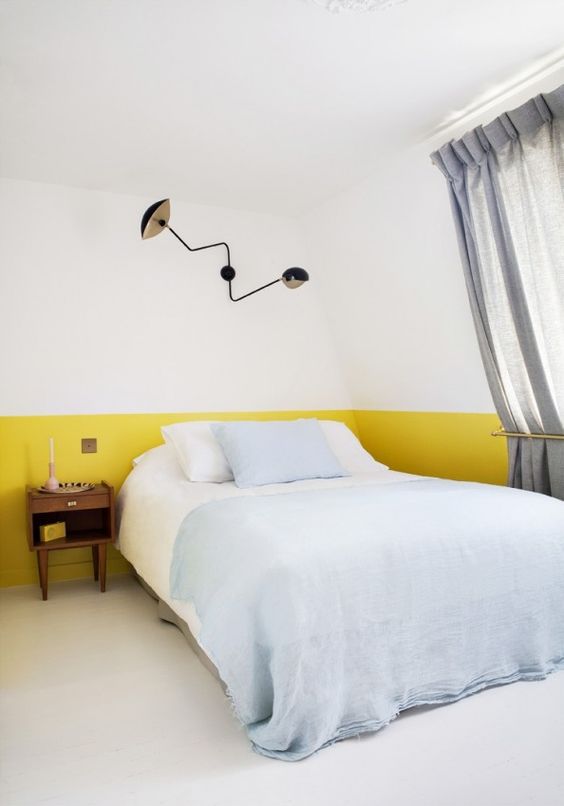 10. Top half yellow wall
On the other hand, you might like to paint a yellow top half of your wall. Or if you have yellow walls and find they are just too much, think about adding white wainscoting to the bottom half of the walls rather than getting rid of the yellow altogether. And if you're going for this much yellow on your walls, add in neutral tones to counter the boldness of the wall paint, like the creams blended into this bedroom.
To make sure your painting lines remain straight, find a professional painter near you to give you a helping hand.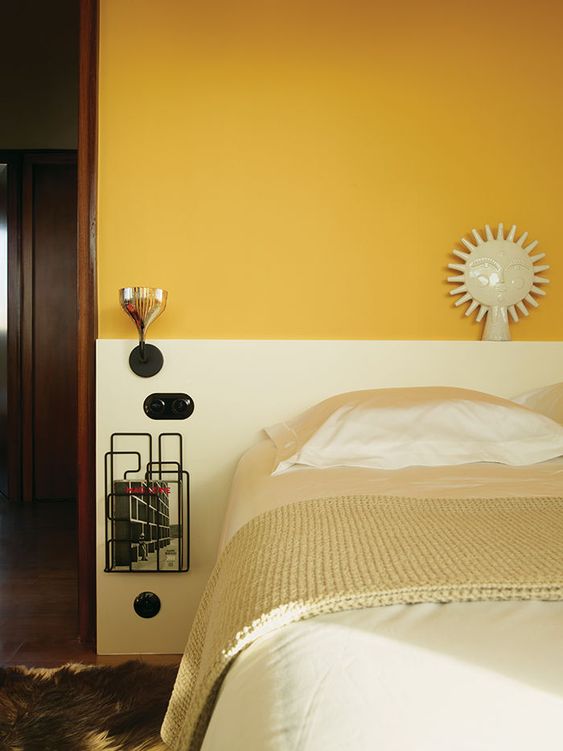 11. Mustard bedding and timber
This bedroom is another gently Boho styled one, relying on a mix of natural tones and materials to convey an earthy, grounded vibe. The block of mustard linen is balanced nicely by all the white and wood, with the space given charm through the little mid-century style bedside drawers and flourishing hanging plant.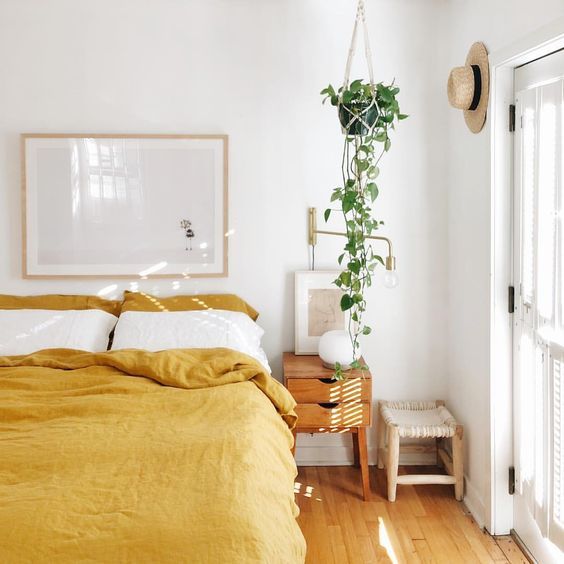 12. Grey and yellow bedroom
Grey and yellow is considered a timeless colour combination for interiors, due to the fact that bold, bright yellow contrasts so perfectly with muted pastel greys. Take the elegant grey and yellow bedroom below as an example. It has a traditional, classic flavour, amplified by the antique lamps and the stacked vintage suitcases acting as a nightstand. With the dominant grey colour, the space could easily end up looking drab, but the velvet mustard cushion and throw add plenty of brightness and warmth.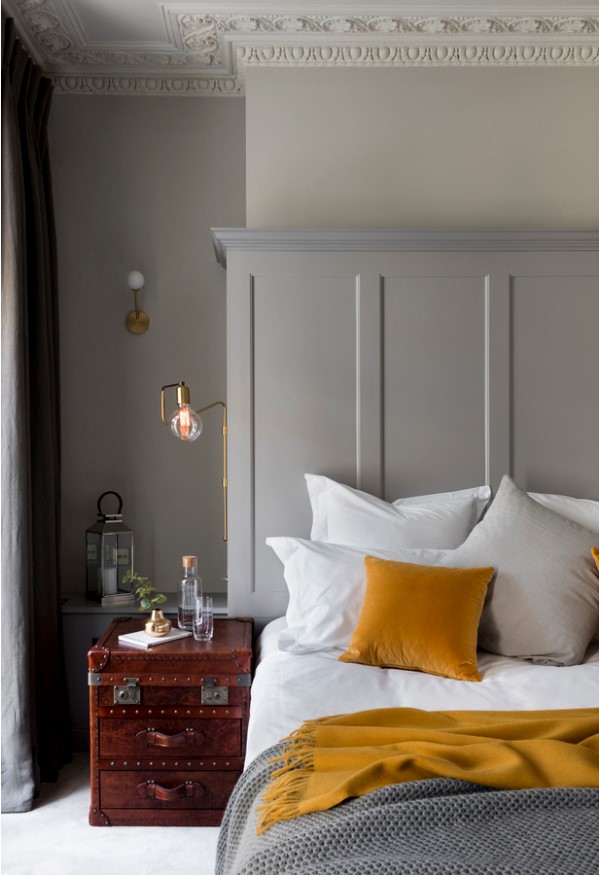 13. Unusual headboard
Just a skerrick of yellow in this bedroom, which has a retro flavour thanks to the Seventies style tan colour scheme and the op-shop finds in the décor. The mustard yellow stripe painted along the half wall gives it definition and a little more interest, and by the way, matches the blanket. I love this elegant pendant light. If you need help installing pendant lights, find a local light installation expert.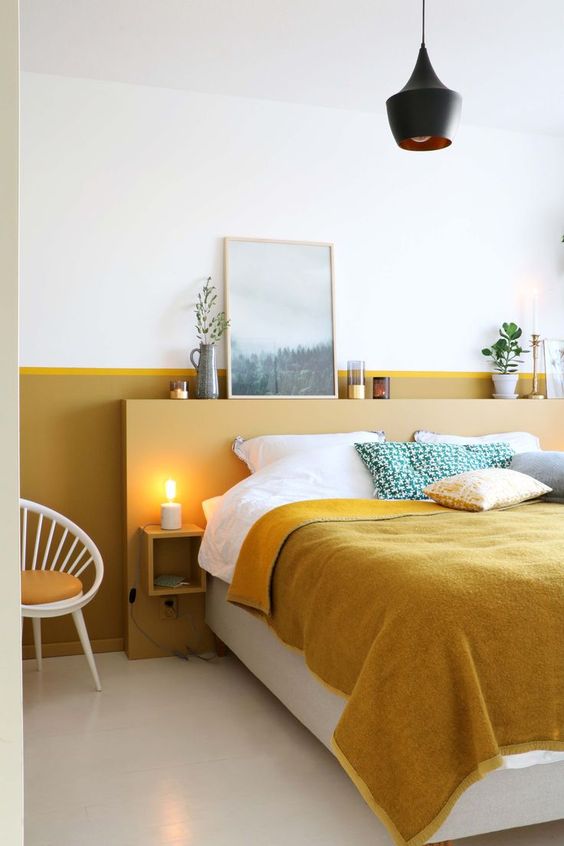 14. Mustard and pale blue-grey
Greys and duck-egg blues go really well with mustard yellow–this gorgeous bedroom illustrates what a beautiful marriage these two tones make, especially when mixed with lashings of clean white. There's a lovely mix of textures here too, in the chunky throw, variety of timbers, and little bunting decoration. Keeping the ceiling white also makes the space seem larger and airier.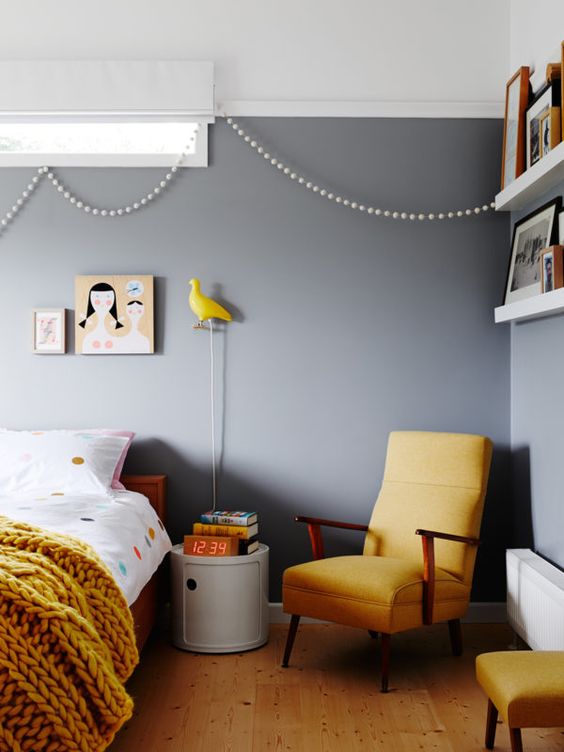 15. Yellow canopy bed
If you love the idea of a yellow bedframe, a canopy bed painted in rich yellow could have you waking up feeling like you're surrounded by sunbeams. It sure makes a change from the usual black or timber four-poster or canopy bed frames and keeps the typically imposing structure looking airy and light in the space.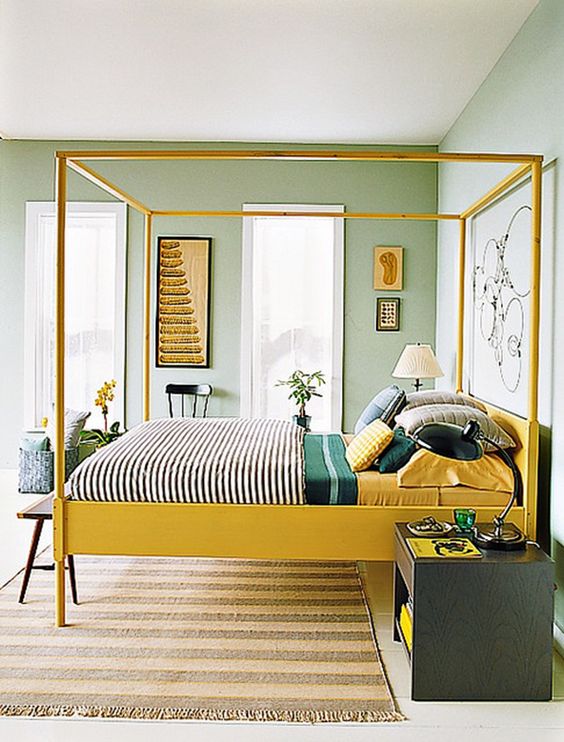 16. White with yellow lines
Below, a bright white bedroom with whitewashed floorboards gives an edgier look with a simple yellow intersecting stripe design on the wall. A few black accents, silver bedside lamps and a white statement light fitting all help keep it crisp and modern.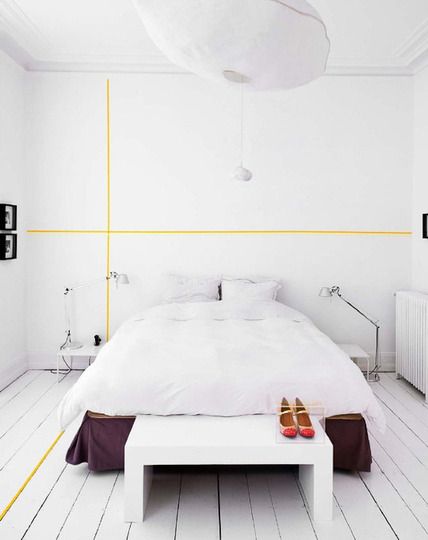 17. Bright and textured
Yellow is a must-have colour to incorporate into a bright palette. If you love a vibrant, colourful and eclectic bedroom, mix and match hues and textures with abandon! This Parisian bedroom shows how it's done, with a mix of embroidered and tufted linens, wrinkly yarn-dyed kinds of cotton, gingham waffle weaves and sumptuous velvet. So much texture and colour!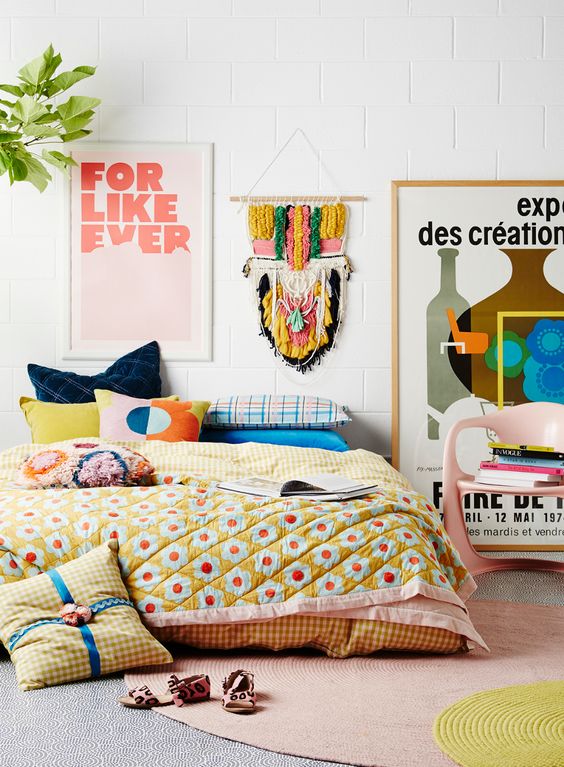 18. Yellow painted circle
Has the painted dot above the bed been done to death, or does it still have legs? It's certainly still cropping up in many stylish contemporary bedrooms. If you love the idea, you can always tweak it to make it more original by moving the circle off-centre, as has been done here. See more feature wall ideas.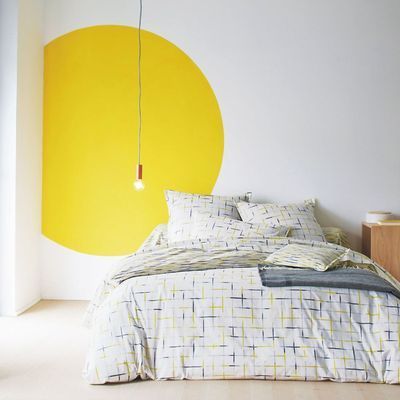 19. Yellow faux headboard
Perhaps the ultimate in no-commitment decorating with yellow, this yellow 'bedhead' is simply a wall decal. It's just enough to add a little zing of yellow to this all-white bedroom and might suit those who like a little wit and fun in their décor, or it may be ideal for trialling out yellow before deciding whether or not you wish to bring in real yellow bedroom furniture.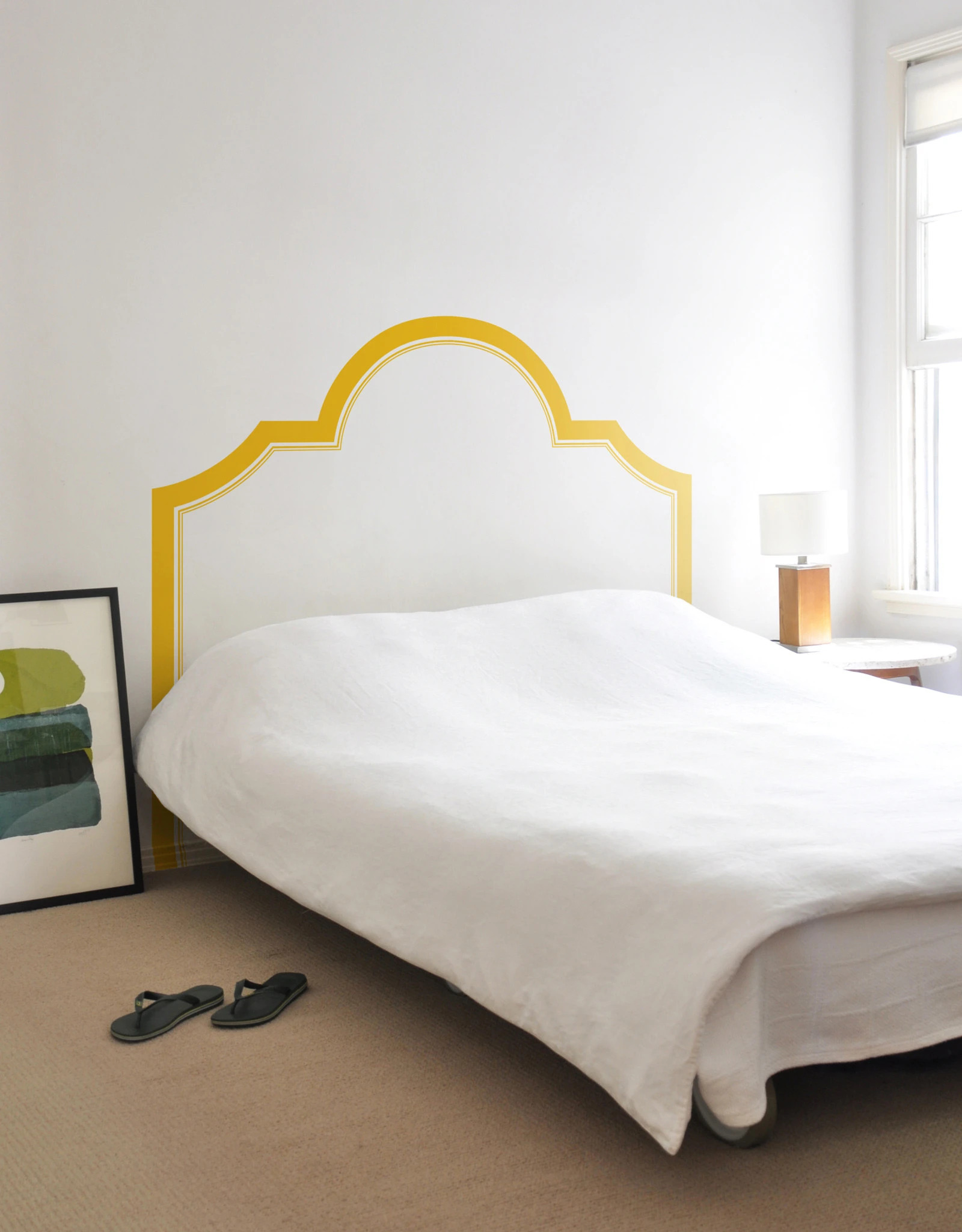 20. Yellow feature wall with grey
Another quick way to add a big dose of yellow, while keeping it in check and not overwhelming the space, is to have a bold yellow feature wall. This grey and yellow bedroom feature colour blocking with the daffodil yellow feature wall contrasting perfectly with the two-tone white and grey wall.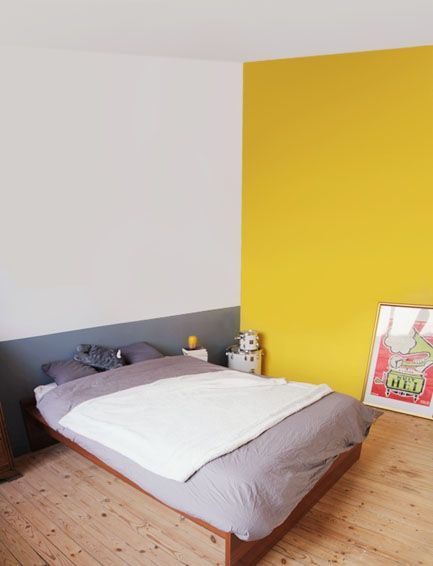 21.  Canary yellow wall
Here's an example of a bedroom which really commits to a yellow colour scheme, again with a richly saturated vibrant yellow feature wall. If you've decided to embrace the boldness of yellow like this, make sure you pare back the other décor. A neutral setting is the best foil for such a strong colour, and choose simple, streamlined, unfussy furniture and décor. The round yellow cushion provides a harmonious touch.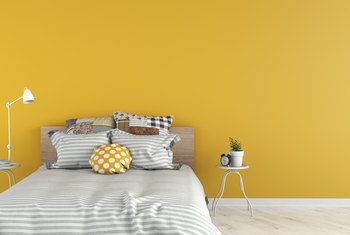 22. Blue bedroom with yellow accents
This gorgeous pale aqua blue bedroom takes advantage of the soothing and calming benefits of using blue in your bedroom while balancing the saturated colour with subtle pops of yellow—just a lamp, a candle and a throw. I like how the paintwork is trimmed with white skirting boards. If you don't have the patience to handle painting your skirting boards, or they need some love generally, you can always find some help to install skirting boards.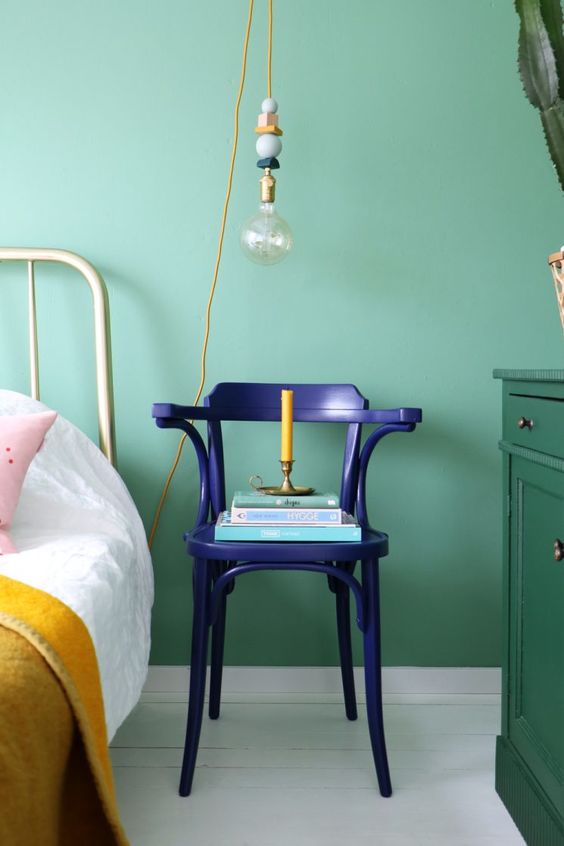 23. Mustard velvet bed
This dramatic mid-century style bedroom is sophisticated and luxurious thanks to the velvet quilted bed frame and hotel-luxe style white linen. A muted, nostalgic palette of mustard, pastel blue in the radio and mint green in the lamp, the colour scheme is then freshened up with lots of white.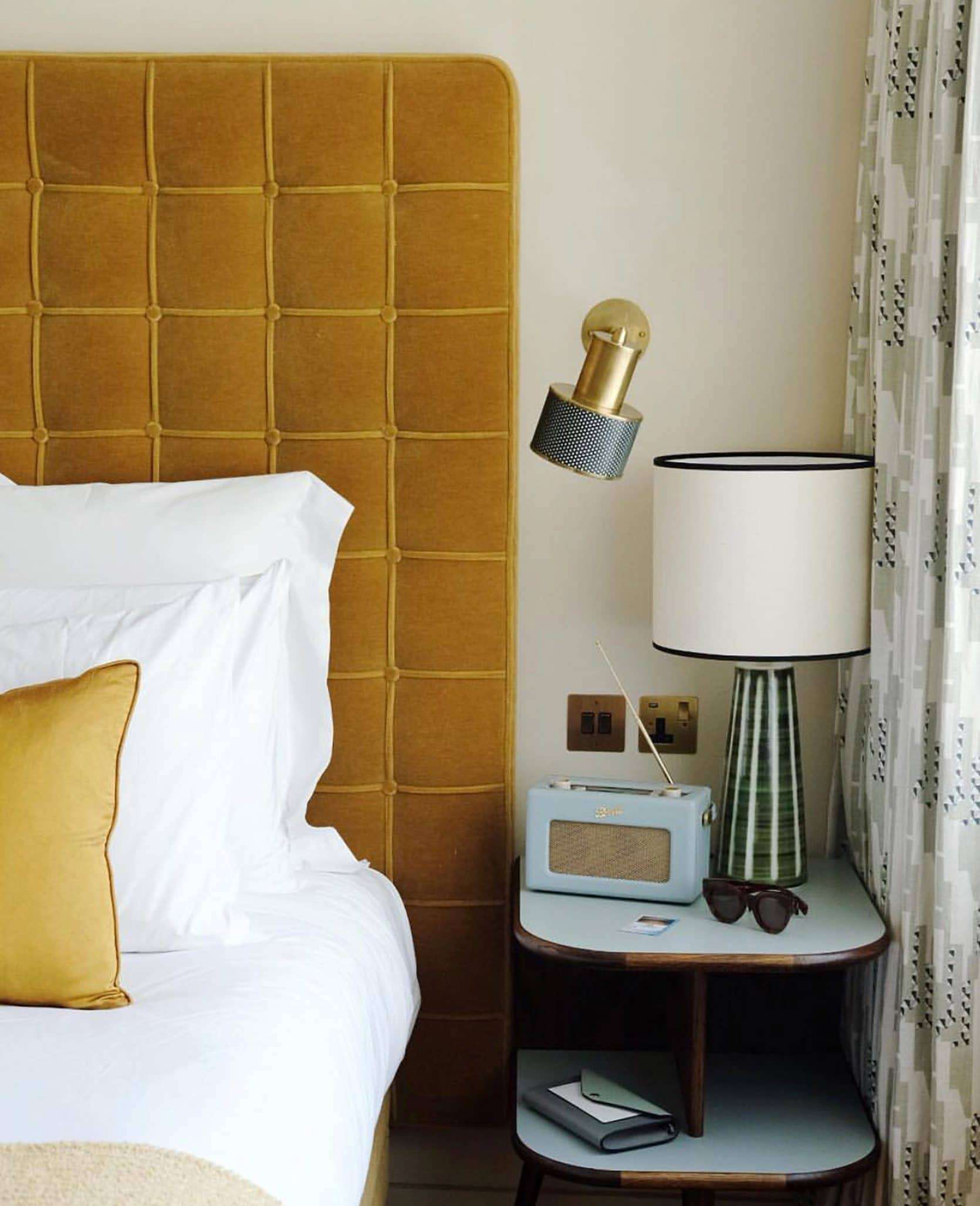 24. Yellow lamps and bedding
Here I have another grey and yellow bedroom, this time in a mid-grey with deep mustard, with white breaking up the two saturated colours. Once again I'm loving the bedhead ledge—they're just so practical and enable you to switch up your bedroom look with absolute ease. I'm also loving the daffodil yellow vintage extension lamps that add further harmony while contrasting nicely with the grey wall.
25. Yellow buffalo print
This cheerful little attic bedroom has rustic and Boho flavours thanks to the idiosyncratic mix of decorative elements and the plentiful natural materials used. Adding to the personality and character is the colour clash of the yellow buffalo print quilt with its apple red tassels. A little yellow lampshade and a few throw cushions in yellow tones keep it all cohesive.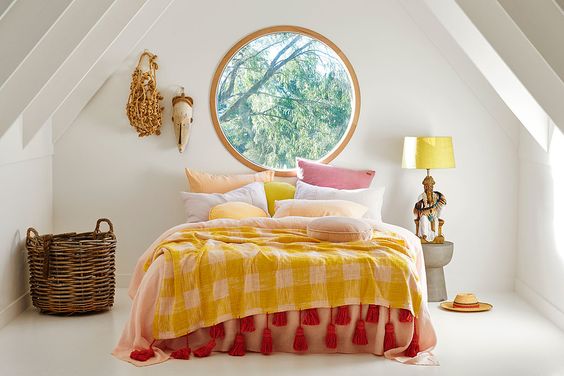 26. Half moon velvet bedhead
For a sleek, luxurious look, you can't go wrong with a velvet bedhead, and I love this burnt yellow, half-moon shaped one that resembles the sun setting. It looks beautiful in this dark grey setting, which is also brightened up by the pale timber bedside and the gold table lamp. Charcoal with metallic mustard is definitely a match made in heaven!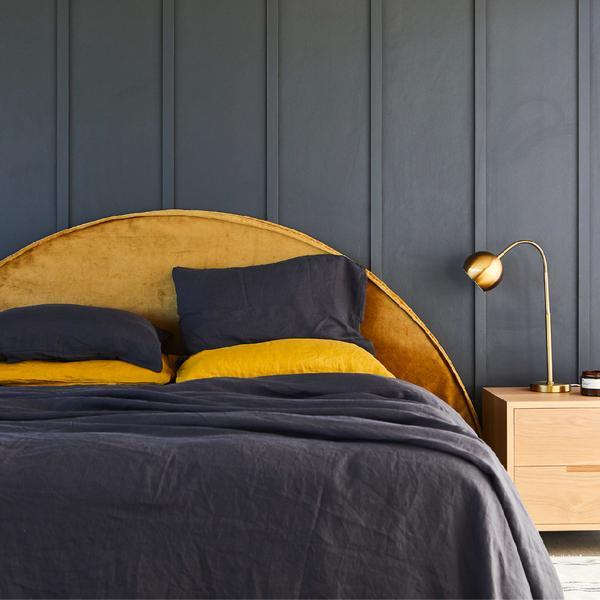 27. Coastal cool
Here's another bedroom with a breezy, summery colour palette including pops of yellow. This space relies on soft furnishings to build up the eclectic colour scheme, mixing and matching bed linens in a variety of prints and colours, from textural checks to florals to abstract designs to solid colours. I love the combination of the mid-grey carpet with a pastel pink rug, and the cute pastel vintage fan as well.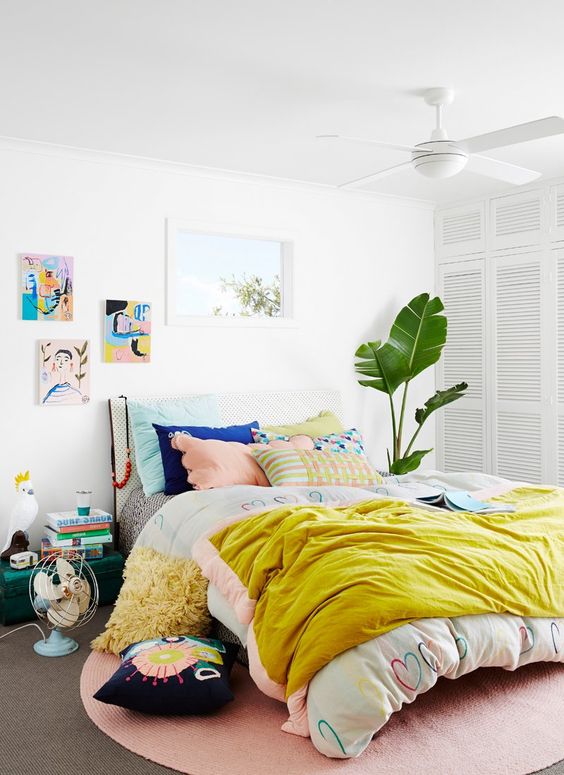 28. Sunny yellow accessories
This Swedish apartment boasts an appropriately Scandi style with plenty of wood and white, punctuated with cheerful, sunny yellow accents. Plenty of storage space here! If you need any assistance with installing built-in wardrobes. You might also just need a hand with a wardrobe or dresser assembly.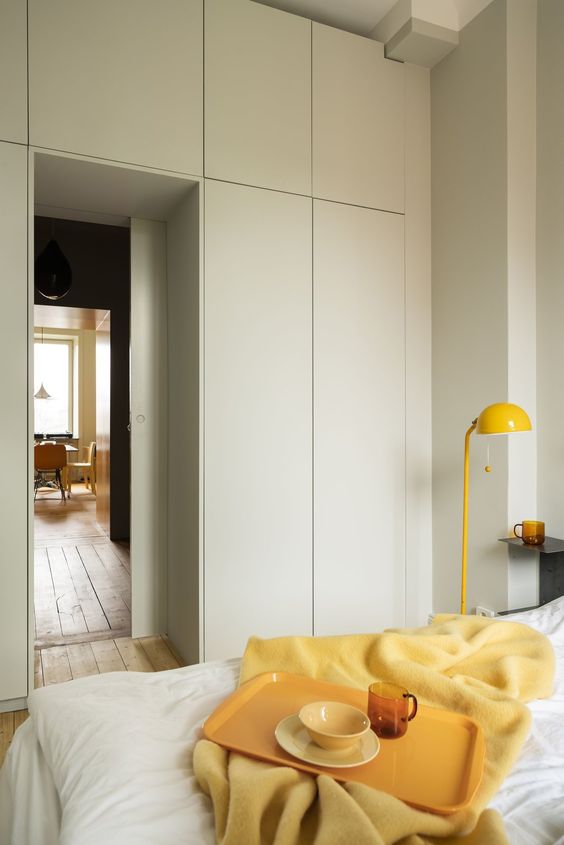 29. Boho glam
This dark bedroom is transformed into a cosy, warm one through the use of golden yellow in the velvet bedhead, with the yellow preventing the darkness from being too overwhelming. The space is full of retro charm and glam Boho touches, like the animal print cushions, fluffy bedspread and the metallic décor elements. Also, once again, you can see how beautifully blush tones pair with vibrant yellow.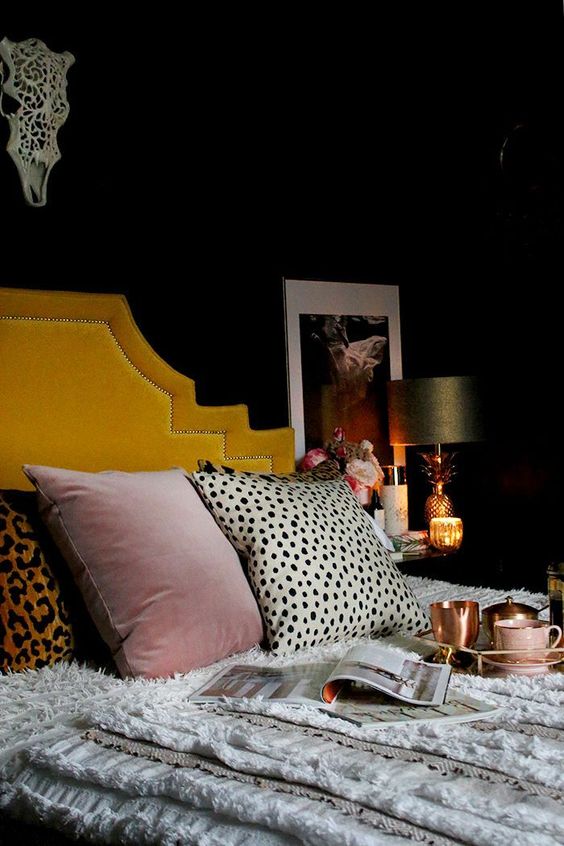 30. Yellow throw
Adding yellow to your bedroom can be as simple as incorporating gold elements and a mustard-coloured throw. This elaborate and unique bedframe in the all-white painted space, coupled with the tasselled throw, patterned bedding, elaborate mirror and carved dresser, gives this room strong Moroccan vibes.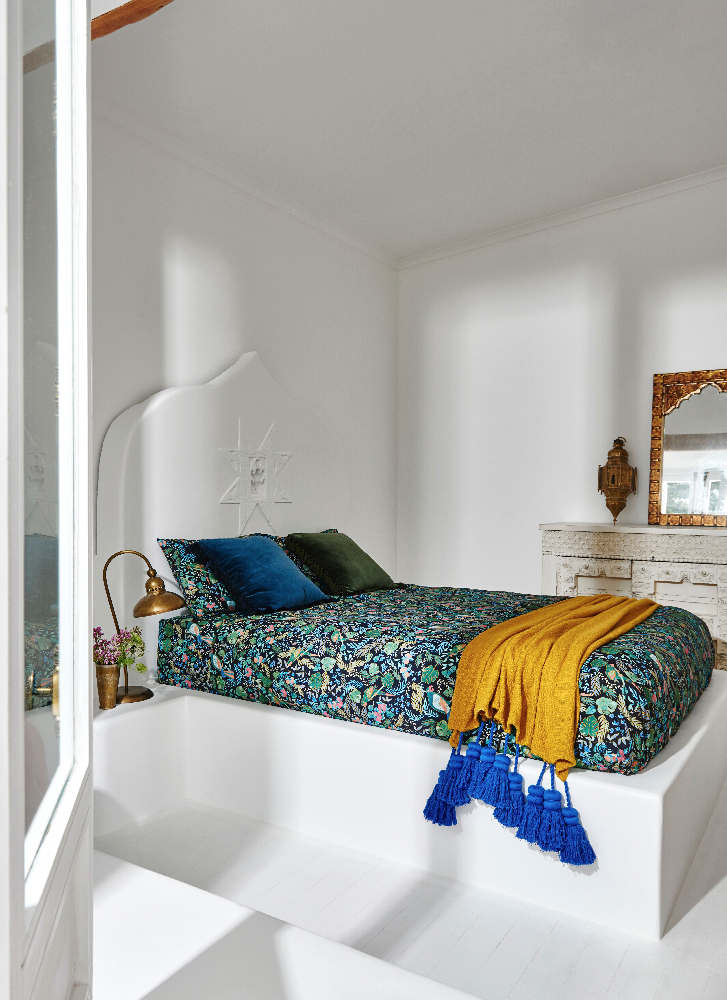 Source: We Are Scout
31. Orangey yellow tones
Is it orange, or is it yellow? Perhaps somewhere in between? Either way, it's a colour that works so well in a boho bedroom like this. Just mix it with lots of natural materials like raw timber furniture, seagrass baskets and sisal rugs, and you have an instantly rustic, natural vibe. Hat walls are an easy way to bring character into the room as well.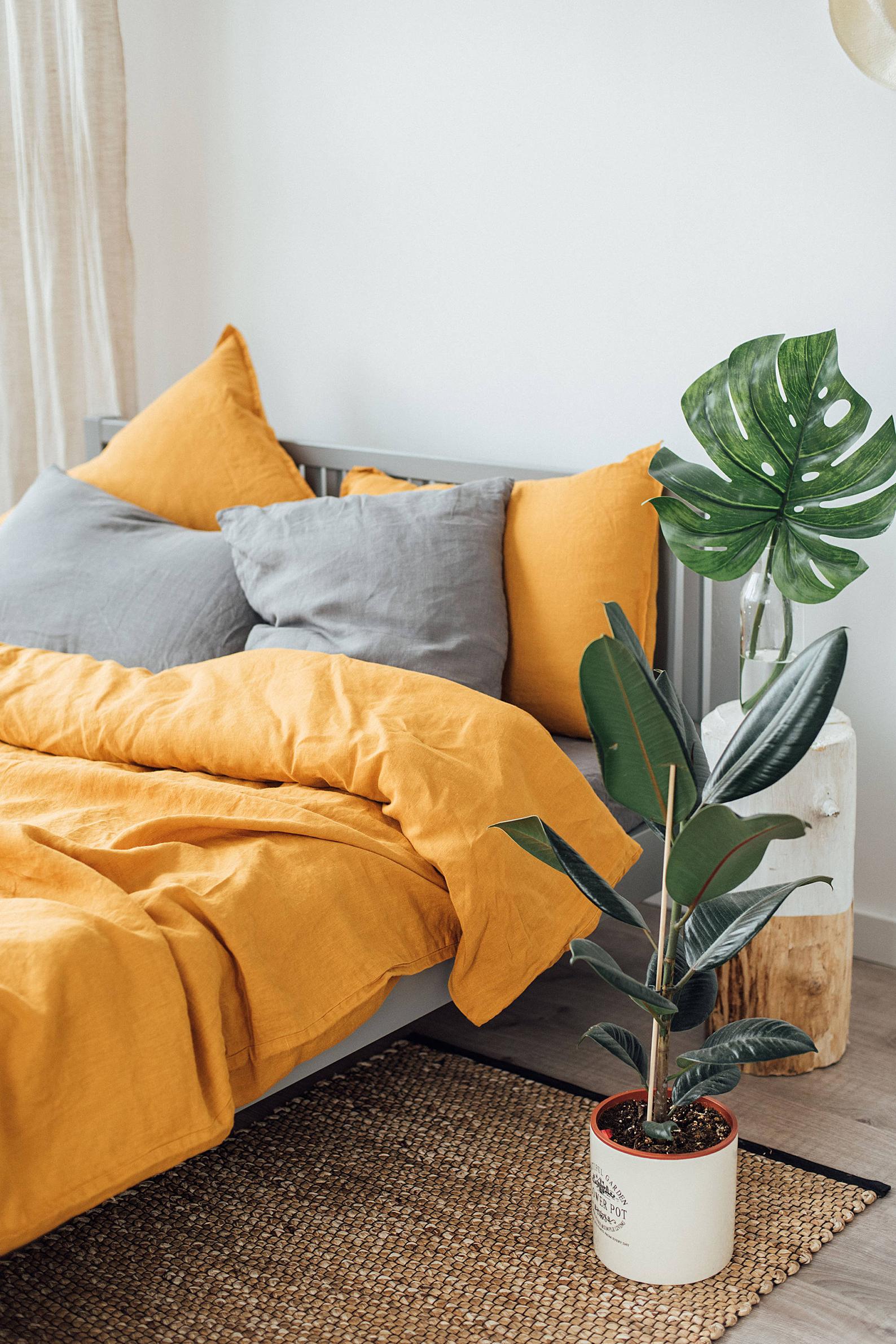 32. Yellow and pink
A pretty, feminine bedroom here, with a beautiful bright palette of lemony yellow, candy pink, teal and white. I love the flower-like pendant lights and how the top half of the walls have been painted pastel pink above white wainscoting. And the little bedside locker adds a little industrial character to the space. What a happy space to wake up in!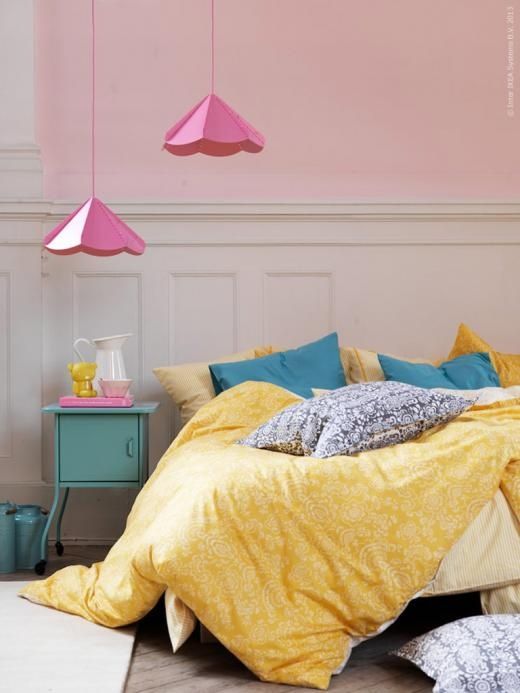 33. Raw edge yellow half wall
This may look familiar as I've shown you similar bedrooms with yellow half walls, above. Here the look has been given an even more modern feel with a raw paint edge, the irregular lines repeated in the scalloped pillow hems.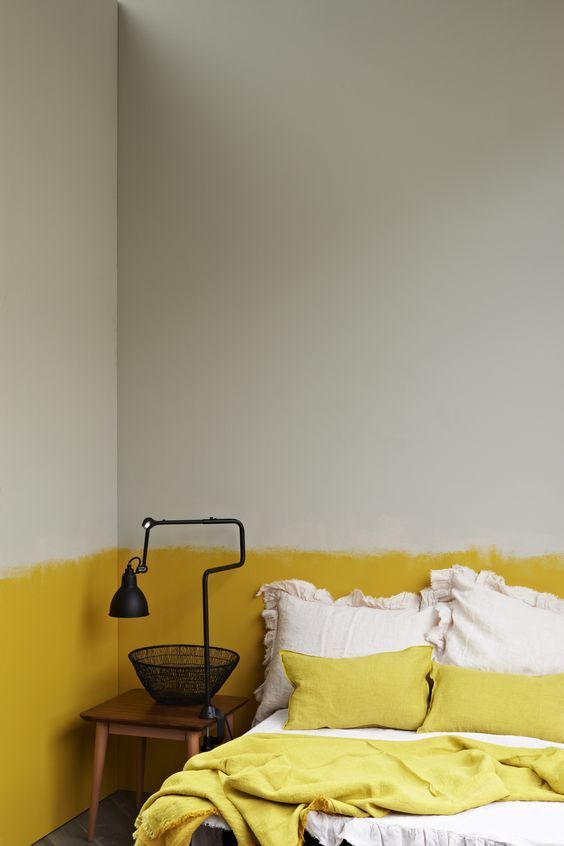 34. Quirky yellow bedside
A corn-on-the-cob bedside table is a light-hearted touch in this colourful eclectic bedroom. I love the rattan bed frame and the teal velvet, leopard print and pastel pink bedding. And that plant is doing very well!
If you want to bring a touch of humour into your bedroom space, a quirky little yellow bedside like this will provide a nice pop of colour as well as that touch of whimsy.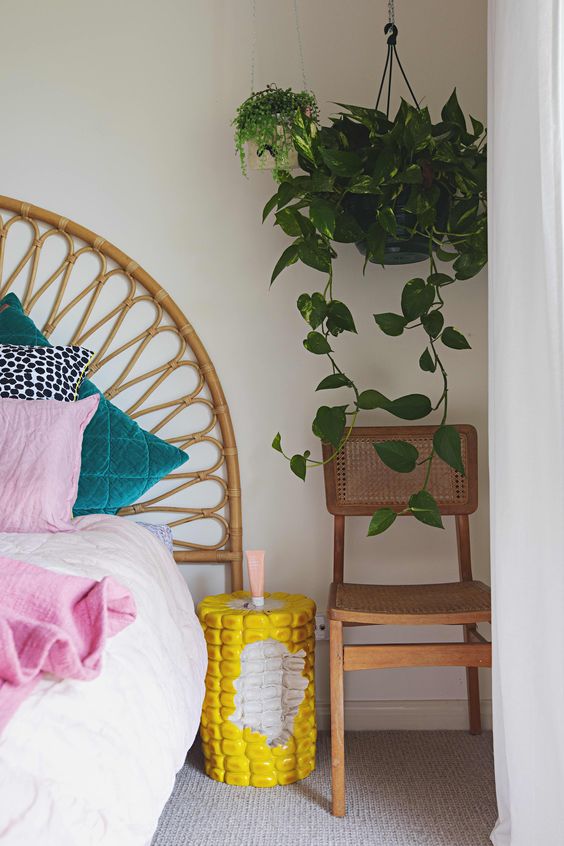 35. When life gives you lemons
With yellow and purple being complementary colours on the colour wheel (that is, they're opposite each other), shades of these colours go very well together. In this bedroom, a delicate soft pastel lemon contrasts beautifully with the muted purplish tones in the artwork. A bolder yellow bedside holding a soft pink vase completes this harmonious look.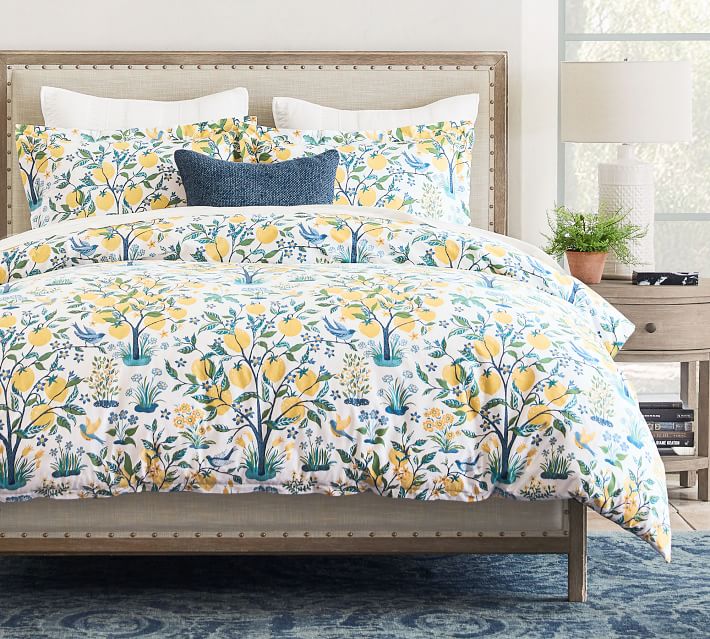 Bedroom colour schemes can be tricky, especially with a bold colour like yellow. So if you'd like some professional help with your bedroom to revamp, you can find a home decorator to consult with near you. Or, get some more bedroom ideas first. And if you have flatpack or other bedroom furniture needing assembly, you can find someone to handle that for you too.
So there you have 35 ideas on how to incorporate yellow into your bedroom. How do you feel about decorating with yellow? Let me know in the comments!