Boho design is so in right now. Everywhere you look, designers and savvy home DIYers alike are adding natural, Bohemian touches in every way they can into homes. Why? It's the modern equivalent to the shabby chic beachside living we saw last decade, but it's so much more adaptable as it works in everything from countryside estates to urban inner-city apartments. So what does a Boho bedroom look like?
Well, the real hero at the moment is rattan or cane, and it's having a huge revival. And then you just need to combine either of these options – macrame, hanging plants, linen, tassels, Morrocan or cowhide rugs, leather and other natural materials.
So how do you create your own Boho bedroom? Well, I've done the digging for you and found # incredible Boho bedroom ideas.
1. Rattan headboard
Here it is – the rattan headboard. This is an absolute staple in your Boho bedroom. And the great thing is that they come in all shapes, sizes, colours and patterns. There are rattan headboards that are round, square and curved. Some are more simple and understated while others exude flair. Whatever one you choose, it will be sure to make sure the bedroom feels instantly Boho.
And you can amplify the Boho flavour with a matching rattan lamp. Want an eye-catching light like this? Once you've picked your fave, get it hooked up with your pendant light installed by a qualified electrician.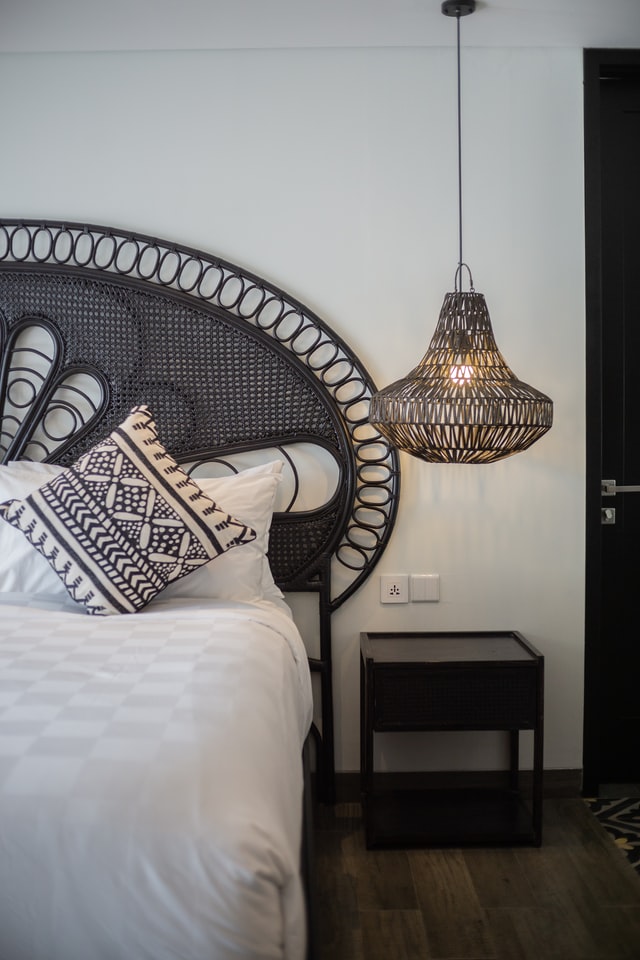 2.  Macrame touches
Here's another good old Bohemian staple – macrame! This decorative braided piece is the perfect thing to place on your wall. After a decades-long hiatus, the trendy textile has come back on the style scene over the last few years and in a big way! If you have a knack for DIY, you'll be able to find some great blogs with step-by-step instructions for making your own macrame wall hangings or other decor—or you can find plenty of macramé products pre-made by artists on Etsy or other marketplaces.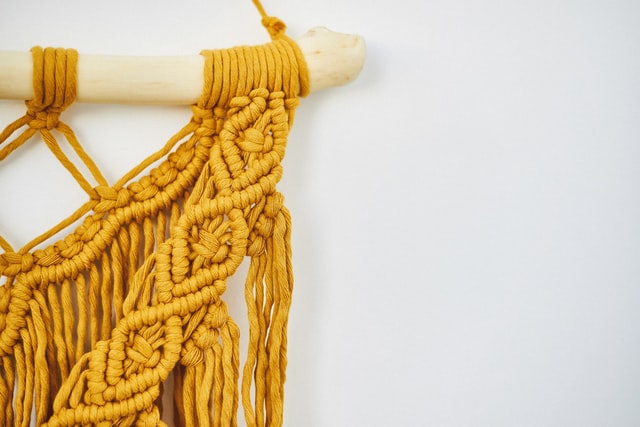 3. Retro Bohemian
Go all out with colour by creating a bright and bold Boho bedroom filled with all sorts of interesting treasures with patterns galore. The addition of a colourful rug is an easy way to add colour and interest so it makes a great starting point for your Boho bedroom design.
4. Let the light in
How gorgeous is this stunning light-filled bedroom? It's truly gorgeous, and what really draws my eye is the curtains. I love how they are sheer and drape down beautifully. Choosing a white or sheer curtain like this will soften the rest of your space. And you can easily glam it up with a gorgeous vintage ceiling fan like this.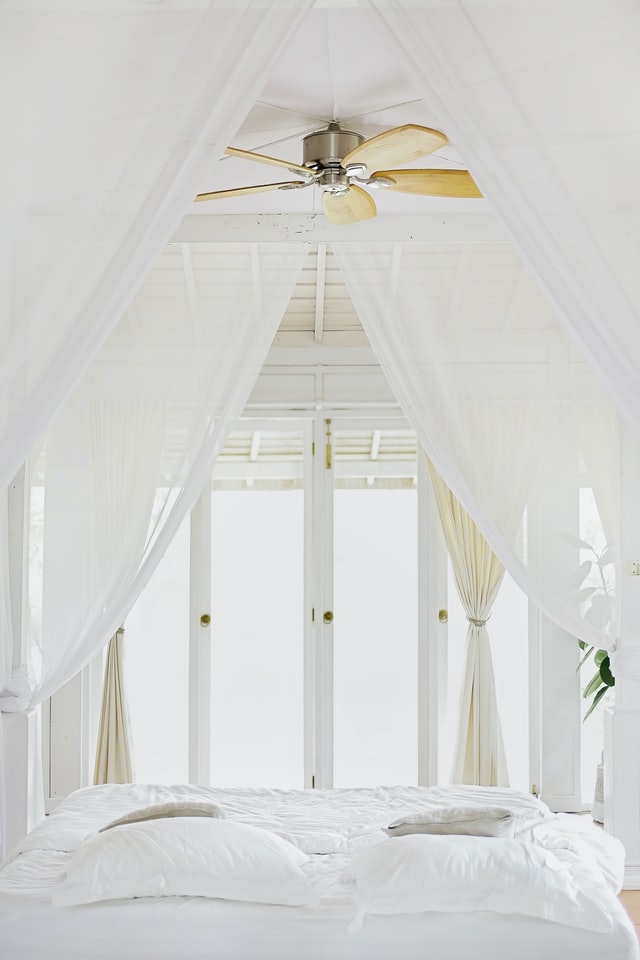 5. Timber touches
Timber is another mainstay of Boho bedrooms. And it looks perfect when combined with rattan – the two seamlessly go together! I love this honey-coloured dresser. Add even more functionality by having floating shelving installed above.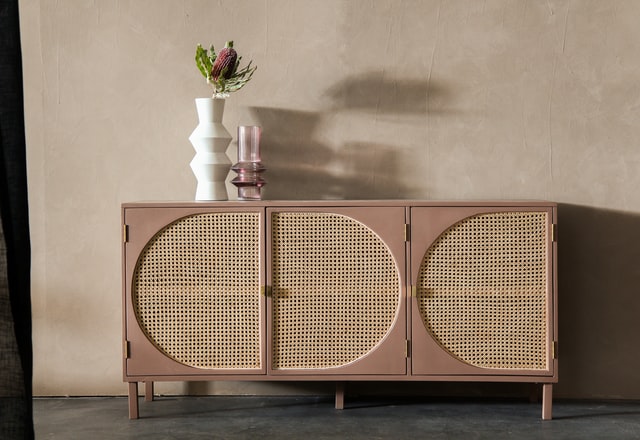 6. Minimalist Boho
It doesn't have to take a lot to create a Boho bedroom. While you can go all out with statement pieces, you can also keep it relatively minimalist. The trick here is to make the right choices when it comes to the items that you will use. For example, a simple timber bed sets the perfect foundation and can be dressed up with a simple white cover, cushions and a throw. Add a shaggy rug under the bed, a rattan pouf, and lots of greenery!
Don't forget to work in some clever bedroom storage. It may be as simple as little hooks added to the wall to hold handbags, pictures and more. And a floating shelf is always handy!
7. Rugs galore
One quick way to make your bedroom a Boho oasis? Add a rug or two. Multiple rugs on the floor will make your bedroom super cosy. And the best thing is that you can combine different colours and textures for a unique look.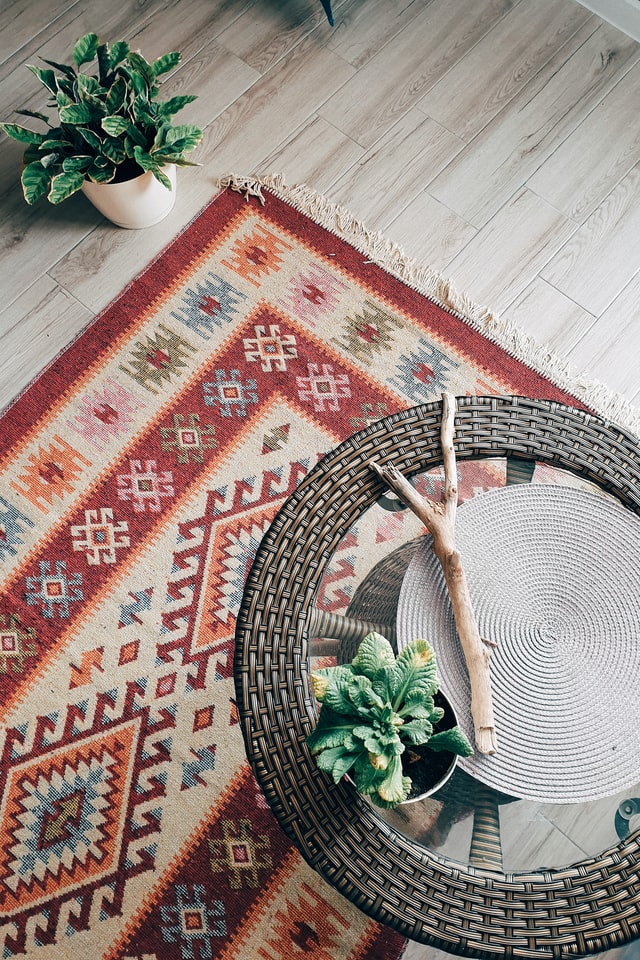 8. Simple bedside
A raw wood bedside table like this one is ideal to achieve the Boho look. Especially if you use it to display Boho decor, whether it's bedroom plants, a little sculpture, or a stack of appropriately Boho-themed books.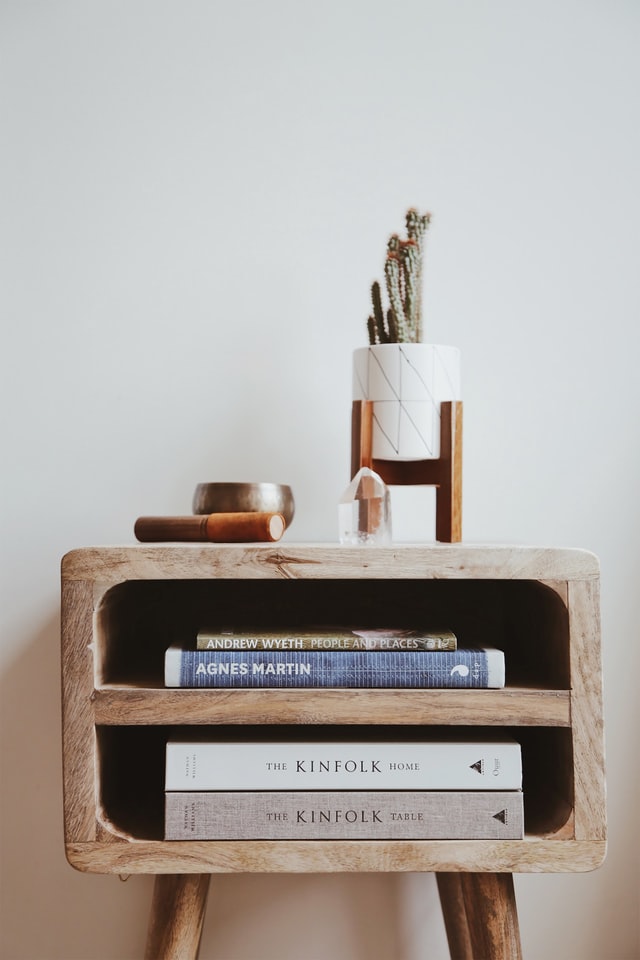 9. Fun wall art
Whether it's gorgeous bedroom wallpaper, artworks, or a quirky unique sculptural piece like this, decorating the walls is a mainstay of Boho interior design.
Love wallpaper? Once you want a change of pace, you can learn how to remove wallpaper yourself or get someone to take down the wallpaper for you and reinstall a new wallpaper print.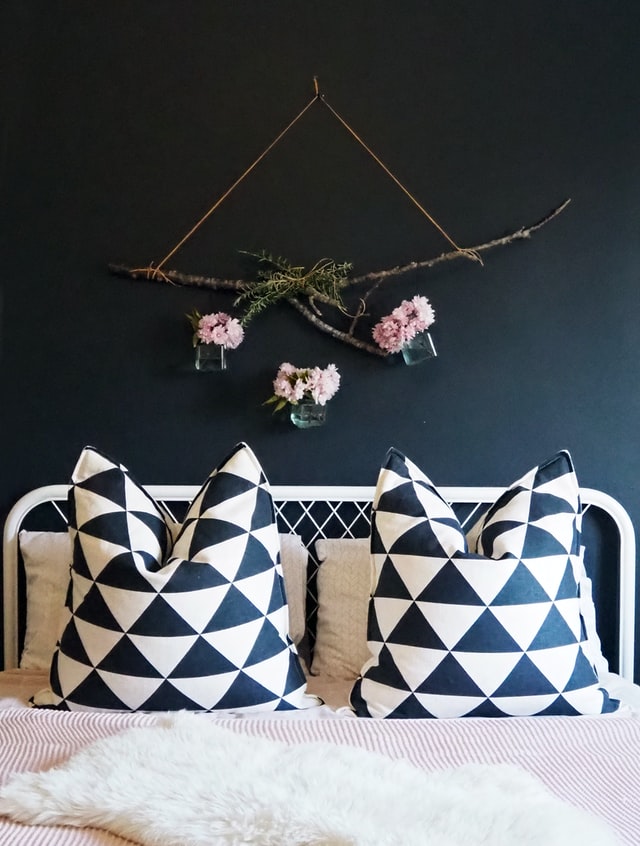 10. Scandinavian style
If you prefer to steer clear of all the colours and keep things more on the neutrals side, then this kind of Boho bedroom is for you. It's essentially Scandinavian style but the addition of woven baskets, plants and of course the patterned rug make it feel Boho.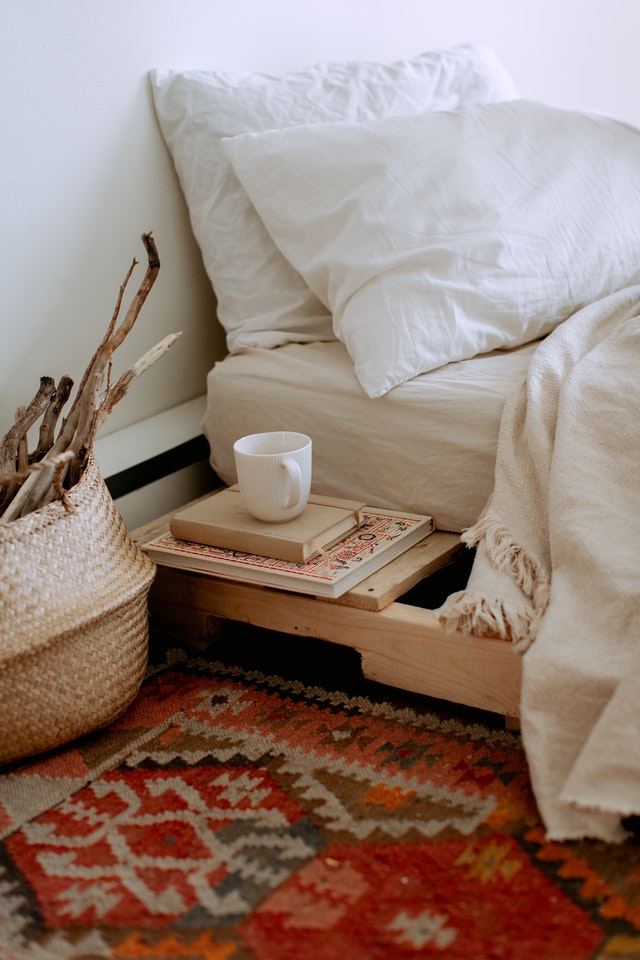 11. Basket lights
Here's another Scandi-inspired bedroom that's light and minimalist in colour. But it's made Boho with the addition of that fabulous basket covering the light. Muted earthy colours work perfectly too, as well as adding a dash of pattern with a cushion.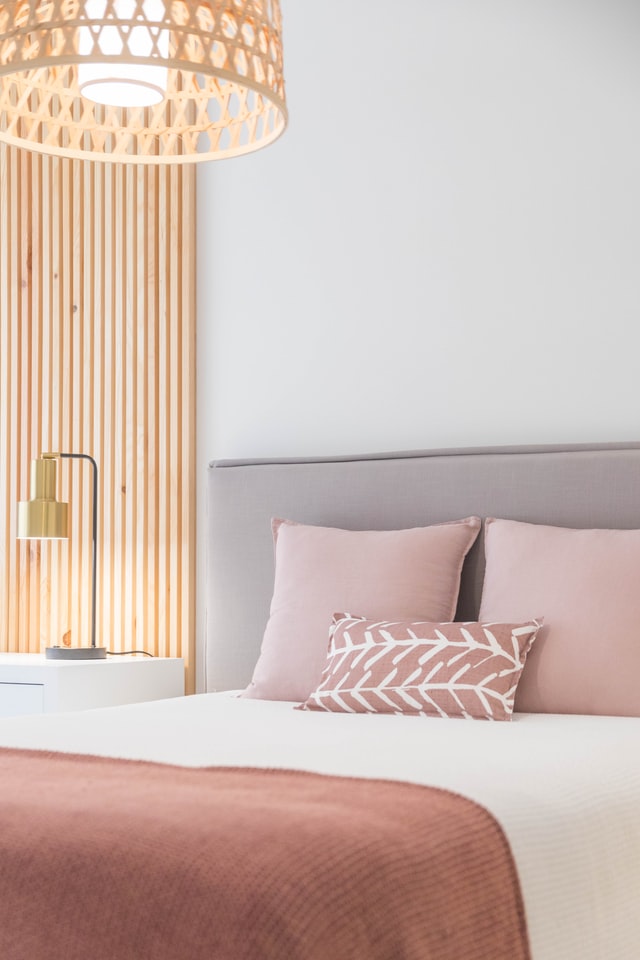 12. Study nook
Considering setting up an office nook for 2022? If you're contemplating designating a wall of your bedroom to a study nook, then opt for vintage furniture (this shadow box hutch is amazing!) for that Boho flavour.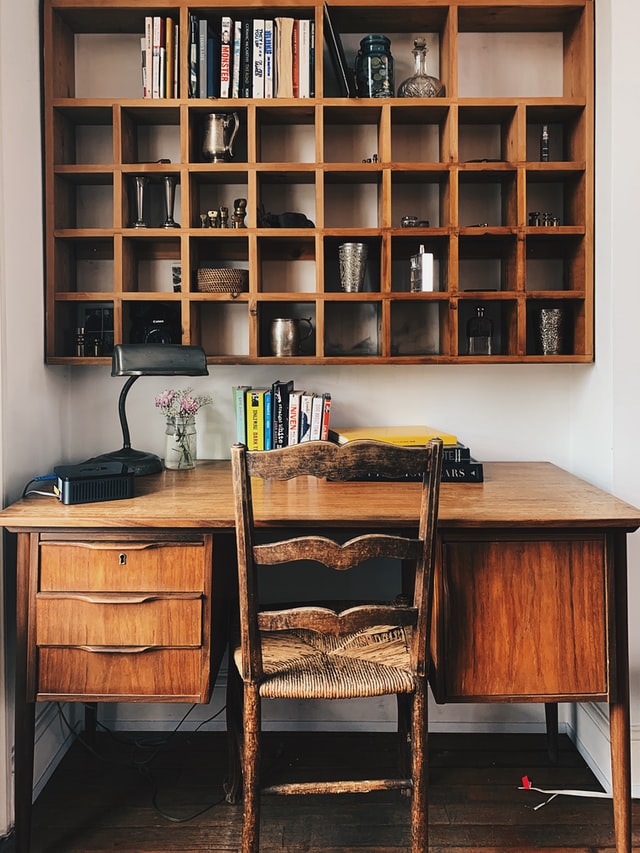 13. Vases of flowers
Add colour and life to your bedroom (and make it just a touch Boho) by placing a fresh bunch of flowers in a vase next to your bed.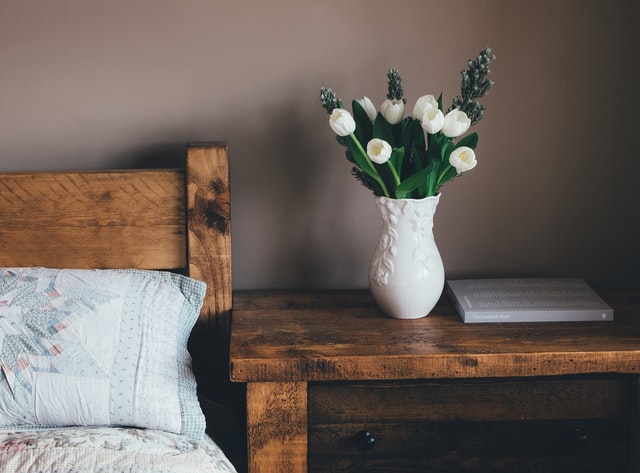 14. Jungle style
Green, anyone? This bedroom is very Boho indeed and it's fascinating! While there are a few vine plants hanging around, the real heroes of this design are the idiosyncratic arrangement of plant holders and containers.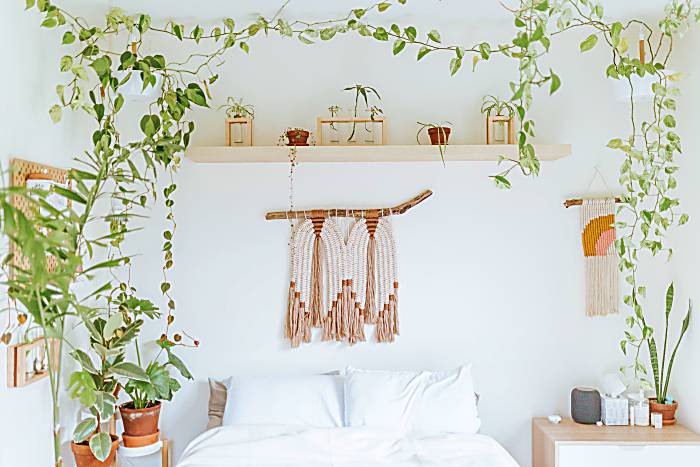 15. Hats on the wall
The clever design trend of having hats arranged on the wall has sprung up over the last few years and I'm here for it. The best thing about it is that it doesn't require you having to buy something completely new. If you have hats lying around the house, simply hang them up on the wall! You can also create detail and add interest by layering them at different heights.
16. Simple stripes and patterns
For a modern take on a Bohemian bedroom, stripes are a great way to add patterns to your bedroom. But if stripes are too basic, consider ethnic patterns and designs as these work perfectly with the Boho aesthetic.
17. Tassels galore
There's nothing more Boho than tassels. So if you're wanting to make your bedroom Bohemian style without moving around the furniture, purchase a couple of tasselled pillows and add them to your bed. Plus, they work perfectly with other textures, like leather or fluffy textiles.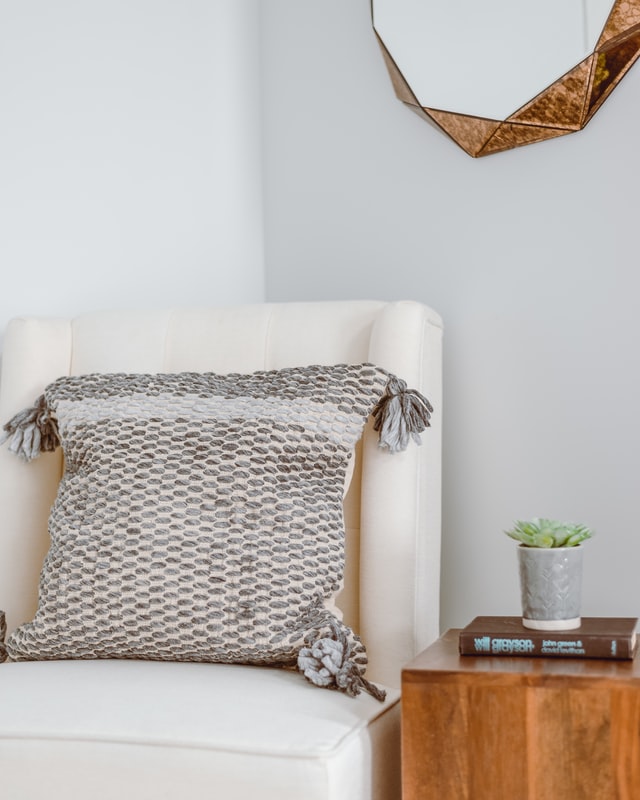 18. Scandi simple
Here's another minimalist Boho design in all of its glory, featuring muted tones, unusual wall treatment and a rattan peacock chair.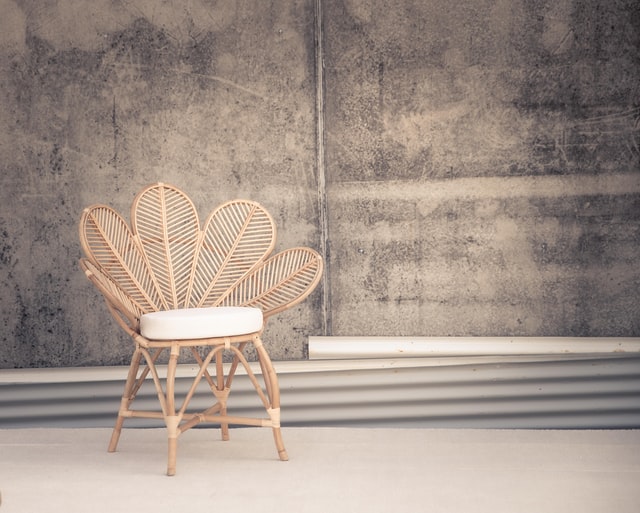 19. Dried flowers
These beauties are all the rage right now and it's easy to understand why. Purchasing fresh flowers each week can be a drain on the bank account. So why not keep your space looking pretty all year round with a perfectly curated dried bunch?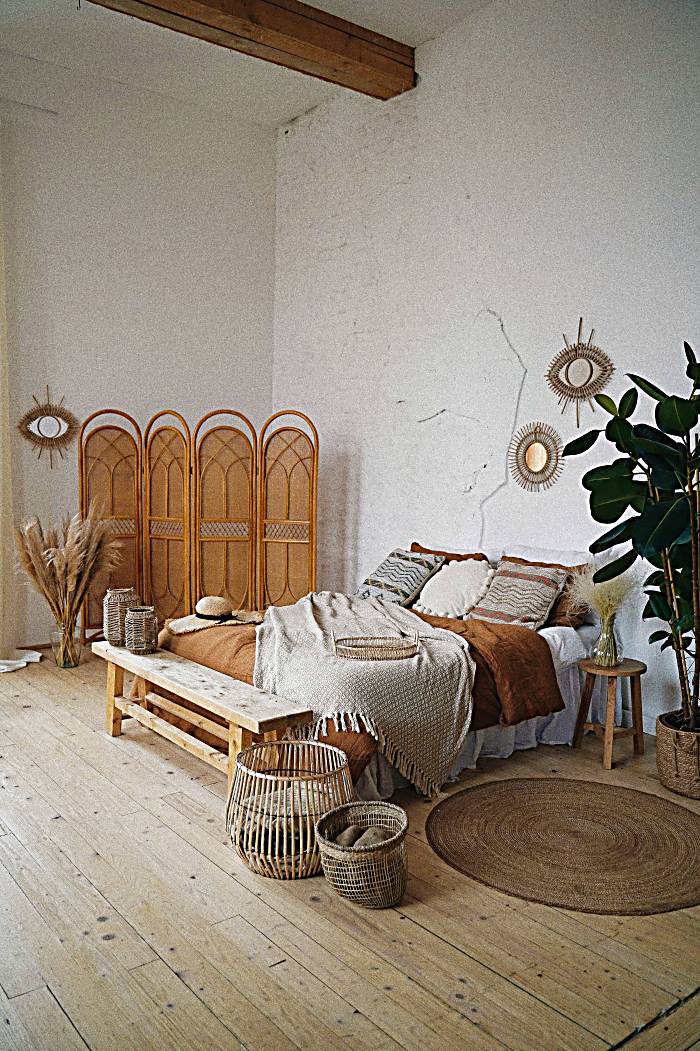 20. Exposed brick
Want to spruce up your space? Create a fabulous feature wall. And when it comes to Boho design, texture is everything so an exposed brick feature wall would be ideal.
21. Colours galore
On the other hand, if you're a maximalist and colour is your love language, then a full Boho melange of colours and patterns will be more your style. Remember with Boho, more is usually more – so pile on the patterns, textures and bold colours.
22. Plant paradise
Calling all plant lovers – this is the bedroom for you! If you've got a green thumb (because let's be real, you're going to need one…), then why not go wild with potted plants. Just make sure you water them regularly and you'll be in paradise!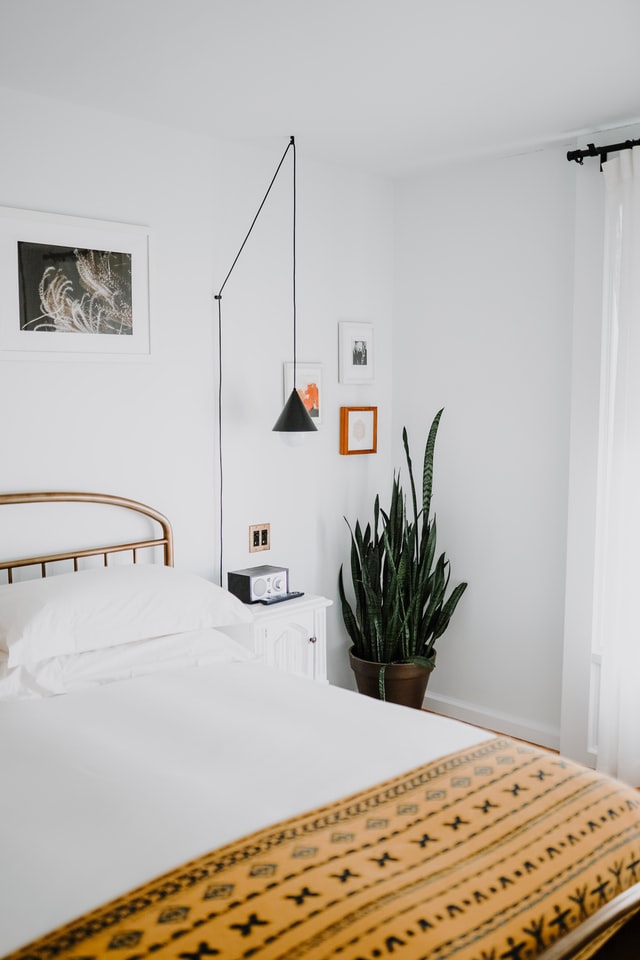 23. Boho touches
How gorgeous is this Boho bedroom? Paying attention to the details really does matter when creating your Bohemian bedroom. With a few choice pieces (like a teepee) and the right colours (think warm nature tones), you can have a beautiful bedroom just like this one.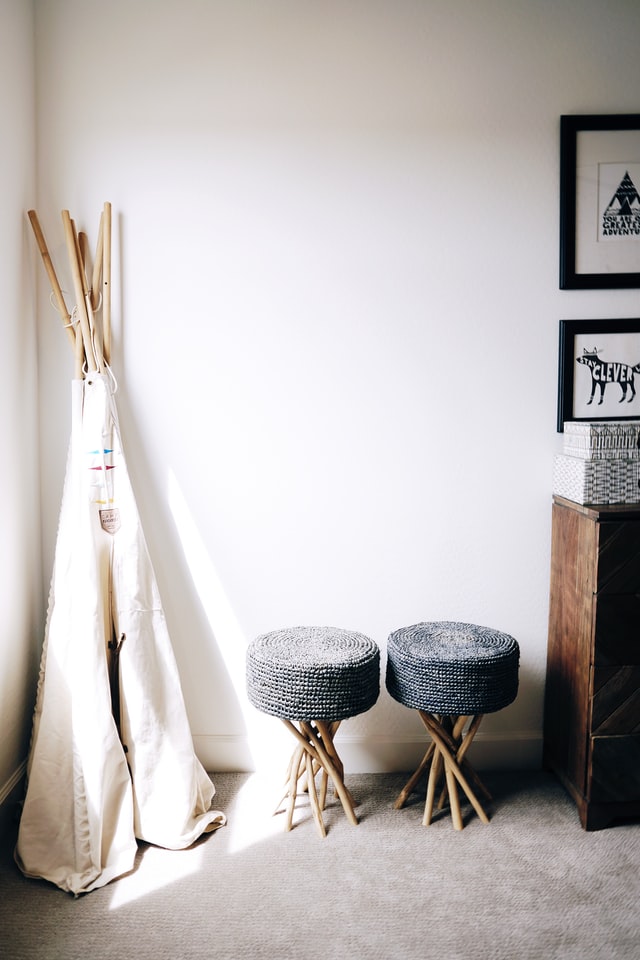 24. Crisp white
Nothing can beat a clean, white foundation. And this bedroom is the perfect Boho-white combo. Those sheets look super comfy and cosy and how cute is the pompom throw? Add a simple white lamp, plenty of lush plants in white pots, and you have a serene sleep space with that Boho flavour!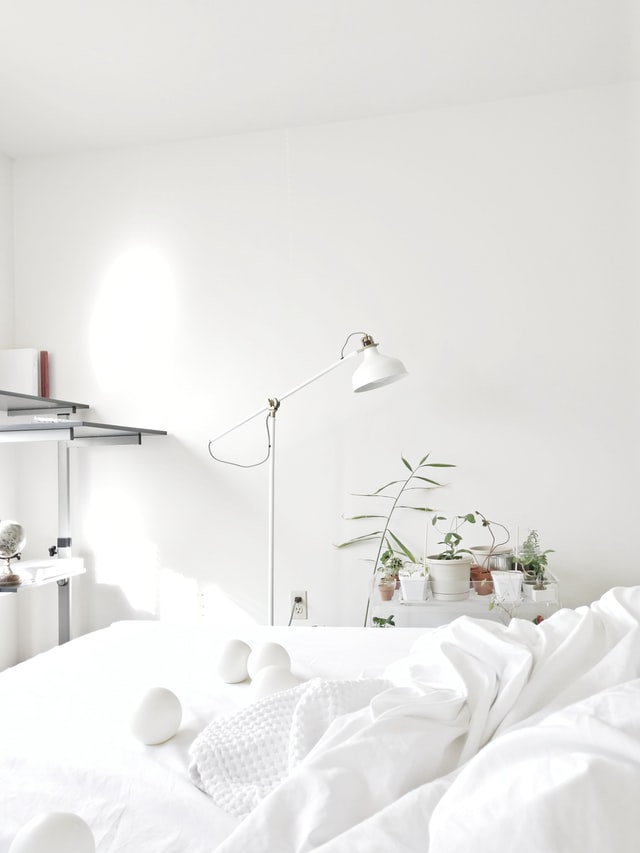 So, there you have it – 24 incredible Boho bedroom ideas. Which ones were your favourites? My personal favourites were anything with greenery. I'm a big plant lover, so the more the merrier! Plus, I also love all of the rattan touches – they're so in right now and add lots of warmth to any space. I'd love to hear from you! So before you go, comment and tell me which idea you're going to try out.