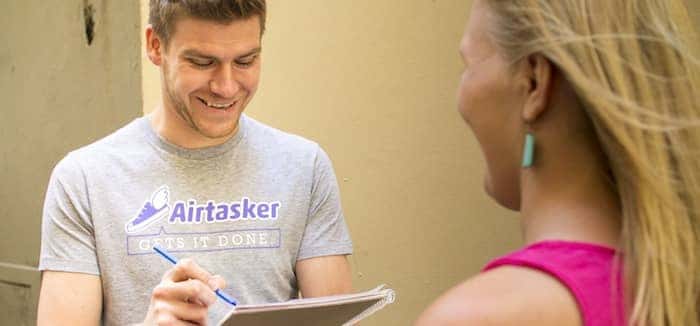 Successful marketing campaigns usually come down to great strategy and planning, however it doesn't often require a huge team throughout the entire process, but rather just the implementation towards the end. Businesses are able to achieve maximum exposure during the implementation period by a hiring marketing 'army' in a low-cost and efficient way via online outsourcing.
Here are 10 tasks that smart businesses are outsourcing:
Marketing Promotions
1. Flyer handouts: With online marketing becoming so competitive, many of our customers are turning to fail-proof ways of getting their message into the hands of their customers – by handing out leaflets (or samples) in high traffic areas like train stations, festivals, conferences or events.
2. Letterbox leaflet distribution: An oldie but a goodie, especially for local businesses. Many of our business customers complain that when they distribute leaflets to letterboxes through Australia Post or similar, their leaflet gets bundled in with about five other catalogues too, which "dilutes" their effectiveness. To make sure that marketing messages are reaching customers directly, many businesses are hiring Airtasker workers to distribute their catalogues in targeted suburbs and areas.
3. Telesales or customer outreach: There's nothing more effective or important than keeping close contact with your actual customers. Whether it's setting up appointments for new business, calling existing customers to generate repeat business or handling customer service, hiring someone to be the "friendly voice" of your brand can pay huge dividends.
Market Research
4. Product or website testing: Building a new website or mobile app? Most startups or web agencies will still tell you that the most effective way to gather user feedback is to invite a sample from your target market to try your product right in front of you. You can watch their actual reactions, record their on-screen behavior and then conduct interviews to find out the "why" as well as the "what". Plus, there's nothing like meeting your actual customers face-to-face.
5. Data Collection: Smart businesses collect data. Whether it's keeping an eye on your competitors' stores or marketing via smartphone photos, collecting survey responses at a shopping mall or finding out the prices of products sold at various outlets – many of our users are taking advantage of the "army" of thousands of smartphone-equipped Airtaskers positioned all over Australia who can easily perform simple actions like taking photos, collecting brochures or other data collection. Thought some data was just too hard to get? Not anymore.
6. Focus group or interview respondents: If you're looking for a solution to a business problem or feedback on a new idea, running focus groups or in-person/telephone interviews can be one of the best ways to start collecting qualitative data. It's also a great way to set the tone for quantitative research. A very common posted task is to attend a focus group session. You can screen people for suitability and you'll only every pay for the people that you actually need.
7. Mystery shopping: If you sell a product through a retail distribution chain, it's hard to know what exactly the customer is experiencing in store. Is your product displayed correctly? Has the customer service representative been briefed? Is your product even in stock? Intelligent businesses are now taking advantage of a distributed Airtasker workforce to find out what's happening at the store front, anywhere in Australia at very cost effective rates.
Events
8. Event staff: Hosting an event for your staff, colleagues or customers? If you're looking for help with serving drinks, greeting guests or hosting fun and games, local outsourcing is a great way to find reliable local staff and there is no shortage of experienced hospitality workers with RSA qualifications.
9. Event photography: Make sure that you make the most out of your events by capturing quality images and video – a great way to share memories with guests or create content for social media. To make sure you capture as much content as possible, hire one or more photographers so you can relax and enjoy the event.
10. Setup and Cleaning: No matter how good you are at event planning, there's always a massive rush just a few hours before the guests arrive. Ease the stress by hiring one or two spritely event helpers who can be on standby, ready to pick up an extra bag of ice, put up decorations or assist with laying out tables, chairs and place settings.