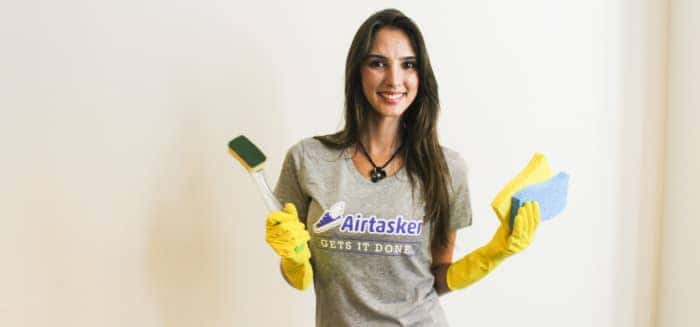 I'm not sure about you, but getting stains on my clothes is a regular occurrence and if I happen to be throwing a dinner party there's bound to be wine spilt on the tablecloth, floor or more commonly both. If you asked 10 people the best way to removed a red wine stain, I guarantee that you'll get a variety of responses, so I thought I'd put my MythBusters hat on and look at the myths vs. facts of stain removal. Here are the results…
The Myths vs. Facts of Stain Removal
1. Myth or fact – Hairspray removes ink stains
It's been debated whether hairspray removes ink on laundry items e.g. sheets and clothes, and while there has been some instances where its been successful, it should be approached with caution.
Hairspray contains alcohol so it shouldn't be used with certain types of materials as it will do more harm than good and leave behind another stain for you to deal with. Make sure you look at the garment tag and dry clean if recommend, if not a few washes will see the ink come out eventually.
Answer = Myth

2. Myth or Fact – WD-40 for Crayon stains
For all the mums and dads out there I'm sure you've had the problem of giving a child a pen, texta or crayon and as soon as you've turned your back they've drawn on the walls, sofa, themselves or even you.
While for the material stains I recommend looking up the manufacturer website, WD-40 will remove crayon stains from a variety of surfaces such as wood, walls, and most other surfaces. Give it a try next time, might be easier than some very exhausting scrubbing with spray and wipe.
Answer = Fact

3. Myth or fact – Rub the stain to remove it
Your first instincts tell you that you need to get rid of that stain as quickly as possible, which means you'll start rubbing and scrubbing the stain because it's the fastest way to remove it.
Find out the ultimate cleaning tools must-haves and other hot tips
But stop, right there! Do not rub a stain ever because you're only rubbing it in further. The best way is to use a damp cloth and dab from the outer to the inner part of the stain.
Answer = Myth – dab it!!

4. Myth or fact – Soda water/ white wine/ salt removes red wine
Picture this – You're hosting a dinner party, everyone is a bit merry and all of a sudden someone has spilt red wine all over the carpet. Next thing you know people are telling you to five different ways to get the stain out and with a barrage of theories it can get a bit confusing. Here are three common theories:
Salt can stop the stain from setting so you have more 'thinking' time to consider which removal option your going to go with.
White wine should be poured on top of the spilt red wine. Well, I can't say I've tested this one but apparently it neutralises the red colour. Have you tried it?
Soda water (aka water with bubbles) is a party favourite, however there's no chemical reasoning as to why it would work more than ordinary water. The stain removal community is largely divided – have you got a preference?
The overall conclusion is that you could add soda water, wine or vinegar straight away but whatever you do, dab DON'T RUB as it will only make the stain worse.
What do you think? Got any other theories or disagree with any of the above? Let us know, we're keen to hear!
We always have someone on Airtasker to help you! If you need someone with loads of know-how and experience make sure you post a home cleaning task on Airtasker today!