Wallpaper is back and it's looking better than ever! From subtle seagrass textured wallpapers to loud tropical prints, you can really achieve any interior design style that you're looking to recreate in your bedroom. So here are 25 bedroom wallpaper ideas that will pleasantly surprise you.
1. Floral feature
Make a bold statement with an oversized floral feature wall! This wallpaper is made up of peony roses which look so beautiful I can almost smell their sweet scent permeating from the walls. When your wallpaper is this beautiful and interesting, you won't need to go to too much trouble with the rest of your decor. Just some simple pieces to compliment the wall and your space will be complete.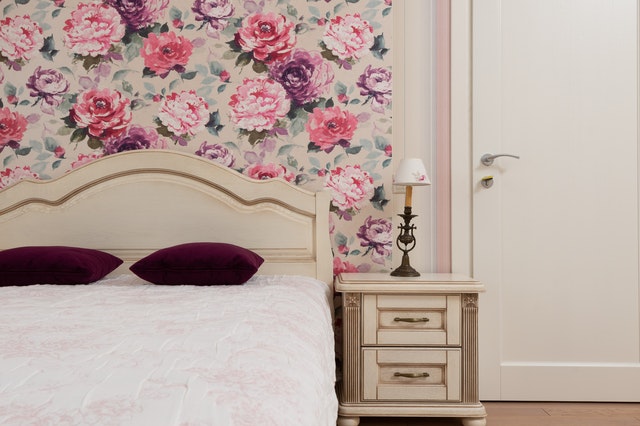 2. Muted geometry
Here is another very muted, yet effective colour palette! I love how this bedroom almost looks like it has a black and white filter over it. The wallpaper adds so much interest to the wall here, and those statement black pendant lights make a wonderful feature against it.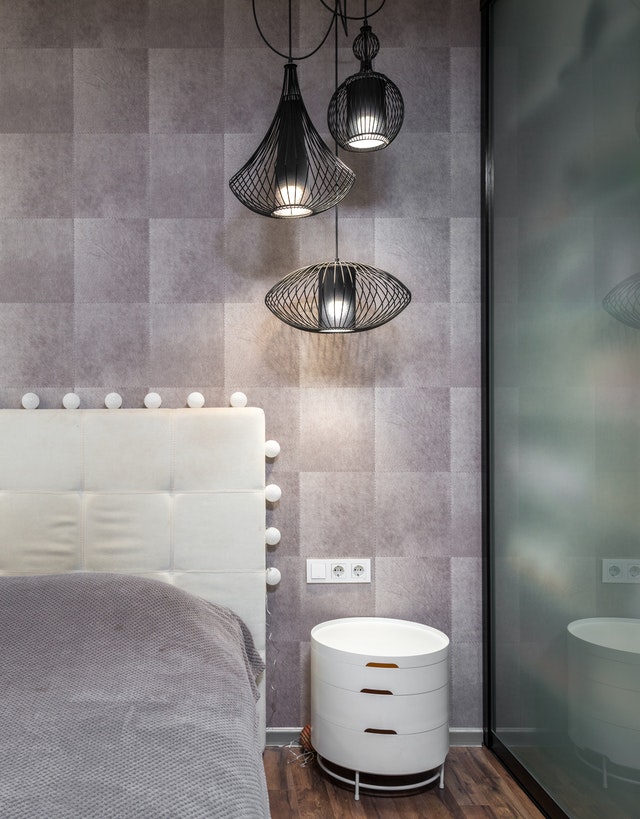 3. Blue hues
Blue is so calming so it's the perfect colour for a bedroom wallpaper. It's perfect for adding visual interest to an otherwise all-white bedroom, for example. It also works perfectly for a coastal or Hamptons style bedroom!
4. Magical monstera
Wallpaper is a subtle and effective way to create pattern and texture in a simple space. Oversized botanical prints are popular right now, such as a monstera print.
5. Pattern play
This teal and red 3D geometric patterned wallpaper is a bold choice. Simple furniture is all that's needed when you have a dramatic print like this. I love that copper-coloured pendant lamp as well – it provides the perfect accent here.
Wallpaper can be tricky, so it's always best left to professional wallpaper installers.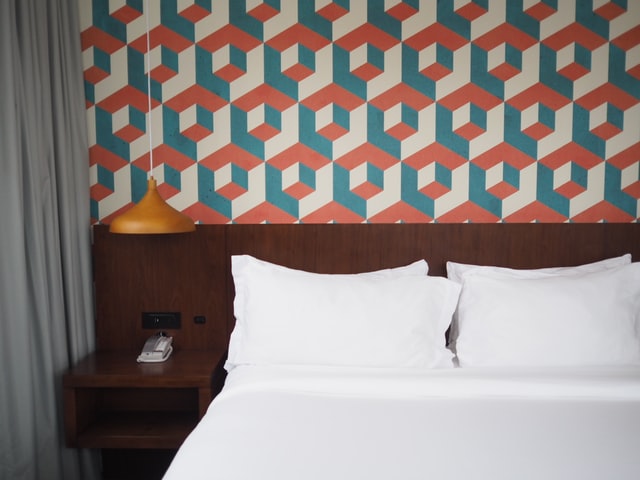 6. Whimsical woodland
I just love a whimsical woodland wallpaper! It totally has the effect of making you feel like an ethereal fairy prancing through the forest. Keep the rest of your bedroom decor natural with raw wood and muted colours for the ultimate in relaxation and serenity.
7. Subtle pattern
I love the beautifully muted colours that make up this bedroom. And the subtle pattern of the wallpaper is just the right amount of texture to compliment the plain colours of the rest of the bedroom.
If you're looking for a grey bedroom, this is the perfect way to achieve it, without it being too… grey.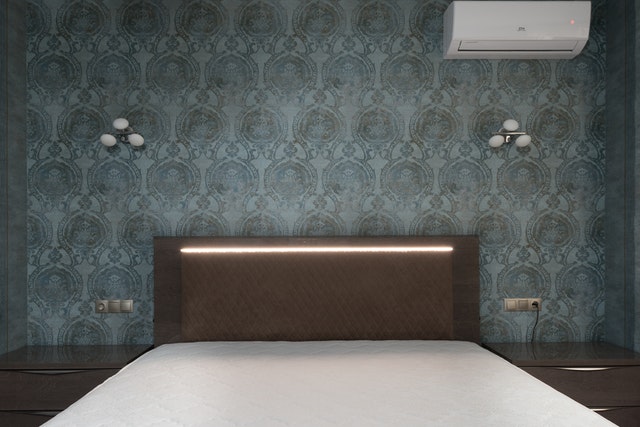 8. Watercoloured petals
If you're wanting to incorporate wallpaper into our bedroom design but don't want anything too bold, then you might like to consider a gentle floral watercolour print. Stunning, soft and so dainty.
9. Coastal serenity
How beachy and coastal is this bedroom. The blue and white patterned wallpaper adds texture and pattern against all the white elements in this bedroom. A simple white timber end-of-bed bench makes everything look so neat as well.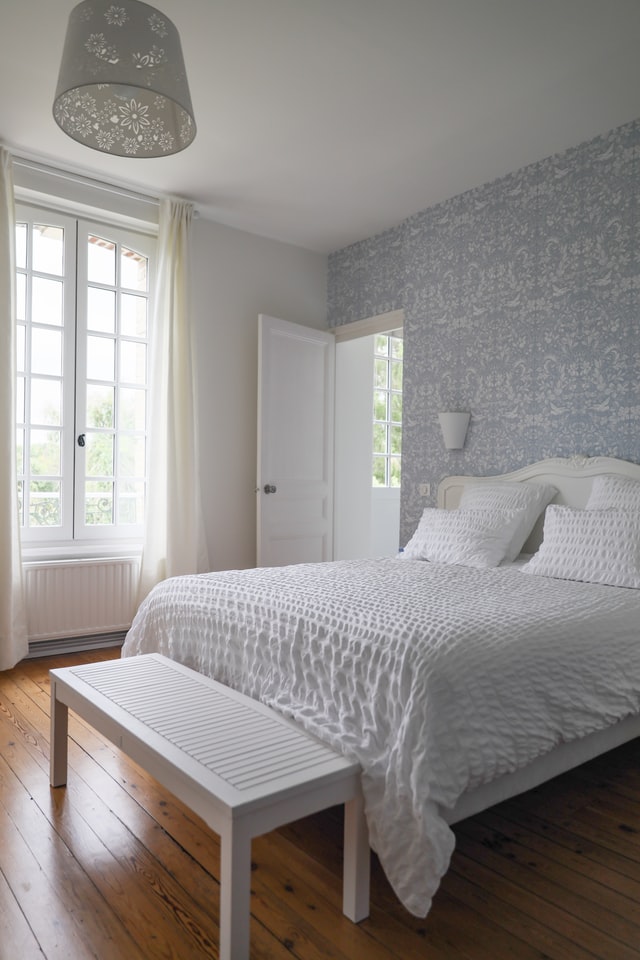 10. Dreamy cloudland
For a dreamy wallpaper to melt into, consider a relaxing sky scene, with soft white clouds and soaring birds. Enhance the effect with sky blue bedding!
11. On the ceiling
Okay, I know it's called wallpaper but wallpaper doesn't always just belong on the walls. Why not try something a little different and put it on the ceiling instead for a dramatic effect, whether you're walking into the room or lying back in bed.
12. Timeless black and white
Black and white is so timeless, so it really is a no brainer. This black and white geo print wallpaper is the perfect backdrop for the bed and decor. I love the popping red light fitting and the matching bed cushion.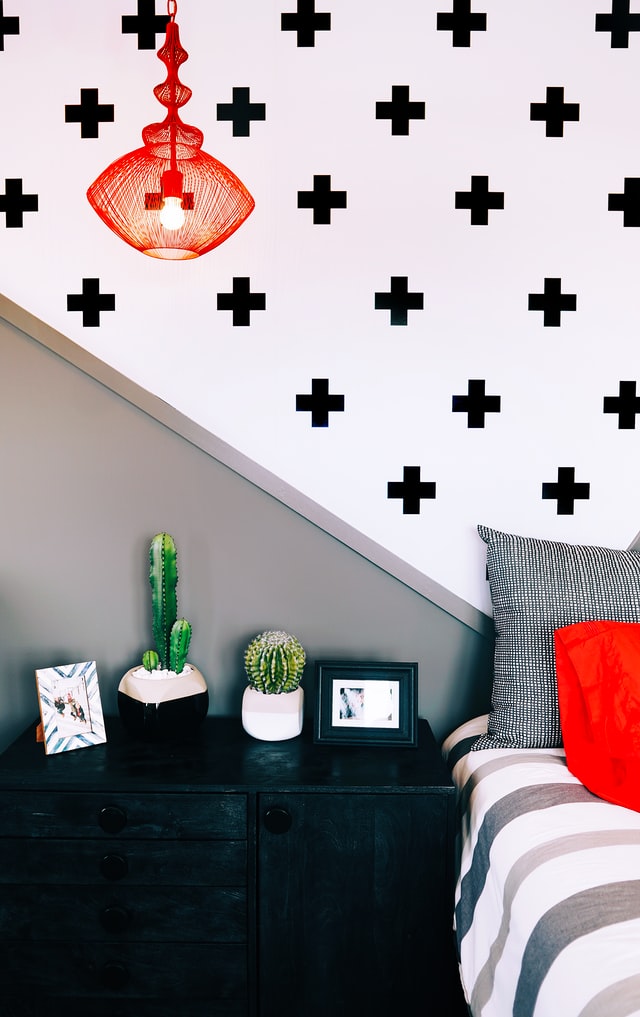 13. Library wallpaper
Always feel inspired by a wall full of books. If you don't have a gazillion books in your collection (and ones that look aesthetically pleasing together), then a faux library wallpaper will do the trick! The vintage look of the books brings so much warmth into a space.
14. Zigzags galore
This zigzag wall adds a touch of fun to this simple contemporary bedroom. When you have a print this dramatic, it's best to limit it to a feature wall rather than overwhelm the entire room. Here, the black and white colours perfectly complement the mostly grey-scale décor.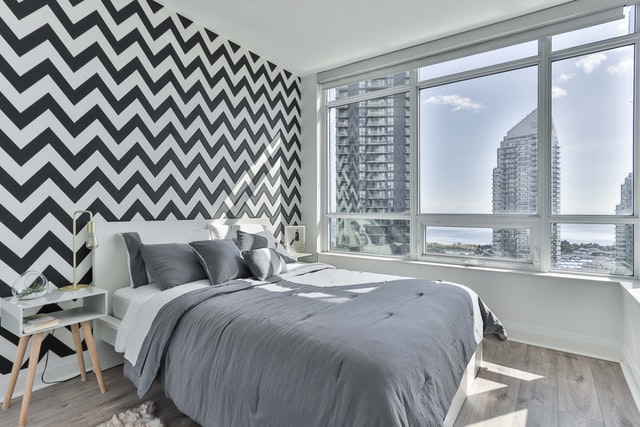 15. Up, up and away
For a cool boy kids room, consider something fun like a wallpaper print featuring hot air balloons all over it. Your child will surely feel like they are going on an adventure every time they enter their room whether they're reading, going to sleep or just hanging out.
16. Textured wash
How beautiful is this textured wallpaper! The subtle texture through the wallpaper creates so much interest. It looks almost like water-colour, or cloud-like. The grey tones are nicely picked up in the charcoal bedhead and silver bedside lamp, while the timber stool bring in some necessary warmth.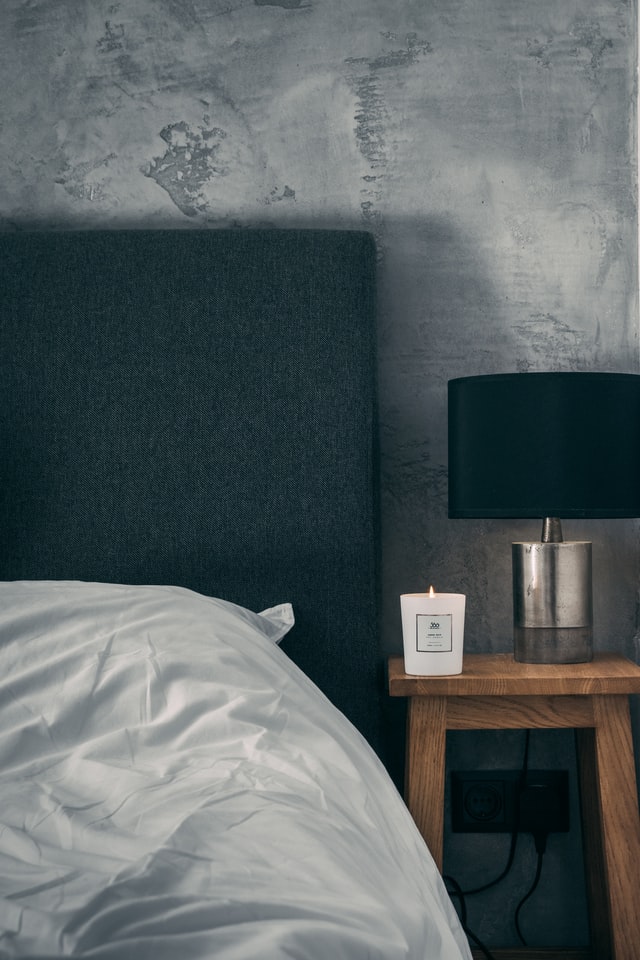 17. Polka dots
Polka dots add fun to a bedroom and, if in a glam colour like gold, sophistication as well. If going for a wallpaper with a gold finish, it's a good idea to bring in other gold elements and décor into the room for cohesion.
18. Vintage vibes
This wallpaper is giving me serious vintage vibes. The muted gold tones are so elegant and classic. I love the pairing of the warm toned wallpaper with the blonde wood furniture and panelling.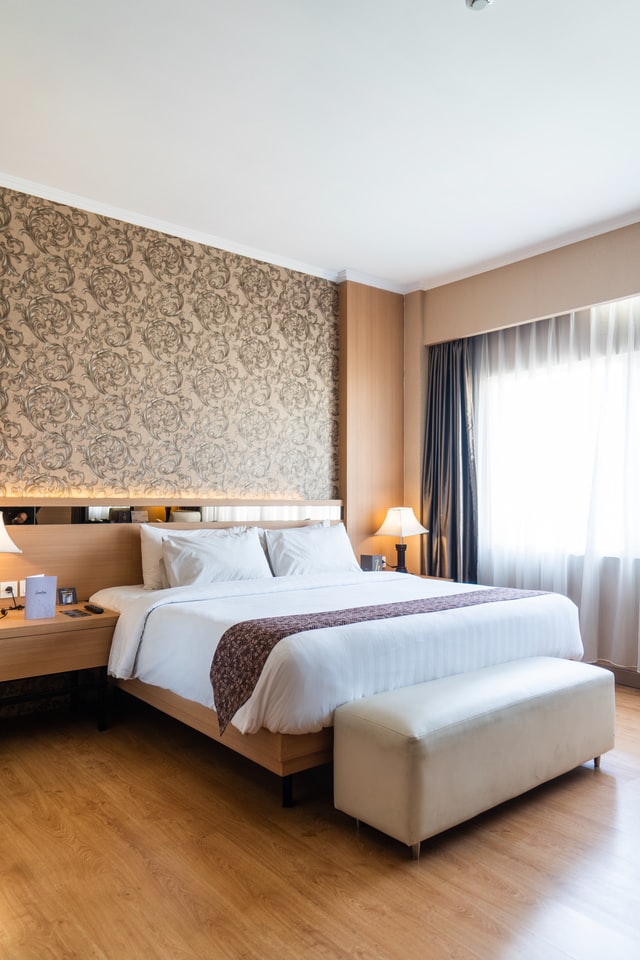 19. Grey sripes
Here is a very on-trend contemporary bedroom. The pale grey striped wallpaper gives a 3D effect and looks great against the mid-grey painted half wall, as well as the rest of the elements in the room. This is how do a grey bedroom right! There's enough tonal variation for interest with small pops of bright colour, and the unique statement light adds life to the greyness.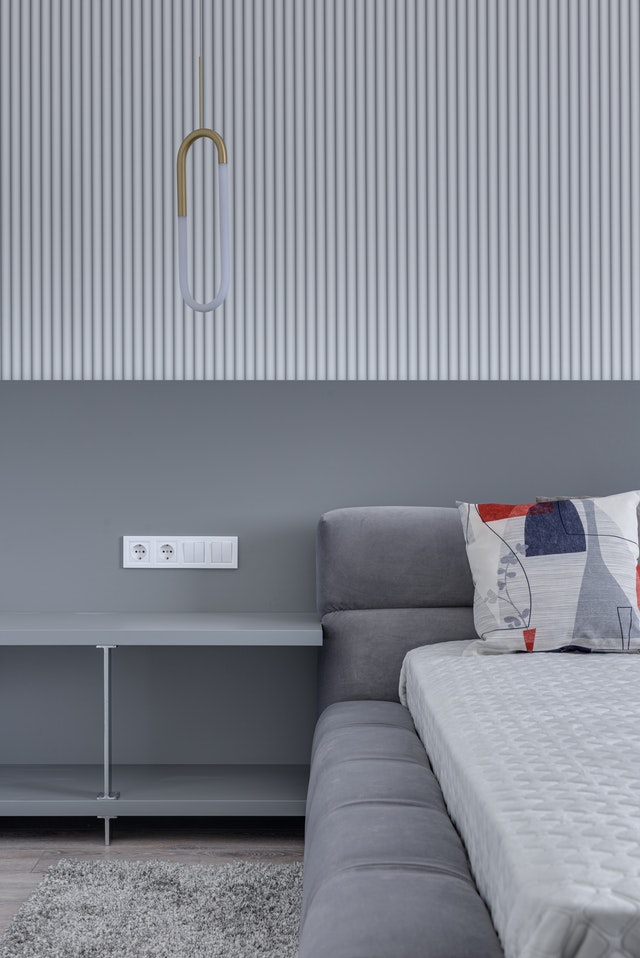 20. Amongst the vines
If you love indoor plants but just can't seem to keep them alive, then why not introduce greenery into your walls?! I love the look of the climbing vines that look as if they are growing wild up, down and across the walls.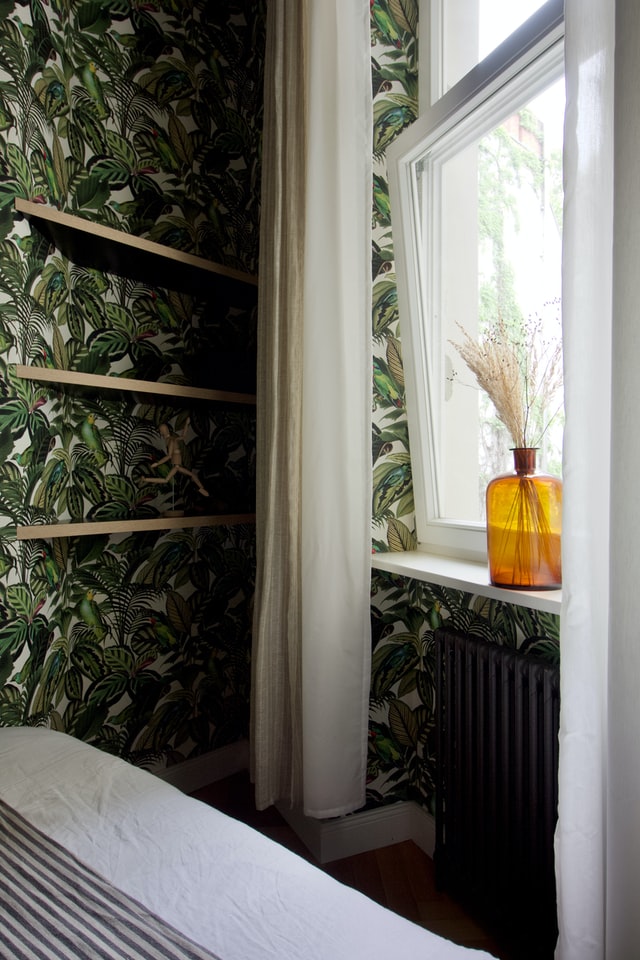 21. World traveller
Hands up if you have the travel bug! If you're now sitting there with your arm in the sky, then a world map wallpaper might be for you! You could even make it an interactive wall and add stickers to track all the amazing places you've been! You could have the world map as a feature on one wall or wrap it around on all four walls to create a very cool effect!
22. Abstract florals
Make a bold statement with an abstract floral design wallpaper. I love that the print is in grey and blue, which really enhances the monochromatic details of the room. I love the unusual black bedframe, and those woven black cushions are a gorgeous finishing touch.
23. Country scene
If you're wanting to bring the beauty of your outdoor surroundings in, or perhaps you live in a city and would like to feel amongst nature, then adding a mural style wallpaper with a country scene will do the trick.
24. Warm and retro
Bring all the warm and retro vibes into your child's bedroom with this beautiful artistic wallpaper mural. Minimalist artworks with simple shapes are so in right now. With lots of colour in your wallpaper, keeping other décor elements all white is a good idea.
If you're looking to design the perfect baby room, here are our top nursery ideas for your home.
25. Gorgeous gingham
And last but not least, don't forget the tried and true look of gingham wallpaper. I absolutely love the classic style of gingham prints. They remind me of a cosy picnic blanket, but for your walls. So classic and on-trend at the same time!
So there we have it, # bedroom wallpaper ideas to inspire even the most indecisive renovator! I absolutely love wallpapers with whimsical scenes that make it seem like you are in a forest, or the really subtle wallpapers that are clean and effortless. What were your favourites? Let me know below!