Your nursery should be a special sanctuary for you and your bub, so you've got to make it comfortable, practical, personal and beautiful. The good news is that there are so many ways to do this. You can incorporate anything from breathtaking mural walls to woven baskets to neutral design or retro colours. With so many ideas, there's bound to be something for everyone! Read on for our amazing nursery ideas.
1. Keep it natural
To achieve a more laid-back natural theme, choose timber furnishings and use earthy tones like a brown, beige and soft peach. Add in a potted indoor plant or two, just make sure they are elevated out of your child's reach or tucked in the corner. Alternatively, there are plenty of pretty impressive fake plants that you can use.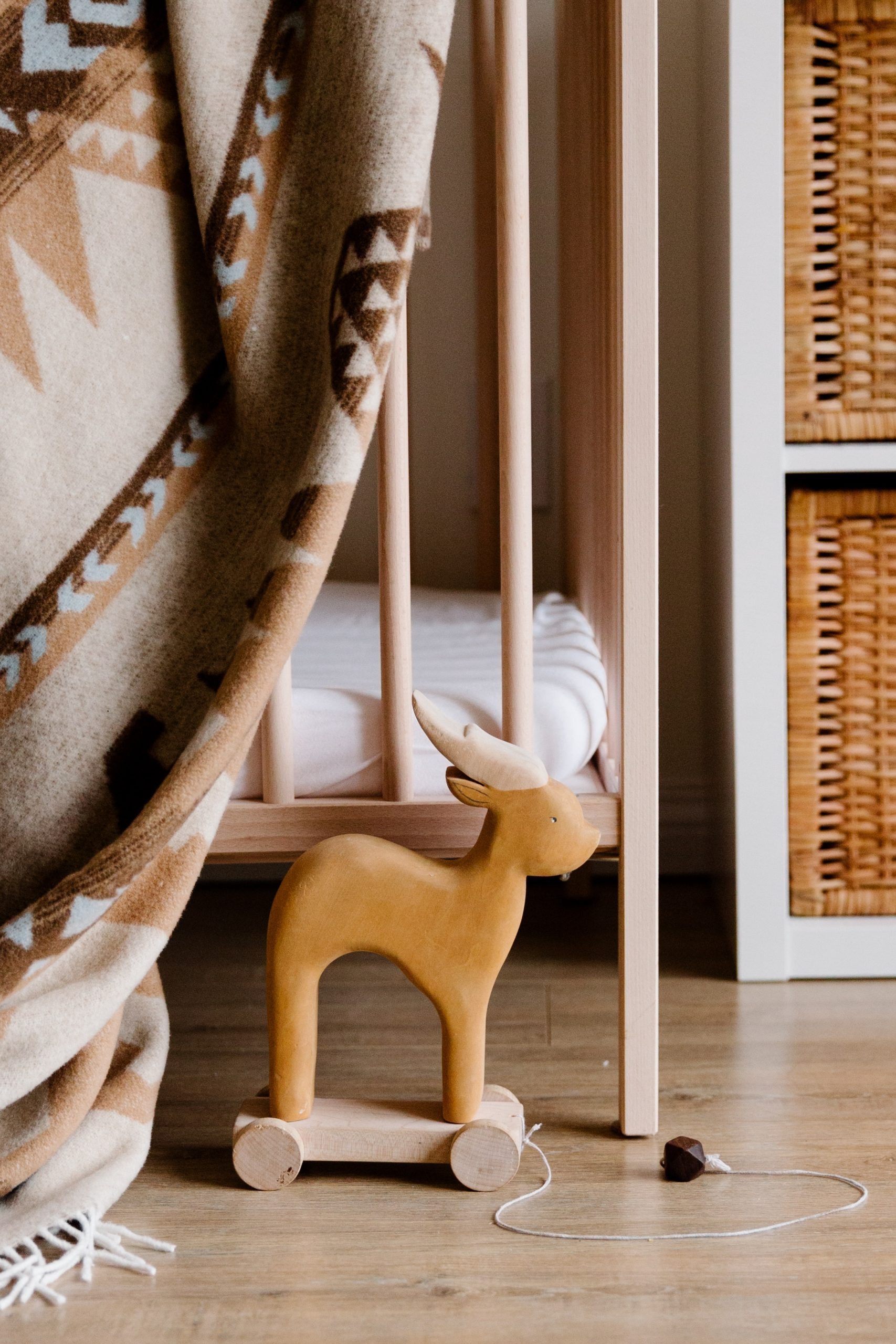 2. Include a custom name sign
This is something that you can DIY yourself, or you can find plenty of creative designs on Etsy.
3. Soft pale and glossy dark blues
This is a classic design for a baby boy's nursery, and there's one reason why – it looks gorgeous. Mix muted tones of blue and crisp white to create a peaceful and calming oasis like the one pictured below.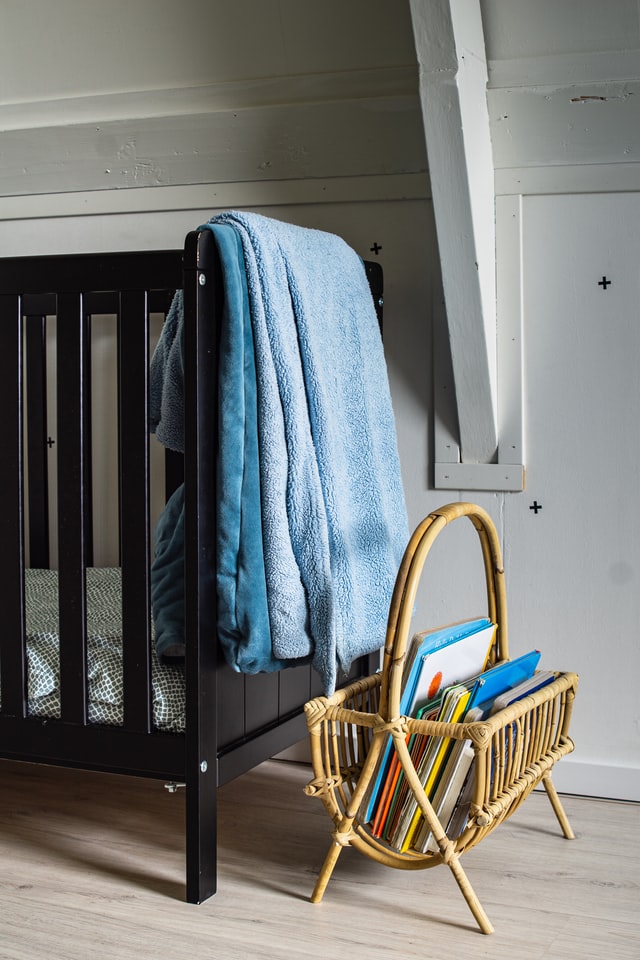 4. Add a daybed
A gorgeous vintage daybed is a practical addition to the nursery. Fancy a nap while your baby's sleeping but want to stay close? There's no need to worry because you've got a comfy daybed. It also doubles up as an extra sleeping spot for when guests come over.
5. Create a cosy corner
Make a little oasis. All you need is a rocking chair, a footstool, a small side table and a warm lamp. You might look for a rocking chairs in new baby stores but think about taking a look at vintage shops too. When it comes to lighting, choose something warm that adds atmosphere and won't be too bright for your baby as they lie on your lap in the chair during night feeds.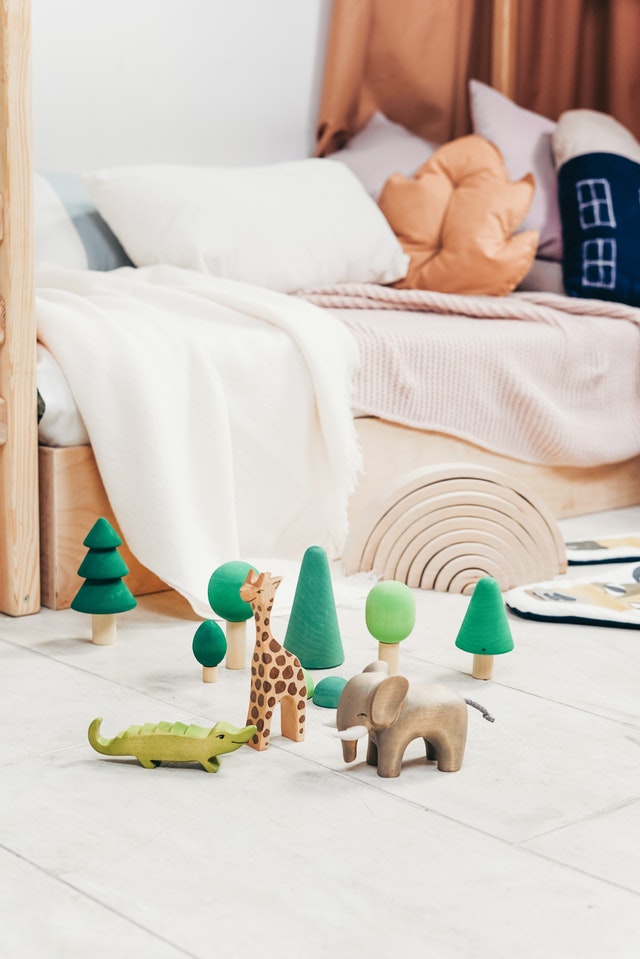 Speaking of lights, it's a good idea to get dimmers put in your ceiling lights as well because when you're getting up during the night you don't want to overstimulate yourself and the baby with bright lights. An electrician will be able to help you with your dimmer switch installation.
6. Set up a wooden wash station
Get them used to washing their hands early on with a cute timber toy washing up station. Your littlie will love to get ready in front of their very own mirror just like mum and dad.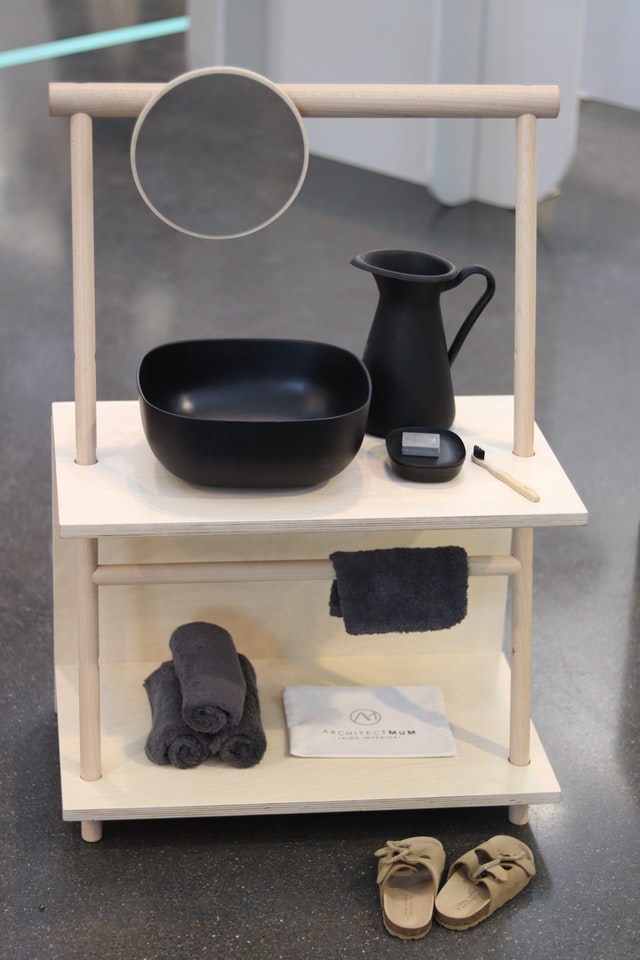 7. Hanging plants
You can't go wrong with hanging plants – they bring a touch of nature indoors. Choose your favourite indoor plants, put them in little matching pots and tie them with string. Just make sure you keep them elevated and out of baby's way!
8. Storage unit
A woven storage unit is a practical choice for your nursery, because you can use it long after your baby grows up. For now, fill it with clothes, toys, books and more. And in the future – use it however you like!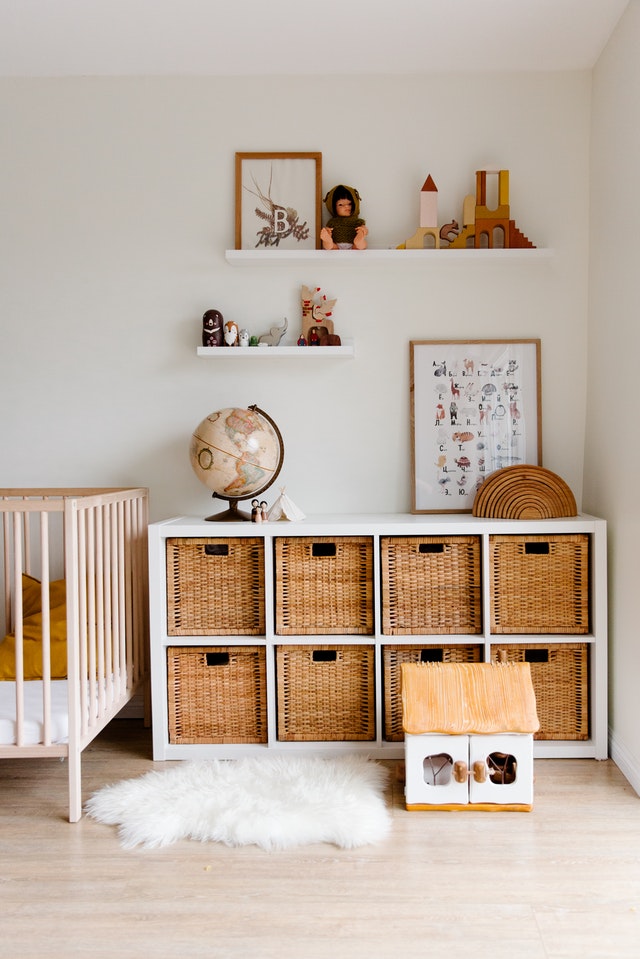 9. Muted colours
Match muted colours that harmonise with each other for a calming nursery. Touches of wood, rattan or linen will bring your look together with ease.
10. Neutral black and white
You can't go wrong with black and white, especially if you're trying to create a gender-neutral nursery. This is a great option if you want to have a few kids and don't want to go to the hassle of changing colours before each birth.
11. DIY rainbow arches
Rainbows are very much on-trend right now, and they're always so happy, so look for ways to incorporate them in your nursery.  Either paint one on a wall or look for woven décor like this.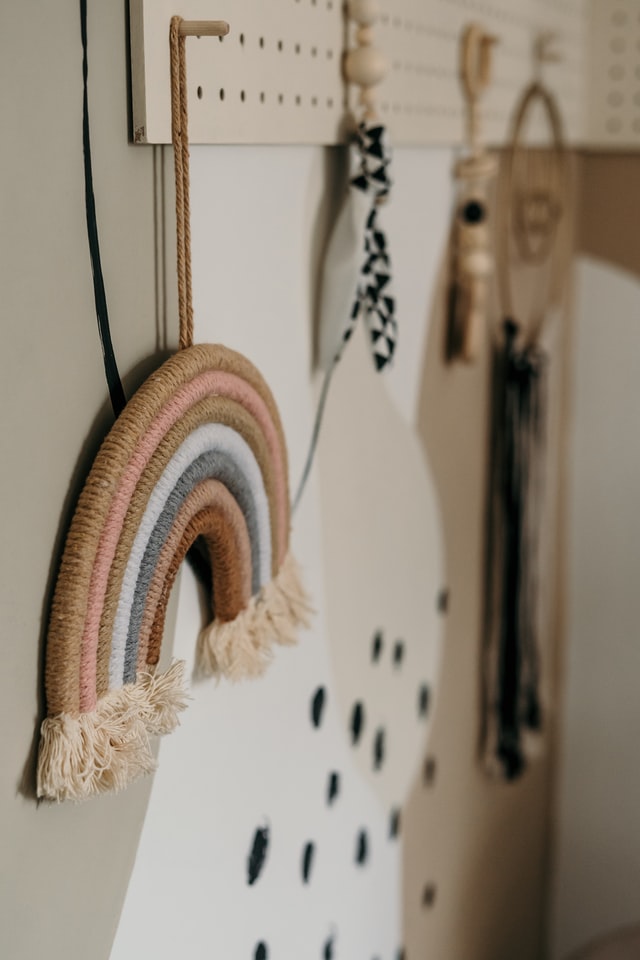 12. Table details
Little details are one of the most overlooked parts of any room – but they are so important. If you have a coffee table or side table in your nursery, make sure you dress it up. Stack a few of your favourite books, add a toy or two, and arrange a bunch of flowers in a pretty vase. Remember, it's important to make your nursery a space that you truly love, because you're going to be spending a lot of time there with your baby.
13. Woven basket
Also known as the 'Moses basket,' this is one of the most popular nursery items. It's a practical crib for a tiny newborn because you can take it with you on the go to any room of the house.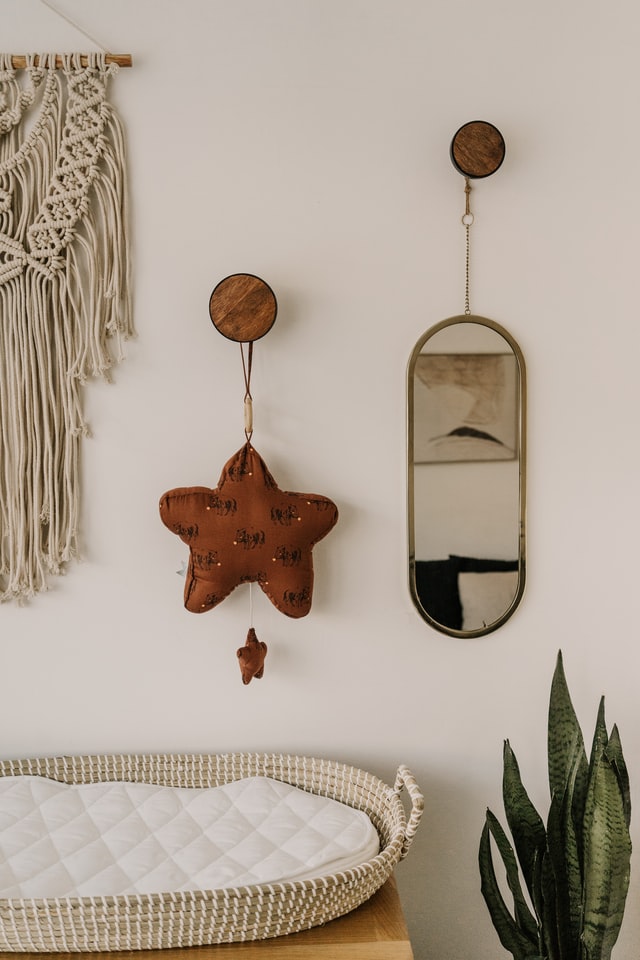 14. Add personal touches
When creating your nursery, it's nice to go beyond just a beautiful design to incorporating items that represent your family. If travel has been an important part of your life, add a map to the wall. If you have books that your parents read to you when you were little, put them on the dresser. Or maybe you have a rug or crib that was passed on through the generations – include that too. These little touches will help you feel at home in this new space as you welcome your baby into the world.
15. Colourful with toys
Have you ever thought about using toys as décor? Sure, you can invest in prints for your wall, but you can also make use of the cute toys you have to decorate your storage units. This works especially well if the toys are all in a similar colour scheme, like these gorgeous reds and timber tones.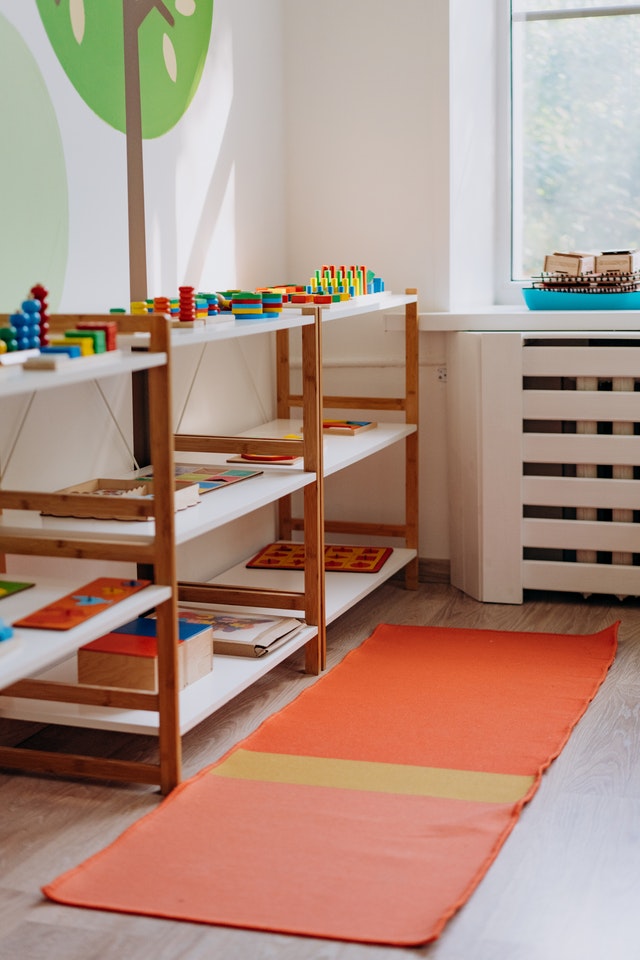 16. DIY wooden hanging mobile
No nursery is complete without the addition of a baby mobile. You can create a simple wooden DIY hanging mobile to work in with your minimalist aesthetic. The best thing is that you don't have to worry about this cluttering your space because it will only bring calm into your home and your baby's world.
17. Go wild with animal wallpaper
Choose your favourite animal wallpaper and go all out. A really detailed animal design looks lovely with minimal-style décor and simple timber furniture.
18. Make it whimsical
Transport yourself to another world with a whimsical-themed nursery. Achieve this look with traditional white furniture and decor, and add a cute nightlight like this cloud one.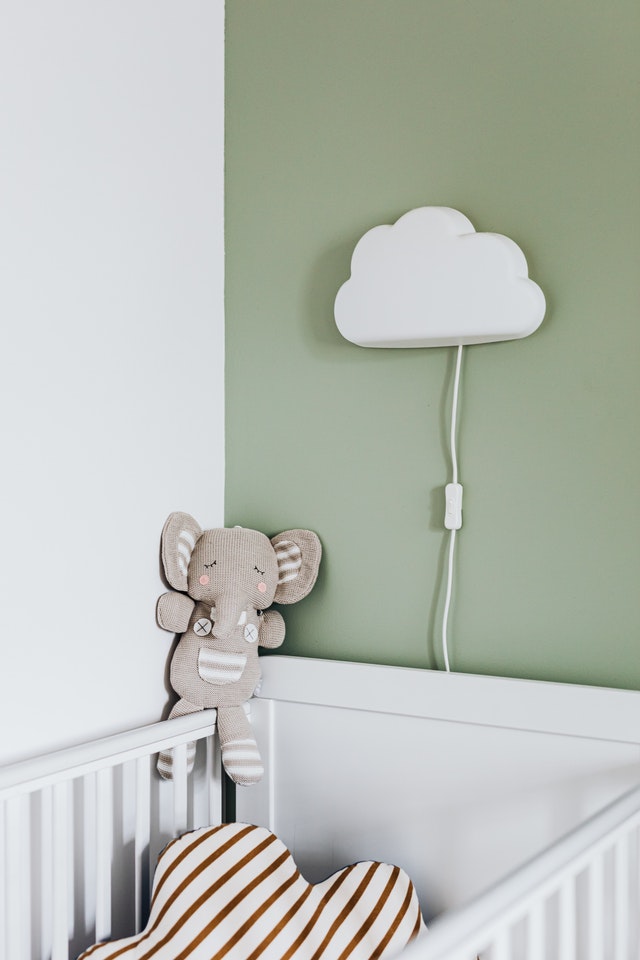 19. Make it green with plants
Add a bit of greenery to your nursery by choosing a few indoor plants. Popular choices include fiddle leaf figs, rubber figs and peace lilies. Add a decorative mirror to your wall to reflect your plants and make your space appear bigger. Just make sure your room gets enough natural light so your plants flourish!
20. Setup a teepee
OK, this is teepee setup is adorable, even I want one! If you don't have one of these, you're going to want to get your hands on one now. While it may not be overly practical, the teepee adds a playful touch – and that's a good enough reason for me!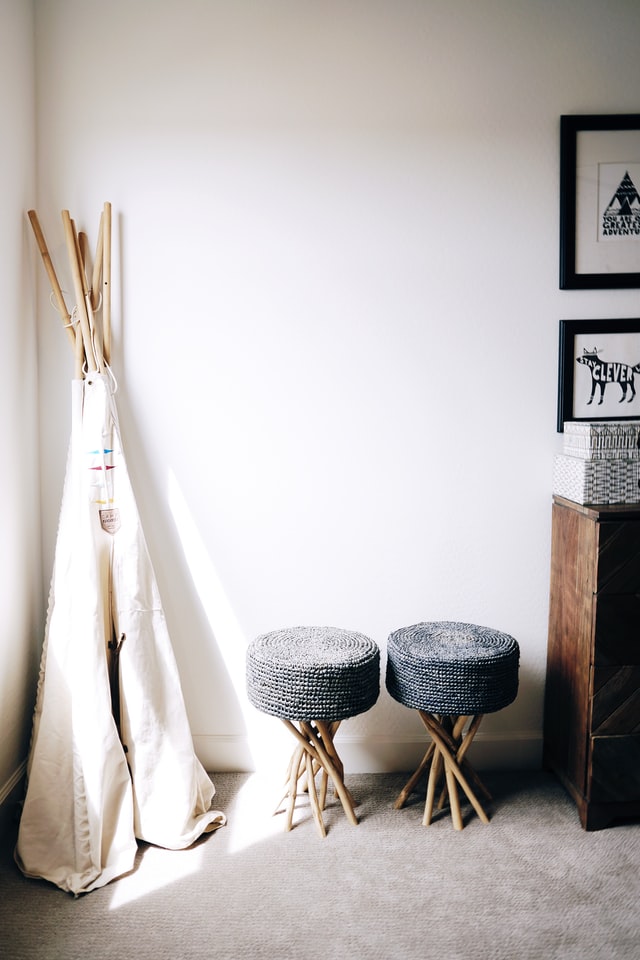 21. Two-toned feature wall
Want to create something a bit different on your nursery walls? Instead of opting for the usual one-colour accent wall, take decorating to the next level and choose two! A two-tone wall in soft pink and white for example will add a subtle feminine touch.
You might want to leave the painting to the professionals, so let the painting experts take care of it for you.
22. Create a themed wardrobe
If you're the kind of person who loves to theme your wardrobe, then you're probably going to want to do the same for the nursery. It can be overwhelming to receive so many clothes from family and friends, so where do you start?
First of all, think about the colours that you'll want to dress your baby in. If you're having a baby shower, mention the colour theme on the invitations. This way, you'll make sure you reduce clothing waste and that you only have clothing that you're actually going to use. This will also make it so much easier when it comes time to arrange the wardrobe.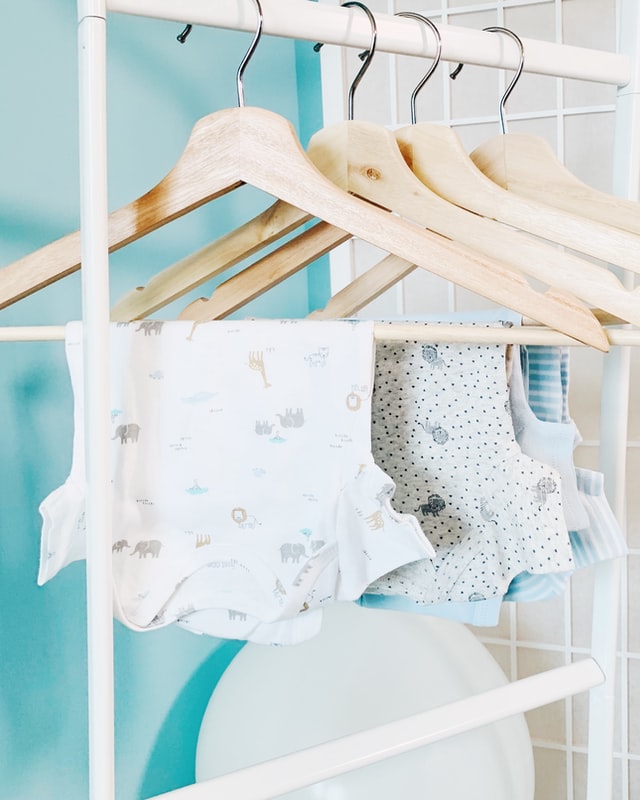 23. Modern vintage
Bring the past into the present with this mid-century nursery. Use timber panelling to create a traditional effect, add an ornate light shade, and use pops of grey and white for contrast.
24. Mobile hanging toys
Mobiles are not just ornaments to hang above your baby's crib. Their purpose goes beyond beautifying the room. Mobiles are essential in helping nurture your baby's curiosity and imagination as they grow. And this llama and pom-pom design is too cute!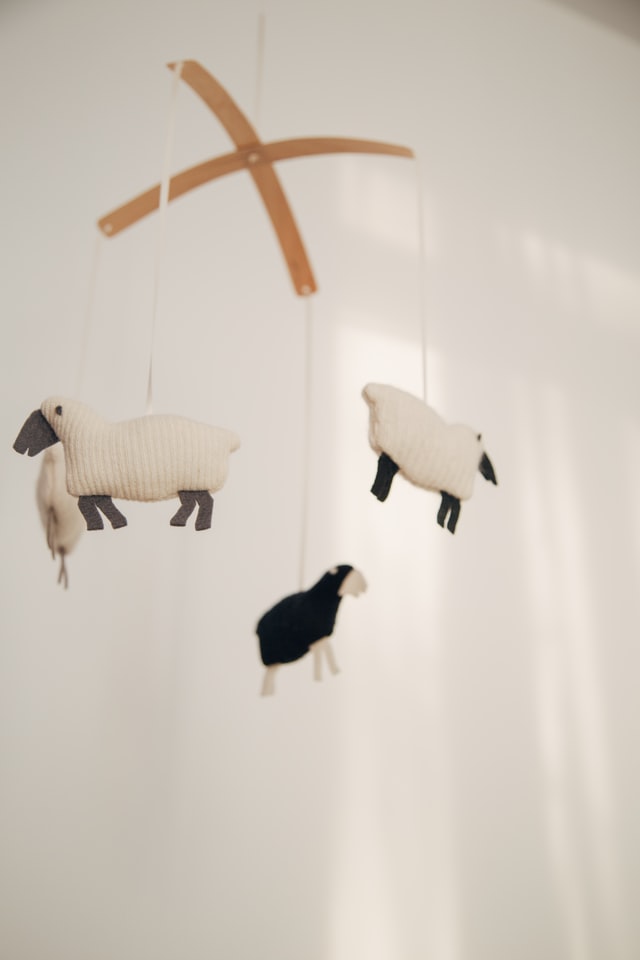 25. Brighten it up with a colourful rug
A rug makes any space feel more cosy, especially if you have hardwood floors or tiles. When selecting a rug, you want to choose one that's either a statement piece or one that matches your current colour scheme. In this case, the rug is the real stand out in the room – it brings vibrancy and warmth to what would otherwise be a cool white space.
26. Add a poster
If you've gone to the effort to create a beautiful feature wall for your nursery, don't leave it bare! Add detail to your room by hanging personalised prints like a birth poster, which can be made exactly to your baby's length at birth.
27. Paint it dark
Tired of the white on white look? Try dark grey instead. This will create a moody feel in your nursery and will set the foundation for other items like a black cot and timber mobile.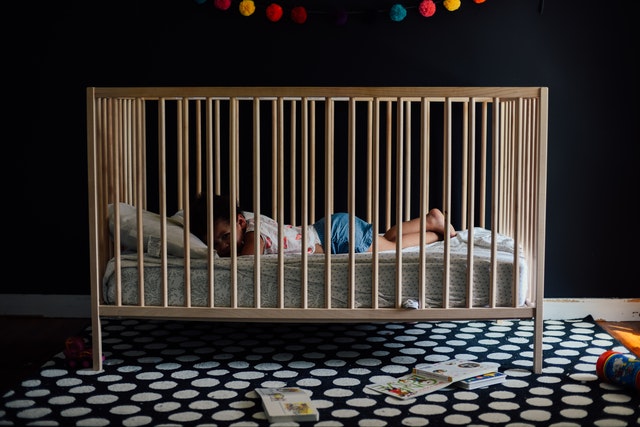 28. Organise your drawers
When it comes to keeping everything tidy, dividers will be your best friend. You can find simple drawer dividers in storage shops or from IKEA. Keep your most-used items like outfits at the top, bibs in another drawer, and blankets and other miscellaneous items at the bottom.
29. Shades of grey
Keep things simple by incorporating different shades of grey. This is a great option for a boy's nursery. Add colour with photos or prints, as well as throws. And create an atmosphere with warm vertical lighting up the wall.
30. Set up a gorgeous toy kitchen
Boys and girls alike will love to cook in their very own kitchen. Look for a classic timber model which blends beautifully into an organic neutral styled nursery or kids room.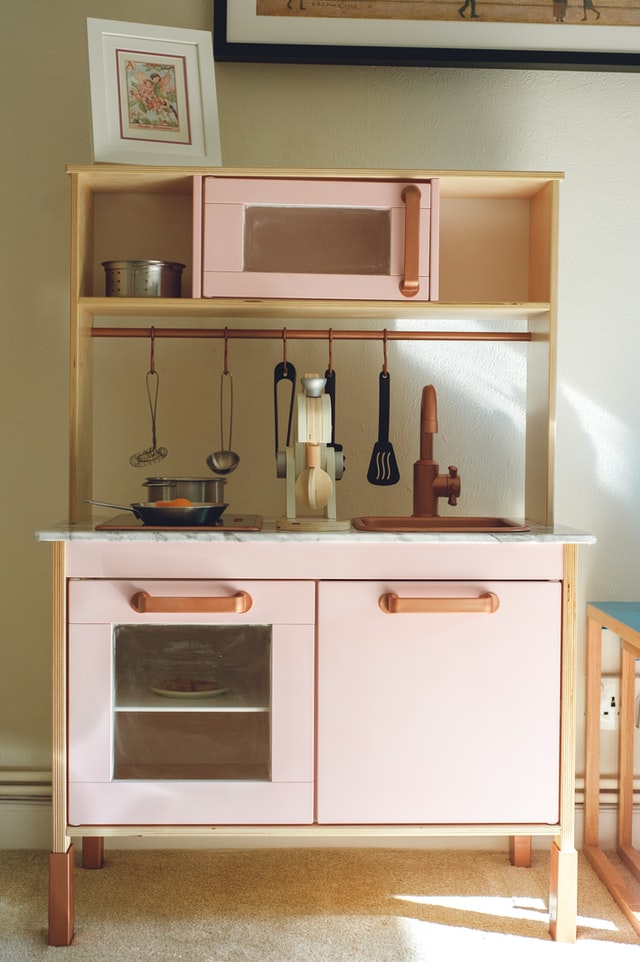 31. Create a book display
If you have a lot of books for your baby, then you may as well display them on floating shelves! This not only makes the books more accessible, but it also brightens up the nursery with fun colours.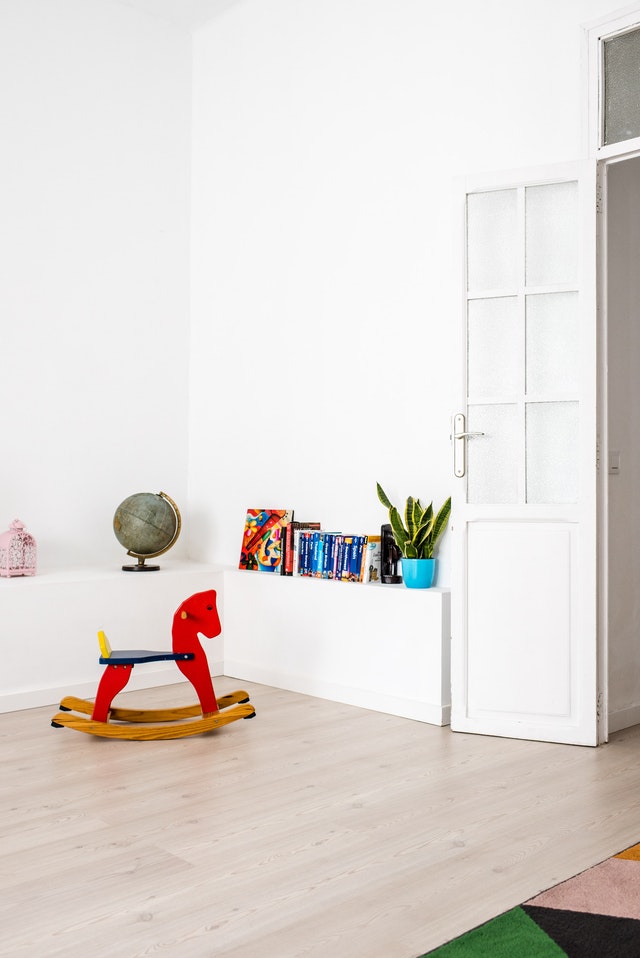 32. Jungle mural
Go all out with an all-encompassing jungle mural. This is such a fun addition to your nursery. As always with a feature wall, make sure you integrate the colours throughout your room. A wallpaper with a complex design is best left to the professionals as you have to line up the illustration perfectly. Find someone to help with your wallpaper installation near you.
33. Retro inspired
Mixing periods is a great way to create a dynamic design, and this vibrant nursery does it flawlessly. The colour palette, with its sunset hues mixed with brown accents and a mid-century-inspired bassinet, immediately gives the space a retro feel.
Meanwhile, the all-encompassing peachy-pink paint gives the room a contemporary edge while also making it feel cosy. Top it off with lively patterns and cute textiles, and you've got a dream nursery.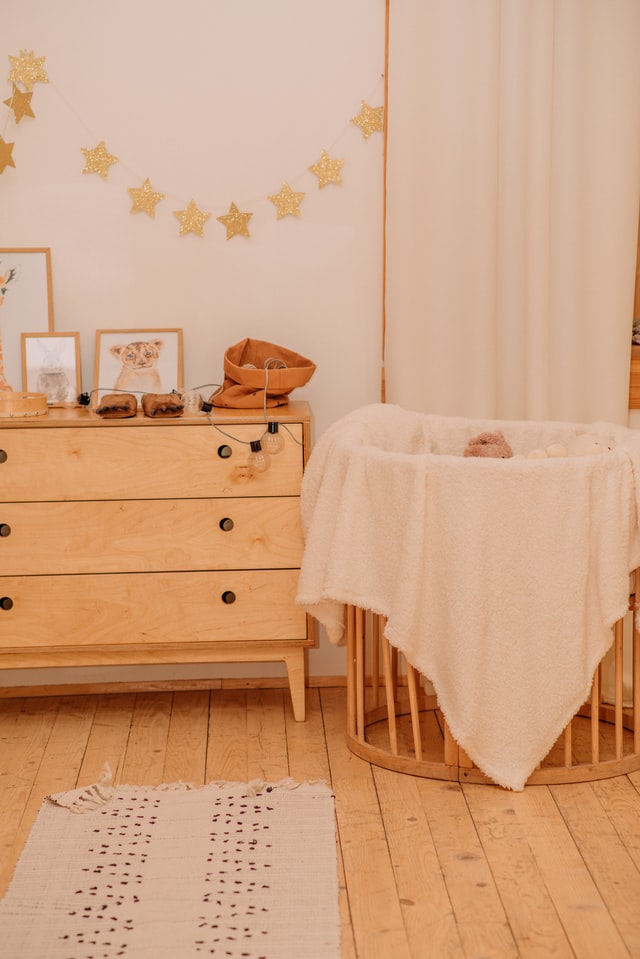 34. Sophisticated and timeless
If there's one trend you're probably picking up on it's that there are hundreds of ways to pull off a beautiful gender-neutral nursery. And this one is no exception. By sticking with a neutral base, you ensure that your foundational pieces, like timber cabinetry, grow with your baby while leaving room for the addition of personal details.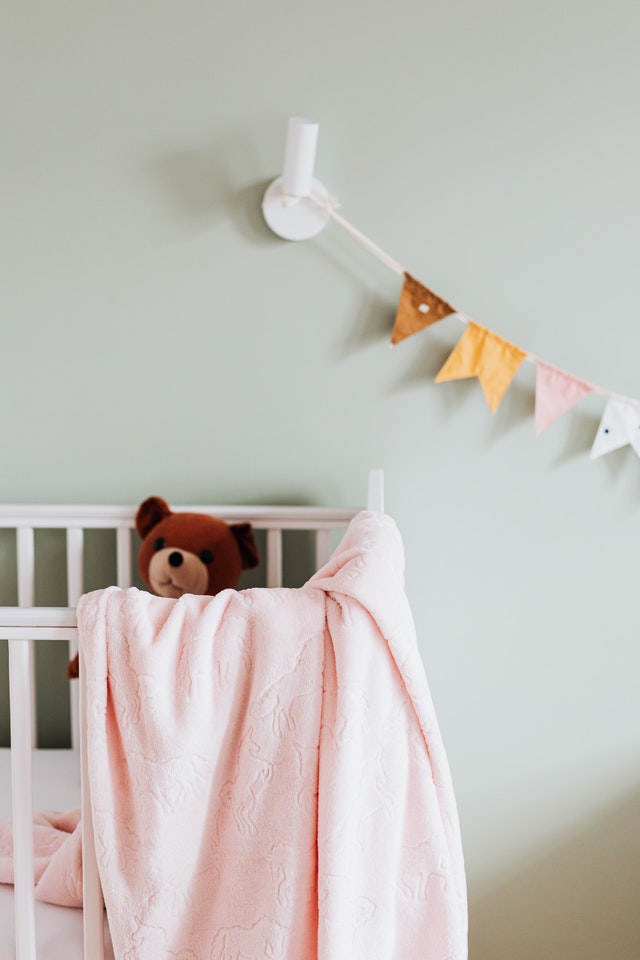 35. Go all out with colour
On the other end of the spectrum, you can choose all of the bright, bubbly colours! Combine pink, peach, soft blue and green for a lovely nursery for your baby girl.
36. Vintage elements
We've all got a piece of furniture in our homes that we absolutely adore – whether it's the couch, a corner chair or the kitchen table. Make your nursery special by choosing one key feature piece like a gorgeous vintage dresser. Or, find some cute vintage travelling cases to repurpose as décor.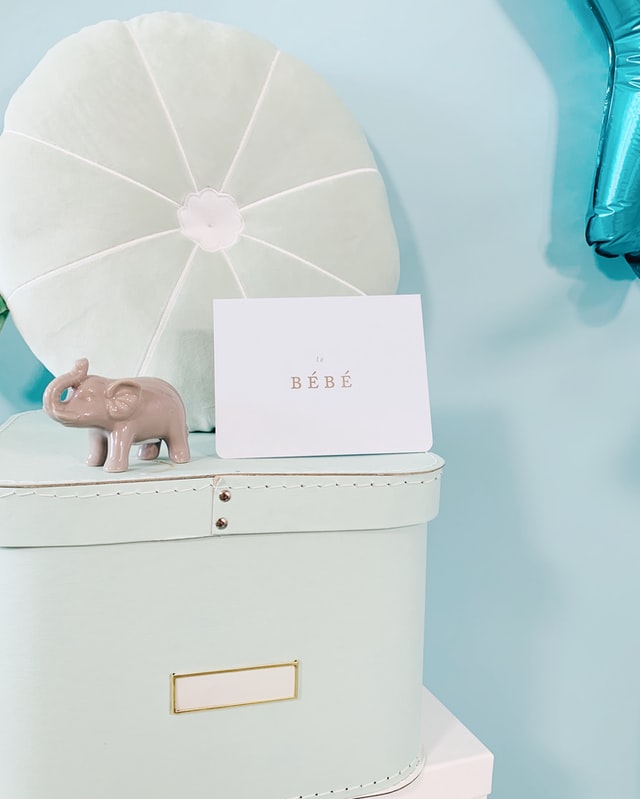 37. Soft toys
You can never have enough soft toys!  They even look cute simply in a woven basket on the floor.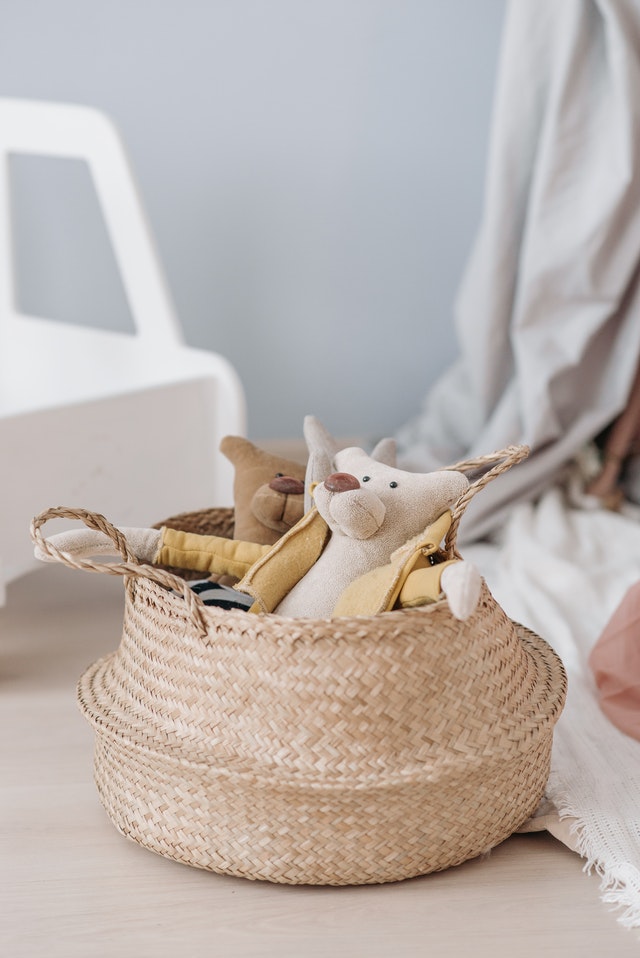 Finally–don't forget to baby (and toddler) proof your home as you go through the design and assembly process. Most items come with anchor point information, but here's some added information because it's never too early to look at baby proofing..
I hope these nursery ideas have inspired you. There are so many incredible ways to make your space truly unique. I think the most important design aspect is to add personal touches – be it a special toy or print that's been passed down through the decades or a keepsake from your baby announcement. This will make your space warm and cosy as you welcome your new bundle of joy!
If you have any other ideas, please comment them down below. I can't wait to see what you come up with.
Planning for your baby shower too? Take a look at these adorable baby shower ideas.