Planning the perfect baby shower might be one of the most simultaneously fun and daunting tasks of your life. You're excited to be a new parent! You can't wait to celebrate! But you're also physically worn out (hello, pregnancy), mentally exhausted, and a little stressed about that whole bringing-a-human-being-into-the-world thing. I totally get that and that's why we've got these baby shower ideas all in the one spot for you.
From the food to the gifts, to the decorations, we've got you covered. Whether you're the happy mum-to-be or a helpful friend, these ideas should be more than enough to spark your creativity and get you well on your way to planning the perfect event.
Baby shower food ideas
When you're heavily pregnant it can be tough enough just to be there, let alone all the decorating, baby shower catering and setting the party up. Here are some adorable ideas:
Tiny bottles of champagne make the perfect party favour! A crowd-pleaser for sure, these splits of bubbly are an affordable and adorable drink option. And for the mum-to-be? One full-size bottle of sparkling grape juice coming right up!
Sweets Buffet
Who says you have to pick just one type of dessert? Create a colourful, versatile display of petite desserts for a fun, memorable take on baby food nibbles. Some fun treats to include might be mini doughnuts, cupcakes, macarons, cake pops, or hand pies.
No time to do it yourself? Find some help handling the food prep or buffet catering for you!
Mum-osa Bar
Similar to our baby bubbly suggestion, a Mum-osa Bar is sure to be a hit! For guests, provide your favourite champagne and a selection of mimosa-friendly juices. Some of our favourites are blood orange, passion fruit, and strawberry kiwi! For mum, set aside a bottle of sparkling water or a delicious pitcher of freshly squeezed juice.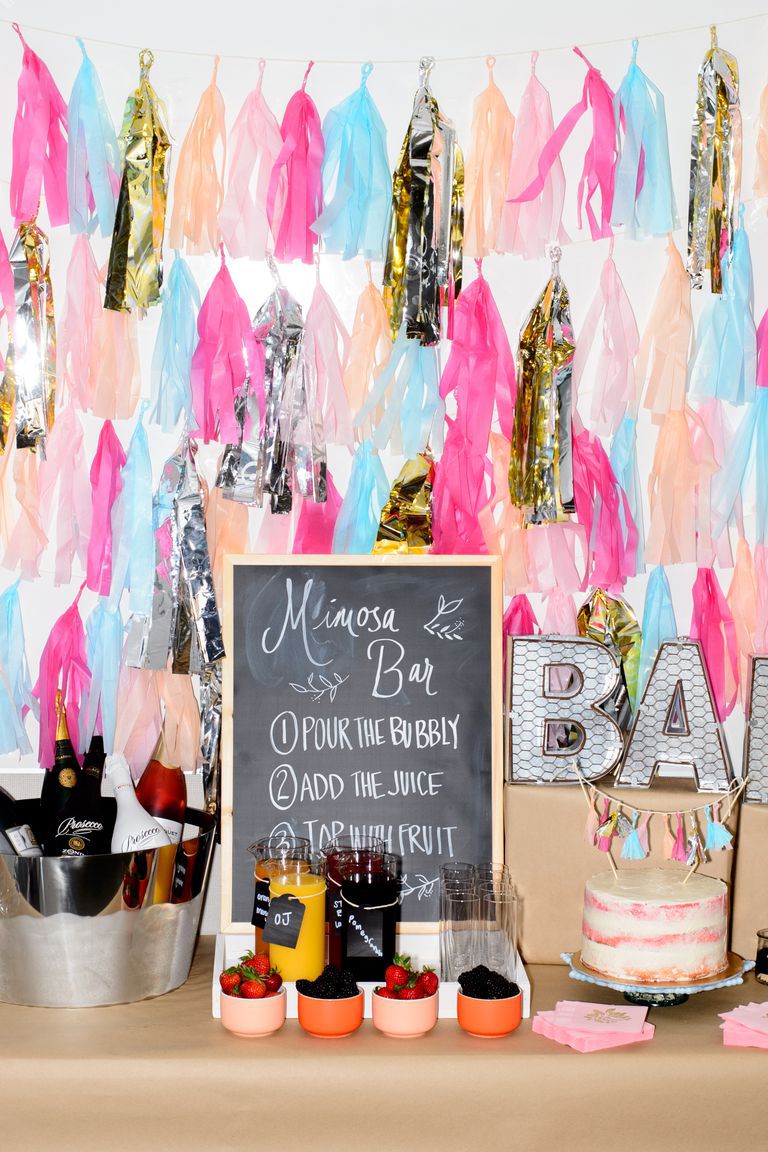 "Ready to Pop" Popcorn Bar
Tasty, cute, and relatively healthy! Choose popcorn bags in your theme colour and offer guests toppings such as caramel, butter, powdered cheese, or whatever the mum-to-be's favourite is.
Ice Cream Social
For the eclectic expecting mother, an ice cream social offers a playful retro twist. Skip the cake and opt for a colder treat instead. Some variations on this might include a Sundae Bar (complete with loads of toppings, of course!), a Milkshake Bar (opt for eco-friendly paper or metal straws), or a Banana Split Station. You can't go wrong!
Baby Donuts
Sure you can have a donut wall display but have you thought of how you can decorate them in baby items…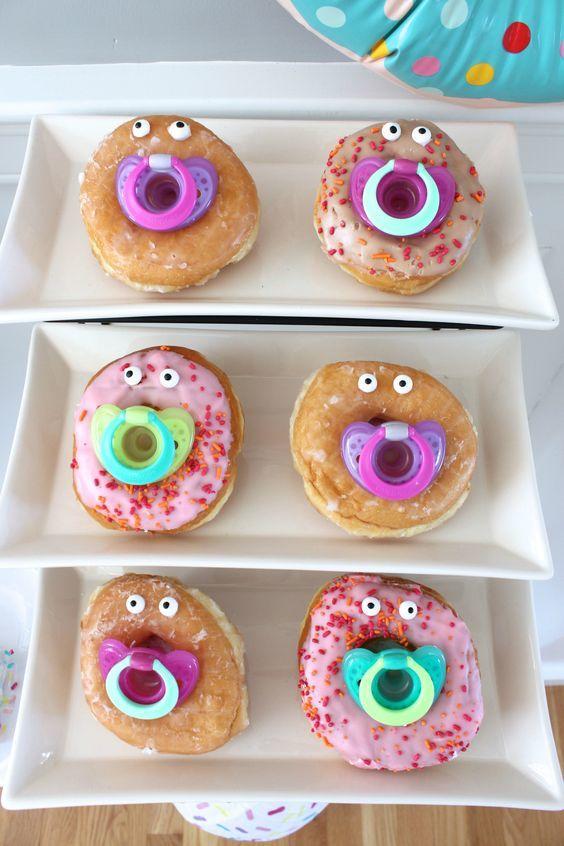 Potluck of Favourites
Does your friendship group happen to be particularly handy in the kitchen? Ask them to make your baby shower a potluck! This is not only a great way to take some stress away and get guests involved—it's also an extremely budget-friendly baby shower idea. Bonus points if each guest brings one of the mother's favourite dishes.
Decorated cookies
I mean, who doesn't love cookies, right?! There are many cute designs when it comes to baby shower cookies, but I love this because it's just that little bit different. And don't forget to get someone else to take care of the cookie delivery too!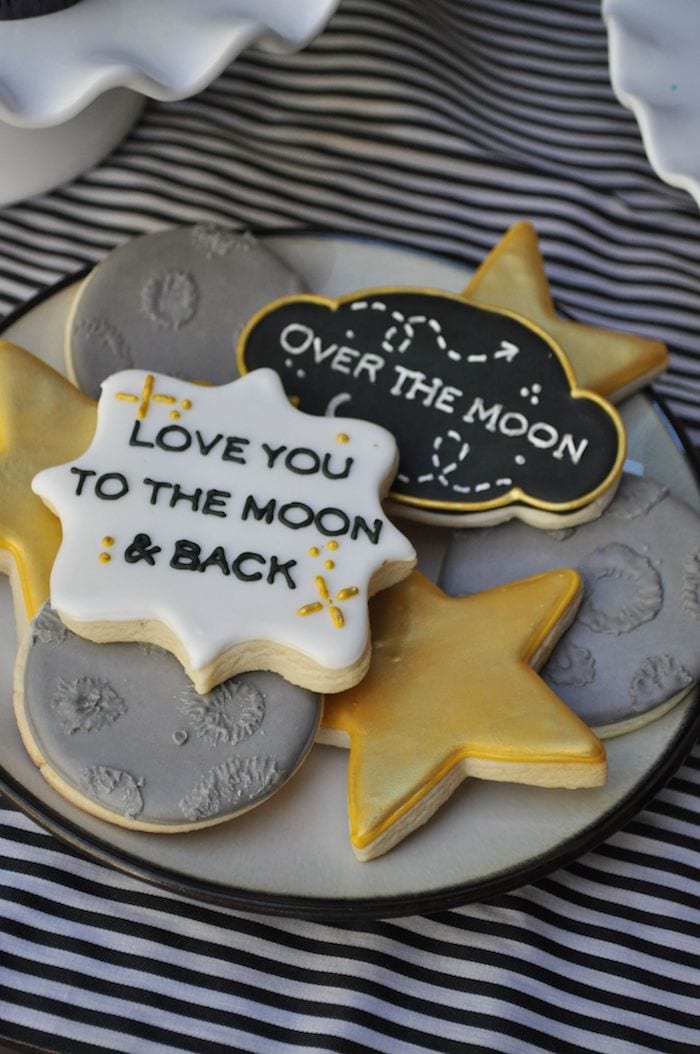 Turn Your Food into a Display
Once you've settled on what food you'll have at the baby shower, turn your attention to making that food a centrepiece! Cake stands, footed compotes, multi-tiered platforms, and flat platters all offer a variety of heights and textures for your buffet display.
Baby shower gift ideas
Choosing the perfect baby shower gift can be tricky—you have to find the right balance of thoughtful and practical. Needed, but versatile. Aesthetic, but useful. These are just a few of our favourite baby shower gift ideas.
The Nappy Cake
An evergreen, classic option, Nappy Cakes have nothing to do with dessert but everything to do with realistic planning. One of the items a new mum is likely to need way more of than she anticipates is high-quality nappies. Create a three or four-tier nappy cake to serve as a cute display, then ask each guest to bring a small pack of nappies as well. Practical meets thoughtful!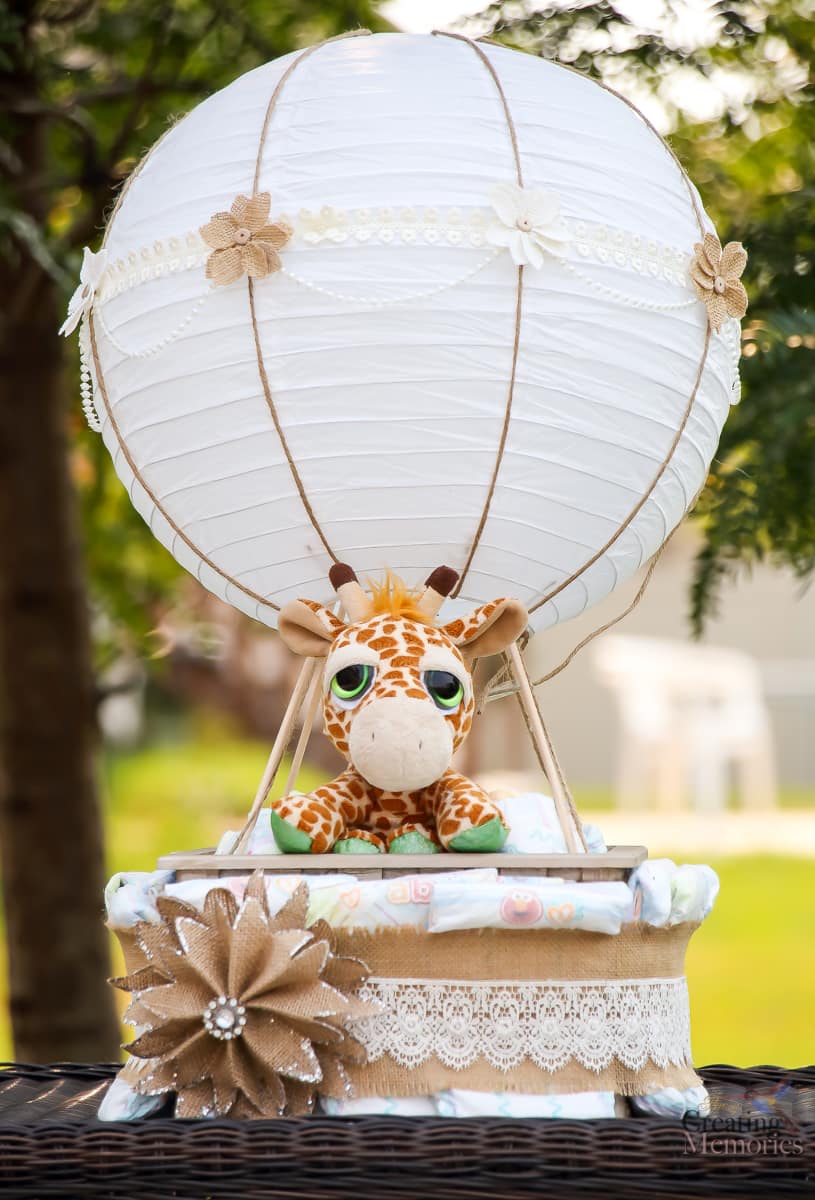 Children's Books
Simple yet often overlooked, children's books make for a thoughtful, useful gift that will entertain both mum and baby without creating clutter for the new family.
Gift packs
Getting lots of little things and making a hamper or gift pack is a great option when going in with a group of friends.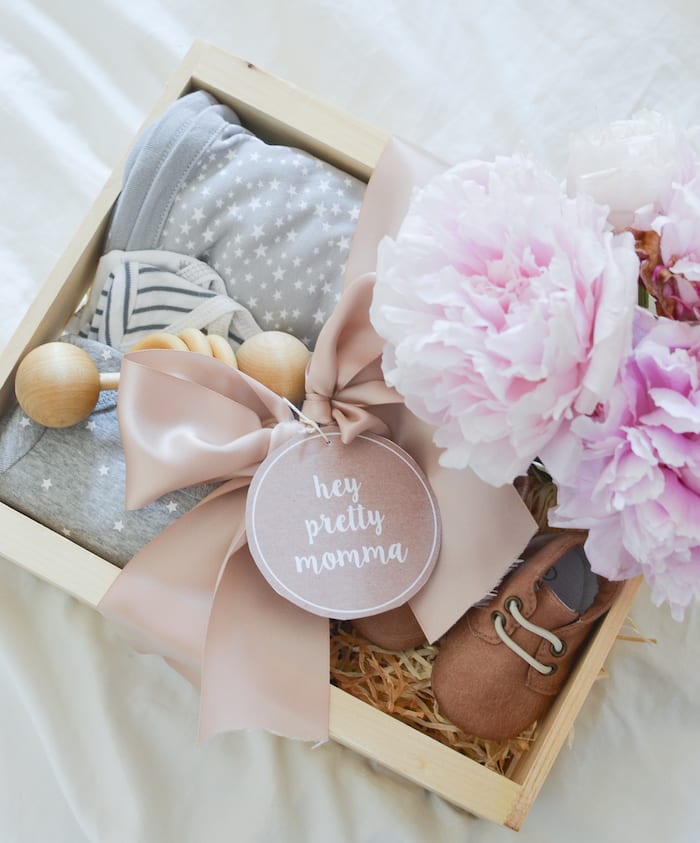 Organic Skincare Set
Sure, mum needs tons of stuff for the new baby … But shouldn't she get to pamper herself a bit, too? Giving the gift of organic skin care helps remind expecting mothers to prioritise their self-care and makes them feel beautiful during a time when they're experiencing lots of physical and emotional changes.
DIY Baby Shower Gift Ideas
Is there anything better than receiving a lovingly handmade item for your new bundle of joy? If you happen to be artistically or craftily inclined, consider creating one of these handmade baby shower gifts:
Baby blanket
Baby booties
Baby slippers
Mittens
Mobile
Embroidered bibs
Hand-stitched burp cloths
Monogrammed nappy bag
Handmade hats
Decorative dummy clips
Cloth ball
Personalised photo album or baby book
Car seat cover
Swaddling blankets
Knotted headbands
Baby shower decoration ideas
What conversation about planning a baby shower would be complete without considering baby shower decorations? A baby shower's decor should reflect the personality of the mum and, if possible, tie into the parents' planned nursery theme. Don't be afraid to get creative!
When choosing decorations, a great place to start is in selecting a theme.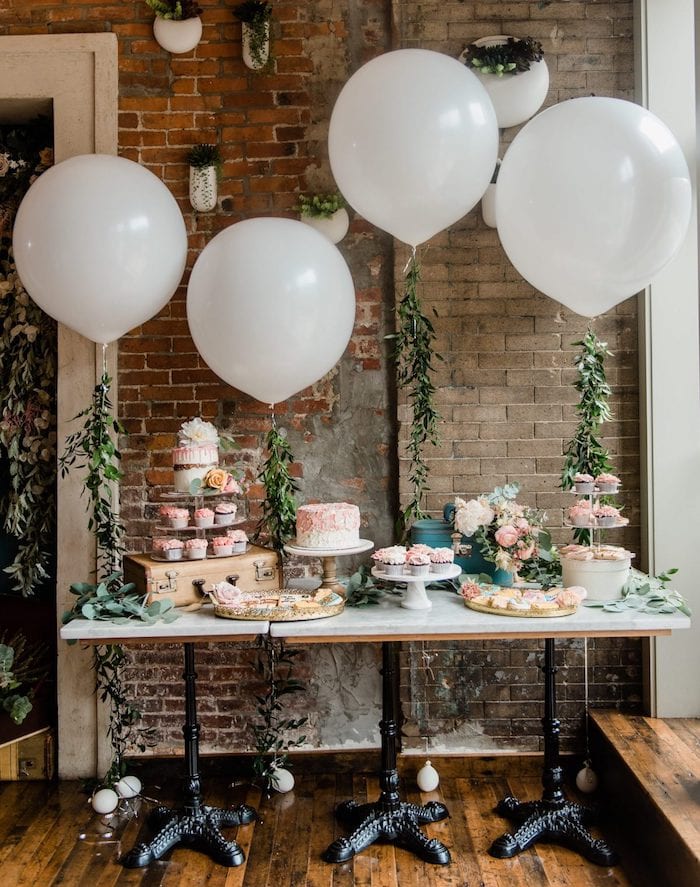 Baby Girl Shower Themes
Secret Garden Themes
Embrace the natural beauty of plants like succulents, traditional garden flowers, or even cacti. This theme can be adjusted to incorporate a variety of colours and to be as super-girly or natural-and-minimalistic as you see fit. Decorate with fresh cut or potted plants, offer tiny potted plants as favours, and invite guests to make DIY flower crowns.
Beach Party
Having a summer baby? A colourful beach party is a fun and unique theme! If you happen to live near a beach, planning your baby shower at a nearby pavilion makes achieving the right atmosphere super simple. No beach nearby? Not a problem! Play summery, beachy music, hand out colourful sunglasses as party favours and serve daiquiris or pina coladas to guests (plus a couple of alcohol-free drinks for mum, of course!).
Victorian Tea Party
Is mum very traditionally feminine or into antiques? Planning a sweet Victorian Tea Party might be the perfect baby shower idea! Serve tea and finger cakes on a silver tea tray. Use lots of lace doilies to decorate, and hire a pianist or violinist to provide romantic Victorian era music. Want to add a splash of character to this classy event? Invite guests to wear their favourite floppy hats and pearls!
Old Hollywood
Black, white, and splashes of red or hot pink adorn an Old Hollywood themed baby shower! Hang black and white photos of the soon-to-be parents, roll out a red carpet and create a photo booth or paparazzi station with an Instagrammable background.
Modern Pastels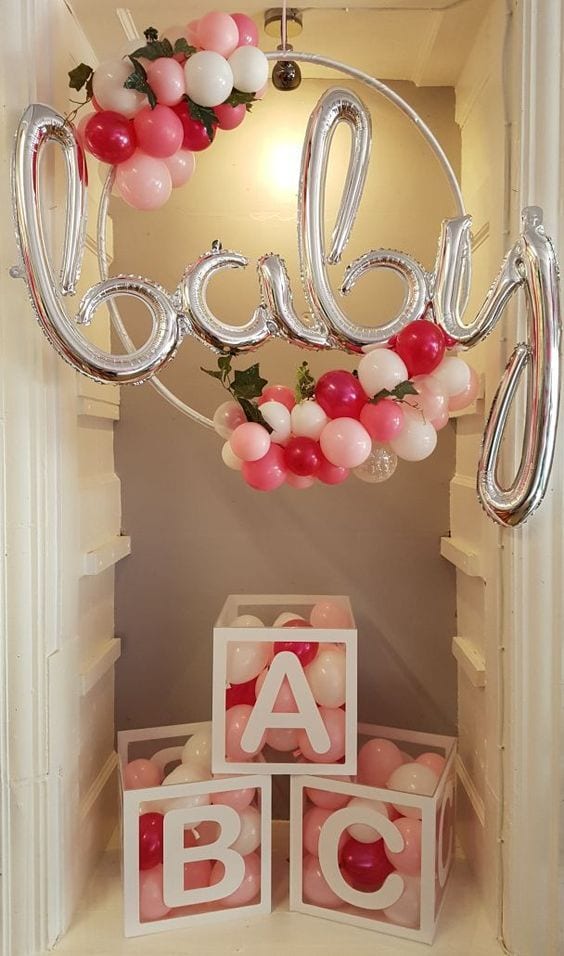 For a subtle theme that easily carries over to almost any food, game, or activity you may have planned, choose a colour-based idea like Modern Pastels. Create a soft, elegant pallet of light pinks, peaches, and ivories, drape gauzy, ethereal fabric generously, and don't be afraid to add a few splashes of silver or rose gold to the equation.
Baby Boy Shower Themes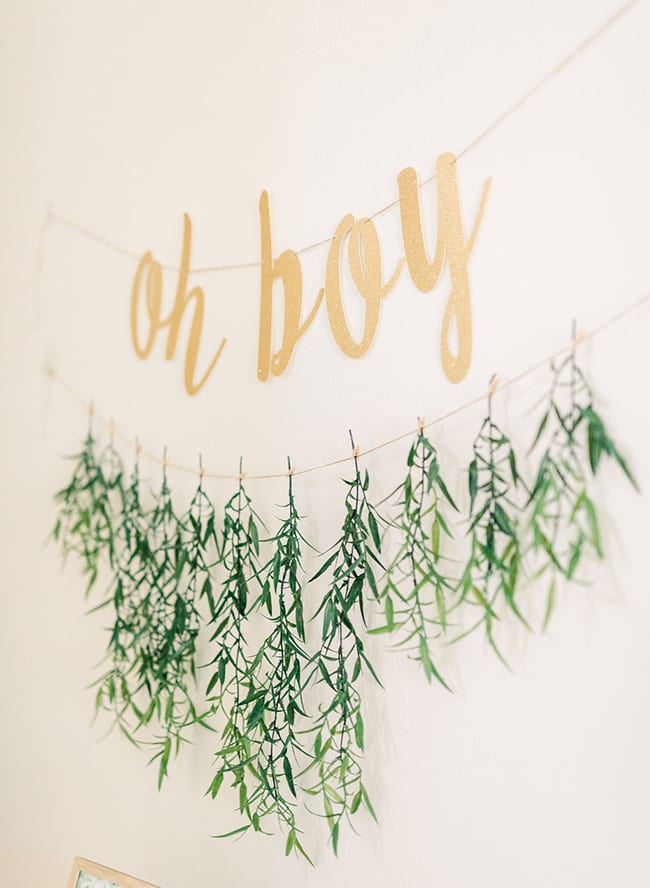 Outta This World
A space themed baby shower is the perfect way to welcome a baby boy to planet earth! Decorate cupcakes with galaxy swirls, create a mobile of planets or rocket ships, and choose lots of deep blues and silvers in your colour palette.
Ahoy—It's a Boy!
Draw inspiration from nautical trends! Go with traditional navy and white decor, twine or hemp ropes and knots, and anchors for this classic theme. For a playful twist, try a pirate theme that includes a Scavenger Hunt for mum.
Shades of Blue
Incorporate a variety of shades of blue for a beautiful ombre-esque look. Choose a balloon bouquet that features balloons of pastel blue, navy, teal, and violet. These colours can easily be incorporated into everything from cupcakes to wall hangings, plates and dinnerware.
Jungle Book
Take a page out of the timeless children's book and enjoy a Jungle Book themed shower! From plush jungle animals like giraffes and elephants to soothing jewel tones, to food options like fresh mangos or coconut, a creative Jungle Book baby shower won't soon be forgotten.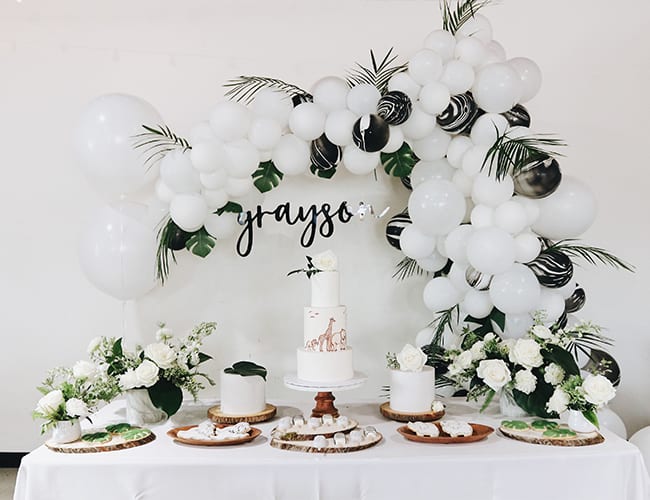 Little Prince
You don't have to be a member of the royal family to celebrate the arrival of a little prince! Decorate with Tiffany blue, white, and silver or gold for an elegant atmosphere that will leave the new mum feeling like a queen.
Gender Neutral Baby Shower Themes
Bun in the Oven
This adorable bakery themed baby shower offers the perfect opportunity to get creative with your dessert options, decor, and games! There's a lot of room for creativity here, but the one super important detail to remember? Sweets, sweets, and more sweets!
Wild Child
Perfect for parents who love spending time in nature, a Wild Child themed baby shower can involve plants, greenery, mountains, trees, and/or animals. Keep designs clean and minimalistic with monochromatic arrow accents, use rustic wood wherever possible, and add a touch of softness with simple arrangements of fresh flowers.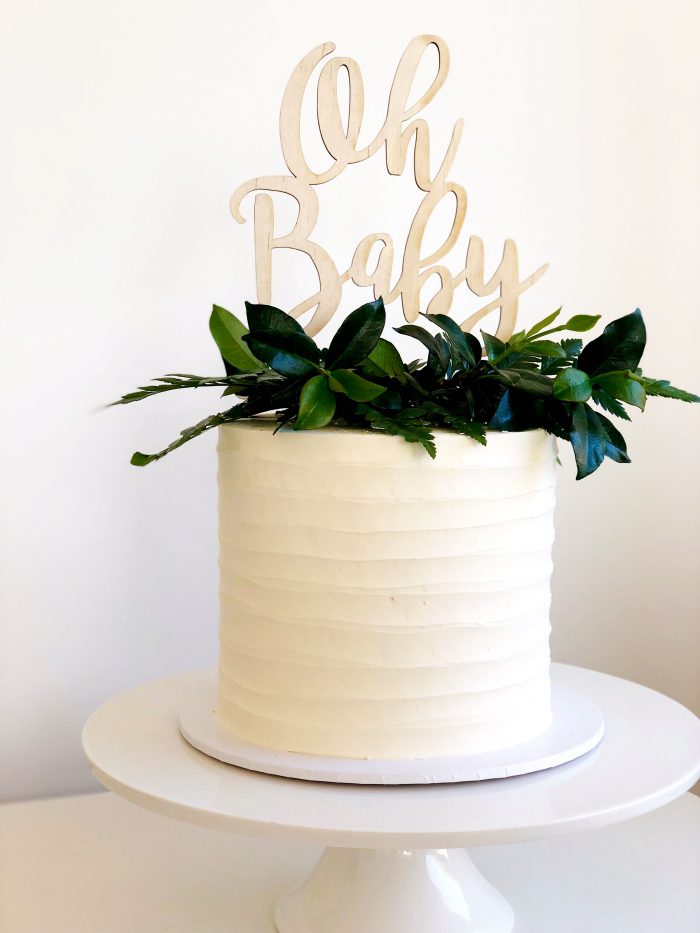 Oh, Deer!
There's no cuter decor for a baby shower than baby animals! Whether the baby is a boy or a girl, a shower that includes lots of pastels and whimsical woodland creatures will be absolutely precious.
Sweet Dreams
Twinkly lights, glitter stars, and soft whites, blues, greens, and silvers unite to create a dreamy vibe for a Sweet Dreams baby shower. Use gauzy white fabric draped over boughs and on furniture to create a cloud-like effect, and don't forget the super-fluffy vanilla cupcakes.
Oh the Places You'll Go
A Dr. Seuss favourite, Oh the Places You'll Go makes for the perfect travel-themed baby shower. Keep things fun and childlike with aesthetics based on Seussical illustrations, or opt for accents like road maps, globes, and vintage decor for a more grown-up take.
Always Bee My Baby
What could be cuter than a honey bee themed baby shower? Choose mostly white to keep the decor looking fresh, with sweet black and gold accent touches. Paper maché hives and honeycombs make for unique, on-theme decor, while honey serves as a sweet and relevant backdrop for most of your dessert options.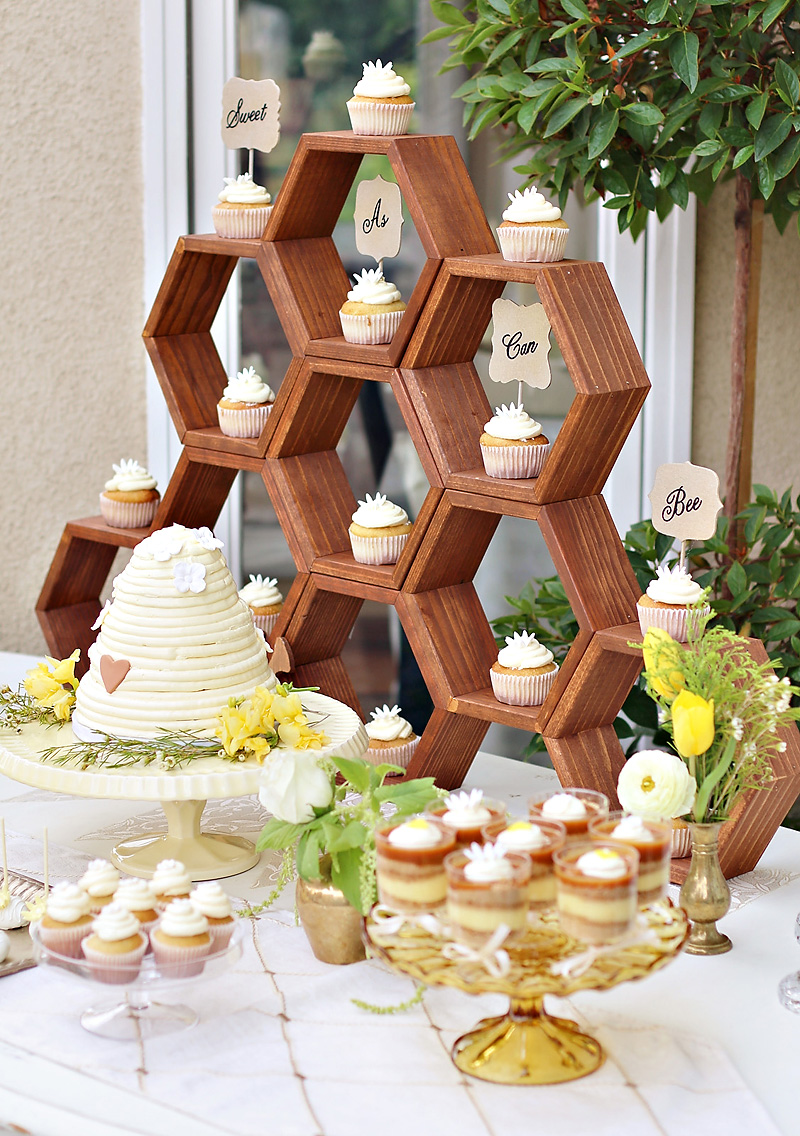 Baby Shower Decorations on a Budget
As darling as all those Pinterest-perfect baby shower decorations you typically see on blogs might be, most of us are operating on some sort of a budget. Luckily, it's more than possible to achieve the atmosphere you're looking for without breaking the bank. Here are some of our best ideas for throwing a beautiful baby shower without spending tons of cash.
Hosting a Party at Home = More Money for Decorations
Planning a baby shower in someone's private residence makes everything simpler. Event venues can be quite expensive—plus, they usually have rules in place about who can provide food and drinks, what type of decor you're allowed to use, etc. Hosting a shower at home saves you LOTS of money, allowing you to spend more on higher-quality decor and food if you want.
Do you feel like your home isn't quite ideal for hosting an event? You can also ask around the mum's circle of friends and family to see if anyone lives in a more appropriate area for the baby shower.
If the mum you're celebrating enjoys being outdoors and the shower is to take place during a temperate time of year, hosting the shower at a local park or beach might also be a great option! Taking advantage of the natural ambience in spaces like these helps you save big on decorations.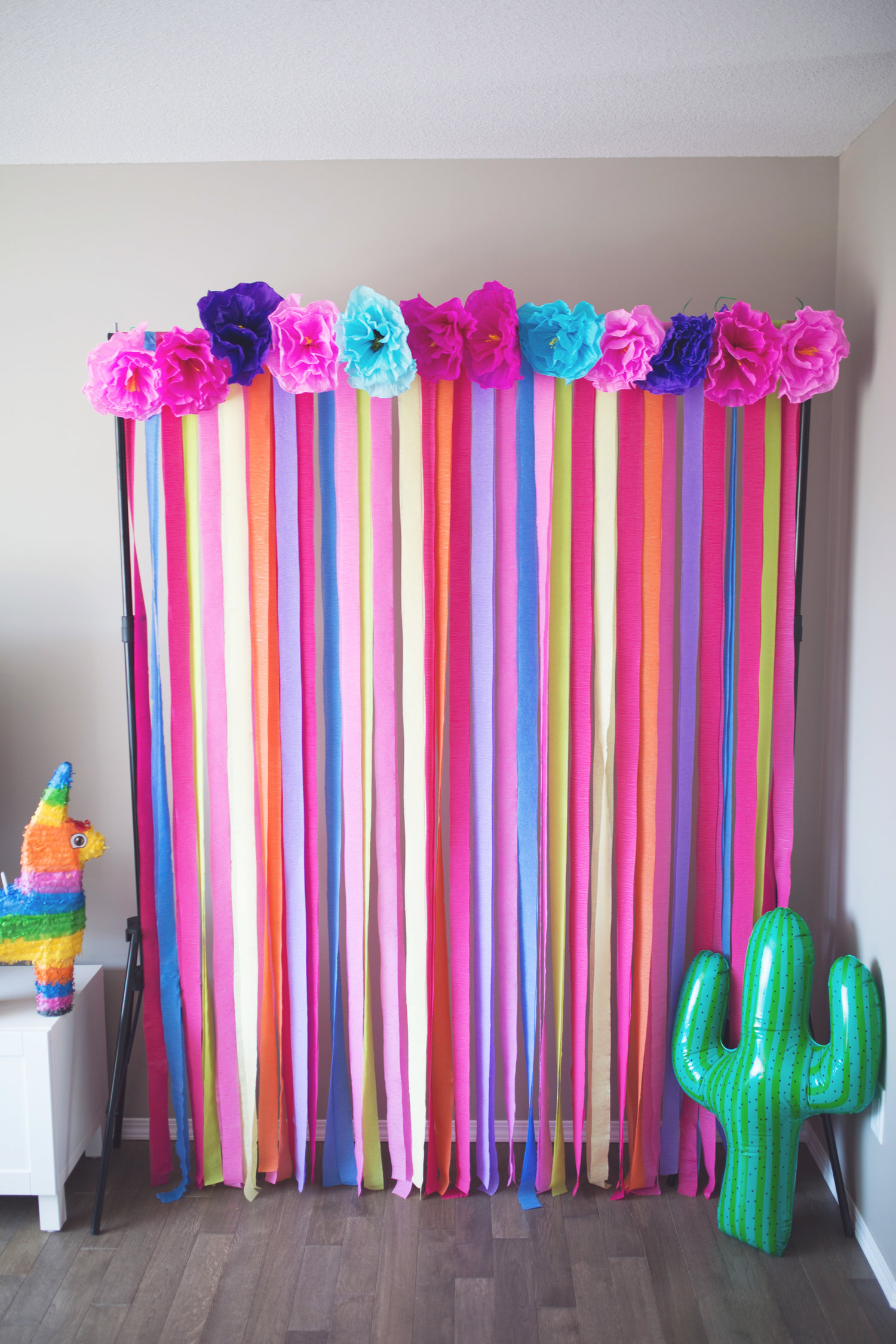 Save on Invitations
For many, setting a theme and decor starts as early as sending out invitations. While it can be tempting to splurge on fancy, premium invites, it's totally possible to create adorable invitations for very little money. Use an online budget printing service or check out your local craft store for some scrapbooking paper, ribbon, and twine.
Choose Inexpensive Decor
To save money on decorations, stick to the classics!
Balloons, streamers, confetti, and colourful table cloths can be found for next to nothing at your local bargain store.
You can cut cute shapes out of colourful cardboard paper and tape them to twine or ribbon for inexpensive DIY trims, garlands, and banners.
Use tissue paper to create beautiful, delicate looking flowers and pom poms.
Recreate popular wreaths and flower circles using hula hoops covered in fabric, or wooden embroidery circles embellished with faux flowers.
Baby Shower Games & Activities
Of course, it isn't enough that your baby shower just looks beautiful—the perfect baby shower should also be tons of fun for everyone present! Baby shower games and activities are a great way to encourage laughs and remind everyone why you're all there celebrating together.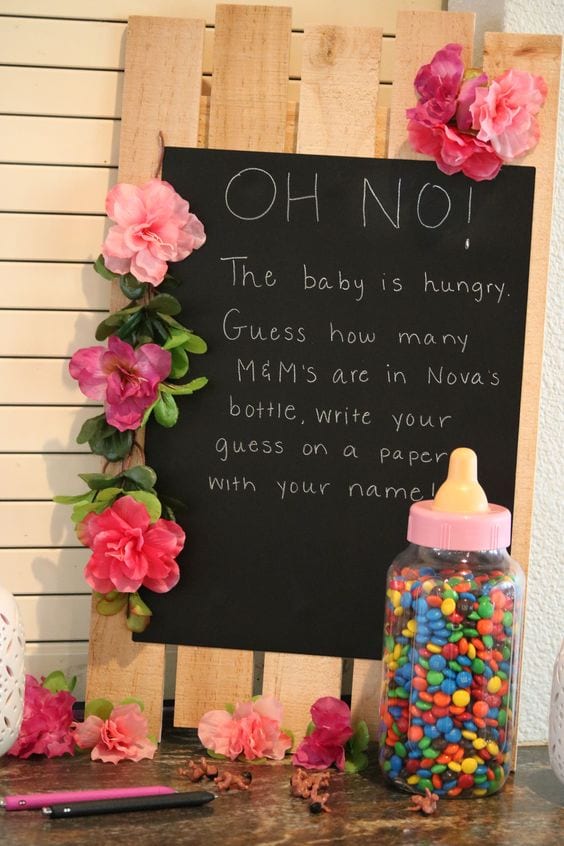 Craft Stations
Are the baby shower guests creative types? If so, they'll love getting to show off their crafting prowess at your party. Fun crafting stations might include creating headbands for a baby girl, decorating a onesie, tie-dying baby socks or hats, drawing on wooden blocks, or decorating patches of a quilt.
Create a Baby Predictions & Advice Book
Your guests will love writing the expectant mother a page full of their predictions and advice about the new baby. Have guests guess how much the baby will weigh, the baby's gender (if it is unknown, of course), hair/eye colour, which parent the baby will most take after, and his or her likes or dislikes. Then, ask them to leave a few tips for the new parents—these can be as sincere or silly as your guests!
Cupcake Decorating
Let your guests handle the desserts! Have a cupcake decorating contest. Award small prizes for categories like prettiest, girliest, most delicious looking, mum's favourite, etc.
Create a Time Capsule
For those who are sentimental at heart, creating a time capsule for the baby to open when he or she turns 18 is the perfect activity. Ask guests to include sweet photos and written stories about mum, mementos from the baby shower, or trivia about the baby's birth year.
Baby Scattergories
Who doesn't love this classic game? Here's how it works. You give each guest 12 categories to select from. Then, everyone gets 90 seconds to write down unique answers for each category. For example, if the category is "Types of Nappies," you might write BabyLove, Huggies, or cloth nappies. The only catch? Each answer has to begin with a certain letter. Guests will be rolling on the floor with laughter when this game is in full swing!
Honourable Mention Baby Shower Game Ideas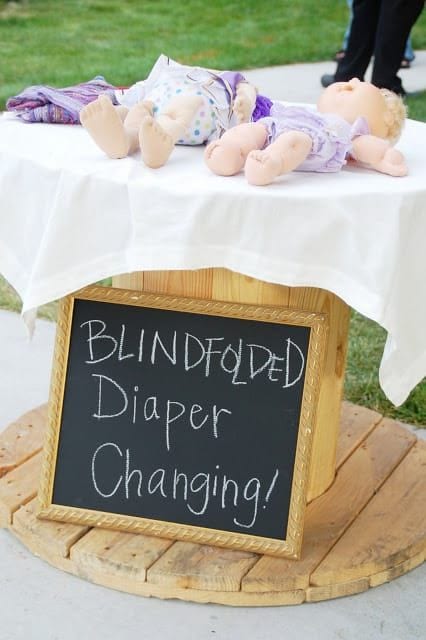 The list of baby shower games is virtually endless! For even more ideas, we'd recommend looking into the following additional baby shower games:
My Water Broke
Spit the Binky
Blind Baby Food Taste Testing
Guess the Baby Game
Blindfolded Nappy Changing
Pregnant Twister
Future Baby Photo
Bobbing for Nipples
Don't Say (aka The Clothespin Game)
And what about finding out if you're having a baby boy or girl? A gender reveal can always bring a lot of excitement to your baby shower. If you need a little bit of inspo, I've put together over 50 gorgeous gender reveal ideas that will make your day extra special.
Baby Shower Party Favour Ideas
One of the most stressed over aspects of planning a baby shower is choosing the best possible party favours. What's the perfect way to show your guests how glad you are that they joined you for this special day? Whether you prefer traditional party favours, favours with a twist, edible baby shower favours, or highly sentimental favours, there's something on our list for everyone!
Edible Baby Shower Favours
Want to give your guests a gift they'll love that won't create extra clutter for them to deal with after the fact? Edible party favours are a great choice if you need to please a diverse group of people, want to save a little money, or are environmentally conscious. In addition to the champagne splits listed in the food section above, here are a few other edible baby shower favour ideas.
Flavoured Salts or Sugars
Contrary to what you might think, these are actually pretty simple to make. You can colour them to fit your theme if you choose, and guests can select the flavours that most appeal to them.
Popcorn
These are so fun and a really easy DIY party favour that doesn't cost too much.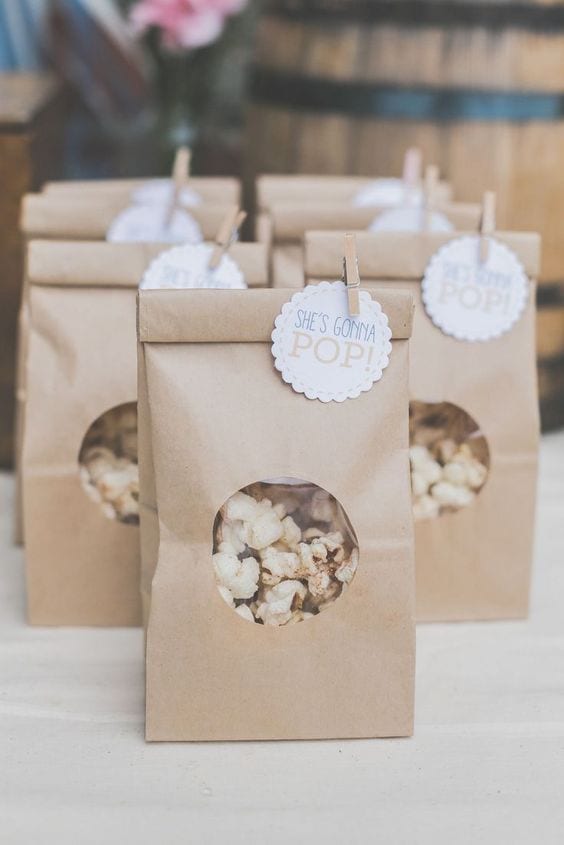 Miniature Fresh Fruit Baskets
All the things you love about getting a fruit basket but paired down! Use decorative bags or baskets to put together a selection of cherries, berries, fruit slices, and nuts. This will be an especially big hit if the expectant mom happens to be particularly health conscious, and a gift of fresh fruit fits right into a bohemian or woodland theme.
Glass Bottle Sodas
Super simple, straight forward, and 100% guaranteed to bring a smile to guests' faces. To tie this soda pop in with your baby shower theme, simply add a handwritten tag that says, "Thanks for popping by!," "Ready to pop!," or something similar.
Baby Jars
When in doubt, fill a mason jar with something delicious and baby-themed. This could be anything from blue hard candies to pink lemonade powder. Add a festive ribbon or a "Thank you" tag, and you're good to go.
Local Honey
This can get a bit pricey if you go with large containers, but a small jar of local honey can make for an extra sweet party favour . . . Especially if you decided to go with the Always Bee My Baby theme I mentioned above!
Artisan Tea or Coffee Sampler
Gift guests with a small selection of quality teas or coffee beans. A card that says, "A baby is brewing," is all you need to make this thoughtful and practical gift feel perfectly festive.
Spa Baby Shower Favours
Homemade Bath Salts
Extremely easy and cost effective to make, homemade bath salts are a great way to give a personal baby shower favour that your guests will actually look forward to using.
Bubble Bath
In the same vein as bath salts, bubble bath is a gift that nearly anyone would be happy to receive. You can either buy pre-packaged travel-sized containers of bubble bath or buy one jumbo size bottle and split it into tiny glass bottles yourself. Add a cute sticker or tag to the bottle for a personalised touch.
Nail Polish
Simple and effective. Nail polish goes over especially well at baby girl showers, but it can certainly be used for either. Bonus points if you select a colour that is both a universally attractive nail colour option and relevant to your theme colours.
Bath Bombs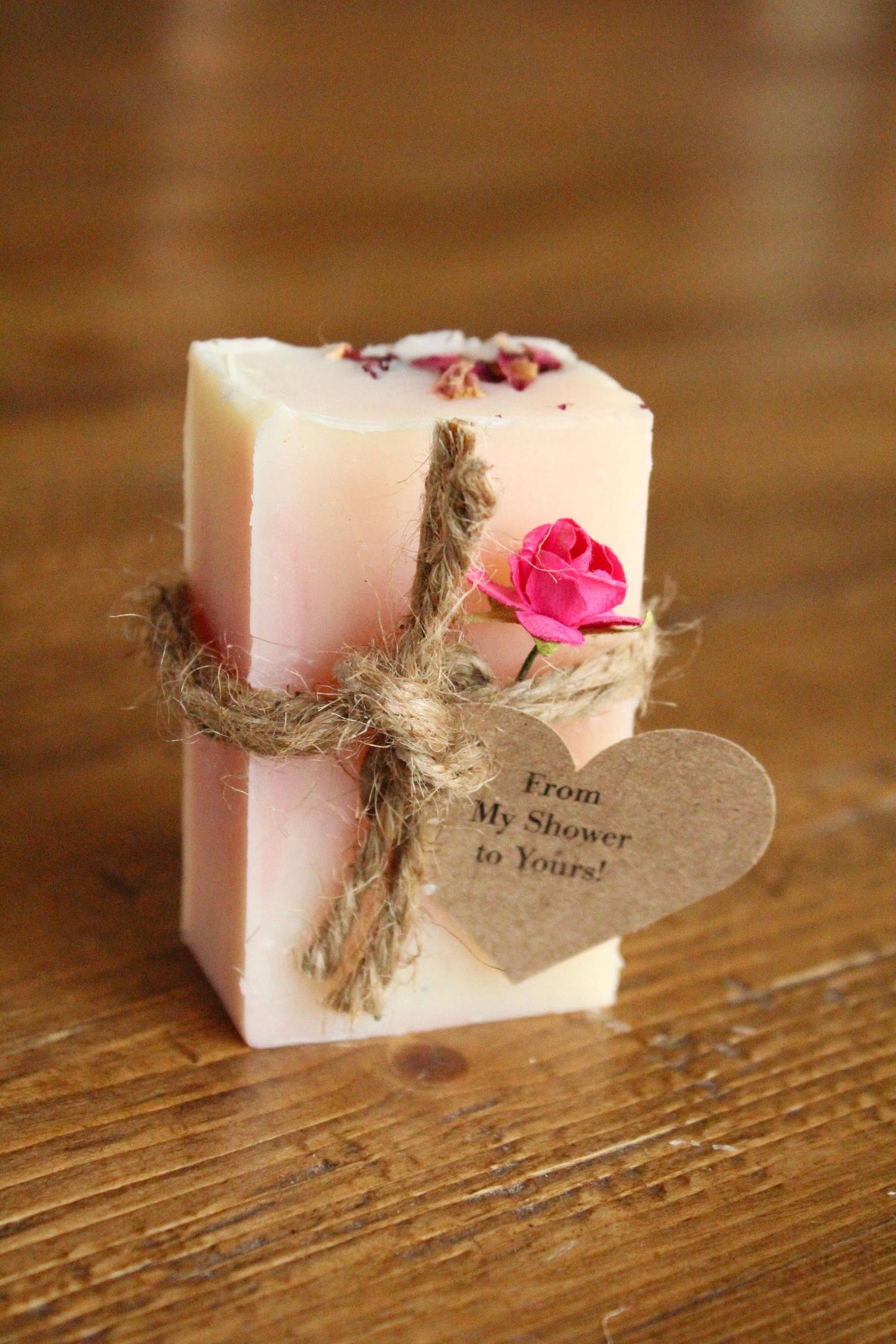 Feel free to DIY this one if you're feeling ambitious, or purchase these from any local shop or online spa hub.
Scented Candles
While scented candles are always a hit, they also offer a chance to add a really sweet element to your baby shower favour. Ask guests not to light the candle until they hear the news that the baby was born. On the day of the baby's birth, mum can smile knowing that loved ones near and far lit a candle in honour of the new arrival.
Budget Baby Shower Favours
Decorative Hair Ties
Try to choose a pattern that ties into your theme, like florals, stars, or baby animals. You can either order a bulk package of these online or find pretty fabric and make them yourself.
Slipper Socks
Coming in at just a few dollars per pair, cozy slipper socks make a wonderful favour for winter time baby showers.
Oreo Sprinkle Pops
Similar to cake pops but way easier to make yourself, Oreo sprinkle pops offer a bite-sized favour that won't break the bank.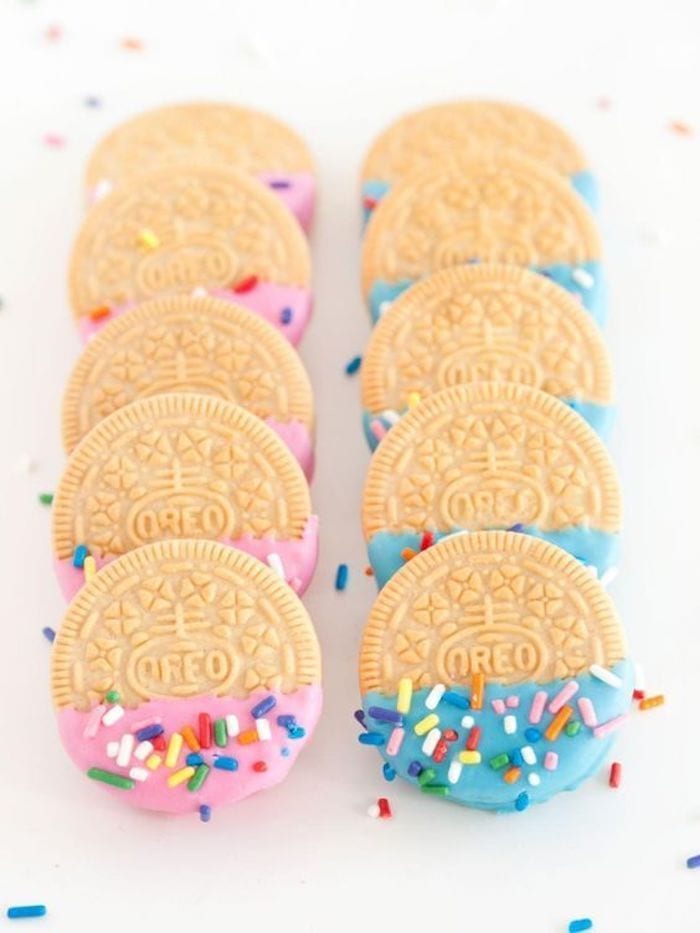 Birdseed Yard Ornaments
If your guests are the type to enjoy watching wildlife, gifting them with a small birdseed ornament to hang in their yard is sweet and inexpensive. Choose a shape like a heart or star for an eclectic but elegant look.
DIY Wine Charms or Stoppers
Use tiny charms, glittery corks, or anything that looks fun to create personalised wine accents. Your guests will think of the new baby for months to come each time they use their gift.
Botanical Baby Shower Favours
Potted Herb Favours
Check your local greenhouse for tiny basil, lavender, sage, and rosemary plants. Re-pot them in sweet-looking ceramic pots or teacups for a favour that your guests can appreciate and nurture.
Succulents 
Like potted herbs, succulents and air plants both make for tiny mementos that serve as a thoughtful thank you without taking up too much room in your guests' homes.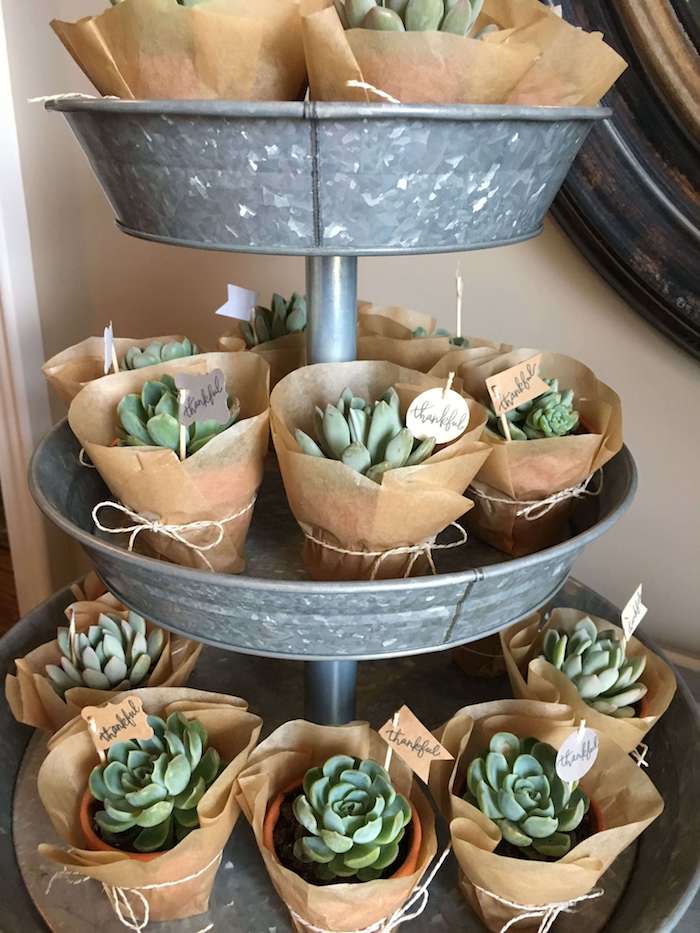 Love this? See more succulent ideas for your home!
Flower Centrepiece Favours
Going with a flower-friendly theme? Purchase a small assortment of potted flowers. Use them as centrepieces on your tables; then ask each guest to take home their favourite at the end of the party.
Seed Packets
The fun thing about seed packets is that guests can plant their seeds right after the shower, then see how the plant has grown as the baby's due date approaches! Add a card that says "Watch me grow," or something similar to keep with the cutesy, baby theme.
Other Baby Shower Favour Ideas I Love
He or She Hershey Bars
It doesn't get any simpler than this—plus, these also make for a great way to reveal the baby's gender. Buy several Hershey bars and either colour in the "He" or the "she" in the word "Hershey." Tie with a pink or blue ribbon respectively. Then, have your guests choose which bar they want based on whether they think the baby will be a boy or a girl.
Hot Cocoa in a Jar
Another great favour for winter baby showers, powdered hot cocoa mix in a mason jar is a sweet and thoughtful baby shower favour.
Mani-Pedi Kit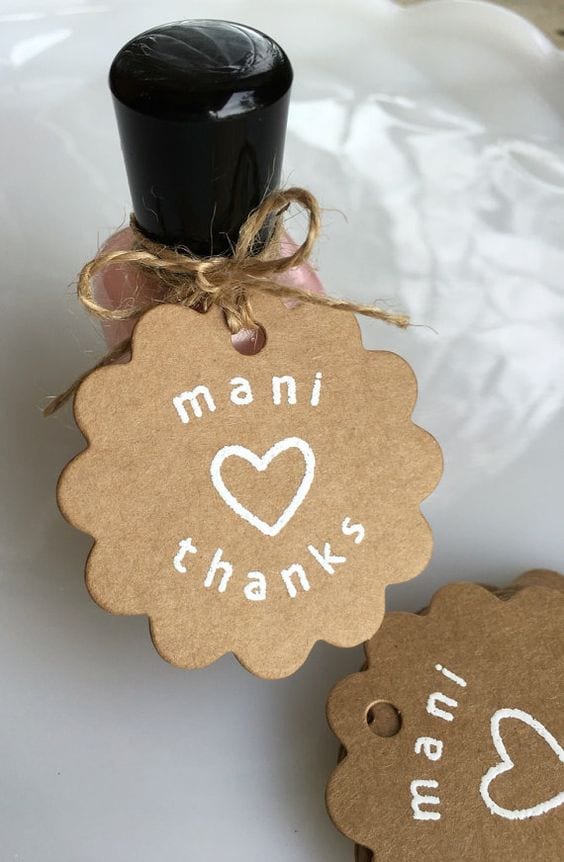 If you want to take the nail polish favour idea one step further, create a little kit containing polish, nail clippers, toe separators, a pumice stone, etc.
Mini Recipe Booklet
Going with a food-themed favour? Send guests home with a tiny flip book of three to five of the mom's favourite recipes.
Fortune Cookies
Did you know you could order personalised fortune cookies? Whether you go that route or just purchase a regular box of fortune cookies to dip in chocolate or decorate in some other way, fortune cookies make for a unique, tasty, and simple baby shower favour.
Surprise Grab Bags
Can't pick your favourite baby shower favour idea? Choose a few, put them in brown paper bags, and tell your guests to choose a surprise grab bag! This is especially fun if the lucky couple has decided to keep the gender or name of their baby a surprise until the due date.
Sure, 100+ baby shower ideas cover a lot of ground but there are still more possibilities if you use these ideas as inspiration. Have fun and if you have any other ideas, let us know in the comments below!
Last but not least, don't forget to find an available baby shower photographer who will be able to capture all of these beautiful memories for you to look back on.
Other baby-related tasks that you may want help with include, the all-important baby proofing (including safety gate installation), cot assembly and let's not forget – grocery delivery!