Out of all the rooms in your house, the playroom should be the most fun. Creating one not only becomes the sole toy space for keeping the children's clutter, but it's also a great way to teach them the responsibility of cleaning up after themselves.
Before building out the space, you can include the kids in the planning stage so they can personalise it in ways they like. Think about choosing the room colours, wall art, and toy or book displays.
Explore these playroom ideas and find one that's a perfect fit for you and your kids.
1. Muted rainbow
While fun is often associated with colour, sometimes going too bright can be harsh on the eyes. Opt for a muted rainbow colour scheme for a soft, more approachable look.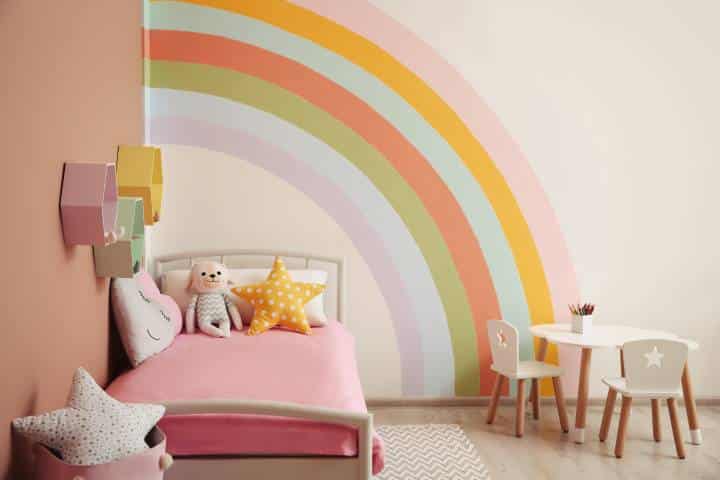 2. Learn and play
Incorporate enough space for your kids to grow and learn. Add a table, chairs, and enough shelving space to house toys and books. You can even bring in a small blackboard or pegboard to put in reminders and notes.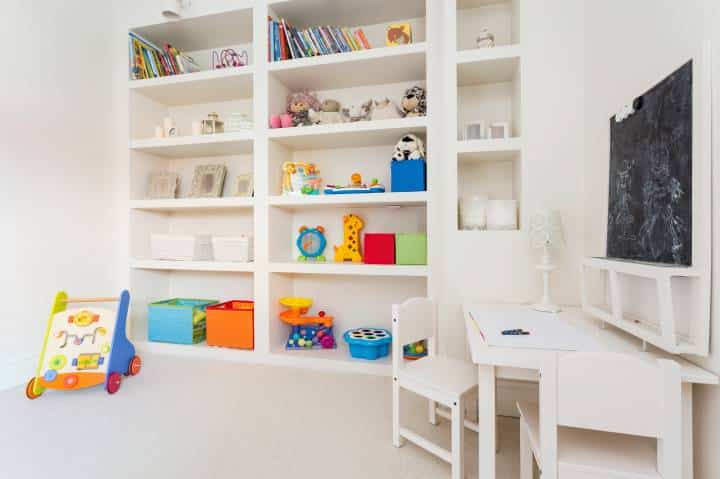 3. Happy hideout
Pillow forts are fun to build, but a small teepee works even better as a cuter and more permanent setup. Position it in a nice cosy corner for the kids to hide away. Don't forget to add pillows, dolls, and blankets for the ultimate comfort zone.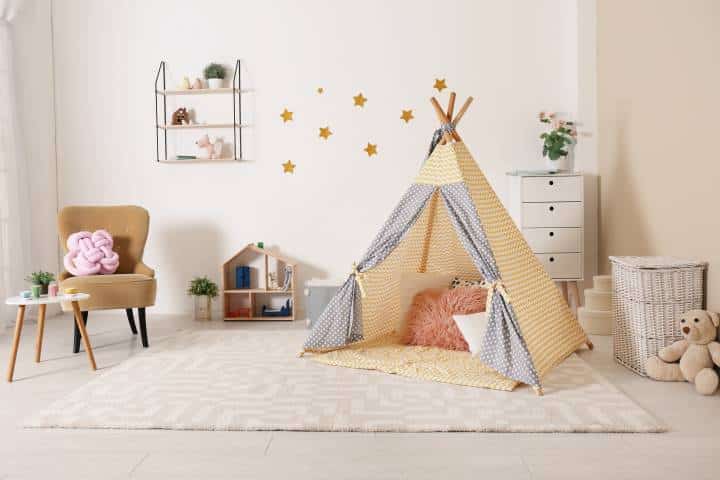 4. Fabric buntings
If you enjoy DIY projects, you can upcycle spare fabric into festive buntings that you can hang in the playroom. Use it to decorate the space with colours, shapes, and patterns. Hang small stuffed toys over or around it for a more charming look.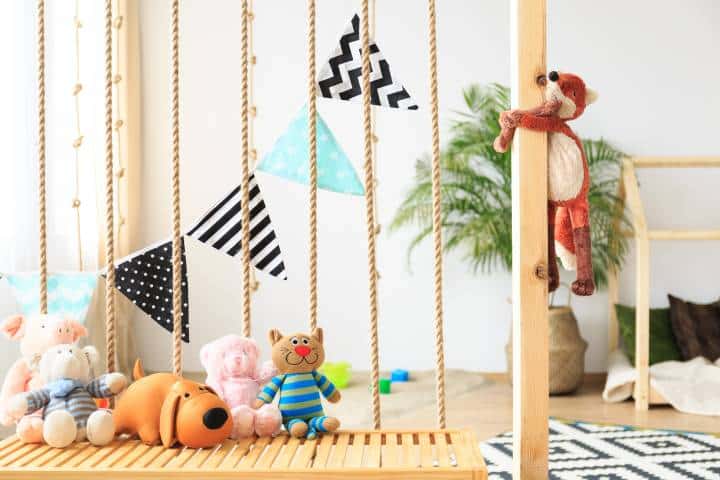 5. Neutral tones
You can never go wrong with neutral. Clean white or cream walls with natural wood, warm browns, or greys are great. You can bring the space to life with children's toys or framed paintings.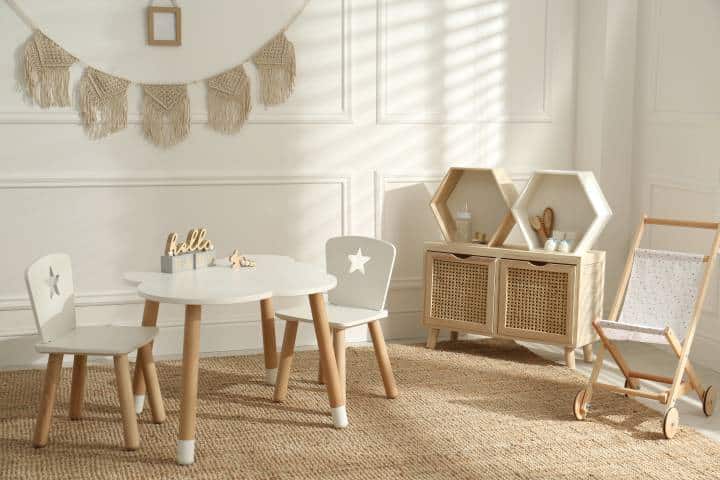 6. Rad rainbows
Learning about colours? Incorporate rainbows into the room. With different coloured learning materials or rainbow-shaped toys, having the variation will help your kids identify them all.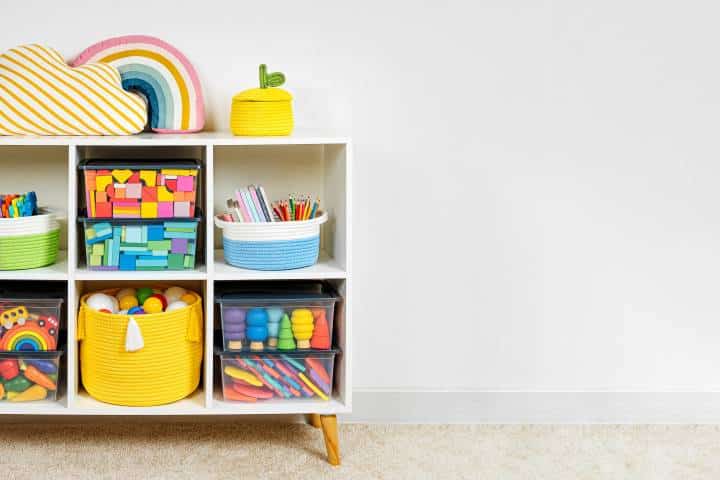 7. Timeless playroom 
Want to keep the playroom's design timeless? Choose sleek wooden furniture and comfy colourful seating with your children's favourite toys. You can even bring in a thick stylish rug for the kids to sit in.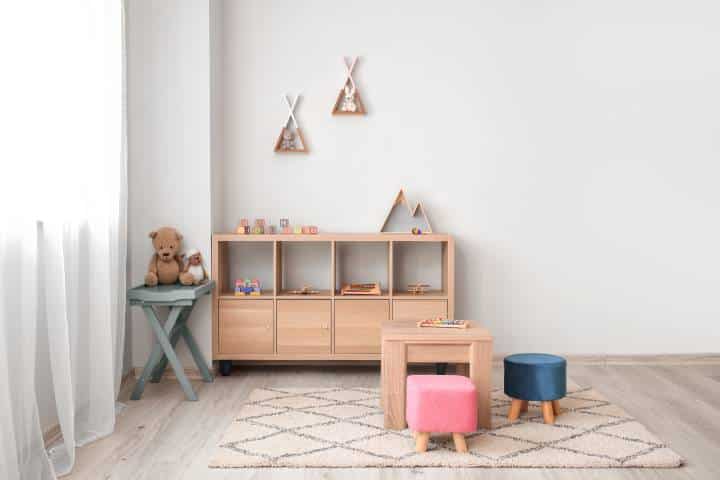 8. Painted wall art
Looking for a more personalised playroom? Decorate one of the walls with a mural related to your children's interests. Chat with a professional artist to make it happen quickly and easily.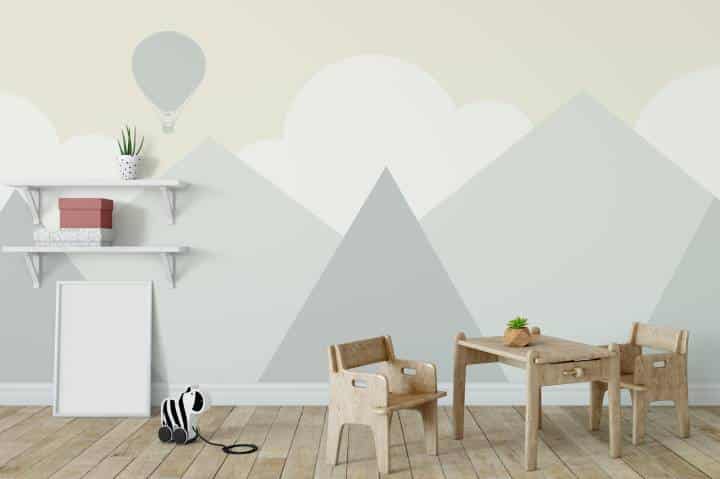 9. Pastel colour schemes
Choosing pastel is a great alternative to going for bold colours. It brings more of a subtle, playful energy than bold colours. When selecting the colour schemes, limiting your choice from a dominant colour to adding one or two subordinate colours is important.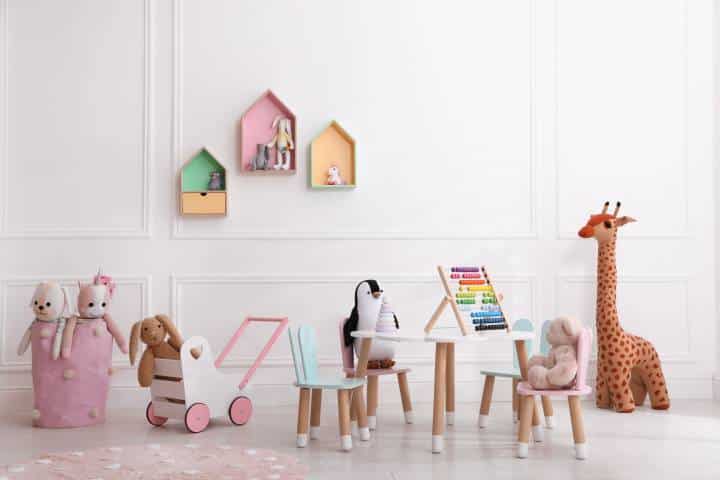 10. Artwork and photo display rack
It's no secret that kids grow fast. If you'd like to display their artwork or photos without too many frames, add a rack or ladder to rest on the wall. Hang artwork or memorable photos easily here.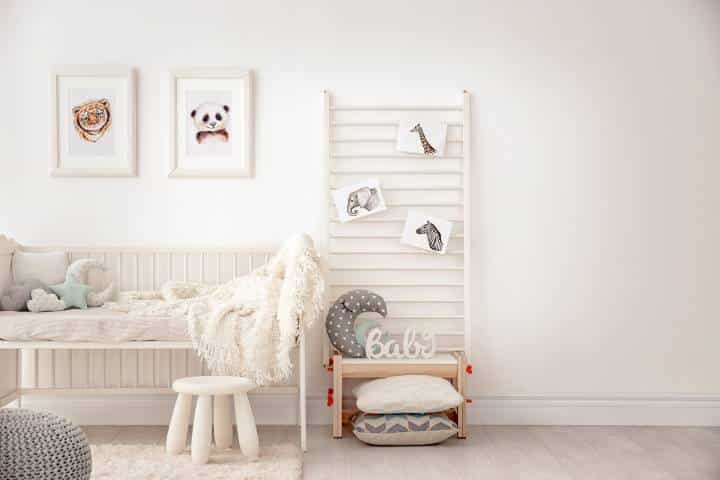 11. Alphabet post-its
If you're in the process of teaching your little ones all about the alphabet, then adding a print or post-it with the alphabet onto your walls is a great idea. They could glance up at the wall to practice even when you are not actively teaching them. Keep them colourful, too, to pique the children's interest.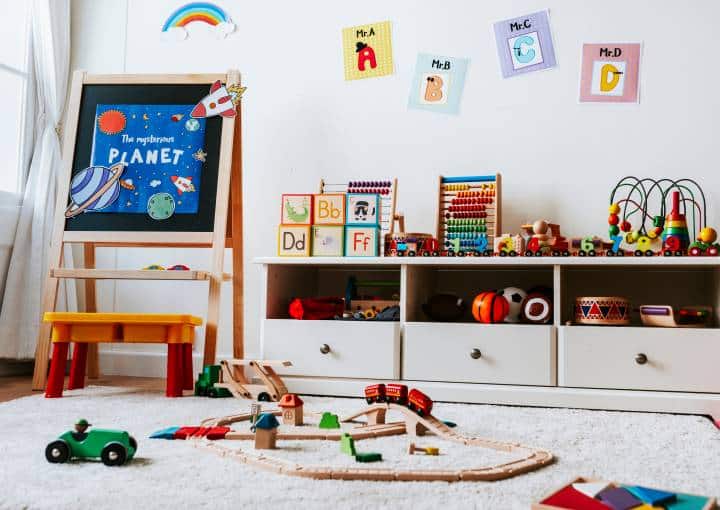 12. Room for artists
If your kids love arts and crafts, allow them space to decorate. Hang up any of their drawings and art projects. You can also add a drawing board or easel to make them feel like professional artists.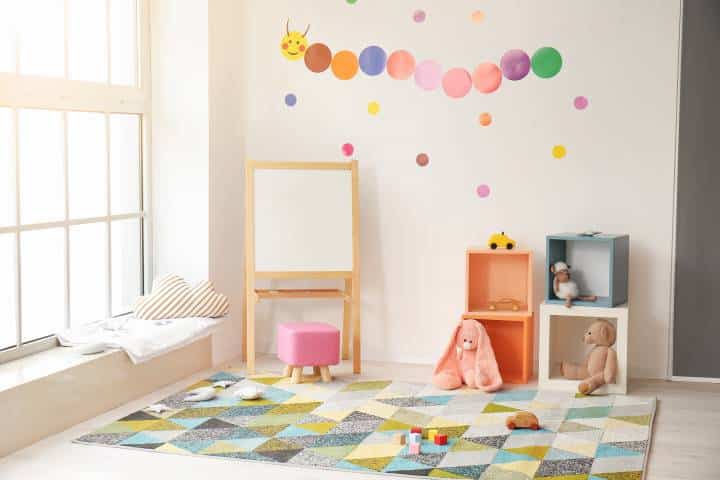 13. The great toy display
Cubby storage units are an excellent way to organise and display your kid's favourite toys. Swap out the week's favourite as the little ones grow and develop new interests.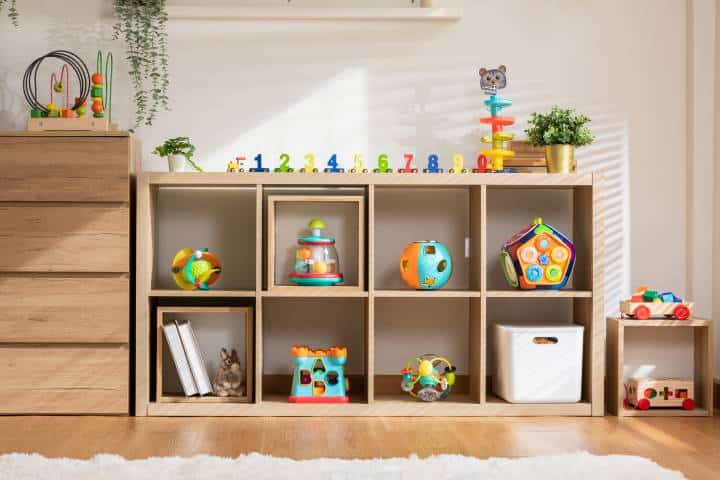 14. Indoor playground
If you live in a place that doesn't often have the best weather for a day out at the playground, you can bring it inside. Add a mini slide, swing or ladder to keep the kids busy indoors.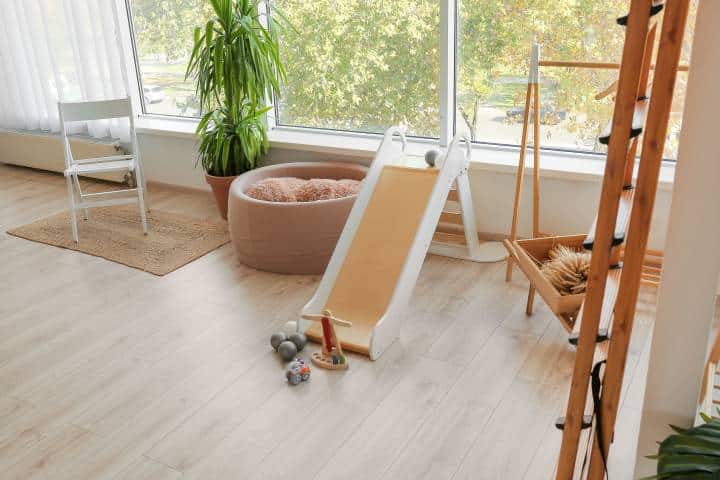 15. Organised chaos
Designate enough storage for all the toys. Sort them by colour or toy type to keep them easy on the eyes. Use clear acrylic or open baskets so they're easy to see and sort.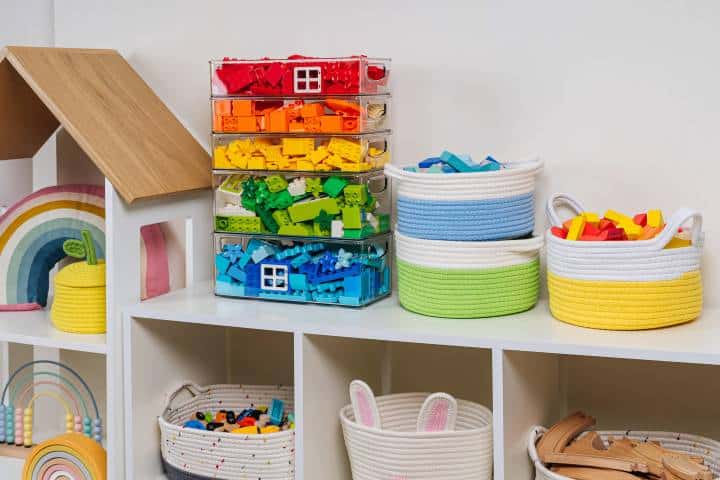 16. White on white 
Nothing says clean like white on white. The colour choice creates a nice, bright space for the kids to play in. It is also an excellent canvas to highlight your children's art and favourite toys.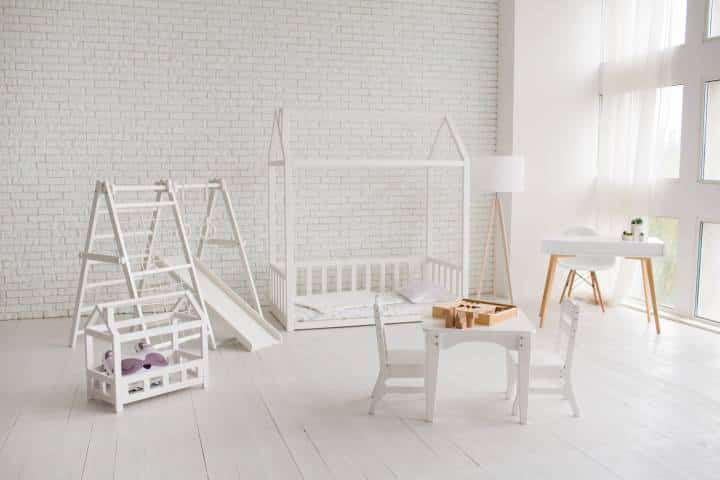 17. Traditional games
Allow the kids to disconnect from screens in the playroom by adding traditional games they can play. It can be as simple as setting up a hopscotch floor, bringing in jackstones, and board games.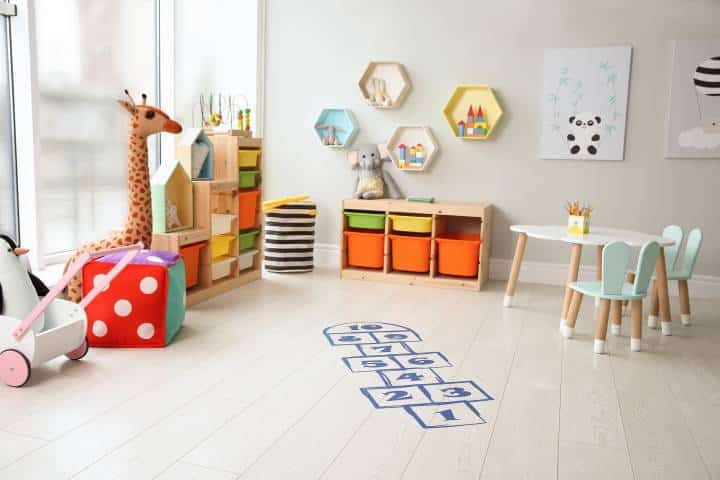 18. Room rug
Protect your kids and flooring with big rugs to fit in the playroom. This addition allows the kids to play on the floor without hurting their knees and helps avoid stains from getting on the floor.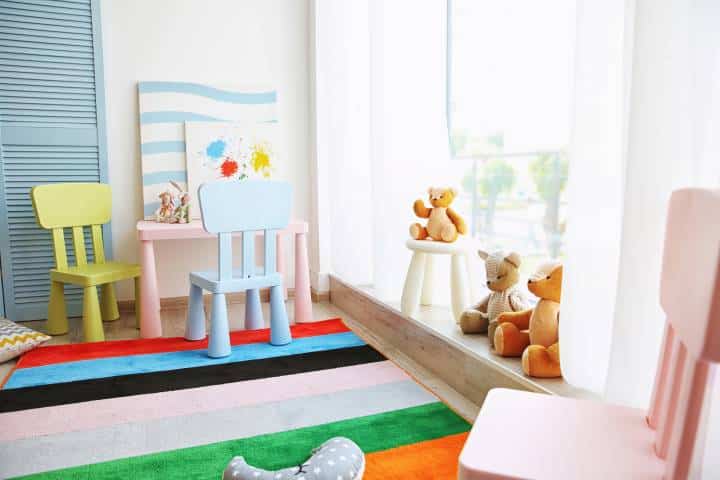 19. Elevated beds
If you have limited space in the home but still want to give your kids enough room for play, you can always opt to customise the bed by elevating it. You can utilise the height for extra storage space.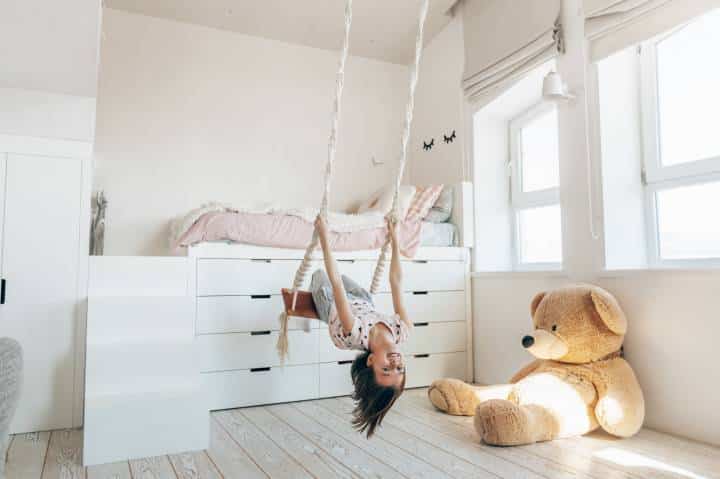 20. Dollhouse cubbies
Play up your standard cubby and get it customised into a dollhouse. This makes the element of putting away toys almost feel like play. Designate a spot for toys, big or small. Not only is it a great way to store the kids' things, but they can also show off their favourite toys.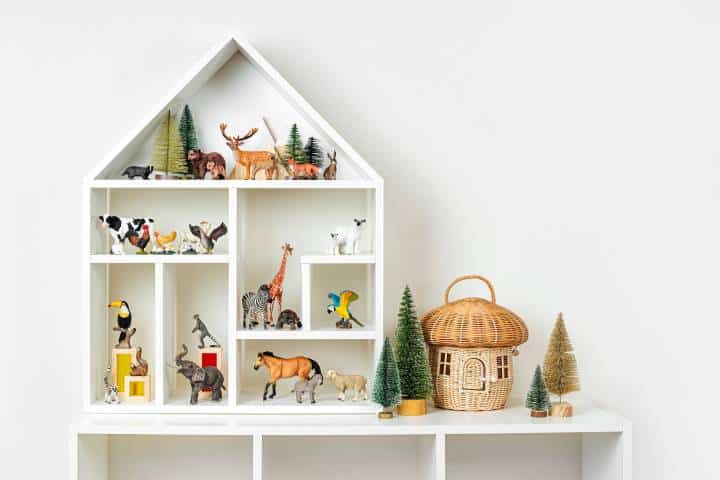 21. Homemade playhouse
If you want to DIY, you can build a playhouse from scratch. It's a great way to upcycle any thick cardboard, extra wood, or fabric. It also doesn't break the bank to create.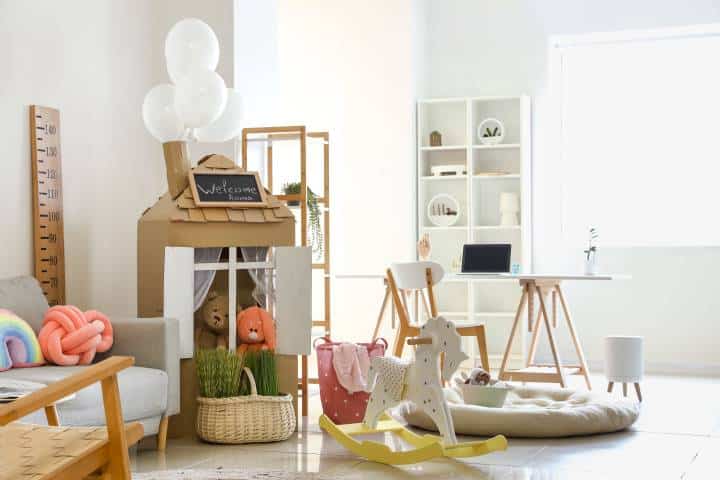 22. Created for comfort
Playrooms don't always need a whole lot of things. Sometimes they can be a safe space for the kids to unwind and let loose. Bring in comfy couches that have extra storage to stow away clutter easily.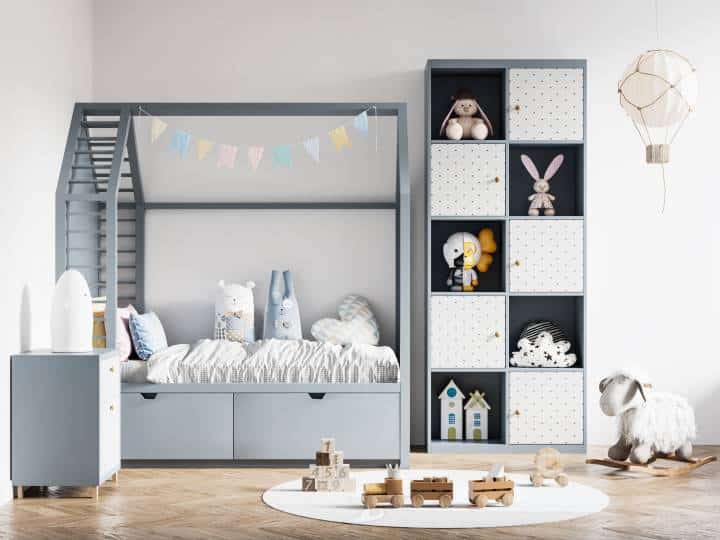 23. Cushioned stools
Make your playroom's seating a little comfier with cushions for the stools. You don't need to splurge on fancy seating for the room, but you can make it more pleasant to sit on.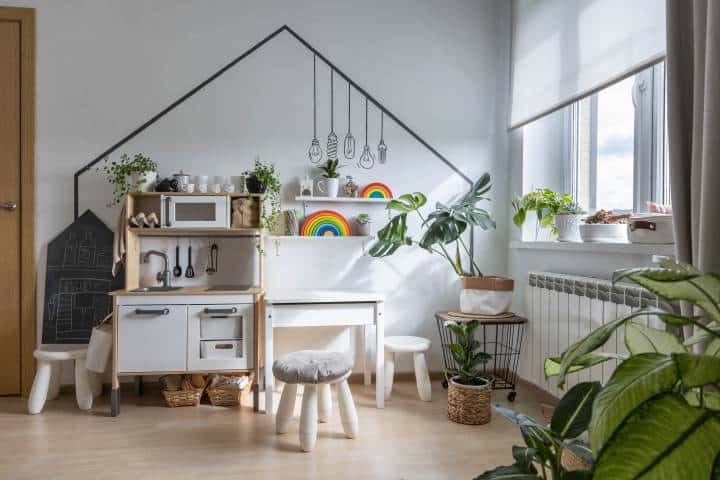 24. Colourful play mats
Another great DIY idea for the playroom is colourful mats. Create them with thick, waterproof or absorbent material in fun shapes and sizes. This can double as a mat the kids can use when they work with clay, paint, or any messy material.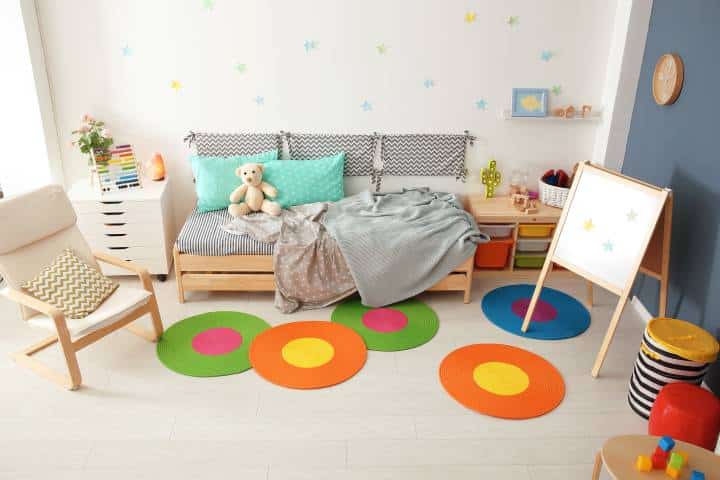 25. Chalkboard wall
If you're in the process of styling your playroom, don't forget about the walls. You can transform one side of the room into a chalkboard, like an accent wall. This allows kids to unleash their creativity and decorate their space however they like. If you're not keen on chalkboards, use dry-erase markers on glass panelling.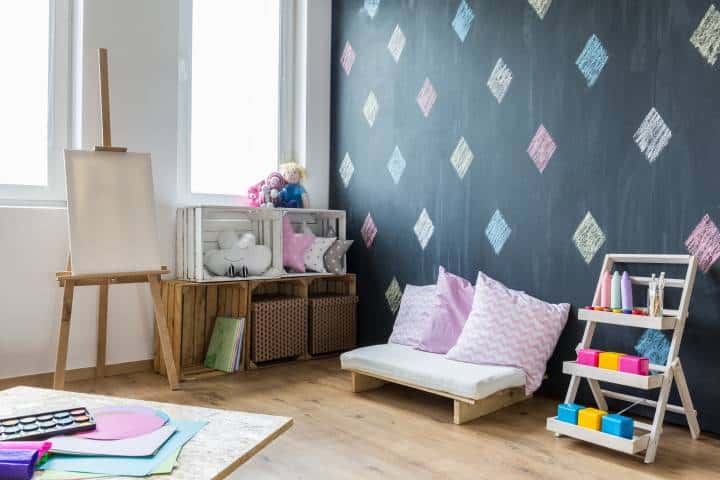 26. Custom tables
Let your playroom come alive with playful everyday pieces. A table, for example, can be customised into a cloud shape for that fun, whimsical feel in the room.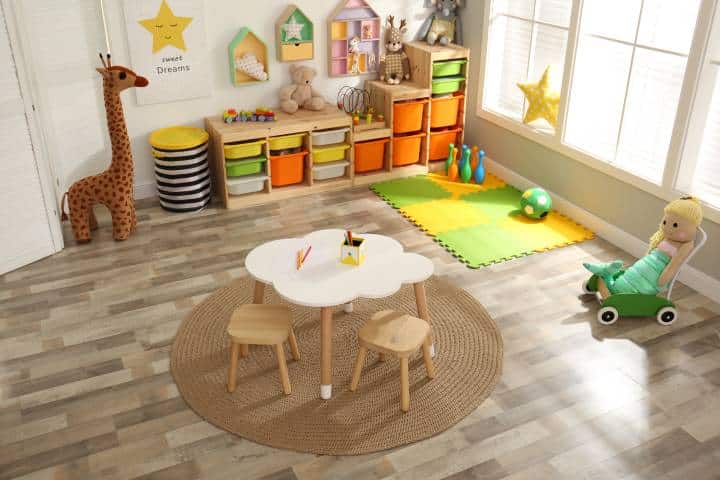 27. A seat for you 
While playrooms are designed for little ones, keeping a cosy chair for yourself or adults coming is always handy. This helps the space stay inviting enough for the grownups to keep the kids company.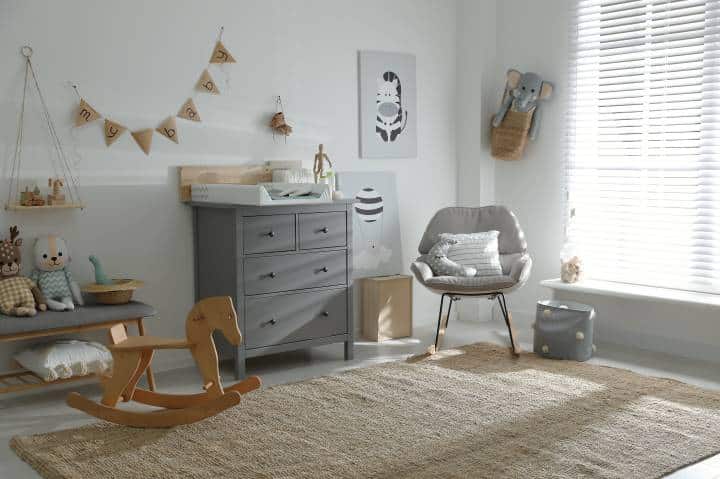 28. Themed cubbies 
You can turn shelves into themed cubbies if your kids love animals or specific characters. It's a great way to hide the extra clutter.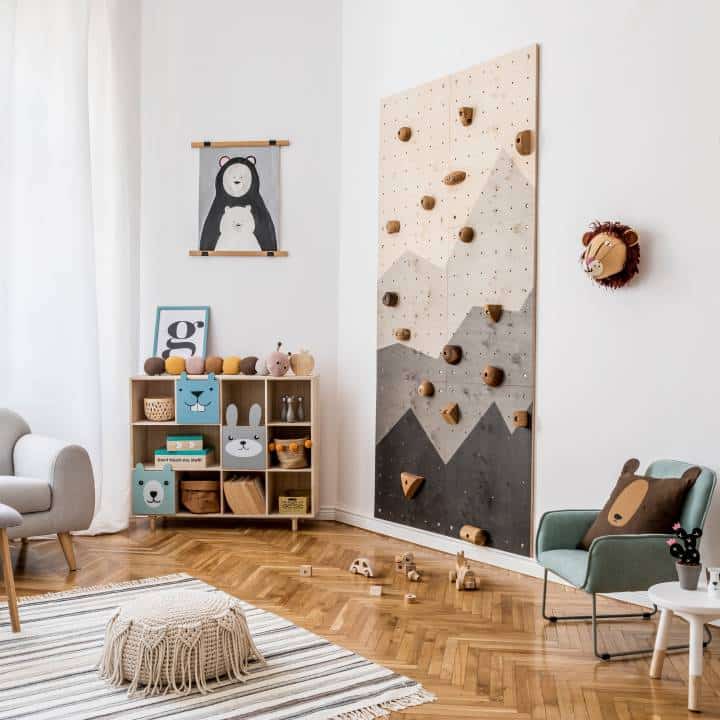 29. Cooking corner 
A playset would be great if your kids are curious about cooking. It'll be even better if the space is by the kitchen so they can work alongside you to immerse them in playtime for the real thing.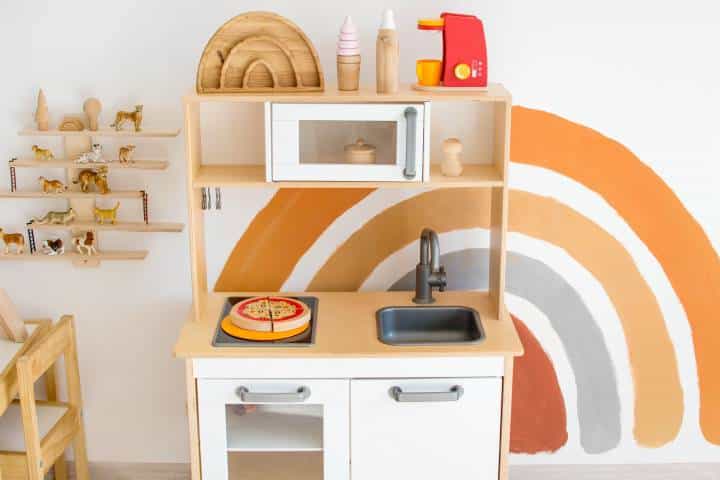 3o. Multipurpose divider 
Divide the playroom space into the learning area and the play area. You can use a storage shelf in the middle of the space, so you don't have to spend on building a wall or divider.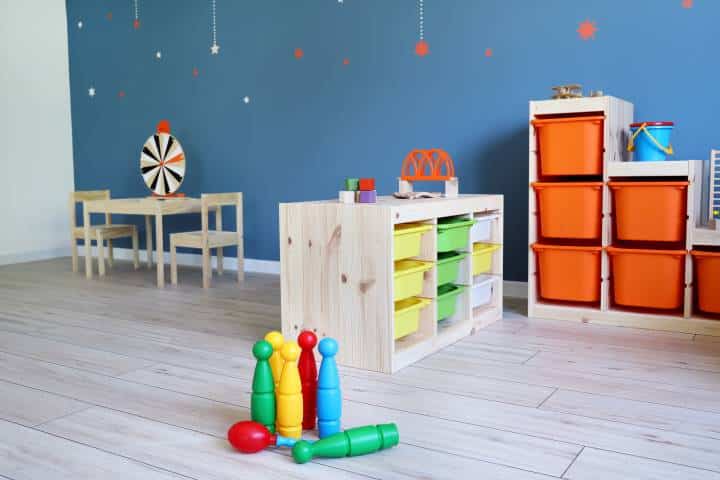 Hopefully, these playroom ideas inspire your little one's space. Connect with interior designers near you to better understand how you can make it happen much faster.