It's a niche hobby increasingly beloved around the world. Miniature gardening involves creating tiny gardens with plants and other elements all in scale with each other. Its gardeners construct elaborate vignettes with bonsai trees, dwarf plants and accessories. But what exactly is a fairy garden? They're sometimes also known as dish gardens, teacup gardens, gnome gardens and windowsill gardens. But whatever you call it, a fairy garden is simply an extremely enchanting type of miniature garden. And that's why I've put the best fairy garden ideas in the one spot for you.
So what sets a fairy garden apart from a standard miniature garden? Well, all miniature garden arrangements are inevitably cute. But fairy gardens have that whimsical and magical element to them. They suggest little woodland creatures are living beside you in your landscape. And what's not to love about that?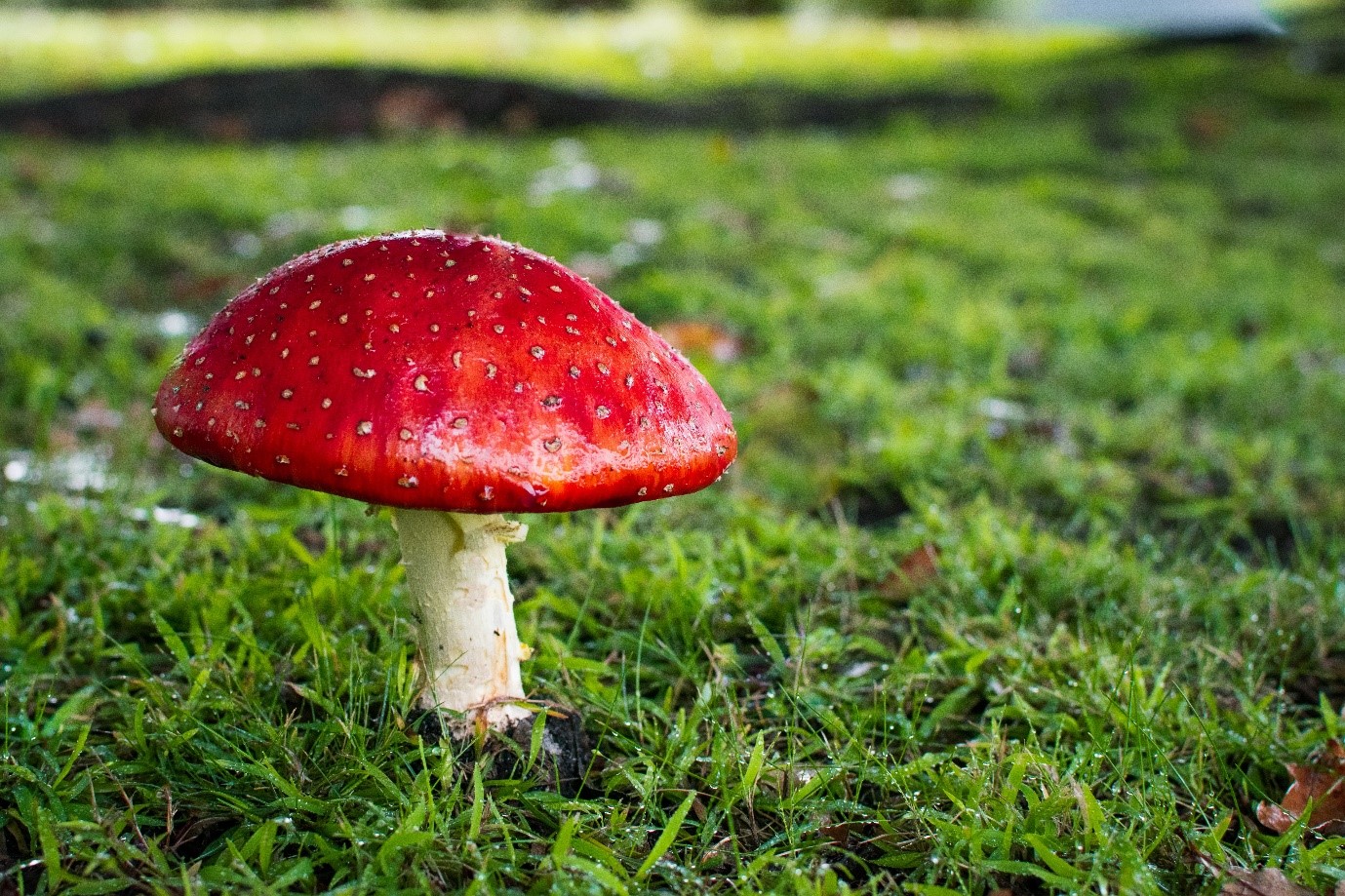 You might like to build yourself a magical space for your own amusement, or as a conversation piece. Or you might like to create a fairy garden to bewitch your children. Either way, it doesn't actually have to resemble a traditional backyard garden. Some fairy gardeners create worlds with mountains and deserts, undersea or farm scenes. Some enthusiasts even create entire villages.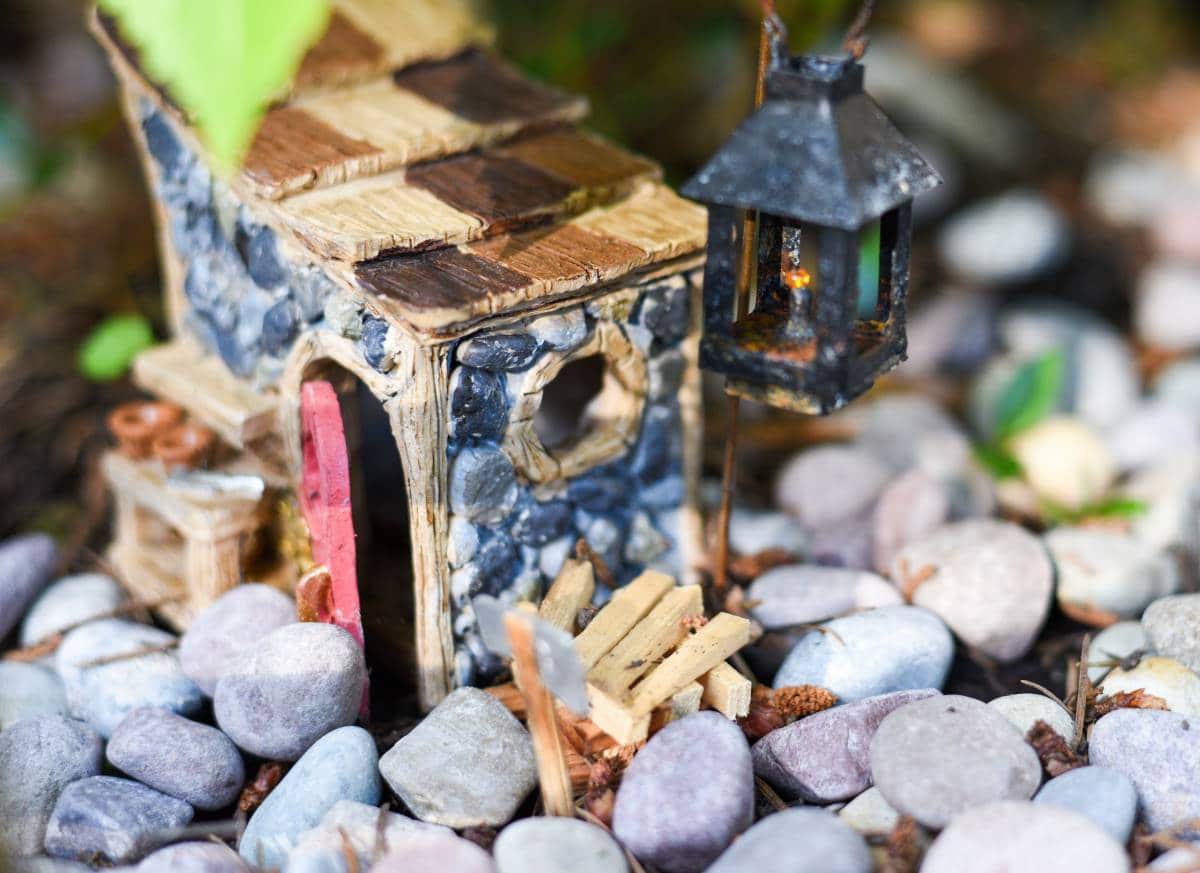 One thing I've noticed is that a fairy garden isn't necessarily always feminine in style. There are plenty of examples of fairy gardens that have a masculine appeal. What about creating a tiny man-cave for your elves? Perhaps a surfer-elf BBQ scene (this would look perfect contained in an old Weber)? Need a gift for your wine-loving friend? How about a Dionysian vignette, complete with cheeky little creatures having drunken shenanigans? The choice is yours, so let your imagination run free! There are so many potential fairy garden ideas. You're certainly not limited to making a cute home for Tinkerbell.
Here, I've compiled 40 fairy garden ideas for creating an adorable, realistic fairy garden. Of course, you could always buy a mass-produced plastic 'fairy door' and nail it to a tree in your garden. But where's the fun in that?! Stand by for a bunch of ideas that are so much more rewarding.
1. Planning your fairy garden
Wondering where to start? It's easy. Simply pick the container you want to use. Decide on the perfect location. Sketch the layout of your garden on paper, noting where you will be planting your trees and shrubs. Choose a focal point for your garden. Add your low-growing plants (creeping groundcovers, easy to care for succulents or potted colour). Then add your characters and accessories.
When creating your fairy garden, you can start small and gradually build it up over time, so don't be afraid to just dive in!
2. Design around the 'bones'
Life-size gardeners begin with what they call the anchor points or bones of a garden. These are the trees and shrubs that remain in place all year when your perennials are dormant and annuals have finished their run. And gardening in miniature still follows the rules of regular-sized gardening. In other words, design the whole garden around the bones—the trees and shrubs.
3. Develop a realistic miniature
To really give your garden a fairy atmosphere, it's best if you develop as realistic a miniature as possible. This means incorporating true miniature or dwarf trees when you are planning the bones of your garden.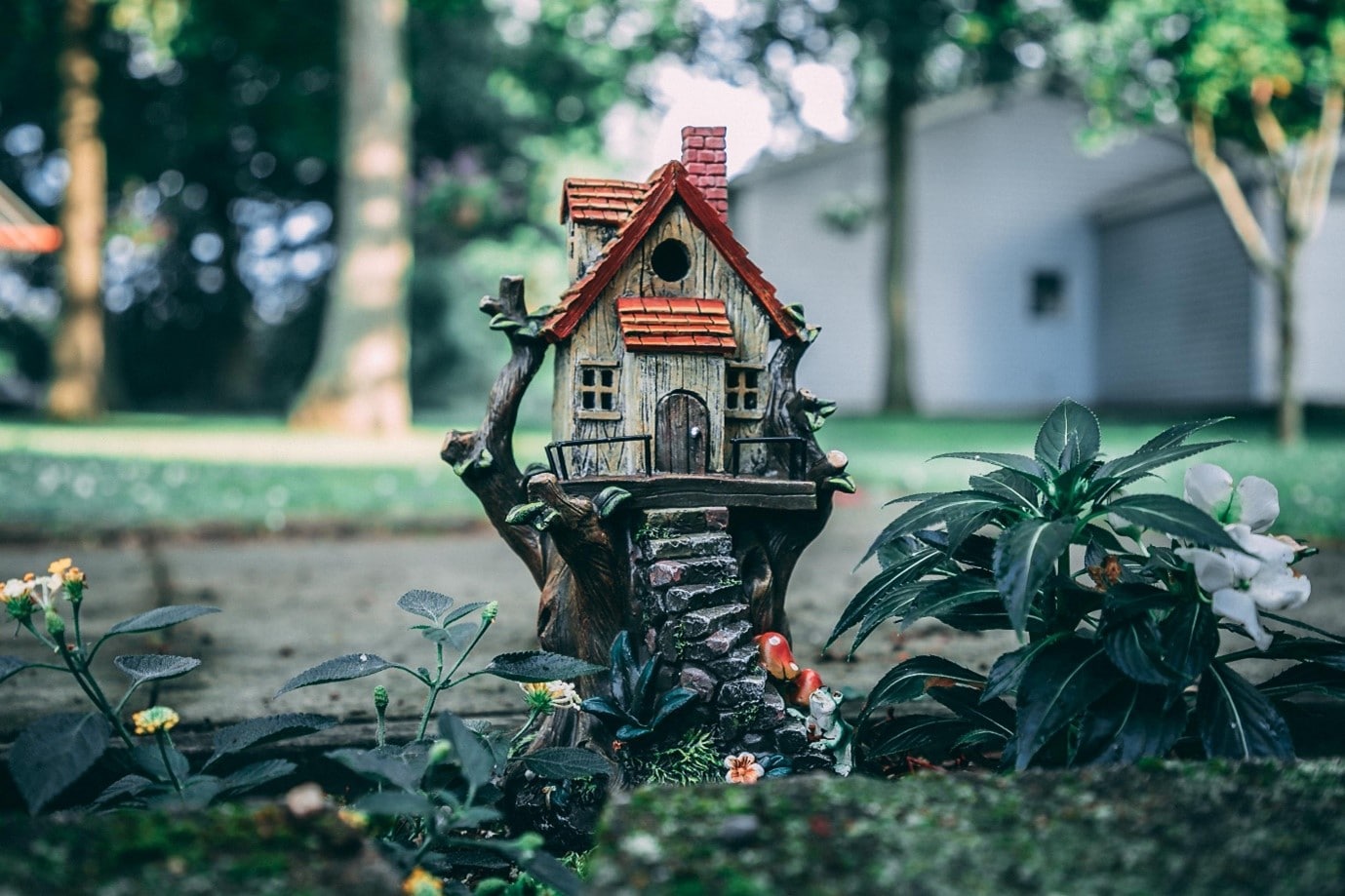 4. Choose the perfect location
You can make a fairy garden anywhere. On a windowsill, in an office corner. in a flower bed, under a tree, potted on the patio. Consider a position near the base of a blossoming tree –and you'll enjoy your fairy garden getting covered in pink 'snow' when in season. An elevated container is a great idea too, to ensure that your fairy garden can be seen amongst the other garden plants.
You might already have an idea about the ideal spot in your garden, but if you're unsure, think about creating your fairy garden in a portable container.
5. Decide on your container
You can create your fairy garden in any kind of container. There are tailor-made fairy garden structures that can be as elaborate as fancy dolls houses. Or there are terrariums and vivariums you can buy. Lots of fairy gardeners love to repurpose items such as an old wheelbarrow, wooden crate or even a BBQ. The more unusual the container, the more character your fairy garden will have. Some fairy garden container ideas include:
Repurpose an old BBQ
A portable fairy garden
A vintage suitcase
Traditional 'teacup' gardening
A spot in your garden
In a planter
A stack of flowerpots
In a gourd or pinecone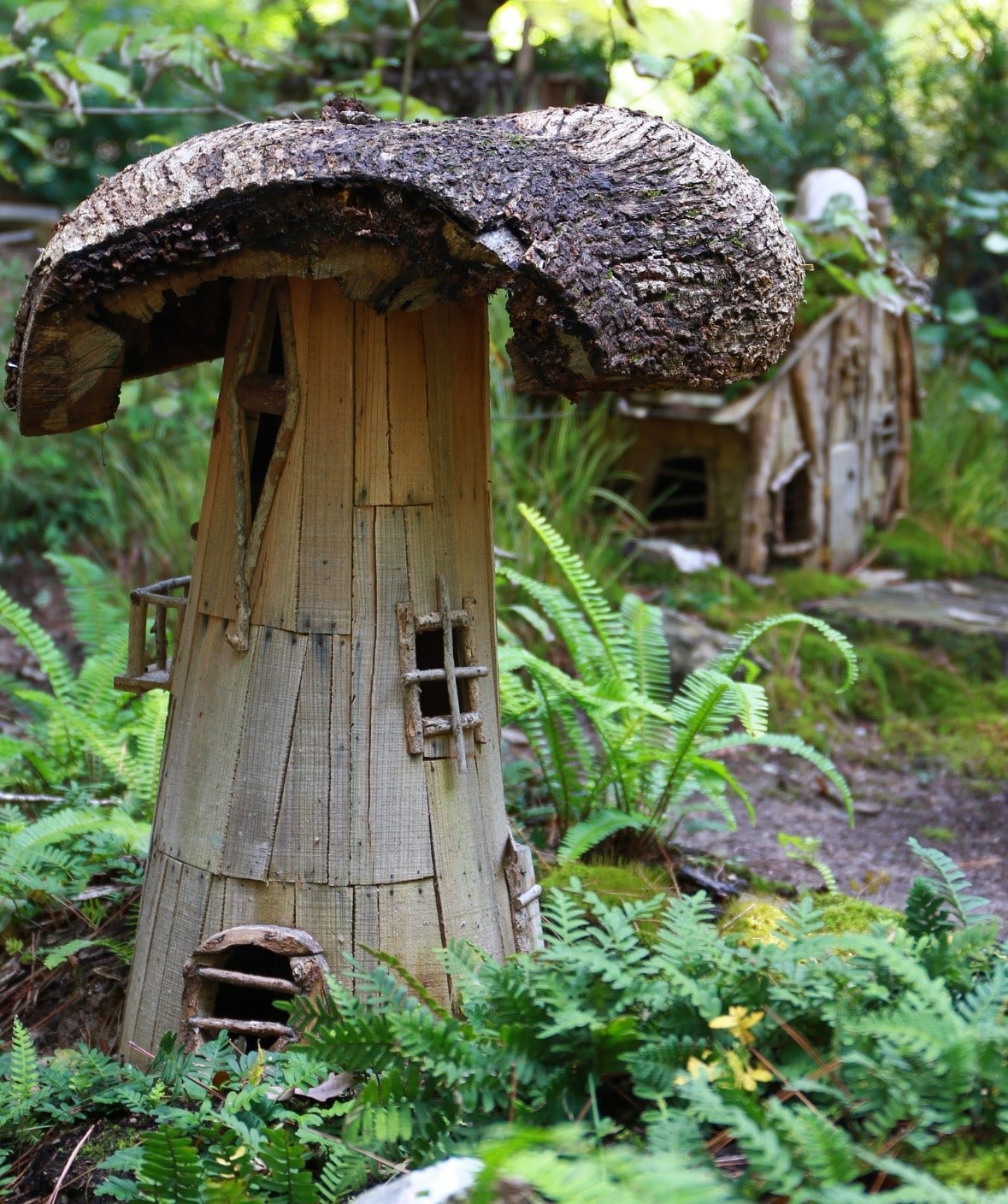 6. Choose a focal point
Fairy landscapes need a focal point, whether it's a tiny tree, a fairy house or a little vintage caravan. If you decide to have a tree as a focal point, choose an authentic mini or dwarf tree to plant which really looks the part. Something that creates a canopy is perfect to give a forest look; for example, the Verdoni Dwarf Hinoki Cypress. Flowering topiaries also make perfect fairy-like trees.
7. Choose your plants and flowers wisely
When adding living plants, make sure you consider their care requirements. If indoors in low light, choose plants that thrive in those conditions, and the same goes for positions of bright light and sun. Ensure containers have good drainage.
You'll want to incorporate plants whose growth can be restricted. This may be because they have a natural dwarf growth habit (such as Irish or Scotch Moss). Or, you might have kept a mini plant in its pot and sunk it in the surrounding ground, thereby limiting its growth. Succulents and alpine plants are popular for fairy gardens as they are compact and can be very cute.
Plants such as Sempervivum, Stonecrop or Miniature African Violet, or herbs like Corsican Mint, are ideal. When choosing flowering plants, pick those which have flowers to match your chosen colour scheme. It also helps to pick ones that are easy maintenance (for example, Kalanchoe or Miniature Cyclamen). Trailing plants and flowering vines are also a great choice too. They can be trained over a trellis and create magical arbours for your woodland creatures to wander underneath. You can also create a tiny lawn with a slow-growing perennial groundcover featuring dainty flowers.
8. But…don't overwhelm with plants
Make sure to include open, negative space which enables the imagination to 'fill in' the gaps. If you use too much colour in such a small space, it can appear too busy and cluttered. So instead choose a few complementary colours (for example, purple flowers with chartreuse foliage).
9. Decide on your scale
You'll want to keep the same scale throughout your fairy garden or things will just look odd. You can decide on the scale you like for yourself, but you'll be more limited if purchasing pre-made fairy garden items and accessories. Because the fairy garden trend started in America, the imperial measure 1:12 (one inch to one foot) has become somewhat standardised. But you'll have much more freedom if handmaking items yourself.
10. Add your characters
To look genuinely inhabited by small folk, you obviously need characters and their belongings as well as a cute landscape. Elves, gnomes, nymphs, faeries—choose your favourite style of woodland creature. You might buy little characters you love, or if you are crafty, make your small folk out of polymer clay or putty.
11. A fairy house, or simply fairy doors and windows
You may have a full fairy house in your setting, or you may just wish to add a few elements like gorgeous handmade fairy doors and windows.
12. A mailbox to receive fairy mail
This is an especially cute feature if children will be playing with the fairy garden, so they can leave letters for the fairies.
13. Water feature fairy garden ideas
A regular-sized water feature adds to the charm of your normal-sized garden landscape. And the same goes for a fairy-sized water feature such as a wee little pond. If you use real water, you can add a drop of bleach to freshen it and help keep mosquitoes and algae away. If you aren't keen on a real water feature you can simulate the appearance of real water with a small mirror or even a piece of blue-glazed ceramic or iridescent marbles.
Shells make perfect paddling pools for fairies when turned upside down and filled with water and some little blooms.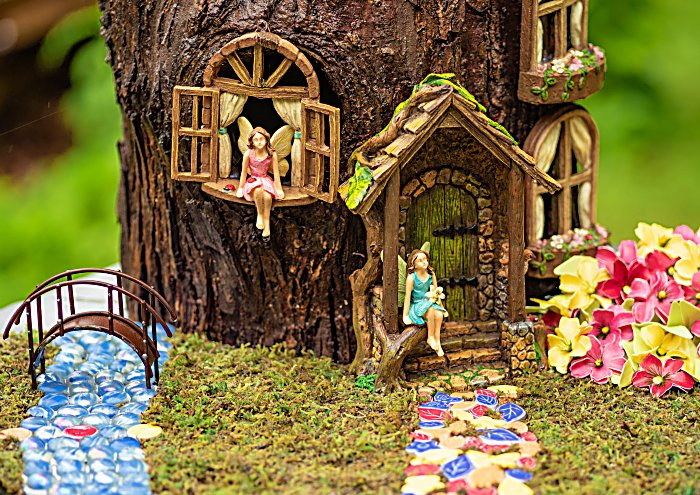 14. Create a miniature bridge
You can also create a bridge over any water feature you install. A bridge couldn't be easier to construct from twigs and flowers, such as this gorgeous creation.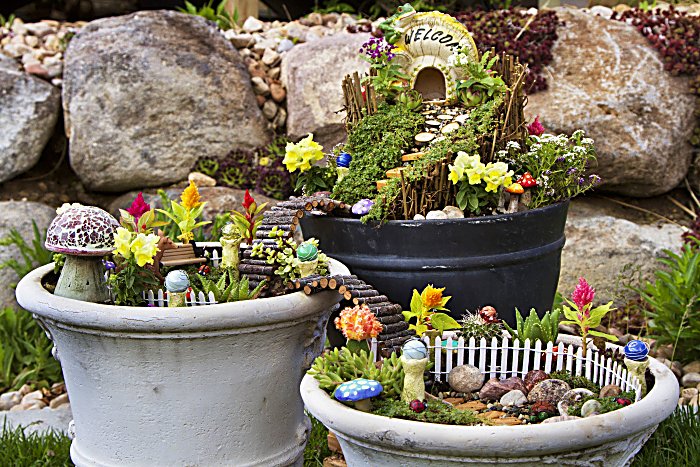 15. Create a cascading water feature
All you need is a few shells, water and food colouring, and a bit of cling-wrap.
16. Give them a wishing well
Fairies believe in magic, too, so let them have a place to make their own wishes.
17. Create a path or stepping stones
Use pebbles or marbles to create a path, but note that you don't want to overdo the "tinyness" by making absolutely everything miniature. It's good to have some contrast between regular-size and fairy-size elements. Juxtapose tiny fairy items with real-life size items, such as a huge path of normal-sized flagstones leading to a tiny fairy garden gate. This reinforces the cuteness of the tiny landscape within the larger one.
18. A picket fence
Picket fences and gates are easy to create with coffee stir-sticks or icy pole sticks. You can also use icy pole sticks to make furniture for your creatures.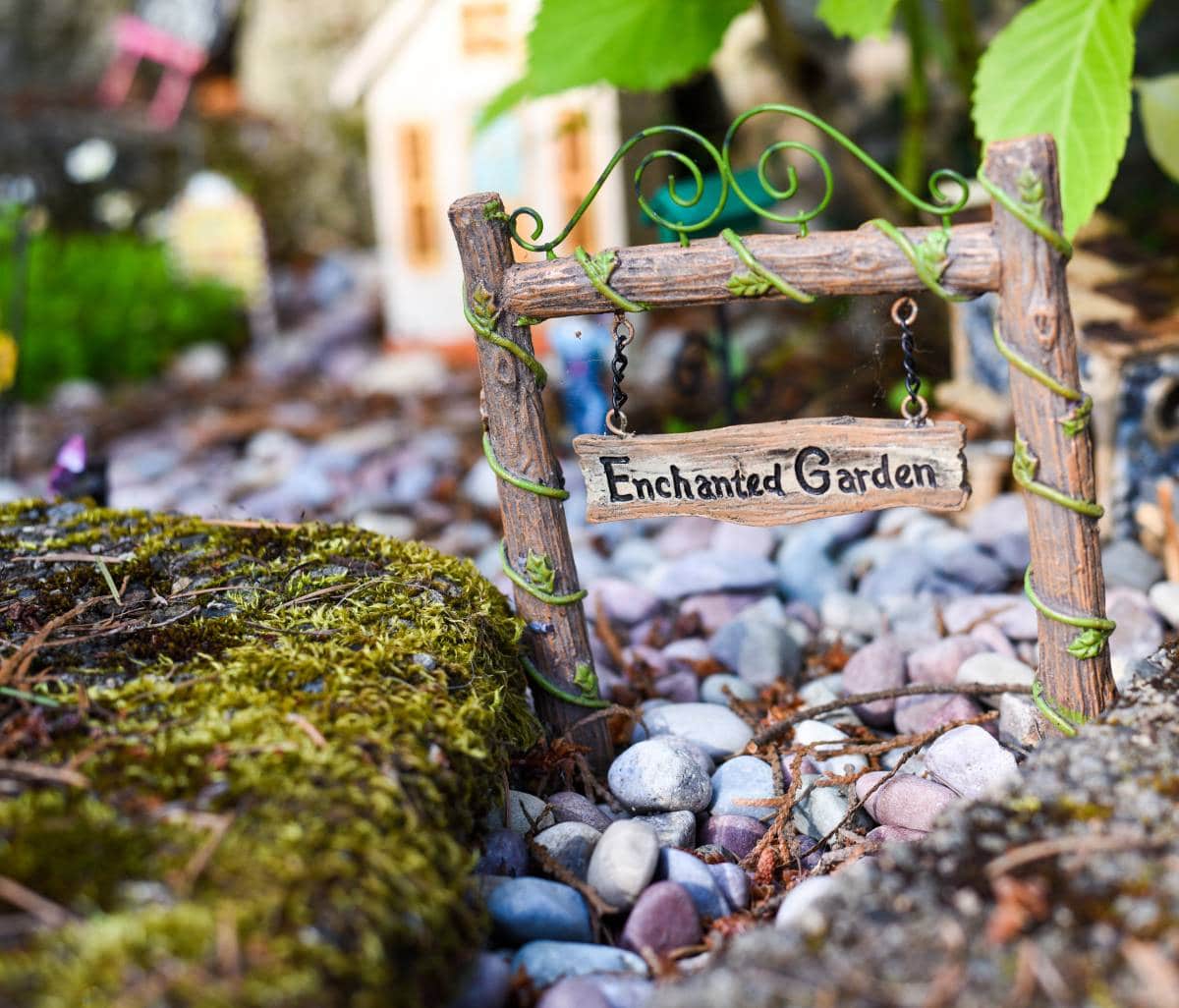 19. Add their little things
With fairy gardens, it's all in the details. Your fairy garden inhabitants need belongings and furniture to create a realistic scene. And of course to allow humans to be completely mesmerised by all the intricate details. You could buy fairy garden accessories in major garden centres or online these days.
But there are also endless DIY projects you can find which can be rustled up in an afternoon. These will give your fairy garden so much more authenticity. Look for recycled and reclaimed materials to repurpose. Or you can get crafty with modelling clay, matchsticks or icy pole sticks, wire or other bits and bobs.
Some fairy gardeners take the level of precision up a notch by creating realistic "smoke" to come out of a chimney. Or they might create tiny serviettes for the table, or run up some minuscule curtains in a few minutes on the sewing machine.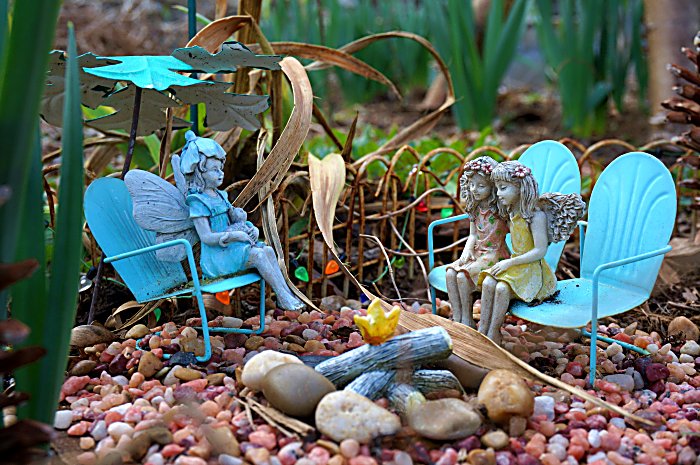 20. Add mini gazing balls
These hark back to Medieval times when they were an actual thing for humans. Now, they can make a wonderful feature for your fairy garden. Use little Christmas baubles for outdoors or glass balls for indoor gardens.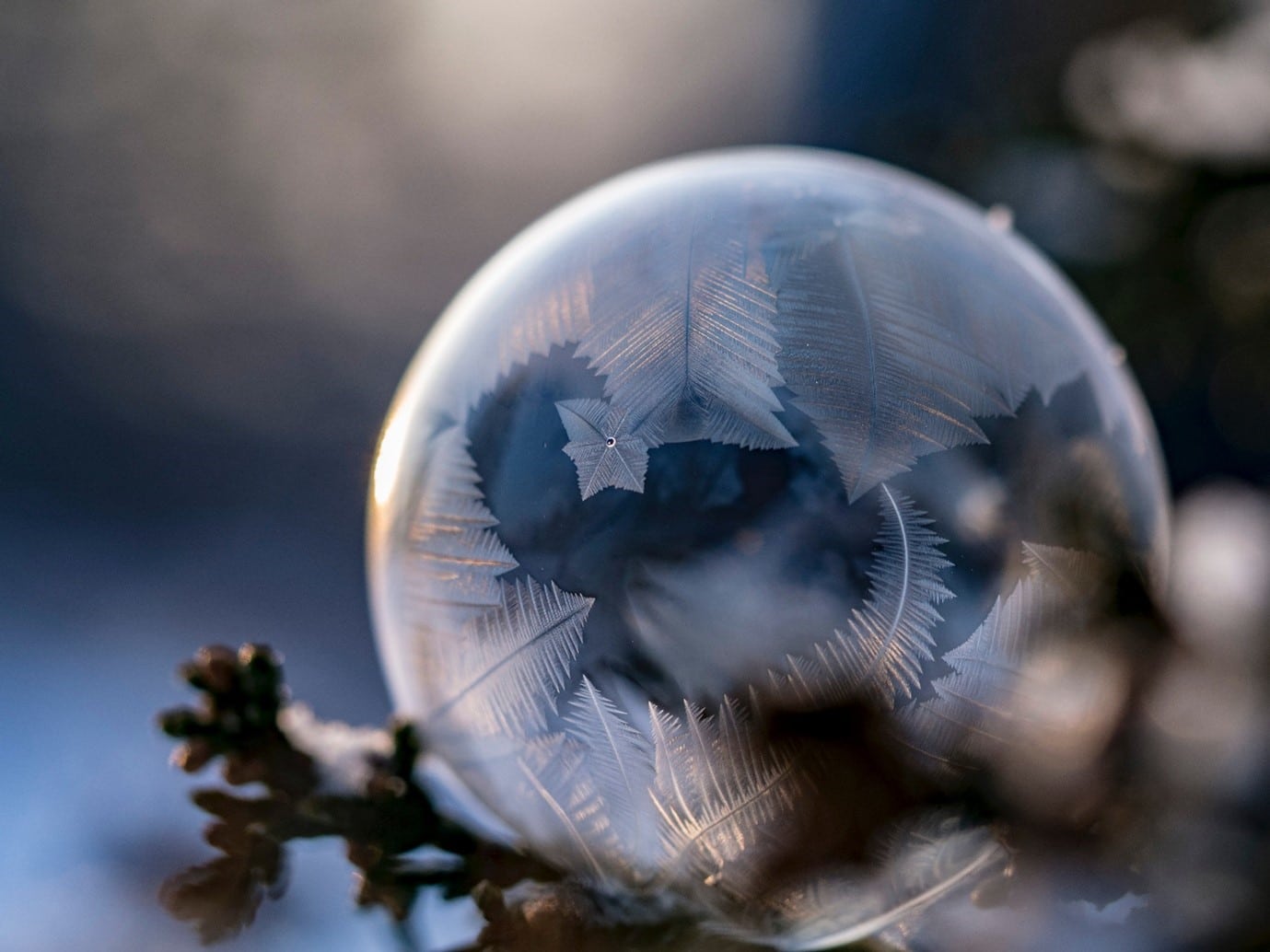 21. Add some toadstools
Magic toadstools in brilliant colours will set the scene.
22. Create a fairy tent
A miniature playspace for your woodland creatures.
23. Make a flower parasol for your little beings
Make a flower parasol with a single flower and a matchstick. They may not last long but they look adorable and are so easy to make.
24. Set up their kitchen and places to eat
Set up an alfresco dining area for your little beings, or create a typical kitchen/dining space on a tiny scale. Make somewhere for the fairies to sit and have a goblet of mead. It's easy and fun to create bespoke furniture out of twigs and bits of bark, and using gumnuts for crockery.
25. Add miniature fairy food
Make your own with polymer clay, or find a clever maker online. Mini fairy bread must surely be the staple diet of fairies!
26. Miniature fire with roasted marshmallows
You could also add realistic "fire" made from cellophane.
27. Fairy garden sinks
Help your creatures with their self-care routine by providing bathroom amenities. Add in a twig-framed mirror, sink made of nutshell and twig faucet!
28. Have somewhere for fairies to sleep
A dreamy sleep space for your little creatures to rest.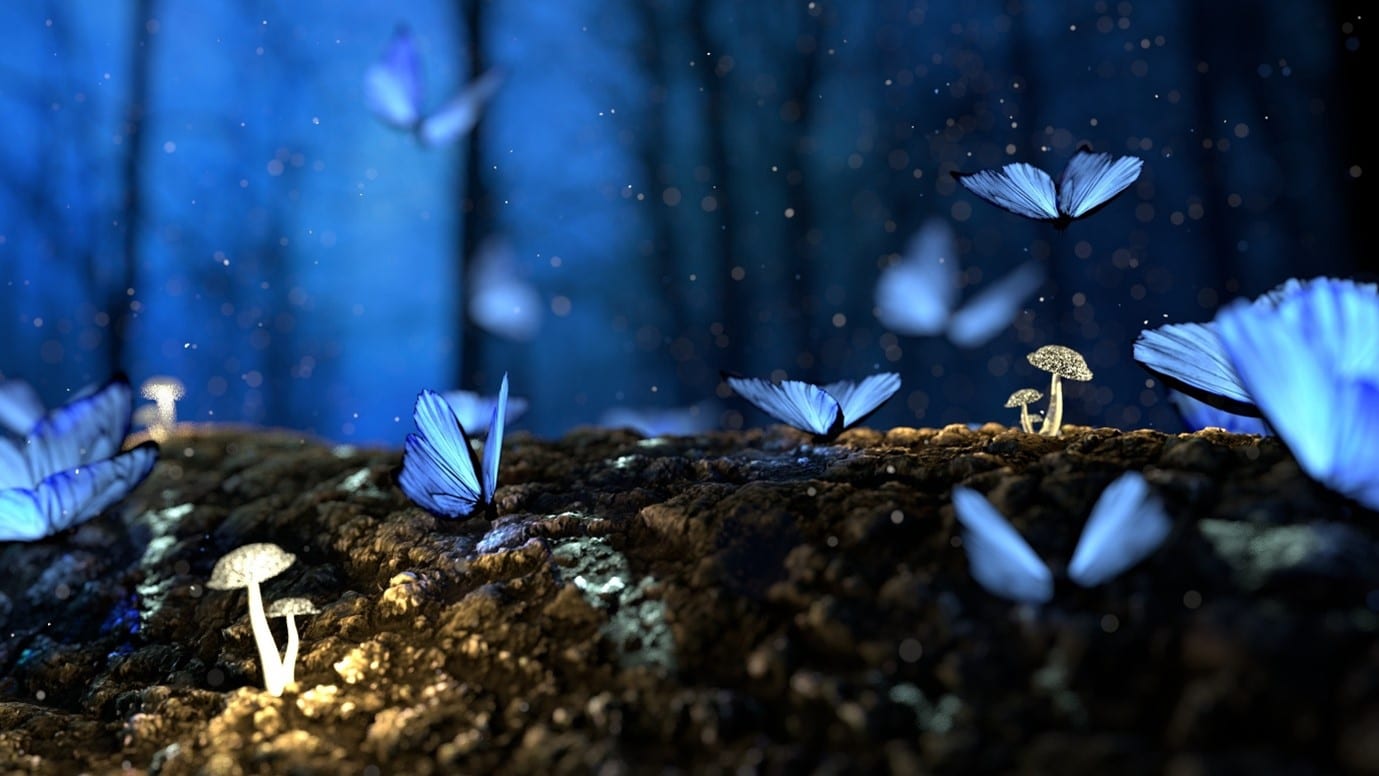 29. Help them keep clean
You can create mini brooms in a jiffy, or a little fairy clothesline complete with tulle skirts fluttering in the breeze.
30. Give them benches to help them rest
A little bench for your fairies can be easily constructed and decorated with useful small items.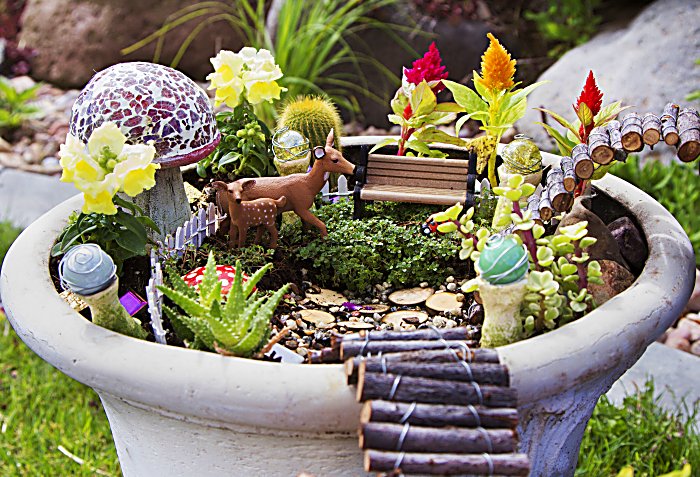 31. Fairy bicycles
Get them active in the great outdoors with a brand new bicycle.
32. Swings and roundabouts
Add a bit of playground fun for your creatures.
33. When your fairies are little gardeners themselves
Make them a tiny wheelbarrow. Construct some mini garden tools like spades and trowels made from recycled aluminium foil containers. Thimbles can become pot plants, and little acorn flowerpots can contain plasticine plants. For all these and more, you'll find plenty of DIY instructions online.
34. A tiny koi pond
Your fairies will love to pet their own koi fish.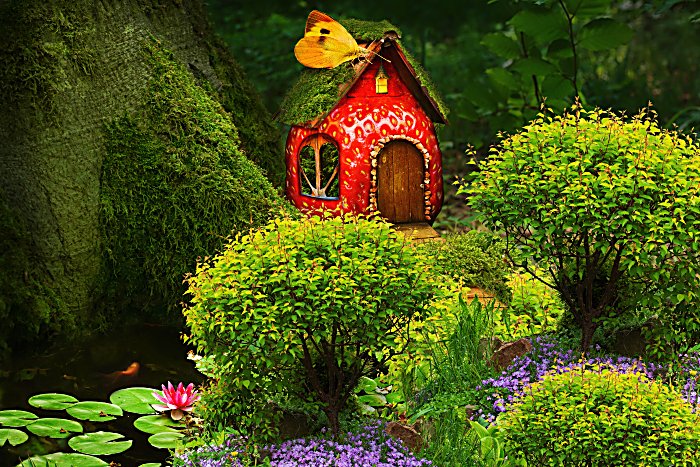 35. A mini harp
For your musical fairies.
36. Mini easels
For your artist fairies.
37. Add gorgeous tiny woodland fauna
You might also like to include things like mini birdbaths or mini birds' houses or birds' nests with tiny baby birds in your setting—these can be easily made with little branches or straw, and filled with polymer clay or putty 'eggs'.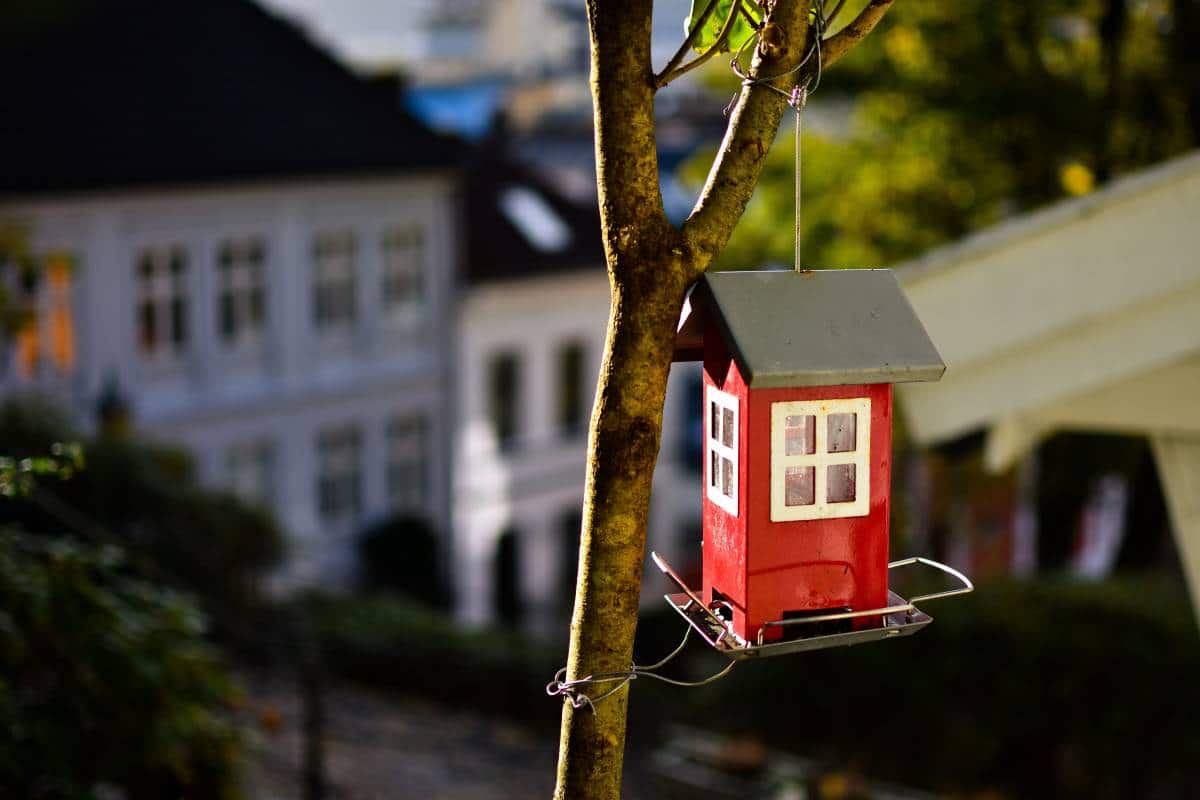 38. Use fairy lighting
If ever there was an appropriate use for fairy lighting, this is it. Adding solar-powered fairy lights will add that little touch of magic to your fairy garden.
Love fairy lights? Don't we all, so that's why we've put together this post about all the different fairy light ideas around the home.
39. Fairy garden ideas: Play with themes
If you've been bitten by the fairy garden bug, a simple (or even elaborate) fairy garden that stays the same all year long will probably no longer be enough. You'll likely start wanting to decorate your mini garden throughout seasonal festivities. That might mean redecorating for Christmas or creating a mini pumpkin patch in October. Or how about a Mad Hatter's tea party for Easter?
You might decide to create a classically Aussie outdoors vignette to celebrate summer. Or add romance to your mini garden for Valentine's Day.
40. Consider a starter kit
The best fairy gardens are personalised to reflect something about their gardener, not generic. In fact, fairy garden arrangements also make the perfect gift. You can design a bespoke fairy garden to suit your loved one that has nods to their interests or elements of their lives. Some companies sell mini garden kits, which you could use as a foundation. Then embellish to create a really special and unique fairy garden kit as a gift.
And that's a wrap on my 40 fabulous fairy garden ideas. Have you already created a fairy garden yourself? Or have any of these fairy garden ideas inspired you to start one? Share your experience in the comments!