Simple and comfortable are the magic words when it comes to designing a modern farmhouse bathroom. It's a cheerful style where modern and vintage elements happily coexist; where retro styling blends with contemporary functionality to create a light, unfussy and sweetly nostalgic space. If you love the lived-in charm of a country home with a blend of vintage and vogue elements, you'll love the modern farmhouse style.
So what are some of the key elements, colour palettes and finishing touches that define a modern farmhouse bathroom?
Walls and floors
The overall aesthetic should be light and bright, drawing on a soothing, natural colour palette featuring whites, pale earthy neutrals or soft pastels; with crisp black accents added in for a modern touch.
Walls are usually white or light-coloured, either painted, dressed in shiplap or other panelling, tiled up in white subway tile, or featuring pretty wallpaper.
Mix in plenty of natural-looking timber through wooden furniture, wooden accents in elements like mirror frames, exposed ceiling beams, or sliding barn doors. Other organic materials such as woven baskets also give the requisite nod to nature.
Floors can be weathered timber or patterned cement tile, even distressed laminate.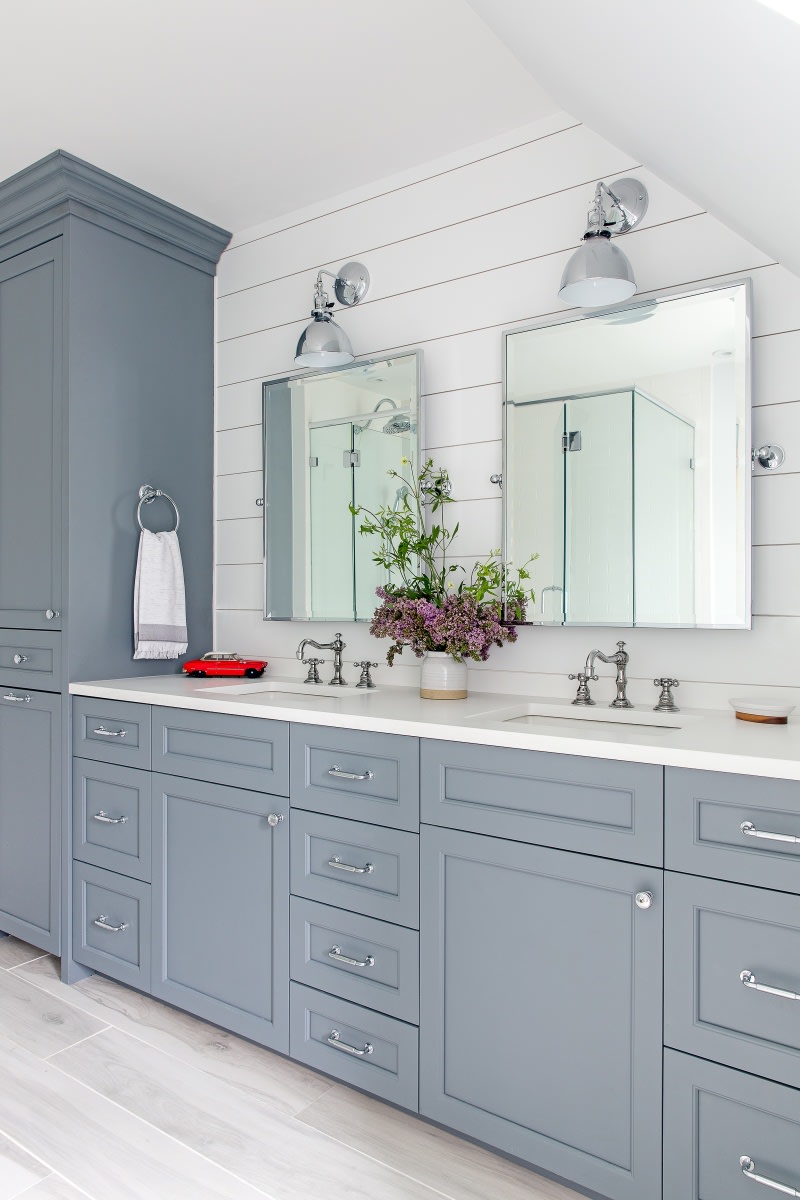 Furniture and bathware
Look for vintage silhouettes for your cabinets, sink, tub and plumbing.
Furniture is usually on the larger side, with heirloom-style pieces (real antique or reproduction) and Shaker-style cabinets very popular. On the other hand, old, distressed-look or reclaimed wooden furniture also makes the grade, especially if painted a heritage hue.
Sinks might be white porcelain troughs or distressed vintage metal, pedestal sinks, or freestanding basins perched on simple wooden consoles. Or you could opt for a more modern stone or concrete vessel sink in a distinctly rustic style.
Hardware and plumbing are patinated, often bronze or brass, and ideally vintage in appearance.
Tubs are typically clawfoot or white freestanding statement tubs, but you can also experiment with repurposed galvanised steel water tanks and feed troughs or wooden barrel tubs.
Accessories and décor
Light fittings tend towards industrial-style pendants and sconces, often black or brass. Alternatively, old-fashioned styles like tulip-shaped and cage sconces look the part as well.
Mirrors are either ornate and antique-style and framed in gorgeous patinated metals; alternatively, they are weathered wood framed. Fancy shapes are welcome.
The modern farmhouse style tends to avoid clutter but it's perfectly acceptable to add a selection of little country or vintage touches to give an authentic farmhouse feel.  Finishing touches and accessories you might consider include: heritage-themed or striped linen, woven or wire baskets, galvanised steel tubs, floral curtains, rugs, wooden or metal stools, distressed vintage medicine cabinets and other flea-market finds, framed botanical or floral art, glass jars or apothecary bottles, a little vase or jar of flowers.
Now, let's take a look at more than 35 bathrooms that successfully create a modern farmhouse space…
1. Start with the walls
White-washed wood is a classic characteristic of farmhouse bathrooms, so white shiplap panelling is a strong favourite in farmhouse wall treatments. Bringing instant country vibes, shiplap panelling in white or off-white adds architectural interest, warmth and texture to your space. You might also consider light-coloured beadboard or wainscoting wall treatments to add country character to your bathroom.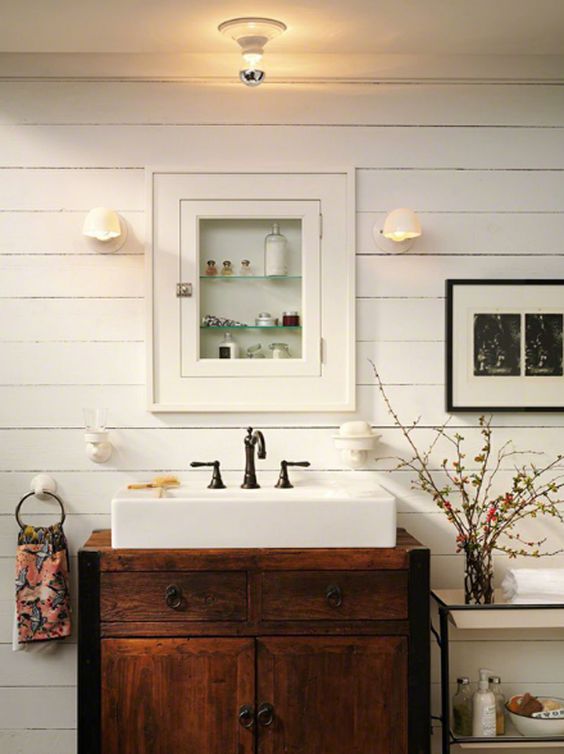 2. Keep wall colours light
Farmhouse bathrooms usually feature light-coloured walls and a popular alternative to wall panelling is to use crisp white subway tile. However, given subway tile is a more modern décor element, make sure you contrast it with a vintage-flavoured farmhouse vanity. I love this clever repurposed antique sewing table modernised with a white freestanding basin.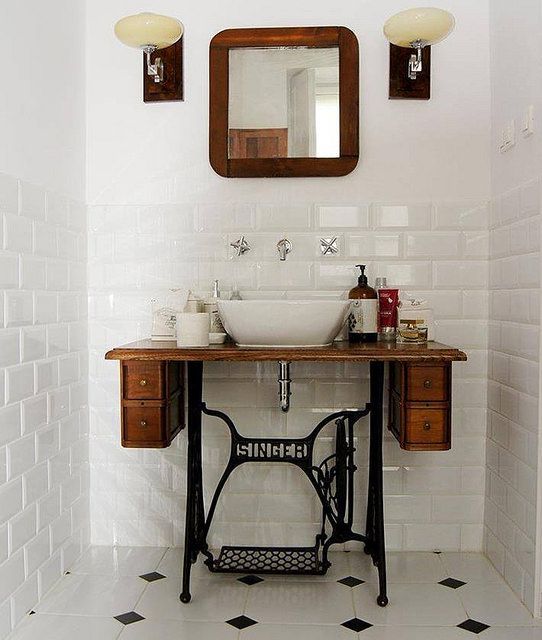 3. Use plenty of natural timber
Farmhouse bathrooms ideally incorporate a lot of natural-looking woods. Here, a minimalist modern farmhouse bathroom shows how it's done, with white shiplap walls paired with exposed beam ceilings and matching wooden flooring.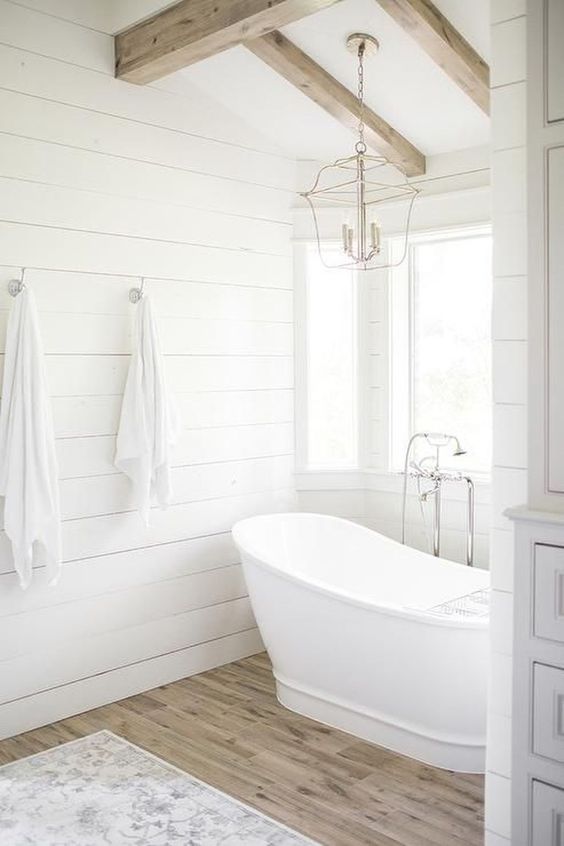 4. Add a large, standout piece of furniture
In keeping with the way genuine farmhouses traditionally had to accommodate large families or shared use by farmworkers, farmhouse bathrooms tended to incorporate oversized furniture.
Modern farmhouse bathrooms therefore often boast a large piece of statement furniture, like this massive timber vanity. Try to find the largest piece possible for your space, even if you don't have quite this much room.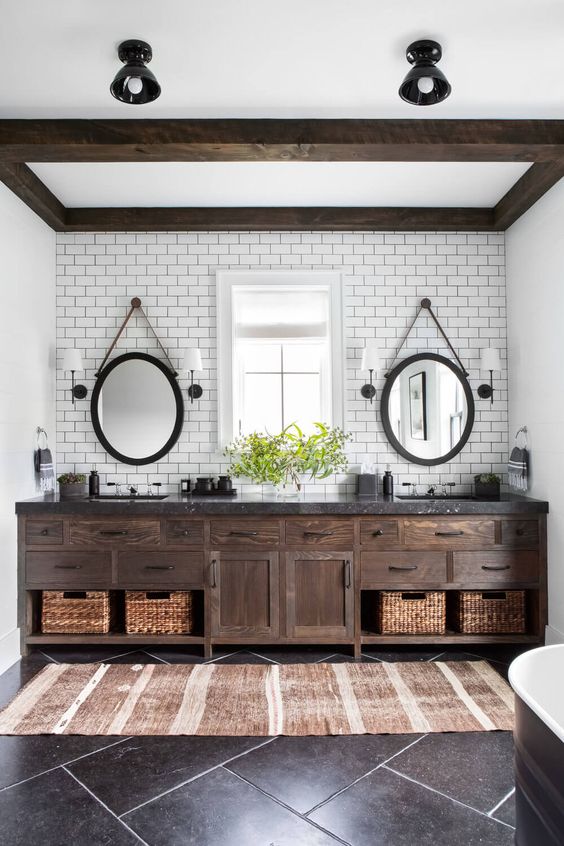 5. Go for Shaker-style cabinets
Shaker-style cabinets give a classic, traditional look to a farmhouse bathroom, managing to appear both sophisticated and simple. Choose white or natural timber tones and marry with rustic looking hardware or knobs. This could actually match your shaker-style kitchen as well for the continuity.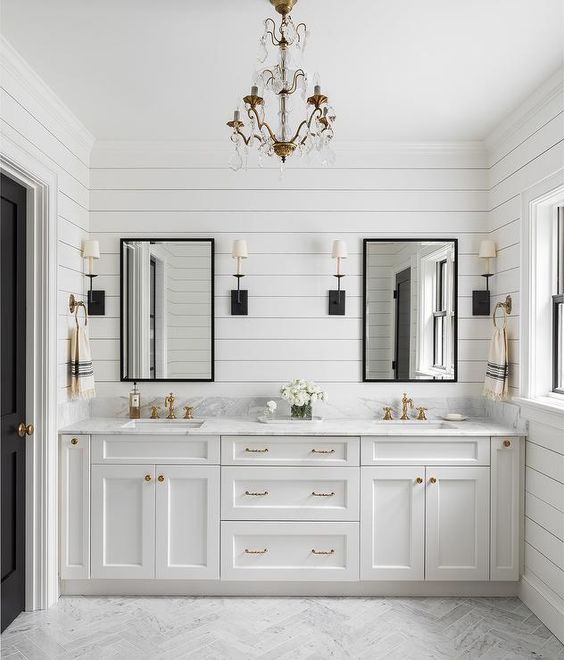 6. Pastel colour scheme
Farmhouse bathrooms have a characteristic brightness to them, so an effective colour palette usually takes in light and pretty pastels –pale blues, greens and yellows are popular. How gorgeous is this combination of pale lilac panelling and eggshell white paint?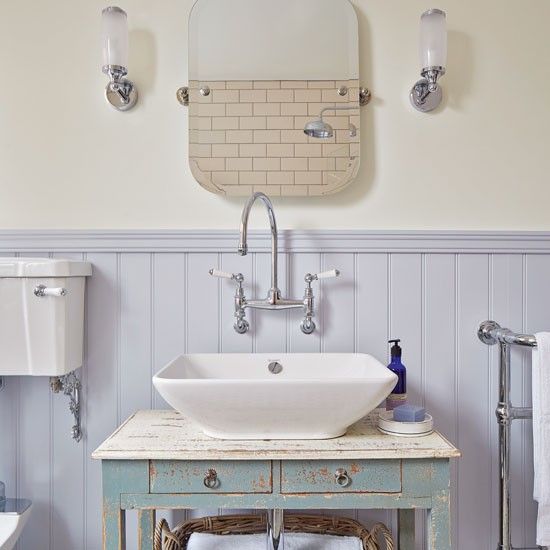 7. Sliding barn doors
Signal your farmhouse aesthetic from the outside in with the farm-inspired appeal of a rustic barn door. Bear in mind that because sliding barn doors don't provide total privacy, they're a better choice for a private master ensuite than a bathroom in a communal space.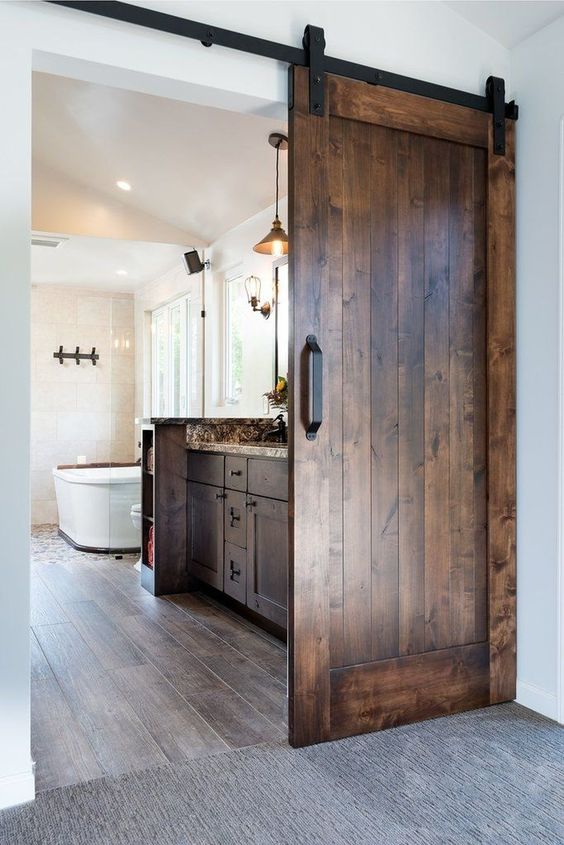 8. Add a trough sink
A popular way to add rural character to your farmhouse bathroom is to have a trough sink. These are usually made of white fireclay or porcelain or you could get lucky and snap up a vintage, distressed metal sink for even more character.
Often featuring multiple faucets, trough sinks can be highly functional, especially for large families. And they're very pleasing to look at, especially when added as a drop-in model into a gorgeous timber vanity as has been done here.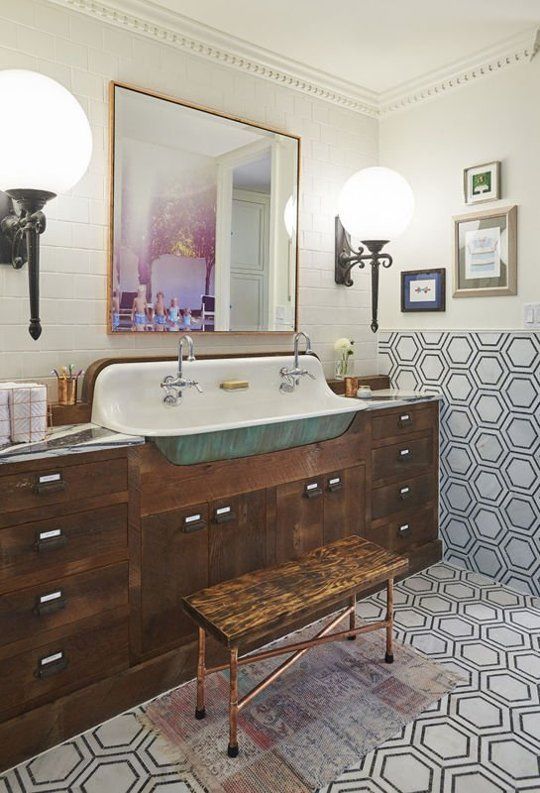 Source: Apartment Therapy
9. Look for a vintage trough
A distressed metal trough sink has farm vibes in spades. Pair with traditional gooseneck faucets – here, the gold-toned fixtures and antique mirror frame pick up the warm tones in the sink.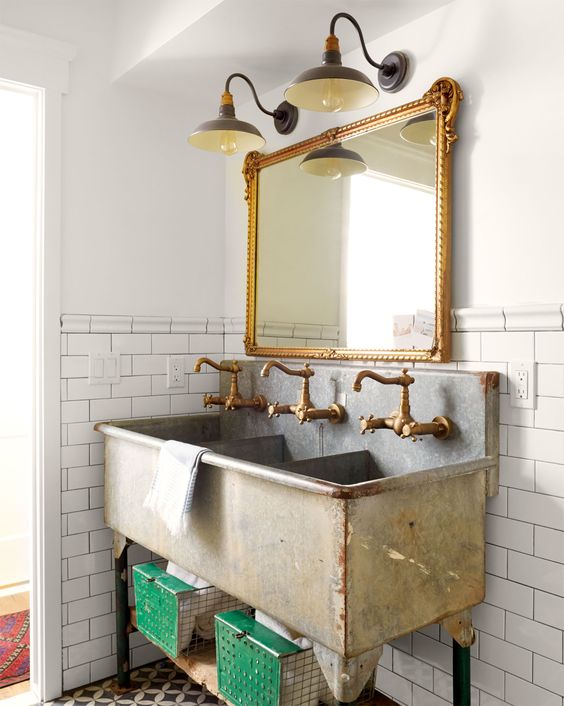 Love vintage bathrooms? You might also like to look at our article featuring Art Deco bathrooms.
10. Go for a simple white sink
The simplicity and clean lines of a plain white sink contrast wonderfully with distressed timber or metal in your vanity. Here, an old green cabinet is living its best second life, topped with a large rectangular white sink that fits it perfectly.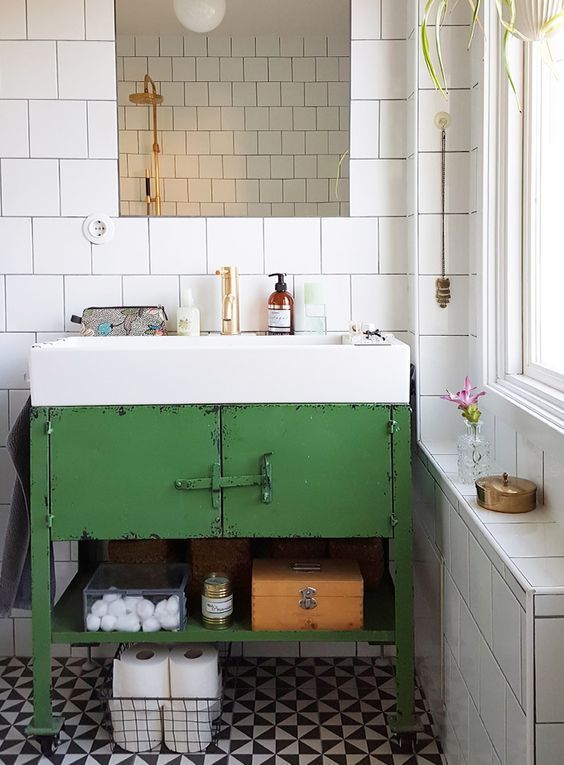 11.            Have a barn-door style vanity
Vanities with little barn-style doors are an easy way to add country farmhouse character to your bathroom. Here, a marble counter on top of the barn-door vanity adds sophistication to a farmhouse bathroom boasting shiplap walls and old-fashioned patterned floor tile.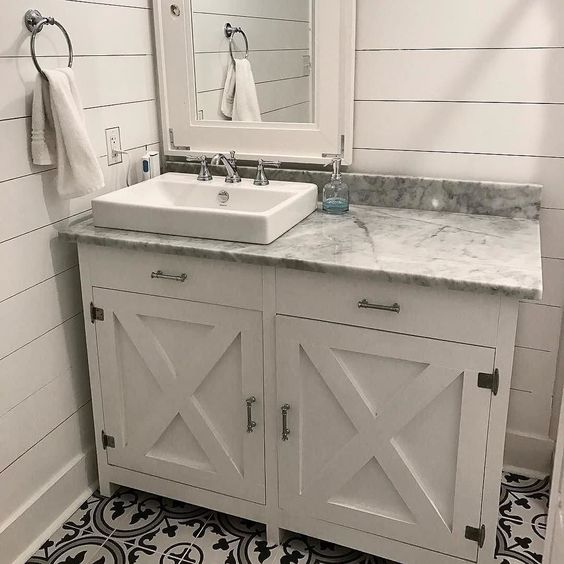 Want to discuss your bathroom cabinet design ideas with an expert? Find a local who specialises in bathroom cabinets.
12. Mix modern and vintage
Here's another example of a simple white sink perched on a timber console which is exactly the right fit for it. This little farmhouse bathroom also demonstrates how to effectively mix modern elements with vintage pieces.
The vintage cabinet here has been given a marble countertop for both practicality and aesthetic reasons, while wall-mounted traditional style tapware also keeps things airy and spacious in this tight space.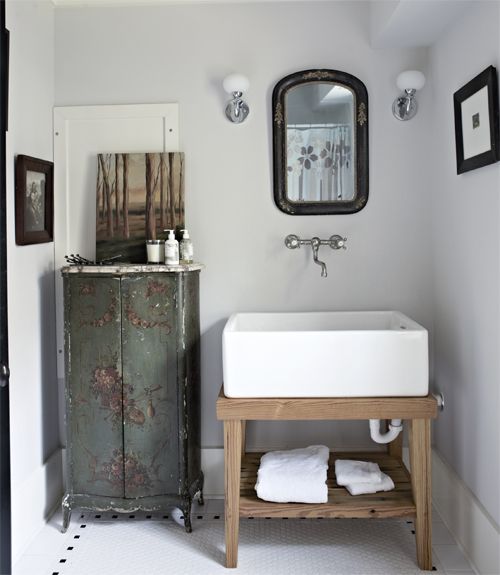 13. Add a rug
Farmhouse can make you think of the cold wintery mornings, but add some warmth with a rug for under your feet.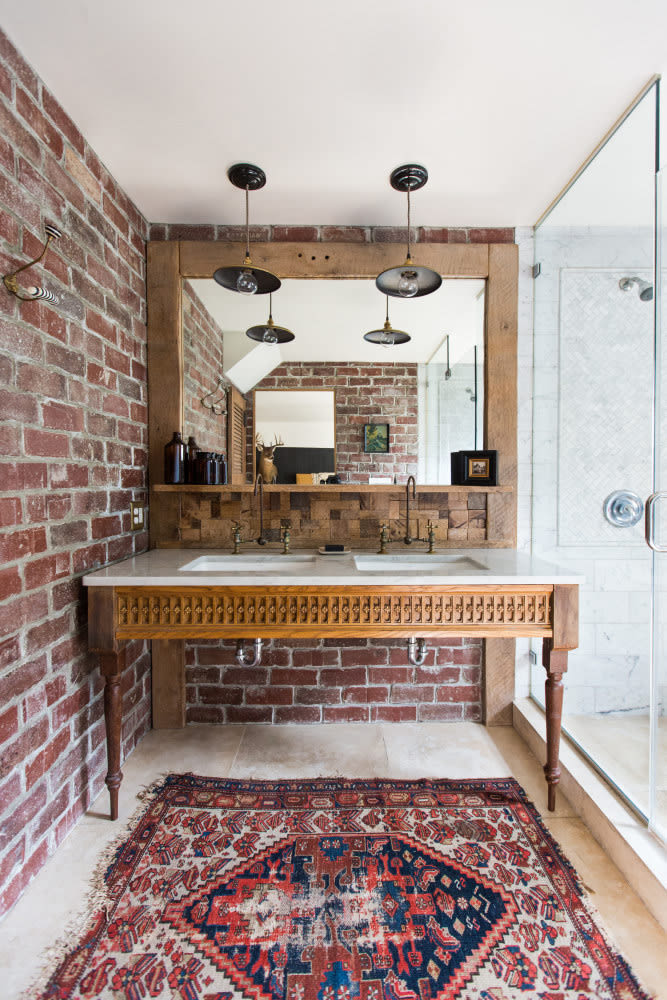 14. Add an antique mirror
Balance a simple pedestal sink with an ornate, antique mirror. Standing out against the white shiplap walls, this triple panelled vintage mirror has all the nostalgic vibes you want in a farmhouse bathroom. Don't forget the little farmhouse touches like striped towels, glass jars and fresh flowers.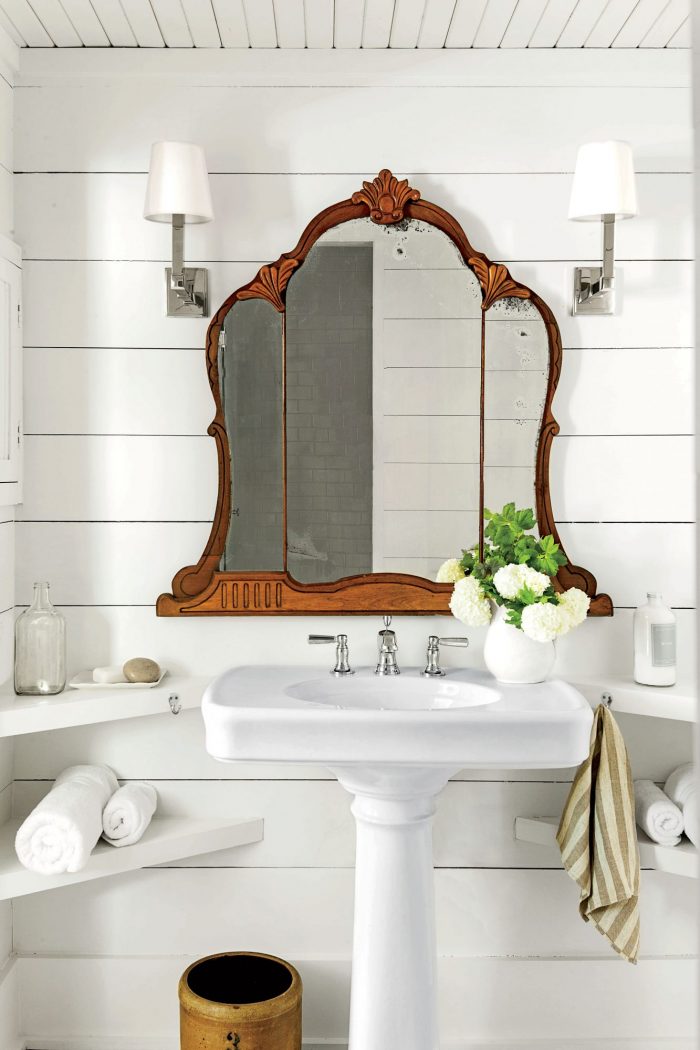 15. Bring in concrete
While not a strictly traditional farmhouse material, concrete has the necessary roughness and neutral tones to work well in a modern farmhouse bathroom. Here, a concrete vanity contrasts with an ornate brass mirror and a chandelier, while little glass jars filled with sprigs of eucalyptus add uniquely Australian country flavour.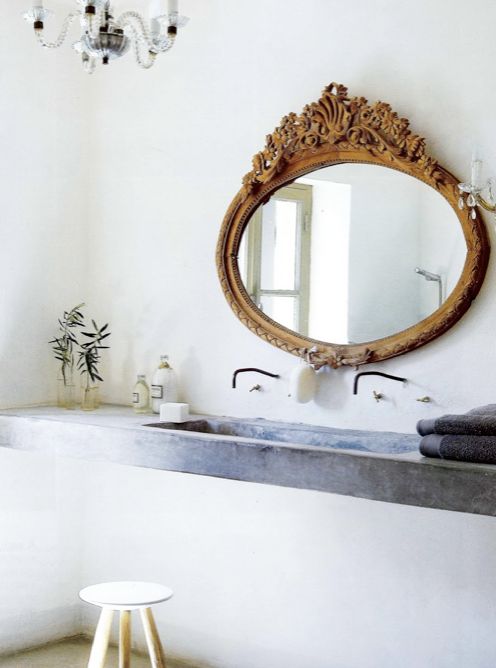 16. Opt for a simple colour scheme
An all-white farmhouse bathroom benefits from some crisp black accents for little bursts of contrast. Stacked white subway tile and a marble-topped Shaker-style white cabinet are offset by the black drawer knobs, industrial black lights and black framed mirrors. Dashes of colour are introduced for interest via the cane basket, vase of foliage and the antique area rug.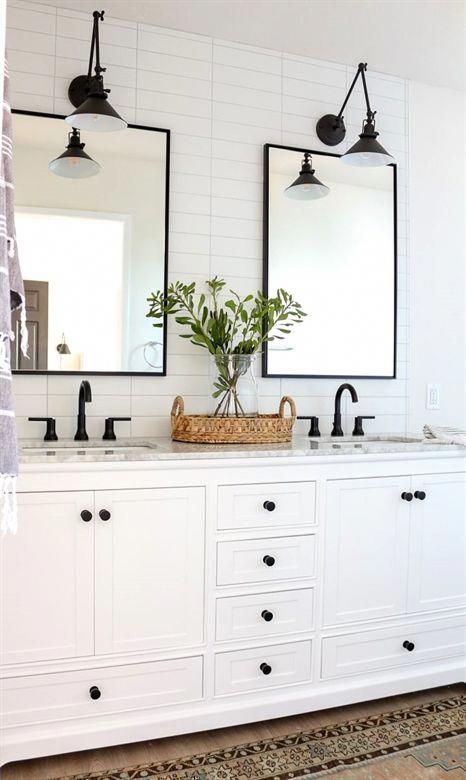 17. Nature colours
Alternatively, choose from a palette of natural neutrals to bring the feeling of the outdoors in. Here, the walls match the lovely sage colour of the little secondhand table that has been reinvented as a farmhouse vanity.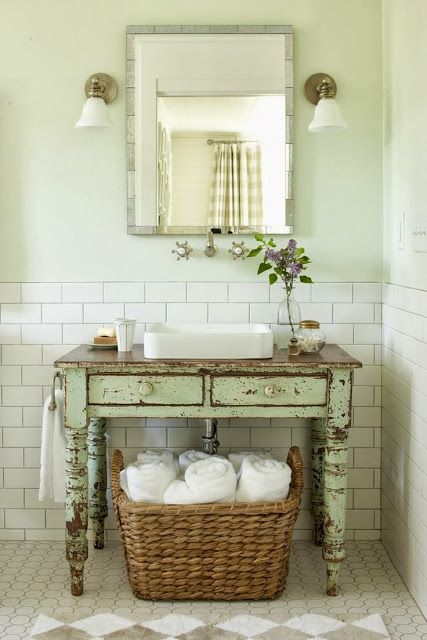 18. Add wooden accents
Natural-looking timber is another classic characteristic of the farmhouse style. Introduce natural or lightly-stained hardwood floors and complement with little timber accents, wood-framed mirrors are a simple way to add more timber to your space.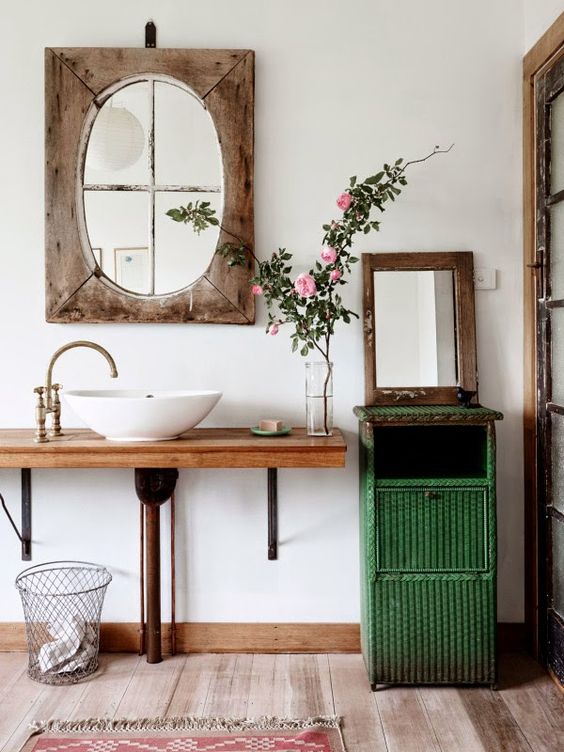 19. Install a clawfoot tub
Iconic and full of character, a cast-iron vintage tub will always spell farmhouse character. Original tubs can be very heavy, so check your floor can withstand the weight; otherwise, choose a modern clawfoot tub made of lighter materials, or go for a simple freestanding tub instead.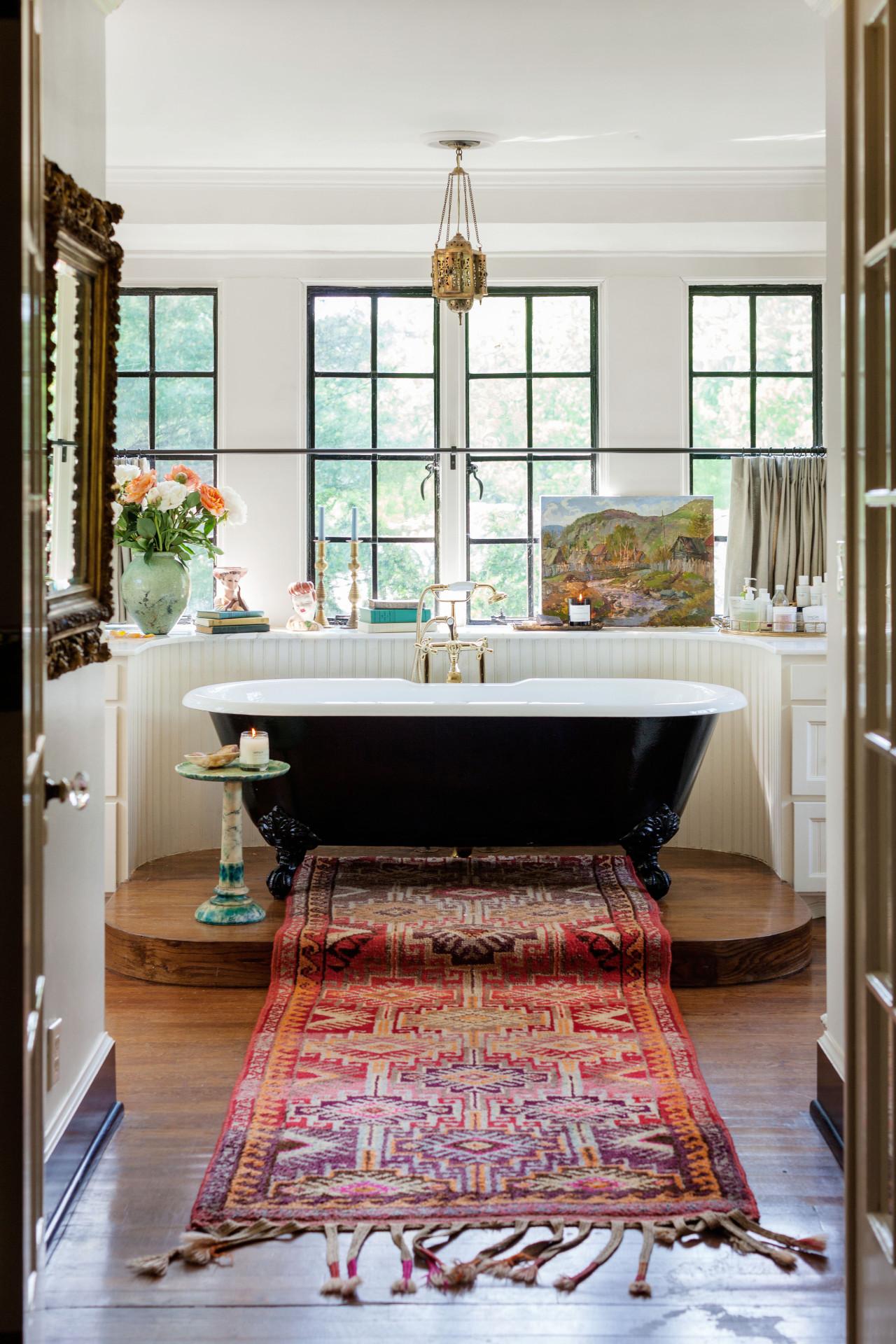 20. Experiment with tub colours
Bathtubs don't need to be white – you can use your tub to bring in natural colours in line with the farmhouse aesthetic, such as this olive green painted clawfoot tub.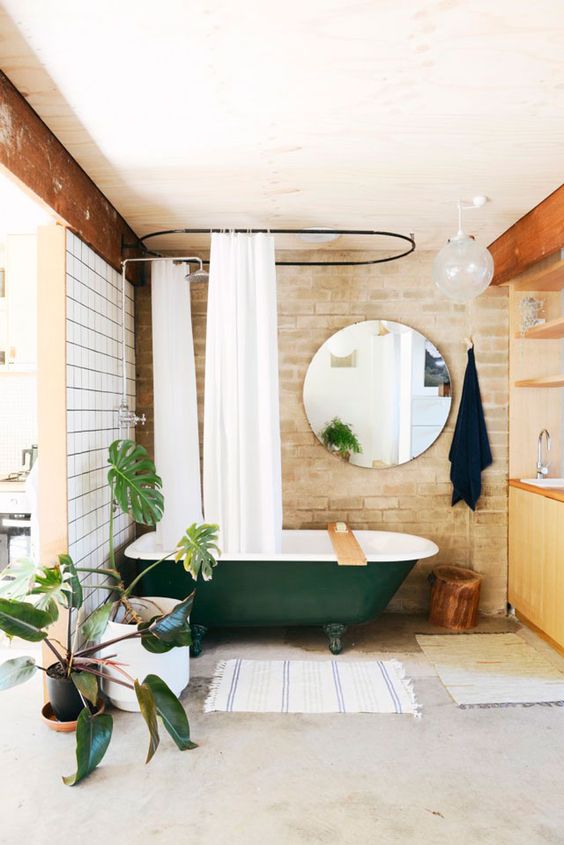 Have an old bath that needs resurfacing? You can easily find an expert in bath resurfacing who'll have it looking new again.
21. Have a freestanding tub
The simplicity and comfort of a freestanding tub suit the modern farmhouse aesthetic and is a good way to bridge the divide between old and new elements.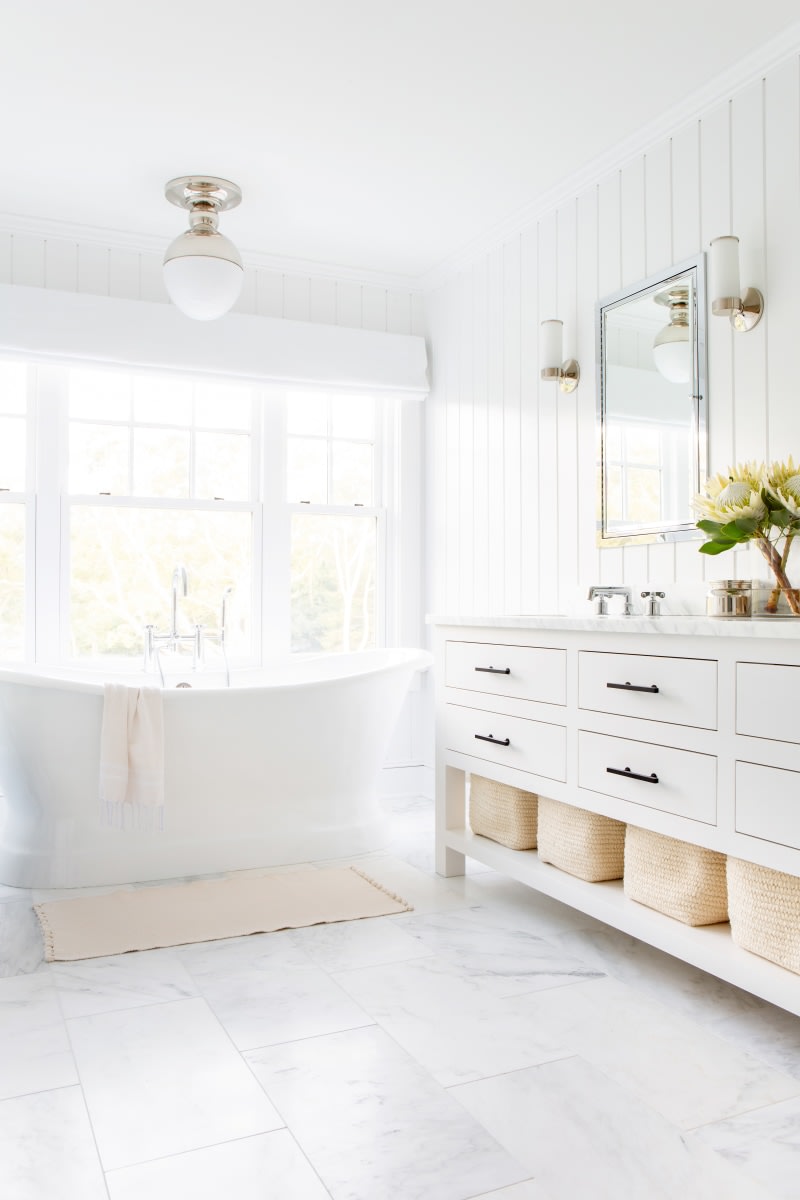 22. Bathtub barrels
Bathtubs made from wooden barrels have an inherent farmhouse character – even when they're smack bang in the middle of a New York City apartment like this one in Bette Midler's home.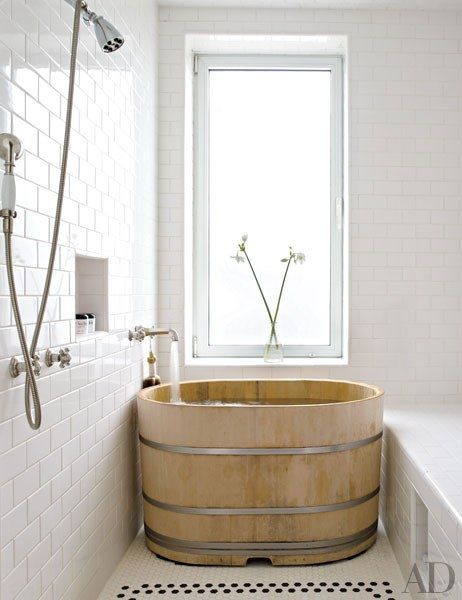 23. Feed trough tub
Nothing says 'farmhouse' more than a bathtub made from a converted galvanised steel water tank or feed trough! Paint it white to suit an all-white bathroom aesthetic and mix with timber accents and a few contemporary elements such as subway tile for a modern farmhouse vibe.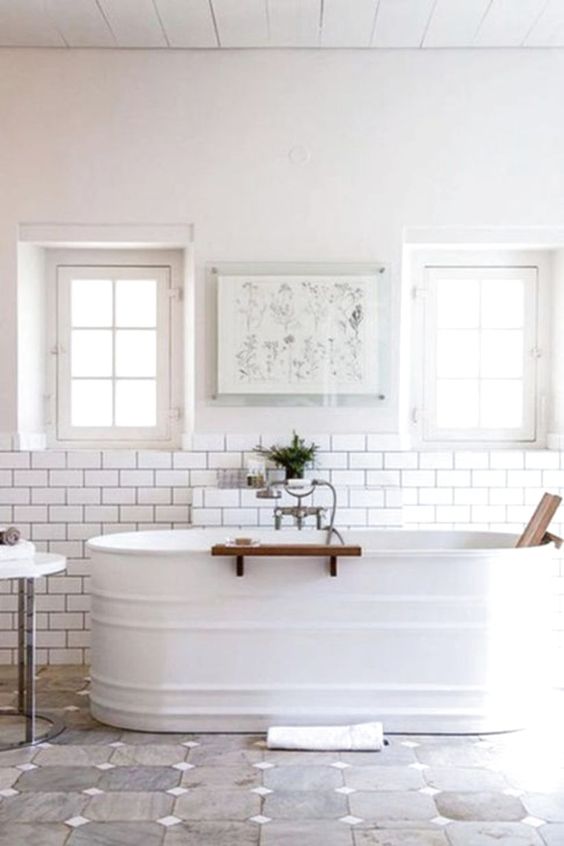 24. Have barn-style or industrial lighting
Practical, metal industrial style and barn-inspired lighting fixtures are perfect for adding utilitarian chic to a farmhouse bathroom. Pendants and sconces in galvanised steel or black powder-coated steel fixtures are ideal for the modern farmhouse look. Here, twin sets of three-light wall fixtures do the trick.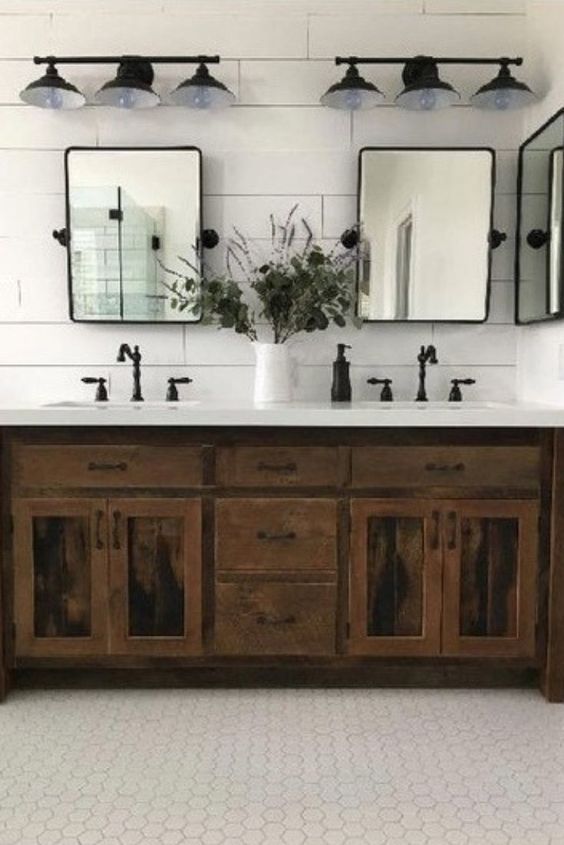 25. Fresh white lights
If black feels too heavy as a colour for your pendant lights, choose white instead! A fresh touch, a white light fitting will blend harmoniously into your light-coloured farmhouse bathroom.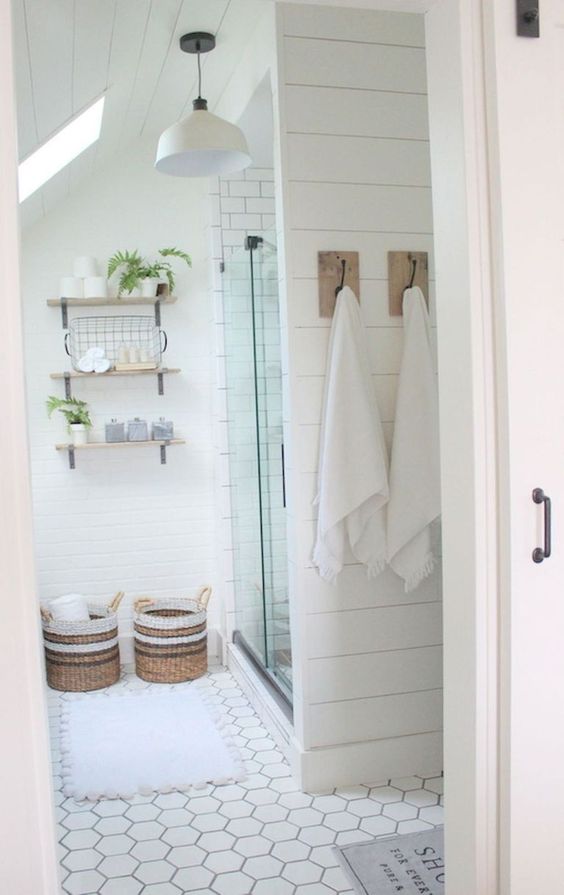 For more lighting ideas, see also our article on bathroom lighting.
26. Or romantic traditional lighting
Tulip-shaped wall sconces add nostalgic charm to this farmhouse bathroom. I also love how the warm timber tones work beautifully with the brushed metal mirror cabinets (which also offer plenty of extra concealed storage). Just add some organic baskets and some striped linen and you have a classic modern farmhouse aesthetic.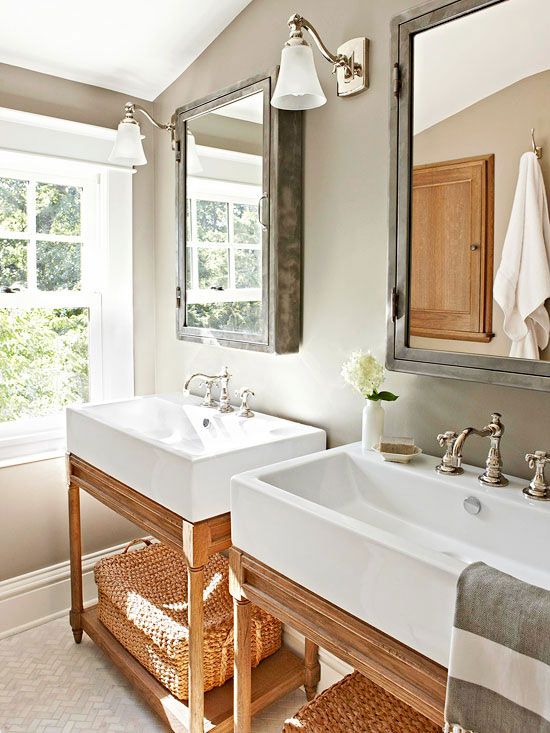 27. Vintage and heritage linen
Source some vintage bathroom linen on Gumtree or eBay to evoke rural heritage and days gone by. If you can't find country-inspired linen, simple stripes will also give you farmhouse vibes.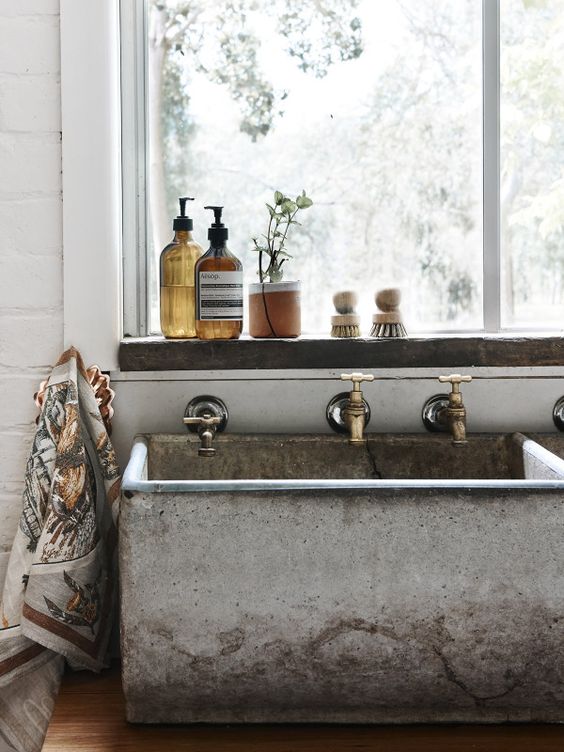 28. Tile splashback
While farmhouse bathrooms are not typically busy with patterns, patterned encaustic cement tiles can still create a traditional, nostalgic look, whether used for the splashback or the floor. Here, black and white encaustic tile adds interest to a plain farmhouse vanity. I'm loving the vintage brassware too!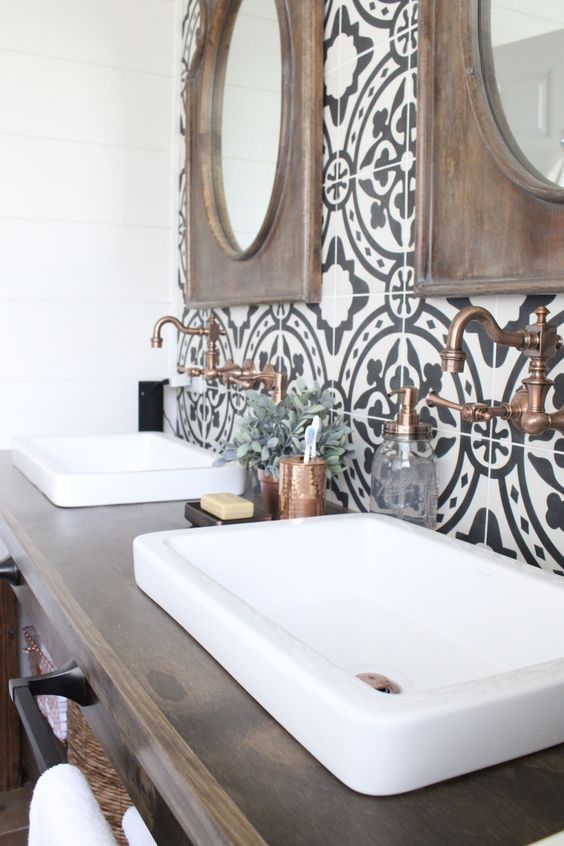 29. Farmhouse wetroom
Here's a great combination of farmhouse meets modern bathroom design with a wetroom with country-inspired elements such as the timber shelf and antler decoration.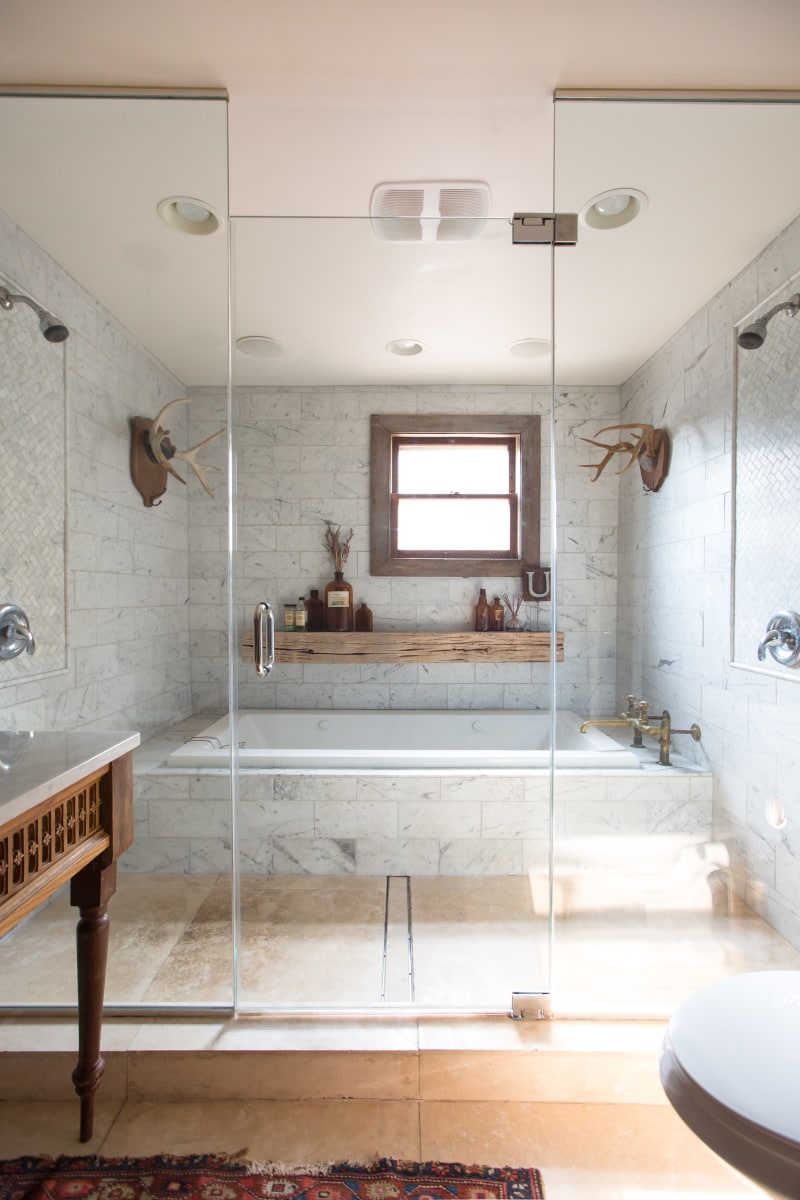 30. Add curtains
Quaint floral curtains add a homely touch that fits in well with the farmhouse style and are a great way to introduce colour in a way that isn't necessarily permanent. Pick up the theme in some floral or botanical framed artwork or in the colour of your clawfoot tub.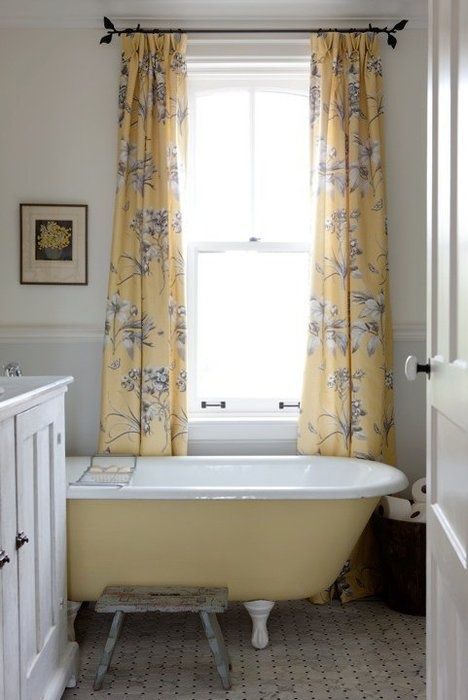 31. Add farmhouse accessories
Although the farmhouse style tends to avoid clutter, surfaces can still bear a carefully-curated selection of charming objects and accessories. Choose simple glass vessels with clean lines: old apothecary jars and bottles are ideal to evoke old-fashioned farm life.
You can also often find self-care products that come in this style of packaging which would also work well. Other décor elements to add include indoor plants, stripy linen and woven baskets.
32. Add little country touches
Sometimes just one or two design elements are needed to convey a farmhouse character. For example, a simple rustic wooden stool beside the bathtub immediately conveys country charm, especially when styled with a pretty floral arrangement as has been done here: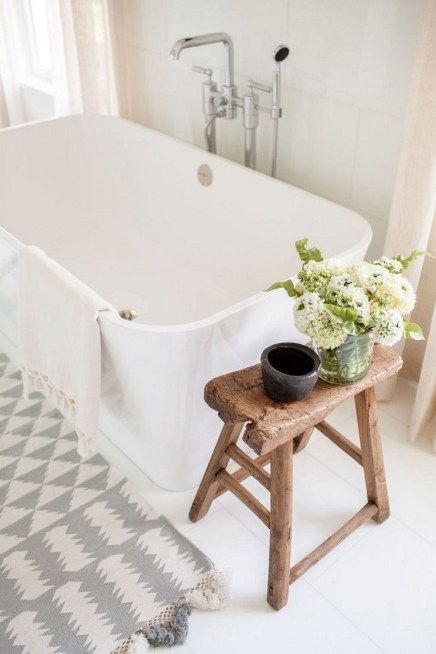 33. Make a Shaker peg rail
Another easy add which you can DIY is a Shaker peg rail. Hang your towels on the hooks and curate some country-flavoured accessories for the ledge above.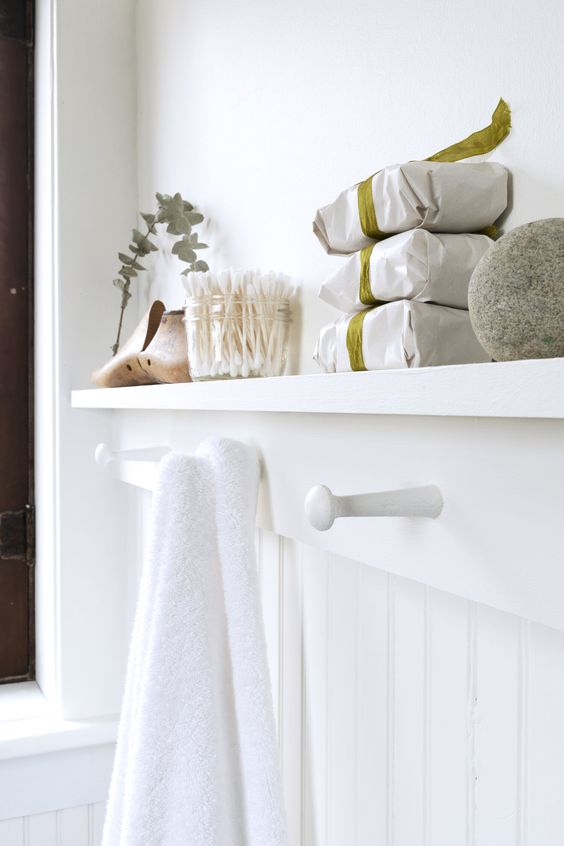 34. Look for vintage tapware
Your choice of tapware and fittings will go a long way towards creating the nostalgic atmosphere of a farmhouse bathroom. Source vintage brass or brushed nickel tapware, or find a heritage-inspired line of modern plumbing to fake it – either way it will inject a plain modern bathroom with a strong dose of farmhouse style.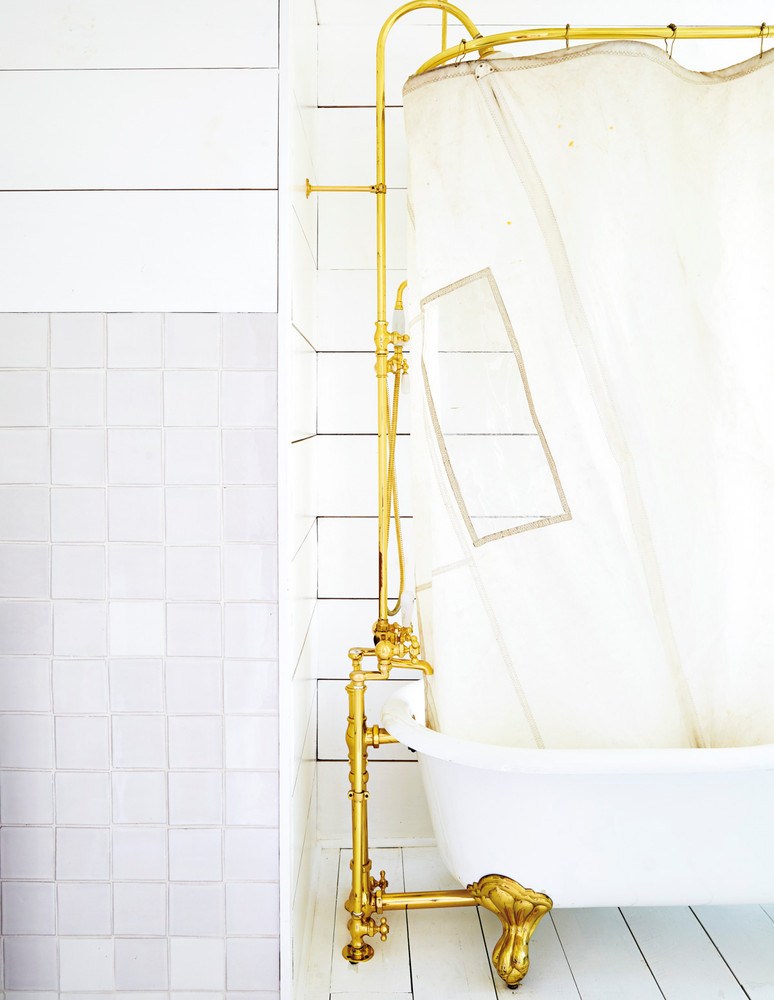 35. Don't forget the flowers
You can't go wrong with a little bunch of flowers in a simple glass jar – nothing extravagant is needed, just a few sprigs picked from the garden will do. Flowers really reinforce the nature-inspired feel of a farmhouse bathroom, even more so than a potplant, probably because flowers have such fragile impermanence and seem that little bit more delicate. An essential element for every farmhouse bathroom.
36. Bringing it all together
This modern farmhouse bathroom ticks all the boxes. Soothing neutral colour scheme, white shiplap walls, large double vanity with freestanding white sinks, contemporary accents in the tapware, drawer pulls and little powder-coated steel stool, industrial lighting, dark timber mirror frames and little white rugs for a fresh touch. It's chic, simple and comfortable—everything you want your modern farmhouse bathroom to be.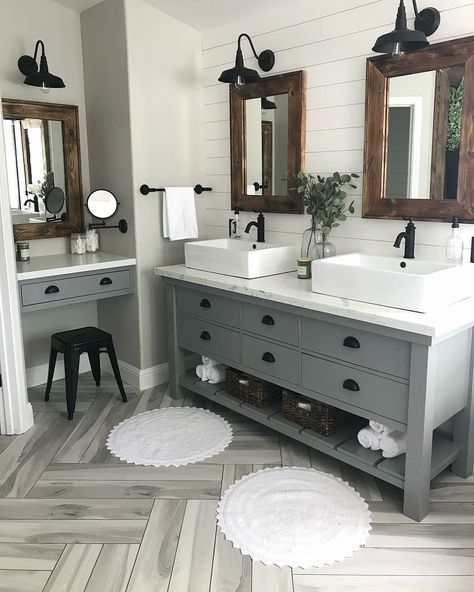 Want to change up your bathroom colour scheme? Find an expert bathroom painter.
37. Scandi farmhouse
I'll finish up with my favourite look in the farmhouse style is the pared-back, tidy, Scandi style. Although this concrete and timber sink is in the kitchen here, I reckon it would work just as well in the bathroom.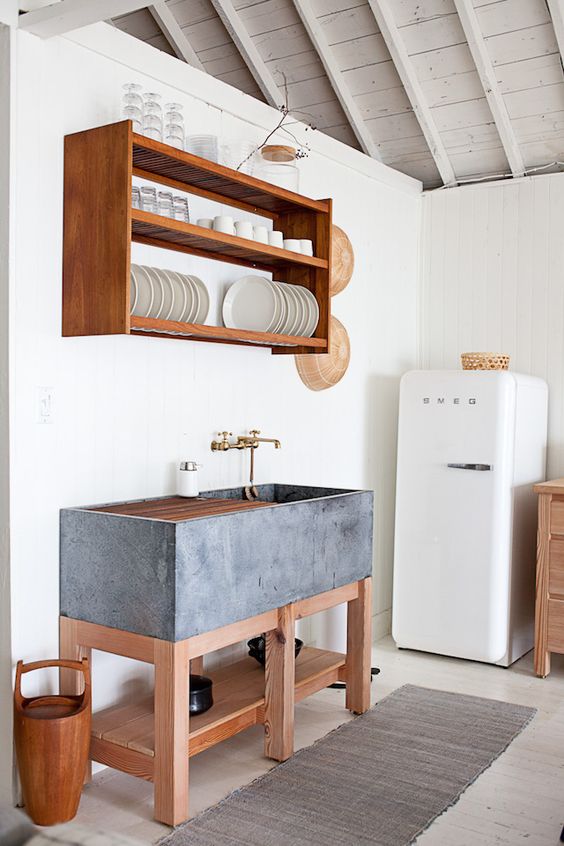 So I hope these 35+ farmhouse bathroom ideas have given you some inspiration for your bathroom renovation. You can also find loads of great ideas in our article on bathroom décor ideas.
Does the modern farmhouse style appeal to you? Although it does incorporate some contemporary elements, it's at the other end of the spectrum to modern bathrooms.
Over to you – do you have a farmhouse bathroom and what elements have you added to achieve the look?