There's nothing like white bedroom ideas and designs. It's the perfect choice for any home – whether it's Boho, beachy, classic, farmhouse, or anything else! And the good thing is that you can dress up a white bedroom with practically anything, from dark charcoal to bright bold tones to soft neutrals. No matter what your style, you'll be able to create a white bedroom that you love.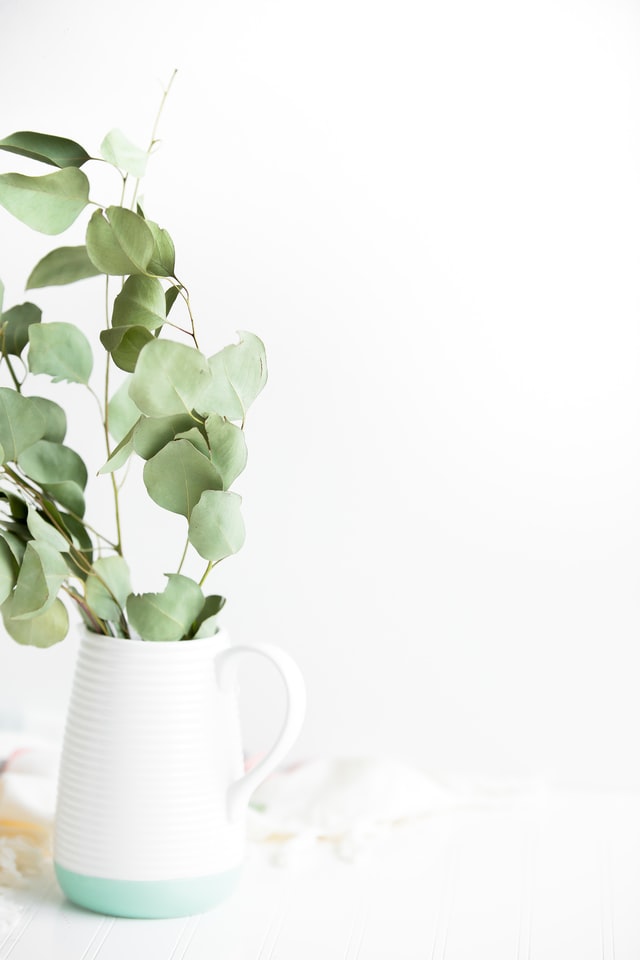 Here's a list of our favourite white designs, so without further ado, read on for our favourite 28 white bedroom ideas.
1. Simple and sweet
Keep things stripped back and minimalist with an all white colour palette. For décor, simply add a small vase of elegant white blooms. A rustic wooden stool as a bedside table is a lovely contrast to the crisp white linen.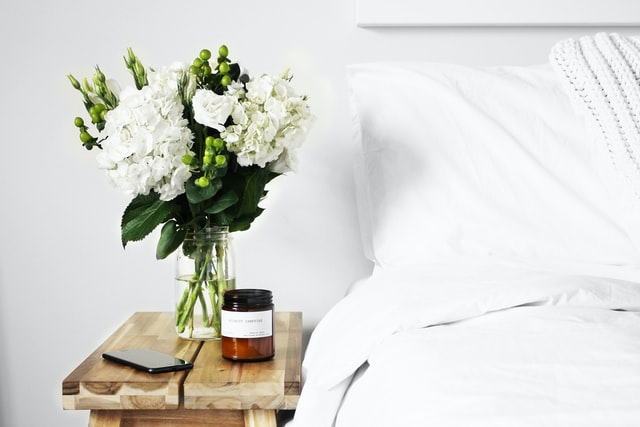 2. Add a throw
Want to fancy up your bedroom without forking out a lot of cash? A throw will do the trick! And this one is so cute in this space. Take inspiration from these boho vibes and choose a cream or white throw that has plenty of tassels – too cute!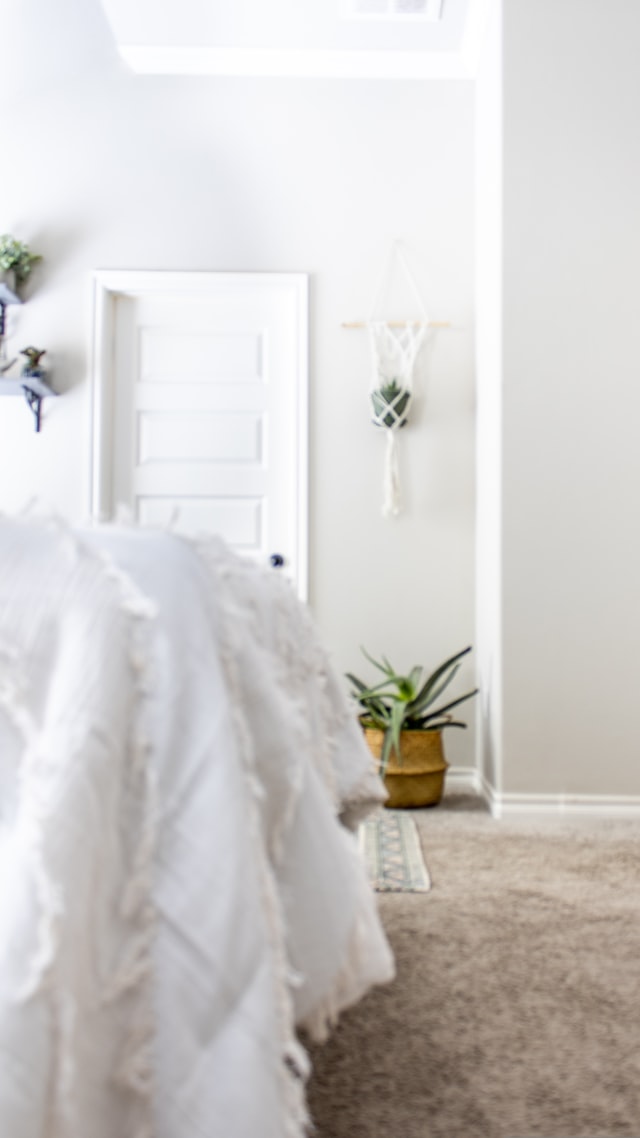 3. Black hardware
There's something so luxurious about black finishings – they completely transform a space, taking it from simple to fancy. So if you love a white bedroom but want to give it more of an edge, add black hanging lights either side of your bed. If you need some help putting up your bedroom lights, don't forget you can easily find someone to take care of your pendant light installation.
4. White Boho bedroom
Create a soft and calming space with off-whites and textured elements like wainscoting, beadboarding or wall panelling. This Boho bedroom would be such a dream to sleep in. I particularly love the intricate rattan lampshade and the carved antique bed. It's these details that make all the difference.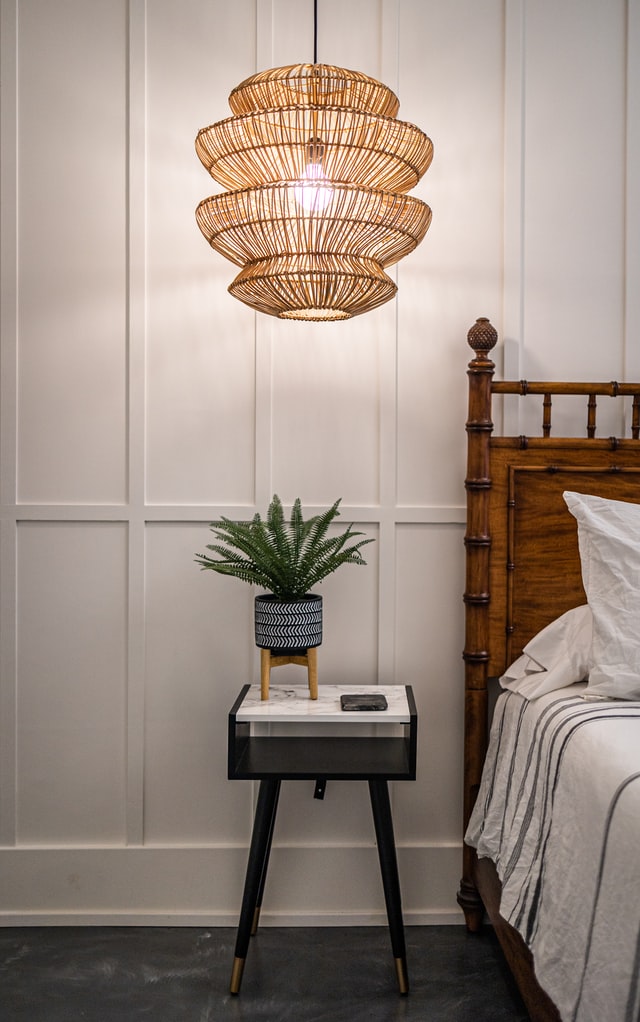 5. Timber touches
Coastal bedroom more your style? This is the room for you! My favourite thing about this bedroom is the timber shelving above the bed. It's both functional and provides a welcome contrasting accent to all the pale tones here. Speaking of the neutral colour scheme, you really can't go wrong with everything white and ecru!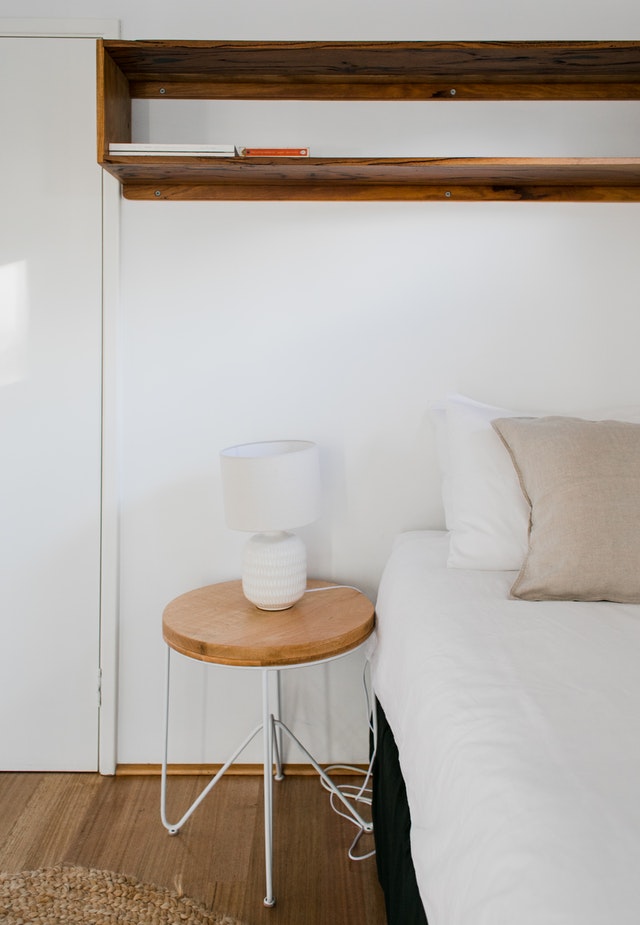 6. Minimalist white bedroom
Here's another simple chic white bedroom. This one makes use of warm orange and yellow tones to create a warm environment. I love this colourful Boho woven wall-hanging and the delicate white bedside lamps.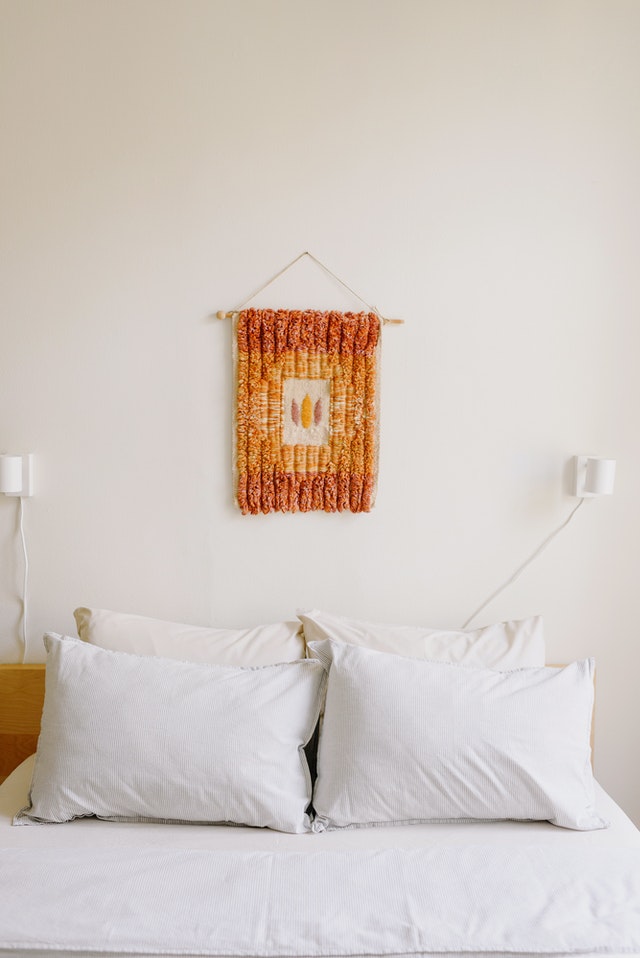 7. Every detail
This white Boho styled bedroom is swoon-worthy! My favourite thing about this space is that every single detail has been taken into account. There's the lovely textured rug under the bed, the sweet little side table with a bookstack, tasselled throw, and the woven basket with rustic branches. It all adds up to a calming, grounded bedroom space.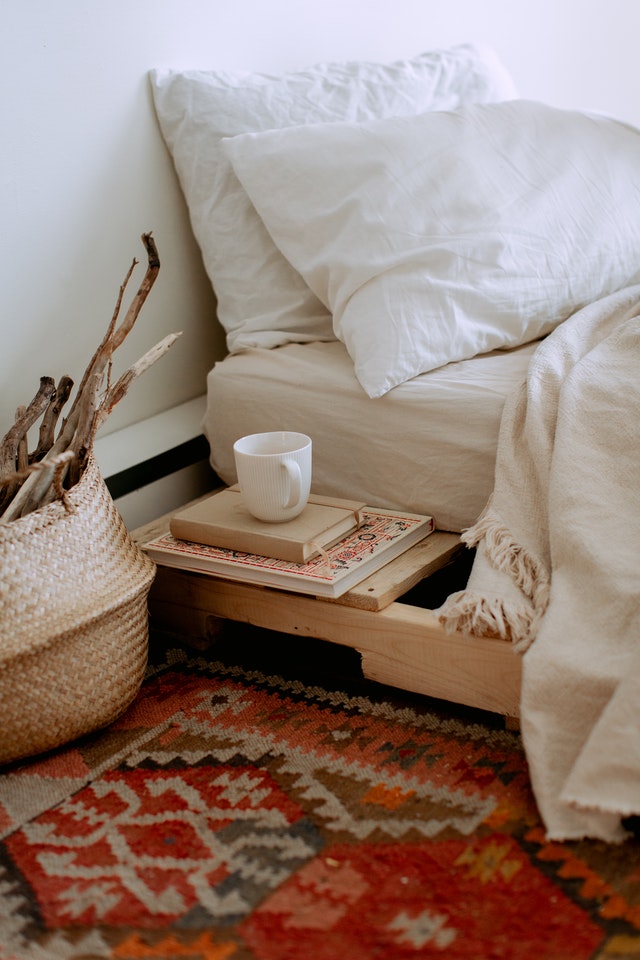 8. Dark timbers
Want to add a more masculine edge to your white bedroom? Dark timber will do the trick! And a dark bedhead will take away the starkness from an otherwise white room.
9. Silver style
Prefer your space a little more glam? Try mixing white with silver elements. It may be something as simple as a white and chrome bedside lamp. Don't forget to contrast your metallic element with some rustic timber furniture, like this bedside, for warmth.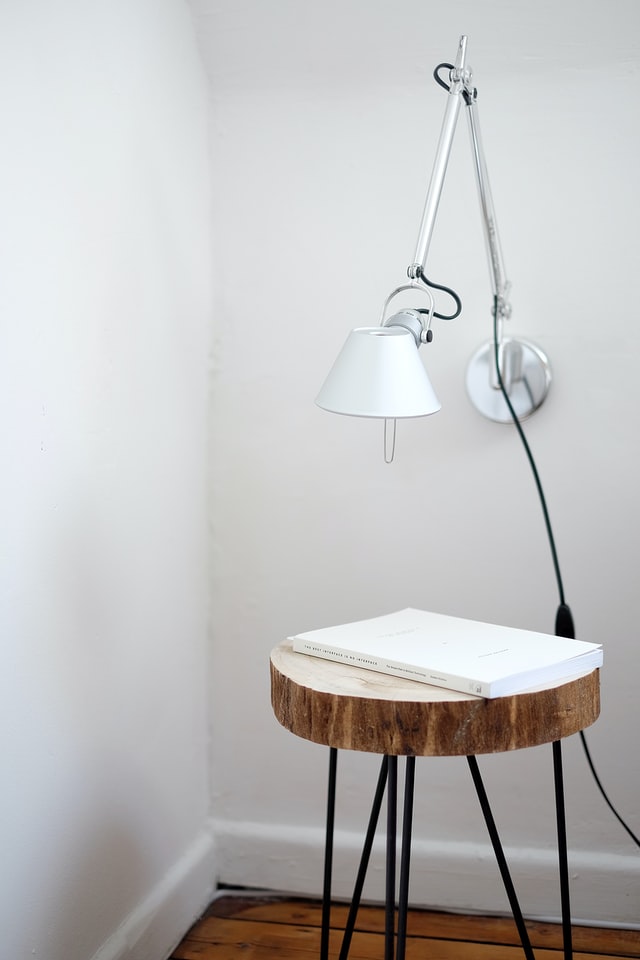 10. Coloured cushions
Looking for a little something to spruce up your all-white bedroom? Coloured cushions will do the trick! You can go loud and bold with bright block colours. Or you can add a subtle touch of colour with muted tones such as browns, mustards or soft blue cushions.
11. White décor
Design is in the details. An element as simple as a white clothes hanging rack with wooden hangers looks quite striking in a snowy white.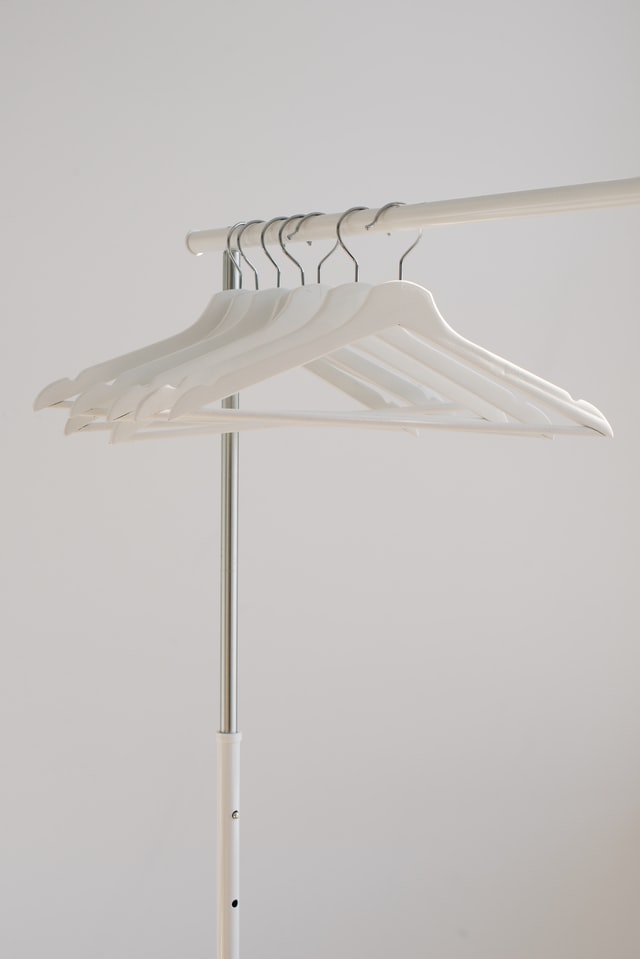 12. White and gold
White and gold is probably my favourite colour combination of all. I just love the pure elegance of this colour combination. The best thing about this glam style is that it's so easy to create. All you need to do is choose white as a base for items like your bedside drawers, lamps, picture frames and bed covers, and then add gold by way of fixtures, mirrors, and extra touches.
13. Add plant life
A space just isn't complete without florals or greenery. A striking statement houseplant will add life to your plain white bedroom. Alternatively, bunches of dried flowers add coastal vibes to lift a basic white bedroom.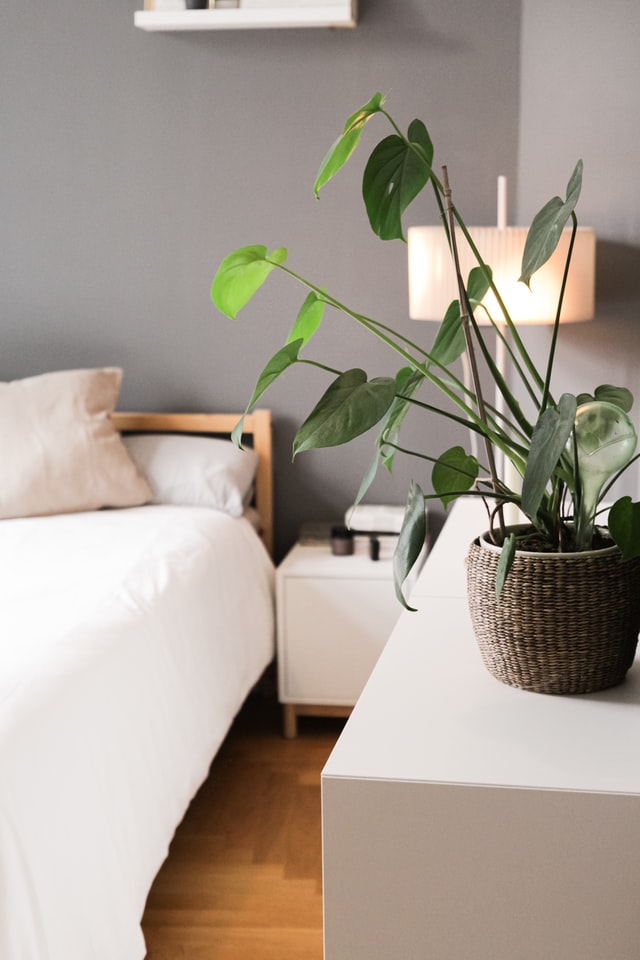 14. Grey and white
If you're a minimalist at heart, then you'll love a white bedroom mixed with soft grey tones. Grey and white are really a colour match made in heaven. They create the perfect base that you can build upon with greenery and coloured cushions.
15. Black and white
Now this is a sophisticated black and white bedroom design! If you want to create a luxe space like this one, all it takes is the combination of white and black. The contrasting colours look great together and can be combined in so many ways. Take inspiration from the massive geometric patterned rug.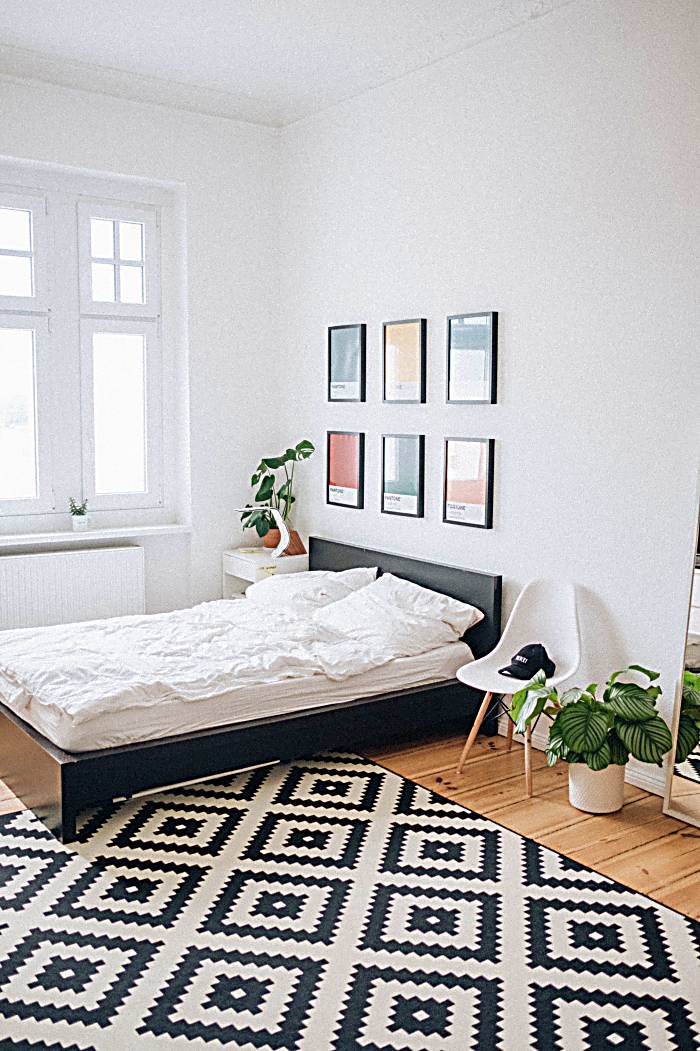 16. Dusty pink
Add pink to your all-white bedroom for a glamorous feminine touch. I'm a sucker for all things velvet, so I love a luxurious velvet bedhead in dusty pink. As well as adding velvet, think about bringing in a range of different textiles with different materials, patterns and textures. This will prevent your bedroom décor feeling flat.
17. A reading corner
Take a moment to relax and hideaway with a cute little reading nook. Whether it's a comfy armchair or a simple timber stool stacked with books, somewhere to sit other than your bed is always practical. And it's another way to bring in more white elements for your white bedroom.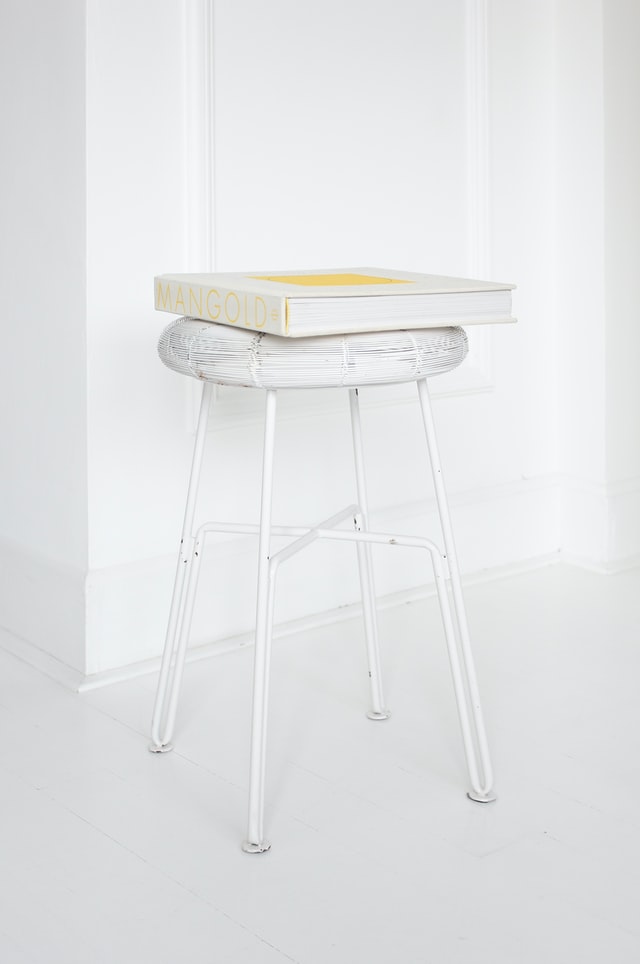 18. Clean and elegant
Steal the look of your typical chic French apartment. If you have mouldings or elevated skirting boards, make them a feature and paint them bright white, even if your walls are colourful. It's architectural details like these that can really take your space from bland to breathtaking.
19. Rose gold and white bedroom idea
A dash of rose gold can be sweet and chic in a white bedroom. Just make sure you get the balance right. Here, the bedroom is mostly white but there are echoes of the rose gold lamp in the dusty pink curtains and the warm oak bedhead.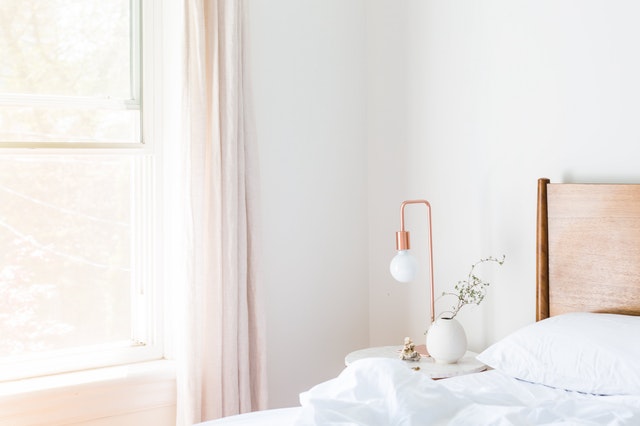 20. Textured cushions
For an all-white bedroom, the real heroes will be the textiles, particularly if they are designed with all different kinds of beads, tassels, and pom poms. This will create a rich layered texture with loads of visual interest.
21. Floor-to-ceiling drapes
I love dramatic curtains like these, especially when they're in a large master bedroom. Here, the white curtains match the window frame and mouldings, while the sandy-coloured wall is enhanced by the natural sheepskin colour.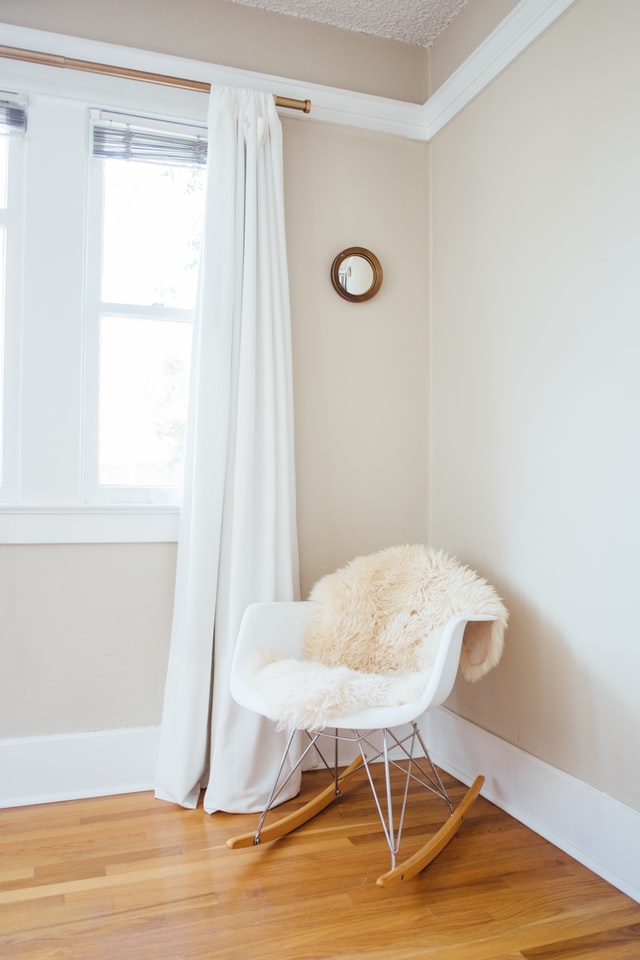 22. Grey walls
If you want less of a stark white look, then adding in grey tones is a good option. You can create the perfect foundation for your bedroom by painting the walls a light grey (I like this concrete rendered bedroom wall). And then keep some elements white, like your closet doors, chest of drawers, and vanity.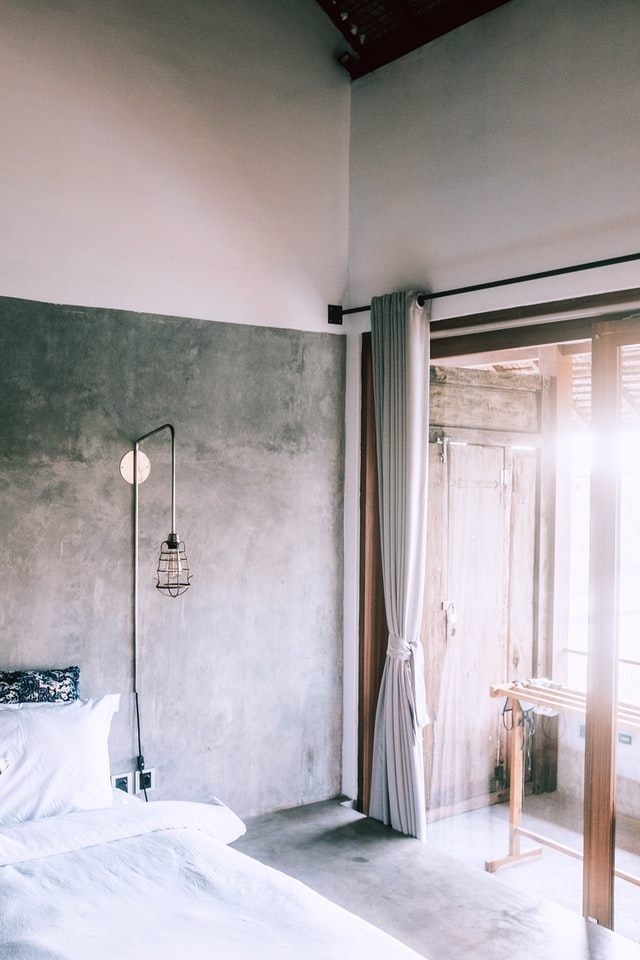 23. Sheer white curtains
Like your bedroom light-filled and bright? Sheer white curtains are the choice for you! The only time sheer curtains could prove challenging is if you have a large window that you need to cover for privacy.
24. White and ocean blues
Whether you live near the beach or you simply want your house to feel like you do, then you can't go past a blue and white bedroom. And the truth is that it isn't hard to create this look. All you need to do is lay a great foundation. You can do this by selecting a soft blue patterned rug, or go for blue bedlinen. A bundle of blue throws in a basket is also an easy way to add coastal vibes.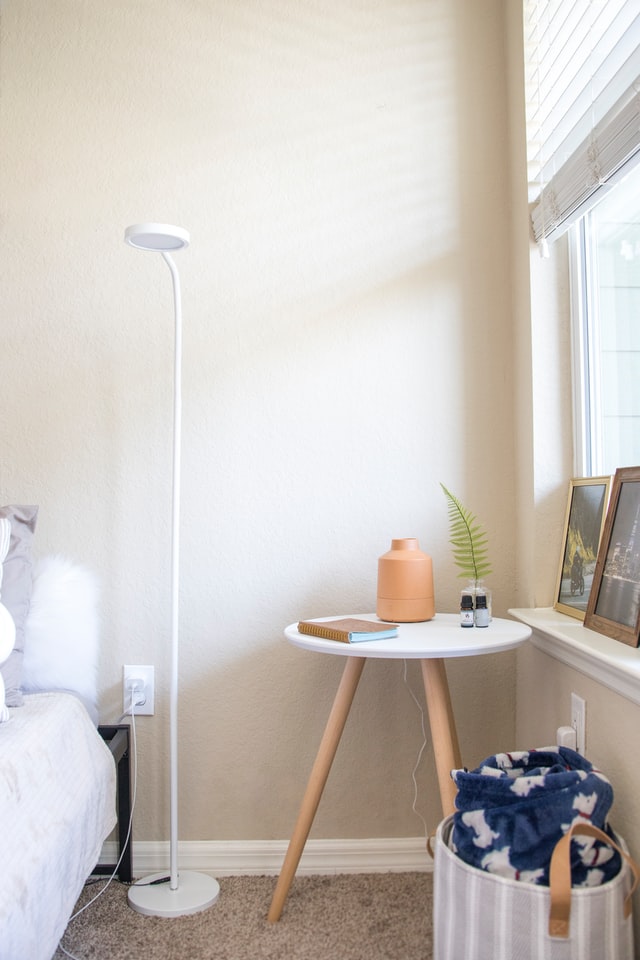 25. Add a desk
If you work from home and have a large master bedroom, why not dedicate one side of it to your desk? Before you worry about the mess, don't stress! It doesn't have to be a cluttered space. You can create a neat and tidy space, just be sure to incorporate clever storage solutions. Plus, you can make it look extra pretty with framed prints on the wall.
26. Scandi style
Draw inspiration from the classic décor style of the Nordic countries. Aim for clean lines and soft pale neutrals, and then add plenty of texture such as with a white panelled wall or even textured wallpaper.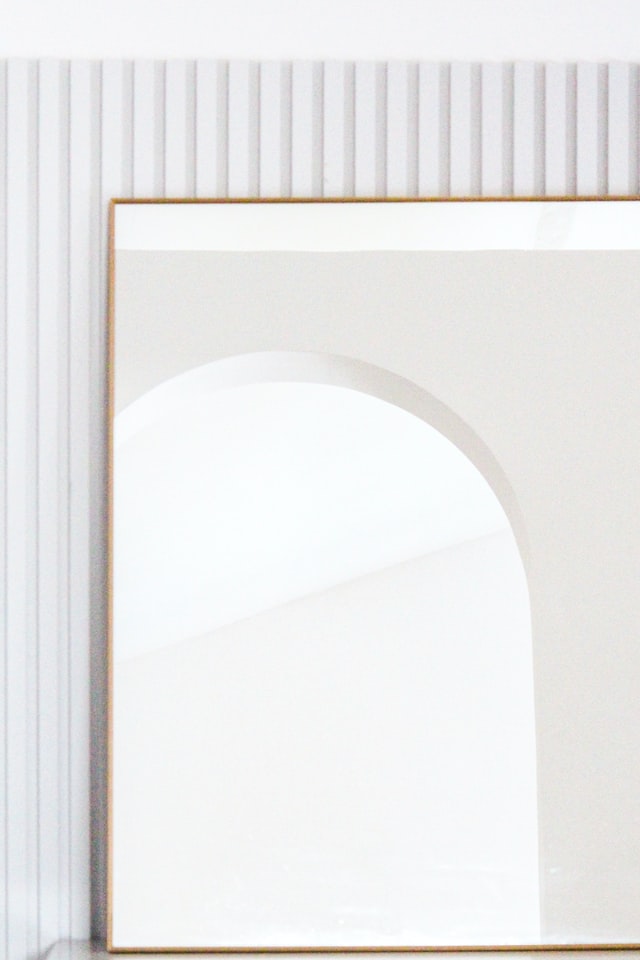 27. Add neutrals
For a softer white bedroom, go with neutrals! You can do this by choosing timber pieces of furniture, natural woven lampshades and baskets, and sticking to white or off-white walls.
28. Dramatic curtains
Why create something normal when you can go all out with your bedroom design? These floor-to-ceiling curtains do just that! They add a dramatic effect to this all-white bedroom, especially with the gold-toned ceiling fan. And I love how the bed is in the centre of the large windows. They make for the perfect frame to a glamorous space.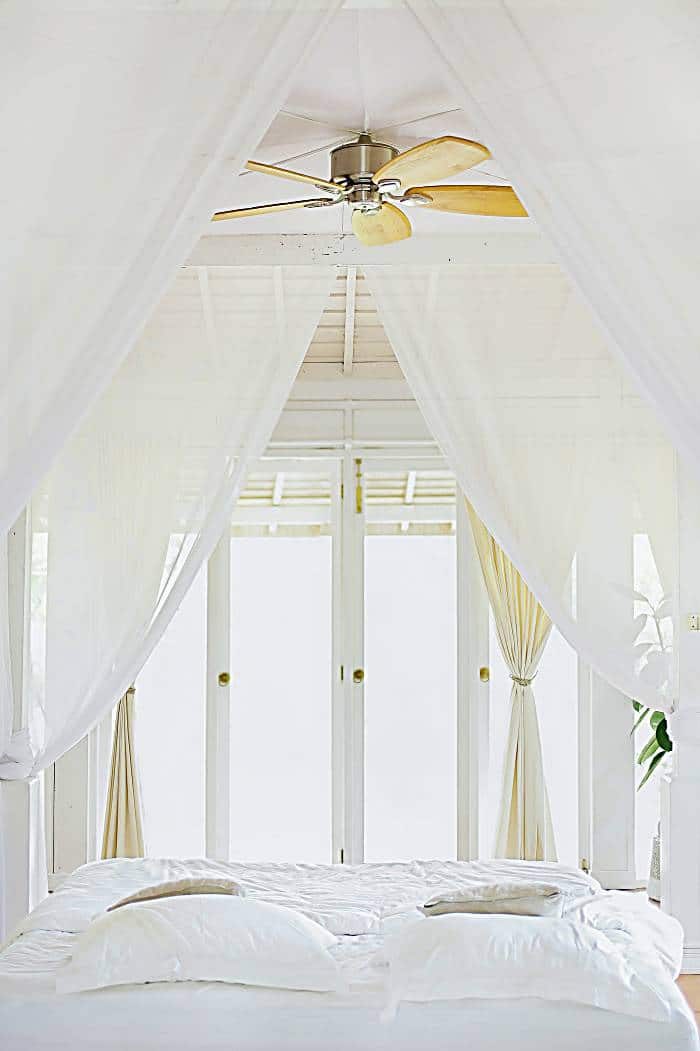 And there you have it, 25+ white bedroom ideas! Which one was your favourite? Comment and share. I personally love the white bedrooms with plants and the ones with Boho touches.