There's nothing like white bedroom ideas and designs. It's the perfect choice for any home – whether it's boho, beachy, classic, farmhouse, or anything else! And the good thing is that you can dress up a white bedroom with practically anything, from dark charcoal to bright bold tones to soft neutrals. No matter what your style, you'll be able to create a white bedroom that you love.
Here's a list of our favourite white designs, so without further adieu, read on for 40 white bedroom ideas.
1. Every detail
This white bedroom is swoon-worthy! My favourite thing about this space is that every single detail has been taken into account. There's the lovely textured rug under the bed, the sweet little side table complete with a lamp, candle, roses, and an art print… Plus, there are other little touches like the rustic bench at the end of the bed and the blanket thrown over the end.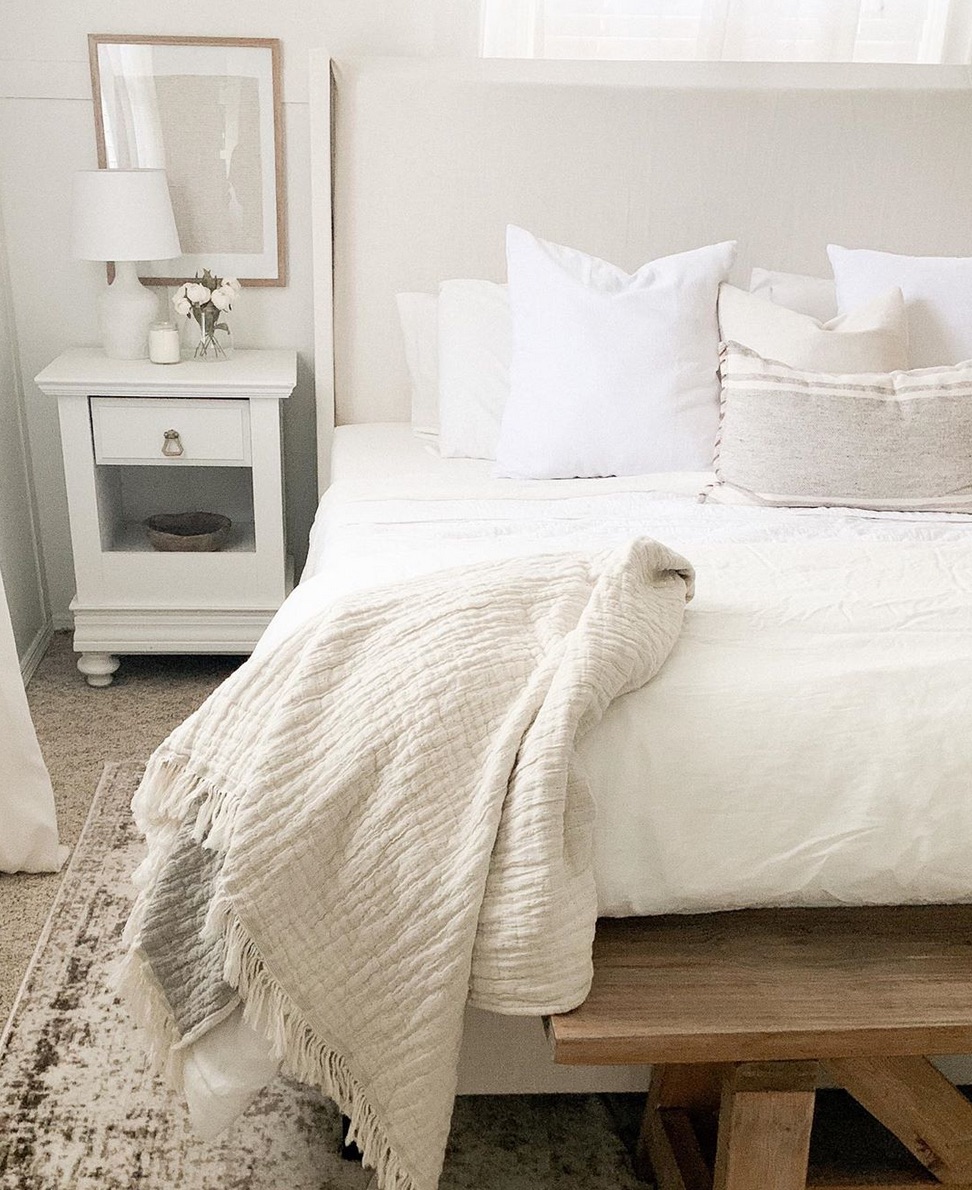 2. Room with a view
How incredible is the view out this window? If you look closely, you can see the New York skyline – how cool! If you've got an amazing view like this then make the most of it! Let the light in and install a gorgeous glass chandelier, like this one, that'll bounce light around your space.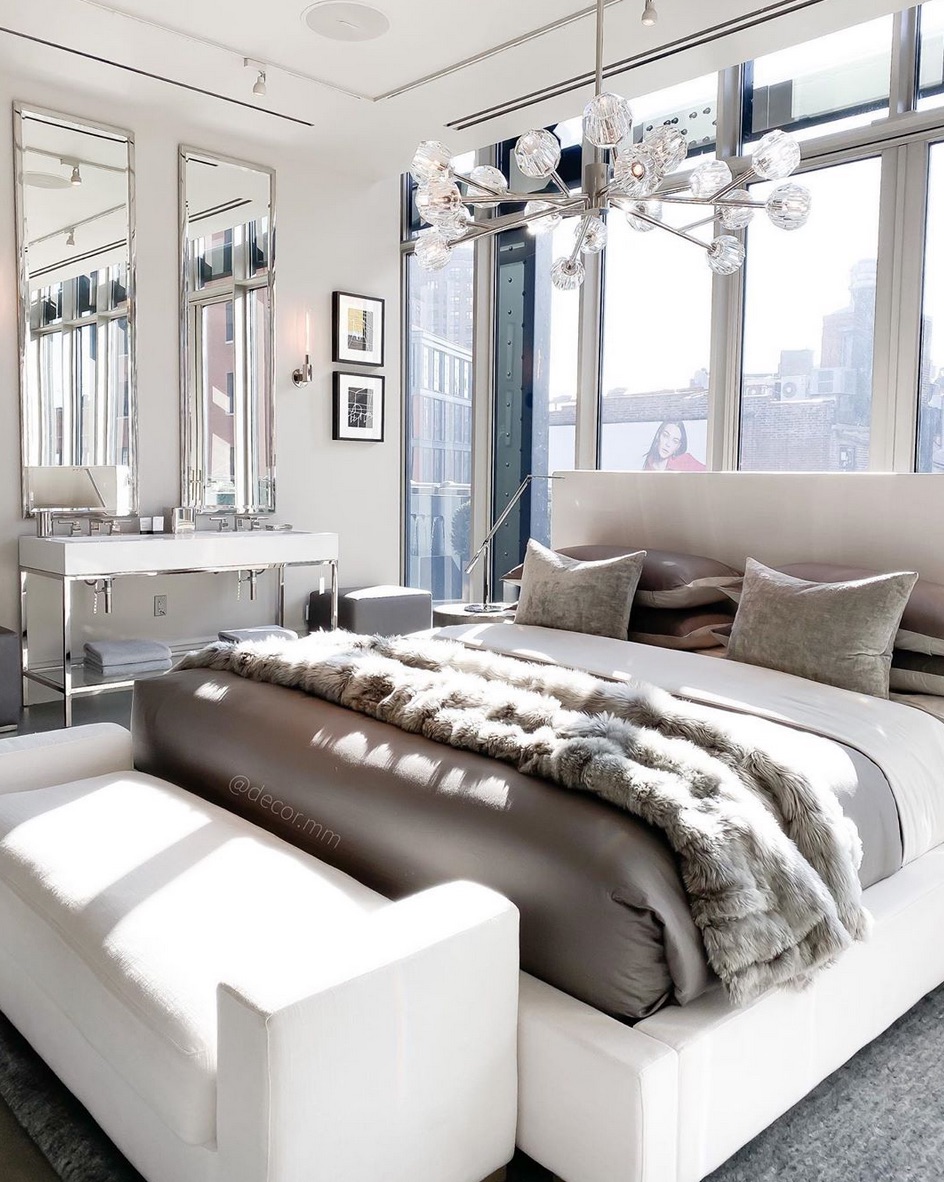 3. Rustic touches
Boho bedroom more your style? This is the room for you! My favourite thing about this bedroom is the timber bedhead that has a floral pattern carved into it. If you're going for this kind of look, choose neutral colours. You can't go wrong with everything beige and white.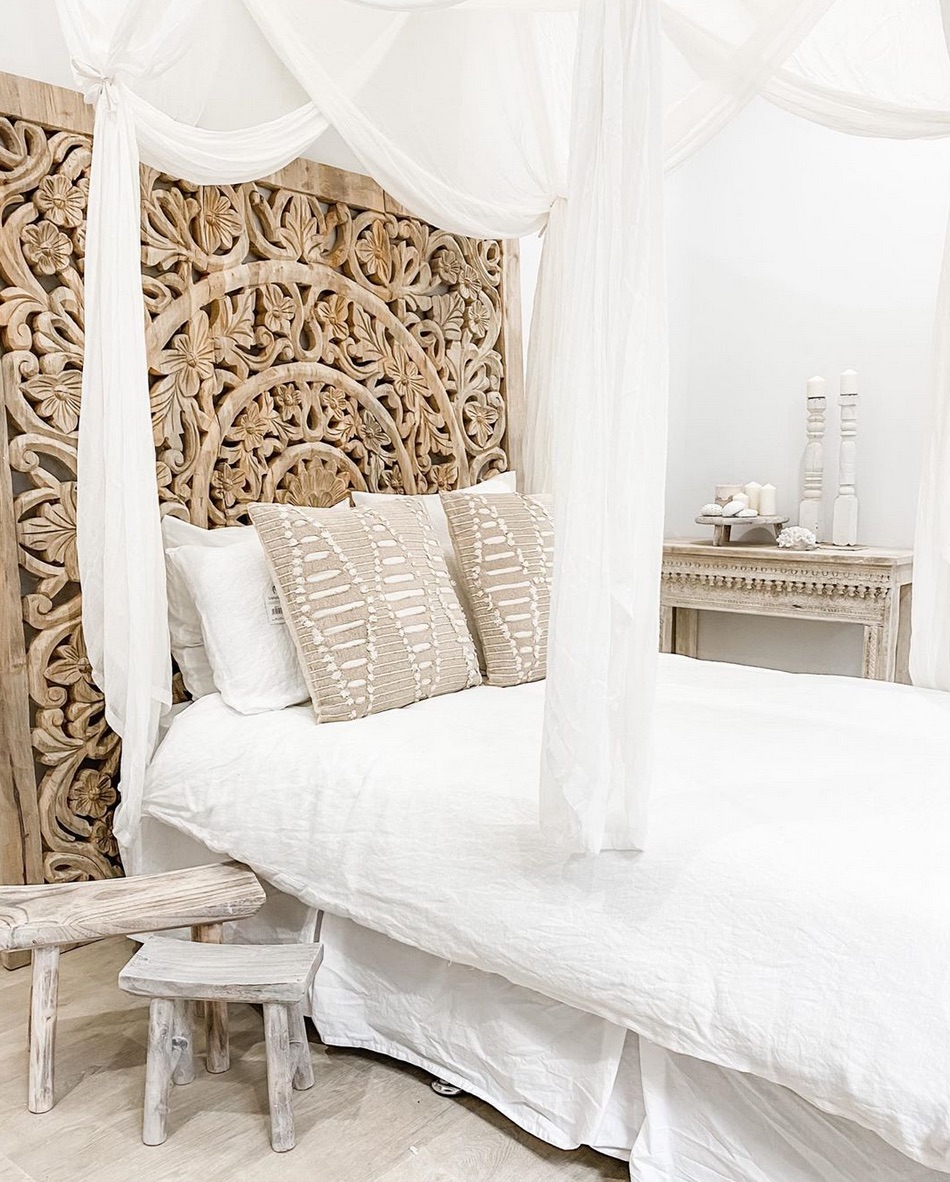 4. Add a throw
Want to fancy up your bedroom without forking out a lot of cash? A throw will do the trick! And this one is so cute in this space. Take inspiration from these boho vibes and choose a cream or white throw that has plenty of tassels – too cute!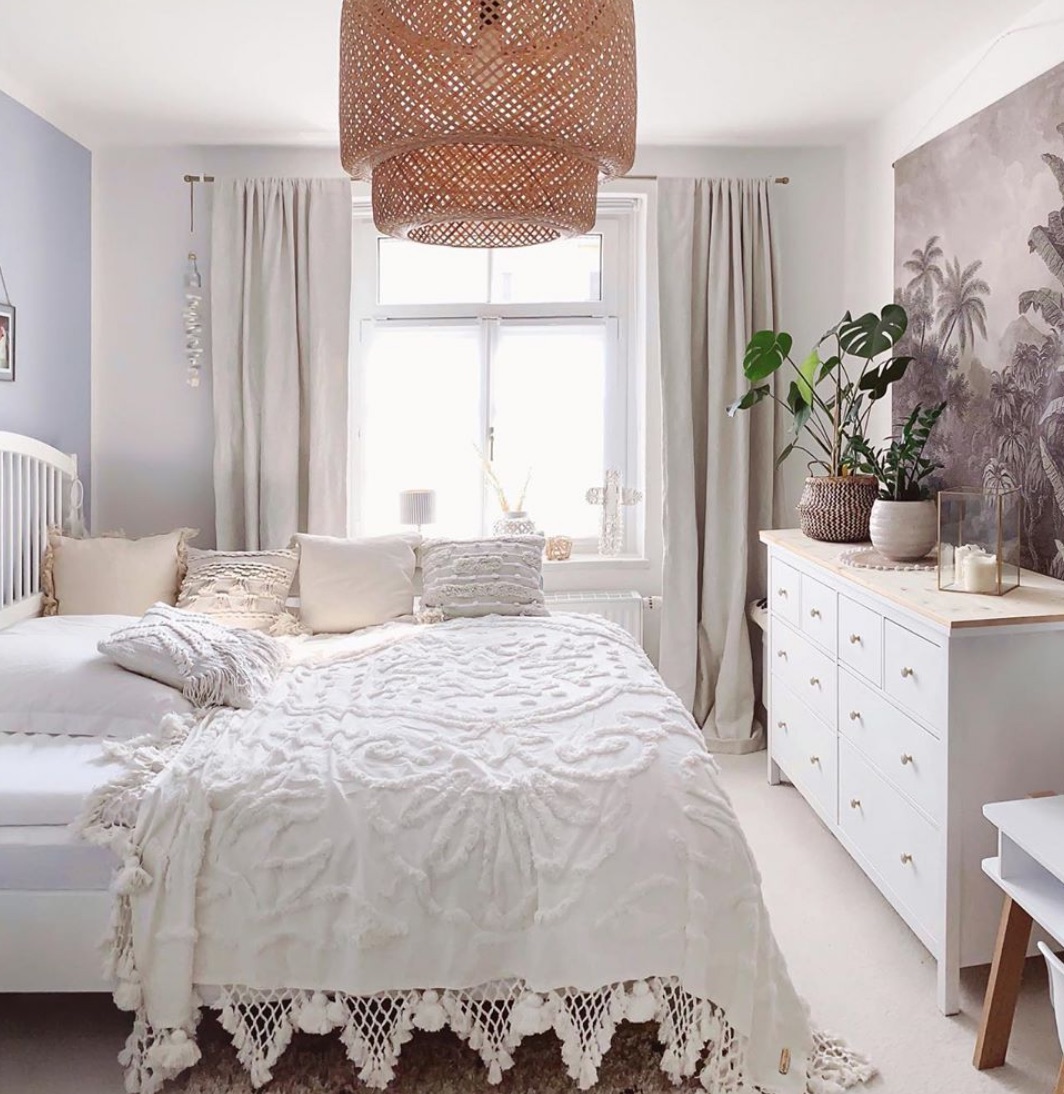 5. Silver style
Prefer your space a little more glam? Silver is the perfect choice for you! Incorporate a fancy headboard, like this cushioned one. And add some perfect square cushions to finish it off.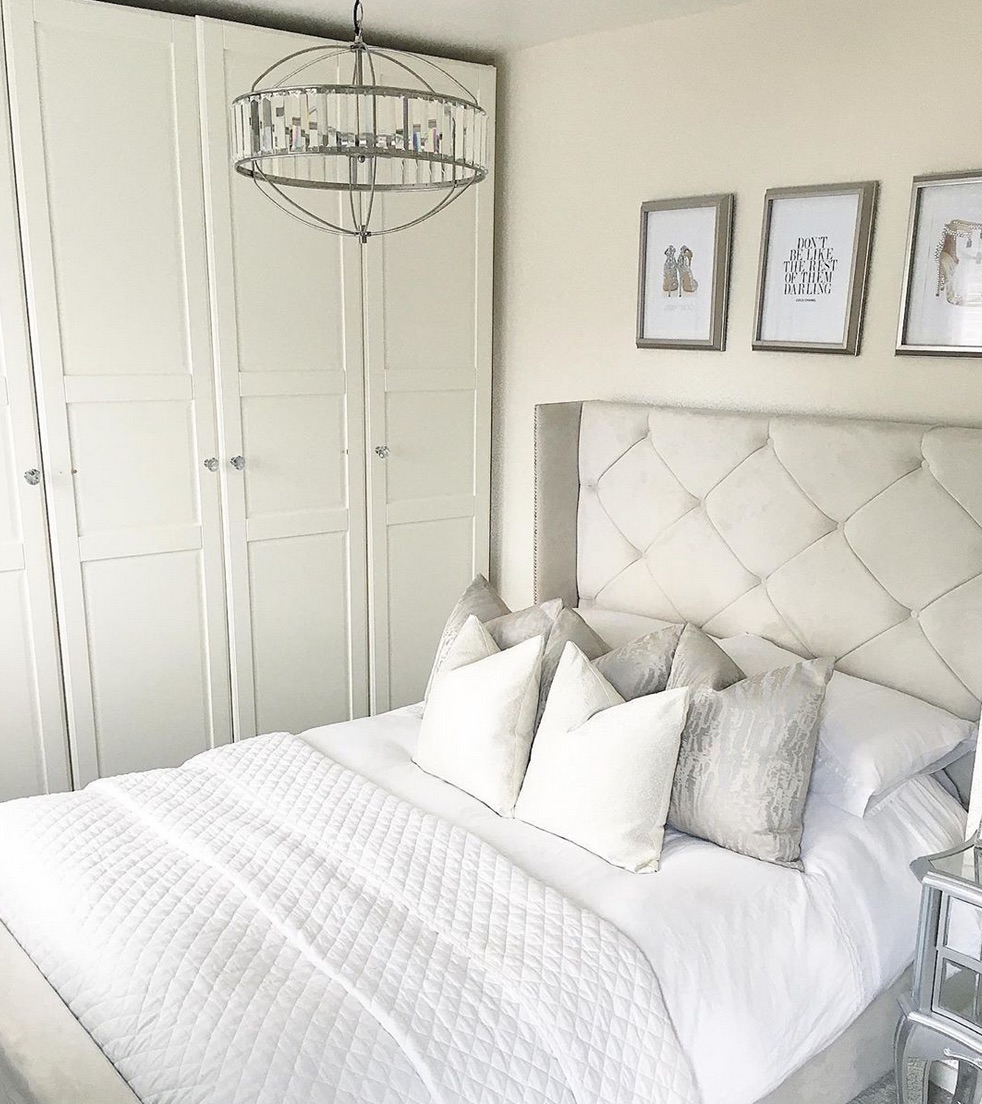 6. Decorate it
Design is in the details. And this room is the perfect example of this. Take the vases, for example. The soft pink and neutral pampas grass stands towers over the space and adds a gentle natural touch.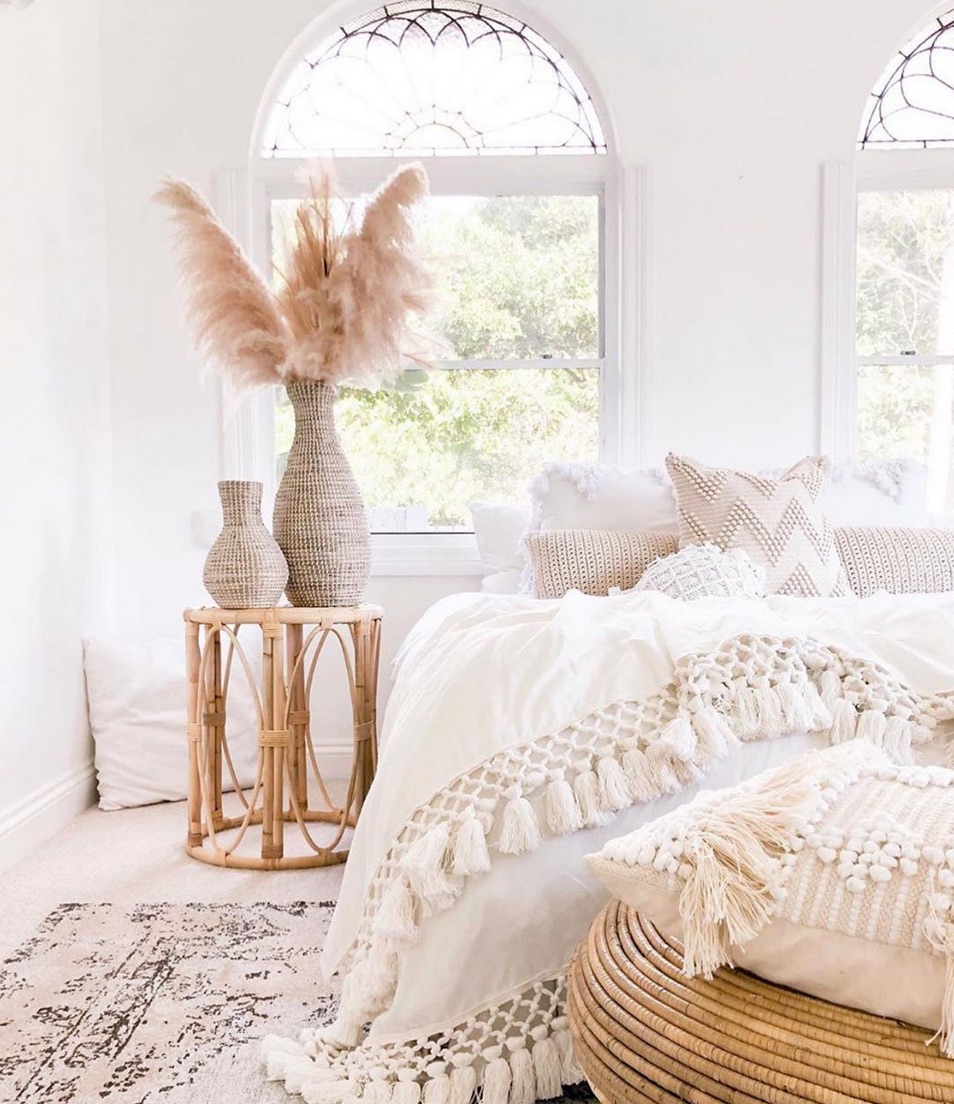 7. Add flowers
A space just isn't complete without florals or greens. And in this case, a beautiful bunch of dried flowers! I love how they are sitting pretty on the rattan side table. Plus, how cute is the candle? It's a gorgeous addition.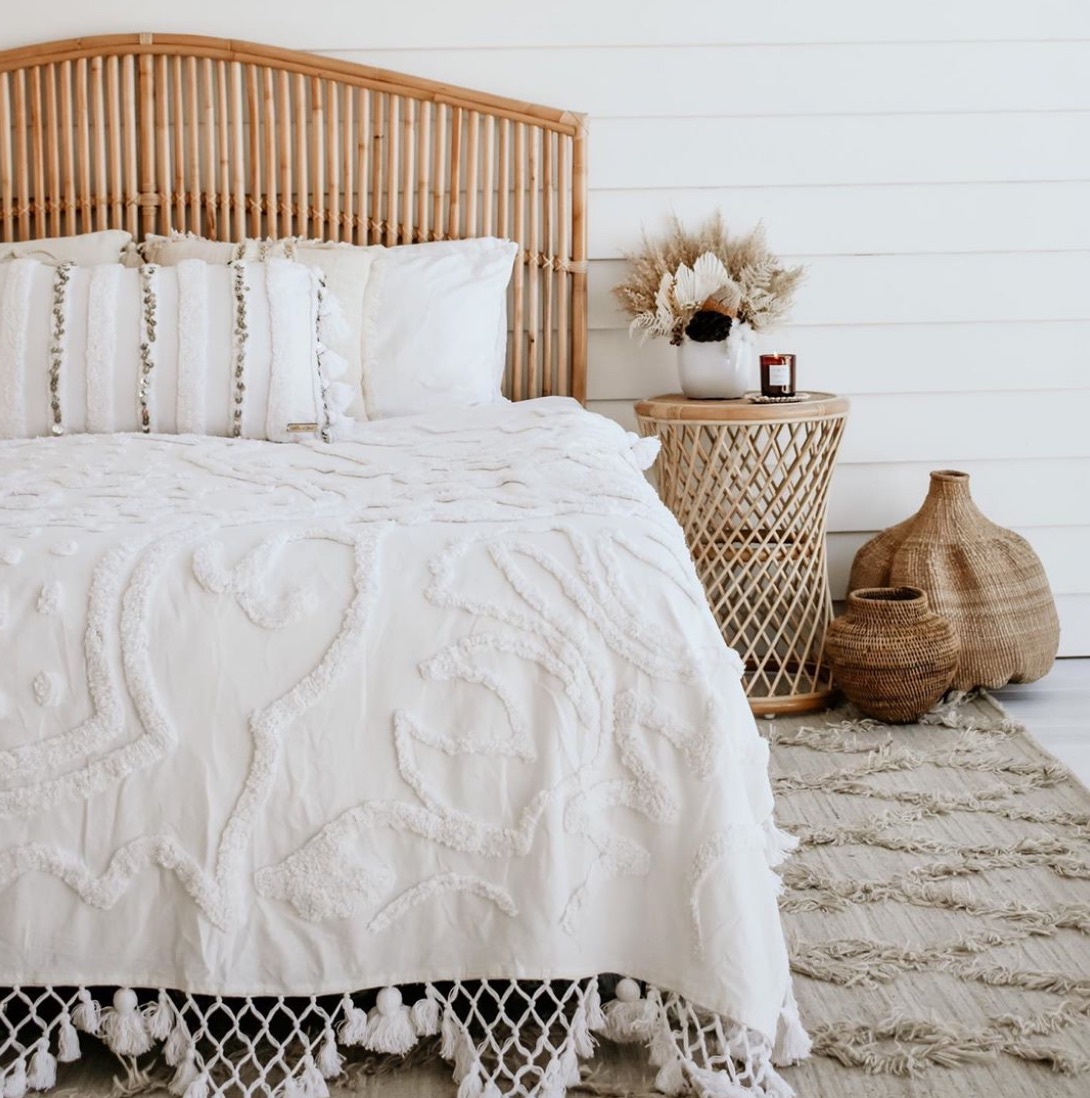 8. Add neutrals
For a softer white bedroom, go with neutrals! You can do this by choosing timber pieces of furniture, orange and pink shades, and woven basket elements. And if you want to add something a little bit different, hang fairy lights on your wall! These circular-shaped light pieces are gorgeous!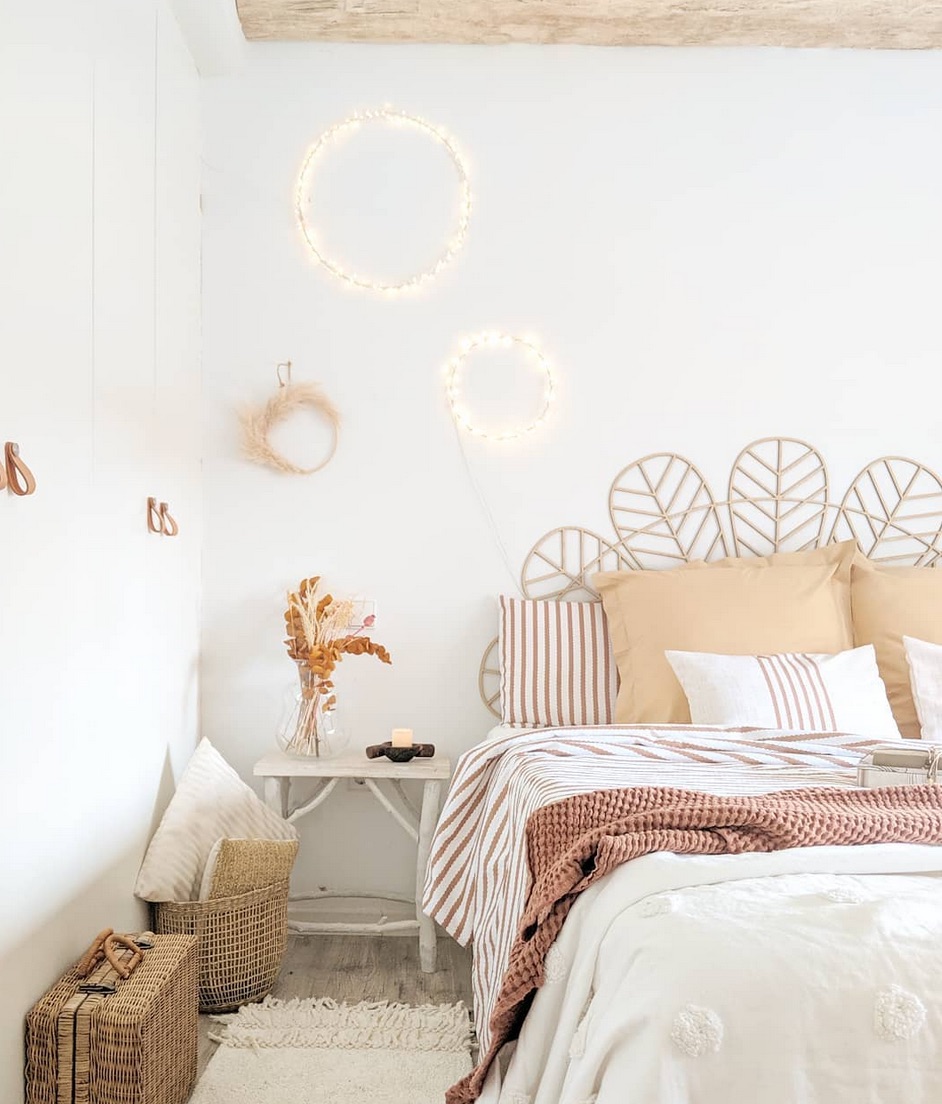 9. Grey and white
If you're a minimalist at heart, then you'll love this look. Grey and white are a colour match made in heaven. They create the perfect base that you can build upon with greenery and coloured cushions.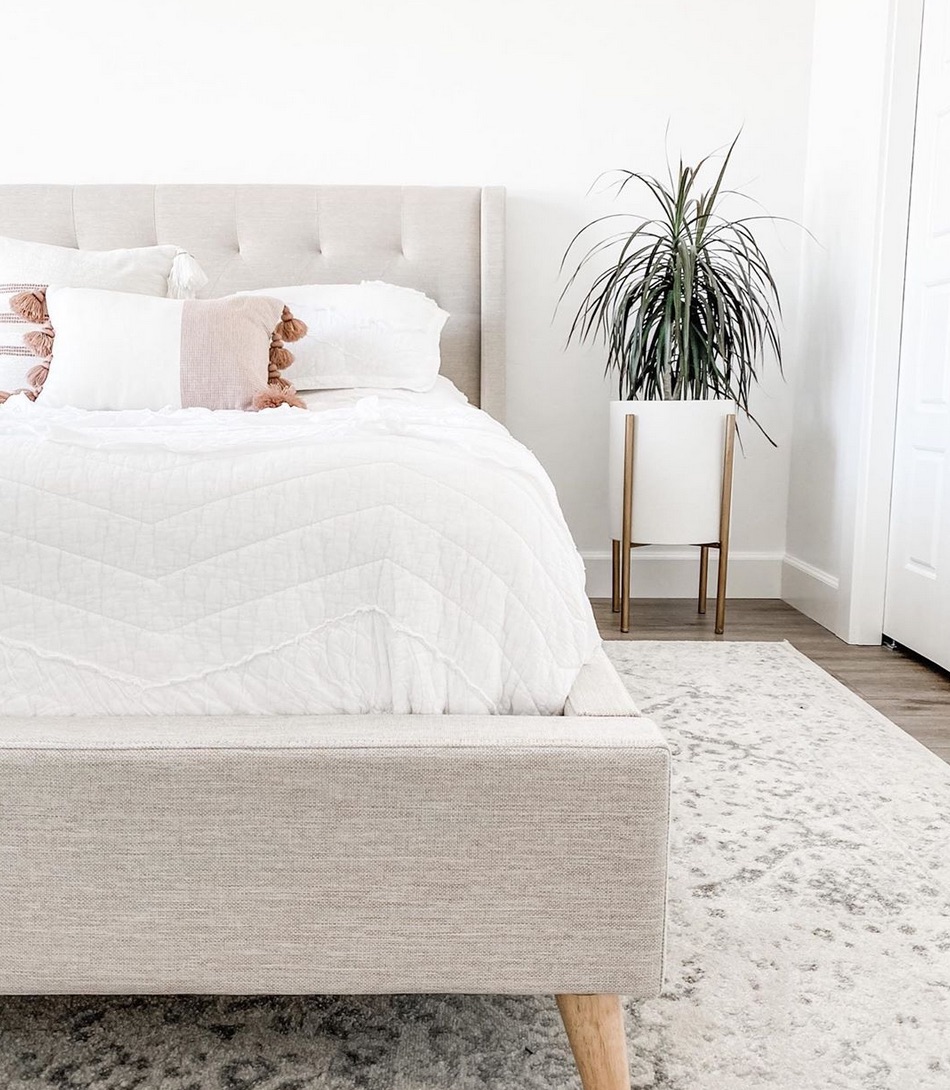 10. Warm tones
Here's another white minimalist bedroom but with a different colour scheme. Where the other space was cool and grey, this one is warm and brown. Create a space like this by using a timber bed base and bench seat. And then add white bedding and soft pink pillows to match.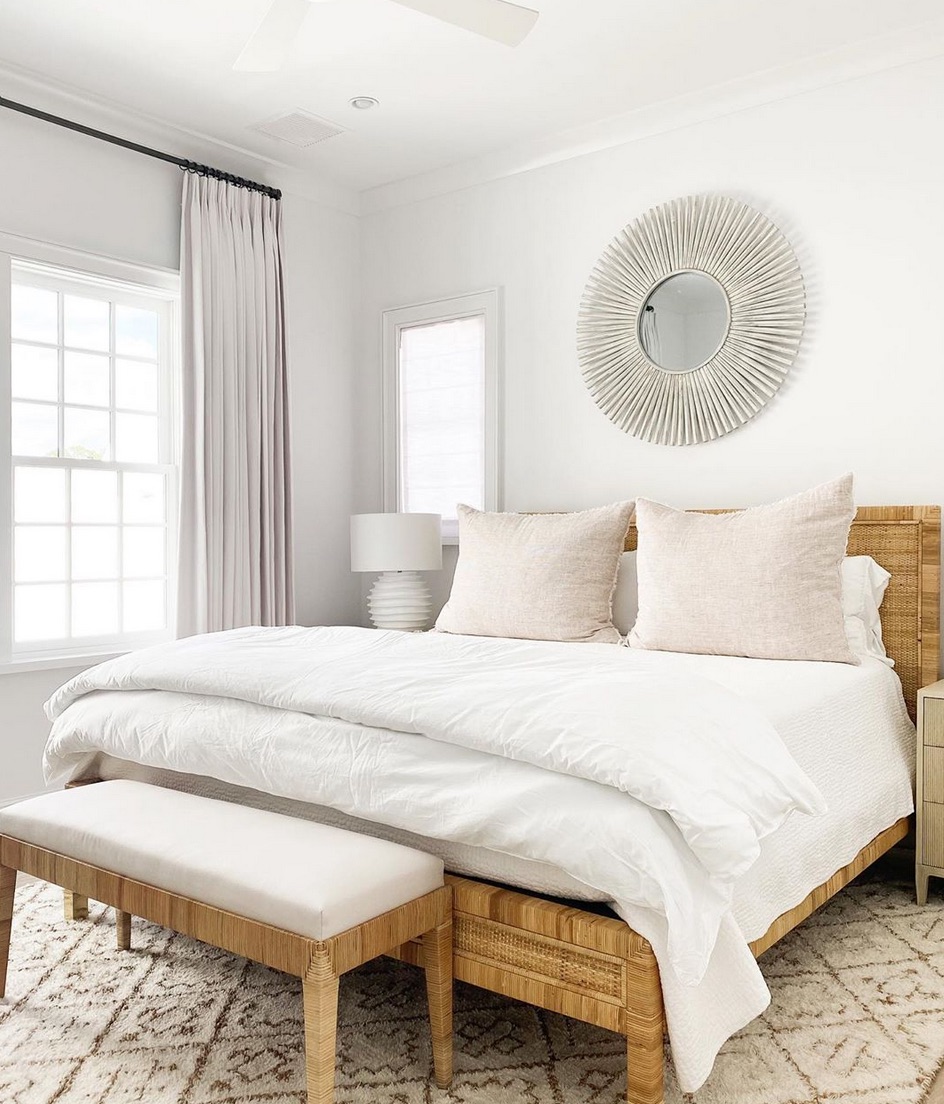 11. Add a print
Make your decor personal by hanging a sweet print. Choose your favourite saying or quote and hang it on the wall above your bed in a beautiful timber frame. This will make your space look and feel unique.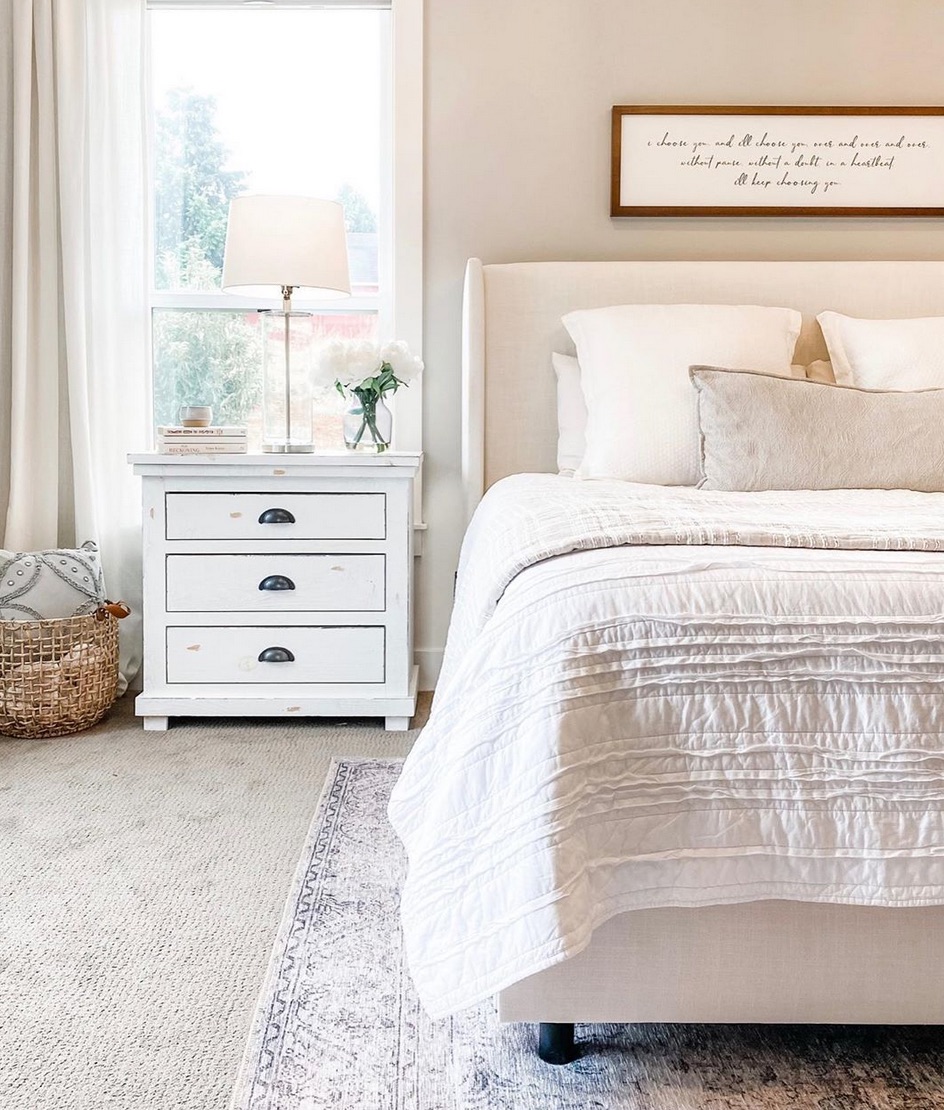 12. Dusty pink
Add pink to your all-white bedroom for a glamorous feminine touch. I'm a sucker for all things velvet, so I love this bedhead. And what's interesting about this room is that there are so many textures! This is just one factor that can make a white room stand out. So if you want to recreate this style, choose decor pieces that have different textures and patterns.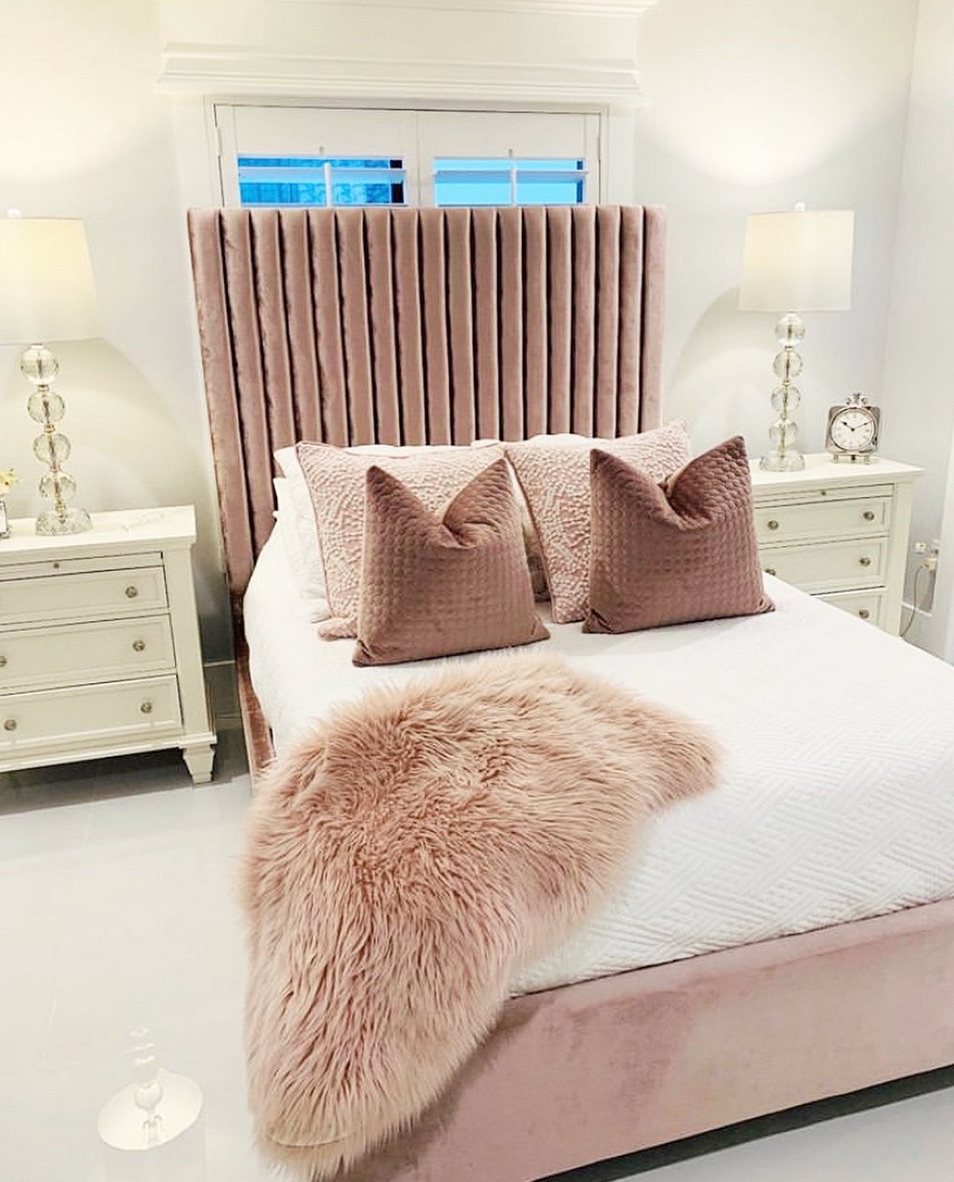 13. Coloured cushions
Looking for a little something to spruce up your all-white bedroom? Coloured cushions will do the trick! You can go loud and bold with bright block colours. Or you can add a subtle touch of colour with muted tones like these brown, mustard and soft blue cushions.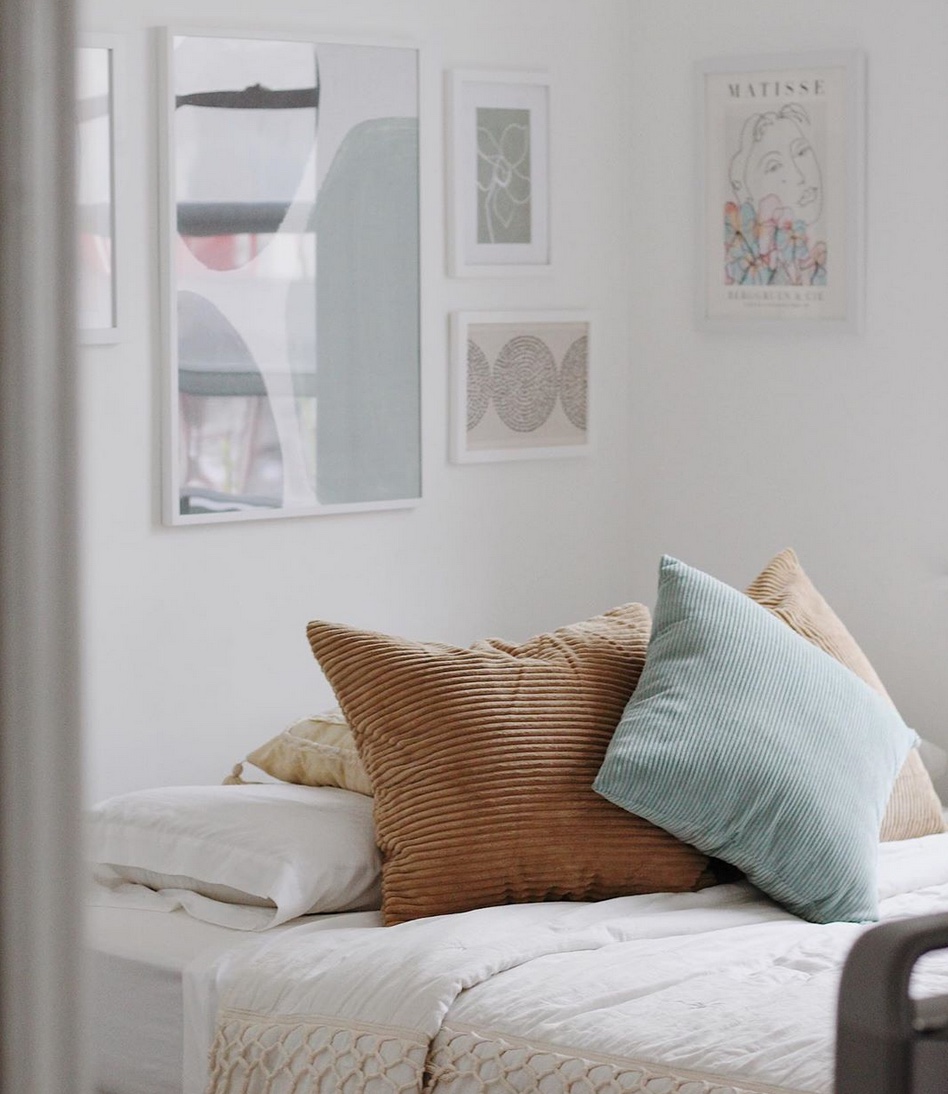 14. Black and white
Now this is a sophisticated black and white bedroom design! If you want to create a luxe space like this one, all it takes is the combination of white and black. The contrasting colours look great together and can be combined in so many ways. Take inspiration from the geometric jagged pillows and the perfectly placed slick black boxes by the window.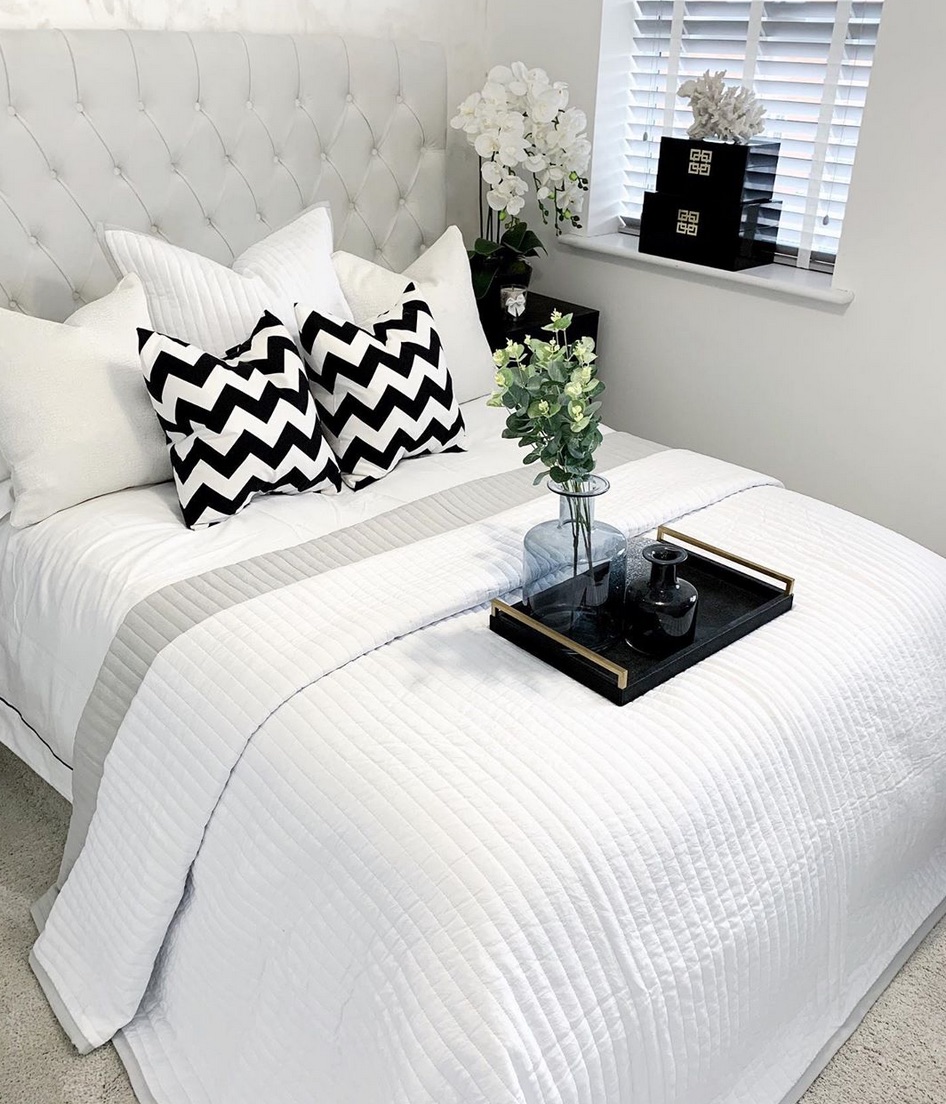 15. Feature light
Make a statement with a fancy pendant lighting fixture like this one. This timber-encased light will be sure to make heads turn. Plus, something like this can easily be incorporated with other elements in the room like the slatted timber headboard and small floating shelves.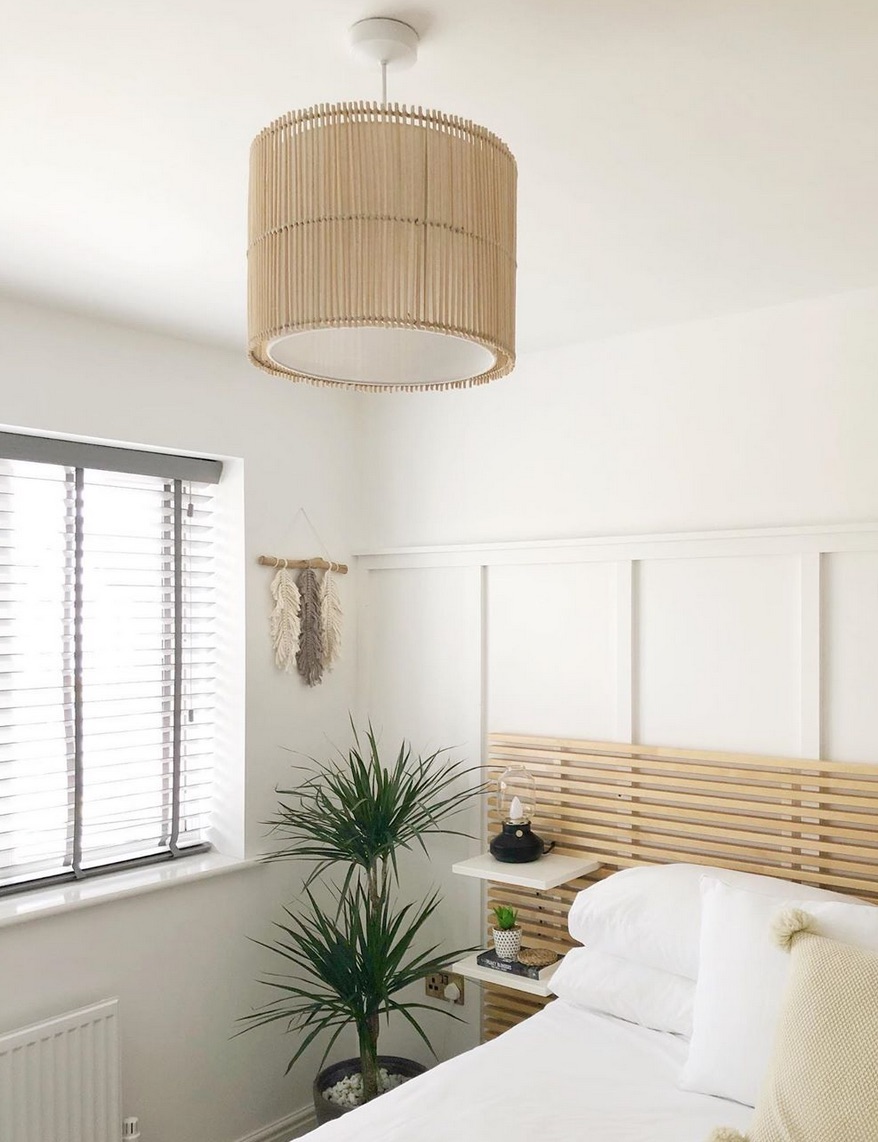 16. Reading light
Are you a bookworm who loves to read? Make sure you've got the right lighting! A simple light on the wall, like this one, won't ruin your design either. It's so minimal and modern that it's almost a decor piece in itself. You'll be able to see better and you'll have a prettier space – win, win!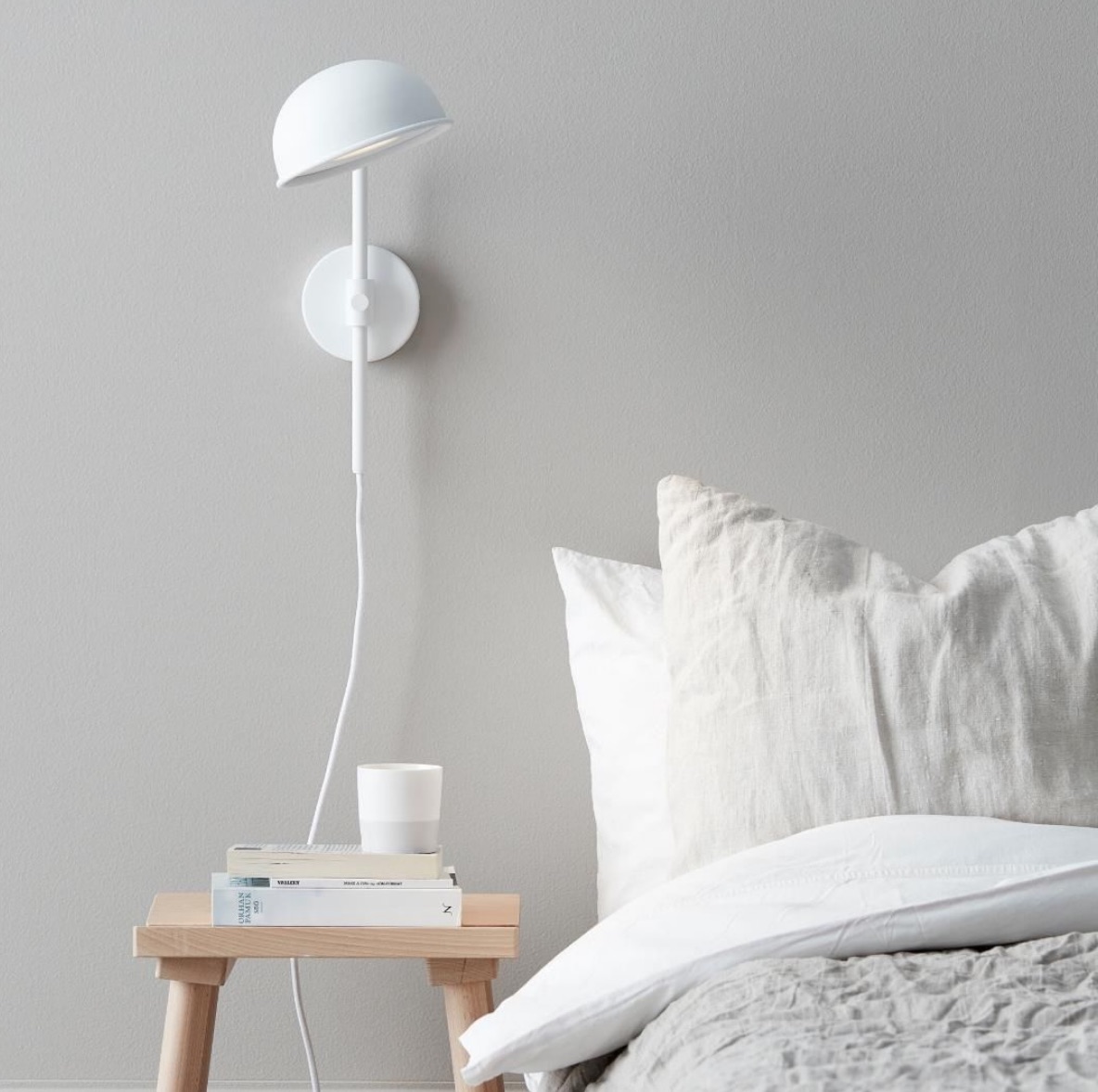 17. Rose gold and white bedroom idea
Calling all the pink lovers – this design is for you! It's super sweet and ultra chic. Just make sure you get the balance right. A good trick here is to stick to two or three different shades of pink – the deep rose gold, a dusty pink and a cream colour will do the job!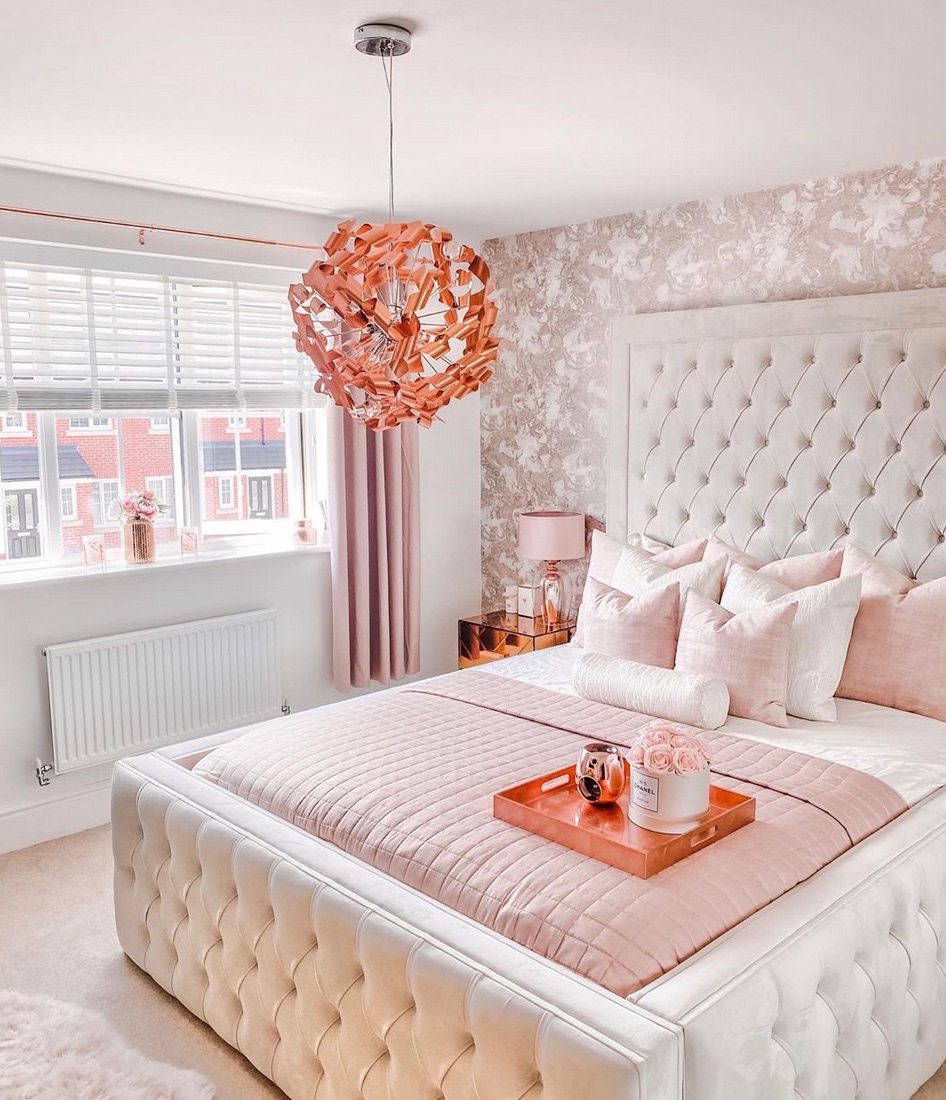 18. Simple and sweet
Keep things stripped back and minimalist with an all white colour palette. If you want to add a few items of interest, a small vase of white roses will add elegance. Plus, a little lamp will be handy for reading in the evening.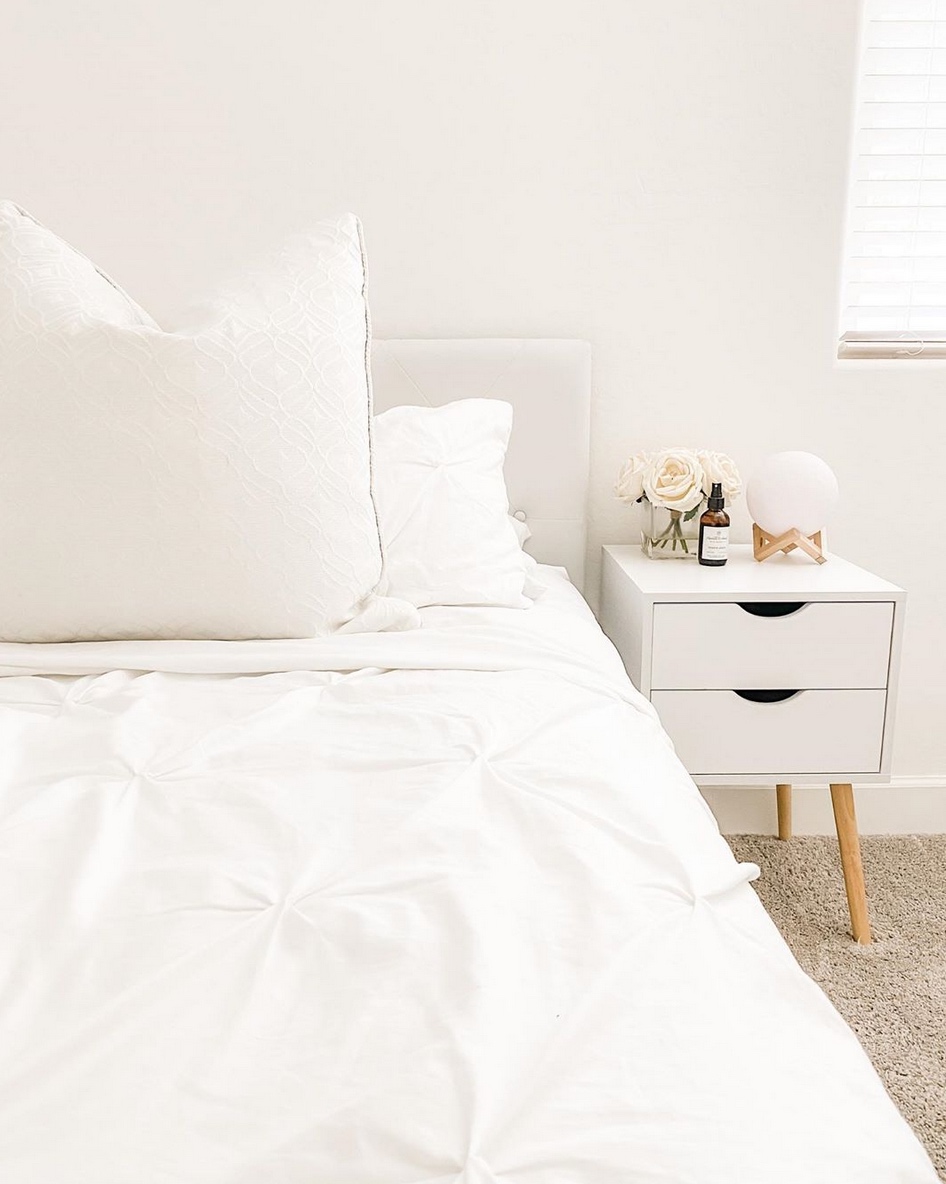 19. White and gold
This is my favourite colour combination of all – white and gold. I love the pure elegance of this colour combination. The best thing about this style is that it's so easy to recreate. All you need to do is choose white as a base for items like your bedside drawers, lamps, picture frames and bed covers, and then add gold by way of fixtures, mirrors, and extra touches.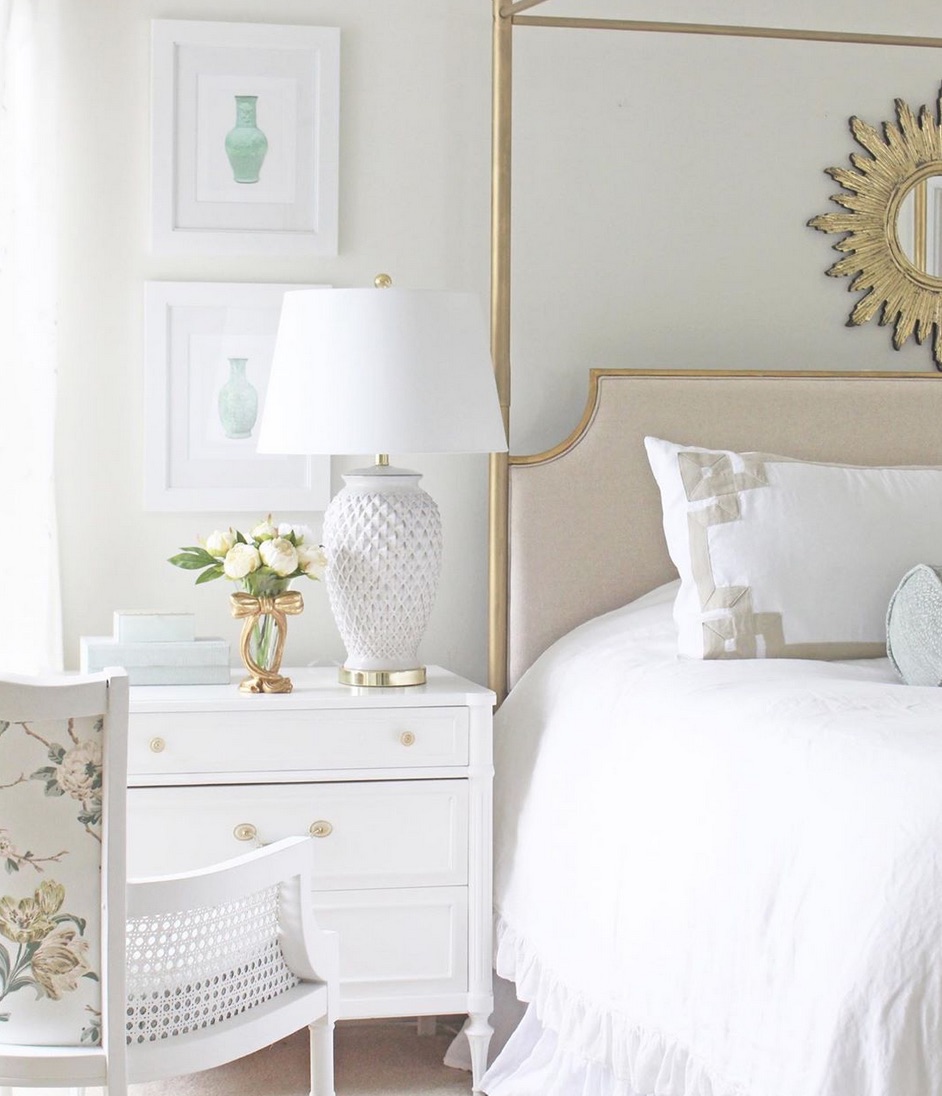 20. Grey walls
If you want to steer clear of the stark white look, then grey might be a better option for you. Create a perfect foundation for your bedroom by painting the walls a light grey. And then keep some elements white, like your closet doors, chest of drawers, and vanity.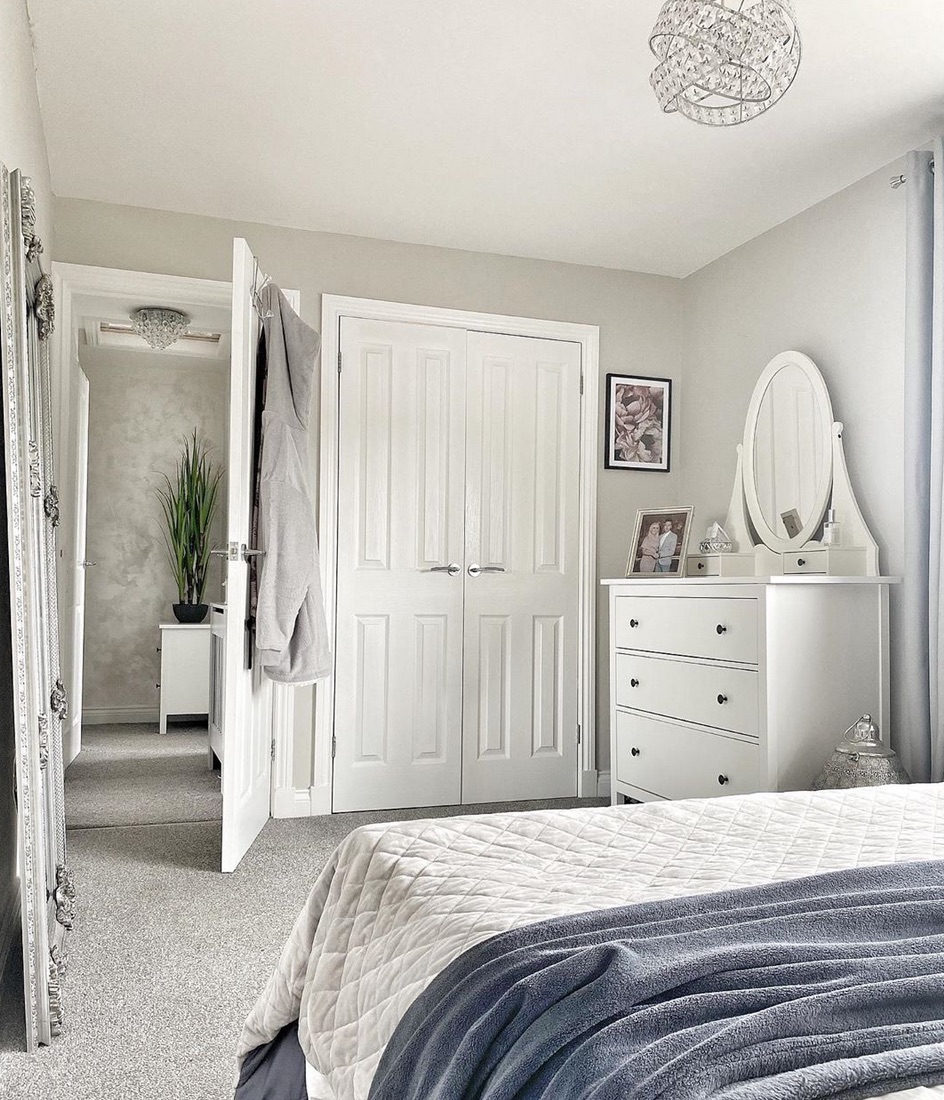 21. Loft style
How cool is this bedroom design? The lot style space makes for a cosy getaway. I love that the design and colour scheme is very simple, yet elegant. This look has been created by combining warm tones through wood and brass with plenty of white and cream.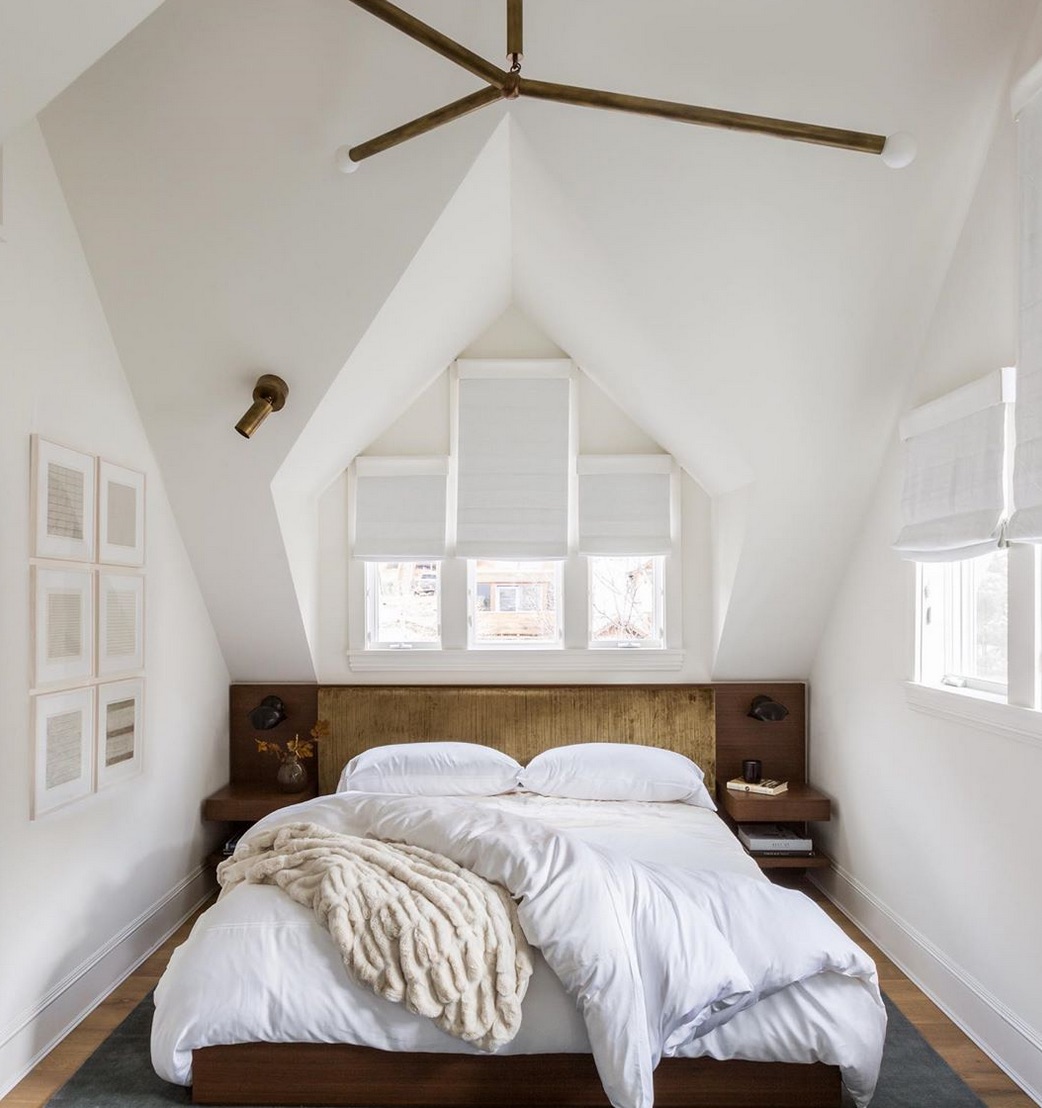 22. Cute patterns
How adorable is this space ? I particularly love the little cushion with the outline of a face on it. Small touches like this can make all the difference when creating a bedroom design you're proud of. Think about how each item goes together and consider how you can weave one colour scheme throughout the whole space.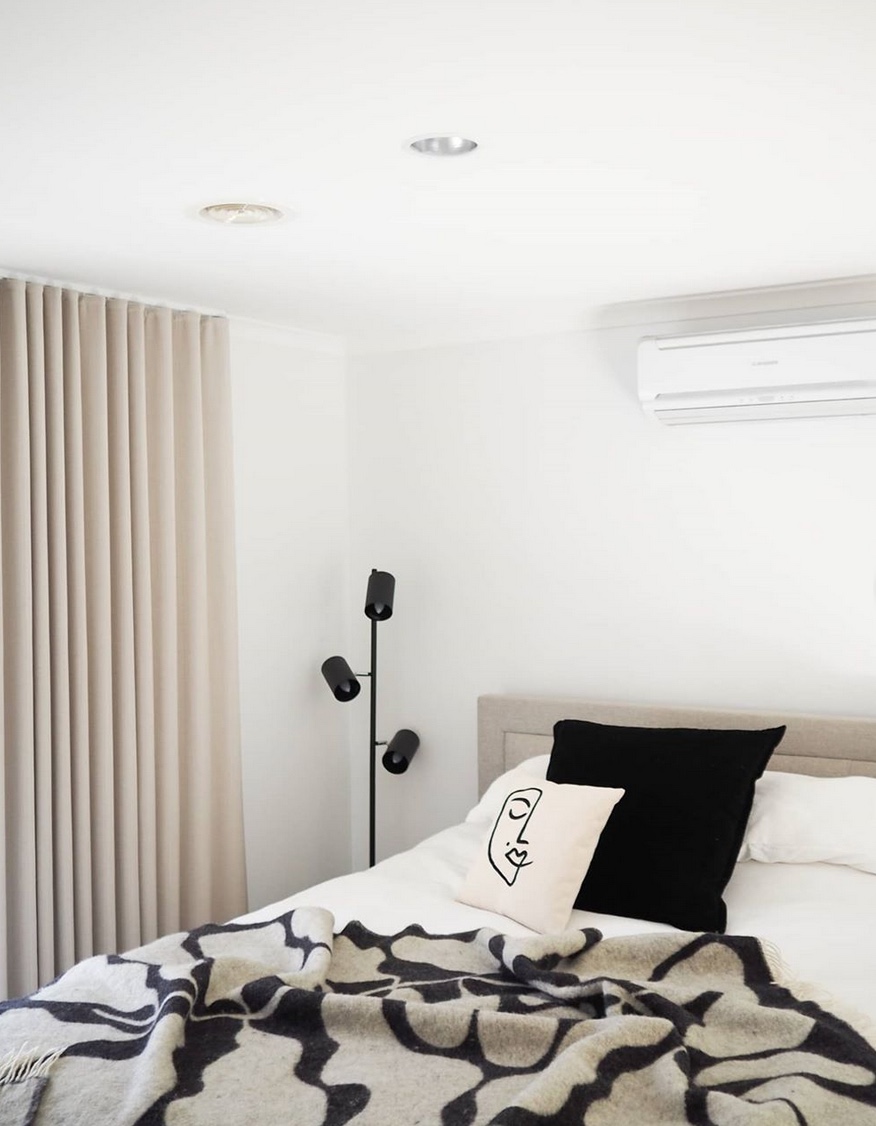 23. Floral cushions
How sweet is this bedroom? It's both elegant and feminine chic. This white bedroom is so much more formal than a lot of the other styles we've looked at. And what makes it that way is the fancy chandelier and the classic bedframe. So if you're wanting to create something like this, take these design elements into consideration.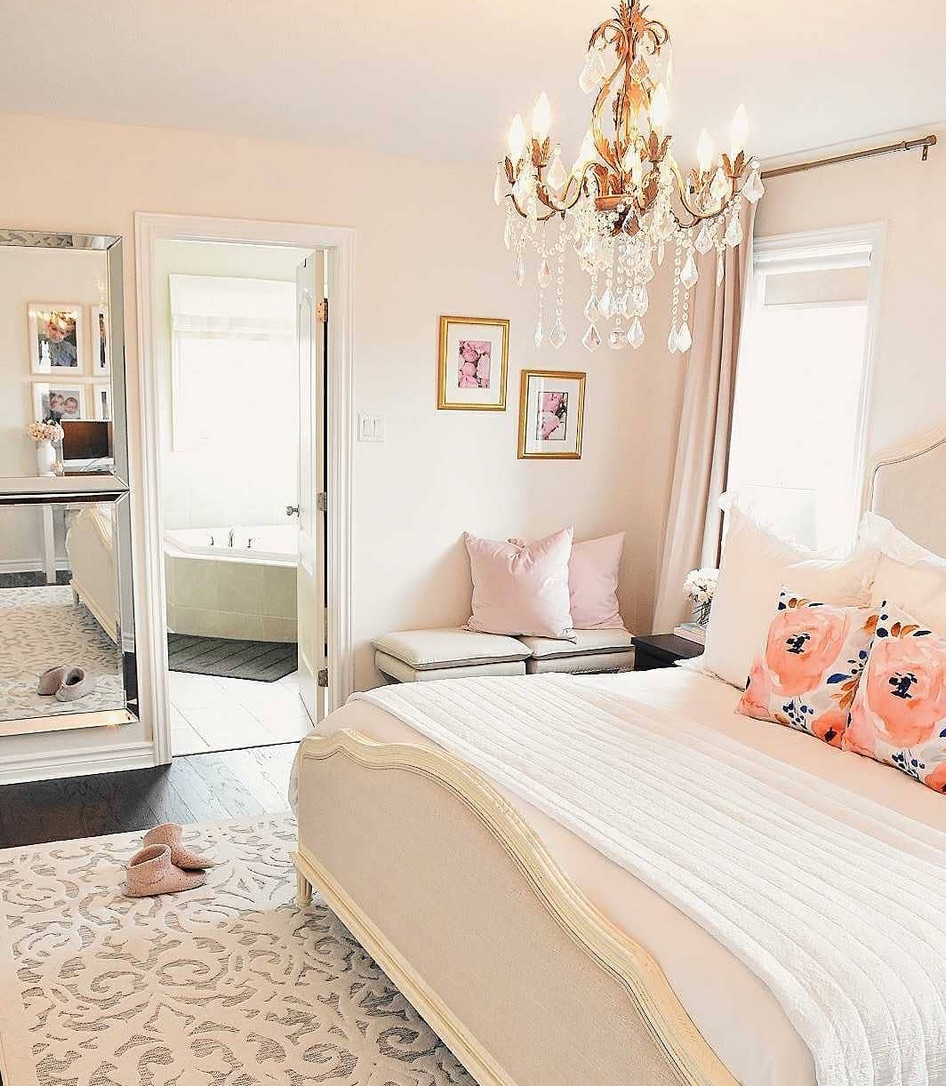 24. Dark timber
Want to add a more masculine edge to your white bedroom? Dark timber will do the trick! And this bedhead certainly takes away the starkness from this otherwise white room. Plus, I love the addition of the boho-style cushions which add a touch of softness.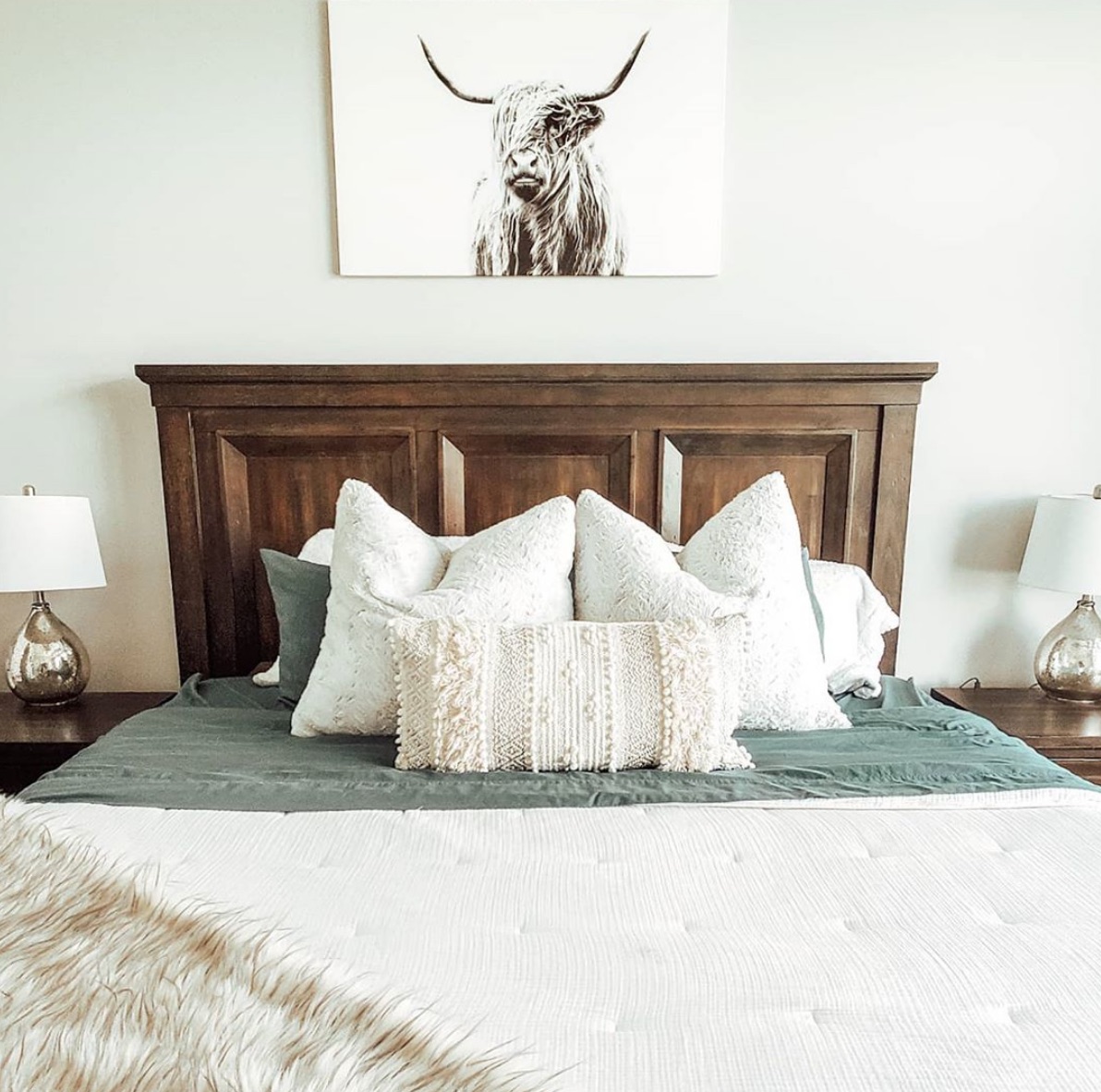 25. Clean and elegant
This bedroom design reminds me of something out of a chic French apartment. My favourite elements are the moulding around the top edges of the room and the elevated skirting boards. It's architectural details like these that can really take your space from boring to breathtaking.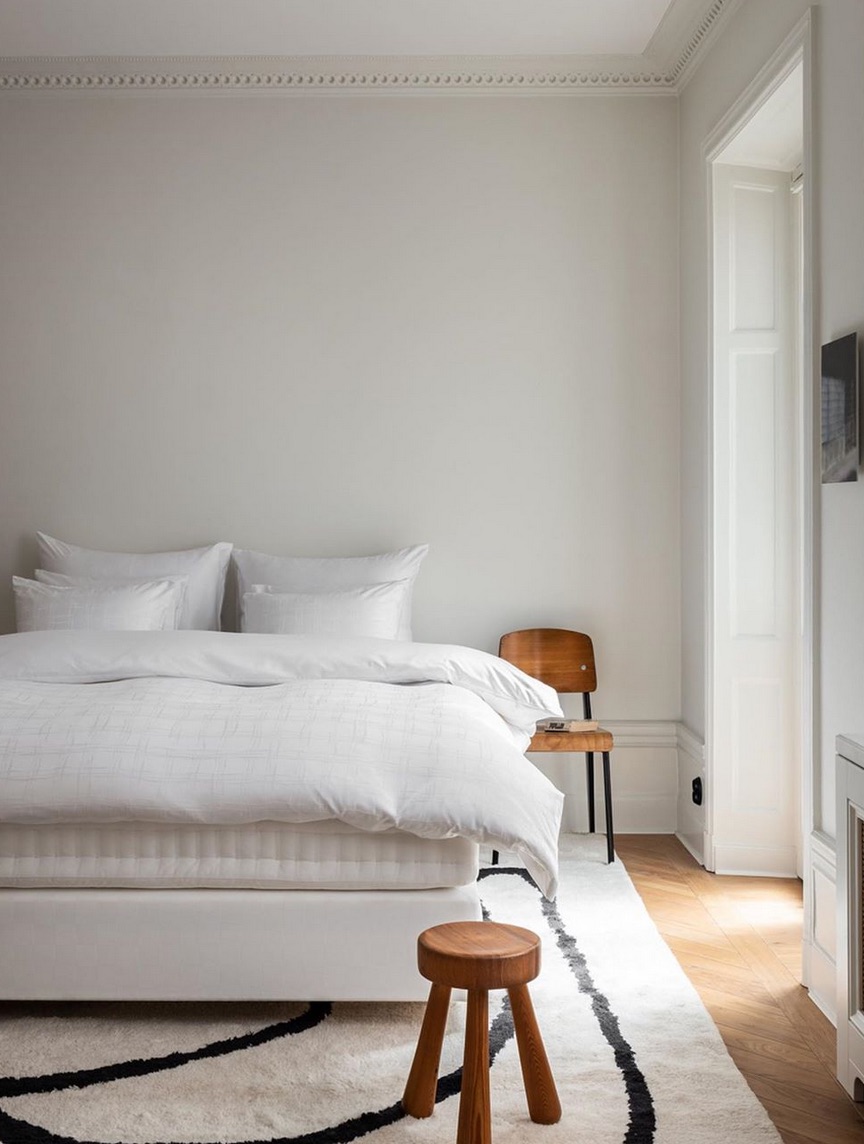 26. Ocean blue
Whether you live near the beach or you simply want your house to feel like you do, then you can't go past a blue and white bedroom. And the truth is that it isn't too hard to create this look. All you need to do is lay a great foundation. You can do this by selecting a soft blue patterned rug. Plus, adding a throw in a bright, bold colour will surely top things off!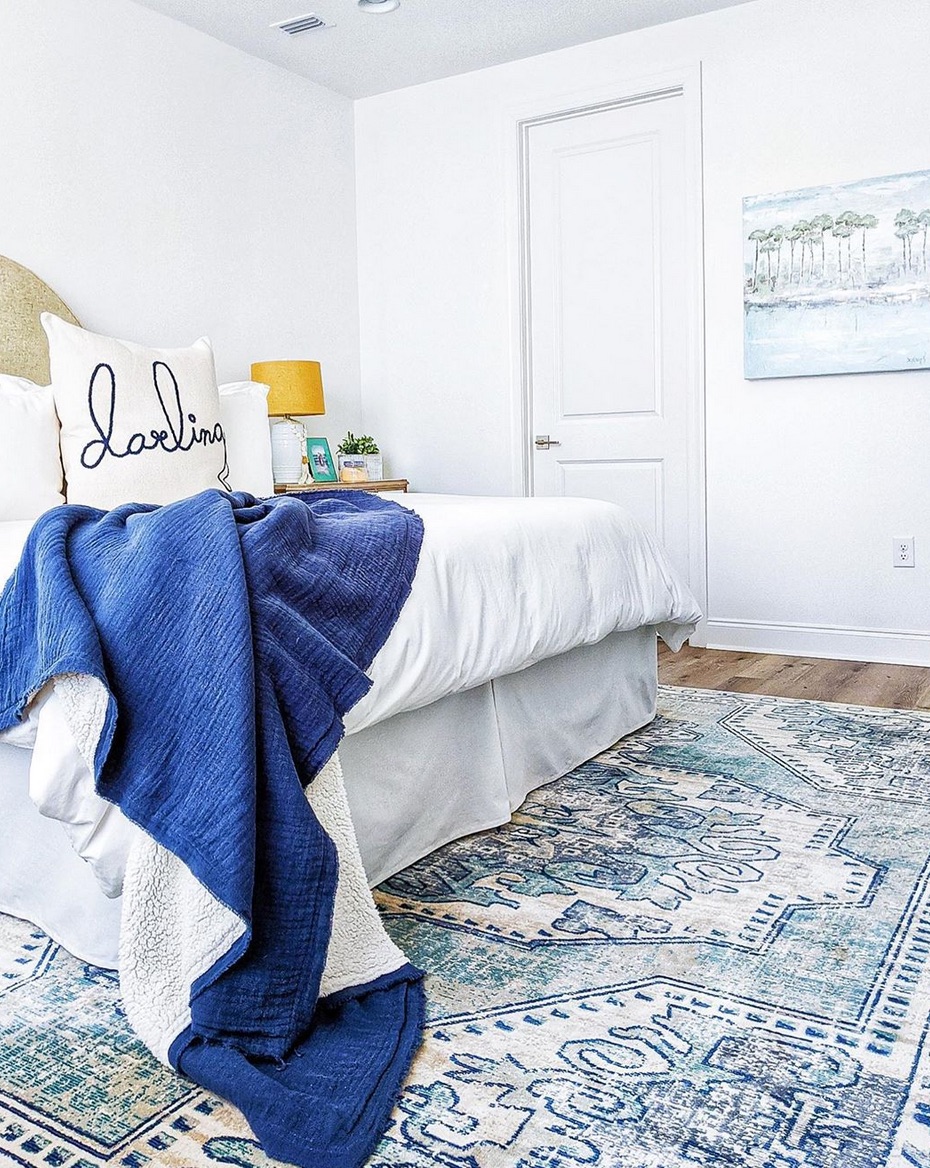 27. Scandi style
Draw inspiration from the designs of northern Europe. This boho meets Scandinavian white bedroom is as interesting as they come! I love how it combines these two design elements. Plus, one of my favourite parts of this room is the textured grey wall. It's cool how something so simple, like texture, can make such a huge difference.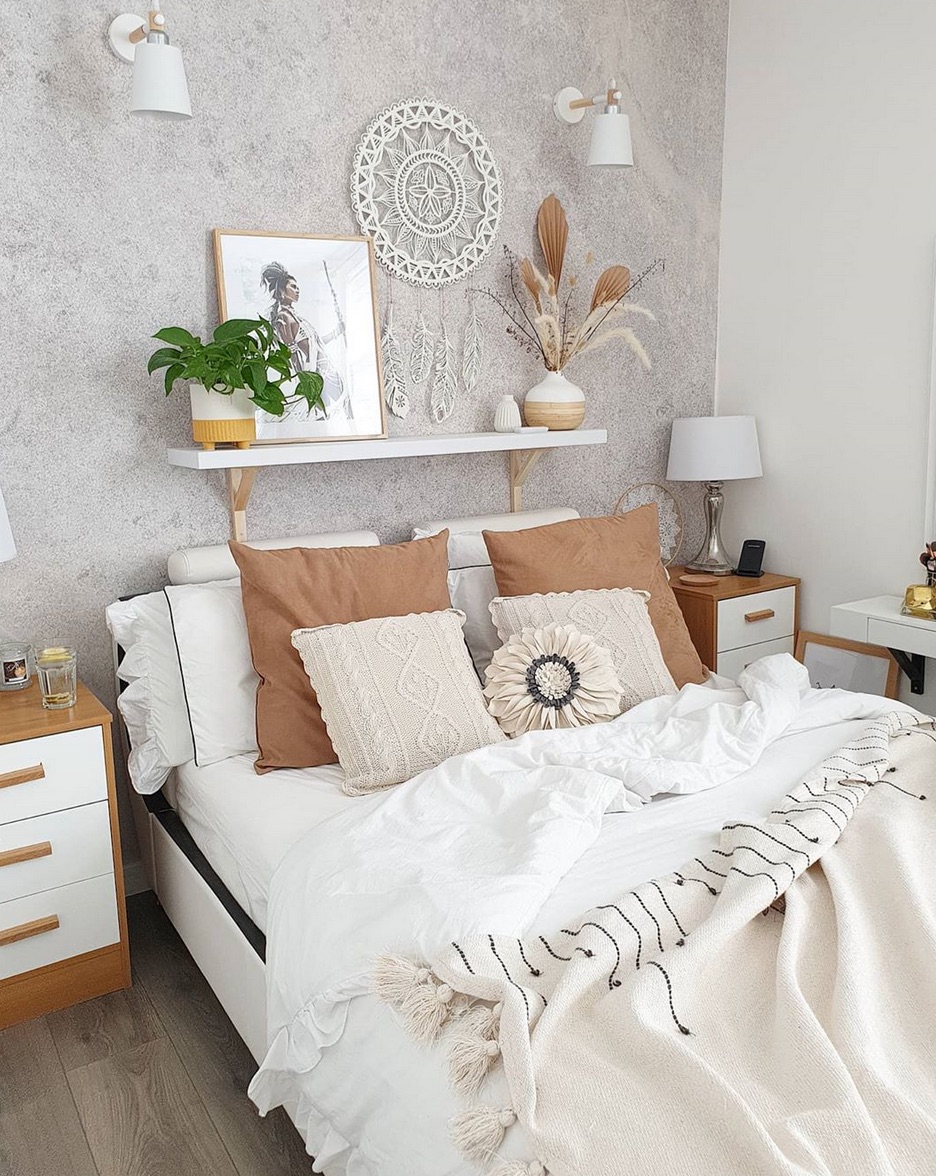 28. A reading corner
Take a moment to relax and hideaway with a cute little reading nook like this. How beautiful is this grey side table! It's definitely different to the usual side tables you see. This reminds me of just how important it is to choose pieces of furniture that exude your style, not someone else's. If you want a piece, go for it! Don't be distracted by all the shiny new trends.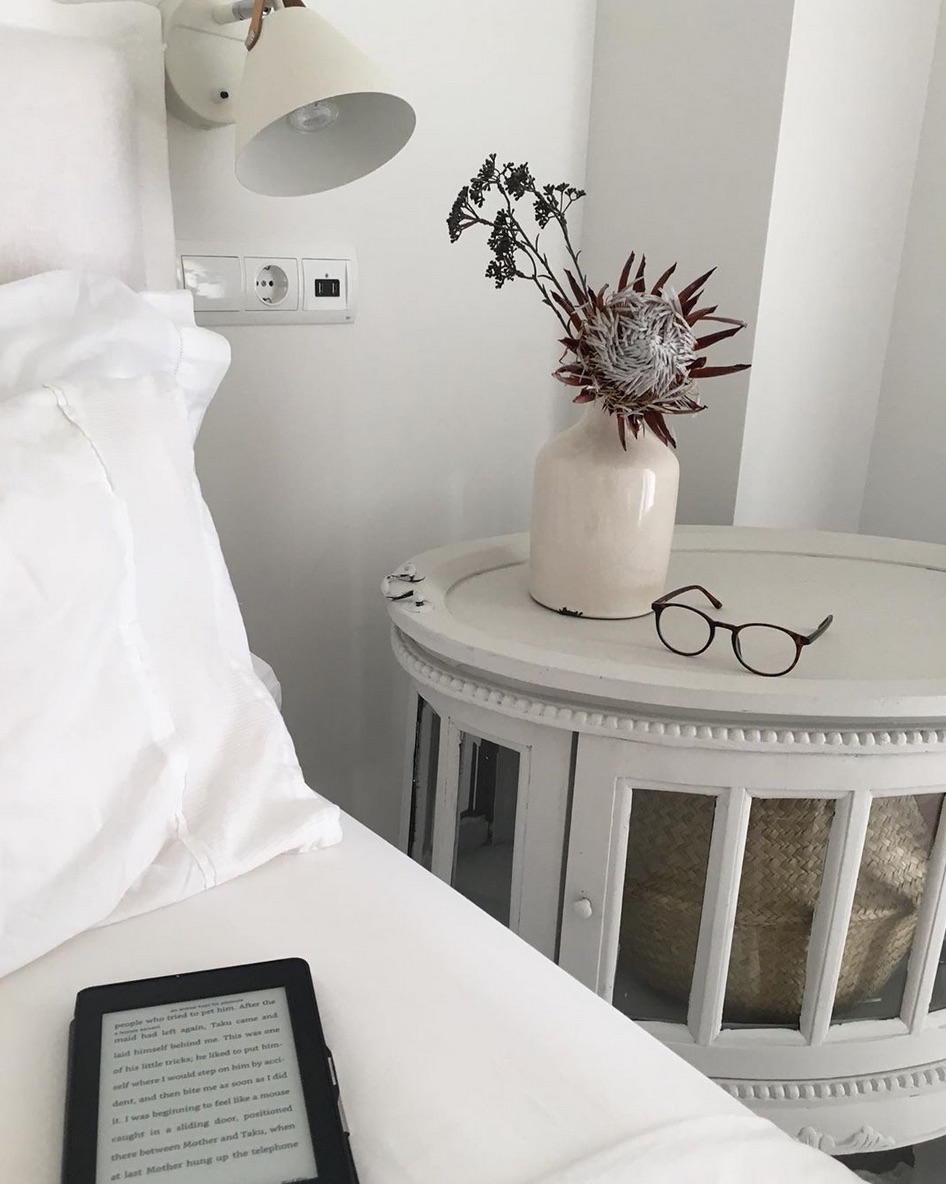 29. Textured cushions
This bed is very boho and ultra neutral. The real heroes here are those cushions – they're designed with all different kinds of beads, tassels, and pom poms. Plus, the beach-style prints on the floating shelf overhead add a touch of colour and detail.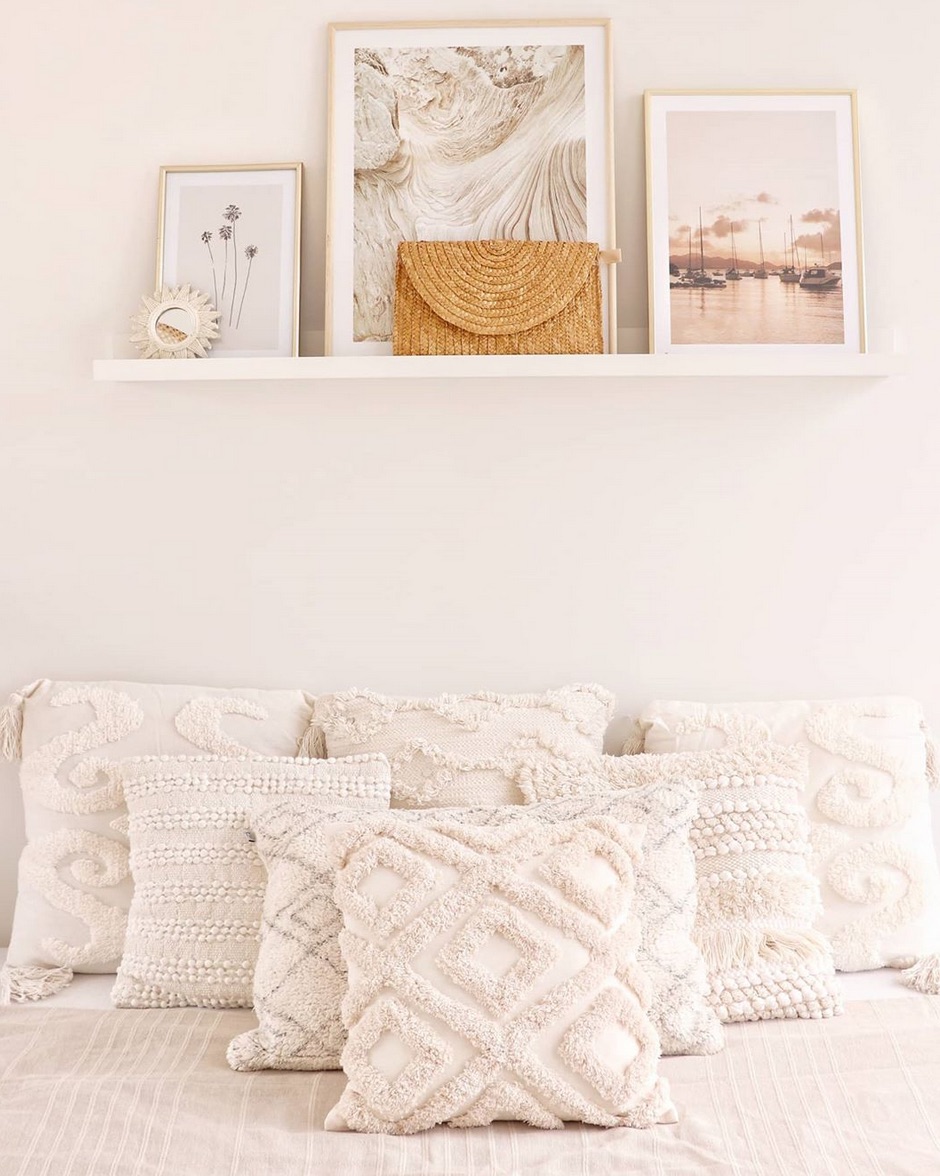 30. Dramatic curtains
Why create something normal when you can go all out with your bedroom design? These floor-to-ceiling curtains do just that! They add a dramatic effect to this all-white bedroom. And I love how the bed is in the centre of the large windows. They make for the perfect frame to a glamorous space.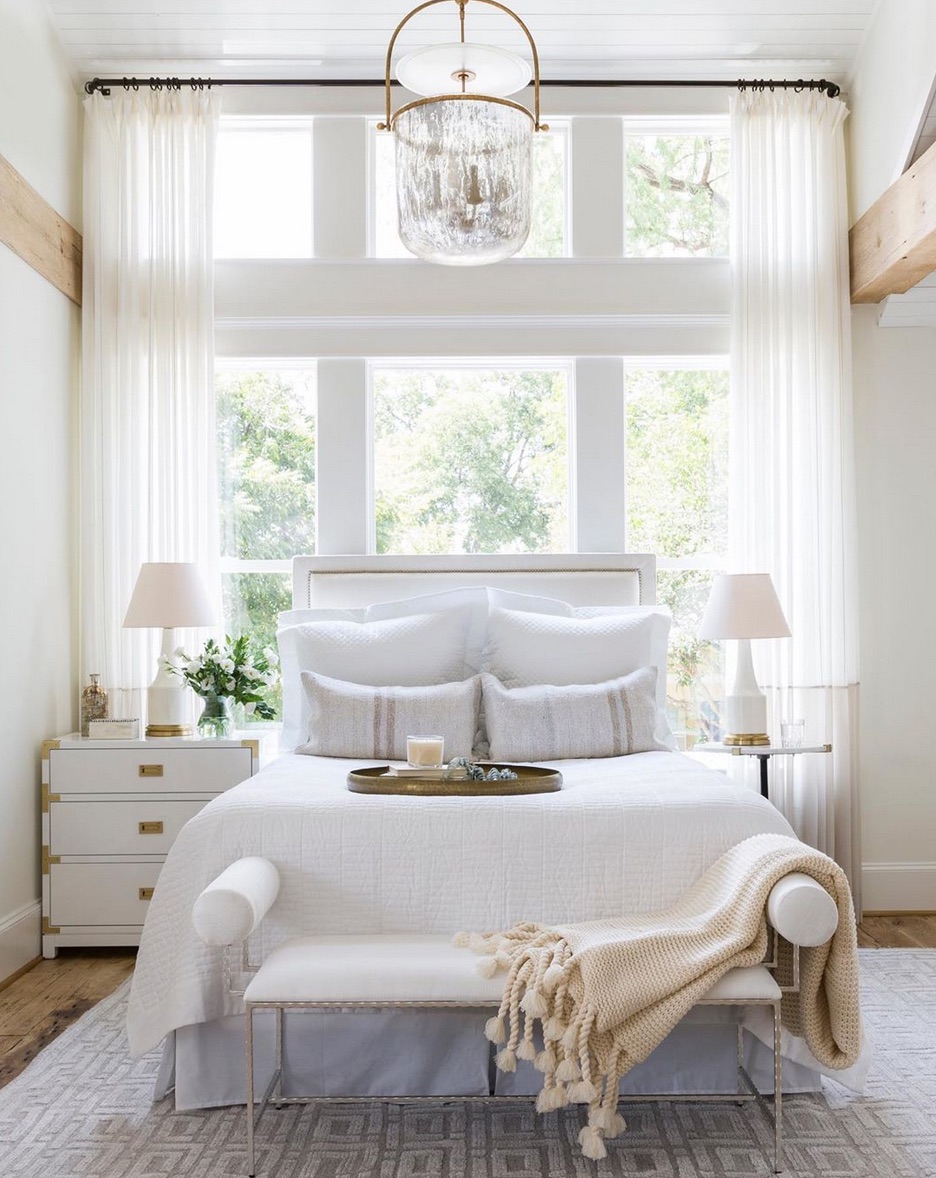 31. Add a desk
If you work from home and have a large master bedroom, why not dedicate one side of it to your desk? Before you worry about the mess, don't stress! This doesn't have to be a cluttered space. You can create a neat and tidy space, just be sure to incorporate clever storage solutions. Plus, you can make it look extra pretty with framed prints on the wall.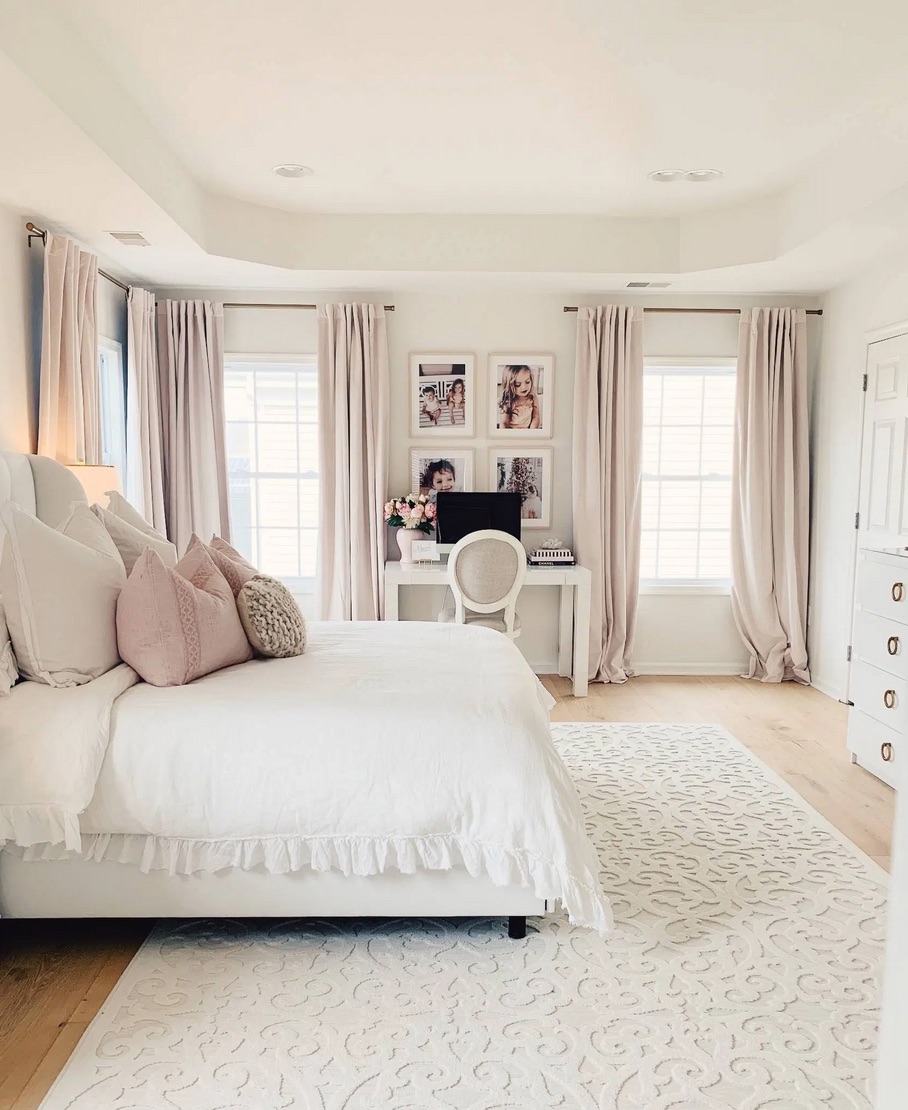 32. Black hardware
There's something so luxurious about black finishings – they completely transform a space, taking it from simple to fancy. And I love the hanging lights that are on either side of the bed. They're so understated yet effective. And they would look gorgeous twinkling in the night! Want help putting up some beauties like these, hire a handyman to take care of your pendant light installation.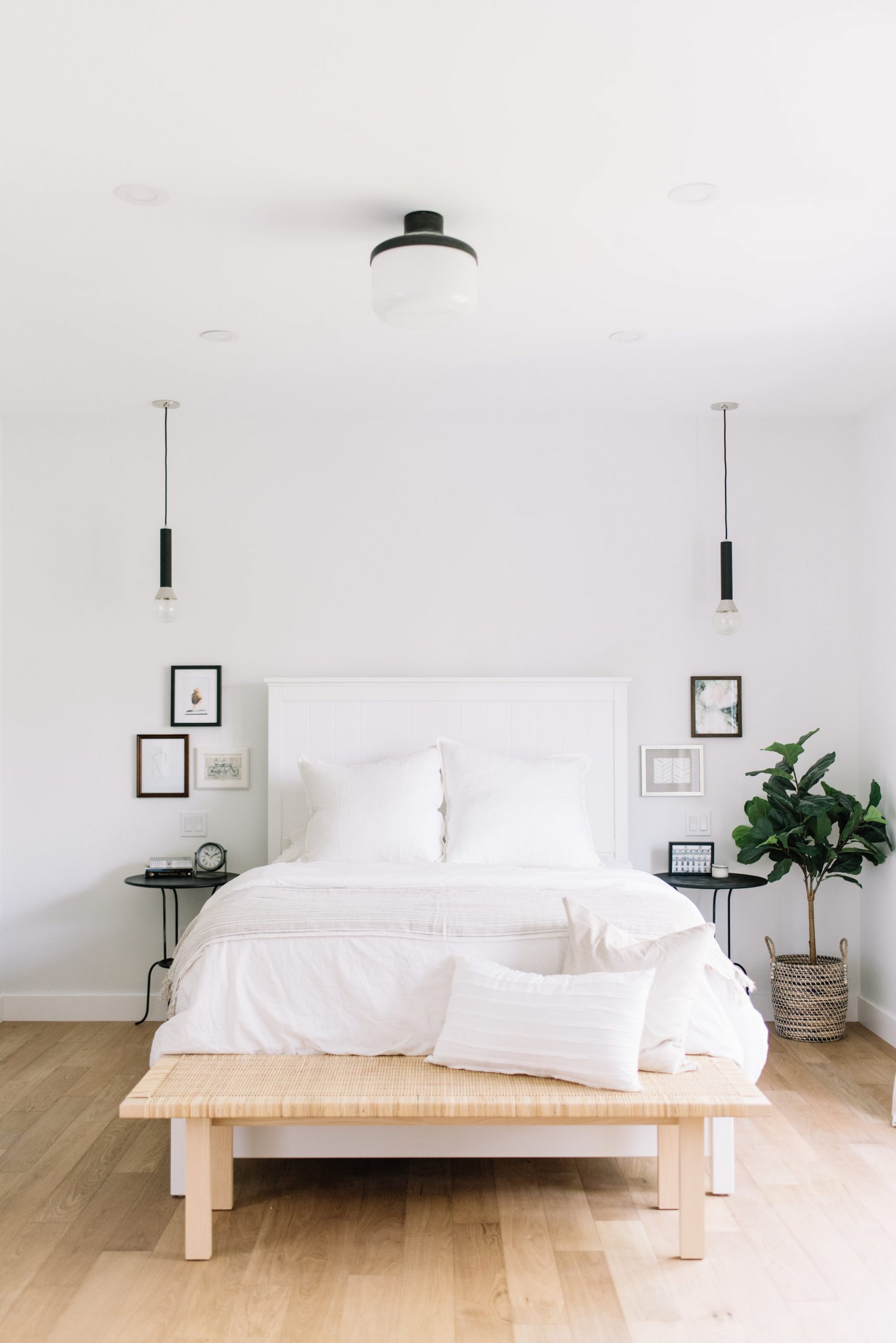 33. White boho bedroom
Create a soft and calming space with white, grey and textured elements. This bohemian bedroom would be such a dream to lounge around in. I particularly love the little prints that are sitting pretty on the white floating shelf. It's these details that make all the difference.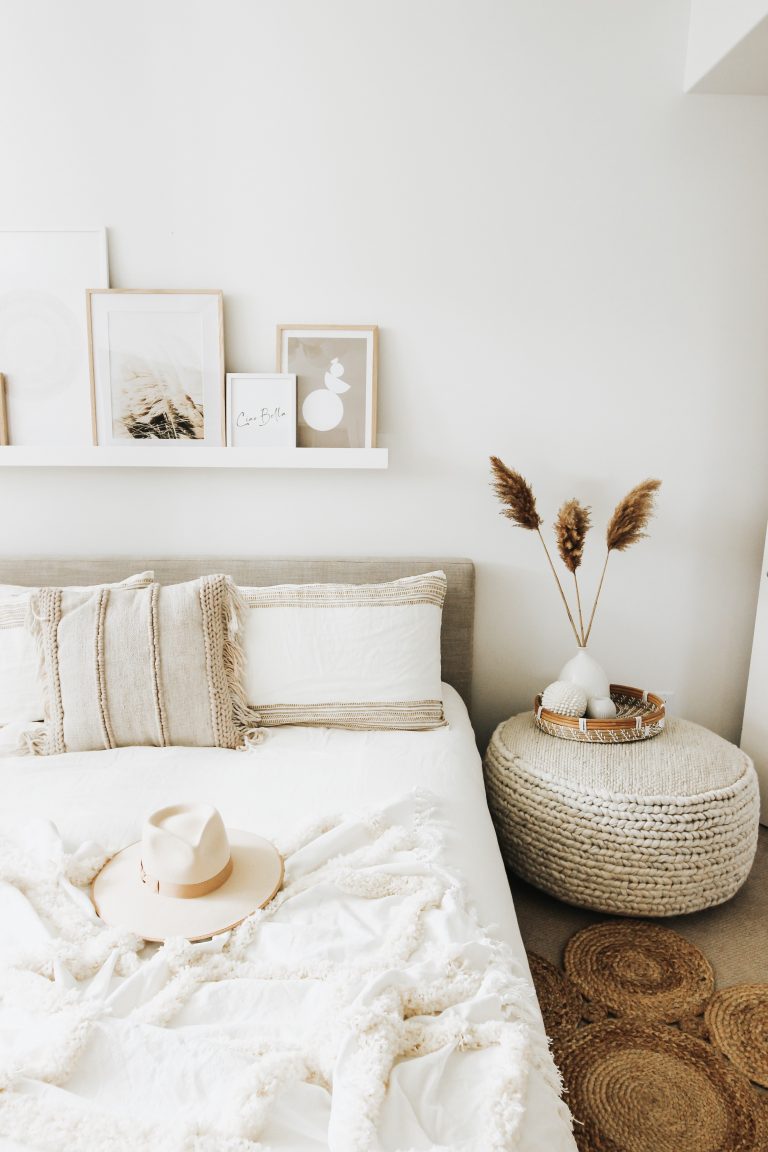 34. Minimalist white bedroom
Here's another simple chic white bedroom. But this one makes great use of timber and gold to create a warm environment. Once again, the prints take the cake for me! I love how they're hung in perfect symmetry with three on top and three on the bottom.
35. Floor-to-ceiling drapes
I love dramatic curtains like these, especially when they're in a large master bedroom. And this one is stunning! The soft grey looks lovely with all of the white. And the boho feature light is something to behold – it totally transforms the room.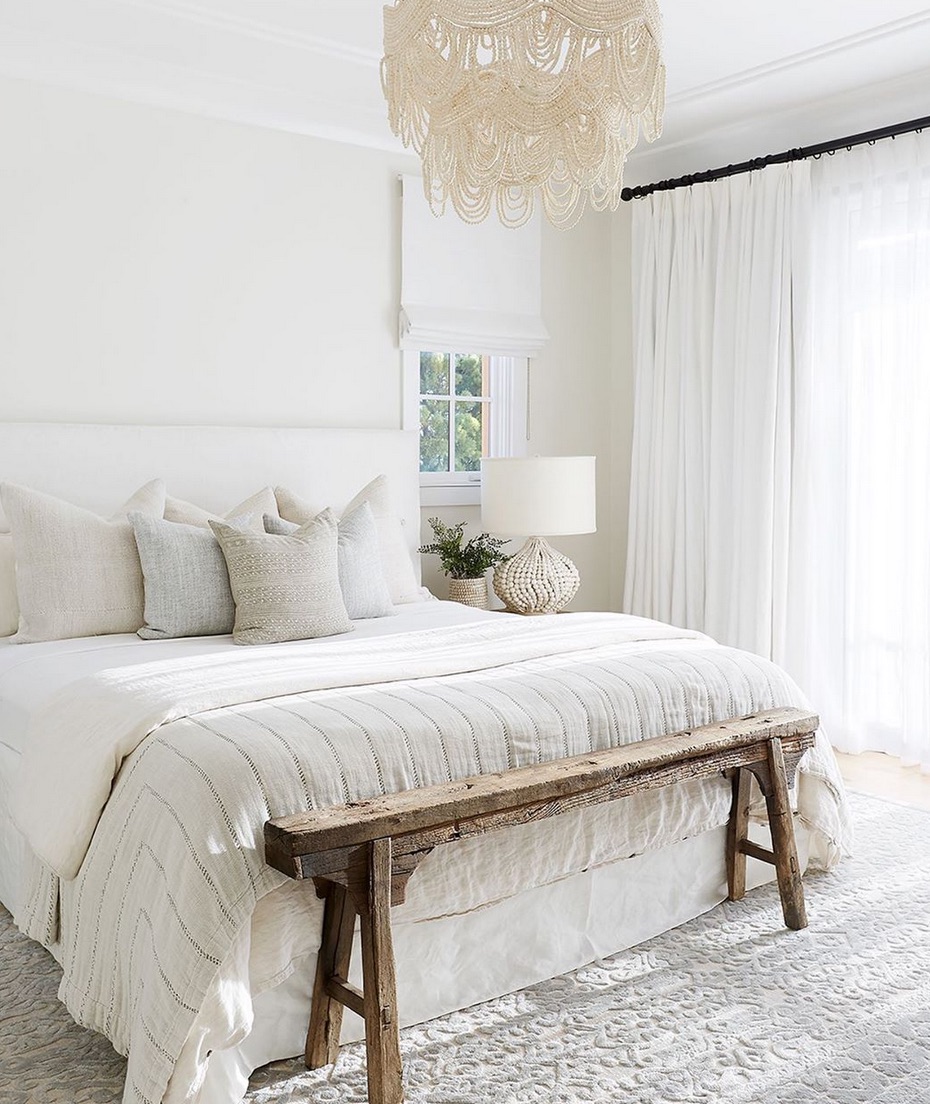 36. Cottage chic
Create a quaint cosy cottage room by adding homely elements. This space does this so well with a cute vintage print on the wall. Plus, I love the wreath. I know they're perfect for Christmas time, but they can look great at any time of the year!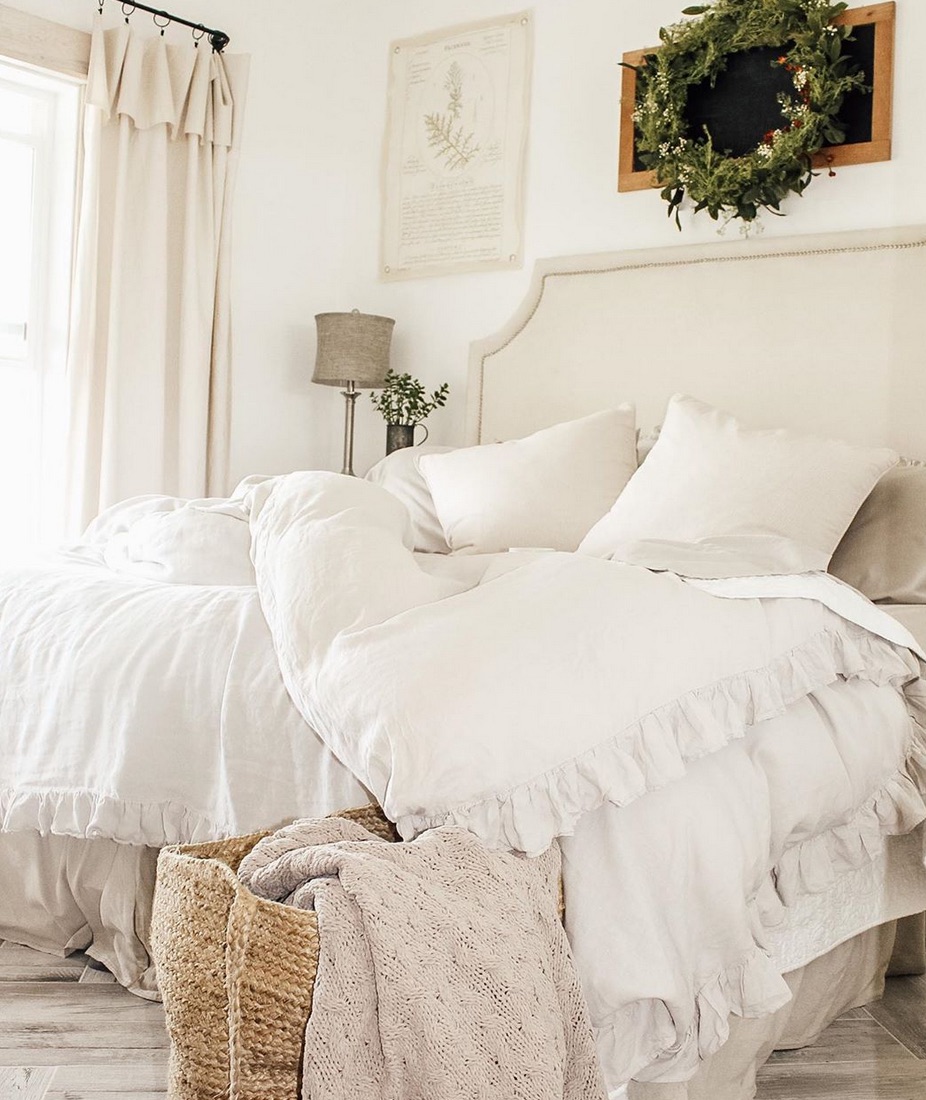 37. Sheer white curtains
Like your bedroom light-filled and bright? Sheer white curtains are the choice for you! And they work perfectly in this space because they cover a small window in the corner. The only time sheer curtains could prove challenging is if you have a large window that you need to cover for privacy.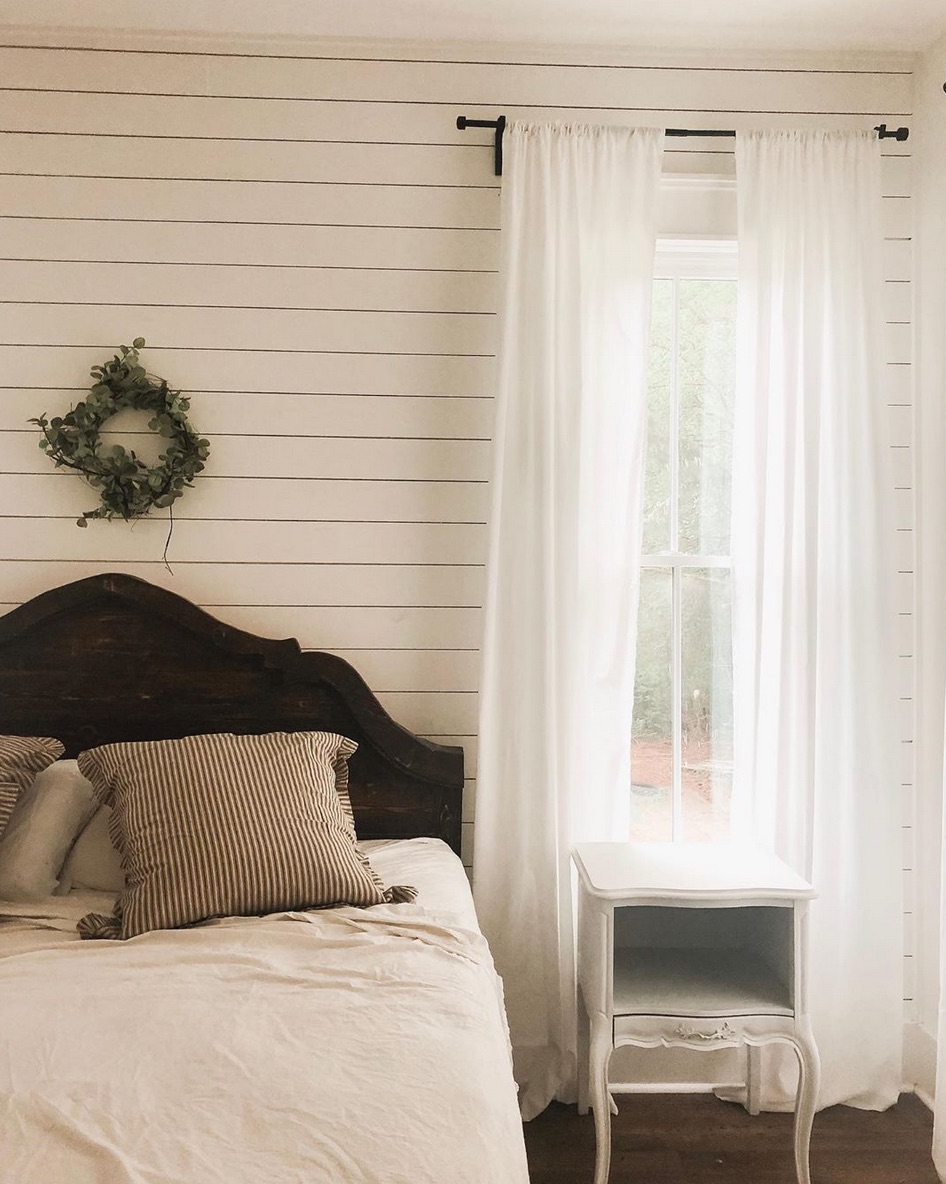 38. Velvet headboard
Make your bedroom feel extra luxurious with a fancy headboard like this one. The cushioned look will be sure to add a bit of old-school glamour to your space. Plus, combine it with a fancy crystal light fixture, like this one, and your bedroom will be complete!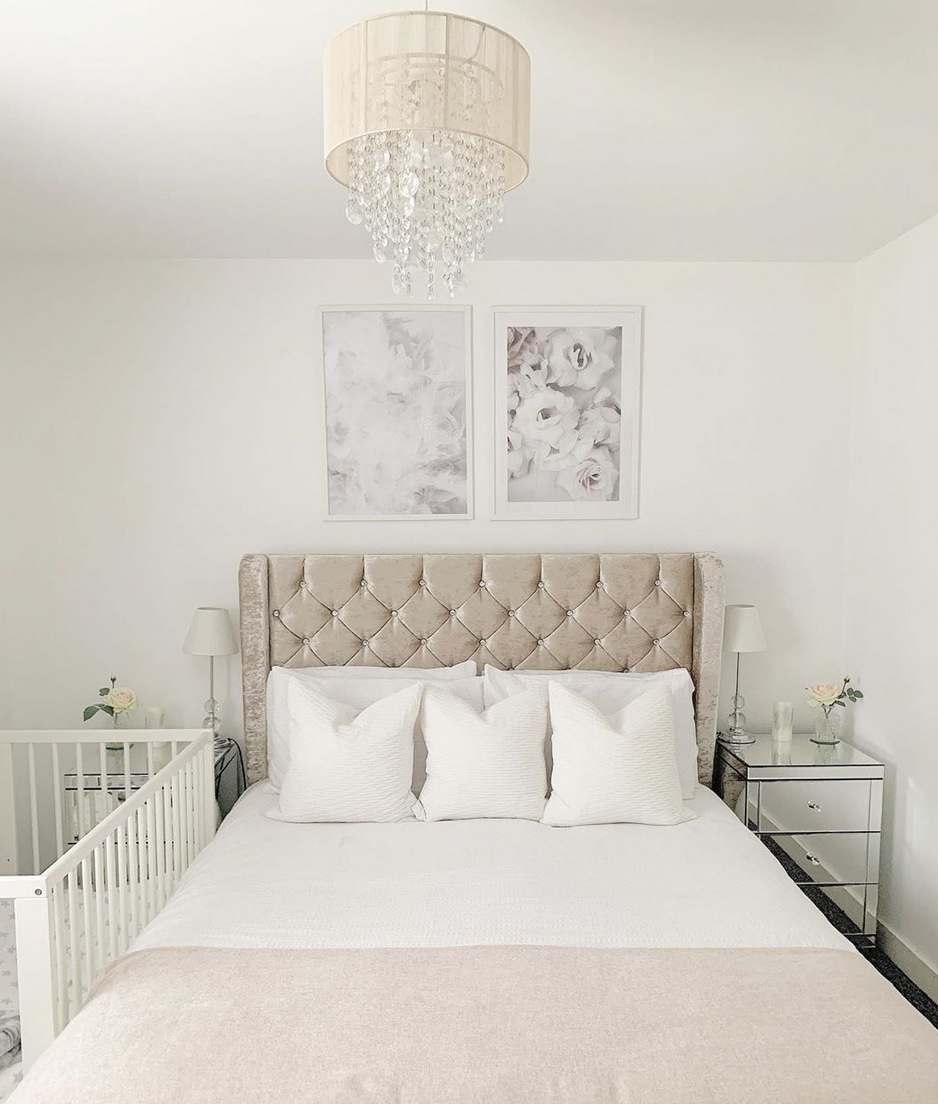 39. Stain-glass window
How cool is this window? I'm not sure whether it's an original feature of this home or whether it's been installed during a renovation. But either way, it's definitely spectacular! I love the touches of green around the edges. And the pattern is so unique. This bedroom is proof that you can combine the old with the new to create a fabulous design.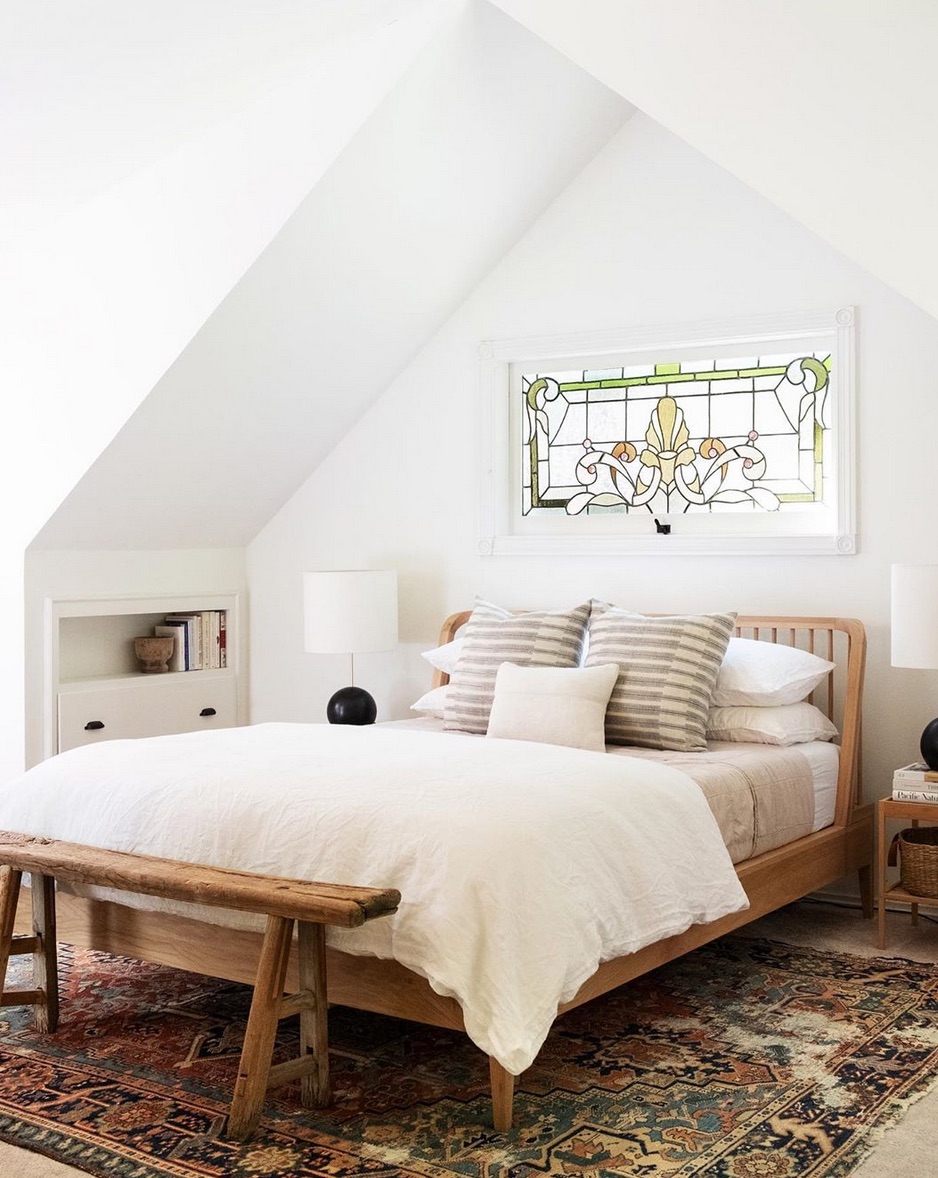 40. Colourful additions
Add colour and life to your space with a mix of decor items. This room has it all, yet it's not too overwhelming at all. First, there are the gorgeous little prints on the back of the wall, then there's the ladder with a towel hung over it, then there are the statement pillows, and lastly the green palm. Plus, I've got to make special mention of the round tray on the bed – adding something like this is a simple way to spruce up your guest room.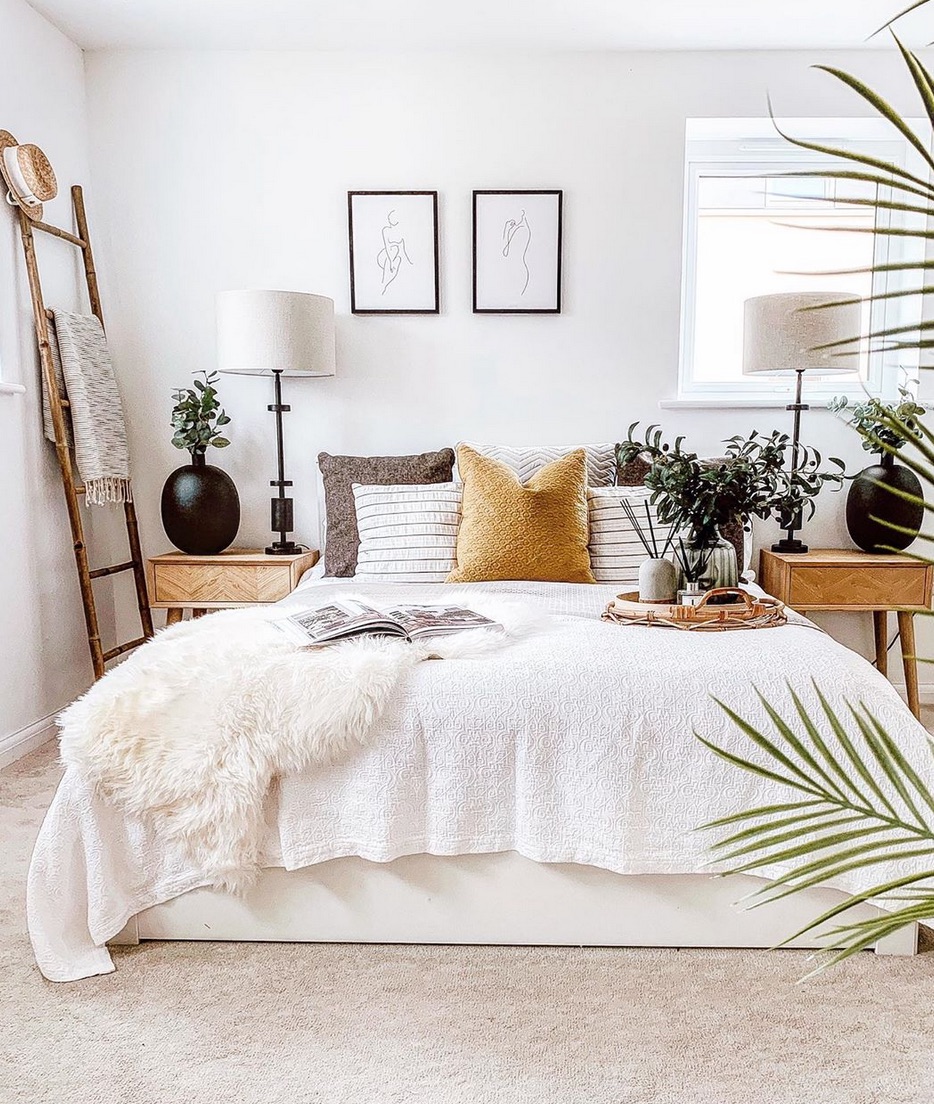 There you have it, 40+ white bedroom ideas! Which one was your favourite? Comment and share. I personally love the white bedrooms with plants and the ones with boho bedroom touches.