Designers say wallpaper is a secret ingredient for creating a unique, whimsical kitchen. Easy to work with, economical and versatile, wallpapers let you personalise your kitchen in an unexpected, playful way. With kitchen wallpaper, you can completely transform your kitchen. Graphic patterns, energetic bursts of colour or show-stopping feature walls–wallpaper can do it all. There's such a wide variety of gorgeous statement papers to choose from. Whatever you choose, it's sure to add vibrancy and charm to plain walls, cabinets or splashbacks.
Technology has advanced so far. Now, kitchen wallpapers are specifically designed to withstand steam and humidity. You'll usually find kitchen-themed wallpapers come in either vinyl or washable wallpapers.
The different types of wallpaper
Vinyl is paper-backed with the colour/pattern printed onto a vinyl surface. They're usually washable, very hard-wearing, and don't fade in sunlight.
Washable wallpaper is paper which has a transparent coating covering the base printed paper. Washable papers are stain-resistant and can be wiped down with damp cloth but they're less durable than vinyl.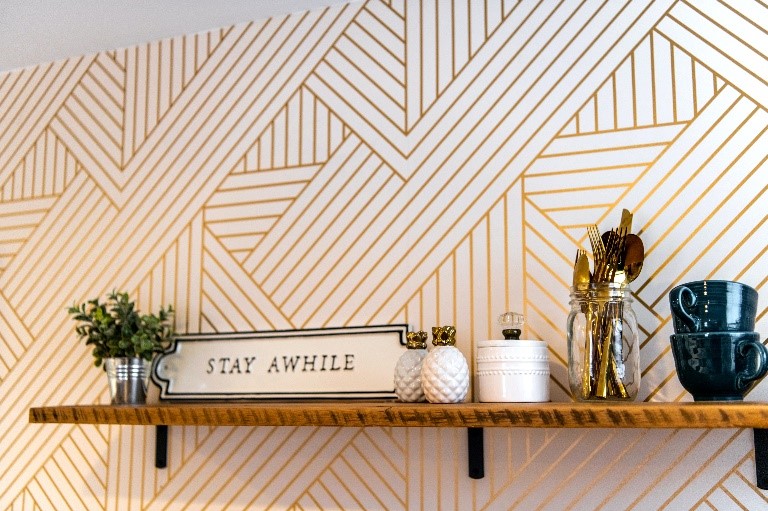 Confine it to one area or go large and cover a wall. You can go for more permanent wallpaper options or choose peel-and-stick designs which are perfect for the DIY decorator. It's best to get a wallpaper installer out to make sure it is put up correctly and all in-line. Either way, avoid fabric-based or very textured styles as grime tends to build up in embossing.
If wallpapering a splashback area, a protective glass or plexiglass cover is often added to keep things pristine.
Here, we've gathered up all the latest modern kitchen wallpaper ideas. Everything from faux tile to oversized botanicals to subtle grey textures. There's something for every kitchen style, so let's dive right in!
1. Explore cloudy greys
Neutrals come in all kinds of designs, including dreamy, storm cloud-effect papers, which can give lovely texture to a grey kitchen. Having trouble choosing a wallpaper? It will help if you can visualise your design in a real kitchen. Make sure to check out wallpaper websites for inspo from their photo galleries.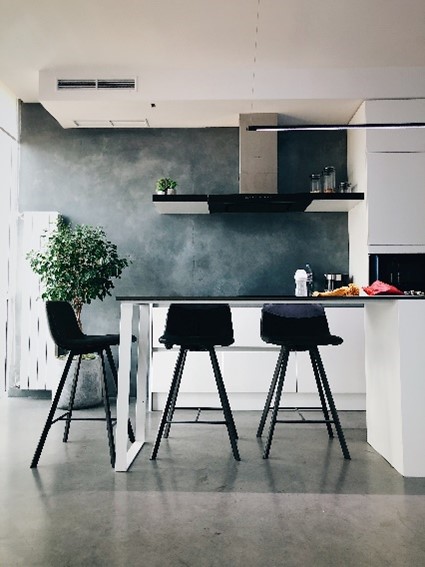 2. Go for long-lasting monochrome patterns
Choose a wallpaper with heaps of personality, like a quirky op-art inspired paper. From a distance, it looks like an abstract pattern but up close, it might feature fun details.
3. Flirt with faux
Tile backsplashes are gorgeous, but you can get the look on a budget with vinyl wallpaper. Current trends are for realistic faux stone, marble, brick or tile.
4. Add coastal cool texture
Easily add texture to your kitchen with something like a simple, pebble-effect neutral. To decide between the many neutrals on offer, order samples in as large a size as is available. Hang them up where you plan to place them and make sure you are satisfied before purchasing your wallpaper.
5. Try generous nature elements
An over-sized leaf-patterned wallpaper adds excitement to a bland kitchen.
6. Or something subtle
Small-scale floral or botanical prints always work well in kitchens. For the best results, choose a simple pattern in a vibrant colour, or an intricate pattern in a neutral. But steer away from chintzy florals by choosing a contemporary neutral. These look chic in any newly built home or modern kitchen design.
7. Test your paper in different light
Just like with paint, the colour of the wallpaper can change depending on the light. So it's important you observe it at different times of day before committing to a style.
8. Go for geo
Choose a timeless, classic print design to avoid it becoming dated. Prints like stripes, plaid, spots or geometric designs are evergreen choices.
9. Have a feature wall
Style up a feature area with an exuberant print. Tropical palms embody California cool and will have you permanently in holiday mode. If you're partial to a splash of colour, check out these feature wall ideas.
10. Take it all the way
Visually extend your walls by running wallpaper up from the floor to the ceiling. This often works well in a kitchen with a lower ceiling.
11. Add a black kitchen backsplash
Transforming the splash zone behind the counter or sink is easy with wallpaper. It's an inexpensive alternative to tile and is perfectly suited to kitchen backsplashes.
12. Inlay a cupboard
Commitment phobia? Start small. Line your cupboards with pretty peel-and-stick wallpaper—it's an easy weekend DIY. Florals, botanicals, polka dots and geometric patterns work best. It's a great way to try something new on a more temporary basis, as you can easily swap it out without damaging walls.
And make sure you read our blog on kitchen splashback ideas for more design ideas.
13. Have soft watercolours
Wallpaper with a marble print is so much cheaper than the real thing. But you don't have to look like you're trying too hard to copy genuine marble. Why not try unexpected pastel tones?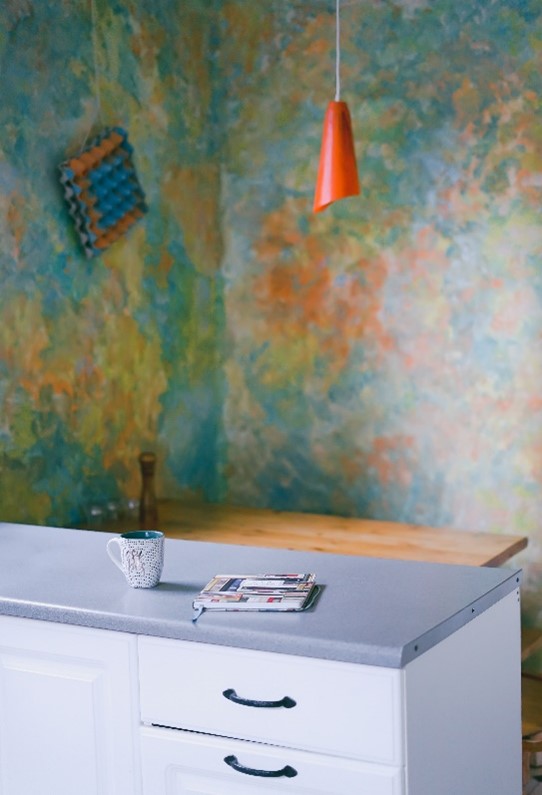 14. Go for a calming pattern
Your choice of paper will influence the mood you create. Calm patterns will give off a relaxed vibe, while busy patterns might need to be used in smaller doses to avoid feeling overwhelming.
15. Add just a touch
Take advantage of the element of surprise by lining unexpected areas with a little wallpaper. You can line the inside of pantries, cupboards, drawers and shelving with something pretty. And your utilitarian kitchen elements won't feel so drab.
16. Check out Monet's kitchen
Google Claude Monet's famous kitchen with its stunning blue and white tilework for inspo. Of course, he didn't have the option of wallpaper and had to go with tiles. But that doesn't mean you have to! Copy the artist's kitchen style with a gorgeous blue and white print. Blue and white is a classic kitchen colourway that just always feels fresh.
17. Have a popping border
When you want to keep the colours or patterns from being overpowering, just wallpaper a slender strip, such as a narrow wall.
18. Go quirky and colourful
Pick your favourite colour and make your kitchen your happy place. A saturated colour like yellow looks best in a mostly white kitchen.
19. Bring in the garden
Love flowers? Line your open shelving with colourful floral wallpaper lining your open shelving. Your plates and glassware will really pop against the backdrop.
20. Have an accent wall
Highlight your favoured wallpaper by applying it to just one wall. Choose the most uncluttered wall or one that is most visible when entering the room. Limiting your wallpaper to one wall means you can afford to go a bit crazier with it. And choose striking patterns that would overwhelm if repeated through the kitchen. You can also afford to splurge on a designer wallpaper when you are only dealing with a smaller space.
21. Line inside your pantry or cabinets
Covering the insides of cabinets or pantries allows you to enjoy little peeks of dramatic wallpaper. Papering up the inside of cabinets and shelving works especially well in a galley kitchen. In a galley kitchen there may be no "feature wall" space to decorate. But this way, you can still incorporate wallpaper.
22. Wallpaper your island
Add colour or tones to a plain kitchen by wallpapering your kitchen island. You can wallpaper just one side of your kitchen island. This lets you add a dose of pattern, but choose a heavy-duty wallpaper to avoid foot scuff marks.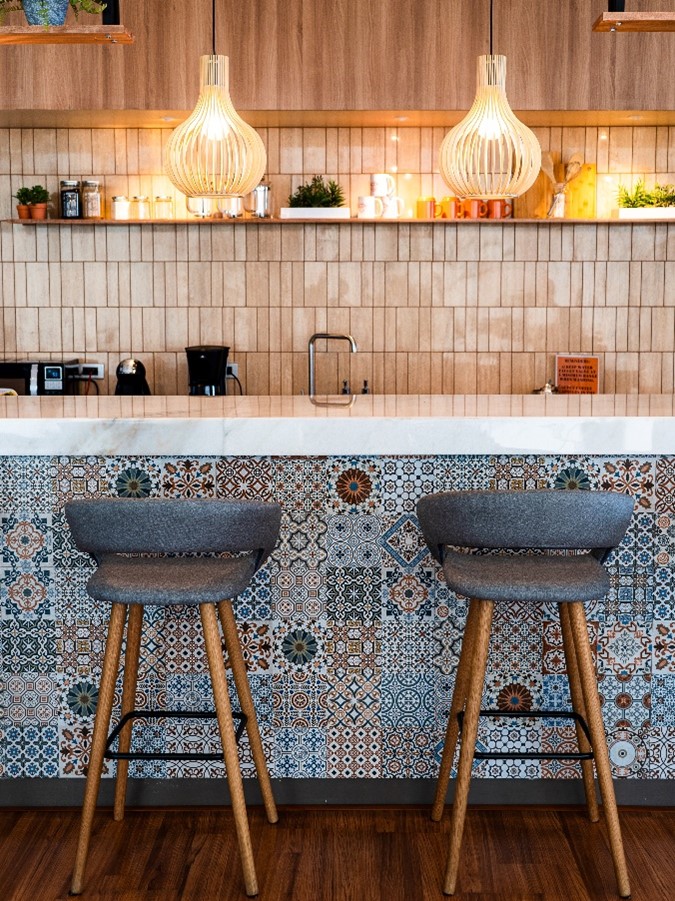 23. Put up a mural
Wallpapers also come in a host of mural style designs, so you can cover an entire wall with a scene. While dramatic murals can make your kitchen more interesting, they can also date faster, so choose carefully.
24. Go for enchanted gardens
Add some magic with a quirky feature wall that incorporates flora and fauna.
25. Wallpaper your fridge
Wallpaper can be applied to appliances, too. But be judicious—you don't want to go overboard covering everything. A fridge is a nice-sized element to cover with your favourite paper.
26. Go troppo
If you want to add some greenery there's no bolder way to do it than with a tropical print for your kitchen wallpaper choice.
27. Add a geo backsplash
If the idea of too much bright colour doesn't appeal, go for a black and white wallpaper in a neat geometric design. Geo patterns will go with any kitchen colour scheme and if you have an investment property, they're the perfect choice.
28. Be inspired by Art Deco
Despite their age, Art Deco prints will never get old. You can find a huge range of Art Deco-inspired patterned wallpapers—just make sure you line them up well due to the intricate line work.
29. Opt for dramatic oversized floral
Subtle, small-scale prints are often most liveable, but bold, over-sized designs can also definitely work. And, they won't run the looking fussy or granny like. Unless of course you're going for a Grandmillennial vibe!
30. Pick your favourite pattern
Choose a pattern that appeals to you and reflects your personality, because you'll probably be spending a third of your life in this space. Colourful or busy accent walls work well mixed with crisp white subway tile.
31. Try paisley
It's a classic print that's thousands of years old. The famed Persian teardrop pattern is a symbol of life and eternity—nice meaningful vibes to have in your kitchen!
32. Have vintage vibes
Lastly, a vintage-style wallpaper can look fresh and modern. Just pair with contemporary materials and elements. You can add to the nostalgic feel by displaying some carefully curated vintage kitchenware for even more of a retro kitchen.
And that's a wrap on our collection of kitchen wallpaper ideas for you to consider if you're thinking about renovating your kitchen. Has our collection of kitchen wallpaper ideas inspired you to choose a bold print or would you pick a neutral? Let us know in the comments below!
If you do decide to add wallpaper, consider enhancing your new look with a coat of fresh paint over the rest of the kitchen. You can easily find a trustworthy painter or an expert in cabinet-painting near you.