Want to take your home from basic and bland to exotic and elegant? A Moroccan style bedroom will do the trick! With a lovely mix of materials from timber to metal and fun embellishments like pom poms and greenery, you'll feel like you're in an overseas oasis in no time.
The best thing about Moroccan style is that it's very versatile. So you can completely overhaul your bedroom by redesigning it from the ground up, or you can add to what you've got with a few cushions and carefully curated decor pieces. Whatever you choose, have fun with it!
Are you ready to be inspired? Let your imagination run wild with these 35+ Moroccan bedroom ideas.
1. Pom pom bedspread
How cute is this bed cover? It's simple and sweet with plenty of white as the foundation. But the addition of the little pom poms makes it oh-so-fun! And I love the simple touch of the vine climbing over the rattan headboard from one side to another. This adds a cooler touch to the otherwise very warm colour palette.
2. White Moroccan bedroom style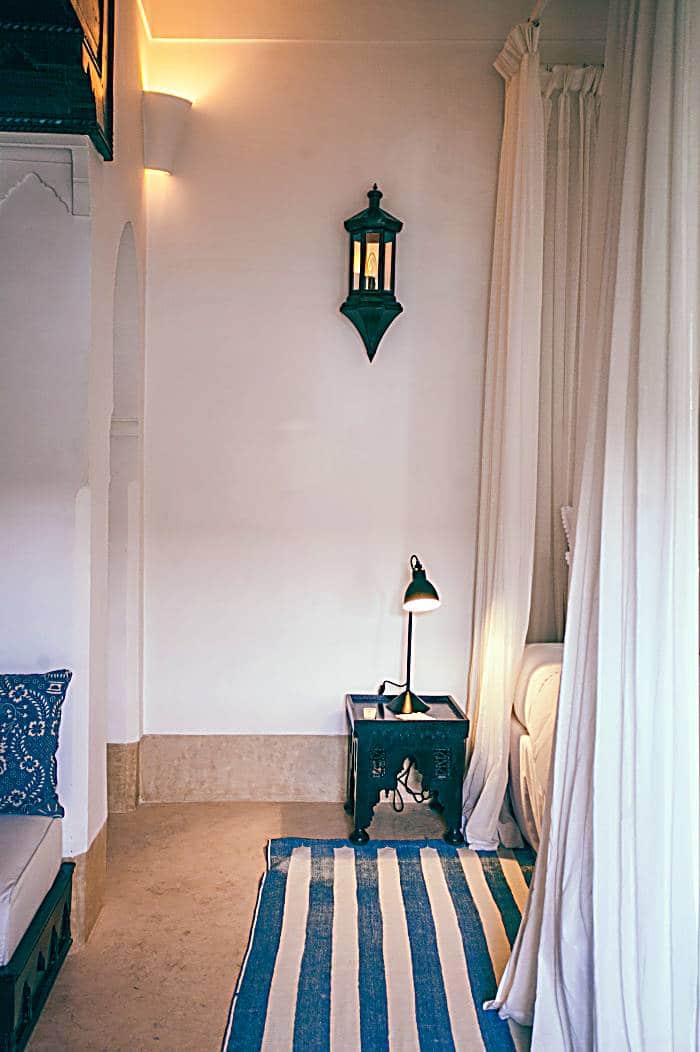 How's this for a Moroccan bedroom? It's filled to the brim with all sorts of pieces, from flowing bed covers and blankets to candles to hanging curtains and everything in between. One thing I want to draw your attention to in this space is that it's all in the same colour scheme of light whites and neutrals. This helps bring everything together seamlessly.
3. Dark Moroccan bedroom
On the other hand, if you aren't a fan of the light neutrals you can take things to the dark side with black-and-brown timber pieces and plenty of metal. While this dark bedroom still weaves in some sandy neutrals, the dark foundation adds a more masculine feel and contrast to the space.
4. Rattan details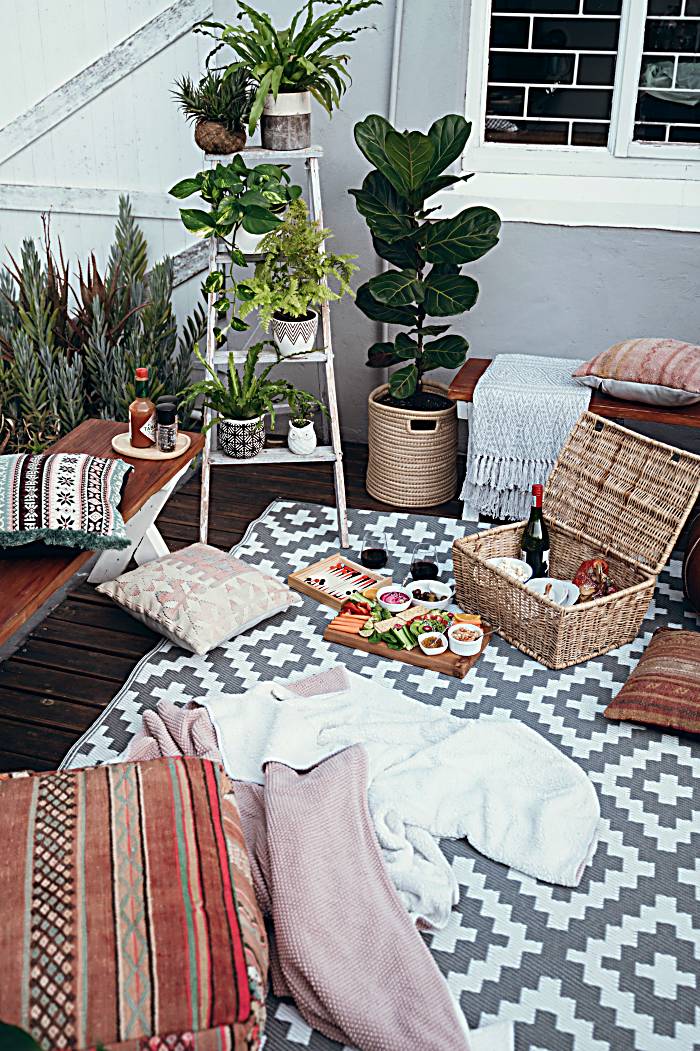 There's a reason why rattan is so popular at the moment – it's extremely versatile. You can use it in nearly any kind of bedroom, from Hampton's style to boho-esque spaces to Moroccan bedrooms and everything in between. Weave rattan into your space by choosing decor pieces like mirrors, cushions, and baskets.
5. Hanging lantern
Now, this bedroom is totally swoon-worthy! This is a great example of how you can inject Moroccan style to your bedroom without completely changing what you've already got. A few easy ways to do this include swapping out your headboard for something a little more detailed, installing a hanging lantern pendant, and decorating with touches of brass and other mixed metals.
6. Colourful rug
Love a little bit of colour? Me too! And a fabulous rug like this one is the perfect way to paint your bedroom bright. Of course, you don't have to choose bold colours to make a statement. There are so many rugs out there on the market with all sorts of patterns that will easily infuse a Moroccan style spark to your space.
7. Vases of flowers
While not exactly Moroccan, I'm totally obsessing over these dried flowers sitting pretty at the end of this bed. I love dried flowers because they last a little longer than their fresh counterparts (how does forever sound?)! And these ones, in particular, add a lovely warm glow to this space which is filled with cool metals, combined with blue and grey tones. What an awesome feature wall too!
8. Bright and bold
Make a statement by mixing and matching all kinds of patterns, colours and images. This Moroccan bedroom breaks all the design rules, but in doing so, it makes its own! So if you're someone who likes to draw outside the lines, why not have a bit of fun and go all out. Get creative by choosing a mish-mash of textures, colours and prints and combining them all. Who knows – something fabulous, like this, could be the result!
9. Green tiled wall
Oh, how very lush is this green bedroom? I've never seen a tiled feature wall in a bedroom, especially not one like this. But I'm here for it! If you look closely, you'll see that the wall tiling is simply a repetition of the floor tiling but with larger shapes. While this space is definitely a colour explosion, I like how timber is used consistently for the furniture and the colours on the cushions, bedspread and lamp all tie together perfectly to create a beautiful finish.
10. Heavenly bedding
Imagine falling back into a soft white bed at the end of a long day. This would be the perfect kind of bed for that. I love how it's simple with plenty of white. But there are also little creative touches, like the silver detailing throughout the bed cover and on the cushions. And the flowing curtain canopy makes for a Heavenly finish!
11. Sweet styling
This would be the perfect bedroom design for a teenage girl, or for anyone who loves a pop of colour, for that matter. I love the warm tones that have been brought in with the mustard coloured cushion, soft pink pillow and fun camel print on the wall. Plus, the texture of the side table adds another dimension to this space. Remember, it's all in the details!
12. Red and blue, baby!
How's this for colour? This Moroccan style bedroom is bold! If you love bright colours, this combination of bright blue and retro red might be for you. While they're an unlikely colour pairing, they can work well together when there are some other foundational colours tying things together, like timber, white or brown.
13. Let's see the world
While travelling to the far corners of the world may not be a reality right now, one can still dream. Keep the imagination alive with a fantastic world map print across your bedroom wall. Make it a fun feature by choosing a statement colour, like this dark blue. And add a few words to finish it off!
14. Add some greenery
Do you know what never goes out of fashion? House plants! It doesn't matter whether you're styling a Moroccan bedroom or any other kind of design, plants always work. They'll freshen up your space, circulate oxygen, and create tranquillity. You'll be able to breathe so much easier with greens!
Ready to add some plants to your abode? Be inspired by these bedroom plants.
15. Neutral styling
Keep things sweet and simple with muted colours. This is a mix of boho bedroom and Moroccan styling with a combination of textures, colours and decor pieces. I personally love the print framed on the wall. And the little duo of giraffes sitting on the wall looks oh-so-cute!
16. Sweet nooks
How gorgeous is this small bedroom? I'm absolutely obsessed with this picture-perfect space. The bed is nestled nicely between the white concrete walls. And the addition of the rattan hanging light and rattan mirror on the back wall add plenty of warmth!
17. Middle Eastern inspiration
Want a no-fuss approach to Moroccan styling? Try something like this. This space has a bed with a simple white cover, a large full-length mirror, and a couple of other timber and woven touches. It's all these little details that can make a huge difference when putting together your new bedroom.
18. Warm tones
Switch up your space and get ready for Summer with everything that glows! This bedroom is filled to the brim with warm, cosy touches from the large Moroccan rug on the floor, to the mustard cushions on the bed, to the timber furniture choices. And it all comes together for a lovely finish!
19. White and creams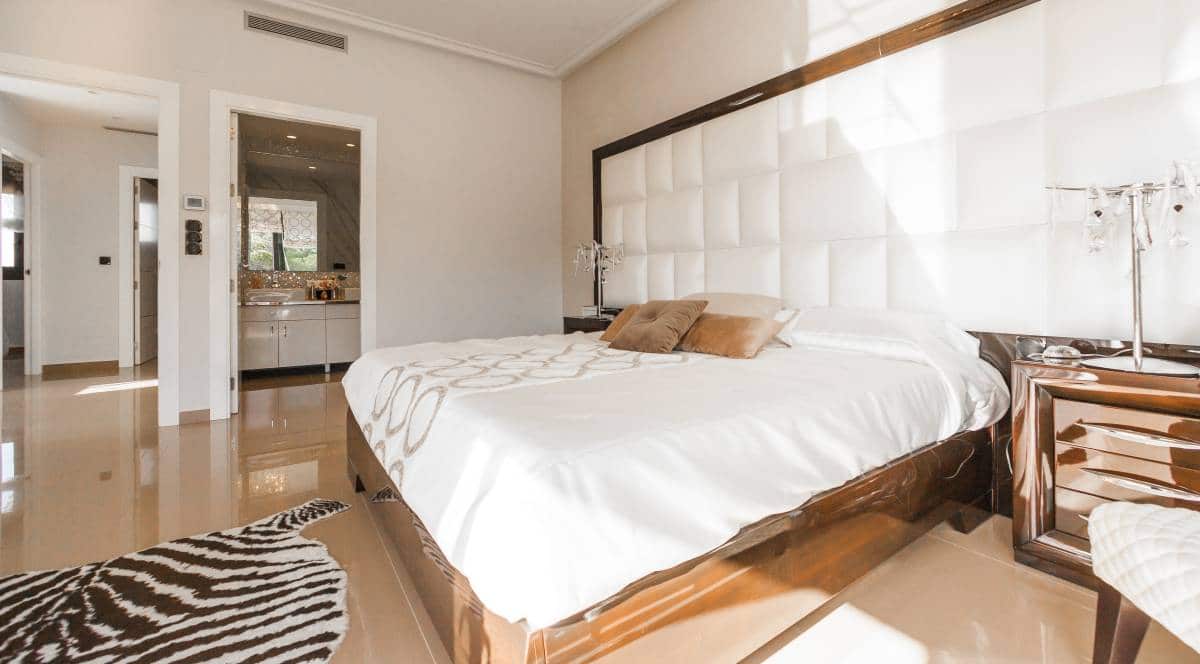 I'm a big believer that you simply can't go wrong with this colour combination. White, creams, and any kind of neutrals for that matter, will never go out of fashion. Just make sure you choose the right colours for the right items. What I love about this space is that the creamy beige has been used as the headboard – this sets a great foundation for the white doona cover and timber touches.
20. Keep it traditional
Take things back to Moroccan roots with a classic patterned bed cover. This space is proof that not all styling has to be modern and white. Play around with colours, textures and patterns to create a space that's truly unique. And while you're at it, don't forget the walls! Find some interesting prints or pictures and frame them up – they'll finish off your space perfectly.
21. Ornate details
Nothing says Moroccan more than a little bit of metal detailing. And this ornate mirror certainly hits the mark! It totally steals the show in this sweet bedroom and provides a great addition to the softer elements like timber, white and rattan.
22. Fancy fan
Wow, would you look at that fan? It's definitely out of the box, that's for sure. And I kind of love it. It's a unique touch to this simple space but it's also a breath of fresh air. I can imagine that lying on the bed and gazing up at this ceiling fan would be kind of like staring at the clouds as they float around in the sky.
23. Coastal meets boho
Who says you have to choose one way to style your bedroom and one way only? Combine a few of your favourite elements in a lovely mish-mash of textures, prints and patterns. I love this space and its warm neutrals, macrame touches and sweet floral additions. It looks like the perfect spot to laze about with a book in one hand and a cuppa in another.
24. In the wall
If you're after something a bit different, take inspiration from this Moroccan bedroom. It's a hole-in-the-wall kind of space and I like it! This would be a great option for a studio apartment where you're limited with space but still want to create some separation from your "bedroom" and your living areas. And it would be oh-so lush filled with soft cushions galore!
25. Out of the box ideas
Fancy a bit of timber… or maybe a lot? This interesting structure will be sure to turn heads! It encases the lantern-like hanging light in the centre. But this kind of piece will certainly come at a price… just look at all of that attention to detail!
26. Go all out with gold
Moroccan decor pieces typically make the most of mixed metals and silver and gold. So if that's the look you're going for, a fancy floor lamp like this one will certainly do the trick! I love how the doily-like exterior casts a gorgeous shadow around the corner of the room. And would you look at that little nook behind it? It's filled with a couple of candles which brighten up the space with a warm glow.
27. Peeking through the arch
Want to create a statement? Why not install a Moroccan-style arch to welcome you as you tiptoe to bed in the evening. This piece looks beautiful combined with other neutral touches like wood elements and light texture on the walls.
28. Instagram fabulous
Now there's a chance you may have seen these white and teal-turquoise tiles floating around the internet before. And that's because they belong to an Instagram-famous spot in Marrakesh. But just because this style is found overseas doesn't mean you can't bring it home! Take inspiration from the colour palette, woven light covers, patterned tiles, and hand-crafted elements.
29. Contemporary style
Keep things to a minimum with a simple white concrete bedroom. This style is all the rage right now because it's just so easy to create. And in addition to that, it's also fairly easy to maintain.
30. Hanging lanterns
Create ambience in your bedroom with decorative lighting. And these lanterns are just the way to do it! They cast a warm glow around this narrow room and completely transform the mood, making it cosy and mellow.
31. Vintage Moroccan rug
Looking for something soft and comfy under your feet? A Moroccan rug will do the trick! They come in all kinds of colours and have differing patterns. So no matter what style your space is, you'll be able to find one that does the trick!
32. Moroccan bedroom tiles
Even though it's a little dark, this is a stunning use of tiles to create a Moroccan-inspired bedroom.
33. Mustard tones
How gorgeous is this room? It's simple and understated but still packs a punch. And mustard is very hot in the design space right now. It's a lovely warm colour that easily brightens up any white or neutral space. And I love the addition of the three little stools at the end of the bed – how creative!
34. Arabian nights
This bedroom is ornate and stunning with intricate patterns on the walls, bed covers and furnishings. I love the mix of bright colours with a light white and cream base. I think what really sets this space apart is the gold that's woven throughout the room and used for the mirror and surrounding the mural.
35. Grand opulence
Luxury bedroom on your mind? Take inspiration from this one – the design isn't holding back anything. There's a large king-sized bed encased by a fancy feature pattern in the wall. And as for the rest of the furniture, it's stark white and bright. And hey – if you've got the space, why not create a lounge area in front of your bed… it's the perfect space to enjoy a cup of tea.
There you have it, 35+ Moroccan bedroom ideas. I hope you're inspired and ready to design your own space! Which design are you going to implement? I'd love to hear! Comment on this post and let me know.