Girls bedrooms are seriously so fun and sweet to put together, there really are endless possibilities when it comes to the decor and interior design choices! Whether you are wanting to create a fun kids bedroom or if it's time to turn your teenage daughter's bedroom from a kids bedroom to something a little more grown-up, then you've come to the right place with 40 of the best girls bedroom ideas!
As your child grows up, her taste will change. So it's best to go with simple and classic furnishings that are built to last, then add decor and change the bedding accordingly. If you want to incorporate colour, feature walls are a great way to do this. And you can also add colour with feature pillows and throw blankets!
1. Pink canopy
Girls of all ages would love a pink canopy above their bed. And I love how this one matches perfectly with the pink feature wall. Also how great is the colour blocking with the mustard curtain? All the colours just work so well together in this girly bedroom! Place some cute prints on the wall, add some cushions and voila!
2. Flower wall
Here's another beautiful girls bedroom that has a pink canopy in the corner of the room, draping over the bed. I absolutely love the flower wall which would be super easy to DIY.
Just choose three or four corresponding colours that match the bedroom and get creative. Put a dot in the middle then use different paint colour to paint six even petals. So simple and easy, yet effective!
3. Mature teen bedroom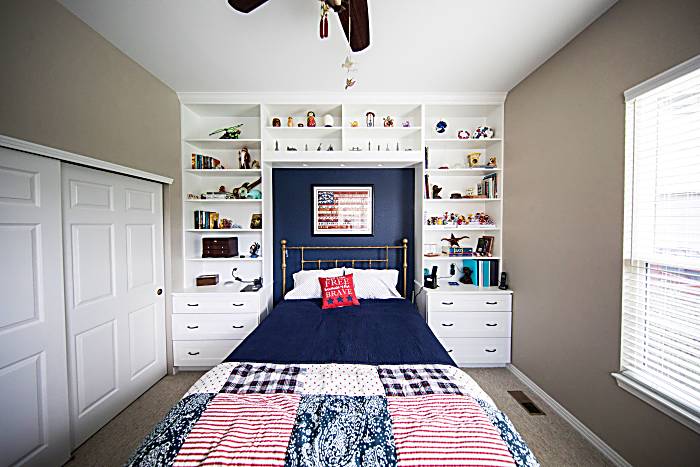 This bedroom's for your grown-up girls that still love pink, but are wanting a more mature bedroom. The light grey wall goes beautifully against the white furnishings. And I love that they grey has also been utilised through some of the decor pieces. Then all you'll need to do is add your pops of pink through the throw blanket, artwork on the wall, cushions, basket and other decor items.
4. Education space
This bedroom is such a good space for sleeping as well as education with the table and chairs in the middle of the room. The white furnishings ensure the room stays looking light whereas the pink painted wall and floral wallpaper bring pattern, texture and colour into the space. I also love the beige curtain which matches perfectly with the fabric drawers nestled in the cabinetry.
5. White and wood
White and wood is seriously a match made in interior styling heaven! If in doubt, go for white and wood. I promise you will never be disappointed with this combination.
Both the cupboard and the bed frame have been finished off in the same wooden tones and the colour of the basket handles of the storage boxes and other decor elements match perfectly. And of course, if you want to make any room look more feminine and girly, bring in a splash of pink through the decor!
6. Quirky and bright
How quirky and bright is this colourful bedroom. Any girl would have so much fun in this happy space. I love the patterned doona that looks so good next to the pink and white striped curtain. Pattern blocking is oh so fun! And I absolutely love the gallery wall that has so many different colours, patterns and images, yet it all goes so well together.
7. Grey pattern play
Just like number 6, here's another way pattern blocking has been utilised in a bedroom. Mixing and matching patterns can be a little daunting, but I say just go for it. If you have two little ones to cater for in the one room, then putting their single beds side by side is a great idea. I love how each of the beds have a different pattern on the bedding. You could even let your little ones choose their favourite pattern in the shops!
8. Boss it
This amazing girly bedroom is for those future (or current) boss babes! The cute 'Boss It' graphic will definitely help them to wake up with purpose and passion every day. And I love the pink panelled wall as well as the pink and gold confetti style on the upper section of the wall. Plus the blue bed frame along with the mustard coloured bedding is a match made in colour scheme heaven, especially when paired with pink!
9. Peachy canopy
Here's another beautiful bedroom canopy. And I absolutely love the peachy tones in this one! As this bedroom isn't carpeted and doesn't have a rug underneath, the material of the canopy really helps to soften the bedroom, making it much more friendly and comfortable. And how beautiful are all the other feminine additions in the room like the princess style worktable, sweet little pink cart and starry wall decals?
10. Neutral and warm tones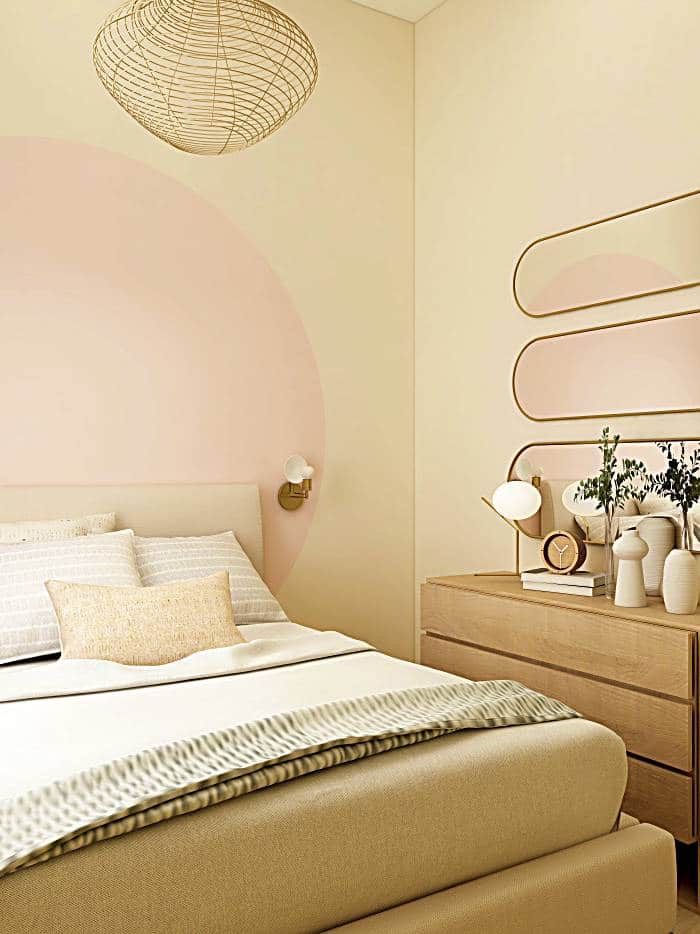 Oh, I just love the neutral and warm tones of this bedroom. This is definitely my style! I love how the walls have been painted halfway which just adds to the creativity of the room. The stars twinkling across the wall, as well as the gallery wall, really are great ways to decorate in and bring some excitement to any wall! Also how sweet is the hanging hot balloon which would look awesome with fairy lights inside of it at night!
11. Relaxing space
How cool is this colour blocking bedroom! This bedroom would be perfect for a teenage girl that's creative, quirky and enjoys something a little different. The pink wall looks so cool paired with the black wall. And the blue bedding looks awesome and helps to create the colour blocking effect.
Plus the rug on the floor incorporates all the colours which make this room feel very cohesive. And in case you forgot, the neon sign will always remind you to 'Relax' in this space.
12. Craft corner
Whether your child is crafty or not, they will still need a desk area to do homework and this desk area is the perfect space for just that. Adding all the essentials like stationery, glue, books and more to a tiered cart means that the desk can always stay tidy as things can be easily put away at the end of the day! And to stay organised and on track with deadlines and events, add a calendar on the wall!
13. Colour blocking
Similar to number 11, this bedroom incorporates colour blocking but in a more subtle way. The walls are a beautiful shade of pink that works well with the mustard colour blocking curtain and mustard coloured house-shaped shelf as well as the mint coloured shelf with the unicorn sitting inside of it. Also if you're limited for space and you have two little girls to accommodate for then bunk beds will do the trick!
14. Whimsical wonderland
This girls bedroom is a whimsical wonderland fit for Alice! From the polka dot wall with colourful prints attached to it to the quirky and bright colour and pattern blocking bedding, I just love the quirkiness and fun of this bedroom. Plus check out that awesome ombre curtain that goes from white to pink. How clever!
15. Macrame wall hanging
I absolutely love all things macrame and this wall hanging is oh so beautiful indeed! Also, it never crossed my mind to clip bows on your macrame strings – what a fabulous idea!
Plus how beautiful does the macrame hanging look against that awesome floral wallpaper, I can only imagine how beautiful the rest of this girls bedroom is!
16. Teepee hideaway
Teepees are an awesome addition in kids bedrooms, and your girls will definitely love this one. How sweet are the fairy wings and large faux flowers hanging off the top of the teepee. And I love the string of stars draped around the side. The soft pink wall is also the perfect choice to complement this fun and girly bedroom.
17. Everything within reach
This bedroom has everything within reach which will help your darling children have a sense of independence as they can grab what they want when they want. If they want to read a certain book, they can totally grab it themself! And I love the robe hanging from the door that is also in easy reach!
18. Loft bed
A loft-style bed is a great way to create more storage space, especially when you are needing it in a smaller space. Also climbing up into a bed is so much more fun for a child than just getting in it the regular way! I absolutely love the starry wallpaper and sweet little print reminders that say "Be silly, be brave, be kind, be you". And all the pink details and decor help to make this space look so girly and sweet.
19. Spread your wings
Of course, you want your little girls to stay little forever, but it's also important that they spread their wings And how beautiful are those wings hanging on the wall which go so well with the theme of the bird and foliage feature wallpaper.
You could totally attach the wings at the same height as your little girl so that there are lots of cool photo opportunities for her and her friends with the wings coming out from behind their backs!
20. Contrasting patterns
Similar to number 7, here's another reminder that mixing and matching patterns doesn't have to be scary. The pink bohemian style wallpaper is the perfect contrasting pattern against the mint and spotty white bed head. And I also love that yellow has been introduced through the feature cushion. I would've absolutely loved this room as a little girl. In fact, I would actually love it now.
21. Bohemian style
You really can't go wrong with a bohemian style barn door and hanging chair. The mint colour of the barn door and geometric pattern makes it look so bohemian and cool which really compliments the red and mustard tones of the cushions sitting inside the hanging chair. Girls of all ages would love having these features in their bedroom!
22. Hanging plants
Here's a beautiful bedroom for your teenage girls! It can be both a hard (for you) and exciting (for them) time transitioning from their kid bedroom to their teenage bedroom, so it's important to create something super special. I absolutely love the cabinetry in this bedroom that serves as cupboard storage, bedside tables and a bed head. Plus how beautiful are the hanging plants that are cascading down toward the bed!
23. Let's go to the zoo
Moving your toddler from a cot to a bed is also a transitional milestone and this bedroom is the perfect space for that time in your life. The bed has railings up so that your little one doesn't fall out of bed in the middle of the night. And who can go wrong with some beautiful zoo animals to give your little sweetie some company?!
24. Oh so classy
This double girls bedroom is oh-so classy indeed. I absolutely love the subtle pink floral wallpaper that looks amazing with the gold feature mirror. And so that there are no fights about whose clothing is whose, adding double drawers will do the trick. Place some of your girls favourite cuddly toys and some pretty decor pieces and voila!
25. Dreamy dolls house
When I think of a girls bedroom,  dolls houses are one of the first things that come to mind. So much imagination and fun can be had with a dolls house. And I love that this beautiful pink dolls house is sitting in the prime position of the bedroom!  I can just imagine all the beautiful scenarios and scenes that happen when this dollhouse is played with!
26. 70s baby
The 70s were all about bright and bold colours and lots of patterns. So if you want to relive that error, why not bring some of that fun into your little girls bedroom?! I absolutely love the wall hanging which is in a fantastic 70s style with the bold pattern and varying colours. And the contrasting colours and patterns of the bedding give a very effortless and vintage feel.
27. Green and pink
Green and pink really is such a match made in heaven and this girls bedroom is no exception. I absolutely love the green bed frame that is the perfect accompaniment to all the pink features like the walls, bedding and rug! Plus I love the simplicity of the minimalistic toys, which ensures there isn't too much stimulation around the room when it comes to bedtime.
28. Polka dots
How sweet is this dotty girls bedroom! I love how the wall has been painted at a diagonal with a soft pink on one side and white with black polka dots on the other. And then all of the decor pieces and bedding has been kept in the exact theme with polka dots on the bedding, basket and vase and the pink on the feature cushions, bedside table, lamp and decor! How clever!
29. Good vibes only
Good vibes only… sometimes teenage girls need that reminder and what better way to put it smack bang in the middle of their wall. Grey tones have been used in this room to keep in modern, whilst the pink and peach combination gives a very feminine and girly look. Even Mr. Whiskers seems to enjoy hanging out in this space!
30. Chandelier feature
Chandeliers are the epitome of elegance and grace. So putting one in a girls bedroom will exude that feeling. If your little one is prone to falling out of the bed, the perplex guards will work to encourage them to stay in the bed whilst sleeping. The wall behind the bed has been finished off with a pretty wallpaper that has lots of different symbols and graphics over it and the wall by the window looks so pretty in pink.
31. Pastel tones
I am such a sucker for pastel tones, and this bedroom is definitely making me feel warm and fuzzy inside. The pink bedding looks so sweet with the lilac throw placed over it and I absolutely love the addition of the mint and gold basket in the corner. Plus how pretty are the orange, lemon and watermelon prints sitting pretty on the wall?!
32. White and bright
Another style that is no secret that I love is white and bright bedrooms! Having lots of white in a space will ensure that all the natural light beaming in will bounce off the white surfaces, making the room feel bright and airy. This style of this room would be perfect for girls of all ages.
33. Pretty as a picture
This bedroom is seriously pretty as a picture. There is so much going on in this room and everything just works so well. I love that the bed has been placed at an angle which really creates a lot of interest and makes the bed a feature of the room. The peony wall decals work well to bring the space together. And check out that cute little furry friend sitting on the end of the bed!
34. Floating shelves
Floating shelves are a great way to display things without having a traditional shelf taking up floor space. This floating shelf houses books, decor, a print and even a cute hanging plant! And I love the white finish of the shelf that goes beautifully against the blush pink wall.
35. Pink and wood
This bedroom is sugar and spice and all things nice! I absolutely love the pink bedding, wallpaper, prints, decor and butterflies fluttering up the walls. And the wooden frames and floating shelf perfectly match with the cane dolls house and basket as well as the orange throw and feature cushions.
36. Seasonal styling
If you're decorating other parts of your house for seasonal events like Christmas, then why not incorporate some decorations into your girls bedroom too?! A Christmas tree in a bedroom would be the perfect place for Santa to put his presents under! And I love that the tree perfectly matched the decor of the bedroom with the pink peonies and girly theme.
37. Minimal and Simple
This bedroom is minimal, simple and so my style. I love how feminine it is, yet still very neutral with all the white. The teepee looks so lovely placed in the corner of the room and would be a great sitting area for your little girl to read and relax. Plus how cute is that little stool next to the bed which makes sure that little people can get in!
38. Elegant decor
This elegant bedroom would work so well for teenage girls and older. The style is so classy. I love how the walls have been kept white, yet the curtains are pink which gives a very girly touch to the space. And you can never go wrong with a beautiful chandelier in a girly bedroom!
39. Matching bunnies
Do you have twin girls or girls that are close in age?! Then this bedroom is definitely one that will give you lots of inspiration! I absolutely love the matching bunny bed heads which are such a sweet feature. And the light installment almost looks like a swarm of butterflies fluttering around the ceiling. How gorgeous!
40. Big girls room
This last bedroom would be perfect for teenage girls and older. The bedroom furnishings have been kept simple and minimalistic whilst the chandelier adds some elegance and flair! Add some fresh pink blooms in the space to incorporate a pop of colour and a natural freshness.
So that concludes 40 girls bedroom ideas to inspire even the fussiest girls. As always I absolutely love the white, bright and airy rooms as well as the spaces that have beautifully incorporated colour and pattern blocking. What were your favourites? Which styles will you be incorporating into your girl's rooms? I'd love to hear in the comments below!