Dark colour schemes that utilise lots of blacks might not be everyone's cup of tea, but I'm here to convince you that there are so many positives to adding black to your bedroom with these beautiful black bedroom ideas.
There are so many different moods and themes your bedroom can take on when adding black. Black can be chic, sophisticated, classy, edgy, industrial, fashionable, on-trend, classic, timeless and the list goes on!
Whether you love the look of black-on-black or just want to add a touch of black into your space, the good news is that there are so many ways to achieve it!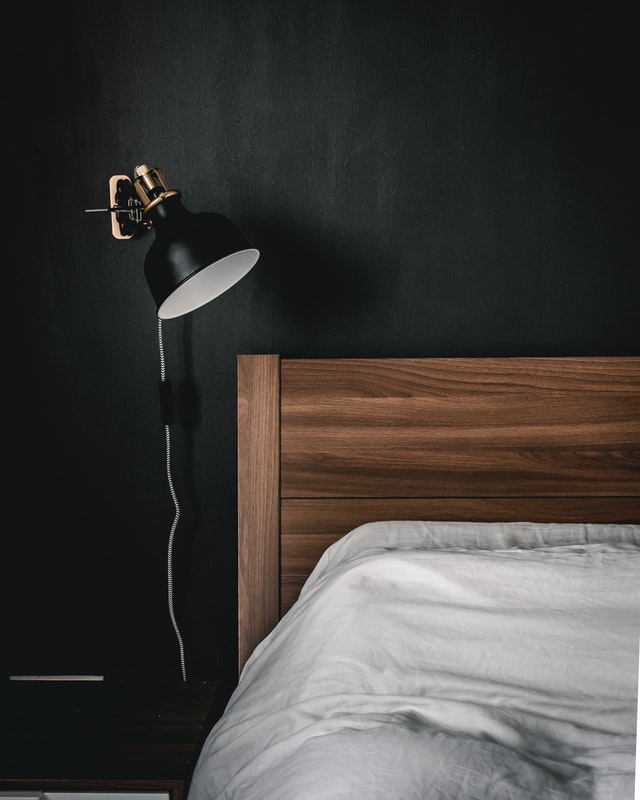 Walls. If you're wanting to incorporate black into your light coloured bedroom, then a great way to go is just by adding it to the walls. Black can help to create so much definition if added to the walls. This can be done through wall panelling, paint and wallpaper.
Bedding. If you're still wanting to keep your walls light, then add black to your bedding. This can be done through feature cushions, a doona cover or the whole lot.
Decor. And if you're not inclined to add large blocks of black to your space, then adding it through decor is the next best thing.
Here are 19 black bedroom ideas to inspire you to darken your aesthetic!
1. Industrial design
Black finishings can really give such an industrial and urban look. For example, you might go for a black panelled wall behind an abstract black and white artwork and cool grey bedding. Oversized light pendants are perfect for this look.
2. Black plus naturals
This black bedroom has so many lovely touches that make this space feel warm and inviting. I love the black-edged timber bedhead and oversized gold-toned bulb lamp. And the creamy bedlinen adds even more warmth to this vignette.
3. Feminine features
This black bedroom is the epitome of edginess meets femininity. A touch of gold brings a little glamour and is reflected in the decorative cushion. The extended timber bedframe works as a great backdrop to the framed line art, too. And a simple indoor plant works so well to brighten up and add some colour to this space.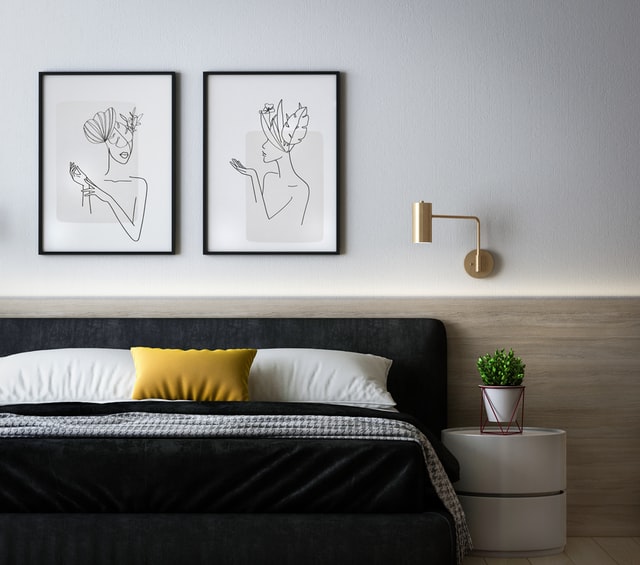 4. Black, white and green
Here's another beautiful combination… black, white and green! I love a black feature wall featuring lots of different framed prints to make up a beautiful gallery wall above the bed. And, adding a range of different textures and patterns always adds so much character to the room. You really can't go wrong with the addition of greenery from indoor plants to freshen up a space.
5. Black and metals
Black and gold is such a stunning colour combination but black and silver is definitely a classic pairing as well. There's just something about the addition of a metallic texture paired with black, especially when it's in its matte form. A vintage style black metal bedframe is comfortable and simple, decked with fresh linens in white and soft blacks. And the metal bed is complemented by the large metal pendant light.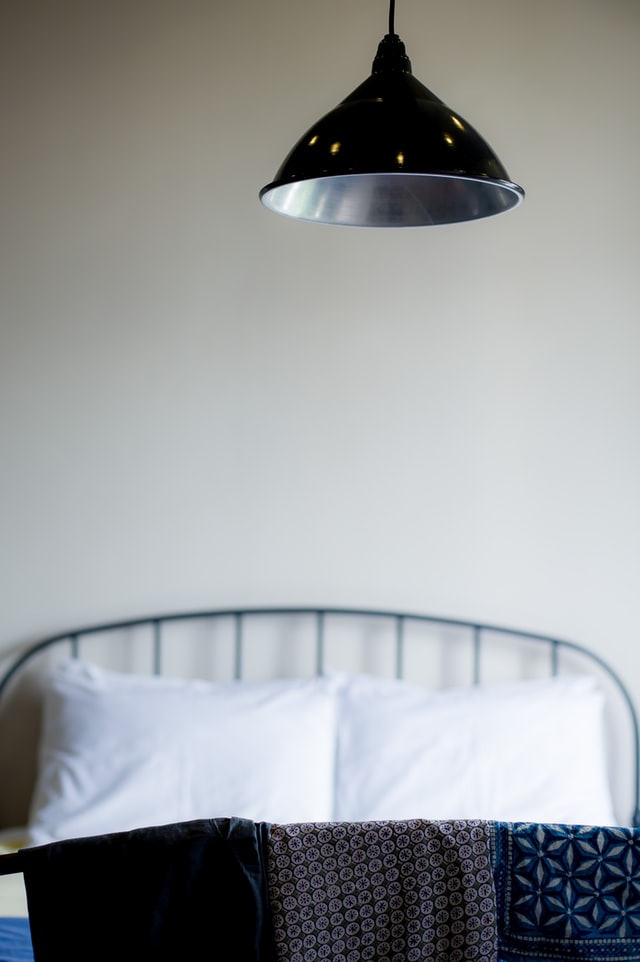 6. Stylish and on-trend
This black bedroom is oh so stylish and on-trend. The black and brown bedding and the soft brown-black painted walls really give an awesome effect. White bedside lamps add life and the large artwork does a good job of tying everything together nicely.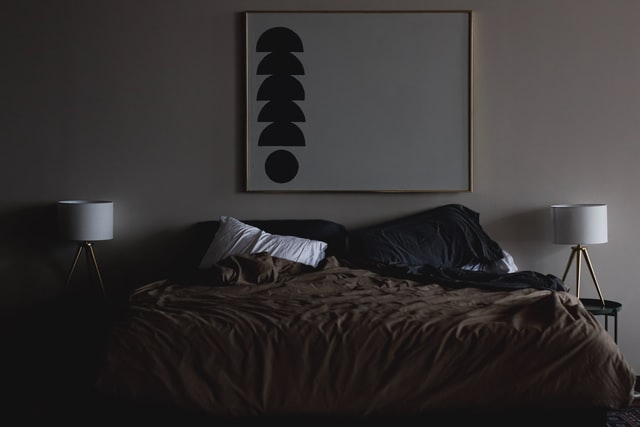 7. Black and brass
A black and brass bedroom can be sexy and sophisticated. Why not go for black wall panelling behind a black bed frame and bedding. Add in brass finishes in a pendant light, artwork or mirror frame, or bedside lamps. Then soften things up with a grey throw on the bed.
8. Wall treatments
If you're after a wall with more texture and character than just a flat painted wall, then wall treatments like panelling or wallpaper are a great idea! I love the grey marbled wall treatment in this room (which looks to be wallpaper). It works perfectly with the woven charcoal bedhead and the rich black bedside lamp.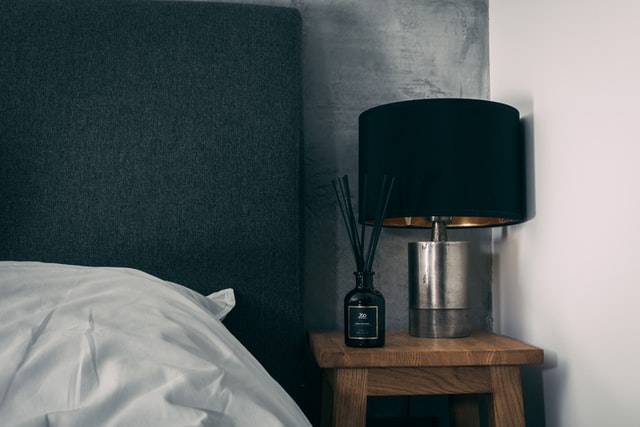 9. Gorgeous wallpaper
Another way to spruce up your walls without having to get the paint out is through wallpaper! How about a gorgeous wallpaper in an oversized monochrome botanical print? If your wallpaper has a lot of black in it, pair it with a white bedframe and white bedding!
10. Monochromatic tones
When talking about black bedrooms, monochrome tones definitely need a mention. Monochrome most notably means solely black and white tones, such as the range of greys in this bedroom. I also love the visual interest created by the unfinished paint edge of the wall here.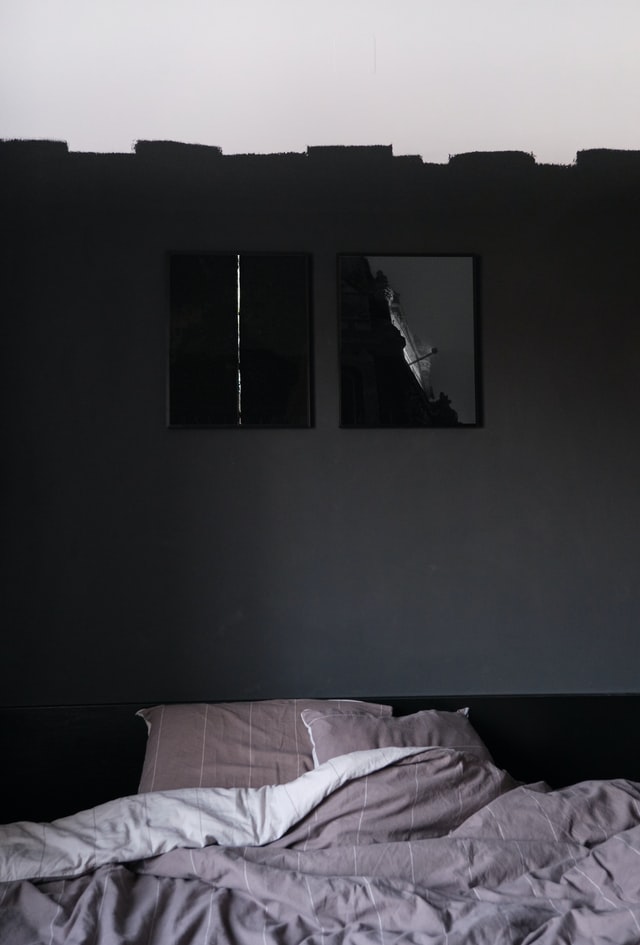 11. Warm tones
When working with black, you don't have to worry about a space that lacks warmth when you use warm lighting to light up the space. I love all the black on black finishes in this bedroom that are lit up with a glowing warmth from the bed which gives a very welcoming feel.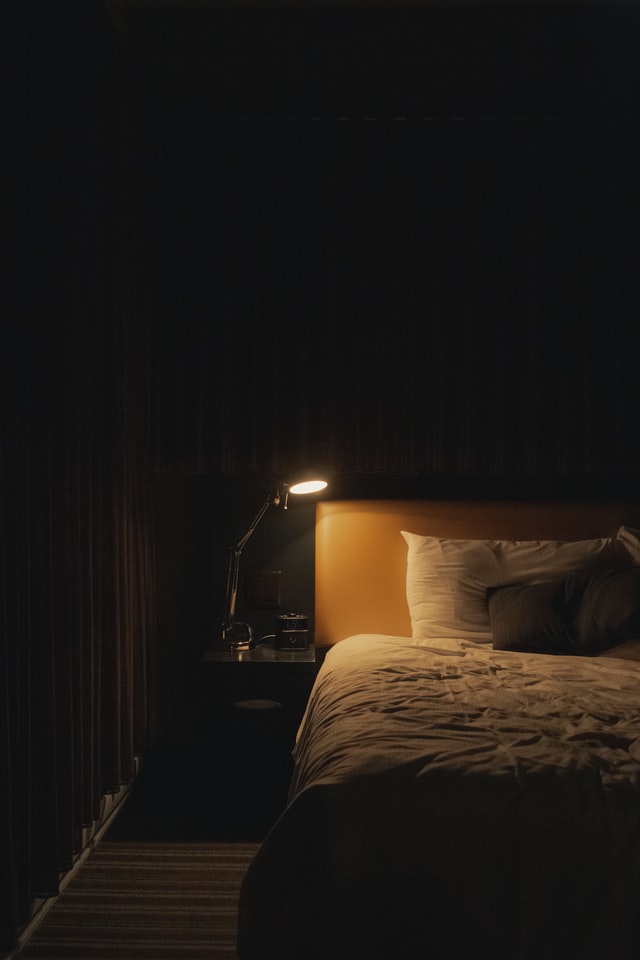 12. Charcoal black
How inviting is this space! I would absolutely love to have this space as my bedroom! If you're a bit wary to use the blackest black possible when it comes to putting together your black bedroom, then why not try charcoal black? Charcoal black will give a softer look to your space whilst still achieving the class and sophistication of a black bedroom.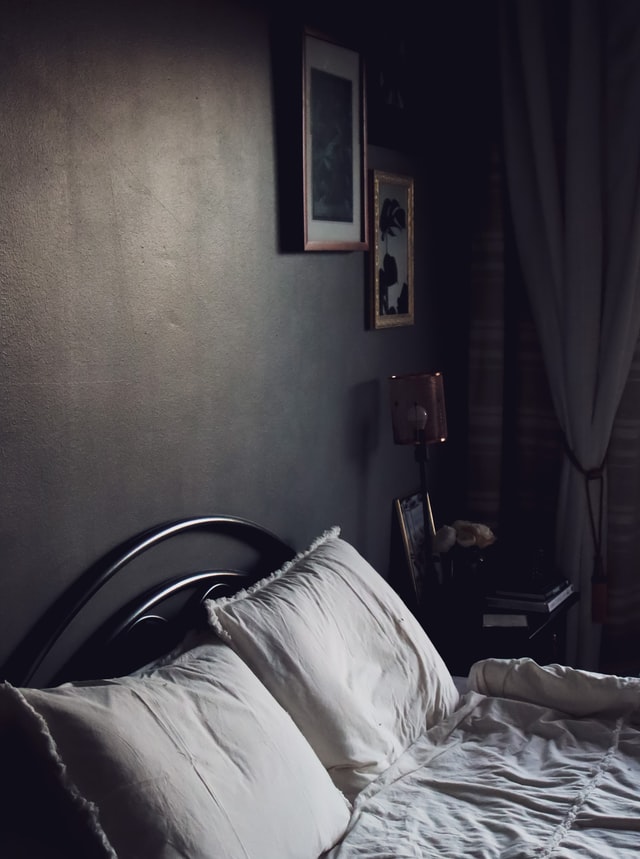 13. Comfort in the dark
Even though this space is predominately light with sand-coloured walls, the addition of black curtains makes the space so much cosier. Add in warm timber frames and a glass light fitting and you have a lovely, simple yet striking bedroom space.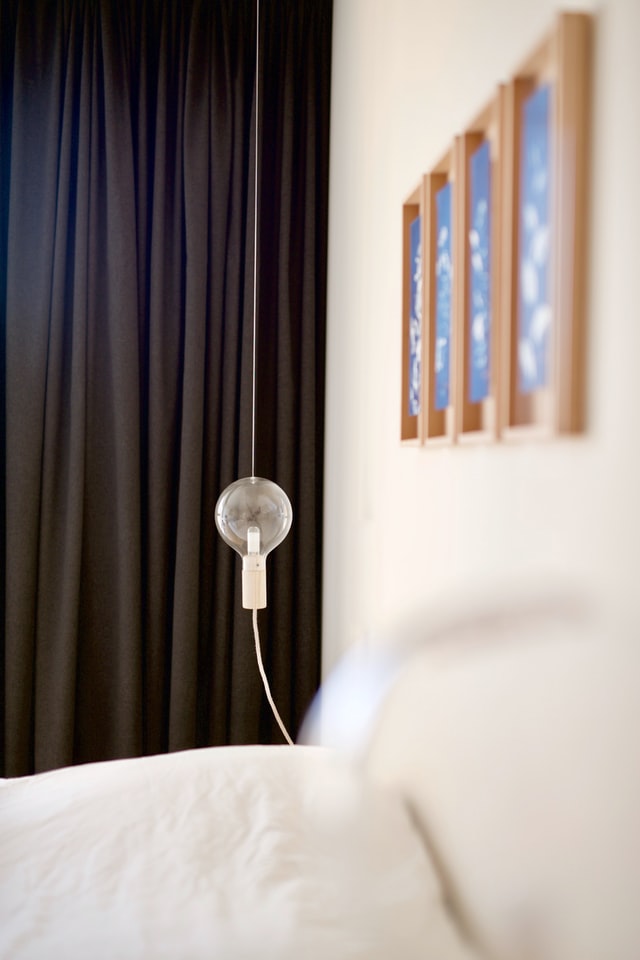 14. Black and orange
Black and orange–who would have thought such a combination could look so chic? But somehow, it does. It might be a simple as adding orange table lamps or orange feature cushions to your black bedroom. That's because a smallish colour burst of orange is always best so you don't overwhelm things.
15. Cool and different
If you want to go for a really edgy look, why not find the most unusual black metal bedframe you can? Something like this graphic geometric design is perfect for that urban vibe. Match with a streamlined black light fitting.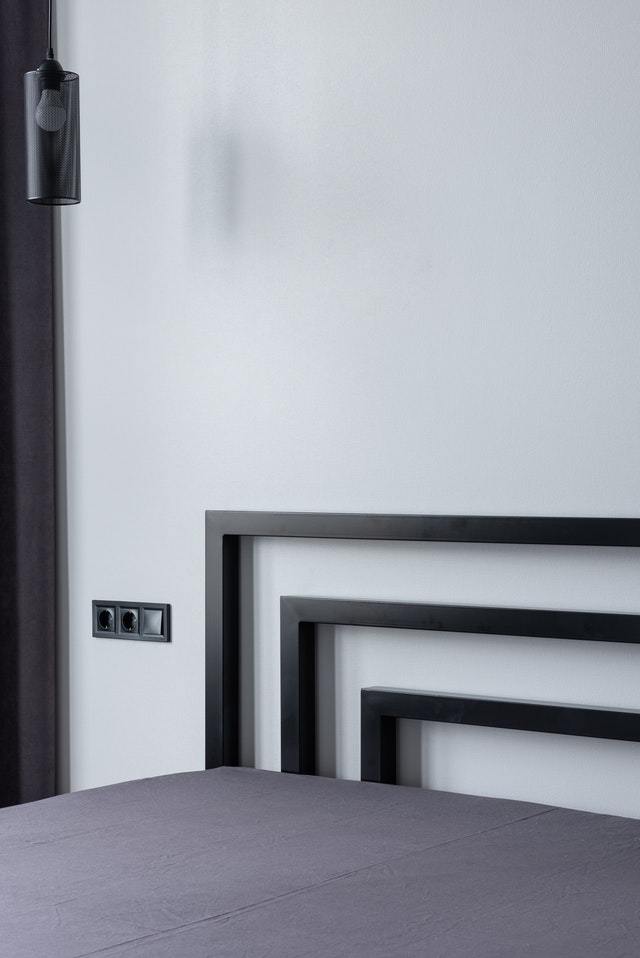 16. Vintage decor
Make your black bedroom especially cool with vintage décor. I absolutely love ornate, vintage style mirrors or the addition of some cute vintage bedside tables. Industrial style furniture and décor works really well with black colour schemes, so look for a statement vintage piece that will look amazing against your black walls or black bedding.
17. Classy cream and black
The classic combination of black and white is used so often, but what about a colour palette of cream and black! It's super classy and oh so sophisticated. And how about these black painted wooden floorboards? A very different take on the black bedroom!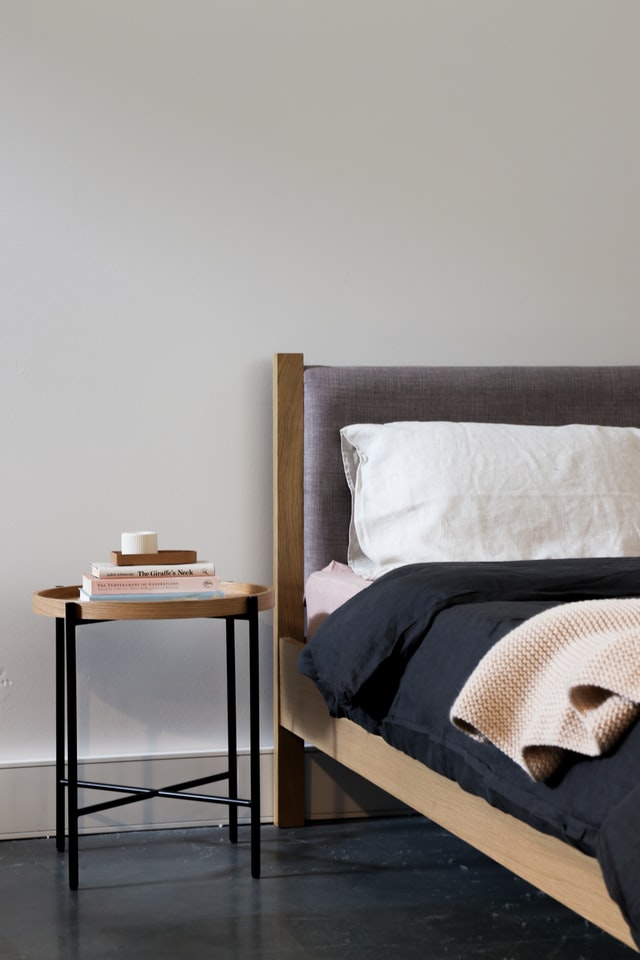 18. Minimalist design
There's nothing quite like minimalist design. And when you add a black on black colour scheme into the mix, it really gives such a chic and sophisticated look! So if you're planning on a minimalist bedroom, give some serious consideration to a colour scheme featuring black.
19. Feature wall
And last but not least is this dramatic contemporary bedroom with a stunning black feature wall! It works beautifully contrasted against the white walls, while plenty of natural tones are incorporated to add depth.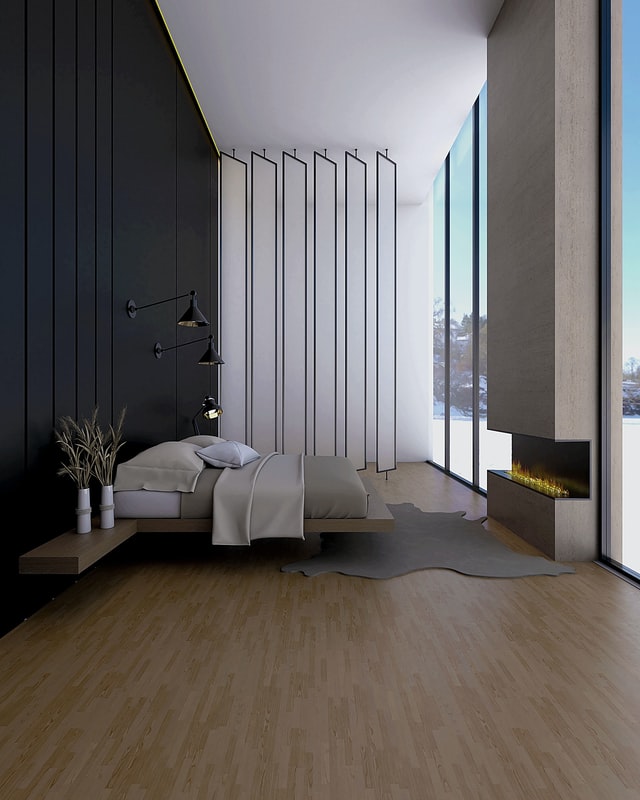 So there we have # black bedroom ideas to inspire you to add mystery and intrigue to your spaces! I absolutely love the bedrooms that have incorporated black through the walls as it makes the idea of adding black to a room super easy for anyone to achieve. What were your favourite black bedrooms? Let's chat in the comments below.