Houseplants not only look great and bring a pop of colour into your space, but it has also been found that having indoor plants helps to reduce indoor air pollutants and help to purify the air. So it's really a win-win bringing bedroom plants into your home.
It's a great idea to do some research on what your particular plant needs as all plants are different. Here are just a few of the plants mentioned and how they should be cared for:
Monsteras
Monsteras (which are nicknamed the "swiss cheese plant" due to the abnormally shaped leaves that have holes in them) can grow to be super large so they like lots of space. They also like indirect sunlight and a moderate and even watering about once a week.
Rubber plants
Rubber plants are very low maintenance plants, however, make sure they are in a bright space that gets a lot of indirect sunlight. Change your watering with the seasons. For example, in summer keep the plant moist and in winter, water once or twice a month.
Ivy
Ivy is a great climbing plant that looks beautiful hanging. Ivy's love a pot with plenty of drainage and will benefit from regular misting in between watering.
So whether you're looking at purchasing your first indoor plant or if you're looking at adding some more plant friends to your collection, then you've come to the right place! Here are 35 bedroom plants and ideas of ways that they can be displayed to inspire you!
1. Floating Shelf
First up we have this amazing plant-filled bedroom space. I love the large monstera that is sitting nicely in the rattan planter. And the shape of the monstera has been carried through to the print on the wall. Adding a floating shelf above your bed will also help to bring lots of greenery into your bedroom without crowding up your floor space.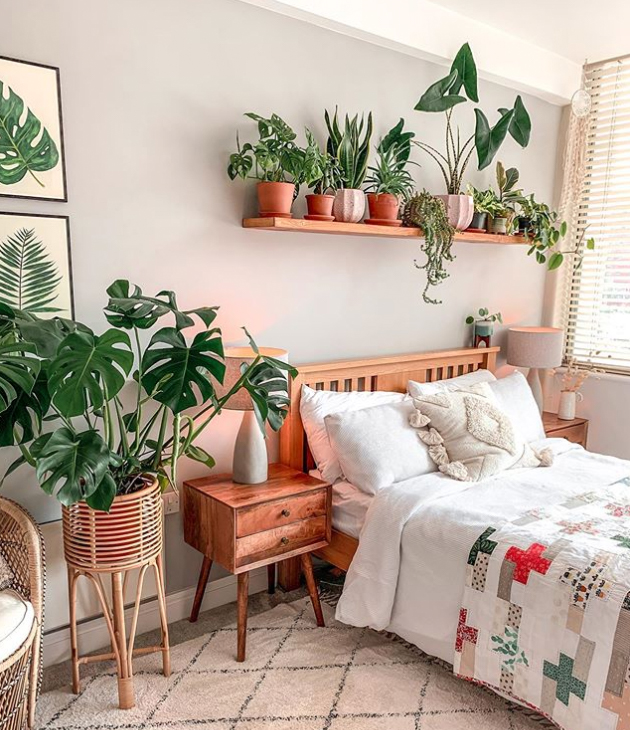 2. By the Window
When it comes to plants, giving them enough sunlight is imperative to their survival. Do a little research on the plants you have and their particular needs. Some will prefer little to no sunlight, filtered light or a sunny spot so position them accordingly. These plants are loving their sunny position right next to the large windows!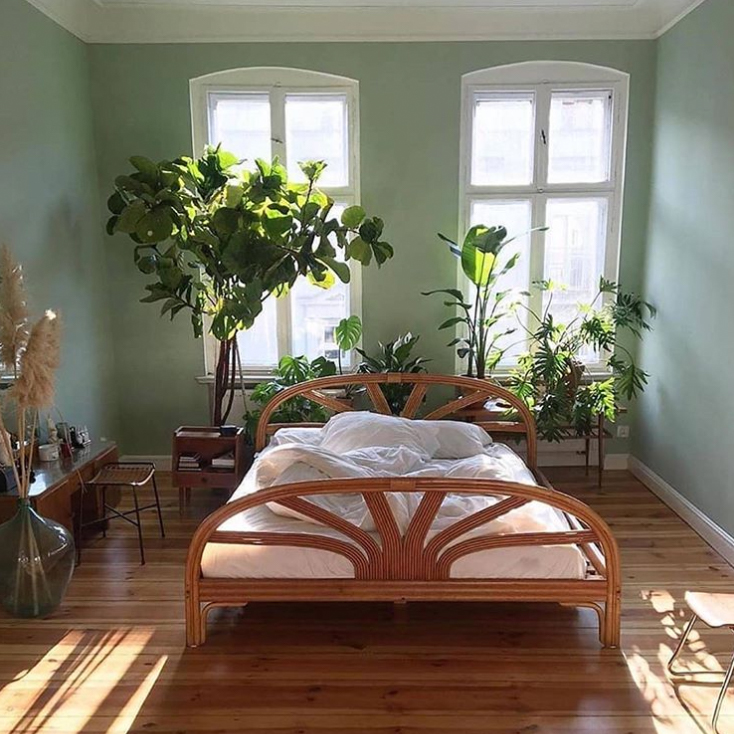 3. Natural Touches
There are so many beautiful natural touches in this boho style bedroom. Ivy works so well as an indoor plant especially as it is a climbing plant and looks oh so lovely trailing around a bedroom. I also love the teepee in this room with the cascading fairy lights which go so well with the natural pendant light installations and rattan wall piece.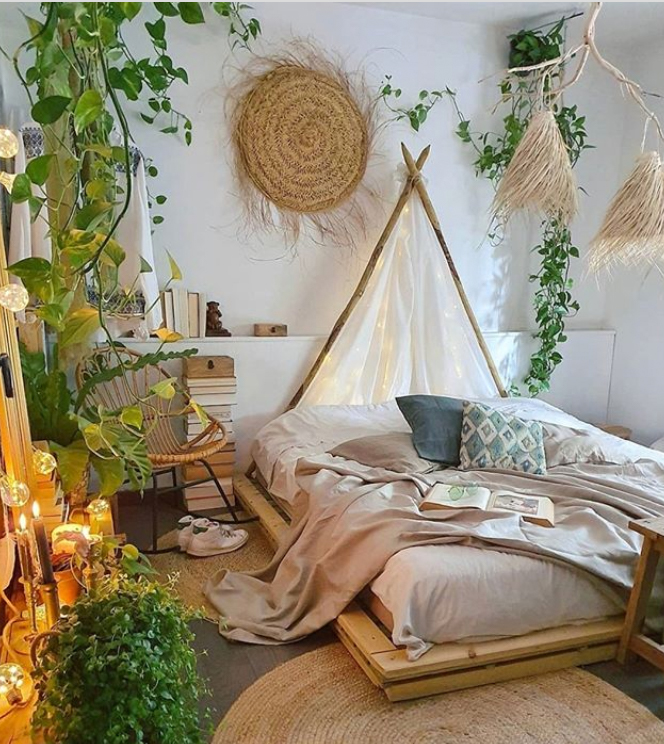 4. Thriving Indoors
How relaxing does this bedroom look with all those large overgrown plants! The large monstera in the corner looks like it is loving the position it has been placed in. And the rubber plants (or ficus elastica) are thriving by the window as well as the long hanging plants that serve as a beautiful bed head.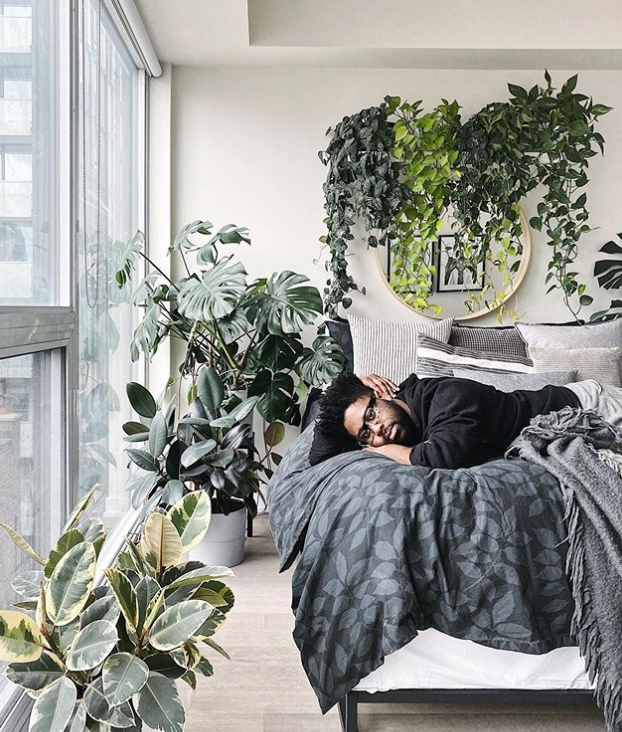 5. From Above
This variation of a four-poster bed is so different and looks like a work of art! The instalment not only frames the area with the wooden log, but the greenery also looks as if it is growing all over the top, with some long vines trailing down. I also love the hanging macrame that is a nice addition to the other hanging features.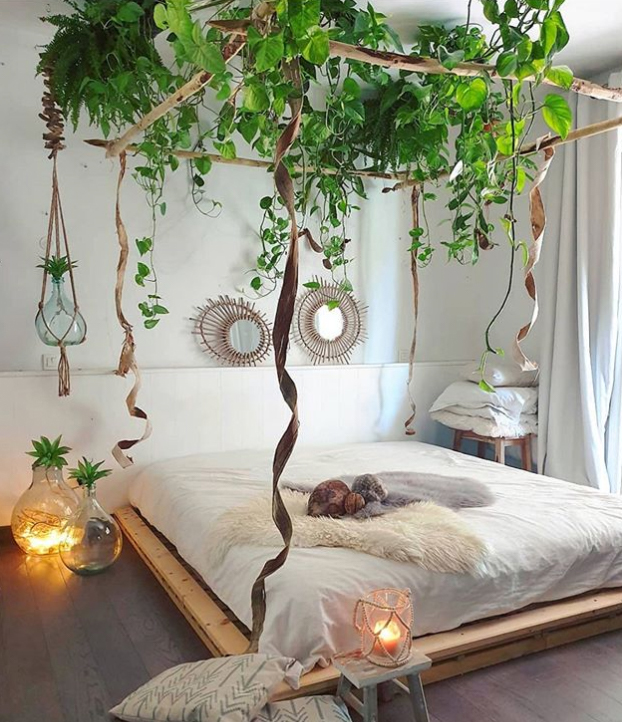 6. Monstera Madness
If you're mad for monsteras like I am, then this bedroom is for you! Monsteras have been potted and are standing near the window basking in the sunlight and there also looks as if there are propagated monstera leaves sitting on the cabinetry. And the theme of the monsteras have been brought through to the throw blanket on the bed which ties in both areas nicely.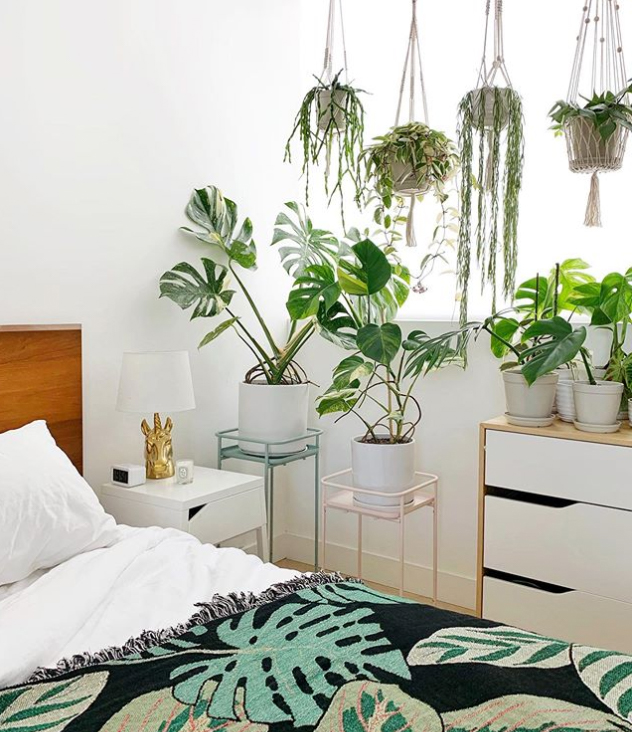 7. Clothes Rack
Another great way of bringing lots of plants into your area without taking up too much room is utilising something like a clothes rack. Your hanging plants in macrame can hang off the pole rack where the clothes should hang, then plants can sit on top of the areas where the shoes and hats usually go. Genius!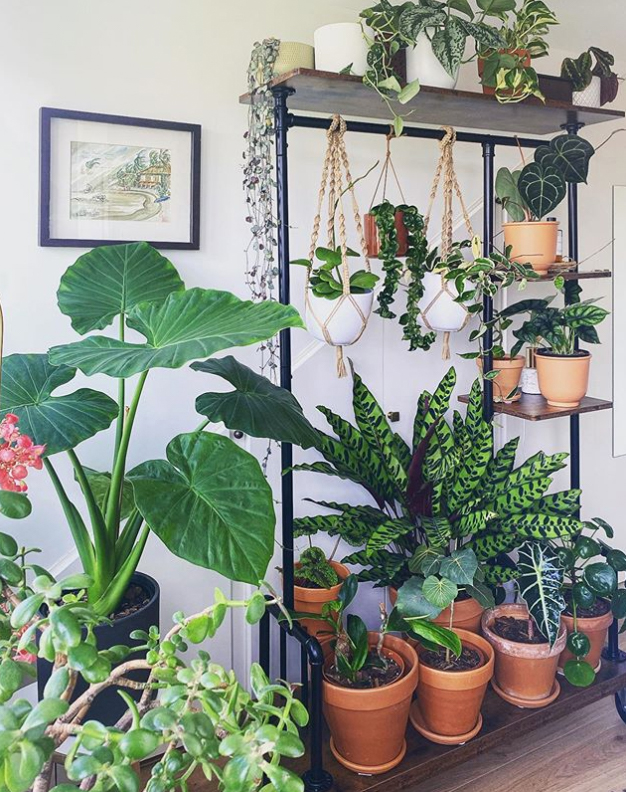 8. Attic Room
This room is proof that even the tightest of rooms can utilise the beauty of plants. The skylight beaming in from the attic window is just enough to keep the inhabited plants healthy and happy. This bedroom shows different ways that you can display your plants: on the floor in a basket, sitting on a chair and hanging from the ceiling!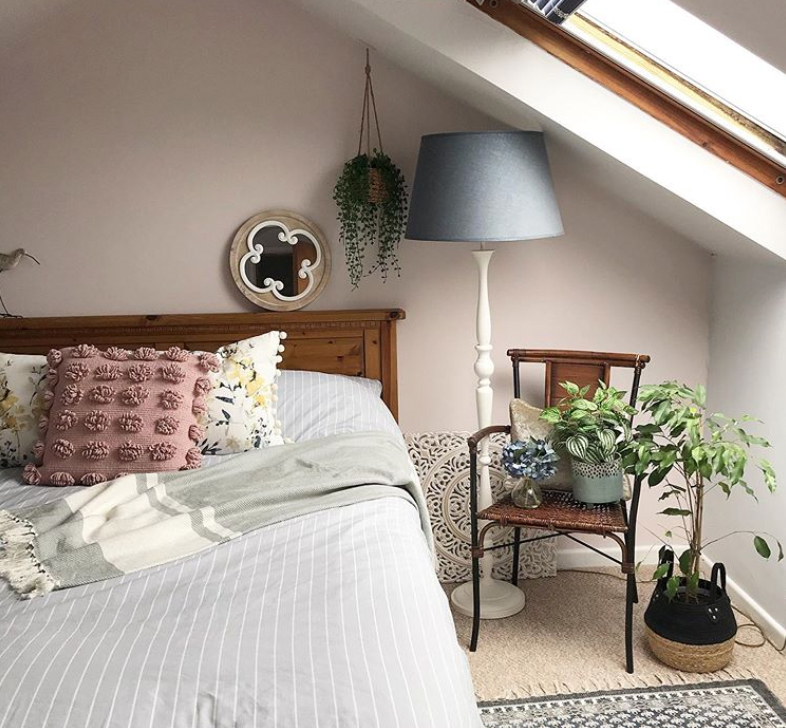 9. Green on Green
If you especially love the colour green and want to match your bedroom plants to the rest of your space, then painting your bedroom green will do the trick! So that the plants don't blend in too much, use a nice pastel green to bring in freshness without it looking too matchy-matchy to the leaves of your plants.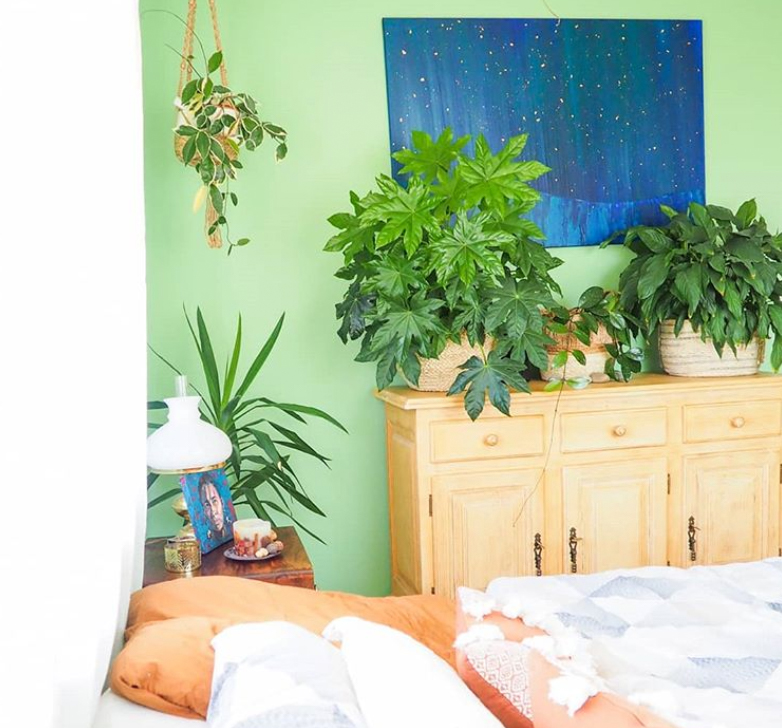 10. Hanging Macrame
Macrame is all the rage at the moment and hanging your plants with macrame is ever so stylish. Once you've mastered the knot (which is quite simple to master), you could totally get your DIY on and have your very own macrame hanger in no time! Or, if you're not so much the crafty type but would love to make the most of this trend, there are plenty of creatives online that are making magnificent macrame hangers and selling them.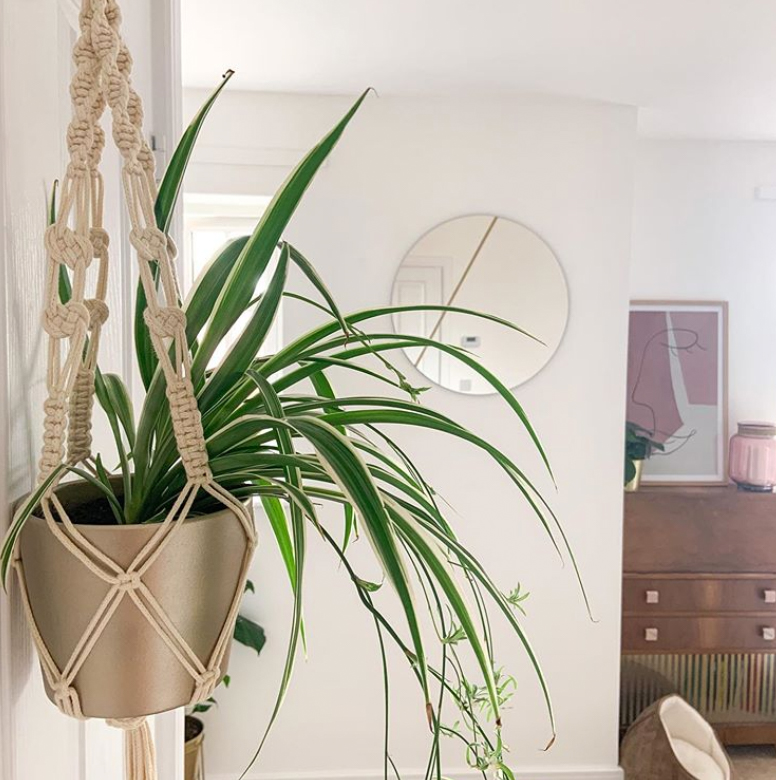 11. Ceiling, Stand and Floor
Here is another great example of various ways that you can display your plants. You can hang a climbing plant with macrame, put a pot on a plant stand or even just place the pot straight on the floor. Putting them at different levels not only keeps your plants organised, but they also look great!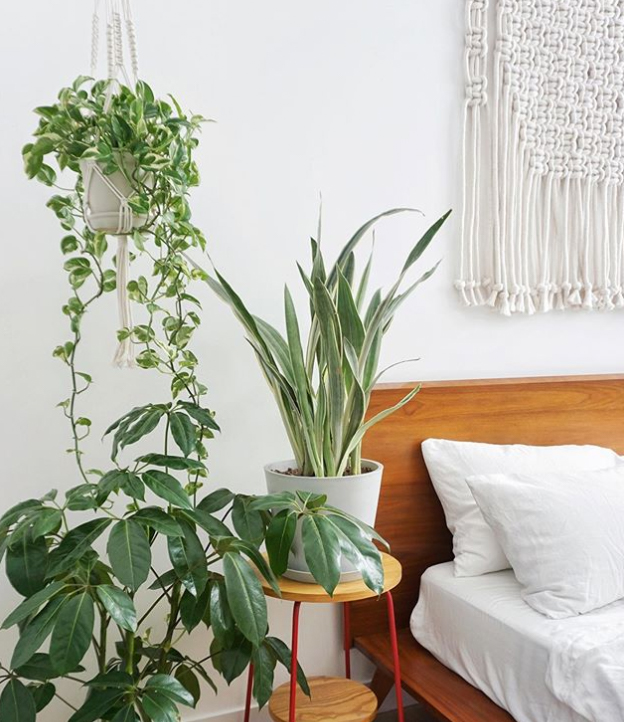 12. Organic Finishes
If you're wanting your decor to match the organic nature of the plants in your bedroom, then add some natural finishes. The pots in this stylish room have natural stone finishes as well as faux fur to soften the area. I also love that deer wall decor that really makes a statement!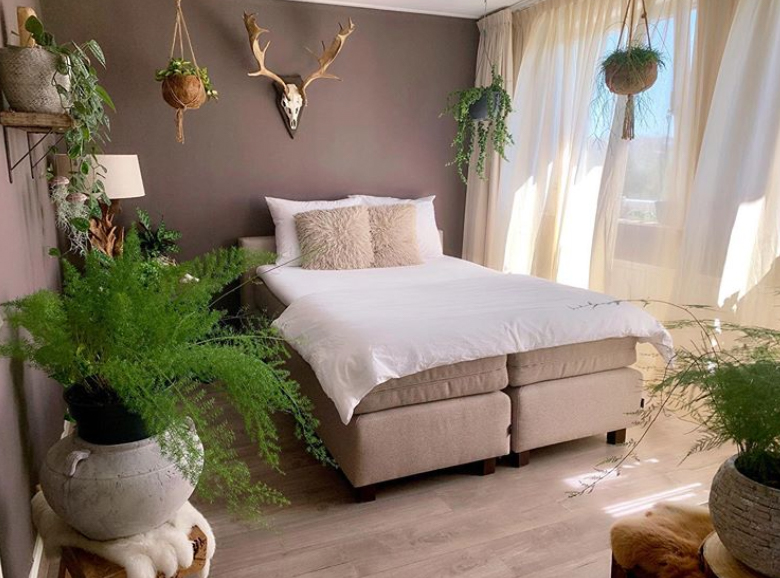 13. In the Corner
This is for you if you'd rather concentrate on a minimal amount of plants and give your undivided attention to them, rather than having a jungle to tend to. The large plant in the corner is the perfect to bring life into the room and I love the shadow it is leaving on the wall as the sun comes in.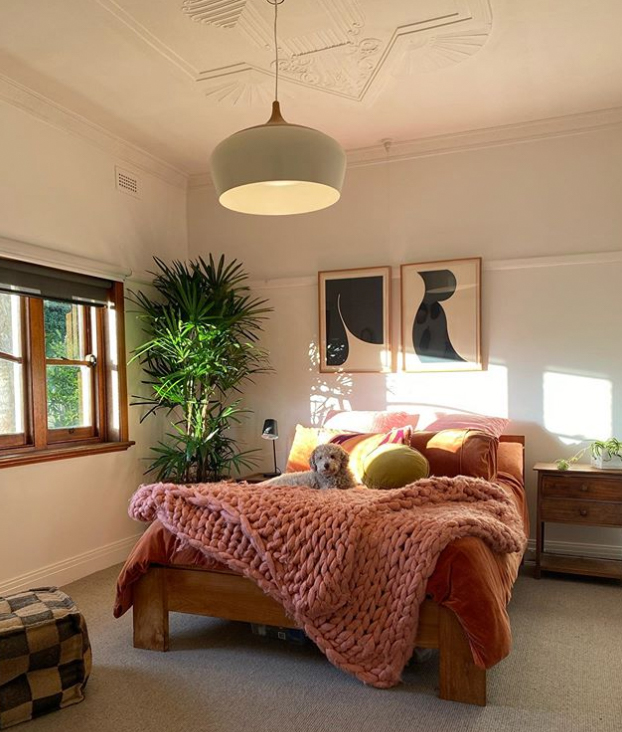 14. Bed Head
Instead of having a traditional material bed head, why not make the use of your favourite plants? Install a floating shelf, match your plant pots to your shelf colour and you'll have yourself your very own plant shelf bed head display. I also love how a couple of plants have been added a little closer to the bed which bring in the two areas so well.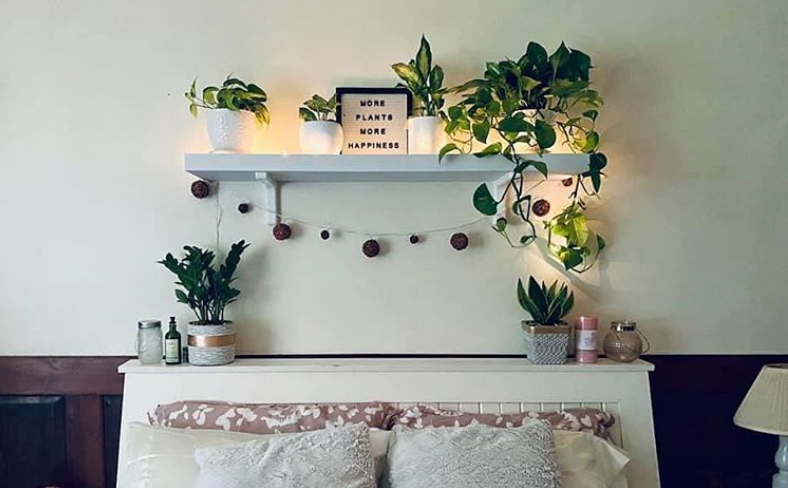 15. Dotted Around
Here is another way that floating shelves have been used to display bedroom plants! The beauty with floating shelves is that they won't take up any floor room and you can pretty much add as many as your walls can fit. I love how there are so many different plants with different pots dotted around, which gives a very organic look.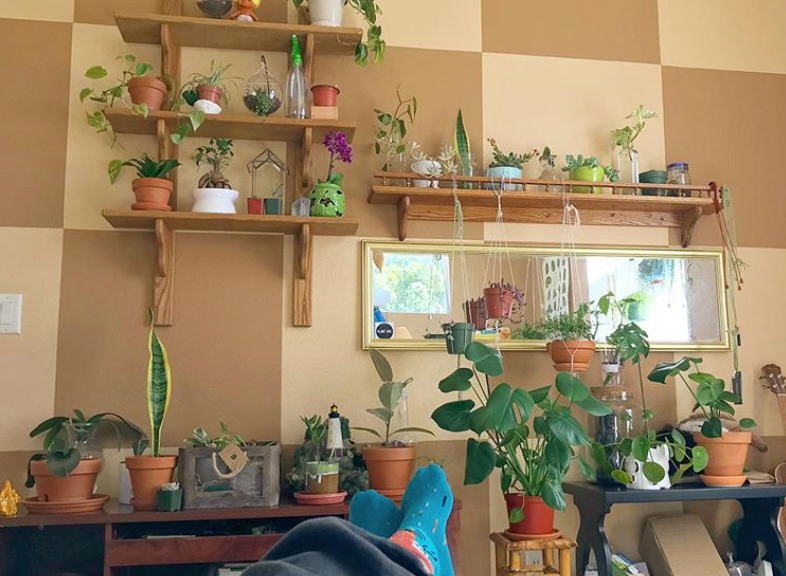 16. Freshen Up
Plants are truly a great way to freshen up any space. I always like to imagine what a room would look like without a particular item and then decide whether that certain item makes or breaks the space. And the plants in this space definitely make it! The large trailing leaves from all three of the plants in this room really enhance the laid back boho feel and compliment the rest of the decor pieces.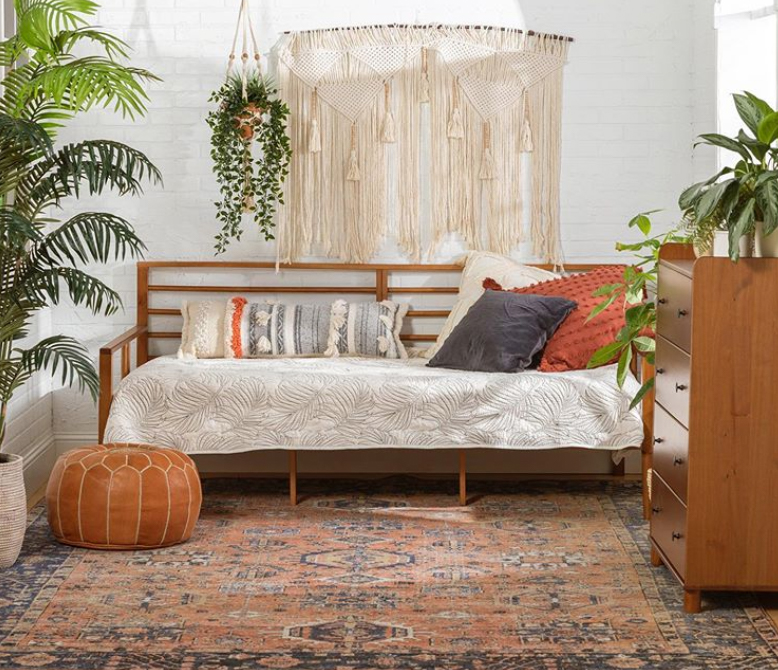 17. Feature Wall
If you love plants and nature, this is a great feature wall idea indeed! A palm tree wallpaper has been used in this bedroom to give that jungle look without going overboard with plants! I love how the hanging plants have been placed up and down the wall to enhance the natural feel of the space.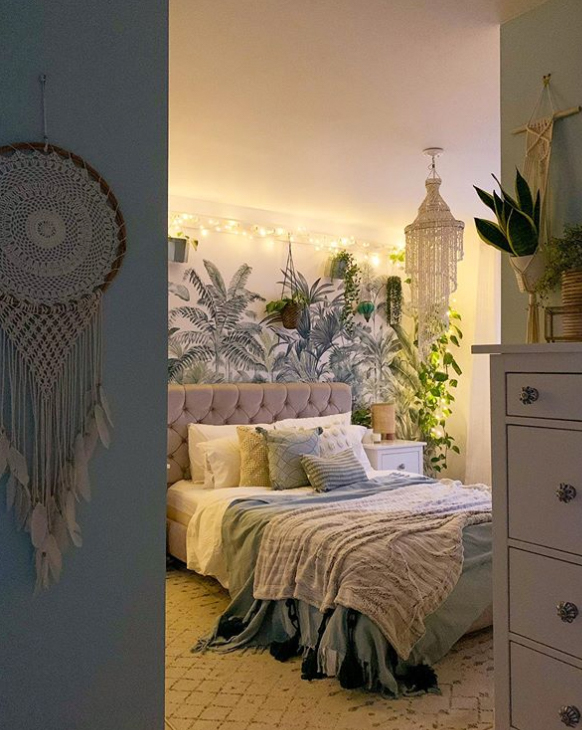 If you would rather get rid of it, here's our guide on how to remove wallpaper and then replace it with a fresh look and help from wallpaper installers.
18. Growing Across
I absolutely love the selection of plants in this space! The mini floating shelf works so well to place a singular plant on. And adding a climbing plant will look ever so gorgeous trailing and growing across your wall.
Don't worry if you have frames on your wall as you can actually use them to your advantage by draping the leaves of your beautiful plant across them. I can just imagine that once the climbing plant grows more, it can also then be draped across the light pendant.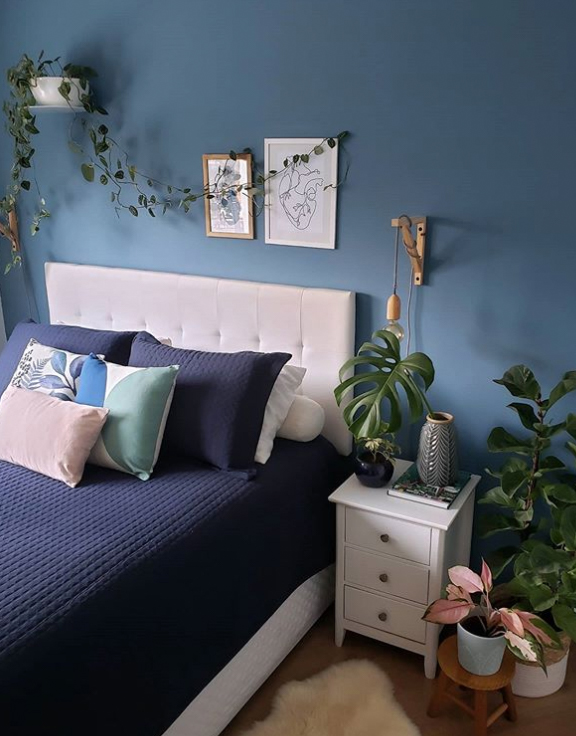 19. Oversized Feature
Wow, if you want to make a bold statement then this bedroom scene is definitely one that you should be getting some inspiration from! The simplistic decor goes beautifully with the large bold leaves of the plants that have been perfectly placed in this stylish room. The rattan basket planters that the plants are sitting in also work so well with the warm tones of the bed linen!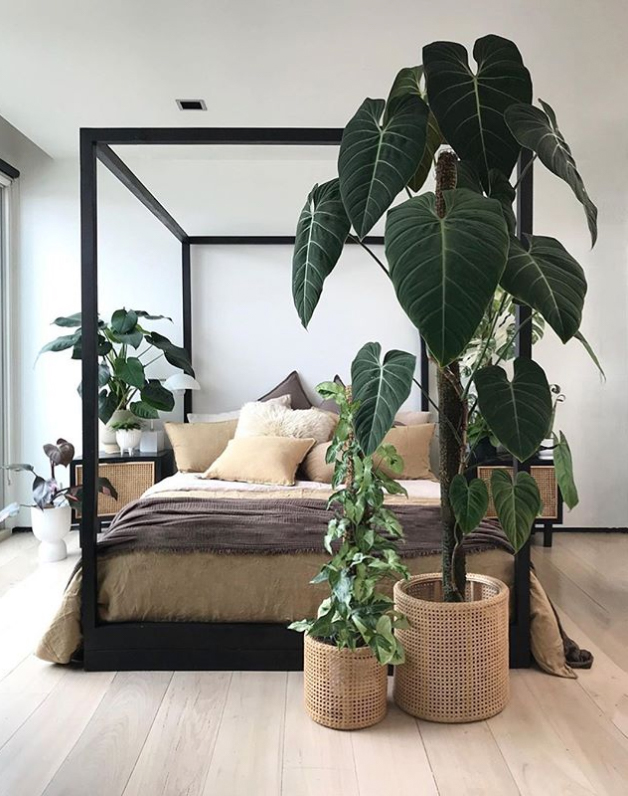 20. Hanging Plants
If you've ever wondered what you can add to your four-poster bed to spruce it up a bit, then look no further… hang plants off of it!! Your plants will not only be so happy hanging and getting lots of air from all angles, but it will be so lovely for you when you wake up in the morning and peer at your plant friends.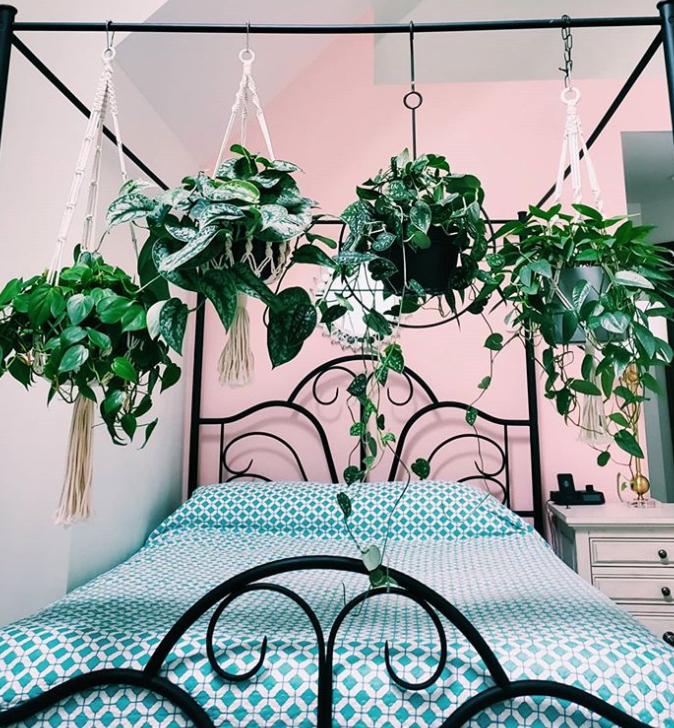 21. Careful, Kitty!
Oh, I do hope this pretty kitty watches where she stands! You wouldn't want her knocking over your plants, especially when they look so great sitting on top of the cabinetry! I can also spy a beautifully healthy fiddle leaf fig plant which is one of my favourite household plants. Just check out those amazing large leaves!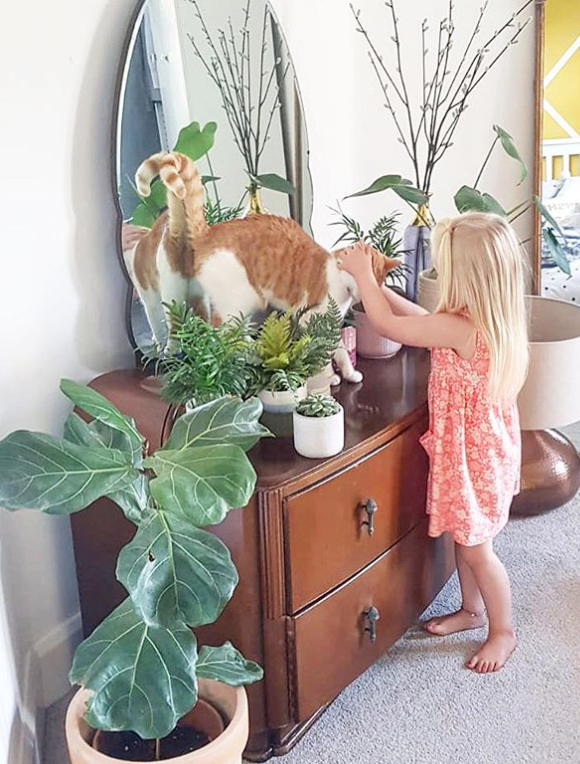 22. Mirror Image
This bedroom just looks like it goes on and on into the jungle with the addition of the large mirror on one side. I love that there are so many plants in this room and they are seemingly doubled due to the mirror image! The perfect jungalow retreat to relax and slumber in.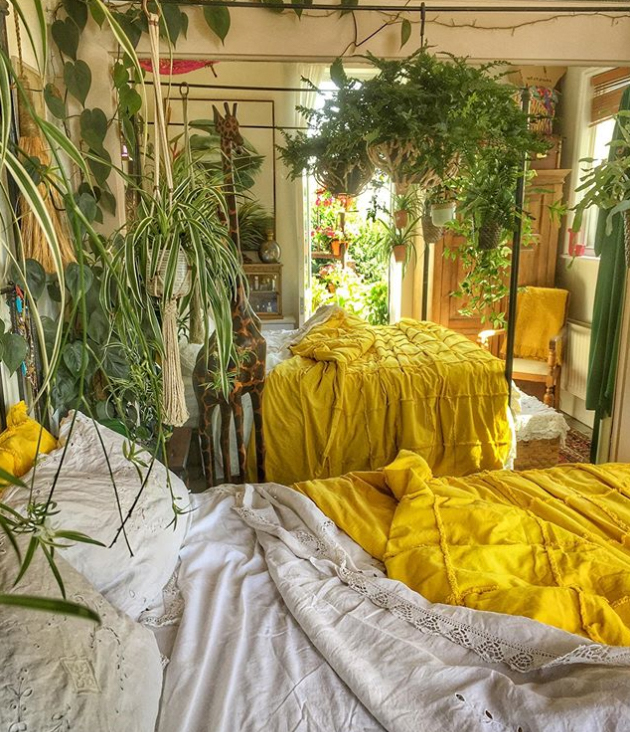 23. Ladder Shelf
Here's another neat way of displaying your plant friends! Ladder shelves are super popular and therefore are especially easy to source from most furniture shops. This black ladder shelf goes perfectly with the black bed head. And the plants look awesome in all the different pots sitting pretty on the shelving.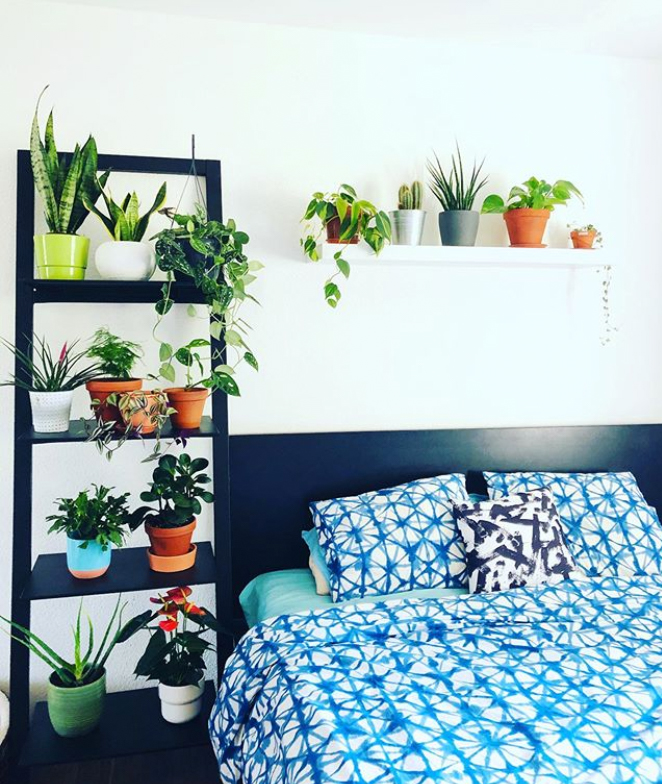 24. Rattan Plant Stands
I do love me some rattan and these plant stands are making me want to add some more rattan to my collection! Plant stands are a great way of bringing your plants off the ground, especially if you have animals that live indoors or little ones crawling around. Plus when they look this good, it's hard to resist not putting your plants on a plant stand just for the sake of it!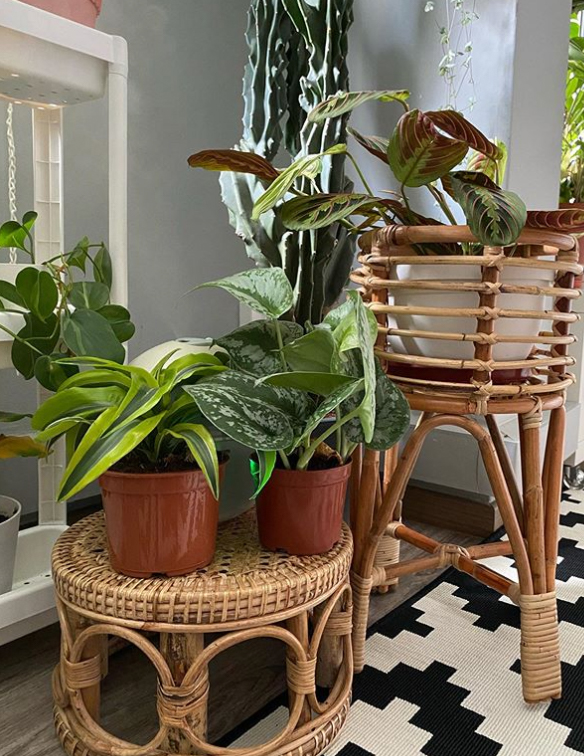 25. Small Space, Big Impact
This room goes to show that even if you have a small space to work with, you can still create a big impact with the help of plants. There is a little shelf installed across the head of the bed which works so well to keep your smaller plants off the floor and they also look so great on display!
I also love the large plant in the corner which works so well to create a big impact and a lasting impression for the small attic space.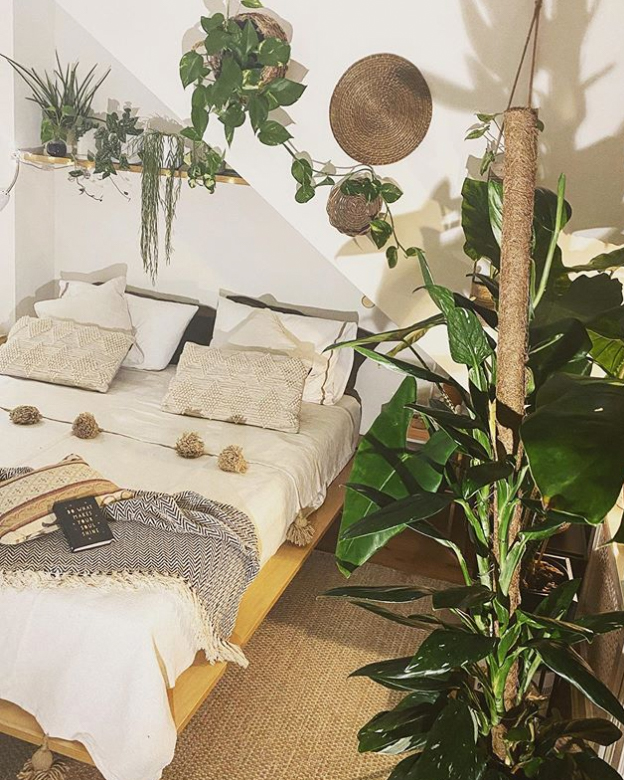 26. Plant Border
Wow, how incredible is this corner bedroom. What a cool place to put your bed! I love how the plants are creating a plant border and somewhat of a wall around the edge of the bed. Waking up in this space would make me feel so relaxed and ready to start the day.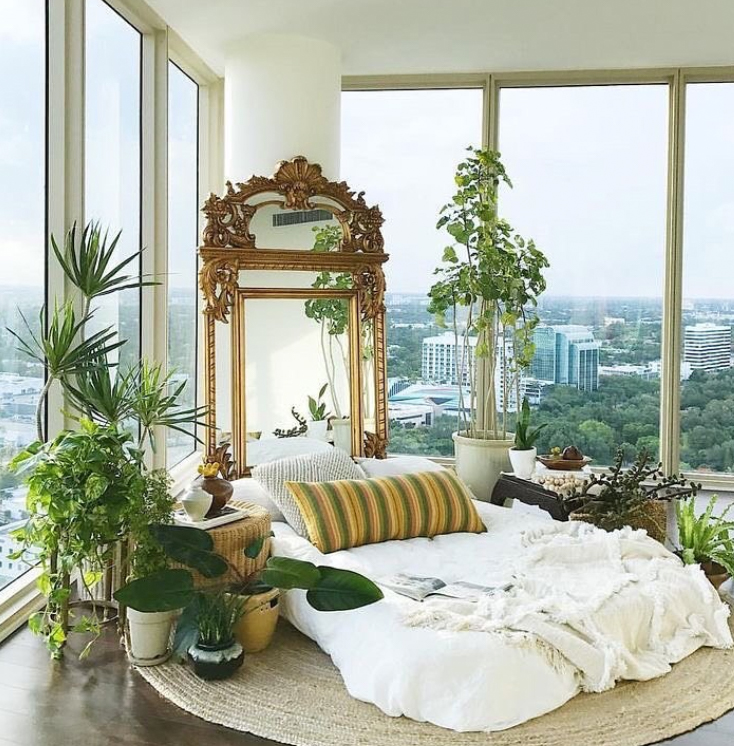 27. Bedside Decor
Bedroom plants really are a great way to decorate your space. A variegated snake plant sitting on the floor is such a great beginner plant if you are new to indoor plants. They are hardy and super easy to take care of. I also spy a fiddle leaf fig which is also a great indoor plant option!
28. Feature Plant
I love how simple, yet effective the decor in this bedroom is! The large-leafed indoor plant not only works so well as a feature for the bedroom, but it also blends in nicely with the other decor elements. The hats on the wall give a really trendy and stylish appeal whilst the pillowcases and tones in the throw blanket compliment the plant perfectly.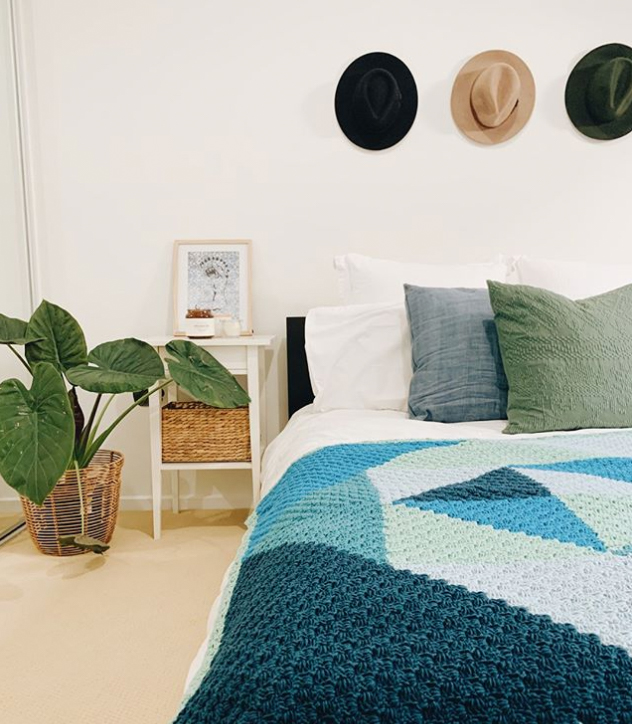 29. Monstera and Fiddle
Ah, two of my favourite plants of all time – a monstera and a fiddle leaf fig. With the right care, they really are the perfect indoor plants and look absolutely beautiful in a bedroom. The large leaves of the monstera are so unique with the different shapes and patterns it produces and the fiddle leaf fig leaves are equally as beautiful with the large irregular shapes it grows!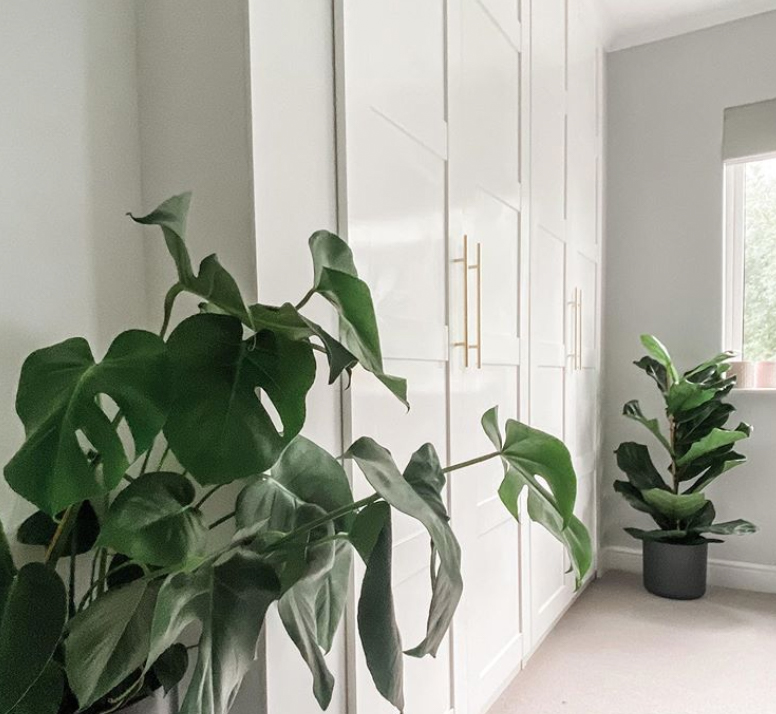 30. Relaxing Space
This space just looks so relaxing, especially with the morning light beaming in and falling on the indoor plants that look ever so healthy and happy. The large leaves are thriving in their position. However, with large leaves like this indoors, they may gather dust.
You can regularly dust the leaves or (what I like to do is) take your plant outside weekly and when you're giving it a good water, then you can also wash off the leaves which will keep them looking nice and shiny!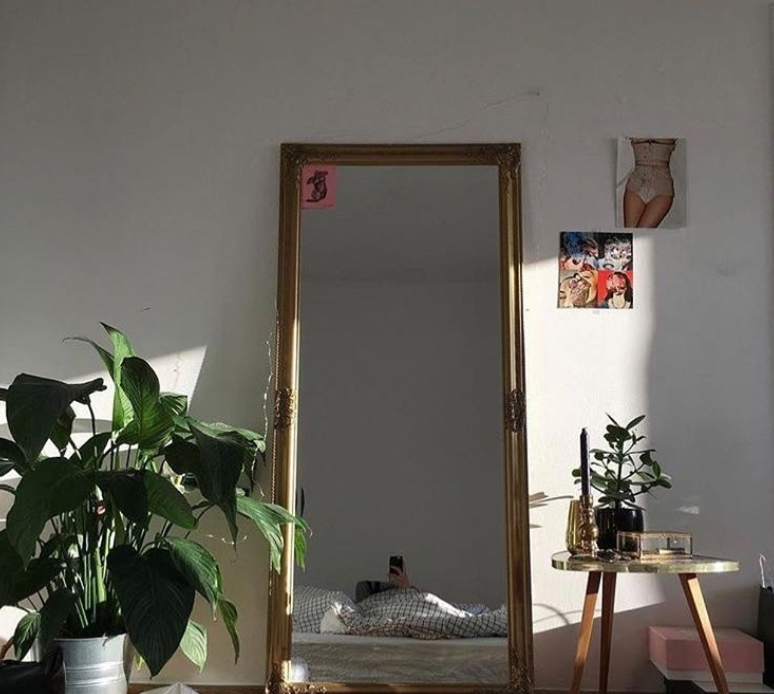 Dusting is actually just the start of caring for plants. Here's our handy guide on how to keep indoor plants alive or if you've picked an orchid, they need a little more love and care. So here's our guide on how to look after orchids.
31. Terracotta Tones
Oh, I love all the terracotta tones in this beautiful warm bedroom. Terracotta pots work so well in creating a cohesive style among the plants whilst the warmth is carried through to the tones in the doona, light pendant and wooden laptop table. So warm and inviting!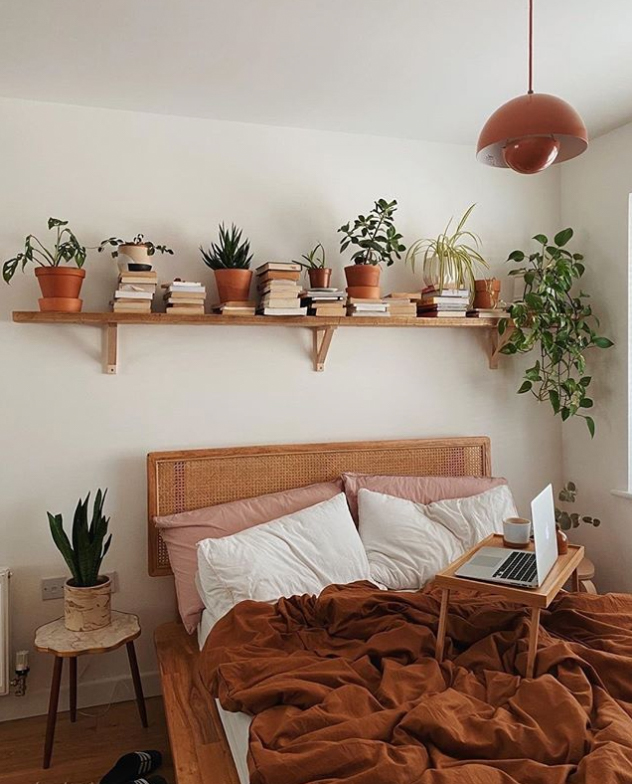 32. Pop of Colour
This bedroom is so calming with all the white on white aspects through the bed frame, bedside drawers and bed linen so bringing in plants really provides a pop of colour and adds a freshness into the space. There are plants dotted along the window sill, one on the bedside drawers and a larger one on the ground to create variation and ensure there is freshness all around!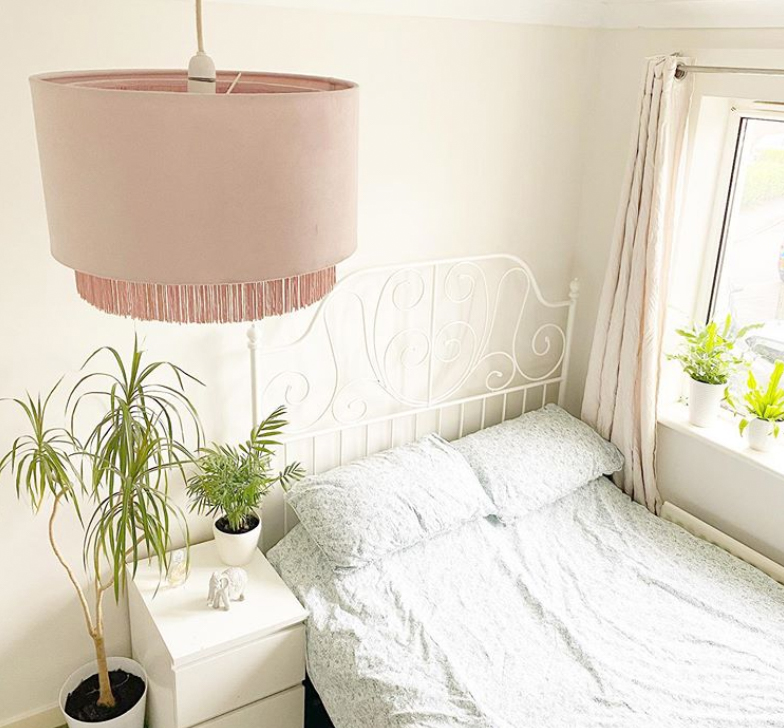 33. Contrasting Colours
Everything just works so well with the contrasting colours. Mustard yellow has been used through the curtains and feature cushions, pink is on the walls and bedding, the navy has been used through the cabinetry and greenery has been carried through from the cushions to the plants that are placed around the whole room. Stunning!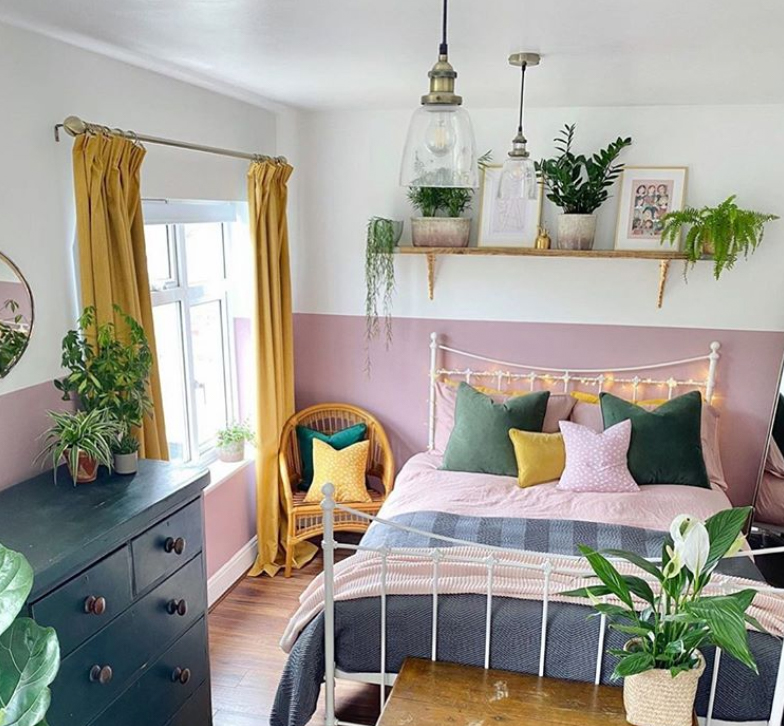 34. Homely Touches
There are so many homely touches in this bedroom from the wooden bedhead that adds so much character and warmth to the photo frames placed around that make the room feel like a home. And the addition of plants really completes the area by bringing some colour and life into the space.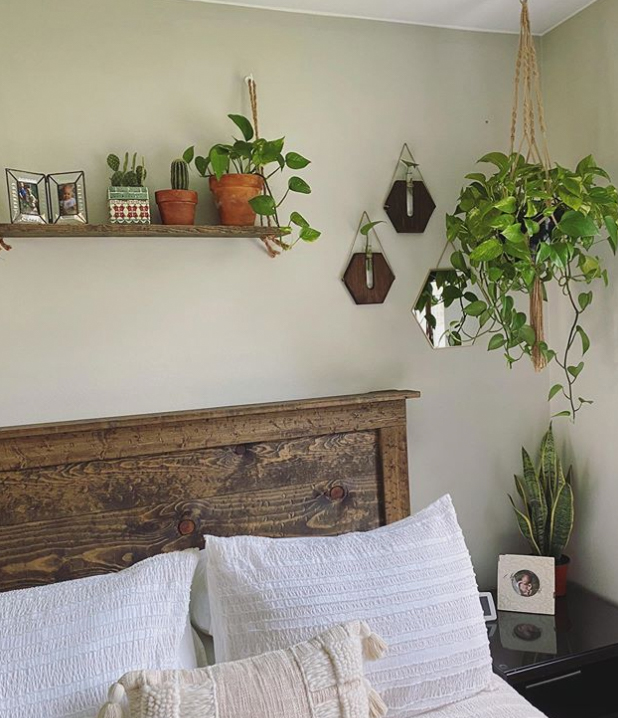 35. Reading Nook
And last but not least is this bedroom space that is the perfect reading nook. The white simple bed linen is perfectly paired with the hanging greenery as well as the plants sitting on the window sill that are propagating. There looks like there is plenty of light coming in from the large window that the plants are lapping up!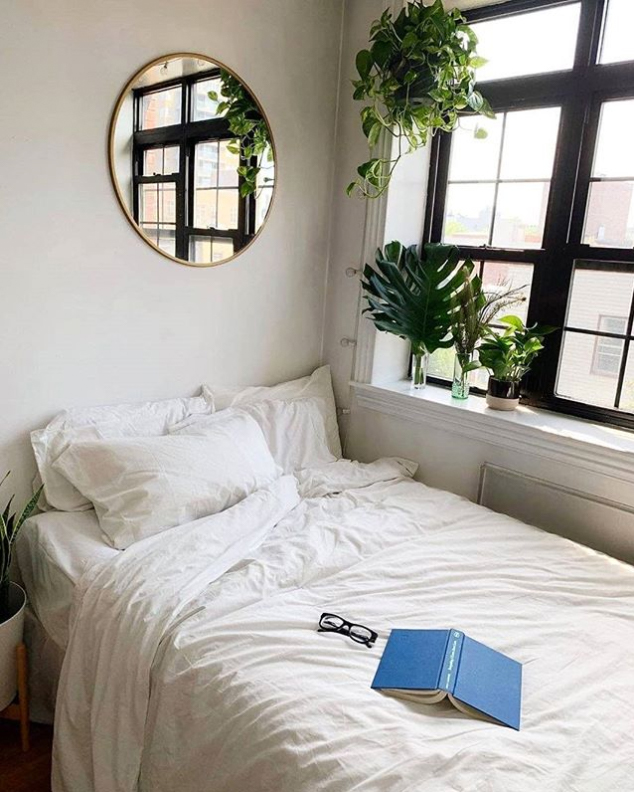 So there we have it – 35 bedroom plants and ways you can incorporate them into your space! I especially love the bedrooms that have plants displayed at different levels and in different ways such as hanging, on a shelf or planter and on the floor. And my bedroom plant picks would definitely be monsteras, fiddle leaf figs and ivys.
What do you think? How are you going to display your plants and which plants will you be adding to your bedroom? Let me know in the comments below!