If you're not sure what kind of bedroom to create, you're in luck. While some styles fade, black and white bedrooms are always in fashion. The monochrome look is a classic choice that will last the test of time. Plus, black and white bedrooms allow you to create a beautiful foundation that you can build upon with colour whenever you like.
Ready to see why this is the most popular colour combination? Let's dive on into these 27 black and white bedroom ideas.
1. White bed
Sometimes it's best to keep things simple. And that's exactly what this bedroom does. It's perfectly styled with off-white walls, a sweet white bed and beautiful lush bedding. I really like the grey knitted throw – it's such a great addition to the bedding.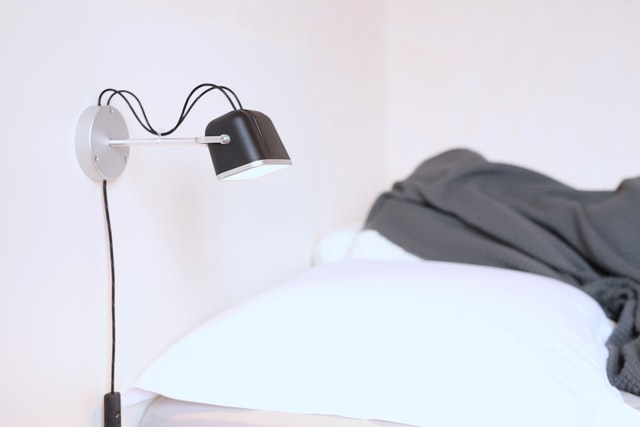 2. Dark wall
Create contrast in your bedroom by painting an entire feature wall soft matte black. Complement the feature wall with artwork and bedding featuring similar tones.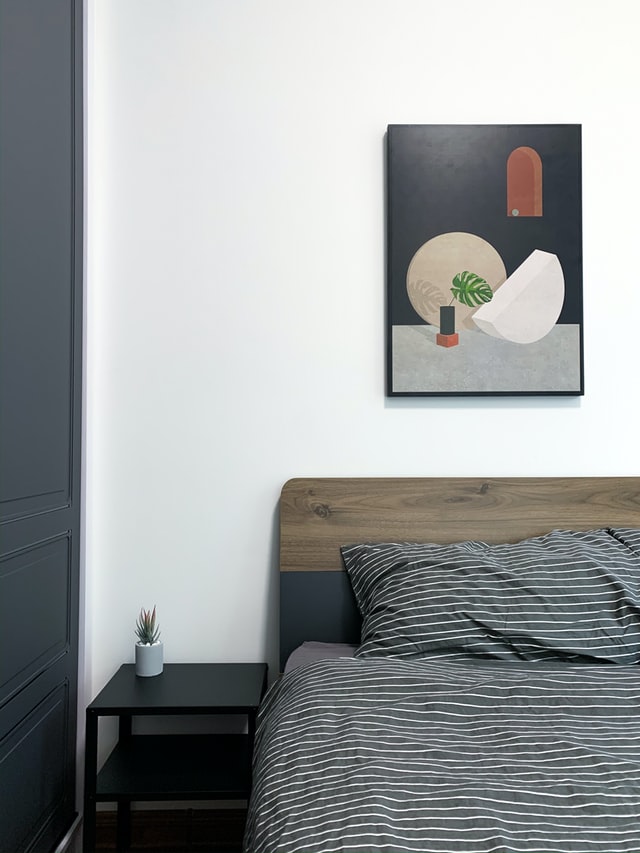 3. Colour pops
Sometimes all you need to do to a black and white bedroom to make it complete is to add a colour or two. Burnt orange cushions look awesome with monochrome colour palette and they add plenty of warmth. Or, you could incorporate bold colour pops in an artwork.
4. Tones of grey
This bedroom design is a slight variation of the classic black and white combination. It's a little more muted and cool. What makes it this way is the shades of grey, from the dappled grey wallpaper to the charcoal bedhead. Adding timber elements brings in some necessary warmth when going for a black, white and grey combo.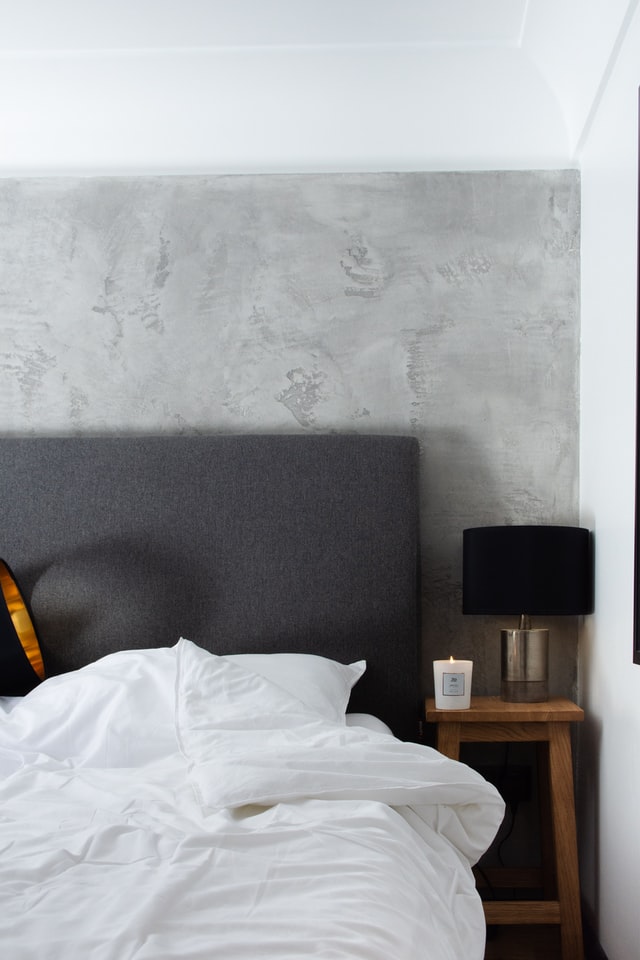 5. Feature cushions
There's nothing like a pop of saturated colour to completely elevate a monochrome space. The good thing about a simple black and white bedroom is that it provides the perfect blank canvas for adding pops of colour. And of course the beauty of cushions is that you can switch them out and change colours whenever you like!
6. Wallpaper
Bring a dose of graphic black and white into your mainly grey bedroom with a striking wallpaper print like this one. For more inspo, also check out these bedroom wallpaper ideas. Then once you make your choice, you just need a bit of help with the wallpaper installation.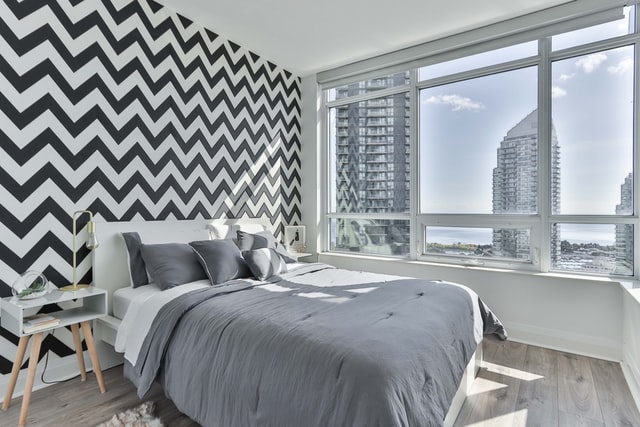 7. Classic style
Create an elegant bedroom by using high-end furniture pieces like a sleek black dresser. The truth is that you don't have to blow your budget on expensive furniture. You can create a lookalike luxe dresser by switching out the old handles on your pre-existing dresser and adding modern finishes.
Want to hand over the dresser build to an expert? Hire someone to do the dresser assembly for you.
8. Sleepy sanctuary
Create a cosy black and white bedroom by paying attention to all the details. Missing out on the little things is where people usually get unstuck when it comes to design. So carefully consider the kinds of cushions, prints, and patterns you're going to use – because they can make all the difference!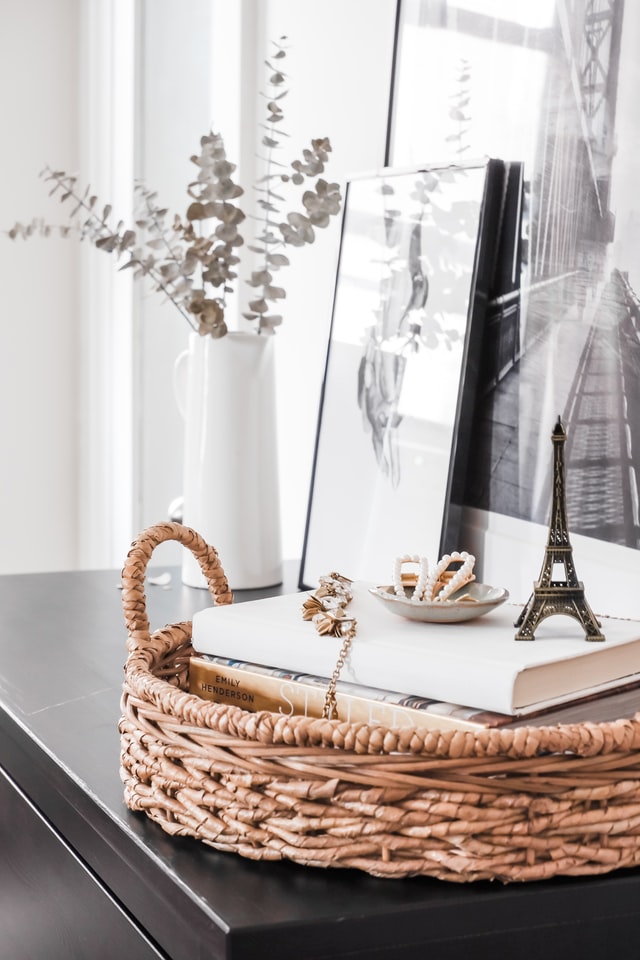 9. Add black and white décor to windowsills
If you want to hang pictures or add decor to your room but don't have space (or you're in a rental), take your window sills into account. These are handy little spots for placing items like bedroom plants, candles, books or picture frames.
10. Mix patterns
A fresh, clean and simple black and white bedroom here, with a mix of monochrome patterned bedlinen, cushions and throws. I like the white bedside table blending into the wall, and the unusual black painted window shutters.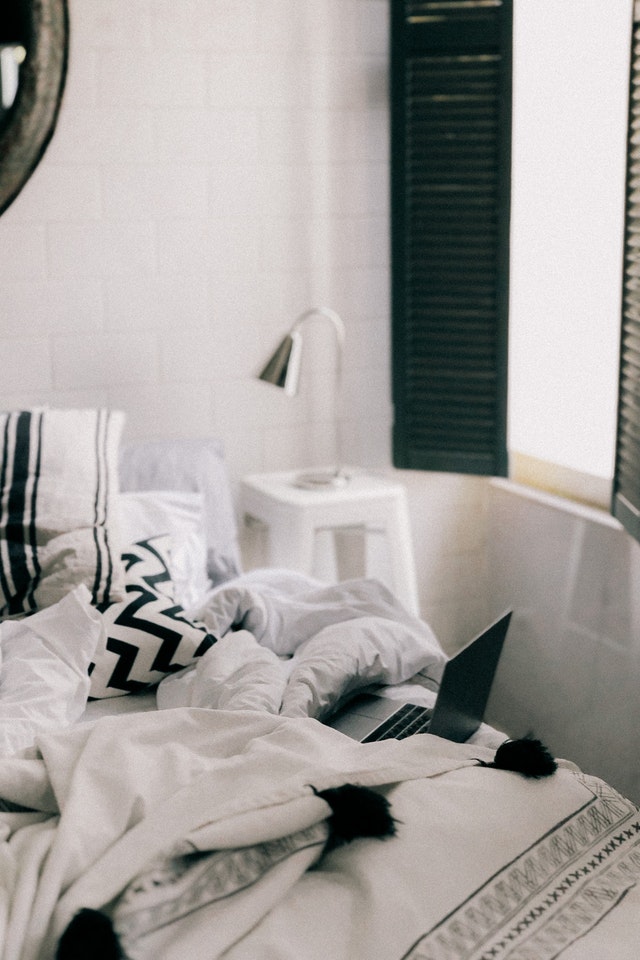 11. Add potted plants
I'm a big fan of plants – the more the better, in my opinion! I know that not everyone is a green thumb. But the truth is that you can find some really fabulous plants that don't require a lot of work. Peace lilies are my go-to plant. They're so easy to look after and all you need to do is water them when they're looking sad.
12. Charcoal and white
This bedroom looks like a relaxing paradise to lounge around in. I'm obsessed with the charcoal and white linen that looks oh-so-comfortable. Plus, the warm grey wall looks stunning with the jet black bedhead.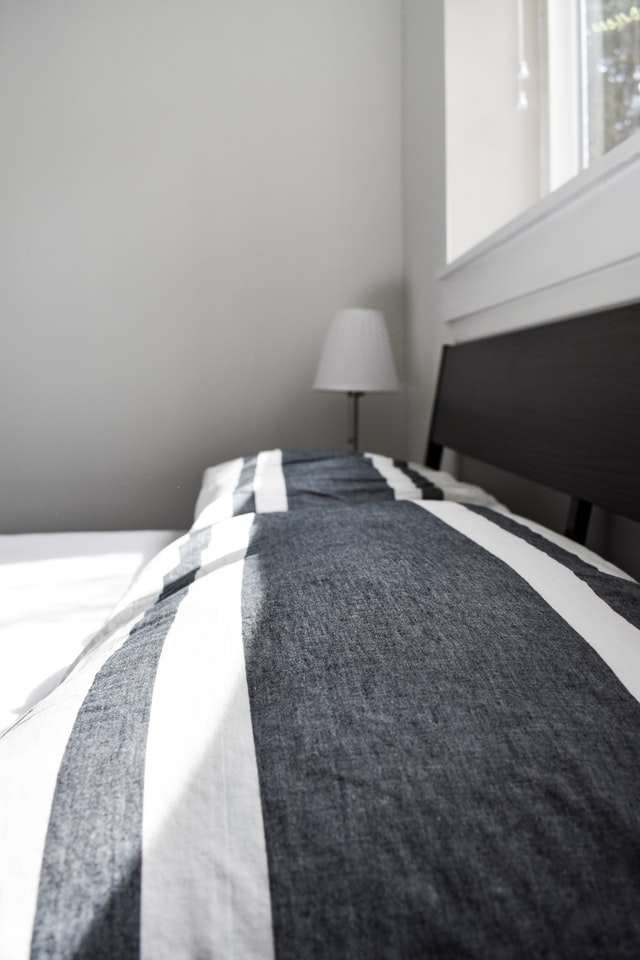 13. Feature lights
What's one way to fancy up your bedroom and set it apart from the rest? Statement pendant lights, of course! Lighting is especially important when you are bringing in dark tones to your bedroom so it's worth considering a mix of light sources, including ambient and task lighting.
14. Boho vibes
Create a casual, creative space by playing around with textures and patterns. A simple Boho bedroom design for example might involve décor in the form of hats hanging on the walls, a variety of patterned black and white cushions, a timber bench at the end of the bed, and a beautiful vintage dresser.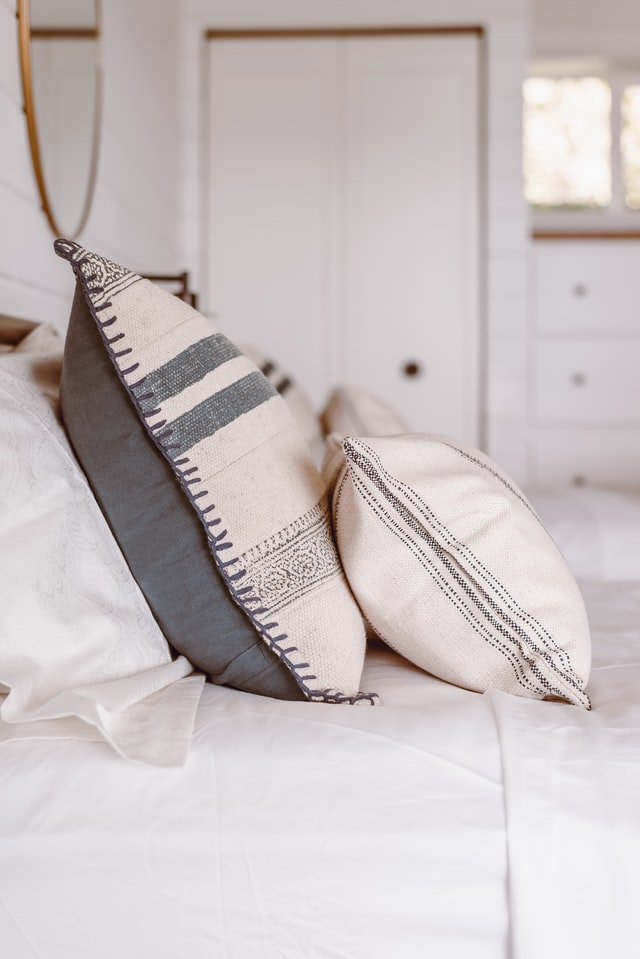 15. Floating shelf
A floating shelf is a simple way to add to the visual appeal of your bedroom. It's a great choice for those who want to inject a creative touch into their bedroom design but still want to keep things minimal. It's the perfect spot to place your black and white décor pieces.
16. Hang a branch
Add a rustic touch to your modern bedroom by hanging a branch above the bed. This doesn't have to be complicated either. Simply find a large branch and some foliage in your backyard or a nearby park, secure some string to either side of the branch, and hang it up over a nail in the wall. Plus, a piece like this will really stand out against a beautiful background, like this black feature wall!
17. Four-poster bed
Create a classic space while keeping things contemporary and coastal with dark timber touches (like a dark timber four poster bed) combined with warm neutrals. It's such a relaxing colour palette. For extra drama, add in floor-to-ceiling curtains.
18. A touch of velvet
I'm a sucker for velvet, especially velvet seating. So to add a luxe touch to an otherwise basic black and white room, why not add a dark grey velvet bench seat at the end of your bed.
19. Room with a view
If you have an amazing view out of your bedroom window, a black and white bedroom will ensure your inside décor doesn't compete with the colourful outside world! A simple black bedframe, white bedding, grey panelled walls and a black pendant light are all you need to act as a subtle frame for your view.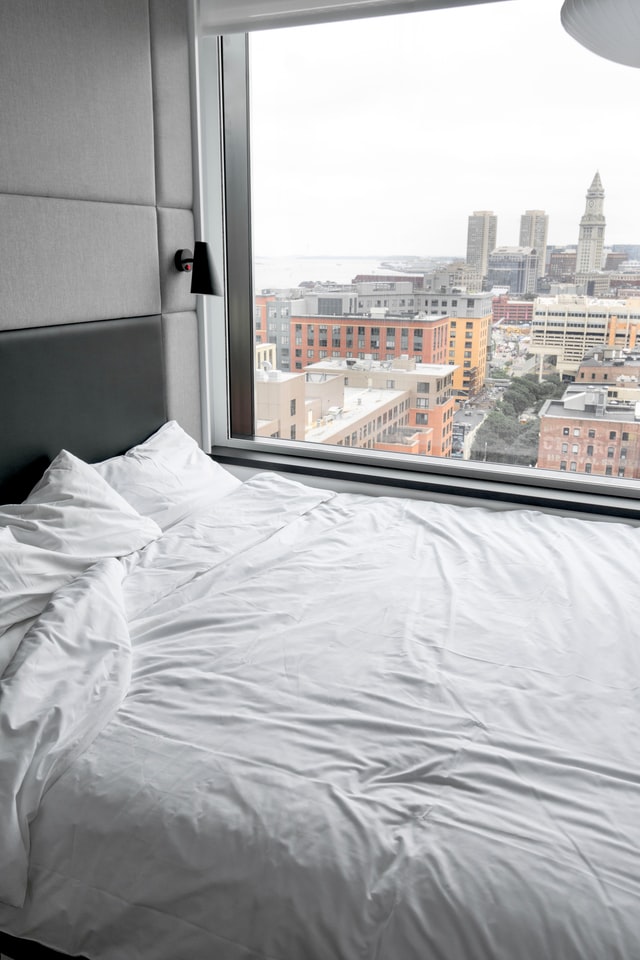 20. Sweet corners
It can be easy to just add practical pieces of furniture to your bedroom like a bed, side tables and a lamp. But no bedroom is complete unless every detail has been taken care of! So as you prepare for your black and white bedroom renovation, consider other elements like decor. Some options: vases with dried flowers or fresh greenery, mirrors, stools and bench seats, baskets and magazines. It's these little things that will make your bedroom stand out from the rest.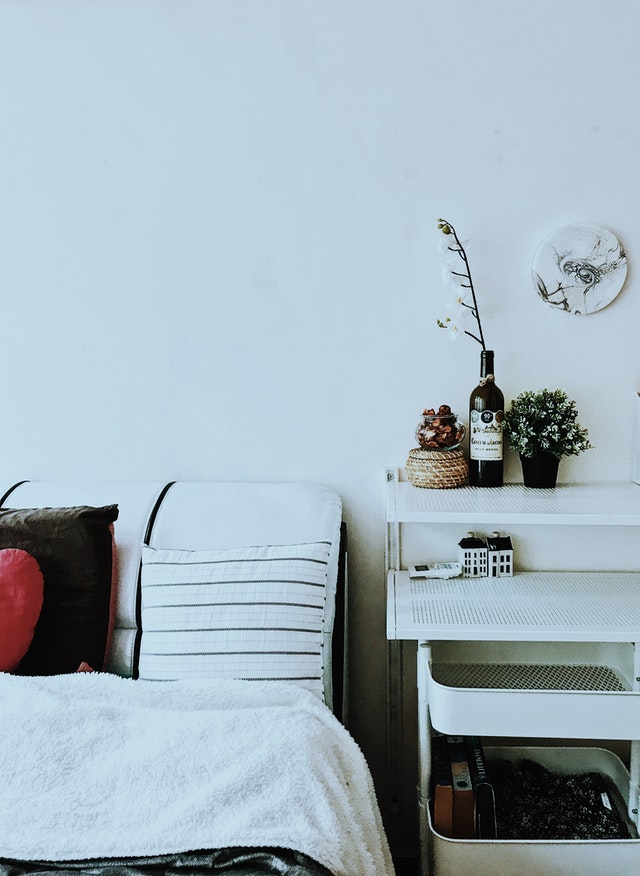 21. Vintage style
Take your bedroom design back in time by adding old-school touches to your space. Now, this doesn't mean you have to make everything old… But you can combine the old with the new by using modern materials like smooth black metal, with vintage touches like an old repainted wooden chair as a bedside, brass clocks or other décor, and an old-school style lamp.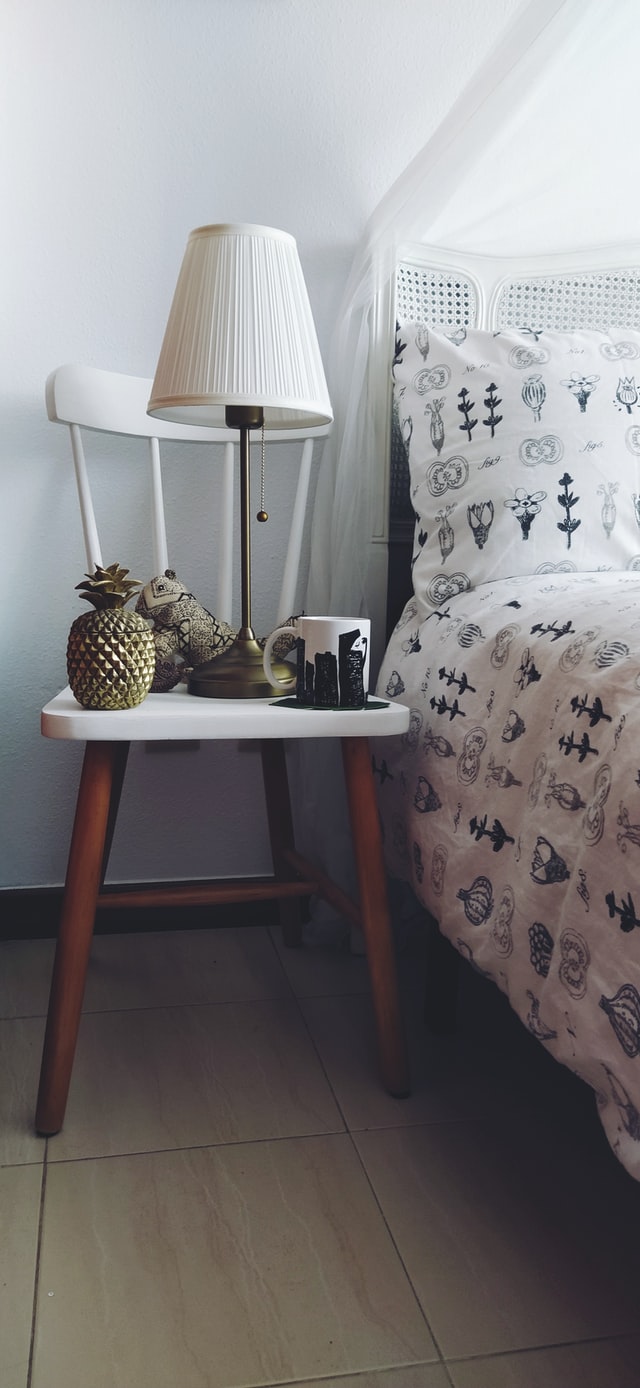 22. Ikea wardrobes
Incorporate some smart storage into your bedroom with an IKEA wardrobe. Their large robes are so versatile, coming in all different sizes and colours – so you're bound to find something that suits your black and white bedroom. And if you don't want to do the building yourself, there are plenty of wardrobe experts who can do the assembly for you. Why not consider adding in a tiny office space!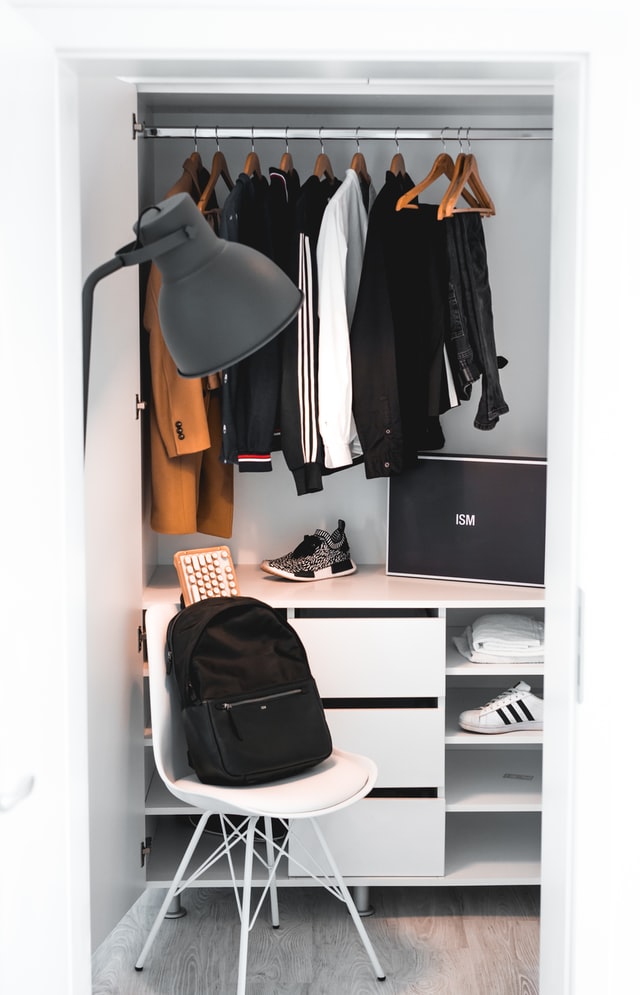 23. High contrast
While this room is mostly white and light, there's plenty of black in the mix. From the black and white doona cover to the black bedframe against the textured white wall, the little touches make all the difference. Mid grey curtains connect the high contrast elements.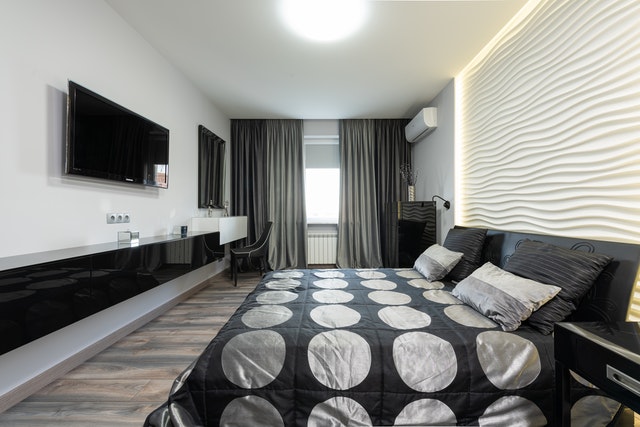 24. Rattan bed
Soften your black and white bedroom with a natural material like rattan. This woven material is durable and versatile, making it perfect for any kind of space. The best thing about it is that it will go with practically any colour scheme. But it looks especially great with other neutral colours like dark black timber, white and light grey.
25. Plants all around
If there's one really easy way to spruce up your bedroom, it's by adding lots of plants! House plants can boost your mood, productivity, concentration and even your creativity. Plus, they're instant stress relievers that are constantly producing oxygen. So if you've got a blank space that you want to switch up, why not purchase some of these green friends from your local nursery.
26. Touches of black
Even if you have a bedroom colour scheme that's mostly white or ecru like this, you can add plenty of impact by bringing in just a few black accents. Here, it's the textured cushions as well as bedside décor.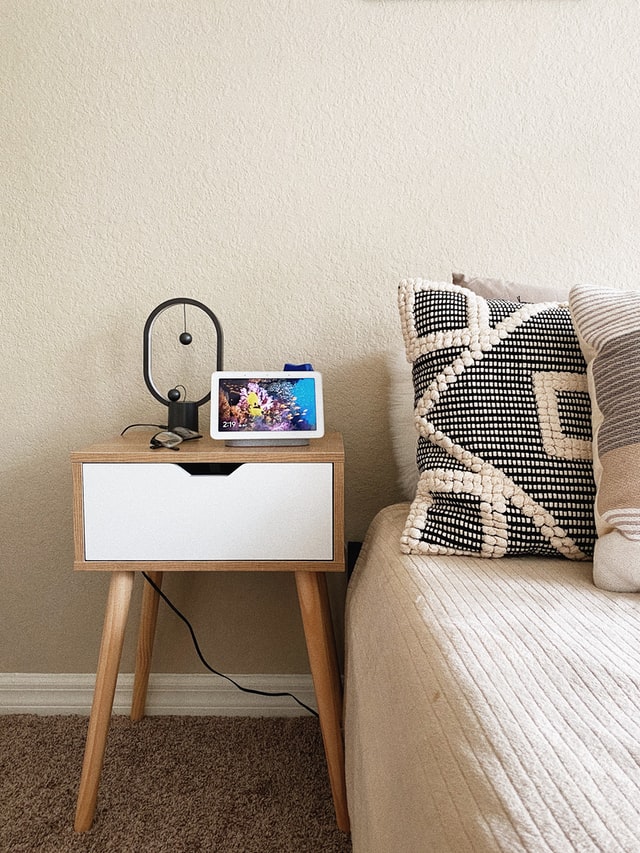 There you have it, 25+ black and white bedroom ideas. Which design was your favourite? I personally love the more simple, minimal styles because they serve as the perfect foundation to build upon with colour and decor. Comment and tell me which one you loved the most!