If you're not sure what kind of bedroom to create, you're in luck. While some styles fade, black and white bedrooms are always in fashion. They're a classic choice that will last the test of time. Plus, black and white bedrooms allow you to create a beautiful foundation that you can build upon with colour whenever you like.
Ready to see why this is the most popular colour combination? Let's dive on in to these 35+ black and white bedroom ideas.
1. White bed frame
Sometimes it's best to keep things simple. And that's exactly what this bedroom does. It's perfectly styled with sleek grey walls, a sweet white bed frame and beautiful lush bedding. I really like the knitted throw – it's such a great addition to the bedding.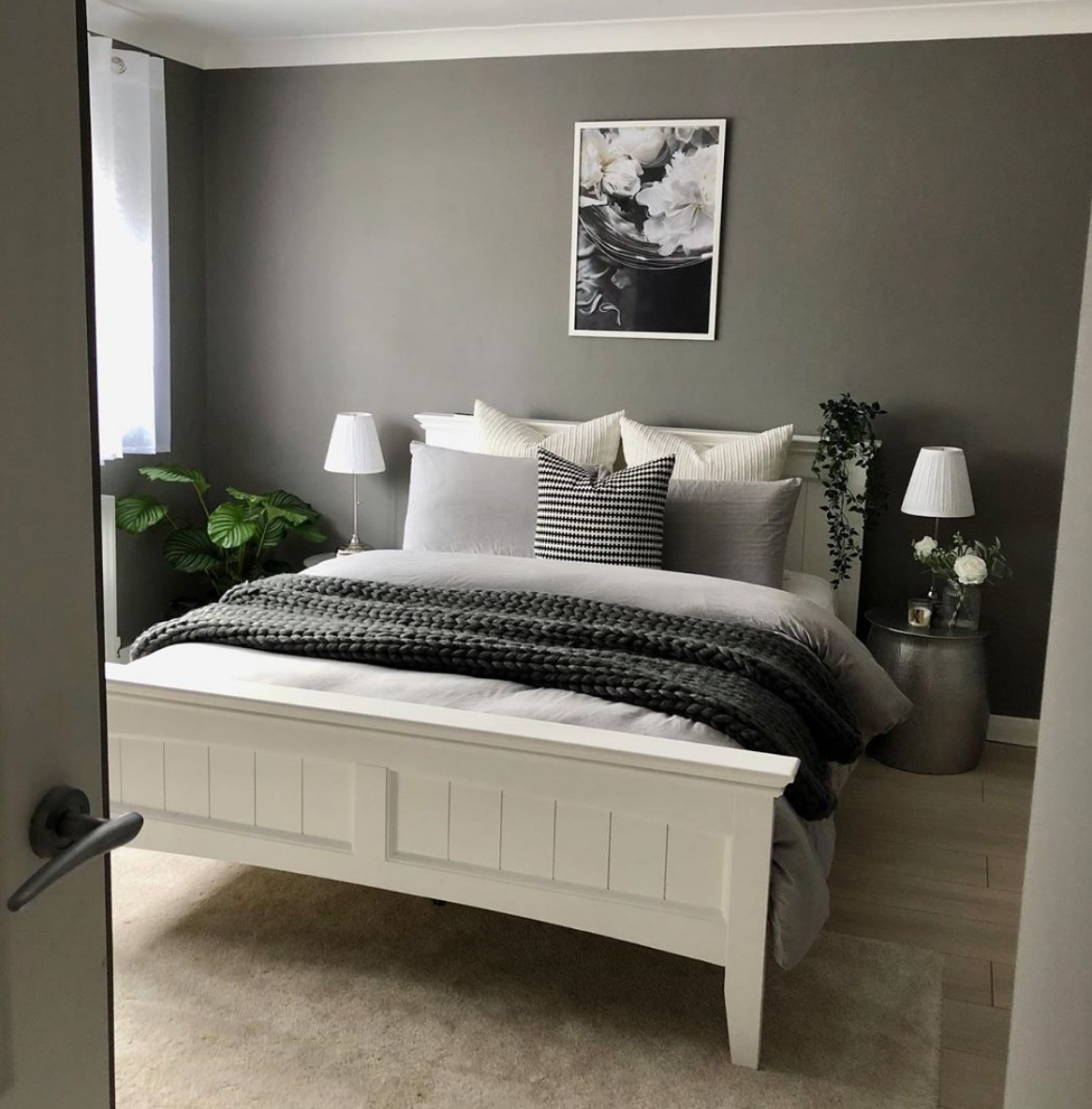 2. Dark wall
Create contrast in your bedroom by painting an entire feature wall black. But don't be confused, this wall isn't your plain Jane feature wall. It's fancy and glam with a shelf for framed prints, candlesticks and a lovely put of dried pampas grass. Plus, I love the warm lights that add a gorgeous glow to the room.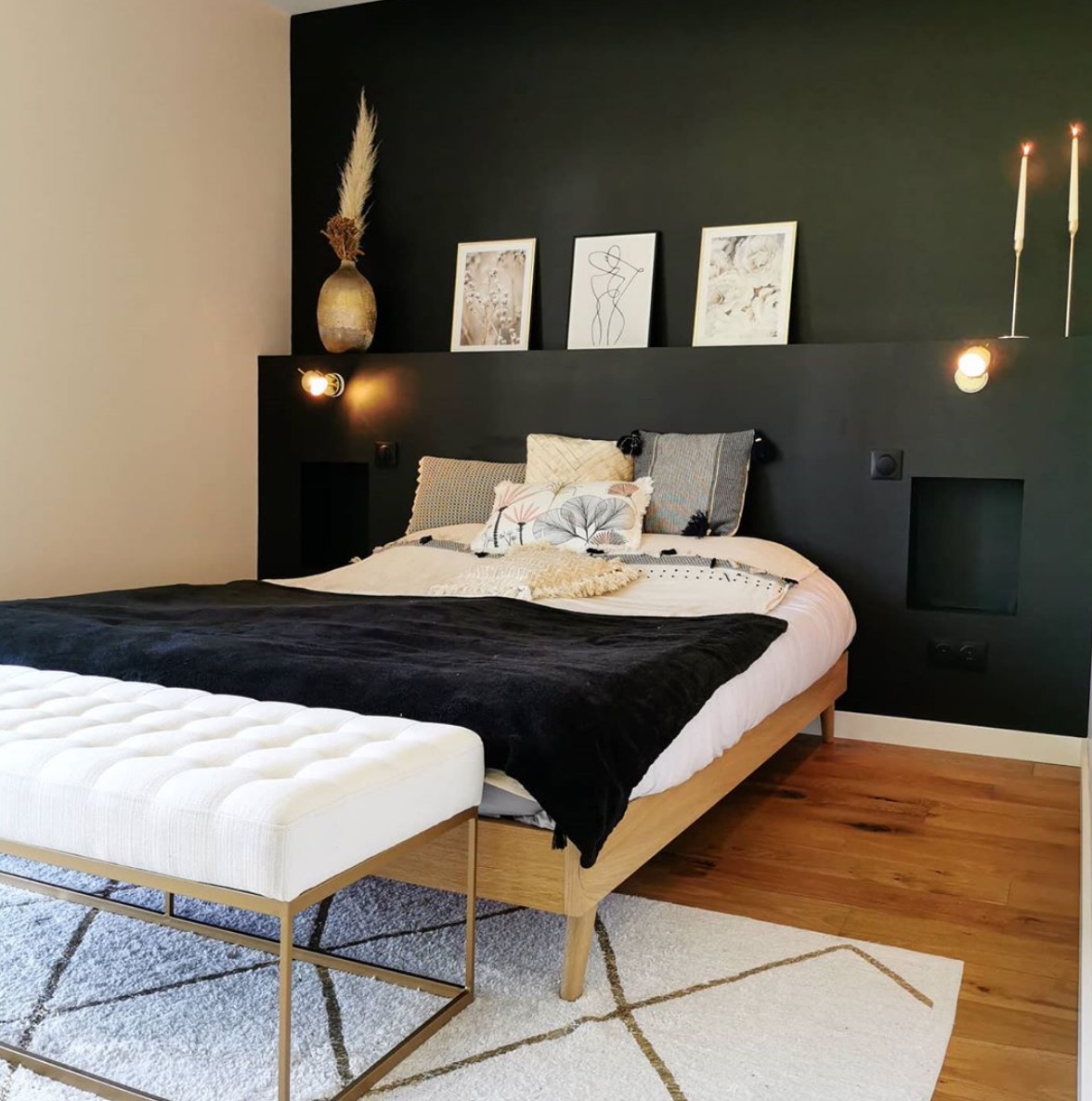 3. Turn it into a shelf
If you want to hang pictures or add decor to your room but don't have space (or you're in a rental), take your window sills into account. These are handy little spots for placing items like bedroom plants, candles, books or picture frames.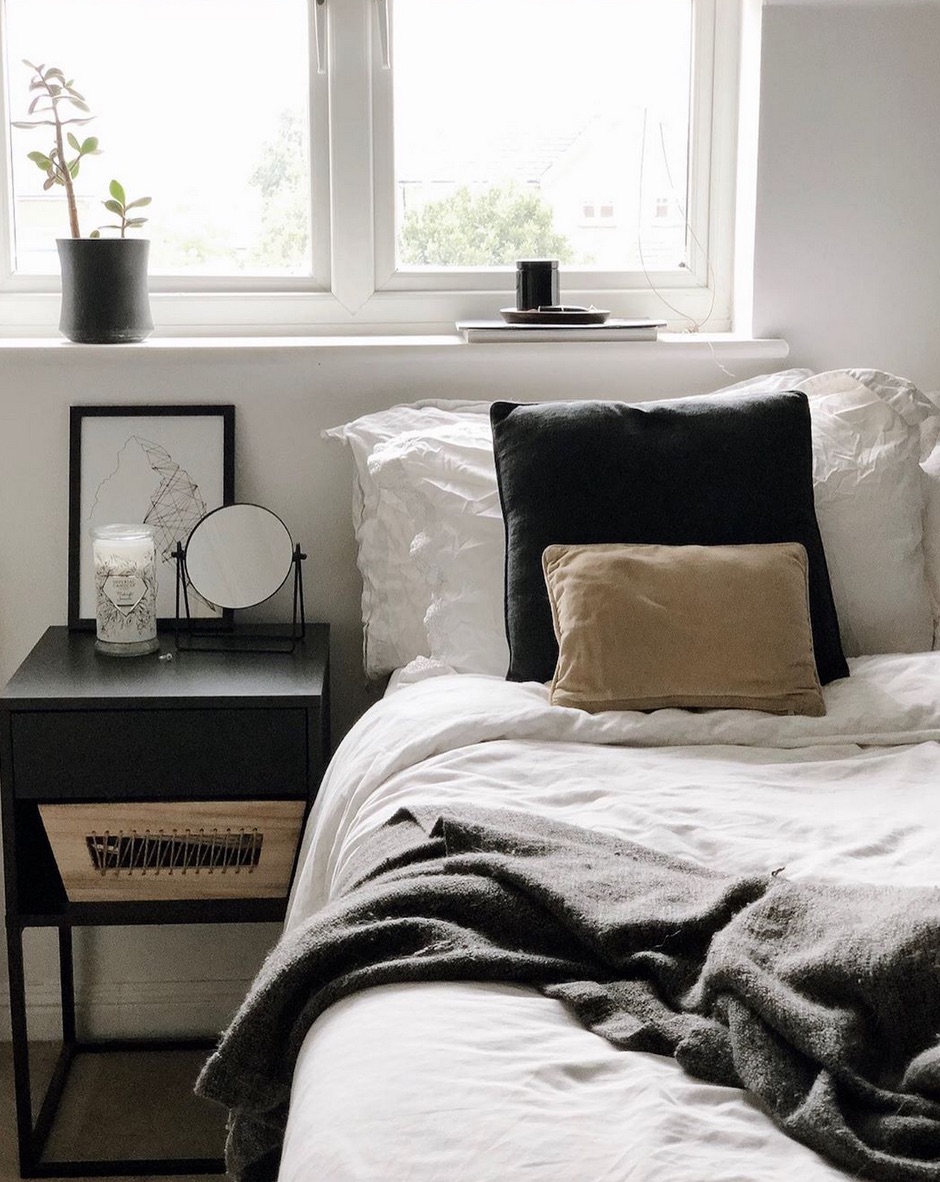 4. Different patterns
This fresh black and white bedroom is absolutely gorgeous! It's so clean, crisp and beautiful. Something that really stands out about this room is that the shiplap is installed in two different directions, which creates detailing. First, there's the diagonal shiplap at the back and then there's the shiplap that's standing vertical and tall behind the bed. Find a carpenter near you who can help you to recreate this look in your bedroom.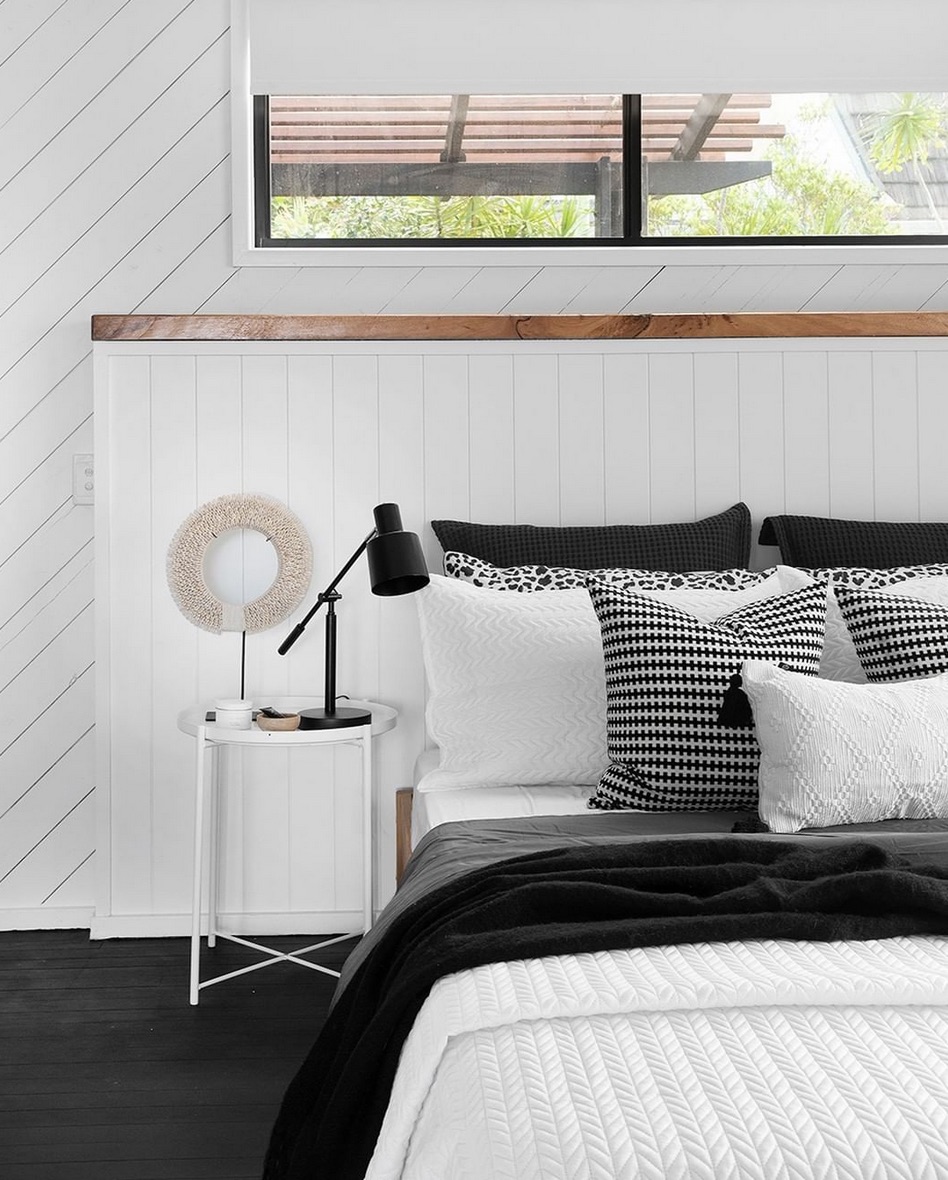 5. Black throw
Sometimes all you need to do a white bedroom to make it complete is to add a colour or two. In this case, the burnt orange cushions add plenty of warmth. And then there's the black throw and black-and-white art print that add contrast.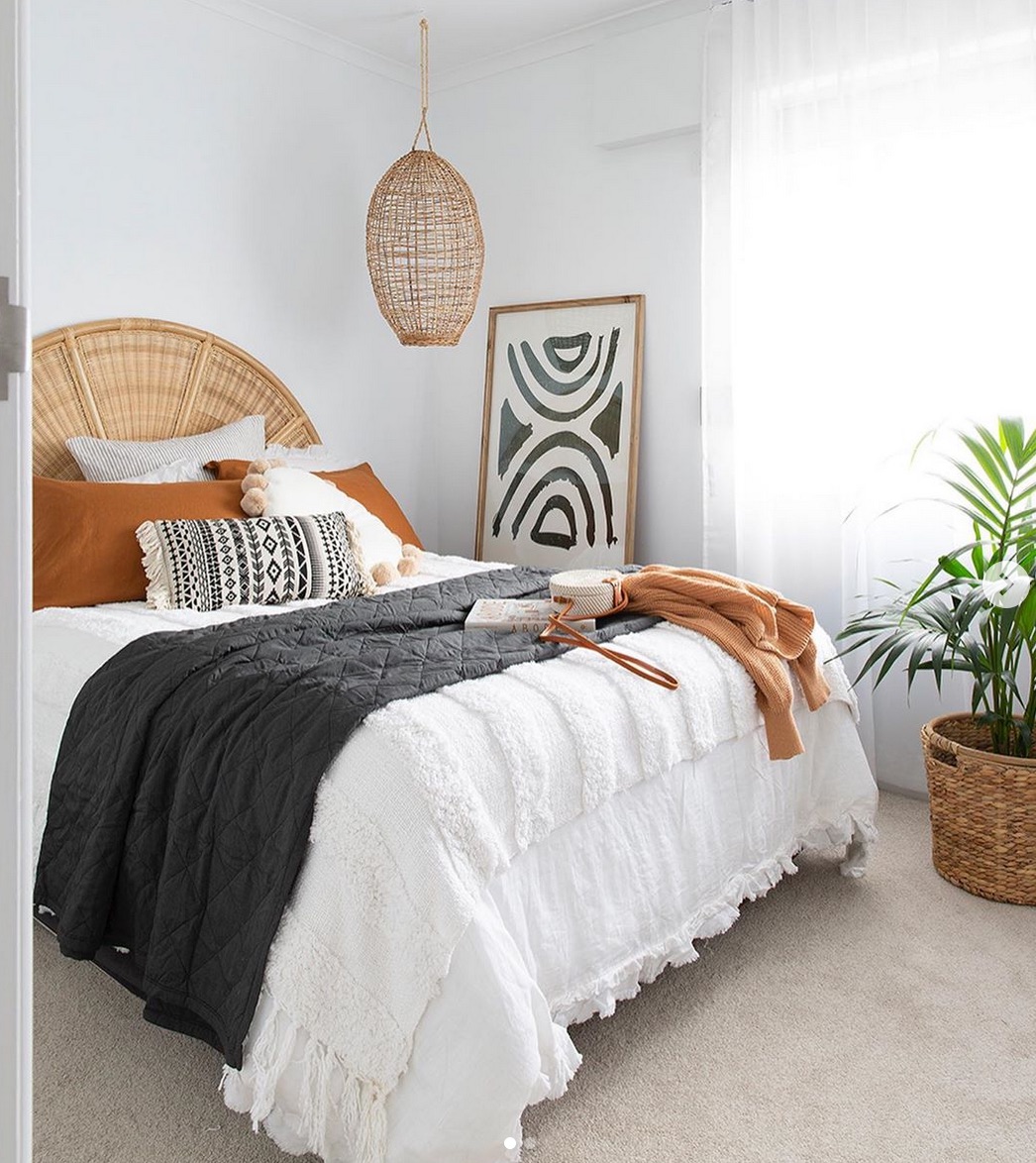 6. A touch of grey
This bedroom design is a slight variation of the classic black and white combination. It's a little more muted and cool. What makes it this way is the grey cushion and the dark green linen that you can see on the bottom right of the picture.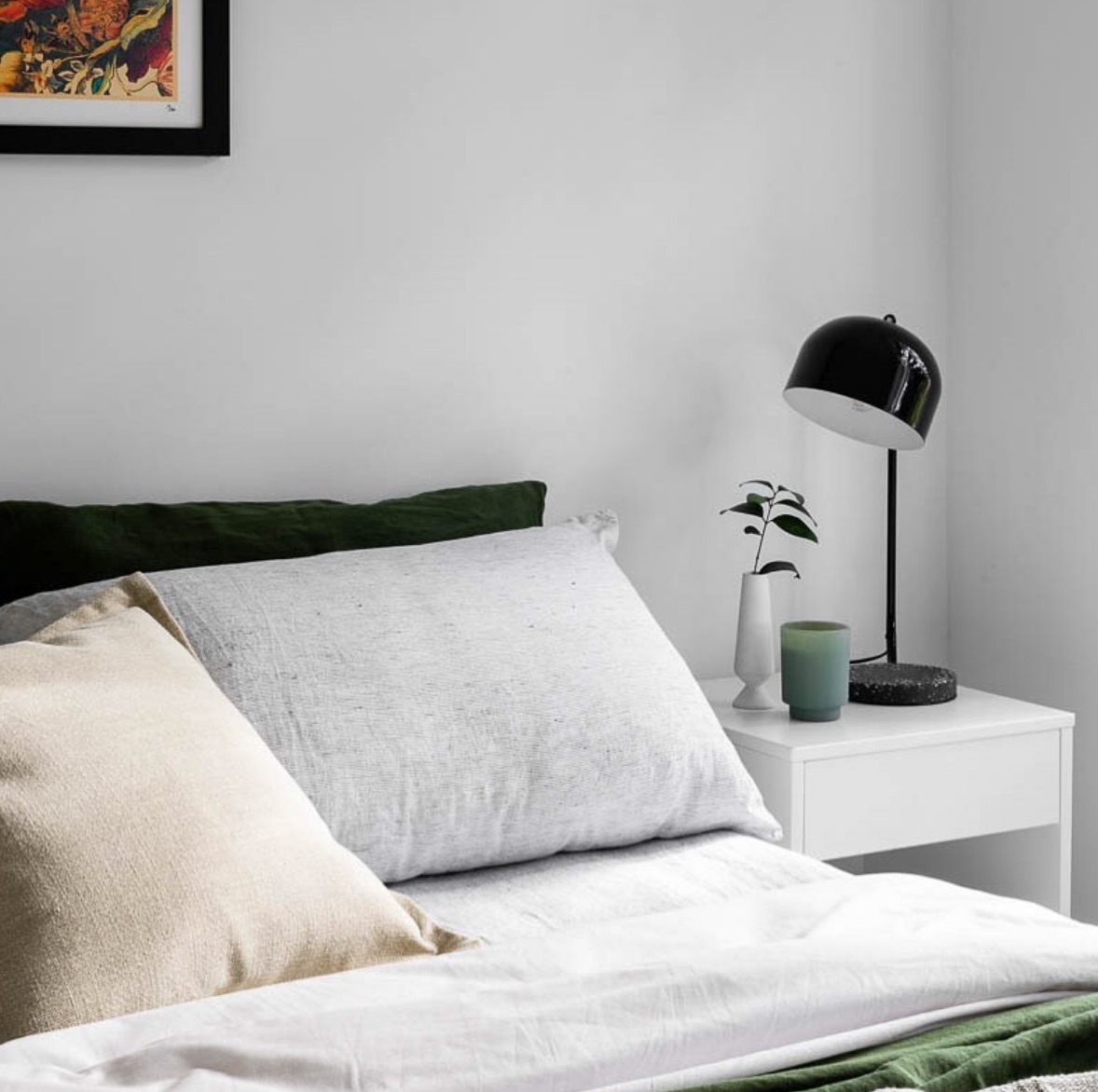 7. Add a sign
A bedroom isn't complete without allowing your personality to shine. One way to do this is by hanging one of your favourite family pictures or quotes on the wall. And this one is too sweet – "do what makes you happy"!
This gender-neutral wallpaper makes it the perfect choice for a guest bedroom. But if you want more, check out these bedroom wallpaper ideas and then once you make your choice – you just need a bit of help with the wallpaper installation.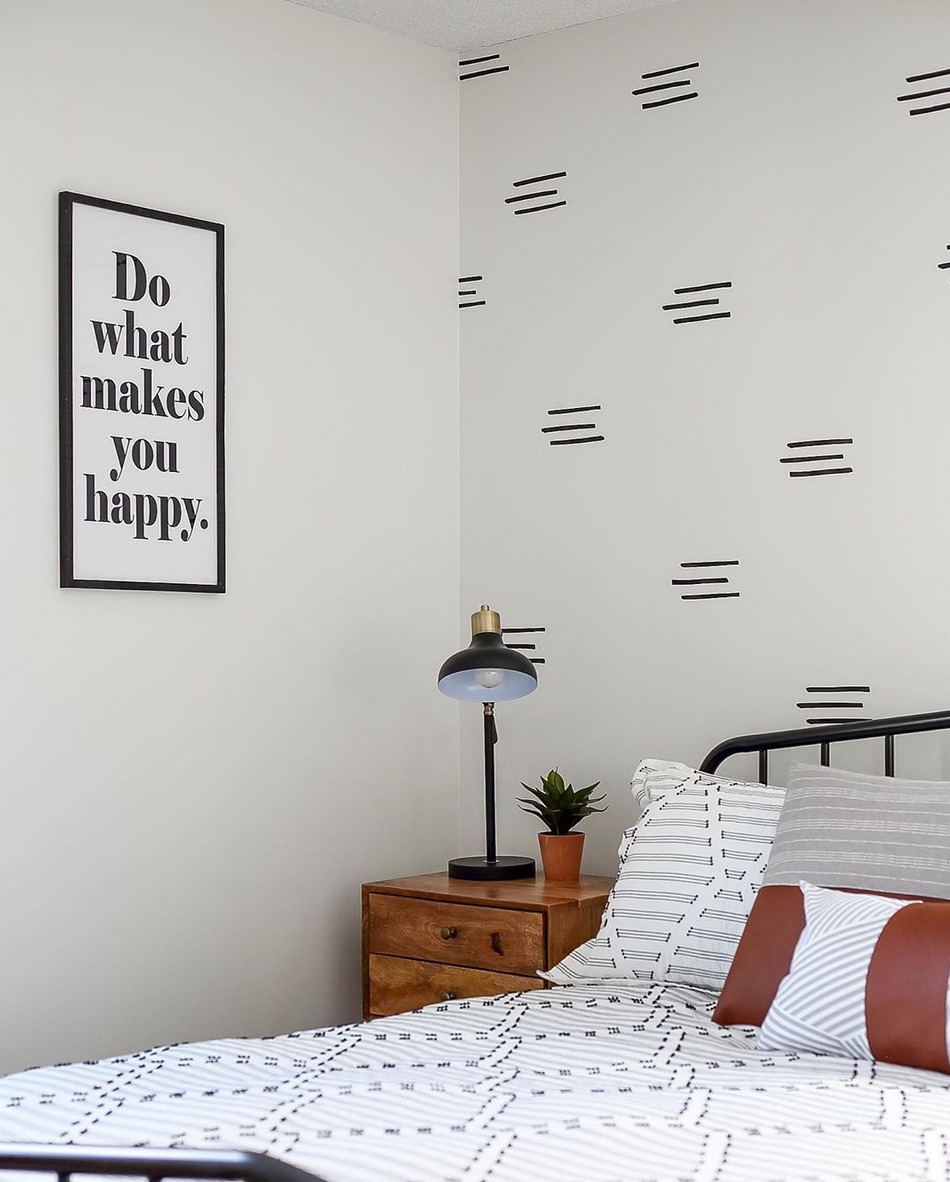 8. Classic style
Create an elegant bedroom by using high-end furniture pieces like this sleek black dresser. The truth is that you don't have to blow your budget to achieve this look. You can create a dresser like this switching out the old handles on your pre-existing dresser and adding modern brass finishes, like these. Plus, the addition of a fancy vintage gold mirror will totally finish off this look!
Want to hand over the dresser build to an expert? Hire someone to do the dresser assembly for you.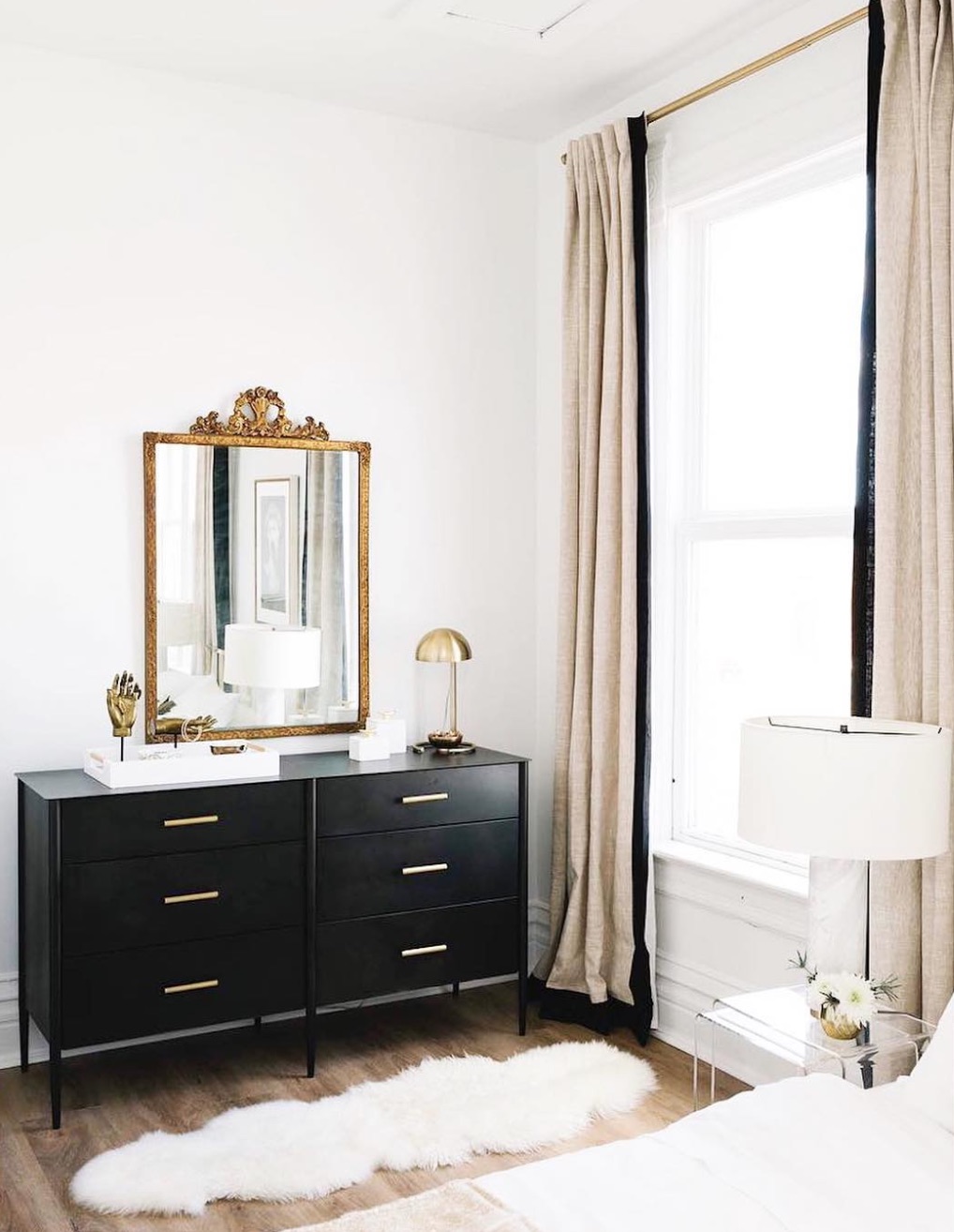 9. Feature cushions
There's nothing like a pop of bright orange to completely elevate a space. And the good thing about a simple black and white bedroom is that it provides the perfect blank canvas for adding pops of colour to. The great thing about cushions is that you can switch them out and change colours whenever you like!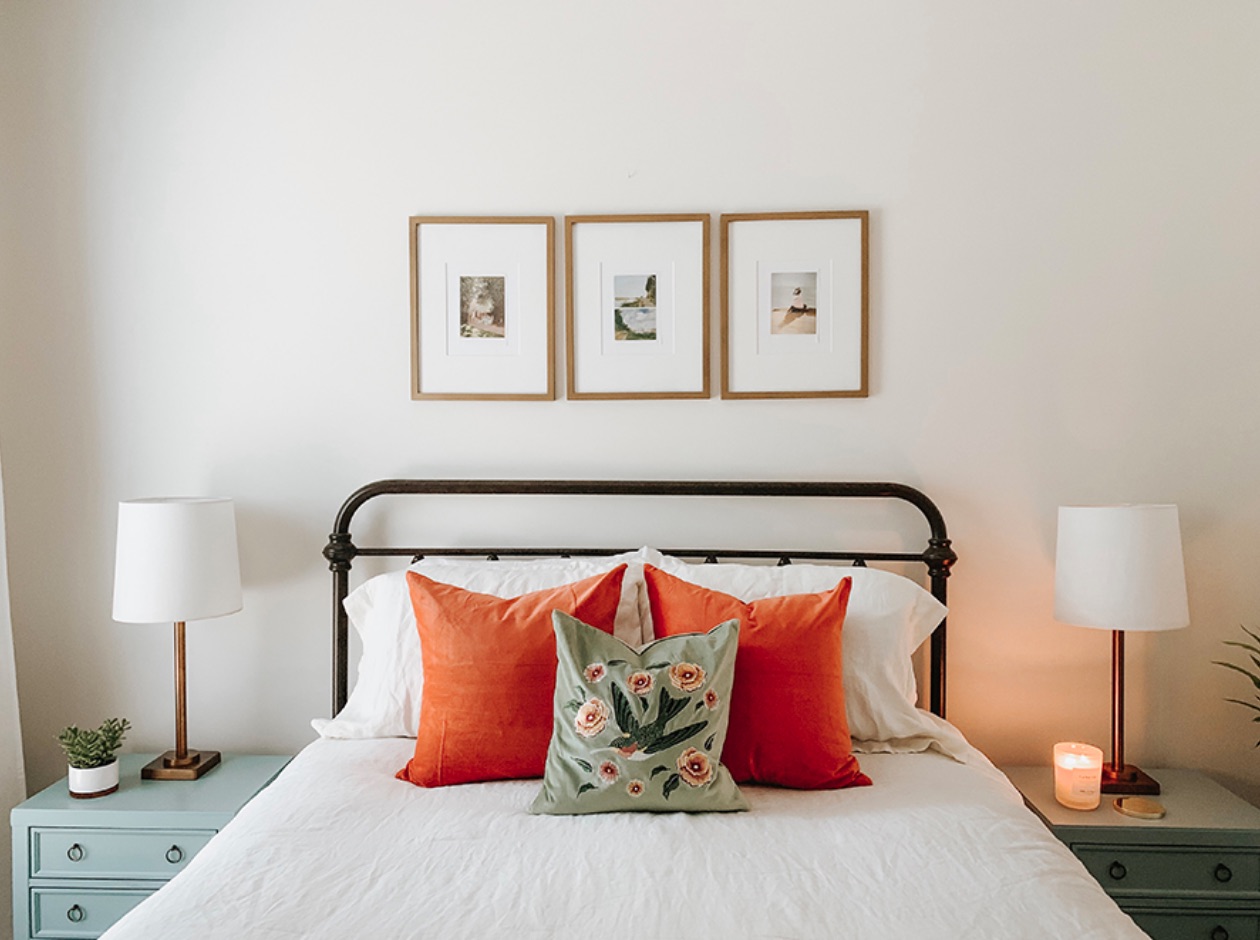 10. All black
This bedroom looks like a relaxing paradise to lounge around in. I'm obsessed with the charcoal linen that looks oh-so-comfortable. Plus, the addition of timber elements and rattan provides warmth for this otherwise cool space.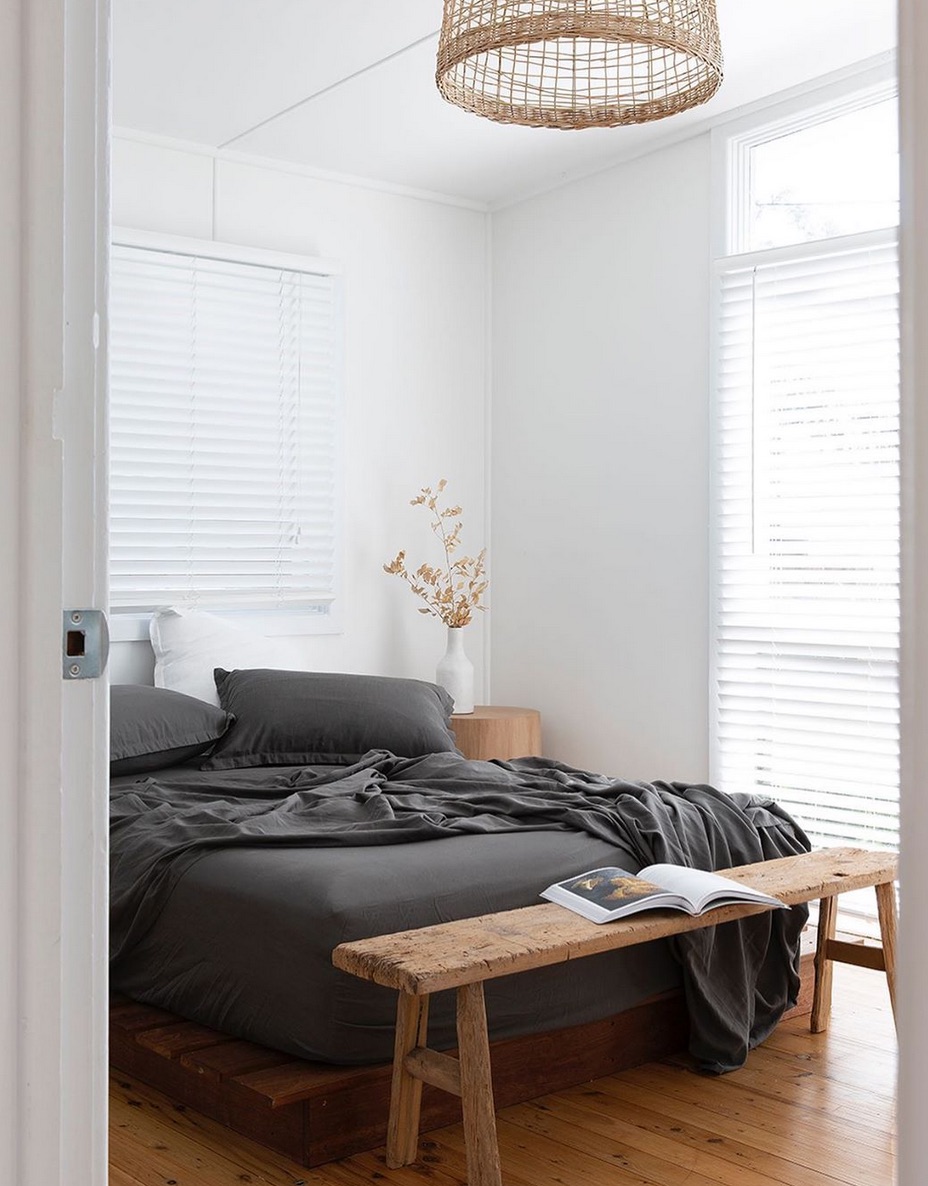 11. Add potted plants
I'm a big fan of plants – the more the better, in my opinion! I know that not everyone is a green thumb. But the truth is that you can find some really fabulous plants that don't require a lot of work. Peace lilies are my go-to plant. They're so easy to look after and all you need to do is water them when they're looking sad.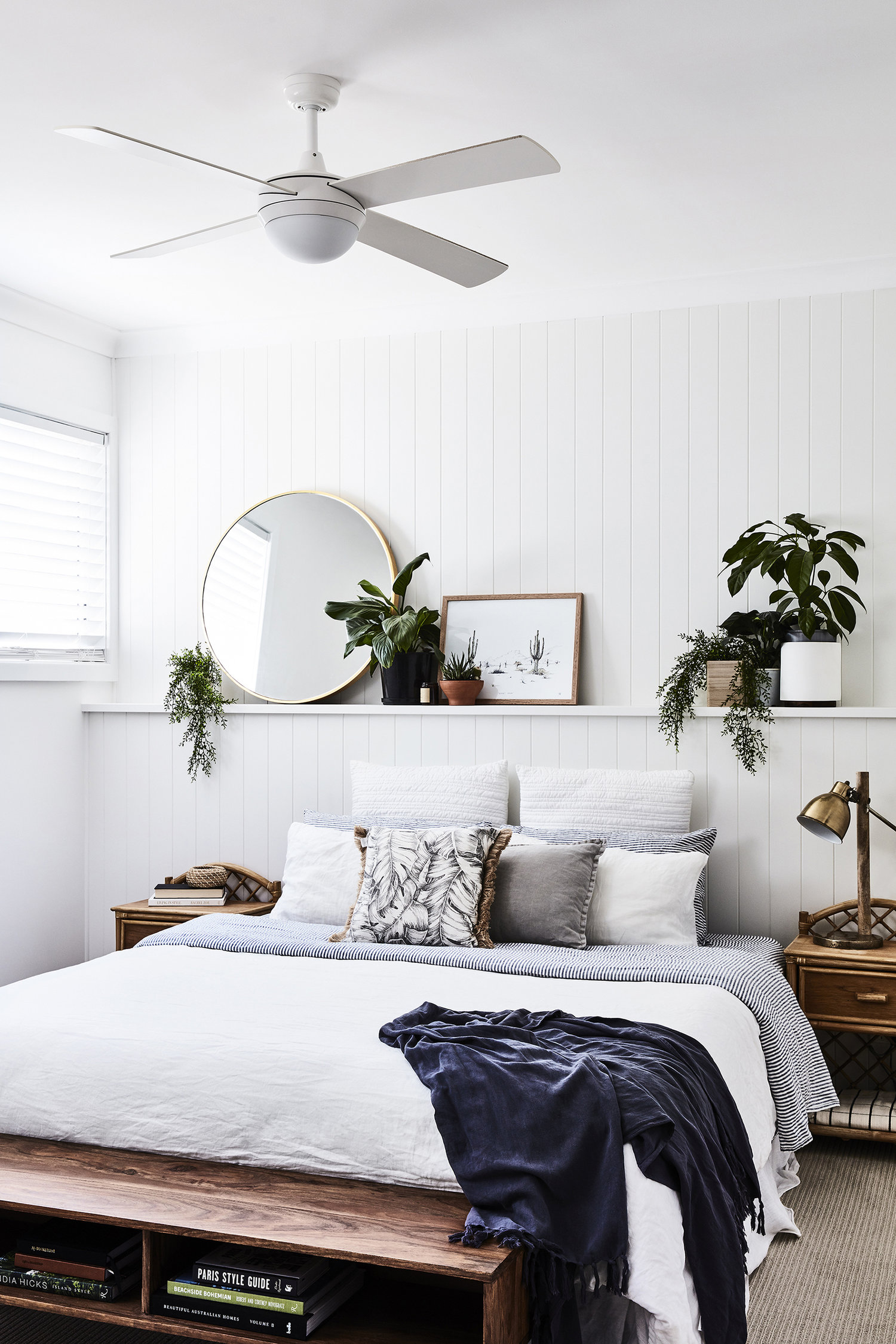 12. Sleepy sanctuary
Create a cosy black and white bedroom by paying attention to all the details. Missing out on the little things is where people usually get unstuck when it comes to design. So carefully consider the kinds of cushions, prints, and patterns you're going to use – because they can make all the difference!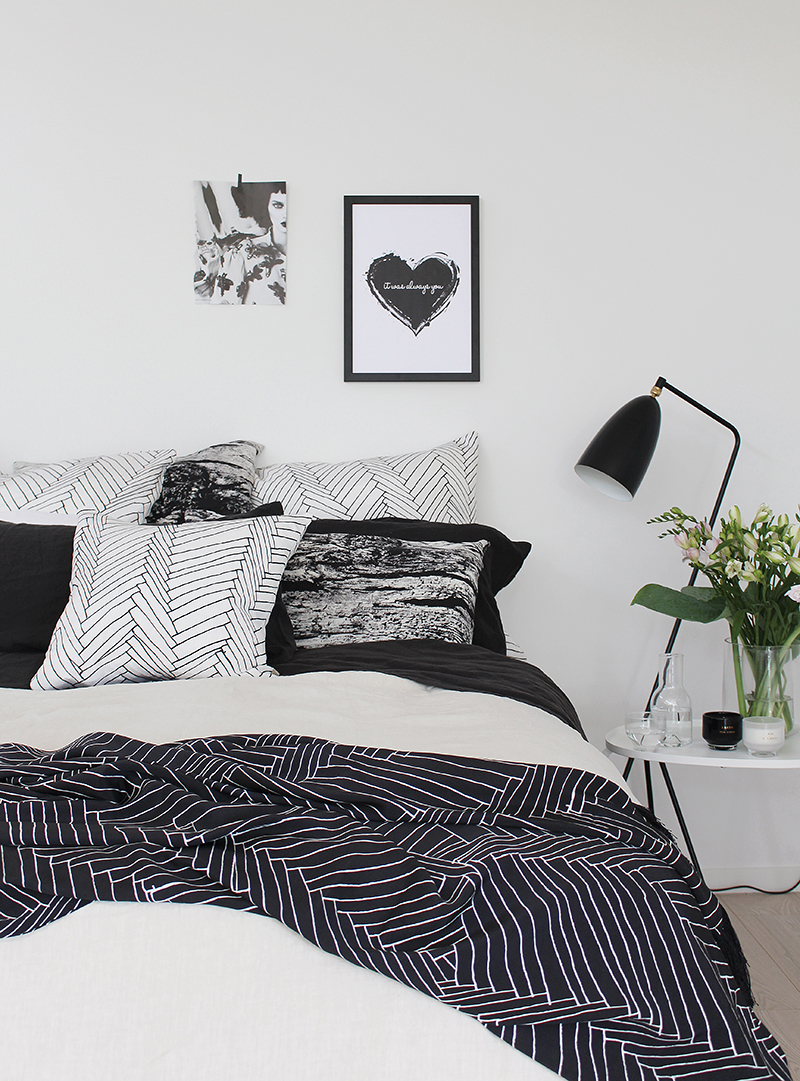 13. Feature lights
What's one way to fancy up your bedroom and set it apart from the rest? Statement lights, of course! And these two certainly make all the difference to this simple space. Plus, I like how they're placed together in a pod of two lights – this adds a creative dimension and makes the pendant lights more like art pieces!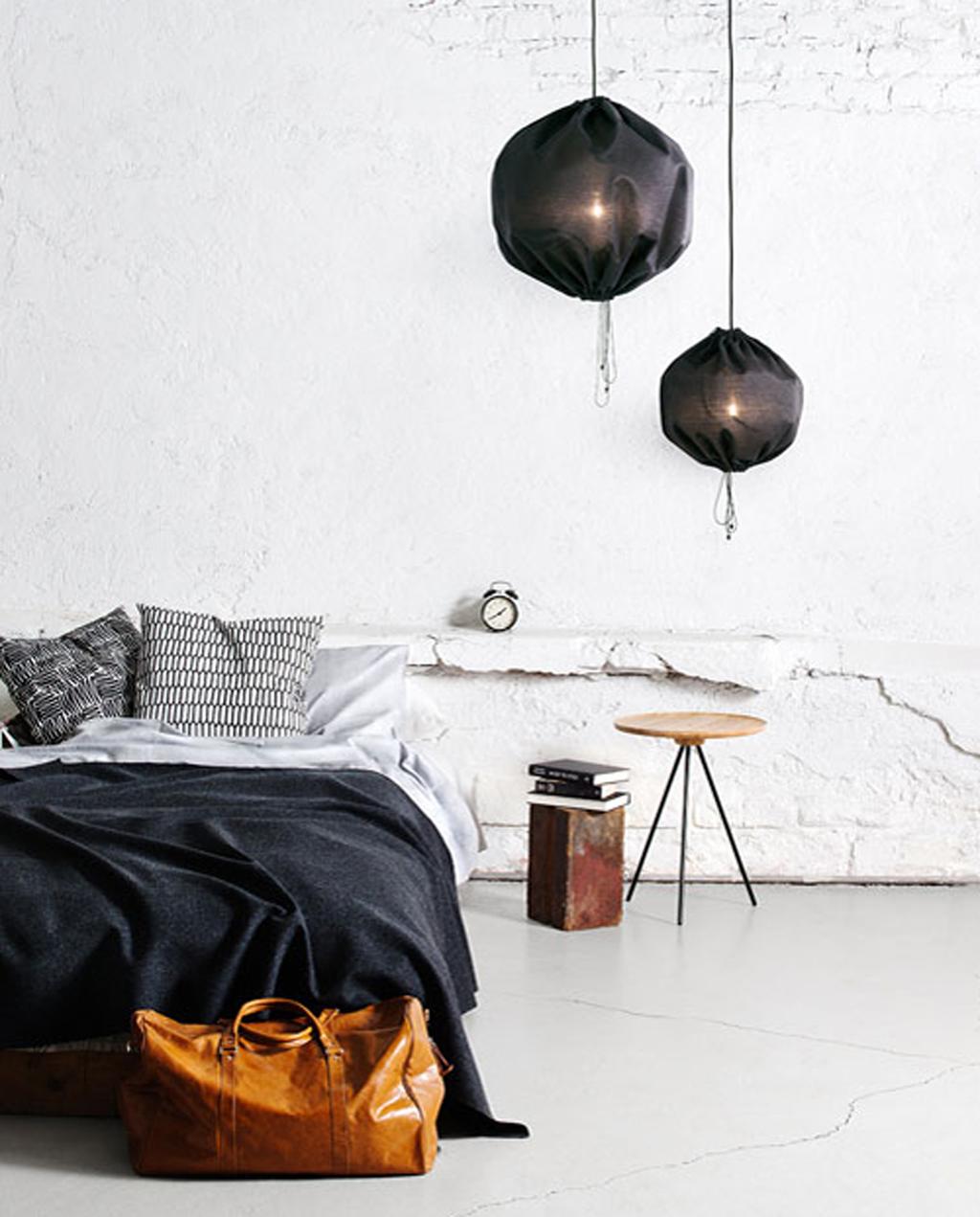 14. Floating shelf
There's just something so lovely about this floating shelf. It's sweet, simple and adds to the visual appeal of the room. It's a great choice for those who want to inject a creative touch to their bedroom design but still want to keep things minimal. You can use stock images or even print out your own family portraits and frame them up!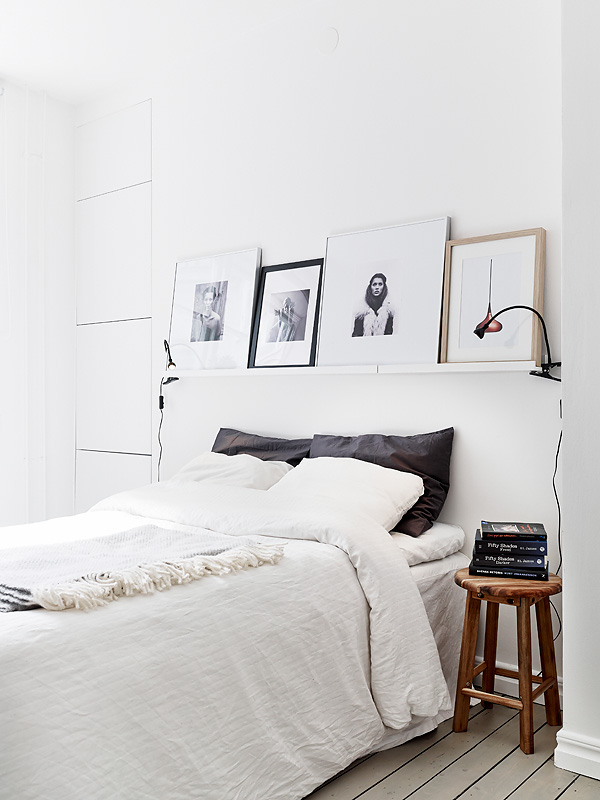 15. Bed in the corner
How cosy does this bedroom corner look? While a bed is typically placed in the middle of a wall, it can also be pushed to one corner for a different look. And I love how the bed meets the monochrome walls – black and white is the perfect combination! Plus, the addition of picture frames makes an effective finish.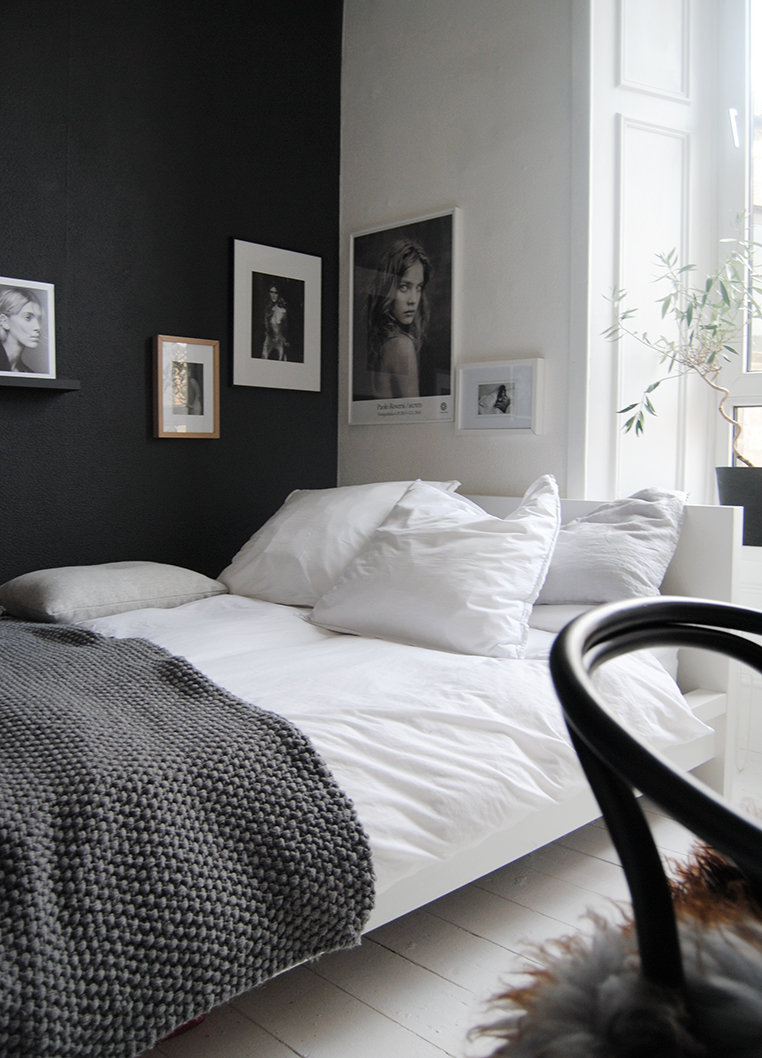 16. NYC style
If you've got a studio apartment, make the most of your space by adding a bath in the corner. This claw-foot bath is classic and beautiful in this lovely white, airy space. Just make sure you place a good-sized bath mat on the floor so you don't ruin any lovely timber floorboards.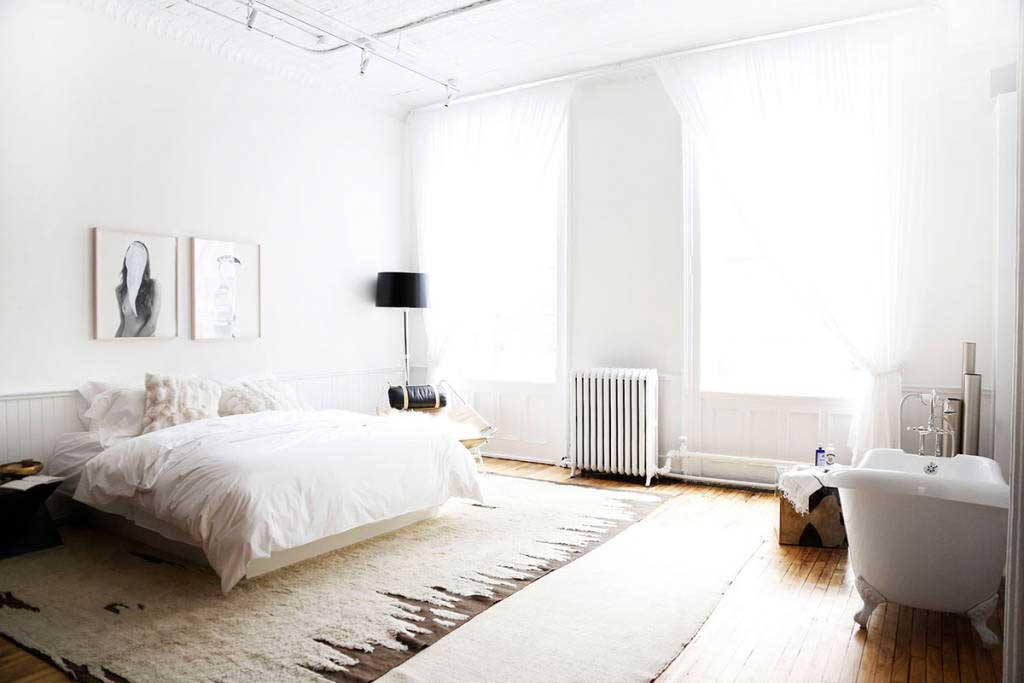 17. Boho vibes
Create a casual, creative space by playing around with textures and patterns. This simple boho bedroom design does this well with hats hanging on the walls, a nice sheer white curtain, a timber bench at the end of the bed, and a beautiful classic white dresser. Plus, the addition of the beautiful art piece on top of the dresser adds a pop of warmth to that side of the room.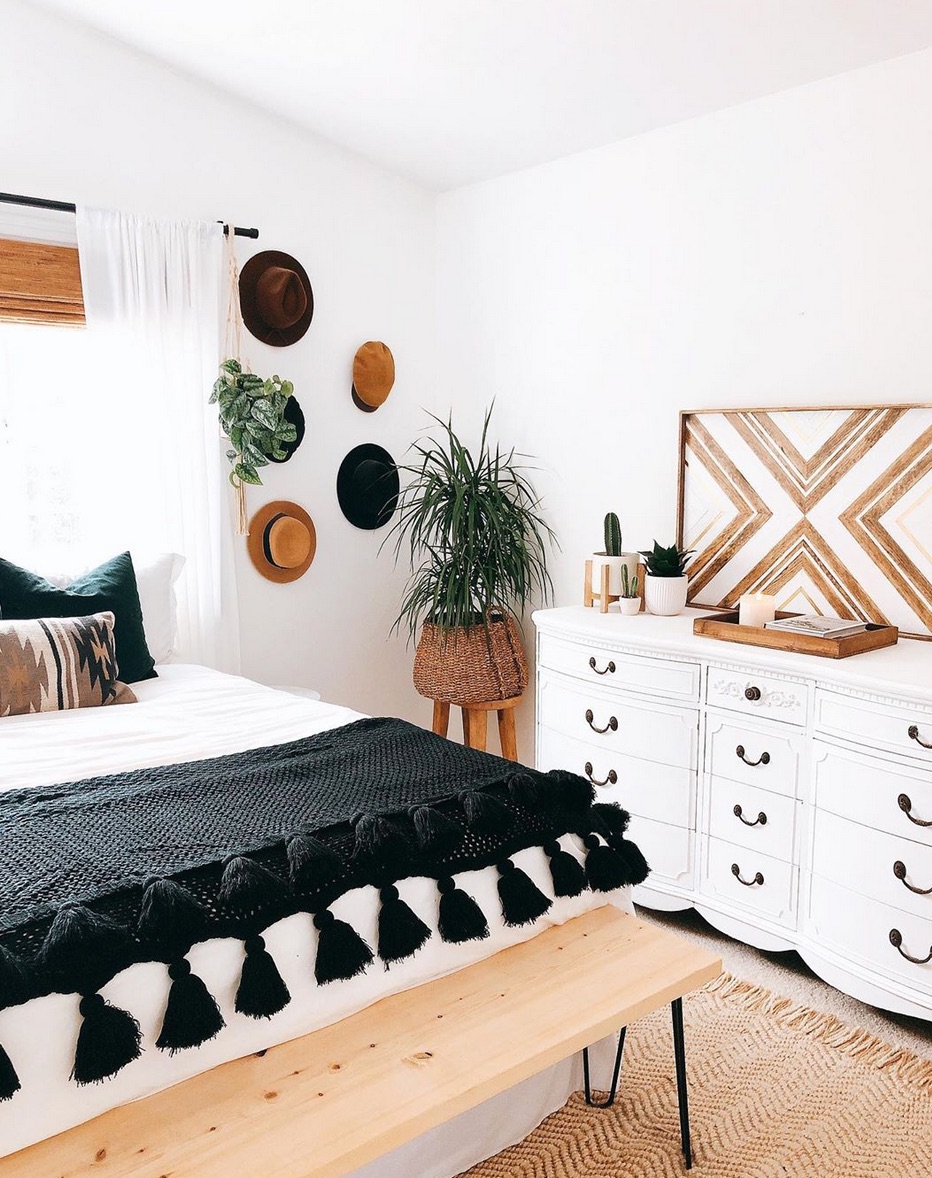 18. Hang a branch
Add a rustic touch to your modern bedroom by hanging a branch above the bed. This doesn't have to be complicated either. Simply find a large branch and some foliage in your backyard or a nearby park, secure some string to either side of the branch, and hang it up over a nail in the wall. Plus, a piece like this will really stand out against a beautiful background, like this black panelled wall!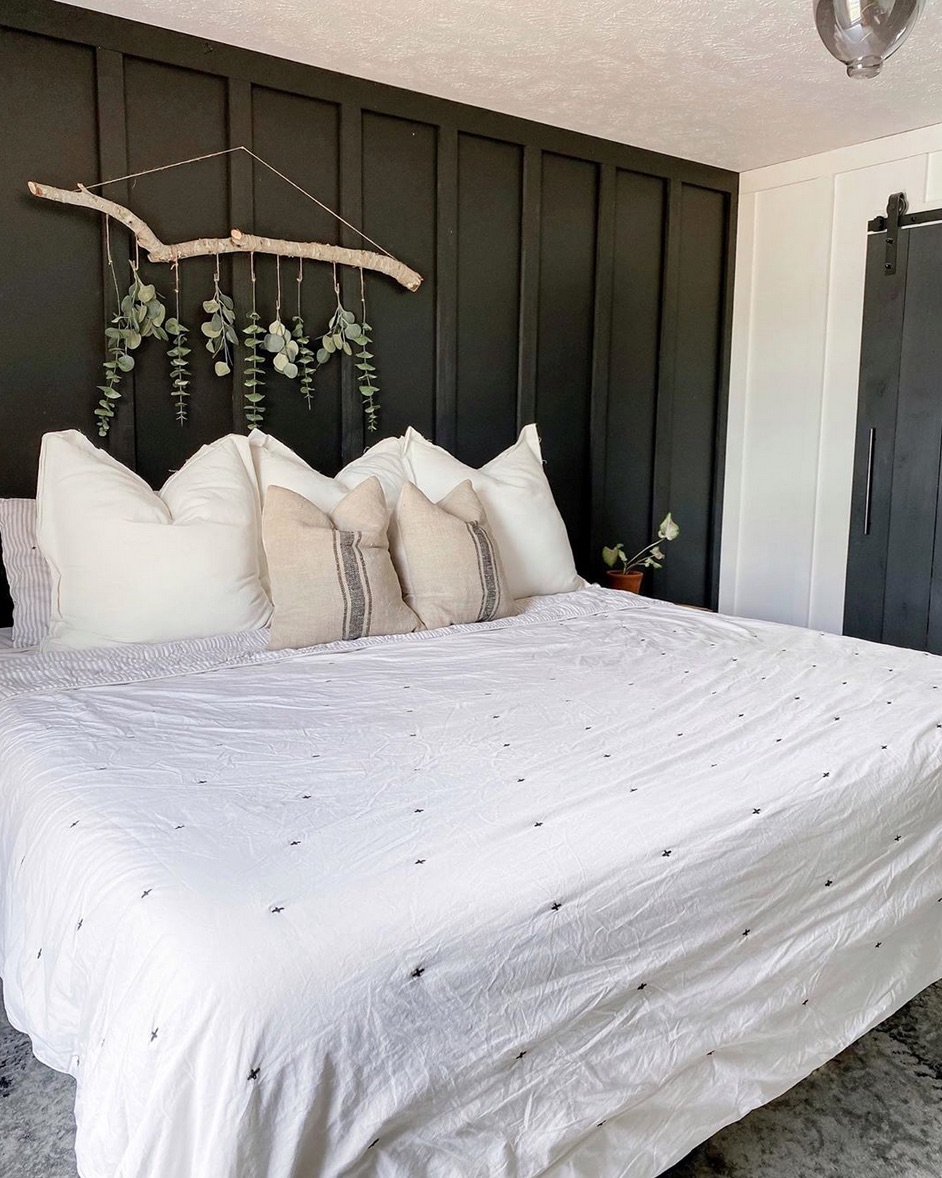 19. A touch of blue
Stray a little from the usual black and white walls and opt for something a bit different instead… like this royal blue. It creates the perfect canvas for this fancy master bedroom. And I love how the shiny black leather bedhead really stands out against the deep blue tones. Plus, the art print on the wall is a lovely touch!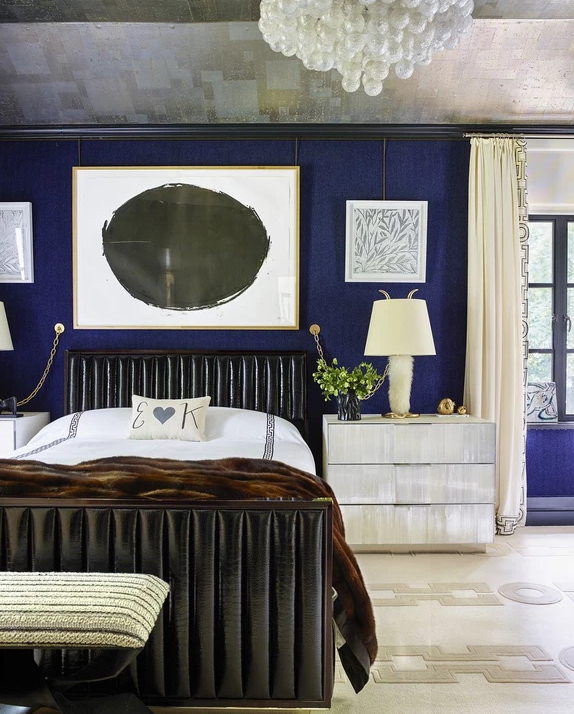 If you would rather something like this, check out all of these beautiful blue bedroom ideas for your room.
20. Dark and moody
On the other hand, create a more masculine space by combining shades of grey and black. This bedroom is classic and chic with moulding on the walls and parquetry timber floorboards (swoon-worthy, right!). Plus, I love the detailing on the dark grey window frames – gorgeous. If you're going for a look like this, it's a great idea to add a touch of colour with plants like lush fiddle leaf figs.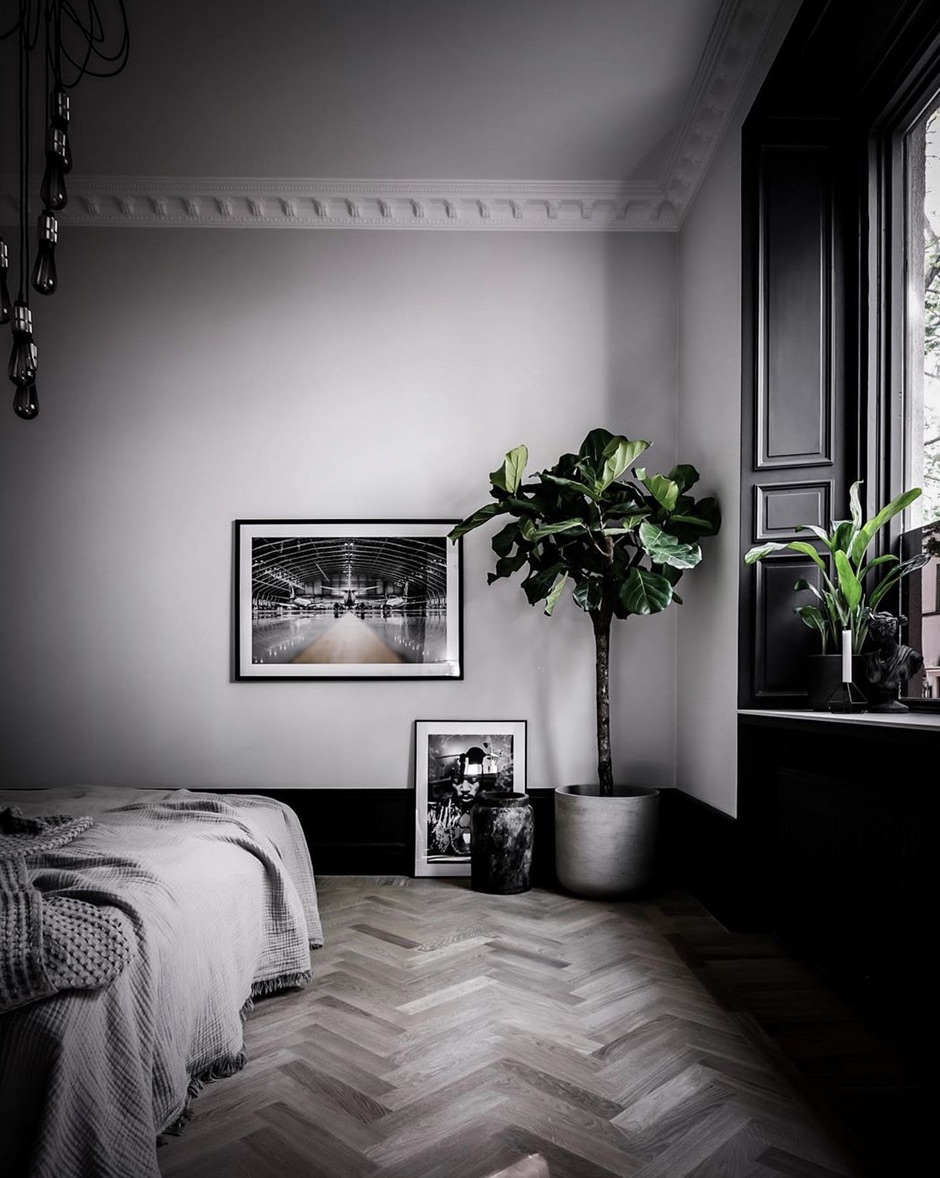 21. Glass windows
Create an open bedroom space with a glass bedroom wall. While this may not be a practical choice for all spaces, it's certainly an interesting one. This would work well in a studio apartment or loft-style space where you're wanting to provide the illusion of more space than there really is. Plus, the glass panelling will reflect natural light around the room – beautiful.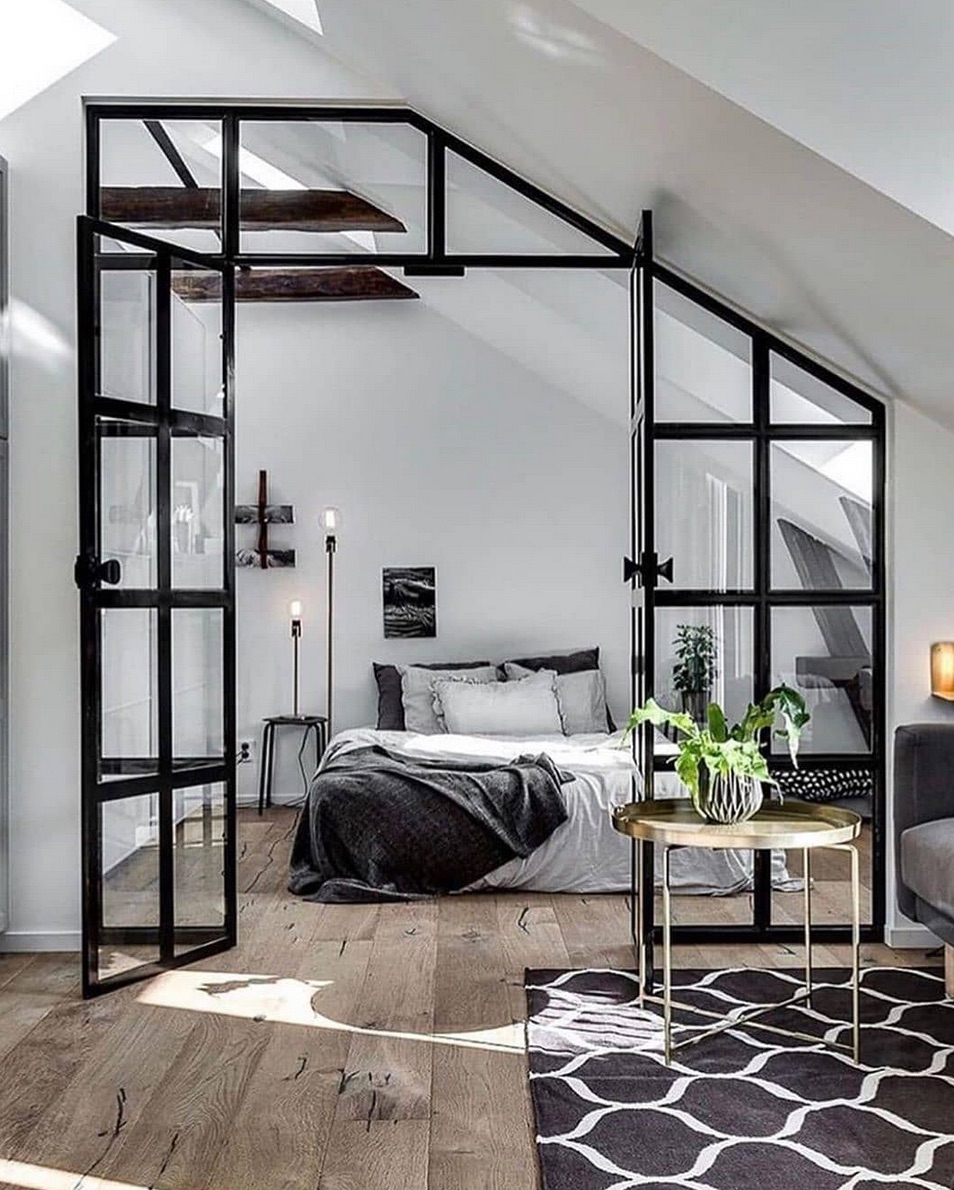 If you want to recreate similar, you'll want to make sure it's put up correctly – find a professional to advise and help you with your window installation.
22. Four-poster bed
Create a modern space while keeping things relaxed and coastal with dark timber touches combined with warm neutrals. This colour palette makes for a bedroom that looks as relaxing as can be! I'm a big fan of those floor-to-ceiling curtains, which drape gently down over the windows. And the sweet timber bench seat at the foot of the bed adds a rustic touch.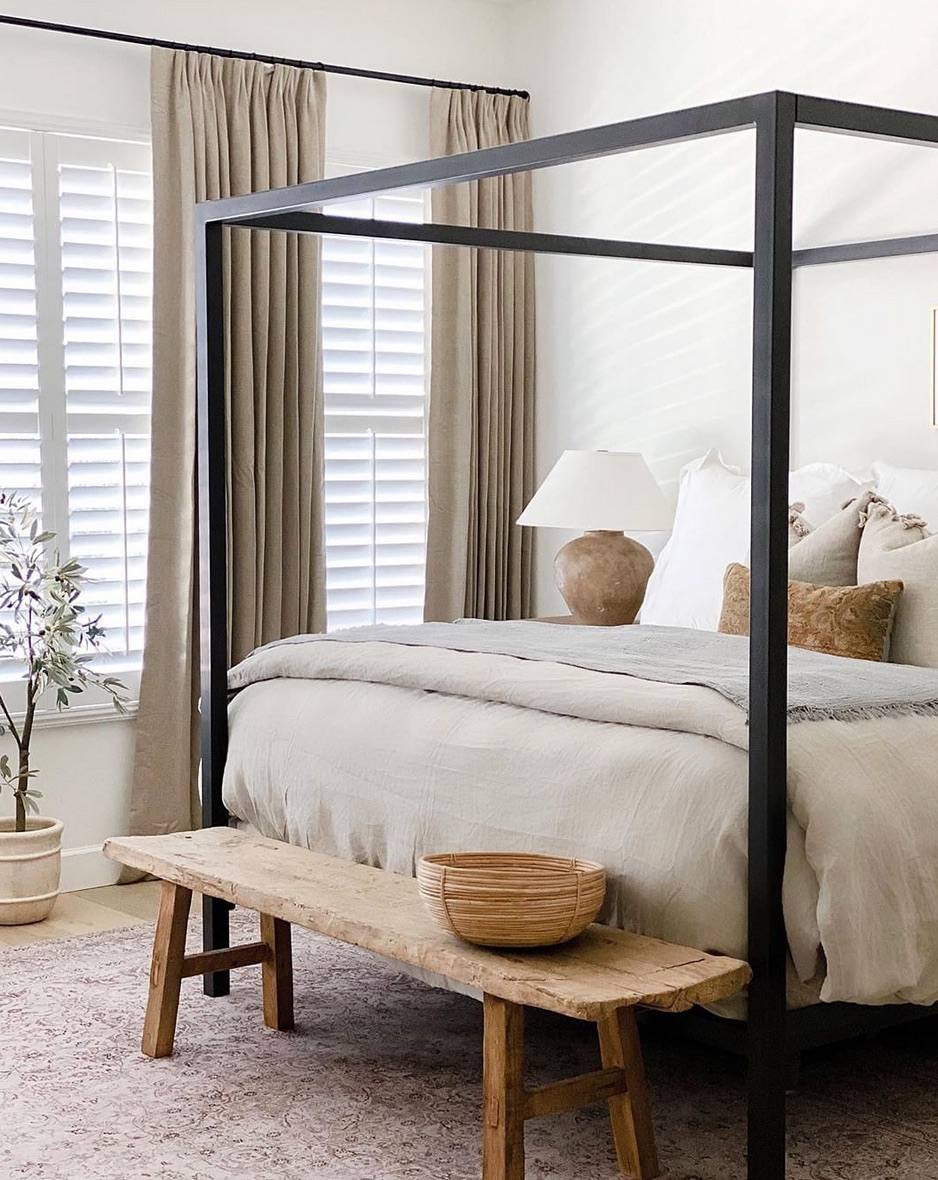 23. Pictures on the wall
Make your bedroom all the more personal by hanging carefully-curated pictures on the wall. These little black-and-cream-coloured prints are a nice touch, and they add to the modern feel of this room. So when you're designing your bedroom, consider the overall style and atmosphere you want to create in your space – this will help guide your design decisions.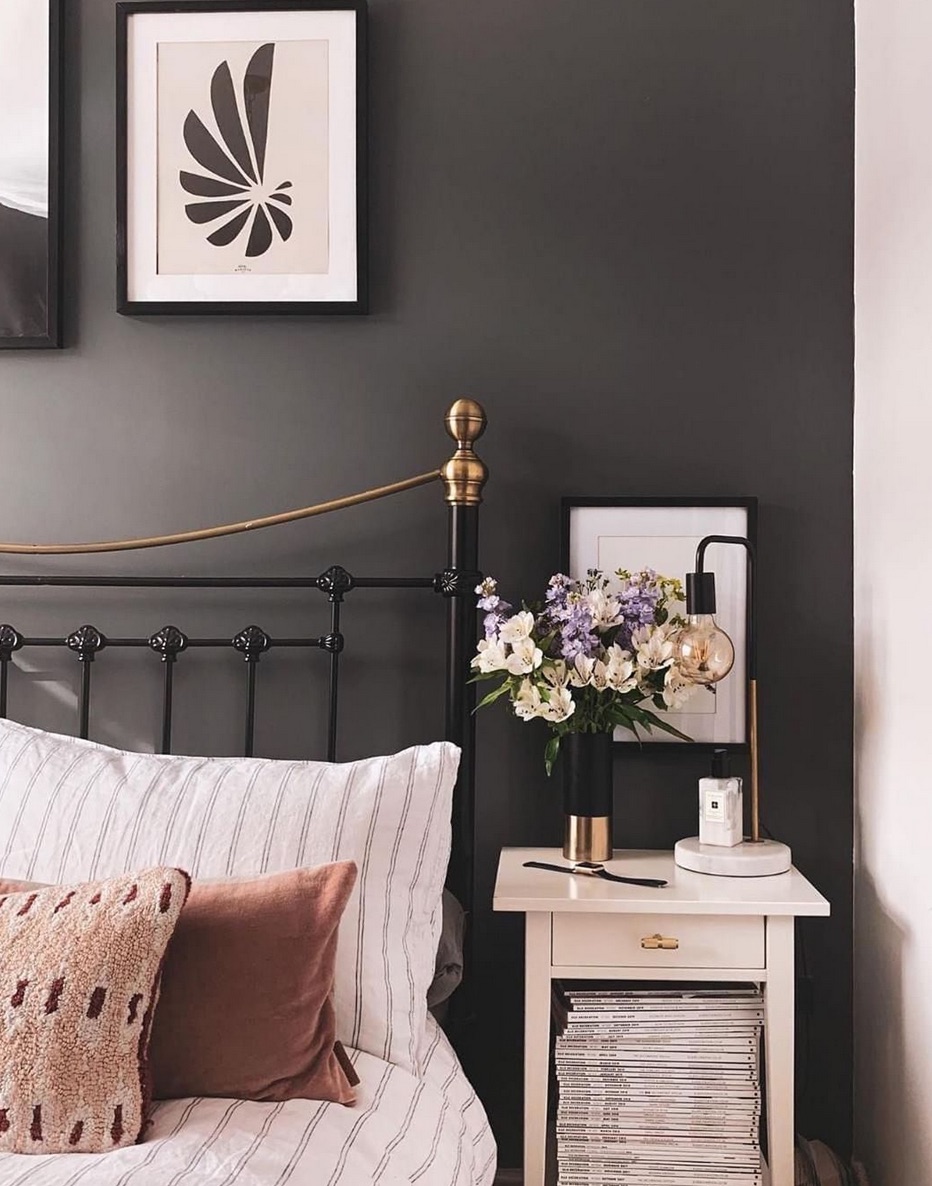 24. A touch of velvet
I'm a sucker for velvet, especially velvet seating. And this dark grey bench seat looks stunning at the end of this bed. It adds a luxe touch to this otherwise modern rustic room. Speaking of rustic touches, I love the exposed stone fireplace on the right of the room – it makes the space look so cosy.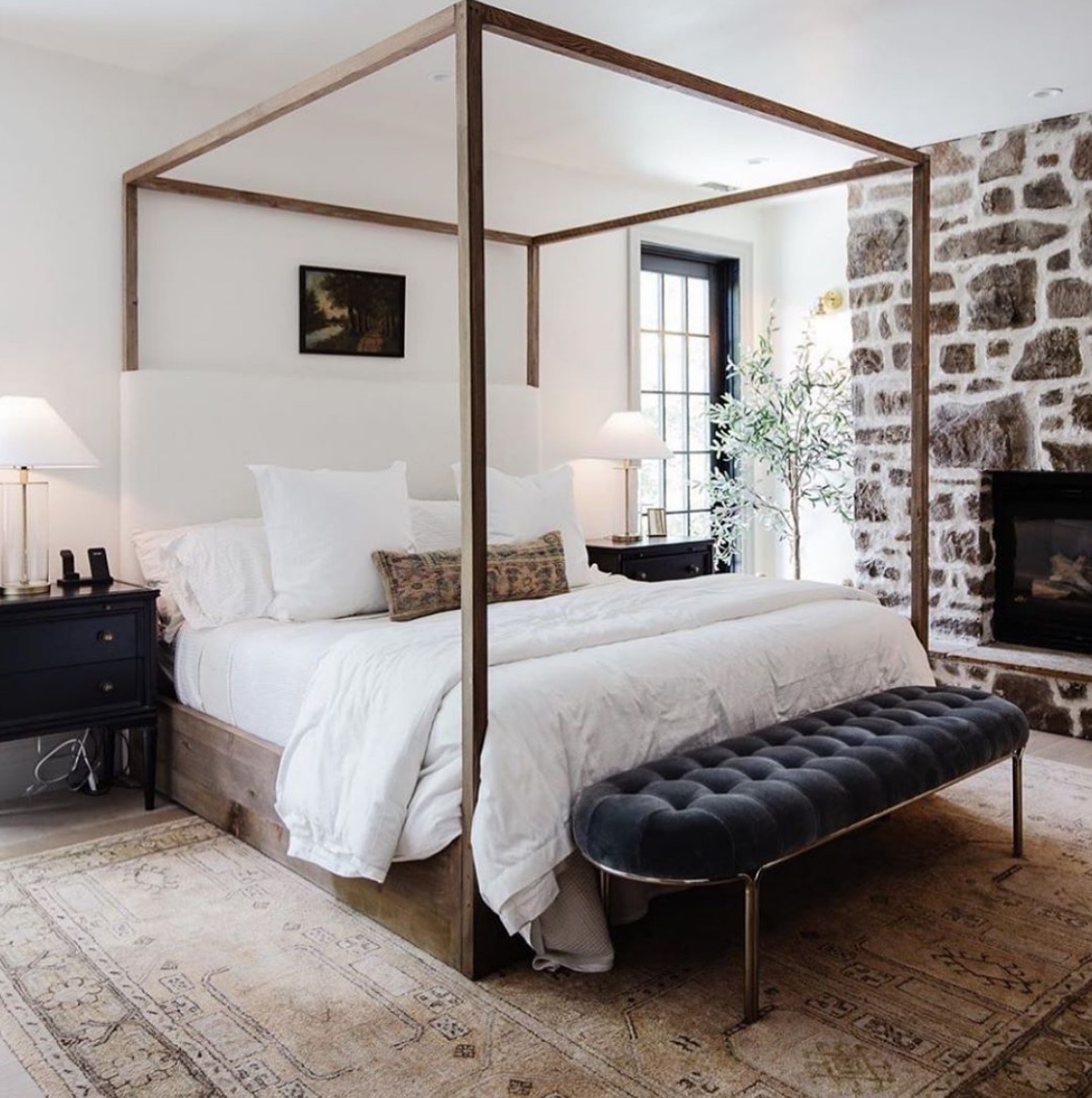 25. Open the windows
Sometimes there's nothing better you can do for your bedroom design than open the windows. That's definitely the case in this space. The large curved windows allow so much natural light to filter in. And they look lovely with light, sheer curtains which allow gentle rays of the sun to shine through at any time of the day.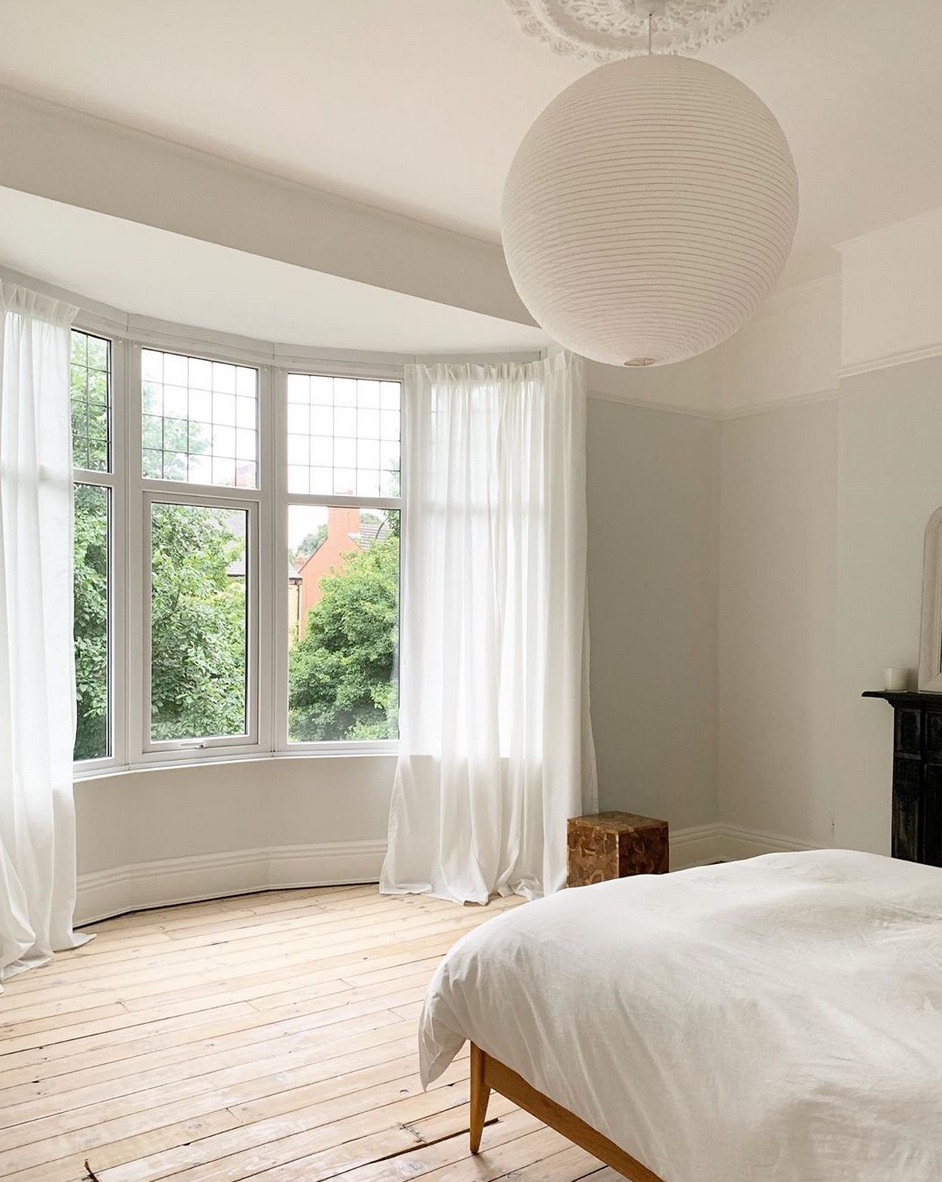 26. A cosy blanket
This space is so cute! It exudes warmth with the thick grey knitted blanket thrown across the bed. And the addition of lights makes it extra cosy. First, there are the candles in lanterns on the floor (you don't have to use real candles, you can use fake ones to keep things safe!). And then there are the fairy lights climbing up the wall on the right and framing the bed head. This creates a lovely atmosphere that's perfect for a night watching Netflix or a Saturday reading a good book!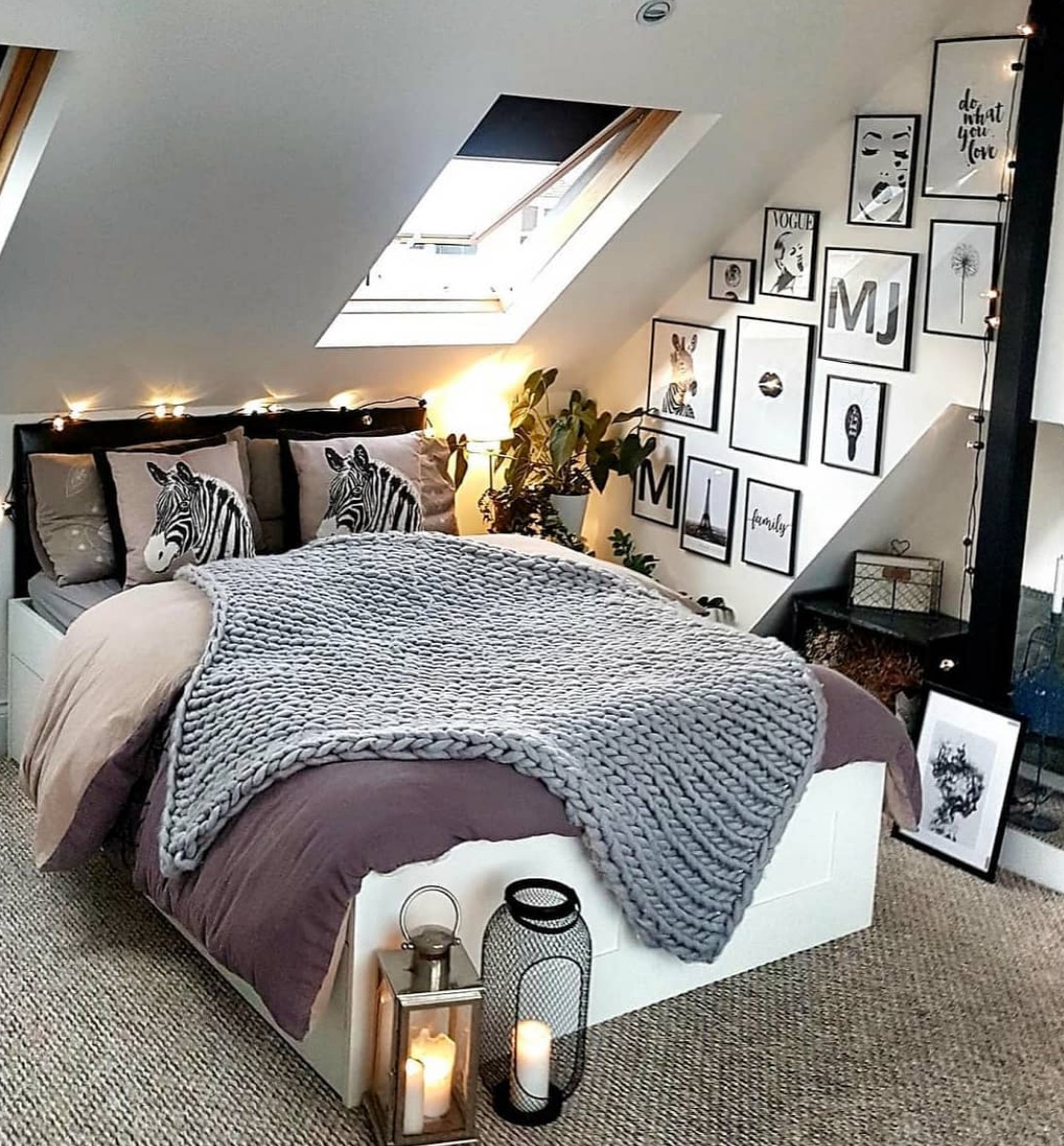 27. Sweet corners
It can be easy to just add practical pieces of furniture to your bedroom like a bed, side tables and a lamp. But no bedroom is complete unless every detail has been taken care of! So as you prepare for your black and white bedroom renovation, consider other elements like decor.
Some things to take into account are vases with flowers and fresh greenery, mirrors, stools and bench seats, baskets and magazines. It's these little things that will make your bedroom stand out from the rest.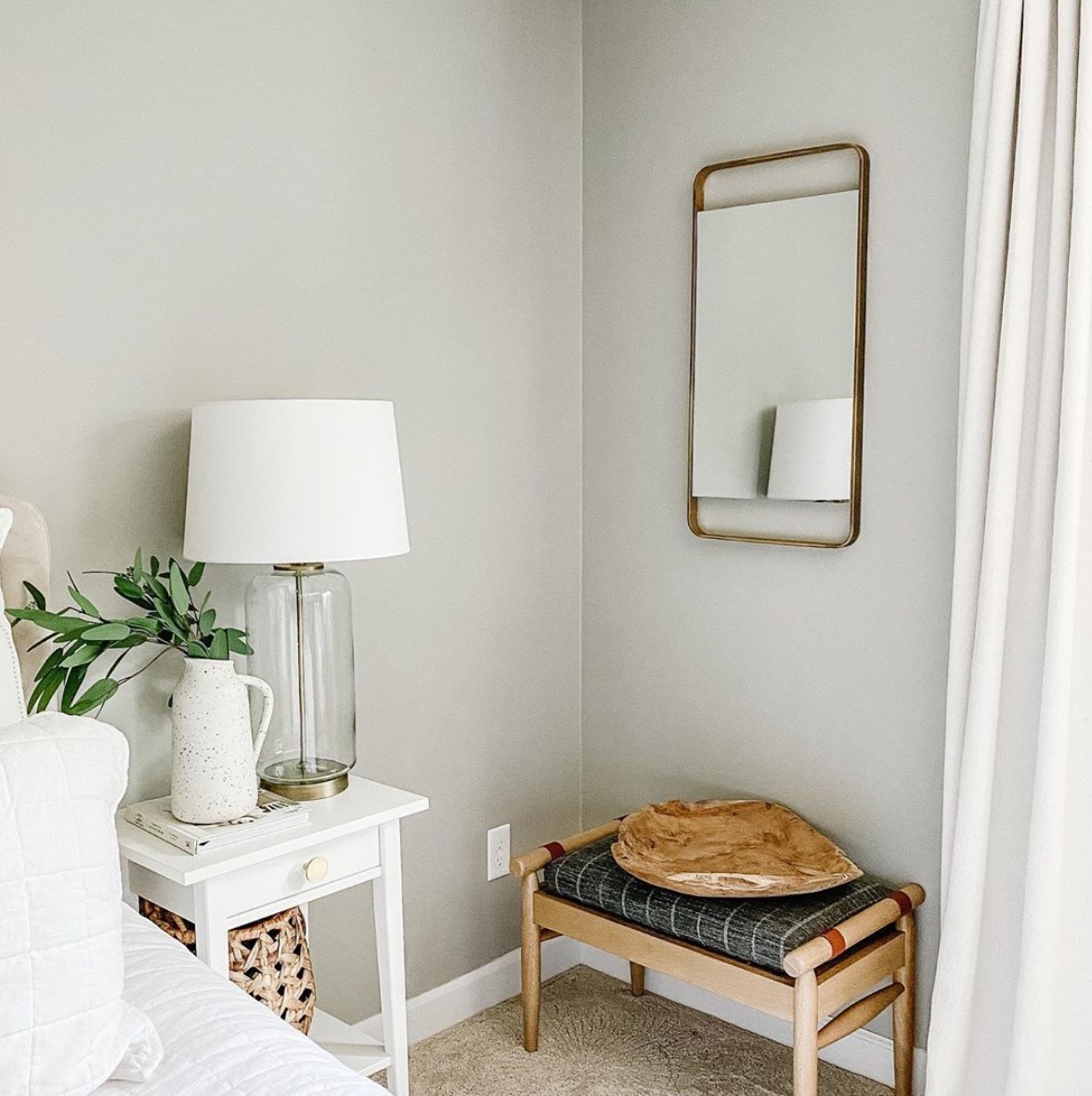 28. Timber tones
If you're creating a white bedroom, consider whether you want the tone to be warm or cool. In this instance, the bedroom is warm because timber has been used in the headboard, baskets and flowers. However, if you wanted to keep your bedroom cool, omit the timber and opt for a more grey-scale colour palette.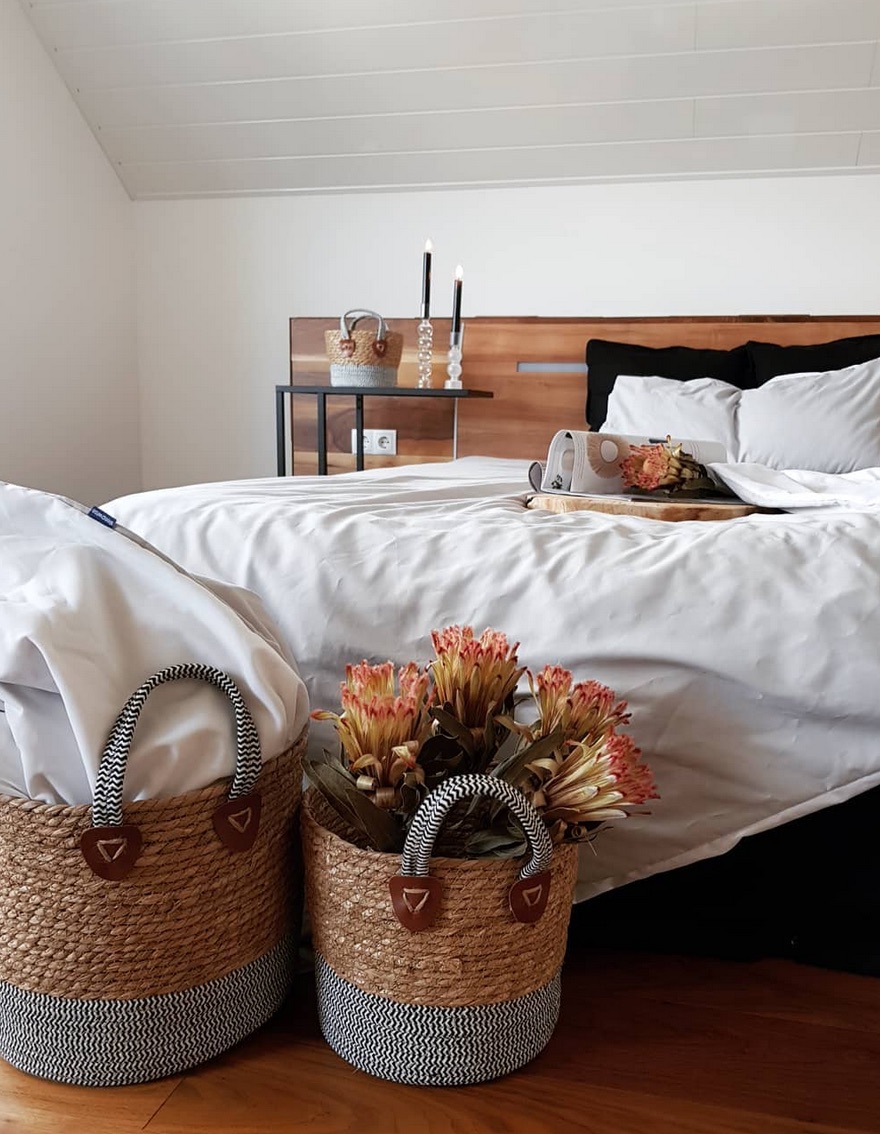 29. Vintage style
Take your bedroom design back in time by adding old-school touches to your space. Now, this doesn't mean you have to make everything old… But you can combine the old with the new by using modern materials like smooth black metal, with vintage touches like brass clocks and decorative cushions.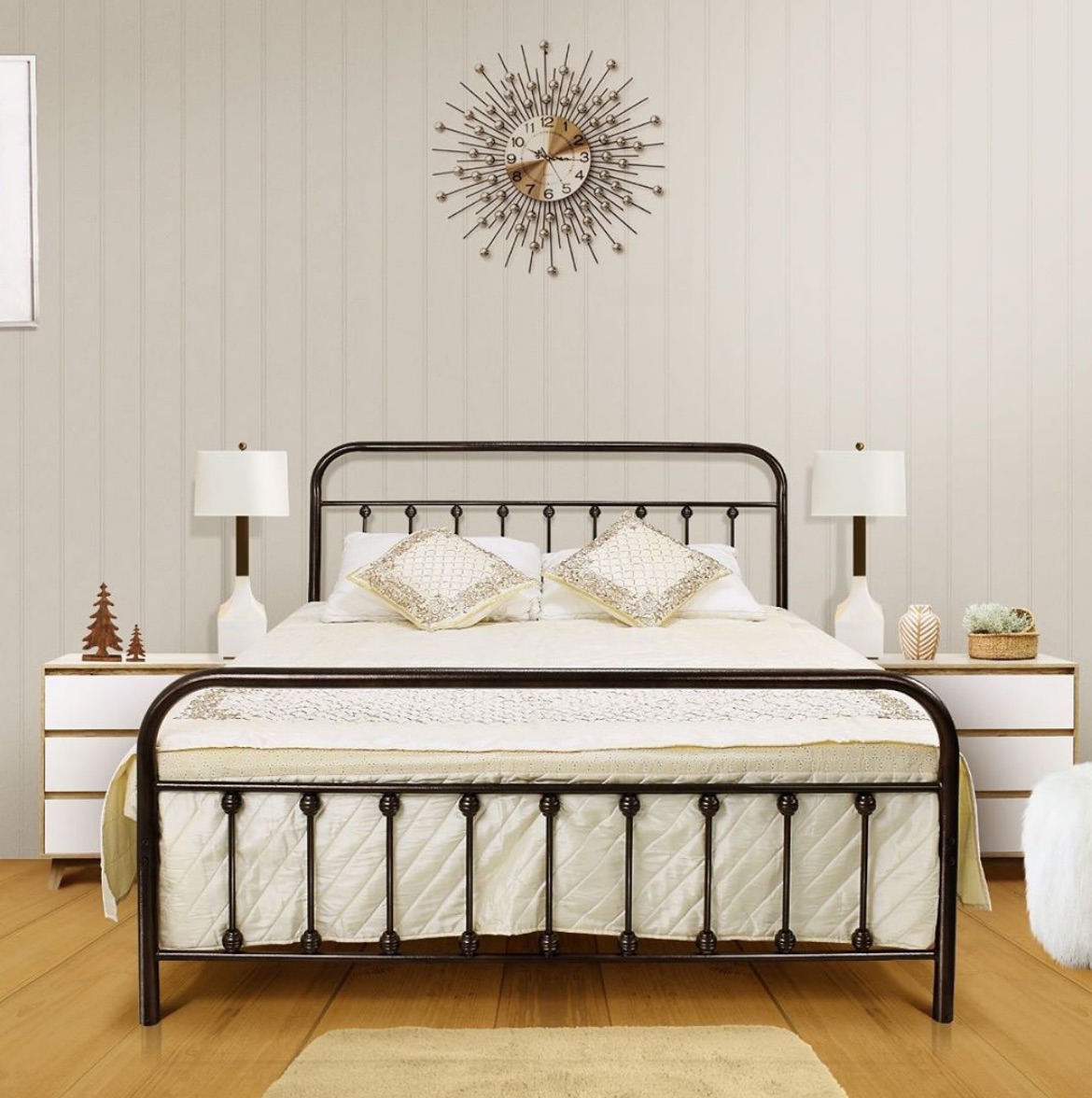 30. Rustic timber
This bedroom would be a perfect design for a country-style home. The timber headboard makes it as rustic as can be. And this is complemented by the addition of beige and neutral bedding, a timber floating shelf and a woven basket at the end of the bed.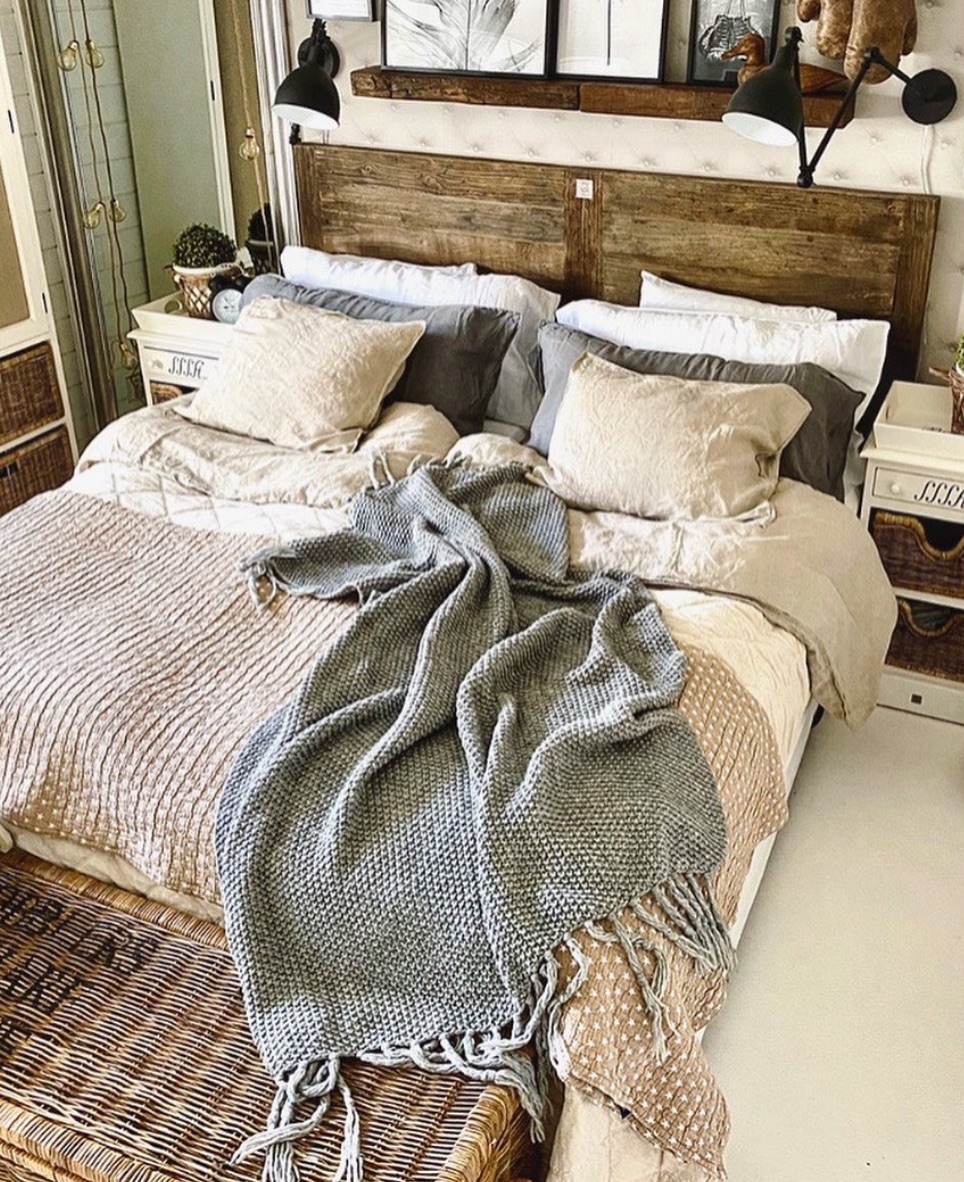 31. PAX wardrobes
Incorporate some smart storage into your bedroom with an IKEA PAX wardrobe. These large robes are so versatile, coming in all different sizes and colours – so you're bound to find something that suits your black and white bedroom. And if you don't want to do the building yourself, there are plenty of wardrobe experts who can do the assembly for you!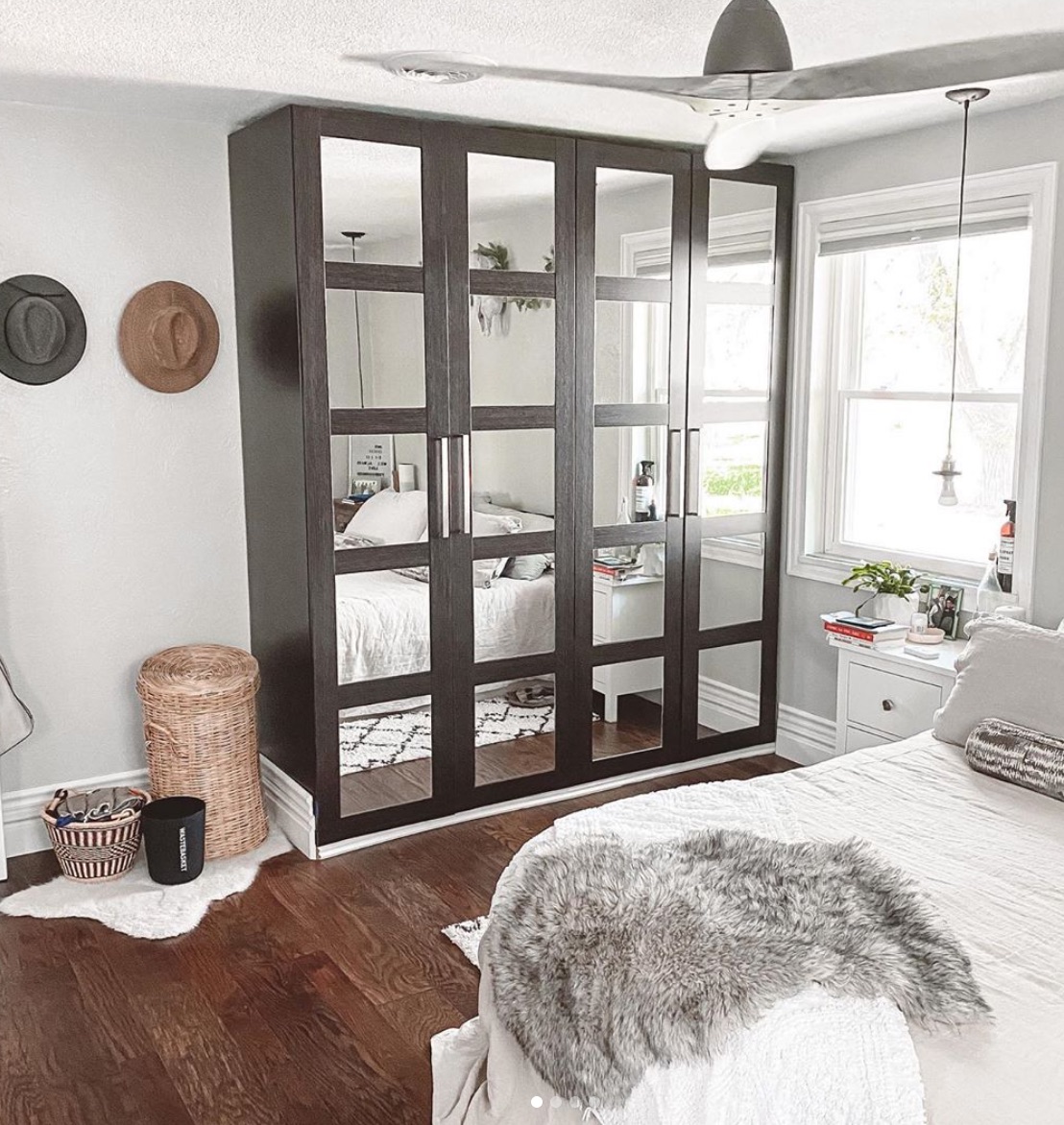 32. Sophisticated and stylish
If you want to add a feminine touch to your room while still keeping it masculine, this design is packed with inspiration! First, there's the cushioned grey velvet headboard which adds a luxurious touch to this space. And then there's the fluffy white bench seat, which adds a layer of texture. Lastly, the little vase of pink roses sitting pretty on the side table makes all the difference, bringing the space to life.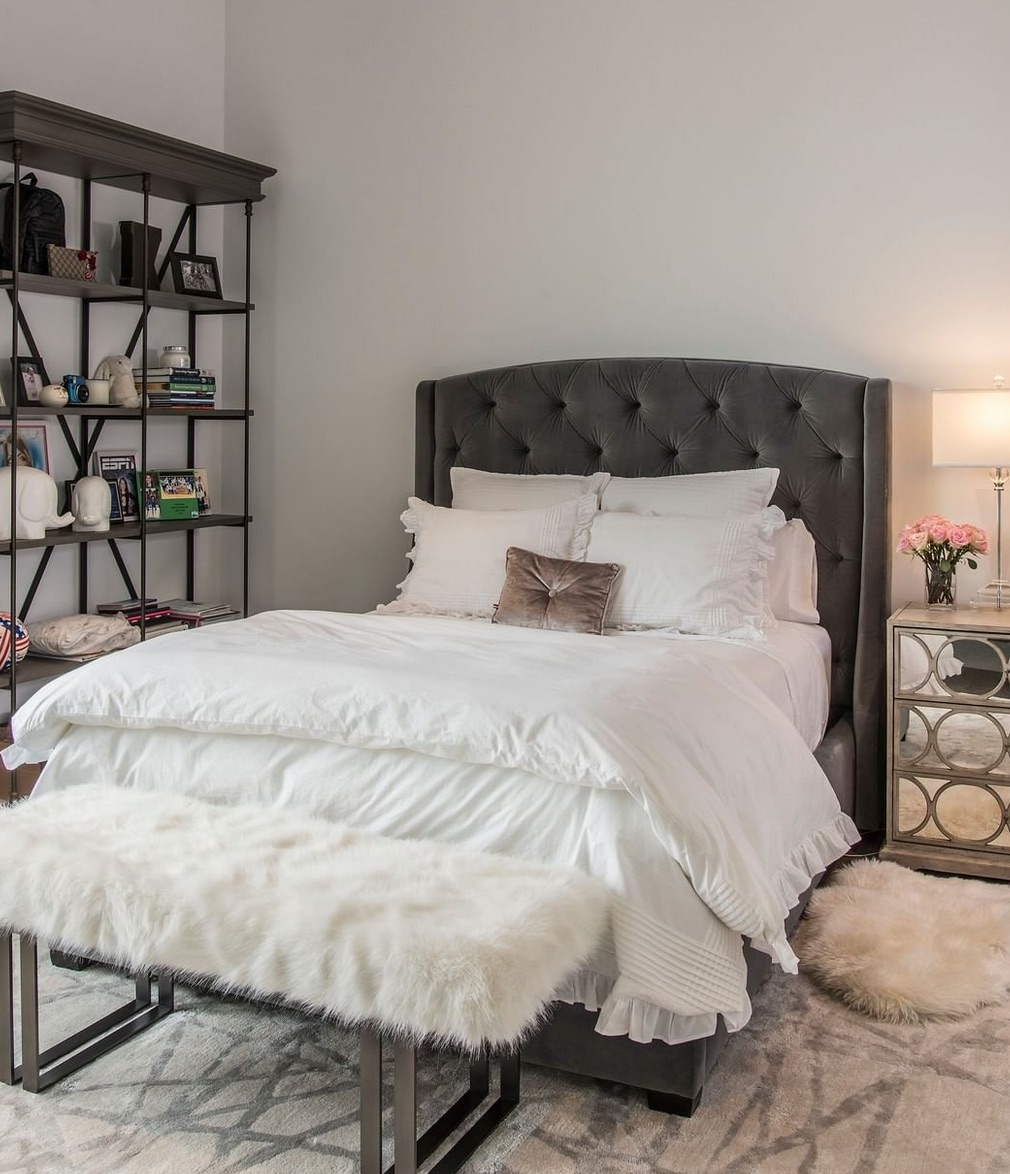 33. Black fixtures
While this room is mostly white and light, the little touches make all the difference. And those little touches are the black fixtures! I love how the lights hang gently down from the ceiling in a pod of two, adding an interesting element to this fairly blank space. Plus, the large curved portrait of people rowing on a river is a beautiful addition, adding warmth and colour to the room.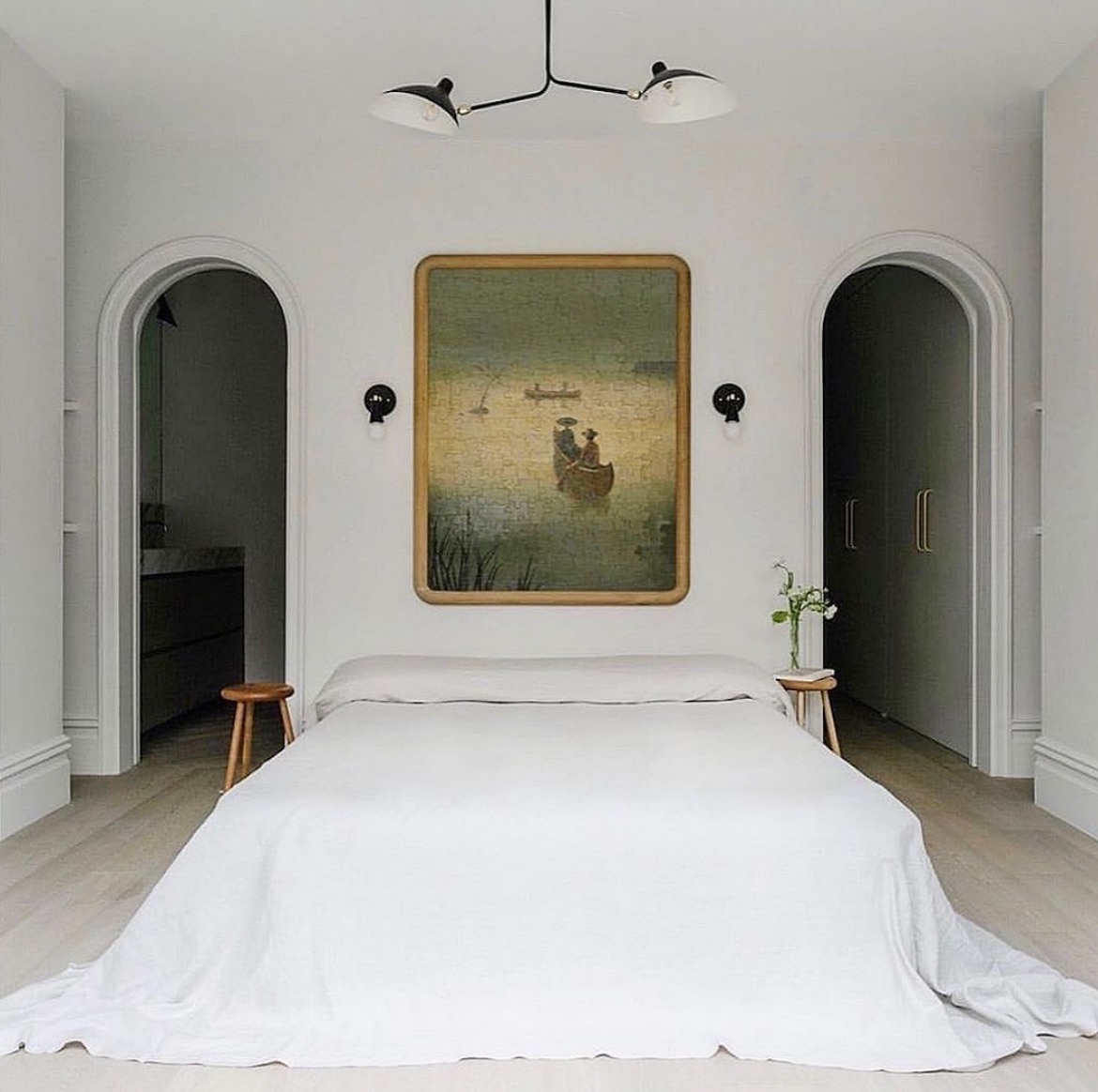 34. Rattan bed
Soften your black and white bedroom with a natural material like rattan. This woven material is durable and versatile, making it perfect for any kind of space. The best thing about it is that it will go with practically any colour scheme. But in this instance, it looks great with other neutral colours like dark black timber, white and light grey.
35. Plants all around
If there's one really easy way to spruce up your bedroom, it's by adding lots of plants! House plants can boost your mood, productivity, concentration and even your creativity. Plus, they're instant stress relievers that are constantly producing oxygen.
So if you've got a blank space that you want to switch up, why not purchase some of these green friends from your local nursery. My favourites are fiddle leaf figs and peace lillies, because they're just so easy to look after. Be sure that your space has plenty of natural light and give your plants a bit of water each week and they'll be thriving in no time!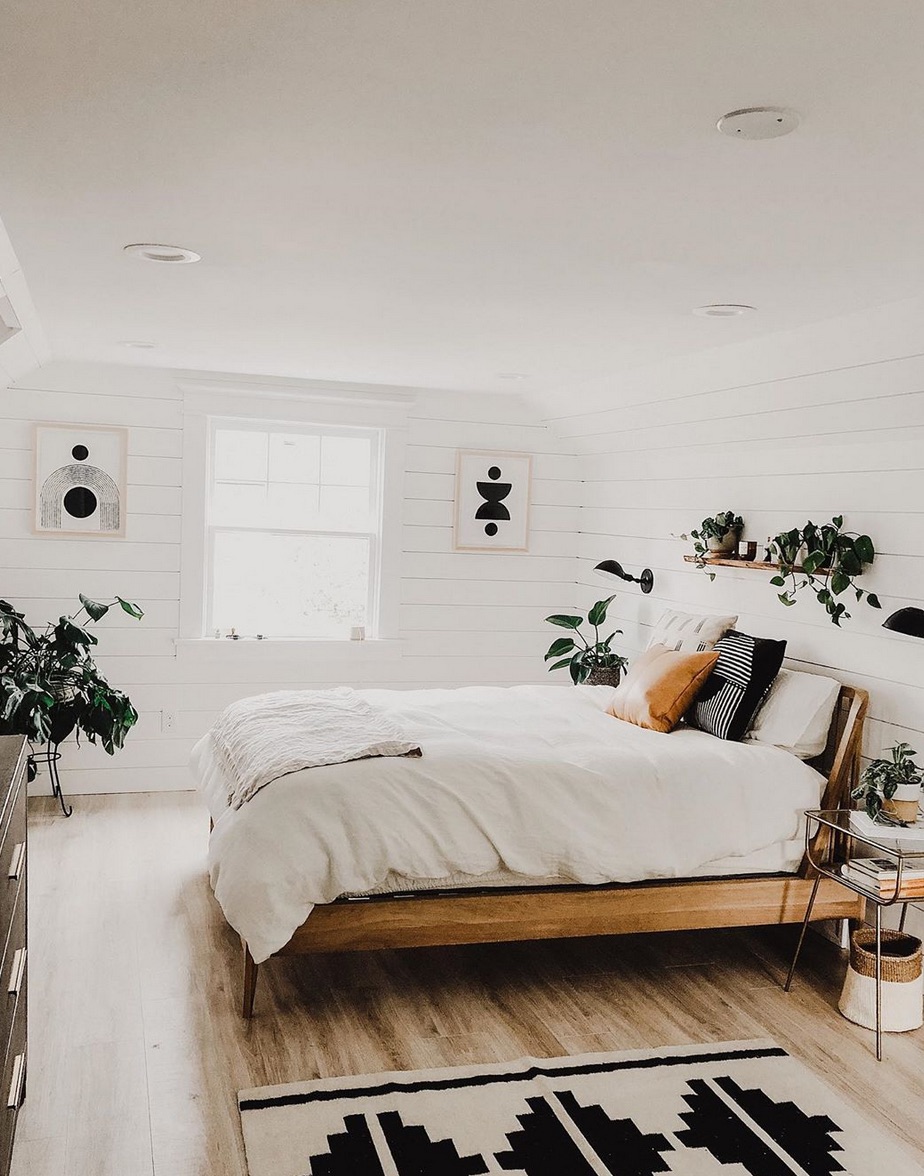 There you have it, 35+ black and white bedroom ideas. Which design was your favourite? I personally love the more simple, minimal styles because they serve as the perfect foundation to build upon with colour and decor. Comment and tell me which one you loved the most!