Curtains make a big statement in a bedroom but they're often one of the most forgotten design elements and they've definitely come in and out of fashion. Now's the time to have another look at your bedroom and imagine one of these bedroom curtain ideas to give it a refresh.
Whether you're wanting to add some character to your room, create a bit of privacy, or let the light flood in, there are so many different curtain and blind designs to suit your style and taste. To help you get started, check out these 35+ inspiring bedroom curtain ideas, from light sheer fabrics to glamorous velvet, and everything in between!

1. Simple White
What a stunning classic bedroom. The white curtains match perfectly with the light and dark tones of the room. If you're going for a style like this, then white or light-toned curtains will help to soften the darkness of the timber.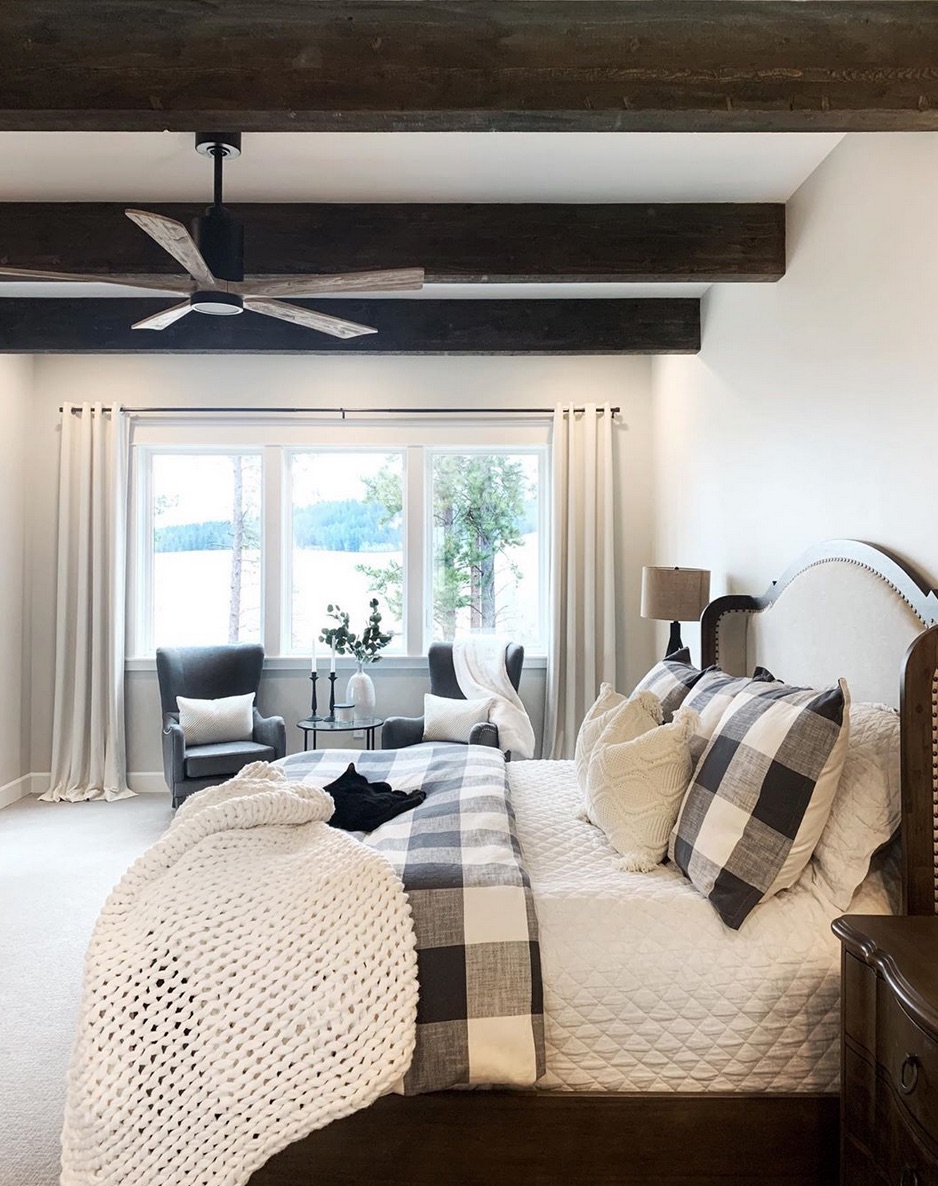 2. Victorian Style
Here's another classic space with a coloured twist. This classic blue and white style is made very French chic with the vintage gold frame sitting pretty above the dresser. And the little decor details of glass vases and flowers make it all the more pretty.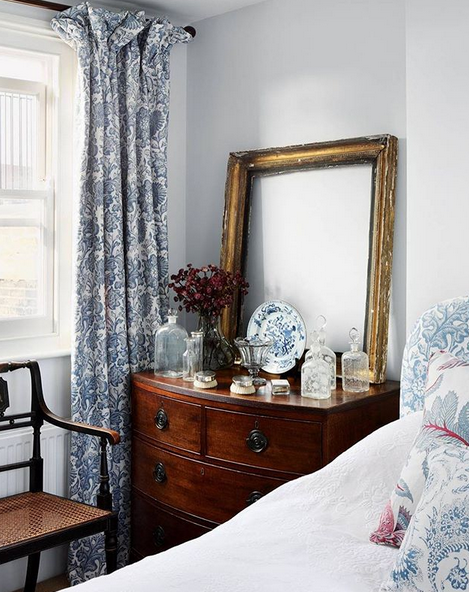 3. Pink and Fabulous
If colour (and a lot of it at that) is your style, then you'll love this space. How fabulous is the green-and-pink wallpaper? And I love the quirky prints framed on the wall. Plus, the pink curtains are totally swoon-worthy. Honestly, they would look beautiful in a crisp white space as well. But they add so much fun to this already colourful room.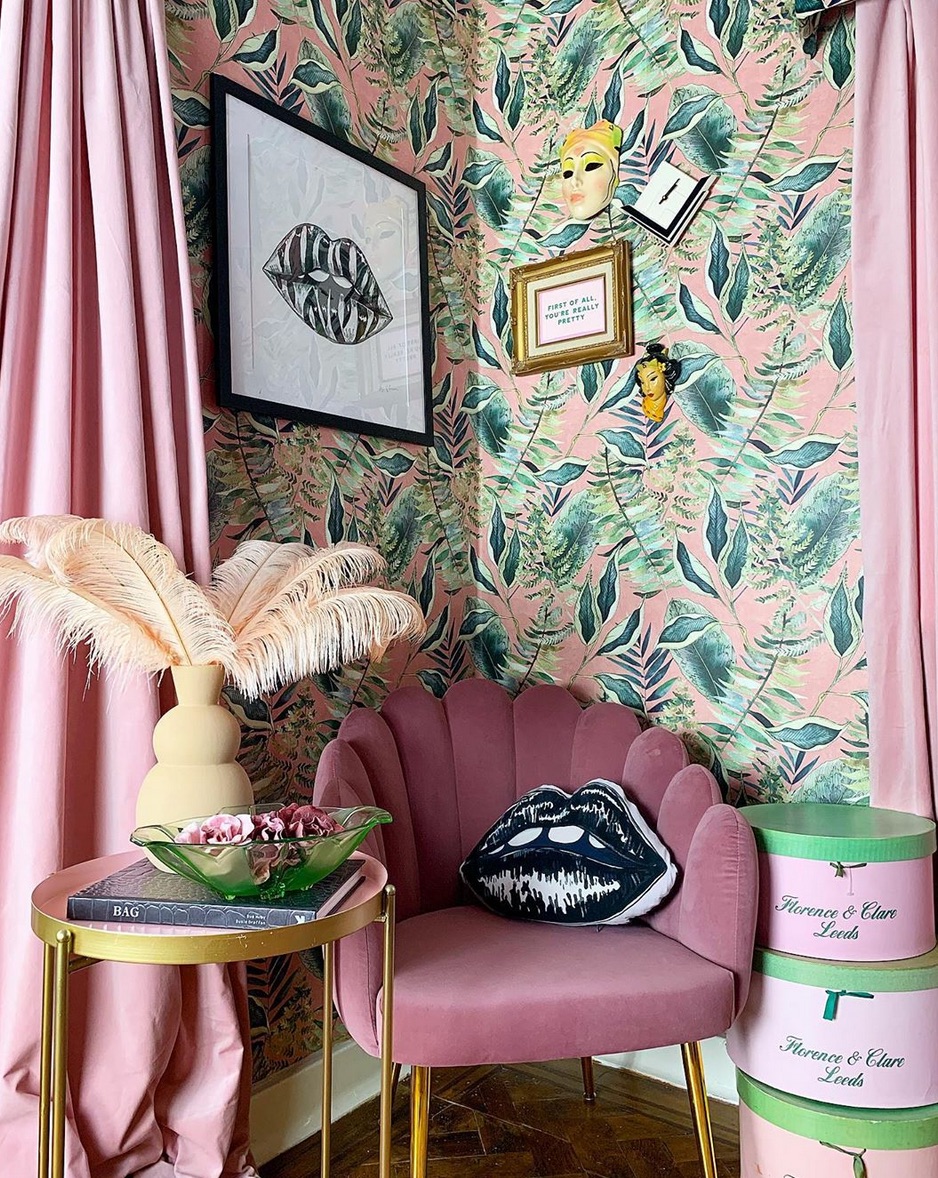 4. Brown curtains
If you prefer a more muted colour palette with a pop of colour, this might be the choice for you. The brown of the curtains matches perfectly with the colour of the cushioned headboard. And if you want something bright and colourful, a fun wallpaper might be for you. This palm-print design is stunning!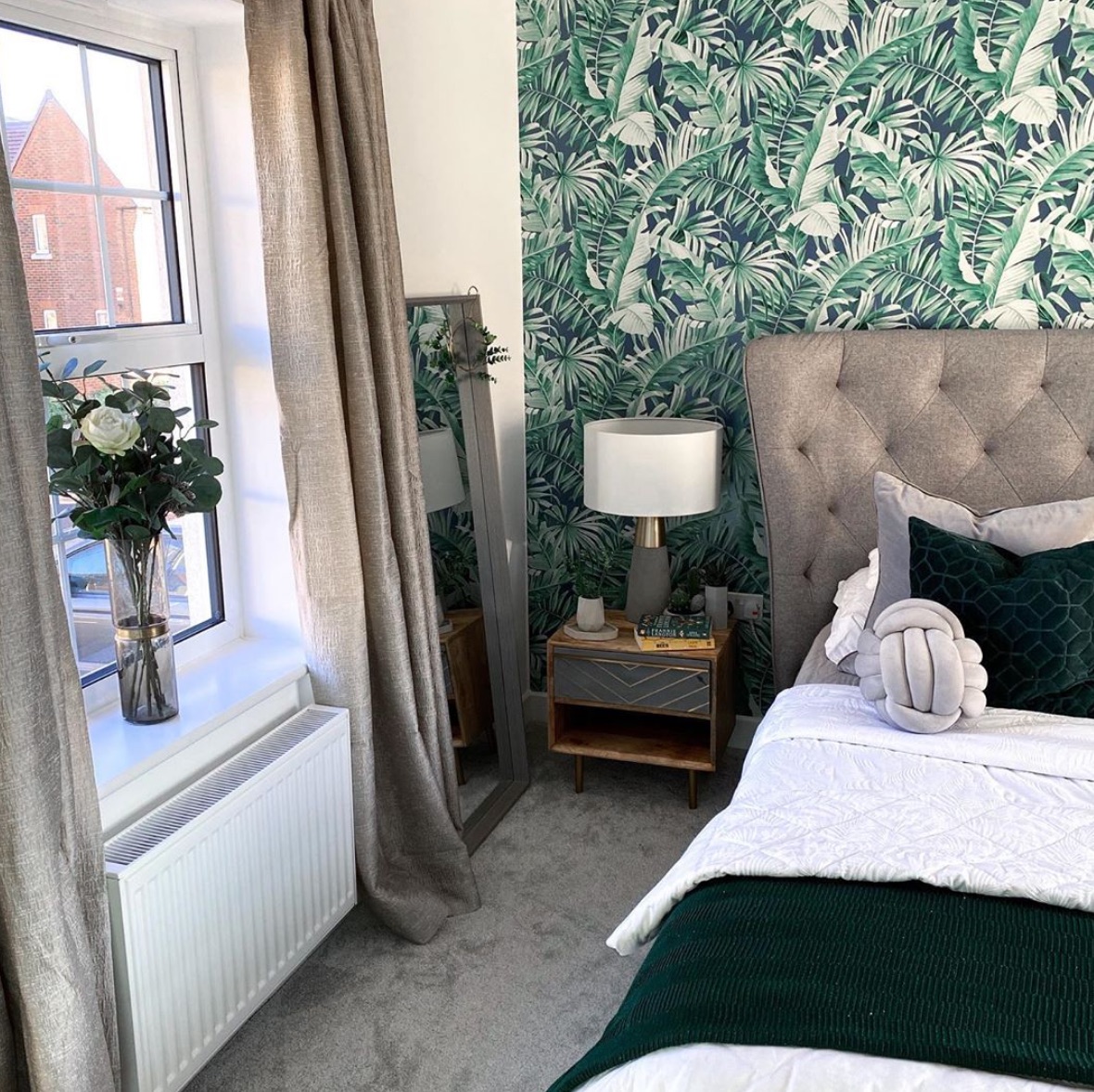 5. Breathtaking Blues
Keep things soft and classic with a calming baby blue and white colour scheme. This will serve as the perfect foundation for draping curtains, gold touches and elegant photo frames. I love how the curtains in this room are in the same pattern as the bench seat at the end of the bed. And the vase of flowers on the side table is just too cute!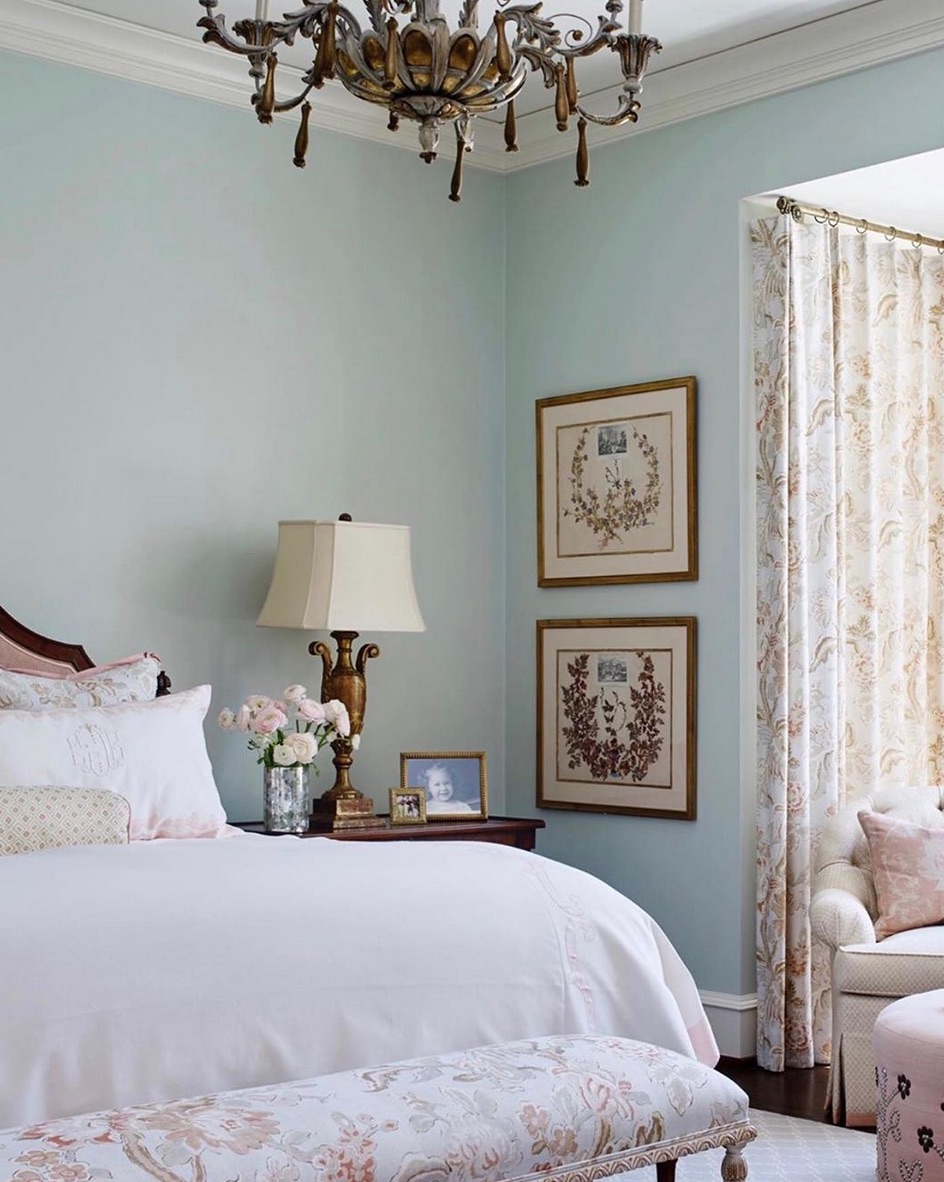 For similar bedrooms, look at these blue bedroom ideas.
6. White Linen
Frame up your bed with perfect precision by placing it in between your windows. I love how the white linen curtains drape around the bed, creating a calming effect. And the deep green bed frame adds to the relaxing vibe.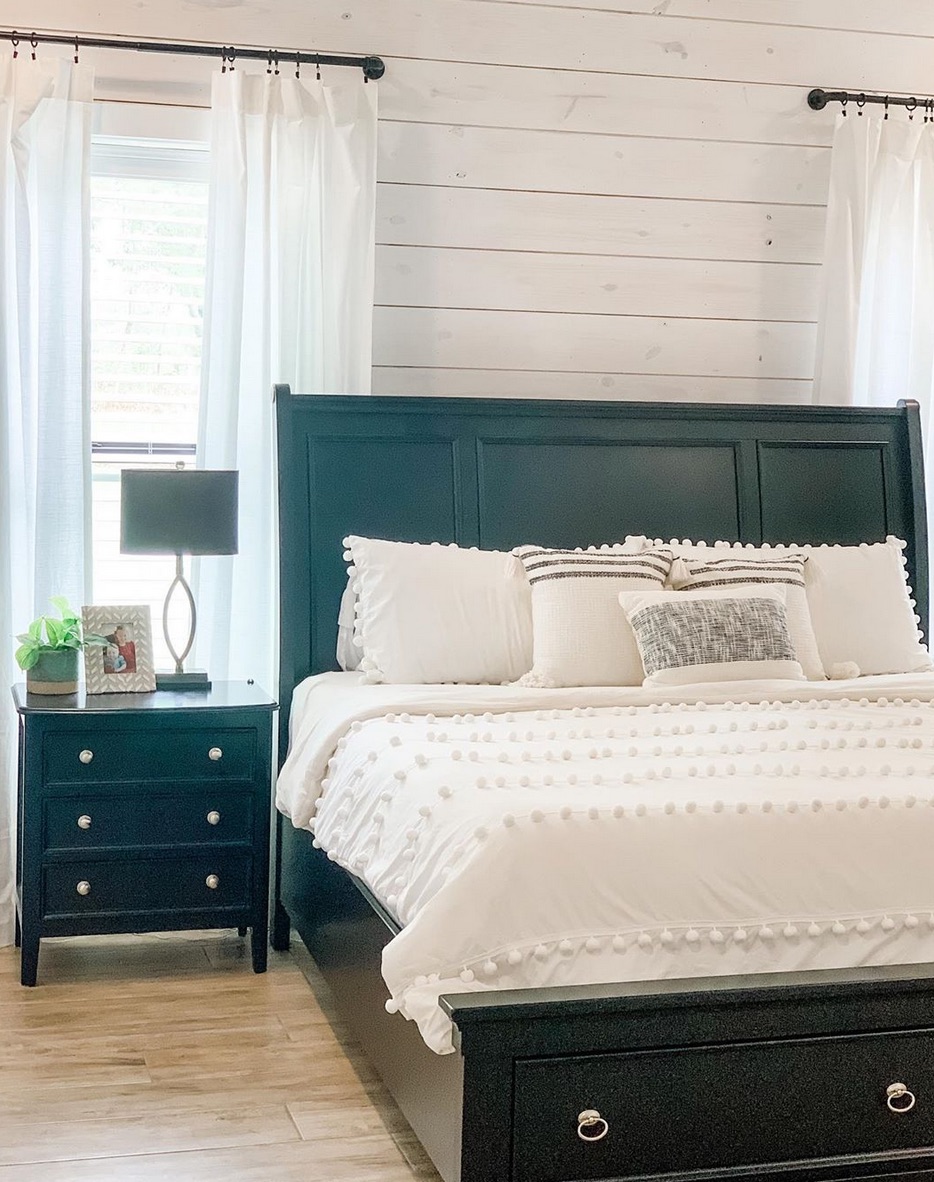 7. Let the Light in
There's nothing more lovely than a sun-soaked room in the middle of Spring. So why not tie your curtains back and let the light in! Plus, having a large window or French doors will help create a bright and lovely atmosphere.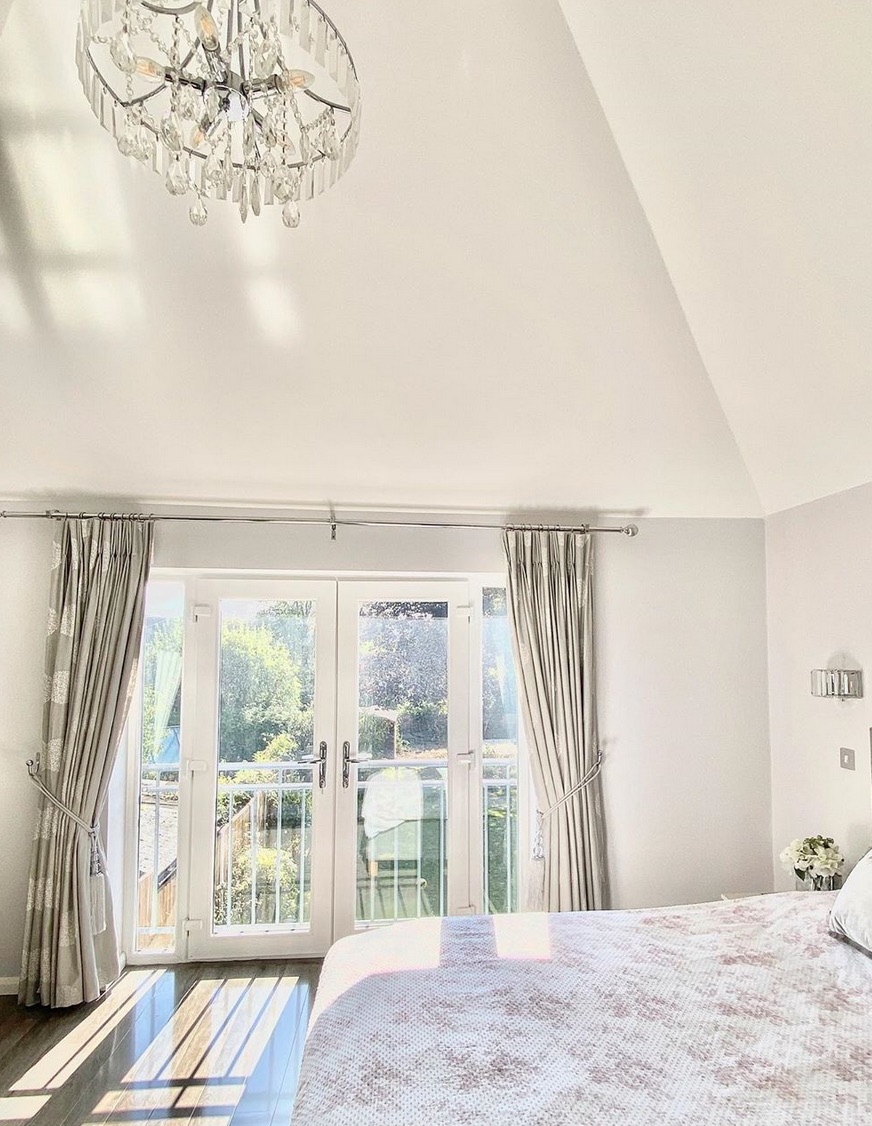 8. Navy Blue bedroom curtain ideas
On the other hand, dark curtains are a great choice for offsetting a stark white room. These beauties steal the show. And they stand out against the light white and grey in the rest of the room.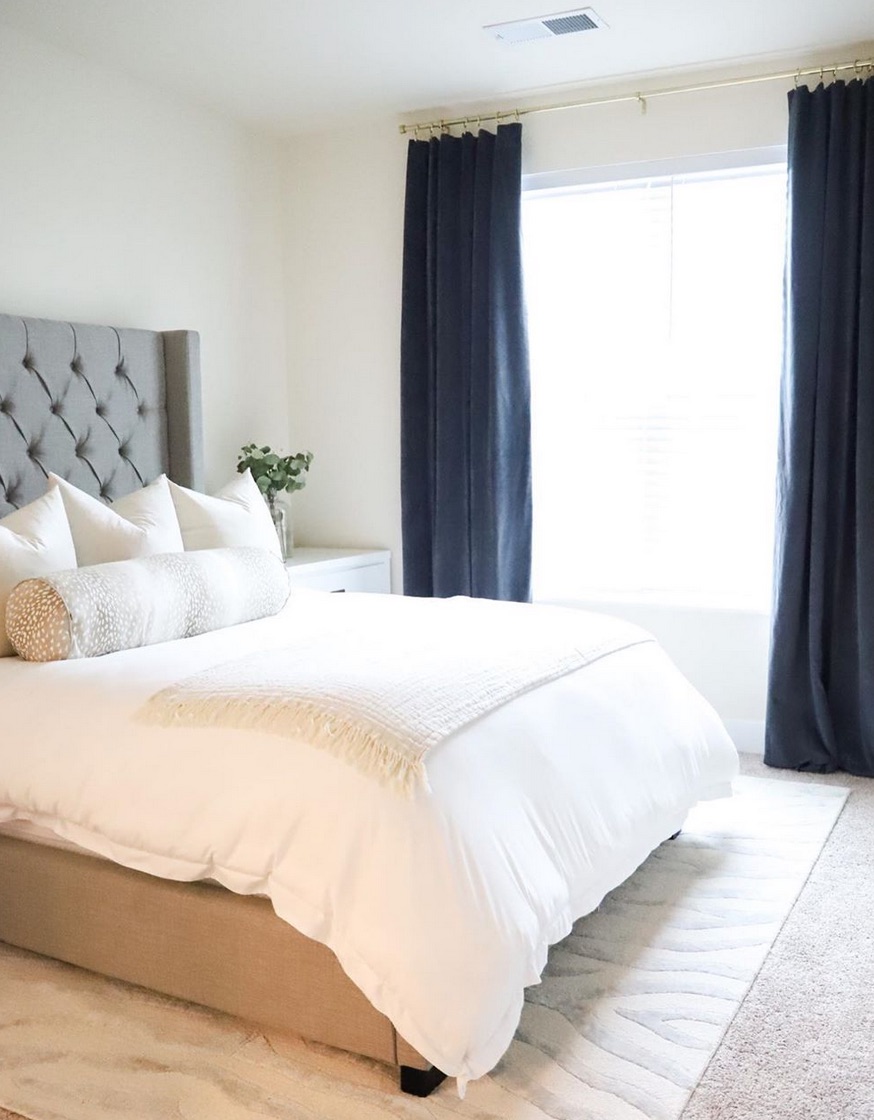 9. Grey Tones
If you want to keep things all grey, this may be the choice for you. And the truth is that just because your colour palette is grey, it doesn't mean your space has to be boring. You can use textures and patterns to bring everything to life! Take these pillows, for example. They have different shapes and elements that add detail to the bedroom.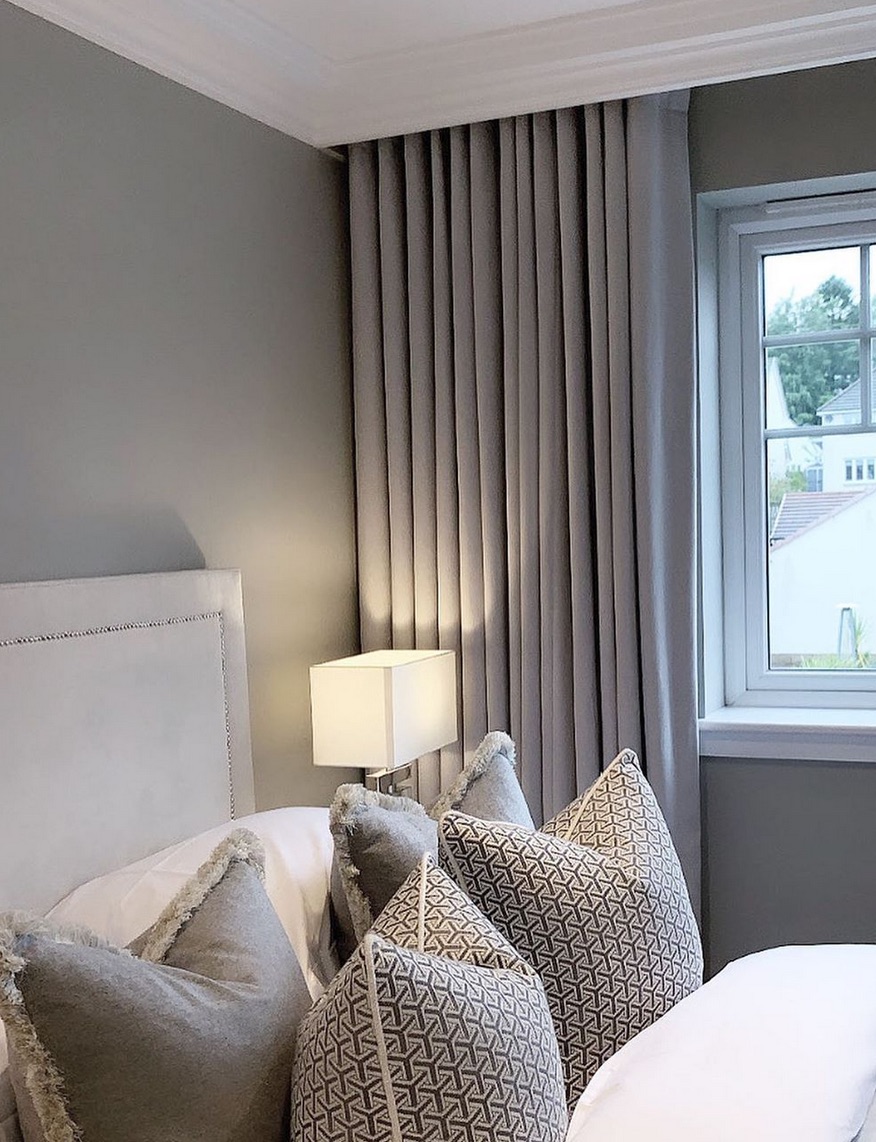 10. Green and Neutrals
Here's another neutral and colour combo. And green is a fantastic colour if you're wanting to keep things fairly simple but still make a statement. I'm a sucker for a feature wall, and it looks great behind this dark bed head. Plus, the light brown neutral curtains are the perfect shade against the beautiful open windows.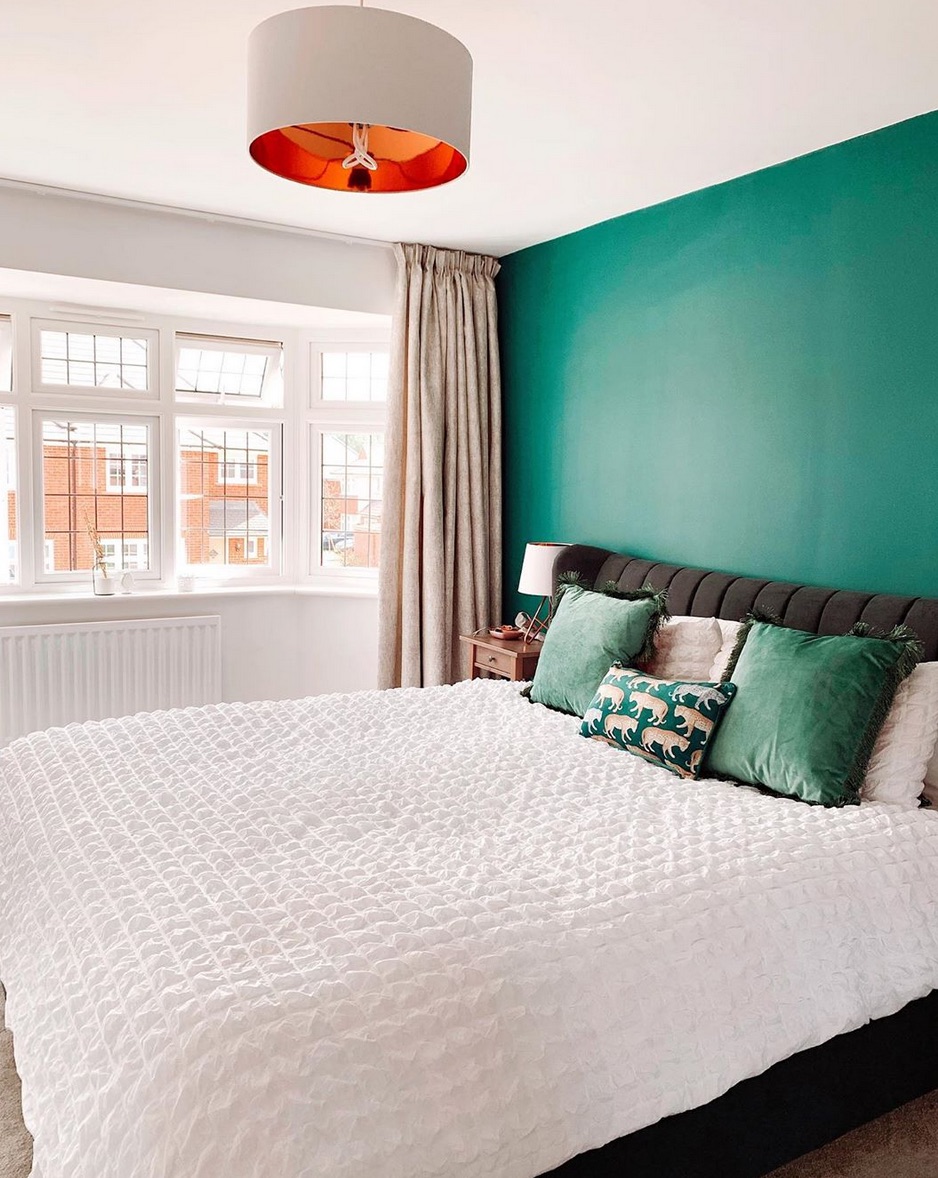 11. Linen Cotton Blend
Sometimes linen can be too light and cotton can be too heavy. So why not combine them both for a great finish? And these curtains look stunning hanging down either side of this large floor-to-ceiling window.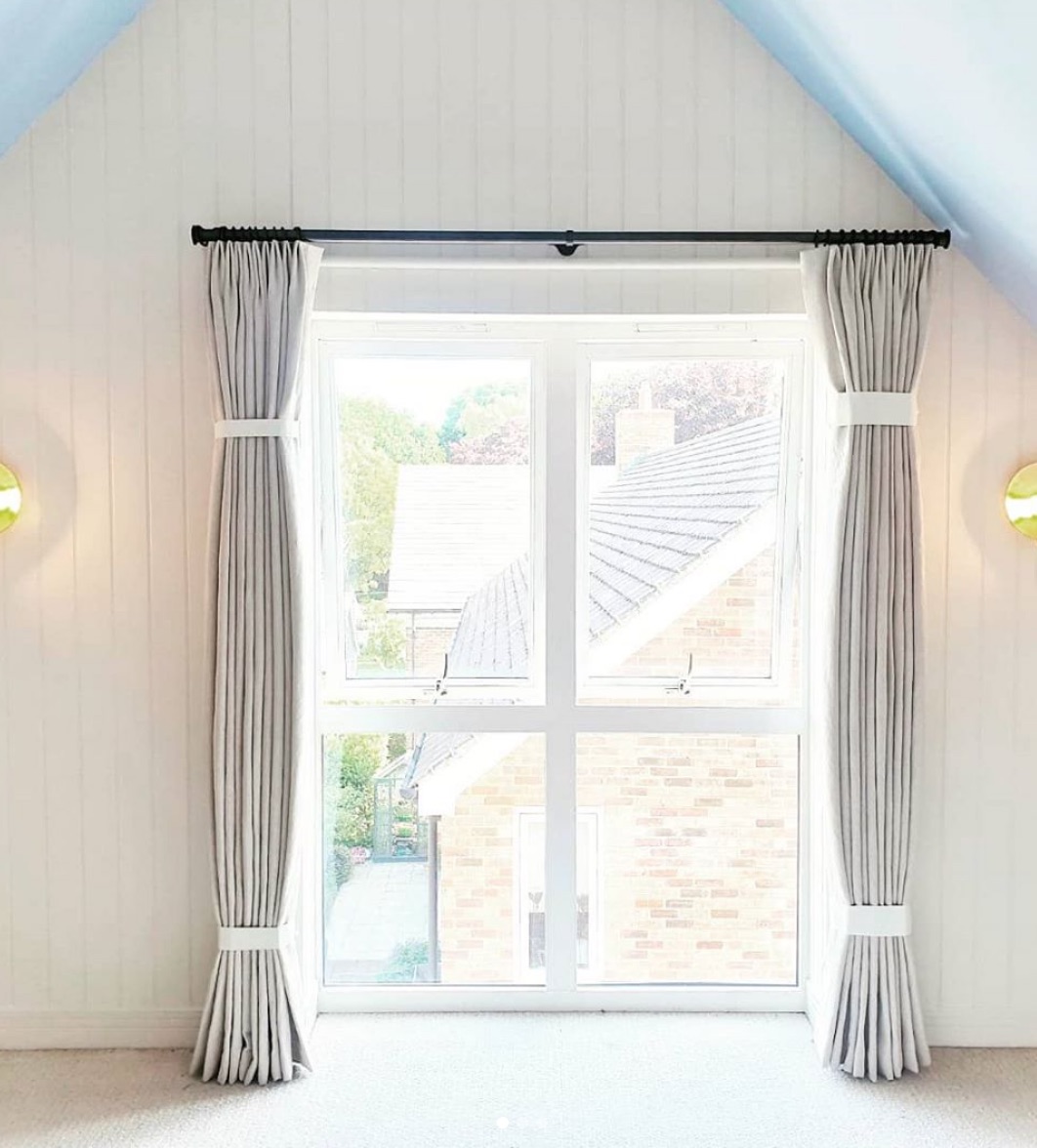 12. Sheer bedroom curtain
If you prefer to keep your bedroom light and bright, sheer curtains might be the choice for you. They're particularly great in rooms where there are dark elements like this blue wall. And they look beautiful with boho elements too, like this macrame piece on the wall and statement light covering.
13. White on White
Light and bright more your style? Take inspiration from this white on white bedroom. These floor-to-ceiling sheer curtains make a subtle statement in this space, keeping it light and airy. Plus, I love the cosy little vanity nook – it's so much fun, particularly with the lights framing the mirror.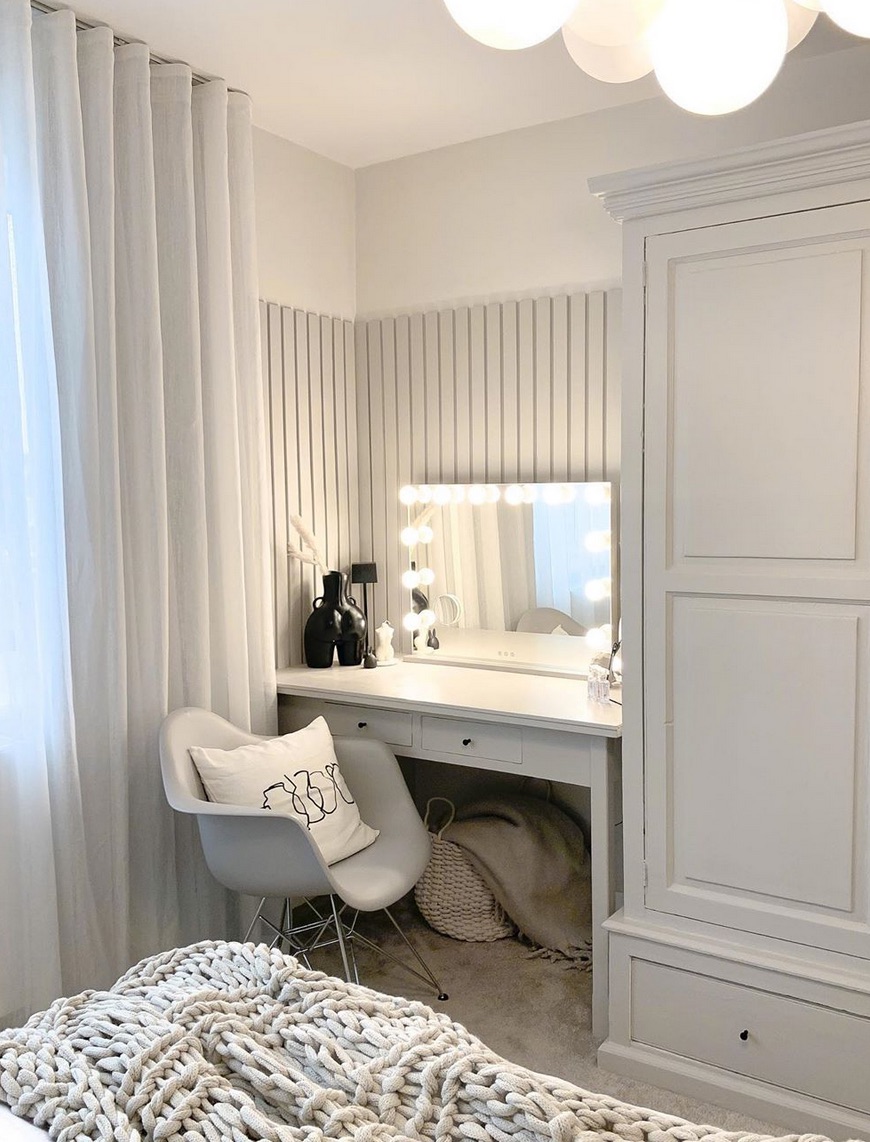 14. Scandi Style bedroom curtains
White and timber is a match made in heaven. This colour combination is totally trending right now and I just can't get enough of it. I really like how black features have been used to create a touch of dark in this very white space. And I love how the thick black curtain railing matches the cute lamp!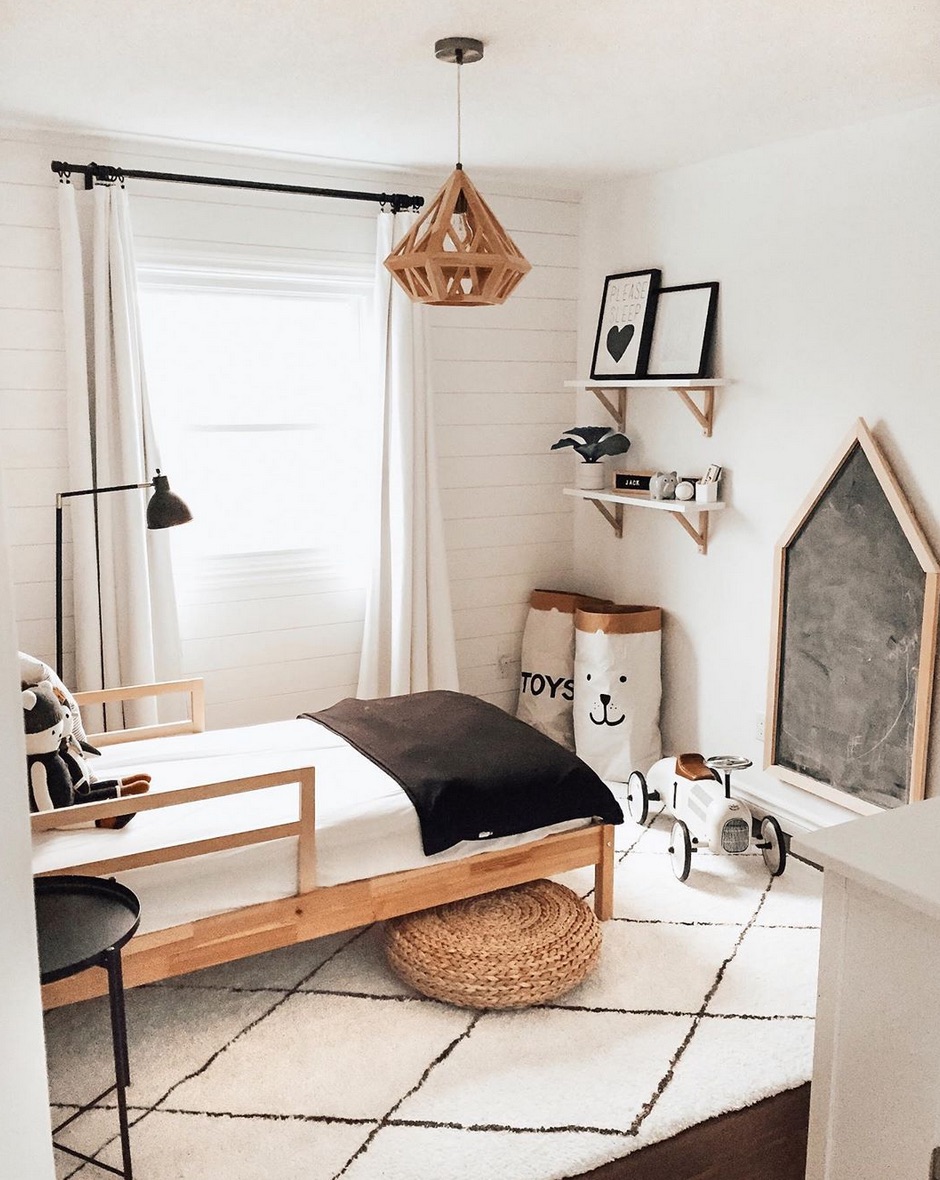 15. Country Style
Hello, sweet home! This is a gorgeous, fresh little space that would make the most perfect place for a weekend getaway. Can you imagine sitting outside on the deck and taking in all that nature has to offer? The design is also the perfect blend of farmhouse meets modern design with the floral curtains and shiplap boards behind the bed.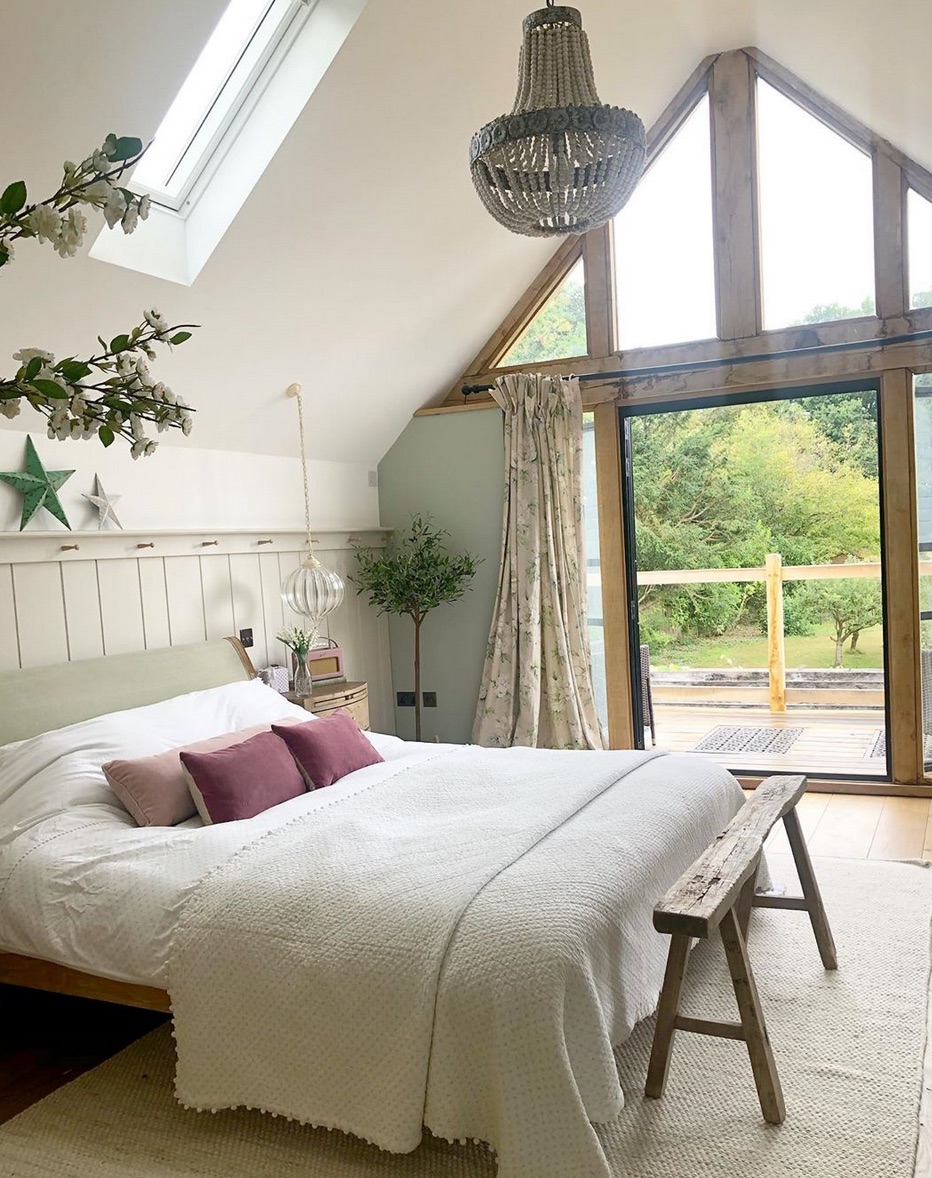 16. Bold orange bedroom curtains
Make a statement with bright coloured curtains like these. I'm not one to go for orange but I've got to admit, these curtains look absolutely amazing in this space. And I love how the colour is tied in with the cushion on the bed that you can see on the left side of the photo – too cute.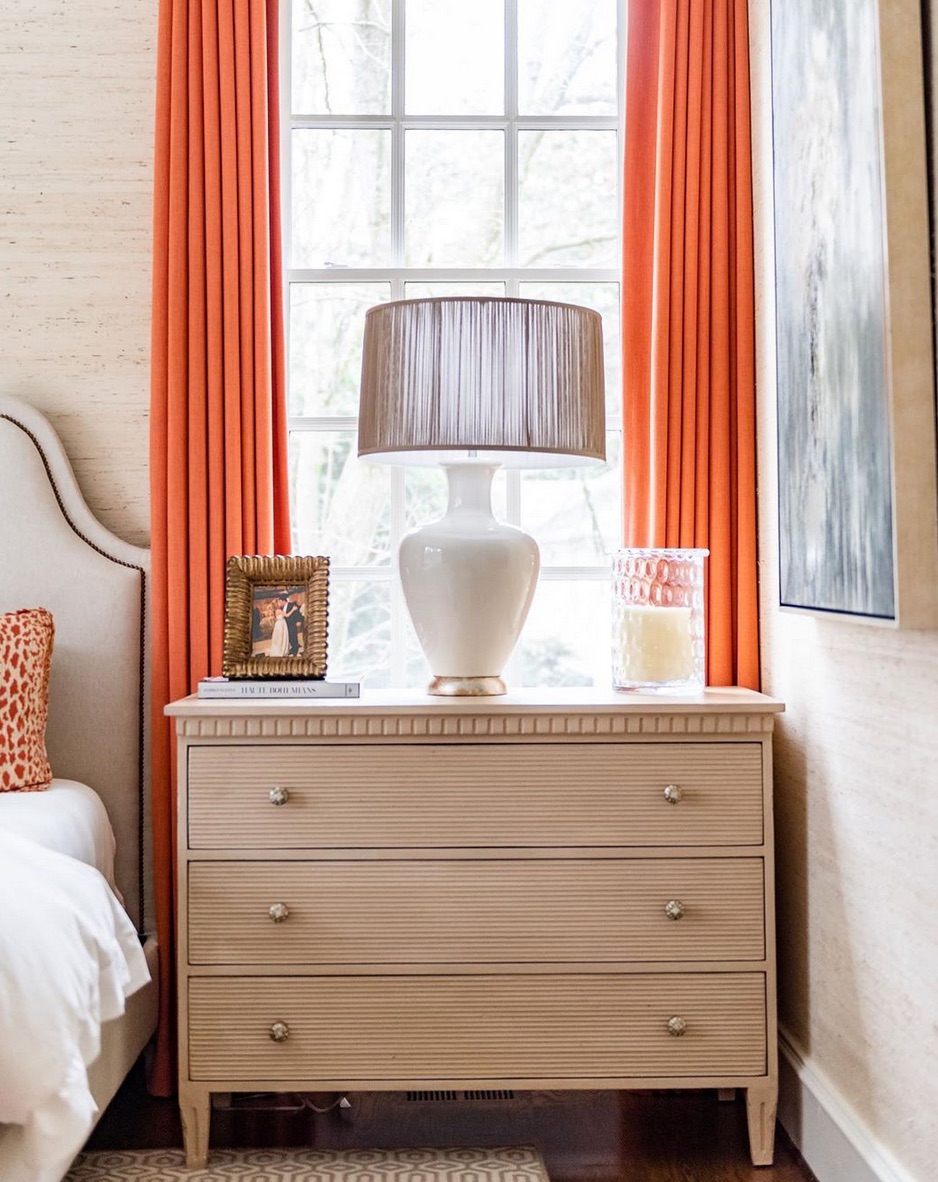 17. Textured Curtains
When you think of curtains, you may immediately think of something that's simple, plain and white. But it doesn't have to be that boring. In fact, you can still stick to a light, white colour palette while having a bit of fun while you're at it. These textured curtains do just that – providing the right amount of interest and adding a bit of fun to this otherwise classic white room.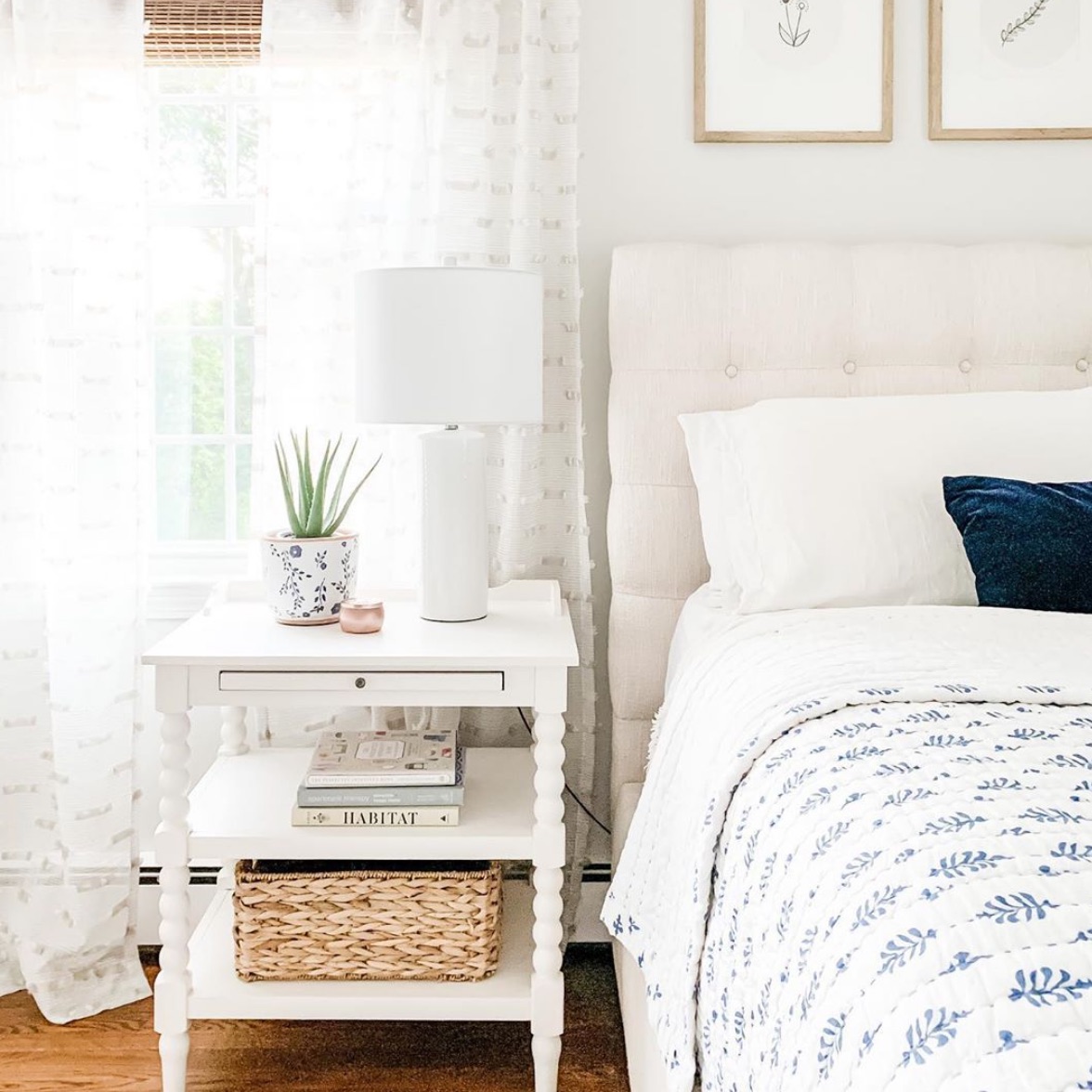 18. Monochrome Style
There's something so elegant about a white and black colour palette – it's so chic. And your curtains play a big part in finishing off this kind of style. If you want to go for this look, choose curtains that are in that colour scheme – think black, white or a shade in between like grey!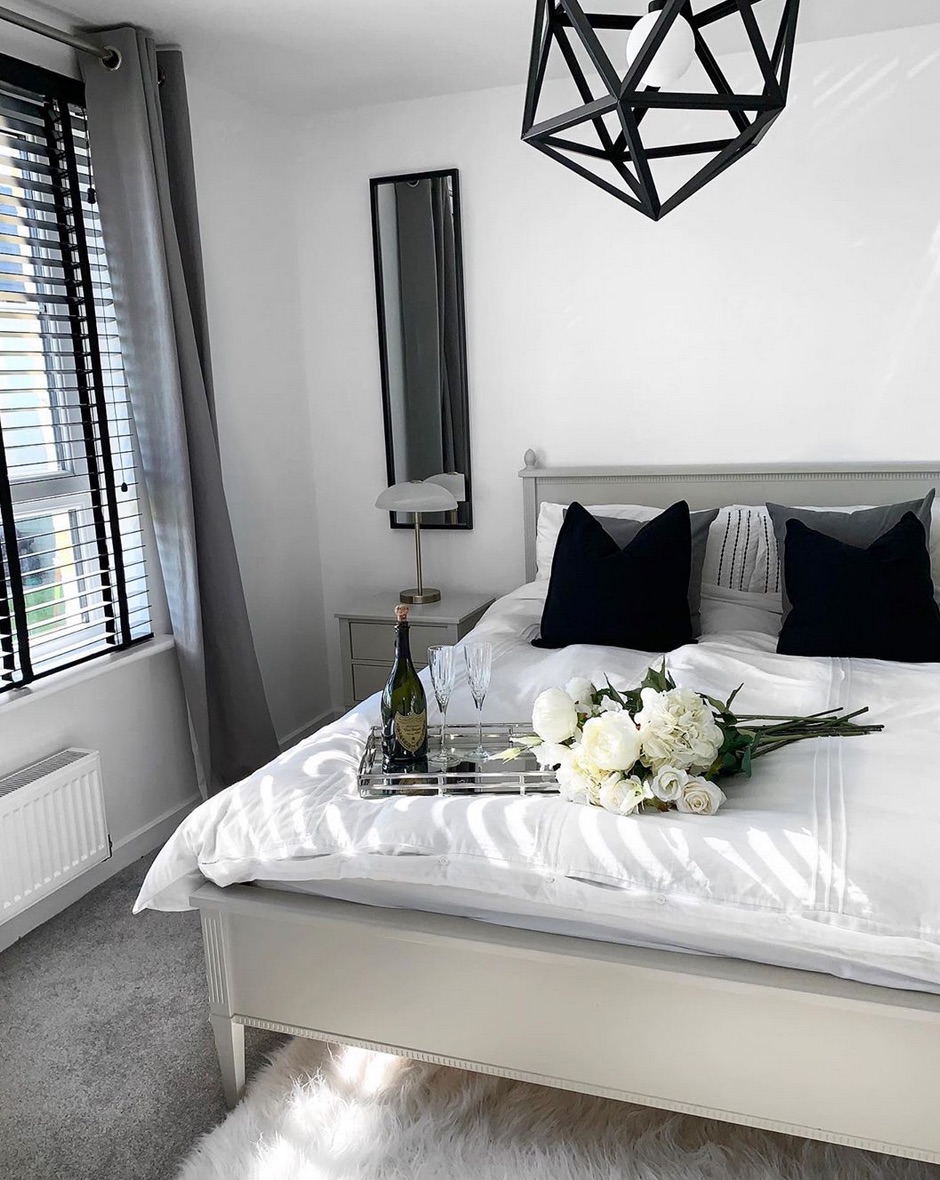 19. In the Corner
I love this styling of this curtain piece – it's so exquisite. But here's the hook – it's not a full curtain! In fact, it's confined to one corner of the space. This allows the black-framed window to truly shine and bring plenty of natural light into the room.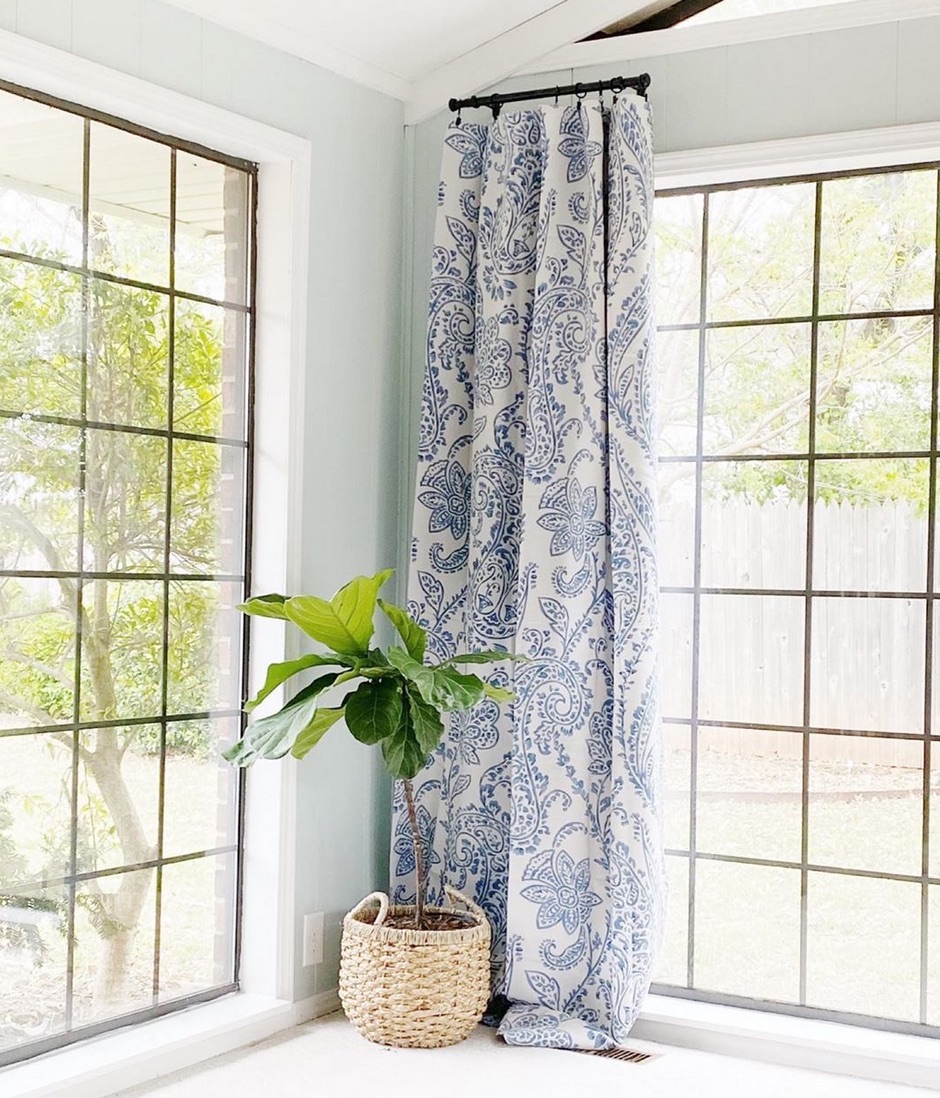 20. Orange and Green
I'm not really a big fan of this colour combo unless it's Christmas… But it can provide a quirky edge for something that's a little bit different. So if you like to have a bit of fun with your colour palette and push the boundaries, then this pair might be for you! If you make a bold choice like this, weave the colour tones throughout the room in other elements like light shades and cushion covers.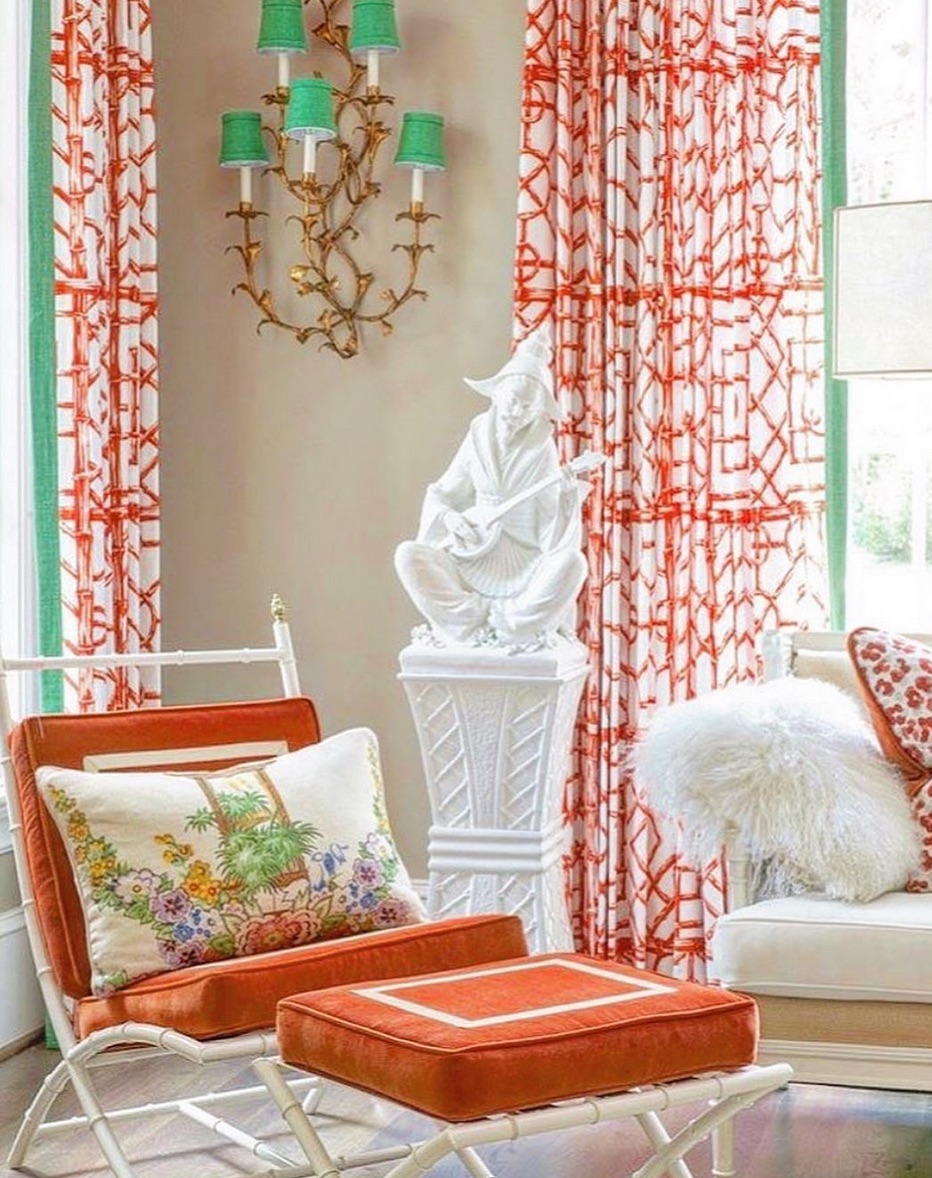 21. Dark Grey Tones
This grey and white bedroom is gorgeous! I'm a sucker for floor-to-ceiling curtains and these ones sure are grand. What I love about these curtains is that they perfectly compliment the lighter grey tone of the walls. Plus, that white print with black font is a great creative addition to the space!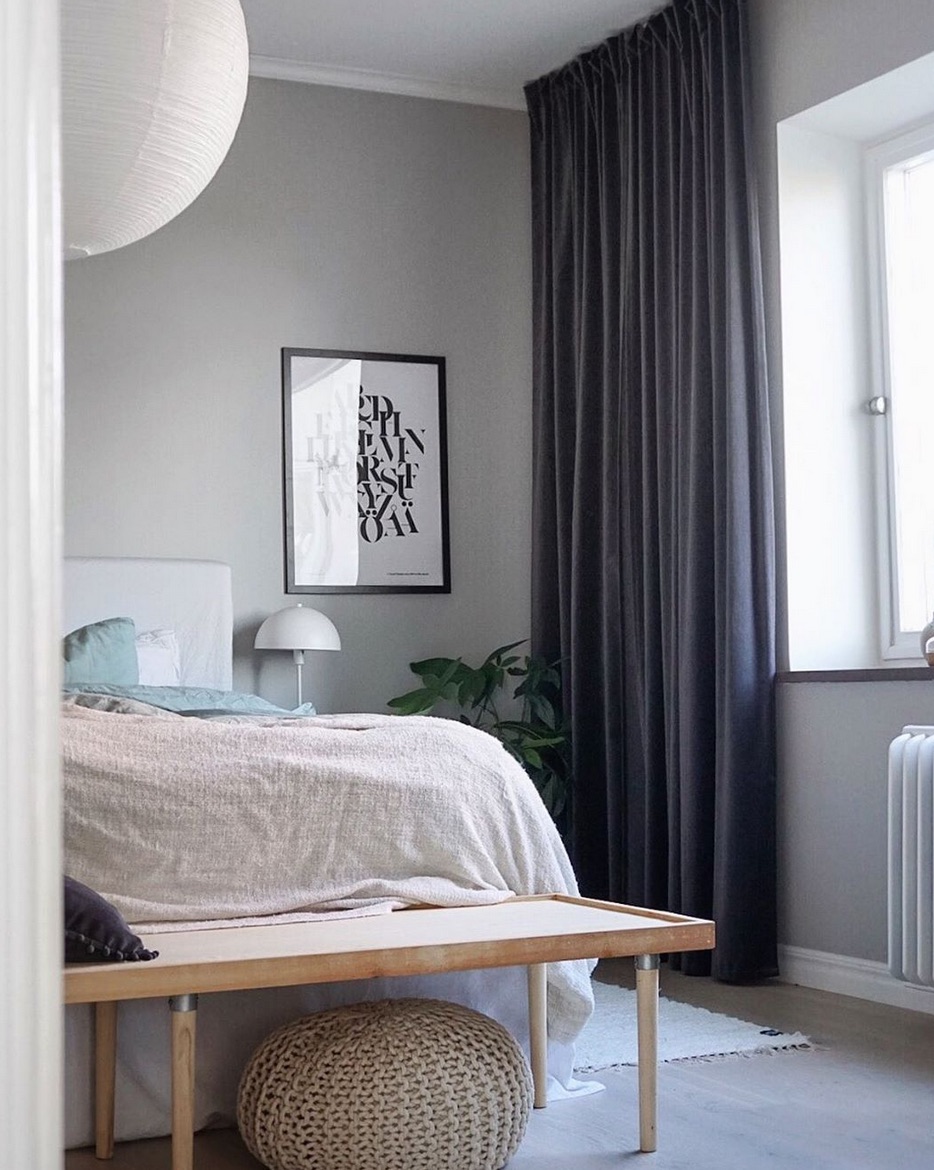 22. DIY Drop Cloth Curtains
Want to get a little creative? Make your own curtains from scratch! DIY drop cloth curtains are all the rage right now, and they look great in a classic or farmhouse-style home. To get started, you'll need drop cloths, curtain rings and a curtain rod. From there, follow a step-by-step tutorial and create!
There are plenty of DIY tips going around on blogs and YouTube. Alternatively, if you'd rather hand over the work to an expert, hire a handyman to install your curtain rods for you.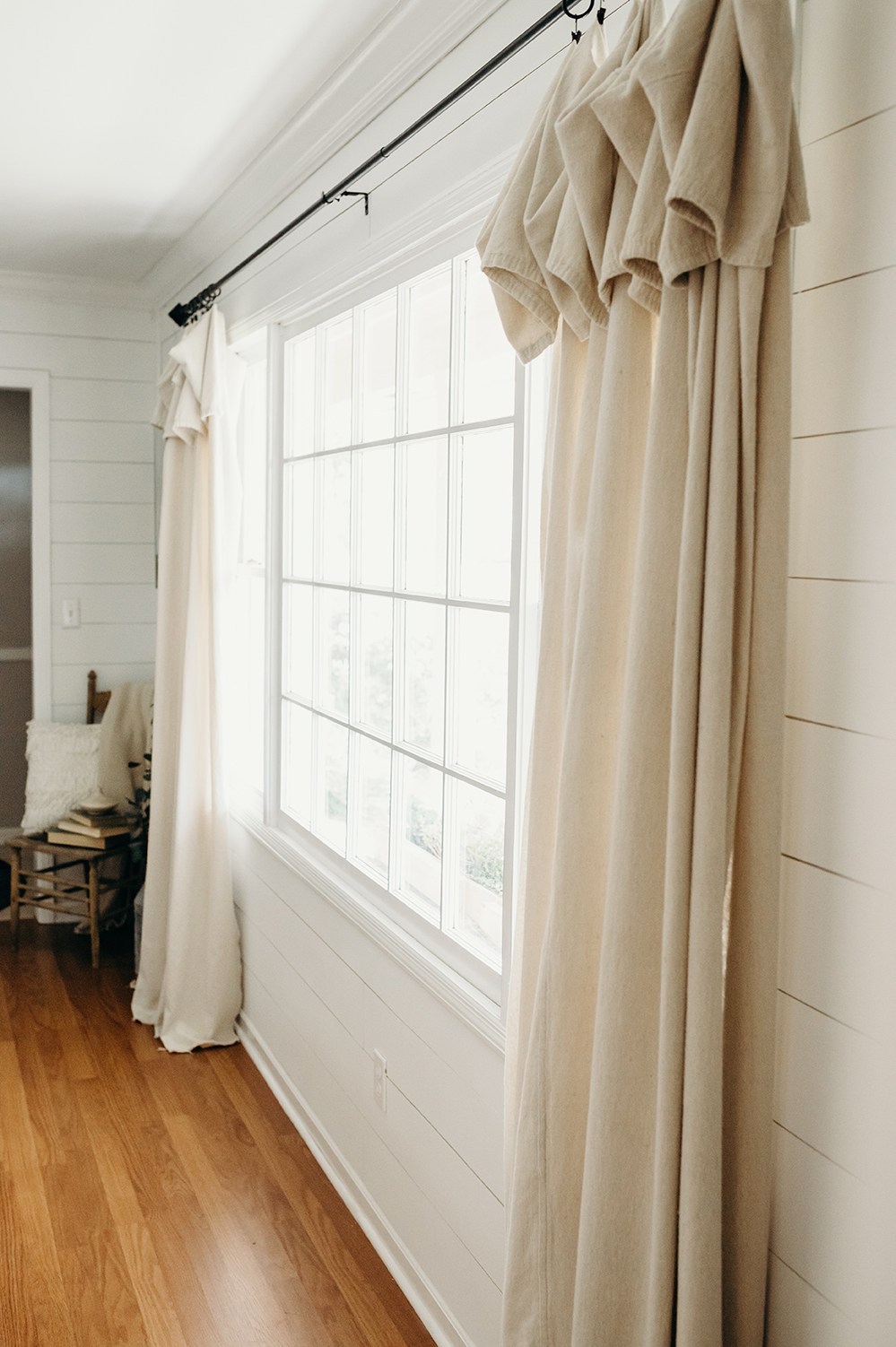 23. Moss Green
For a space that's a little bit more moody, these moss green linen curtains are the perfect choice. And this colour works beautifully with light timber touches and pops of purple and pink. So if you want a  boho bedroom style, take inspiration from this one!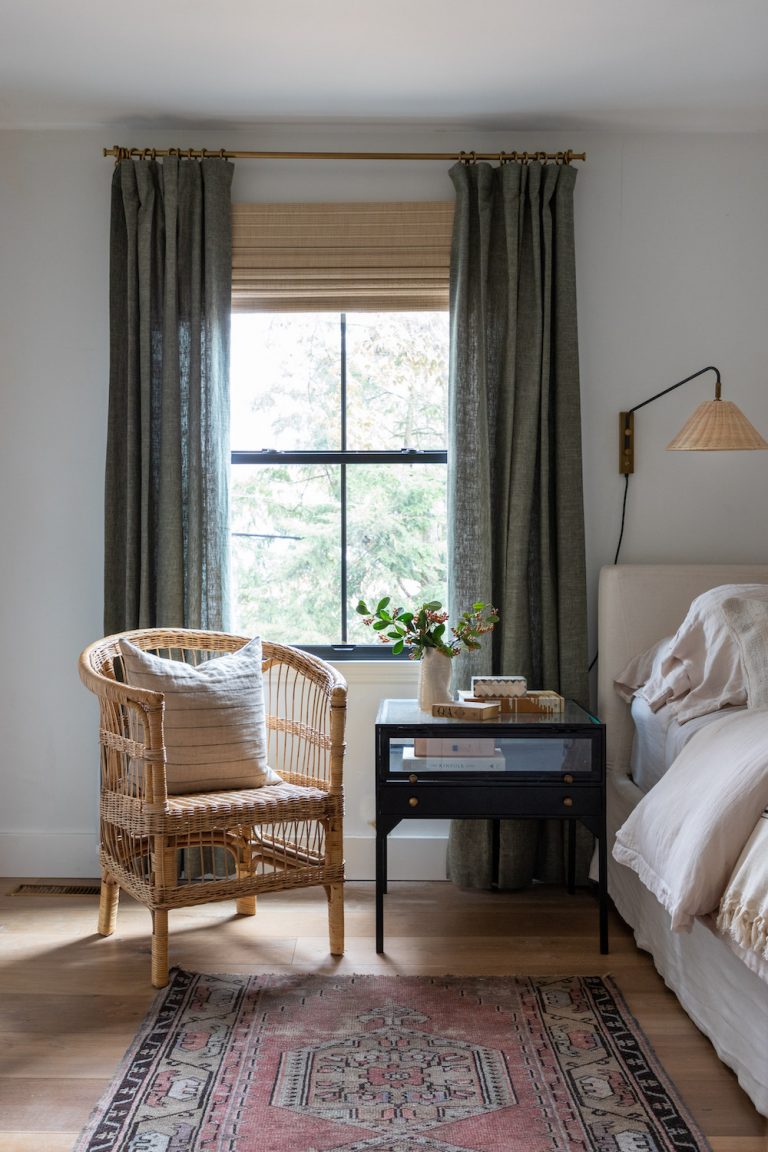 24. Keep it Neutral
Sandy tones are all the rage right now, and it's easy to see why. A simple tone like this will go with any colour palette. Of course, you can use plenty of white and black. But pops of orange, mustard and blue will work too!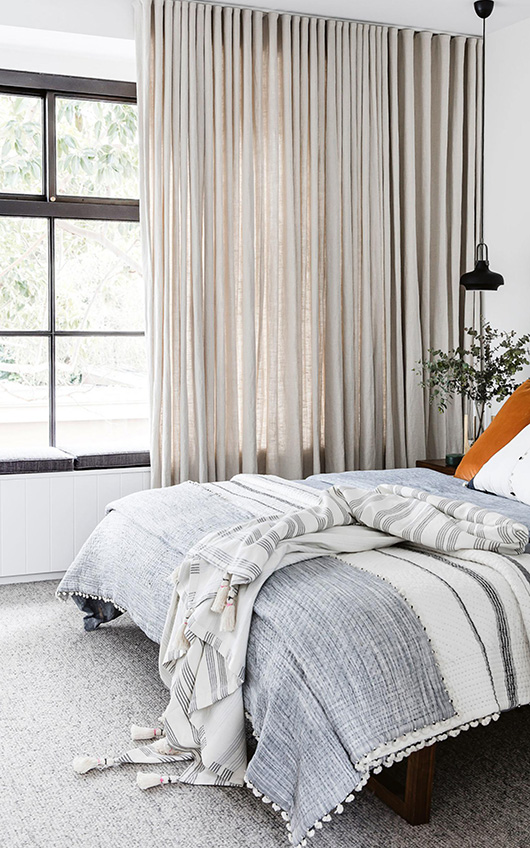 25. Sheer Silver Linen
If you have a beach abode, why not keep things simple and sophisticated with a design like this? These curtains aren't stark white – they look like they're grey – so they provide a little bit of contrast to the white walls. And I love how they run a bit longer than your usual curtains and drape over the floor.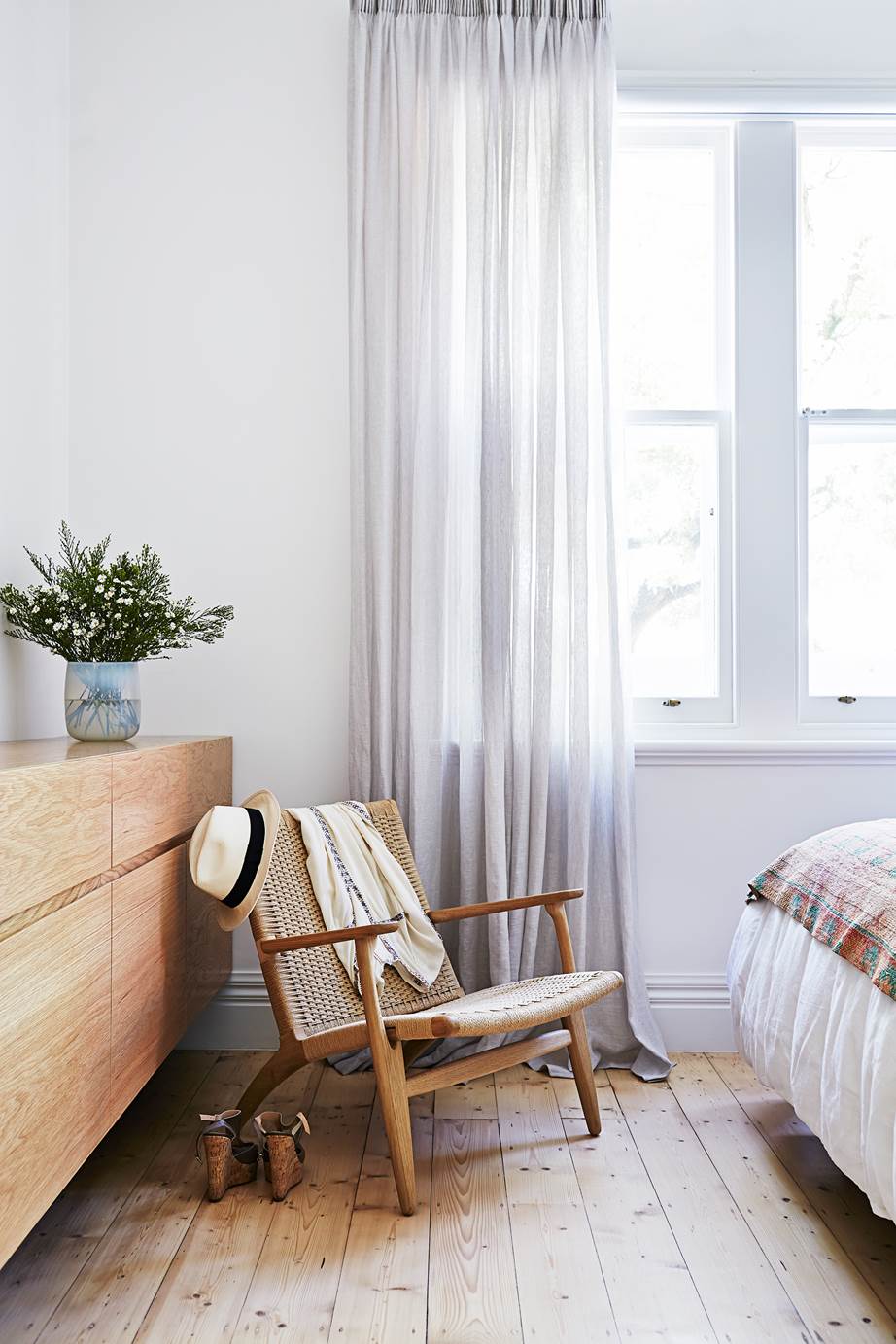 26. Floor to Ceiling
Wow, wow, wow! These curtains are absolutely jaw-dropping. I think it's no surprise that you'd find this kind of style in the middle of New York City. The incredible architecture and design make it the perfect canvas for creating something breathtaking. And if I had a view like this, I'd keep the curtains open all the time to let the light in and see the city!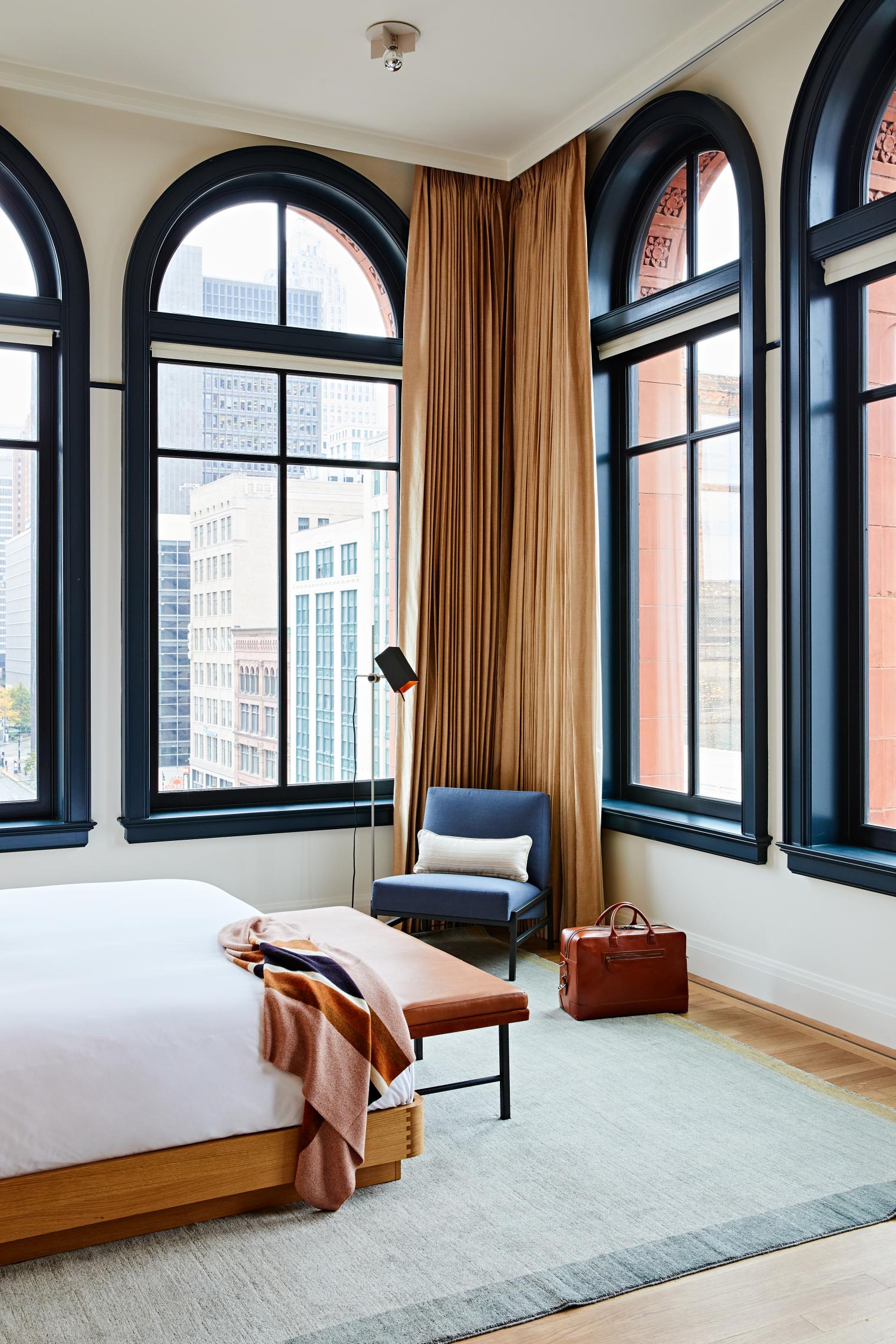 27. Classic Style
Here's another classic bedroom design (this post is full of them!). And this one makes the most of neutral tones with a touch of black and gold. I'm all for gold – the more the better, I say. And I love that vintage mirror with detailing on the top. Plus, the curtain railing fits in with this beautifully.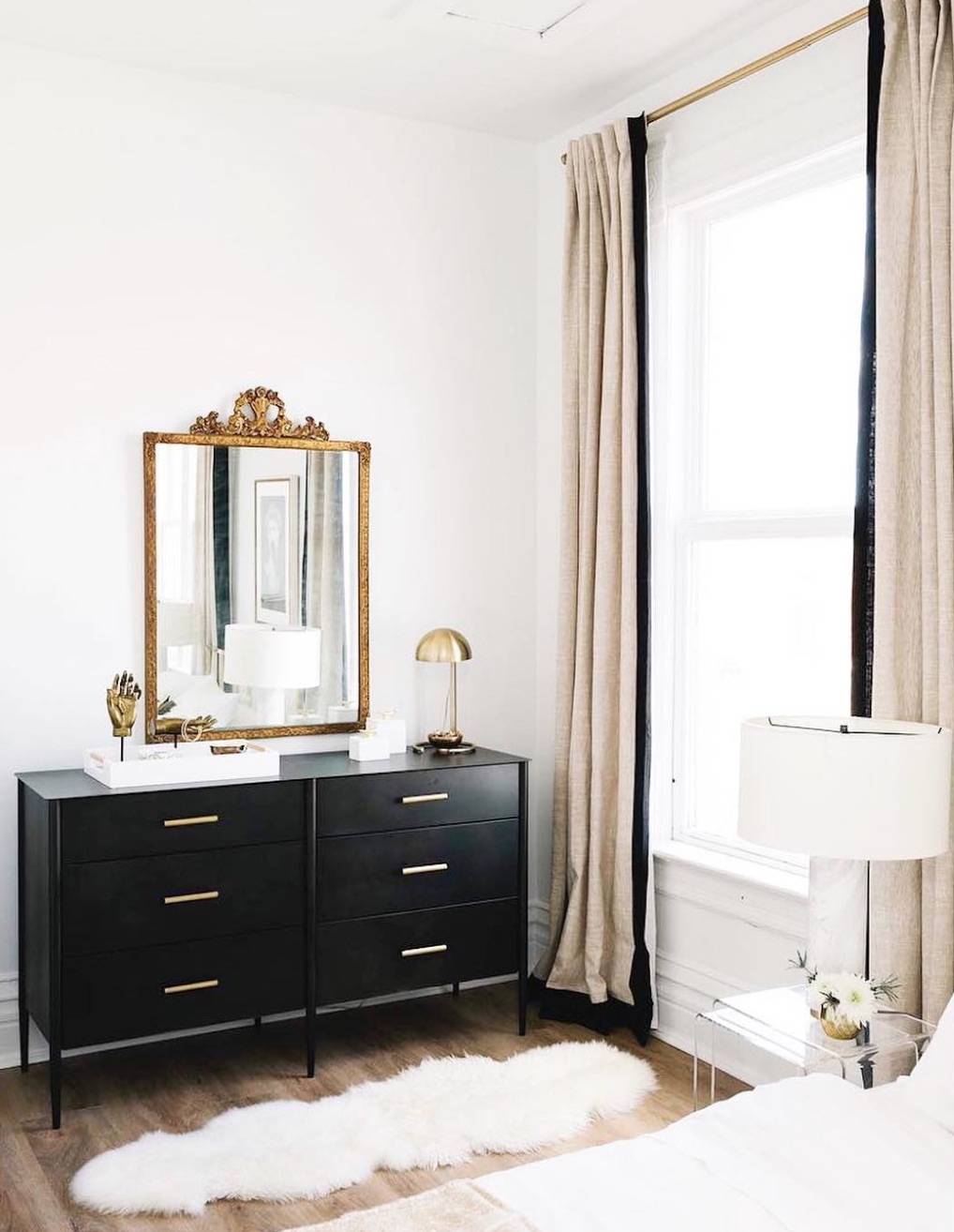 28. Butterfly Room
Now this is a grand kids bedroom! If you've got cash to splash, this is a pretty special design to take inspiration from. I'm a sucker for all things pink… but I love how the ceiling has been kept white to maintain a nice balance. And the pink curtains are so sweet – I love how they match nicely with the walls.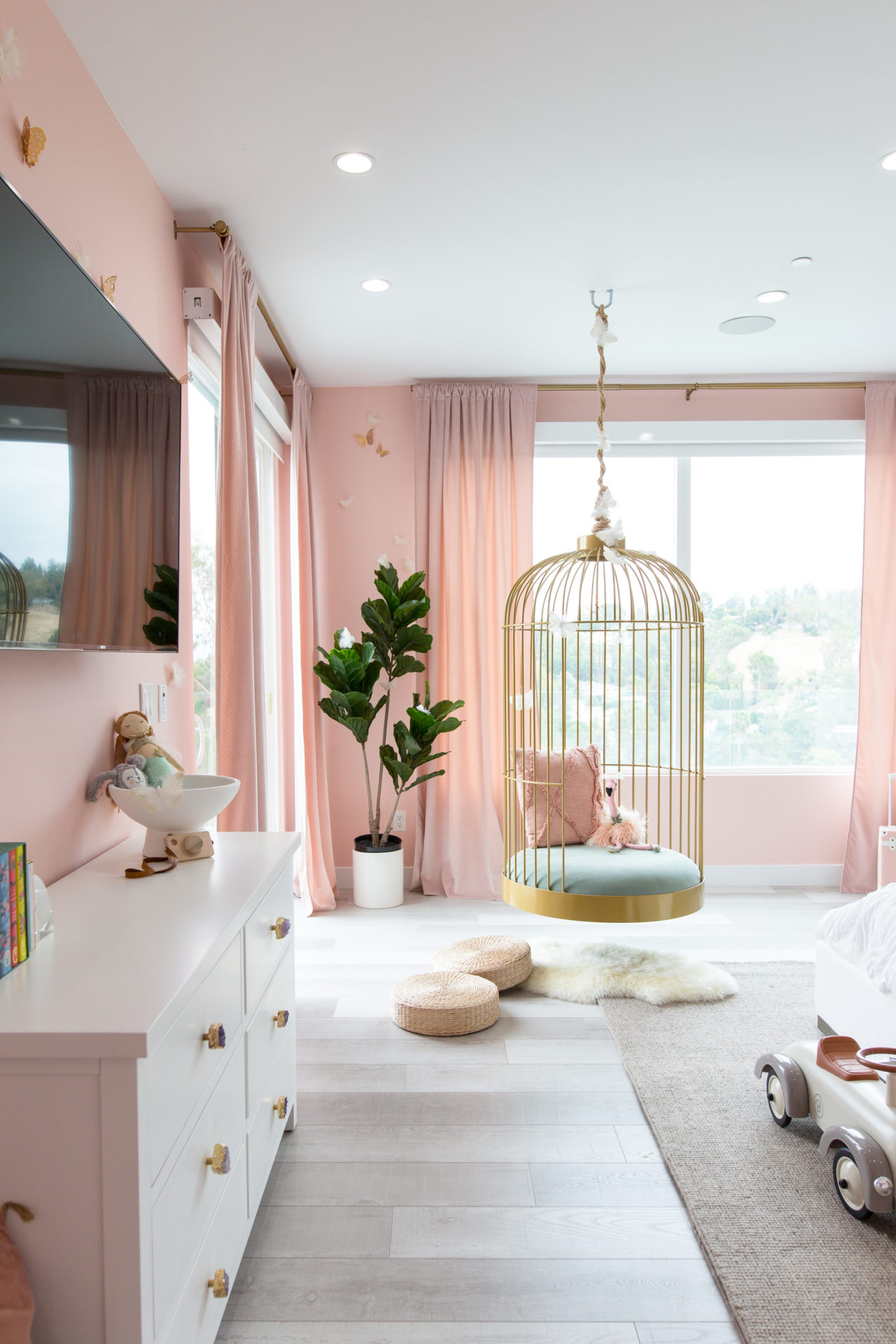 29. Pop of Orange
Here's another orange moment. And this is one that I can get with. It's such a sweet detail in this very green room. I think the combination of the mustard yellow bedding with the earthy-tones prints, orange curtain, and plants galore, makes this space look like a creative jungalow!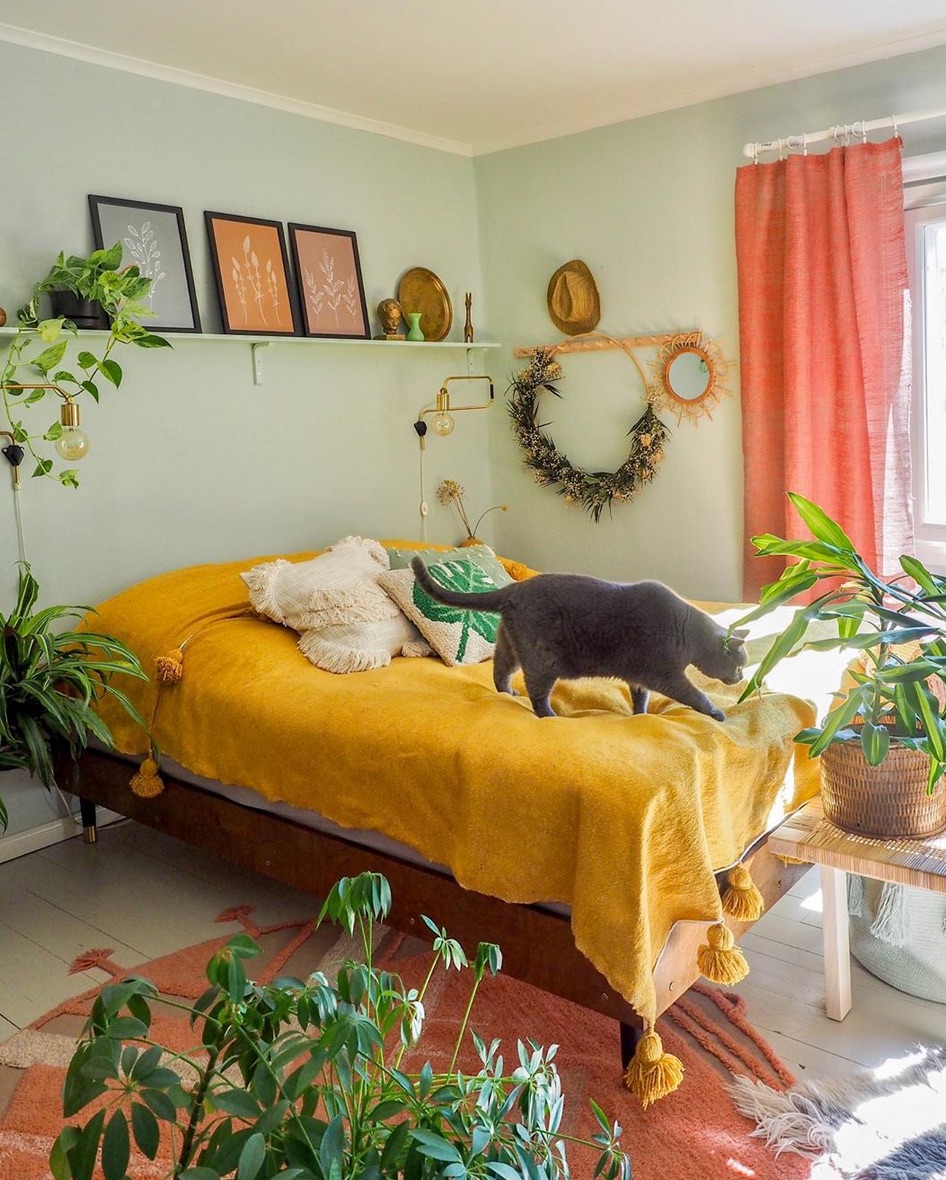 30. Open the Windows
In my opinion, the more natural the better! I love nothing more than having the windows open and feeling the gentle breeze against my face. If you love to enjoy the best of nature, then you'll like this curtain idea. It's simple, sheer, and gently flows in the wind.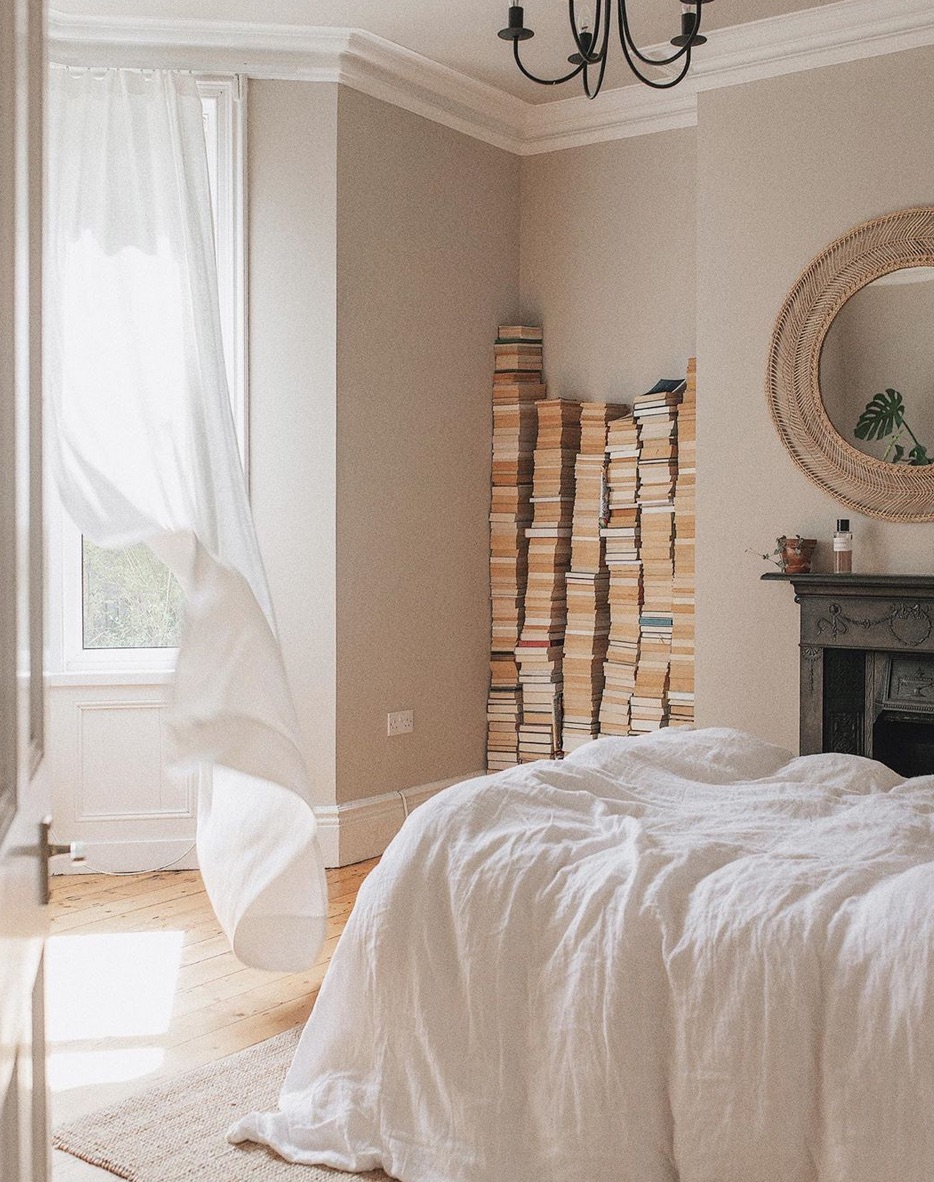 31. Over the Bed
Creating a sweet girly room? Hanging a curtain over the bed is one way to do it! This makes a sweet canopy that's so much fun. Plus, it can be used to hang pretty elements like stars or other mobiles – how gorgeous!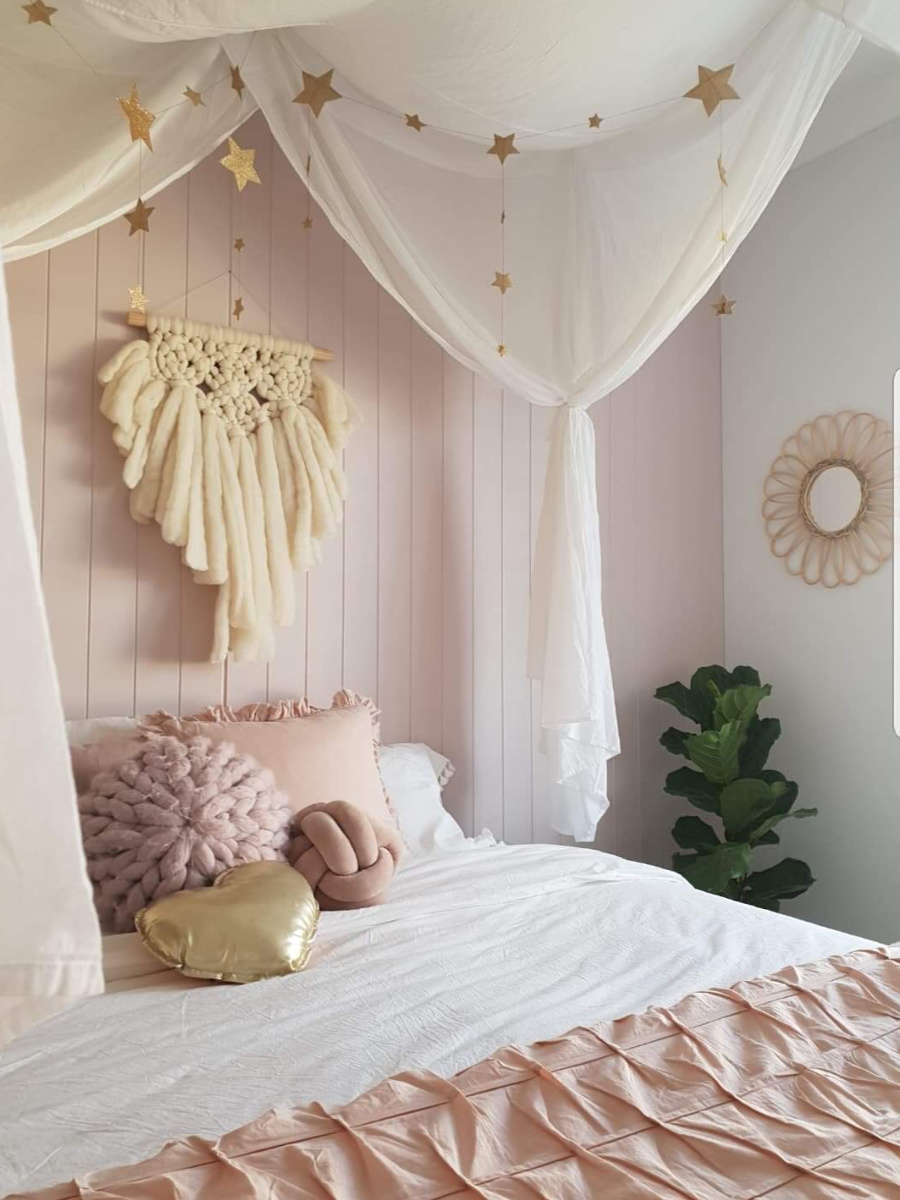 32. Green Room
Ooh, how lovely and luxe is this space? I'm swooning over the two-toned green colours that make up the walls. First, there's the light green that creates lovely edging around the room. And then there's the sleek dark green that covers the rest of the walls – and it's so dreamy! The great thing about the curtain is that it's in a lighter shade, which helps create balance in this otherwise very dark room.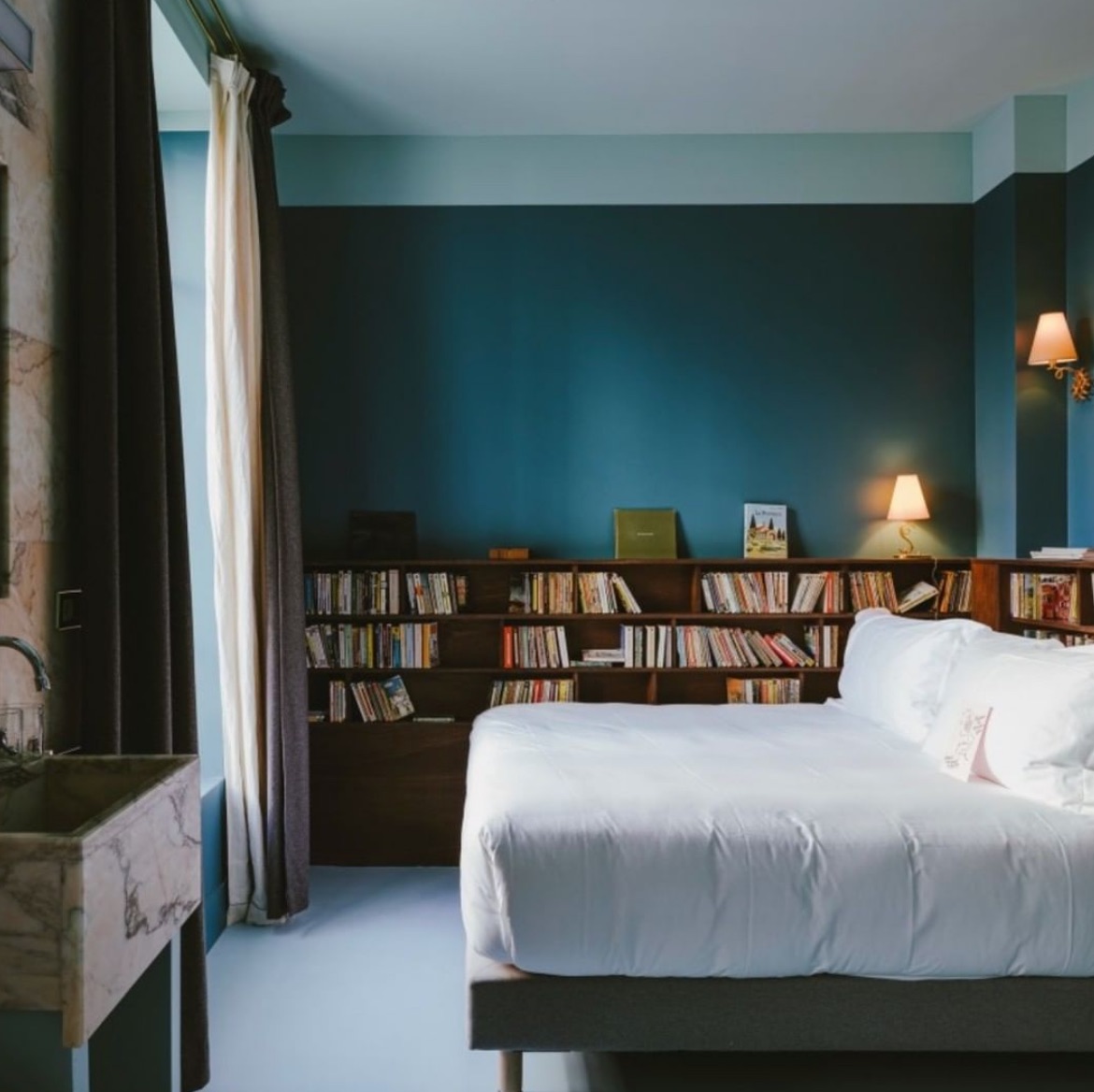 33. Bright bedroom curtain idea
Go all out with colour, patterns and textures with a bold bedroom design like this one. This space fuses so many different styles – from feminine chic to vintage to retro-modern. And hey, if you like to make a statement, why not go for it? After all, your bedroom should be a space that you enjoy.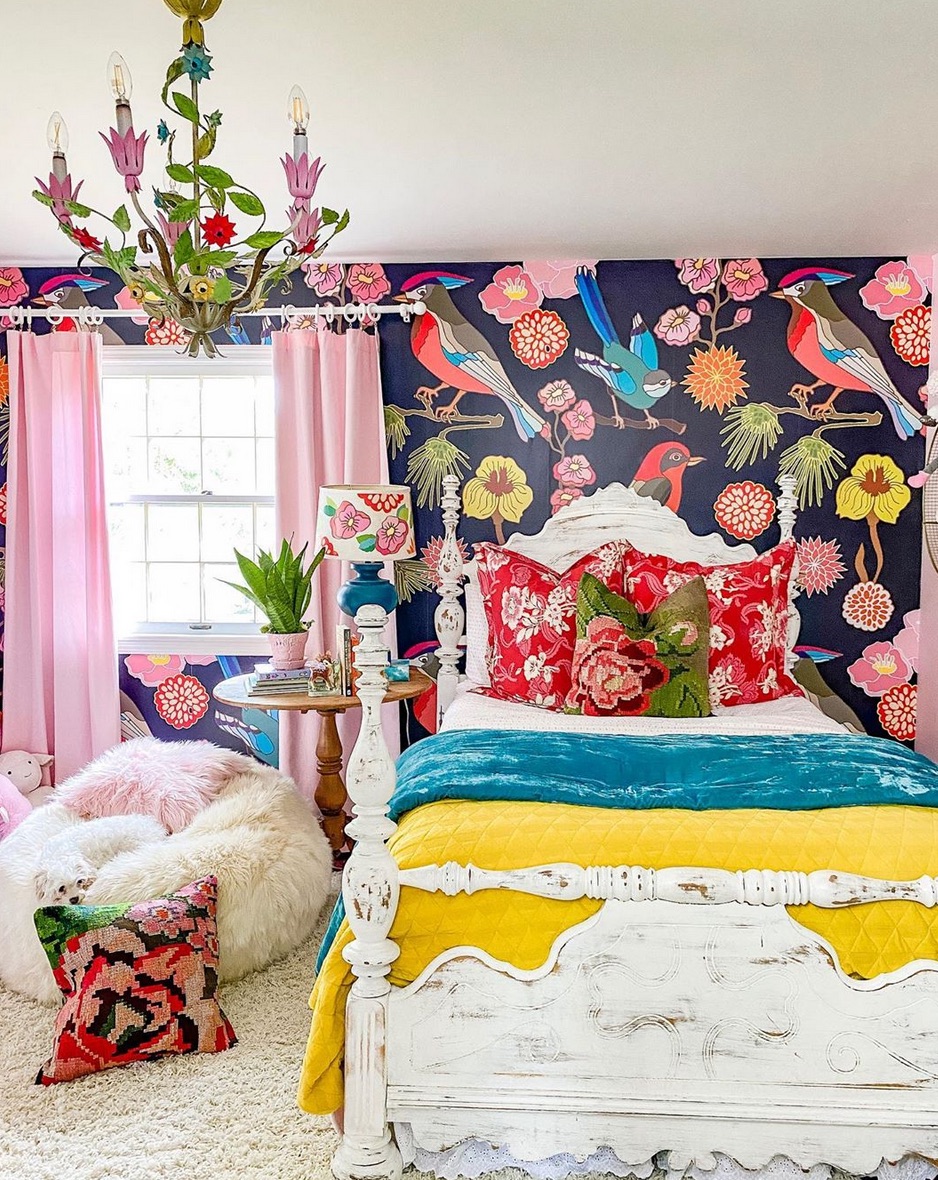 34. Natural and Green
OK, how incredible is this bedroom? I'm all for this minimal design – it's proof that sometimes simple is so much better. If you want to keep things understated yet elegant, add some plants! And you can't go wrong with fiddle leaf figs – they're my all-time favourites. Plus, with sheer linen curtains flowing down over the window, you'll have a lovely finish.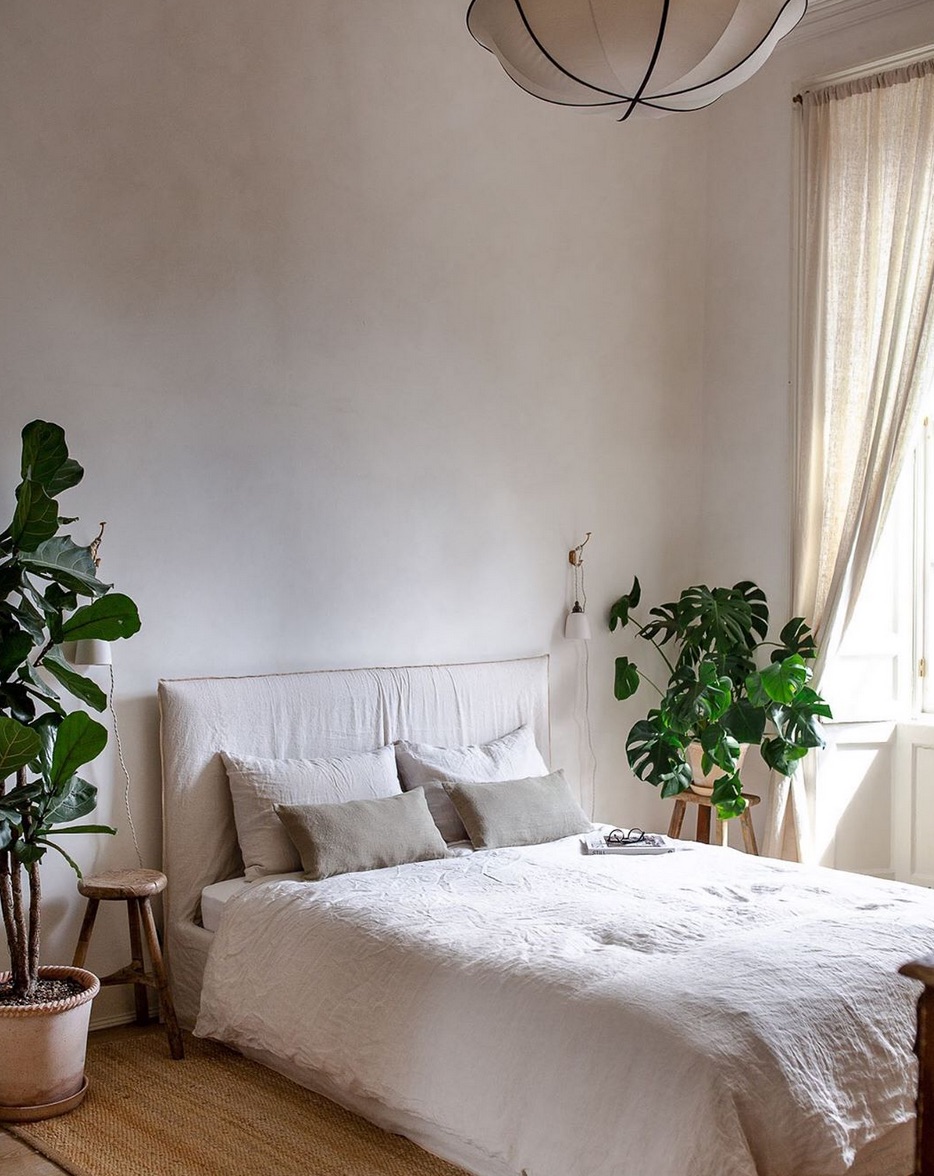 35. Sloping Down
Have a strange-shaped window? Don't sweat it! Take inspiration from this loft-style bedroom and do something different with your curtains. This is just proof that you don't have to stay in the lines. If your bedroom is quirky, break the design rules and have fun with it!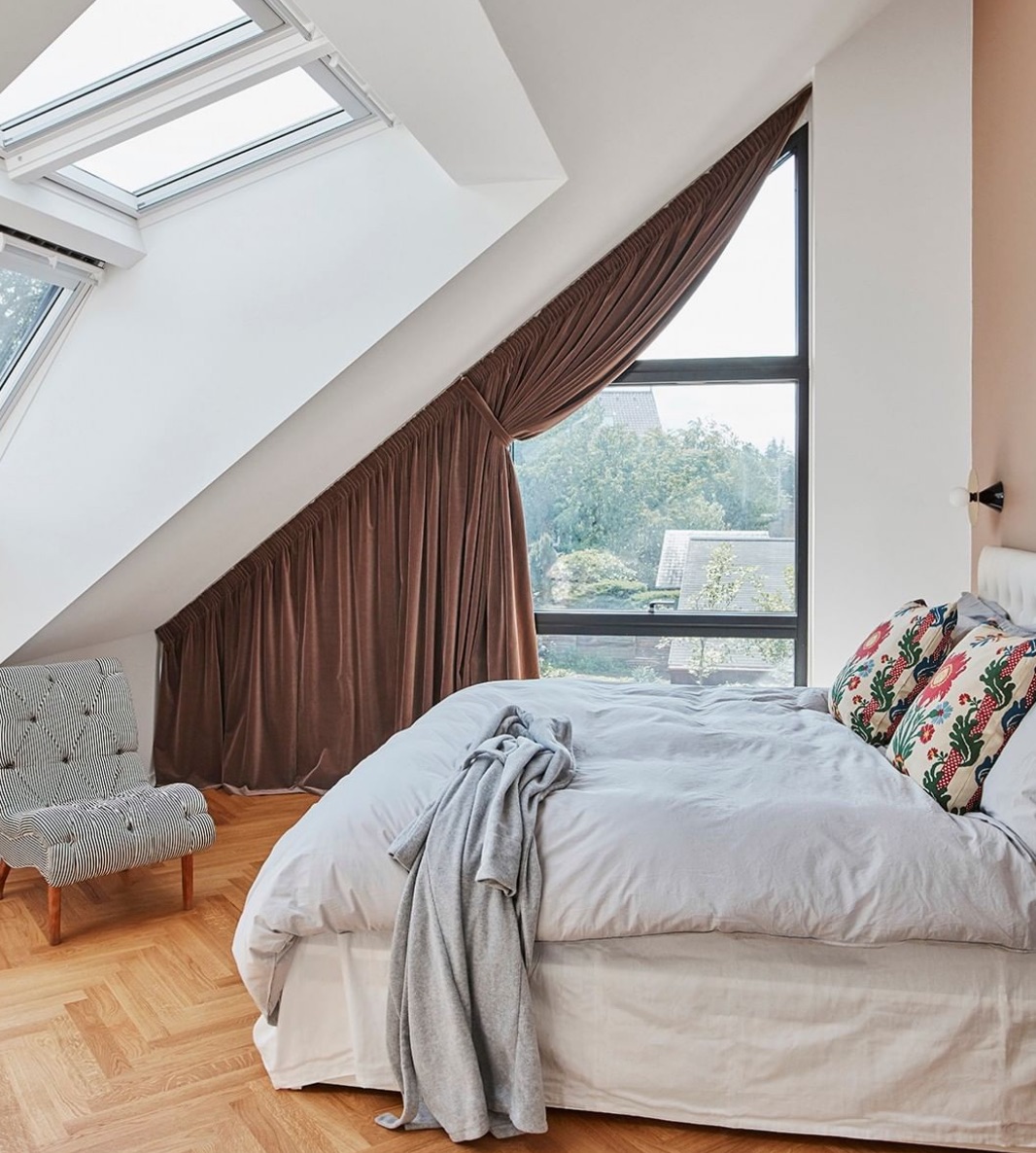 There you have it, 35+ bedroom curtain ideas. It's amazing how a simple change in curtains can completely transform your room. My favourite curtain design is sweet, simple linen. What about you? I'd love to hear which design you want to implement. Comment and let me know!