Curtains make a big statement in a bedroom but they're often one of the most forgotten design elements and they've definitely come in and out of fashion. Now's the time to have another look at your bedroom and imagine one of these bedroom curtain ideas could give it a refresh.
Whether you're wanting to add some character to your room, create a bit of privacy, or let the light flood in, there are so many different curtain and blind designs to suit your style and taste. To help you get started, check out these 20+ inspiring bedroom curtain ideas, from light sheer fabrics to glamorous velvet, and everything in between!

1. Simple white
Let's start with classic white. Beautiful white curtains are a wonderful way to help add softness and light to a bedroom that contains lots of dark timber furniture or other dark elements.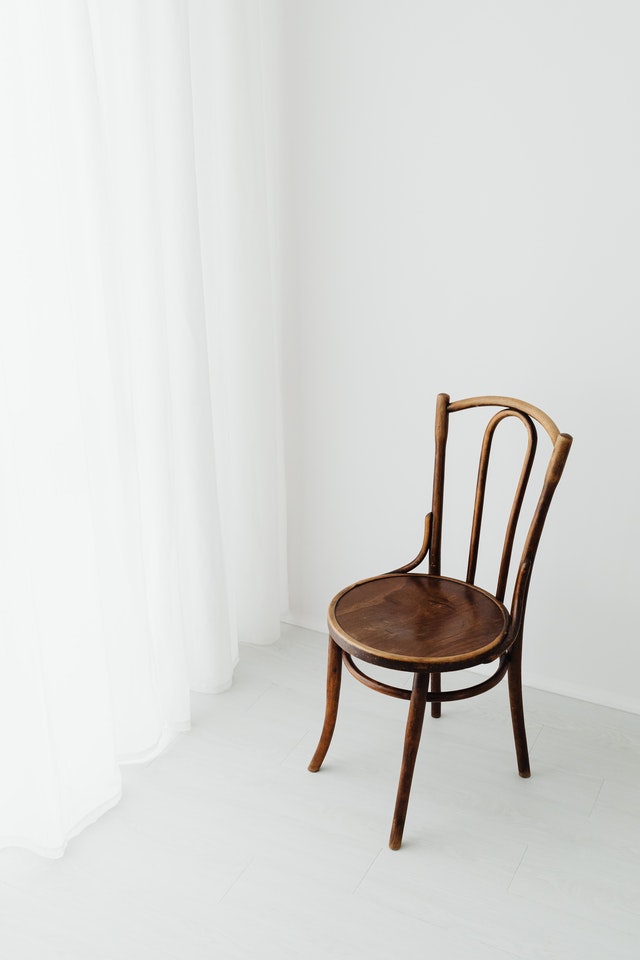 2. Boho style
A Boho style bedroom is becoming another classic space and the ideal curtains for a Boho bedroom are muted, soft, organic tones. This bedroom is made very French Boho chic with the vintage gold leaner mirror, quaint bedside, and pretty details like candles and fresh flowers.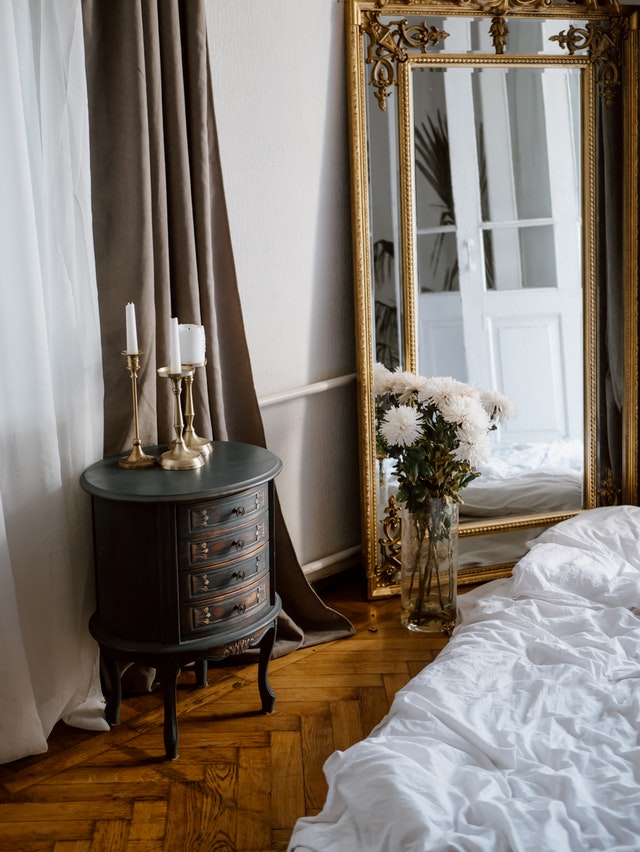 3. Striped
For a feminine but mature bedroom space, heavy striped linen curtains are a gorgeous choice. How fabulous is this little dressing table setup? These curtains would be perfect for adding texture in a crisp white space as well.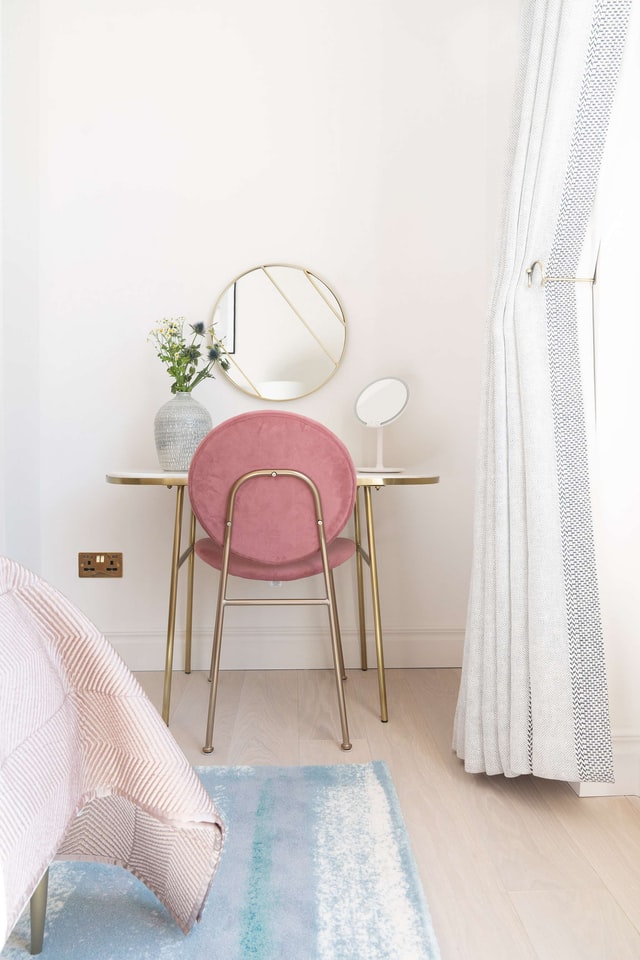 4. Brown curtains
If you prefer a more muted or earthy colour palette, this might be the choice for you. The brown tone of the curtains here matches perfectly with the colour of the walls. Brown is the ideal complement to a verdant view like this too.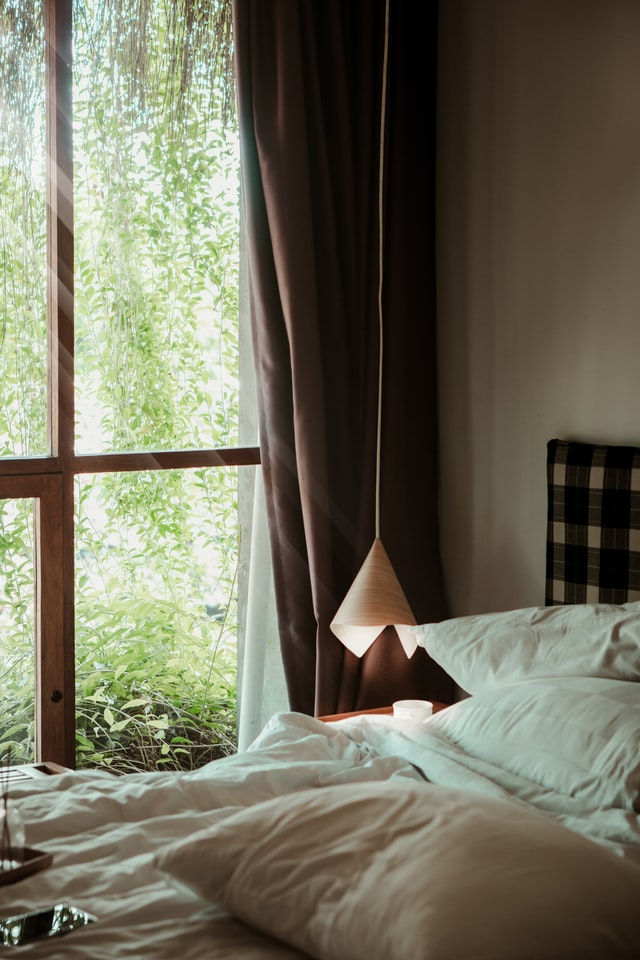 5. Breathtaking blues
Keep things soft and classic with a calming baby blue and white colour scheme. This will serve as the perfect foundation for draping curtains, gold touches and elegant photo frames. And you can amplify the effect by choosing a navy blue painted metal bed frame.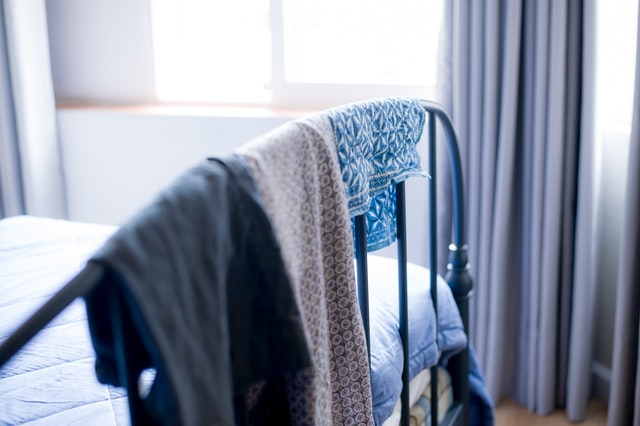 For similar bedrooms, look at these blue bedroom ideas.
6. Navy blue bedroom curtain ideas
Dark curtains are a great choice for offsetting a stark white room. And navy blue is the ideal colour choice when it comes to dark curtains, being not as harsh as black.
7. Grey tones
If you love a sophisticated aesthetic, grey curtains may be the choice for you. Grey certainly doesn't have to be boring! You can use textures and patterns to avoid flat drabness and bring everything to life.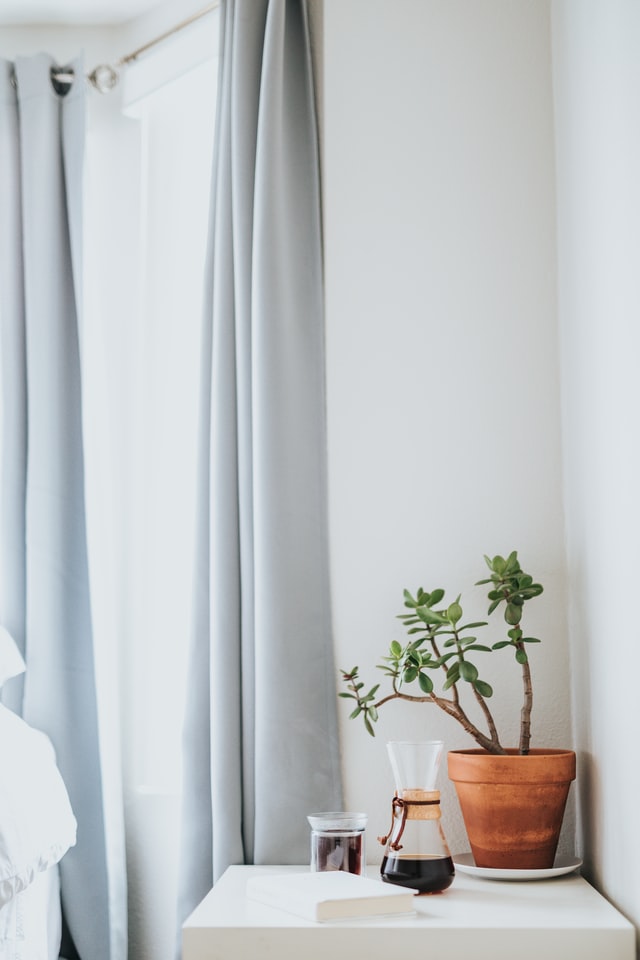 8. Green and neutrals
Greens and neutrals are a match made in heaven. Whether you add a dose of greenery with a feature wall or with your curtains, enhance the organic flavour by adding a statement potted plant or two to your bedroom.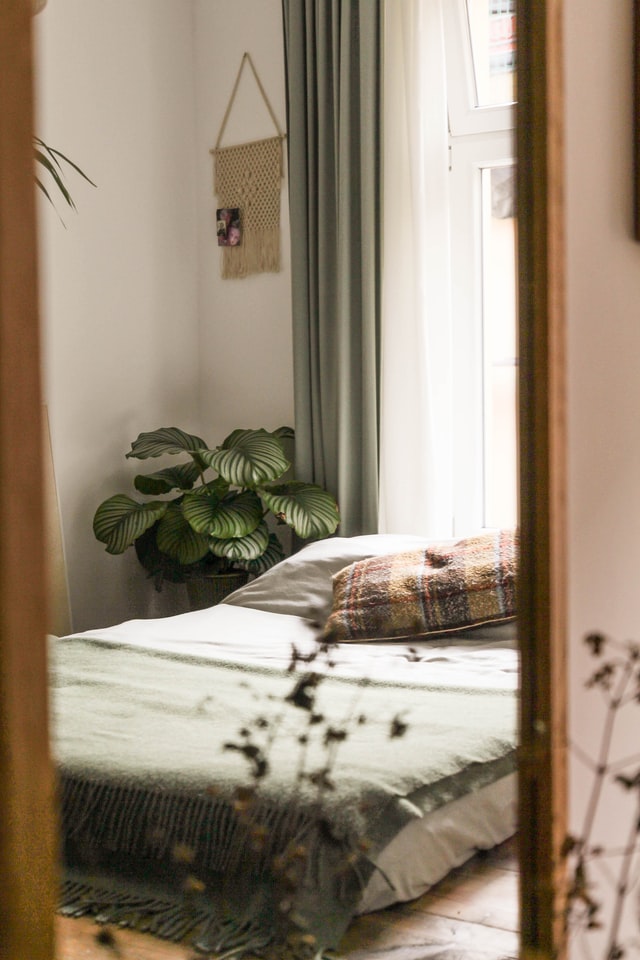 9. White on white
Light and bright more your style? Take inspiration from this white on white room. The curtains make a subtle statement in this space, keeping it light and airy, especially since they are not full length.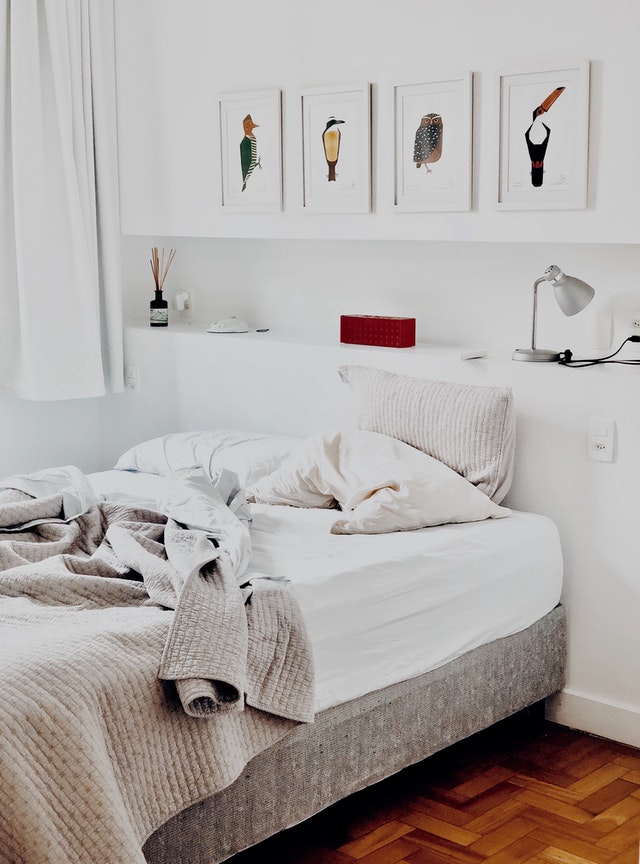 10. Scandi style bedroom curtains
White and timber is a match made in heaven. This colour combination is totally trending right now and I just can't get enough of it. Thick white linen curtains are ideal for this space.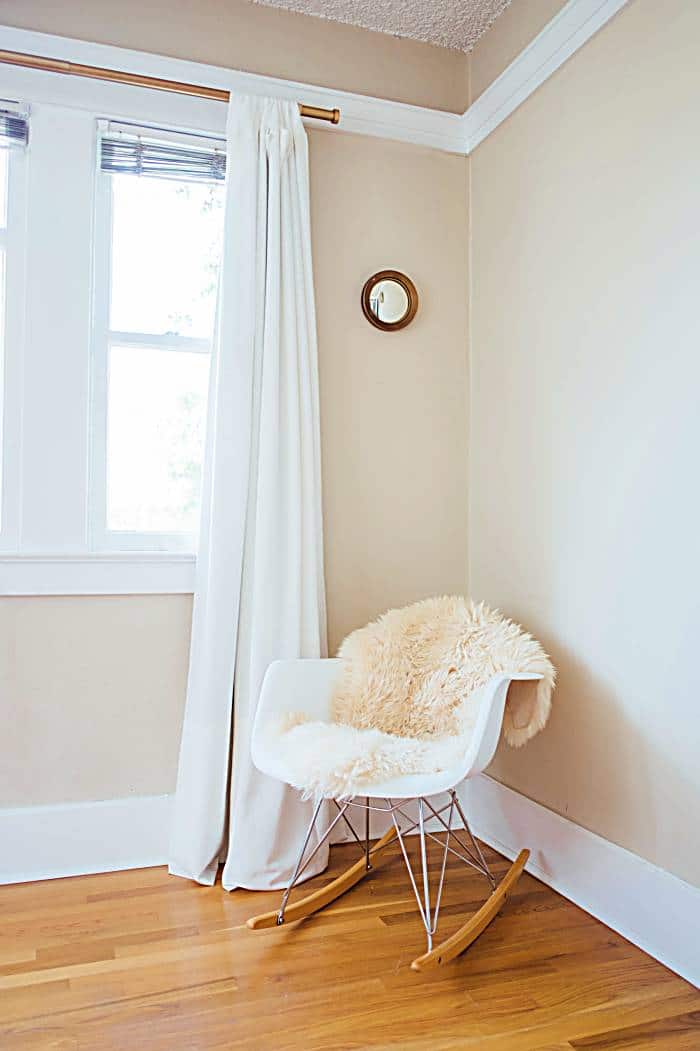 11. Bold coloured bedroom curtains
Make a statement with bright coloured curtains like these salmon pink (or might they be Millennial pink?) ones. I'm not one to go for coral tones but I've got to admit, these curtains look absolutely amazing in this space.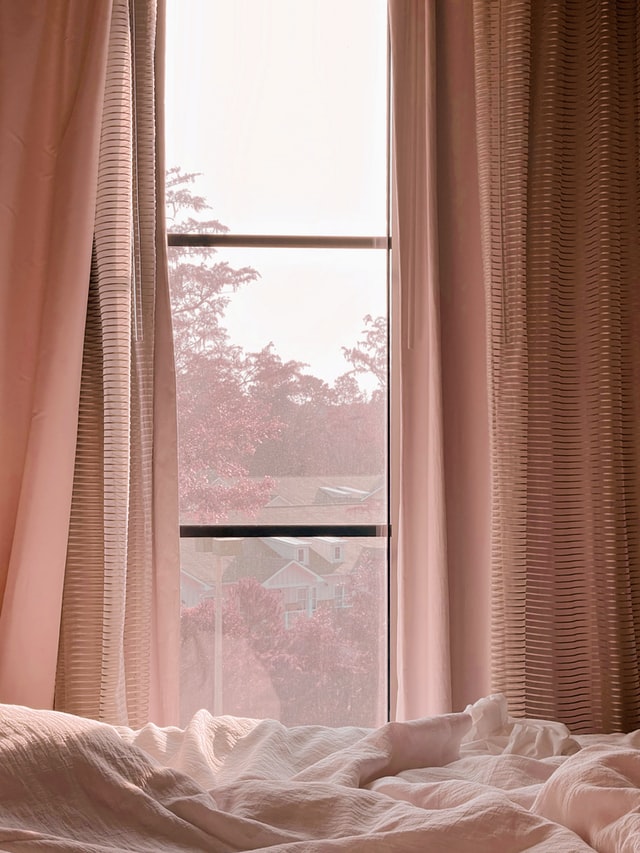 12. Textured curtains
When you think of curtains, you may immediately think of something that's simple, plain and white. But you can still stick to a light, white colour palette while having a bit of fun while you're at it. Textured curtains do just that – providing the right amount of interest and adding a bit of fun to an otherwise plain room.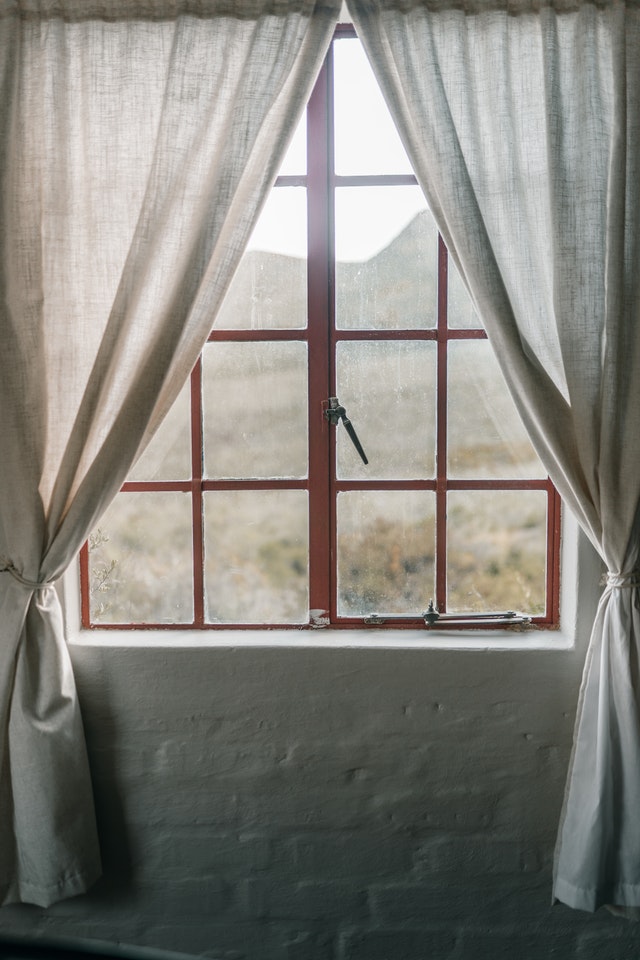 13. Monochrome style
There's something so elegant about a white and black colour palette – it's so chic. And your curtains play a big part in finishing off this kind of style. If you want to go for this look, choose curtains that are in that colour scheme – think black, white or a shade in between like grey!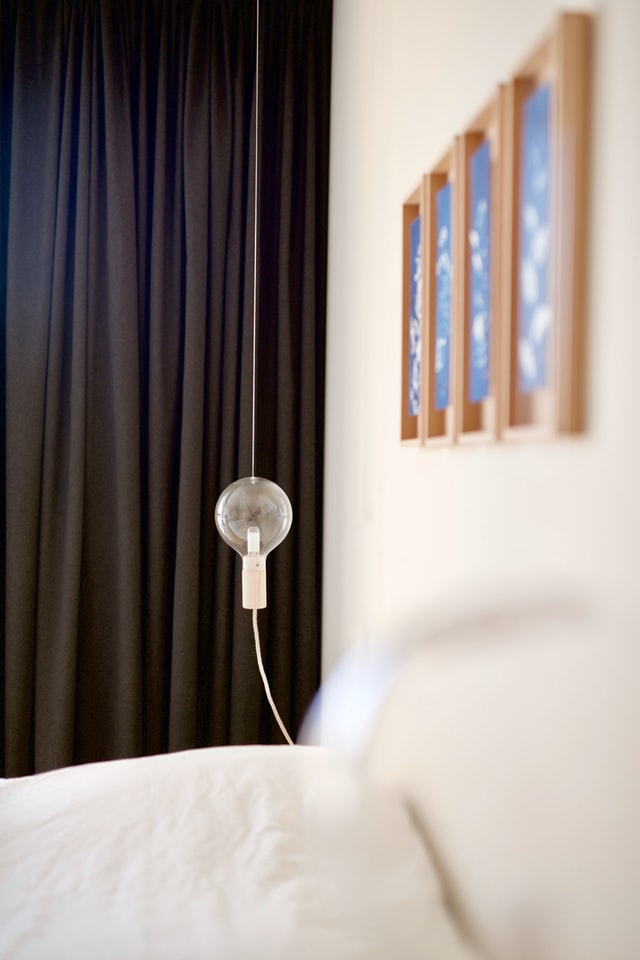 14. Dark grey tones
This grey and white bedroom is gorgeous! I'm a sucker for floor-to-ceiling curtains and these ones sure are grand. What I love about these curtains is that they perfectly compliment the darker grey tone of the walls as well as the lighter grey bed frame.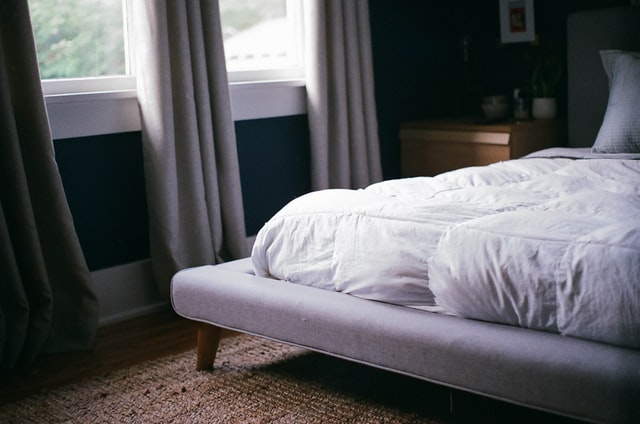 15. DIY drop cloth curtains
Want to get a little creative? Make your own curtains from scratch! DIY drop cloth curtains are all the rage right now, and they look great in a classic or farmhouse-style home. To get started, you'll need drop cloths, curtain rings and a curtain rod. From there, follow a step-by-step tutorial and create!
There are plenty of DIY tips going around on blogs and YouTube. Alternatively, if you'd rather hand over the work to an expert, hire a handyman to install your curtain rods for you.
16. Moss green
For a space that's a little bit more moody, and that's totally on-trend for 2022, moss green linen curtains are the perfect choice. And it's a colour works beautifully with light timber touches.
17. Keep it neutral
Sandy tones are popular right now and it's easy to see why. A simple shade like this will go with any colour palette but especially other organic tones.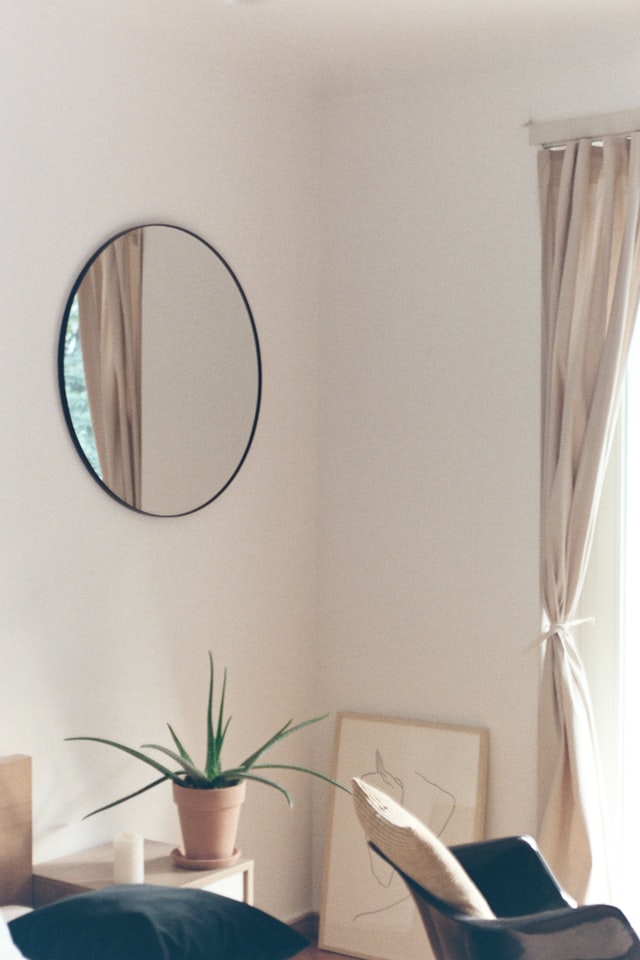 18. Sheer silver linen
If you have a beach abode, why not keep things simple and sophisticated with a design that's pale but not stark white. Curtains with a little grey or silver provide a bit of contrast to plain white walls. Luxe it up by allowing them to run a bit longer than your usual curtains and drape over the floor!
19. Classic style
Here's another classic bedroom design (this post is full of them!). And this one makes the most of neutral tones with a subtle touch of black and gold. I'm all for gold – the more the better, I say.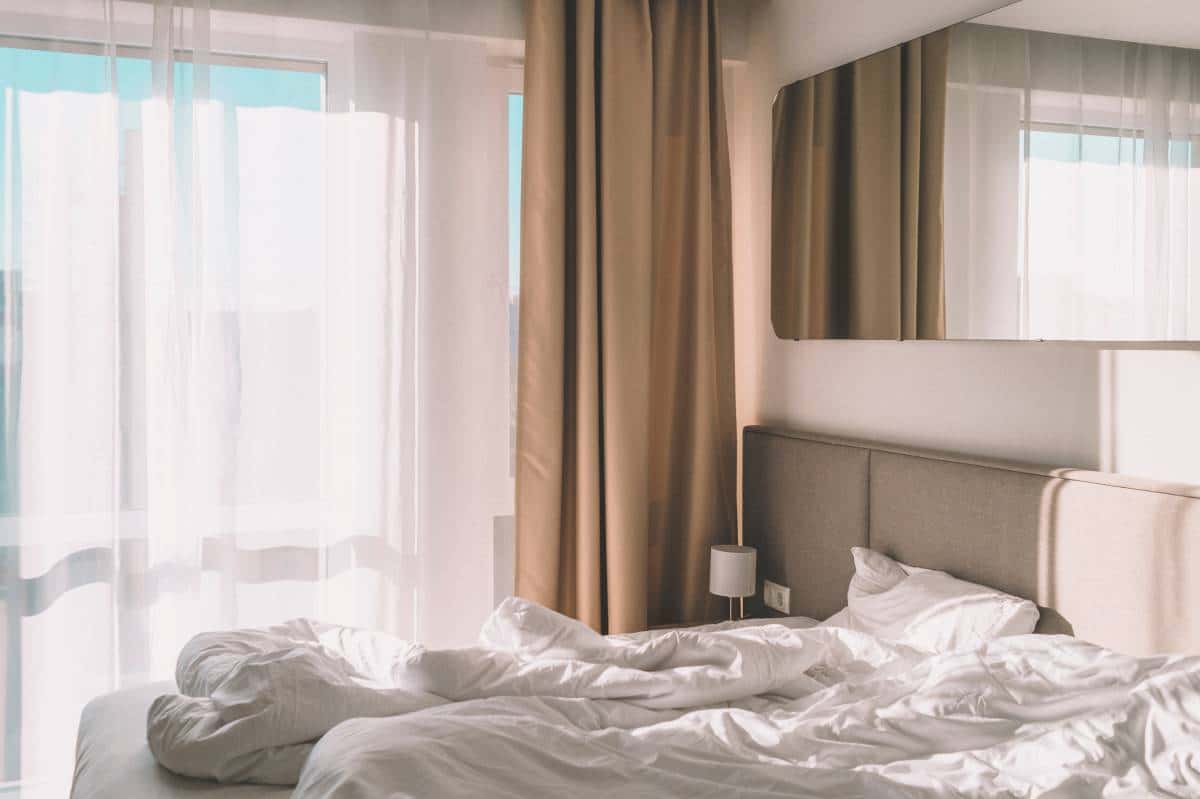 20. Sheer linen
In my opinion, the more natural the better! I love nothing more than having the windows open and feeling the gentle breeze against my face. If you love to enjoy the best of nature, then sheer linen curtains are ideal as they'll gently flow in the wind.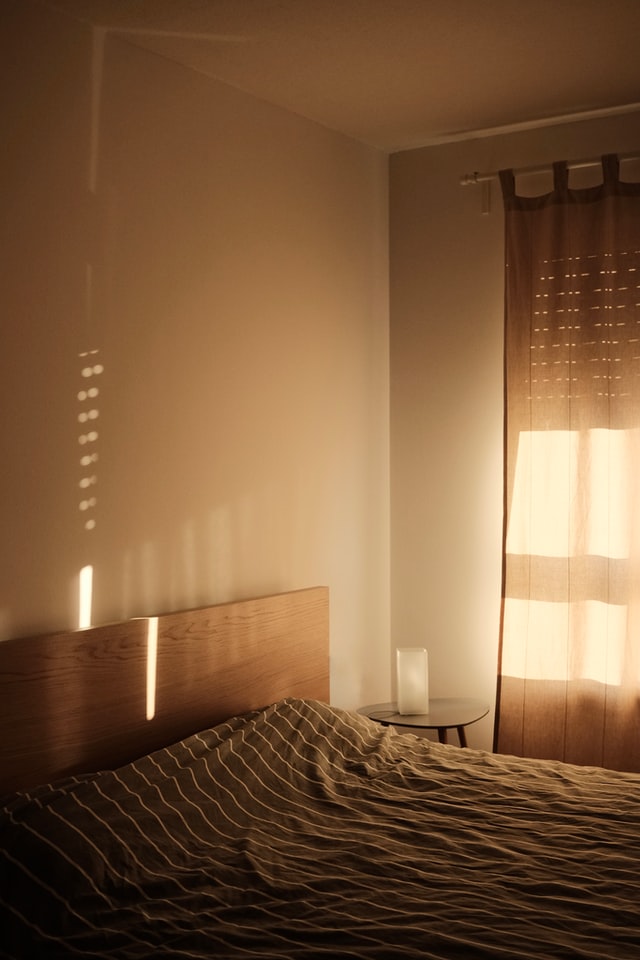 21. Bright bedroom curtain idea
Add a pop of colour and texture to your simple bedroom with bold aqua velvet ones like these. When it comes to choosing bedroom curtain colours, you might simply go for favourite colour. After all, your bedroom should be a space that you enjoy.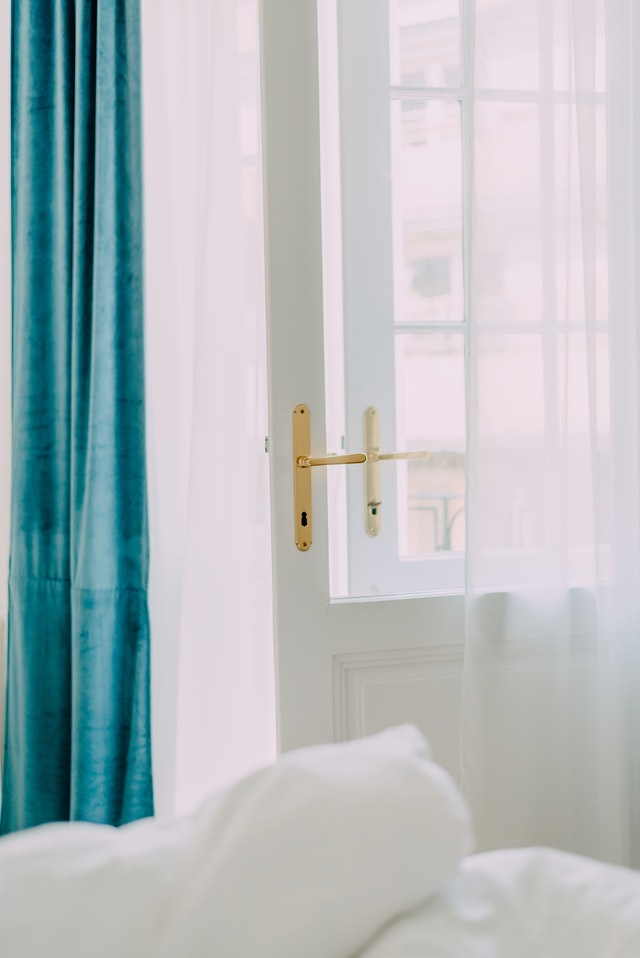 There you have it, 20+  bedroom curtain ideas. It's amazing how a simple change in curtains can completely transform your room. My favourite curtain design is sweet, simple linen. What about you? I'd love to hear which design you want to implement. Comment and let me know!