If you're wanting to change the colour scheme of your bedroom to something a little more sophisticated, classy and neutral, then you've come to the right place. Grey bedrooms are all of that and more. They are so on-trend in the interior design sphere at the moment and there are endless ways to decorate them. Plus, the beauty of using a neutral colour is that grey will match with any style – country, vintage, industrial, feminine, traditional, modern…you name it.
And even if you love a pop of colour, grey is the perfect accompaniment for the whole rainbow. You can weave grey into your abode with your wall colour, through your bedding, furnishings,  decor and more.
So, what are you waiting for? Check out these 25+ grey bedroom ideas and get excited about your next bedroom makeover!
1. Dark tones
Using dark colours in your space can seem a little daunting, but how good does this look! The charcoal grey feature wall really is the perfect backdrop for this laid back bedroom. The grey bedhead and bedside lamp complement the wall colour while the white bedding really pops against the dark wall.
2. Charcoal grey
Going for a grey bedroom featuring dark, charcoal tones? Don't forget to add some white. White always helps crisp everything up so the darker shades aren't too overwhelming. You can also soften things up with a large knitted throw for a touch of comfort. And a vase of fresh white flowers will make the perfect finishing touch.
3. Scandi grey bedroom
Grey is one of the main colours when it comes to Scandinavian interior design as it goes well with other natural elements like timber, textured finishes and of course white! Here you can see a stunning Scandi bedroom that you would want in your home.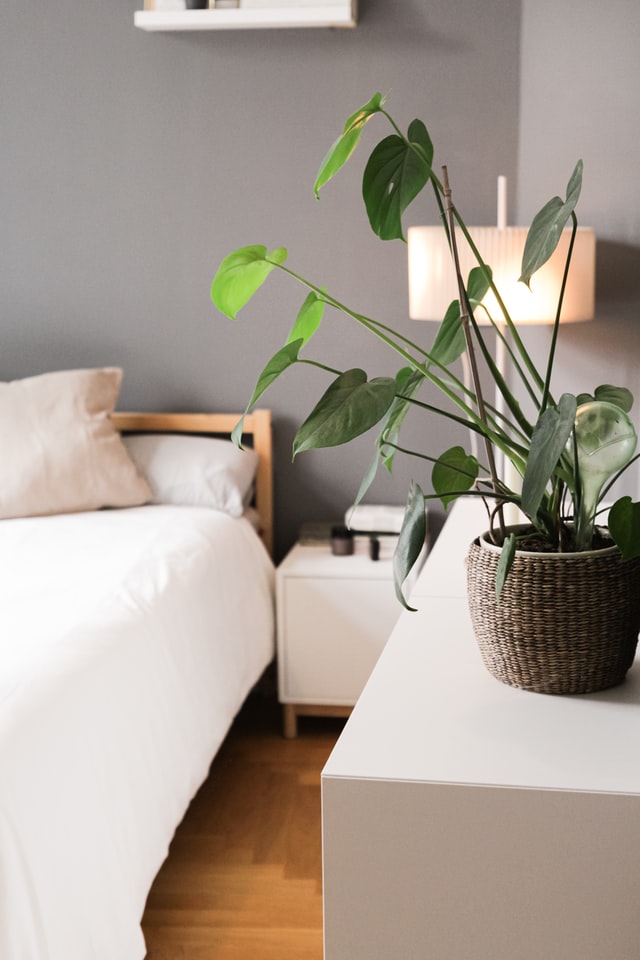 4. Pretty pewter
For a sophisticated and classic grey bedroom, opt for pewter tones. These will give the space a stylish, old-school edge. Add a grey throw, cushions, decor and pictures which will tie everything together nicely.
5. Snuggle space
This bed creates the perfect spot for a snuggle. I am loving the soft grey tone wall against the beautiful timber furnishings. Once again, adding some greenery really makes a real difference to the feel of any bedroom, and even the clarity of your mind. Add some comfy pillows and a cup of tea and you are officially ready to doze off in snuggle land.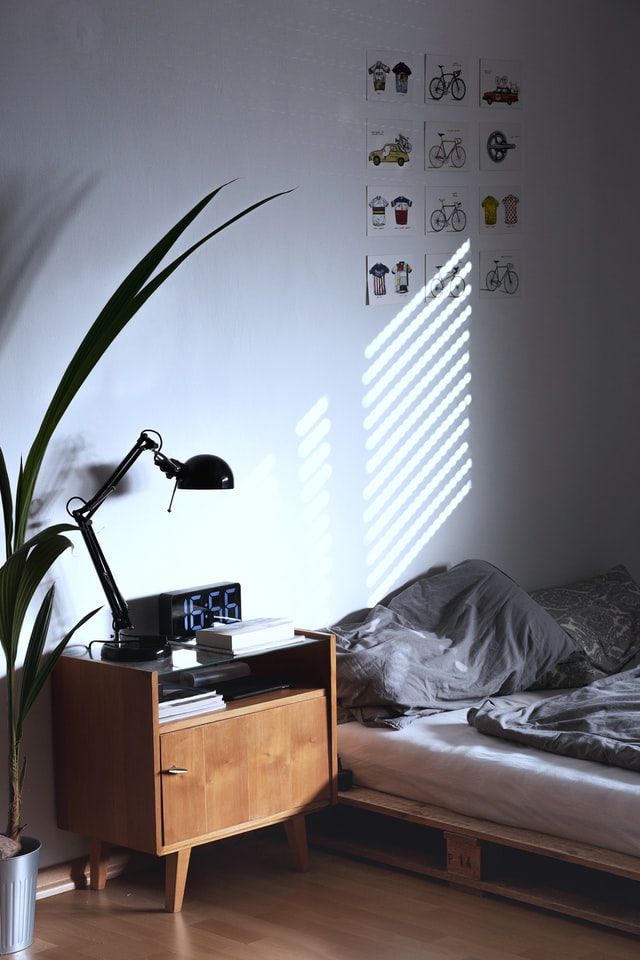 6. Marble features
I absolutely love anything marble! If you are going for the minimalist look, then adding marble to your space will look amazing. Choosing a grey veined white marble will create a gorgeous effect in any grey bedroom.
7. LED overhead
LED lights are a very classy and practical way to add light to any area or even to brighten up a certain feature. I would recommend that if there's a spot in your home or bedroom that lacks some light or joy, add a LED light overhead and it is certain to bring a new level of cheer.
8. Florals and grey
Grey is a shade that always looks great when paired with florals. Adding florals or colours to a throw, a bed cover or even on your wall can really make an exceptionally joyful space.
9. Dark grey opulence
This room is full of sophistication and elegance with the charcoal grey wall, black and brass wall sconces and upholstered bedhead. The metallic elements even out the grey colours while the pampas grass in a vase adds warmth. Dark grey and oh-so-opulent, indeed.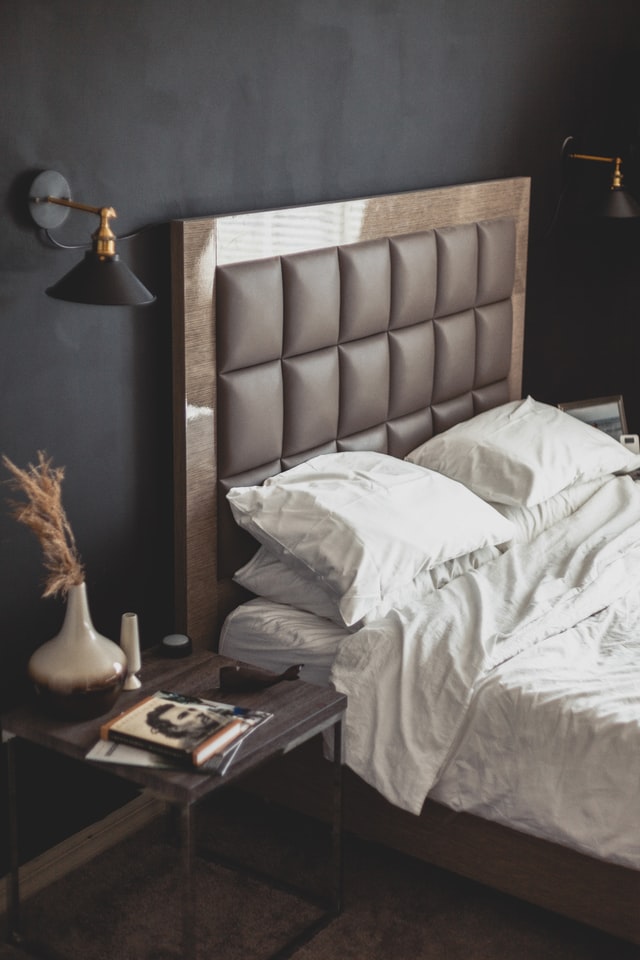 10. Just a hint of grey
Not everything in your grey bedroom has to be grey. Especially if, like me, you like a good dose of colour along with your neutrals. If this is the case, decorate your room with soft colours, and then just a touch of grey. Where? Anywhere! Your bed frame, a floor mat, an item of clothing displayed… you name it!
11. Warm grey
I'm absolutely loving this warm grey look! The pale, warm timbers create a creamy illusion whilst the dappled grey wall paint. The warmth is enhanced by the choice of burnt orange and crisp white bedding for a lovely contemporary look.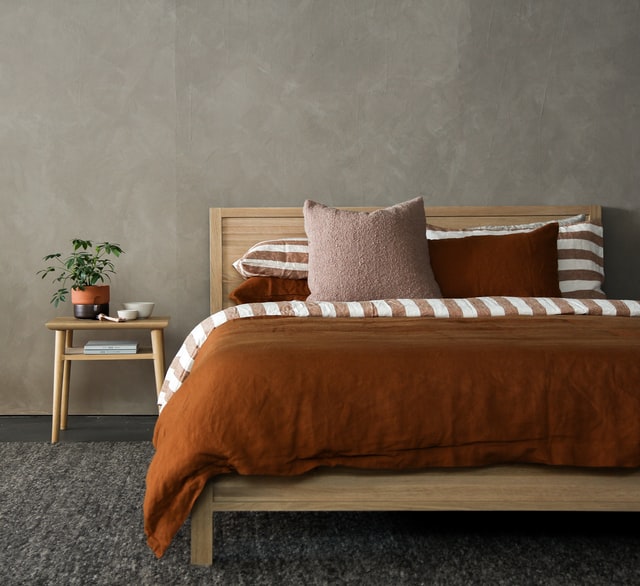 12. Grey Hamptons style
If you love The Hamptons interior trend but don't want to go OTT with the coastal blues, adding grey is an excellent way to turn it down a notch. Something like a grey seagrass wallpaper adds a lovely warming texture as well.
13. Mirrored surfaces
Mirrors and reflecting pieces of furniture are great for a grey bedroom as they'll bounce around the available light. Mirrored surfaces are a wonderful way to decorate modern homes for a clean and precise look. Shiny mirrored wardrobe doors look amazing with a dark grey bedhead, some blonde wood furniture and plenty of fresh white linen.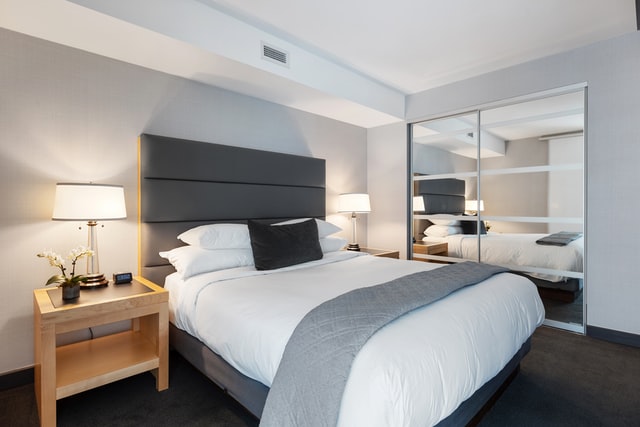 14. Metallic finishes
A sophisticated grey bedroom often features beautiful metallic finishes with different tones of white and grey. I would recommend a metallic finish if you want to add some smooth finishes to juxtapose with the grainier textures in your bedroom, such as timbers.
15. Greyscale elegance
How elegant is this greyscale bedroom?! It really is a celebration of all the different shades of grey you can get! Don't forget to add some crisp white sheets and a few pops of bright colour in the pillows or decor to separate the grey with a softer tone of colour. Go for a statement pendant light to captivate the eye and leave a lasting impression.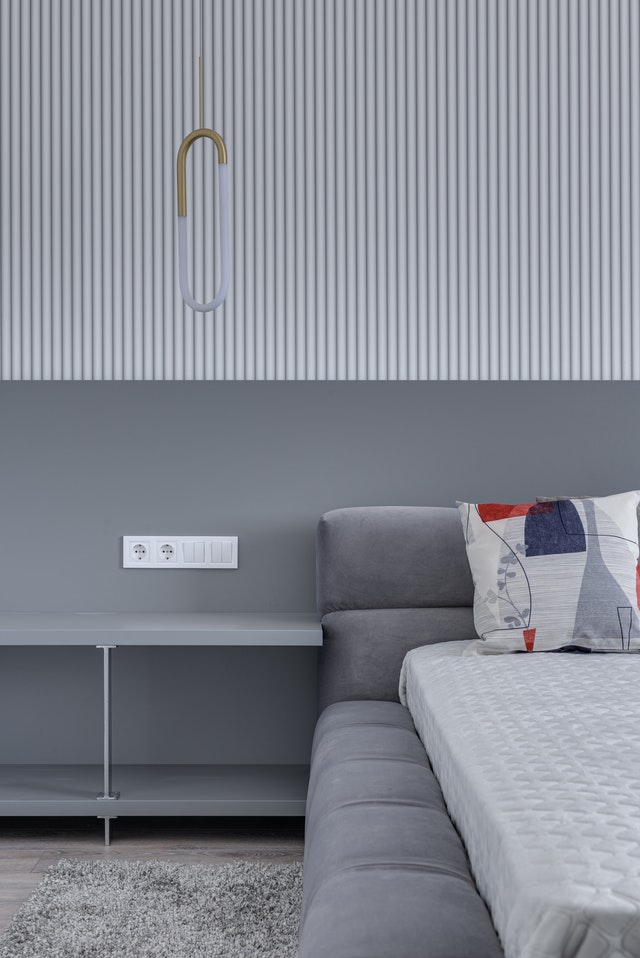 16. Grey plus pink
Mixing grey and pink together creates a soft, classical look with a touch of romance. Grey is calming, and a soft pink can have the same soothing effect, whilst also adding a pop of colour to your space.
17. Grey feature wall
Here's another bedroom featuring a stunning grey wall colour. Stick with the grey theme for the bedhead and bedding then add white pendant lights—these elegant, symmetrical glass sphere make quite a statement.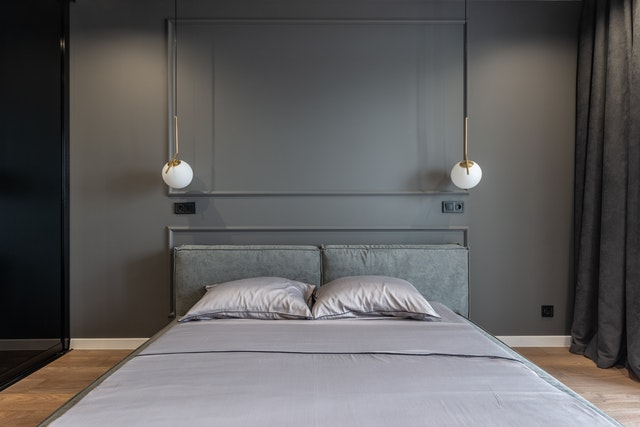 18. Vanity space
A bedroom is never complete without a pretty vanity area, and this one definitely does not disappoint! The deep grey bedside looks especially charming when dotted with pale woven baskets and ornaments. Just add a vase of flowers and you're good to go!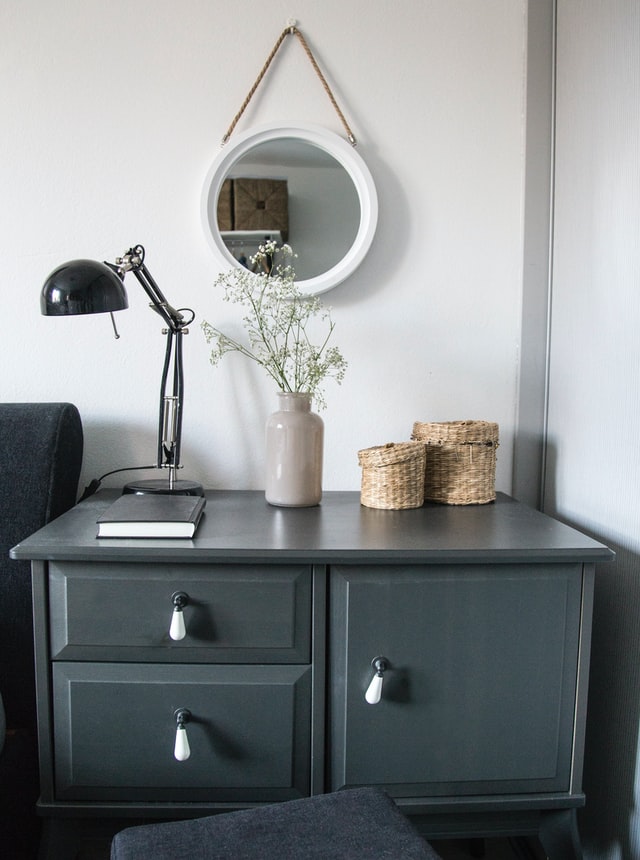 19. Black accents
For more of a fierce look, add some black decor details. Try a black frame, a black basket or a black ornament of your choice to really create a smart and strong look. If your bedroom is mostly grey there is no harm in adding some black elements as this will help certain features of your room to stand out.
20. Cream and grey
Here is another fabulous combination of colour – how sensational! Choose grey tones that are on the yellow or brown toned side to compliment your cream tones. And I love the silver hanging light and panelled walls that make this space look oh-so-chic.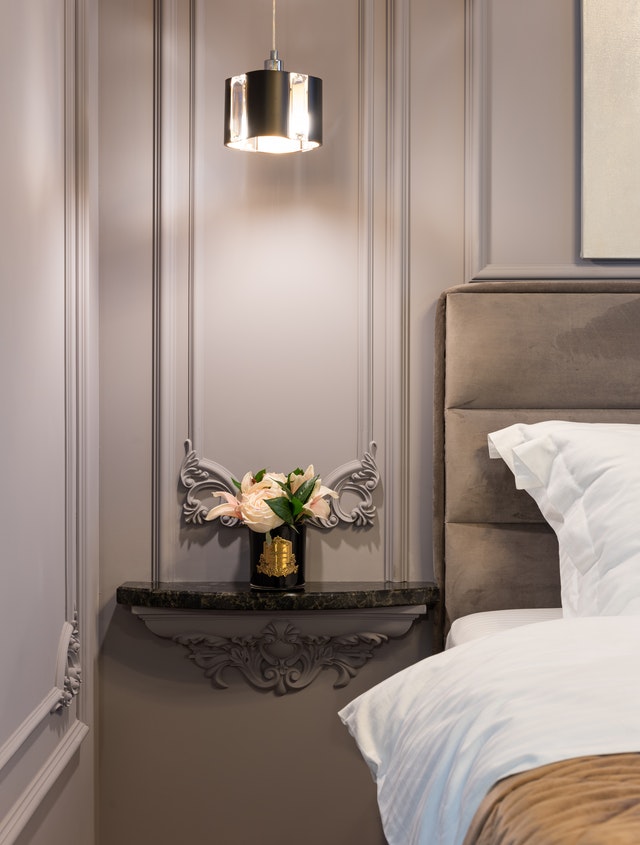 21. For the fashionista
If you love fashion and style, this glammed-up, mostly monochrome room is for you! A chandelier is always a wonderful way to express how classy you are. And the fluffy grey stools at the end of the bed look so gorgeous on the monochrome rug.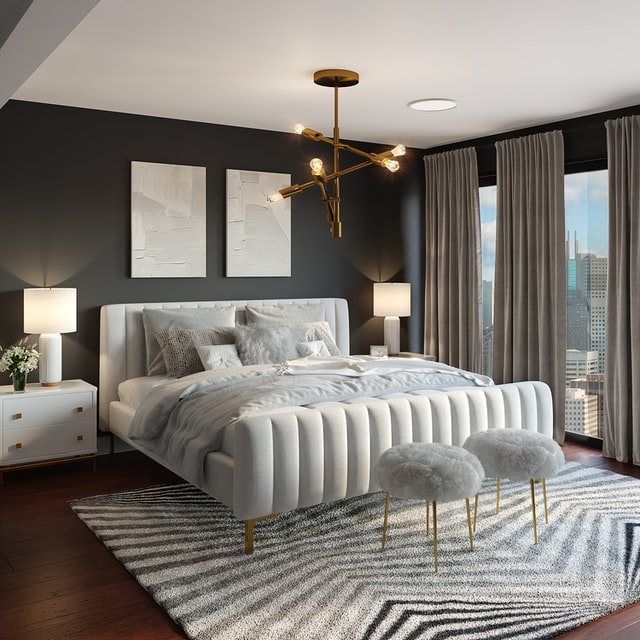 22. Boho plant
For a tropical but urban look, fill your bedroom with grey, white and green décor. For instance you might go for a mix of mid-grey paint, rattan baskets and sheer white curtains. And you really can't go wrong with an oversized statement plant like this banana leaf plant.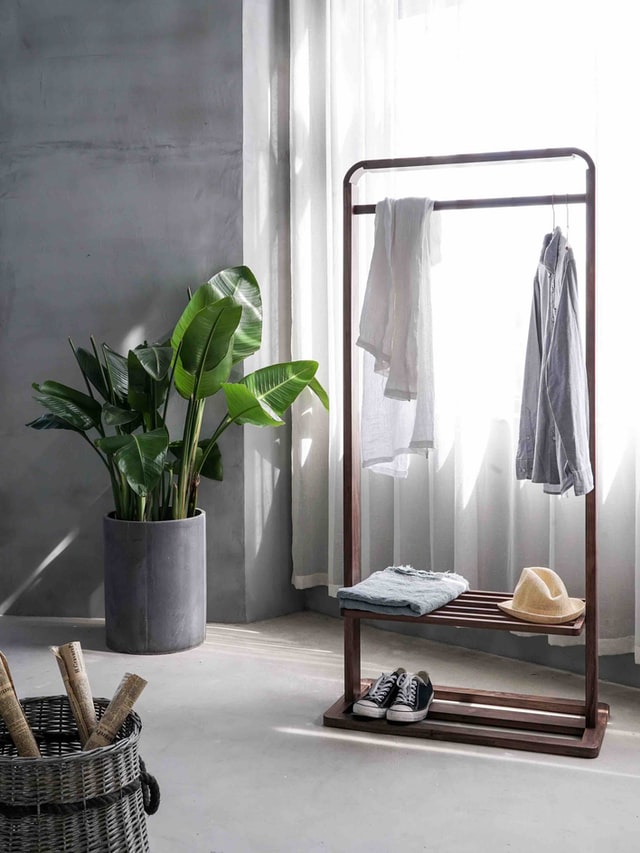 23. Silver and grey
Add a touch of silver to liven up a flat grey bedroom. Silver elements add elegance and sparkle to any smooth grey shade. Adding some light silver patterns to the wall can also create an exciting illusion and is pleasing to the eye. Grab yourself a silver vase, lampshade or candle to easily achieve this look.
24. Grey feature wall
If you're wanting a feature wall, grey paint or  wallpaper is definitely the way to go. If you have a simple room or even a pretty busy room, a grey feature wall can be a lovely way to create a calming effect. A grey feature wall can tone the room down, creating a peaceful place. It can be a perfect backdrop to a modern bedroom and will support many colours and shades.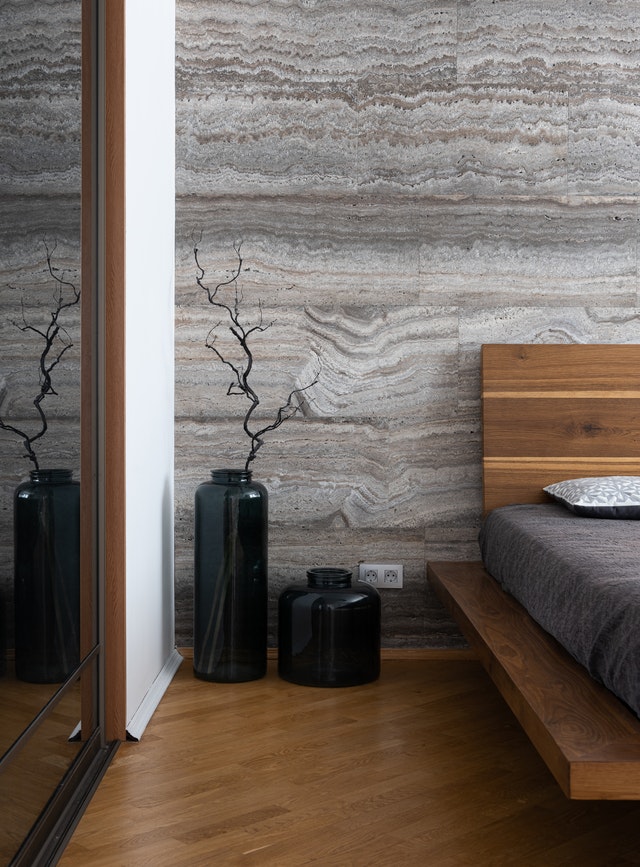 24. Grey linen
Linen bedspreads are a great choice when it comes to grey because the textured finish gives it a lived-in soft finish to a room. Mix with dark grey Venetian blinds and a dark grey occasional chair for a modern look.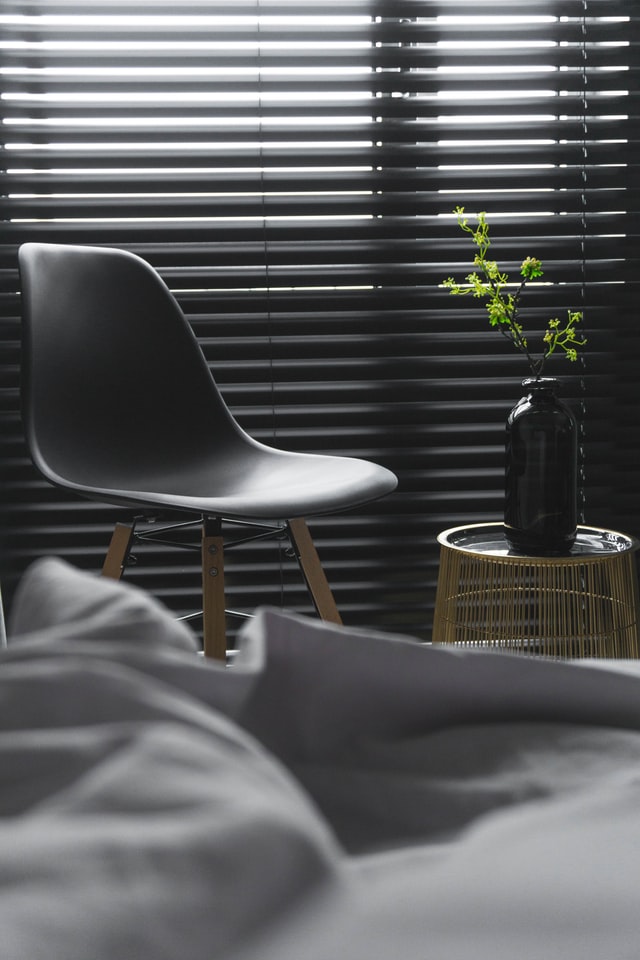 25. Blue hues
If you're more into colour, but still want to utilise the grey trend, then this grey and blue bedroom might inspire you. Blue is such a great colour that will perfectly complement your grey furnishings.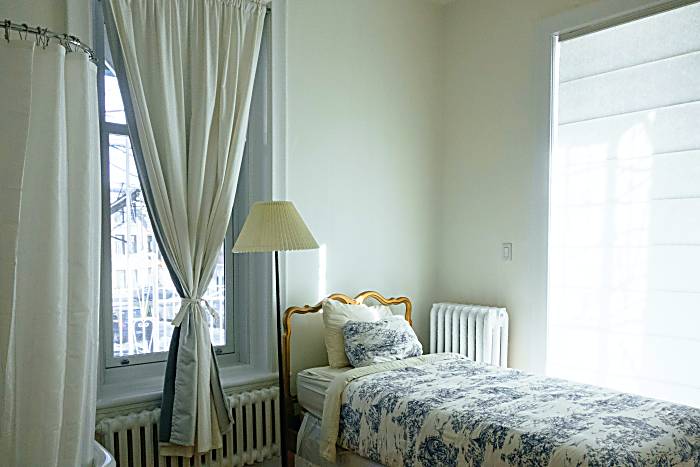 26. Grey and white
What colour works perfectly with grey? White, of course! This bedroom is very elegant with grey and white wall-papered walls and crisp white decor. And a little tip – using light grey tones for walls really elevates a room, especially when contrasted with other white features such as a big bed frame and classic dresser!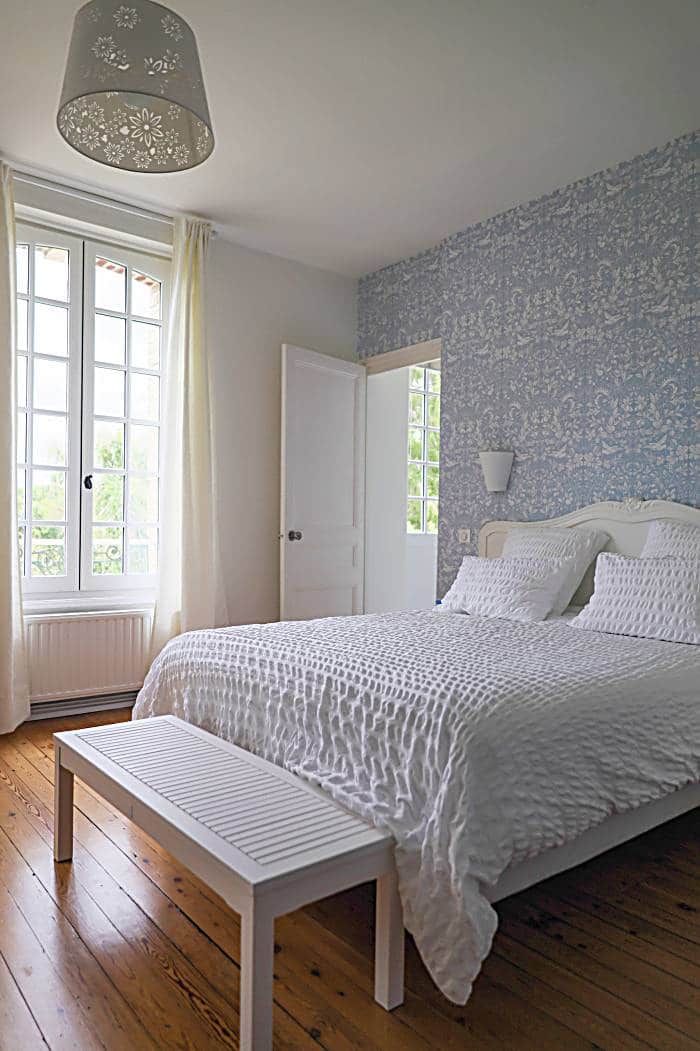 So there we have 25+ grey bedroom ideas! I absolutely love the bedrooms that incorporate colours like pink through the decor and pillows as well as the spaces with pops of green from the addition of plants. What were your favourite grey bedrooms? Let's chat in the comments below!