If you're wanting to change the colour scheme of your bedroom to something a little more sophisticated, classy and neutral, then you've come to the right place. Grey bedrooms are all of that and more. They are so on-trend in the interior design sphere at the moment and there are endless ways to decorate them. Plus, the beauty of using a neutral colour is that grey will match with any style – country, vintage, industrial, feminine, traditional, modern… You name it. And even if you love a pop of colour, grey is the perfect accompaniment for the whole rainbow. You can weave grey into your abode with your wall colour, through your bedding, furnishings,  decor and more.
So, what are you waiting for? Check out these 45+ grey bedroom ideas and get excited about your next bedroom makeover!
1. Grey and White
What colour works perfectly with the grey? White, of course! This bedroom is very elegant with grey walls and crisp white decor. And a little tip – using light grey tones for key pieces such as storage boxes, photo frames and books really elevates a room, especially when contrasted with other white features such as a big bed frame and classic dresser!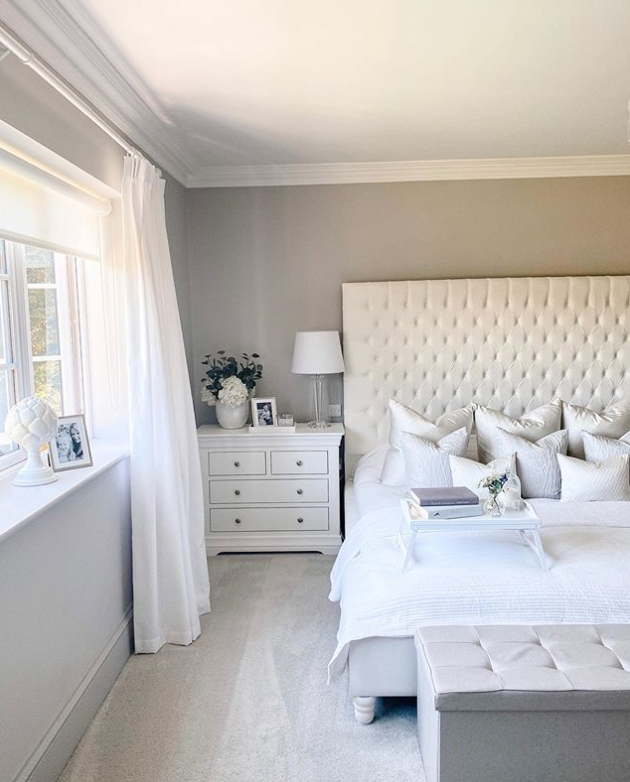 2. Geometric Wallpaper
Hello, stylish geometric wallpaper! I just love the funky patterns of this feature wall – it gives the room a youthful flair. This just proves that grey doesn't have to be boring! Make your space extra special by adding some white or pink frames to feature treasured family memories.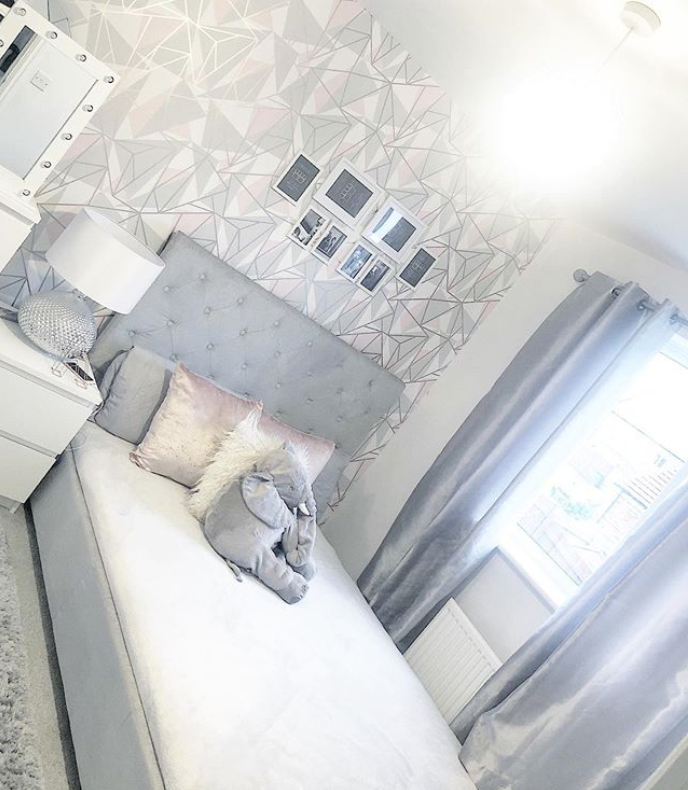 3. Pretty Pewter
This room is sophisticated and classic. The pewter tones give the space a stylish, old-school edge. And the grey throw, cushions, decor and pictures all come together to finish things off.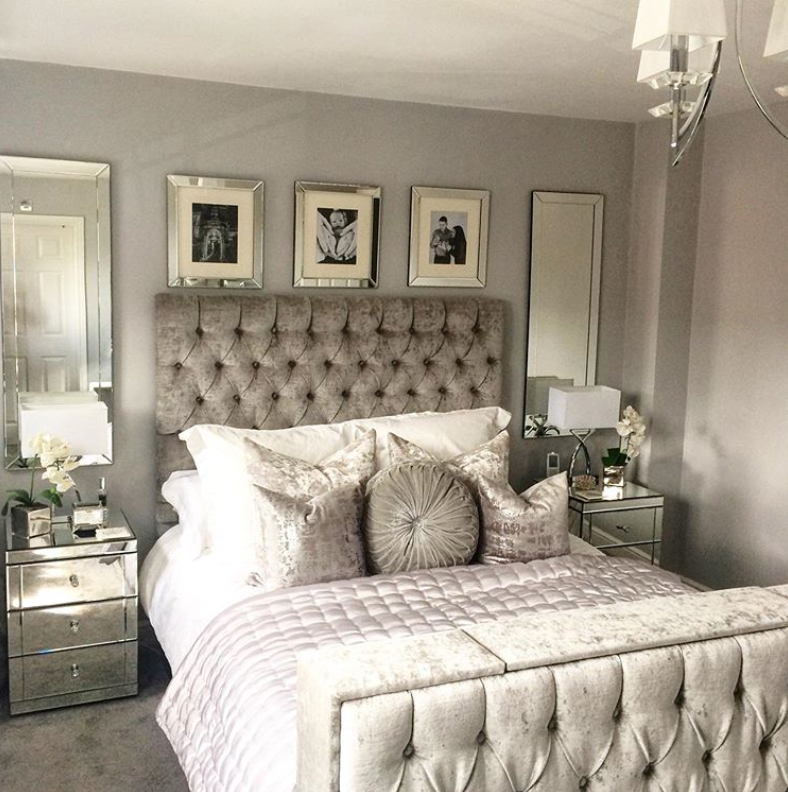 4. Charcoal Grey
This bedroom looks great with white, black and charcoal grey for an edge. White always helps crisp everything up so the darker shades aren't too overwhelming. The large knitted throw adds a touch of comfort and the fresh white flowers make the room look gorgeous.
5. Mid-century modern bedroom
Grey makes the perfect backdrop to use when looking to add a modern touch on a period home. It really allows you to furnish and style it in any interior style you like. Take this Federation style home which has mid-century modern finishes to make it a right fit for the current trends.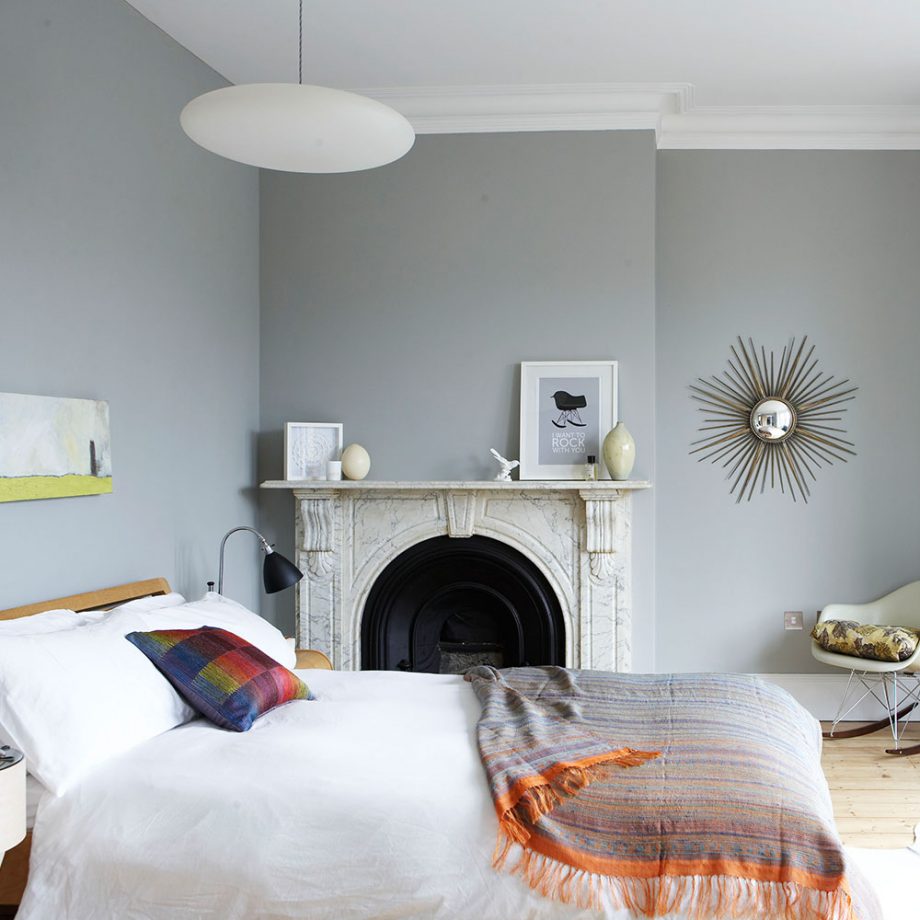 6. Marble Features
I absolutely love anything marble and the pattern on that featured wall and mat are oh so stunning. If you have more of a simplistic space or are going for the minimalist look, then adding a marble pattern in your space will look amazing. Plus, the white and grey tones really create a clean, smooth effect.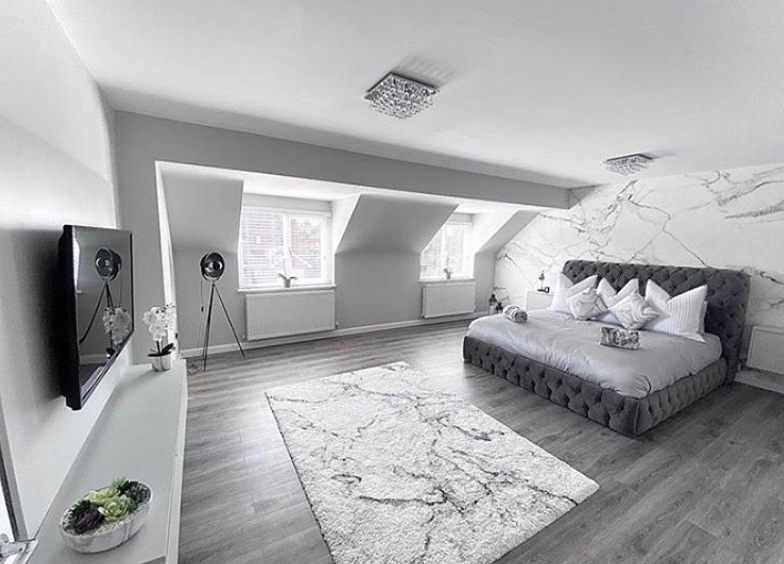 7. Florals and Pink
Of course, grey is a shade that always looks great when paired with florals. Tremendous colours of pink, blue, green and white create a colourful celebration. Adding florals or colours to a throw, a bed cover or even on your wall can really make an exceptionally joyful space.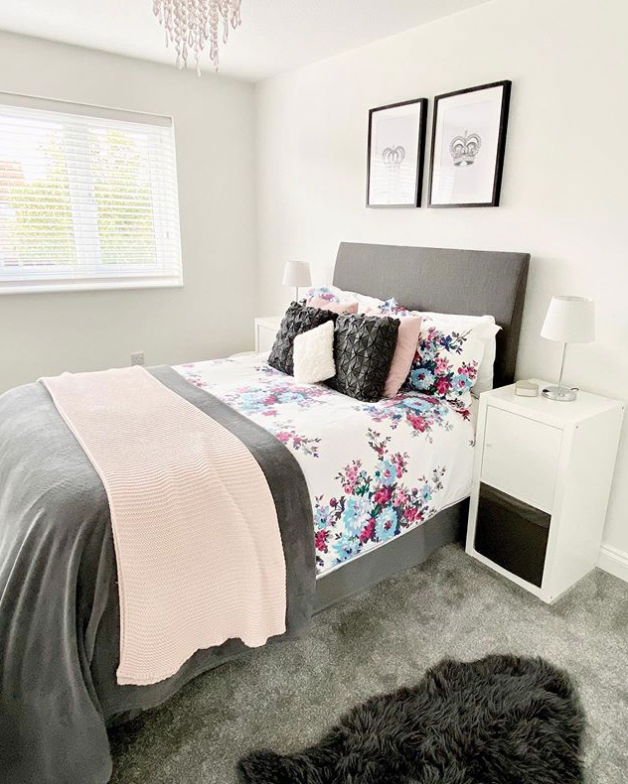 8. Cosy Corner
Now, this is a look I could get used to, wow! I am adoring the grey and blue tones with a pop of greenery from the plants outside. This white shuttered window is a glorious way for the light and greenery to seep in. What a cozy corner indeed. Just add the essentials, some extra throw pillows and some cute wall decorations and you are ready to go!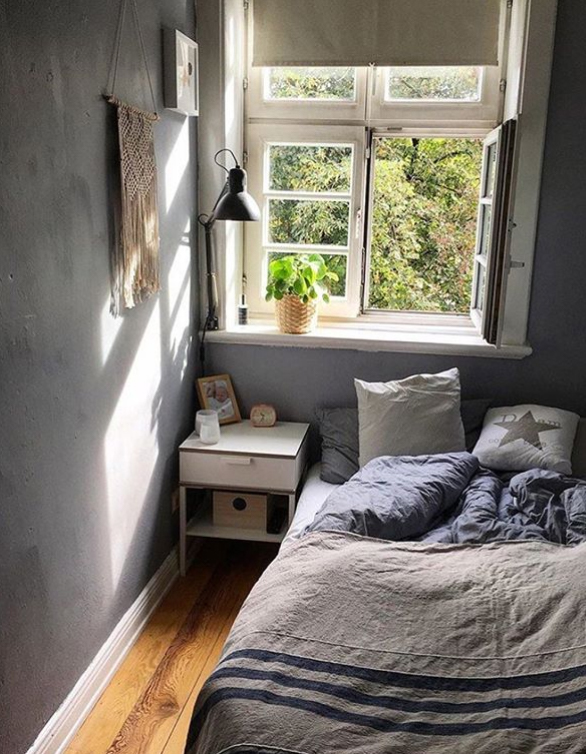 9. Monochrome Tones
Yes yes, yes to all of the patterns and polka dots – how fun! I like to think these sorts of styles add a little more flavour to your bedroom when opening up your door! Get creative and add some monochrome tones on your walls, your sheets, your bed cover or your decor. Dots and stripes are never too crazy – you make the rules in your own space!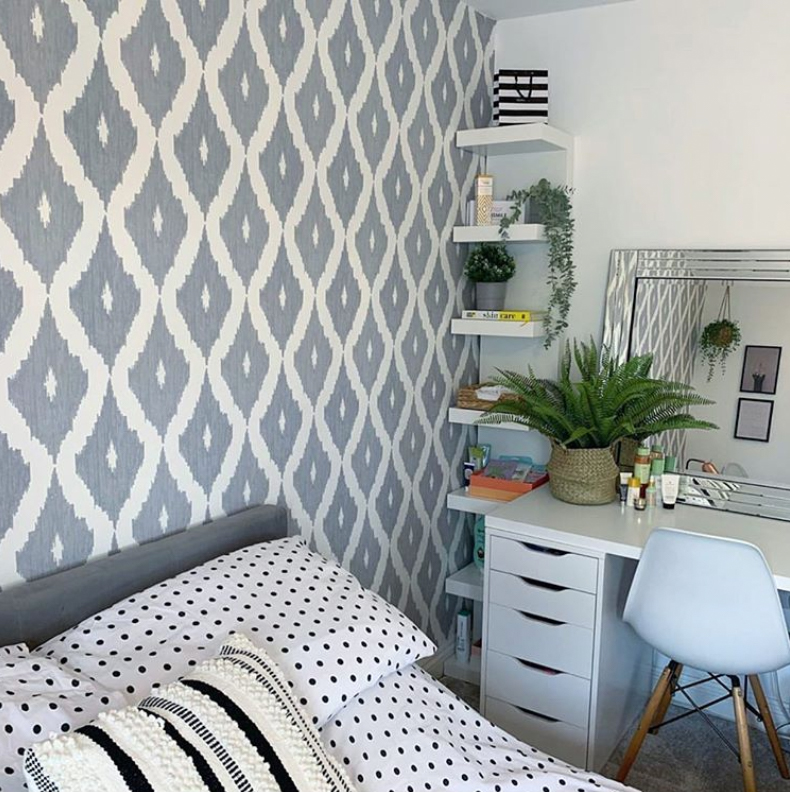 10. Grey scale Elegance
How elegant is this grey scale bedroom?! It really is a celebration of all the different shades of grey you can get! Don't forget to add some crisp white sheets, pillows or decor in there to separate the grey with a softer tone of colour. Also using patterns never fails when going grey, because it captivates the eye and leaves a lasting impression.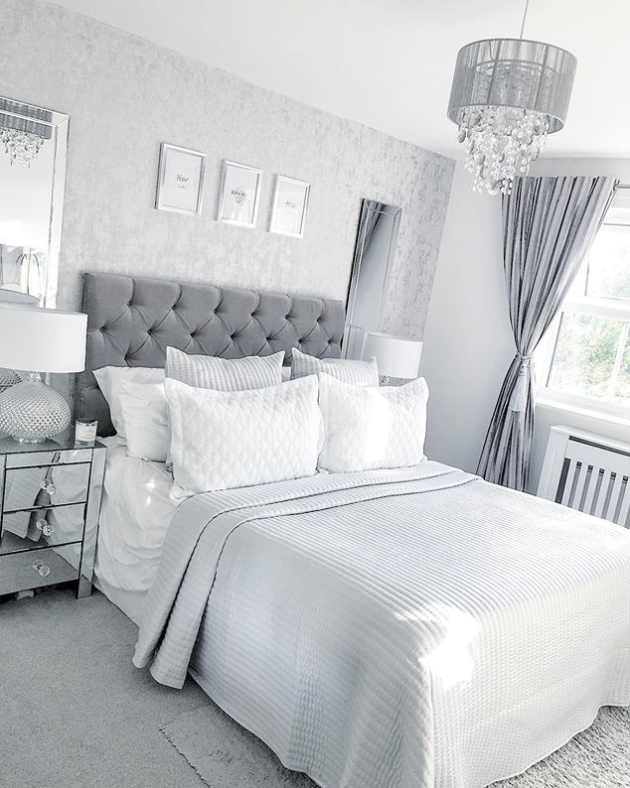 11. A Hint of Grey
Not everything has to be grey, especially if, like me, you are one who likes bright colours and are optimistically attuned to everything pink! Or, not pink? Whatever YOU desire. Anyway, if this is the case, decorate your room with soft colours, and then just a touch of grey. Where? Anywhere! Your bed frame, a floor mat, an item of clothing displayed… you name it!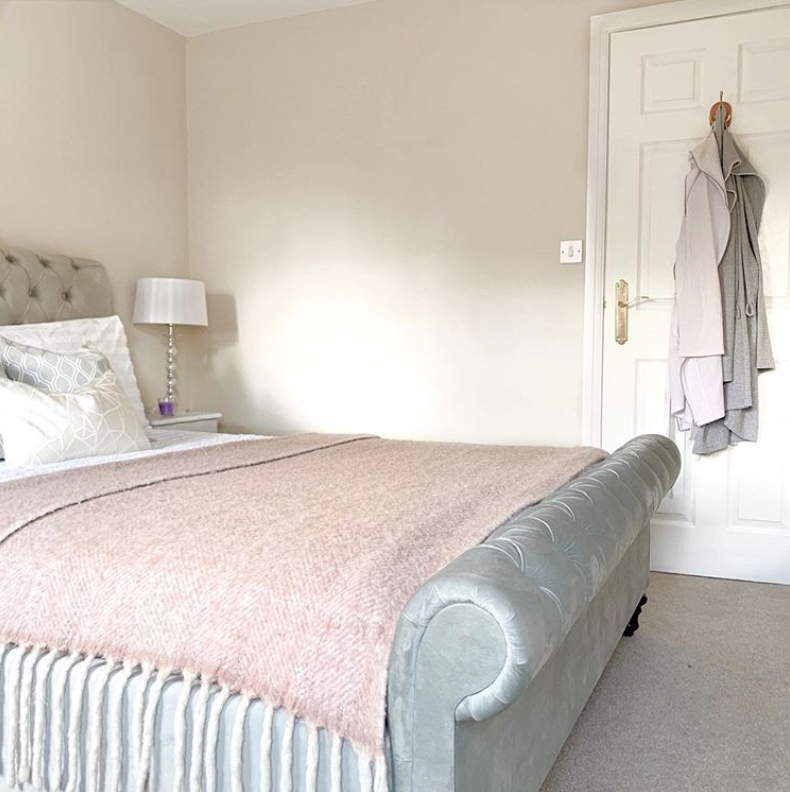 12. Grey Hamptons Style
If you love The Hamptons interior trend but don't want to go OTT with the nautical styling, adding grey is an excellent way to turn it down a notch. The grey seagrass wallpaper adds a lovely warming texture as well.
13. Metallic Finishes
This bedroom features beautiful metallic finishes with different tones of white and grey. I absolutely love the calming and soothing effect that the artwork brings. And it really draws attention to the centre of the bedroom. I would recommend a metallic finish if you want to add some smooth and calming textures to juxtapose with the shades of colours in your bedroom. Keep the shades light and put around some simple but favoured pieces of decor. Then, add the metallic finish. Voila!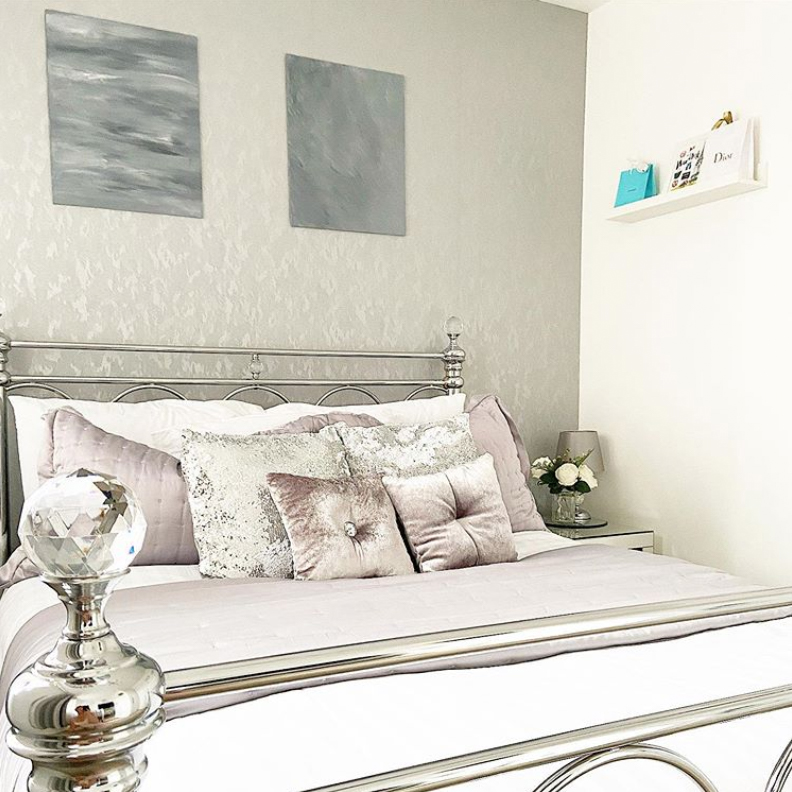 14. Scandi Grey Bedroom
Grey is one of the main colours when it comes to Scandinavian interior design as it goes well with other natural elements like timber, textured finishes and of course – white! Here you can see another stunning Scandi bedroom that you would want in your home.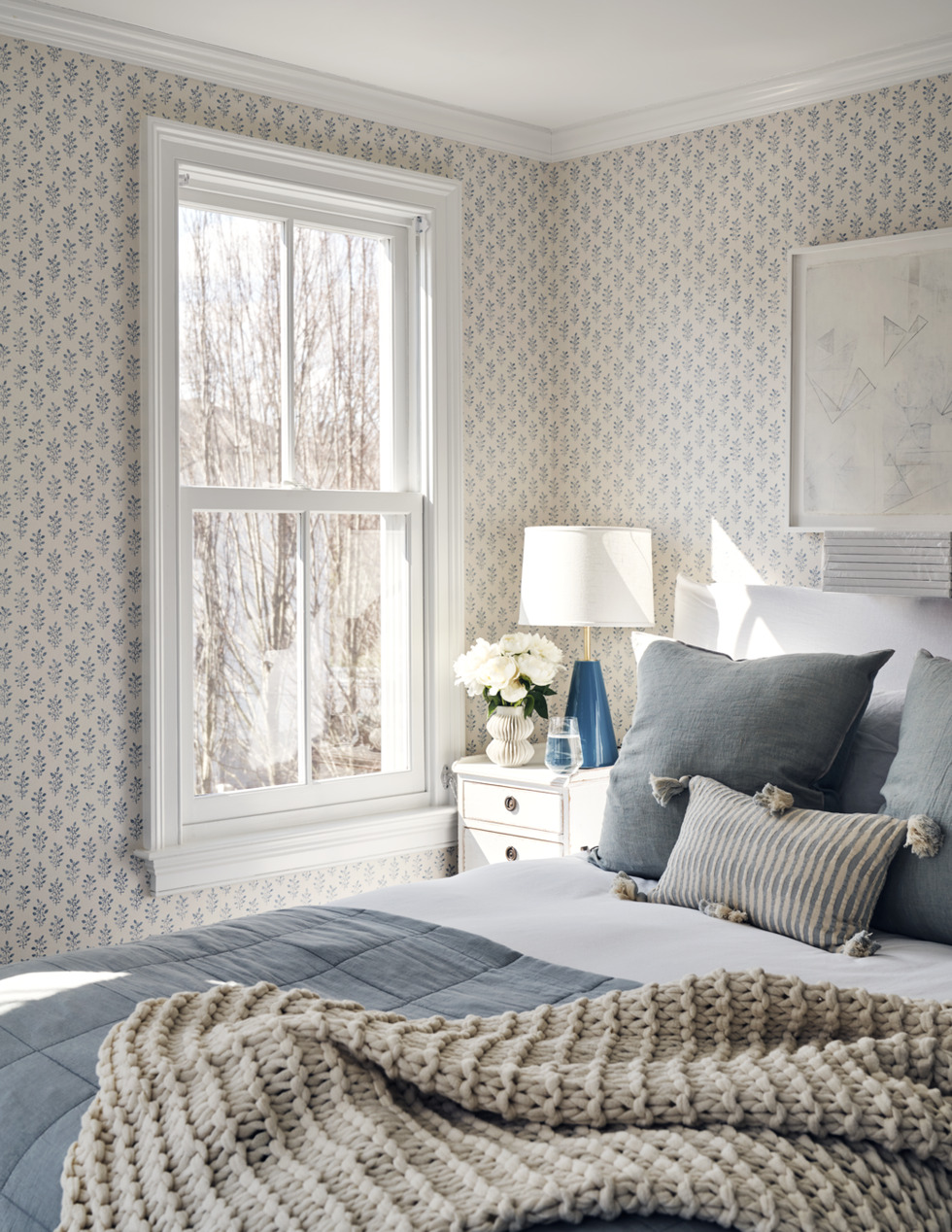 15. Safari Luxe
This bedroom has some wonderful decor that really makes it interesting! For animal lovers, add a portrait or artwork of your favourite animals. Add some candles, a cane basket and a plant for some greenery as well as some shelves to make sure you have some cute storage or display options! This look is called Safari Luxe… you've still got the grey, and your favourite animals out to play! I'm loving it!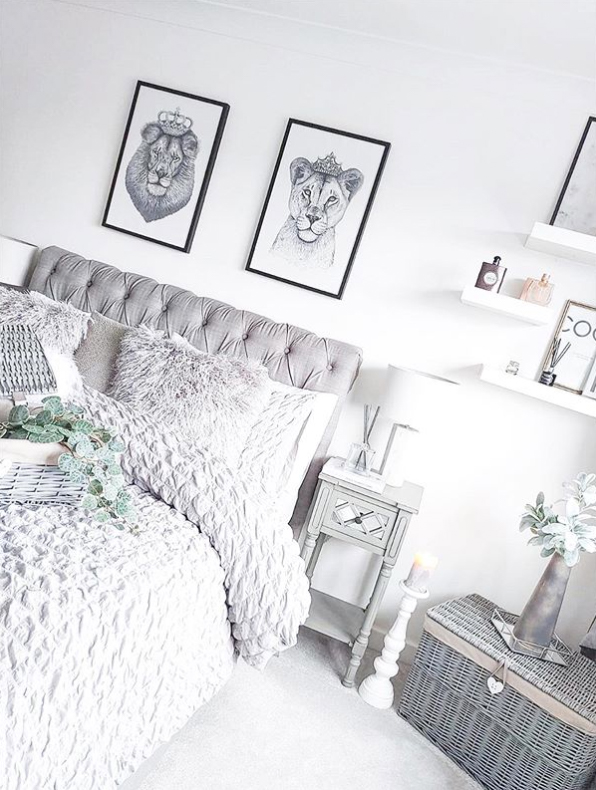 16. LED Overhead
LED lights are a very classy and practical way to add light to any area or even to brighten up a certain feature. I would recommend that if there's a spot in your home or bedroom that lacks some light or joy, add a warm LED light colour overhead and it is certain to bring a new level of cheer.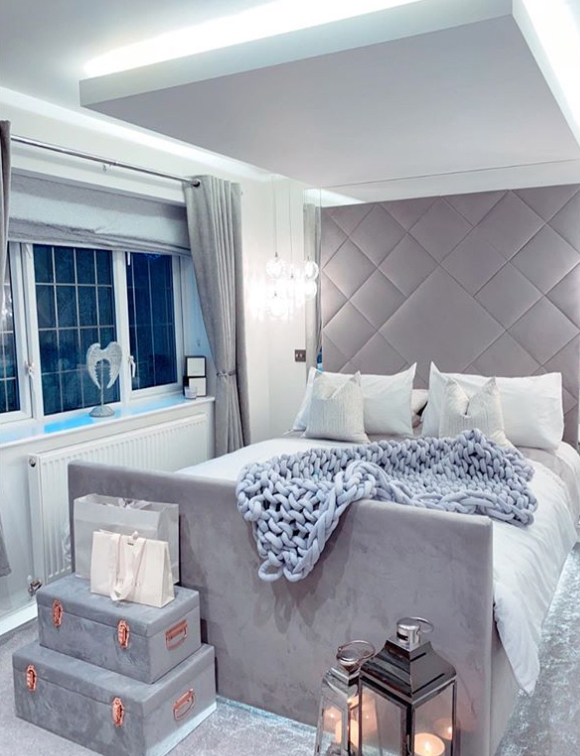 17. Grey Feature Wall
If you're wanting a feature wall, a slick of grey paint is definitely the way to go!! If you have a simple room or even a pretty busy room, a grey feature wall can be a lovely way to create a calming effect. A grey feature wall can tone the room down, creating a peaceful place. It can be a perfect backdrop to a modern bedroom and will support many colours and shades.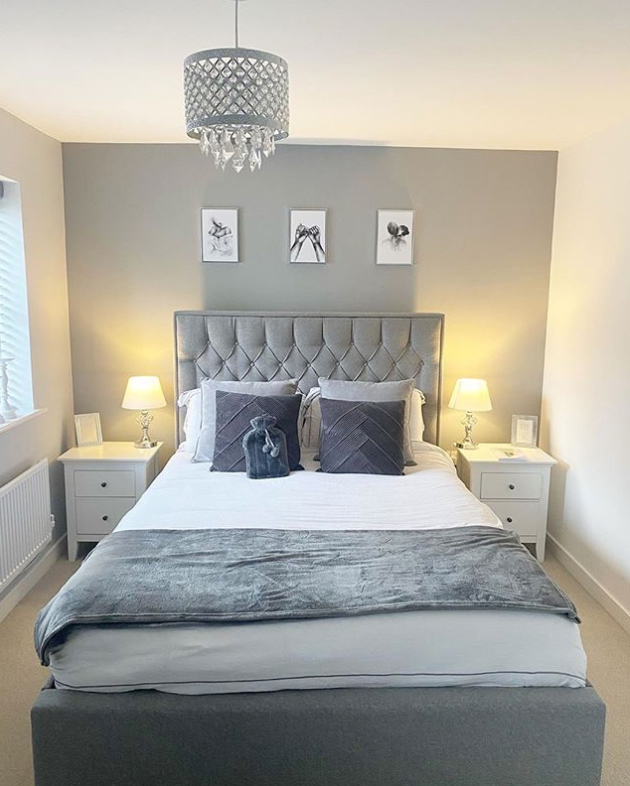 18. Floating Shelf
A great way of sprucing up your grey bedroom is by adding a floating shelf above your bed! It really is important to add colours and decor to a grey room to keep it interesting and the eyes captivated. Get yourself a floating shelf, decorate the heck out of it, and most of all, enjoy!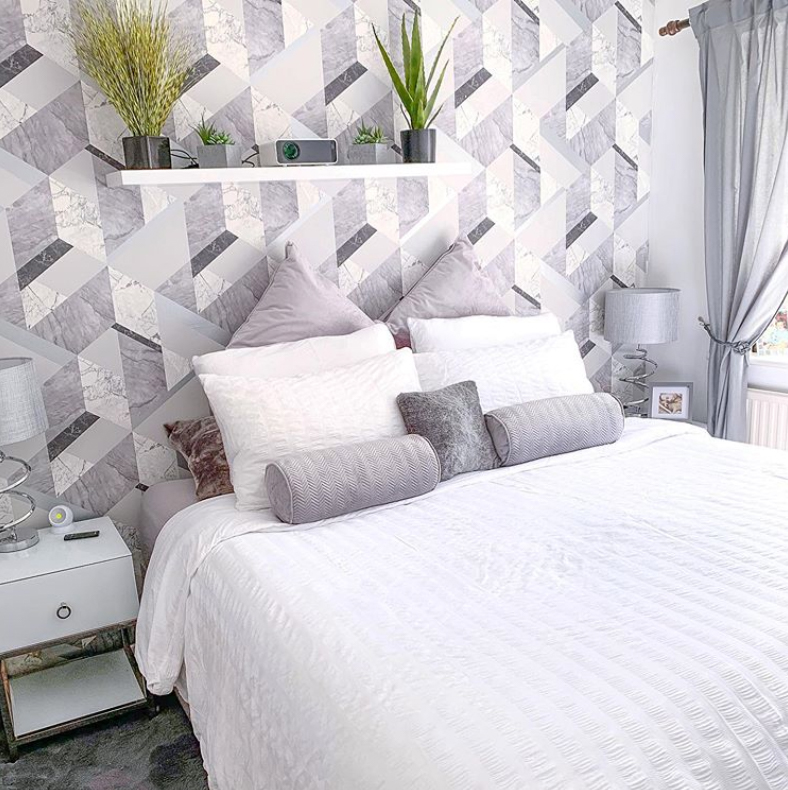 19. Mirrored Surfaces
Mirrors and reflecting pieces of furniture are great for a grey bedroom to bounce around extra light. Mirrored surfaces are a wonderful way to decorate modern homes for a clean and precise look. Add a darker toned colour like royal blue or olive green which juxtapose tremendously with shining mirrored surfaces like these!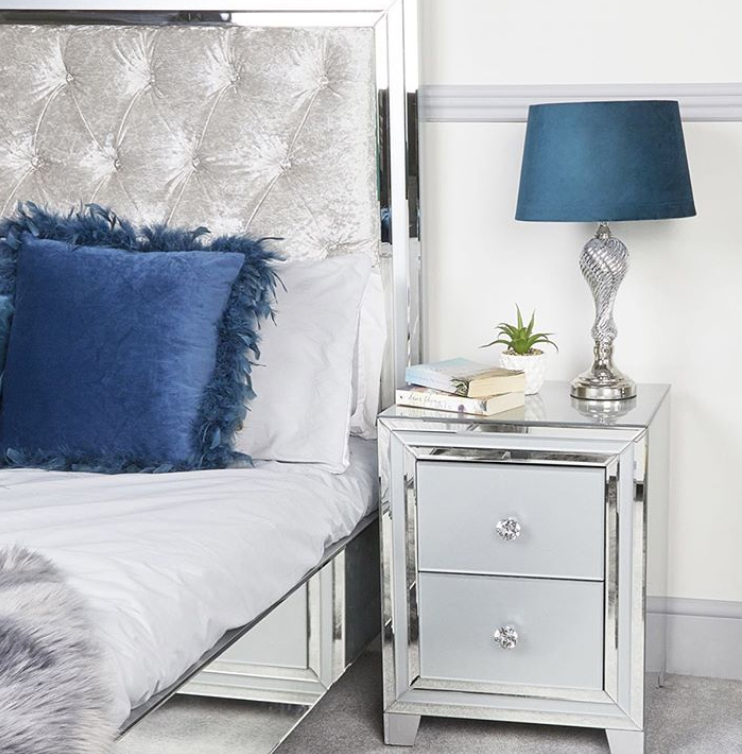 20. A Touch of Pink
You can never have too much grey, but you can also never have too much pink… At least in my opinion! Grey and pink create a soft, classical look with a touch of romance. As grey is calming, a soft pink can have the same soothing effect, whilst also adding a pop of colour to your space. Grey and pink create a wonderful duet of joy together.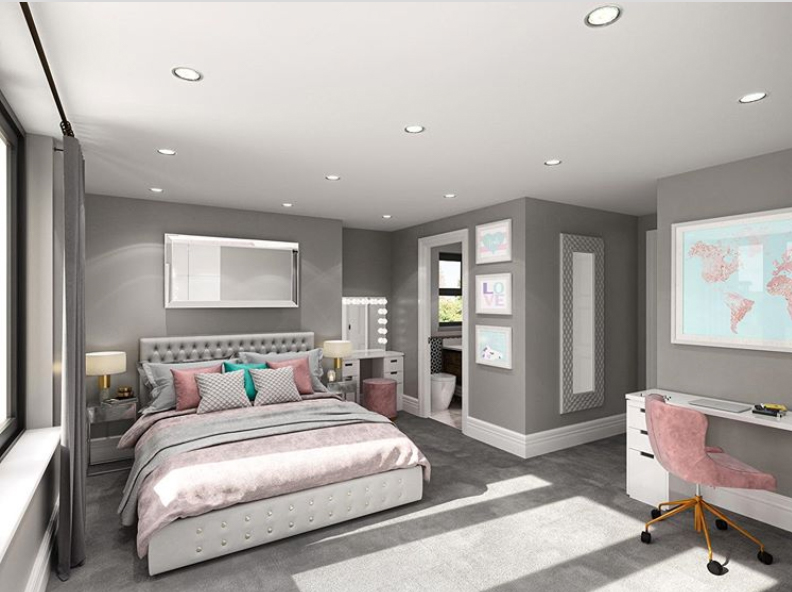 21. Pretty Kitty
If you're a hard worker, you probably need a little kitty love every once in a while for something soft to cuddle up to. Either a cat or your cat sheets. This room features one of the lighter shades of grey through the feature wall and the white brings clarity to a busy mind. Add your study desk and some shelving for your books, and you've got the perfect place to study and also have a break with your furry friend!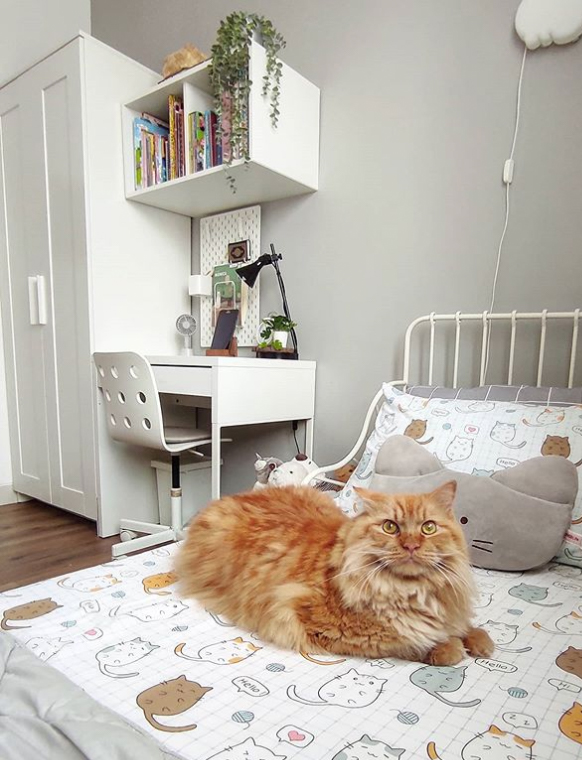 22. Snuggle Season
There's nothing wrong with a good old snuggle, and this bed creates the perfect spot for a snuggle with your loving partner. I am loving the soft grey tone and beautiful white furnishings. Once again, adding some greenery really makes a real difference to the feel of any bedroom, and even the clarity of your mind. Add some comfy pillows and a cup of tea and you are officially ready to doze off in snuggle land.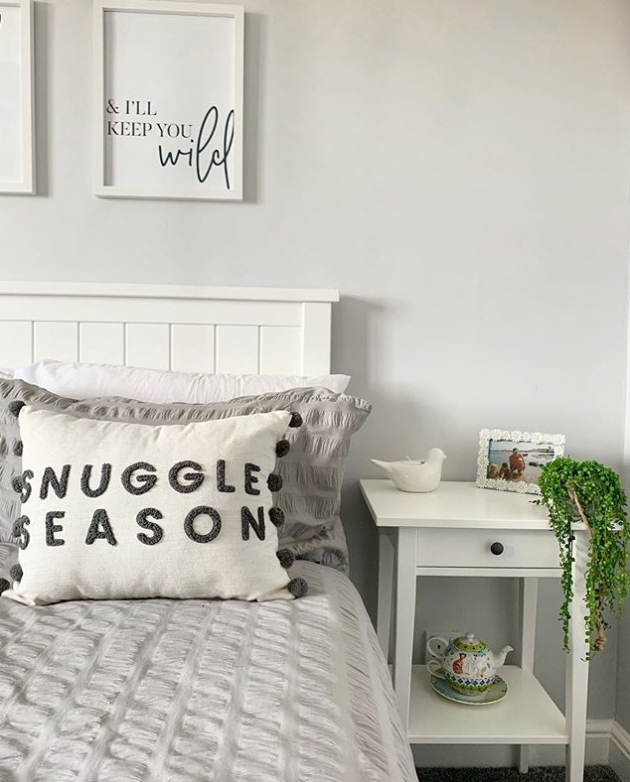 23. Black Decor Details
For more of a fierce look, add some strength and backbone to your bedroom with some black decor details. Try a black frame, a black basket or a black ornament of your choice to really create a smart and strong look. If your bedroom is mostly white there is no harm in adding some darker tones that will help certain features of your room to stand out. Get bold and give it a go!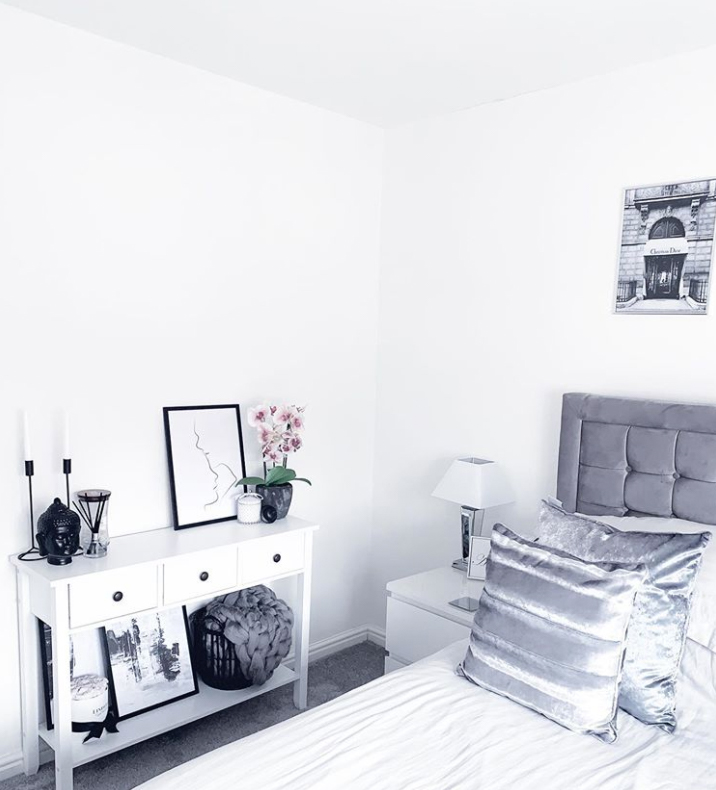 24. Warm Grey
I'm absolutely loving this warm grey look! The whites and golds, as well as the soft browns, create a creamy illusion whilst the warm grey colour of the featured bed just throws this bedroom into a whirlwind of goodness. If you want a look like this, plan out your decor so that it matches together but is spread out over the space of your room. This will help the pieces to pop amidst that creamy illusion you are going for. Don't forget to add that warm grey and you'll never want to leave this sensational bedroom!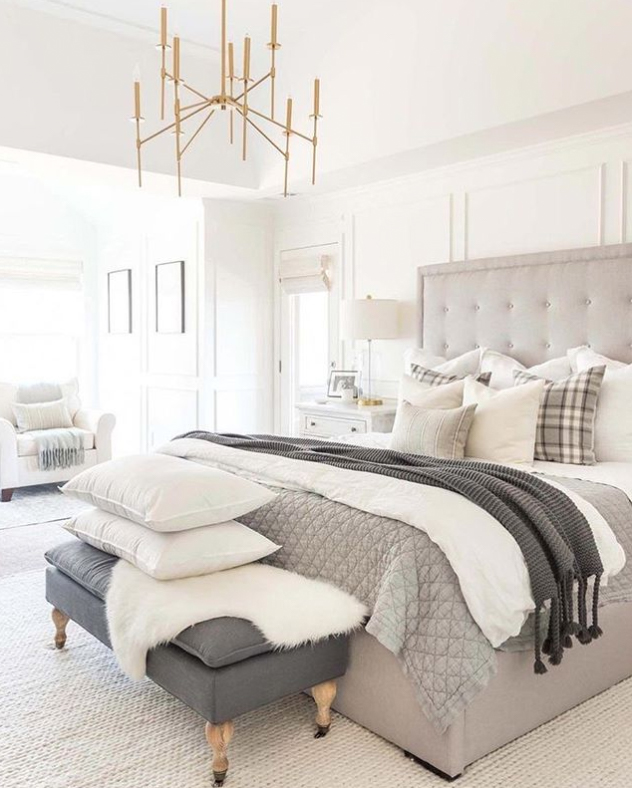 25. Crane Wallpaper
Oh my goodness, what a wonderful bedroom look! The crane wallpaper is such a wonderful feature, along with the wooden furnishings and cane looking cabinet. A small clock to tell the time, and a beautiful silver mirror creating a look that is simply so fine! If you have wooden floors or even tiles, add a little mat for some extra colourful vibes and some comfort for your feet.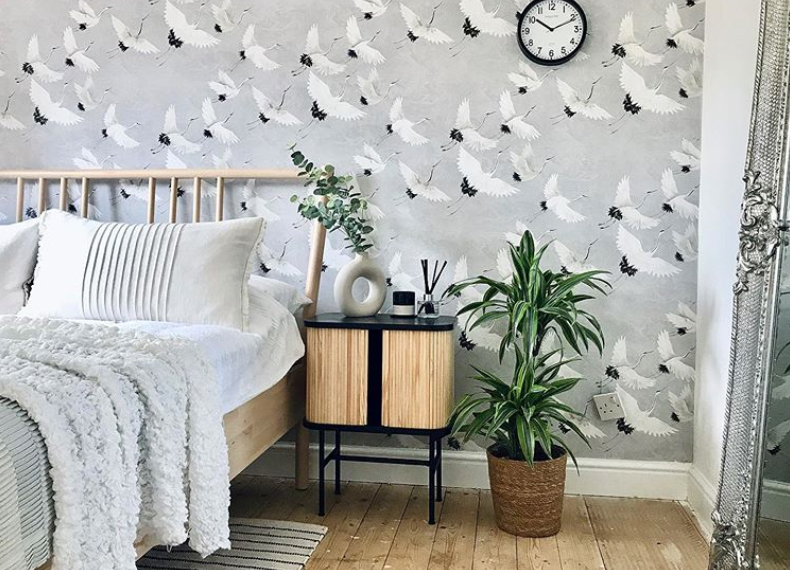 26. Silver and Grey
Add a simple touch of silver with grey decor and patterns. The silver features add elegance and sparkle to the smooth grey shade! This room is more simple with the tones and decor, but adding some light silver patterns to the wall creates an exciting illusion and is pleasing to the eyes! Grab yourself a silver vase, light shade or candle to easily achieve this look.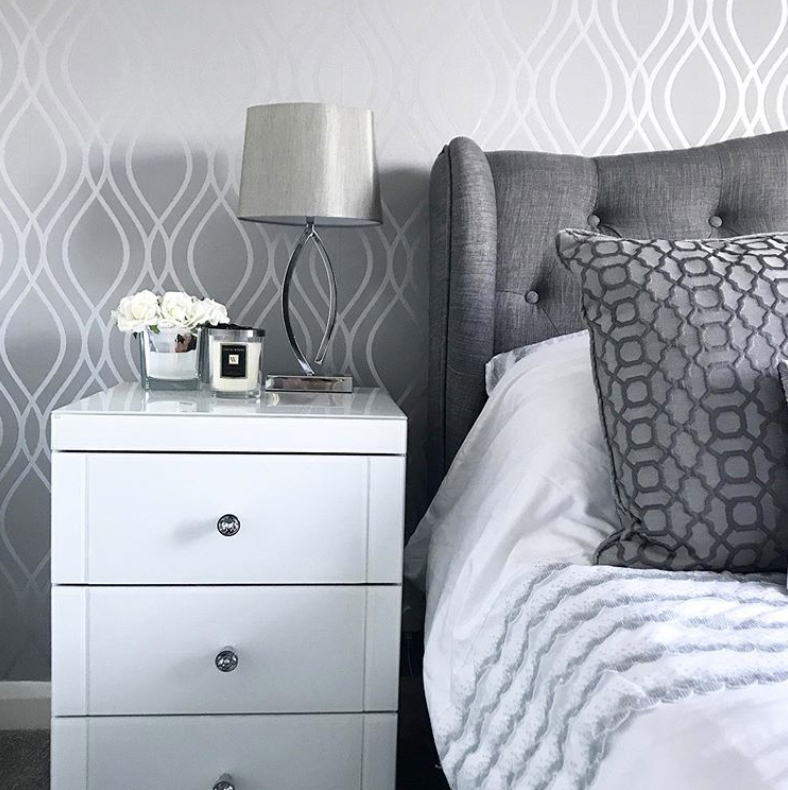 27. Feminine Details
What speaks femininity to you? Flowers, perhaps pinky tones or floral colours? All of these and more are beautiful assets you can add to your room with any shades of grey or even a grey feature wall! Add some oomph with a big pile of coloured pillows and a feminine pink throw and don't forget the flowers! If you're aiming to decorate for a younger audience, add some cute dolls or stuffed pink animals – what could be more fun and feminine than that?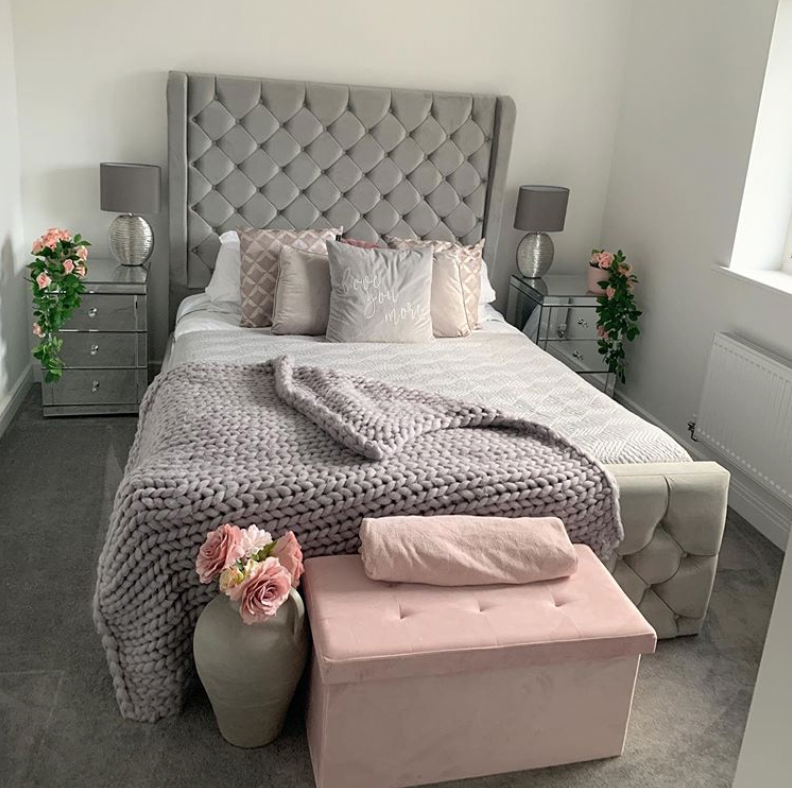 28. For the Fashionista
If you love fashion and style, this room is for you! The black and white prints in the frames are a wonderful way to express how classy you are. And the grey furnishings along with the grey chandelier just go so well together! Add a pop of colour with pink and some flowers to match. Just stunning.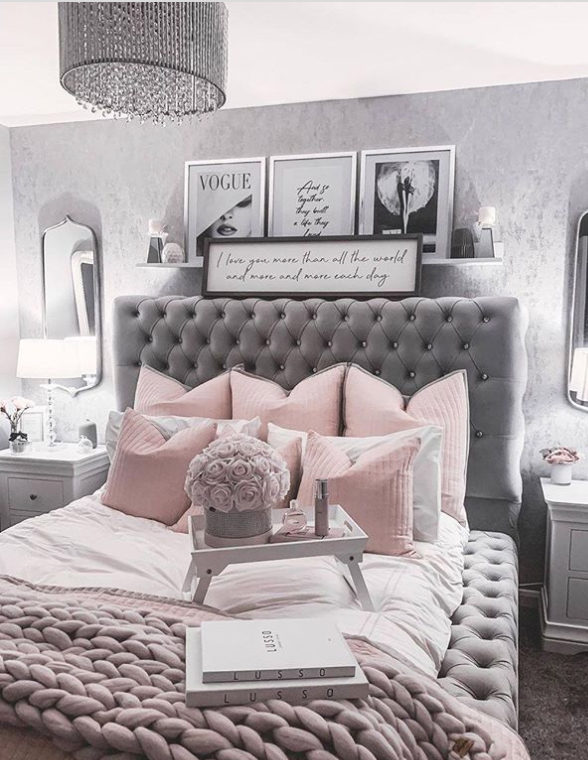 29. Dark Tones
If you have a dark wooden floor, this is an incredible opportunity to add some spunk with some dark grey features. I am loving this big bed with the striped linen and simple grey furnishings. For something unique and eye catching, add hanging gold lights for an exciting touch that brings warmth to the space and a fresh vibrant look! Add a mirror to make the area look extra classy and spacious!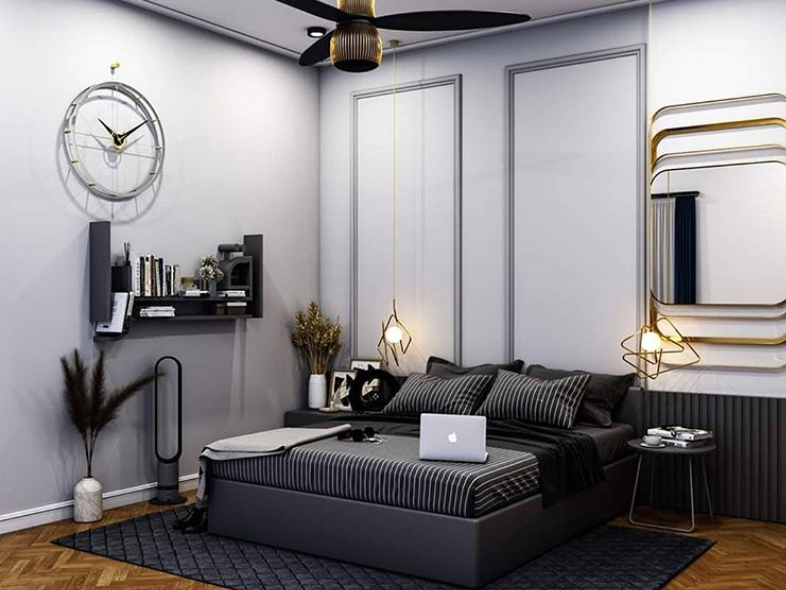 30. Industrial grey bedroom
This bedroom says "grey but make it masculine" – and it certainly does! This inner-city loft-style grey bedroom with brown leather styling is the right pick for any industrial look.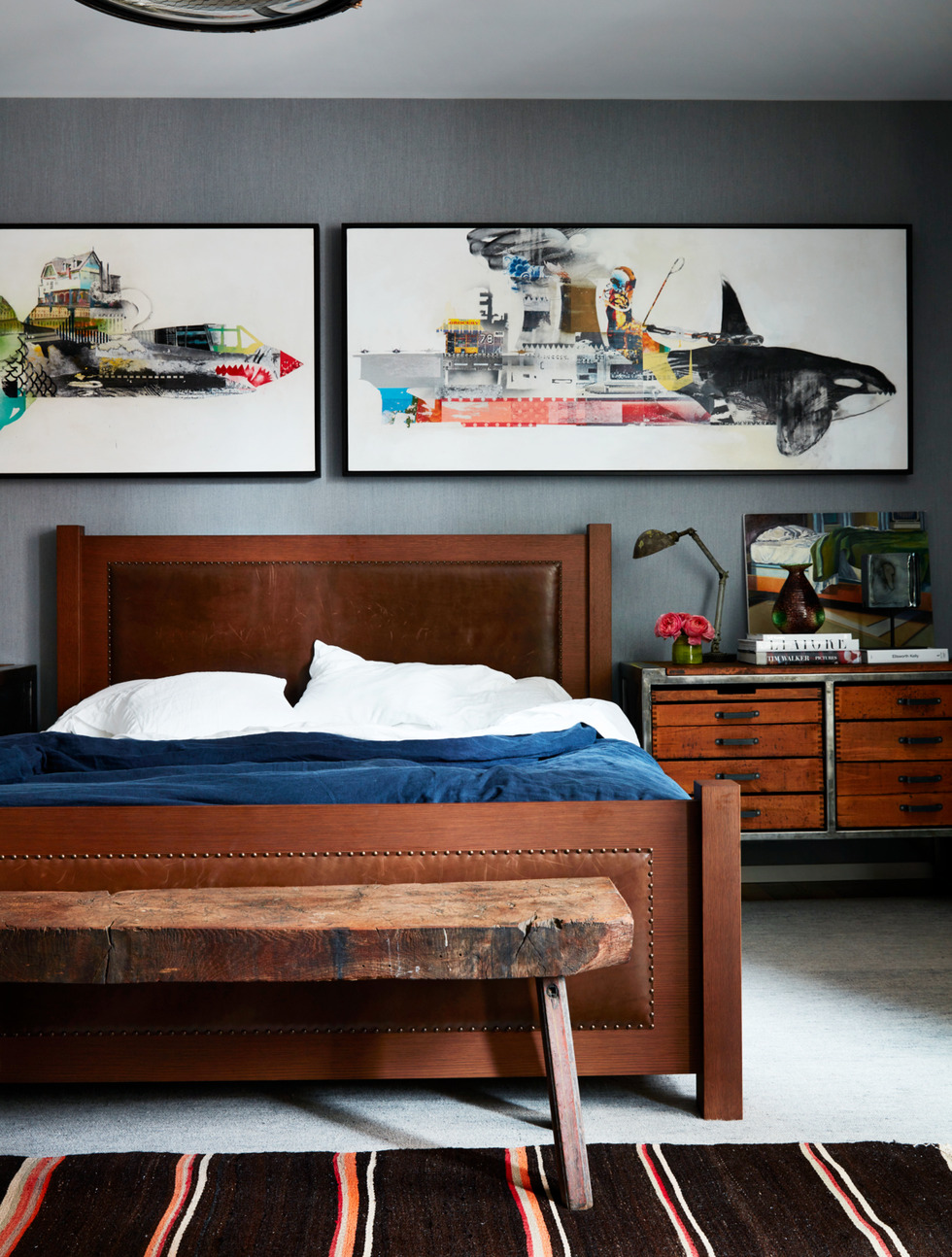 31. Boho Palms
What a beautiful look! Tropical with a mix of urban. I'm loving the wooden tones and beautiful bedside table with the gorgeous rattan bedside lamp. And the suspended light is also a wonderful touch! Plus the grey bed and linen matches wonderfully with all of the remaining features. Light creams and yellows really help to bring out the tropical and urban look.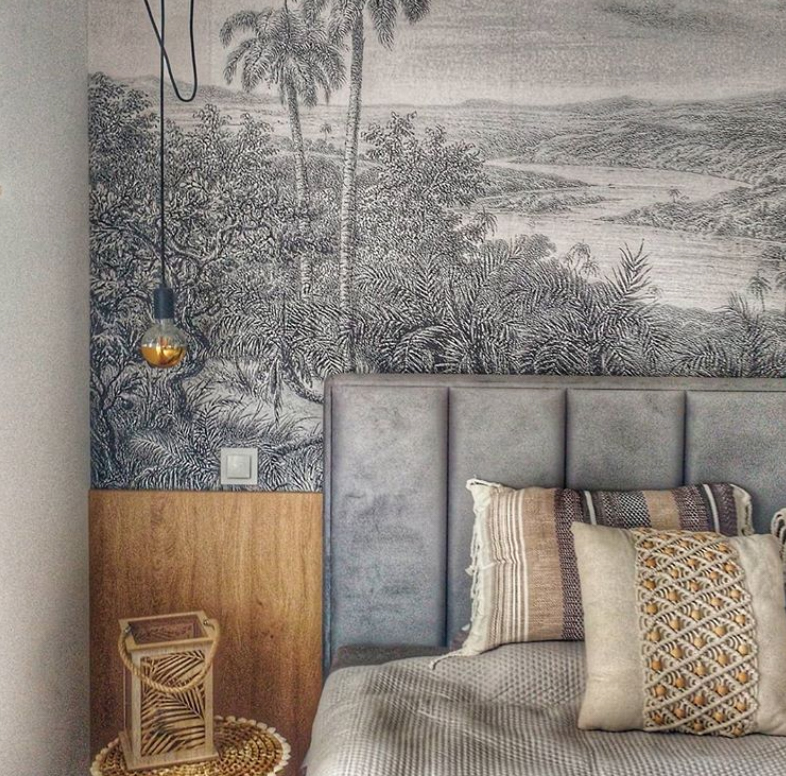 32. Dark Grey Opulence
This room looks like it's right out of a mystery movie! What an exciting room to be in! There really is so much to be inspired by which leaves so much room for innovation and wonder. I would recommend adding some gold facets to even out the grey colours and some white candles to lighten up the room. Dark grey and oh so opulent, indeed.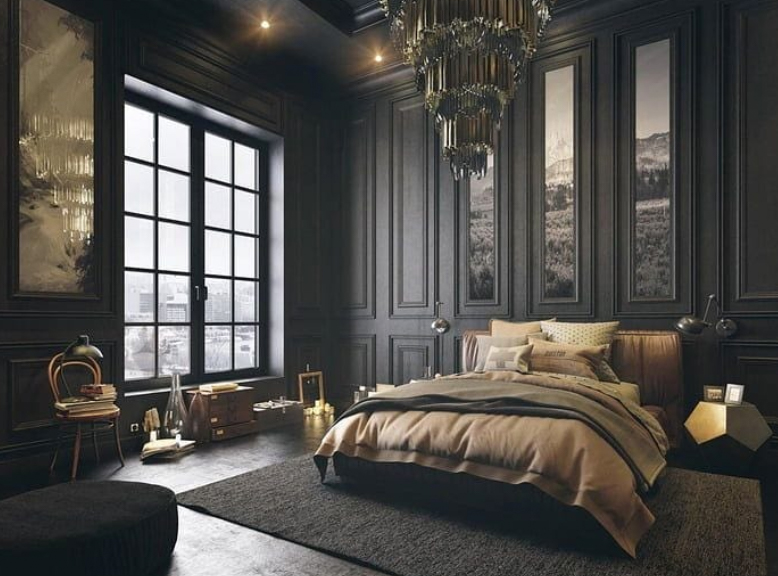 33. Grey guest bedroom
This is an amazing home office/ guest bedroom for the modern working from home life. The floating shelving helps to store all types of odd bits and I think my favourite part is the exposed brick where the seat is. The teal and coral/peach sheets really bring warmth into the room.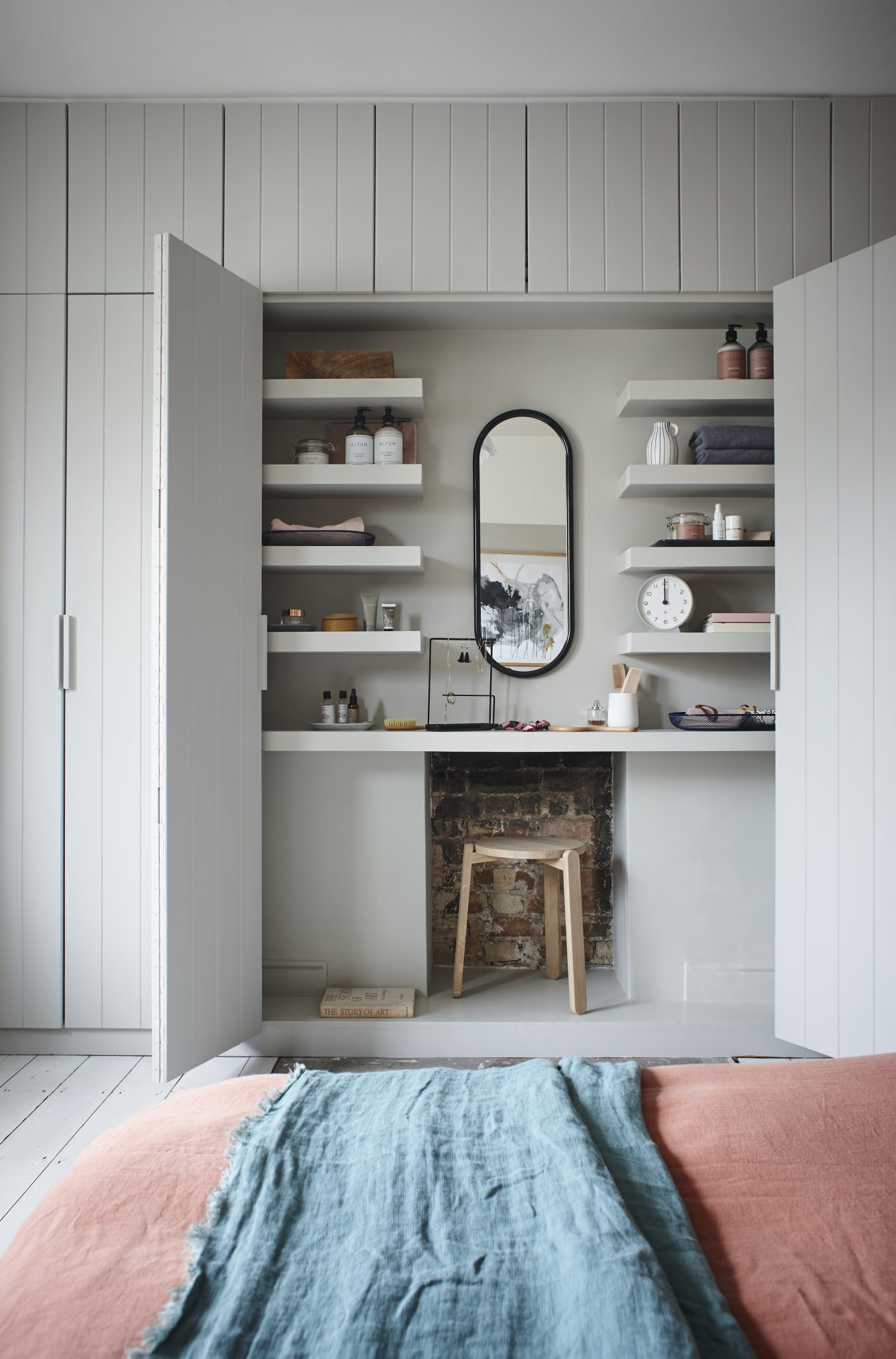 34. Grey Panels
What a gorgeous look! Sticking with the grey theme and adding the crisp white, these grey panels with white frames create a real bold and beautiful look for this bedroom. If you feel like your space is a little bland and boring, add some depth with panels on your walls! What an elegant feature!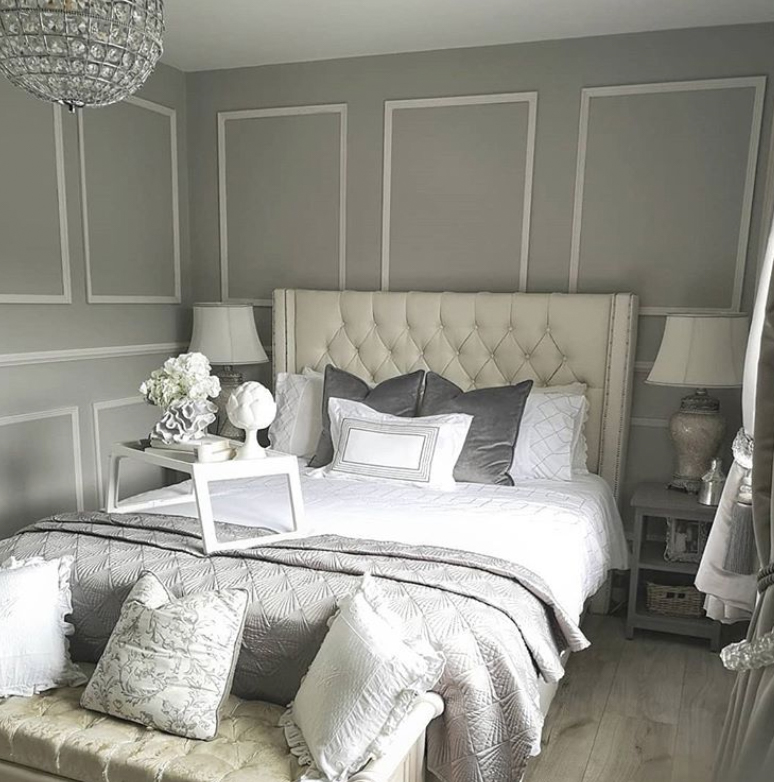 35. Cream and Grey
Here is another fabulous combination of colour – how sensational! Choose some tones that are on the yellow or brown toned side to compliment your greys. And I love the hanging light and timber floorboards that make this space look oh so coastal. Just gorgeous.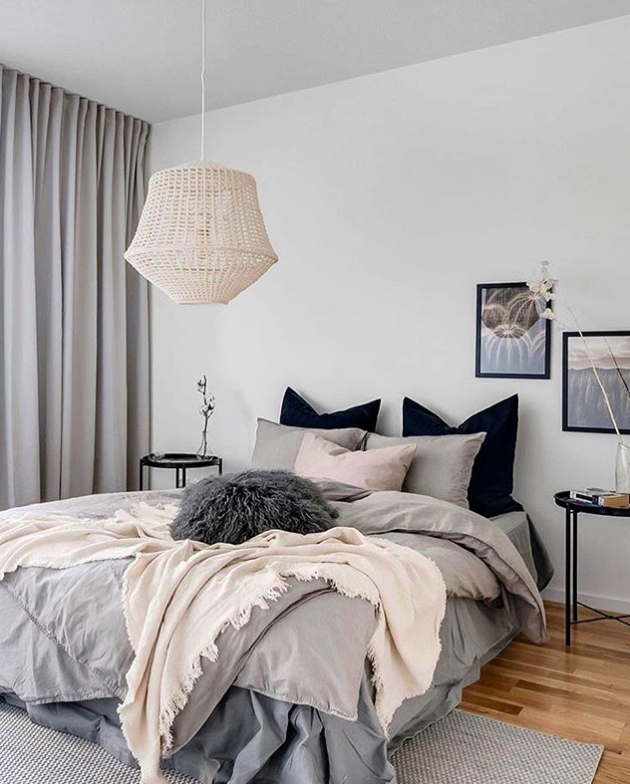 36. Dreamy Decor
I would have the sweetest dreams in this candlelit sanctuary! I just love the pillows, candles and dimmed lighting. Everything looks oh so inviting. And the mirrored wall decor just works so well to bring some creative flair into the space. Adding a throw to the end of your bed will also give such a relaxed and dreamy feel.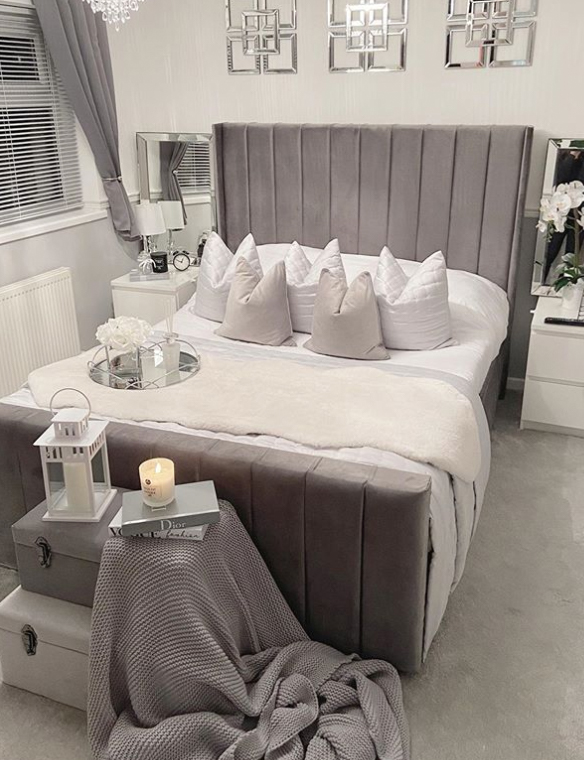 37. Grey linen
Linen bedspreads are a great choice when it comes to grey because the textured finish gives it a lived-in soft finish to a room.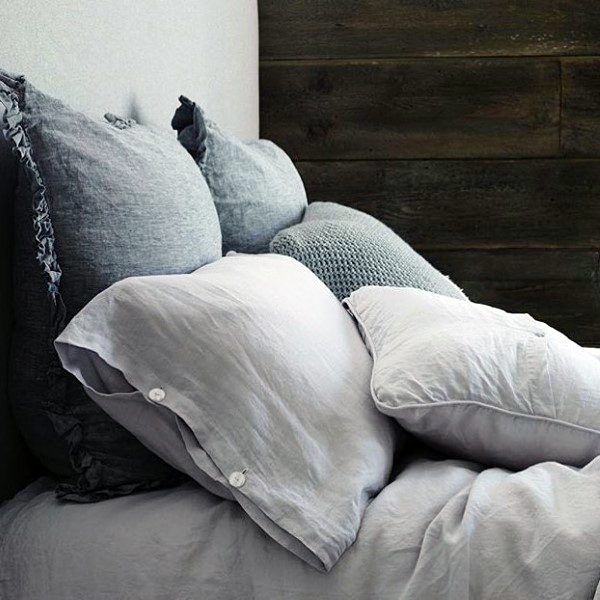 38. Blue Hues
If you're more into colour, but still want to utilise the grey trend, then this blue bedroom for you! Blue is such a great colour that will perfectly complement your grey furnishings.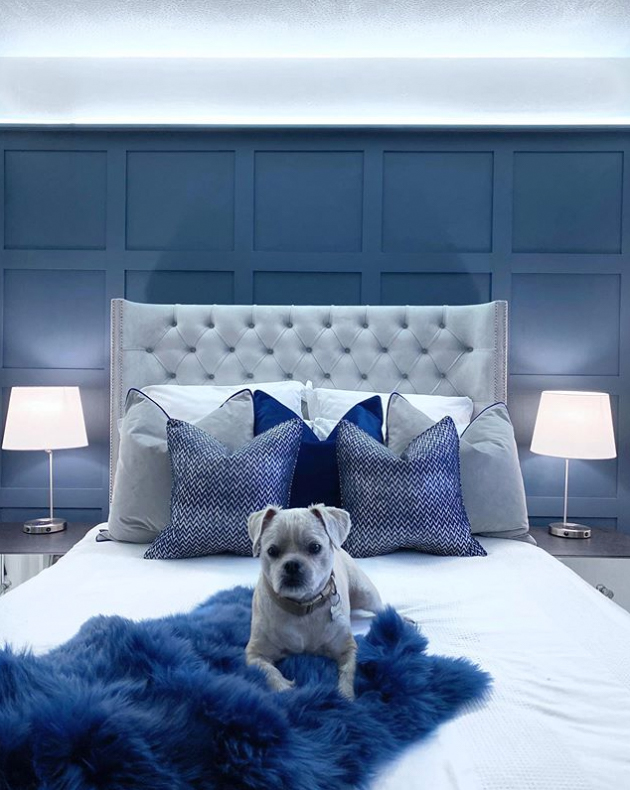 39. Dear Bed, I love you
The text and black frames look so chic against the grey bedroom wall. And I also love the contrast of the white bedhead against the grey wall as well. This is a great budget-friendly bedroom idea.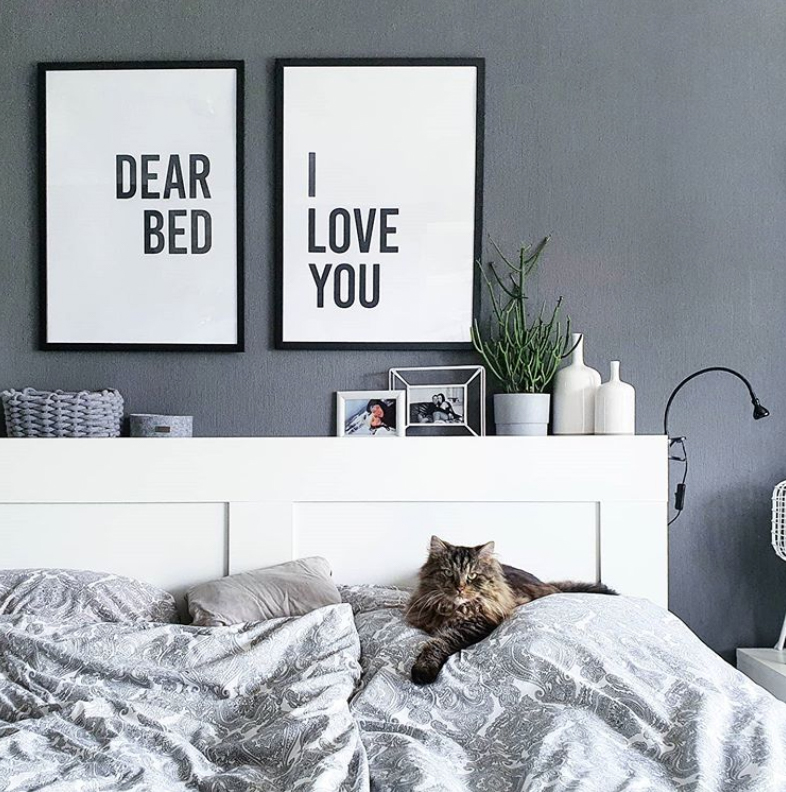 40. Sleepy Swan
Oh I just love this feminine space. How beautiful is that grey swan wallpaper that looks as if the swans are paddling up, down and across the walls! The grey bedding is the perfect addition to this stylish bedroom and I absolutely love (pun definitely intended) the love pillow which brings so many warm, happy feelings into this space.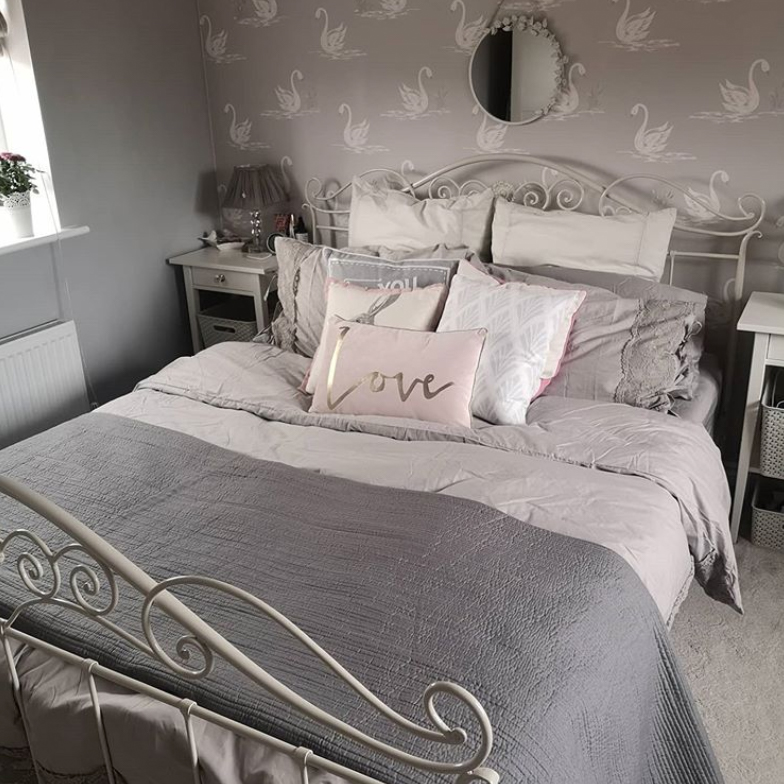 41. Dark Tones
Using dark colours in your space can seem a little daunting, but how good does this look! The charcoal grey feature wall really is the perfect backdrop for this laid back bedroom. The large white light pendant really pops against the dark wall. And I love the addition of the blush pillows which add a pop of colour into the space.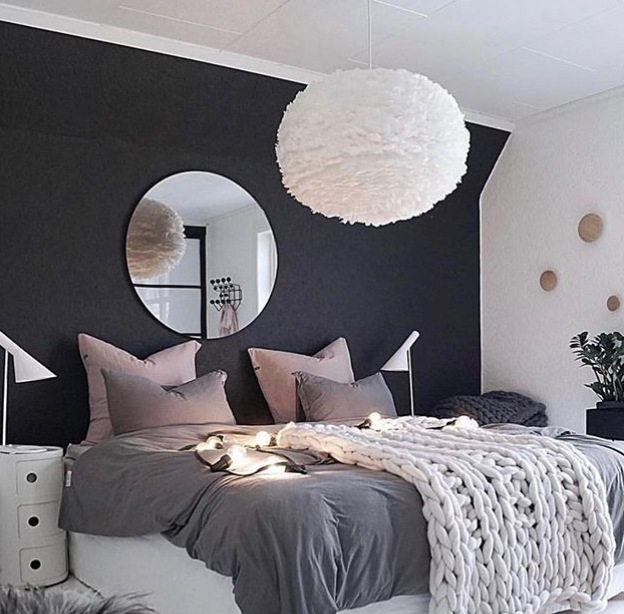 42. Pink Pillows
If you haven't already guessed, I love pink. And pink really is such a great match with grey! Even though this bedroom is on the smaller side, it still makes a statement and is as beautiful as ever. The white wall mounted lamps look great sitting flush against the grey feature wall. And I love the light pendant above the bed, which would look absolutely stunning at night!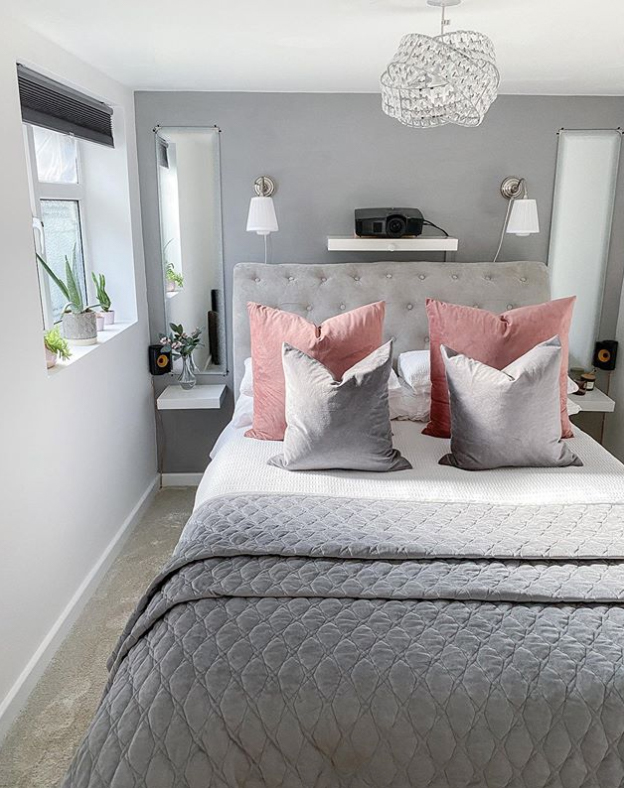 43. On-Trend Decor
The minimalist style of this bedroom is so in fashion at the moment. From the gold arched mirror to the minimalist vase that is sitting on a podium (like in a museum), this trendy grey room is so simple yet so luxurious. The soft grey bedding works so well with the brown and white tones in the room.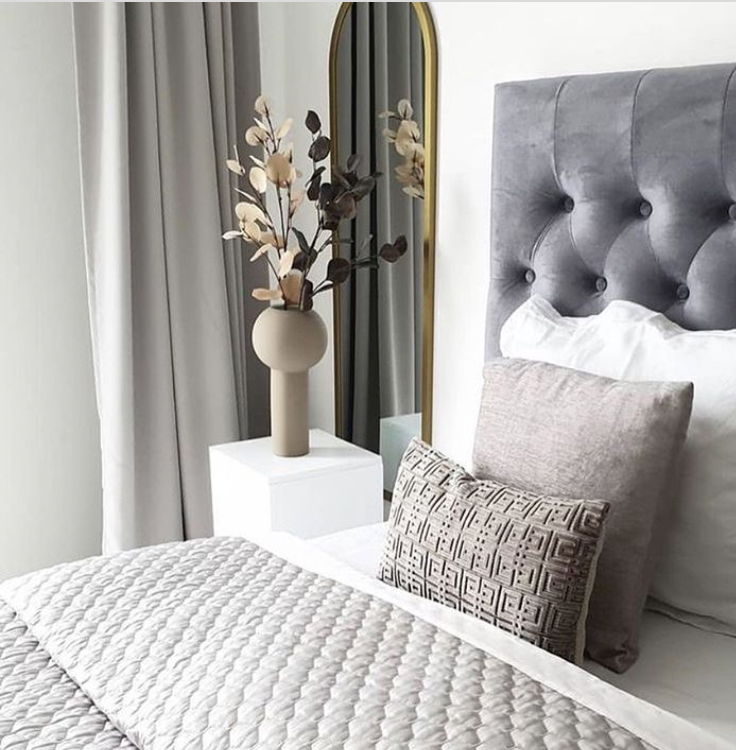 44. Vanity Space
This is a space that Coco would love to relax in! A bedroom is never complete without a pretty vanity area, and this one definitely does not disappoint! The grey carpet and curtains go so well together, and the chair and corner of the bed have been upholstered the same way. Add a potted orchid to your space and you're good to go!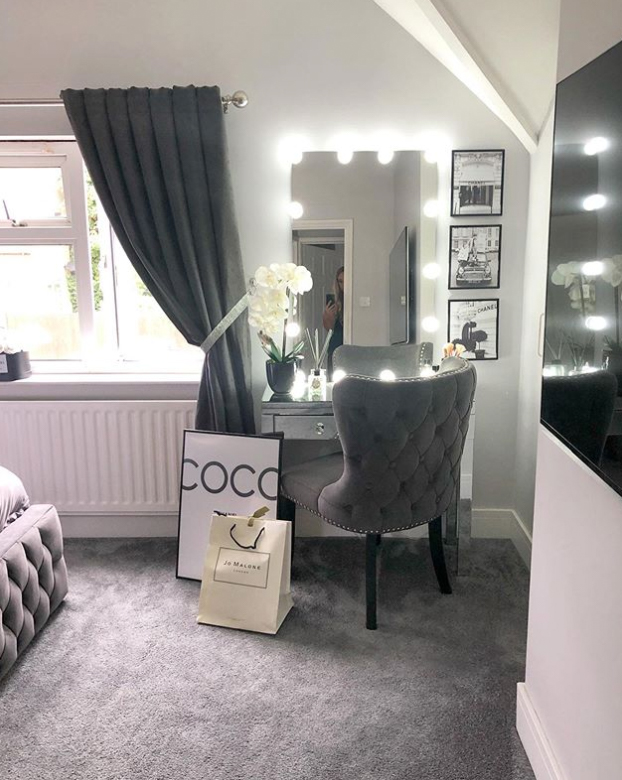 45. Chandelier Charm
There really is so much charm about a chandelier. They are elegant and remind me of a fairytale with kings and queens! And I would definitely feel like sleeping beauty as I laid my head down to rest in this beautiful grey and shiny silver boudoir. Classy and charming.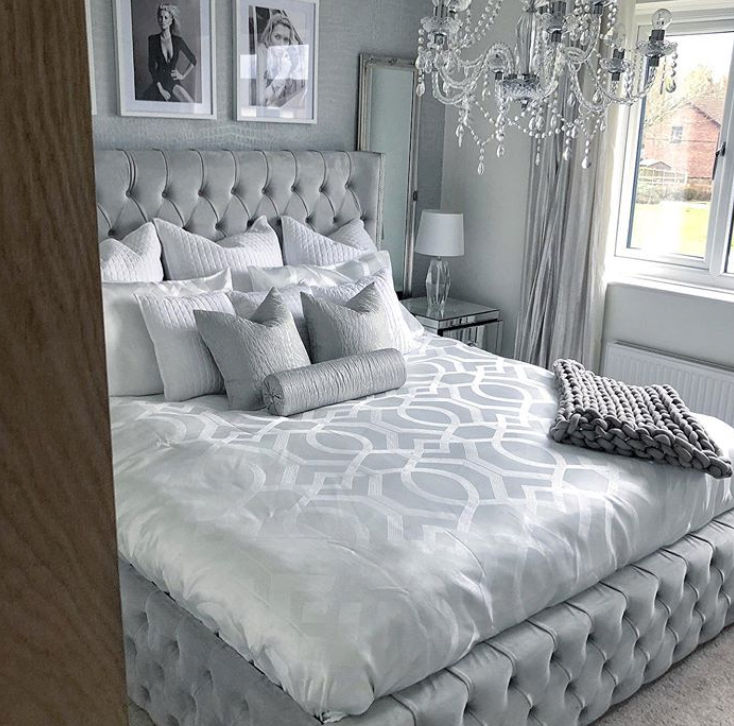 So there we have 45 grey bedroom ideas! I absolutely love the bedrooms that incorporate colour like pink through the decor and pillows as well as the spaces with pops of green from the addition of plants. What were your favourite grey bedrooms? Let's chat in the comments below!