The Hamptons style has captured the hearts of so many home designers over the years. Located on eastern Long Island's South Fork, the Hamptons is known as the primary holiday destination for New York City residents to escape the city and enjoy some seaside relaxation. So it's no wonder that this style is one of coastal luxuriousness, and that the Hamptons style bedroom is one of the most popular interior decor designs worldwide.
To achieve a Hamptons look, go for quality over quantity in your furnishings. And for colour, go for neutrals with lots of white, and touches of relaxing ocean blues.
So without further ado, check out these 30+ Hamptons style bedroom ideas to inspire your next bedroom renovation!
1. Deep navy blue
Blue is always a good idea when you're choosing what to put in a Hamptons style bedroom. And I absolutely love the deep navy hues in this blue bedroom. They're reminiscent of the deep blues from the depths of the ocean. And they naturally go with the sandy tones that are hallmarks of Hamptons style bedrooms too.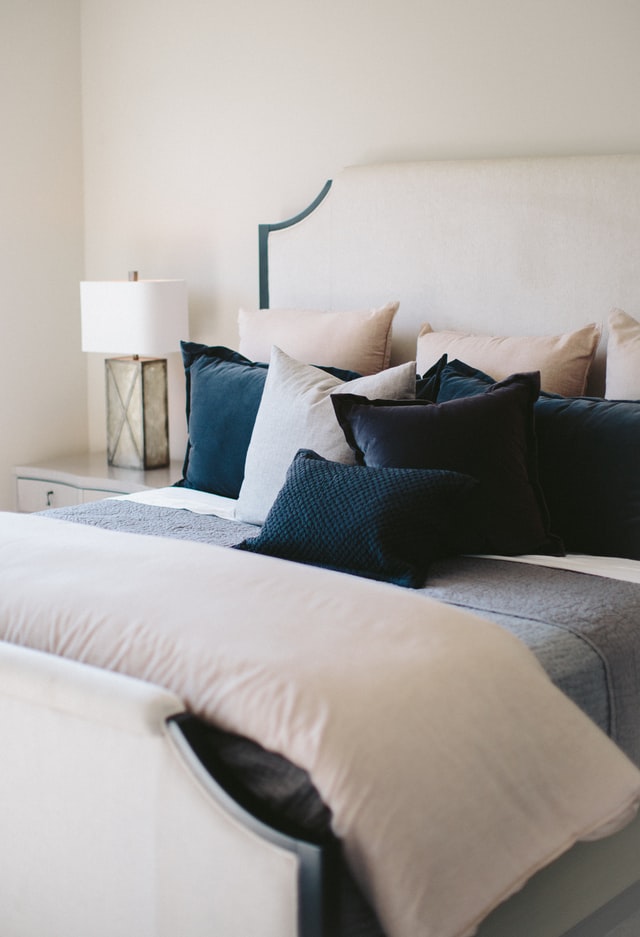 2. Hamptons styling
Not only should your bed be finished off in a coastal style to complement your Hamptons style space, but the furnishings and decor items around should reflect that too. On-trend Hamptons style decor includes plenty of woven, organic materials. Try to steer clear of the more cliched coastal decor, like seashells, coral or nautical touches as these can appear very dated.
3. Calming and fresh
How calming and fresh is this beautiful and beachy boudoir? There's so much natural light beaming in.  I love the simplicity and clean lines. All you need to create this look is some striped feature pillows in natural tones, plenty of fresh white bedding and sheer white curtains. Voila, an easy,  minimal and no fuss Hamptons style bedroom!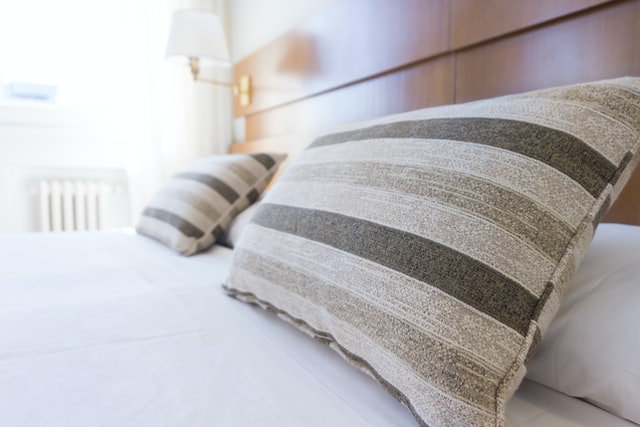 4. Textures and teal
How gorgeous are all the textures in this bedroom! And teal is the perfect addition to this bedroom which gives a very coastal look with the soft tones against the white. Also, the upholstered bedhead is the perfect separation between the wall and the white bedding. And I love that a teal-coloured feature pillow has been included on the bed to tie in all the colours nicely.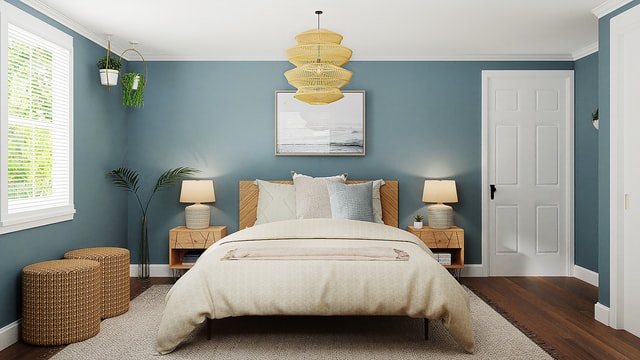 5. Subtle black and beautiful white
This bedroom is a light and airy Hamptons style take on a black and white bedroom. The black is subtle and soft, and the white is crisp and beautiful.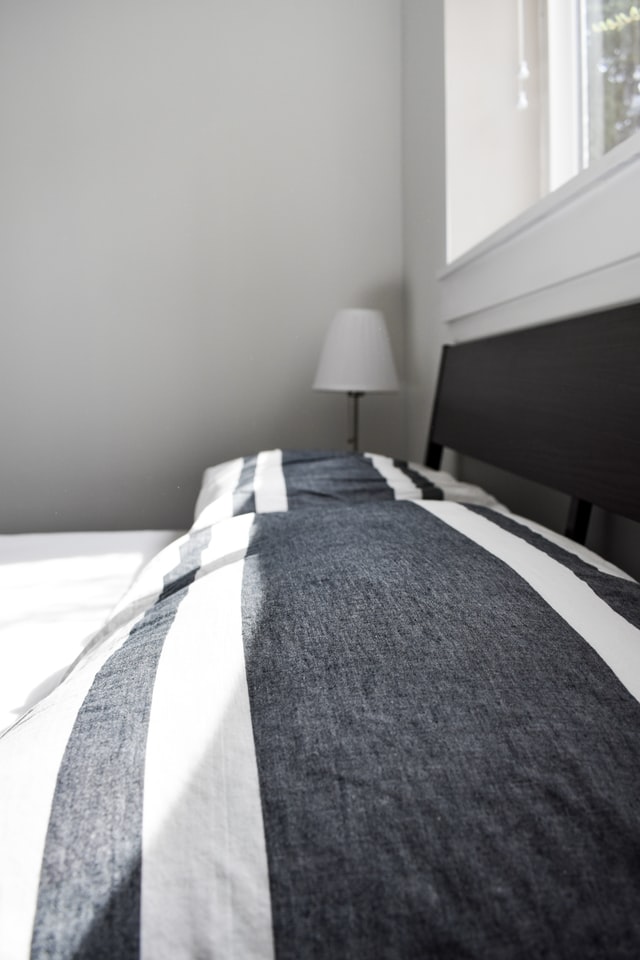 6. Patterned rug
A heavily patterned rug gives a very Boho look to a Hamptons style bedroom. You can even base your whole colour scheme of the room around the colours in the rug.
7. Dark wood
Have dark wood furnishings but are trying to achieve a light and airy Hamptons style? Don't worry, dark furniture will still look beautiful in a Hamptons style bedroom. All you'll need to do is pair your dark furnishings with light coloured bedding and dainty decor like a vase of beautiful blooms.
8. Hamptons deluxe
This Hamptons style bedroom is definitely oozing with luxuriousness! Especially with those ornate sideboards as bedside tables. And I love how the bedding has been kept pretty simple with the addition of some patterned feature cushions.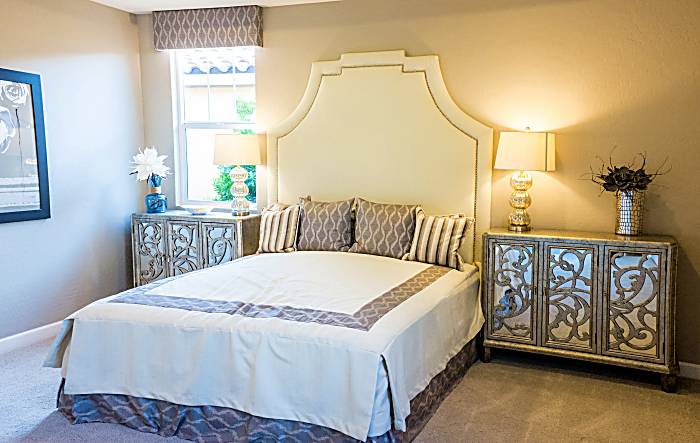 If you want to add even more interest to your Hamptons style bedroom, make sure to check out these bedroom wallpaper ideas.
9. Pillow mountain
A stack of fluffy pillows on a bed will always remind me of a hotel bedroom which then reminds me of many relaxing and memorable holidays I've been on. So adding a pillow mountain into any bedroom will definitely give that effect. Even though it may take a little longer to make your bed or even get into bed at the end of the day, it will totally be worth it!
10. Soft neutral tones and navy
You can never go wrong with using soft neutral tones as the predominant colour scheme in any space. Neutrals are classic and will always be in fashion. However, it's also a great idea to add some sort of pop of colour to make the space look friendly and inviting. So adding beachy blue in a Hamptons style bedroom will definitely achieve the look you are going for!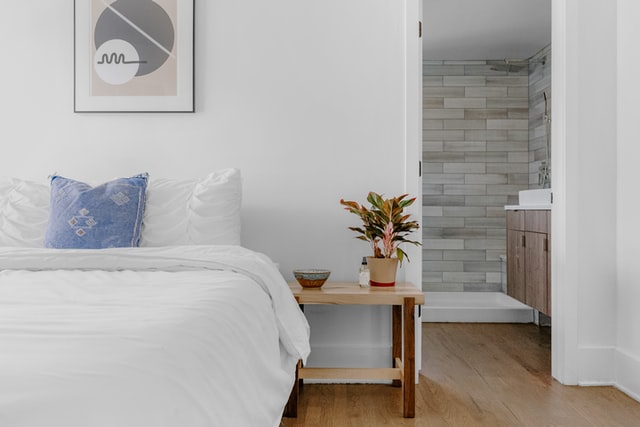 11. Coastal cottage
This bedroom is coastal meets cottage. Styling like this would be perfect in a Hamptons and coastal style home or even a cottage in the countryside. There's the muted natural colours, the plentiful timber and some simple ceramic vases with dried flowers on the bedside.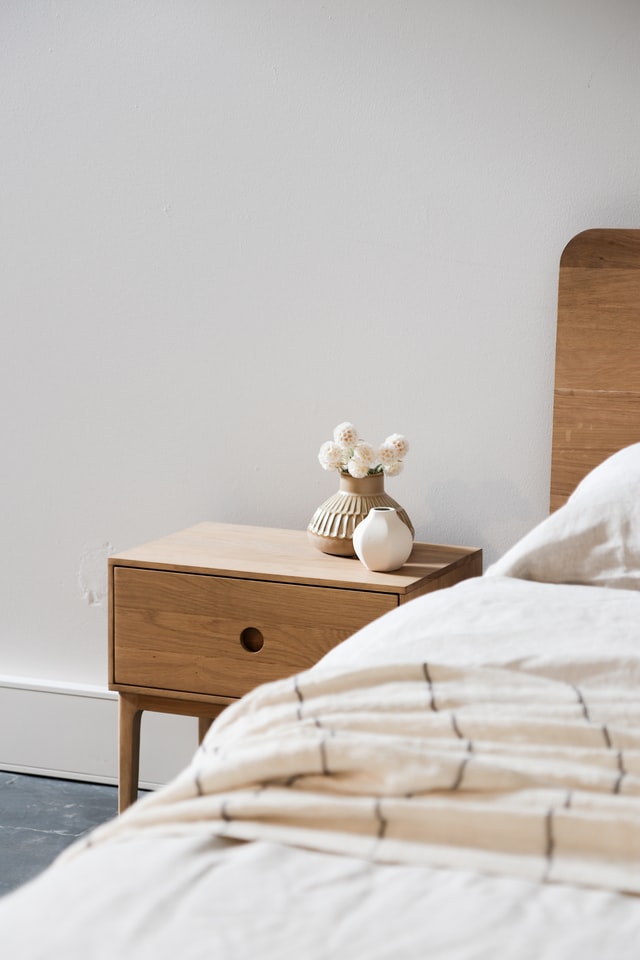 13. Panelled walls
Panelled walls are a great alternative to simple paint or wallpaper. They can add definition to your space which creates an interesting effect. You could also try a panelled half wall, for example with duck egg blue mixed with white shiplap.
14. Mixing pattern
A classic Hamptons style bedroom often incorporates a variety of patterns in a similar colour palette. This is easy to achieve with your soft furnishings, or even in some wall art as well.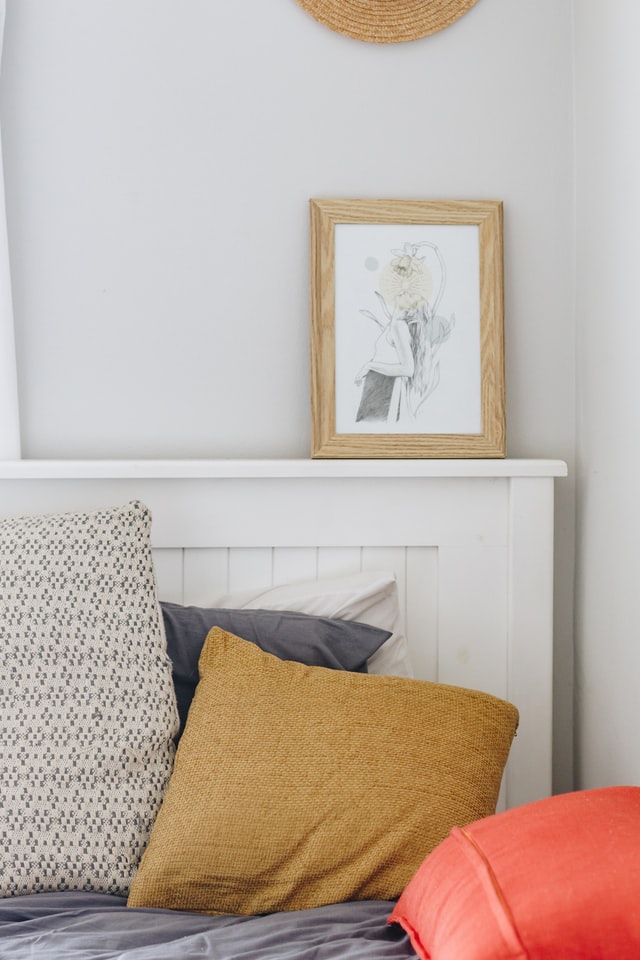 15. Coastal florals
Love your florals but still want a beachy look? You can still have your pretty floral feature pillows, prints and a vase of fresh blooms by the bed, but to give that Hamptons feel, adding light blue and white bedding will work so well. Just add a beachy woven hat and your coastal floral bedroom will be complete!
16. Oceans calling
I would feel as if the ocean is calling my name every time I looked at this beautiful artwork. I can almost hear and smell the spray of the salty sea as the waves crash on the shore with force and power.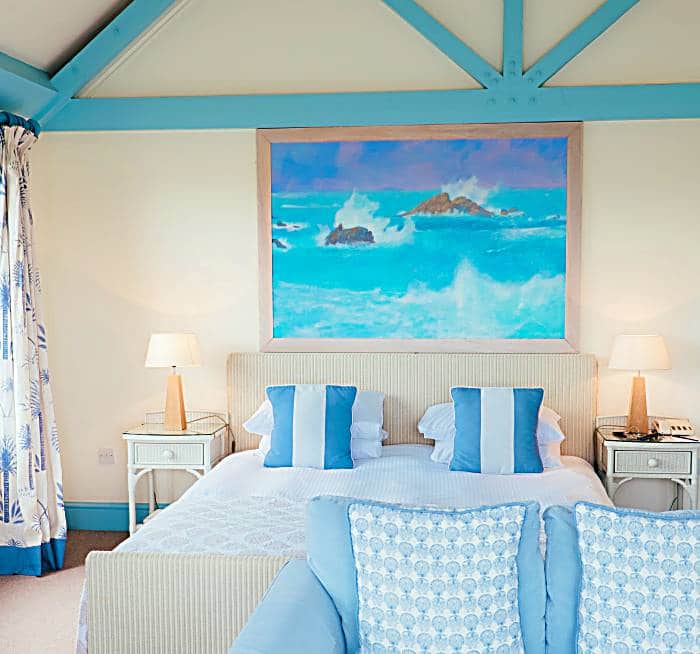 17. Sitting area
If you're working with a large bedroom area and just a bed won't fill up the space, then why not add a sitting area to your bedroom?! This could be a beautiful place to have a cuppa in the morning or a parents retreat after the kids have gone to bed. For Hamptons sophistication, opt for a lavish velvet armchair!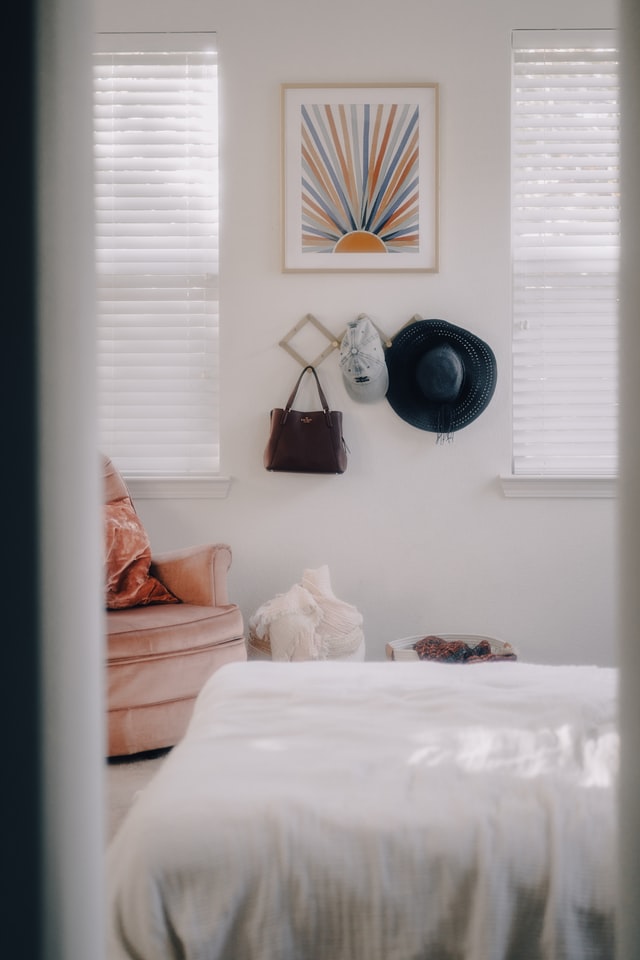 18. Four poster bed
Four-poster beds just ooze luxury and charm. So they're ideal for creating the Hamptons vibe. Whether you go for a light or dark wood finish, or even a deep blue painted frame, a four poster will instantly signify Hamptons.
19. Round mirror
Round mirrors are not only very in fashion at the moment, but they are also reminiscent of a ship's porthole. So adding a round mirror or round window in a Hamptons style bedroom will definitely give a very coastal feel.
20. Gorgeous rattan
A gorgeous rattan bed is the perfect addition to a coastal bedroom.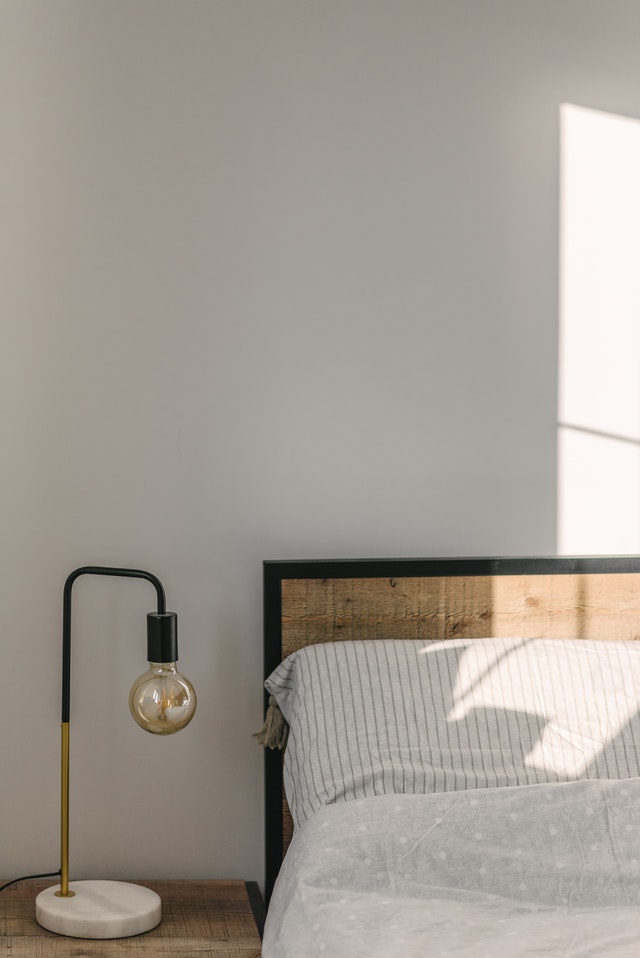 21. Groups of three
One of the cardinal rules in the interior design world when it comes to making your styling look beautiful is pairing things in groups of three. So on one bedside table, you might feature three different sized vases. Then on the other bedside table, you could add a book stack and two candles. When in doubt, go for the magic trio!
22. Coastal minimalism
Your Hamptons inspired bedroom doesn't have to incorporate intricate pattern or colour if you don't want it to. And this bedroom is the perfect example of that! I love the fresh white bedding, rustic timber bedside and gorgeous blooms.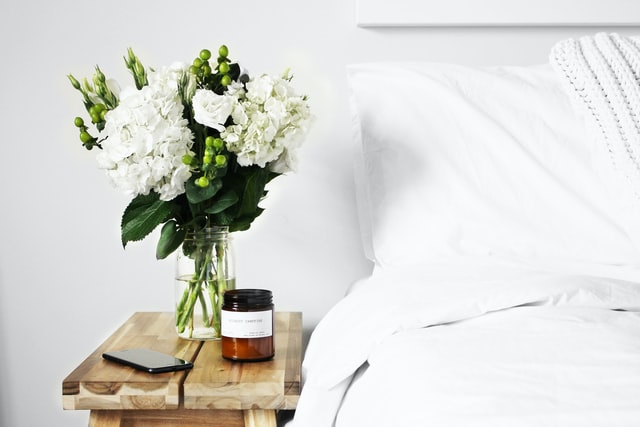 23. Kids room
A kids room can totally incorporate the beautiful Hamptons style as well! You will probably just need loads more storage! Built-in custom shelves are a great addition to display lots of coastal-inspired trinkets and ornaments.
24. Blue bench seat
Have some room at the end of your bed and don't want to leave it bare? Then a bench seat will work perfectly. You could style decor on top of it. Or, even just add a pillow to create a place to sit and put your shoes on at the start of the day. And when it comes to a Hamptons style bedroom, remember you really can't go wrong with a soft blue for your upholstered bench or pillows.
25. Simple seaside style
This bedroom is simple and minimal, but with all the right touches to create a seaside style space. The pale grey bed frame looks stunning against the light beige walls and flooring. And the throws looks so soft and inviting. This is the perfect example of a traditional Hamptons styled bedroom colour palette.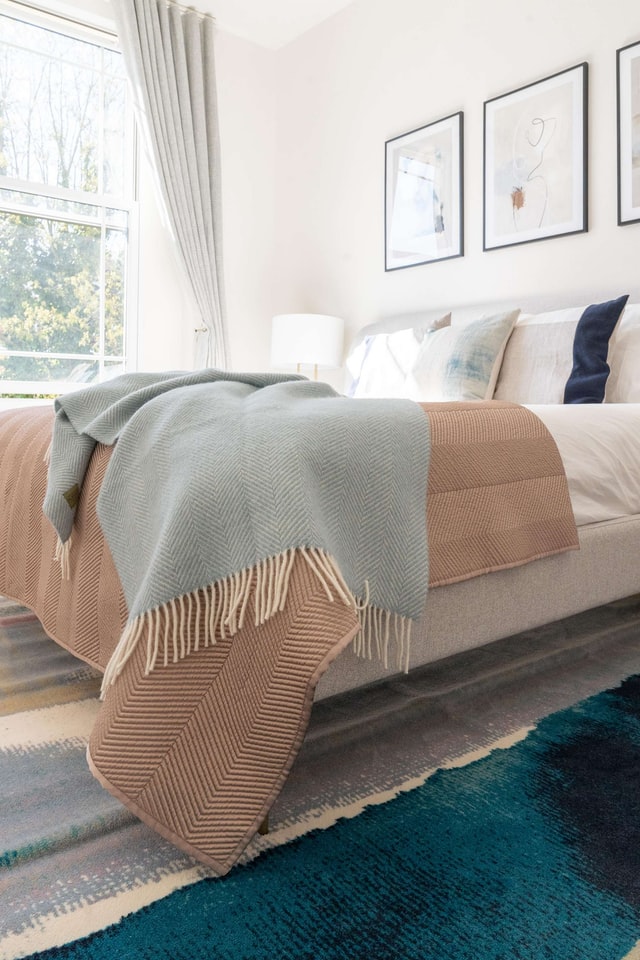 26. On-trend rattan
Rattan is certainly a finish that is very on-trend at the moment. And having it in a coastal themed bedroom is the best way to go. Whether it's the furniture or simply some woven baskets, you'll get those instant beachy flavours when you incorporate rattan into your bedroom.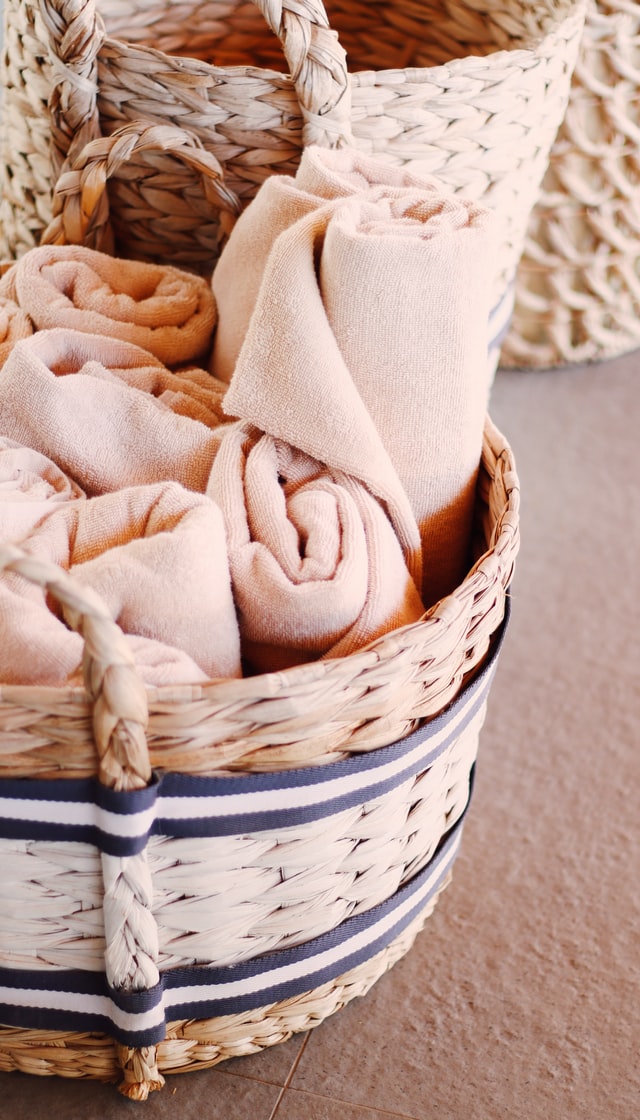 27. Coastal contemporary
This bedroom is the epitome of coastal contemporary. You can never go wrong with gorgeous linen and this pale blue-grey looks stunning against the blonde wood. Plus how beautiful is the large light that really complements the coastal feel of the space.
28. Monstera wallpaper
Wallpaper can really make a bedroom. And a subtle wallpaper with monsteras or a similar large palm on it will definitely look great in a Hamptons style bedroom. The greenery also helps to add a pop of colour to the room. You could even add a large monstera in the corner of the room to enhance the wallpaper!
29. Guest room
Here's another great room that could double as a guest room. The woven rattan bed heads look stunning against the organic tones of the bedding. And how cool is the woven light fitting here!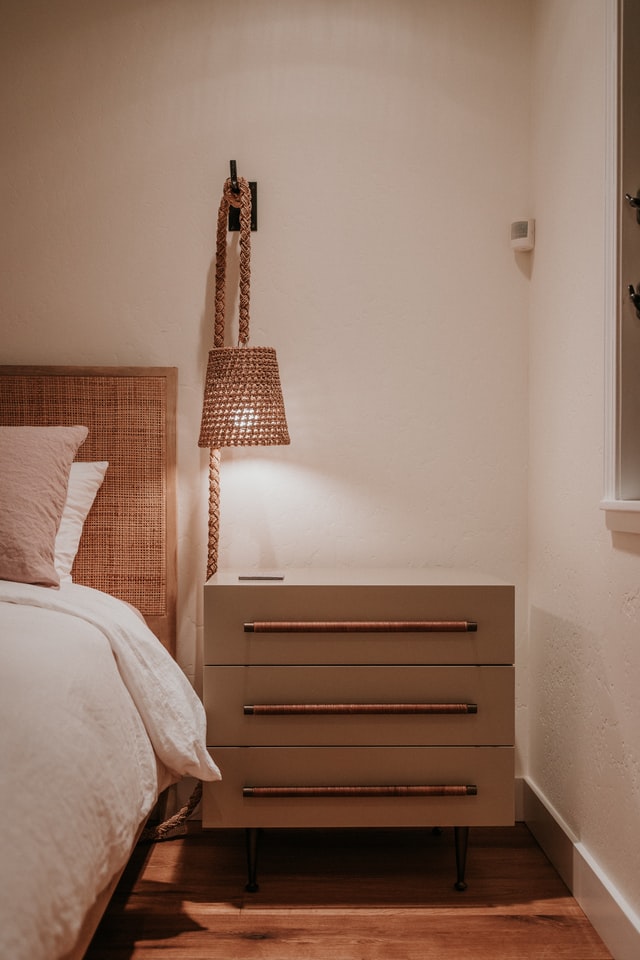 30. Duck egg blue
Duck egg blue is the perfect subtle choice for any Hamptons style bedroom. If in doubt, go duck egg blue! Here, it's classic Hamptons with the blue and black pillows. And I love the softness in the colour of the sandy upholstered bedhead. All this space needs is a big bunch of flowers!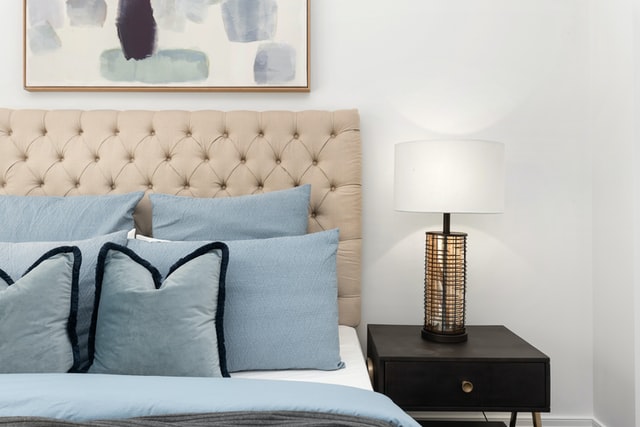 31. Greens and blues
And last but not least is this gorgeous green and blue pattern play bedroom. The combination of green and blue reminds me of a perfect day in the aqua blue Mediterranean ocean. And the colours in this bedroom are definitely reminiscent of just that! Also, check out that glorious pattern mix and match that works so well!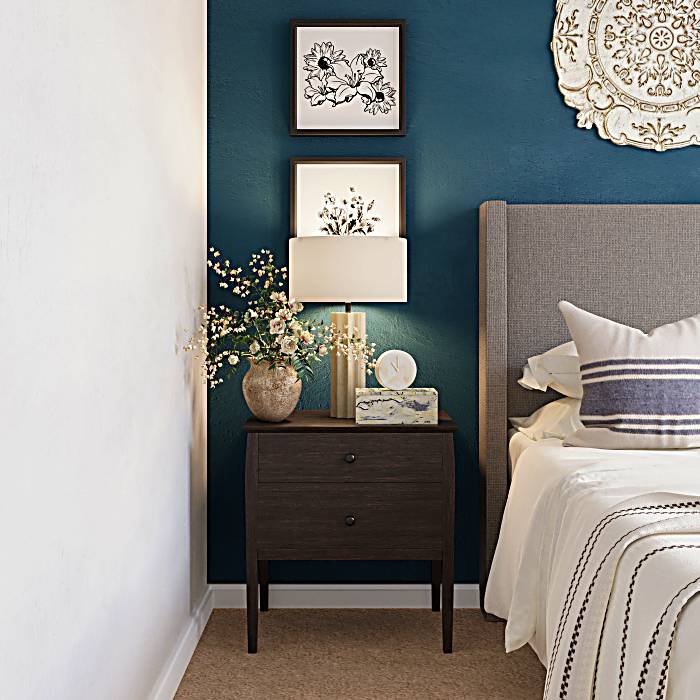 So there you have it – 30+ Hamptons style bedroom ideas. I absolutely love the bright and airy rooms that are filled with lots of neutrals and let in so much light as well as the spaces that incorporate blue to really give that coastal feel. What were your favourite Hamptons style bedroom ideas? I'll be waiting to chat in the comments below!