The Hamptons style has captured the hearts of so many home designers over the years. Located on eastern Long Island's South Fork, the Hamptons is known as the primary holiday destination for New York City residents to escape the city and enjoy some seaside relaxation. So it's no wonder that this style is one of coastal luxuriousness, and that the Hamptons style bedroom is one of the most popular interior decor designs worldwide.
To achieve a Hamptons look, go for quality over quantity in your furnishings. And for colour, go for neutrals with lots of white, and touches of relaxing coastal blue. Coral and other beachy ornaments will also work beautifully as decor.
So without further ado, check out these 45+ Hamptons style bedroom ideas to inspire your next bedroom renovation!
1. Two in one
Hampton's bedrooms are definitely all about luxury and making you feel like you are always on holiday. So having a two in one ensuite room really gives the hotel feel. The large bath looks oh so inviting sitting next to the large window that is bringing in so much light. And I love that the furnishings and finishes have been kept very minimal and in a white colour scheme.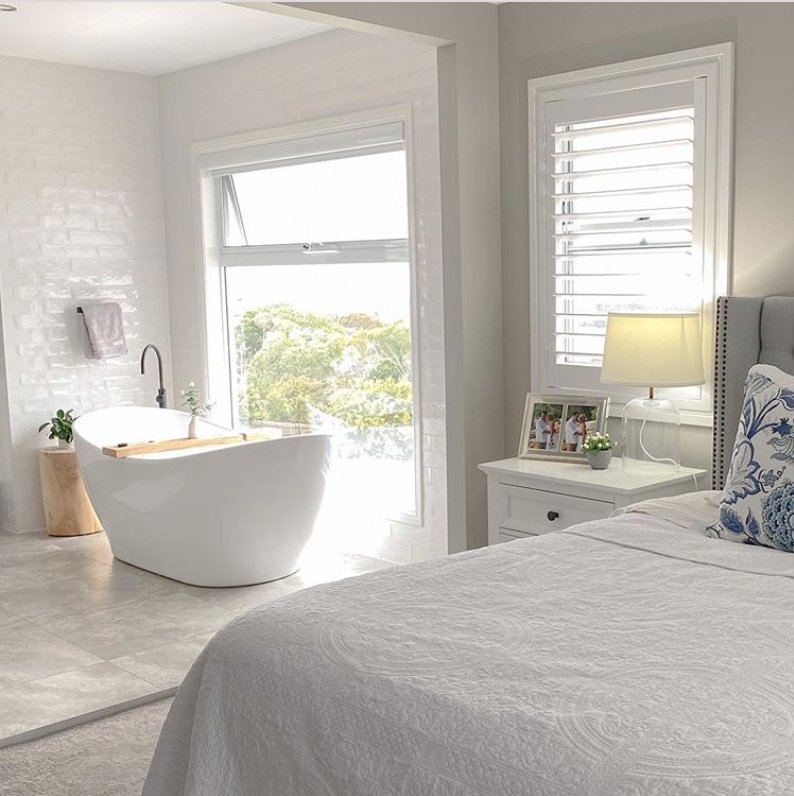 Loving those white shutters on the window. Most houses have them these days due to their stylish simplicity. But as it's not as simple as one-size-fits-all, you definitely need a professional to install your blinds.
2. Textures and teal
How gorgeous are all the textures in this bedroom! I love the lacy texture through the bedding which complements the silver textured bedside drawer. And teal is the perfect addition to this bedroom which gives a very coastal look with the soft tones against the white.
The upholstered teal bedhead is the perfect separation between the white wall and white bedding. And I love that one feature pillow has been included on the bed to tie in all the colours nicely.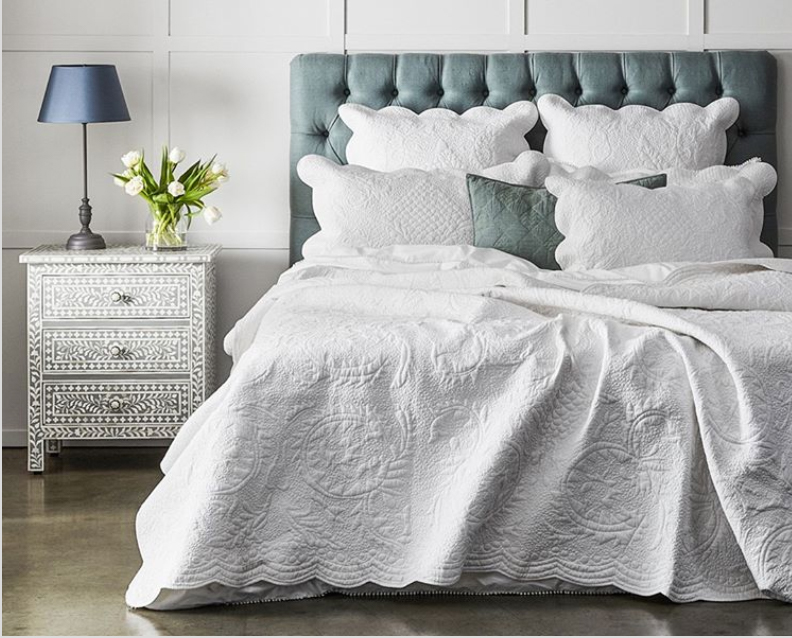 3. Subtle black and beautiful white
This bedroom is a light and airy Hamptons style take on a black and white bedroom. The black is subtle and soft, and the white is crisp and beautiful. I love the coral prints on the wall that almost look like trees or bushes. And the foldable style bedside table gives a very relaxed look. What a beautiful space indeed!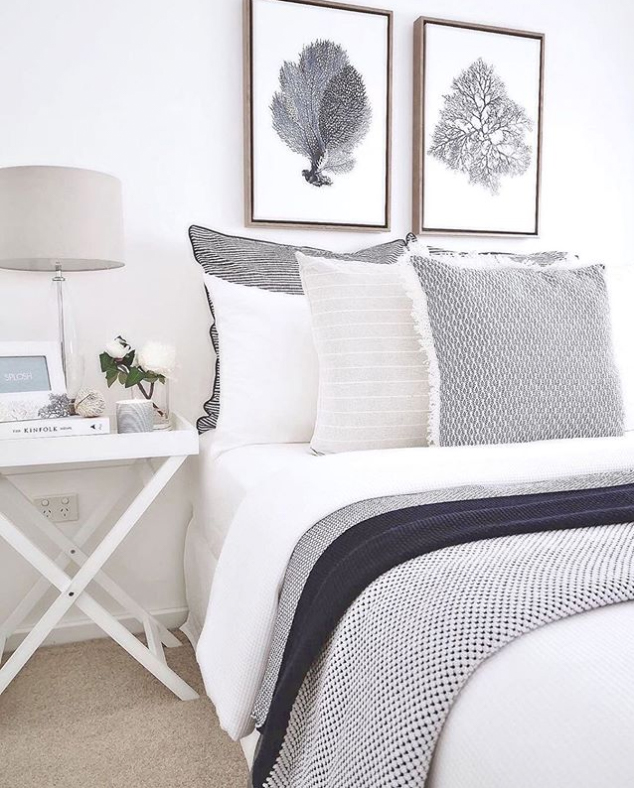 4. Blue, white and beige
How great is this feature rug? A heavily patterned rug gives a very boho look to this coastal bedroom. And it seems as if the whole colour scheme of the room has been curated around the blue, white and beige colours in the rug. The beige tones match with the upholstered bedhead and the blue and white can be seen through the bedding, furnishings and decor.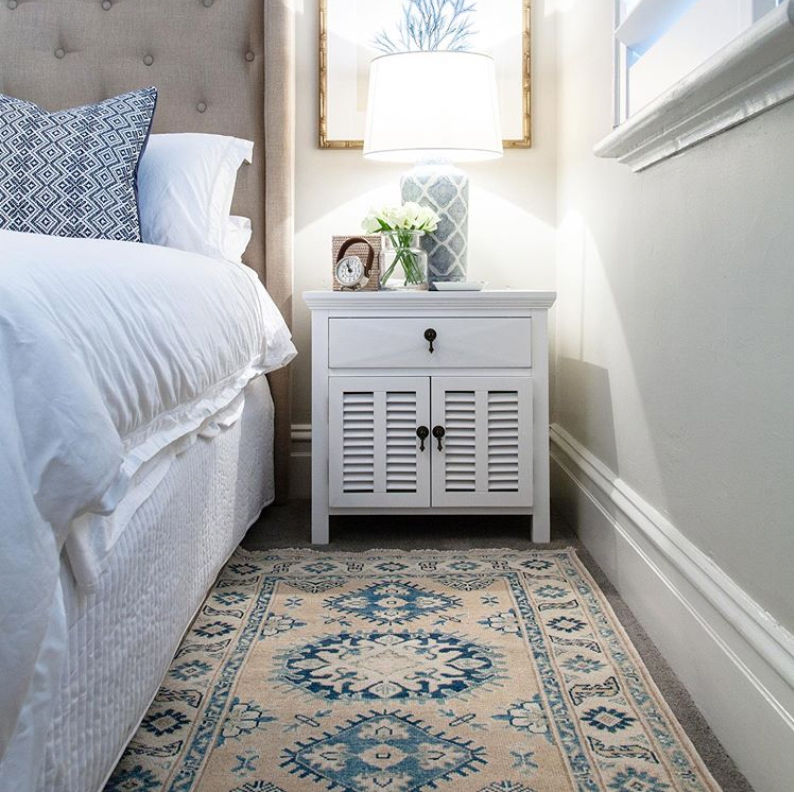 5. Dark wood
If you have dark wood furnishings but are trying to achieve a light and airy Hamptons style, then don't worry because this bedroom proves that your dark furniture will still look beautiful! All you'll need to do is pair your sark furnishings with light coloured bedding and dainty decor like a vase of beautiful blooms.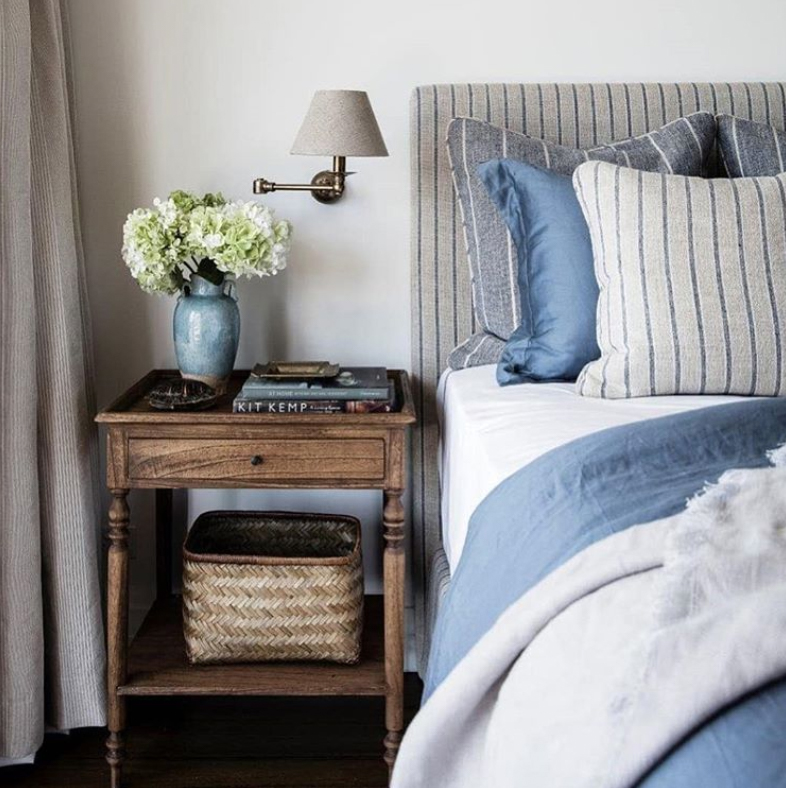 6. Hamptons luxe
This bedroom is definitely oozing with luxuriousness! The Chanel throw blanket with the famous "CC" monogram logo on it makes this space seem very high end. As does the wallpaper that has hints of silver and mint coming through it. And I love how the bedding has been kept pretty simple with the addition of some patterned feature cushions.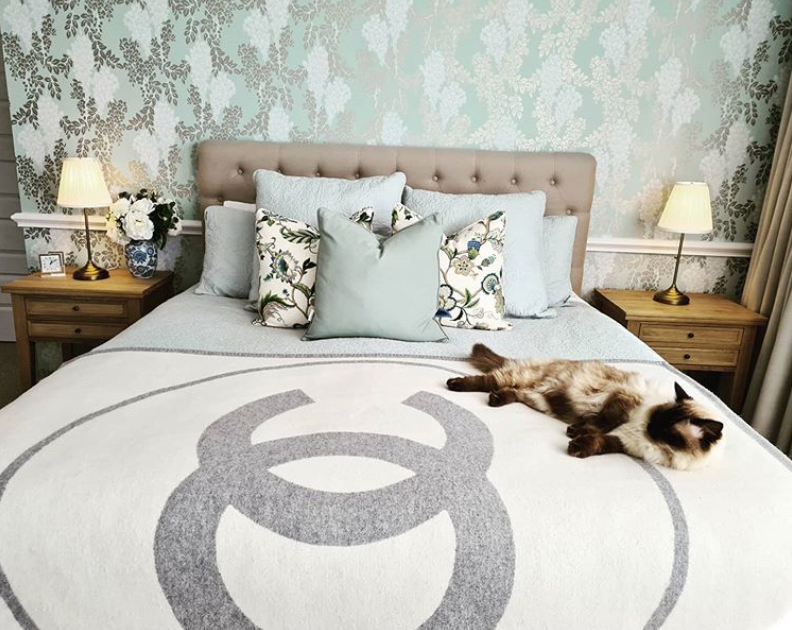 If this isn't your style and you want some others to look at, check out these bedroom wallpaper ideas.
7. Deep navy blue
Blue is always a good idea when you're choosing what to put in a Hampton's style bedroom. And I absolutely love the deep navy hues in this blue bedroom that are reminiscent of the deep blue colours from the depths of the ocean. Plus how lovely are the mid-tone wood bedside drawers that help to bring in a very beachy feel!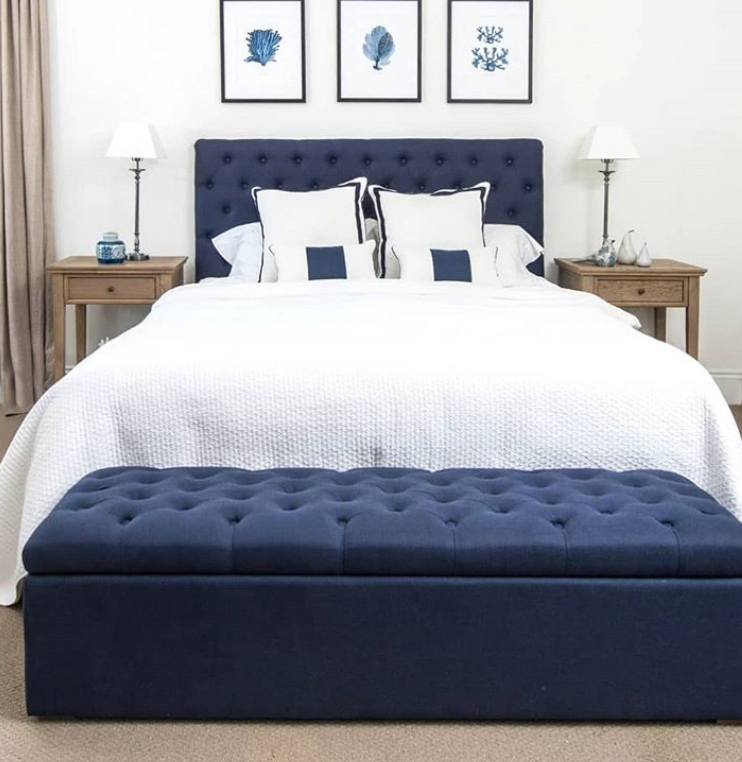 8. Console styling
Not only should your bed be finished off in a coastal style to complement your Hamptons style space, but the furnishings and decor items around should reflect that too! I love the decor pieces that have been chosen for this console. They are on-trend in the Hamptons style, but are also classic and will stay in fashion in years to come.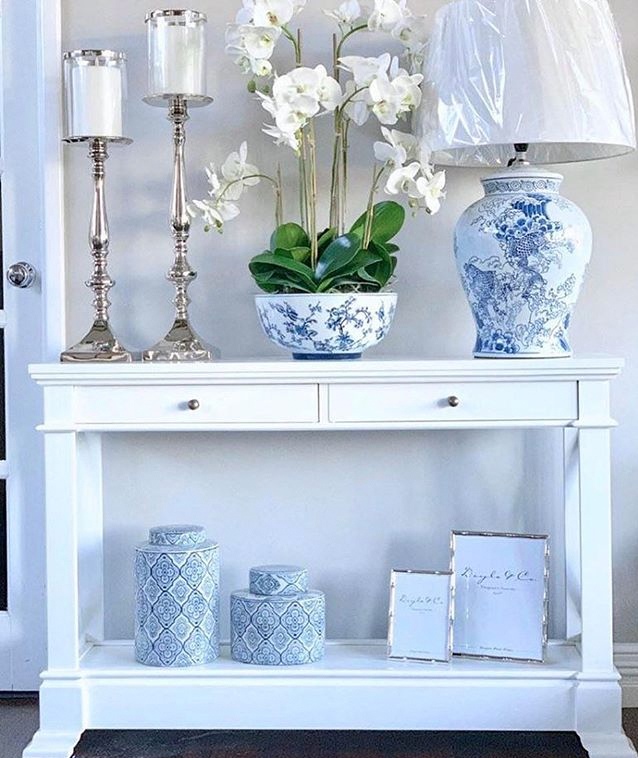 9. Calming and fresh
How calming and fresh is this beautiful and beachy boudoir?! The walls have been kept white so that all the natural light beaming in has lots of light surfaces to bounce off. And I love that the bed head is white, yet still has some structure to it to give a bit of definition to the space.
Just add some feature pillows, a blue and white striped throw and a sweet framed print above the bed and you have your very own minimal and no fuss Hamptons style bedroom!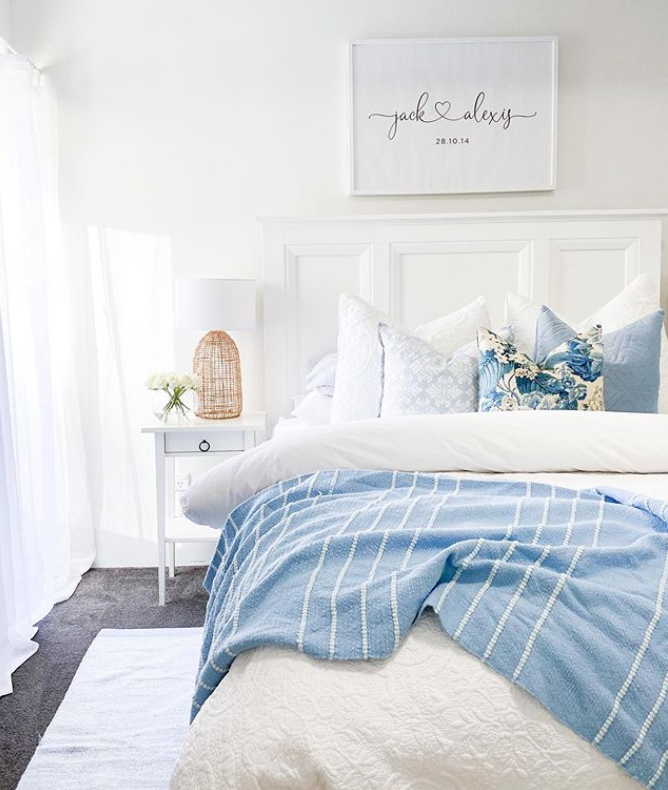 10. Pillow mountain
A stack of fluffy pillows on a bed will always remind me of a hotel bedroom which then reminds me of many relaxing and memorable holidays I've been to. So adding a pillow mountain into any bedroom will definitely give that effect. Even though it may take a little longer to make your bed or even get into bed at the end of the day, it will totally be worth it!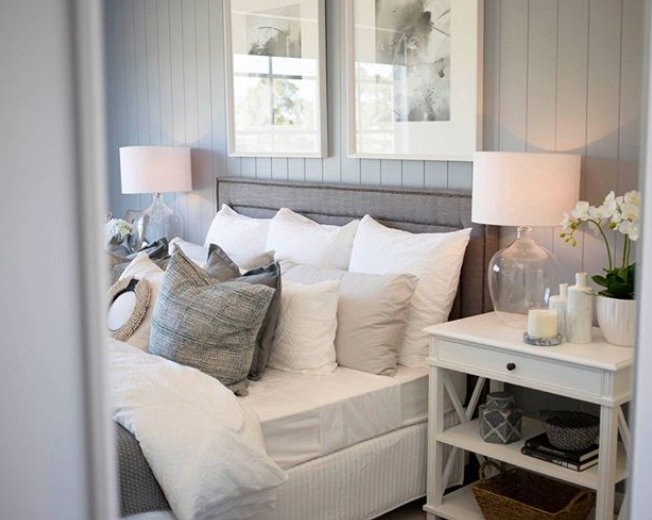 11. Coral and roses
Even though the bed should be the focal point of a bedroom, your bedside tables are equally as important and there should be thoughtful choices made to ensure that the theme of your bedside tables matches with the overall theme of the whole space. I absolutely love the addition of the bright pink roses and coral in this room that gives a coastal and feminine feel.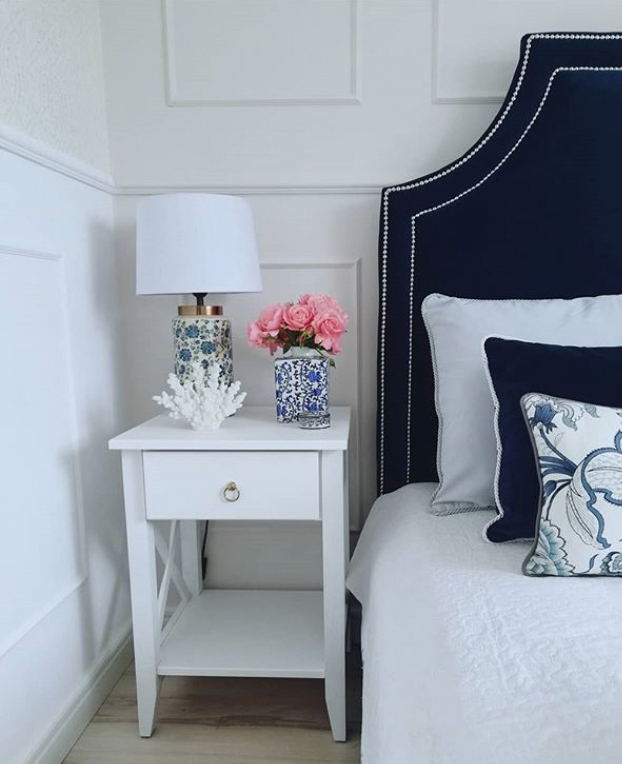 12. Soft neutral tones and navy
You can never go wrong with using soft neutral tones as the predominant colour scheme in any space. Neutrals are classic and will always be in fashion. However, it's also a great idea to add some sort of pop of colour to make the space look friendly and inviting. So adding navy in a Hamptons style bedroom will definitely achieve the look you are going for!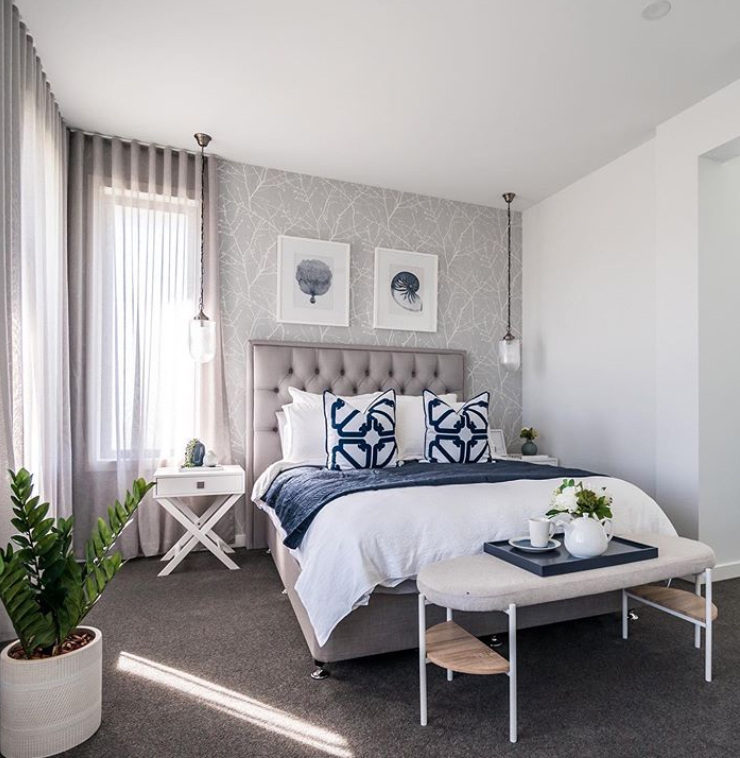 13. Distressed rug
This rug really brings so much pattern and texture into the otherwise simple bedroom! I love the distressed style of the rug which makes it look like a vintage piece that has been well-loved over the years. And the feature cushion is the perfect addition to the space as it matches the rug so well and brings the floor and the furnishings together as one.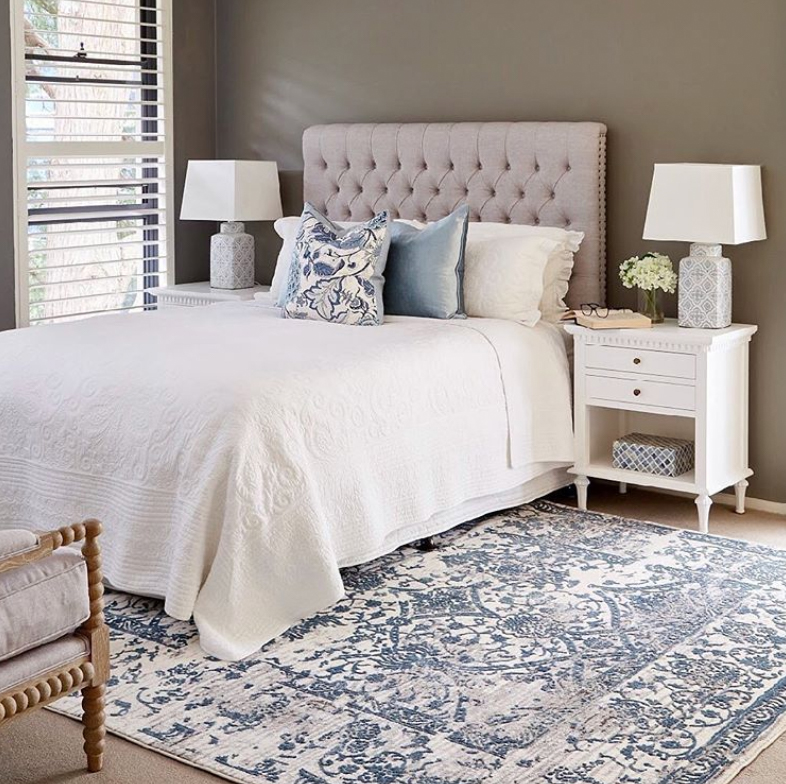 14. Coastal cottage
This bedroom is coastal meets cottage. Styling like this would be perfect in a Hamptons and coastal style home or even a cottage in the countryside. The dark bedside table is a beautiful contrast against all the light features like the wall, table lamp and bedding. And I absolutely love the pattern clashing between the bed head and the feature cushions which give a very quirky, yet classy look.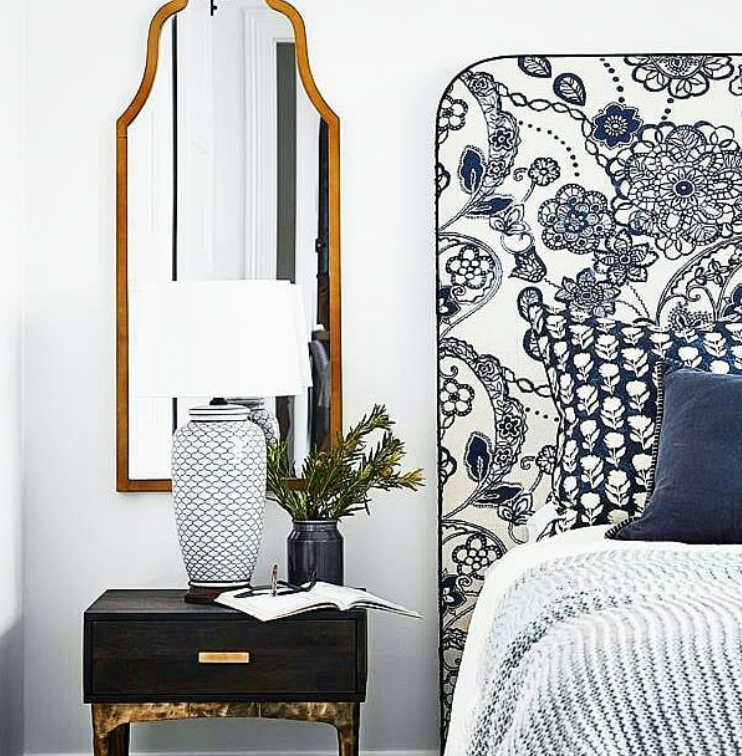 15. Large master
If your Hamptons home is one of extravagance and space, then this large master layout is one for you. Or if you have a smaller space to work with, you still can totally take some serious inspiration from this.
Plus if you're lucky enough to have a beautiful view from your bedroom, positioning of the bed is paramount to the overall feel of the place, so make sure your bed is always facing toward the view. What a sight to wake up to!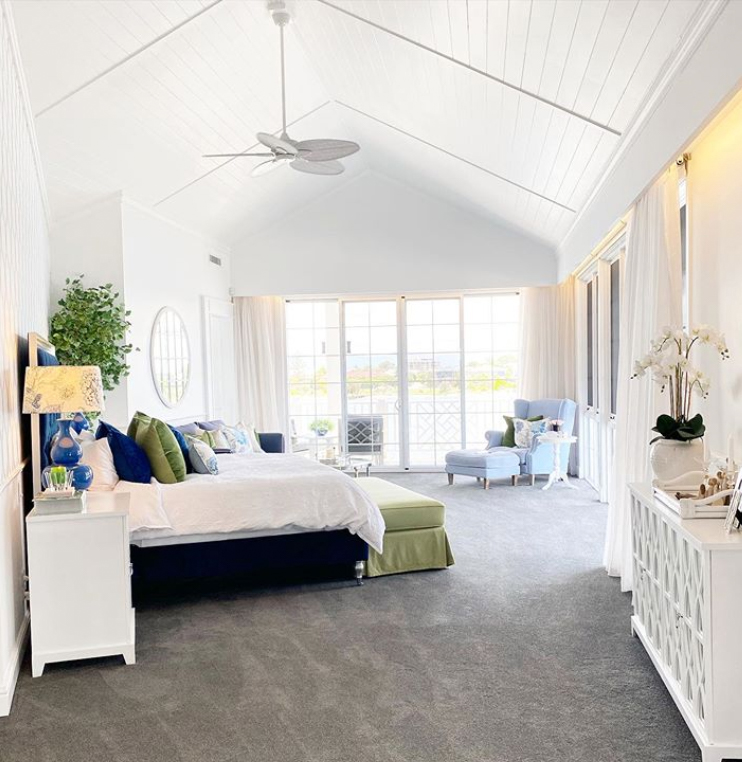 16. Mixing pattern
Similar to number 14, this beautiful Hamptons bedroom has mixed varying patterns in the best way possible. A laddered rack is a great addition to any room as you can hang and display all your throw blankets on it and I love the three different patterns hanging on the rack that are all in a similar colour palette but look so good contrasting against each other.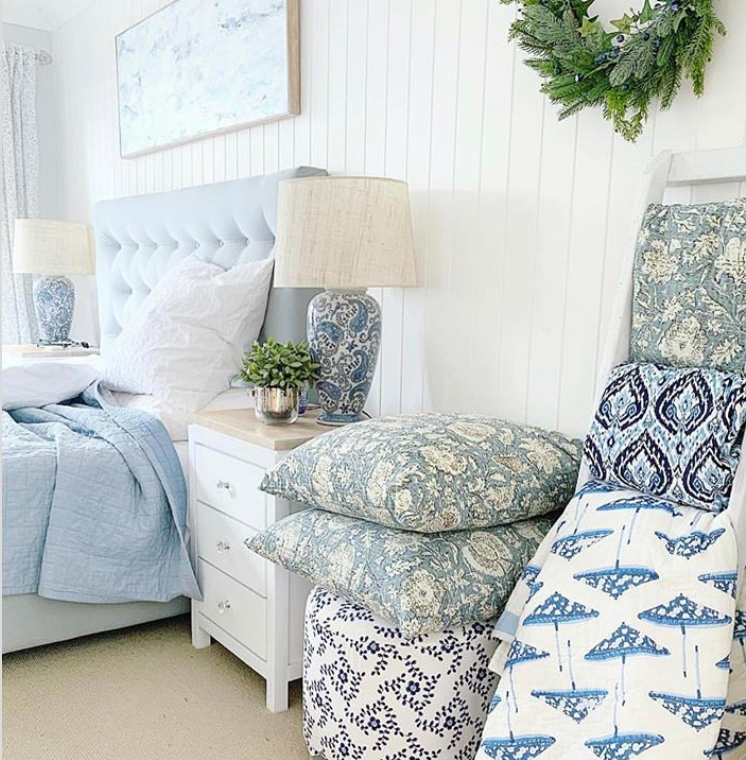 17. Panelled Walls
Panelled walls are a great alternative to simple paint or wallpaper. They can add definition to your space which creates an interesting effect. I love these walls that are the perfect frame for the smaller frames. Plus the half wall with the blue down the bottom and white on the top looks great!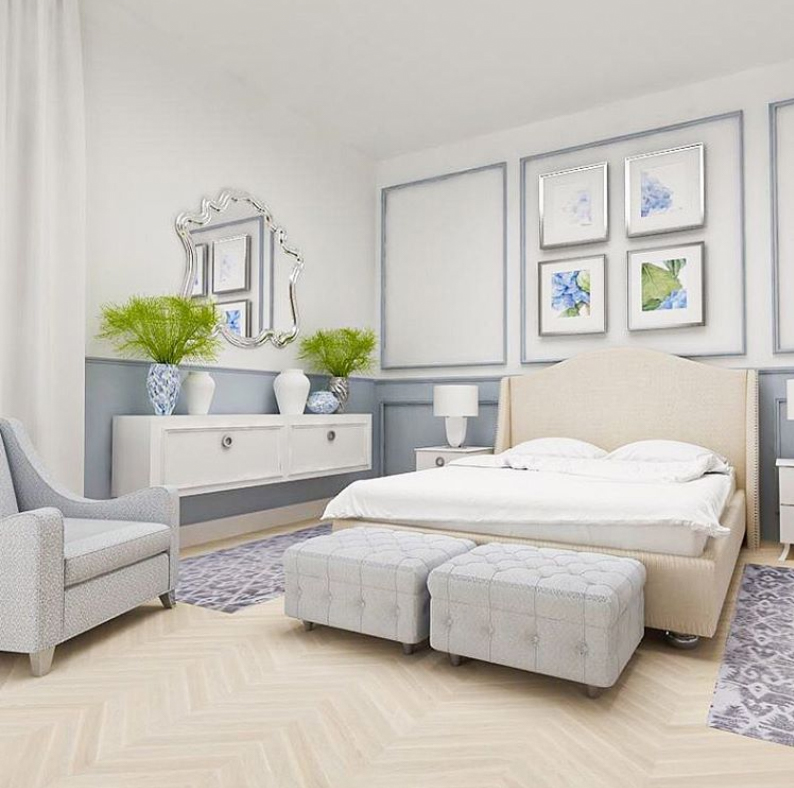 18. Beautiful symmetry
Symmetry is so easy and satisfying to the eye. And this bedroom creates so much calm with its symmetry and coastal touches. I love the brown foldable style bedside tables that both have greenery, matching table lamps and photo frames on each side. And I love the print above the bed which gives a little bit of pattern and colour to the space.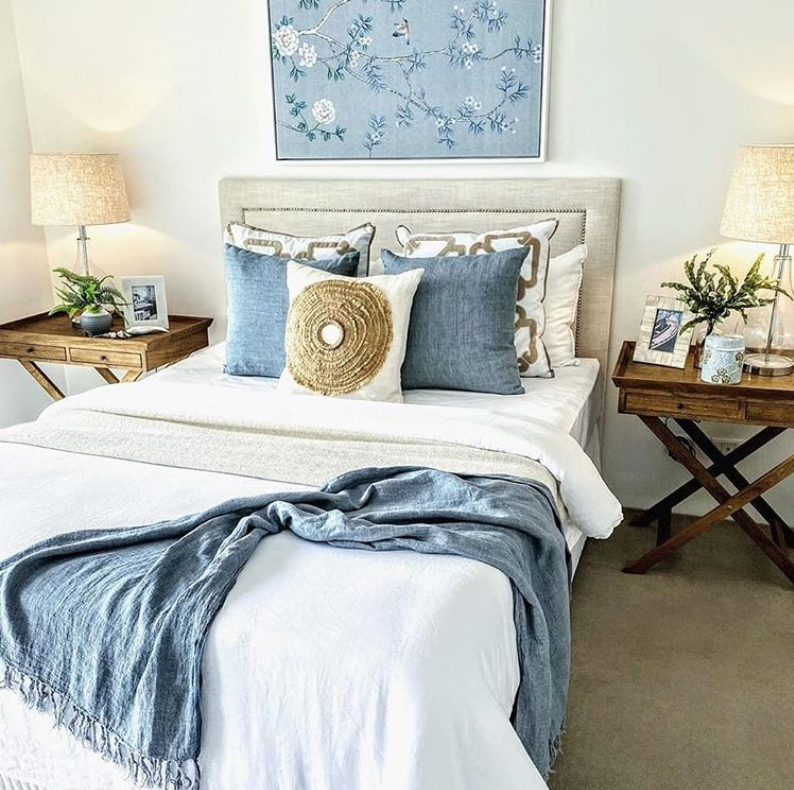 19. Shapes and pattern
This beautiful Hamptons bedroom features various shapes and patterns in the cushions, throw and print that are all different, yet similar. The main feature pillow on the bed is blue coral in a watercolour style which almost looks like a tree with its long branches and the shape of the piece on the wall is very similar.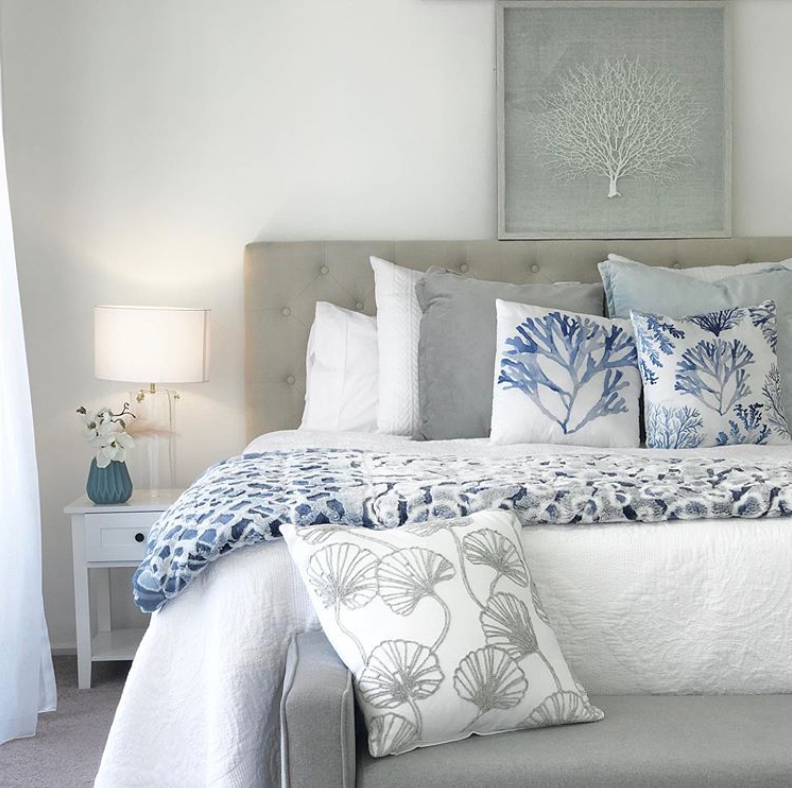 20. Oceans calling
I would feel as if the ocean is calling my name every time I looked at this beautiful artwork. I can almost hear and smell the spray of the salty sea as the waves crash on the shore with force and power. The decor and furnishings have been kept very simple and minimalist in this room to accommodate for the beautiful artwork.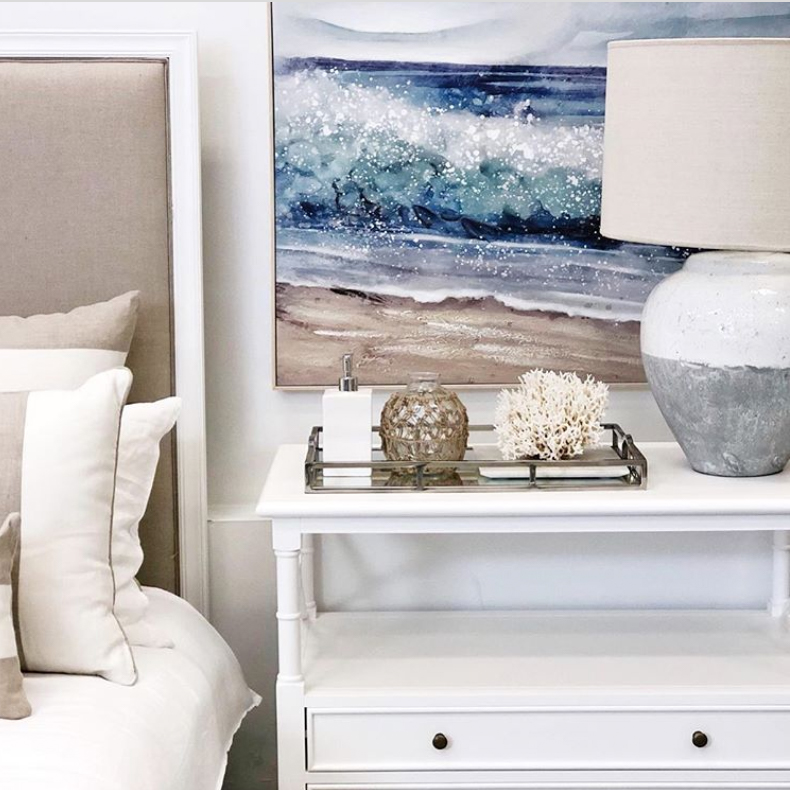 21. Sitting area
If you're working with a large bedroom area and just a bed won't fill up the space, then why not add a sitting area to your bedroom?! This could be a beautiful place to have a cuppa in the morning or a parents retreat after the kids have gone to bed. Adding similar style furnishings and colours as your bed area will ensure the two areas work together as one.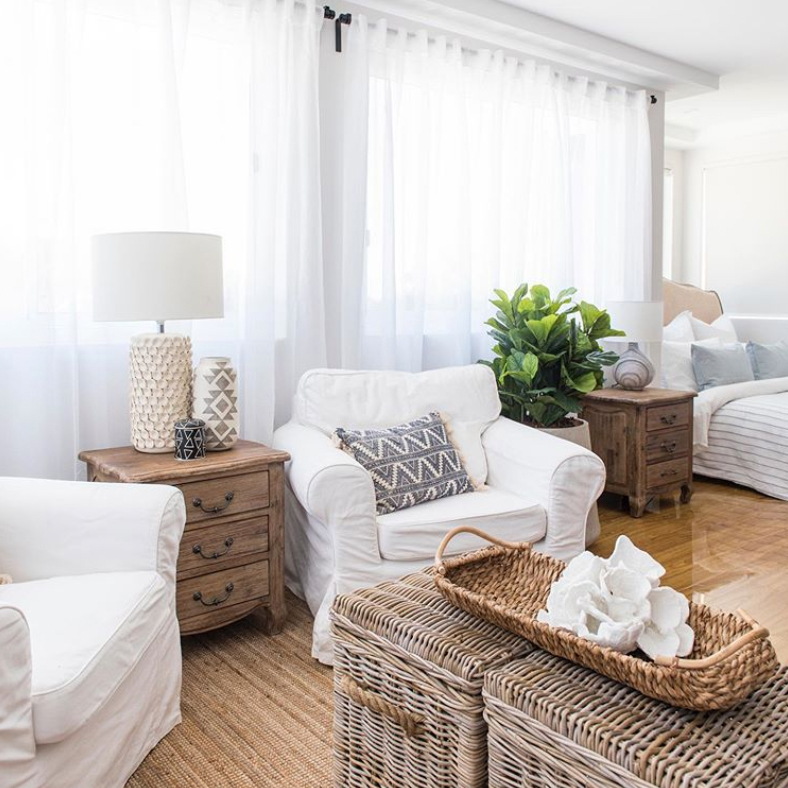 22. Coastal florals
This is for you if you love your florals but still want a beachy look. You can still have your pretty floral feature pillows, prints and a vase of fresh blooms by the bed, but to give that Hamptons feel, adding light blue and white bedding will work so well. Just add a beachy woven hat and your coastal floral bedroom will be complete!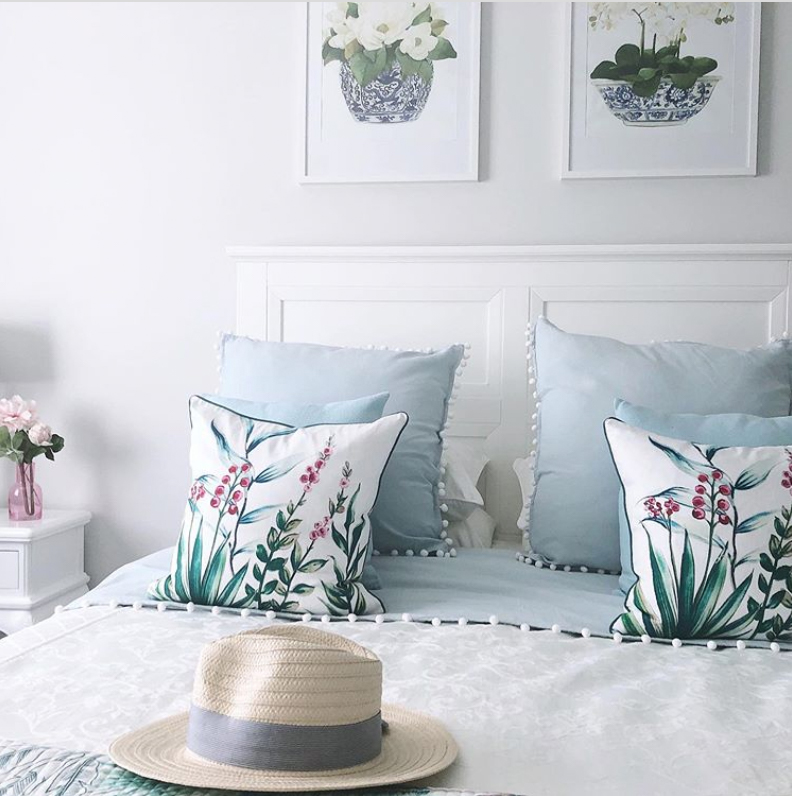 23. By the ocean
Wow, imagine waking up to this view every morning. And I can just imagine the amazing sound of waves crashing as you lay in bed. I love the addition of the comfortable chair in this bedroom that would be a great spot for an early morning cup of tea or a place to read out of sight. White always works well but I especially love the white and blue striped curtain that brings the blue hues from the ocean inside.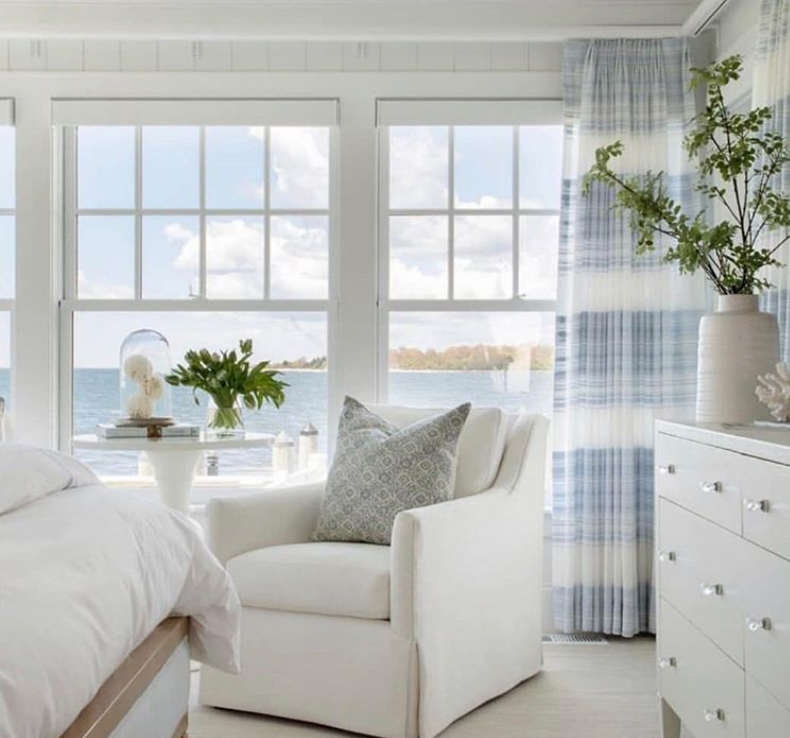 24. Four poster bed
Four-poster beds just ooze luxury and charm. And I love the light wood finish of this bed frame which goes so well with the light coloured ottoman at the end of the bed and soft coloured bedding and decor. Plus check out that sweet little fluffy friend sitting on top of the bed who is certainly living a life of luxury in the Hamptons!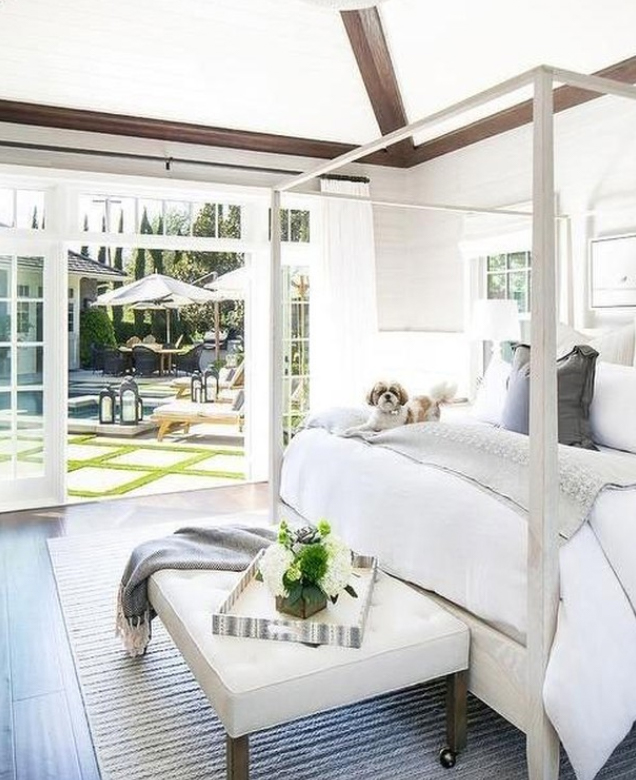 25. Round mirror
Round mirrors are not only very in fashion at the moment, but they are also reminiscent of a boat window, so adding a round mirror or round window in a coastal-inspired room will definitely give a very nautical feel. And I love that this mirror has a criss-cross angular pattern across it which complements the rectangular drawers sitting below.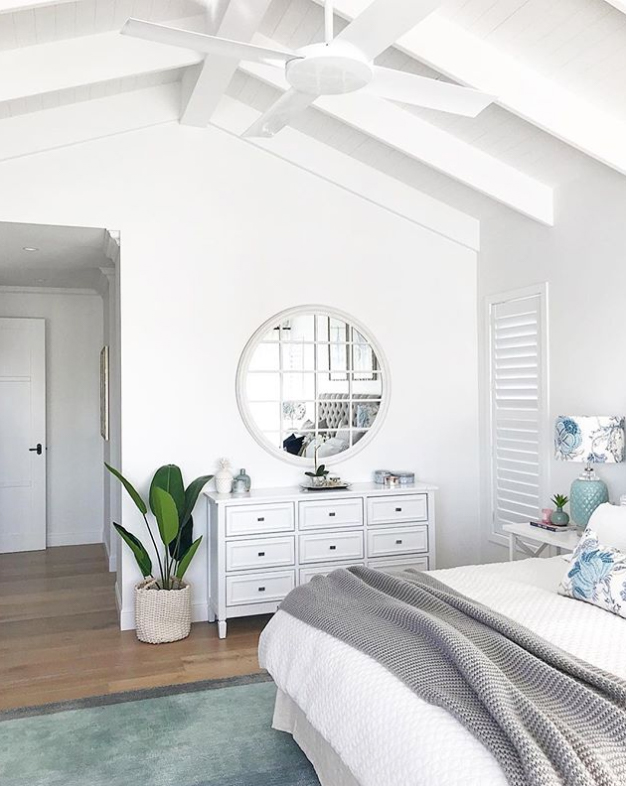 26. Pendant light
This bedroom is super rustic, however still very classy and coastal. I love that the chest of drawers looks very weathered and distressed which gives a very beachy look. And the woven bed frame reminds me of ropes that would be tied all over a sailing ship!.Plus you really can't go wrong with a feature pendant light hanging above your space!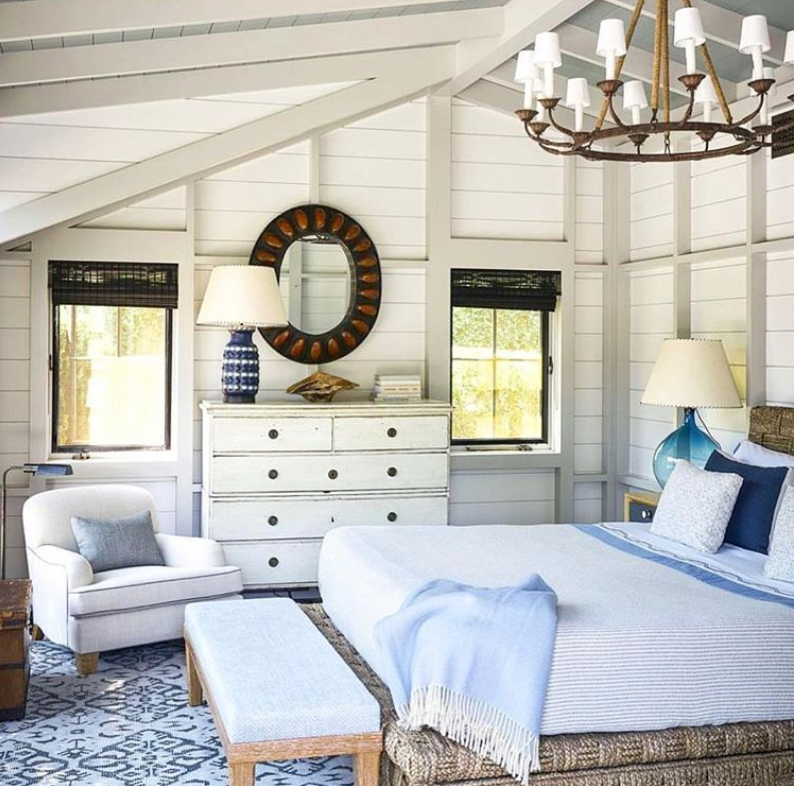 27. Groups of three
One of the cardinal rules in the interior design world when it comes to making your styling look beautiful is pairing things in groups of three and this bedroom is the perfect example of that! On the left-hand bedside table, there are three different sized vases, then on the other bedside table there is a book stack and two candles, and then in the middle, there is also a trio of three decor pieces.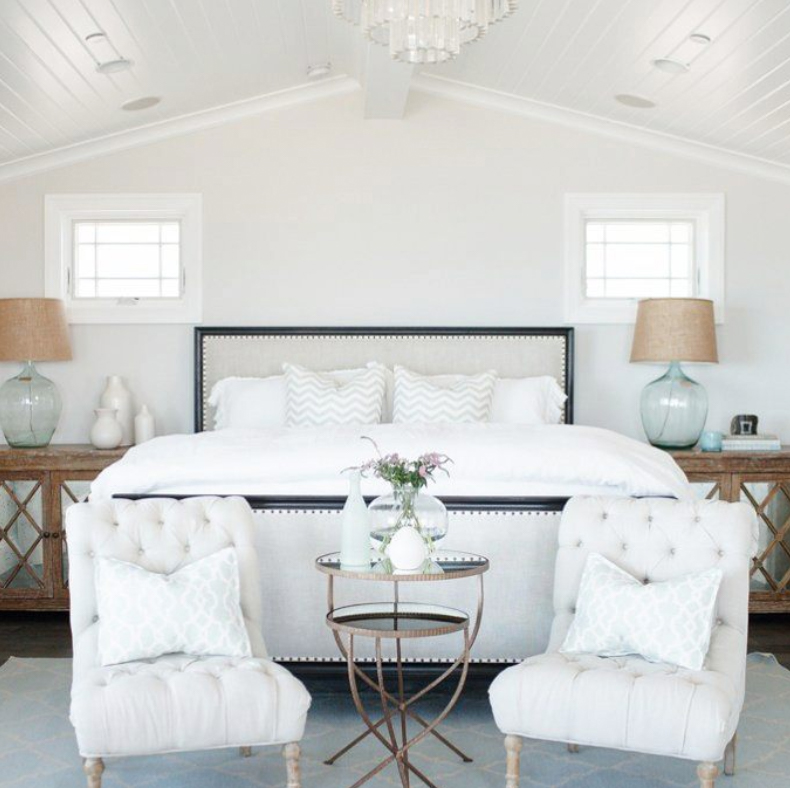 28. Blue florals
This bedroom is full of all the most beautiful and calming light blue tones. I love the light blue doona cover and wall that are the perfect backdrop for the heavily detailed and patterned feature cushions, lamp, fabric blind and chair. Even though the patterns are slightly different, they still create a very cohesive look.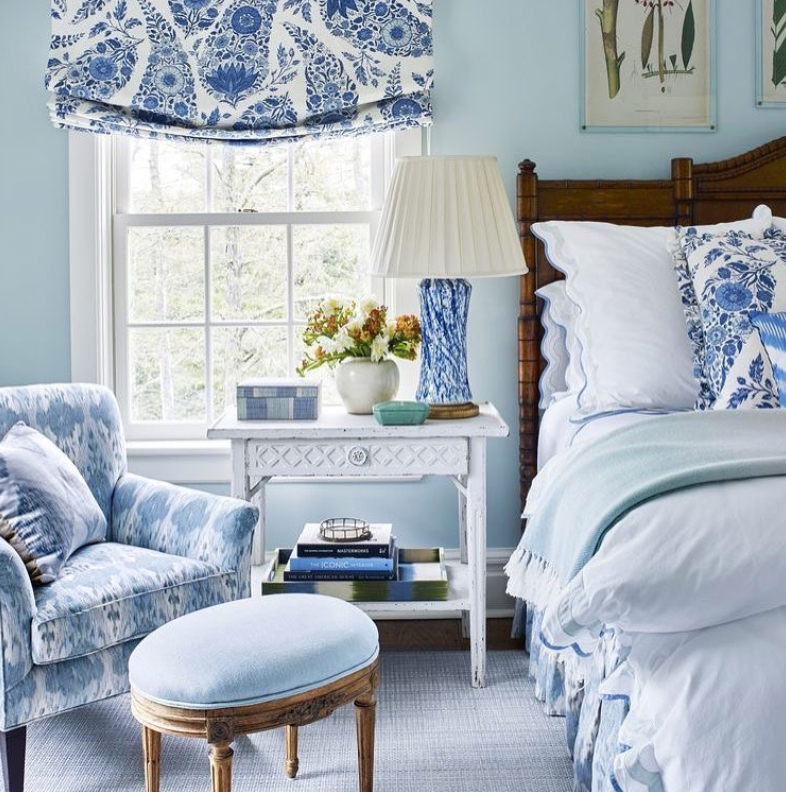 29. Gorgeous rattan
I would absolutely love to slumber in this bedroom. The gorgeous rattan bed is the perfect addition to the coastal bedroom. And I absolutely love the large coral wall hangings as well as the oversized palm leaves that give a very beachy look. Just add some soft blue and crisp white to your colour scheme and voila!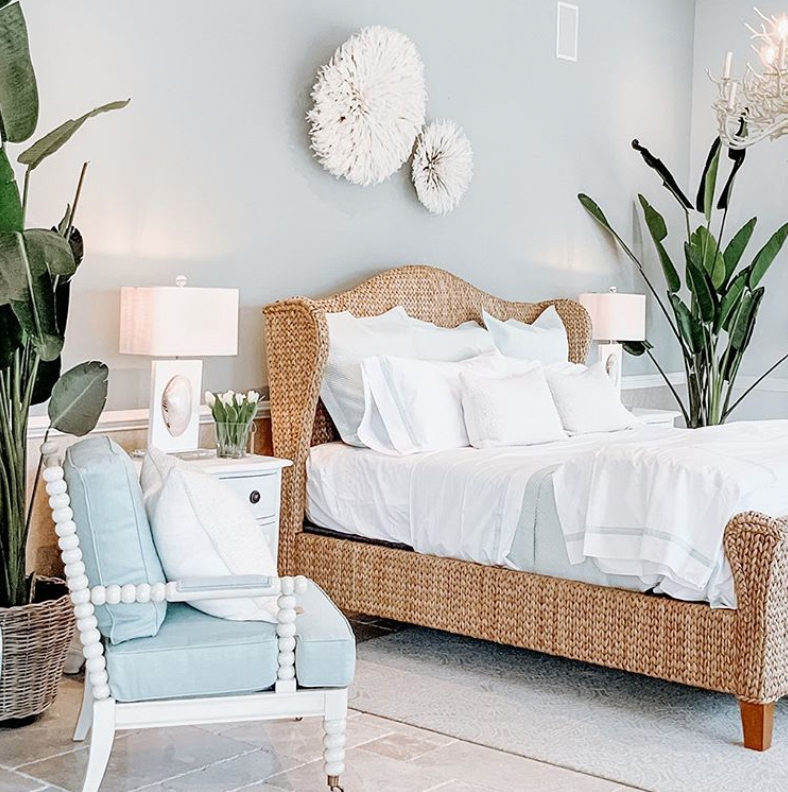 30. Coastal minimalism
Your Hamptons inspired bedroom doesn't have to incorporate intricate pattern or colour if you don't want it to, and this bedroom is the perfect example of that! I love the white wood-panelled walls that make this bedroom look like a beach shack. And the addition of the lifeguard tower featured in the print of the wall is the perfect touch!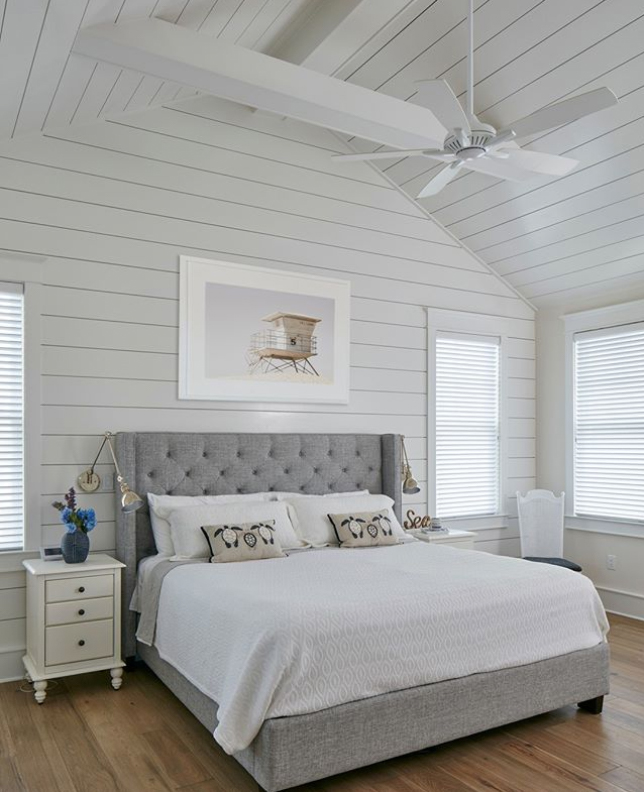 31. Kids room
A kids room can totally incorporate the beautiful Hamptons style as well! And I love that this bedroom has used lots of gender-neutral colours and tones so that any child would be so happy and feel comfortable to hang out in this space. The built-in custom shelves are a great addition to display lots of coastal-inspired toys. And I love the seat by the window which would be a perfect reading or nap spot!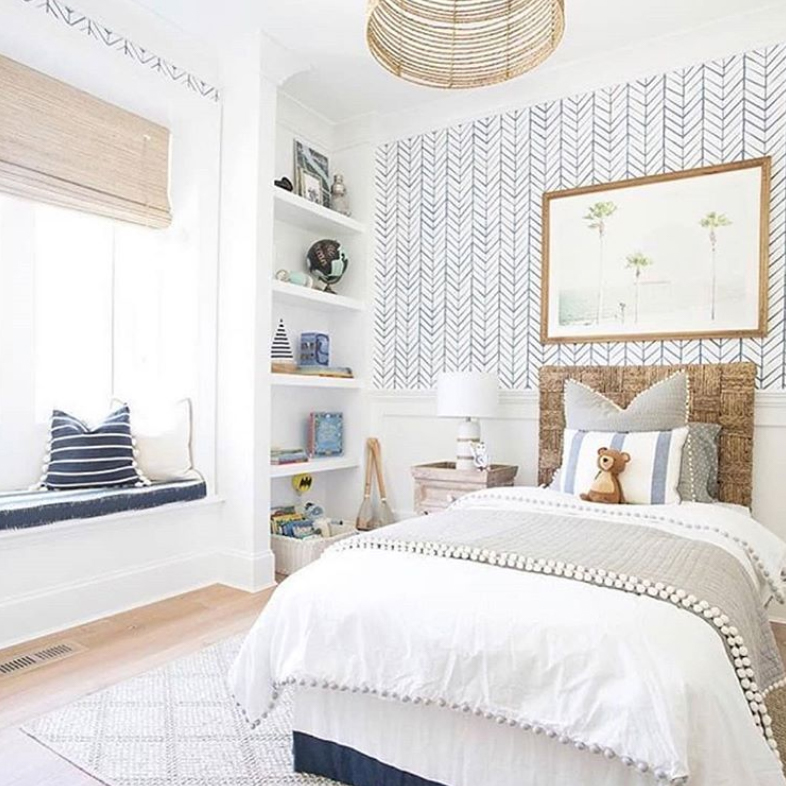 32. A pair of palms
How stunning is this space! I love how simple this bedroom is yet it has obviously been very thoughtfully put together. The bedding has subtle patterns and colours and the bedside table has a minimal amount of decor pieces that help to elevate the coastal space. And who can go wrong with a pair of palms sitting pretty on the wall?!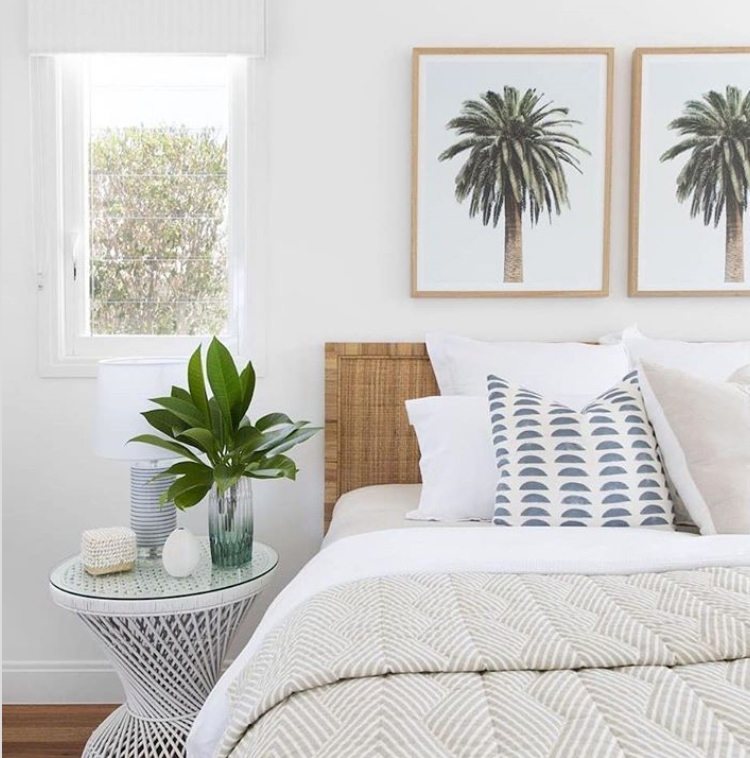 33. Bunk room
If you have lots of people visiting your Hamptons home, then a bunk room is a great idea to accommodate all your guests. These bunks have double beds on the bottom and single beds on the top. So parents down the bottom and kids up the top! And I love how nautical the decor is which would perfectly match any Hamptons style home.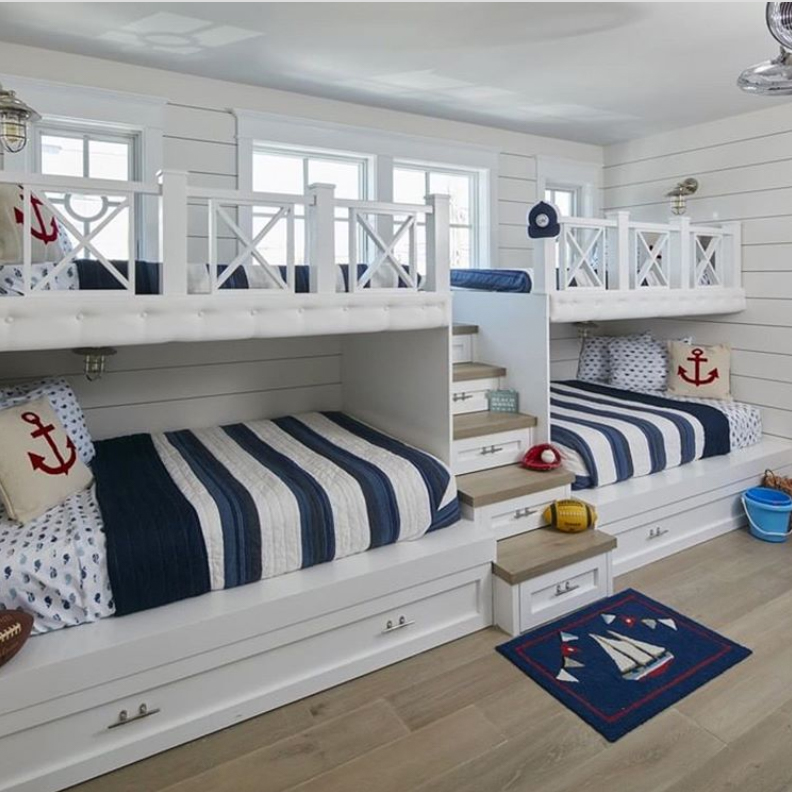 34. Blue bench Seat
If you have some room at the end of your bed and don't want to leave it bare, then a bench seat will work perfectly. You could style decor on top of it or even just a pillow to create a place to sit and put your shoes on at the start of the day. Plus when it comes to Hamptons style, you really can't go wrong with a soft blue for your furnishings!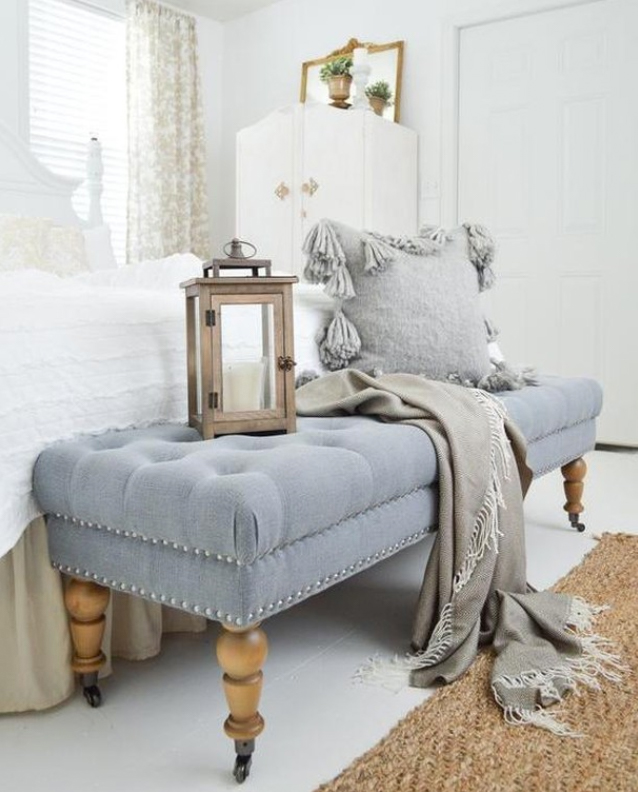 35. Simple seaside style
This bedroom is simple and minimal, but with all the right touches to create a seaside style space. The light blue bed frame looks stunning against the light beige walls and flooring. And I love the gold detailing on the end of the bed bench seat, frames and furniture knobs.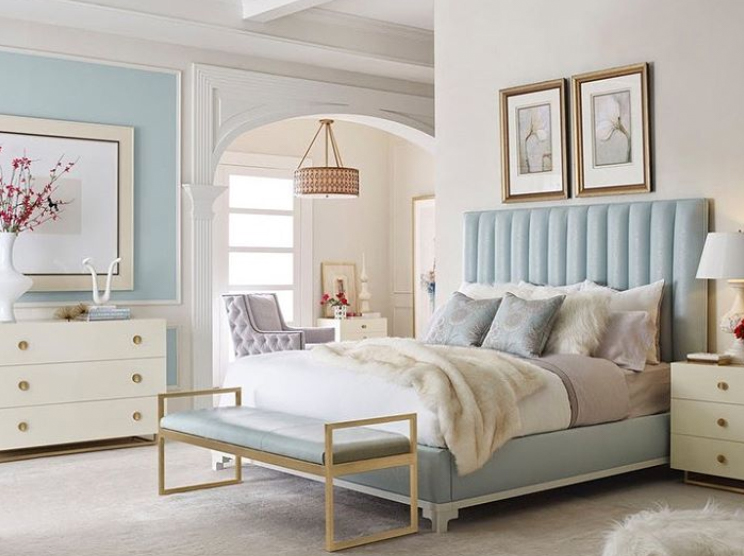 36. Laser-cut divider
What a dream to have an ensuite bedroom and if you want to make it feel as if the two rooms seamlessly merge into each other, then a laser-cut divider is the way to go! Not only will the screen give a little bit of privacy, but you will also still be able to peer in and out of the bathroom which will make everything feel a lot more open and airy. Just like a beautiful sea breeze.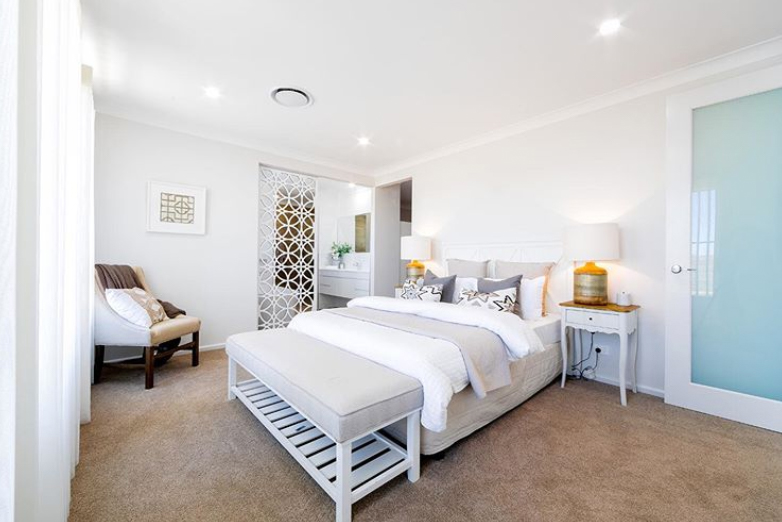 37. Foraged from the sea
Here is another view that I'm very jealous of! I'd never want to leave my bed if I had a view like this. The decor and furnishings of this bedroom have been kept very simple so that all the focus is on the spectacular view. But I absolutely love the wall hanging above the bed that looks like something that has been foraged from the sea.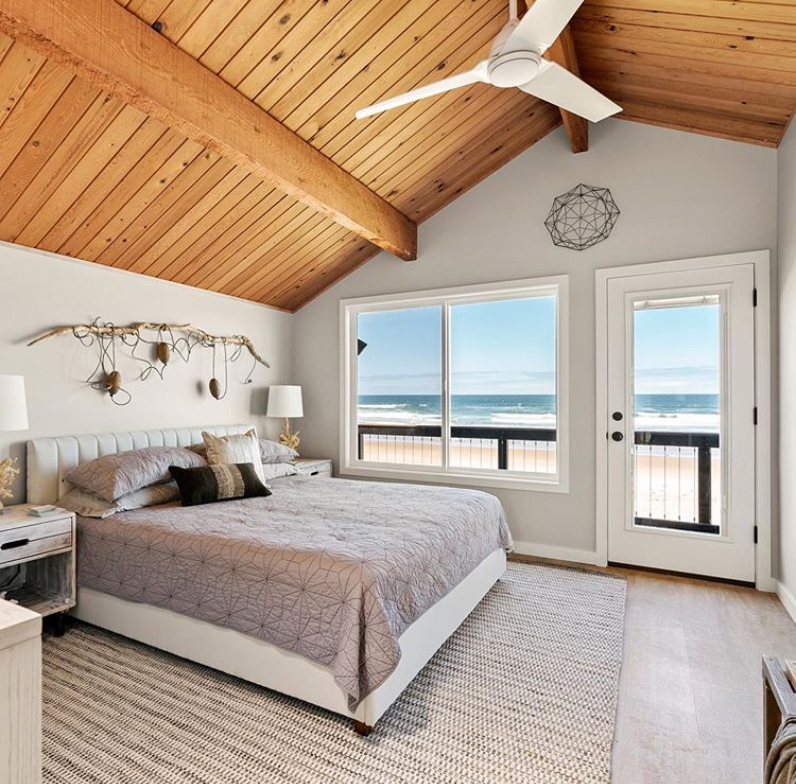 38. On-trend rattan
Rattan is certainly a finish that is very on-trend at the moment. And having it in a coastal themed bedroom is the best way to go. The rattan bed frame looks great with the woven and rattan bedside drawers either side. And the navy and white bedding and prints help to complement the whole look.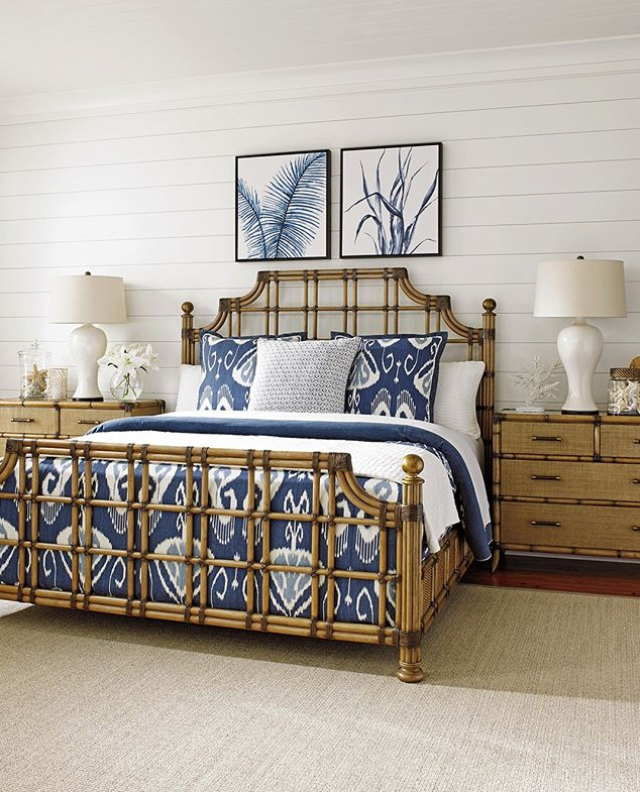 39. Soft tones
A room with soft tones is really just so calming and inviting. I love how simplistic this space is with the crisp white linen and minimal furniture. And you really can't go wrong with woven details which can be seen on the wall in the seating area and in the basket bag sitting on the floor. Plus how amazing are those high ceilings!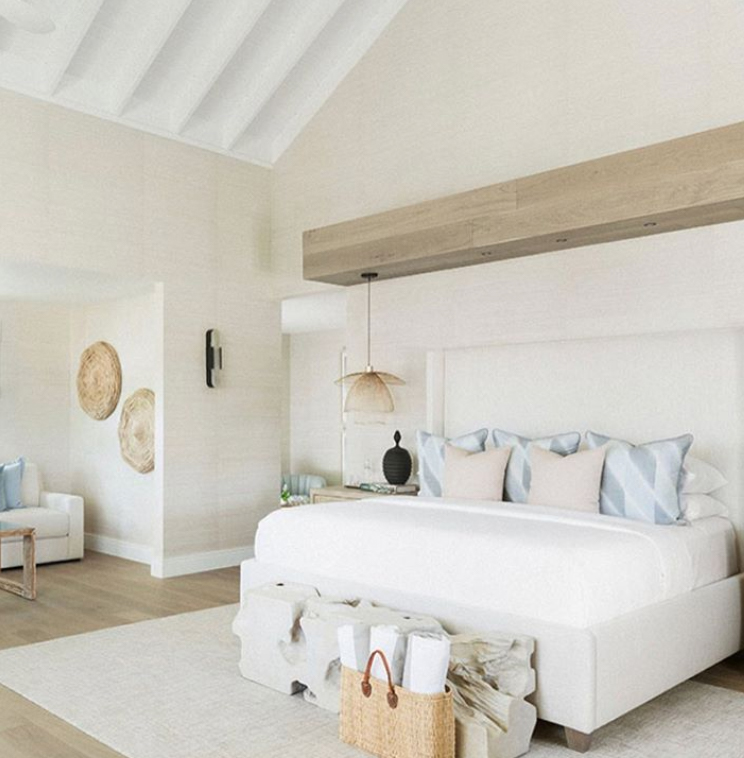 40. Cream coastal
If you're a lover of neutrals, then this bedroom is for you. The mirrored finish of the bedside tables and geometric circular mirrors are so elegant whilst the cream bedding and light beige bed frame remind me of a very light coloured sandy beach. How beautiful!
41. Coastal contemporary
This bedroom is the epitome of coastal contemporary. You can never go wrong with crisp white bedding. And adding feature pillows and a throw blanket reminds me of a beautiful hotel room. Plus how beautiful is the large pendant light that really complements the coastal feel of the space.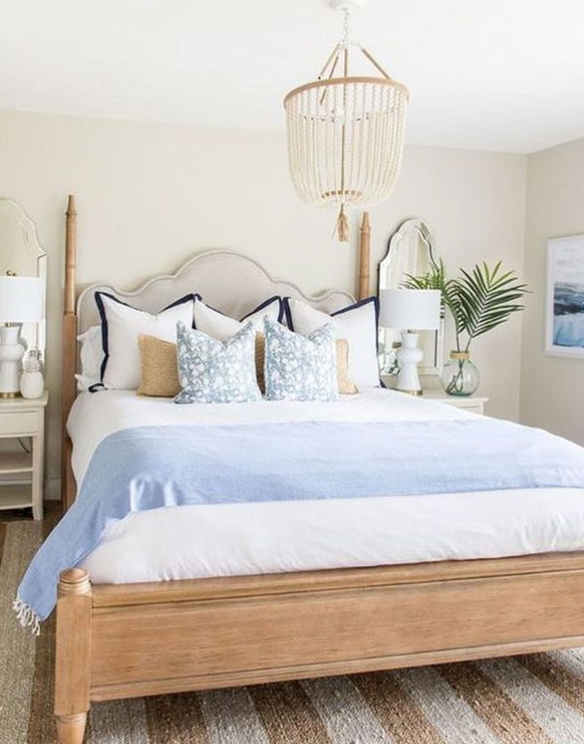 42. Monstera Wallpaper
Wallpaper can really make a bedroom and a subtle wallpaper with monsteras or a similar large palm on it will definitely look great in a Hamptons style room. The greenery also helps to add a pop of colour to this bedroom. You could even add a large monstera in the corner of the room to enhance the wallpaper!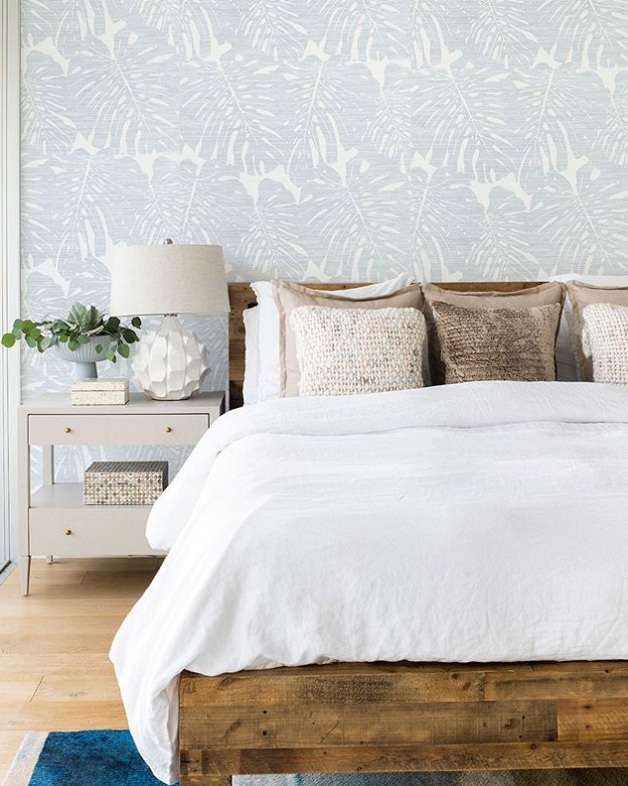 43. Guest room
Here's another great room that could double as a guest room or a kids room. The woven rattan bed heads look stunning against the blue tones of the bedding. And how cool are the two crossed over ores that serve as a statement art piece on the wall!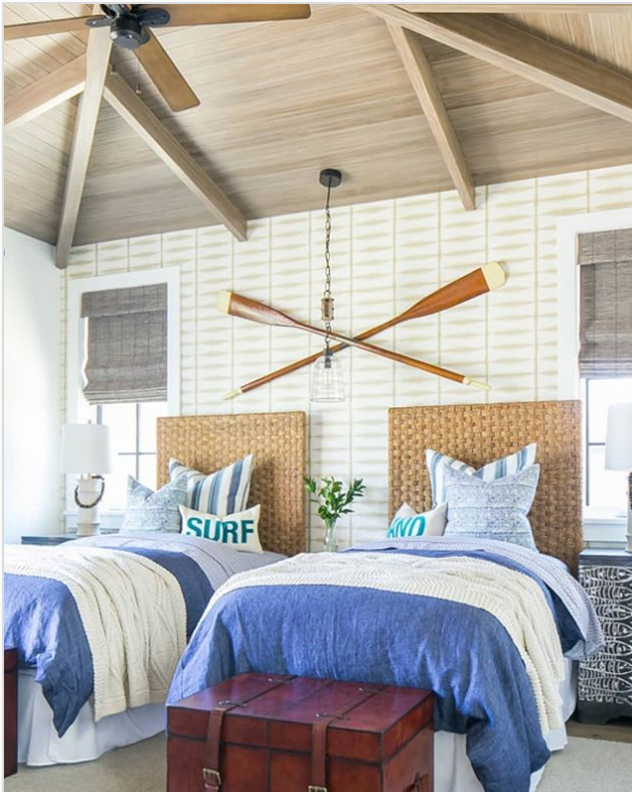 44. Duck egg blue
Duck egg blue is the perfect subtle choice for any Hamptons style bedroom. If in doubt, go duck egg blue! I love the softness in the colour of the upholstered bed head which goes beautifully with the lamp and decor pieces. Just add some patterned feature pillows and a vase of fresh blooms.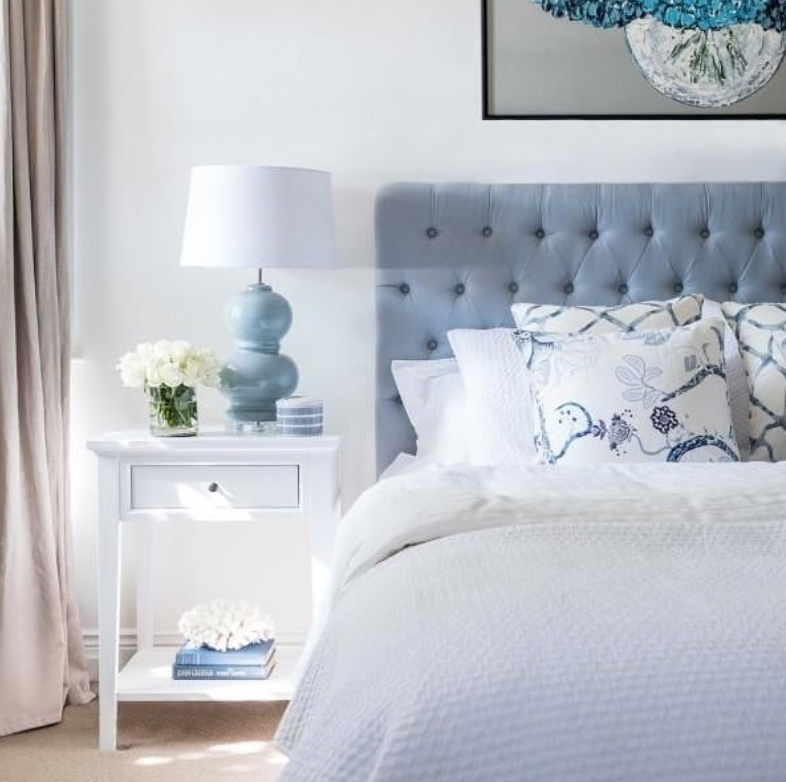 45. Greens and blues
And last but not least is this gorgeous green and blue pattern play bedroom. The combination of green and blue reminds me of a perfect day in the aqua blue Mediterranean ocean. And the colours in this bedroom are definitely reminiscent of just that! Also, check out that glorious pattern mix and match that works so well!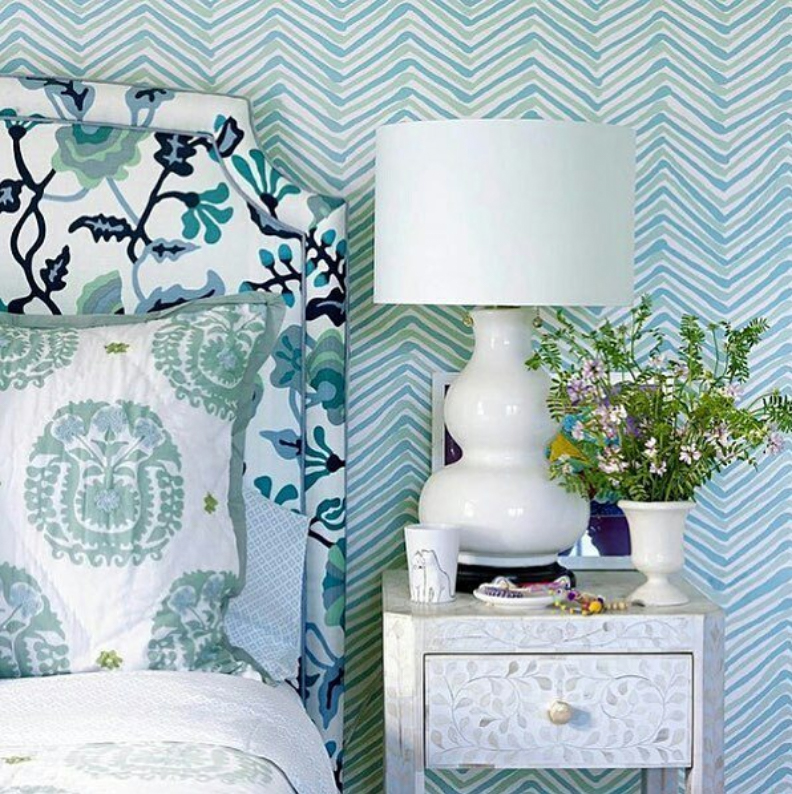 So there you have it – 45+ Hamptons style bedroom ideas. I absolutely love the bright and airy rooms that are filled with lots of neutrals and let in so much light as well as the spaces that incorporate blue to really give that coastal feel. What were your favourite Hamptons style bedroom ideas? I'll be waiting to chat in the comments below!