Scandinavian style is something we have all heard of, but what defines the style is that it can be achieved in so many different ways. The countries included under the Scandinavian umbrella include places like Norway, Sweden and Denmark where the style is functional whilst remaining minimal. Light and airy, simple and clean are just some ways to describe the style, which makes a Scandinavian bedroom something to be much sought after.
The Scandinavian way of living is all about making things easier with functionality, however still preserving a strong sense of style and personality. Scandinavian style is simple and effortless, yet charming and extremely aesthetically pleasing. Taking the clutter out of your space by minimising it and taking some inspiration from the Scandinavian way of being will definitely elevate any space, making you feel more organised and calm.
Check out this carefully curated collection of 45+ Scandinavian style bedrooms to inspire you to live more minimally!
1. Laidback look
This bedroom is the definition of minimalist living. The bed is simple, yet so inviting with the many cushions, soft doona and throw blanket. And the wall-mounted light and small wooden bedside table are both functional and on-trend. Adding a stack of books or magazines as well as a framed print on the wall will always help a minimal space seem more friendly and lived in.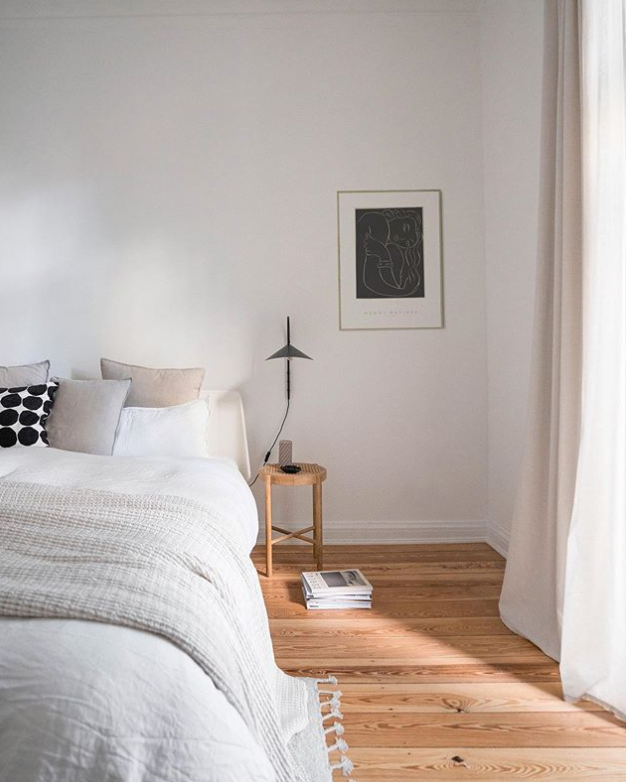 2. Scandi bedside table
Yes, it's certainly important to make your bed the feature of your room, but the styling of your bedside table is equally as important and I absolutely love the decor chosen to style this Scandi bedside table! The rounded vase creates a cool illusion with its hollow middle, the candle creates calm and warmth, and the space left for books ensures that your reading material is never too far away.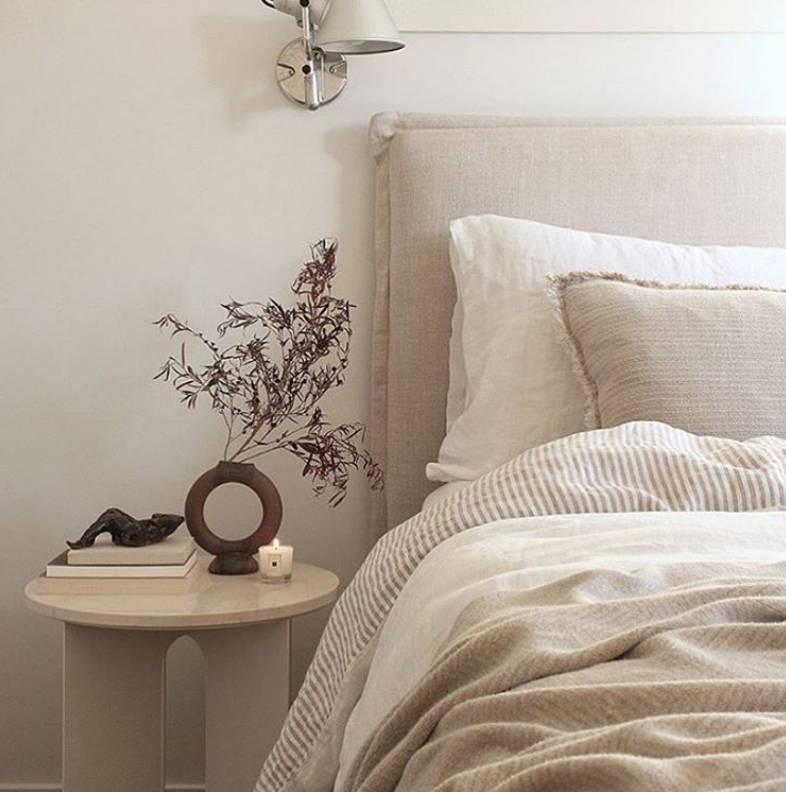 3. Linen bedding
If you've spent any time on Pinterest or Instagram, then you'll know that linen is all the rage right now. Linen clothes, linen bags… but especially linen bedding! This bed looks so soft and inviting and I love the vintage Marilyn Monroe prints sitting pretty on the wall.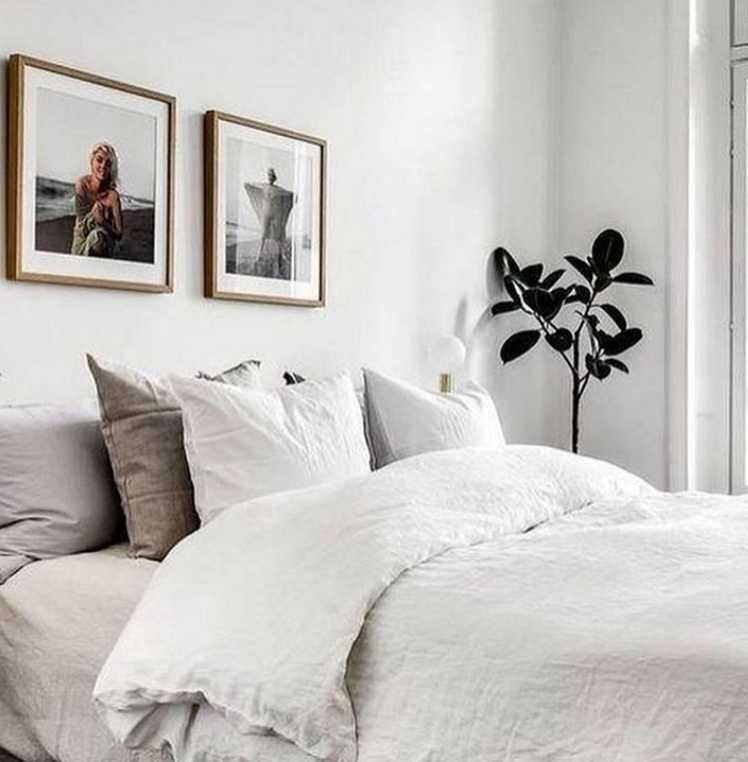 4. Feature rug
If you want to add some pattern to a minimal space, then a feature rug will certainly do the trick. Also, a rug will ensure there is a softer landing for you to put your feet when you get out of bed.  I love this rug that is cream and black and filled with so much pattern.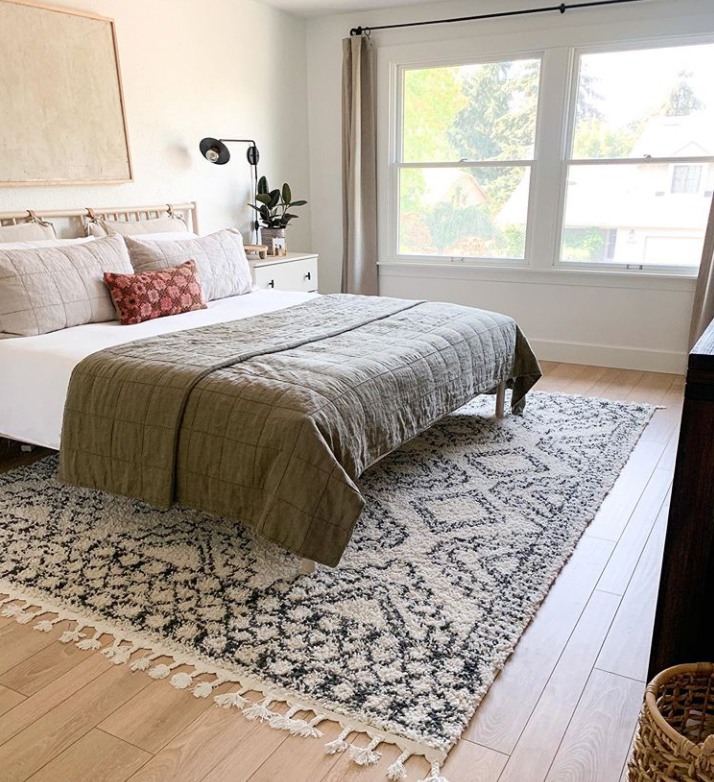 5. Soft green, filtered light
How stunning is this Scandinavian style bedroom with that glorious light filtering through the window pains and onto the bed area. I love the simple three-legged bedside table that has everything you need sitting on top: a magazine, reading glasses and a bedside lamp to provide a glow for reading at night. Plus how gorgeous is the colour of that light green bedding!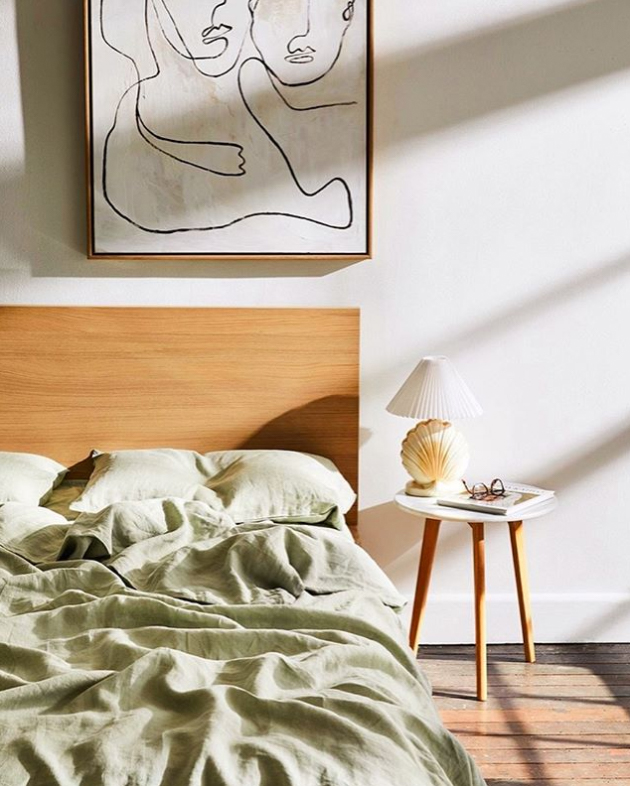 6. Round mirror
Round mirrors are so in fashion at the moment and this large wooden round mirror works so well in this Scandinavian bedroom! I love how the wooden frame of the mirror matches perfectly with the wood used for the top of the cabinetry as well as the timber flooring. Bring in a pop of greenery with a hanging plant, succulent and a large palm to elevate your space!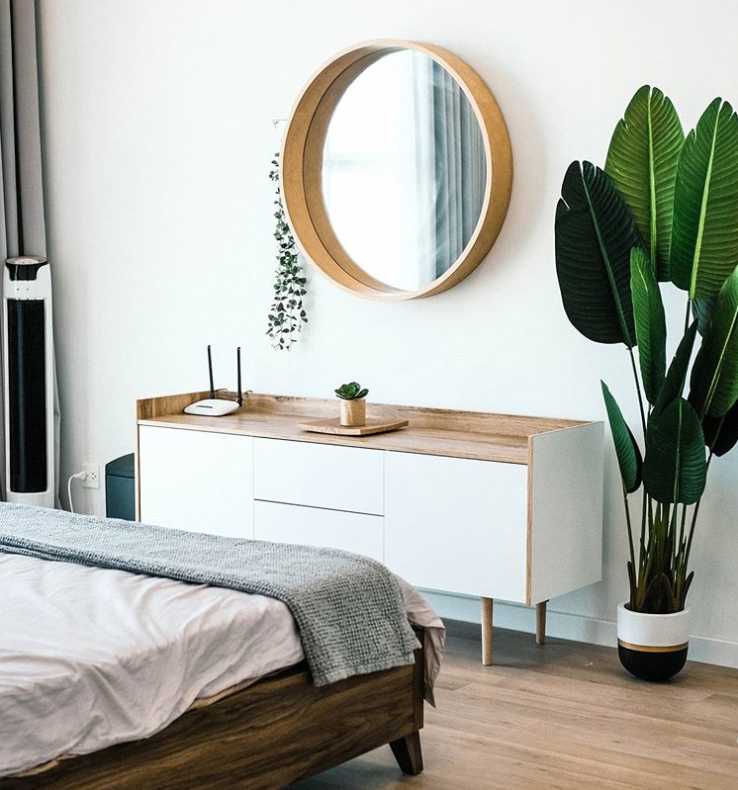 7. Boho Scandi bedroom
Bedrooms totally don't have to be symmetrical all the time. In fact, asymmetry is just as beautiful and striking. I love how even though the bedside tables are the same, the decor in this bedroom is different on each side. Perhaps the person that sleeps on the left prefers greenery and the person on the right loves the look of pampas grass. If this is a style that you like, take a quick look at these Boho bedrooms as well.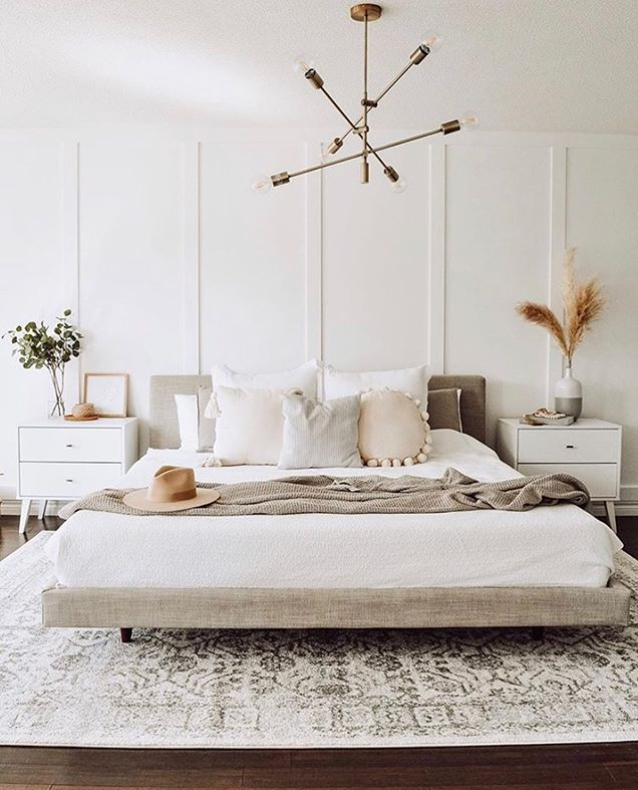 8. Boho meets Scandi take two
This bedroom is totally the definition of boho meets Scandi. The Scandinavian elements are minimal and clean finishes. And the boho aspects have been brought in through the woven style mandala rug and leather ottoman. I absolutely love this bedroom!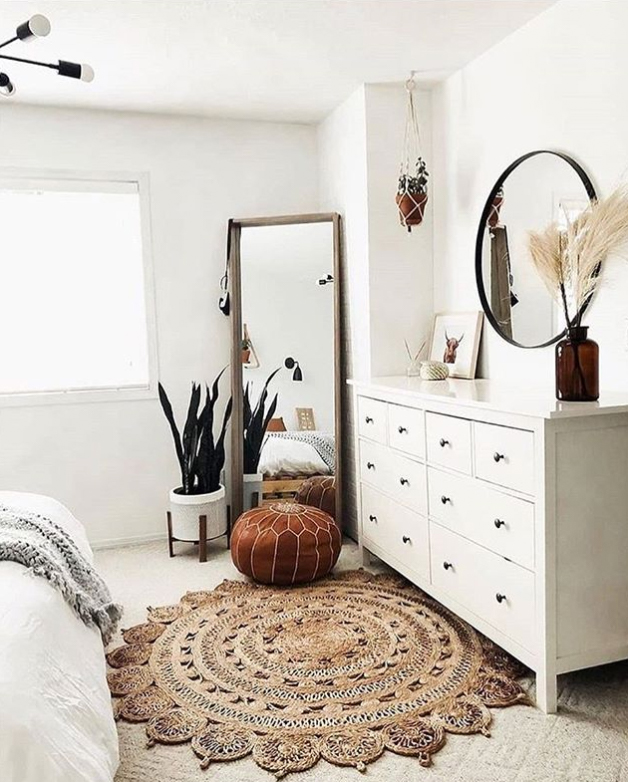 9. Grey tones
Any room with grey will always exude class and timelessness. I love the grey wall that has been painted in a way to look almost like concrete. And the simple black wall mounted lamp that would be the perfect reading light. Just add some simple bedding, furnishings and decor, and you have your very own grey Scandinavian bedroom.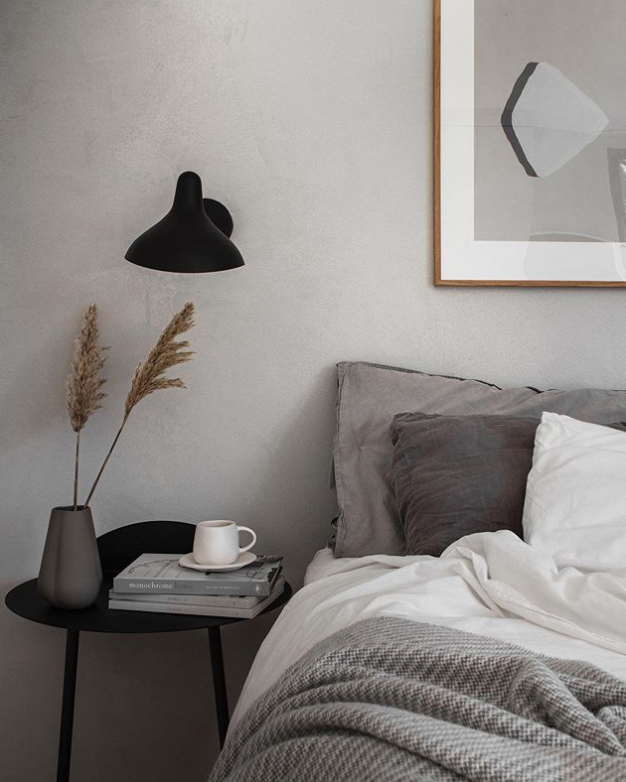 10. A touch of greenery
I'm a massive advocate for indoor plants. They not only look beautiful, but they can help to purify the air in your home which increases the air quality. Plus there are many indoor plant varieties that are super easy to care for and don't require much. A touch of greenery is always a welcomed addition in any space!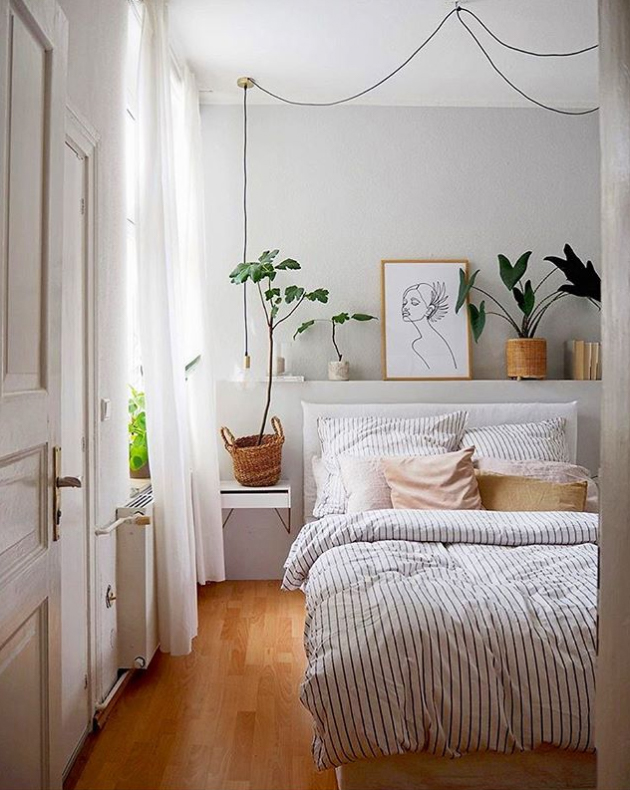 11. Baby blue hues
Scandinavian bedroom style is all about mostly neutrals with a limited colour palette. And when colour is involved, the colours are usually very soft and subtle colours. So the baby blue hue in this bedding is the perfect addition! Plus how stunning is that macrame wall hanging which gives a bohemian feel to the Scandi style!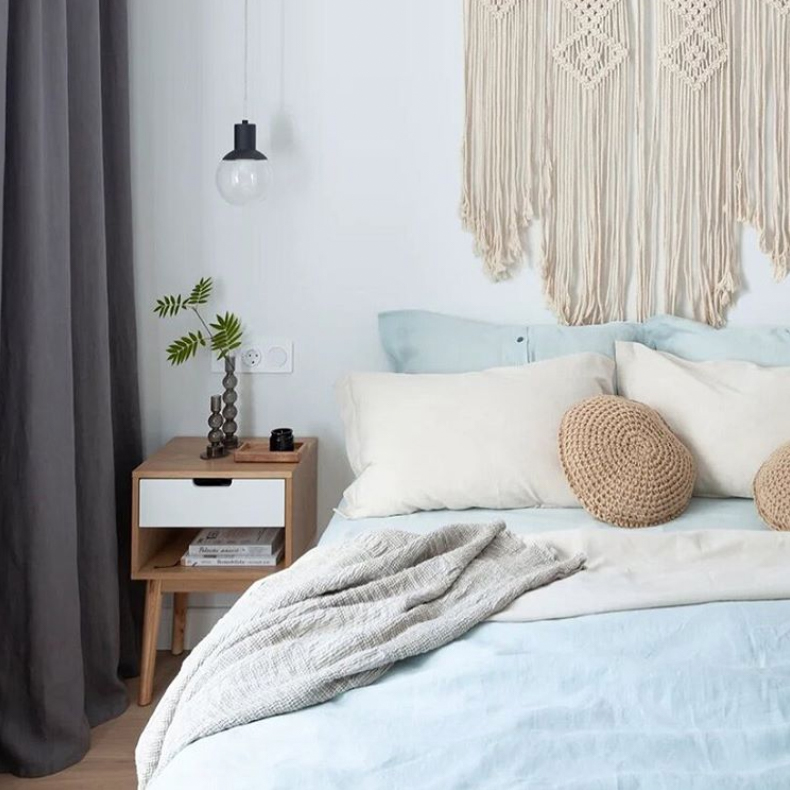 12. Contemporary timber
This bed frame is almost like a pallet bed, although it has been refined a little more and looks as if it was custom built for this space! I love the simplicity of the bed and furnishings with only the most necessary things around. And the large white ball-shaped pendant light would bring such a beautiful warm glow to this bedroom at night.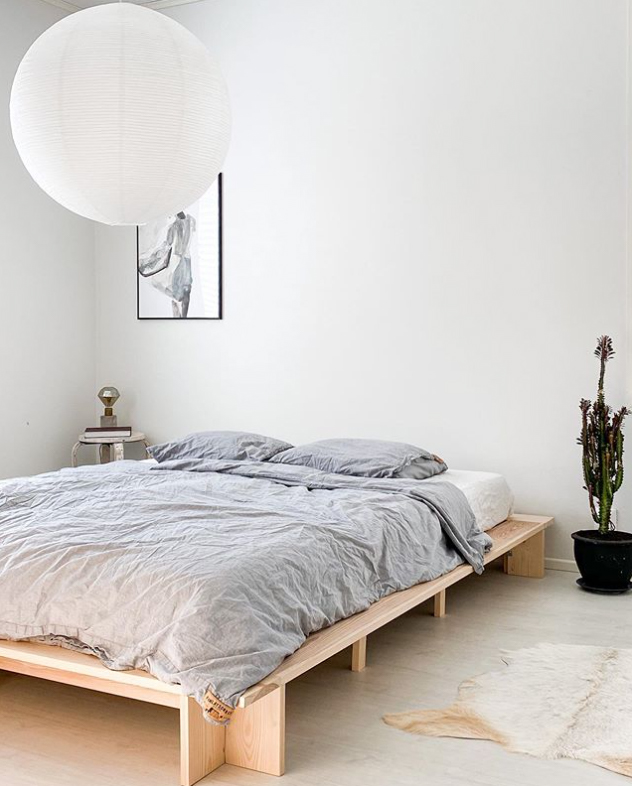 13. Warm mustard tones
A minimal colour palette is what Scandinavian style is all about and this bedroom is the perfect example of just that! I love that the warm mustard tones from the feature pillows are a similar colour to the timber bedside table as well as the gold wall-mounted lamp. Plus the moss green throw blanket is the perfect contrasting colour to complement the scheme!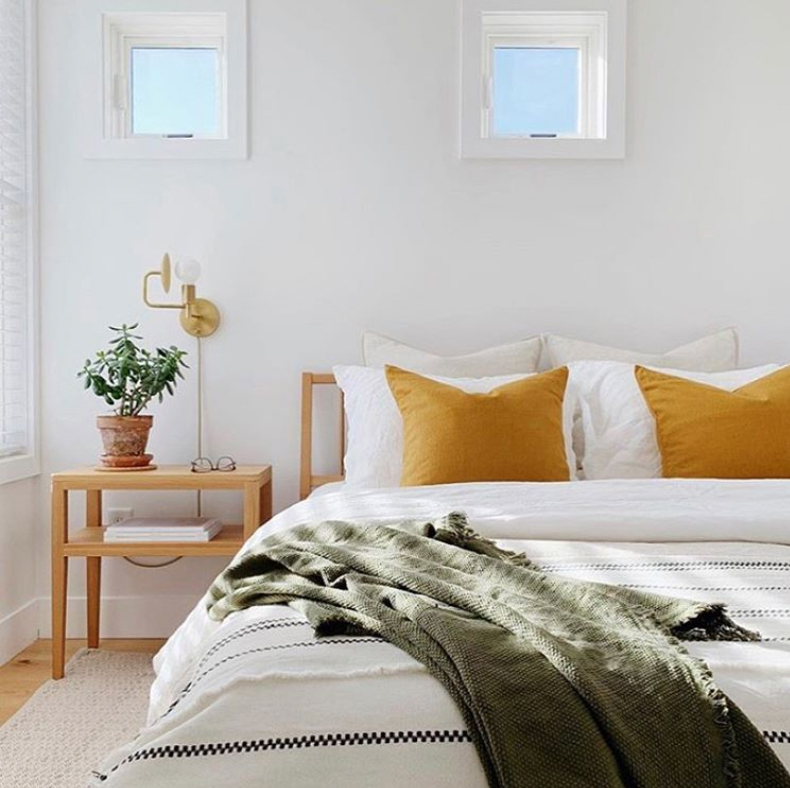 14. Mixing textures
Similar to mixing patterns, mixing textures also gives a very effective look and I love how there are so many different textures in this otherwise simple Scandi bedroom. The bedside table features thin strips of different coloured timber, the rug as a lattice texture running through it and the throw looks like it is nice and fluffy, which brings so much warmth to the bedroom.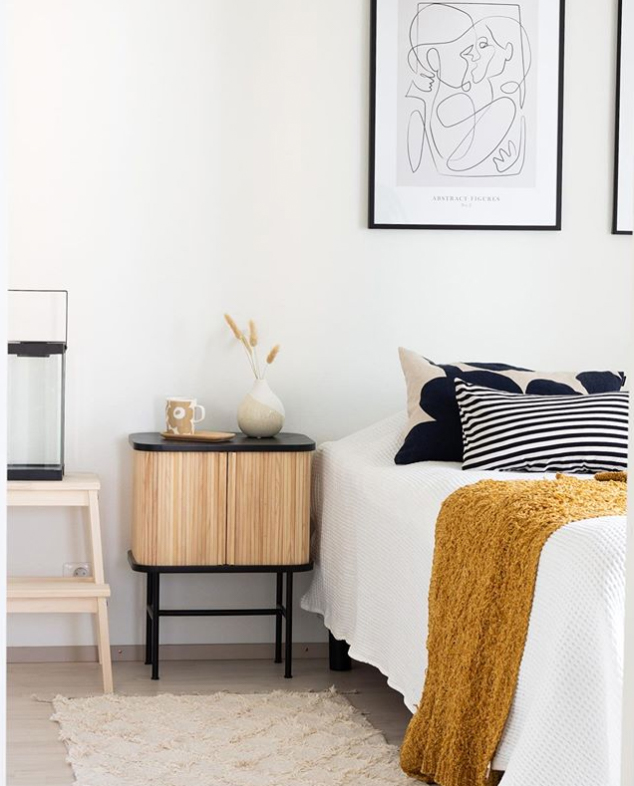 15. Gallery shelf
Gallery walls are all the rage, but have you heard of a gallery shelf?! A great way to achieve this look is by installing a long floating shelf to your wall so that it doesn't take up any floor space. Then get lots of different prints and frames of all different sizes, and place them along the shelf. Layer them on top of each other or have them standing alone, there really are no rules when it comes to a gallery shelf!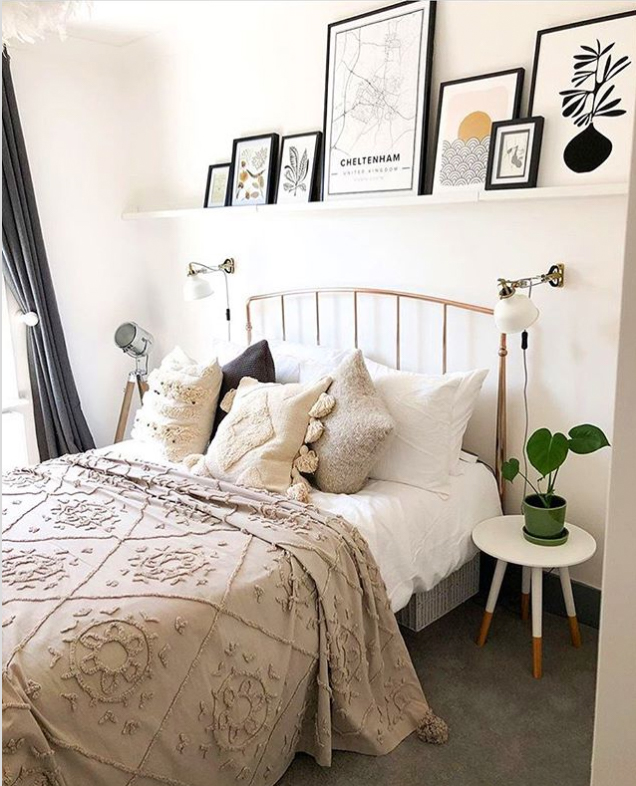 16. Floating bookshelf
In number 15, we spoke about a floating gallery shelf for frames but what about the same concept except as a bookshelf?! I love how all the books are stacked up and always ready above the bed for when you want to choose your next book to read! And the Scandi style minimal bedroom is equally as beautiful.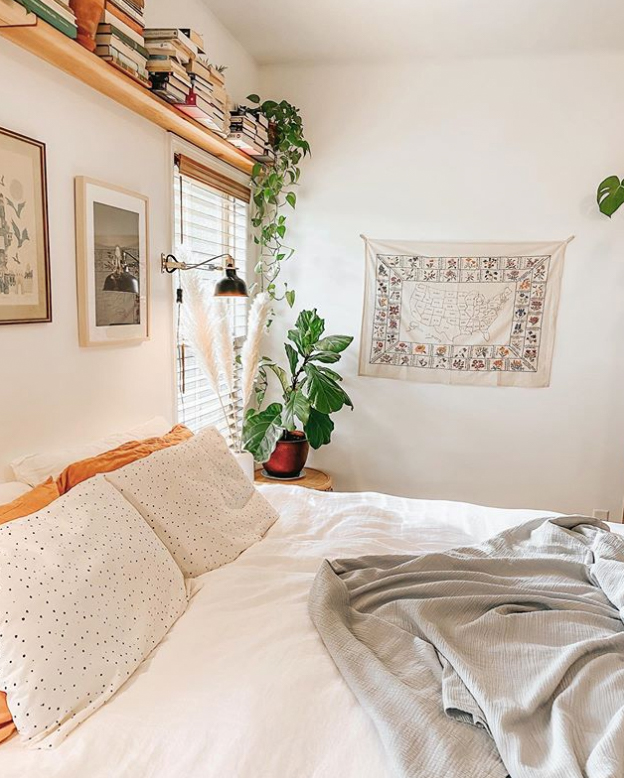 17. Mushroom blush
If I was to make this colour with paint, I would have light brown as the base with a tiny touch of pink running through it. So I feel like the best way to describe this colour is 'mushroom blush'. I love how it's neutral but still would also be considered as a colour. Plus it goes so well with the greenery from the fiddle leaf fig sitting in the corner!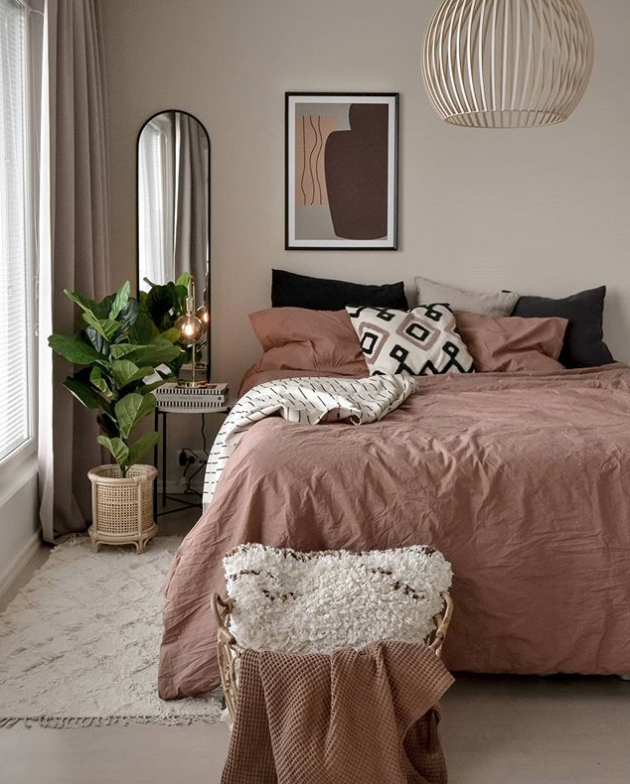 18. Chunky knit
This Scandinavian bedroom style is oh so minimal with just the right touches. Who can go wrong with a big chunky knit for when those nights get a little chilly and you need more than just a doona.  Also, the subtle beige tones on the walls and in the feature cushions add a bit of dimension to the room to break up all the white.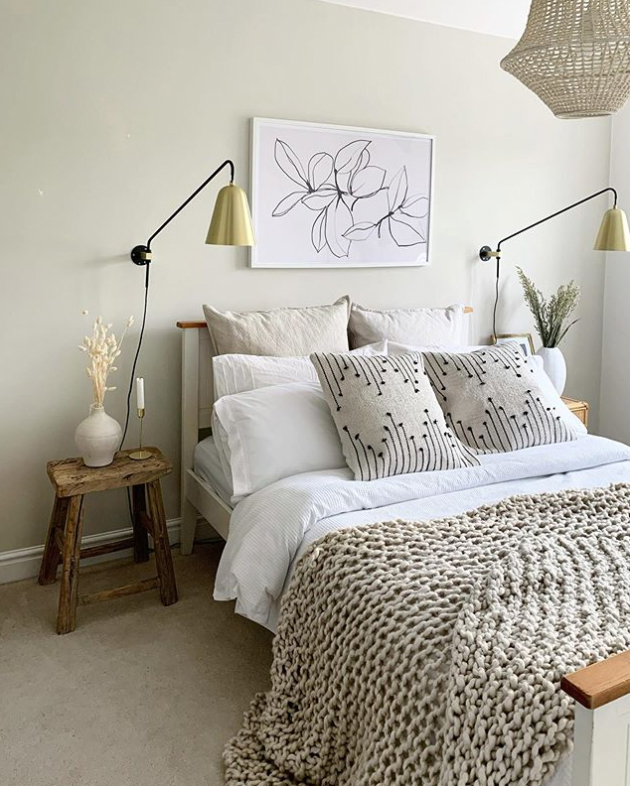 19. Sweet and simple
Wow, how sweet and simple is this Scandinavian bedroom! I absolutely love the look of this space and would love to have this bedroom myself. The tree in the corner of the room and the three hanging plants with their trailing leaves help to soften and bring life to space. And I love the simple and minimal bedding with the hat and shoes sitting there ready to be worn.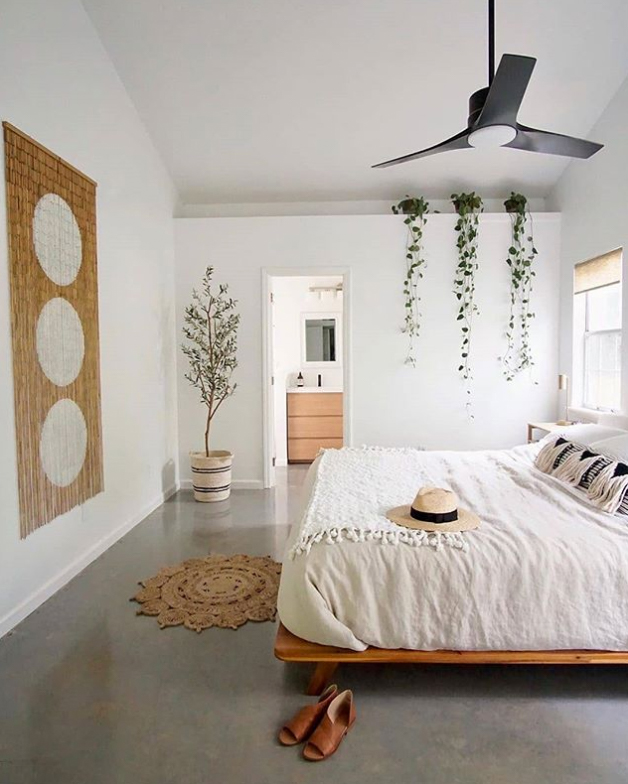 20. Minimalist monochrome
If you love all things monochrome, then this space is for you! This bedroom is extremely minimalist and even the framed print agrees with the word 'Minimalism' on it. A stack of books has been used to prop the bedside lamp up and I love the rug that is peaking out from under the bed.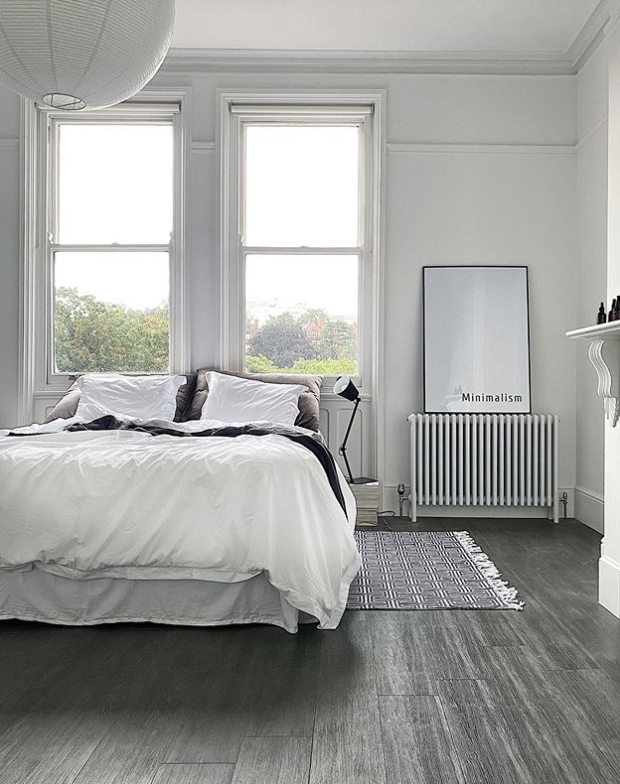 21. Line art
Line art is very on-trend at the moment and is the perfect addition for any minimalist Scandinavian space. And how sweet is this line art that looks like it has been drawn in one take without the pen leaving the page. And the imagery of the woman wearing a large-brimmed hat is very elegant and feminine.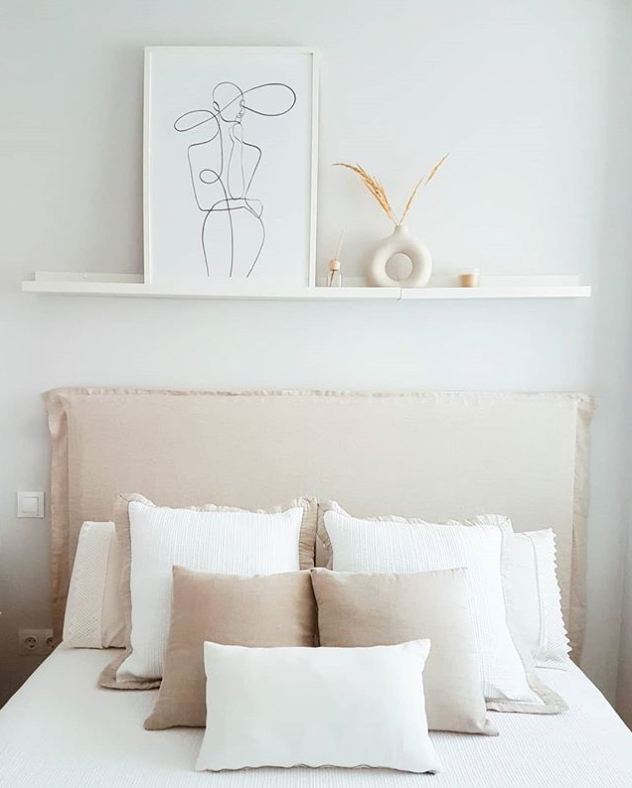 22. Homely space
This homely space is all about practicality and warmth. I love the floating shelf above the bed which is the perfect base to display decor pieces, plants and artwork. And I love the wall-mounted hanging knobs that are great for hanging bags and getting them off the ground. Plus the warm colour of the bag perfectly matches the feature pillow on the bed.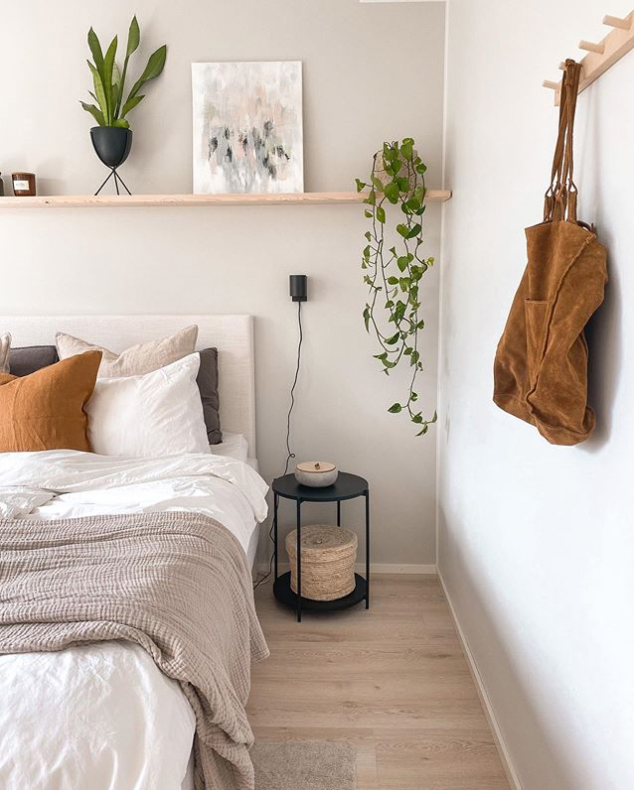 23. Arched mural
At first glance I thought that this wall had been cut out into an arched alcove for the bed to be placed inside, but alas it is actually just a painted mural in the shape of an arch. How clever!
And I love that the shelves, plants and framed print have also been placed inside the constraints of the arch. This is an innovative and creative paint style that I would definitely consider for my walls.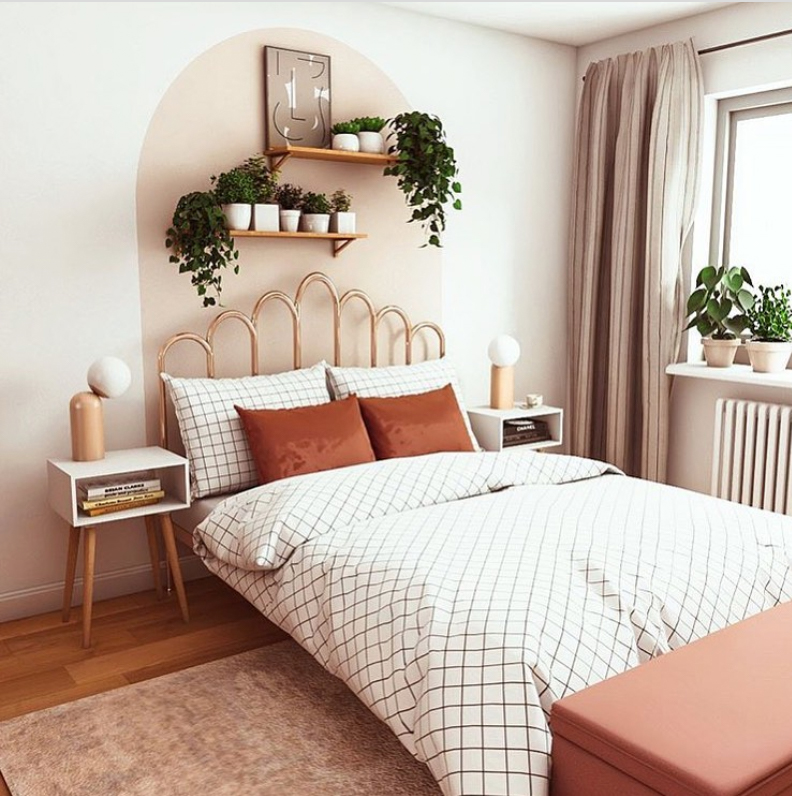 Be inspired by more feature wall ideas for your Scandinavian bedroom.
24. Happy little corner
Check out this happy little corner! If you have a bare corner to work with, why not add a sweet little rocking chair to the corner?! Whether or not you actually use it, it will still be a very lovely addition to any Scandinavian style room. And I love the other practical touches in this room like the rolled-up throw blanket in the basket as well as the bed tray for drinks and books to sit inside.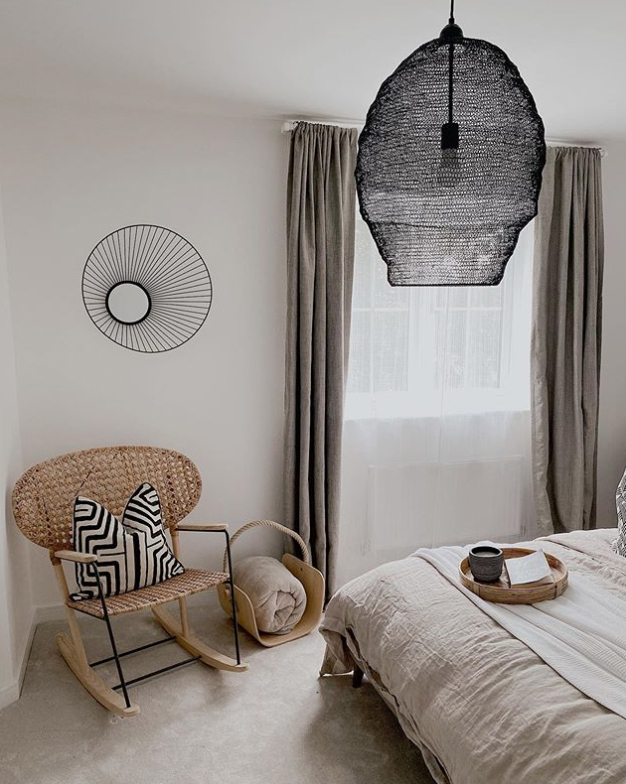 25. Feature wall in bedroom
If you want to easily spruce up a tired bedroom, a feature wall is always a good idea! And I love the subtle blush colour that has been used on this wall! When you're painting your wall, you could even add a tape border around the wall which will give a white border around the feature wall when you're finished and remove the tape. How cool!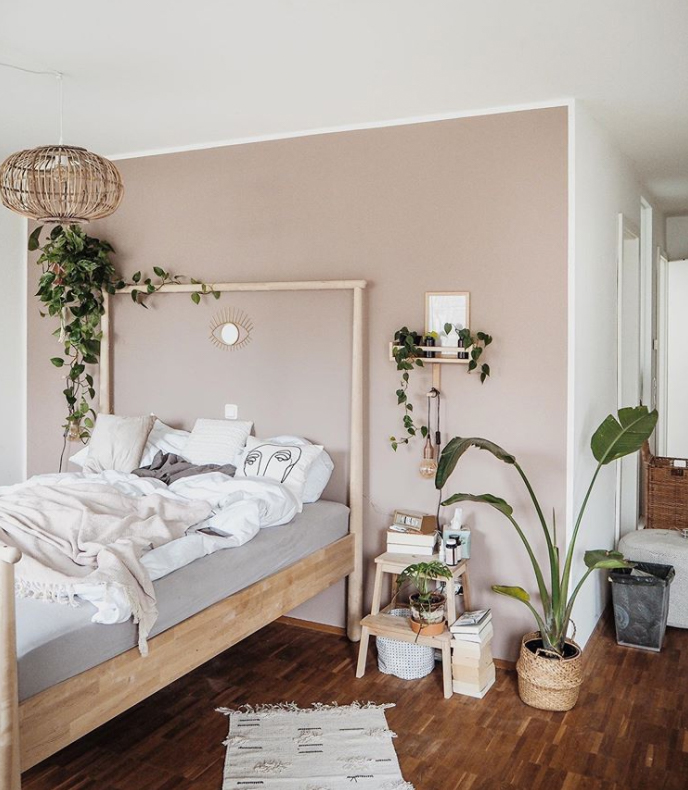 26. Soft tones
If you love monochromatic black and white tones but still want that soft Scandinavian look, then this bedroom is definitely one that you should be looking to for some inspiration. The soft and subtle grey on the walls, through the prints and feature pillow and throw blanket are the perfect shade to match with the white bedding and black hanging lamp.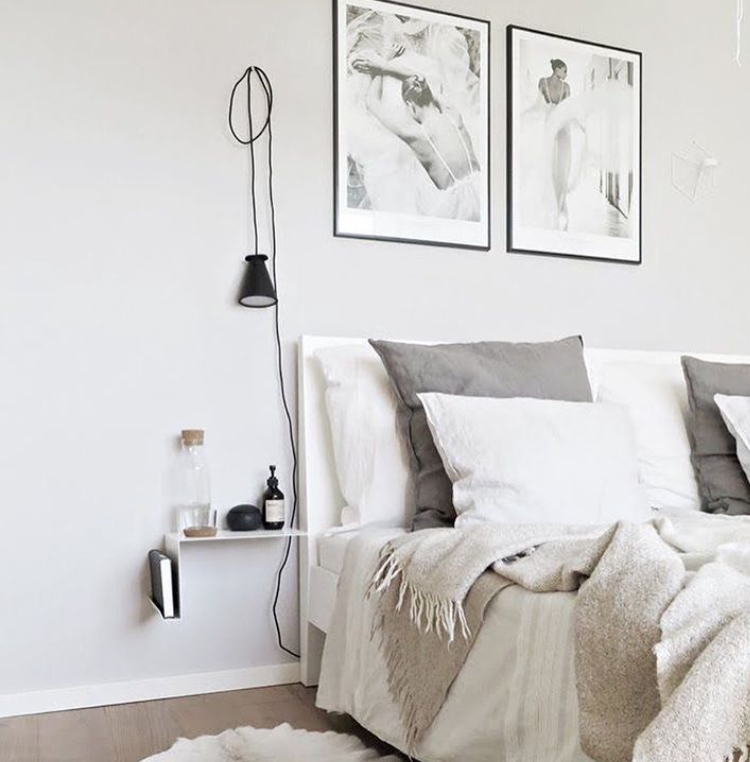 27. Hanging plant
You can really never go wrong with adding some greenery into your space. If you love the look of hanging plants but have no place to hang them, then look no further. This wall-mounted plant hanger reminds me of an old school shop sign bracket and I just love the simplicity of it.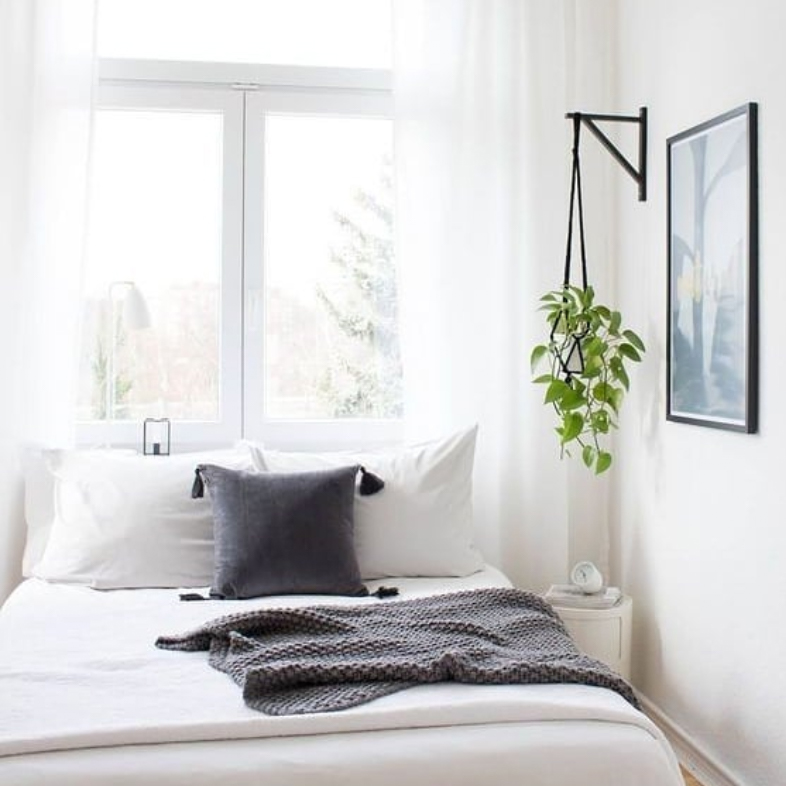 28. Plywood wall
Whether you want to achieve this look with wallpaper or have some plywood to use up, this plywood wall is such a cool idea and brings so much texture into the bedroom. And I love how the leftover plywood has also been used to create stackable shadow boxes that have been used as shelves. Genius!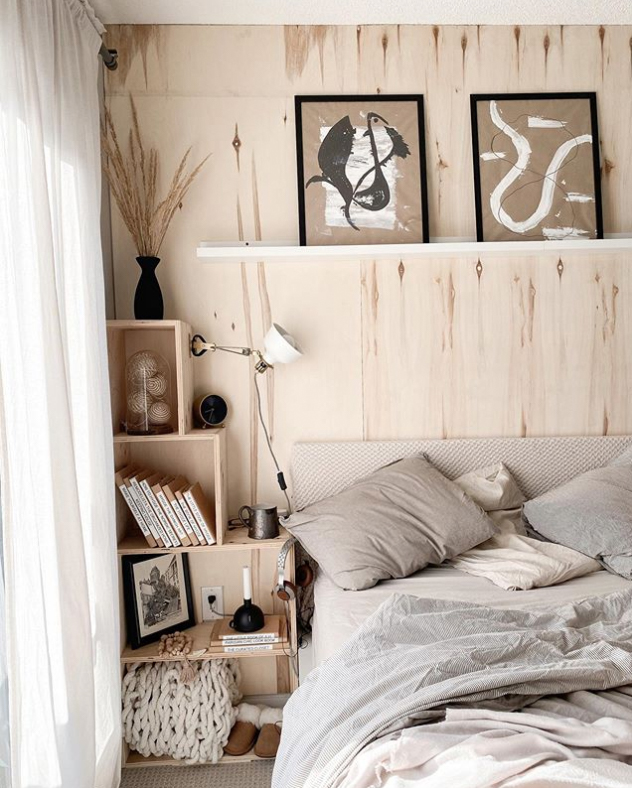 29. Black and white
Here's a great black and white Scandinavian space. The simplicity of the low bed, as well as the minimal furnishings and decor, really give that simple Scandi feel. And I love the exposed light bulbs that are a great addition to the room. Plus how cool is the glass and black panelled door that is sure to leave a lasting impression!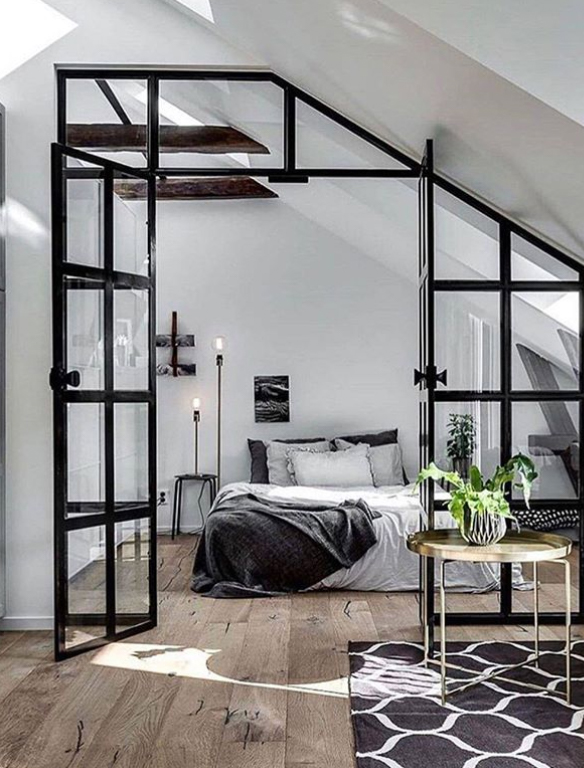 30. Abstract art
This bedroom is super simple and functional with the white crisp sheets, white bedside tables and pops of greenery brought in by the plants. So the abstract art piece is really the focal point of the room due to the simplistic features everywhere else.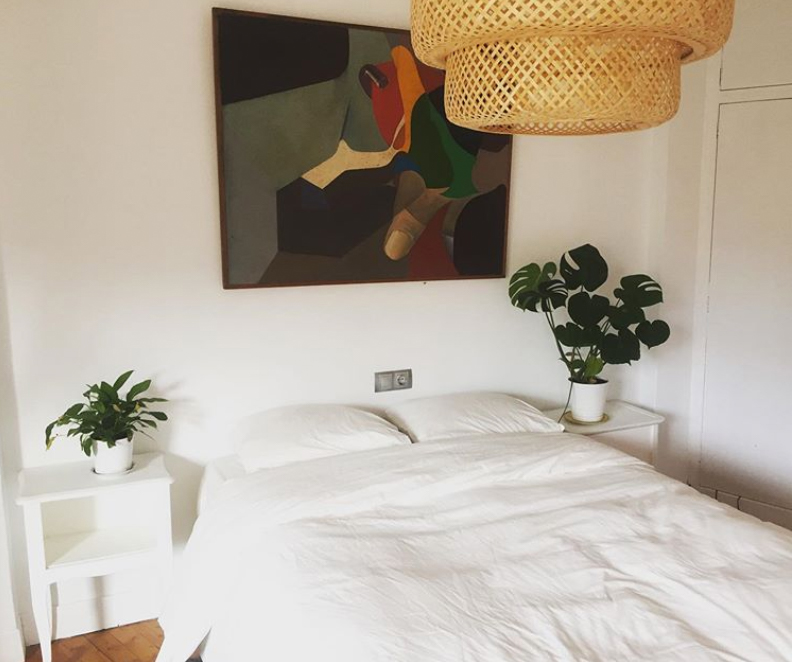 31. Hat wall
I absolutely love a hat wall, and they are super easy to achieve! All you will need is to add some hooks to the wall and then you can hang all your favourite hats. When you are adding the hooks into the wall, make sure you are also estimating how the hat will sit on the wall so that you don't get any hats that are awkwardly overlapping.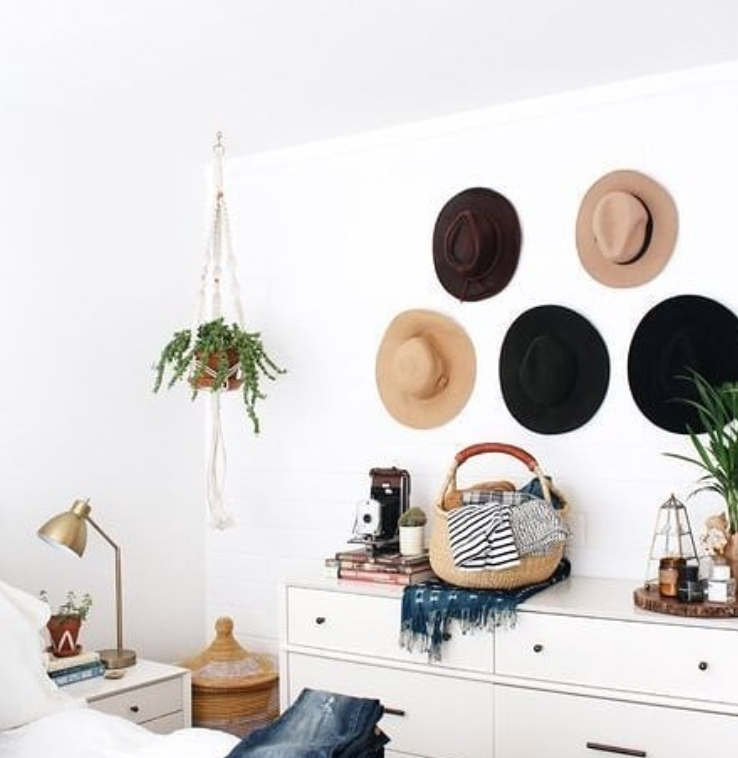 32. Tan tones
This space seriously looks like it could be out of somewhere in Sweden or Finland with it's the cool, urban and Scandinavian vibe. The tan tones in the chair are a perfect accompaniment to the dried flowers and wooden frame around the window. Plus I love the floor lamp with its extra-long arm as well as the print that has been purposely placed on the floor to give a laid back look.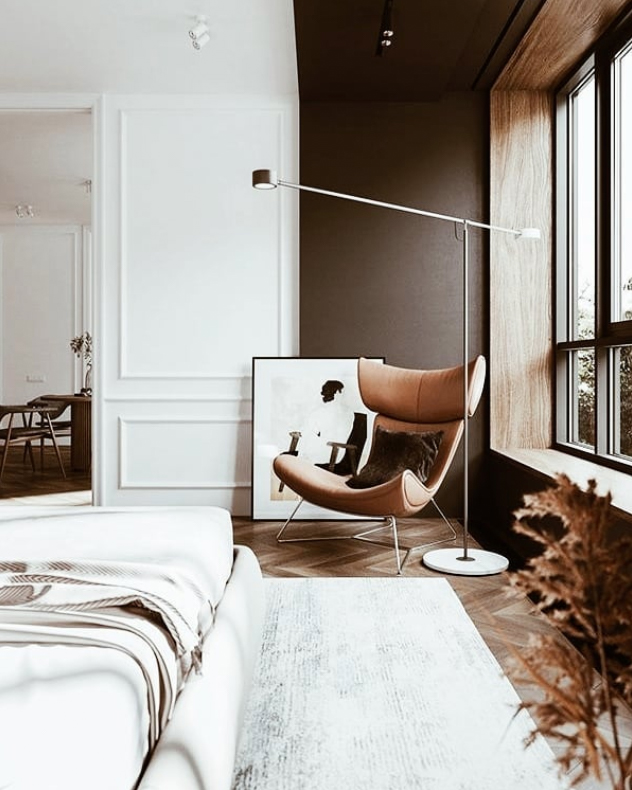 33. A fresh bunch of blooms
Nothing freshens up a room more than a fresh bunch of blooms. And I absolutely love that the flowers added to this space are still in keeping with the neutral colour scheme and trendy Scandinavian style. The white blossoms look beautiful paired with the white vase as well as the white candles and bedding. Just stunning!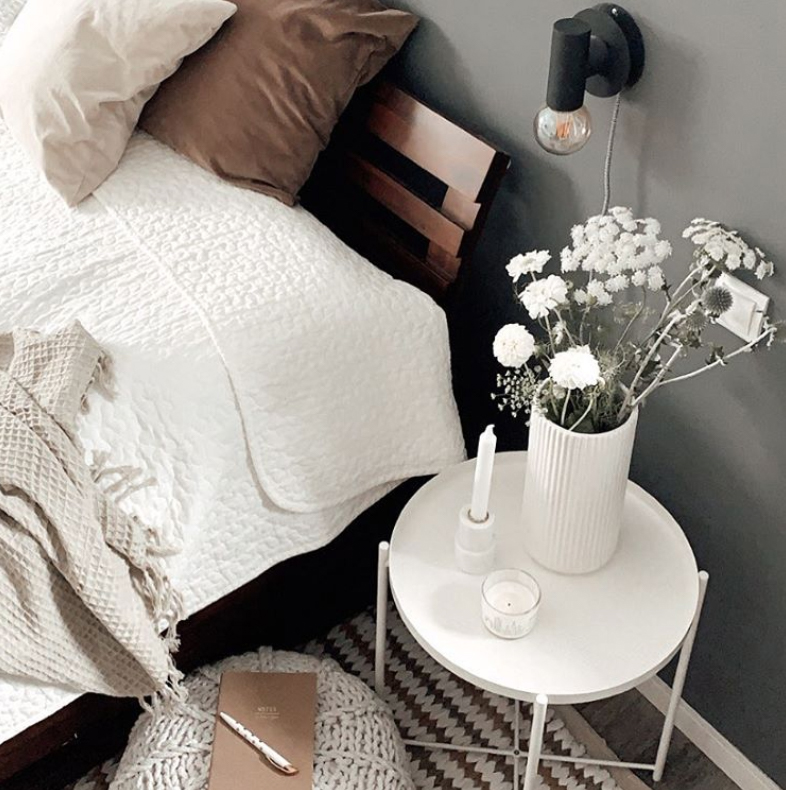 34. Storage space
Cheers to more bedroom storage space! You really can never have too much of it. I love the storage shelving wall in this bedroom that still remains aesthetically pleasing with the rattan baskets which help to hide clutter and items that aren't within the bedroom colour scheme.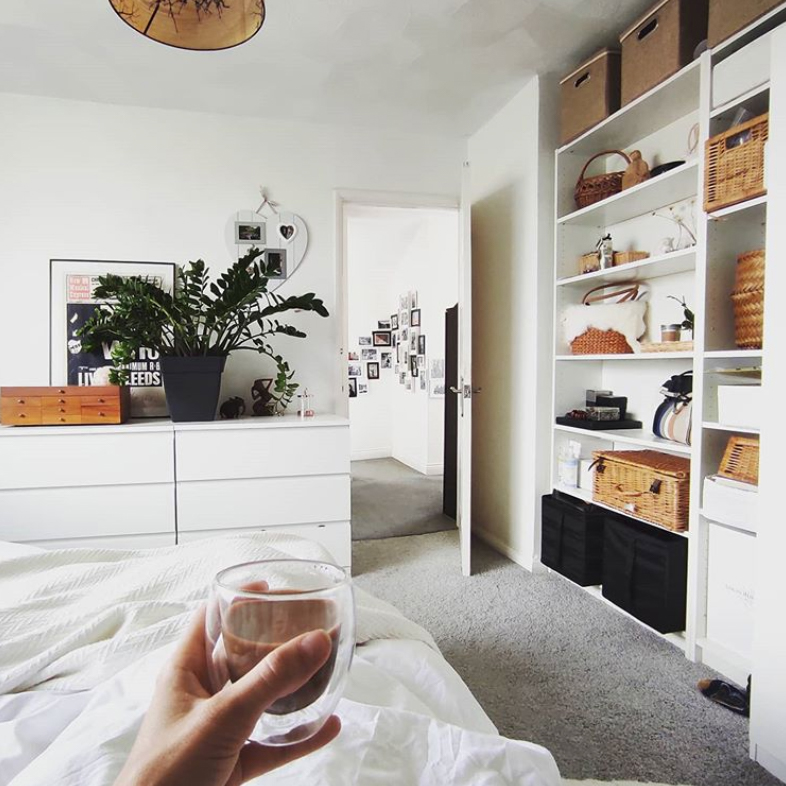 35. Morning light
A very good morning indeed. Every time I opened my eyes in this bedroom, I would feel an overwhelming sense of happiness to be waking up in such a beautiful space. Especially if I was greeted with a hot cup of coffee on my bedside table! All the soft tones, as well as the dried foliage, really complement this Scandinavian space.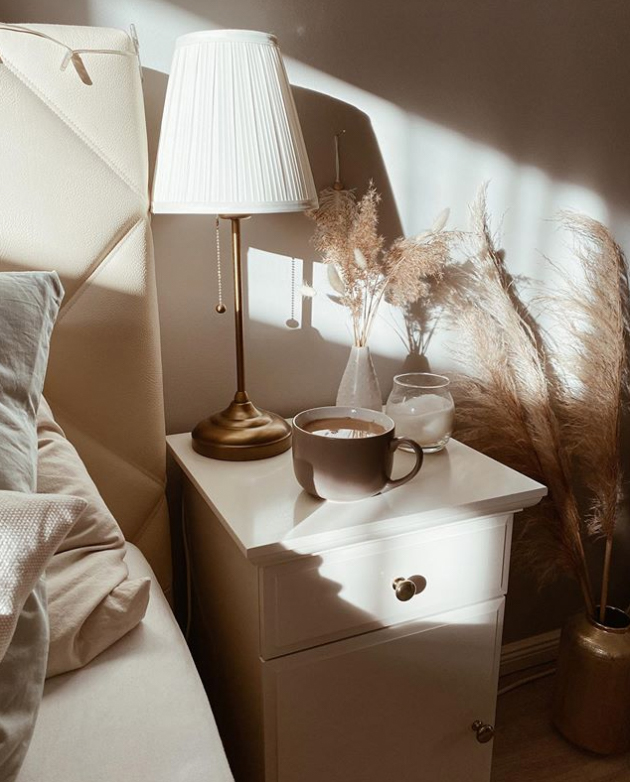 36. End of bed bench
An end of bed bench is always a good idea if you want to add a place to display more decor or even to sit when you put your shoes on in the morning. And I love this woven and wooden style end bench which matches well with the pampas grass and other furnishings in the bedroom.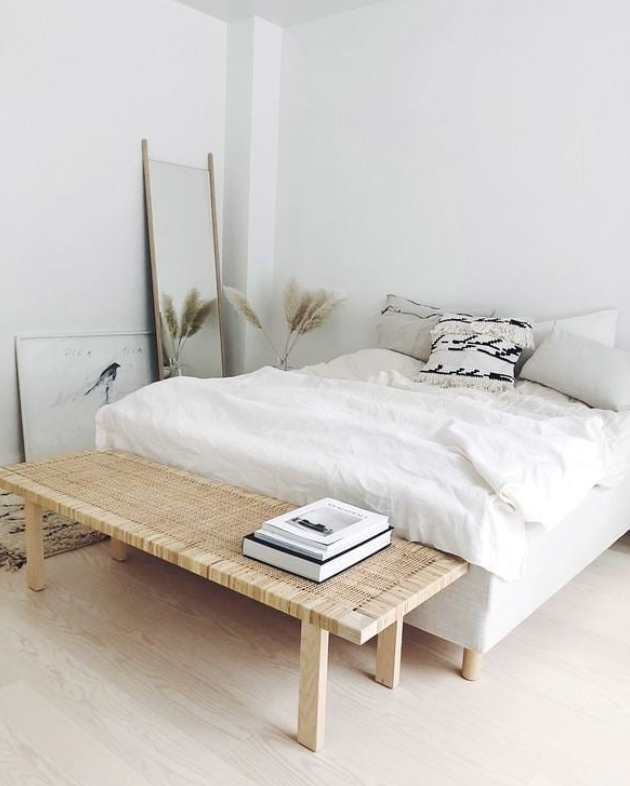 37. Refined details
Ceramics are very on-trend at the moment and adding some ceramics to your Scandinavian style bedroom will achieve a very clean and serene look which Scandinavian bedrooms are known for. And I love the simplicity and refined look of the print on the wall which is in the same colour palette as the feature pillows sitting pretty on the bed.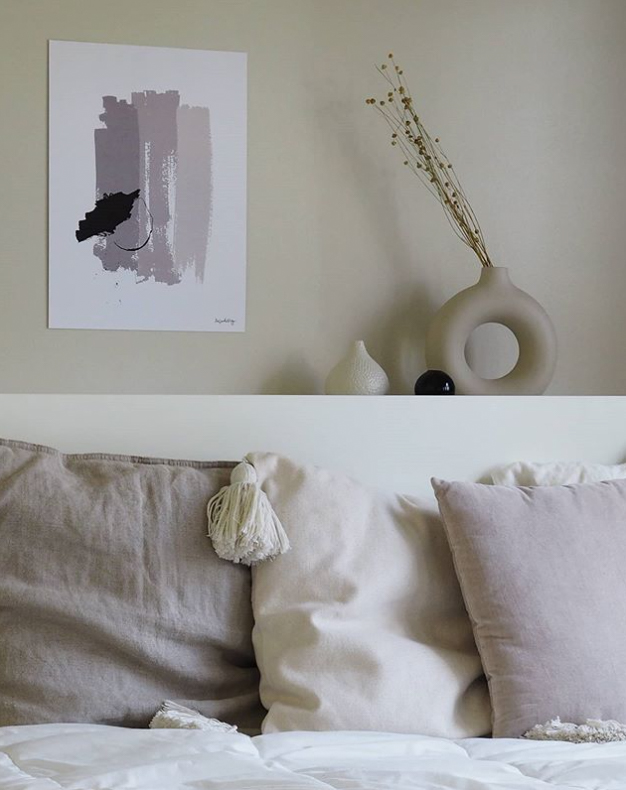 38. Book stack
A stack of books is always a good idea in an interior space. If you can find books that are in the same style and colour scheme as your interior design, then they will look so good in your space! Plus adding books to a room totally gives an added educational feel as there is always something to learn and read right at your fingertips.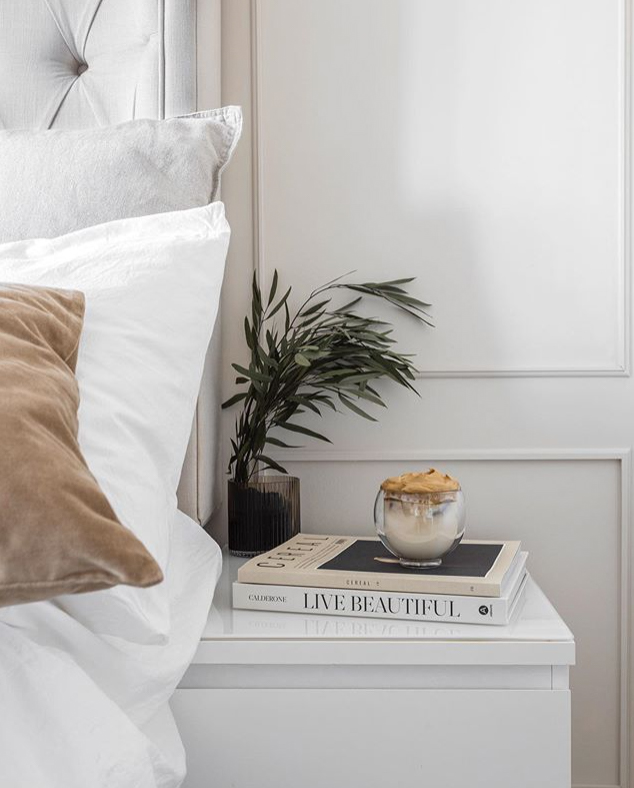 39. White and wood
White and wood is one of my absolute favourite combinations. The white looks so crisp and clean whilst adding so much serenity to the space. And the wood features bring in so much warmth and structure. What a beautiful and serene place to relax in!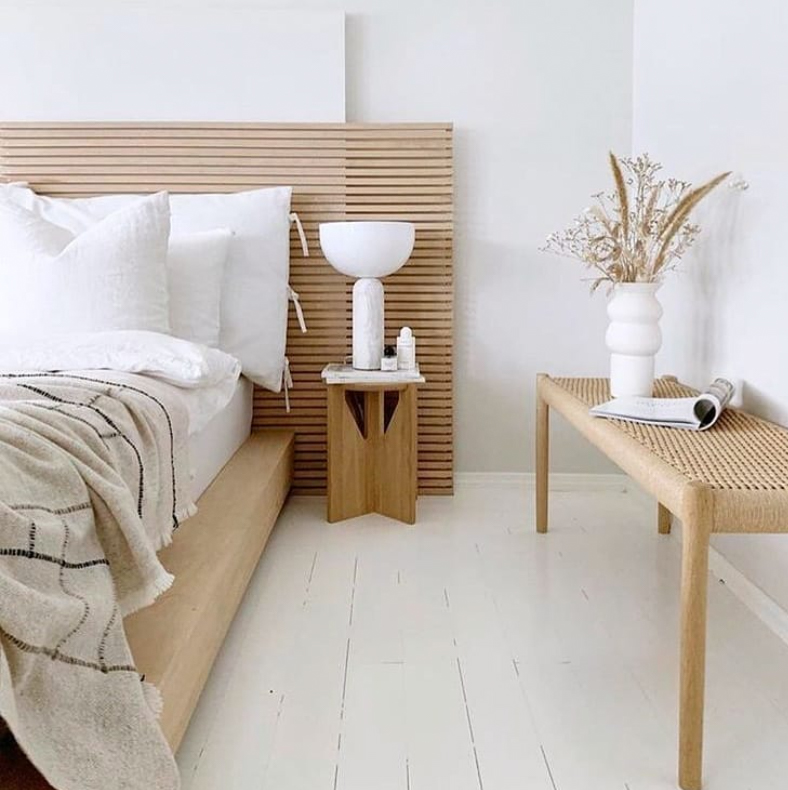 40. Forest wallpaper
If you're after that simple Scandinavian bedroom however still want something a little bold and creative, then wallpaper will be the perfect addition! And I absolutely love the greyscale colour scheme of this forest wallpaper that looks like it goes on and on.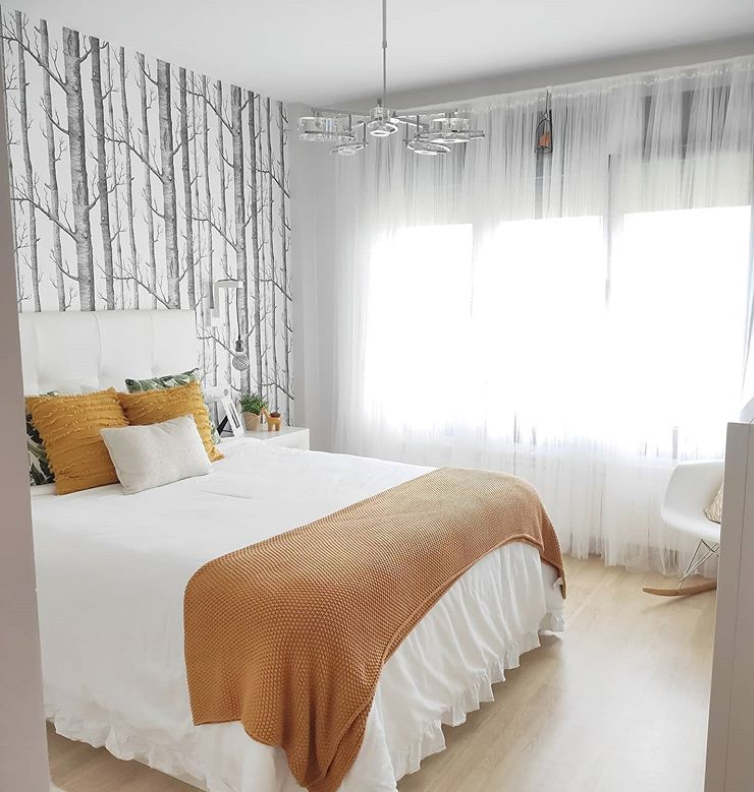 41. Sunset tones
Here's another way that your walls can be spruced up, whilst still remaining in the Scandinavian style realm. You could definitely get a little creative with paint here and choose some pastel sunset tones to spread across the wall. What a beautiful backdrop for a crisp white bed and indoor tree!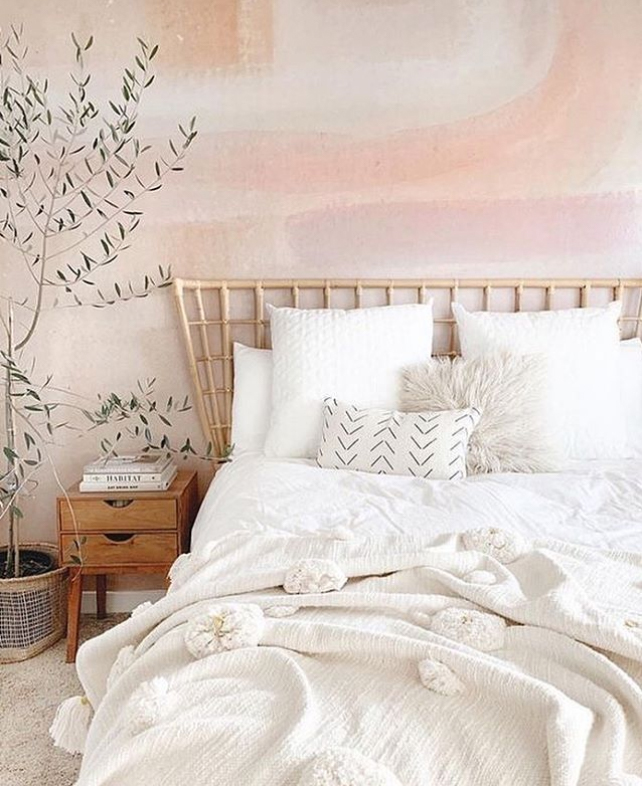 42. Fancy a cuppa?
Who fancies a cuppa?! Me! I would love to enjoy my morning (or afternoon) a hot cup of tea or coffee in this beautiful laid back space. The pampas grass in the corner is the perfect addition to fill a bare space. And I absolutely love the gallery wall with the floating glass frames. So beautiful!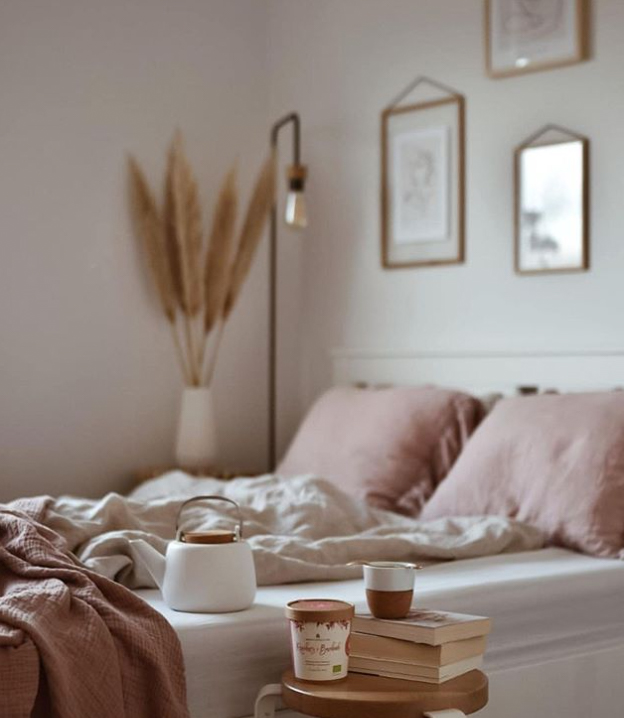 43. Woven features
If you're looking to bring some texture into your plain white bedroom, then check out this beautiful bedroom with the woven features! Woven finishes are very in fashion at the moment and look stunning when paired with neutrals, especially white. I love the woven pendant light that matches perfectly with the woven feature pillow as well as the woven floor cushion.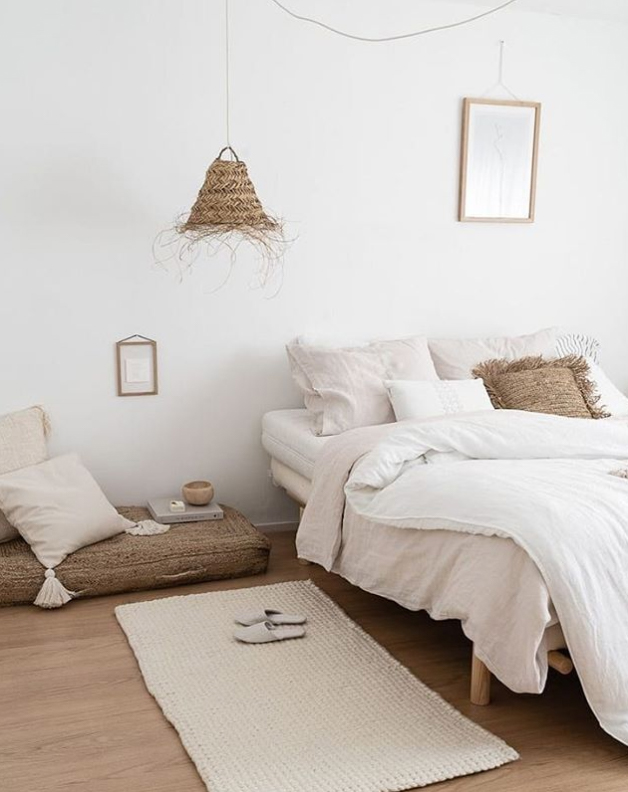 44. Small space, big impact
This bedroom proves that even if you are working with a small space, you can still make a big impact! I love the two floating shelves that are the perfect base for the frames which create beautiful gallery shelves. And the chest of drawers look great with the thriving greenery sitting on top of them!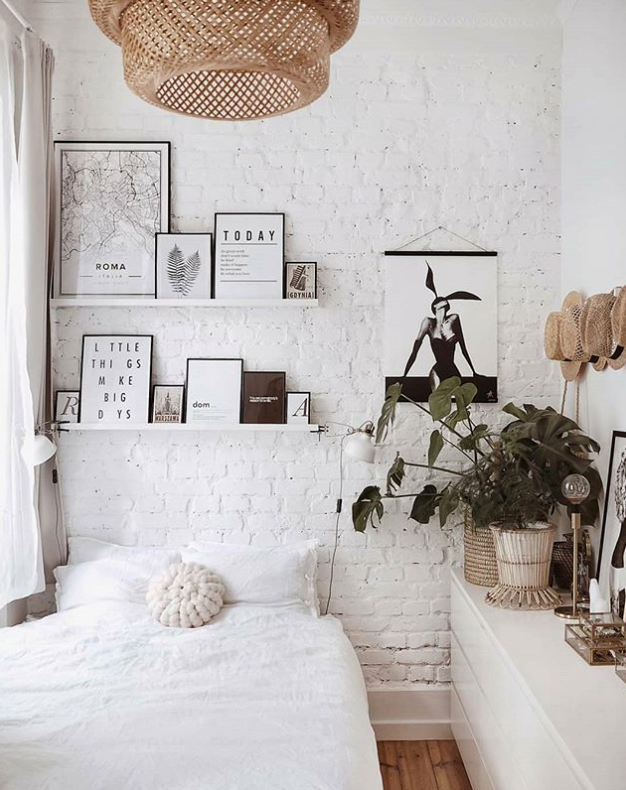 45. Personal touch
A minimal Scandinavian space doesn't have to be without personal touches and this bedroom is the perfect example of that! I love the M & M letters that give ownership to the space and the little soft toy makes this space feel much more personal and homely.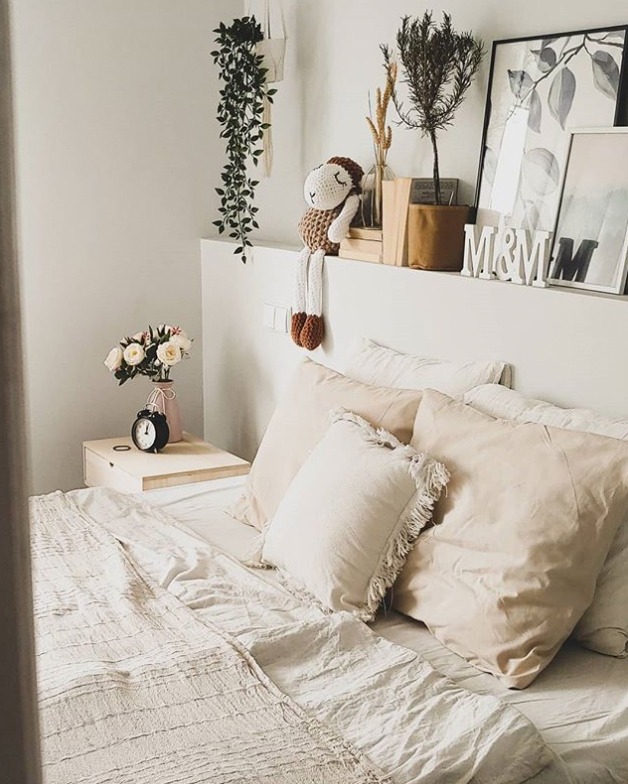 So there we have it, 45+ Scandinavian bedroom ideas! I absolutely love the Scandinavian style so it's so hard to choose my favourites. But I especially love the spaces that are mostly neutral with subtle pops of colour as well as the spaces that incorporate minimalist art to complement the space. What were your favourites? Let me know in the comments below!