If you're looking for a bathroom style that is classic, minimalist and totally on-trend, then Scandinavian style is for you. Characterised by simplicity and functionality, Scandinavian bathroom design is a popular choice for bathrooms across the five Nordic countries of Norway, Sweden, Finland, Denmark and Iceland since the early 20th century.
But over the last few years, it's really hit the rest of the world by storm. And it's easy to see why. The simple style is so versatile, making it the perfect choice for any space – be it large or small. And it combines the best of the design world, using hand-crafted textures and materials and light and bright touches to create a calming effect.
So, if you're looking to create a space that oozes style and lacks clutter (oh yes!), then dive into 40+ amazing Scandinavian bathroom designs and ideas.
1. Black details
If you want to go ultra-chic, then black is a must in your Scandinavian bathroom. I love the black hardware on the showerhead, around the shower and for the tapware. If you want to soften out this look, use simple white or light grey tiles paired with white and a touch of timber.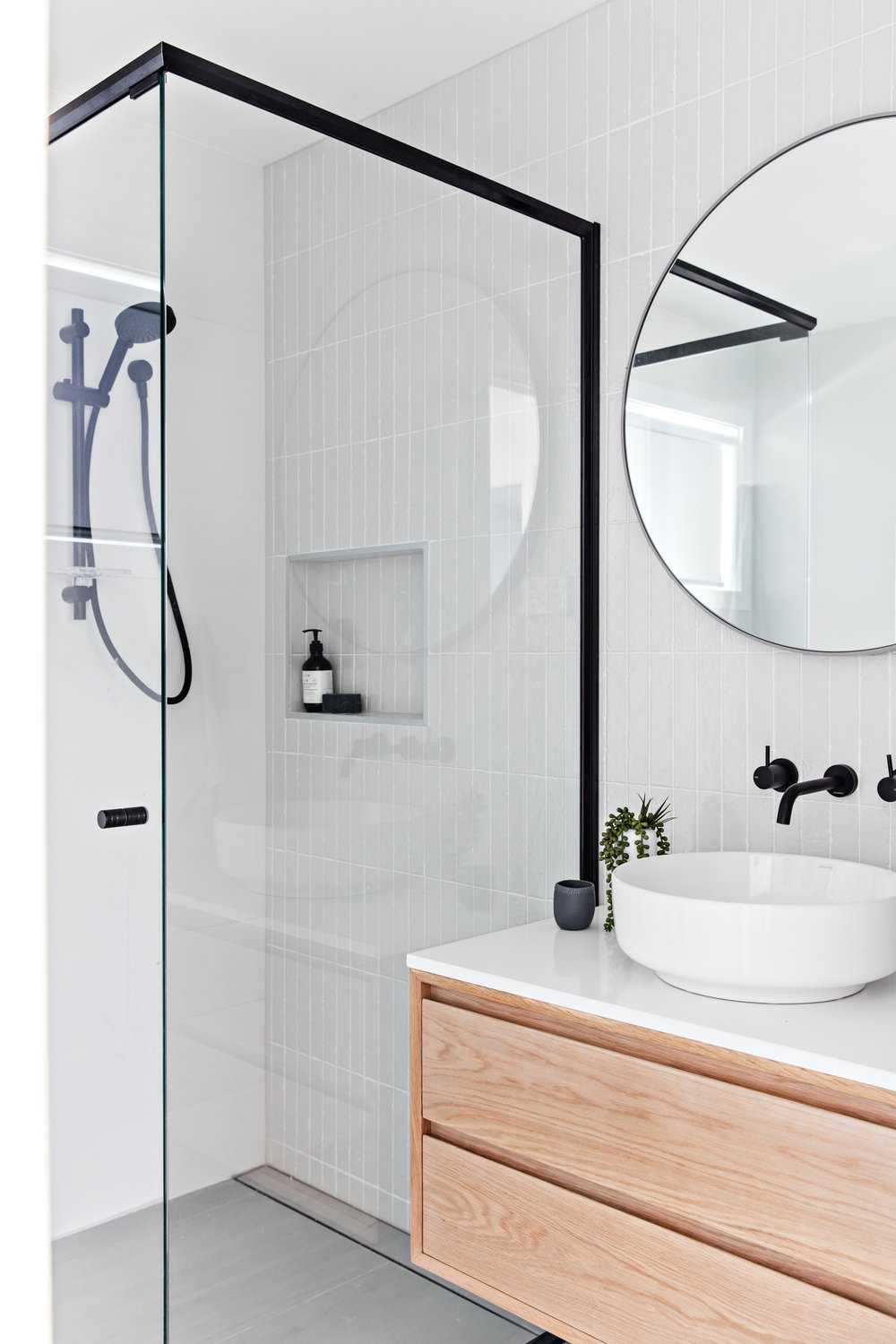 2. Handy hooks
The little details can make the biggest difference. And this couldn't be more true in this gorgeous bathroom. This space is warm and light-filled with timber, and brass tones. And my favourite part of it is the robe hanging on the hook. Little hooks like this are a simple addition to your space that will prove handy for hanging towels or robes!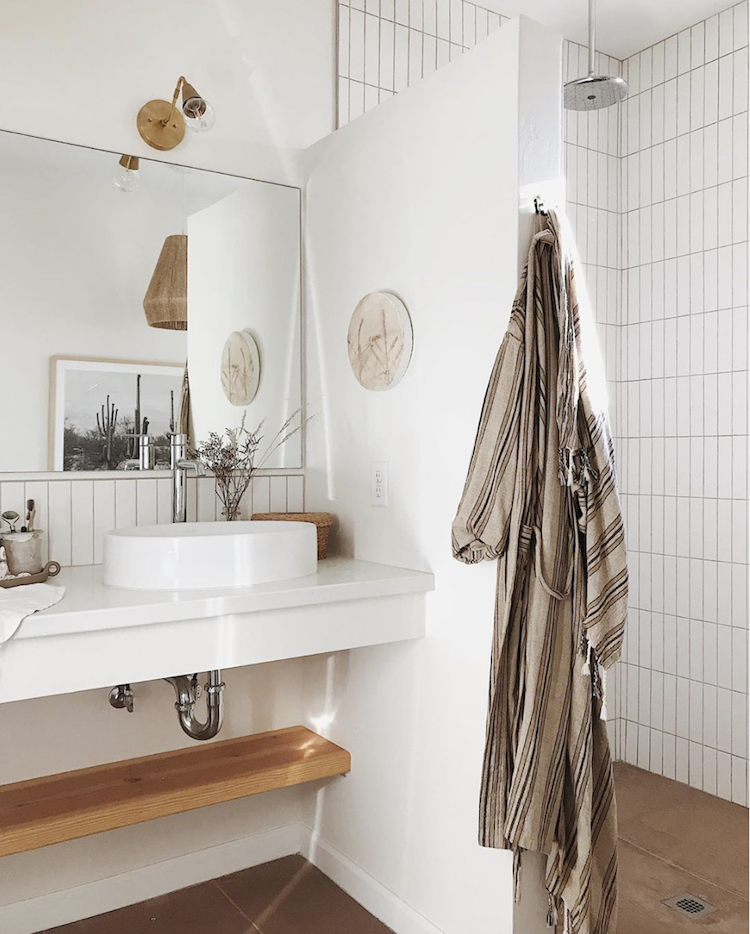 3. Plants
You can't create a Scandinavian space without some greenery. I love my indoor bathroom plants. The combination of water and steam keep them healthy all year round!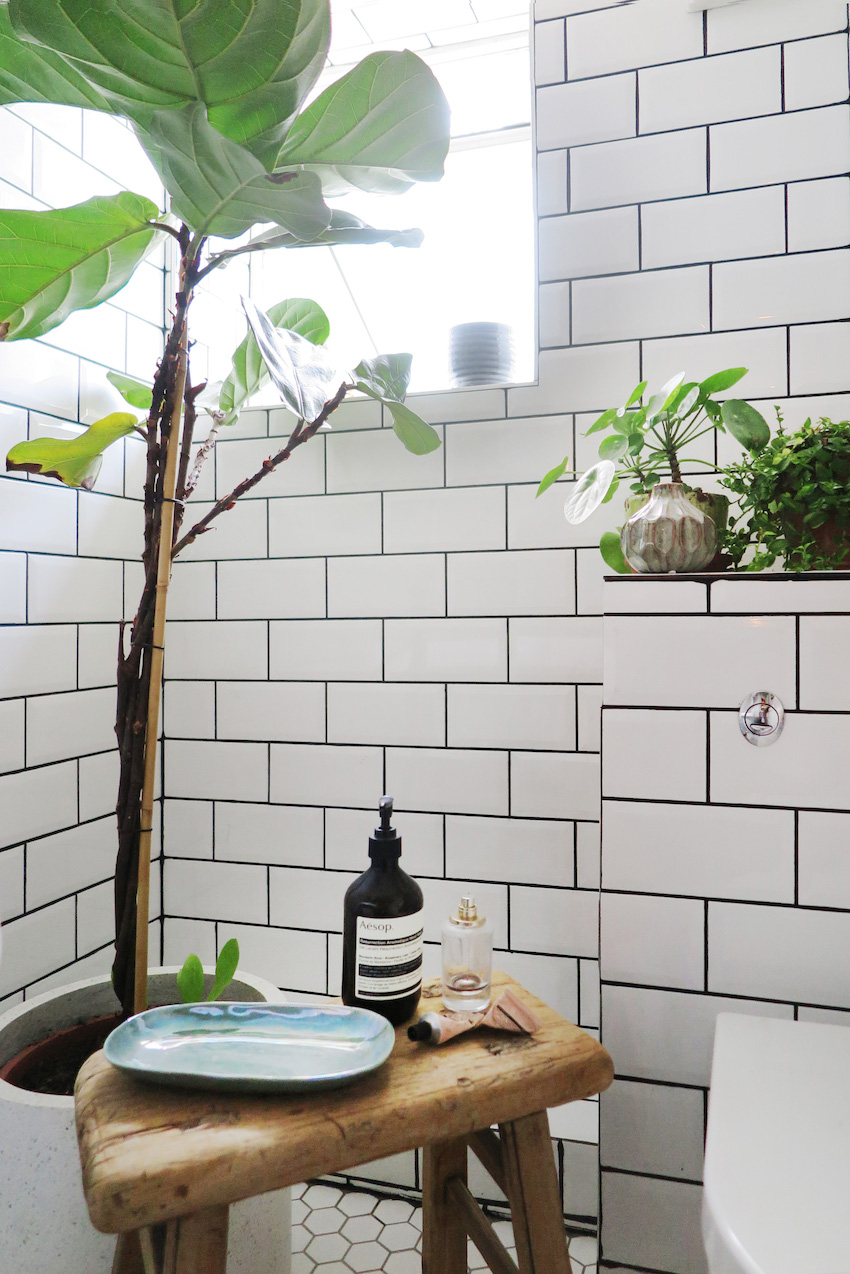 4. Hanging lights
It's true that bathroom lights can often be a little boring… But they don't have to be! Take inspiration from this quirky space and install a pod or two of industrial bathroom hanging lights. These lights add so much character to this space, standing out beautifully against the stark white walls.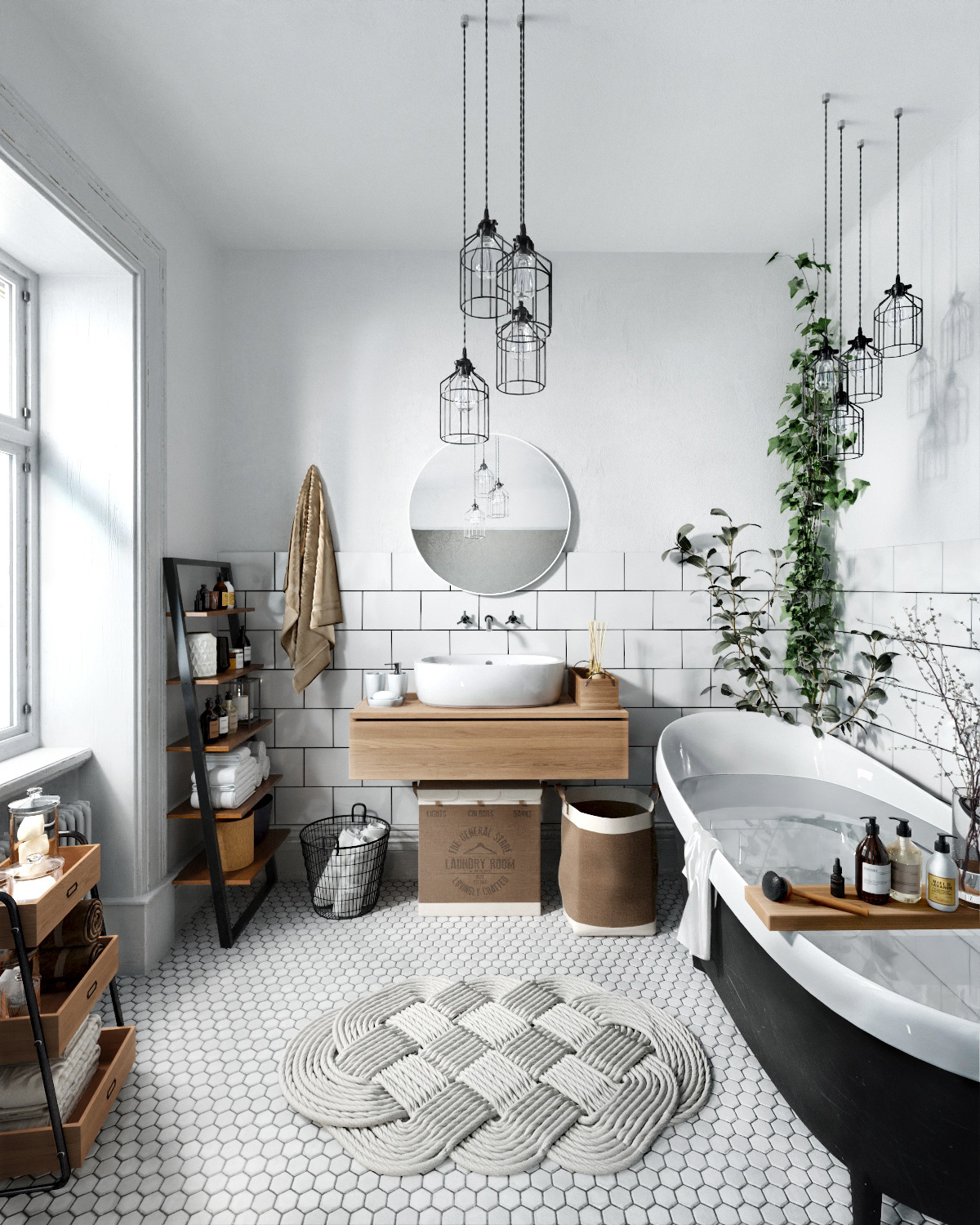 5. Concrete and marble
Would you look at the textures in this bathroom? This space is a feast for the eyes! It's simple, yet so stylish. I love how this design makes the most of this small, narrow space. The marble bathroom is stunning, and I especially love how the floor tiles are marble too. Plus, the concrete bathroom walls and ceiling are so beautiful and smooth.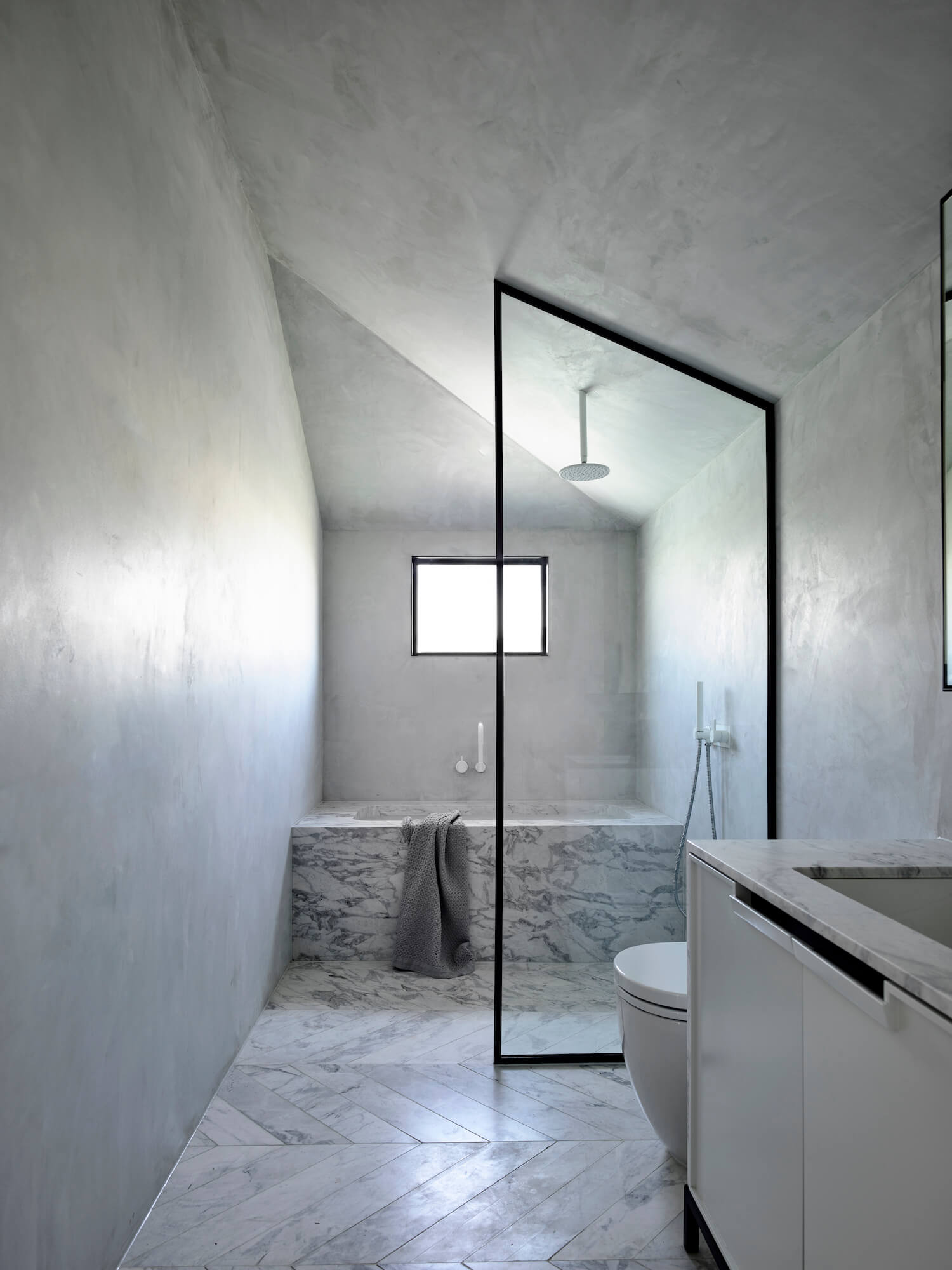 6. Light timber vanity
If this isn't classic Scandinavian style, then I don't know what is. When it comes to choosing your vanity, you can't go past light timber… It's easy on the eyes, looks beautiful and is versatile with so many textures and colours.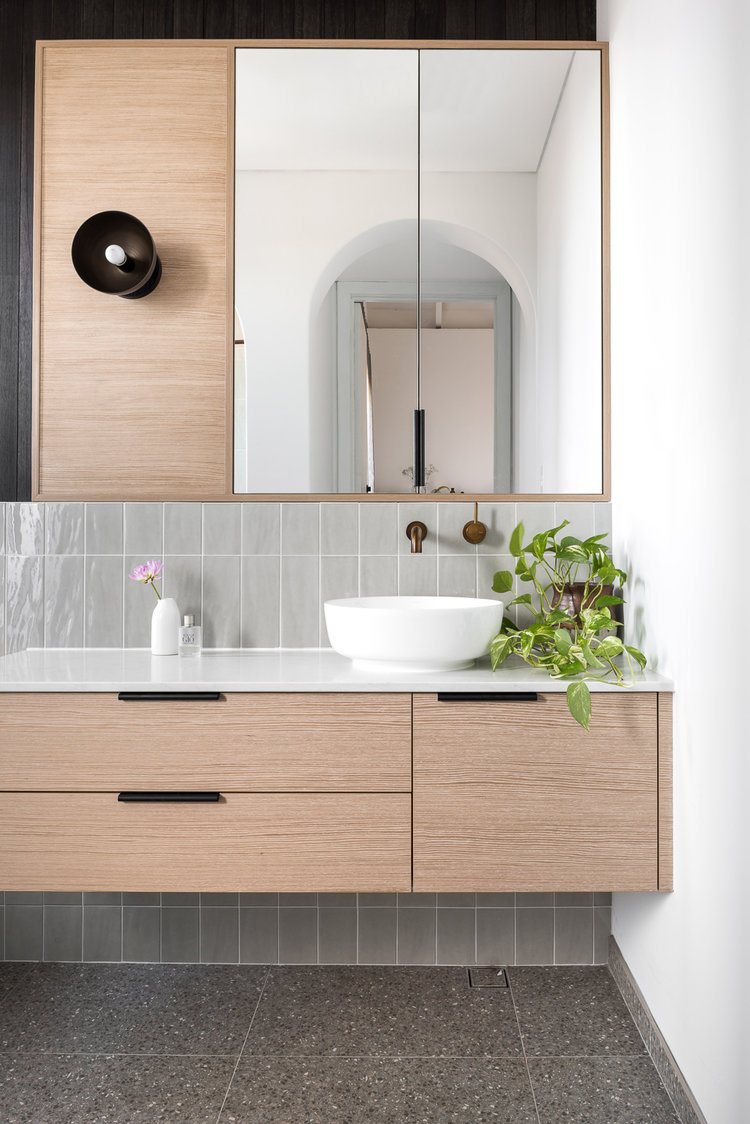 7. Handy storage
When it comes to bathroom design, there's nothing more frustrating than having no storage. Ever tried squeezing all of your makeup and toiletries into one tiny drawer or stashing it all under the sink? Doesn't work so well… Save yourself the hassle and install a nice large storage unit, like this handy set of drawers. You'll have room for everything!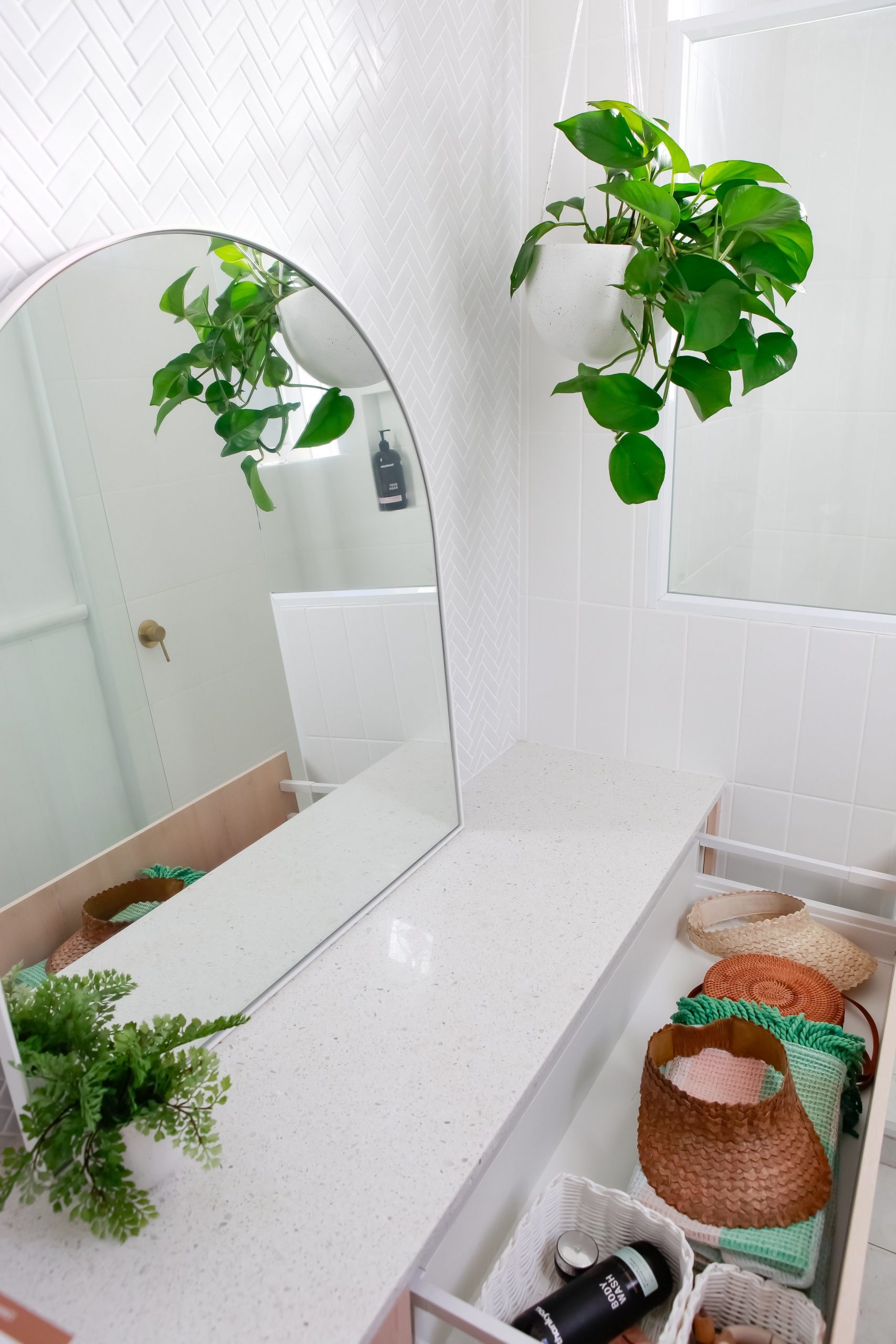 Having the right cupboards and vanities is everything in a bathroom, so make sure that you check out these bathroom storage ideas to get the right solution for your home.
8. Blank canvas
Create a serene, minimalist space by keeping things simple with white and grey tiles. Just looking at this bathroom makes me feel relaxed. And that bath would be the perfect place to unwind after a long day of work.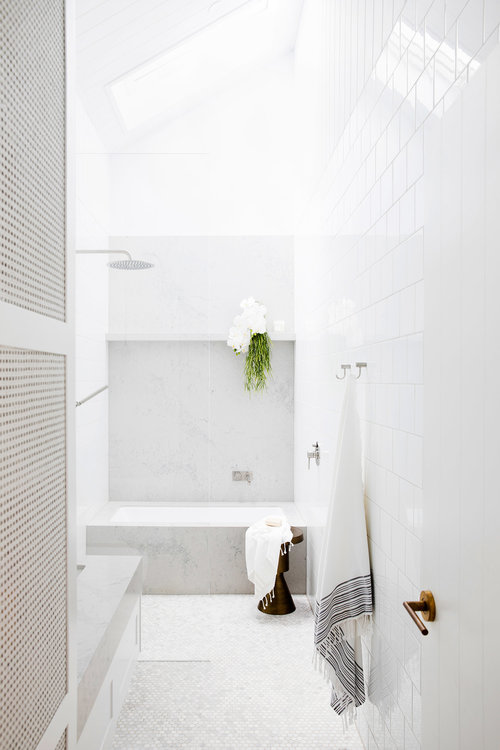 9. Hang a towel
While Scandinavian bathrooms can be simple and understated, they don't have to be completely void of colour. You can inject life into your bathroom by hanging a towel over the bath or on a hook on the wall.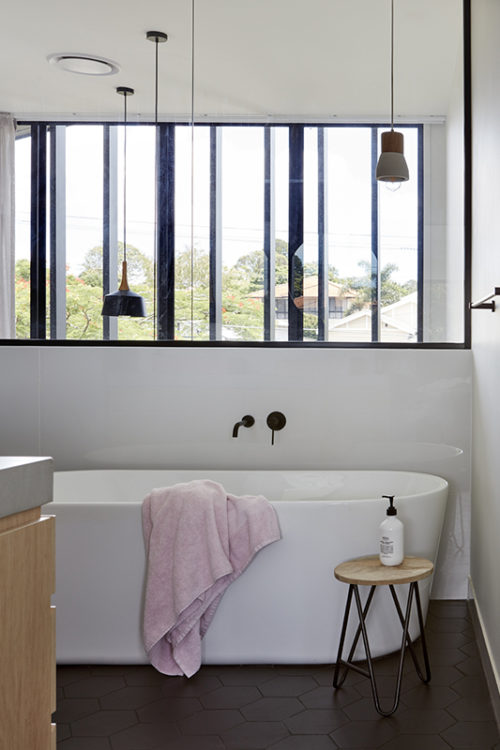 10. Exposed brick
Take your modern Scandi bathroom to the industrial side by incorporating edgy details. If you have a brick wall, leave it exposed to add some rawness and industrial bathroom vibes. I love how this creates a beautiful feature in what is otherwise a very simple, neutral bathroom.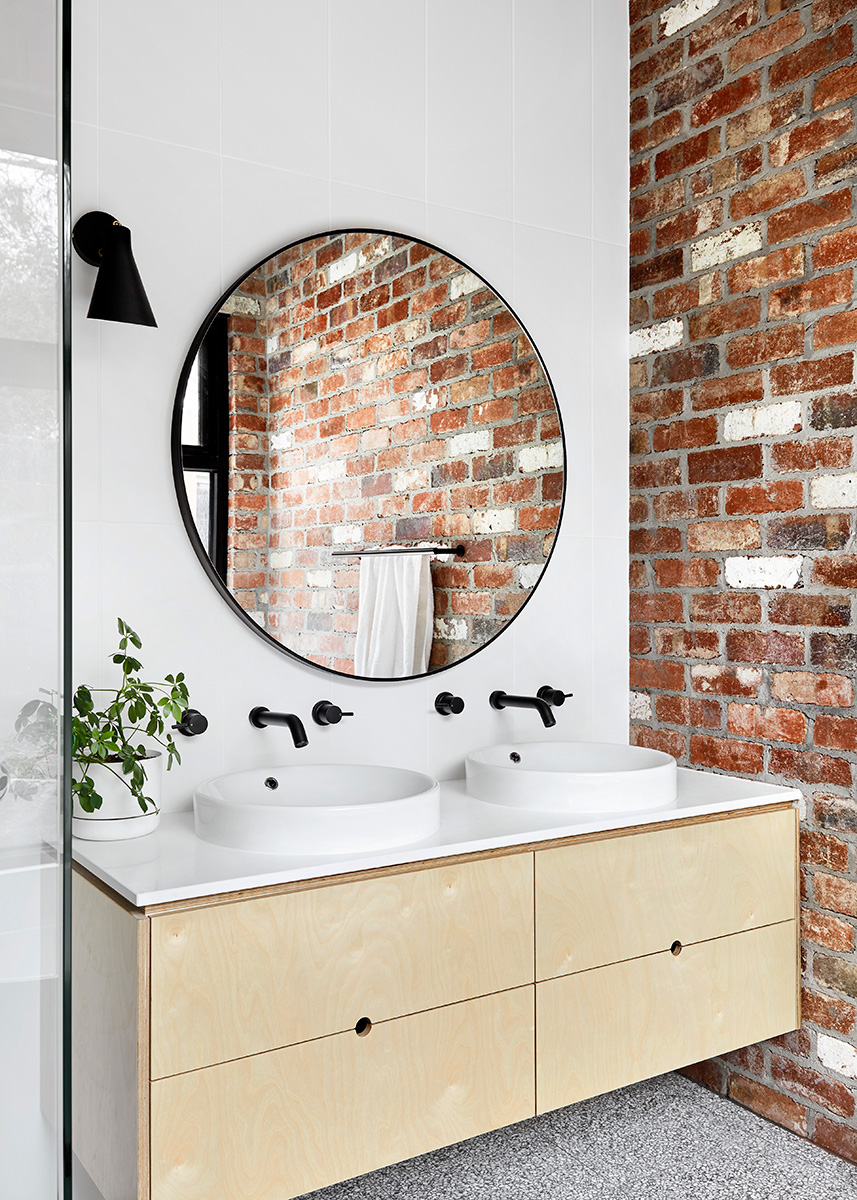 11. Black and grey
You can't go wrong with this colour combination – it's mature and stylish all in one. If you want to recreate this look, use large grey tiles and install a dark grey or black timber vanity. Plus, place a vase of fresh flowers on the benchtop to inject your space with colour!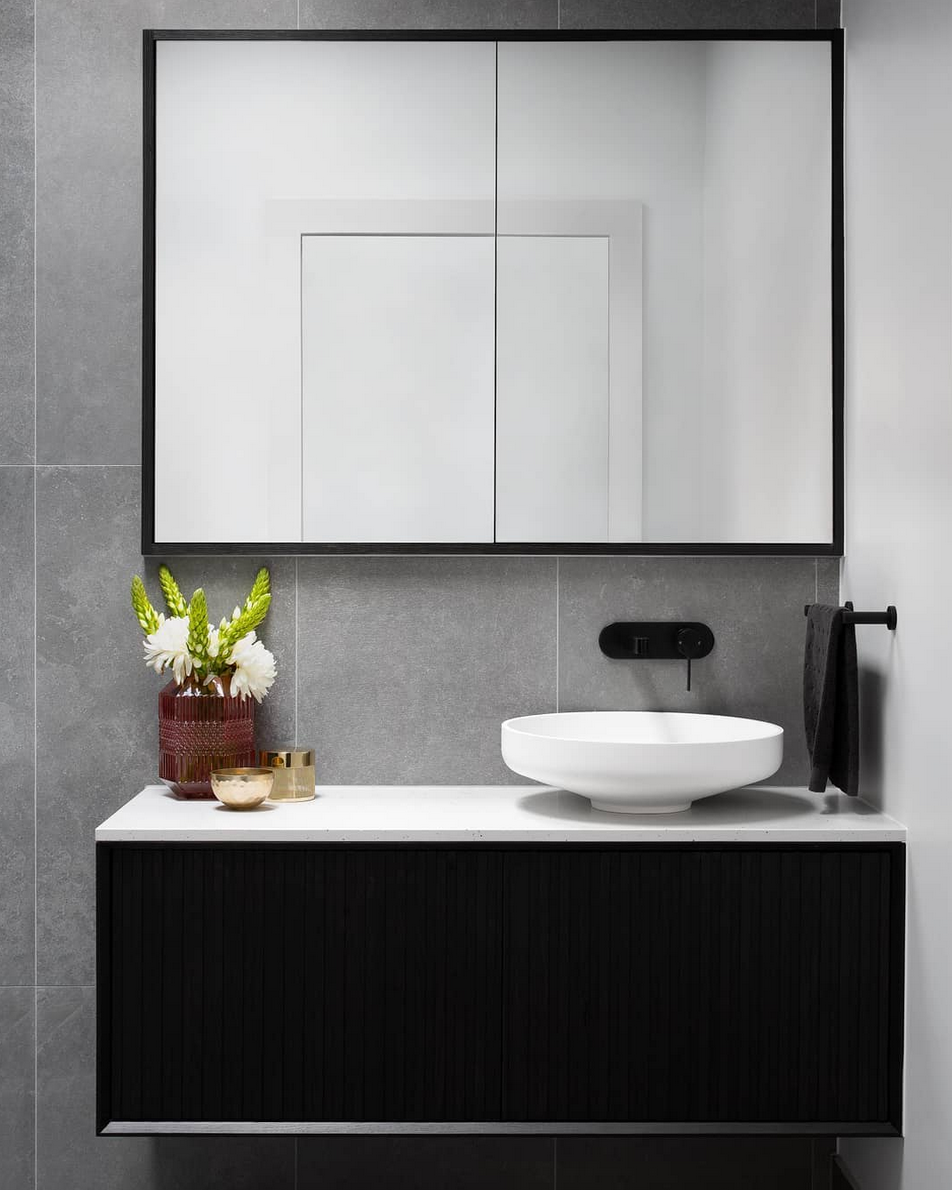 12. Brass mirror and lights
There aren't many design details I love more than brass… It's beautiful, subtle and rustic all at once. And it's so easy to incorporate into your bathroom. You can simply switch out old taps for brass taps or add lights with brass fixtures to your wall. Or, if you want an easy addition to your bathroom, simply hang a brass mirror – beautiful!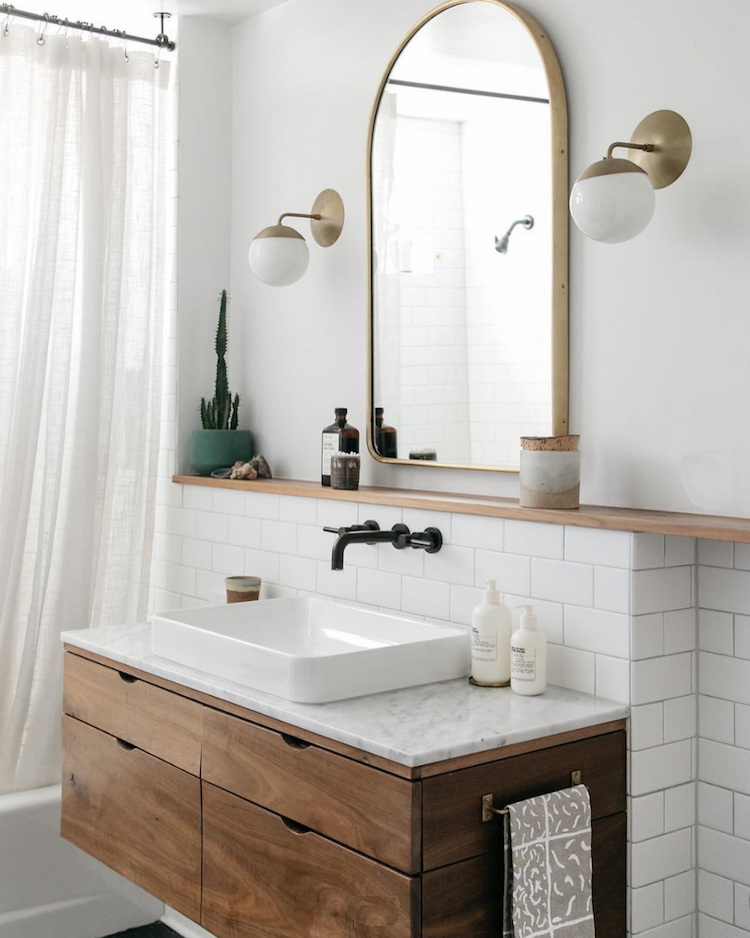 13. Chevron diamond tiles
While subway tiles have been taking over the design world, there's always room for more shapes and chevron diamond tiles are so special. They add so much interest to a space, taking it from so-so to WOAH!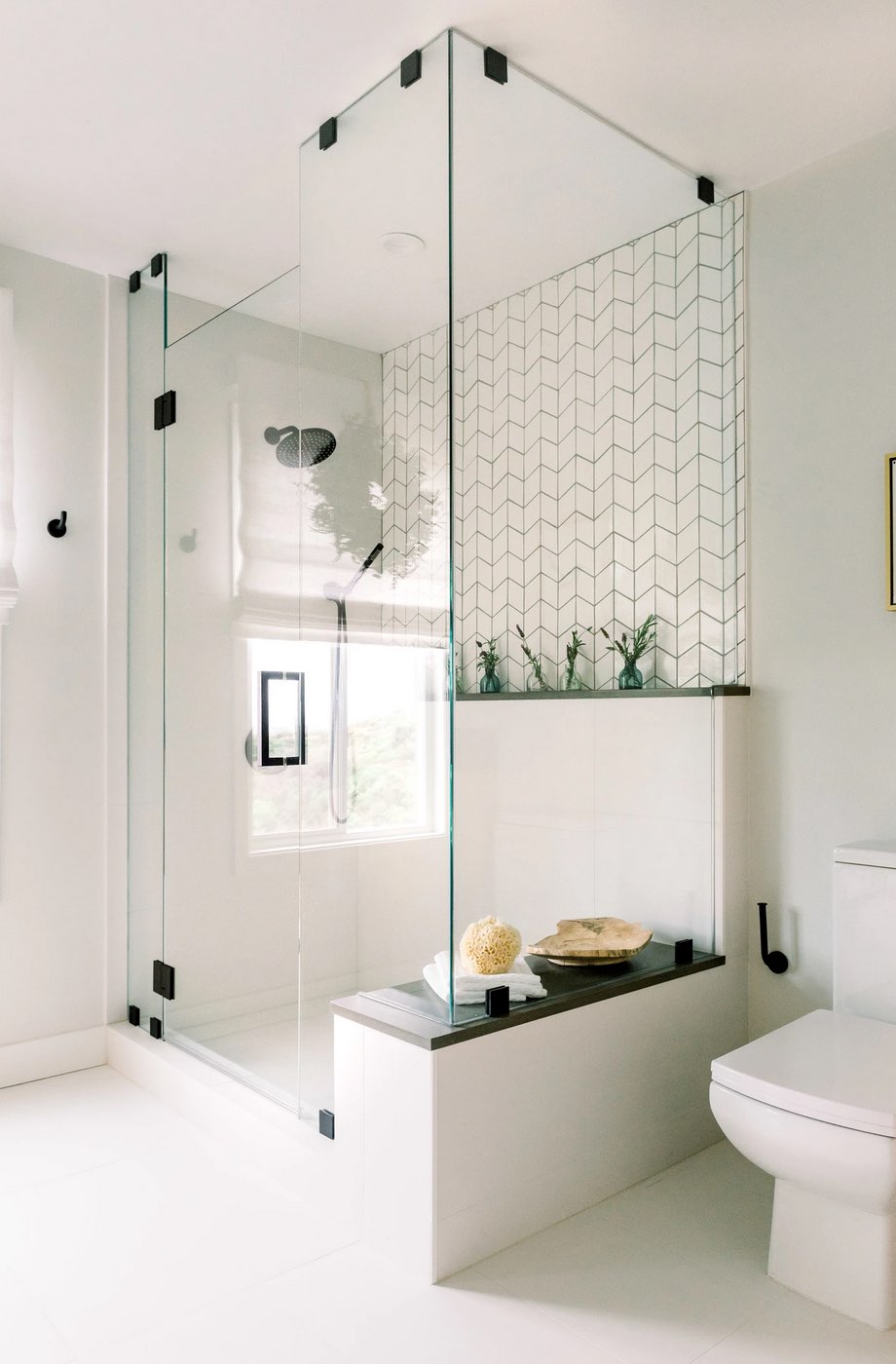 14. Timber shelving
As I've already mentioned, storage is a must in any bathroom. But just because you've got to have it, doesn't mean it needs to look daggy. Take inspiration from this bathroom design which combines a mirror and storage in one. And the best things about it – there are two! So you don't have to wait your turn in the morning when someone else is hogging the sink…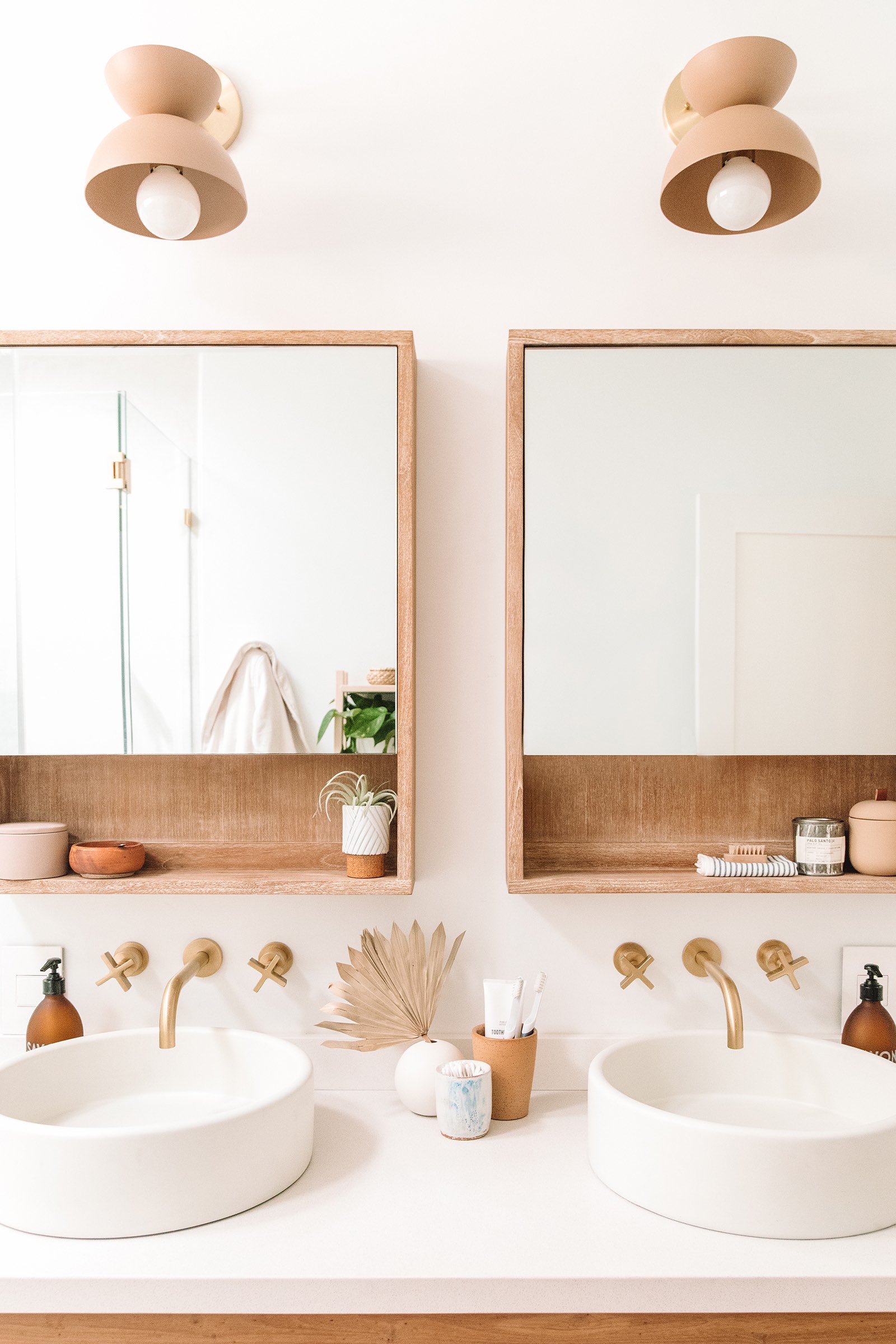 I think that the timber looks fab and there are so many other ways to incorporate it into your room, here are some wooden bathroom ideas.
15. Natural marble
Make your Scandi bathroom look luxurious by installing marble elements. The countertop on this vanity has got me swooning – it's sleek, modern and stunning. Plus, I love the tiny floor tiles – they make this space so much more interesting.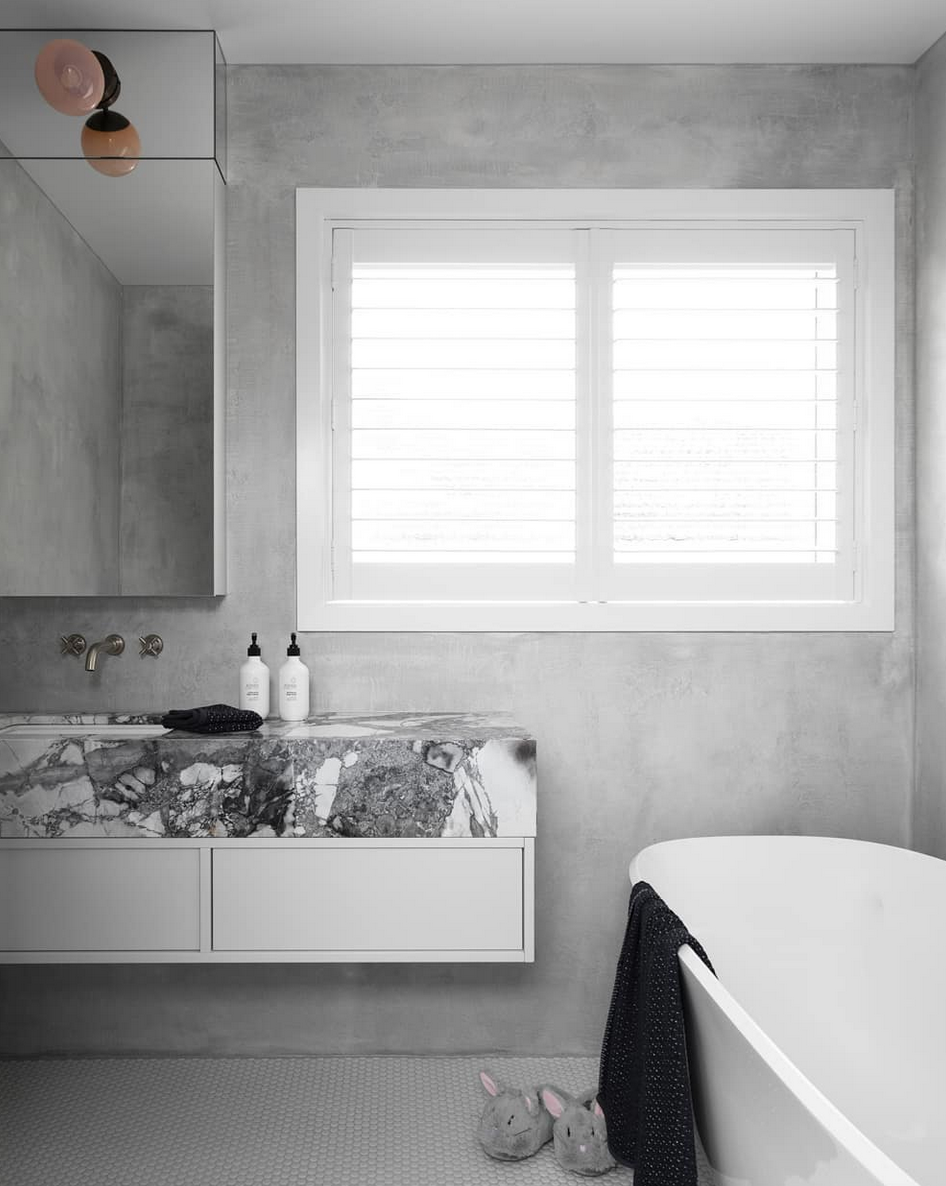 16. Different textures
Just because you choose a Scandinavian style bathroom doesn't mean you need to stick to one style of white subway tiles. Have a little bit of fun and combine different textures, colours and shapes. This bathroom design is the perfect example of this – it combines light green tiles, stone-style tiling around the bathtub and on the floor, and black hardware for the taps!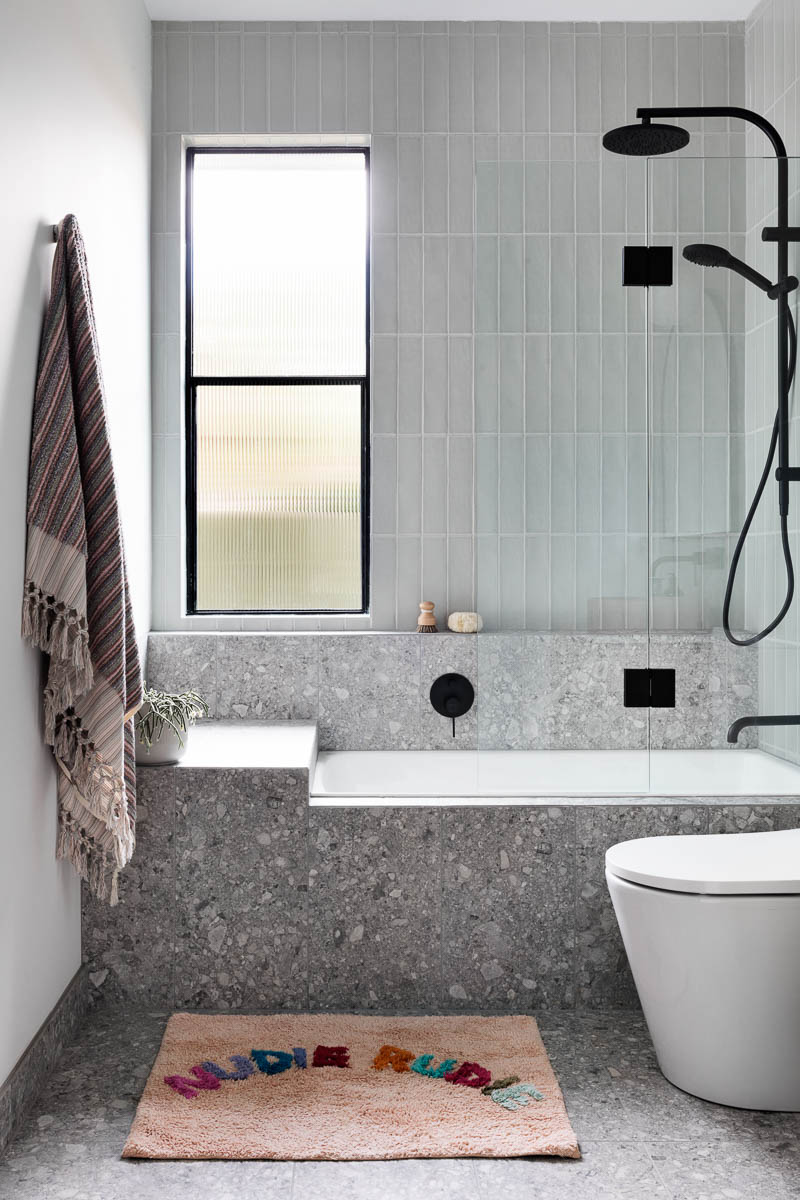 17. Simple
Sometimes less is more – and that's the case for this tiny bathroom. Small square tiles combined with understated cabinetry makes for a clean, polished look.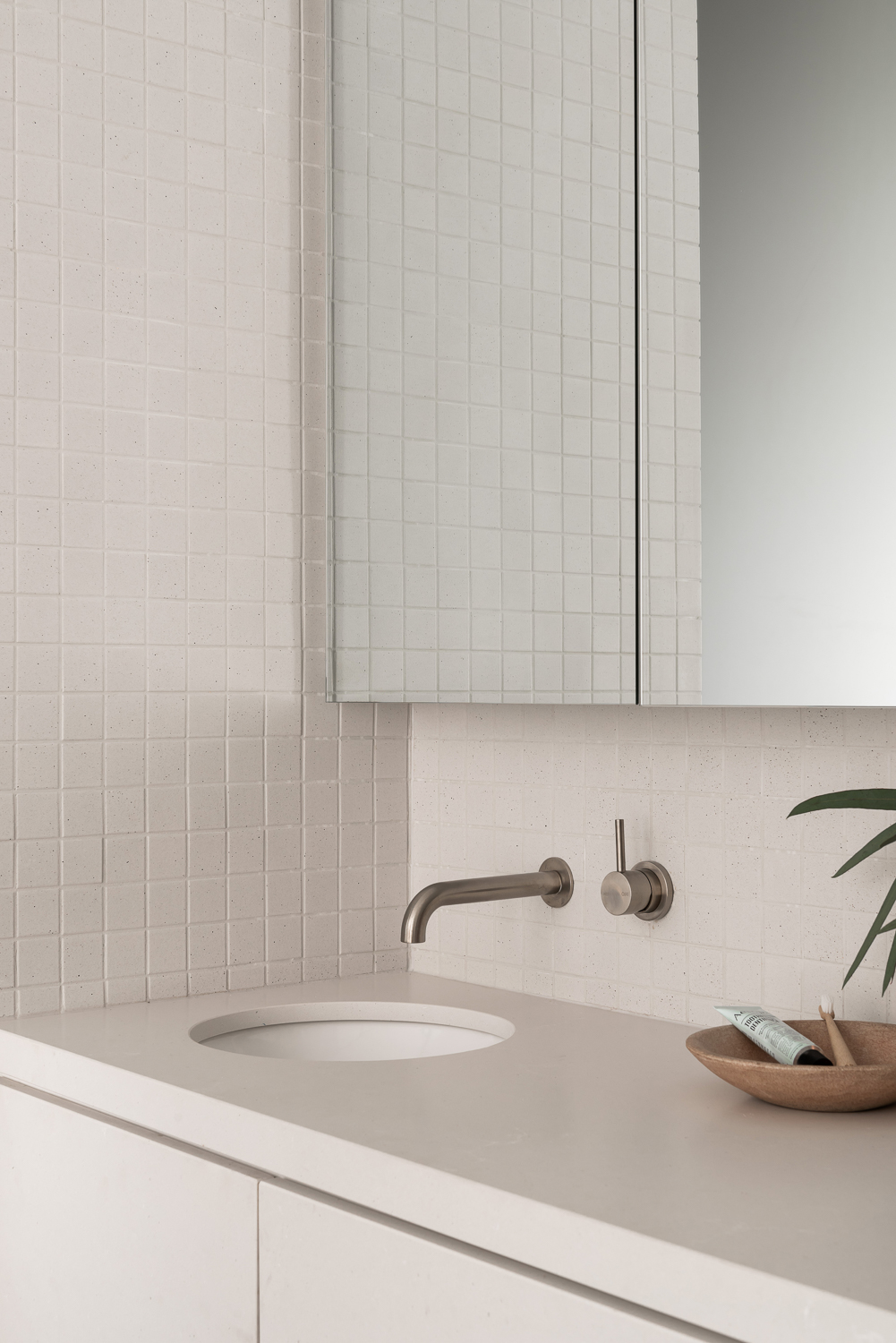 18. Art deco style
If you'd rather create a space that's overstated, then this bathroom design is perfect for you. While it's not traditionally "Scandi," it retains some traditional elements and combines them with fun, quirky colours and patterns. And one simple way to infuse life into your space is to re-tile your bathroom with fancy art deco tiles, like these green ones!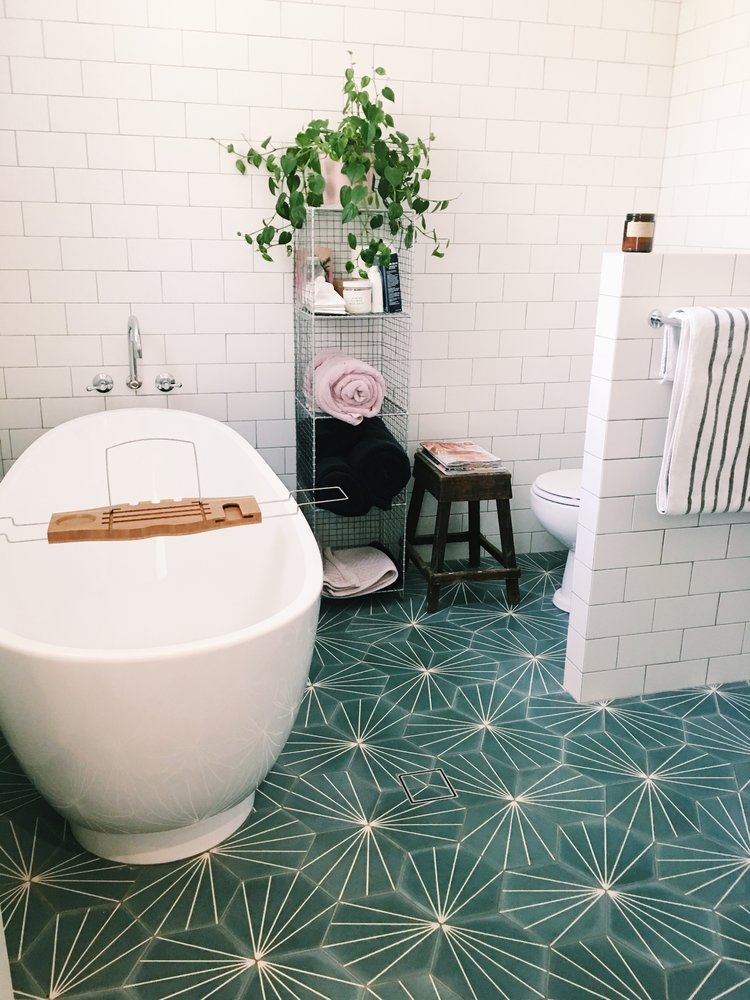 19. Finnish design
Get creative with your Scandinavian bathroom by taking inspiration from this Finnish designed bathroom. It's simple, it's minimal and it's cute! I personally love the mirror/timber shelf installation. This is not only practical but it also provides an opportunity to show off your style and decorate with vases and other little items. Plus, how cool is the light on the upper right-hand side?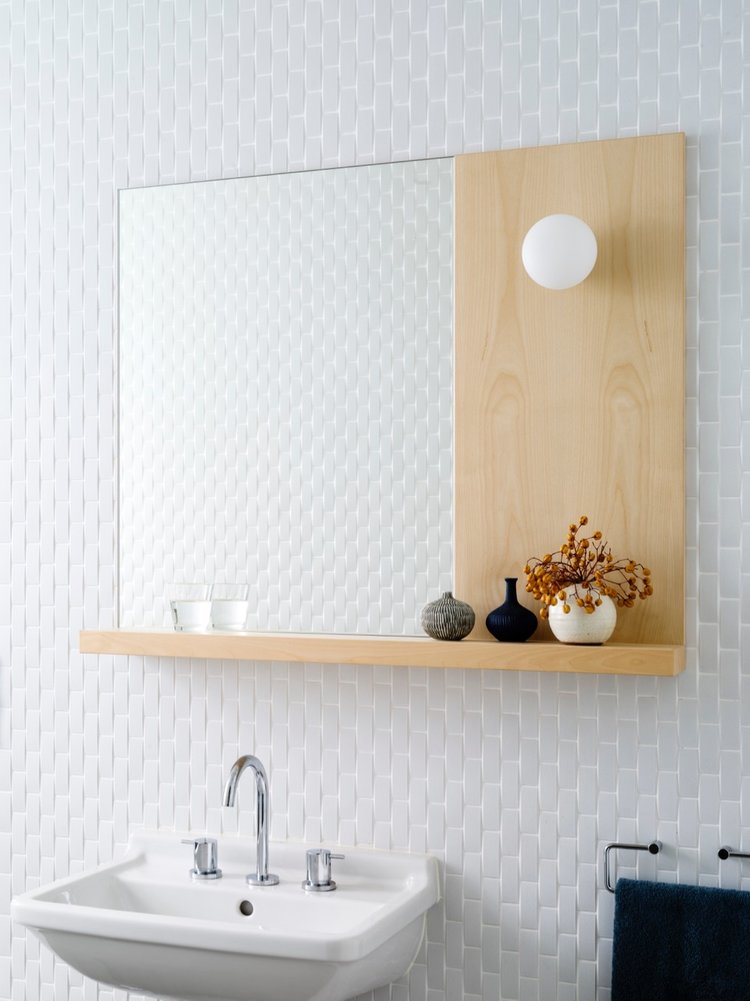 20. Vertical subway tiles
While white subway tiles have been the go-to for a long time, you'll be happy to know there are alternatives. And grey vertical tiles might just be the right choice for you! I love how these tiles all look different, creating a beautiful pattern on the far wall of this bathroom.
This grey bathroom is together throughout the space with the installation of a dark grey/black timber vanity, grey floor tiles and a towel thrown over the side of the bath.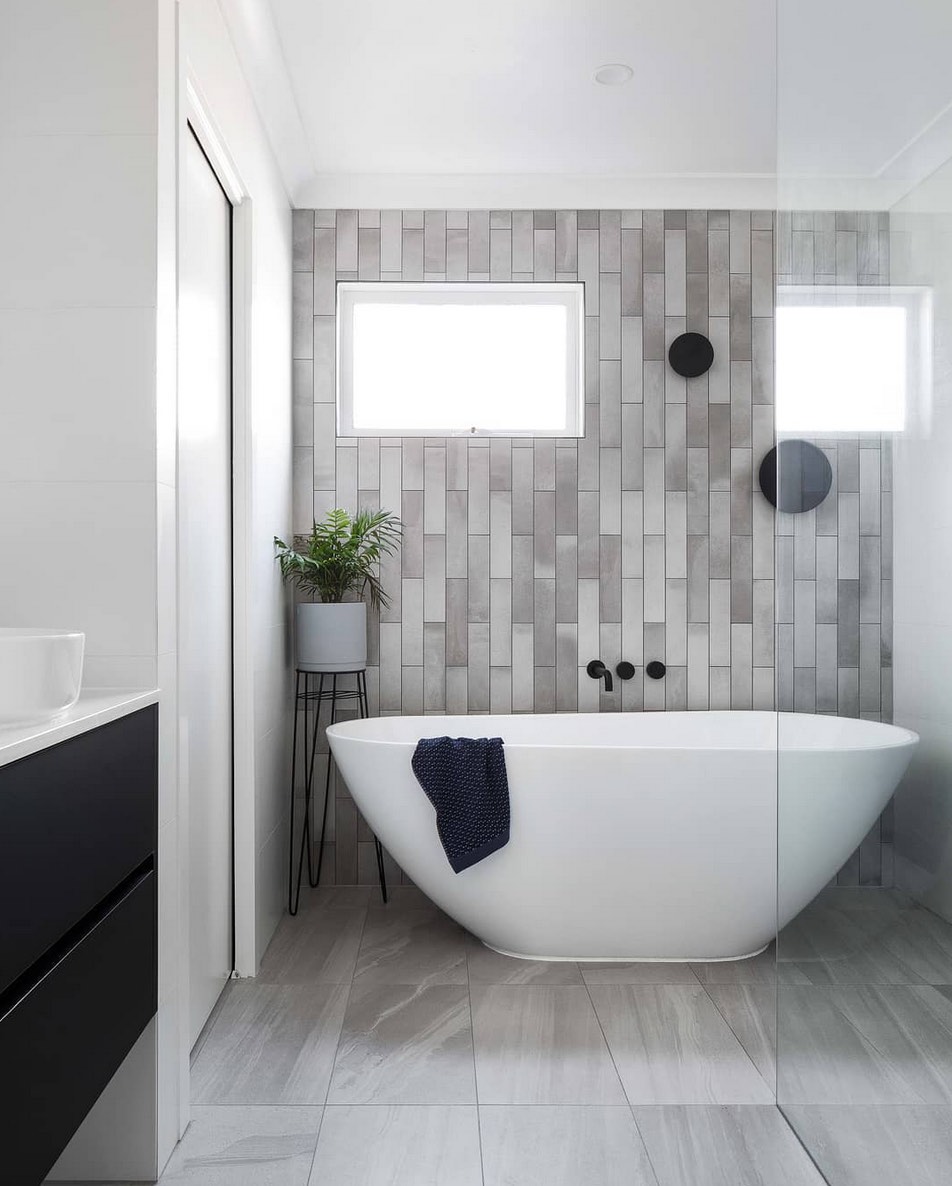 21. Timber and stone
When designing your bathroom, it can be tempting to stick to one kind of material for the sake of simplicity. But why not have some fun by combining textures, colours and patterns?
This modern bathroom does just that by using timber panels on one wall and the floor and then using marble-like square-cut stone tiles throughout the wet space. And I love the added detail of the black hardware – it stands out beautifully!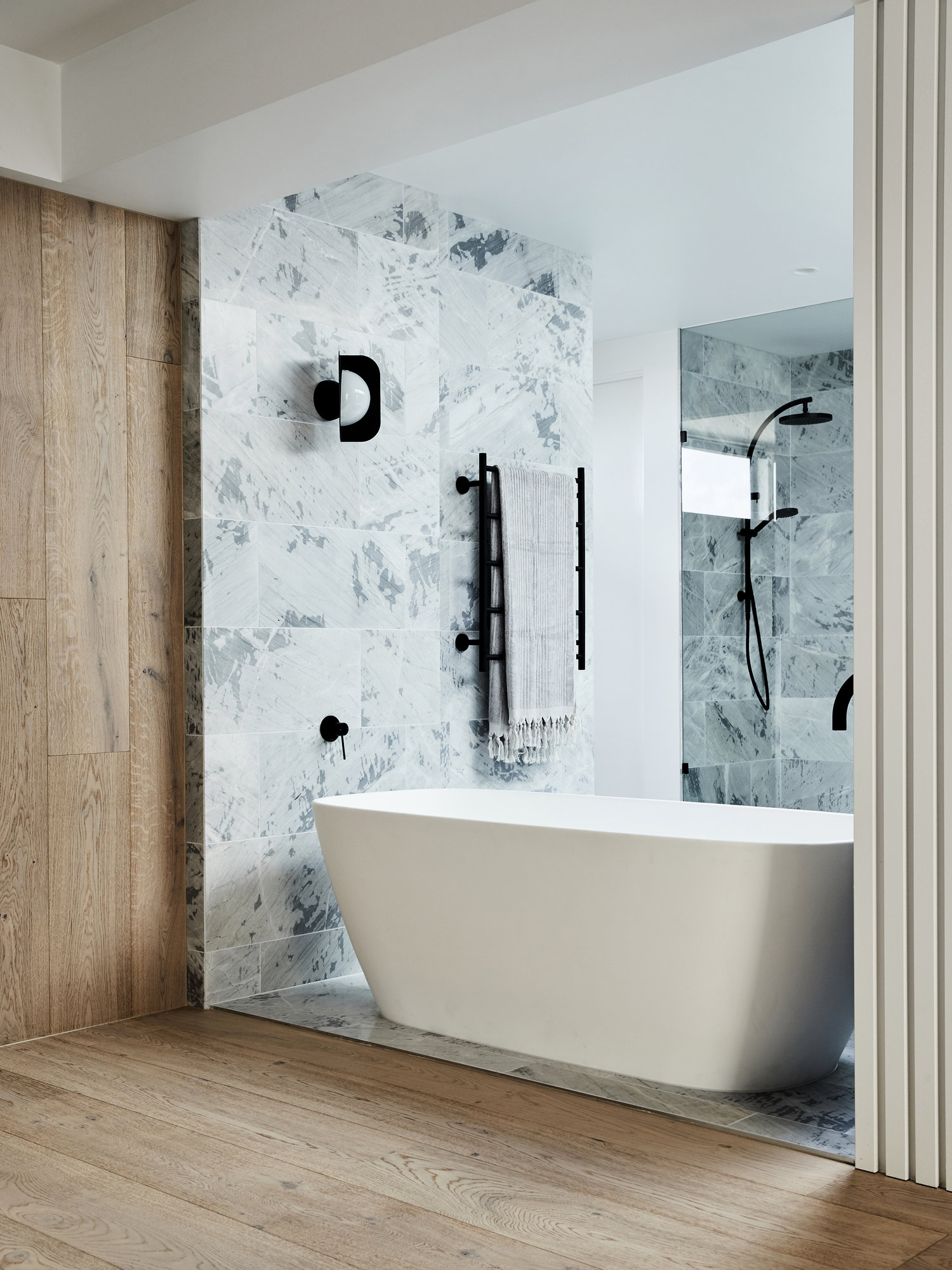 22. Plants galore
Plants thrive in bathrooms – so why not pack them in? Plus, they look stunning against timber, white and other neutrals. And they'll add all the life you need in your new bathroom.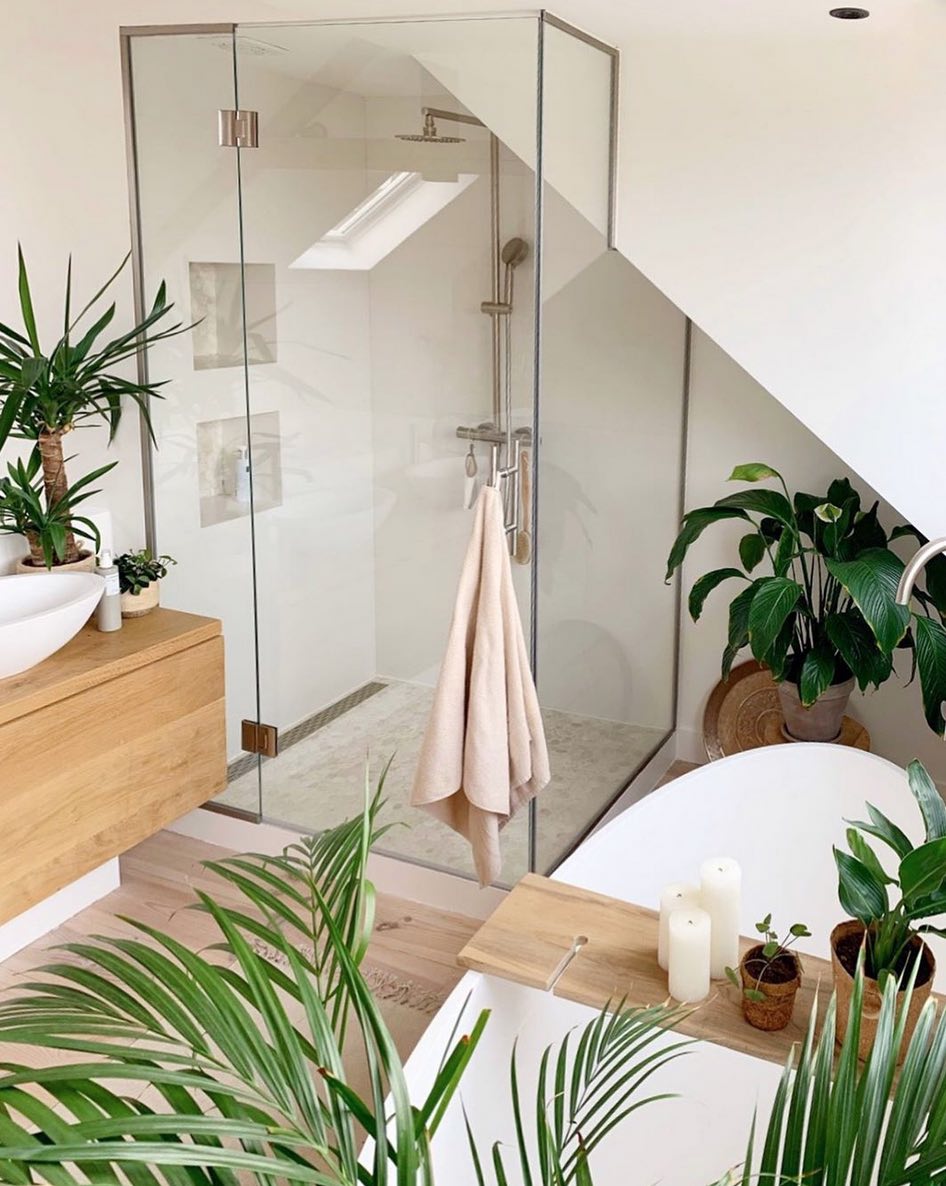 Here are some other amazing examples of just how great bathroom plants can really add to a space.
23. Tiny tiles
How's this for modern design? These tiny tiles make up a large, striking feature wall. And they look great with a clean light timber vanity topped with a marble slab. Plus, how fun is that wall light? The brass fixture adds all the warmth this gorgeous space needs. You'll definitely want to get a tile grout cleaner if you got tiles this small though.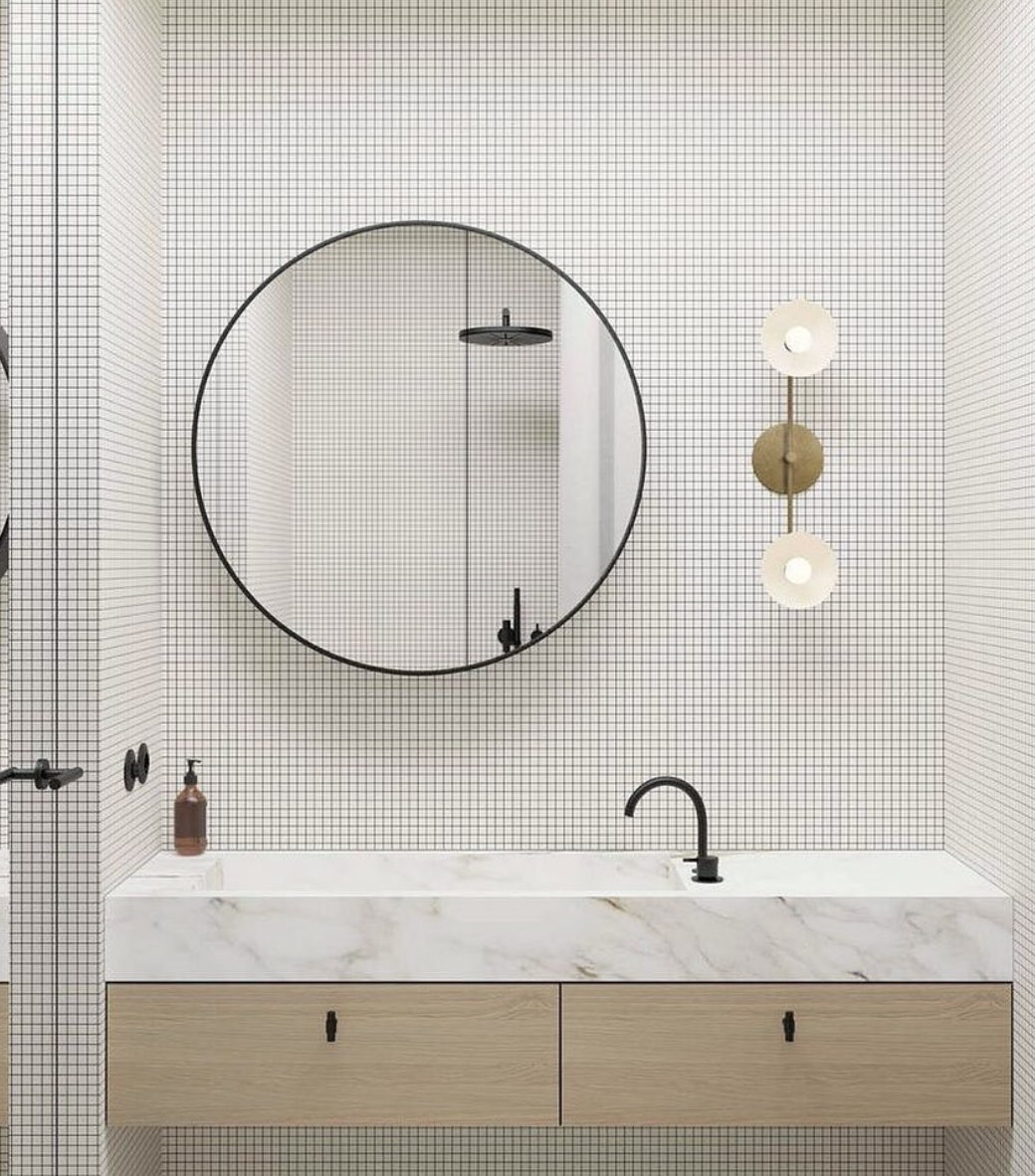 24. Mosaic tiles
Take Scandinavian style and merge it with Moroccan style, and you'll get this delightful bathroom. This just proves that mosaic tiles don't have to just be confined to the floor – you can use them on your walls as well. So get creative, choose a fun, colourful tile and decorate your bathroom with it!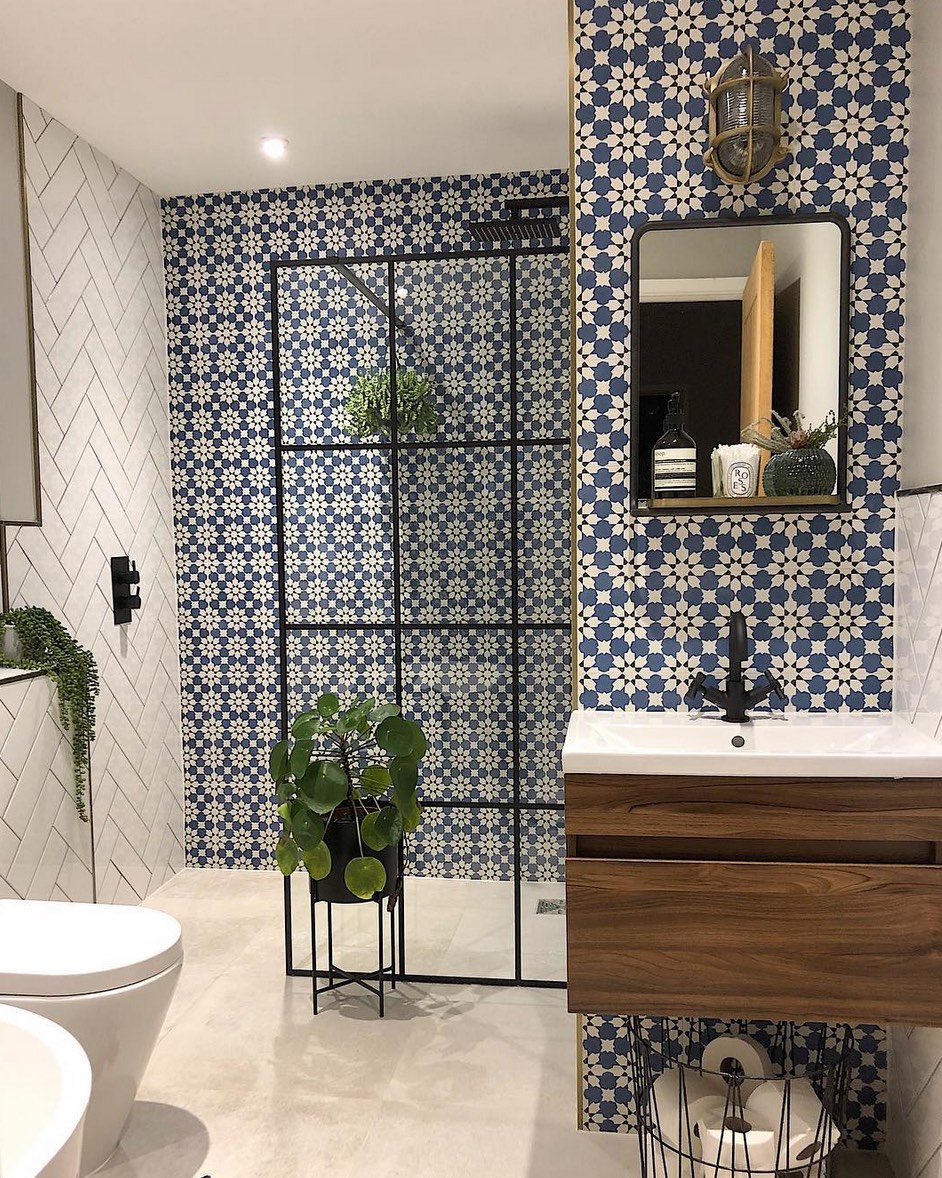 25. Timber bathroom
In my world, there's no such thing as too much timber… even when it comes to bathrooms! And yes, those are timber steps up to the bath. This bathroom design is a little less classic Scandinavian and a little more rainforest retreat – and I'm here for it. Add in some plants and you've got a peaceful oasis to retreat to at the end of the day.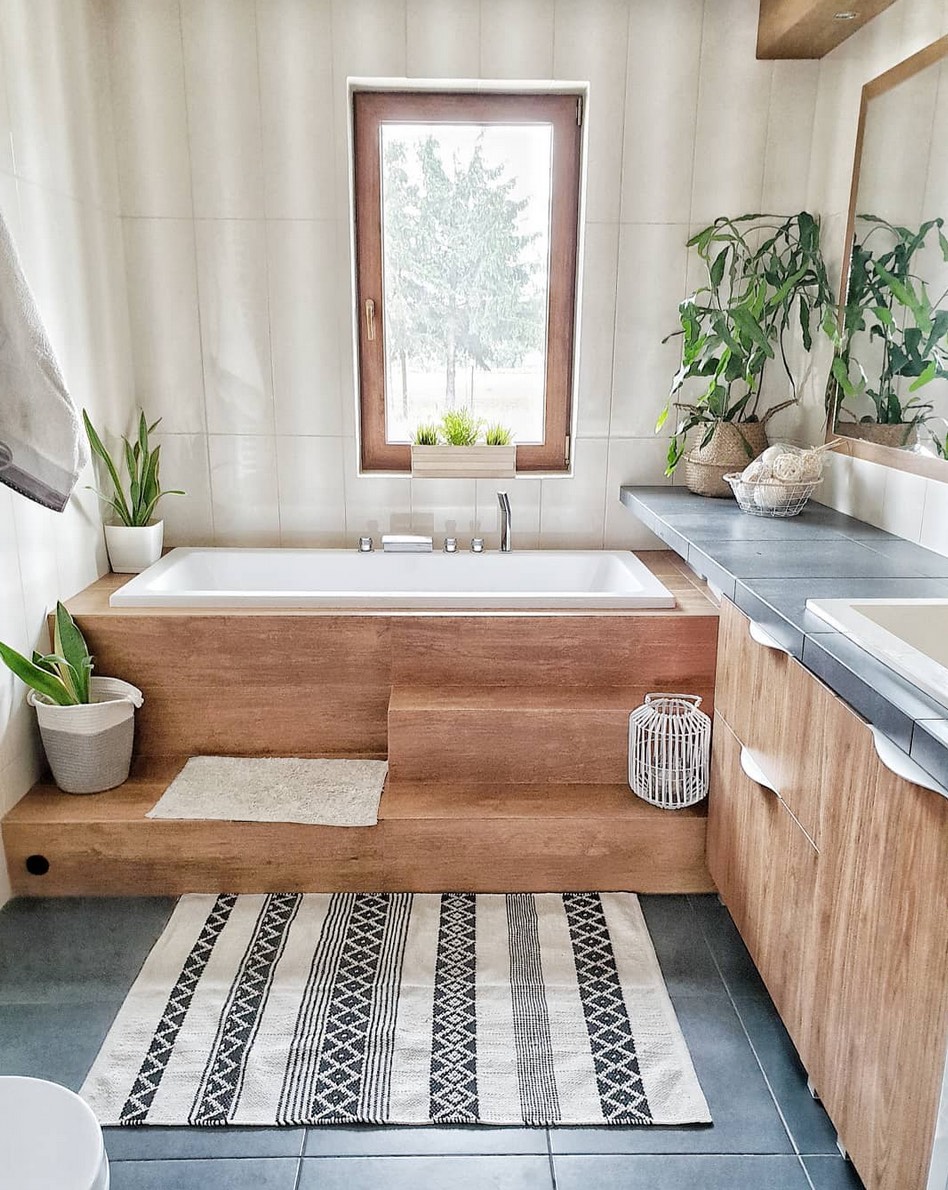 26. Double sink
Here's another Scandi-fusion design – and I feel like this one is mixed with country farmhouse design. Classic Scandinavian style often uses light timber but this space maximises dark timber. And I think this makes it feel warm and homey. But the black and white bathroom touches bring it into the 21st century and make it feel modern and fresh.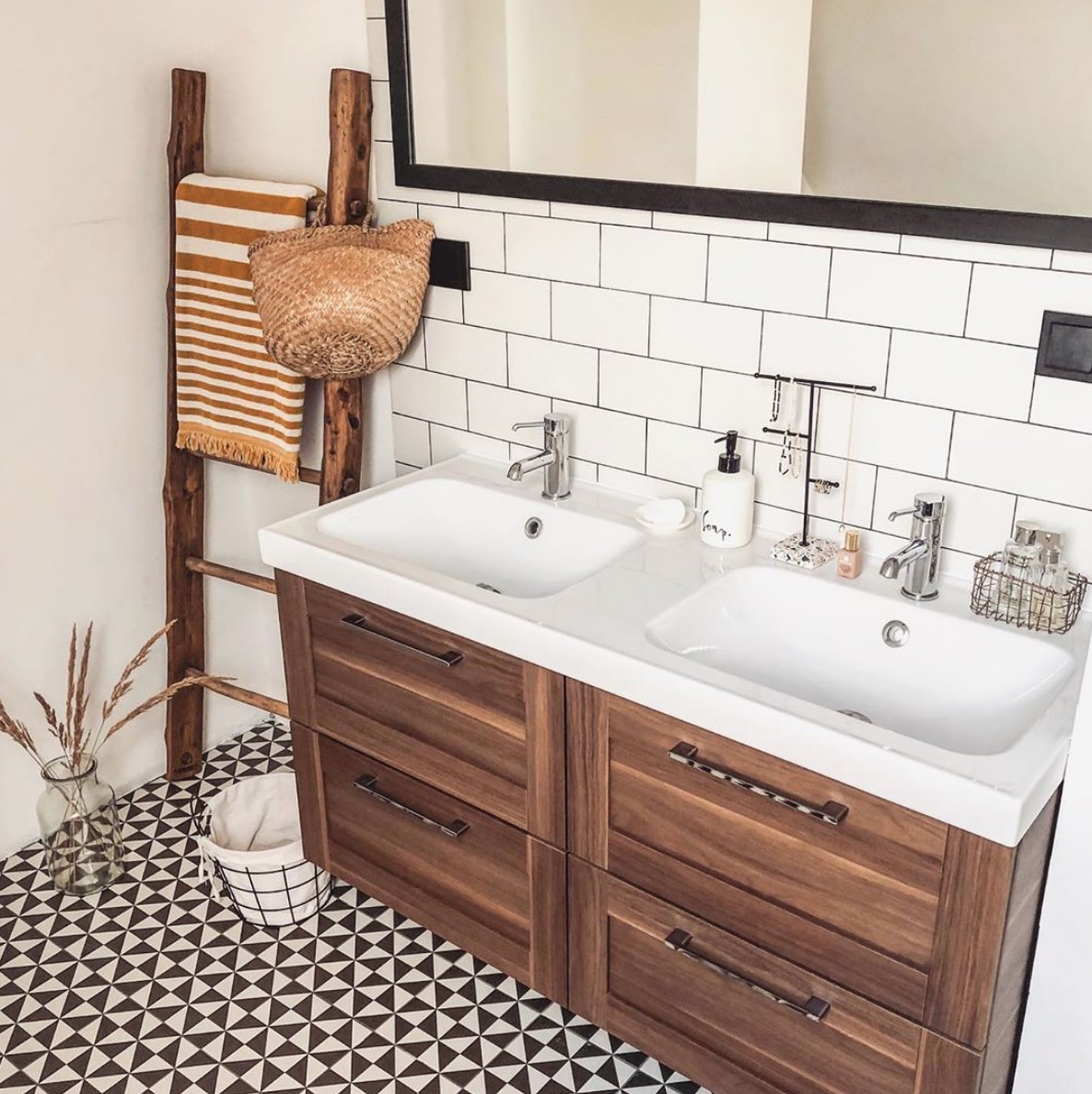 27. Gold shower head
Gone are the days of plastic white shower heads that get really gross really quickly… When you're considering what to include in your new bathroom, consider all of the new, modern options. My favourite is brass or gold – and it looks so stunning. But best of all, it'll work in almost any space, and you can combine it with white, timber and grey for the perfect finish.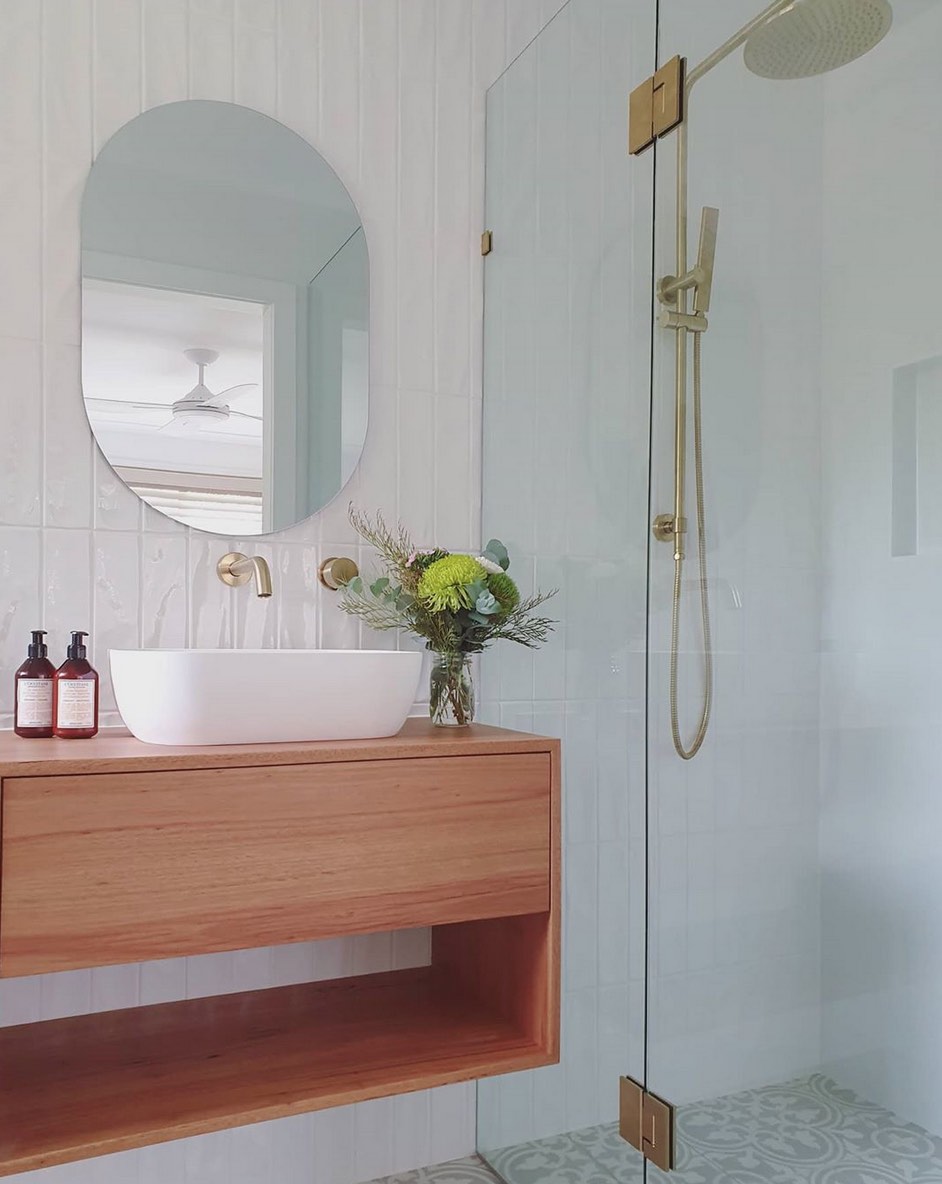 28. Timber and tiles
With Scandinavian style, the more timber the better. So think about how you can incorporate it with a feature wall, vanity or decor.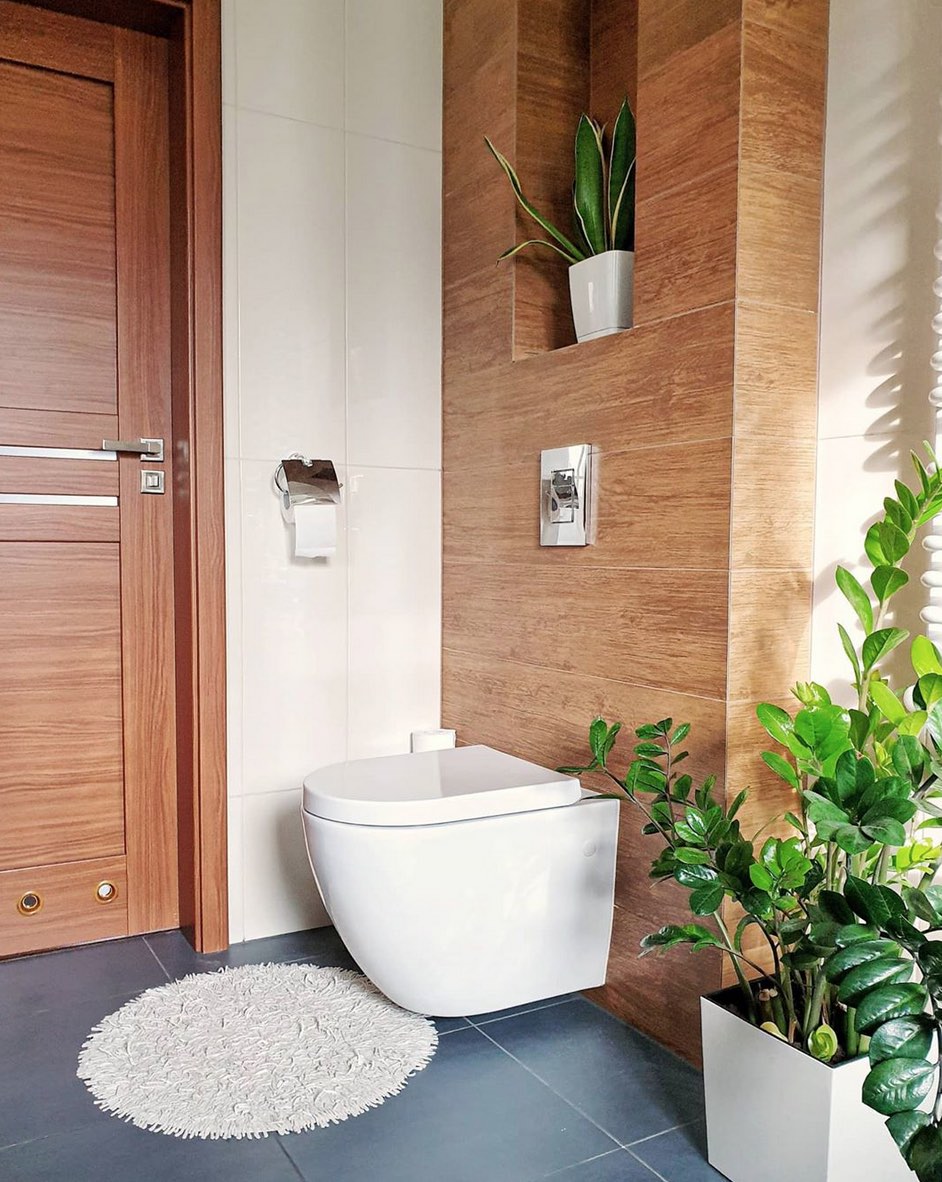 29. Feature wall
Here's another exposed brick beauty. This just shows that feature walls don't just have to be in the living room, they can be in the bathroom too. So if you have an exposed brick wall or if you have a blank wall, make the most of it by turning it into a stunning feature.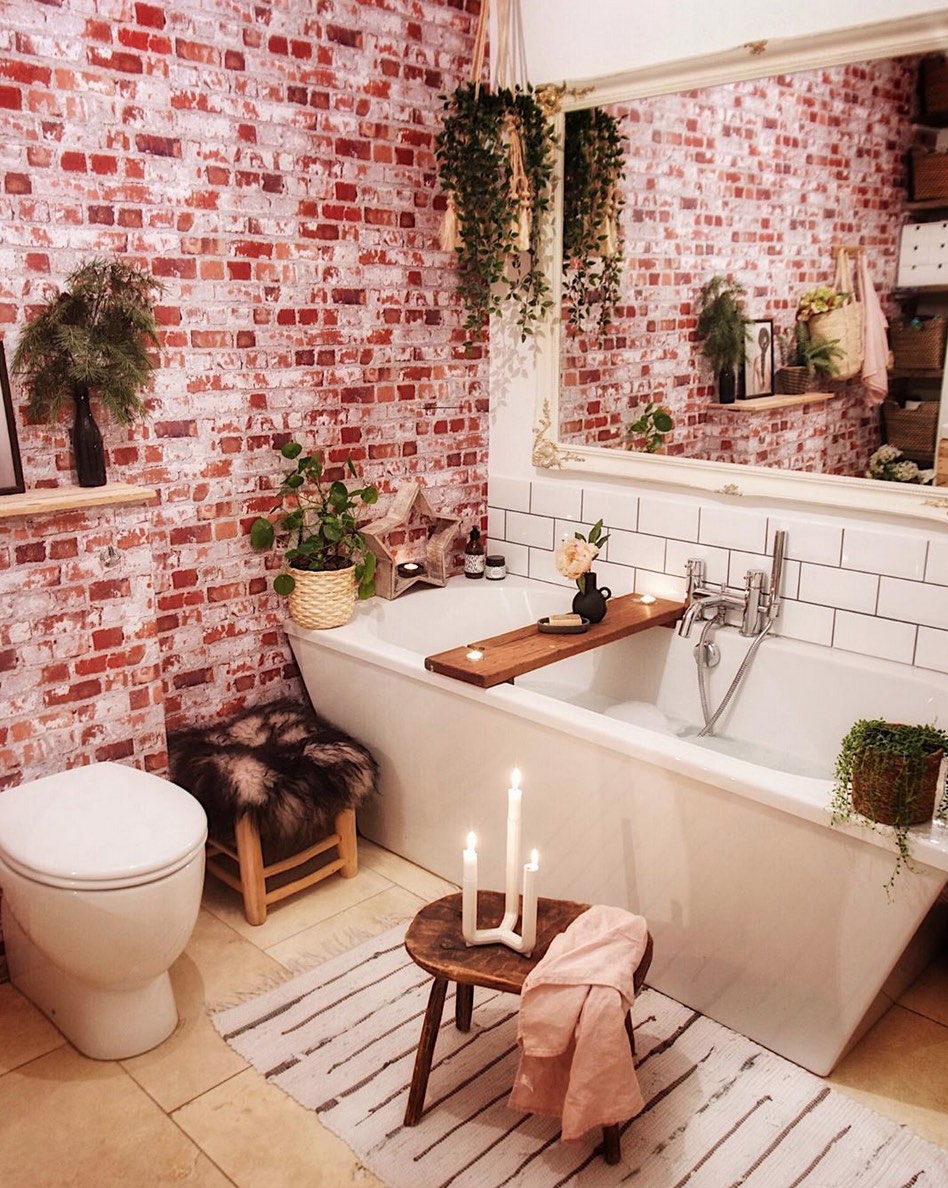 30. Tiles galore
Can you really have too many tiles? This bathroom proves that isn't the case. In fact, it shows that the more tiles you have, the better. So think about how you can add interest to your bathroom with tiles. You could consider white subway tiles with white or grey grout, large square mosaic tiles, or even tiny colourful tiles – the choice is yours.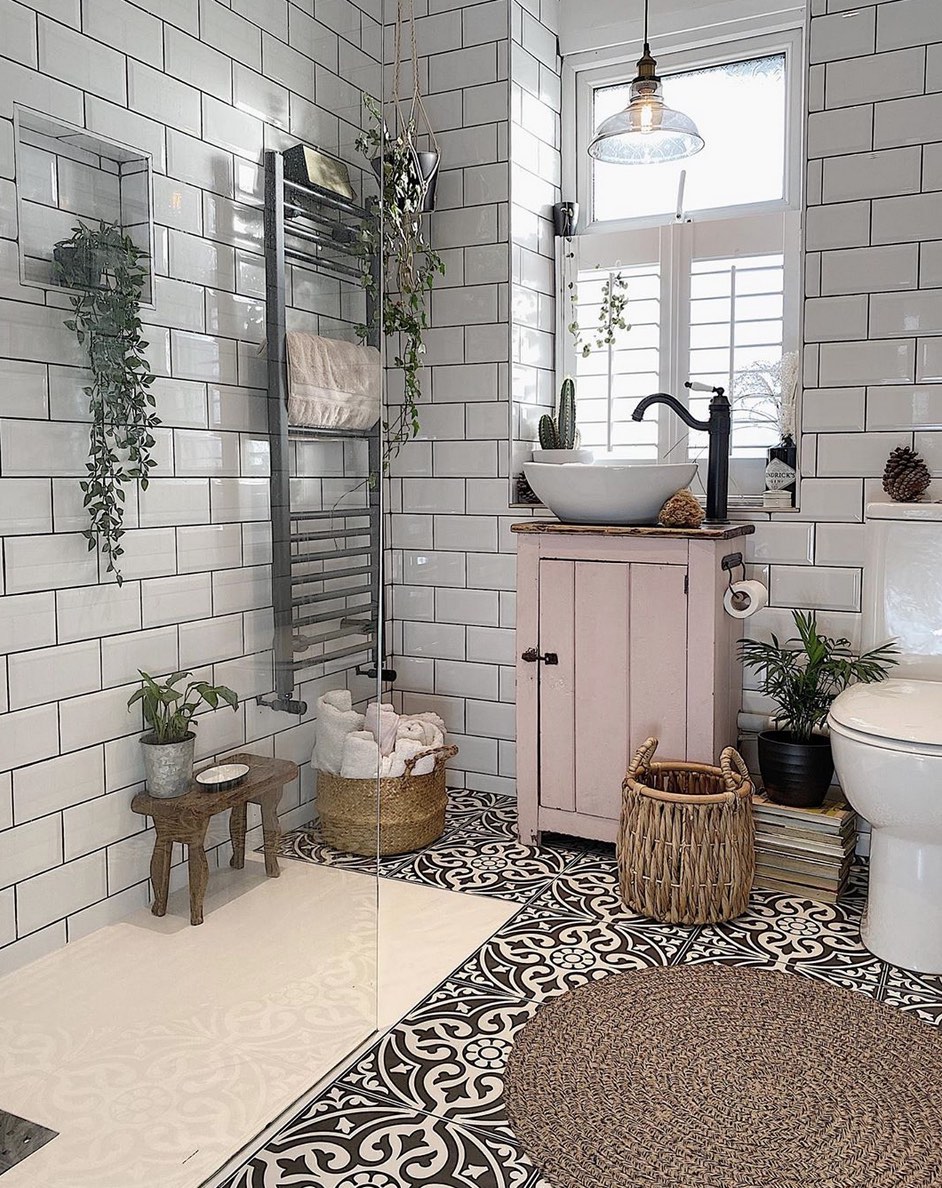 31. Traditional furnishings
While Scandinavian style is more focused on clean lines and simple designs, there's still room for traditional elements too. Take this bathroom, for example – it incorporates a more classic style vanity while keeping the colour scheme understated and minimal.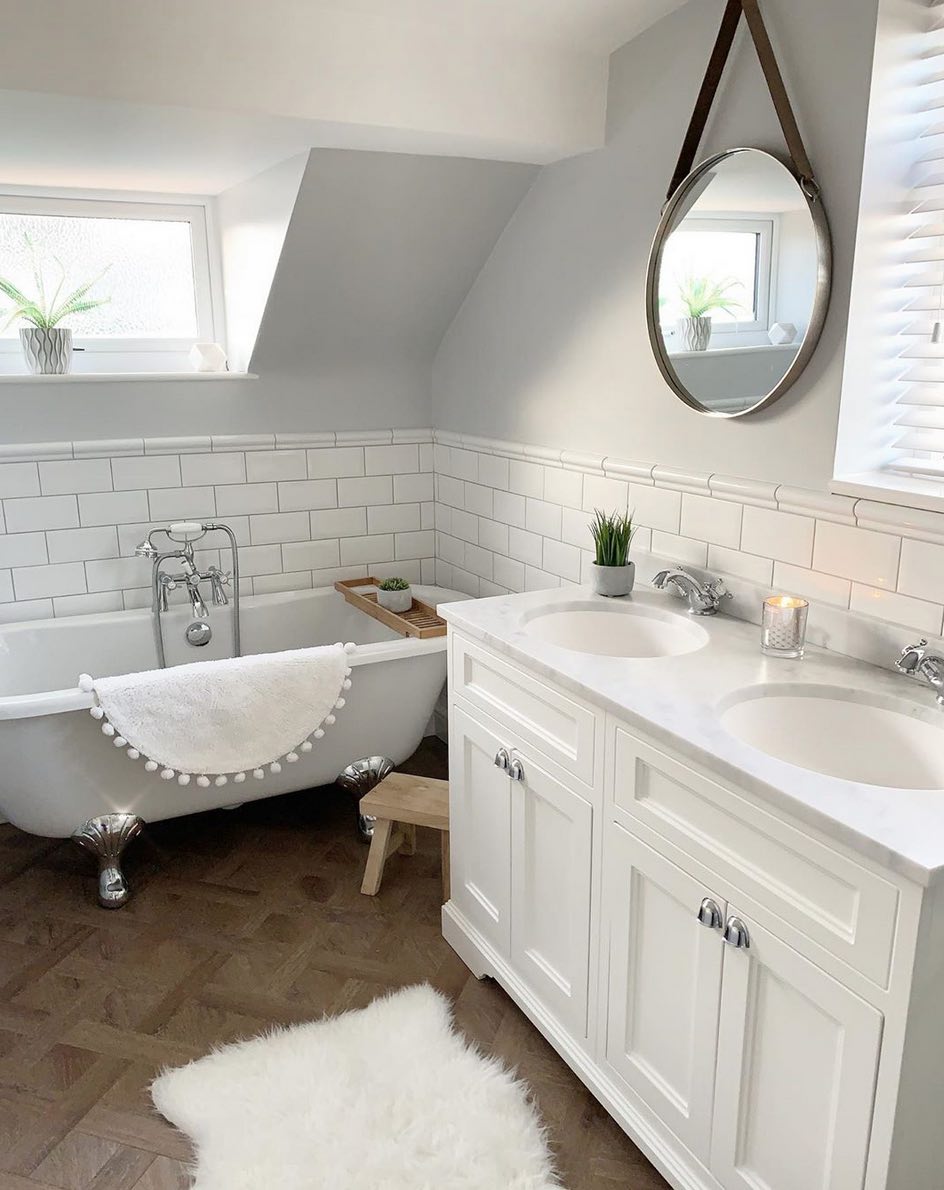 32. IKEA style
Design a simple modern bathroom with clean lines and plenty of white pieces. And the best thing is that you don't need a huge budget to redesign your bathroom – you can find great options for affordable prices at IKEA. In fact, this entire bathroom is IKEA inspired. It just proves you can design a stunning space without breaking the bank!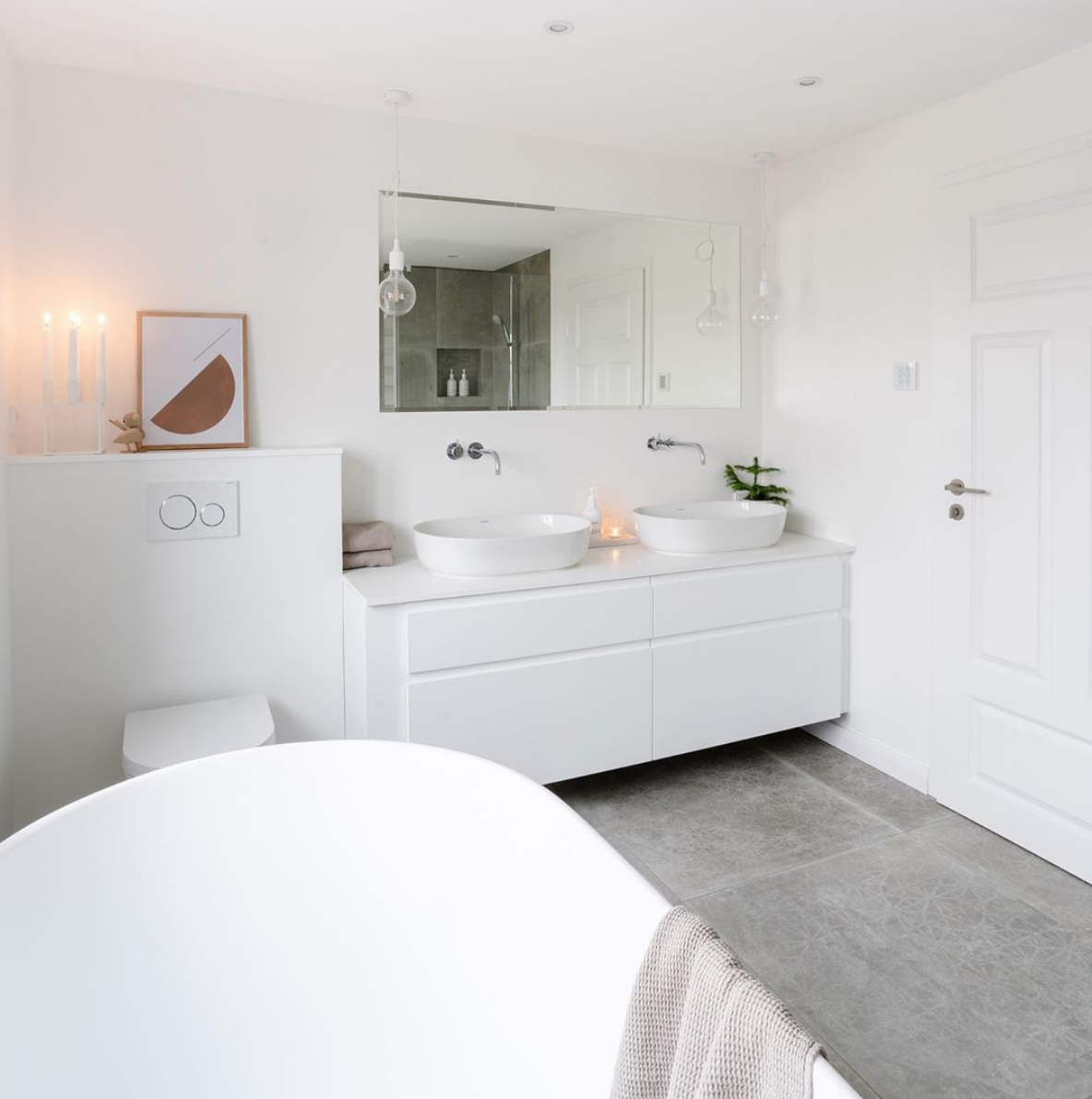 33. Calming green
Add some tranquility to your bathroom by placing some potted plants by your bath or shower. These beauties will not only look great but they'll also help to keep your air fresh. And you'll hardly have to look after them – the steam from the bath and shower will do that work for you!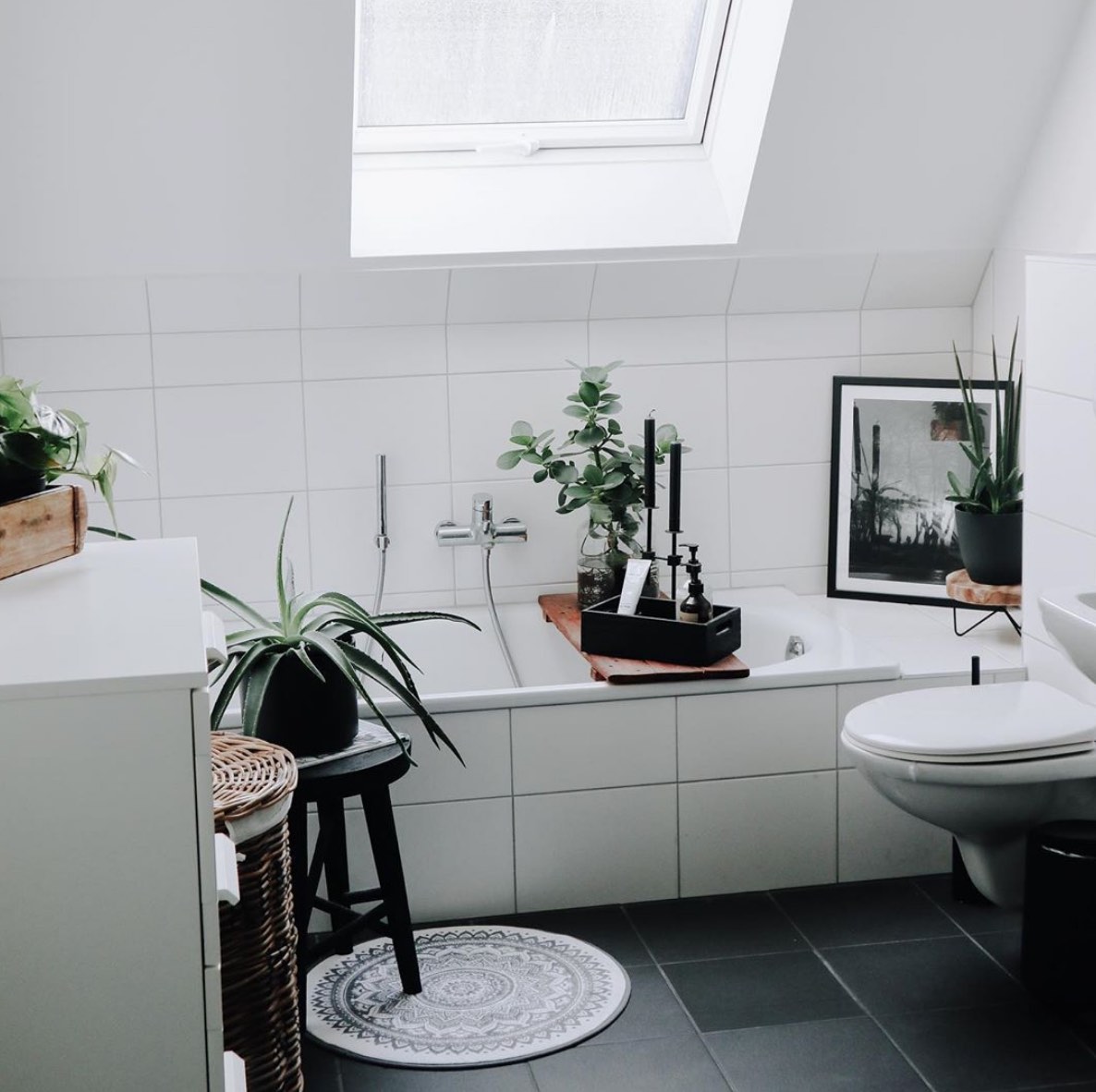 34. Grey tiles
I honestly believe that your choice of tiles can completely transform your bathroom. Make the wrong pick and you could be in big trouble. If you're creating a Scandi-style space, then grey tiles are a good option. And the best thing is that they come in all sorts of shapes and sizes, so they're versatile for any space!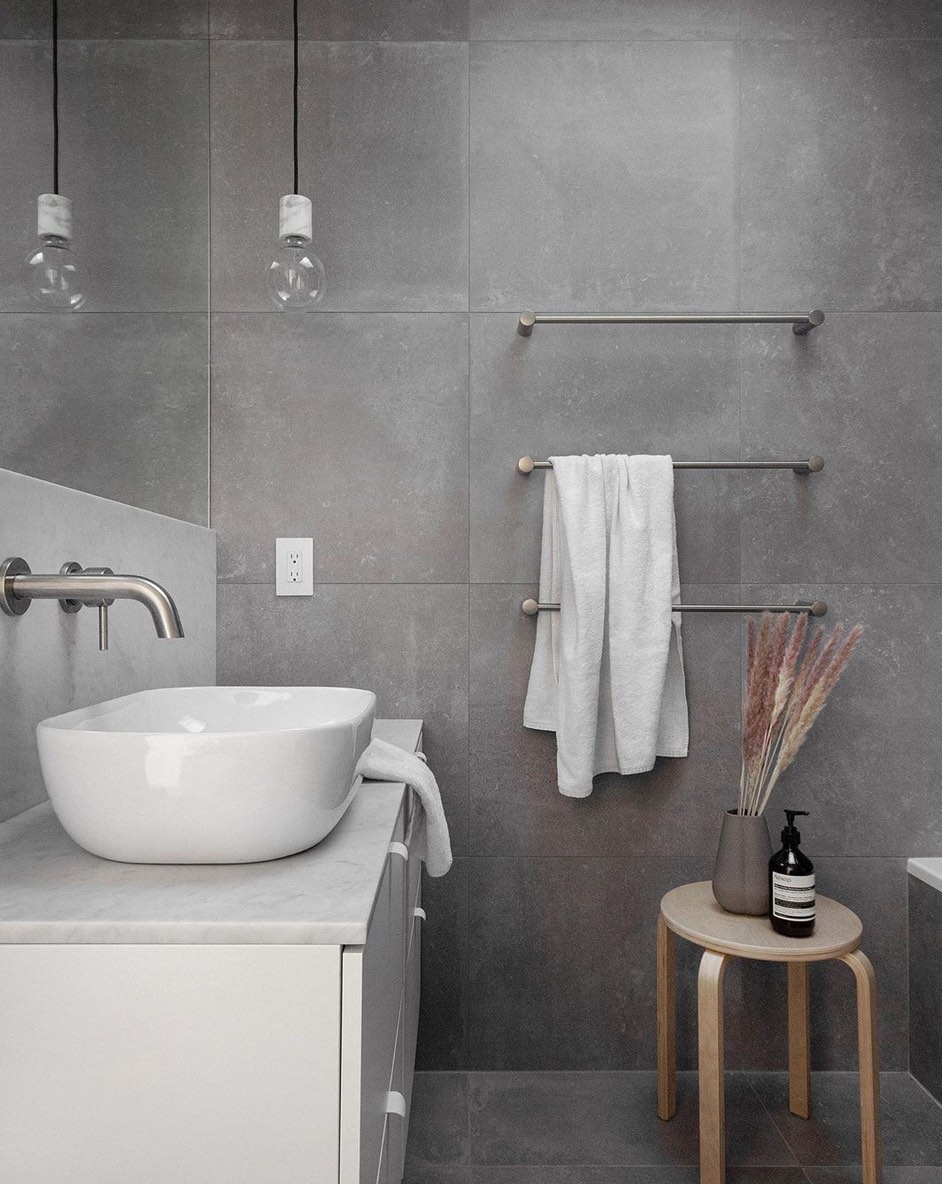 35. Black and white
Forget colours and strip back your bathroom design to black and white. This design is classic yet contemporary at the same time, so you can be sure it'll look great in years to come.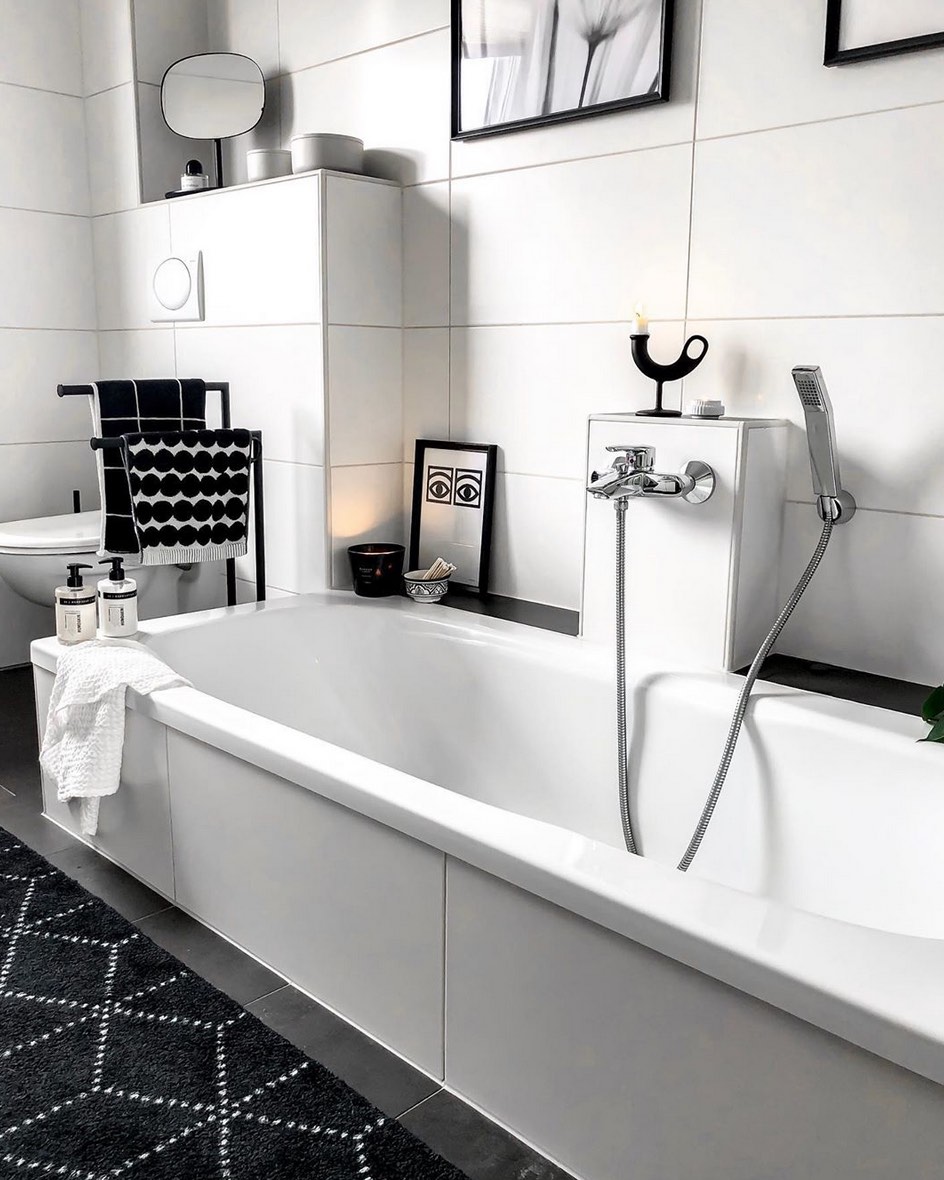 36. Double vanity
If you're planning to share your bathroom with someone else, then it's well worth investing in a double vanity. Of course, it's important that you have enough space to do this – so this is best suited to a medium or large-sized master bathroom. If you're going Scandi style, choose a vanity that's white or timber. Or, take cues from this one and choose one that's both!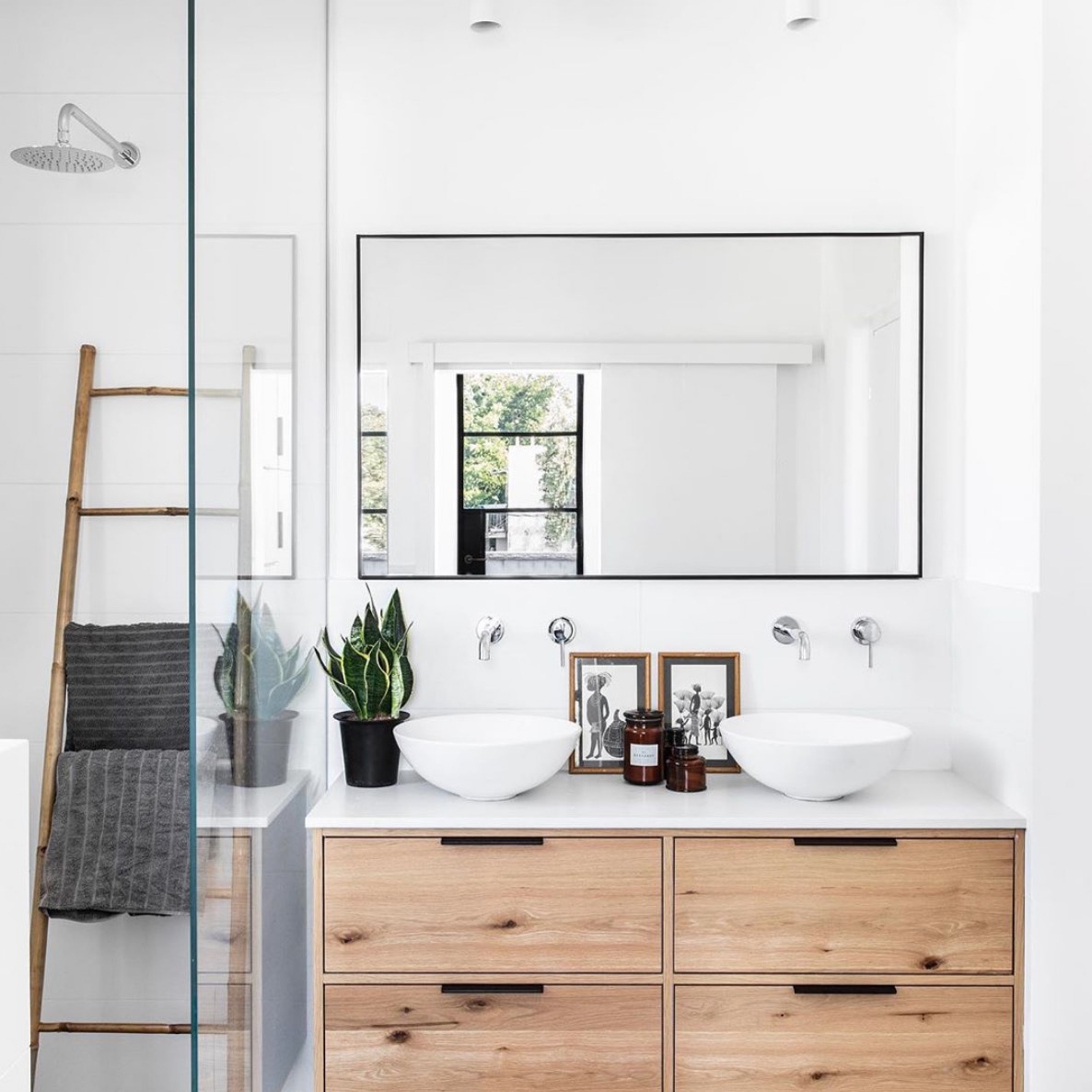 37. Cool tones
Make your bathroom into a natural oasis by using shades of grey, blue and green. You can do this by decorating with house plants, adding a towel over your bath and by hanging a pretty print on your wall.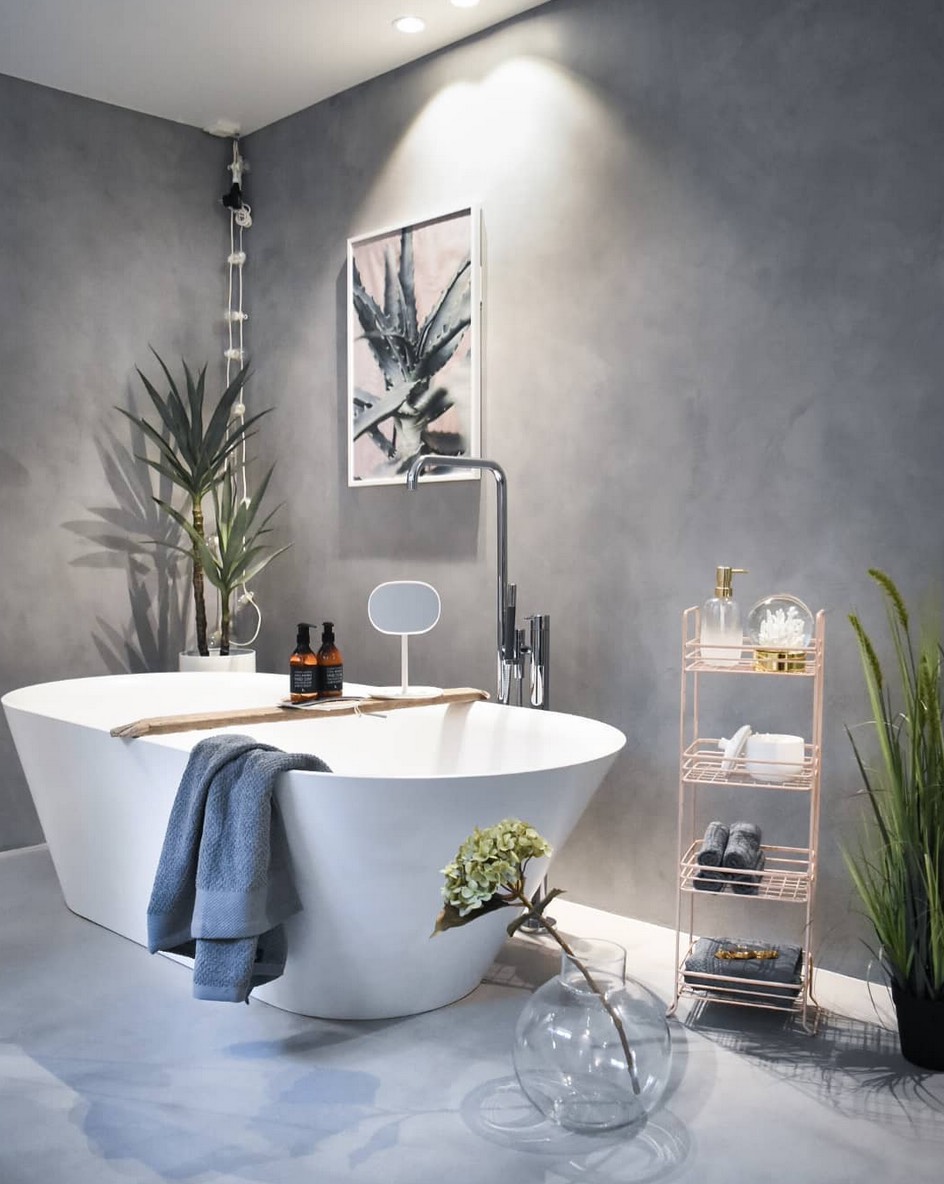 38. Warm tones
On the other hand, you can create a really homey feel by making your bathroom warm. You can do this by sticking to timber tones, adding rattan baskets for storage and decorating with candles and other little pieces of decor.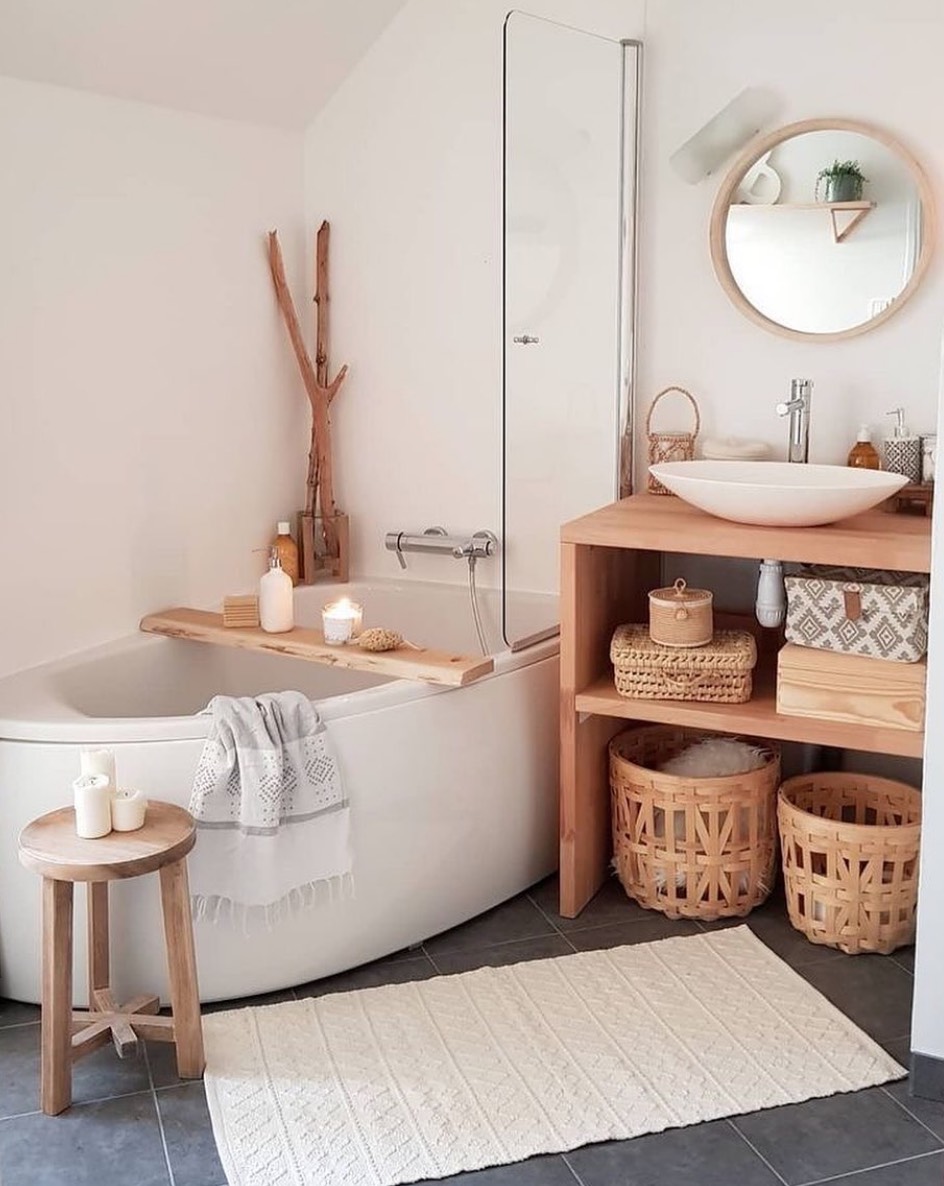 39. Neutral tones
While I do love a good splash of colour, I understand that sometimes it's just better to keep things simple. But simple doesn't have to be boring. In fact, this bathroom is anything but!
You can create a modern minimalist bathroom by using different textures and finishings. Take this bathroom, for example – it has brass tapware, a concrete sink and black touches.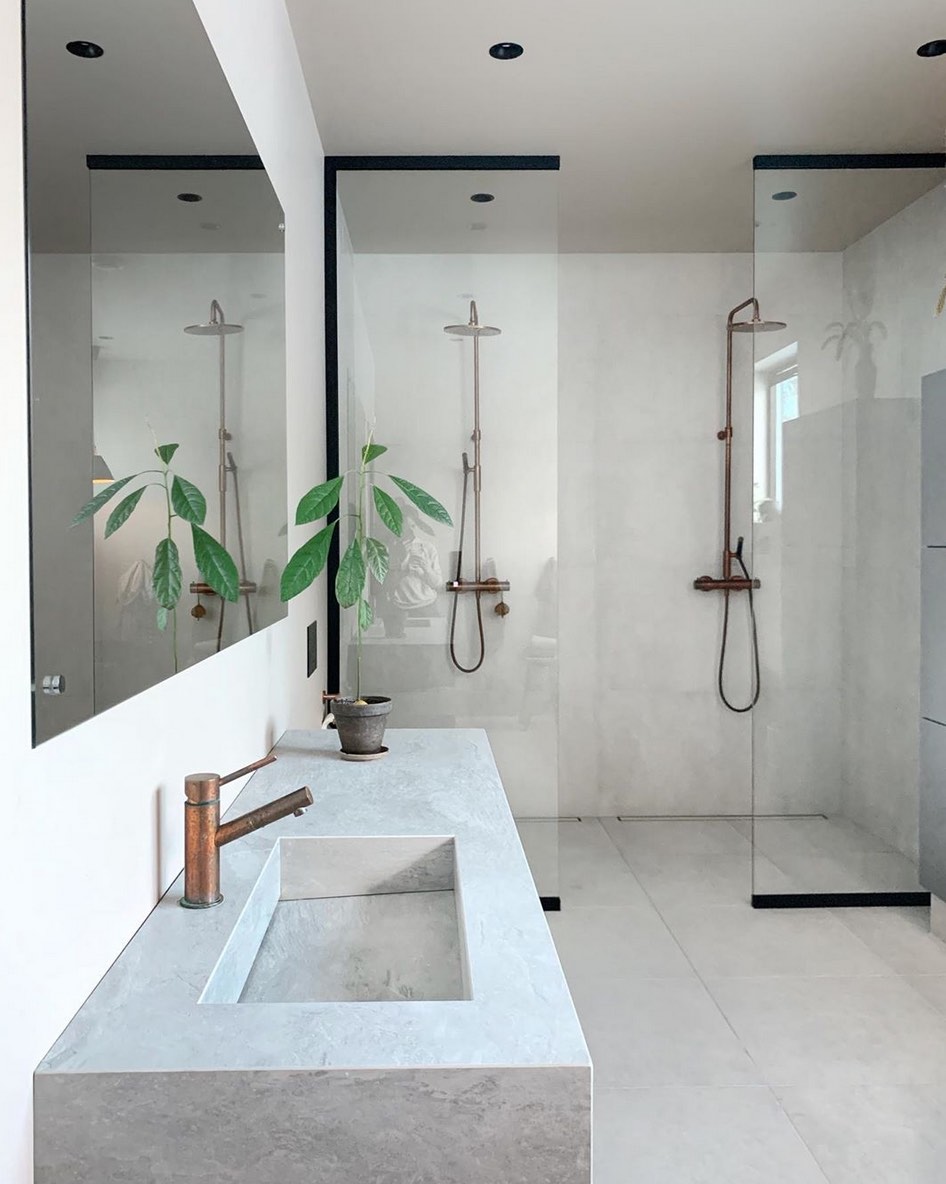 40. All black
Lover of all things contemporary and sleek? Me too. And this bathroom takes the cake when it comes to modern Scandinavian style. Sure, it may not have the usual timber charm that a lot of Scandi bathrooms do. But it does have gorgeous clean lines and minimalist design – two signature aspects of this style.
If you want to recreate this look, install a large black vanity and keep everything else black too! Think lights, tapware and mirrors and voila – you've got yourself a trendy modern space.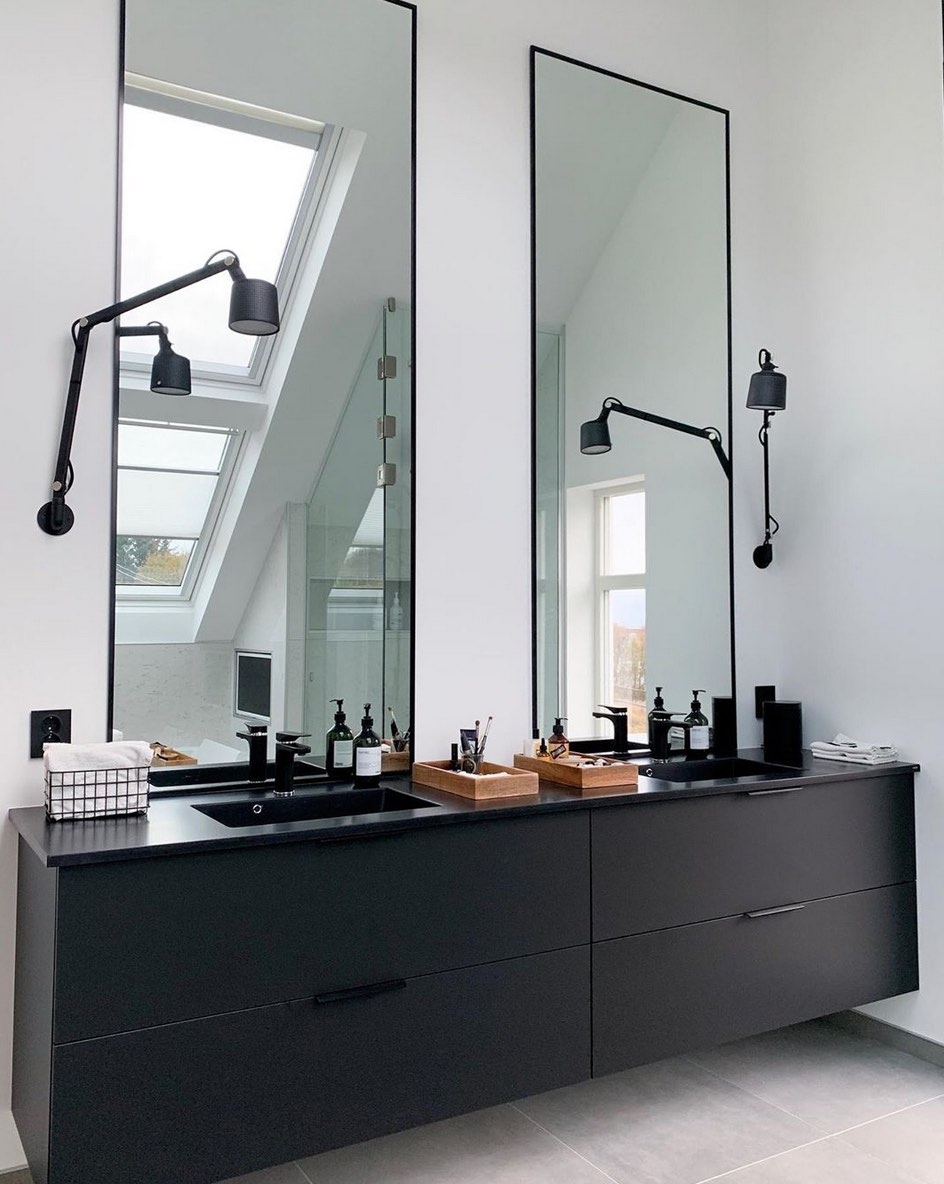 There you have it, 40+ Scandinavian bathroom designs and ideas that'll have you scouring all the online stores for your perfect pieces!
Before you go, I'd love to hear from you. Which bathroom design is your favourite? I'm personally obsessed with the last one – that all-black vanity and hardware looks so sleek and high-end. But I'm also a sucker for a light and bright white bathroom filled with plants – so natural and relaxing!
Comment and tell me your favourite. And – if you have any other handy bathroom ideas, share them too!