Boho is the modern take on the coastal beach interior design, which stays away from blues and shells and is all about natural beige white and textured materials. This creates a sense of calm and tranquillity for anyone, young or old, to enjoy their time in. It's also a design that gives you the creative freedom to add as much, or as little, colour as you want. So let's take a look at all the Bohemian living room ideas that I've been inspired by.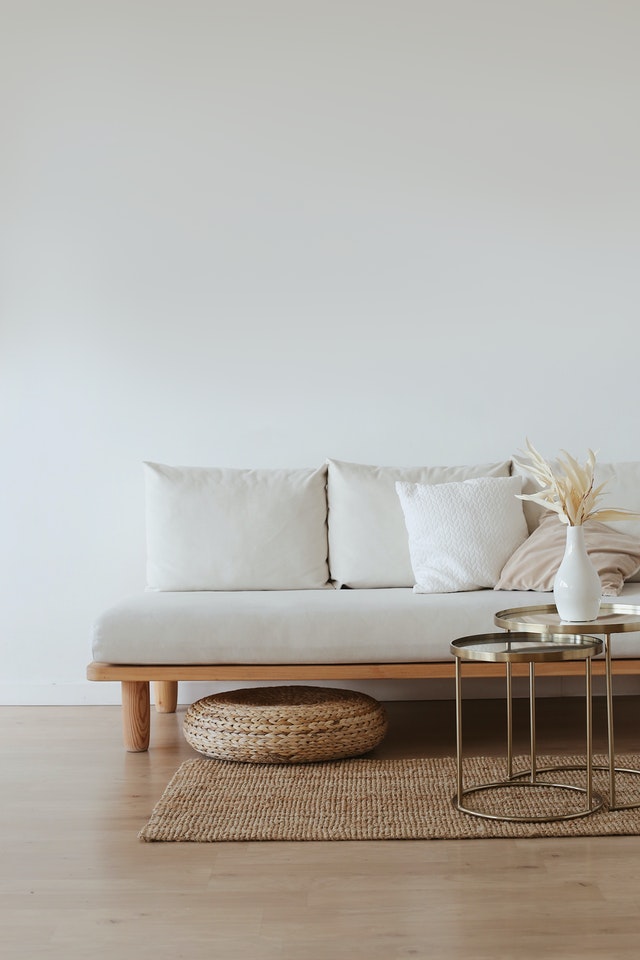 1. A statement rug
No Boho living room is complete without a fabulous statement rug. Adding a rug in a mix of earthy tones injects colour and life to a living room. Along with a rug, adding baskets full of hanging greenery will bring more colour and a touch of nature to the room.
2. Jute style
A living room using heaps of jute creates a natural feel. Recreate the look for yourself by choosing a jute rug in a rectangular or circular shape, then add a few small jute poufs to sit on, and decorate with tones of light timber. And don't forget the greenery!
3. Timber and greens
A green and timber tones colour palette is a match made in design heaven, and it's pretty easy to create too. All you need to do is stick to timber furnishings and then decorate with similar earthy tones. For instance you might add orange-and-beige pillows to the seat, as well as a gorgeous natural fur piece.
4. Green couch
You could flip the previous idea on its head and go for a green couch instead of a natural-coloured one. This incorporates a 'nature' feel without having to add too many plants. Once you've got your green couch, finish the room with a timber coffee table and little pieces of decor.
5. White and bright
If you prefer less colour, keep your Boho living room more simple by sticking to plenty of white. Tried and true, white walls provide a beautiful foundation for the rest of the room.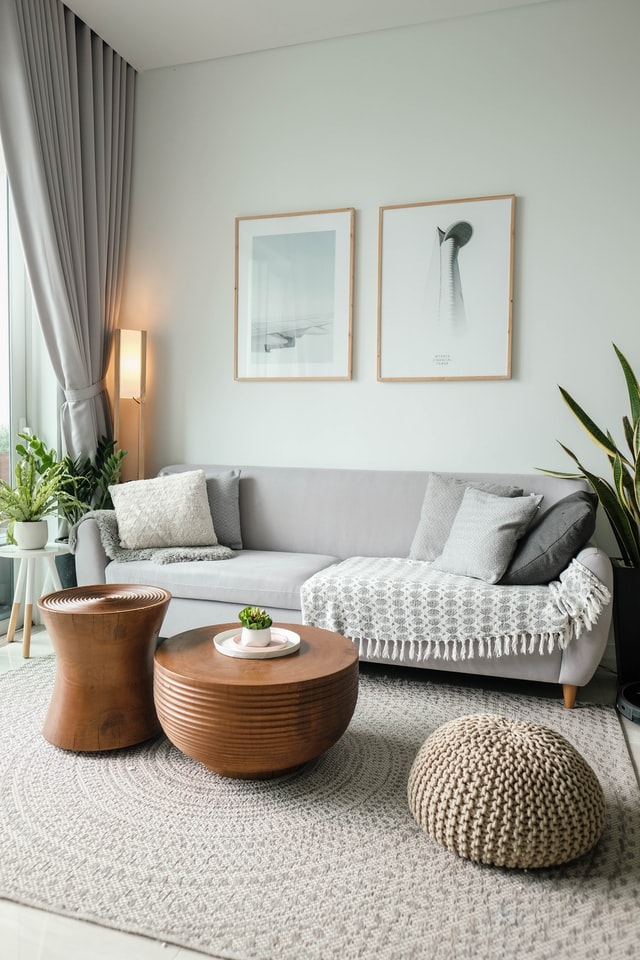 6. Get creative with your art
Branch out from the usual art prints on the wall and choose plates or flat baskets instead. This is an especially great idea if you've collected special pieces from overseas. These will come together to naturally create a feature wall. So choose a focal point that you want to frame and go all out!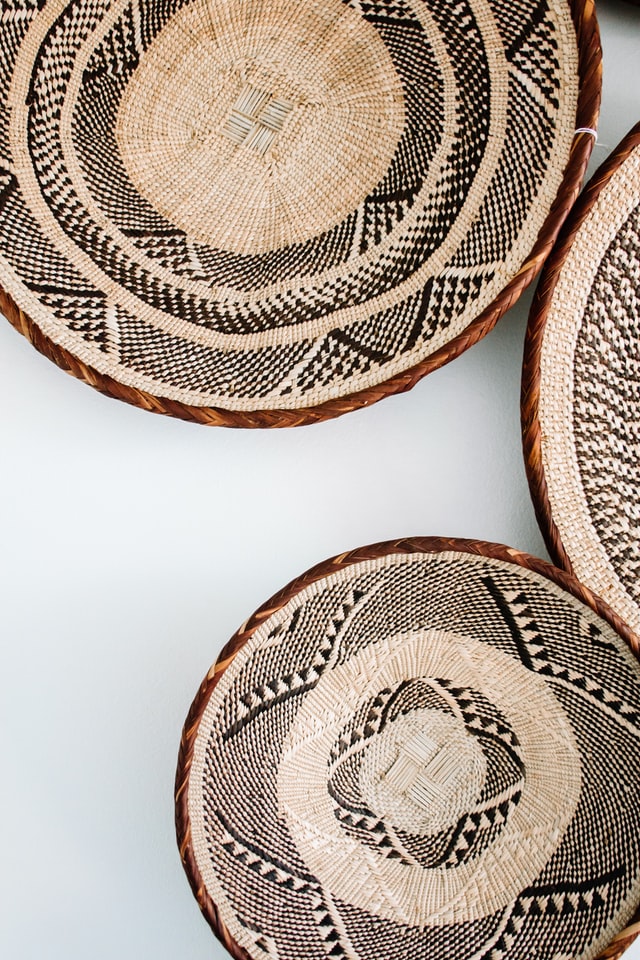 Want some more inspo for your wall? Check out these feature wall ideas.
7. Dark grey couch
Can you do Boho with dark furniture? Why yes, you can! A dark-grey couch contrasts perfectly against white and beige walls. Bring the Boho element into the room by placing art prints on a custom timber shelf and adding a timber bowl to your coffee table.
8. Modern Boho living room
Even if you prefer your living room to be a little more modern than full Boho, you can still have Boho elements. First, a graphic patterned black-and-white rug can set the foundation for the room. And then add a vase full of greenery on the timber floating shelf, and a potted plant on the timber coffee table. It's these little touches that add character and charm to your room!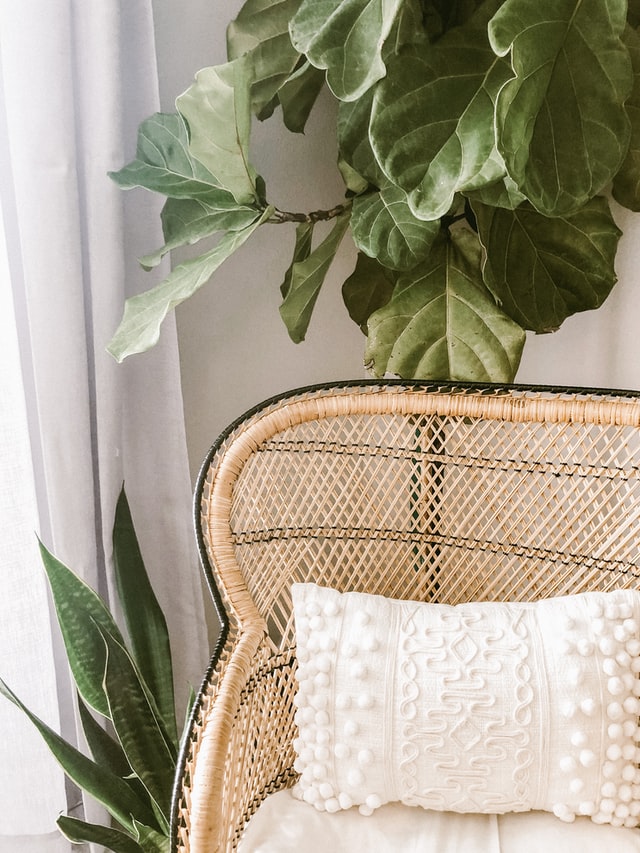 9. Mustard and green
Mustard is a really popular colour choice right now, especially when it comes to Boho design. And mustard is great for adding Boho touches. Mustard pillows on the couch easily bring colour and warmth to the room, and placing greenery at the back adds a cool touch of nature.
10. Brown leather and timber
Feel free to use plenty of leather in a Boho living room, especially if it's a brown leather couch. Give the room Boho elements with a timber-and-glass coffee table, patterned rug, jute poufs, and a pendant light made of organic fibres.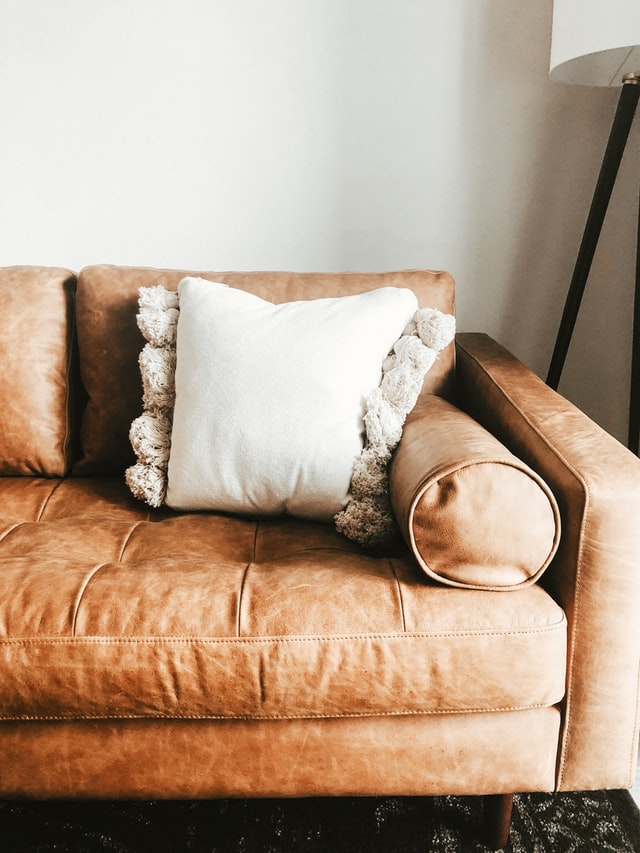 11. Nature-inspired art prints
One great way to decorate your walls, and bring more of the outside in, is to hang nature-inspired art prints. This adds a creative dimension to your room, and it also looks really great with your existing greenery!
12. Choose a colour theme
The key to creating a well designed Bohemian style living room is to choose a colour palette and stick to it. As we've already seen, the most common colours are earthy tones. It might be a natural-coloured rug on the floor, a light timber sofa, darker timber coffee tables, and then the splashes of colour with cushions and art prints.
13. Prints
It's amazing how just a few art prints can create an entirely new style for your living room. If you want to create a transitional living room, then choose furniture pieces that can be adapted to any style. Instead of hanging on the wall, why not display the prints on a shelf and then swap out the art prints to suit your changing personal tastes.
14. Warm tones
Create a rustic Bohemian space by keeping your colour palette very warm. Your large pieces of furniture don't have to be in warm shades but your rug, pillows and art prints should be. Choose a mix of similar tones to tie everything together seamlessly.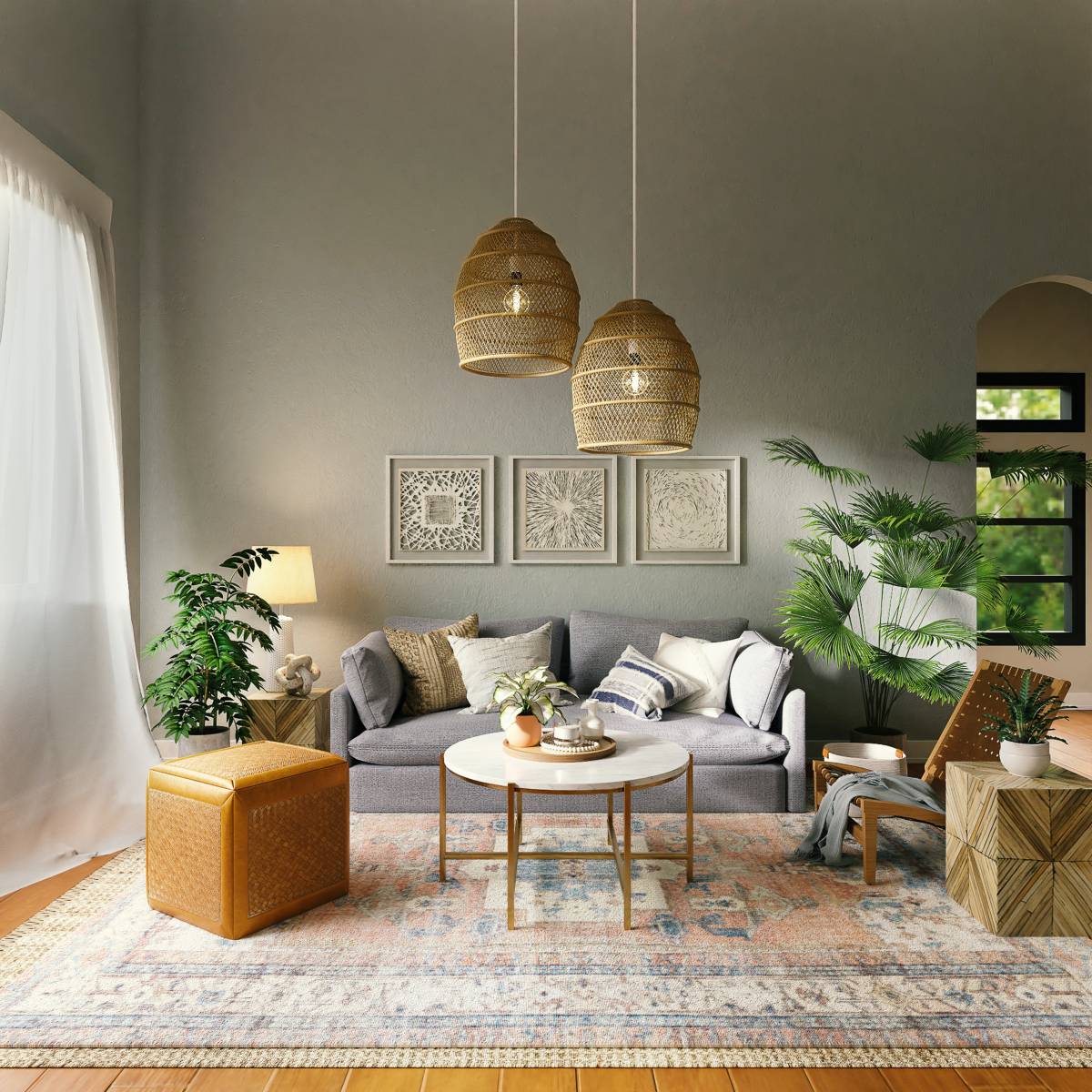 15. Au natural
For a living room that's the perfect place to sit back and relax with a glass of wine in hand while soft music plays over your speakers, use plenty of natural colours and incorporate decorative features like a mix of large and small dried flowers around the room.
16. Mid-century and Boho
You may be surprised but mid-century and Boho style go perfectly together. Scour the online marketplaces for a gorgeous vintage mid-century sideboard. Simply pair with a large, patterned and colourful rug to bring in that Boho vibe.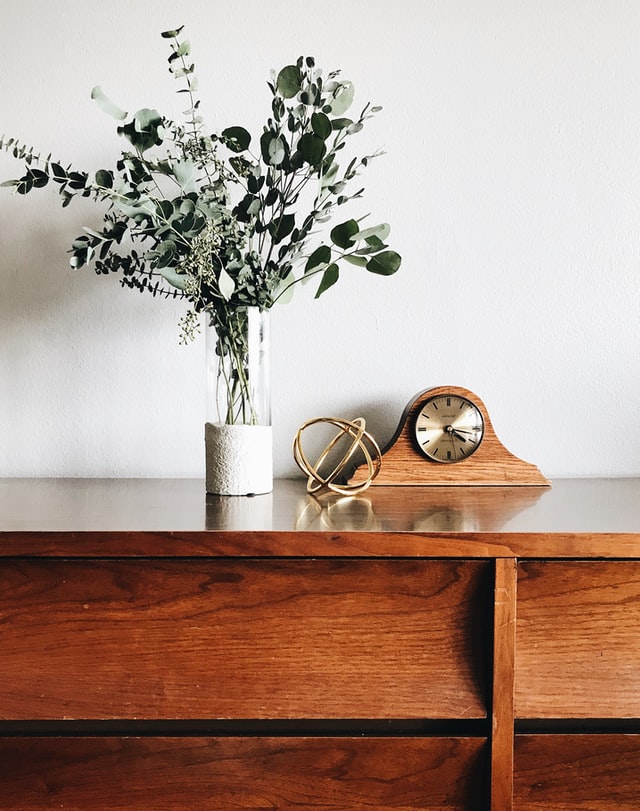 17. Full-length mirror
While a full-length mirror is a mainstay in your bedroom, you may not have considered one in the living room. But you may be surprised that a mirror like this one will add depth to your room, creating the illusion of more space. It's the perfect choice for a small living room or one that needs a bit of added detail.
18. Have fun with patterns and textures
A Boho living room incorporates a mix of different textures and patterns. It might be something as simple as having a double rug situation – for example, with a fluffy white-and-black rug placed on top of a jute rug. Or it might be a fluffy white throw a velvet chair. Or it may simply be a mix of linen and velvet cushions on the brown leather sofa. Together, all of these colours, textures and patterns make for an inviting and warm room.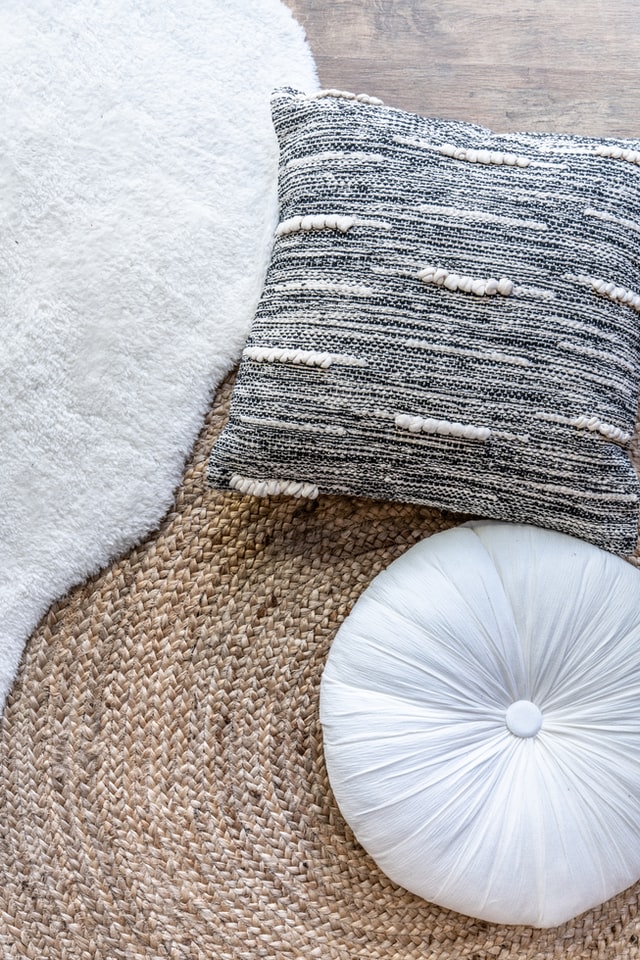 19. Loud colours
Maximalists who love colour and pattern tend to gravitate towards Boho living rooms with exuberant colour schemes. For instance it may be a bold blue couch with earthy-coloured pillows, a small yellow coffee table, brightly coloured poufs, a black-and-white rug, gorgeous art on the wall, and green plants to finish. The key to making this style work is to choose a bunch of bright colours and weave them throughout the room. This helps to bring everything together nicely.
20. Mix and match
When it comes to a Bohemian style living room, the key is to mix and match. This is a great way to give your house a lived-in and personal feel. Look particularly at incorporating the use of rattan mid-century styles and industrial pieces to make it a unique space. And then bright cushions and rugs can add a pop of personality.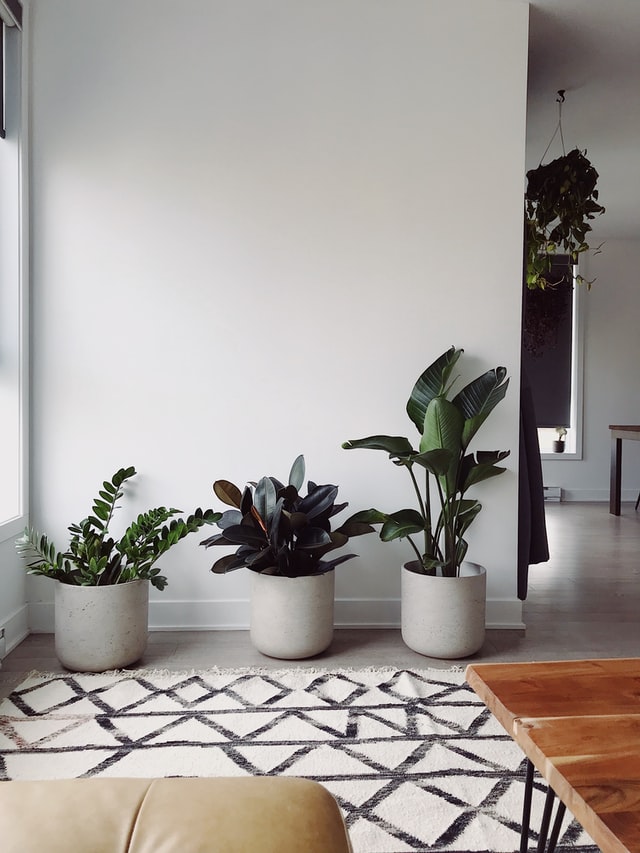 21. Get creative with your lighting
Choose lighting that suits the Boho theme and adds character to the room. For instance, some kind of textural or sculptural shaggy light fitting is ideal. It also creates a focal point that draws the eye in.
22. Natural sideboard
When creating your Boho living room, it can be easy to get caught up in searching for the perfect couch or rug. But a cabinet is just as important to your space, especially if you have a lot of it. If you need to fill one wall of your room, then a massive piece will do the trick! And the best thing is that you can use it as a base to add bold art prints and little pieces of decor.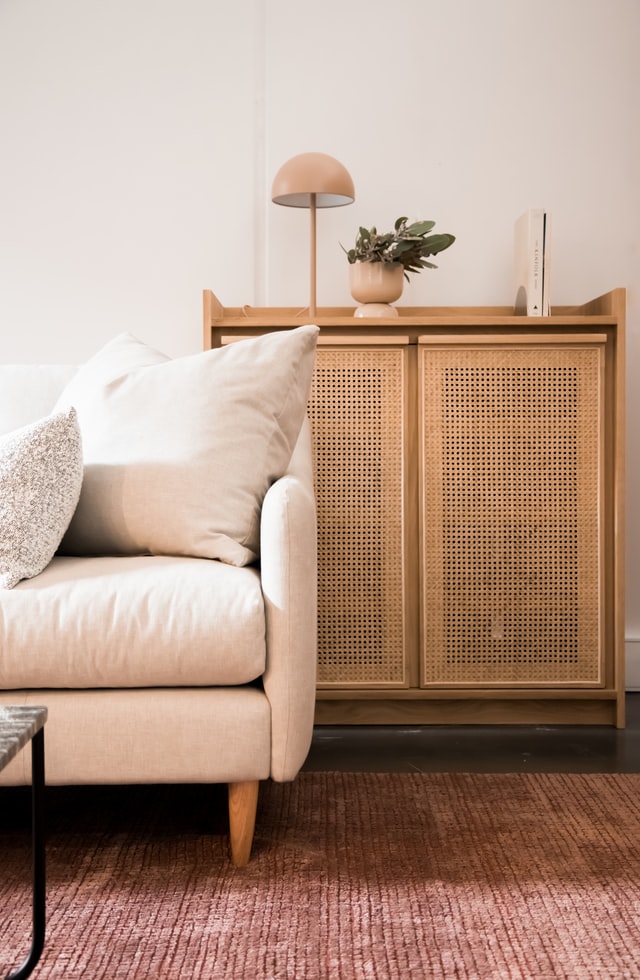 23. Moroccan style
Bring a twist of Morocco to your Bohemian living room by using pops of timber, white, burnt orange and gold. Together with traditional lamps, this is a lot more refined than most Boho living rooms.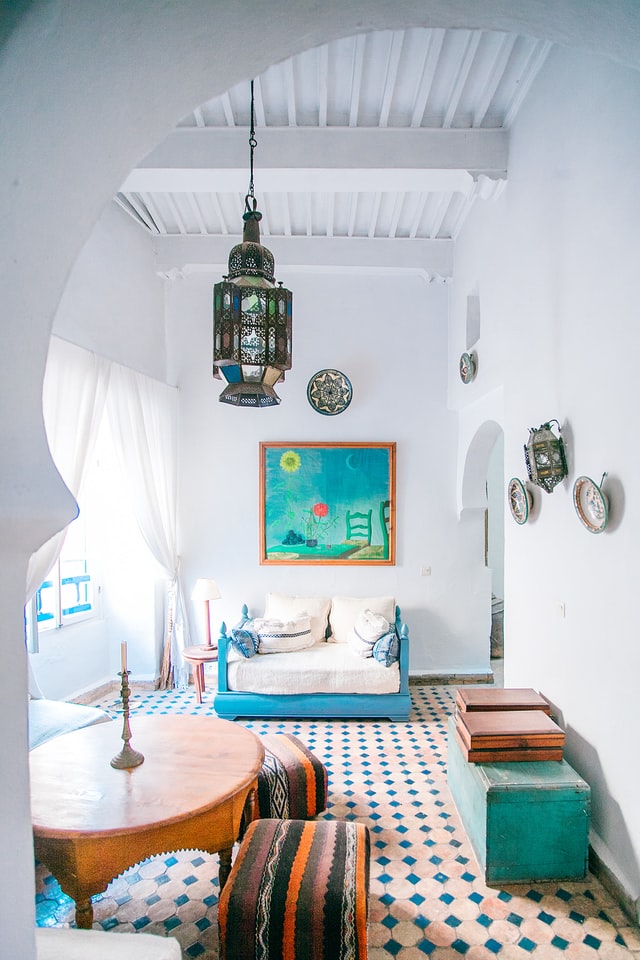 24. Create height with plants
Most Boho living rooms have a lot of dimensions to them. You might incorporate a beautiful large plant in the back corner of the room. But then use a small stool to bring height to another plant. This helps create levels, which adds detail and interest to your space.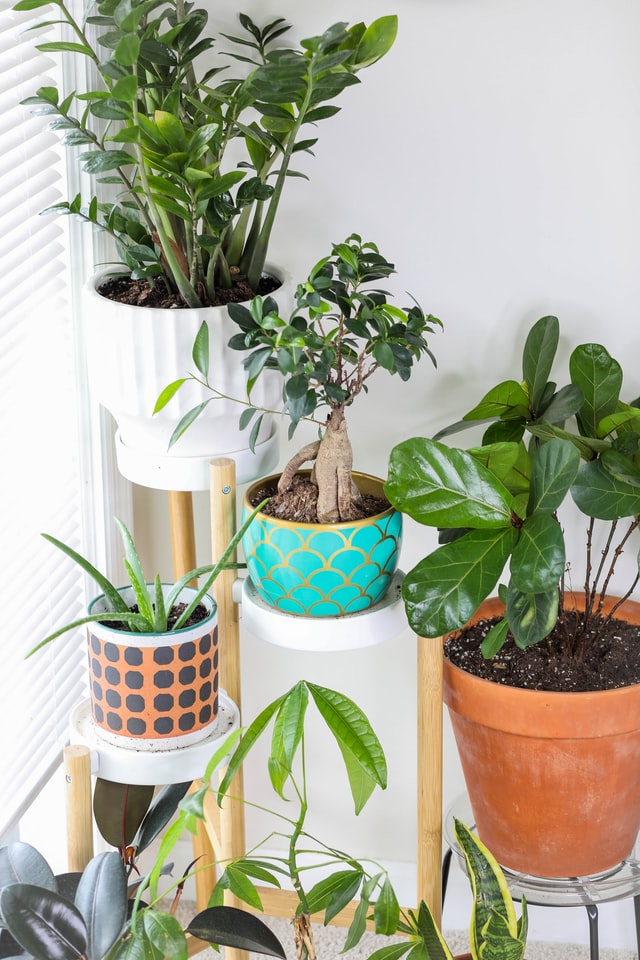 If you have limited sunshine in your home, you'll want to pick a plant that doesn't need it to keep growing. Take a look at our guide on picking the right indoor plant for your living room.
25. Think about the little touches
If you want to create a living room that's truly yours, then it's important to think about all of the little personal touches you can add. It might be as simple as a white-and-striped Turkish towel hanging over the back of the brown leather couch. Even just a subtle addition like this adds more character to the space, and makes it a bit more Boho.
26. Dark and moody
If you want to create a masculine living room but still keep it in line with the Boho theme, then go for it. Choose dark timber floors, dark brown furniture and heavy curtains. But incorporate Boho elements with a colourful patterned rug, touches of orange, and plenty of greenery.
27. Green, green and more green!
If you haven't gathered by now, the colour green is central to the Boho style. It's usually intertwined with the use of plants. But in some Boho living rooms, it simply means a cosy green velvet couch. Not only is a velvet sofa  very comfortable, but it adds a big pop of colour to your space.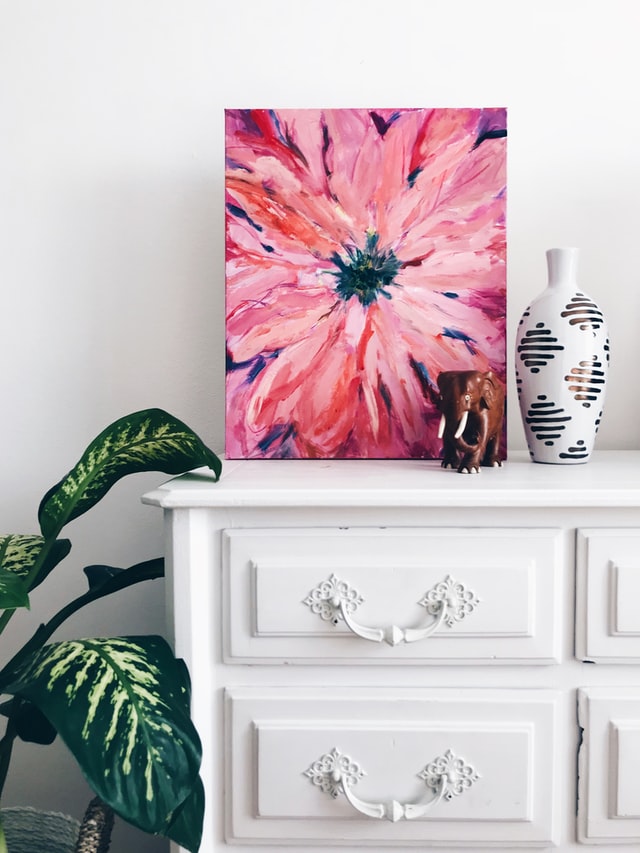 28. Thoughtful layout
When coming up with your Bohemian living room ideas, you need to think about the layout. This is important because it makes a huge difference to the functionality of the room and how you will feel in the space. As an example of thoughtful design, you might include a long brown-leather couch to the right, two single chairs, and a long wood coffee table that serves all three seating areas. And a colourful rug brings all of these elements together perfectly!
29. Green and blue
We've already discovered that you can't go wrong with green in a Boho space. But have you considered combining it with blue? A gorgeous pale blue rug on the floor, a beautiful blue-green couch, and a lovely single green chair on the right and voila! Instant Boho living room.
30. Double up on rugs
If you have a hard-surfaced floor, make it more comfy to walk on (and warmer in winter) with rugs on the floor. While people tend to stick to one rug for any given space, there's no reason why you can't add more. Remember there are no rules with Bohemian design, except that more is more.
31. Detailed walls
While the furniture is usually the hero of your living room, it doesn't have to be the only thing. One way to add charm and character to your home is to incorporate wall panelling. This is a great choice if you want to add detail to your walls without painting them a bold colour. Or, simply dress your walls up with art or sculptural elements like this.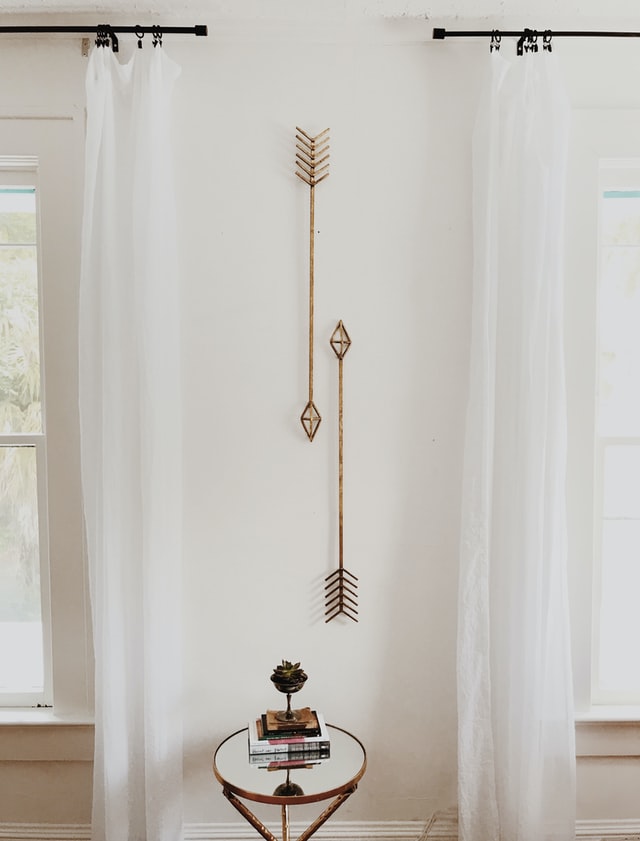 32. Parisian with a Boho twist
Elaborate mouldings and an ornate gold mirror go a long way towards making a living room very Parisian chic. But instead of sticking strictly to this theme, diverge and incorporate a very Boho-esque patterned rug. This makes for an elegant yet fun space!
33. Neutral palette
A beautiful neutral palette will ensure your living room is awash with Bohemian beauty. Try incorporating rattan furniture, layered Persian-style rugs, and brown and cream tones. A hanging timber chair is always fun too!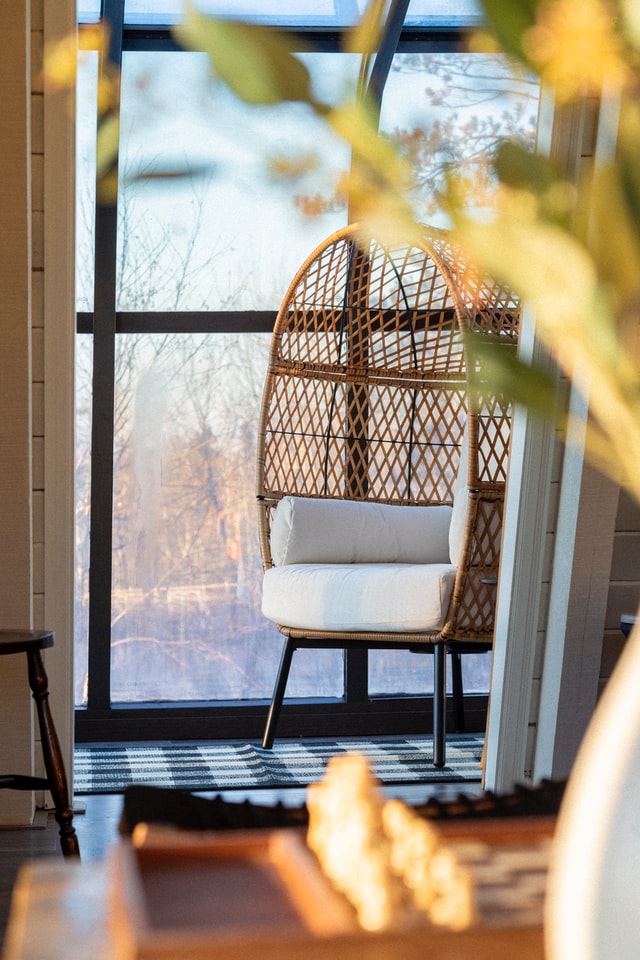 34. Minimalist Boho
Keep things simple by adding a three-seater timber couch to your space and dressing it up by hanging a single piece of decor on the wall – for example, a dream catcher.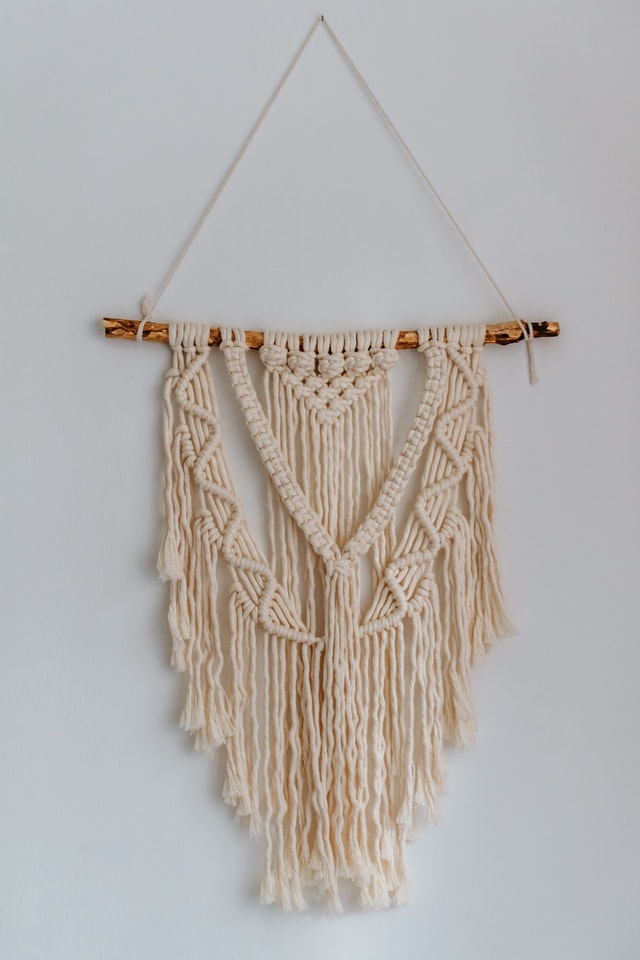 35. Boho elements in a simple space
Sometimes you don't need heaps of poufs to get on the Boho train. Draw inspiration from simple Scandi style instead. And then incorporate some Bohemian elements (traditional textiles, plant life, wood accents) to create a design that's both relaxed and flexible.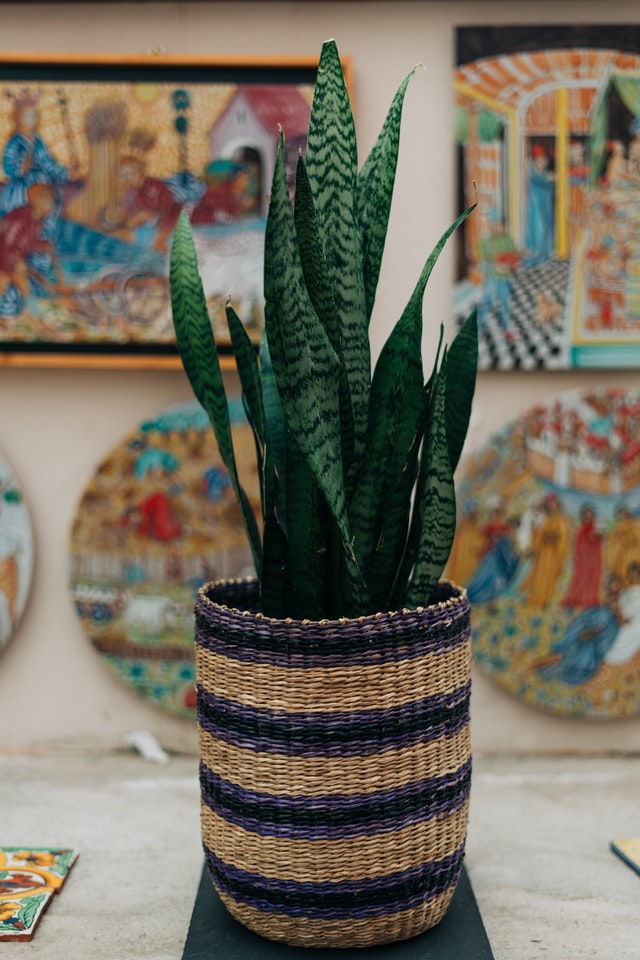 36. Small space boho
If you live in a studio apartment, create a distinct living room and bedroom by separating them with a divider. A rattan style of divider is very Boho, and complements a brown leather couch.
37. Rustic desert style
Take Boho to the desert with a rustic, industrial space. While it may have heavy industrial influences (such as a concrete floor and metallic elements), you can add Boho touches with things like rugs and art.
Are you feeling inspired to create a beautiful Boho space? I know I am! I personally love Boho pops of colours on a plain, natural canvas. But I'd love to hear your thoughts – comment and tell me which design is your favourite.