Over the last decade, Australians have embraced open-plan homes for cooking, entertaining, and relaxing. With that being the case, it's no surprise the kitchen has become the central hub of the home. Gone are the days when the kitchen was simply a place to make food – it's now a multi-function space that facilitates conversation, caters to guests, and looks fabulous all at the same time. So with this in mind, where do you begin when it comes to designing a modern kitchen?
The latest trends reveal that the most popular modern kitchens incorporate clever, concealed storage, pewter and gunmetal hardware, open shelving, vintage touches, use of wood, coloured cabinetry and contrasting textures, to name a few details.
But two distinct styles that are real standouts of late are the modern country and mid-century designs. A modern country kitchen exudes warmth and homeliness. Think hard-wearing timber benches or stone surfaces and porcelain sinks paired with classic kitchen cabinetry. The mid-century modern kitchen design takes its cues from colourful appliances, patterned countertops and flat-front cabinetry paired with retro accessories and more traditional elements.
The best part about these styles is that they both have sticking power. Using a modern country or mid-century modern design will leave you with a kitchen that will last the test of time.
So, if you're ready for something new, read on for 30+ modern kitchen designs.
1. Open shelving
If you've got a few special kitchen pieces that you want to show off to the world, then it's worth considering open shelving. Now, you don't have to do this for every cupboard in your kitchen. As you can see, this kitchen has one open cabinet, while the others are closed. This means you can enjoy the best of both worlds – put your pretty items on display on one side, and cover up your mess on the other!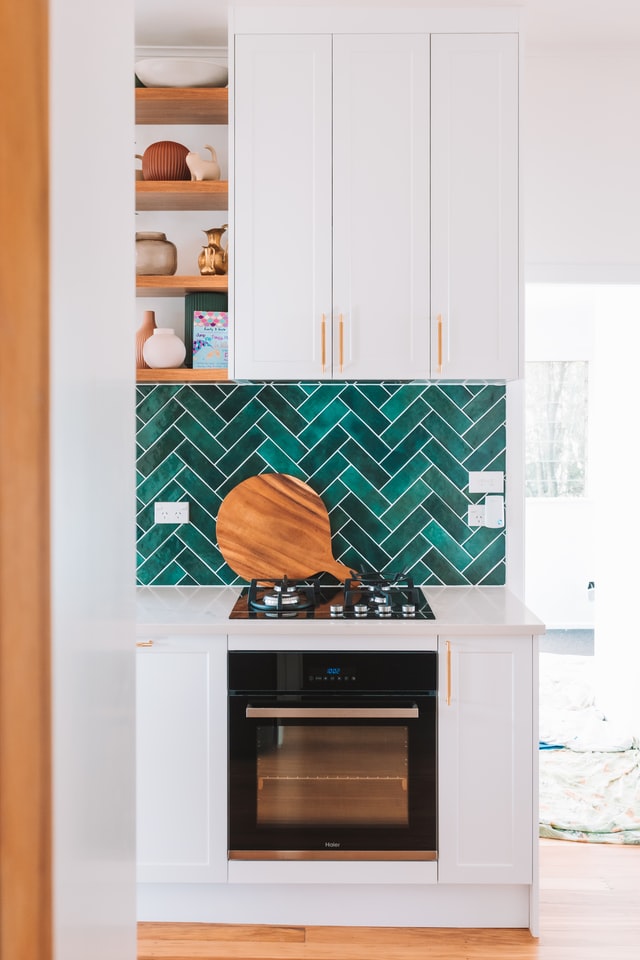 2. Clean and fresh
If you love to keep things stripped back and simple, then this marble and white kitchen design might be the one for you. What I like about this style is that, while it's one colour, it's anything but boring, especially with the addition of the mid-century style chandelier.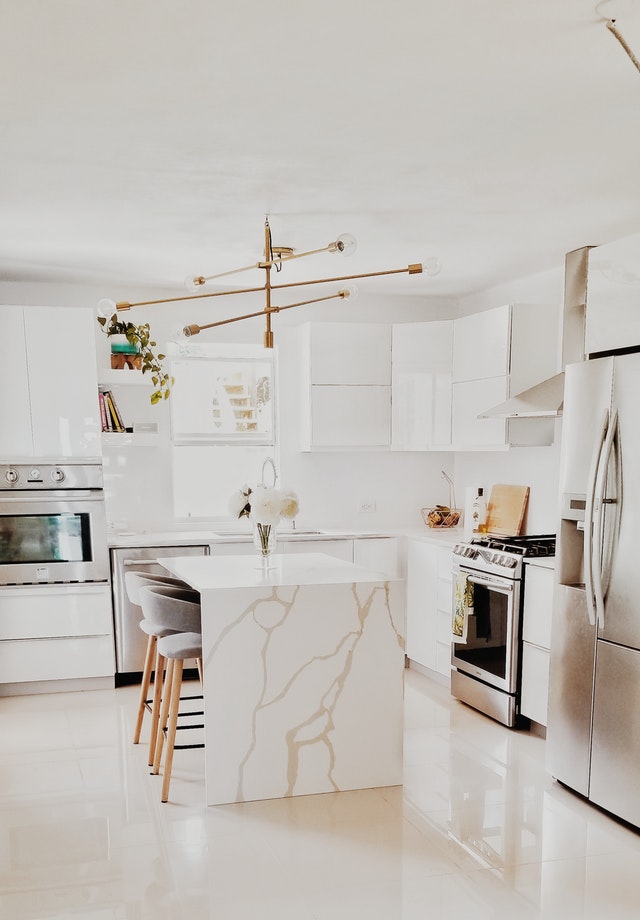 3. Polished concrete kitchen floor
Adding a polished concrete floor to your home instantly adds a modern industrial feel and allows you to be really flexible with the other choices that you make for your kitchen.
4. Open plan living
Today's new homes are built to allow for open plan living. So when it comes to your kitchen, it's important to consider how you can keep a consistent flow throughout your room. Make your kitchen fits in with your open plan living by an island and using consistent design styles throughout multiple areas.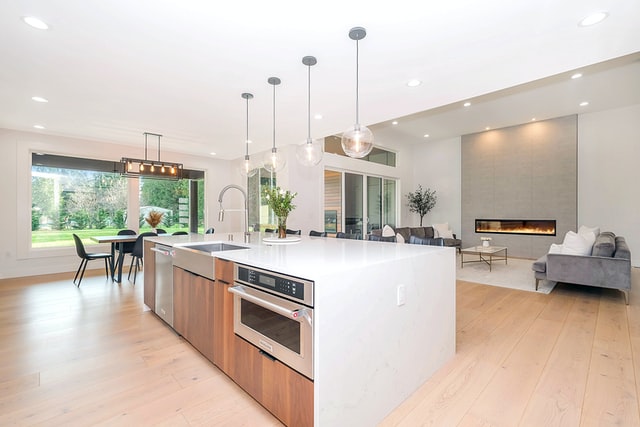 5. Bespoke kitchen design
With no hard and fast rule around what shape you should use in your kitchen, there's room for you to experiment! So, as you dream up your modern kitchen design, consider special pre-loved or vintage pieces. It's these kinds of pieces that make your kitchen truly unique.
6. Dark and moody
Go to the dark side of life with all-black or dark brown cabinetry. This is a very sophisticated design that will look fantastic in any kitchen space. The key to making a dark design look good is to temper it with lighter colours and to allow plenty of light to filter into the room through large windows.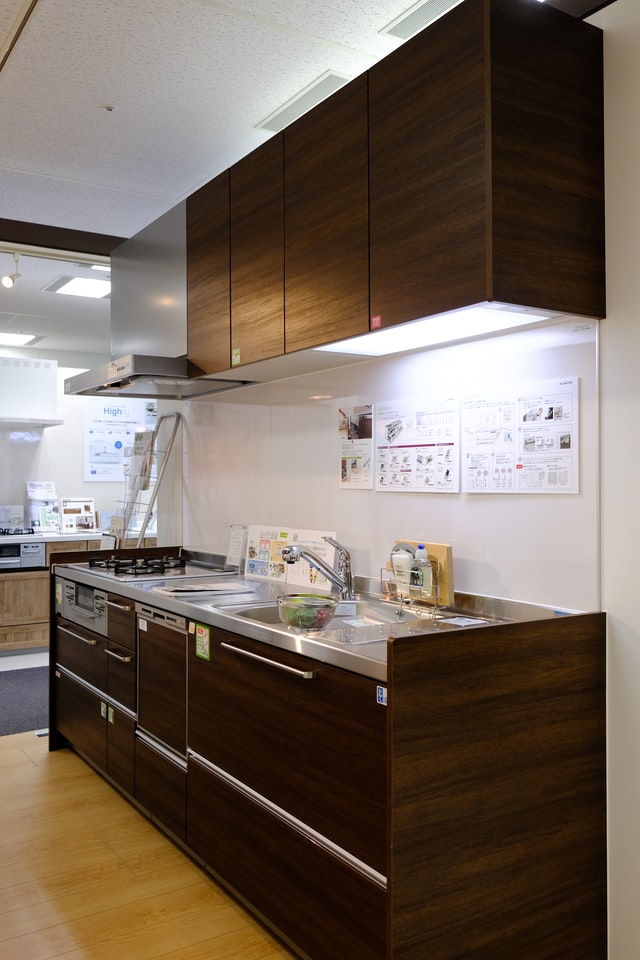 7. Decorate with personal pieces
Incorporate personal elements to make your kitchen feel like an inviting place. It might be a special sign of some kind, colourful bowls on floating timber shelves, or a favourite art print. It's these little touches that make all the difference in your space. So, when it comes time to decorate your kitchen, think about what elements you can add to your space to make it feel more like you!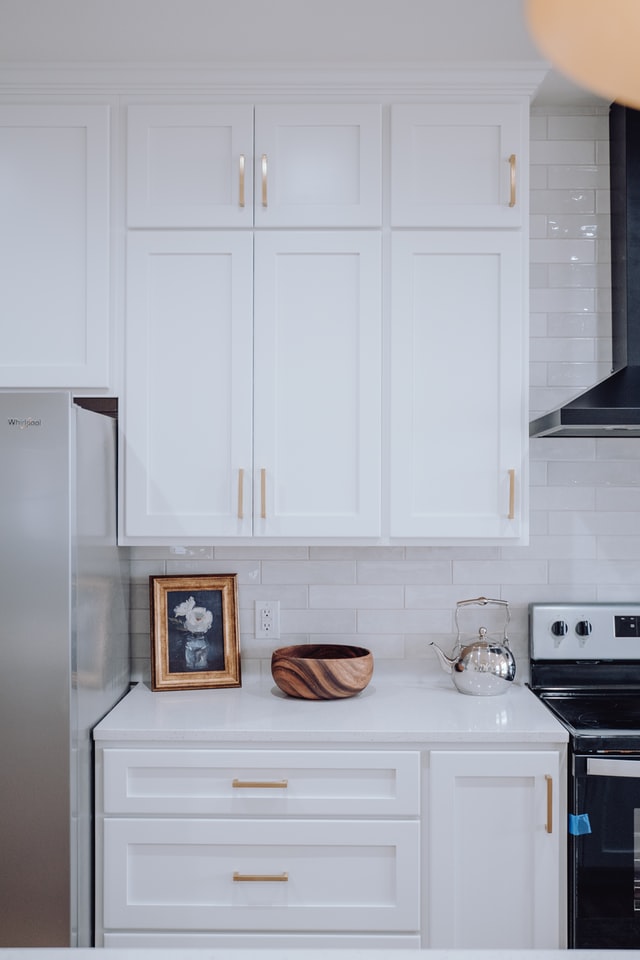 8. Handy butcher block
A butcher block countertop is a low-cost, simple countertop that gives a kitchen a cottage-style feel. In this case, it makes this modern white-and-grey kitchen feel a little more farmhouse-like. Apart from its aesthetic, a butcher block is a really practical addition!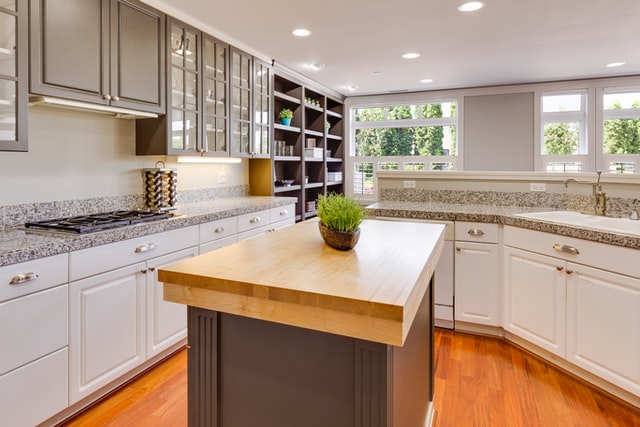 9. Modern timber kitchen
Timber is a key colour in any country style kitchen. But have you ever considered combining multiple shades of timber? This kitchen does, and it looks so good! The tones of timber work well together because the lighter shade is warm while the darker shade is cool. And together, they create the perfect balance.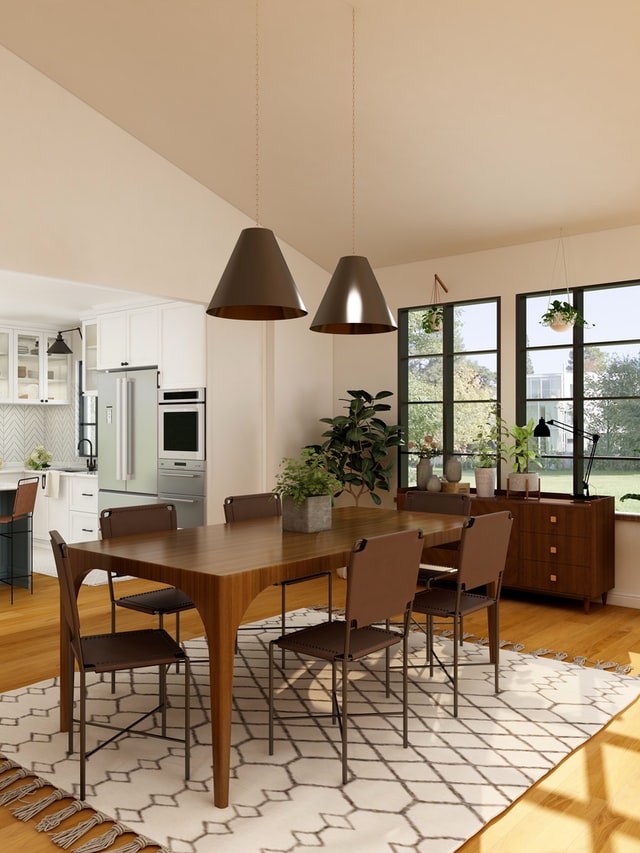 10. Downlighting
A key feature of today's modern homes is that they have plenty of lighting and usually functional lighting at that. And this kitchen is a great example of how lighting can make such a huge difference to your space. Simple down lighting above the island completely brightens up the kitchen. This is combined with metal pendant lights and lighting underneath the cabinets facing the bench.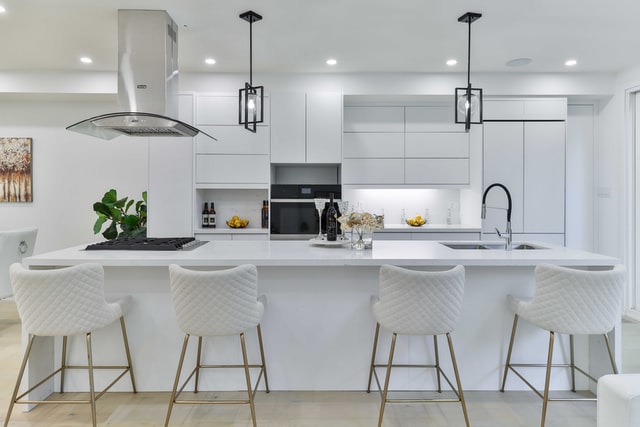 11. Wall lights
While all types of lighting have merit, wall lamps are usually overlooked. If you have a big kitchen space, it's necessary to include a lot of lighting to brighten it up. And one way to do that is by installing plenty of lights on every spare space on your wall.
12. A pop of red
Modern kitchens can sometimes get a bad rap for being too bland or monochrome. But this space is different! While the kitchen is fairly simple in its design, the glossy red splashback injects life and colour into the room.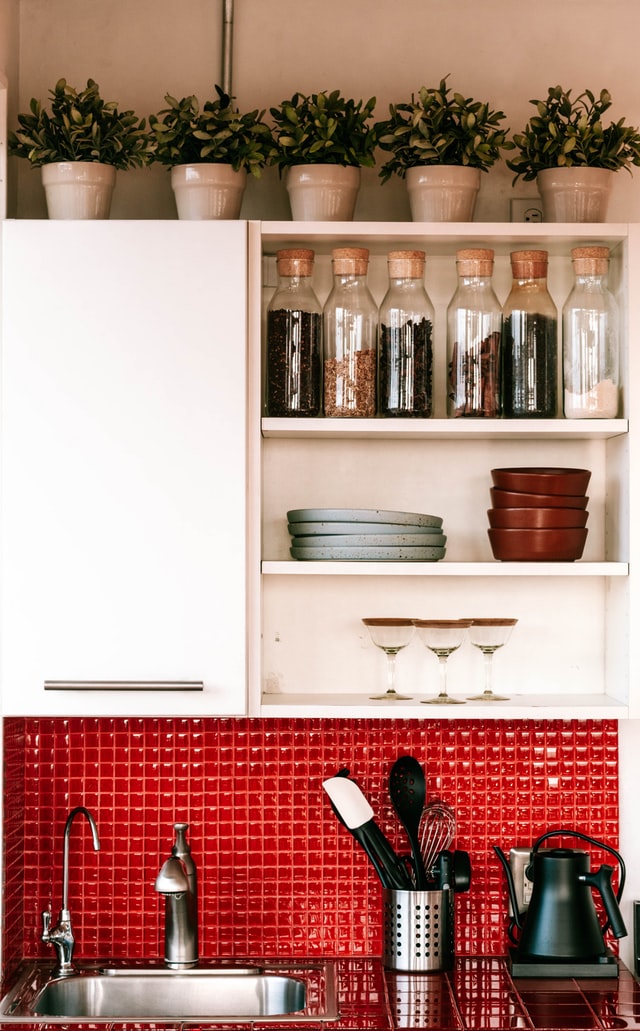 13. Vintage rug
The addition of a simple rug can take your modern kitchen space from being just another part of your house to being a gorgeous country-style oasis. Yes, oasis! Because your kitchen doesn't just have to be about cooking. It can also be about entertaining and relaxing with family and friends.
14. Modern island
A modern kitchen island isn't your typical kitchen island—it's a whole lot smarter than the usual ones because it incorporate space for storage and room for sitting. And you can add elegance to your country-inspired space by opting for comfy upholstered bar stools.
15. Timber accents
When I see timber in a kitchen, I immediately think about a country-style home. And this one is no exception. In fact, I think it's one of the most beautiful farmhouse kitchens I've ever seen. I love how the timber has been thoughtfully placed – around the rangehood, in the shelving, the bench – to add a lovely accent to all of the white.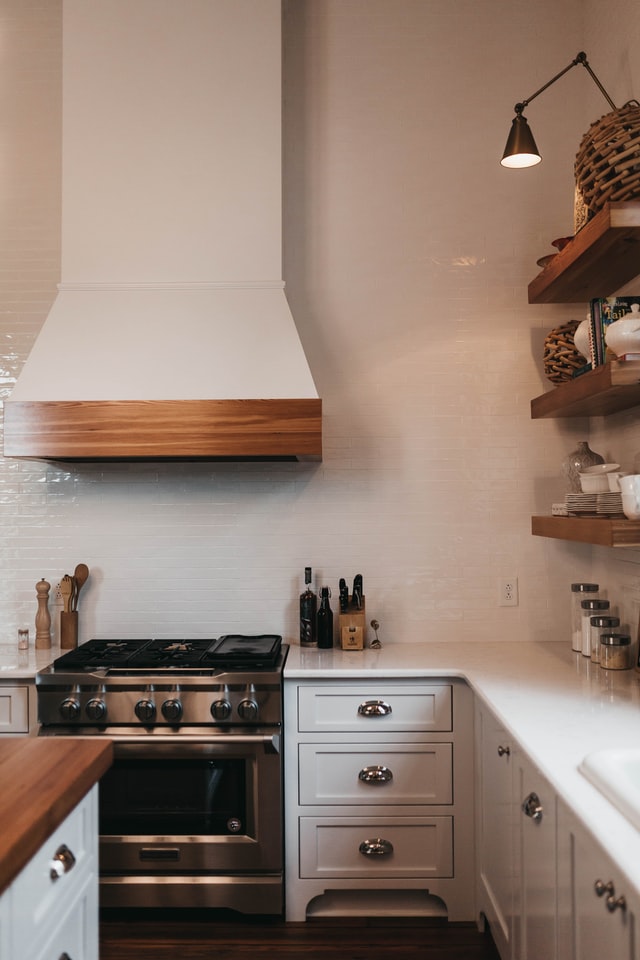 16. Terrazzo kitchen
Nothing screams modern in your home like the use of terrazzo on either the floor, walls or even the kitchen cabinets.
17. Clean marble
If you want your kitchen to look sophisticated (and expensive), go all out with marble. I love a kitchen design that uses two different cuts of stone, such as a darker grey option on the bench and a lighter white-and-grey splashback behind the rangehood. Together, they look stunning!
18. Farmhouse sink
A porcelain sink is a mainstay of country style kitchens. But just because you make your kitchen modern, doesn't mean you need to change up the sink. Stick to a porcelain sink but add modern touches, like brass tapware, to bring it into the 21st century.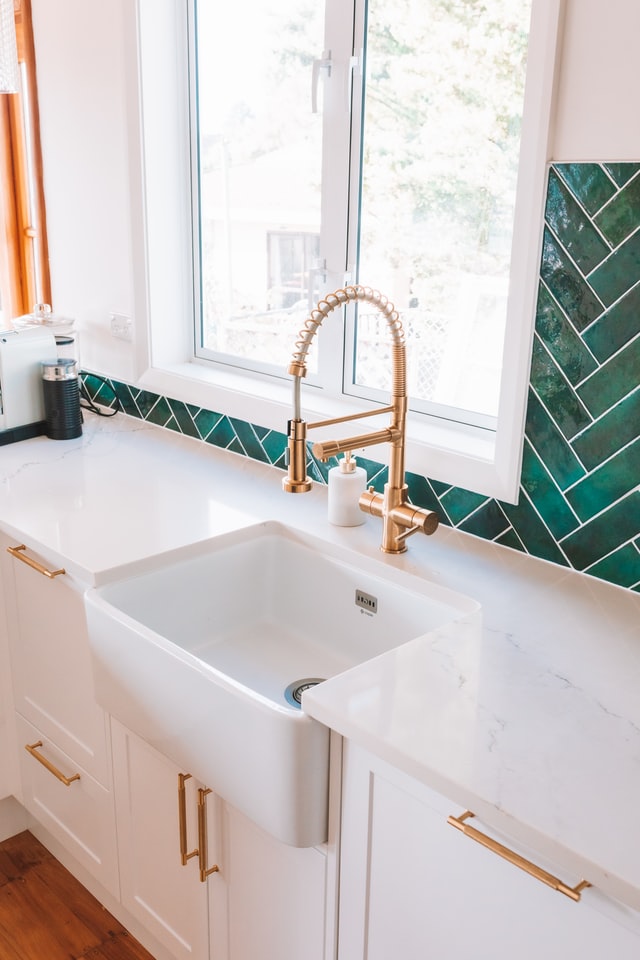 19. Gas stove
Gas has long been the favoured stove of choice for country style homes. It provides better cooking control than other types of stoves. Because a flame doesn't require any time to warm up or cool down, gas burners allow instant changes in heat, which is convenient for cooking up a feast! Not only that but gas stoves are durable, cost-effective and cookware friendly. So if you want an appliance that'll last the test of time, think about including one of these in your modern country kitchen!
20. Spice shelves
If you've got a spare corner in your kitchen, then why not put it to use with a handy spice shelf? Simply float it on the wall and you'll have easy access to every spice you could ever need. No more hunting around the kitchen cupboard – everything is within arm's reach!
21. Stainless steel kitchen
For an ultramodern kitchen, you can't go past copious stainless steel. Countertops, appliances, fridges or even floor-to-ceiling cabinetry.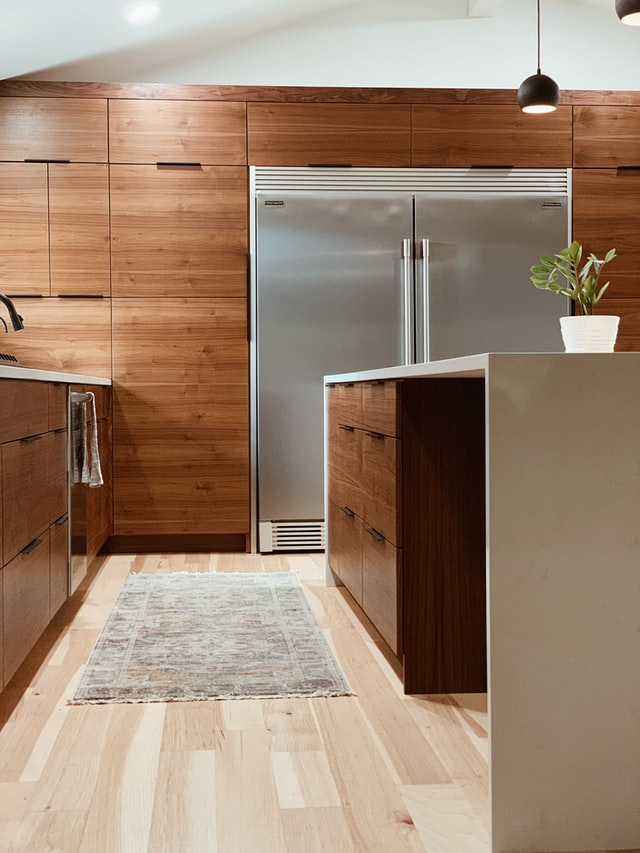 22. Mosaic tiles
If you want to make a bold statement, then go all out with funky tiles! These can really be the show stoppers in your modern kitchen. And you can match them perfectly with your cabinetry by picking out a tone that's common to both.
23. Mid-century modern kitchen
You can't go wrong with pendant lights because they look good with pretty much every style. Brass is a classic mid-century look and you can integrate it throughout your room in the structure of your lights and the hardware on your cabinets.
24. Wall art
You don't have to leave wall art confined simply to the living room, hallway or bedrooms. Why not include your favourite design piece in the centre of the kitchen or dining?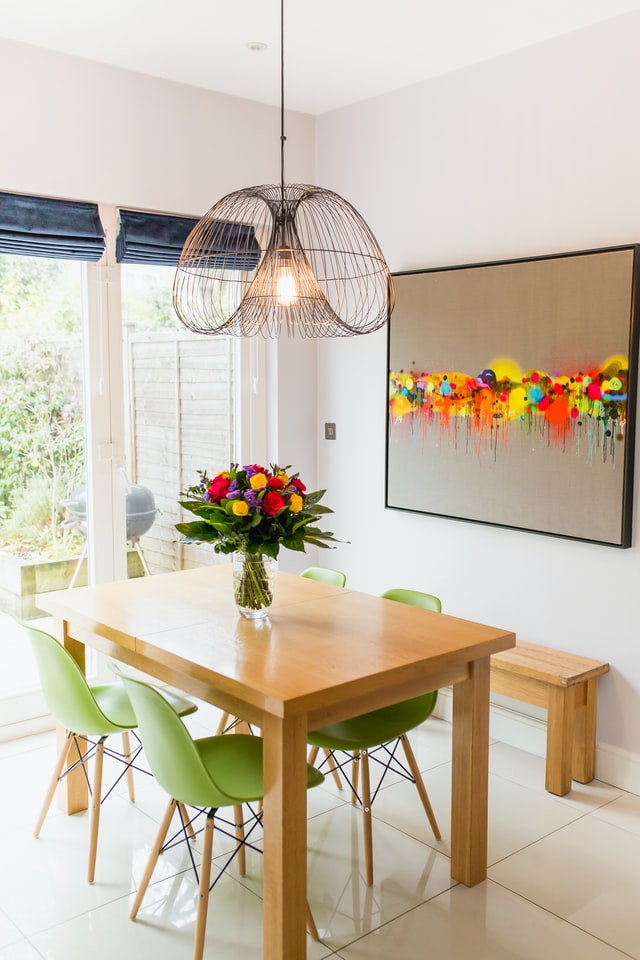 25. Room for everyone
When you think of country-style kitchens, you probably think of plenty of people around the table, a roast meal, and a good bottle of red. After all, it isn't the style of the kitchen or the décor, it's the people gathered around the table. So, when you're designing your modern country kitchen, think about how you can add as much seating as possible to the space to make room for everyone!
Looking for some other ideas? We've put a bunch of amazing kitchen ideas together for you covering every type of kitchen design.
26. Dark cabinets
A country kitchen doesn't just have to be light and bright, it can incorporate darker shades too. For example, dark cabinets look great contrasted against a white subway splashback tiles.
If you want to change your kitchen, you can always look at painting your cabinets to give your kitchen a complete refresh.
27. Modern kitchen colours
These days people are becoming more adventurous with their kitchen colours. From bright shades to pastels and everything in between. And the great thing is that you can find appliances in such a wide range of colours these days that it's easy to find complementary pieces!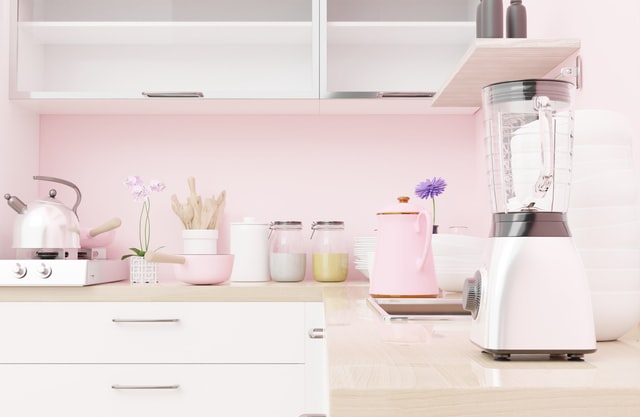 28. Quirky lights
Create a bold statement in your modern kitchen by hanging brass lantern-like lights from the ceiling. These kind of lights have all the mid-century modern flavours!
29. White with pops of colour
If you love an all-white kitchen but like a little touch of colour, add pops of colour such as blues, pinks or purples. A white modern kitchen is the right choice for you if you prefer something that's low maintenance, that will look good for years to come, and that you can dress up with different kinds of décor.
30. Rattan stools
This kitchen is a mix of coastal and country style. The all-white backdrop looks very light, fresh, and airy against the dark cabinetry and island. And the rattan stools add a touch of warmth to the space, making it feel cosy.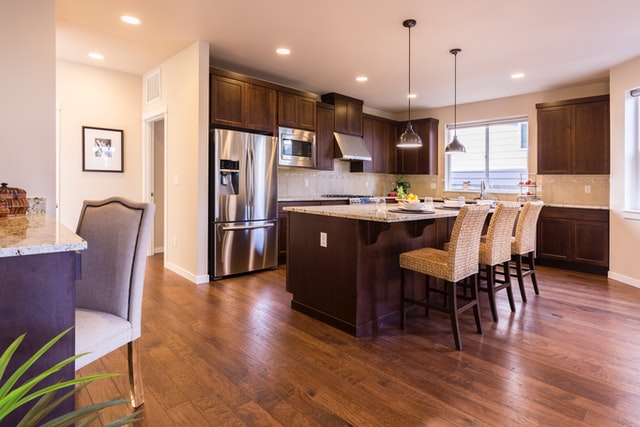 31. A statement rangehood
Rangehoods are one of the most forgotten parts of the kitchen, so they often end up looking old, outdated and worse for wear. But you can easily make a big statement by choosing a bold and unique looking rangehood, such as an all-black one. By recreating this look, you can create a pretty impressive feature piece in your kitchen.
32. Colourful kitchen design
Last but not least, you might be thinking of just adding one colour other than a base of white or black. But maybe this image can tempt you to take it a step further and introduce multiple colours and patterns into your kitchen.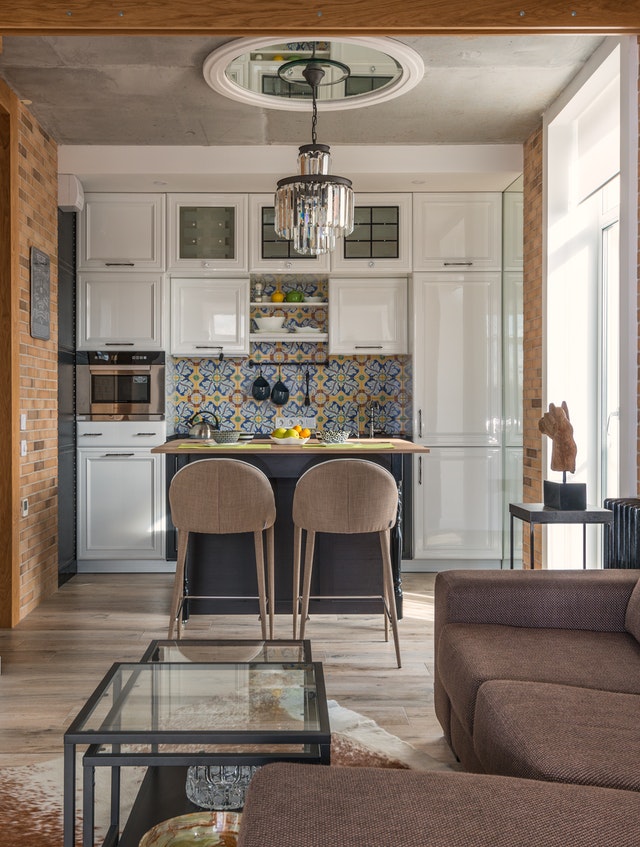 What did you think of these modern kitchen designs? I'd love to know which ones you're going to try in your kitchen. Maybe you'll add some mid-century lighting, or perhaps you'll go all out with country-style timber.
Comment and tell me what your biggest takeaway was, and how you're going to design your kitchen!