If you're looking to upgrade your kitchen, you simply cannot miss out on including an eye-catching kitchen splashback. Not only will it look beautiful and help tie all of your design elements together, but it will provide some welcome inspiration while you cook up a storm! But where do you get started when there are so many kitchen splashback ideas around…
Your first thought when you think of kitchen splashbacks may immediately turn to the classic white subway tiles or square-cut mosaics. But you might be surprised to learn that there is a whole world of possibilities.
From black herringbone and turquoise geometric tiles to stone walls and wooden splashbacks to shades of blush and pops of yellow, there's something to suit every taste and style.
Need I say anymore? Let's dive into 35 of my favourite kitchen splashback ideas.
1. Stone kitchen splashback wall
While marble and granite may be the most common materials used in a kitchen, a stone wall adds visual interest and texture to a white kitchen. It's easy to wipe down and gives a modern edge to your space.
2. Mermaid tiles
These tiles are all the rage at the moment, and are a cute way to pretty up your kitchen! Play with different shades of green mermaid tiles to give your kitchen splashback a textured feel.
Tiling is one job that is best left to the professionals so that it's absolutely perfect the first time around. Attention to detail and lots of experience are the top qualities that you want in a splashback tiling expert.
3. White hexagon tiles
You simply can't go wrong with this classic twist on the subway tile. Combine these white patterned hexagon tiles with dark grout for a cute, vintage-inspired look.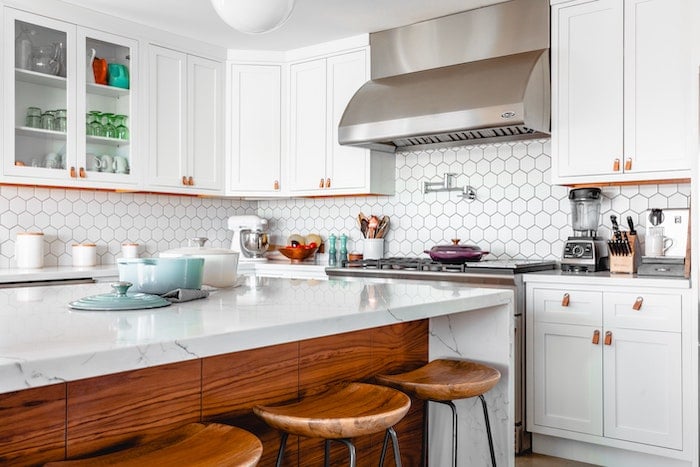 4. Arabesque tiles
Add a touch of elegance to your new kitchen splashback with these lantern-shaped white tiles. Use a contrasting dark grout to make the arabesque pattern a focal point of the room.
Don't forget with grout that you need to keep on top of keeping it clean, especially if you've got a light colour. We all know that scrubbing grout is one of the least favourite cleaning tasks so that's why it might be worth getting a tile cleaner to specifically clean all of the grout throughout your home. Find out how much a tile cleaner will cost for your home.
5. Chevron tiles
Take a twist on the classic white chevron tiles by choosing to layer with white, black, and grey tiles. This colour combination works great for any modern kitchen.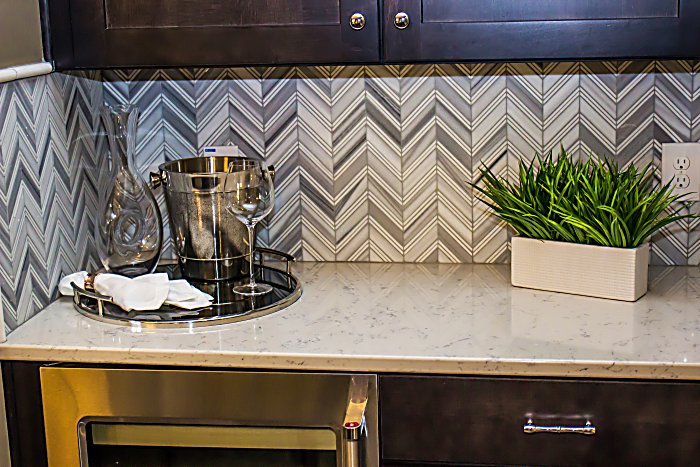 6. Black glass splashback
This glossy black splashback brings a striking dimension to this well-lit Scandinavian-inspired kitchen. While it is beautiful, be warned – you will have to stay on top of the cleaning to keep it shining!

7. Chalkboard kitchen splashback
This is both a fun and functional option. Keep your family organised by writing out the dinner menu for the week or personalise your space with some quirky drawings.
Using chalkboard paint is a great DIY hack that pretty much anyone can do!
8. White subway tiles
The classic white subway tile never goes out of style. Teamed with white grout, it makes for a seamless white backdrop that highlights tapware, lighting and cabinetry.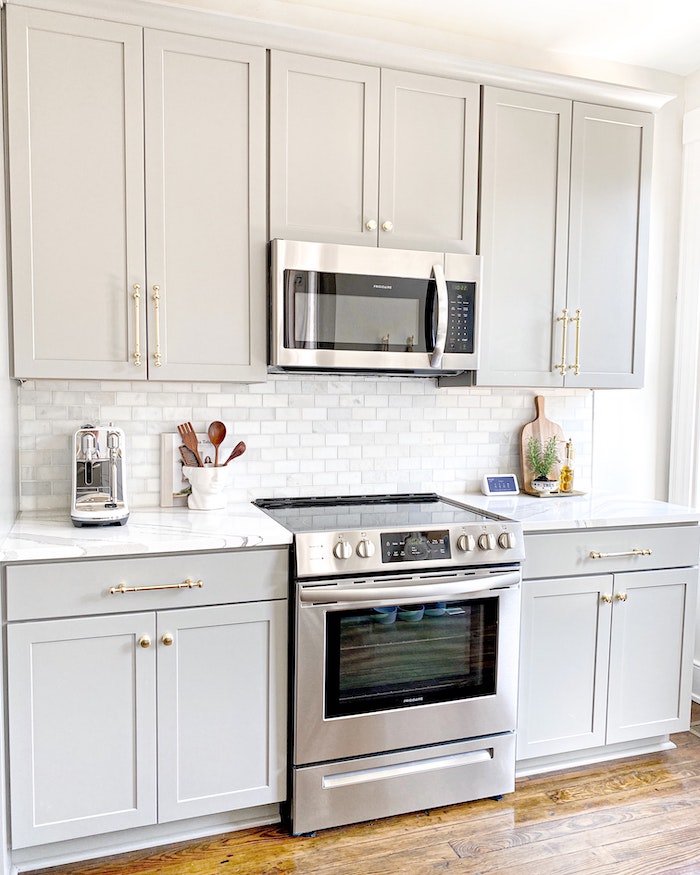 9. Diamond tiles
White diamond tiles add a touch of interest to your kitchen splashback while pairing beautifully with any colour cabinetry. They're the perfect choice if you're wanting to make a statement without going too bold.
10. Monochromatic kitchen splashback
If you're looking for an eye-catching feature wall, look no further! Black-and-white monochromatic tiles are a daring choice that works perfectly in a neutral kitchen.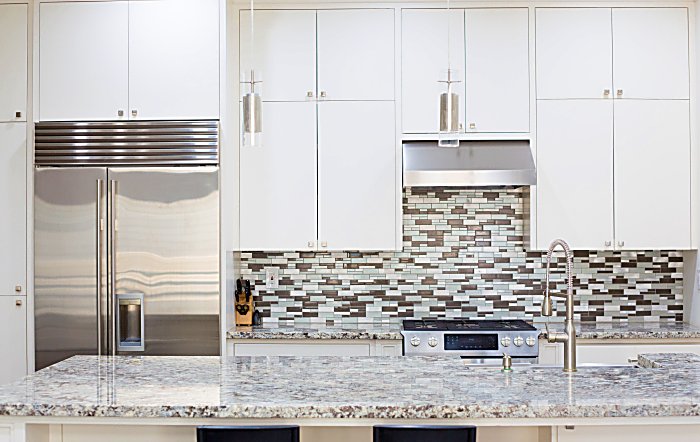 11. Herringbone tiles
It's no wonder Herringbone tiles are so popular, they've been used since the beginning of time! The pattern originated in ancient Rome and was used on Roman roads, Egyptian jewellery and textiles, and parquetry floors throughout France.
The Herringbone pattern has been so popular it's made its way onto home walls and is a classic choice for a striking kitchen splashback.
12. Iridescent kitchen splashback
If you want to add a bit of glitz and glam to your kitchen, look no further than this iridescent metal splashback. They pair perfectly with blue cabinetry and countertops for a sleek, modern design.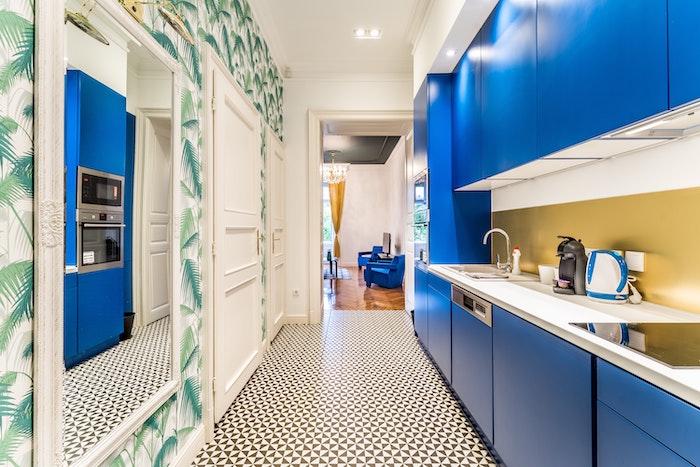 13. Exposed brick
If you have a brick house and you're overhauling your entire kitchen, you might want to consider this option. Exposed bricks are a popular industrial design feature that can work seamlessly with almost any contemporary kitchen.

14. Clear glass kitchen splashback
If you have are fortunate enough to have a beautiful view out the back of your kitchen, make the most of it by bringing it inside with a clear glass kitchen splashback. This not only provides a stunning backdrop but also allows more natural light to flow into your home. Glass is also a relatively easy splashback to keep clean, which is a huge win in my opinion!
15. Marble kitchen splashback
Marble is as elegant as it is practical – it's durable, heat resistant and can be surprisingly affordable compared to other natural stones. What more could you want? I personally love how this design has used the same marble on the kitchen countertops and the splashback for a seamless, clean finish.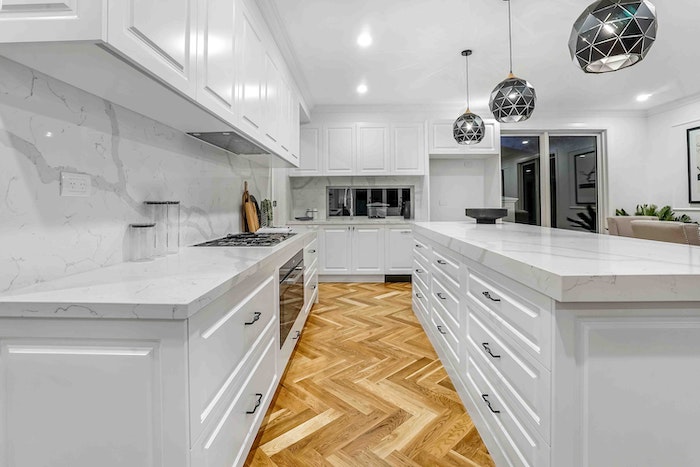 16. Moroccan-inspired tiles
If you're looking for something a little out of the box, these zebra-style Moroccan concrete tiles are sure to make heads turn! They really stand out when teamed up with classic timber cabinetry and brass tapware.
17. White tiles with black grout
Choose a dark grout to completely transform the look and feel of classic white subway tiles. Adding black grout to your white tiles will accentuate the grout, making the kitchen look a lot busier. This works well if you keep the rest of the kitchen fairly neutral. The black grout also gives the kitchen an industrial feel.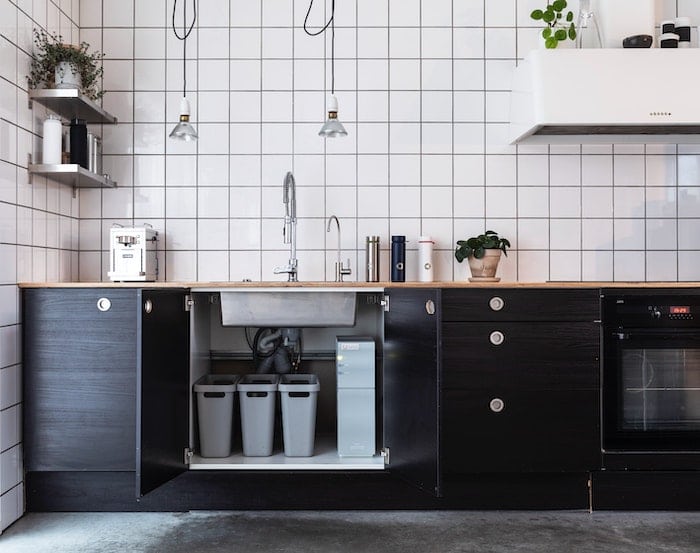 18. Penny round tiles
Cute penny round tiles are a fun alternative to traditional square mosaics. I think they even give the classic subway tile a run for its money! Penny round tiles are the perfect choice for taking your kitchen splashback to the next level.
19. Blue finger mosaic tiles
These bold statement tiles are certainly not for the fainthearted! Blue finger mosaic tiles add depth and texture to your kitchen splashback. Be sure to pair them with like colours or neutrals to pull off this look.
20. Soft pink with glass splashback
Never thought you'd consider a glass kitchen splashback? Well, you might now! A pink wallpaper adds a whole lot of fun to your cooking space. Pair them with brass tapware and white cabinetry for a soft feminine touch.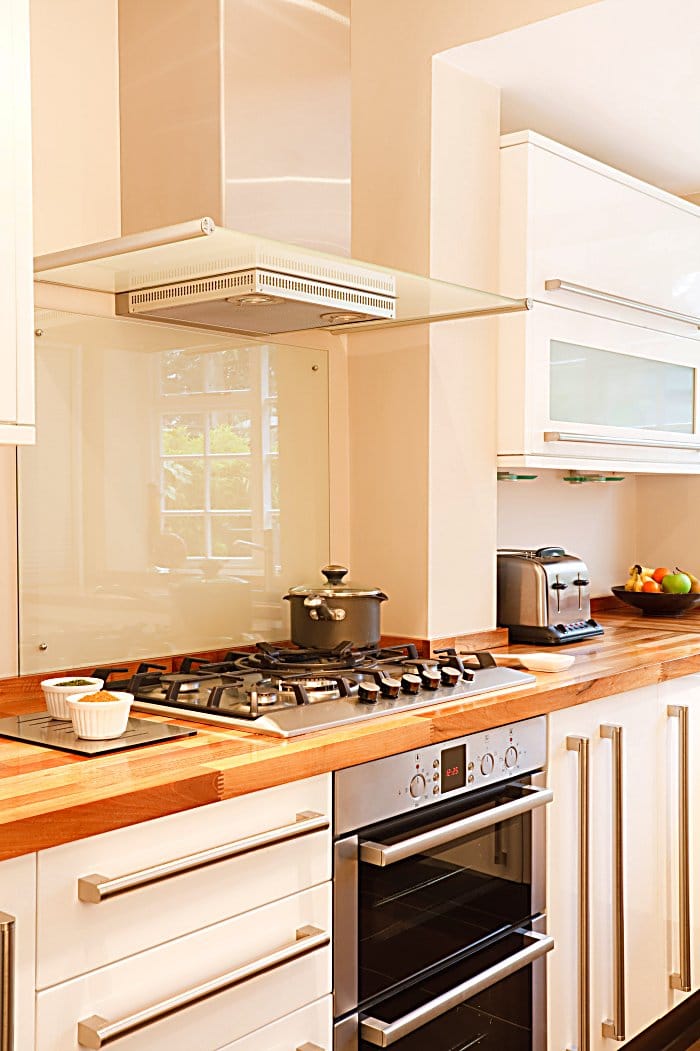 21. Green tiles
Why not be bold and opt for a pop of colour? This tiled green kitchen splashback is a stunning feature piece against the crisp white panelling and cabinetry in this home. Add a few plants around the kitchen and you've got a perfect oasis – voila!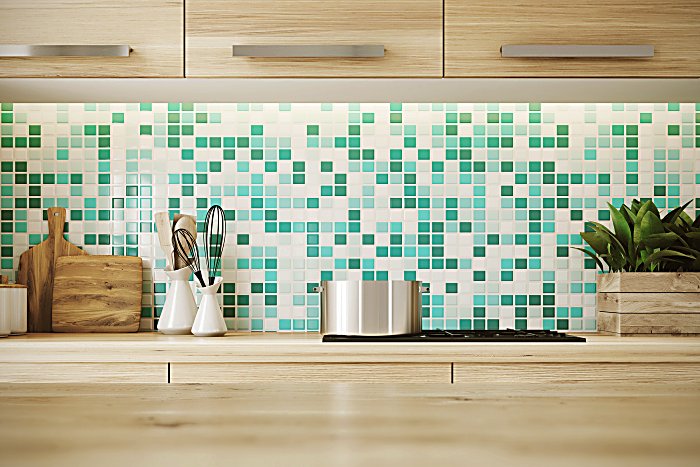 22. Spanish hand-painted tiles
You don't have to fly around the world to experience Spain! Bring a taste of the exotic into your kitchen with these gorgeous blue hand-decorated tiles that will never go out of fashion.
23. Unfinished splashback
Tiny herringbone tiles can look adorable. Try an unfinished zigzag edge to add a touch of intrigue to your kitchen – it looks great against a white cement wall.
24. White zellige tiles
If you didn't know, zellige tiles are all the rage right now! Originating from Morocco, cute square-shaped tiles add texture and warmth to any room. Choose a simple white tile to add texture to a minimal kitchen or opt for something a little more colourful to create a feature splashback.
25. Black herringbone tiles
Dark doesn't always make a space feel cramped or small. In this case, it's quite the opposite with black herringbone tiles paired with timber and brass accents to create a rich and luxuriously finished kitchen.
26. Wooden kitchen splashback
A wooden splashback is perfect for the person who wants to create an all-natural kitchen. The design is versatile and compliments both light or dark cabinetry and furniture.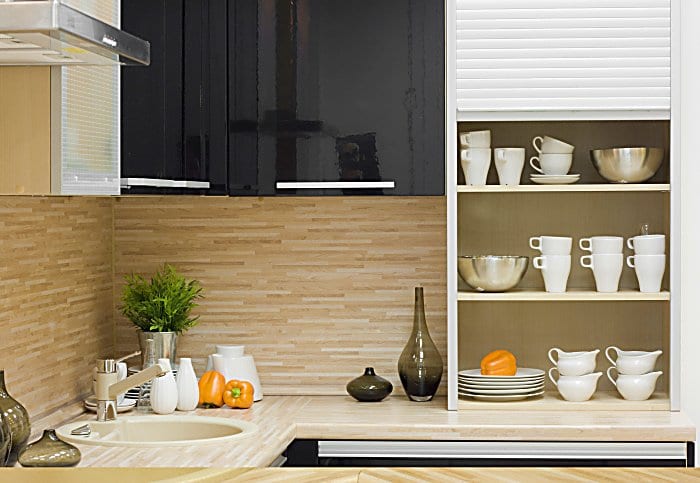 27. Polished plaster
Polished plaster probably isn't the first thing that comes to your mind when you think about installing a backsplash, but that's probably because you've never heard of the benefits. A polished plaster kitchen splashback not only looks super sleek, but is highly versatile, requires minimal upkeep, and is long-lasting!
It's one to add to your list, especially if you're looking to create a contemporary industrial kitchen.
28. Yellow splashback
Have you ever thought about yellow? My guess is that it has probably never crossed your mind. Now, I'm not talking about sunshine yellow (although it is fun), I'm referring to rich mustard yellow – and it's hot right now. I love how a deep shade of yellow can completely liven up a room. Pair it with white and cream neutrals as well as deep shades of green for a striking finish.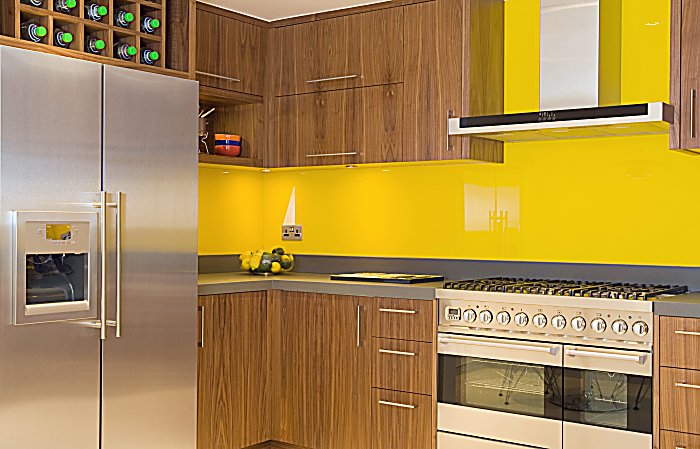 29. Boho splashback
If you're the kind of person who likes your home design a bit quirky, then the boho look might just be the right choice for you. Boho splashback tiles match the clay-coloured walls. Add pops of soft blue, natural green and timber to make this kitchen splashback truly unique.
30. Picket tiles
Inspired by the traditional hexagon, picket tiles slim and elongate this classic shape for a new, fun look. Picket tiles are very versatile and can be installed in three different patterns! Consider a braid pattern that creates an organic look from countertop to ceiling.
31. Shiplap panelling
Forgo tiles in favour of wooden panelling! This design has enhanced the home's original shiplap panelling for a kitchen splashback that seamlessly integrates with the rest of the house.
32. Mirror splashback
Make a statement with a wide mirror splashback. This is a very popular choice, as it opens up your kitchen space by bouncing light and reflections around the room. The best thing is that they are very easy to care for and will look stunning for years to come.
33. Blush triangle mosaic
Create a striking feature with a blush triangle kitchen splashback. This is a great alternative to the usual cream or white as it adds warmth, a little character, and pairs well with stronger colours like emerald green and brass.
34. Glossy grey subway tiles
You simply cannot go wrong with subway tiles, but this twist on an old favourite is sure to be a crowd-pleaser. The gloss grey subway tiles pair beautifully with white cabinetry and sleek black features for a contemporary kitchen that will never date.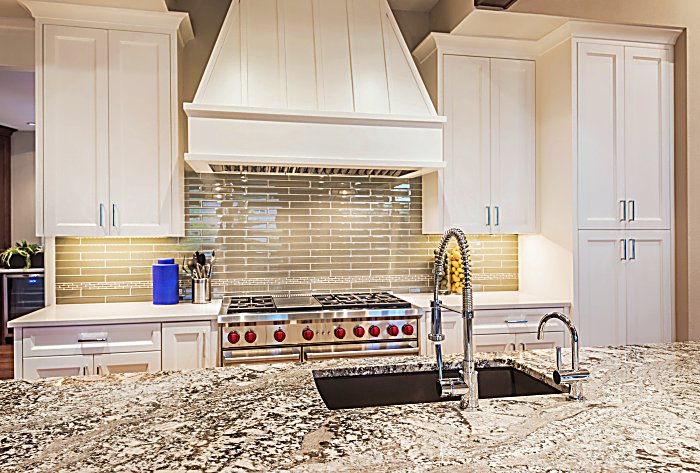 35. Printed glass splashback
Get creative by printing your favourite pattern or image onto a piece of glass for your very own personalised kitchen splashback. Choose a feature colour and integrate it with pops of like colours throughout the rest of your kitchen for a seamless design.
I hope these 35 kitchen splashback ideas have opened your mind to a world of possibilities when it comes to your kitchen redesign.  There's certainly a lot more choices than the classic white tiles and square-cut shapes. Choose from teeny tiny circles to large, bold rectangles or soft blush pink to strong mustard yellow, or glossy black tiles to textured Moroccan features to create a kitchen splashback that you truly love.
After selecting your design, why not DIY it and tile your kitchen splashback with our detailed How-To Guide? You can also DIY other walls such as bathroom tiles with our detailed How To Tile guide and infographic.  If you have any other kitchen splashback ideas, please let me know in the comments below.