Your living room is the hub of your home so it should be a warm and inviting place, which has a true reflection of your personality and style. But trends change over time, so I've put together 50 of my favourite modern living room ideas, which will keep your living room always looking fresh.
So what are the keys to creating a living room that you love to spend time in? First things first, you need to bring your space into the 21st century. You can do this with so many different styles – from Scandinavian to bright colours, to adding a bit of warmth with lighting, rolling out a new rug, or hanging pictures on the wall. With so many ideas, it can be overwhelming to know where to start. But sit back and relax, because I've done all of the research for you.
1. Make it cosy
When I think of a living room, the first thing that comes to mind is cosy cushions and a comfy spot to sit. The last thing you want is a hard, cold surface that no-one is going to want to sit on, especially not for hours on end.
So think about small ways that you can update your living room to incorporate cosy elements. Take this modern living room, for example. It includes a large grey sofa with textured cushions. And there's a huge shaggy rug underneath to provide a soft surface for your feet, instead of the wooden flooring which could get cold in winter.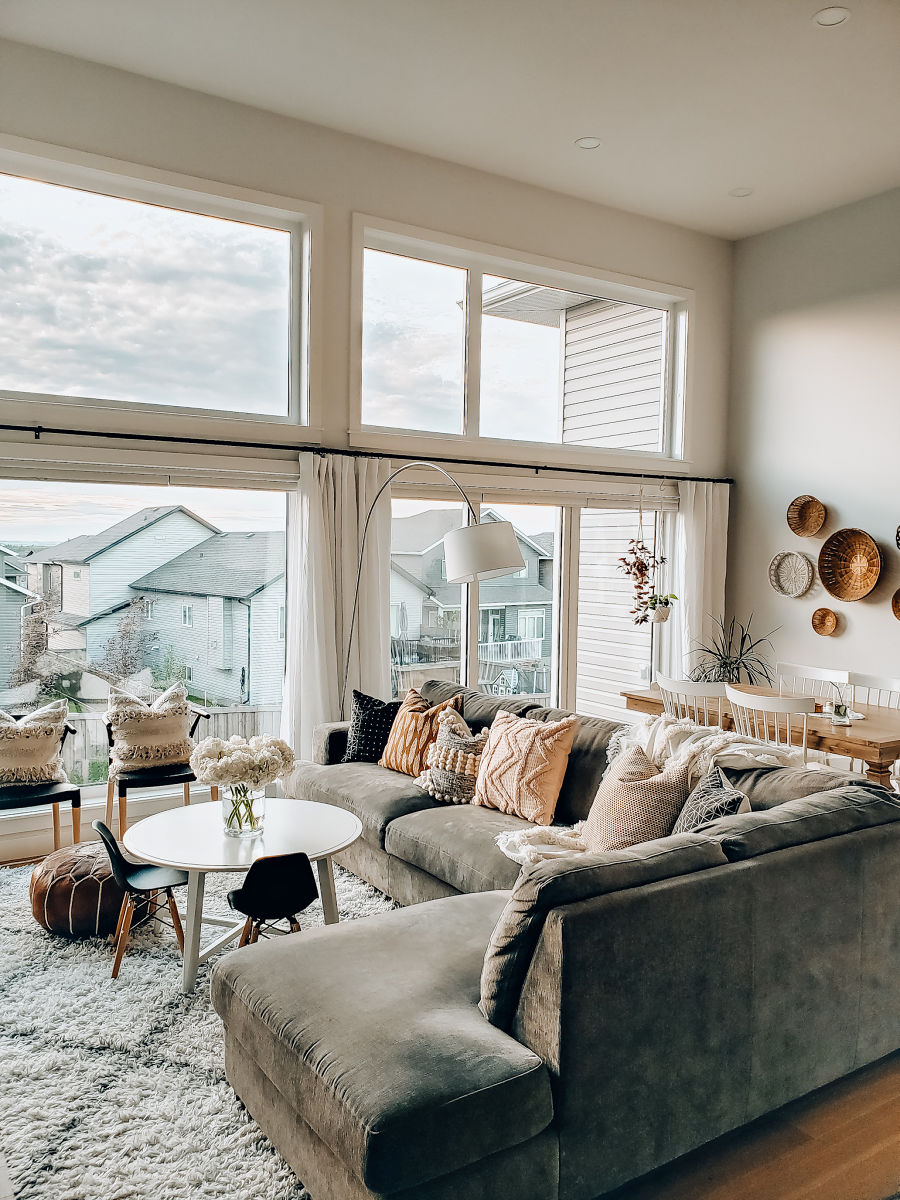 2. Choose a style and stick with it
This living room has a distinct modern farmhouse style. And the reason it looks so beautiful to the eye is that the design is consistent throughout the space. Grey has been used for the couch and the curtains, black has been integrated in the curtain rod and the window frames, and touches of brown from the ceiling beam and floorboards have been weaved through the space in the leather cushion, woven basket, rug, and timber coffee table.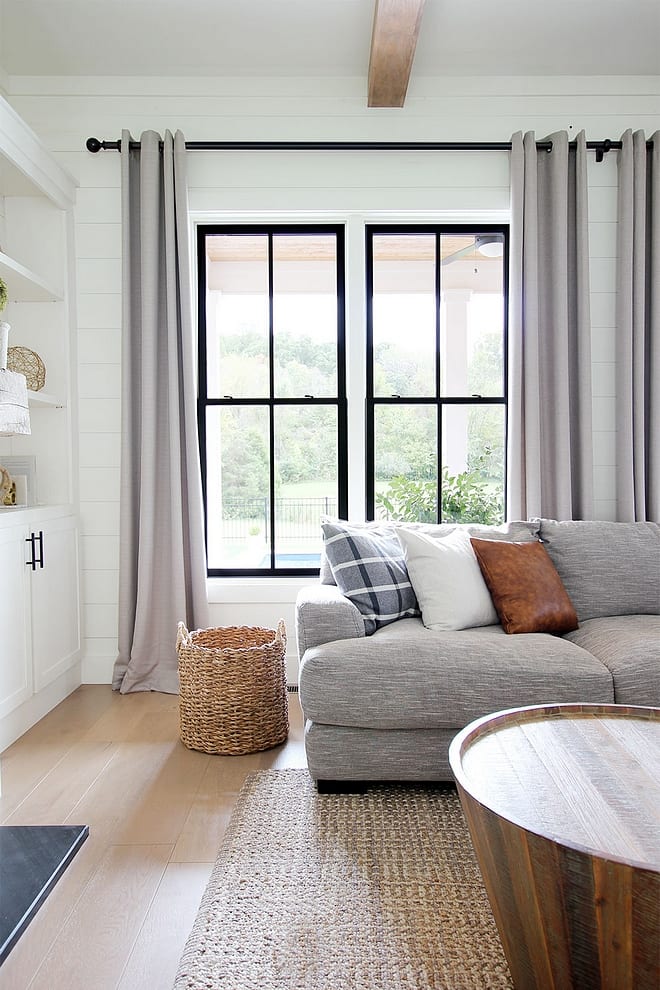 3. Let the light in
It's no secret that natural light can help make a space feel larger and breezier than it might otherwise. That said, if your space has large windows that let the light in, don't do anything to inhibit the light source. If you've got dark curtains, ditch them! Instead, select a lighter option like white, cream or even something sheer. And be sure to hang the curtain rod as close to the ceiling as possible, as this will open up your space. And be careful not to place any tall pieces of furniture up against the light.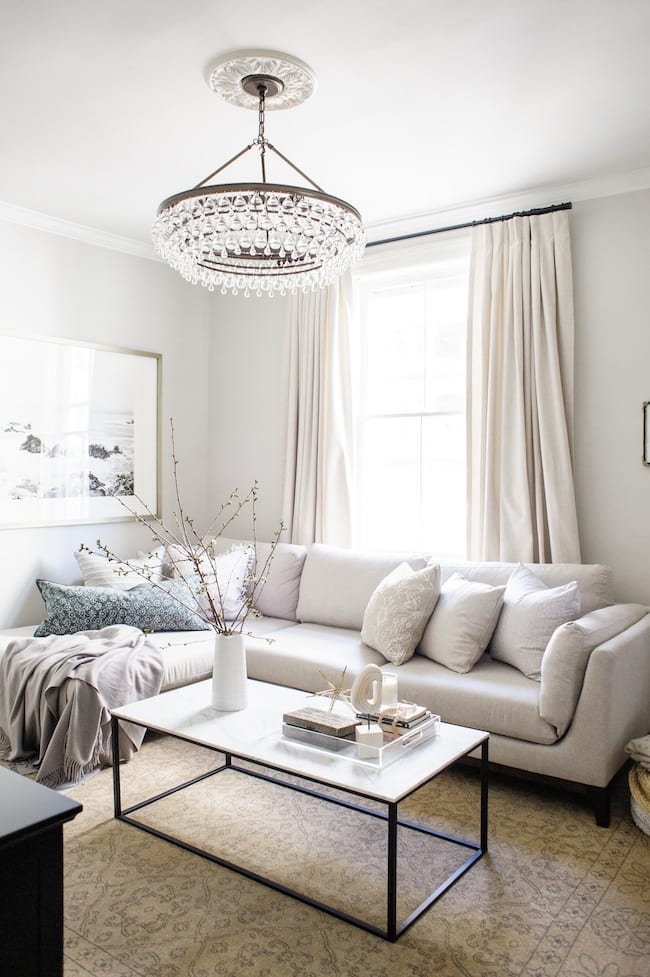 4. Glass coffee table
Nothing says modern more than glass. So if you're wanting to swap out one piece in your living room for something new, why not ditch your old coffee table for a glass one? I love this one with the gold edging, it brings this living room into the 21st century. And I love how the gold has been integrated with the gold lamps behind the couch.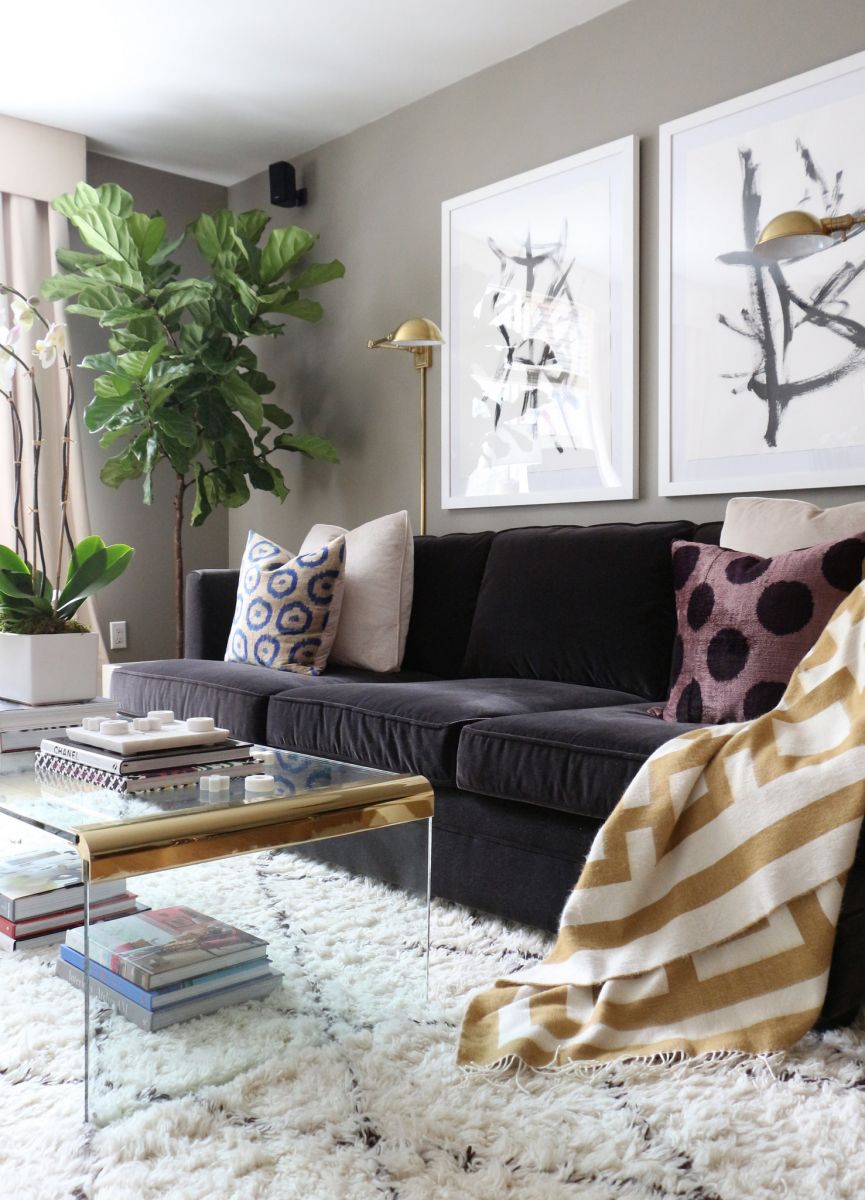 5. Colourful living room
If you're not afraid to inject a little colour into your space, why not go all out? The truth is that every piece doesn't have to be bright. You can choose one colour to ground your space, like this dark couch. And then add in colour with a rug, pillows and key pieces of decor.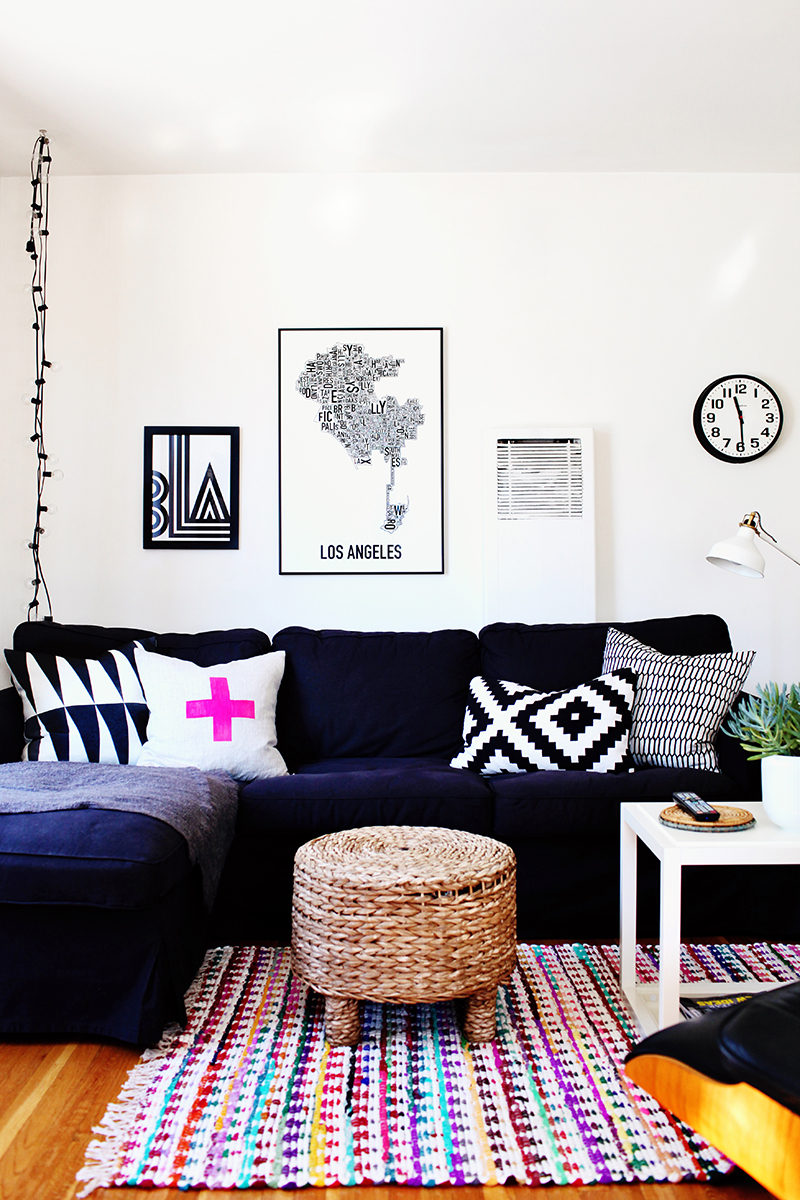 6. Bar cart
These are absolutely on-trend right now. If you want to make your space feel a little fancier, add a bar cart and some beautiful drinks. This is especially helpful to fill a blank wall with some colour and texture. Fill each level of your bar cart with something different – one with drinks, the other with fancy glasses, and the other with decor.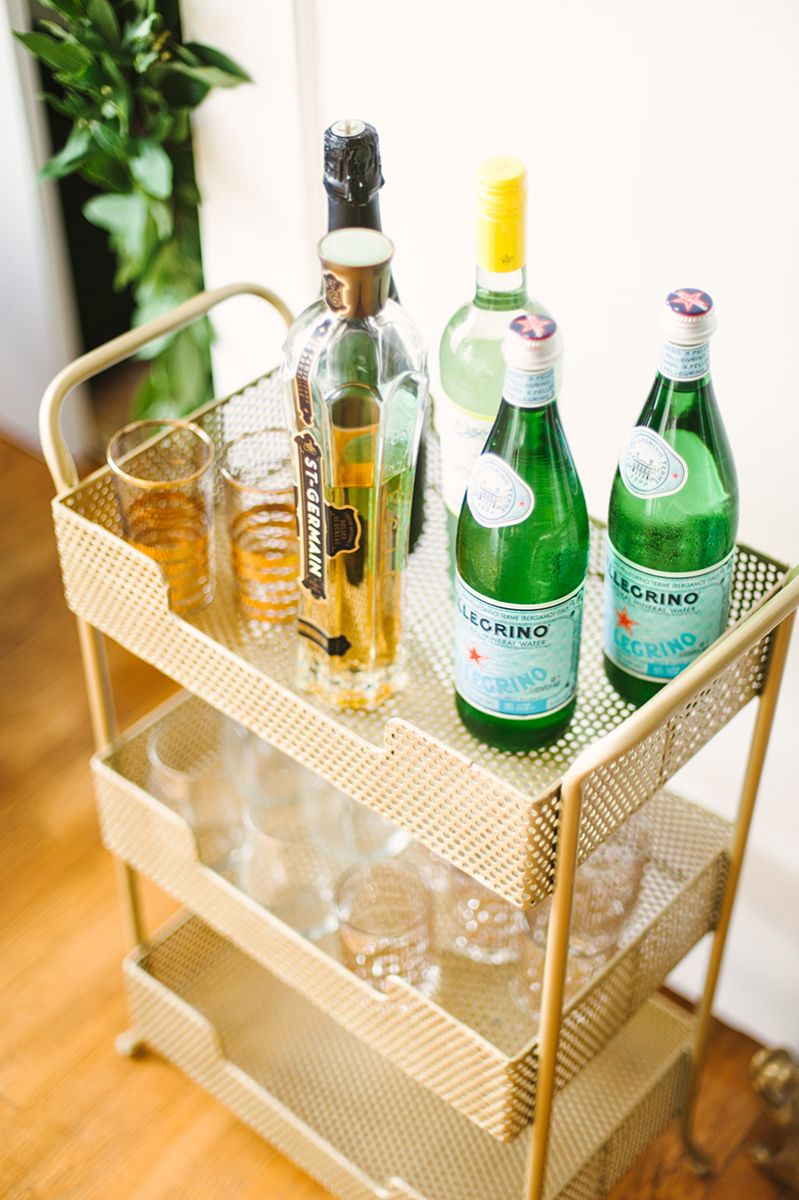 7. Busy and eclectic
If you're a maximalist at heart, this is the choice for you. Don't hide your personality – let it shine by putting it on display. Make the most of a bookcase to not only store your favourite reads, but to place family pictures and heirlooms too.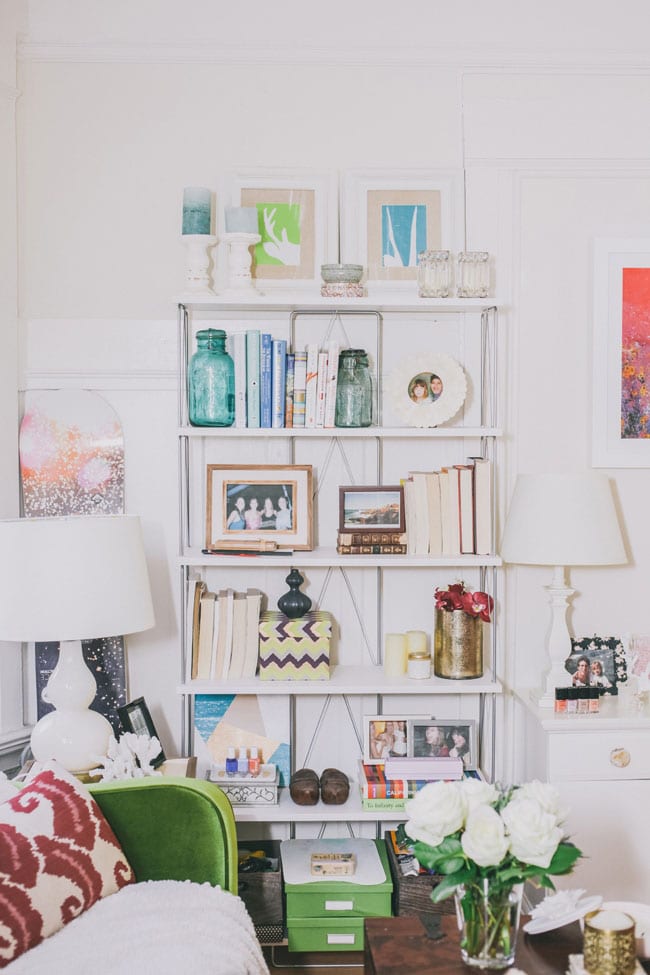 8. Blue velvet couch
This is the choice for a chic living room. The good thing about velvet is that it can be glam when combined with gold or brass hardware, or it can be dressed down with casual timber accents. I personally love how this design includes a glass and gold-legged coffee table, a gold lamp, and gold in the beautiful painting on the wall.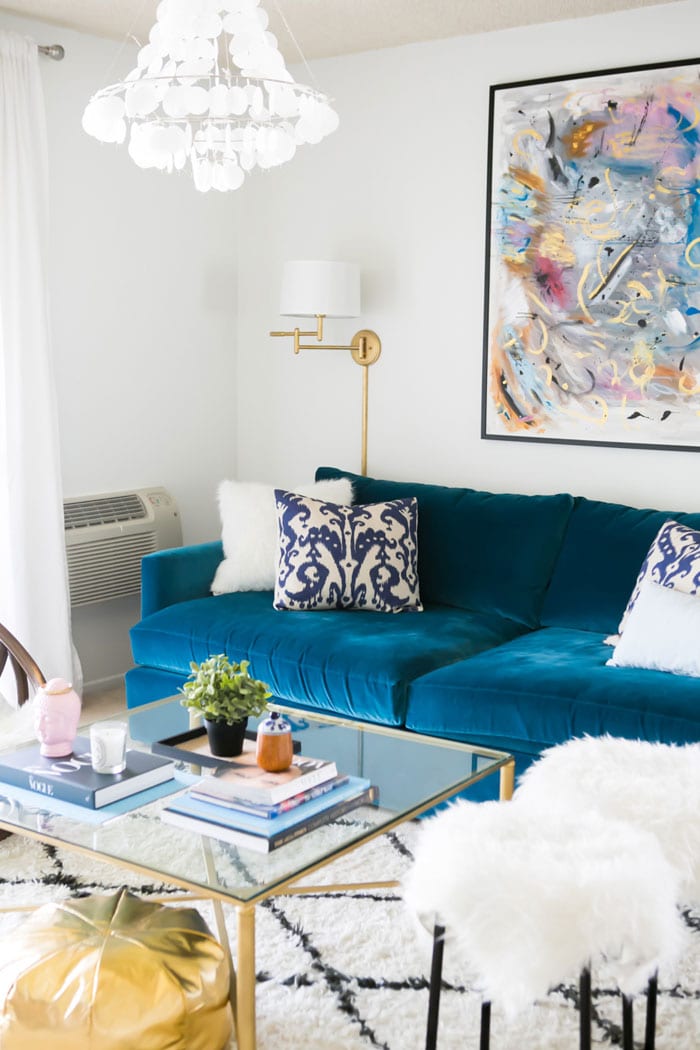 Looking for some more inspo? Check out these 60 living room ideas.
9. Mix old and new pieces
If you don't want to completely overhaul your space, you can start by combining a few new pieces with what you already have. You might like to keep higher-priced items like TV cabinets or couches. And then add in a new rug, a single sitting chair, or pieces of art.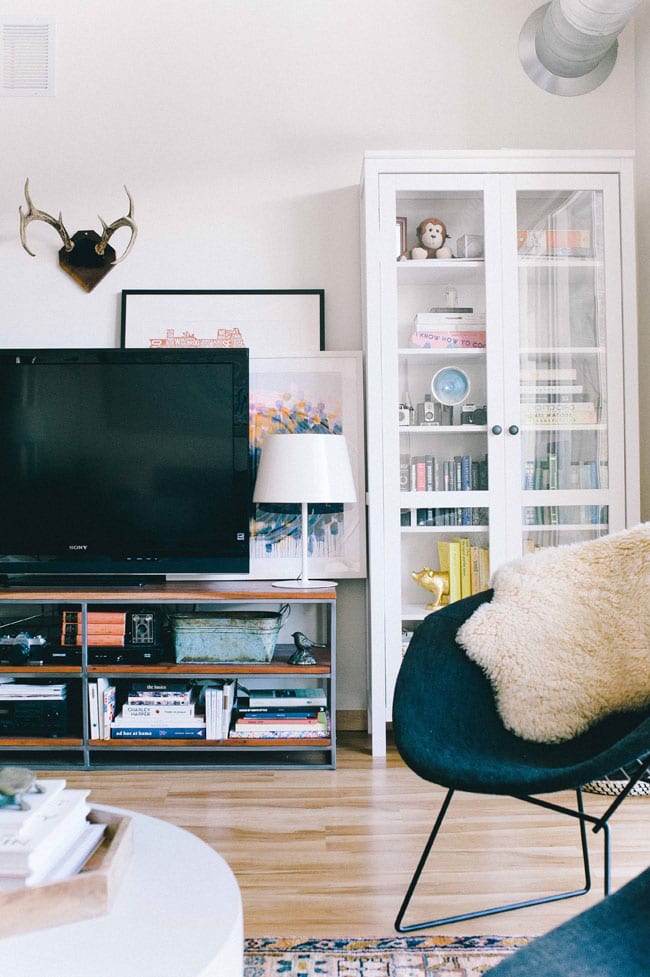 10. Spotted feature walls
Make your living room more modern with a fancy feature wall. This feature wall is simply made up of wall safe stick-on dots. You can purchase wall stickers, like this one, online. And the great thing about them is that you can continually switch them up. So as your style evolves, so can your wall!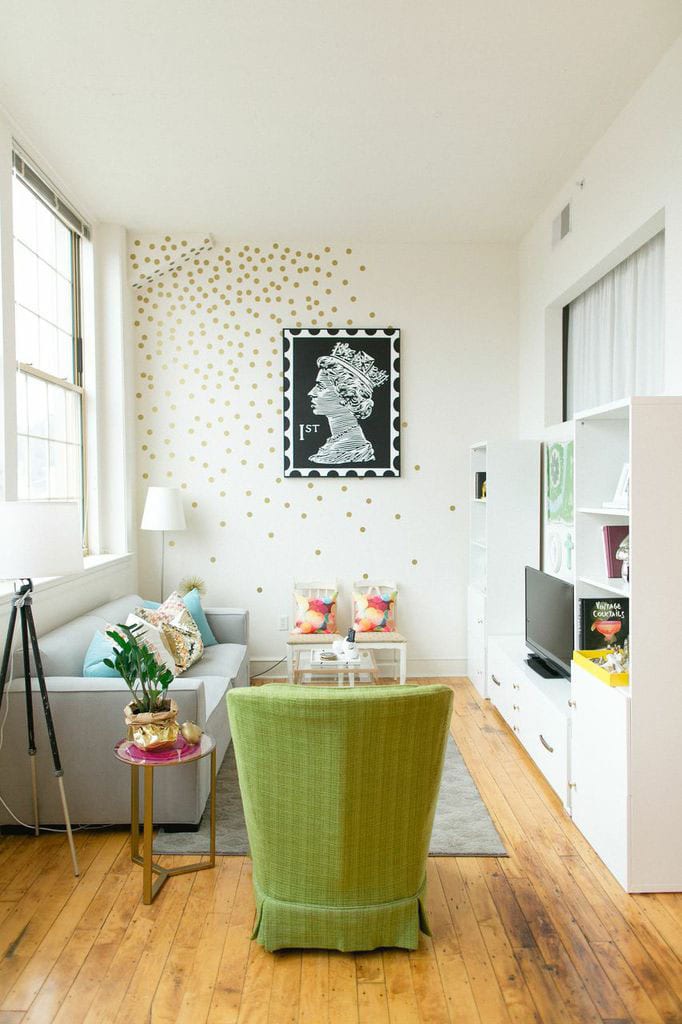 Does a feature wall tickle your fancy but you're not sure if this is the right one for you? Don't sweat it, because I've put together a whole list of 40 feature wall ideas just for you.
11. White with touches of black
This is a modern twist on a classic living room because the more white you can integrate into your living room, the better. Think white couch, coffee table, lamp and more. And then add in pops of black with pillows, picture frames, and even coffee table books. The result is a grown-up room that is perfect for entertaining.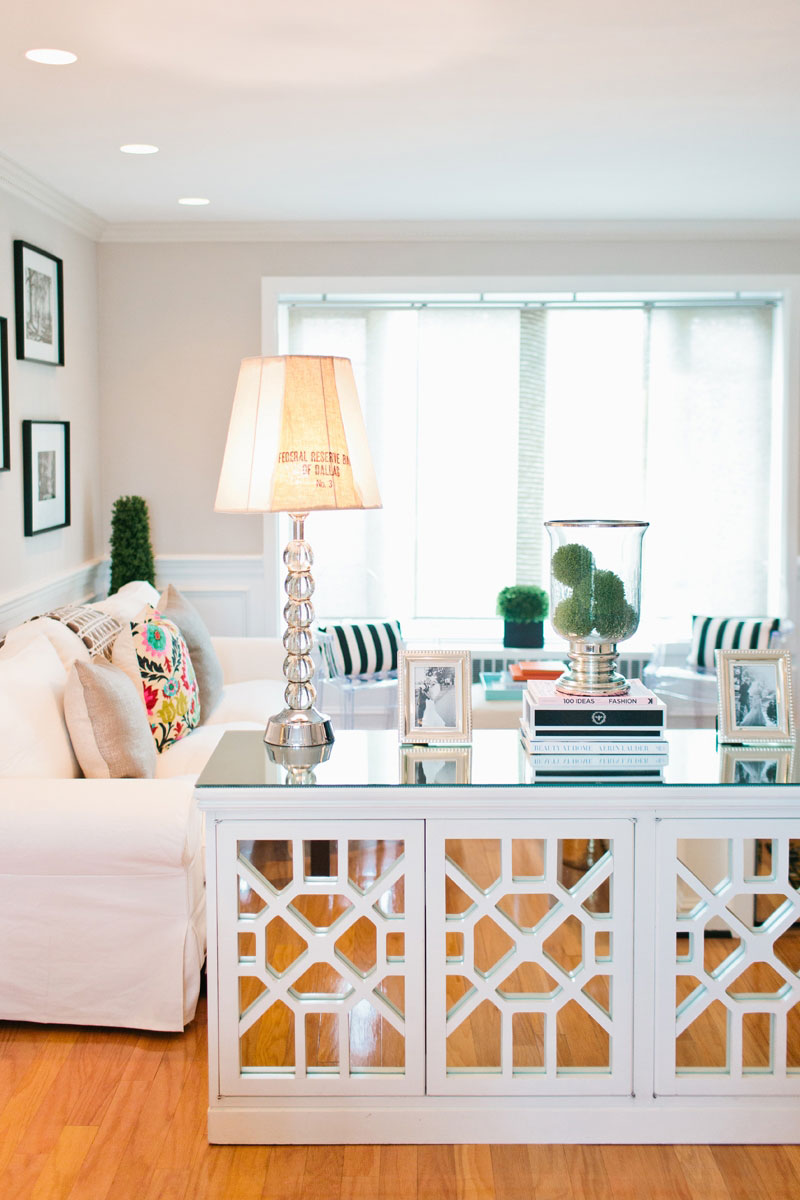 12. Hang pictures
You can't go wrong with a stunning gallery wall. And the best thing about this is that it's not only an art piece but it's very personal too. This gives you the opportunity to hang pictures, including your favourite family photos for guests to see. You can include old memorabilia, your favourite quotes or special items that have been passed down through the generations.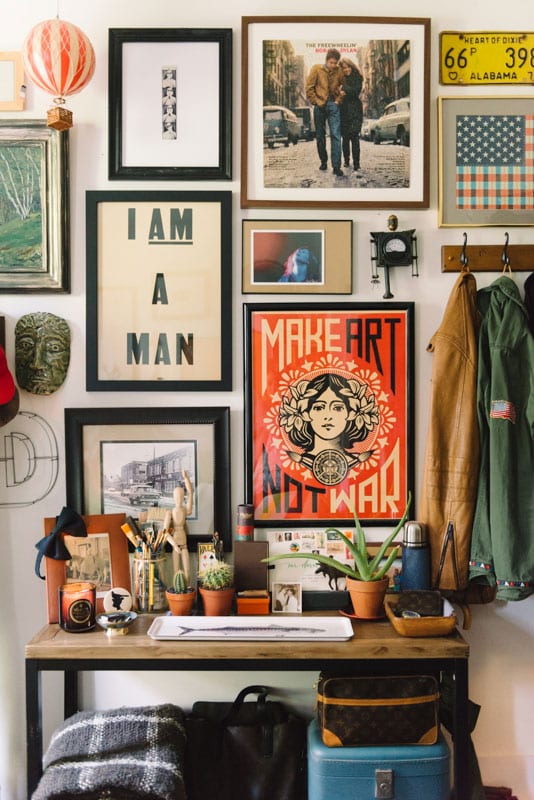 Get someone to help you put it up with picture hanging help.
13. Red and blue
This may not be the most popular colour choice, but red and blue go surprisingly well together. If you're going to create this look, the key is to weave both colours throughout other elements in the room. For example, in the pictures on the wall, on the coffee table, and in cushions. It's also helpful to have a base colour. As you can see in this design, the blue couch has cream throughout, and there's also a cream pillow on the red sitting chair.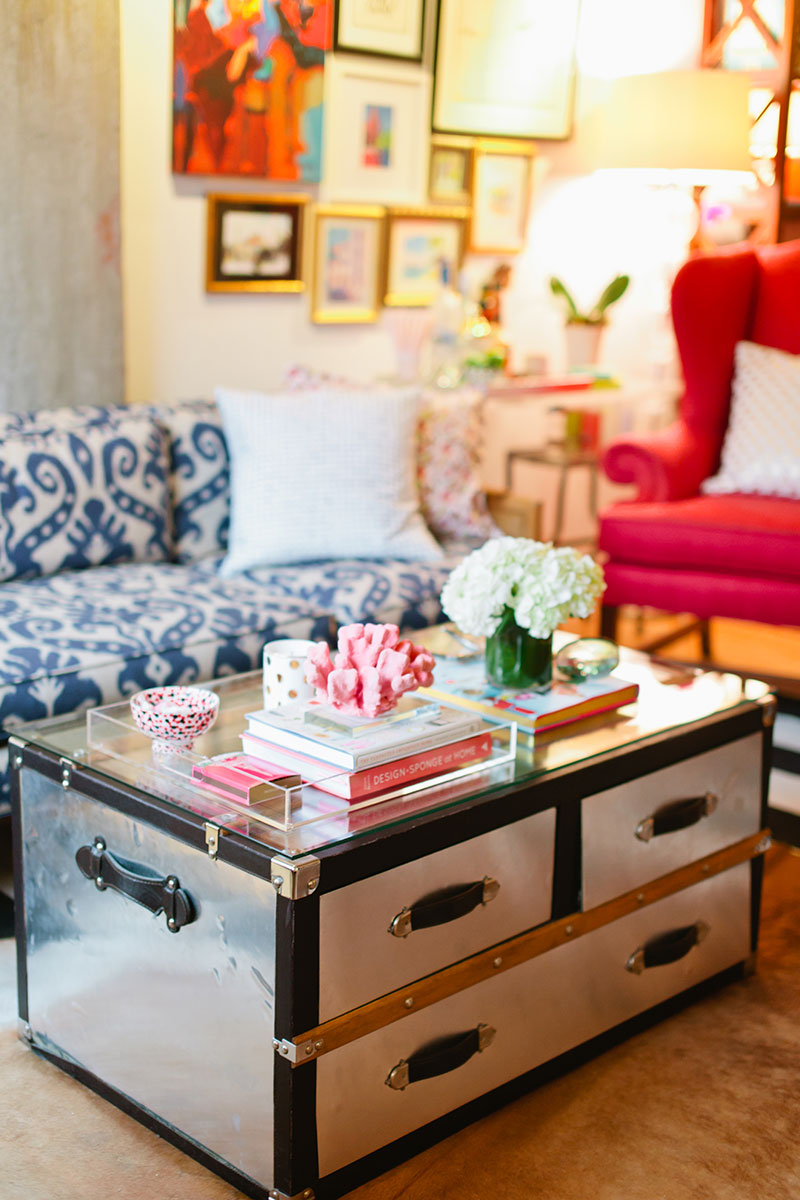 14. Colourful statement chairs
Cushions aren't the only way to add a pop of colour to your modern living room, although the electric pink-purple cushions in this space look amazing! Another way to incorporate colour is by adding one or two coloured sitting chairs. This living room includes two blue armchairs, which add a touch of modern to the brown leather couch.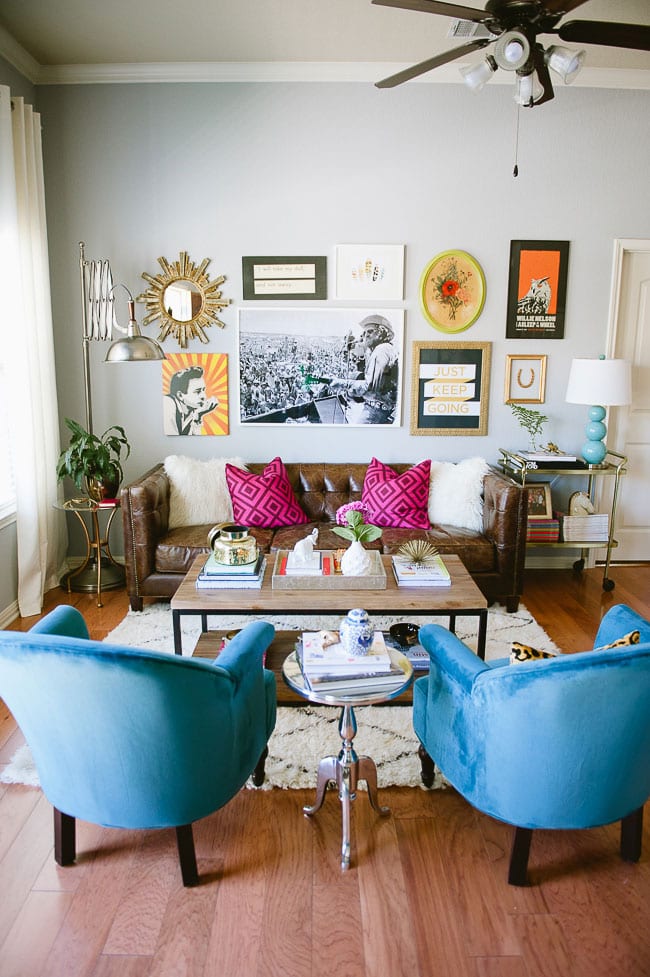 15. Dark and moody
You don't have to go all bright and light to have a modern living room. You can incorporate dark features to make your space feel more moody and masculine. In this living room, black has been tastefully added with lampshades, a dark couch, and pillows on the two armchairs. And it certainly doesn't feel overwhelming, either. The white bookcase and light through the windows give the living room the right amount of balance.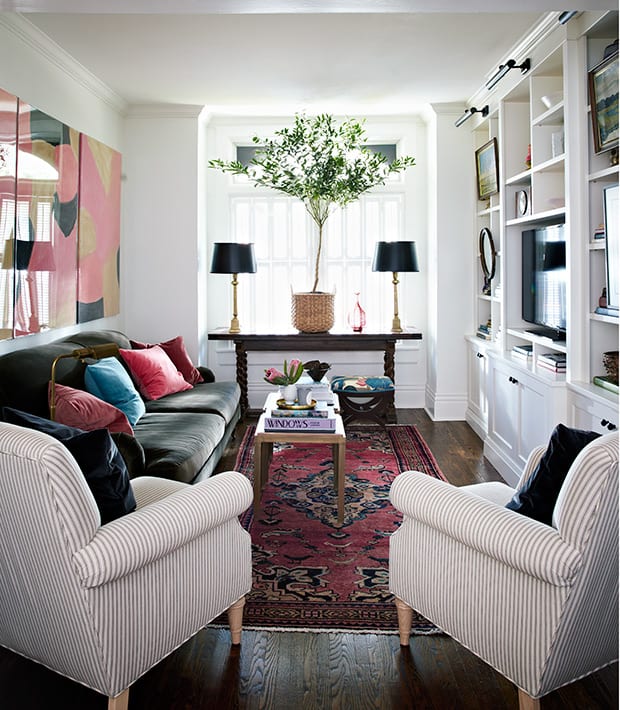 16. Choose a patterned rug
One way to completely transform your living room with hardly any work is by adding in a rug. If you have floorboards or tiles, the rug will serve as something comfortable and soft under your feet. But not only that, the rug also sets the tone for the room. Use the colours in your rug to build a theme for the room. Take this rug, for example. It has bold, dark stripes contrasting with neutral light beige. This soft beige has been used throughout the rest of the room in the couch, wall art, and even in the timber.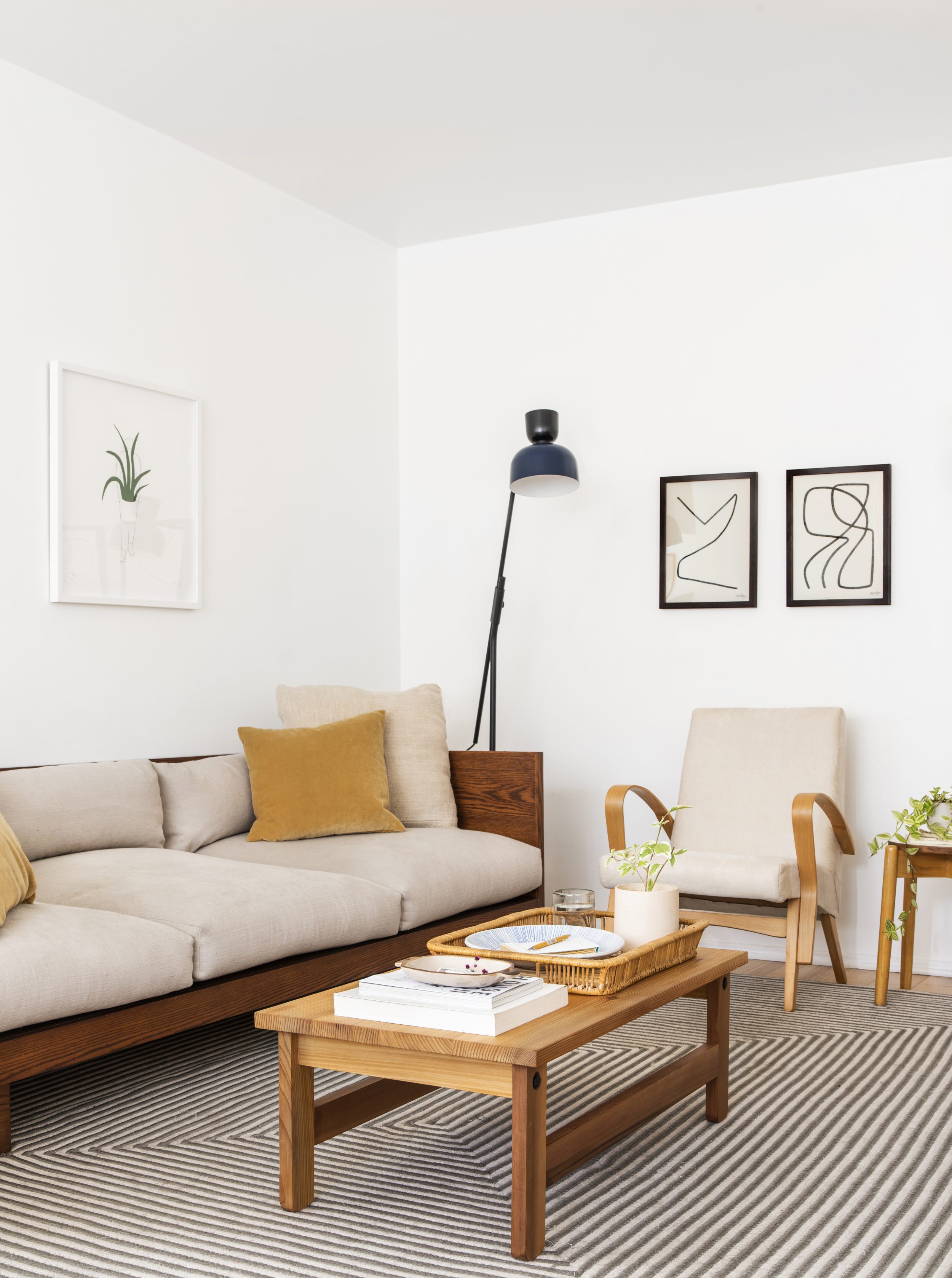 17. Go for Scandinavian minimal
This neutral-themed living room is a breath of fresh air. I love how inviting it is! It's very minimal and clean yet warm. While the style appears to be Scandinavian, it also has a touch of boho threaded throughout with the shaggy stool and tapestry on the wall.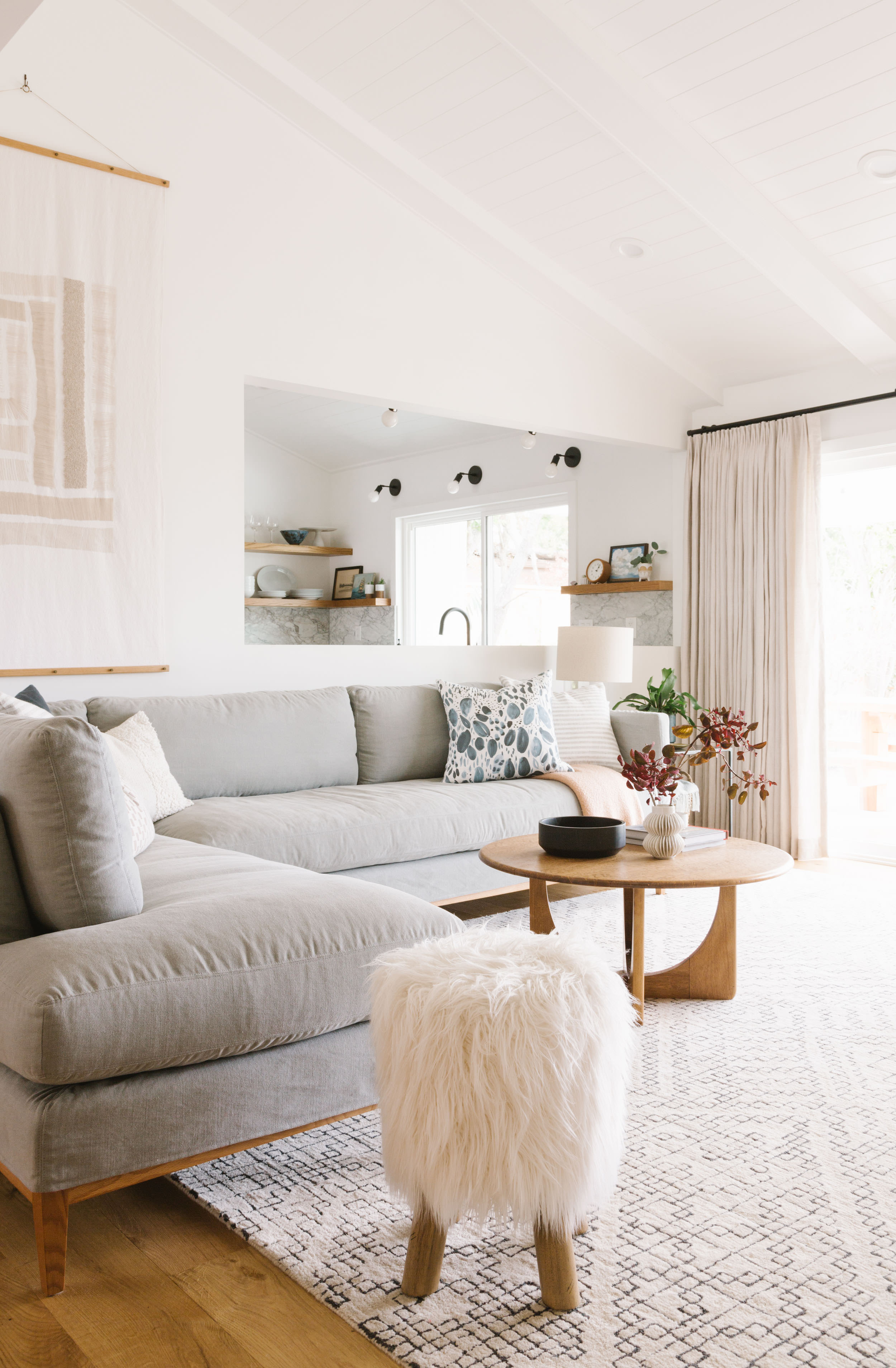 If you're liking the boho influence, here's a few more bohemian living room ideas to consider for your home.
18. Stick to a colour scheme
The most simple way to make your living room feel like a completely modern space is to stick to a few key colours and textures. In this instance, the design incorporates natural tones of beige, sand and mustard yellow. These colours have been used in the rugs on the floor, the woven lampshade with a timber stand, the bench seat, the mustard cushions, and the gorgeous piece of art.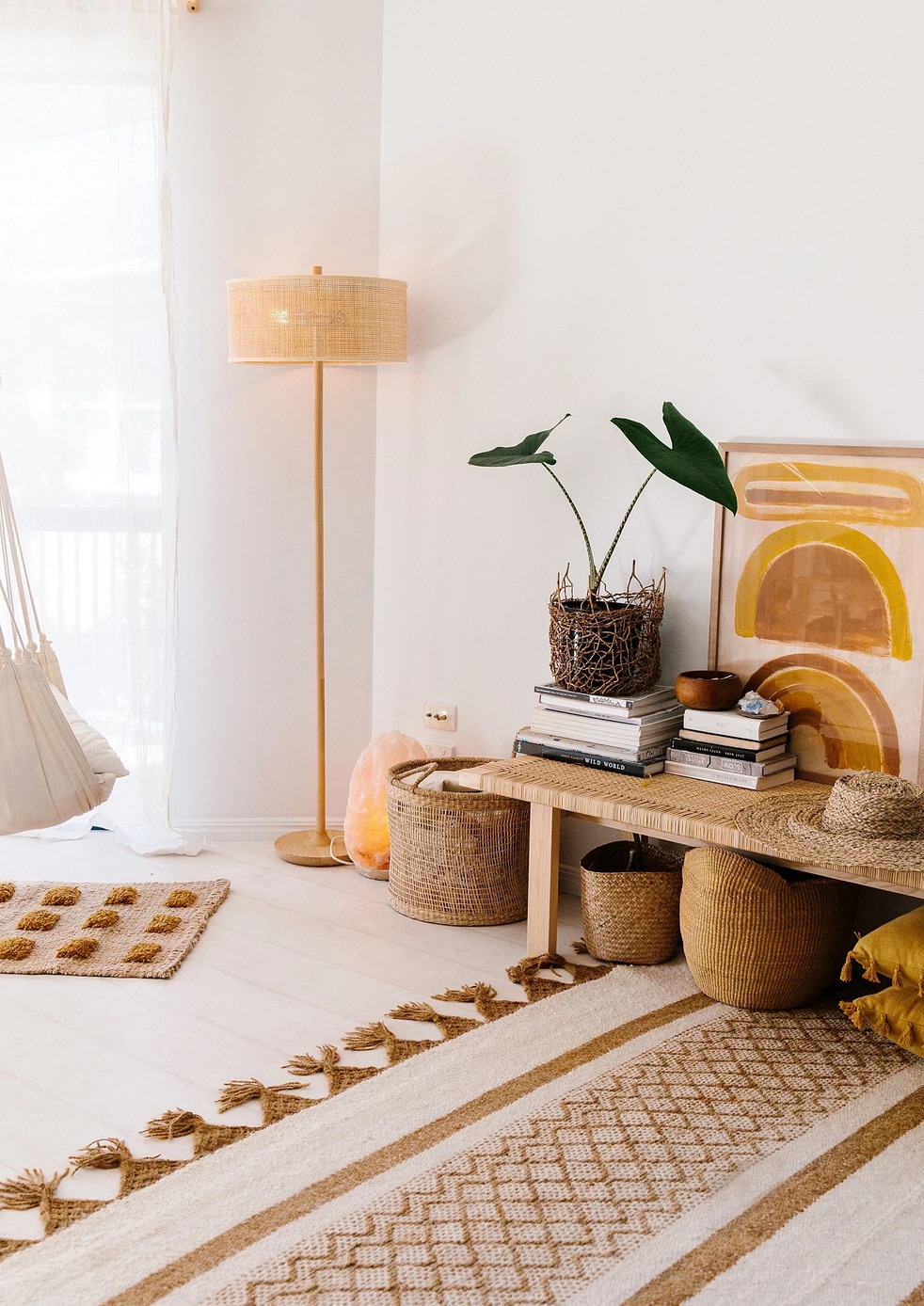 19. Light a candle
Sometimes it's the little touches that make the biggest difference in your space. And it can be as simple as lighting a candle or placing a fresh vase of flowers on the coffee table. It's these touches that make your living room feel inviting and cosy for guests. And you don't have to spend a lot of money to make this happen. You can find plenty of affordable candles and fake flowers and greenery at IKEA.
20. Create atmosphere with lamps
While you may have plenty of windows to filter light through your home in the day, you need to remember what your living room will look like at night time. When it comes to your electric light sources, don't rely on one single ceiling light. Any parts of the room left in shadow will recede from view, making the room feel smaller. Use floor and table lamps to bring in multiple light sources and create a layered, warmly-lit space.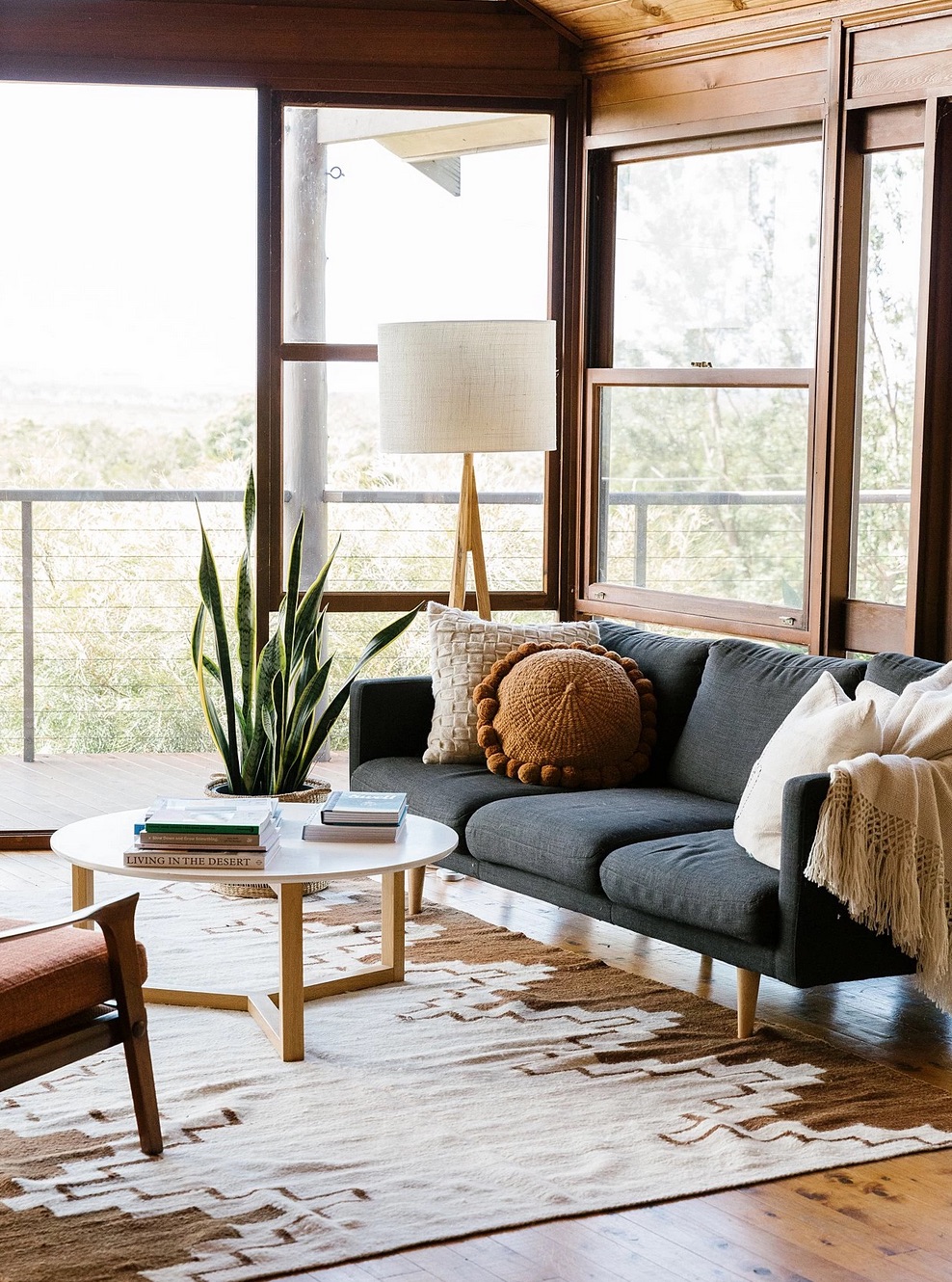 21. Choose a TV unit that you love
A TV unit is one of the main pieces of furniture in your living room. If it's old and rusty, it can look really bad. Similarly, if it's too small for your TV or too large for your small living room, it can feel really out of place. When thinking about your modern living room design, take the time to research TV units – after all, you'll probably keep one for a while! Also, remember to take measurements of your space, so you know exactly what piece will fit best.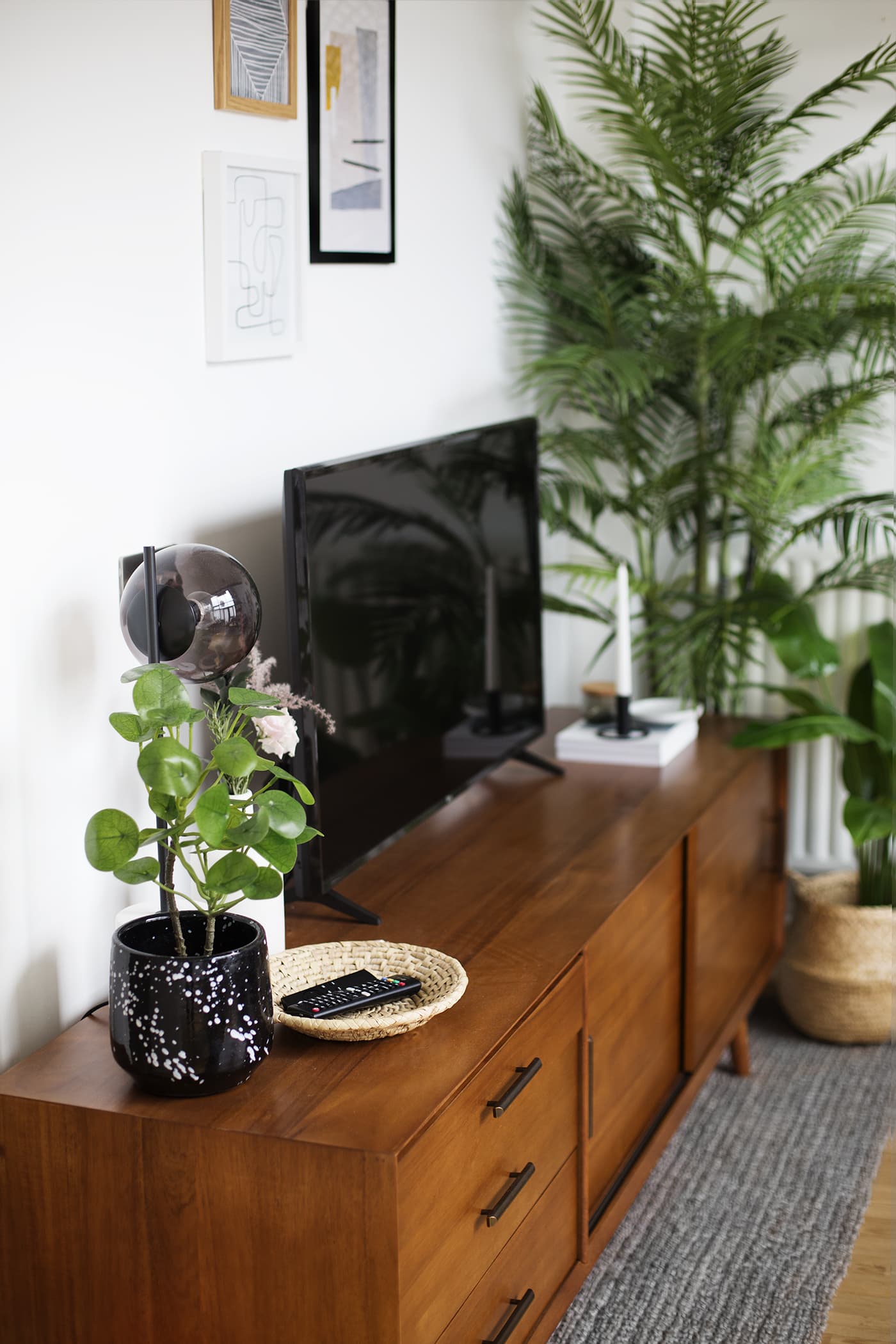 22. Play with colour and texture
Modern living rooms don't have to be boring, and they certainly don't have to be all white. Don't be afraid to play around with different colours and textures that will make your space pop. Take a look at this design – it does this so effectively! The pom-pom rug is really different, and the coffee table is so interesting too. And then there's the soft-pink pot in the corner. It's these little, unique touches that make a huge difference to your space.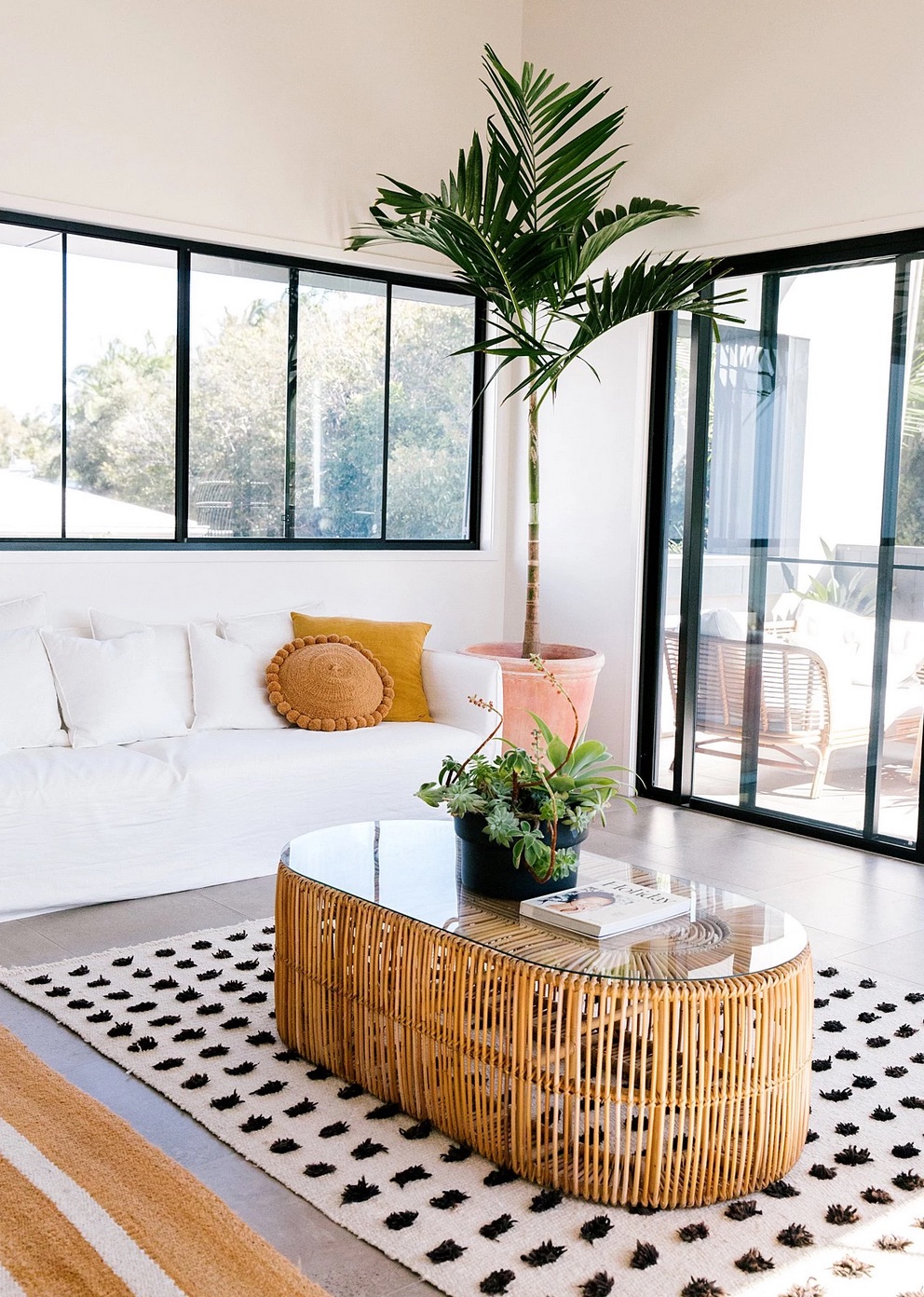 23. Go bold with yellow velvet and lilac
This is a simple, minimal living room that incorporates impressive feature pieces to make it stand out. The mustard yellow velvet couch sets the tone for this room. And combined with a light purple cushion and purple and palm print art piece, it makes this a very modern living room!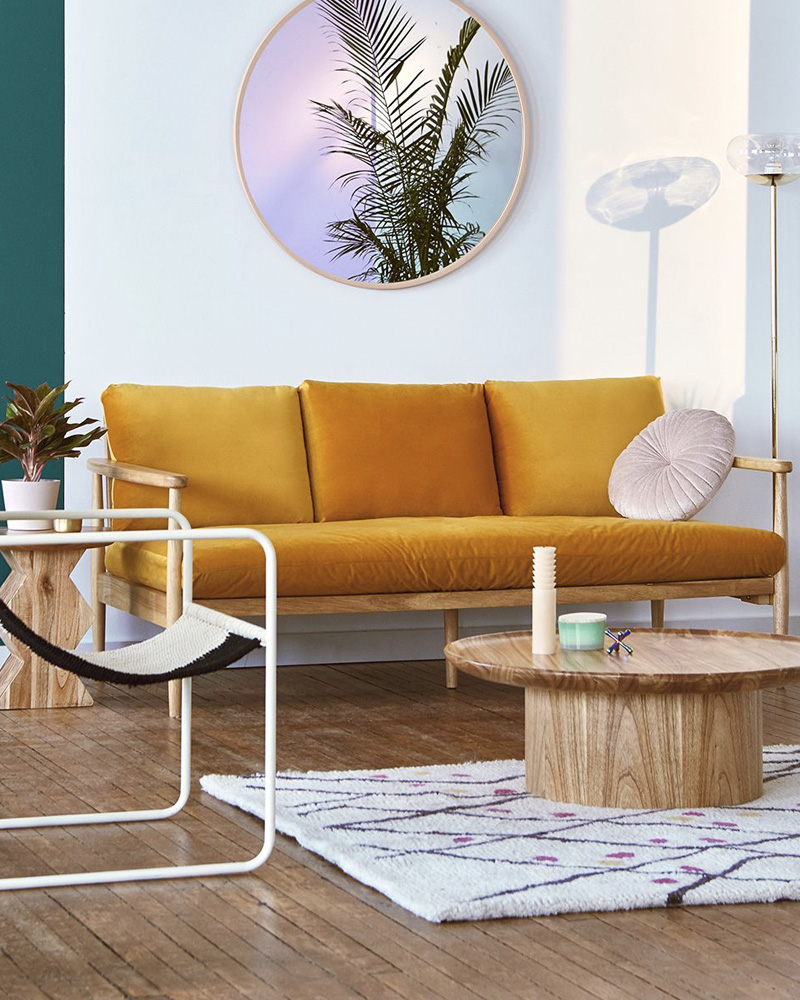 24. Paint half the wall
Maybe the only thing your living room needs is a quick coat of paint. This can completely change the dynamic of your space. Take this room, for example. The wall has been painted halfway with turquoise-blue paint. This provides a really interesting backdrop for the furniture.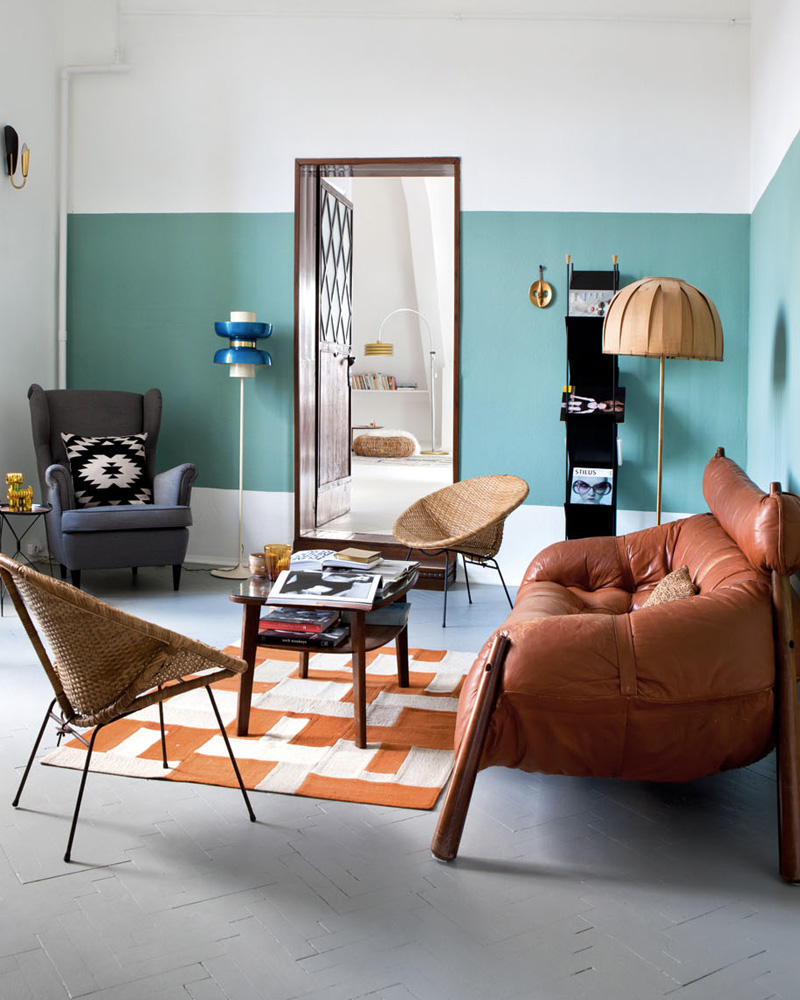 When straight lines and a steady hand is needed for bespoke paintwork, it's best left to the professionals for all your painting needs.
25. Draw inspiration from modern art
This living room looks like it belongs in a contemporary art museum. What really makes this space is the huge installation hanging from the ceiling. This creates a focal point for the room. And the good thing about having an art piece like this is that you don't need a whole lot else. The dark blue couch, sitting chairs, and rectangular coffee table simply add to the elegance of this room without taking away from the main feature.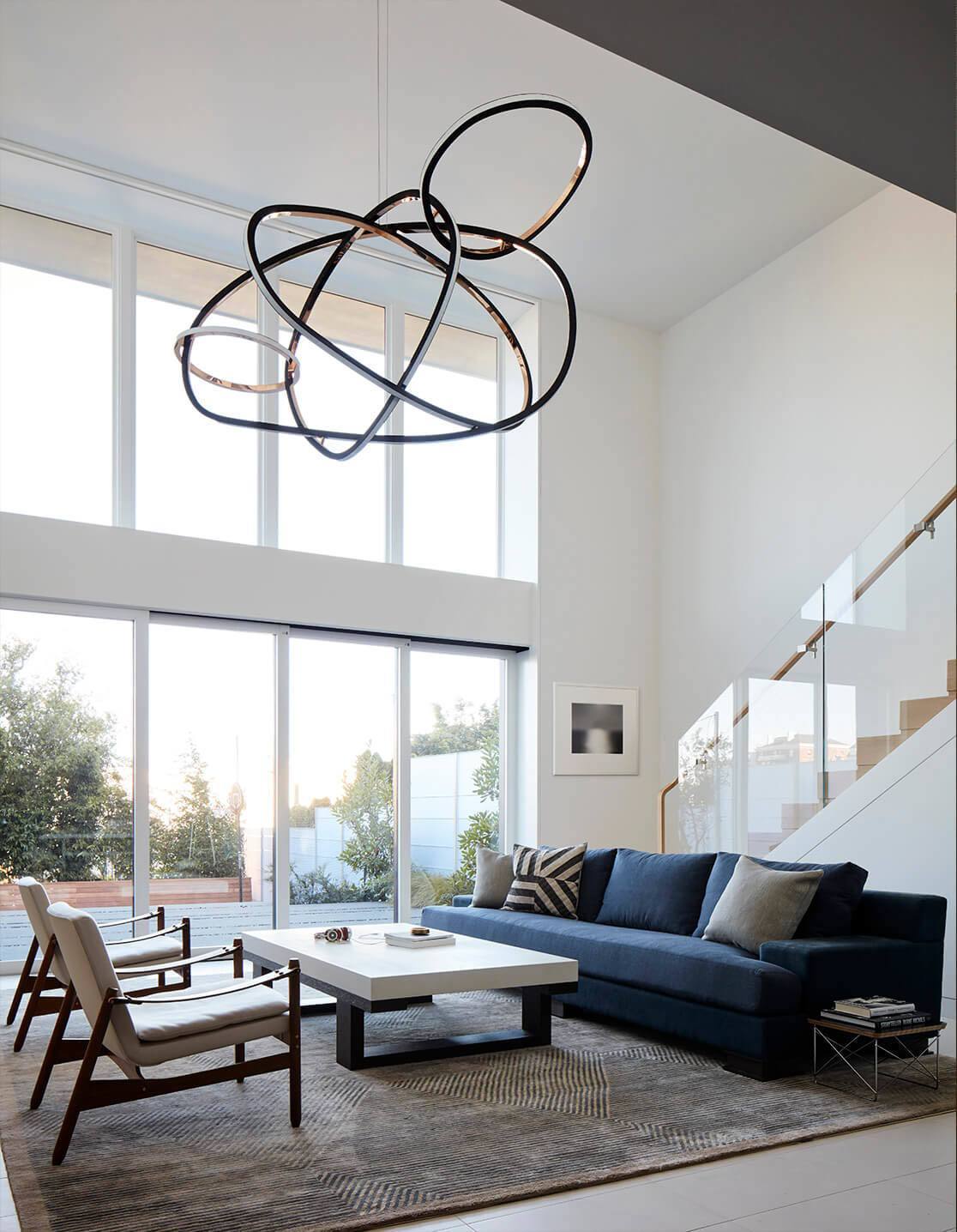 26. Embrace stone
This living room feels very modern, clean and minimal. But the stone wall also gives it a rustic touch and provides a beautiful base for the fireplace. If you're lucky enough to have a cement wall, exposed brick, or a stone wall, embrace it and turn it into a feature wall.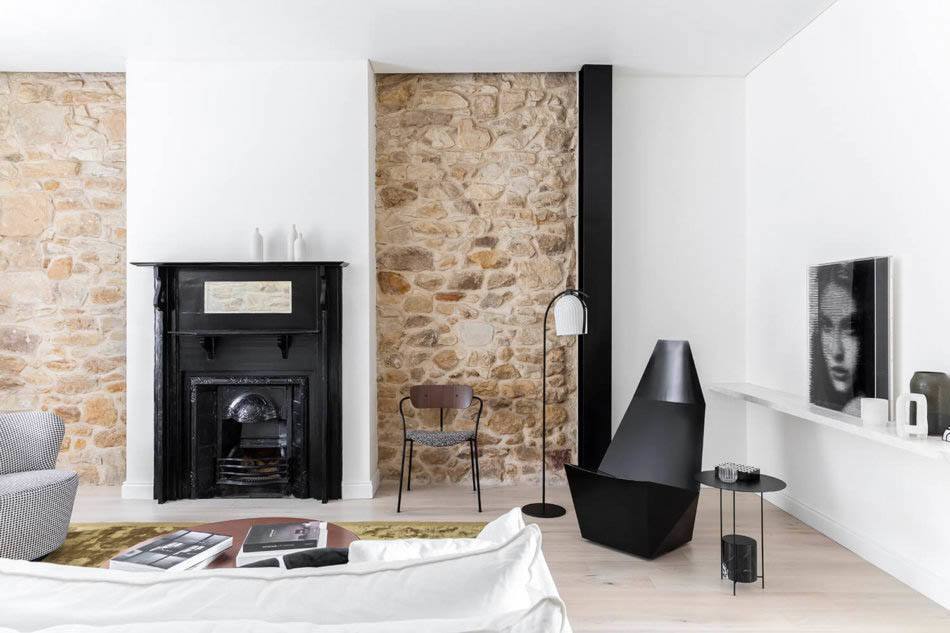 27. Have fun with a jungle theme
Bring the outdoors inside with greenery and palm prints. This living room incorporates a few different styles to create its own eclectic vibe. The round coffee table pods feel very Scandinavian, but the woven chair looks a little boho. The grey couch is modern, and the cushions add texture and a warm touch. But what really tops off this room is its incorporation of plants through the elevated potted palm on the right and the gorgeous jungle-themed tapestry hanging on the wall.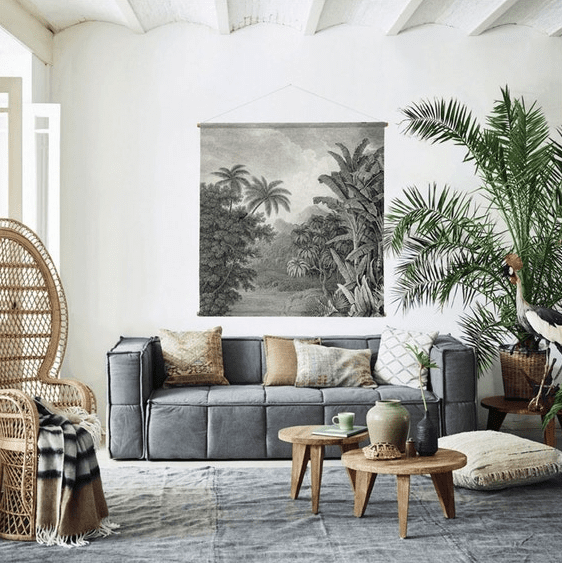 28. Choose interesting shapes
When it comes to picking out your furniture, you don't have to go with the same old shapes. Take inspiration from this room, which incorporates two modern black leather and metal chairs across from a fabric three-seater couch. The addition of art along the left wall creates detail in what could otherwise be a fairly minimalist space.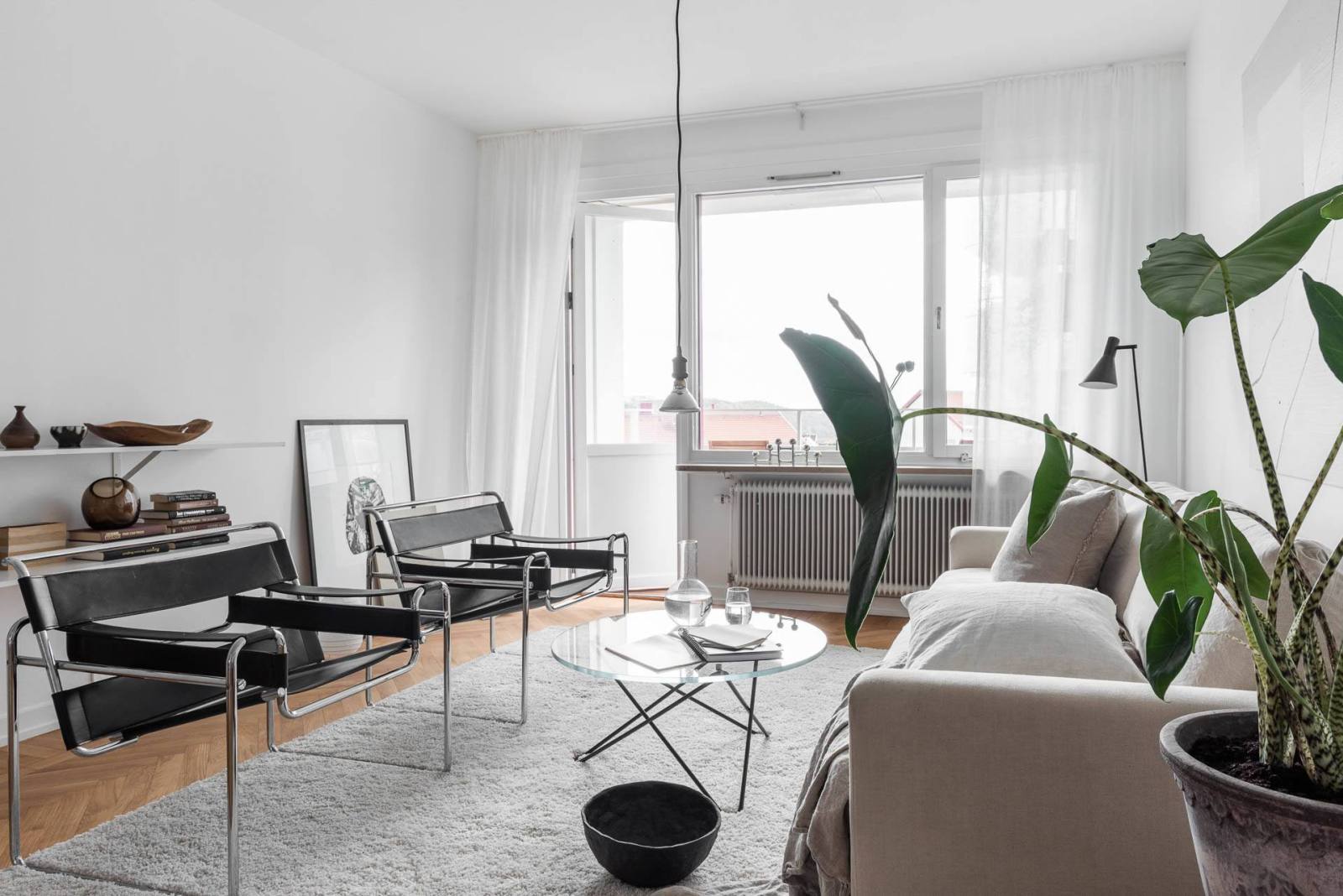 29. Make it green and leafy
Another way to make your living room more modern is to incorporate greenery of all shapes and sizes. And honestly, when it comes to this sort of thing, the more the better! This design has used green as a base – you can see it in the two couches, and with the potted plants all around the room. And I love how a touch of mustard yellow has been added in with a pillow on the far couch and flowers on the little coffee table.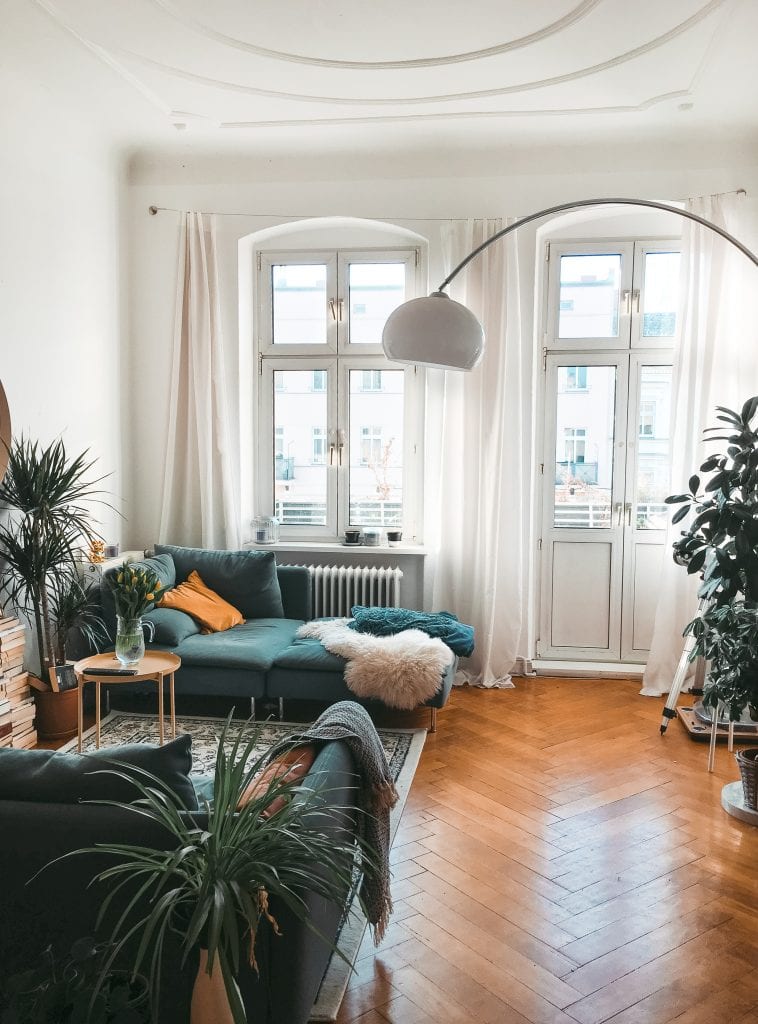 30. Combine leather and black
You can't go wrong with this combination! Leather and black have long been used in living rooms. But traditionally, they are used in darker spaces to create a moody, masculine feel. I love how this living room is light and bright with white walls all around and large windows. This softens the otherwise harshness of a black and brown leather room, and strikes the right balance between feminine and masculine.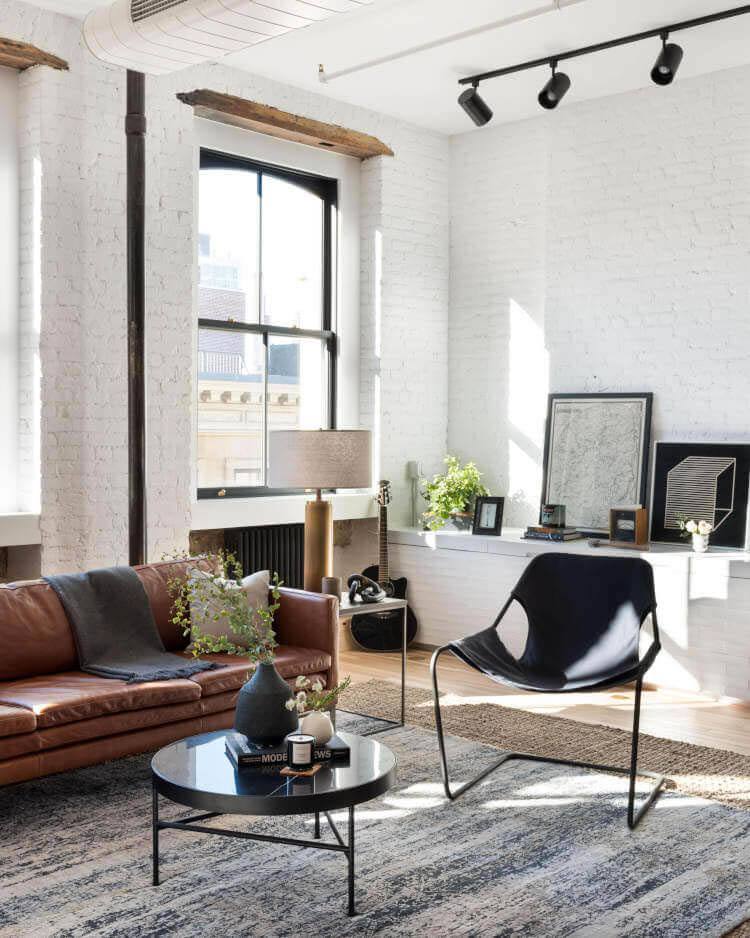 31. Add a modern touch to a cosy cabin
Traditionally cabins are very dark and dim. But by incorporating a comfy white armchair in an interesting shape, this space becomes a touch more modern.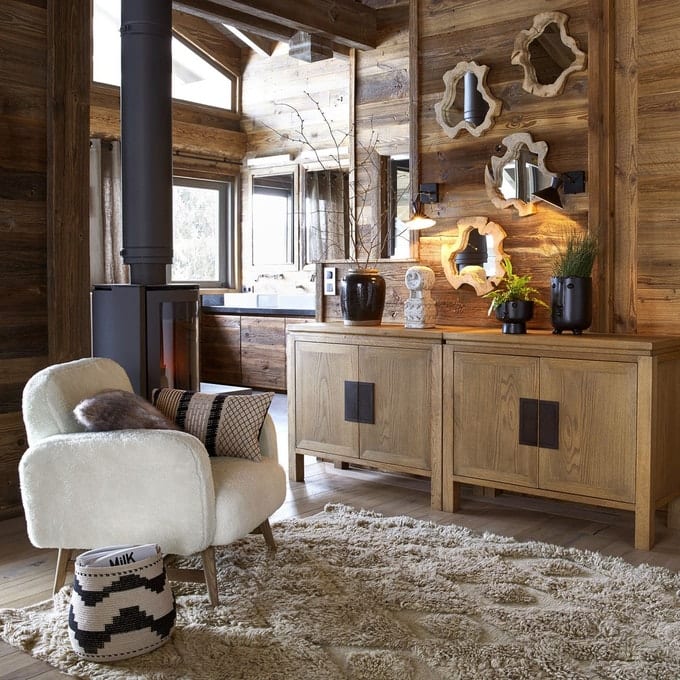 32. Mix and match furniture
Add a modern touch to a vintage space by combining different style elements. To achieve this look, this living room uses a mix of clean and curved lines, with a timber photo frame in the back wall and a rounded mirror on the right. And it combines mixed with block colours, like the Moroccan rug and dark orange armchair.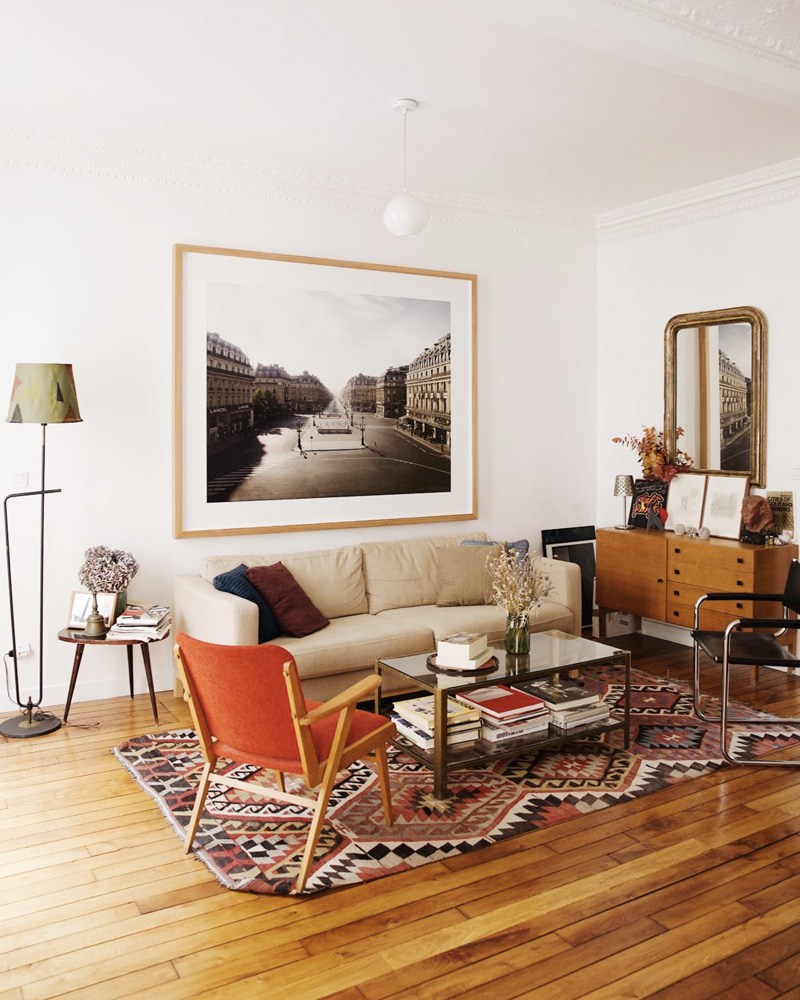 33. Don't forget the corners
The corners are often the most forgotten parts of a room. But with some help, they can look beautiful. When it comes to these little spots, consider practical elements like side tables and lamps, and add in something pretty like flowers.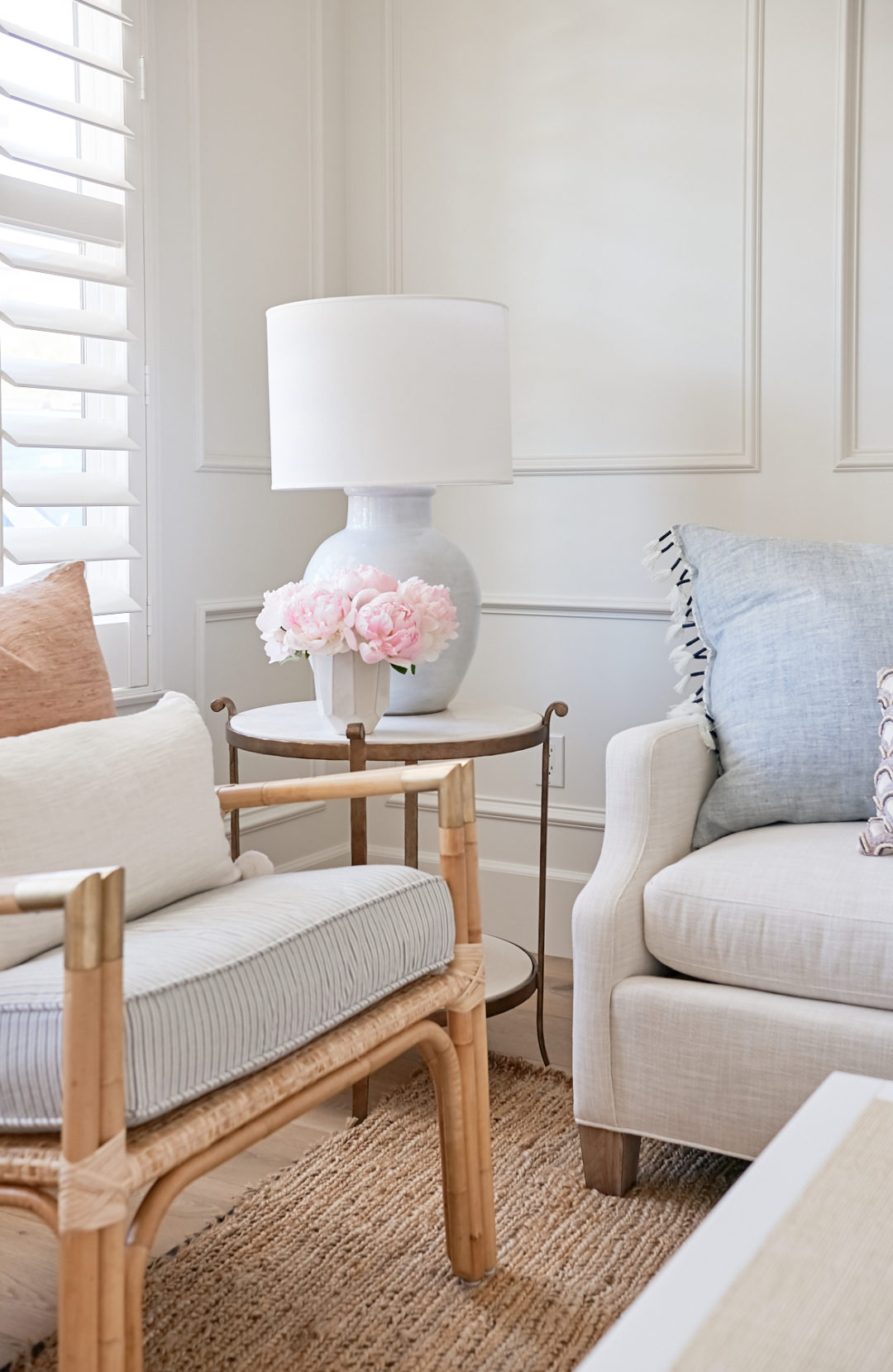 34. Combine masculine with feminine
Pair white and light with dark brown and leather to create a space that the whole family will love. This modern living room achieves this so well, with two leather sitting chairs, dark timber features, white brick and white walls, and a white coffee table.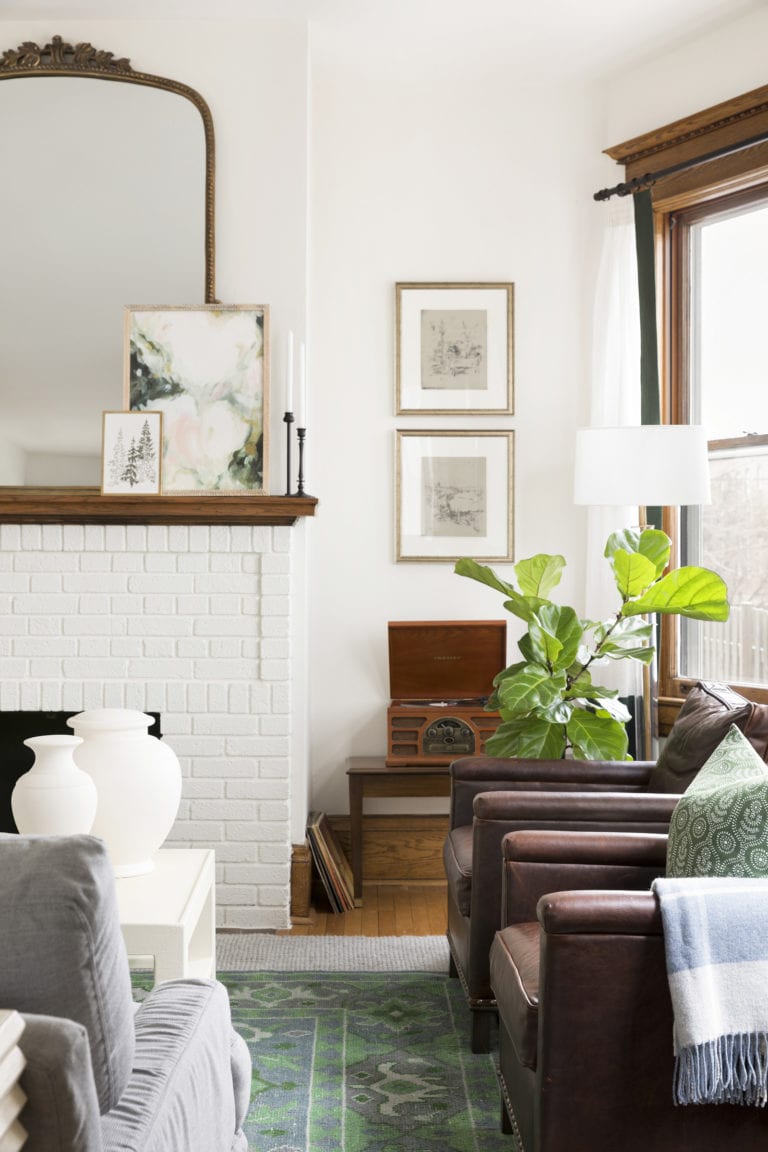 35. Include a couch for the whole family
When designing your modern living room, it's important to think ahead to the future. Who do you envision spending time in your space? Do you have a big family? Will you entertain a lot of guests? If so, make sure you choose furniture that everyone can fit on, like this big couch.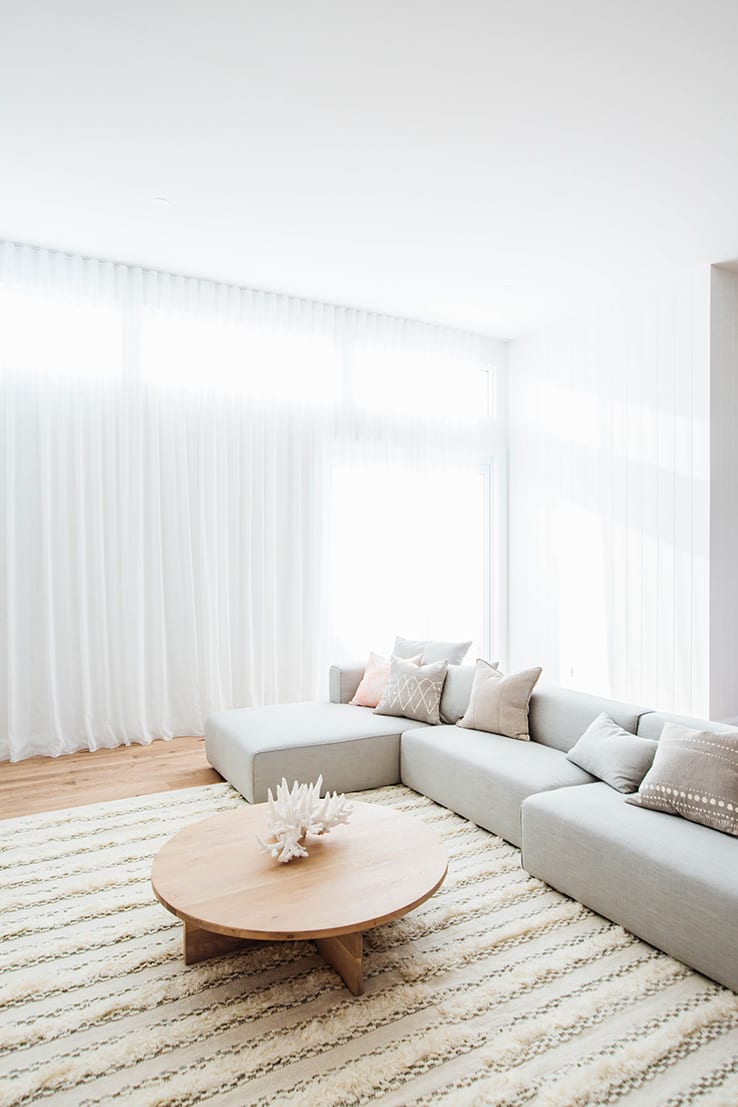 36. Don't forget the decor
If your living doesn't feel quite right, then it might be missing something. Little additions like vases and baskets can make a huge difference to your space. Place these items on top of blank surfaces, like your TV unit or coffee table, to make your living room feel more like home.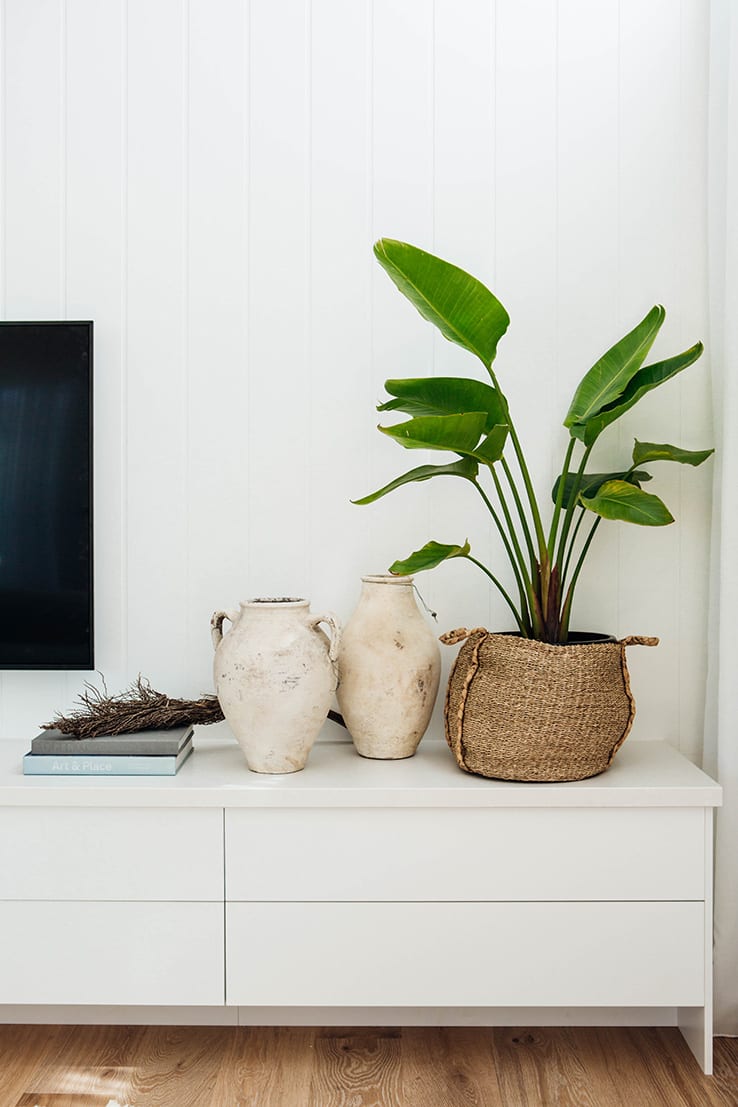 37. Frame around your fireplace
If your living room has a key feature piece, like a fireplace, then frame your furniture around it. This will help your space feel finished, as it gives it a centre point.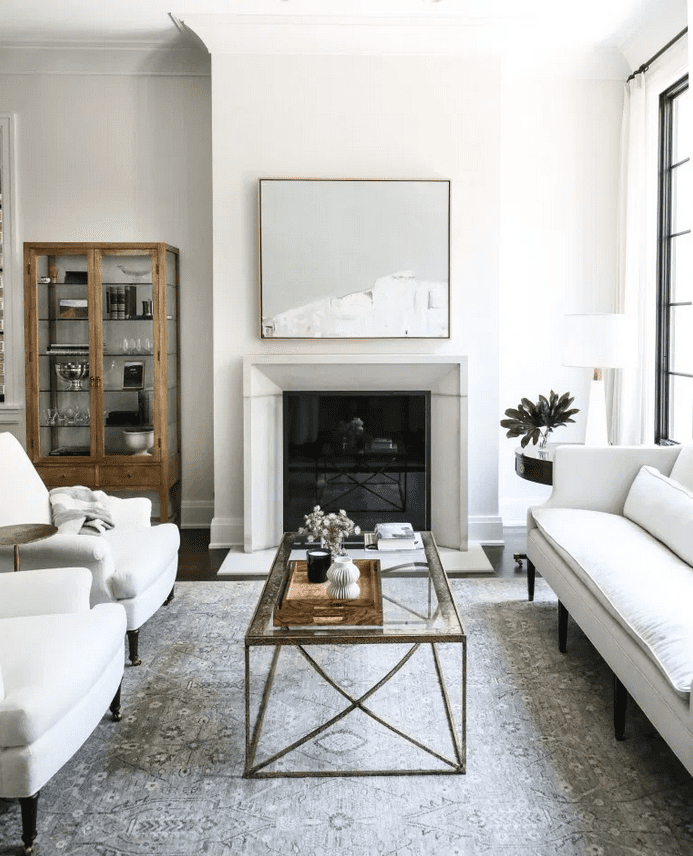 38. Choose two different couches
Contrary to popular belief, you don't have to stick to one type of furniture for your space. If you have a large living room, there's certainly more freedom to mix and match styles. This living room is a great example – it includes a white couch on the left and a leather brown couch on legs on the right.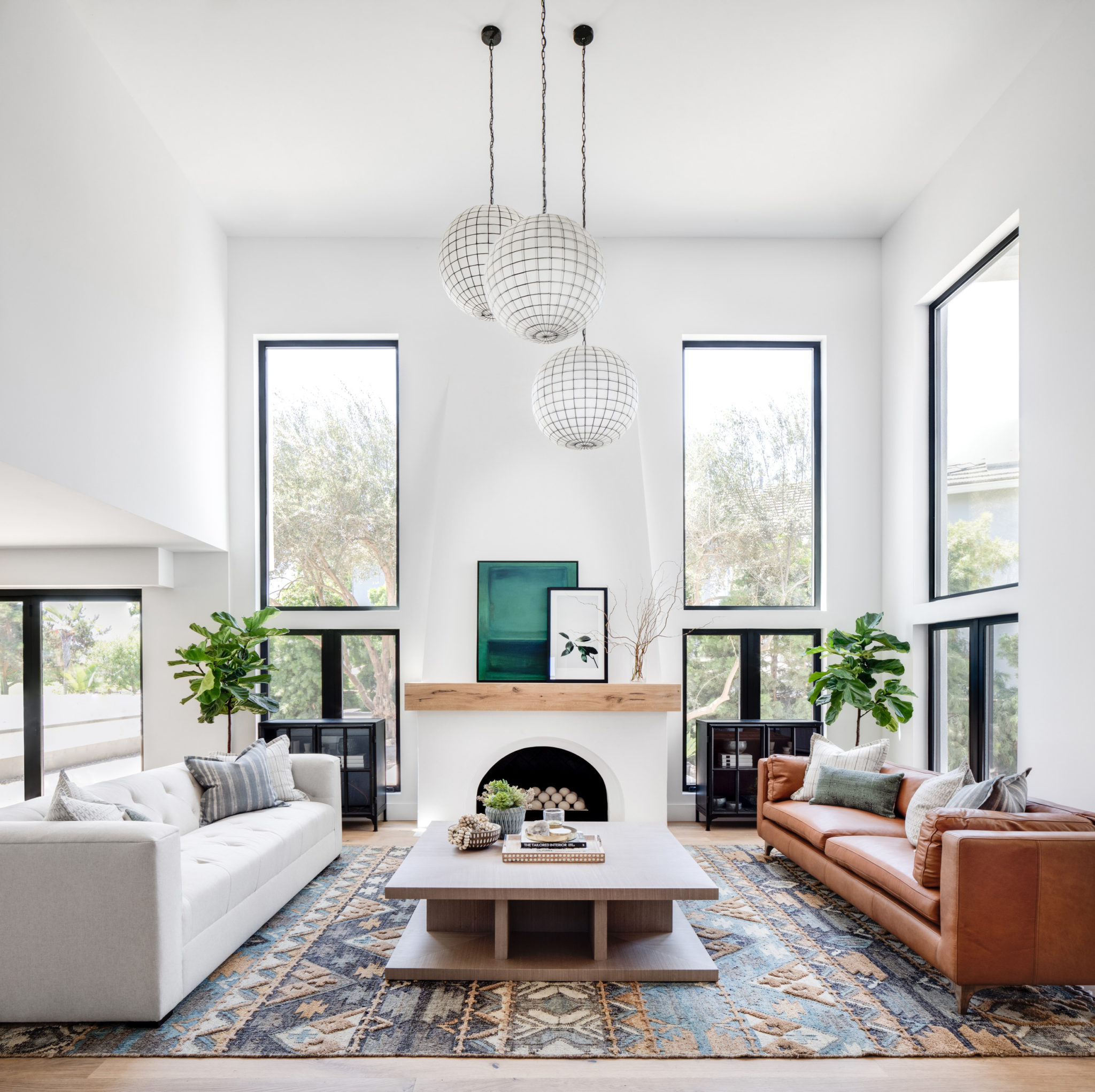 39. Keep it simple
The last thing you want to do to your living room is to overcomplicate it. Sometimes keeping things simple is best. And this design does this so well, with matching couches, pillows, and a consistent colour scheme throughout.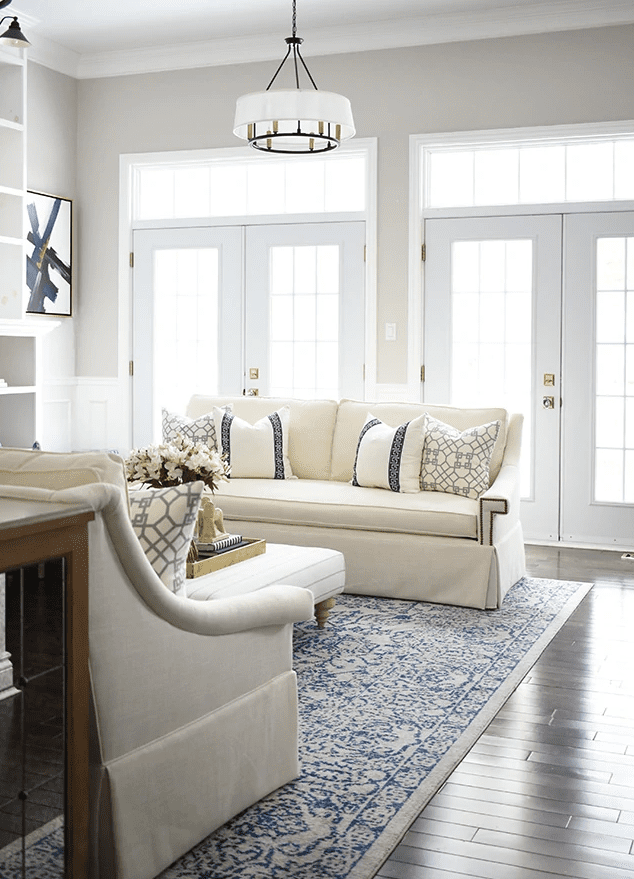 40. Add detail to your fireplace
For a design idea that's out of the box, why not add shapes to your fireplace design? This one has beautiful patterned tile across the front, and it makes for a pretty impressive focal point in this living room.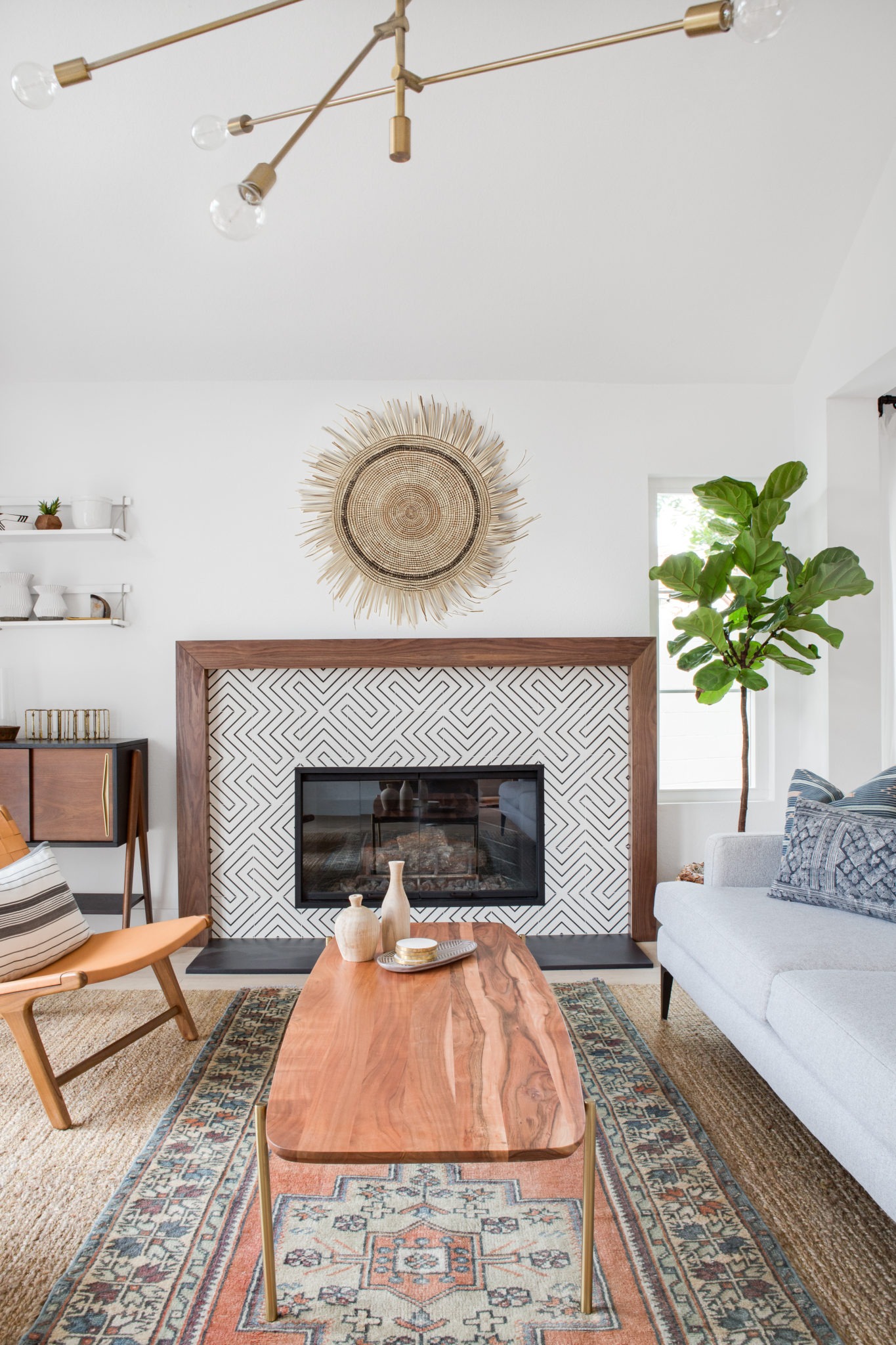 41. Create airflow
Hang a modern fan from the ceiling to ensure your living room stays cool all year round, like this slick black one!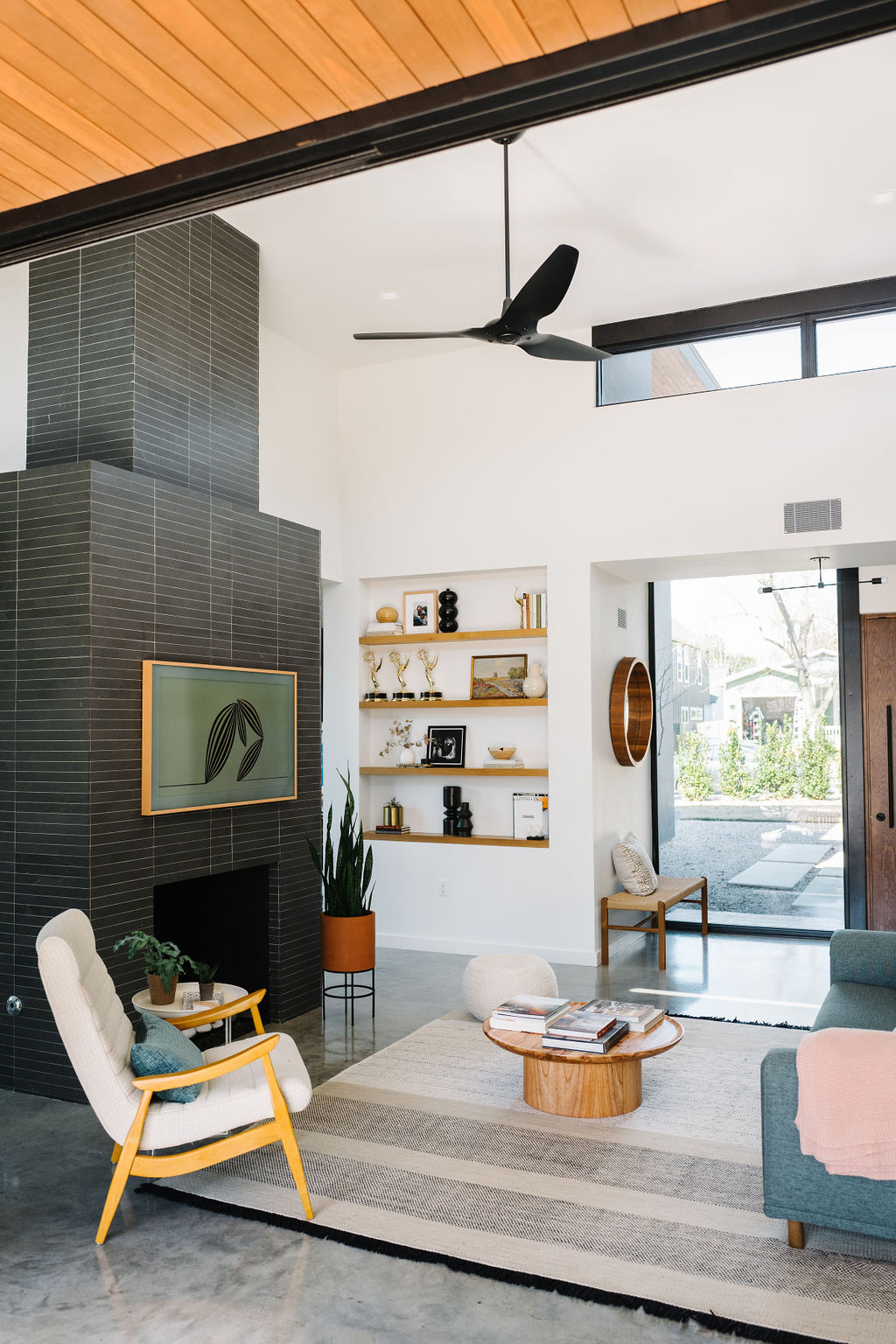 42. Create a coastal vibe
Use timber, blue and white to make your home feel like your dream beach house. Keep white as the base, and add touches of blue in your couch, paintings and cushions.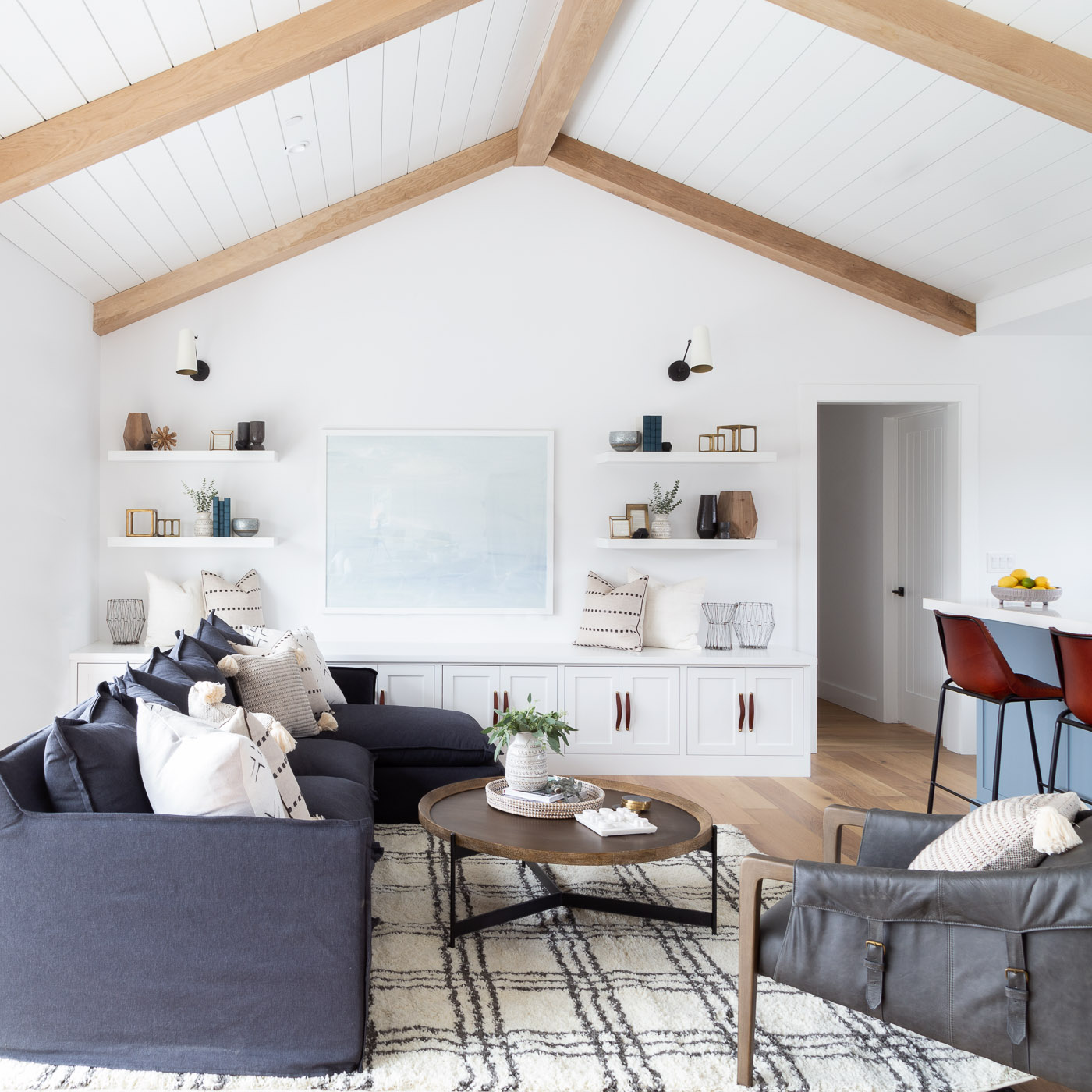 43. Paint a green feature wall
Bring life to your space with a coloured feature wall. This lovely green colour looks beautiful with white and dark blue.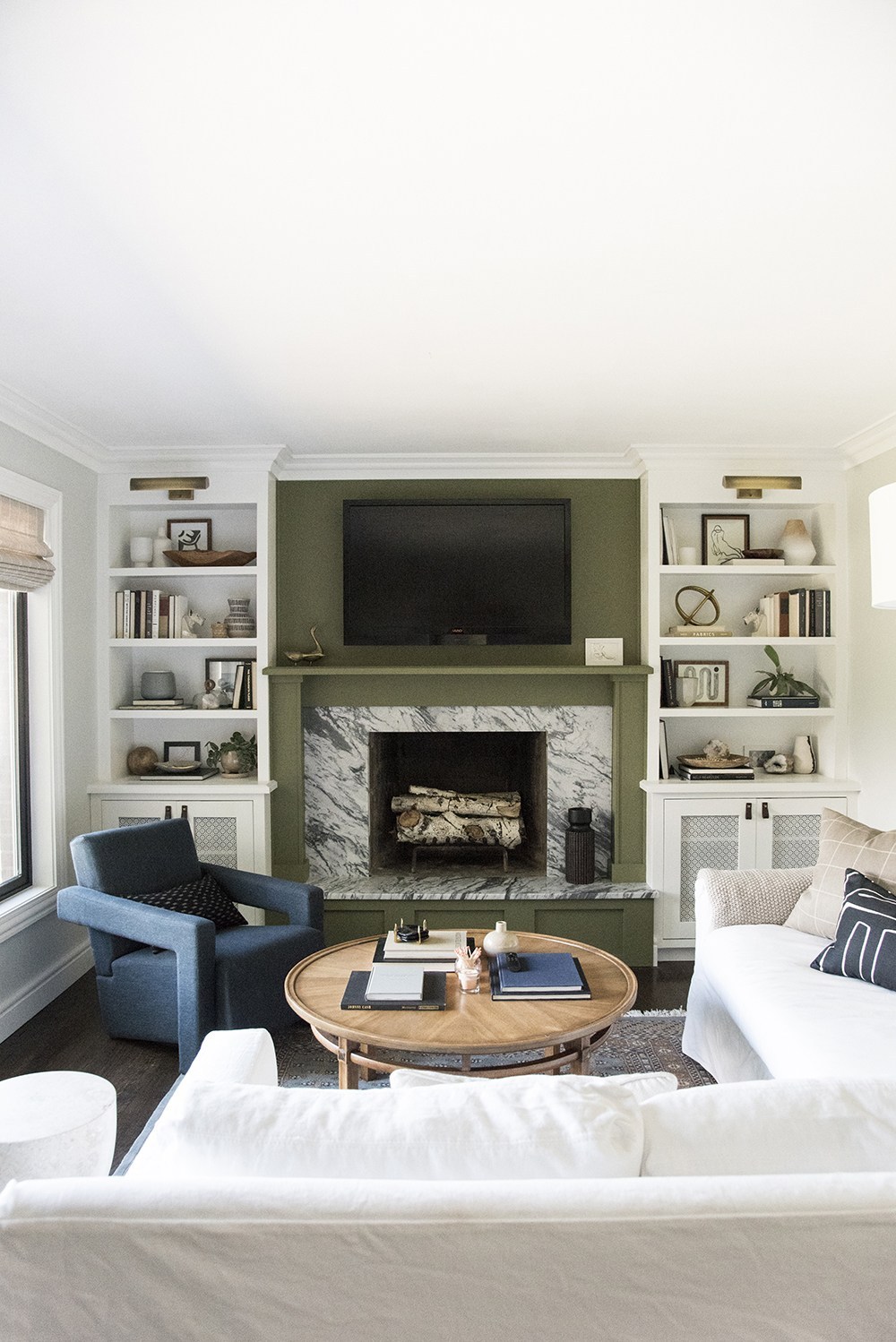 44. Include a bench seat
If you've got a little extra space that you need to fill, add in a timber bench seat. These are all the rage right now, and they're so handy! Use them as an extra seat, or stack books or plants on them for visual effect.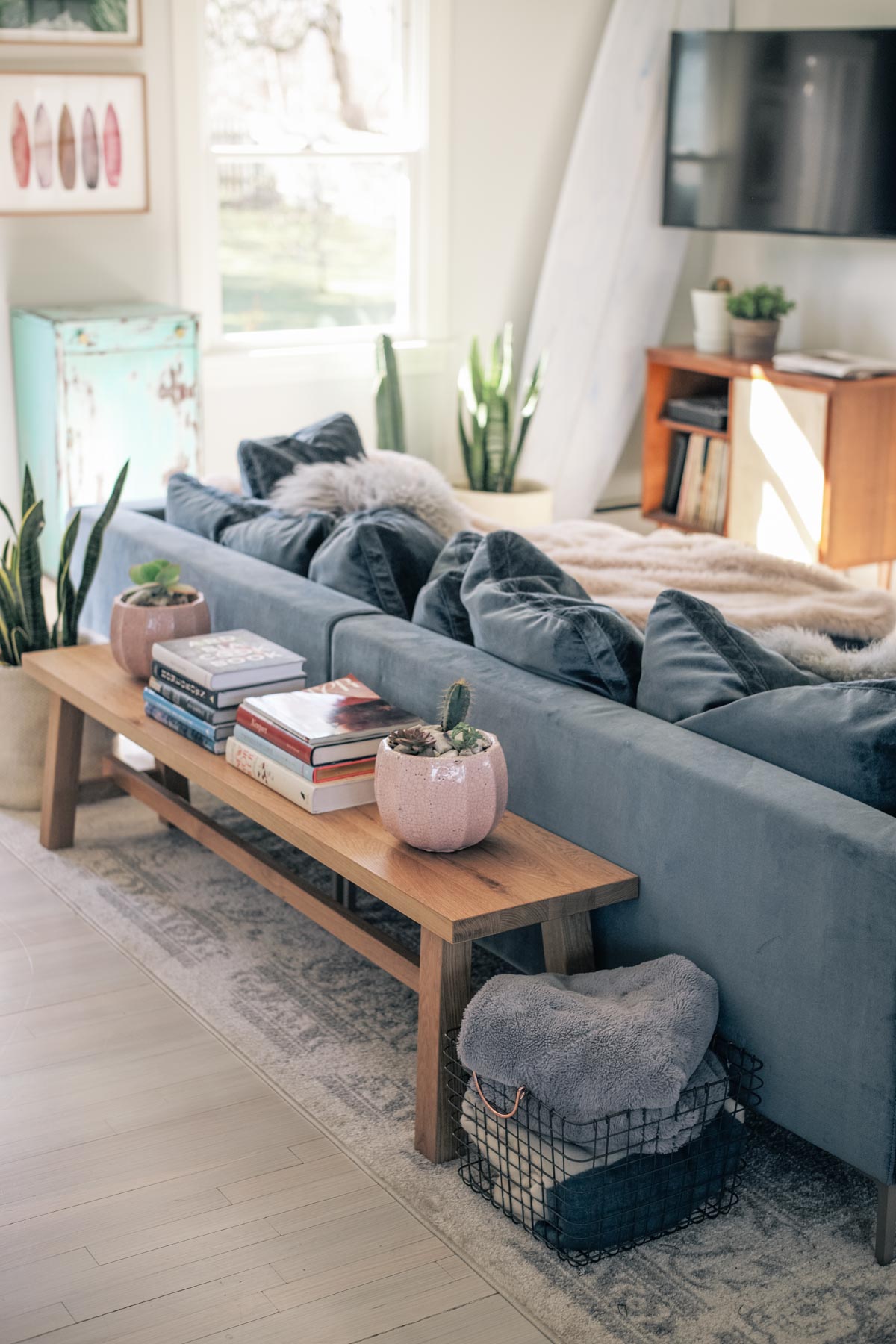 45. Keep the exposed brick
You can't go wrong with exposed brick, especially when it's combined with contemporary touches like slick black and plenty of white.
46. Keep it natural
Create a seamless modern space by keeping your colour palette natural. This is the easiest way to avoid your living room looking busy, and to keep it looking fresh.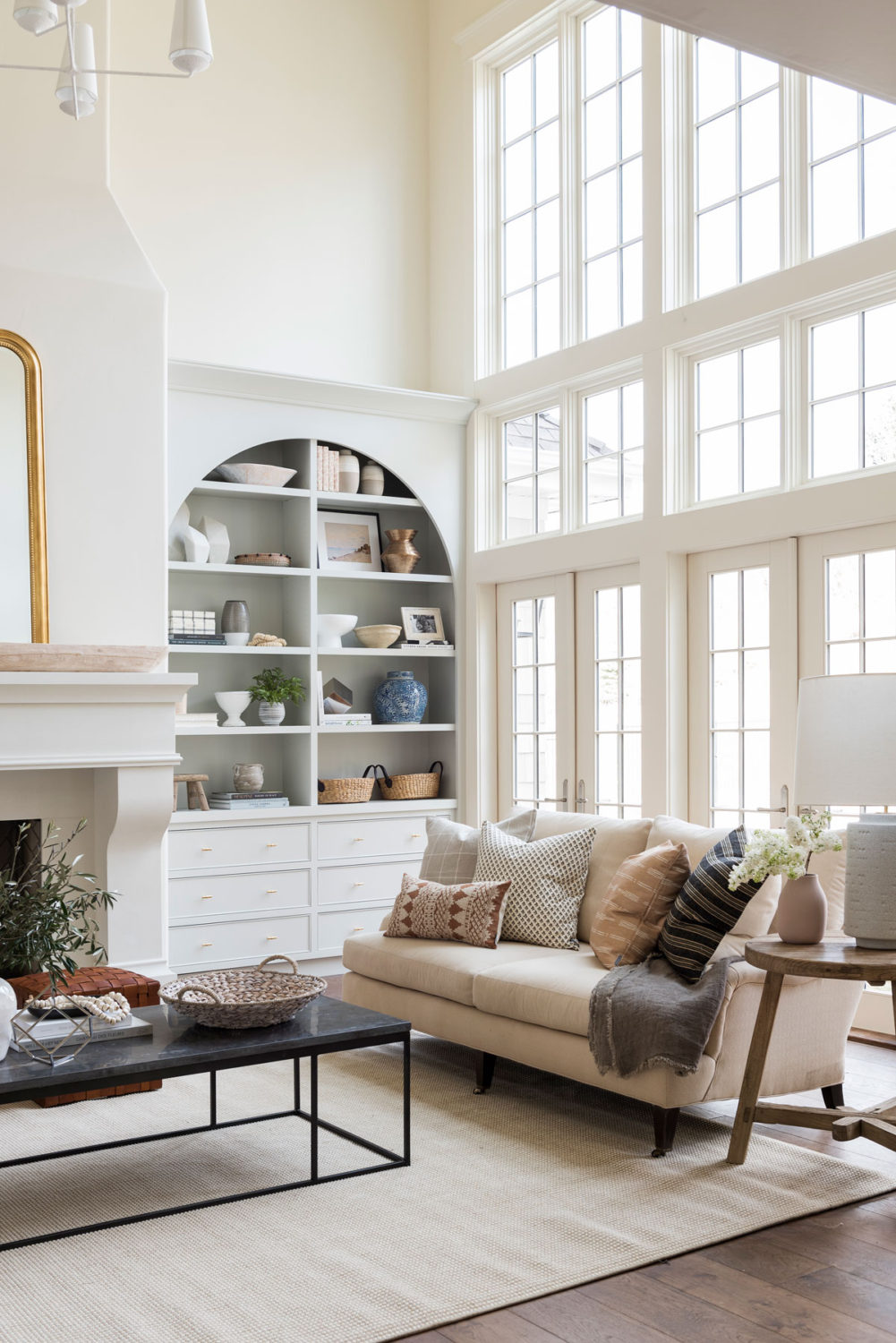 47. Hang a statement light
Transform your space with light! Apart from the practical side of things, this tiered candle-like piece adds interest to this living room and brings together the dark colours throughout.
But this isn't the only lighting option you should look at, there plenty of floor lamps, wall sconces and downlights to think about. Here are another 35 living room light ideas.
48. Adopt a Spanish style
You don't have to be in Spain to create a modern living room like this. Adopt Spanish touches with interesting patterns, textures and plants, and combine with your own personal taste.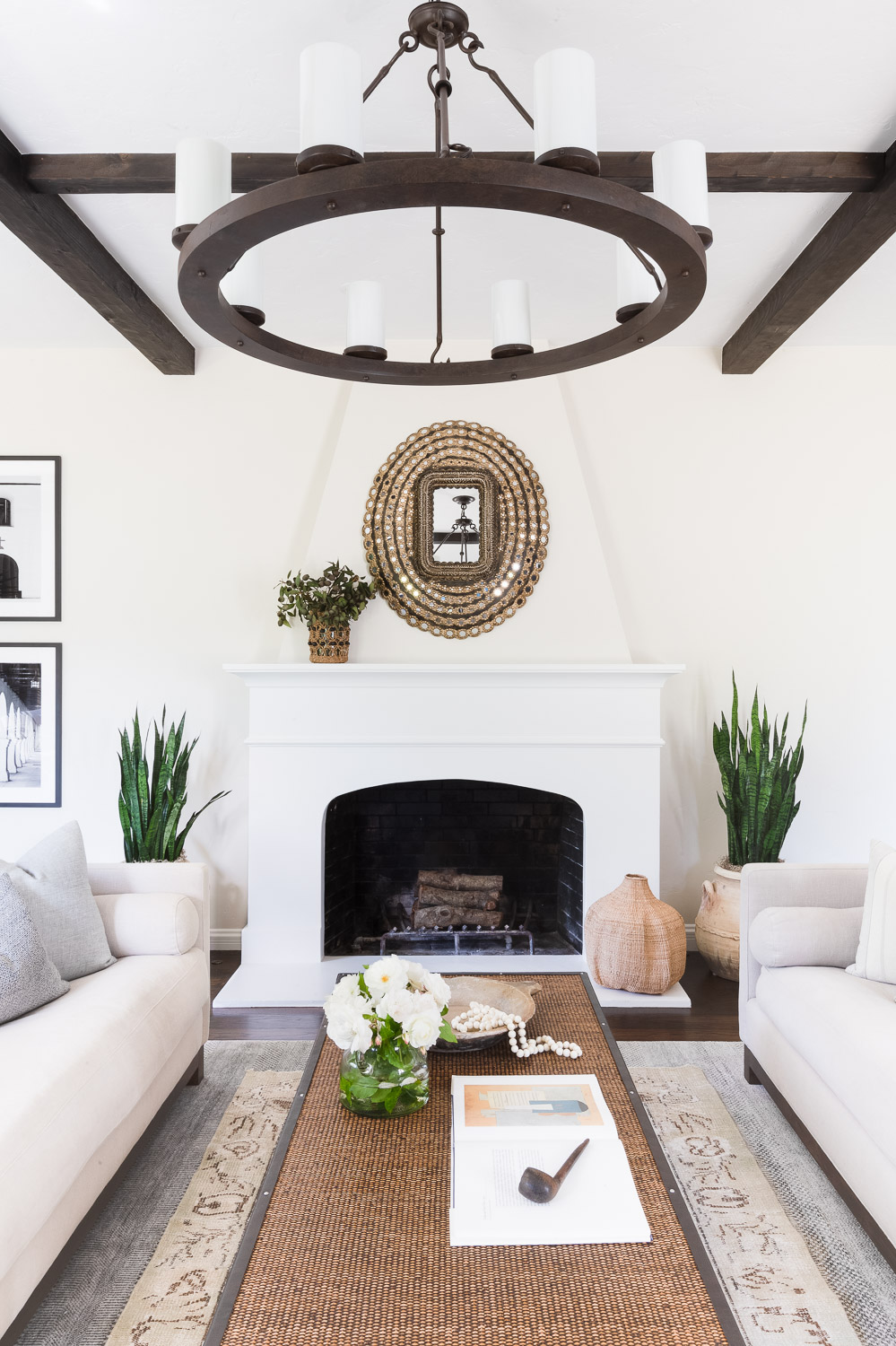 49. Give everything a place
The quickest way to let your living room fall to the wayside is to leave it untidy. But if every item has a place, you won't have this problem. Either completely eliminate all clutter, or use clever shelving and storage to make sure everything can be tucked away out of sight!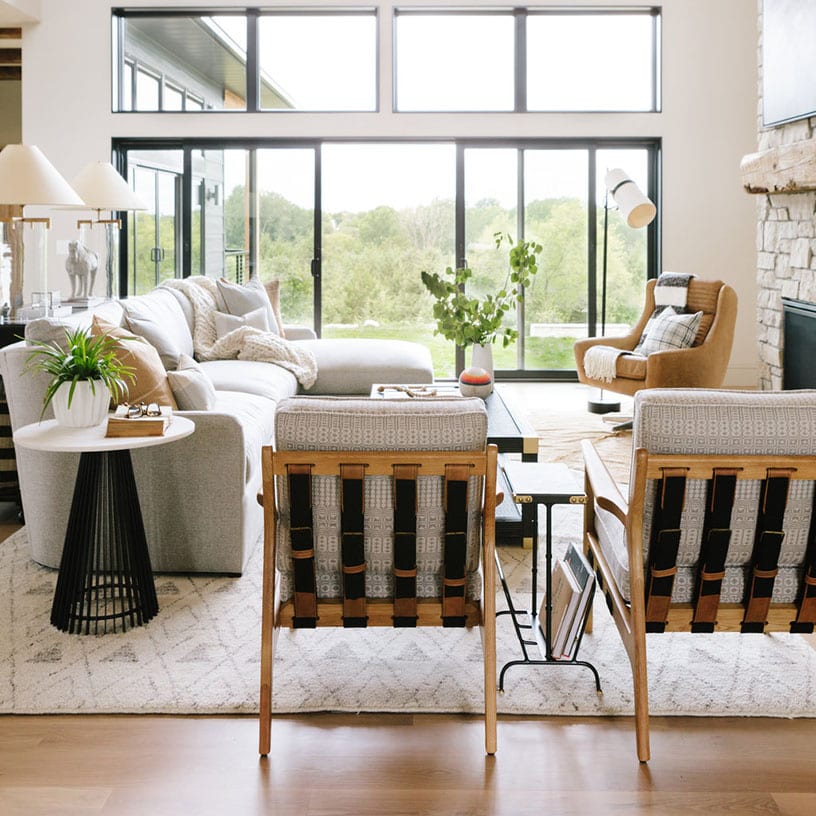 50. Add a side table
This is a simple addition to your modern living room, but it's often overlooked! Add a contemporary side table, like this tiered round one, to up your living room's appeal.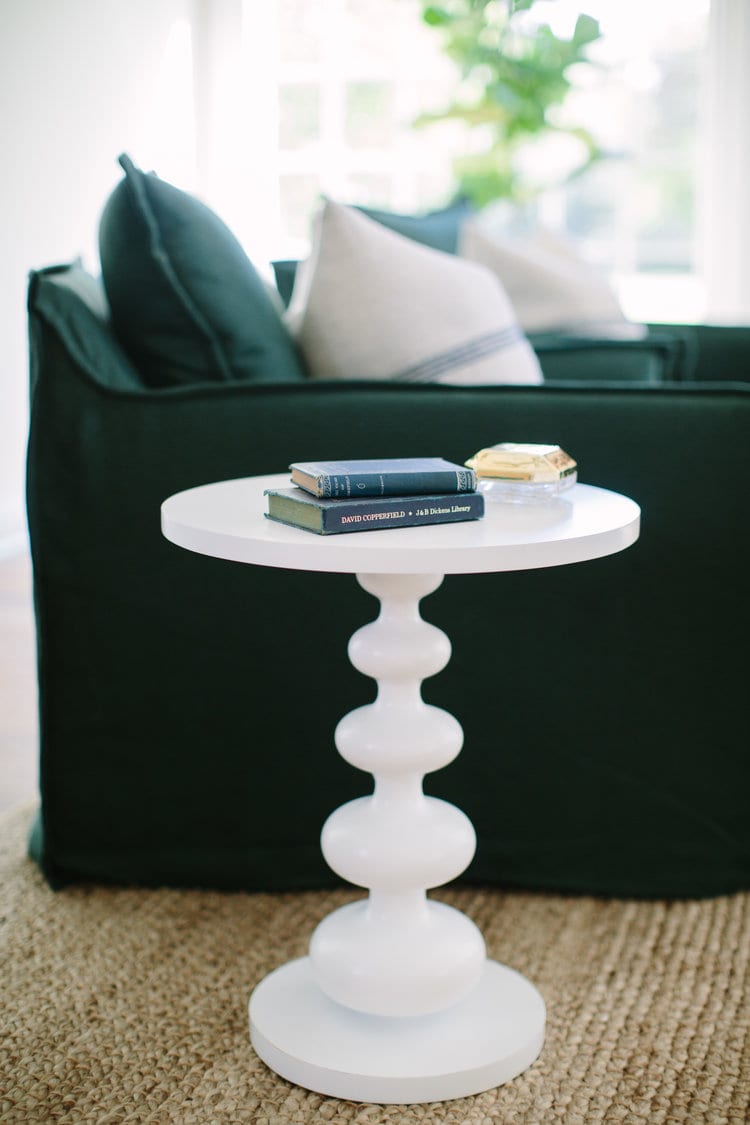 I hope these 50 modern living room ideas have given you the inspiration to get started on your own project. Which one's your favourite? Comment and tell me!