The living room is no doubt one of the most used spaces in your home. But just because it's the hub of activity doesn't mean it needs to be filled to the brim with furniture and ornaments. In fact, you can create a very liveable space by paring back your living room to just a few key pieces. And just because you adopt the 'less is more' mantra doesn't mean you have to sacrifice on décor. As you'll see, you can make a minimal space for entertaining, hanging out and every-day lounging around that looks and feels beautiful. Sometimes it's just a matter of knowing where to start, so I've had a look around for some of the best minimalist living room ideas to suit any house.
First things first, you need to have a think about what you need to have in your living room. You'll need at the very least from a practical standpoint a sofa, a table and television (although this may not be a necessity for everyone). But from moving on from functionality, you might also want to consider floor lamps, side tables, bookshelves or bookcases, tv cabinets, rugs and artwork.
1. Create a neutral base
The most simple way to create a minimalist living room is to start with a neutral base. These colours typically include black, white, grey, brown and beige and or often referred to as 'earth tones.' The great thing about a neutral base is that it will look complete on its own, or you can add layers of colour for interest – the choice is entirely yours!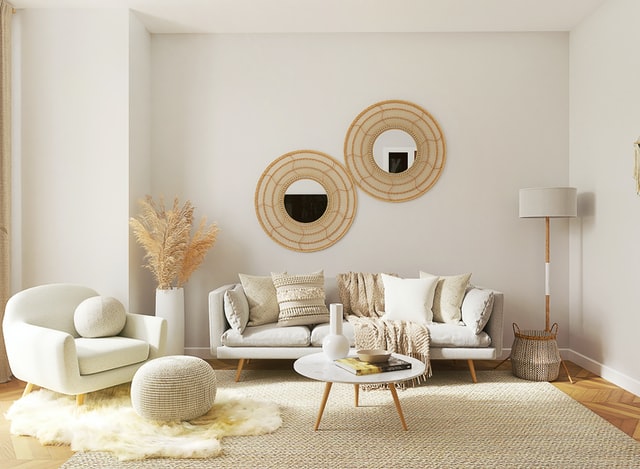 2. Frame your living room around a key feature
If you have a feature piece like a fireplace, painting or mirror, frame your living room furniture around it. This creates a cosy space to gather together family and friends. Also, add to the comfort by including a basket full of blankets and by throwing some soft pillows on the couch.
3. Choose clean lines and shapes
Choose furniture with smooth clean lines to create a minimalist space. Clean lines make a space feel uncluttered and simple. Just as in this picture, you can still mix different materials, including timber, rattan and metals.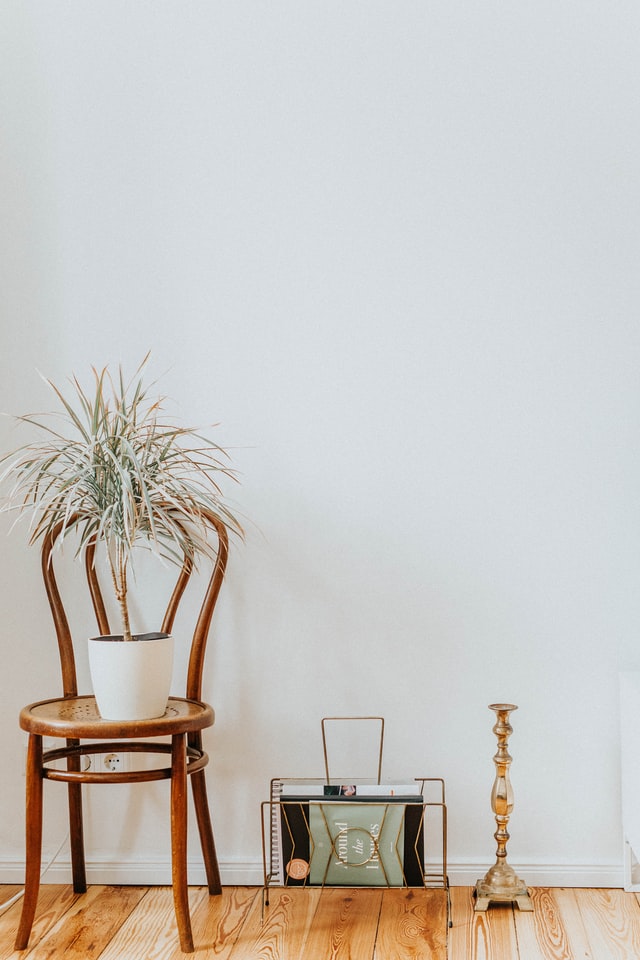 4. Invest in beautiful storage
The key to minimalism is to rid your living room of all unnecessary clutter. This is often found on top of surfaces, like coffee tables, tabletops, shelves, and cabinets, and inside drawers. Do yourself a favour and give your living room a tidy up and deep clean. Once you've removed all clutter, take the time to invest in stylish storage.
Beautiful cabinets keep your chaos contained inside the cabinets while looking chic on the outside. This is a handy hack for those of you who are wannabe minimalists but are truly maximalists on the inside. While you should clear your space, you can keep some choice pieces hidden away inside your cabinet doors.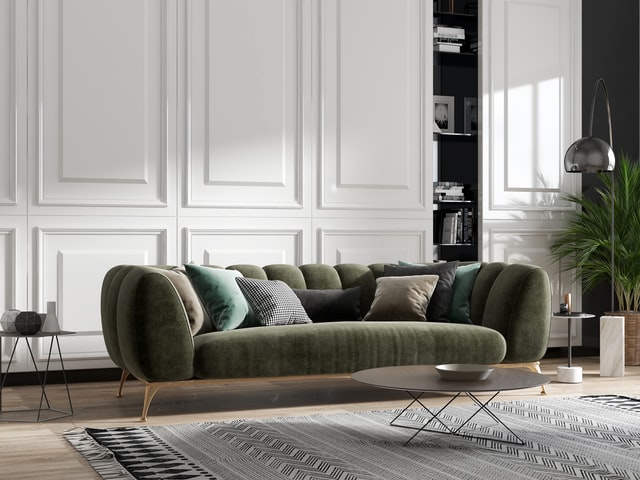 If you're getting cabinets built-in, a custom fitting is the best solution but you should leave it to the professionals and get a cabinet designer to take care of it for you.
5. Choose quality over quantity
When designing your small minimalist living room, try to select good quality pieces of furniture that will last a long time. Because you're selecting neutrals, they'll never go out of fashion. So think ahead, and choose furniture that will serve you in the years to come.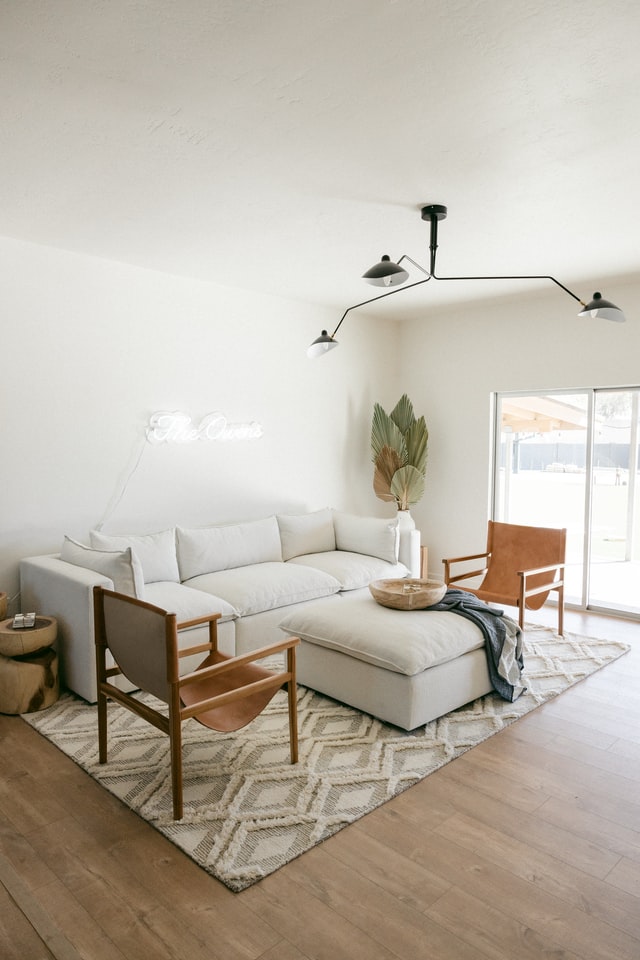 6. Add a print to the wall
Just because you want to go the minimal route doesn't mean you have to leave your walls blank. Take this grey neutral-themed space for example – it includes statement prints on the wall in a contrasting yellow-gold tone frame.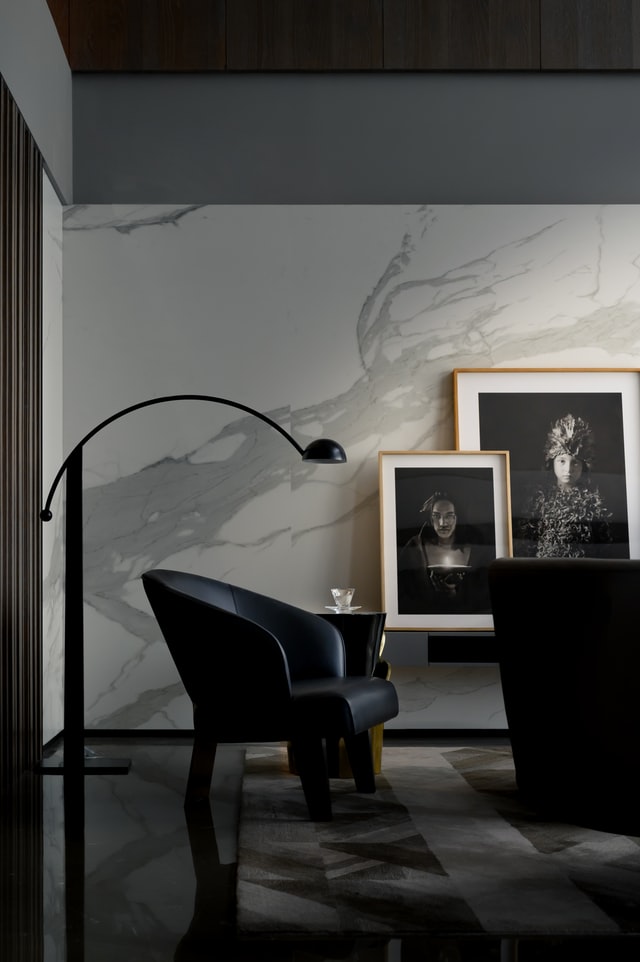 7. Highlight feature pieces
You'll be pleased to know that you can have a lot of fun with your furniture while still keeping it minimal. It might be something as simple as adding a round bobble pillow and neutral rug with black pom poms. It's these little touches that add a whole lot of character to a small space while still keeping it minimalist by sticking to a consistent colour scheme.
8. Use earthy tones
A small minimalist living room should ideally incorporate no more than two key colours throughout to keep it looking streamlined. For instance, a desert-brown couch against a sage wall with a few black and white accents to achieve a minimalist look without completely stripping away decor.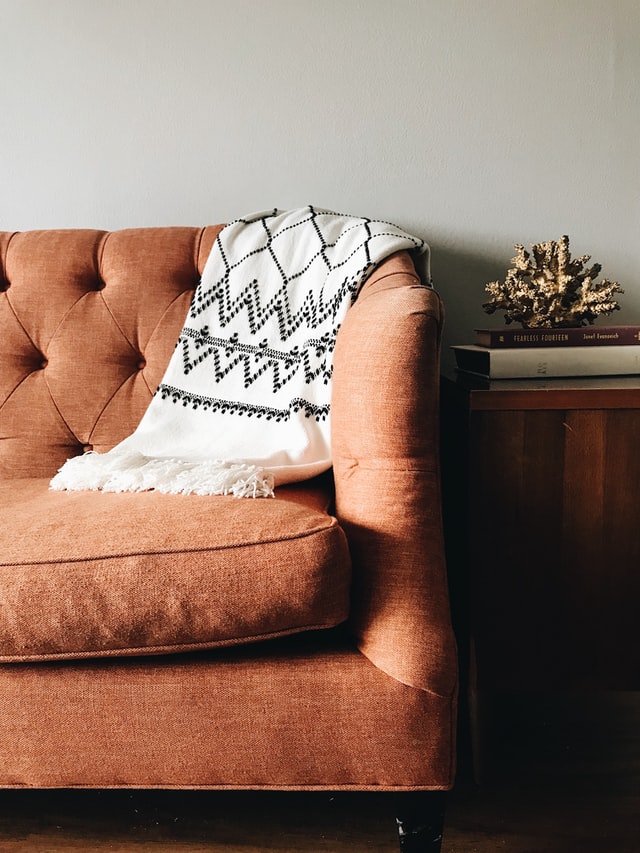 9. Add a single hanging light
Create a simple yet minimal lighting solution by hanging a single light from the ceiling. This will work particularly well if you have a very neutral-coloured space.
10. Incorporate a bench seat
Create interest while keeping it simple with a strategically placed bench seat. This chair might even simply be an extension on one side of the television unit–a great way to maximise space, especially if you have a small minimalist living room. Or it might be a very minimalist wooden bench like this one.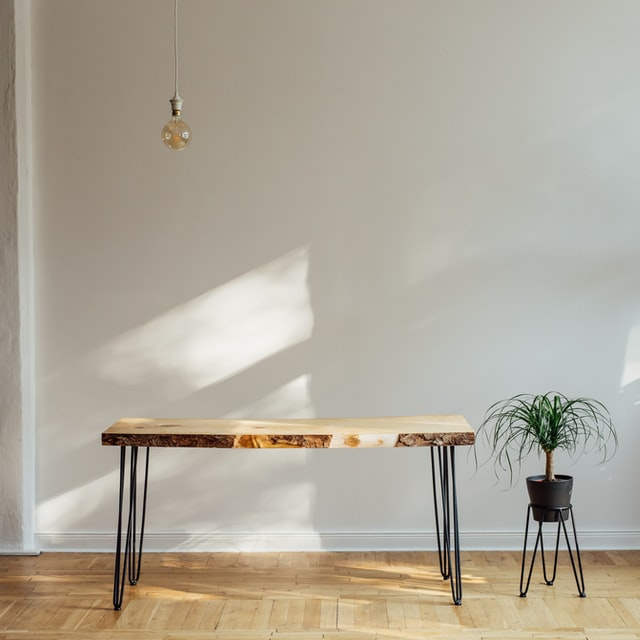 11. Create symmetry with facing sofas
Another way to incorporate minimalism into your small space is to create symmetry with furniture. For example your living room might have two sofas facing each other and connected with a small coffee table and rug.
12. Have fun with a swing chair
Add fun to your living room with a cane hanging chair. These beauties are very on trend right now and they look fantastic in a coastal-style home. Keep the colours in shades of white and sandy beige to create this easy, minimal style for your own small living room.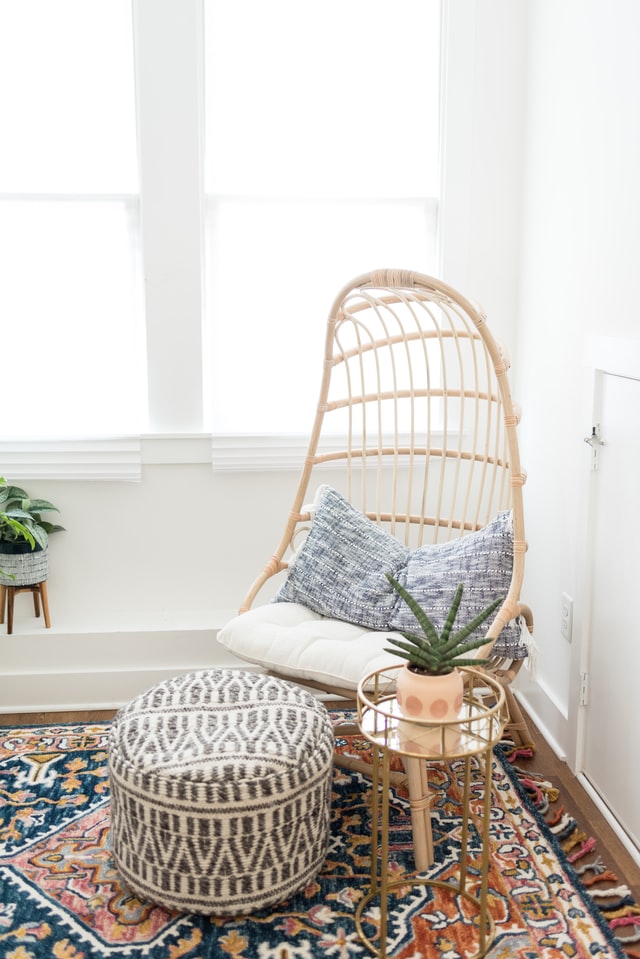 13. Add a vase of flowers
A minimalist living room doesn't have to be devoid of life. Inject colour into your space by keeping a bunch of beautiful flowers on the coffee table. You can update them each week with fresh florals or you can find your favourite fake flowers from Spotlight or any other decoration store. And the good thing is that they come in so many different types – from peonies to sunflowers to more – and they look good all year round!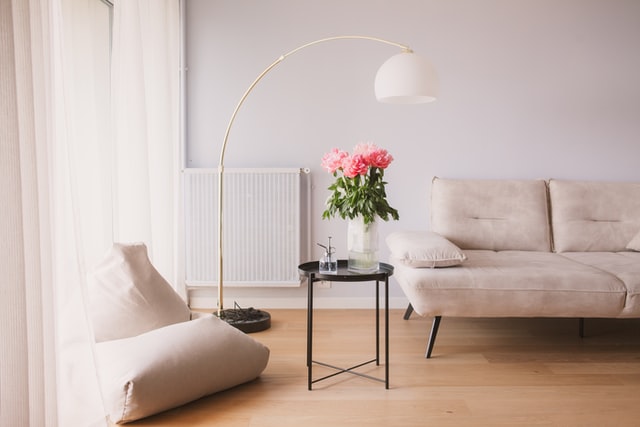 14. Include a statement mirror
The great thing about mirrors is that they can make small spaces appear much larger than they really are. So if you have a tiny living room, choose a mirror that can sit on top of furniture, hang from the wall, or one that can sit on the floor. And you'll be amazed at how open your space appears by using this simple hack.
15. Don't be afraid to add colour
A small minimalist living room doesn't have to stick to black and white to be effective. Don't be afraid to include colour in your little space. Take this living room, for example, which incorporates blue with monochrome neutrals.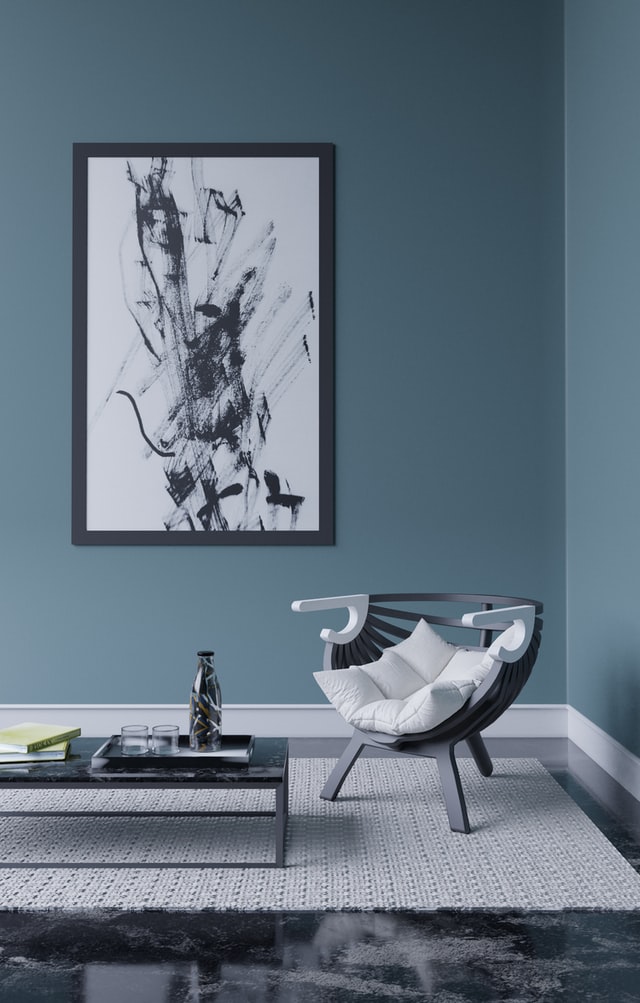 16. Add a minimal fireplace
You may not have factored this in, but even your fireplace can be minimalist! Opt for a fireplace that's unobtrusive and certainly doesn't take over the room. Consider adding a black feature wall behind it for an elegant addition to the living room.
17. Choose a minimalist coffee table
Your coffee table doesn't have to be fancy to be effective. In fact, when it comes to creating a minimal space, the more simple it is, the better!
18. Burnt orange leather and black
If you're the kind of person who likes to draw outside the lines, then burnt orange might be the choice for you. Create a foundation of black or white walls, flooring and furniture, and then add a pop of colour with burnt orange leather chairs and some complementary black leather cushions.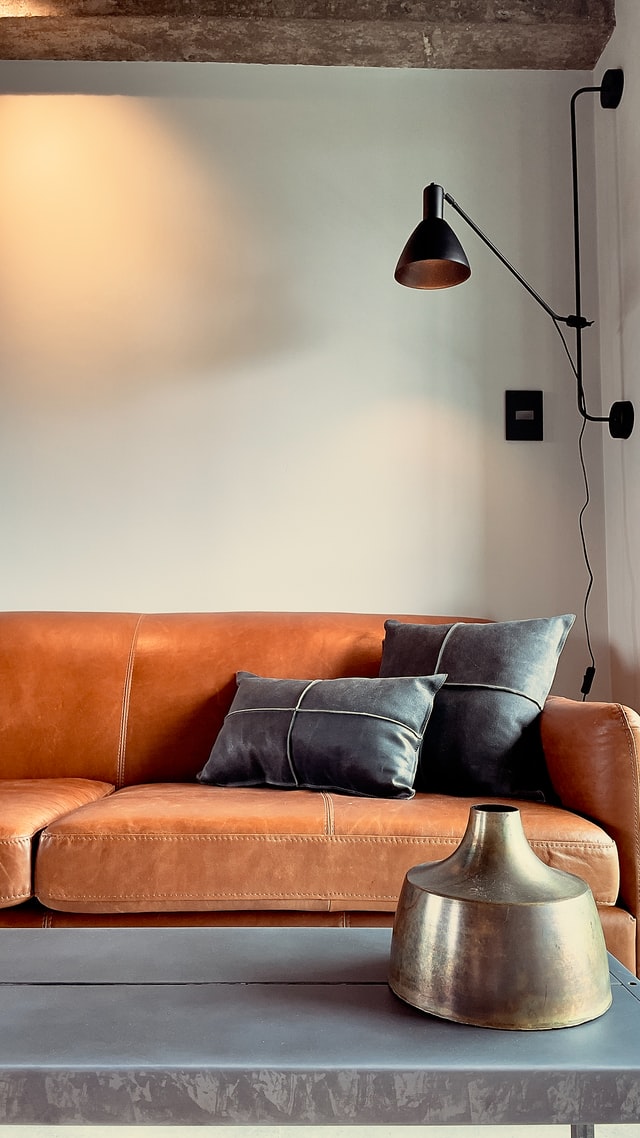 19. Create contrast with black and white
Going down the monochrome route can make for a striking space as it really defines zones. A minimalist living room could include a white couch on clean white walls and a white coffee table, this will also make the space seem a lot larger too. Then in another section of the room, you could use darker colours to really highlight that it is a different zone. For instance black or dark navy paint, furniture and cabinetry.
20. Add greenery
Any minimalist space will be brought to life with a vase full of greenery. Use a small vase with a little bit of greenery for a subtle touch or choose an oversized vase that really makes a statement.
21. Incorporate green velvet
Now you're probably asking yourself why velvet? Well not only is it very on-trend at the moment but a coloured couch in a plush textured finish really lifts a simple room to the next level. A velvet couch can come in all colours such as a deep blue,  dusty pink to mysterious purple, golden yellow, and even this gorgeous bottle green! A colourful feature piece of furniture is one of the best ways to add excitement to a minimalist living room.
Throw in a rug for texture and warmth and add in a small pod of coffee tables to complete the room, in a minimal way.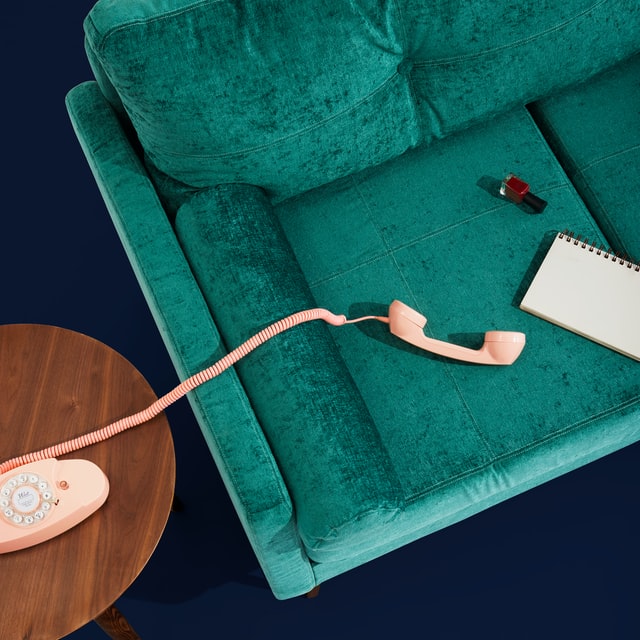 22. Add unique furniture
Just because you're creating a minimalist living room doesn't mean you need to stick to rectangular or square shapes. Have fun with interesting shapes and sizes but just make sure your surfaces are tidy and clean so the space looks uncluttered.
23. Go all white
White is one of the most wonderful ways to make a small living room appear much larger than it really is. You can achieve this look with white walls, thick white curtains, a white couch and a white lamp shade. While you'll want to keep the focus on white, don't be afraid to add a little bit of colour and texture by layering rugs and adding some geometric-print pillows.
24. Add a basic white rug
If you're wondering how to bring all of your pieces of furniture together to create one seamless look, then it's time to get a rug. A large rug will provide a clear centre point for your room while drawing your attention to the coffee table in the middle. And if you keep the rug in line with other colours in the space, you'll find it's a great way to complete your minimalist living room.
25. Change it up with angular design
While choosing key furniture pieces often consists of looking for items that are both functional and aesthetically pleasing to the eye, these angular chairs are more for people who are attracted to geometric styling with a contemporary flair.
Featuring unique, eye-catching furniture that showcases oddly angled structures can make your space feel a little less casual living room and a little more modern art gallery.
26. Minimalist statement lighting
Your lighting doesn't have to be complex, fancy or over the top. In fact, the most effective lighting can be a unique statement piece. This interesting structure includes a single articulated arm with a globe light fitting, making for a Mid-Century Modern inspired space.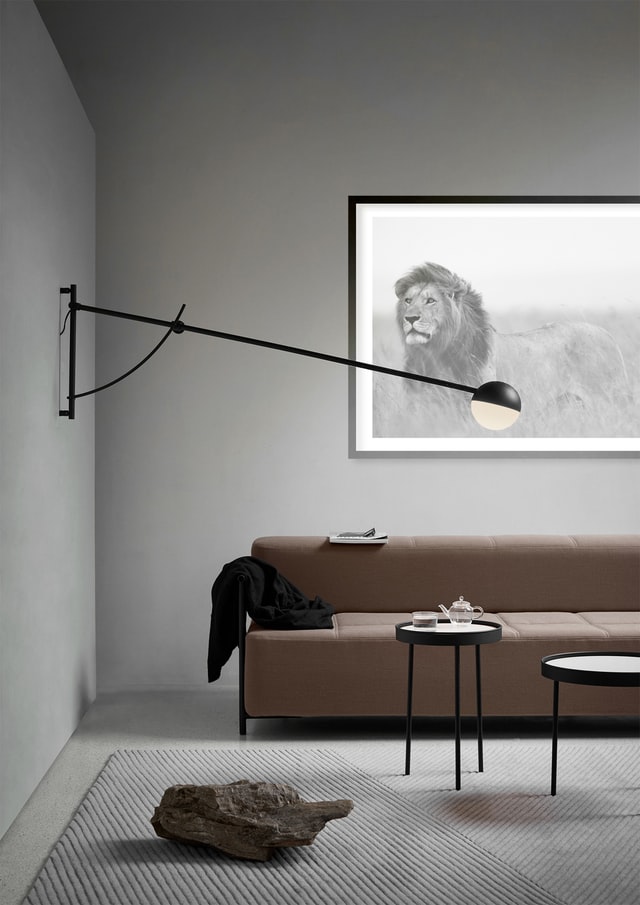 27. Pink and grey
These two colours are a match made in heaven. The best way to create an inviting room is to use grey as a base and then add touches of pink or blush. For example, you might have dark grey carpet, a light grey couch, and add pops of soft pink with the couch cushions. You can also add little touches of pink in the form of ceramics as décor.
28. Marble coffee table
If you're looking for a classic style that will last the test of time, then you simply can't go past marble. It looks fabulous with everything, especially when used as a centrepiece in a small minimalist living room. Add a tray, a small vase with some flowers or greenery, and your favourite coffee table book to top it all off.
29. Black-and-white style
How beautiful is this living room? I love the design strictly sticks to black and white. This creates an elegant and timeless style that you are sure to love for years to come.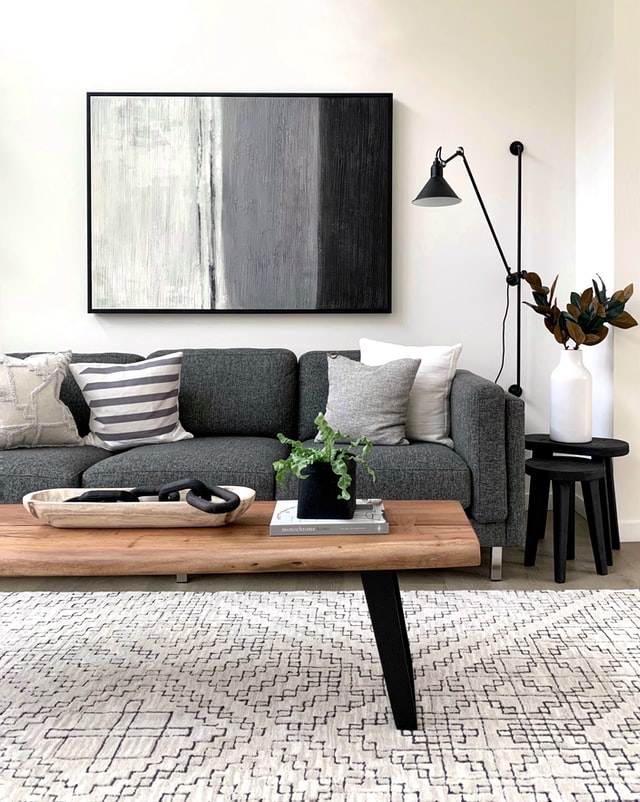 30. Coastal minimal design
Create a tranquil minimalist living room by using linen in shades of blue. Add touches of timber and lots of white to make the space a coastal delight for any beach house or wannabe seaside escape. The perfect space to kick your shoes off and cosy up with a glass of red in hand.
31. Minimalist retreat
Last but not least, simply looking at this small minimalist living room makes me feel calm. It's because the design uses clean lines and interesting shapes in similar colours and interesting textures. The combination is so interesting!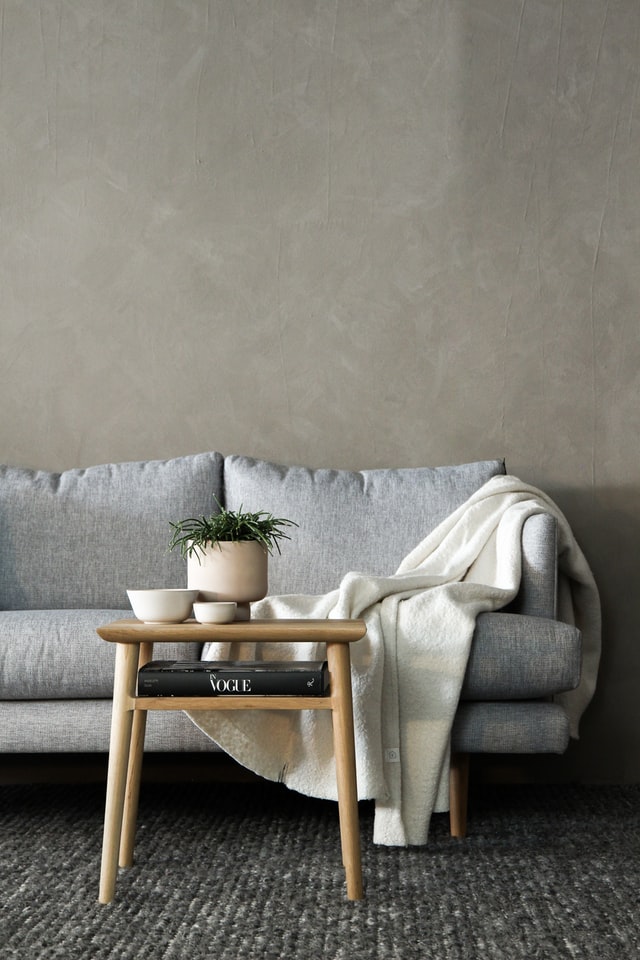 I hope these living room ideas have sparked your interest, so you can get busy creating your very own minimalist living room. It's amazing what you can do with a small space if you put a bit of care and attention into making it special.
So what will you do next? Add a statement couch? Perhaps a statement coffee table? Incorporate a bench seat? Or add a large rug? Also, whatever you do, make sure you continually clear your living room of clutter so you can enjoy the calm and tranquillity that comes with a clean, minimalist space.
Do you have any other suggestions on minimalist design? I'd love to hear about it in the comments below.