Lights are the unsung heroes of any living room. They add warmth, atmosphere, style, colour, and a whole lot of character. And there are just so many designs to choose from and it can be overwhelming with where to start. That's why I put together this list of my absolute favourite living room lighting ideas.
When looking for lights you'll want to choose lights that fit in with your current living room design. So it's important to have a think about exactly what that is before you start buying every beautiful light off the shelf. If you want to create a sophisticated living room, then you might want to go with a simple white design. If you want to create a dark, moody space, then an industrial wrought iron might be for you. Or if you want to create a living room that screams fun, then you might want to choose something bold and colourful.
But what about style? If you're renting, maybe you can only by a floor lamp or change a covering. Or if you have an electrician, perhaps you can put in a pendant light, several downlights or even gallery tracking lights to show off your artwork.
To help you pick the right option for you, I've compiled a list of over 35 living room lighting ideas, including ceiling lights, wall lamps, and so much more. So there's something in here to suit every style and taste. Are you ready? Let's dive on in!
1. Elaborate chandelier
If you want to make a statement with your lighting choice, then you can't go past this. How incredible is this huge, glass chandelier? I love the contrast between the transparent glass and the wrought iron that holds the lights. It feels very modern yet a little bid mid century.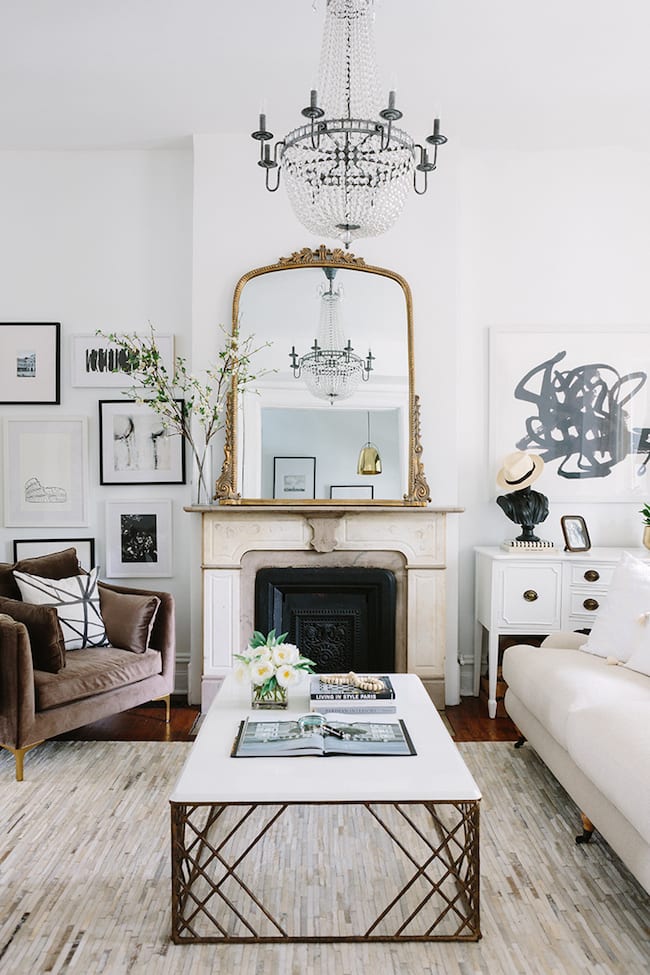 2. Sophisticated lamp
Lamps are a great way to add extra ambience to your living room. Take this one, for example. It's a very chic style that matches with the creamy colours of the rest of the living room. It's elegant and beautiful without stealing the show!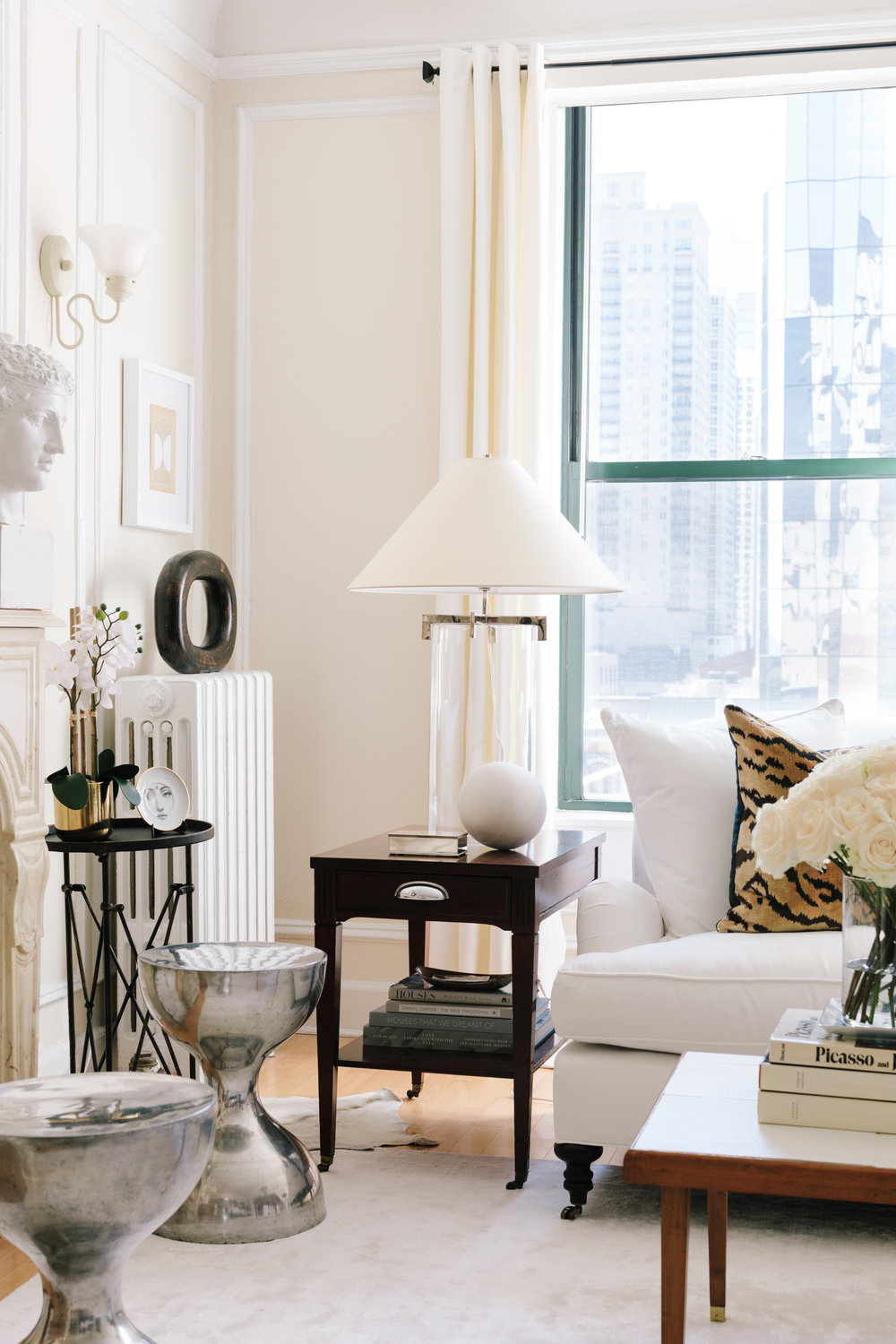 3. Combine different styles of lamps
Who says you have to stick to one style of lamp? Get creative by combining different types of lamps, like in this living room. The thin, dark iron-coloured standing lamp on the right adds shape and interest to the room, while the white-shaded lamp on the left brings both dark and light colours together.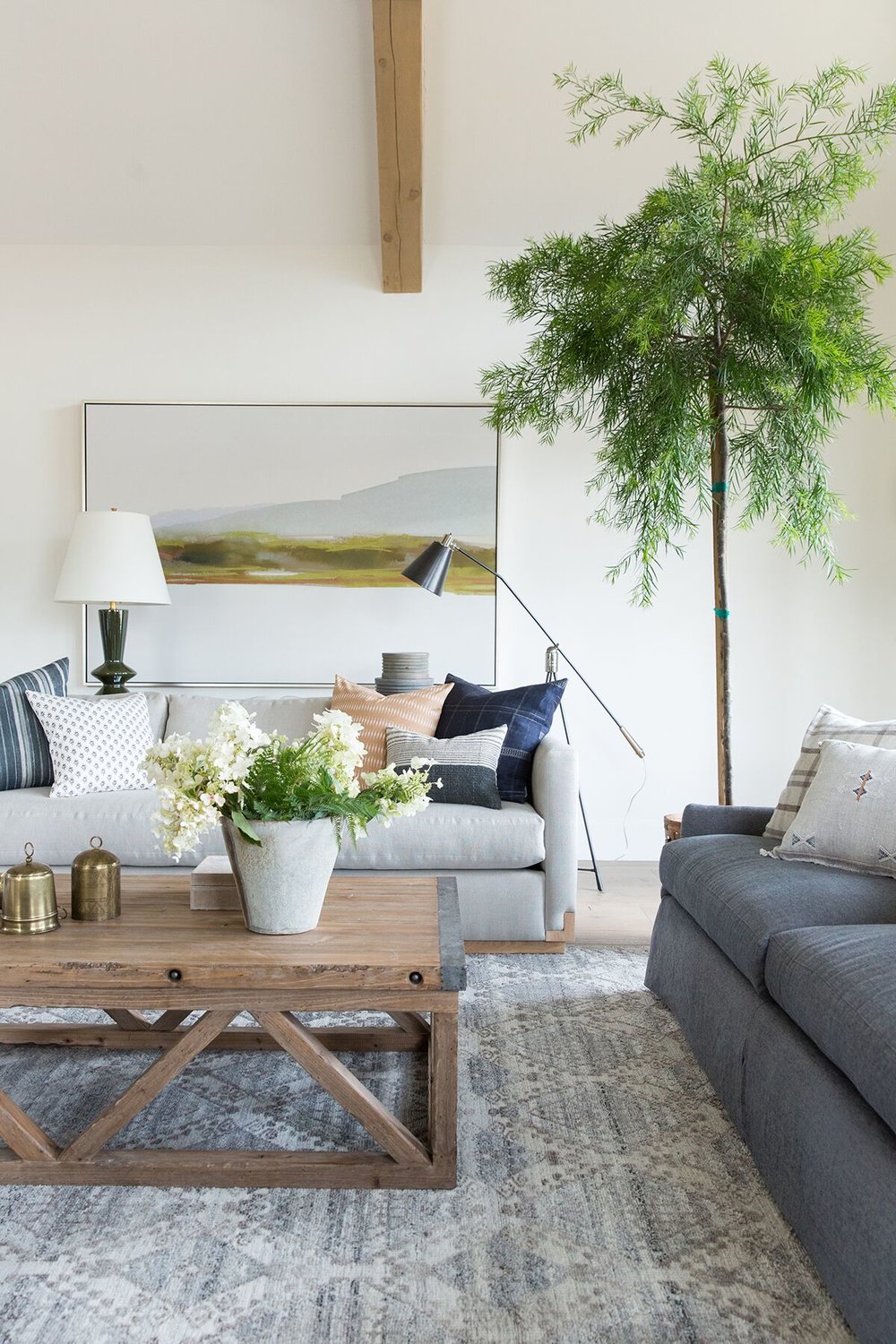 4. Simplistic round light
This is a beautiful option for a light, airy space and would look fabulous in a beach house. If you have a neutral colour scheme, then you should seriously consider installing one of these white round lights in your living room. It adds a whole lot of interest but also looks consistent with the colours.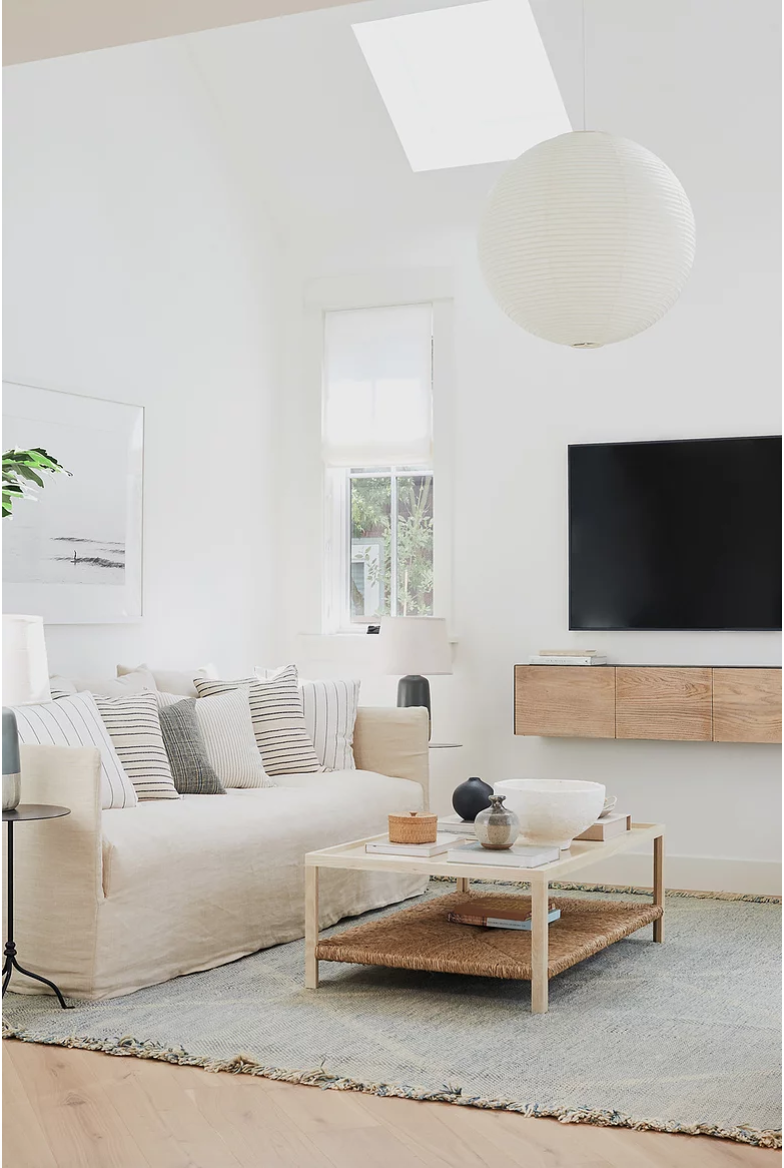 5. Brass pendant
How cute is this hanging pendant light? Brass has been a huge trend over the last few years. While some may say it's had its day, I think it's timeless. Brass adds an industrial-chic style to any space, bringing it into the 21st century.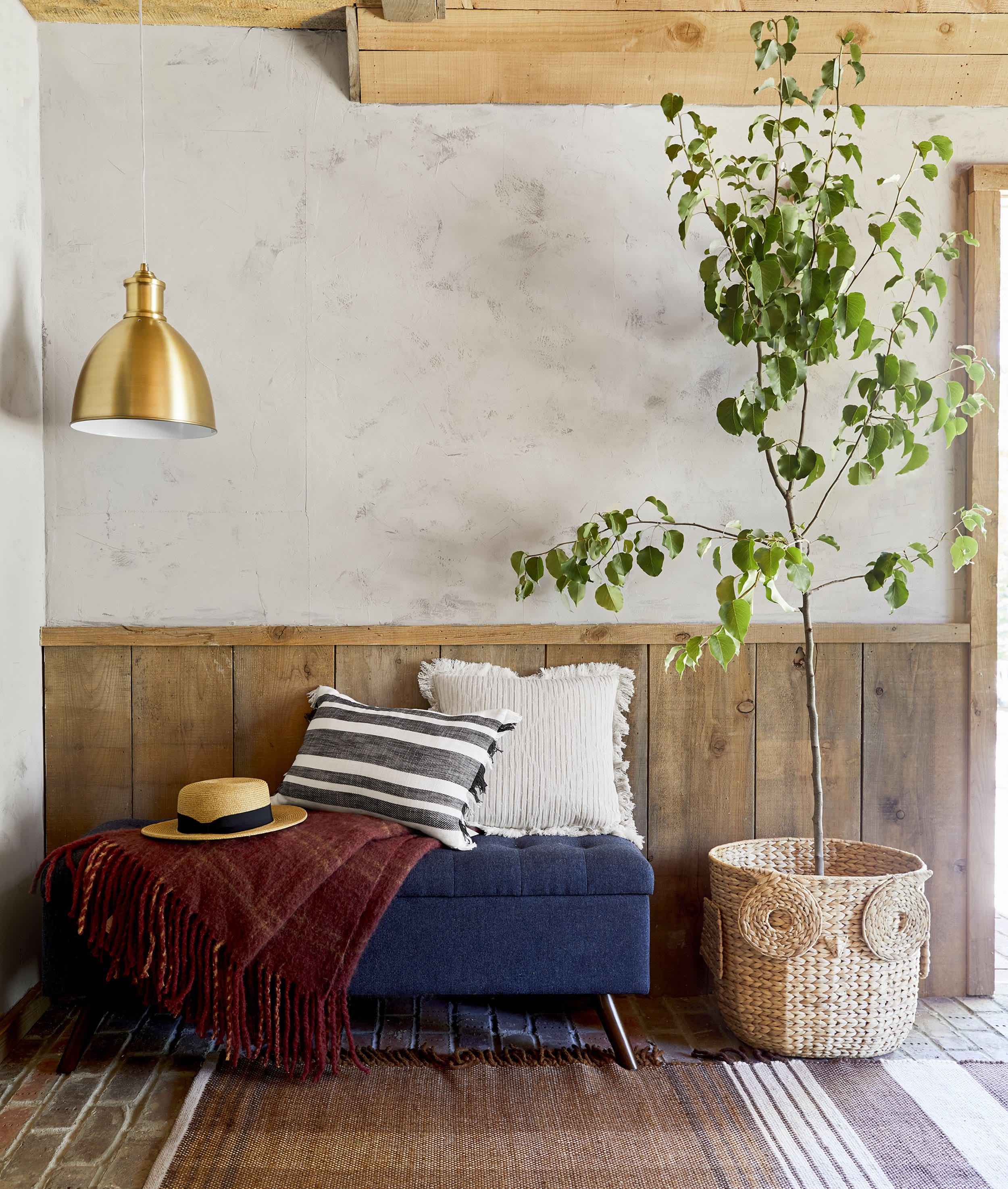 6. Pendant light
Looking for something that's a bit out of the ordinary? Well, this pendant light might just be the choice for you. While it does look a little like a spaceship, it adds a beautiful pearly white shine to this living room design.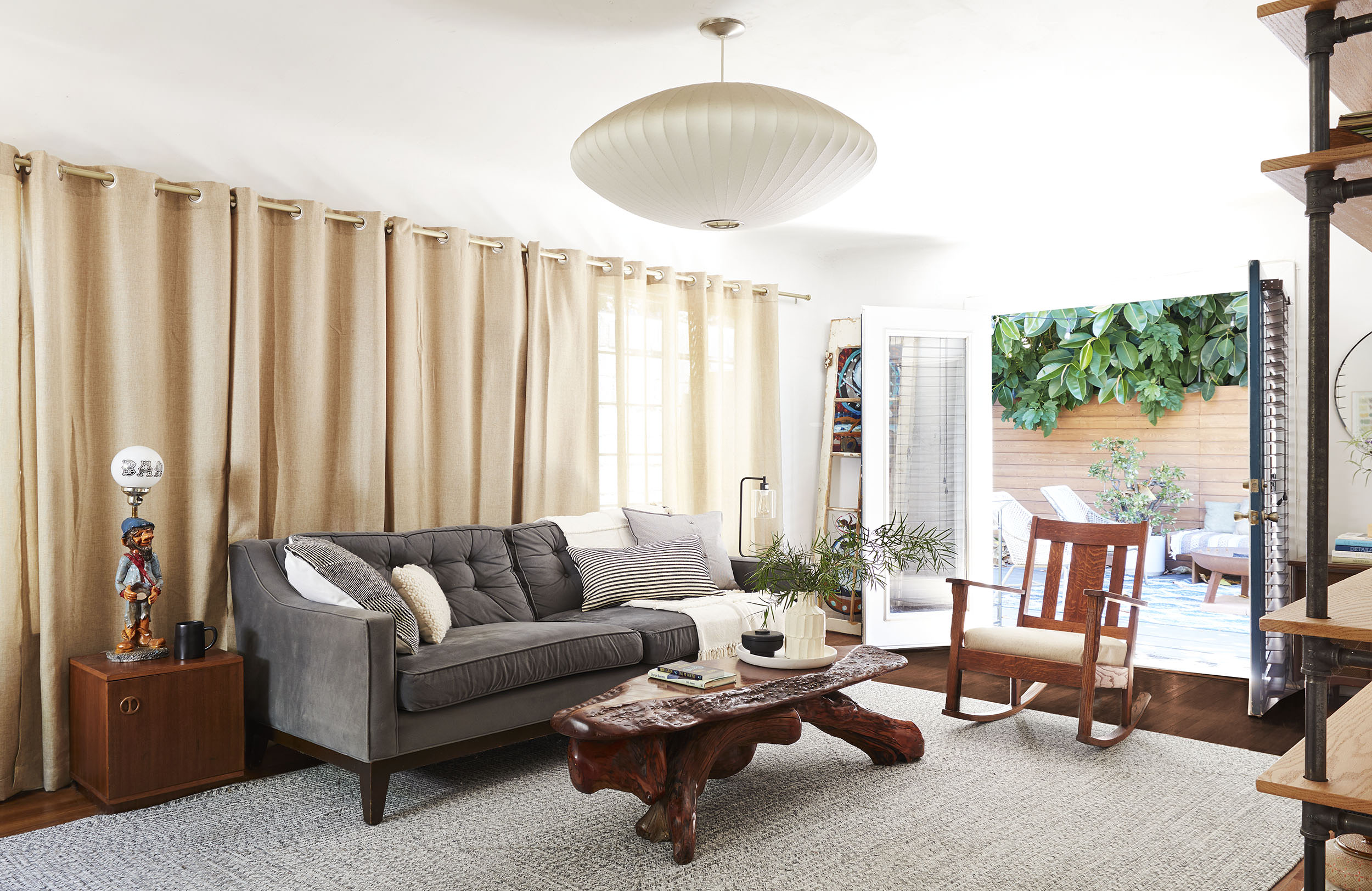 7. Contemporary lamp
Take a look at the lamp on the black coffee table in this living room. The shape is quite unusual, but it's that detail that makes it all the more intriguing. While this room has plenty of decor, the lamp is still a feature piece that adds a whole lot of character to this space.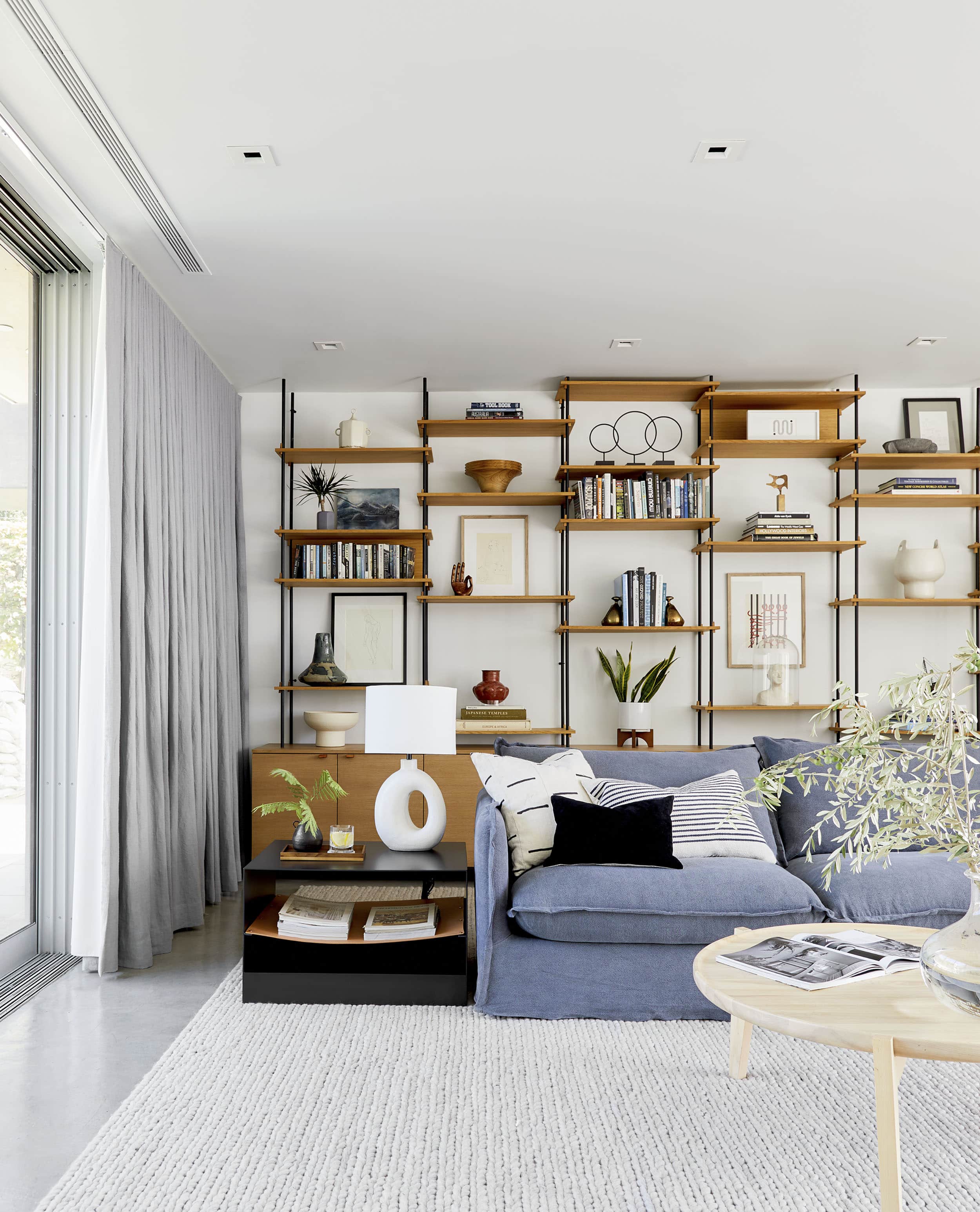 8. Brass and white wall sconce
Wall lighting is seriously underrated – it can add warmth and atmosphere to a room. This double-ended white and brass light is a beautiful design feature of this room that ties in perfectly with the glass and brass lamp on the little black side table and the brass detailing on the coffee table.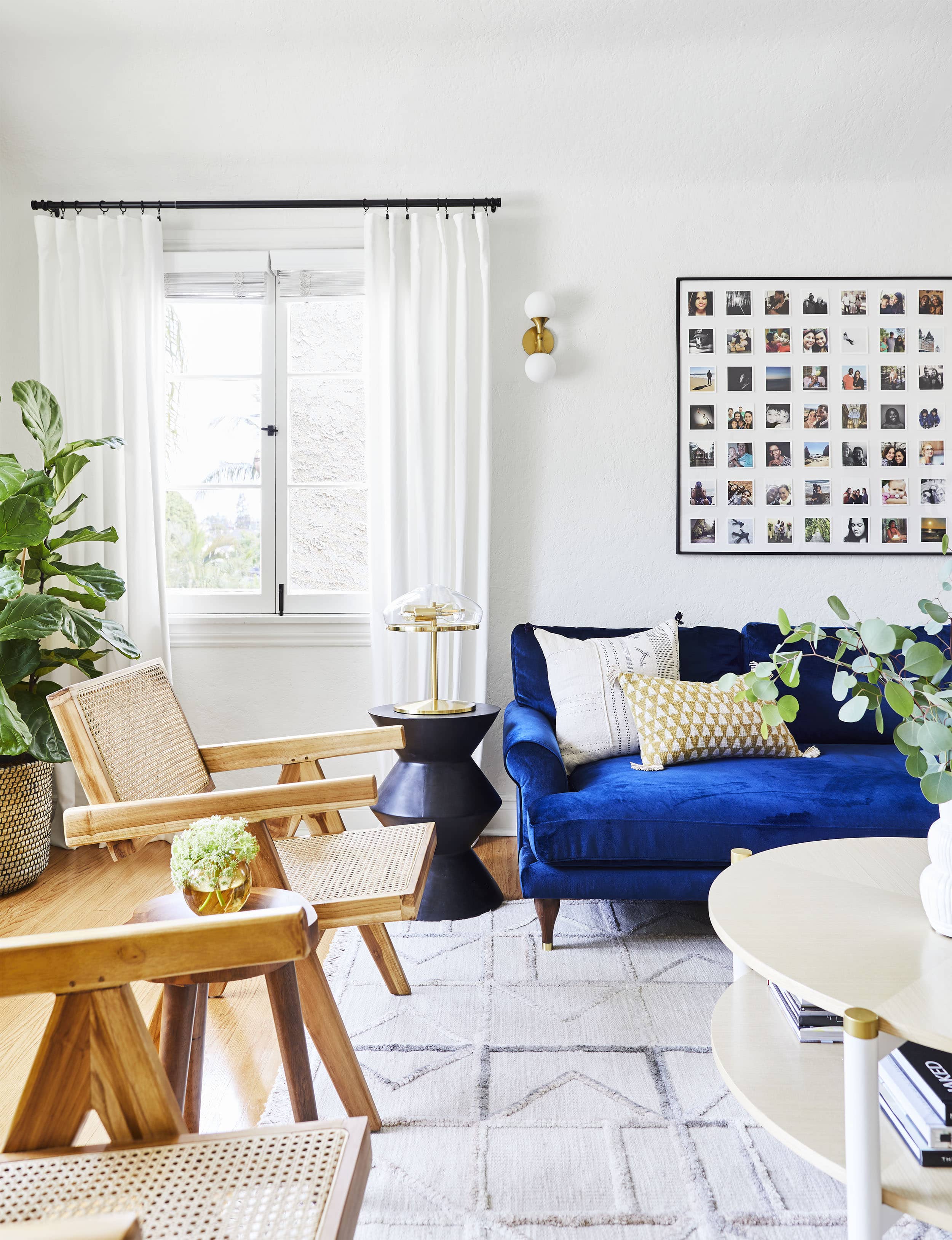 9. Black modern wall sconce
This is a quirky choice that looks pretty fabulous next to the frames and wall prints. The black is a great choice to ever so slightly offset the overall whiteness of the room. And the great thing about this style is that the black wall light adds a touch of masculinity to an otherwise neutral room.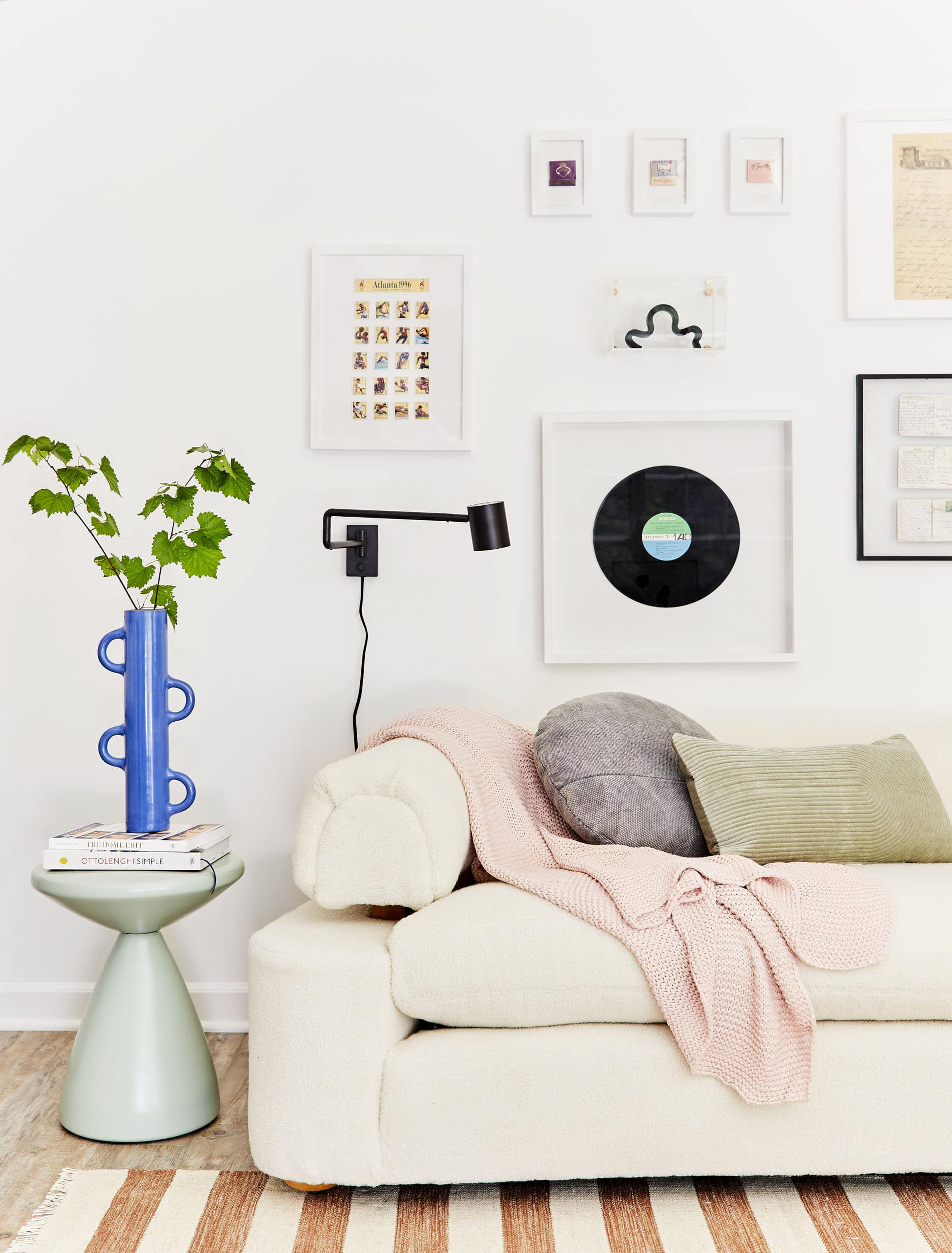 10. Silver and glass wall lamp
If you're sick of brass and black but still want to steer clear of the same old white, then why not consider silver? This silver and glass light stands out against this dark blue wall and ties in perfectly with the grey curtain to the left.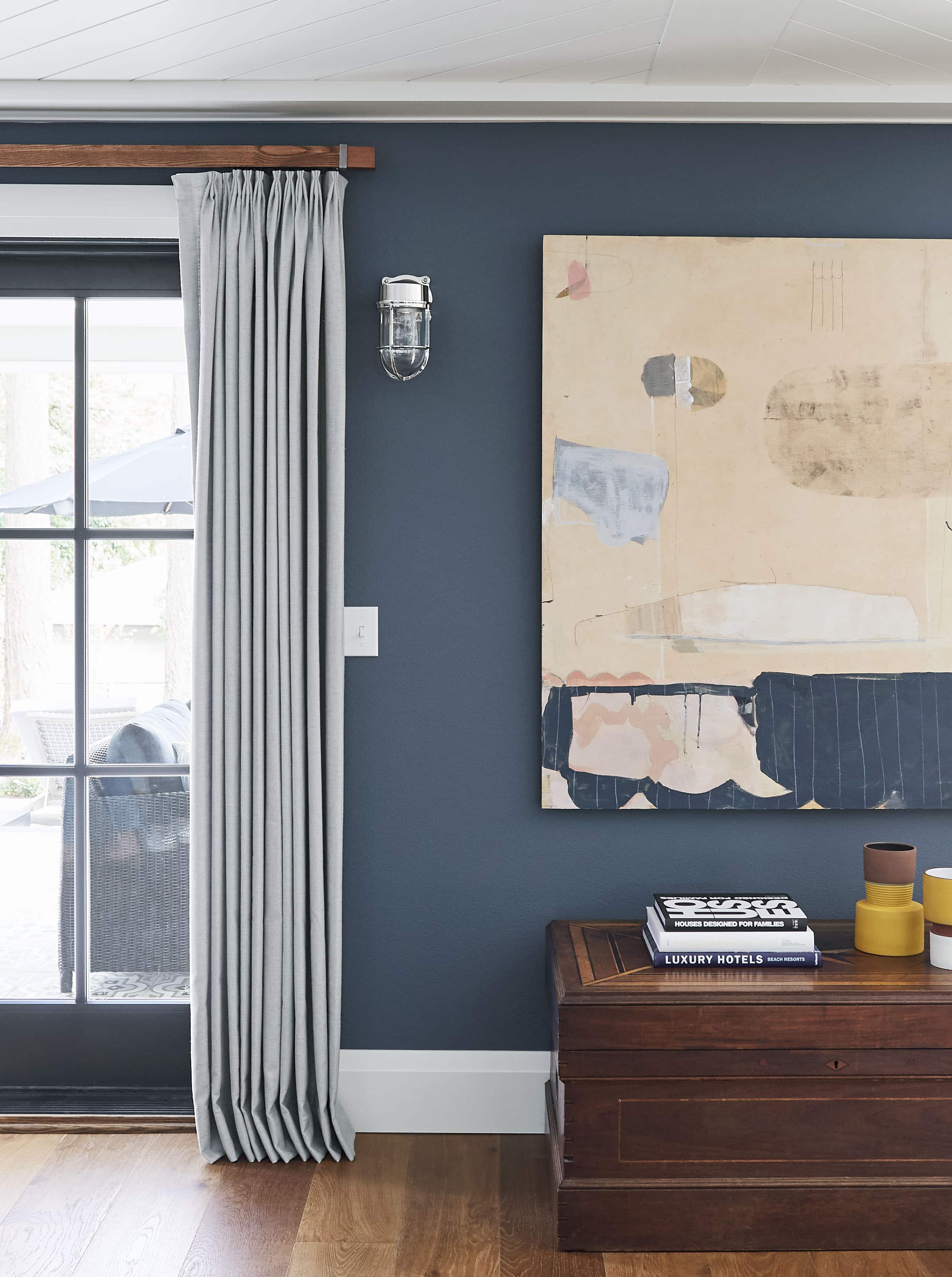 11. Rattan pendant light
Rattan be it natural, white or black is a lovely modern light material that can be used in a wonderful oversized way and make a large impact. It's really great value for money if you want a quick makeover for your living room.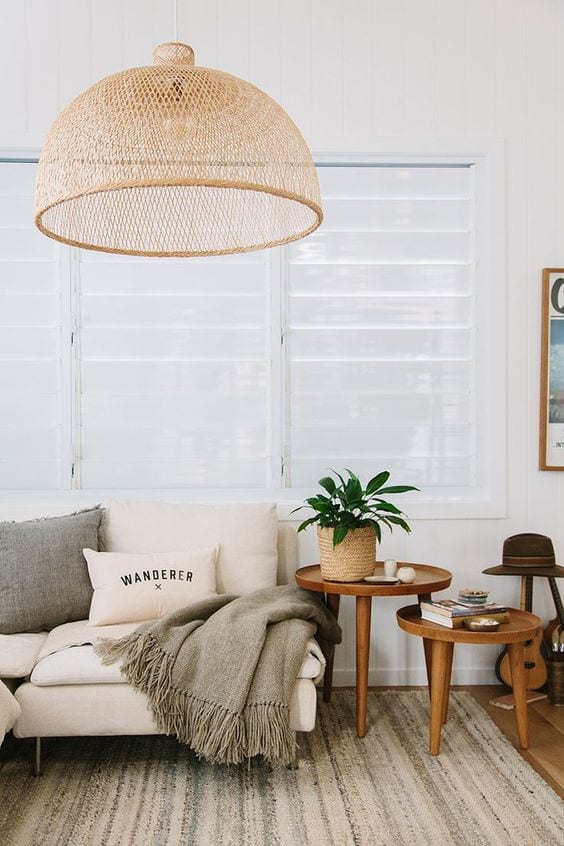 12. A combination of styles
This living room includes all sorts of lighting styles – from a brass lamp on the side table to a floor lamp with a white cover, to a little lamp on the blue table to the gorgeous double lamps on the far walls. This proves that you don't have to stick to one style or type of lamp to give your living room the lighting it needs. Have fun by playing around with different colours, textures and styles. Your living room might just end up looking as fabulous as this one!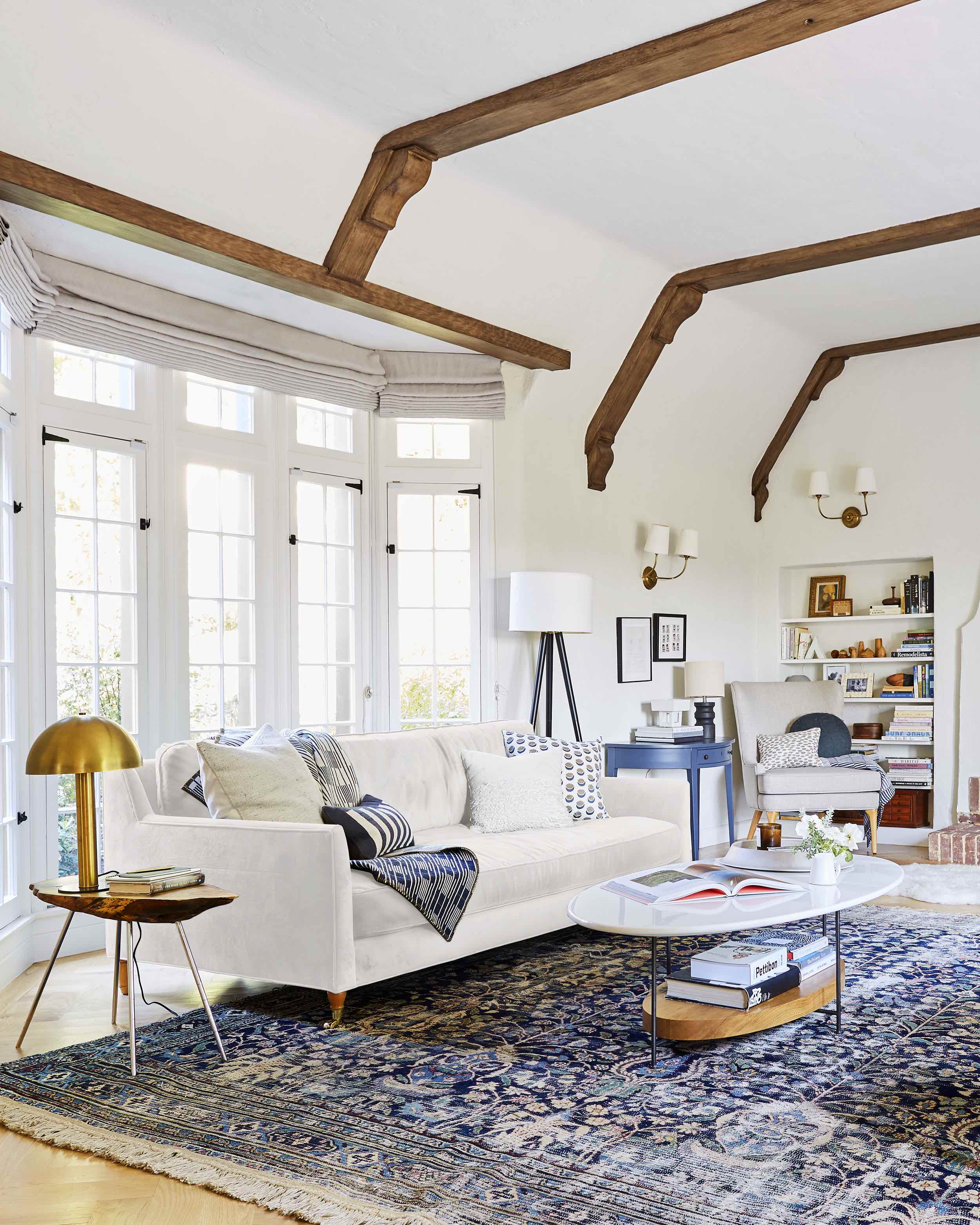 13. Small modern lights on the wall
This choice is for the modern living room lover. Simple industrial-style black lights can do a whole lot of good for your living room without being overbearing. I love how these two lights have been carefully framed up above the in-built shelving. They also tie in well with the black detailing of the windows and balcony.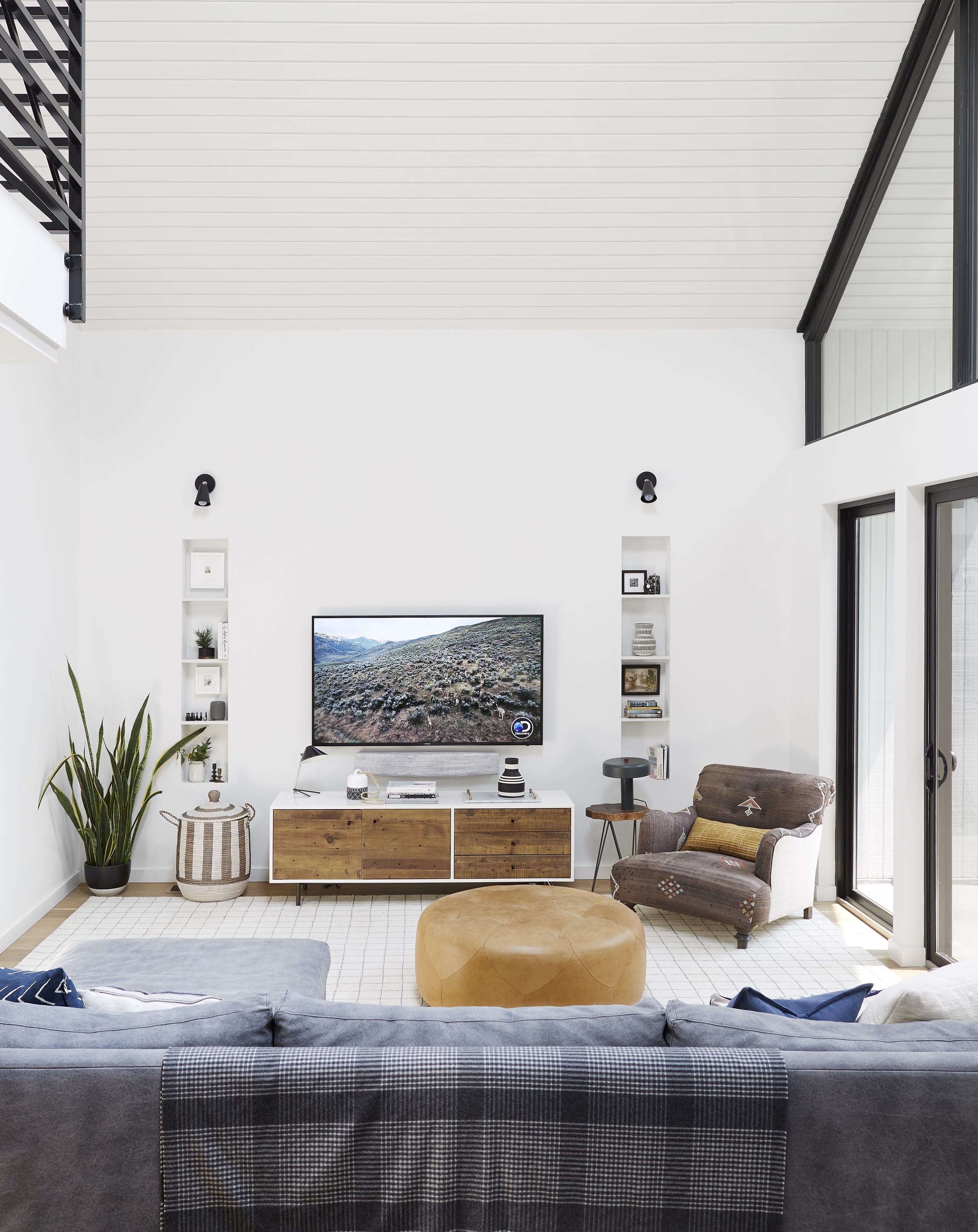 14. White and gold wall sconce
This is another elegant choice that will look great teamed up with other gold elements. This gorgeous wall lamp looks perfect positioned directly above a gold bar cart. If you're going for this style, consider adding some fun prints or photographs in a similar colour scheme between the wall light and the bar cart. You can also fill your cart with books, family heirlooms or your favourite bottles of wine.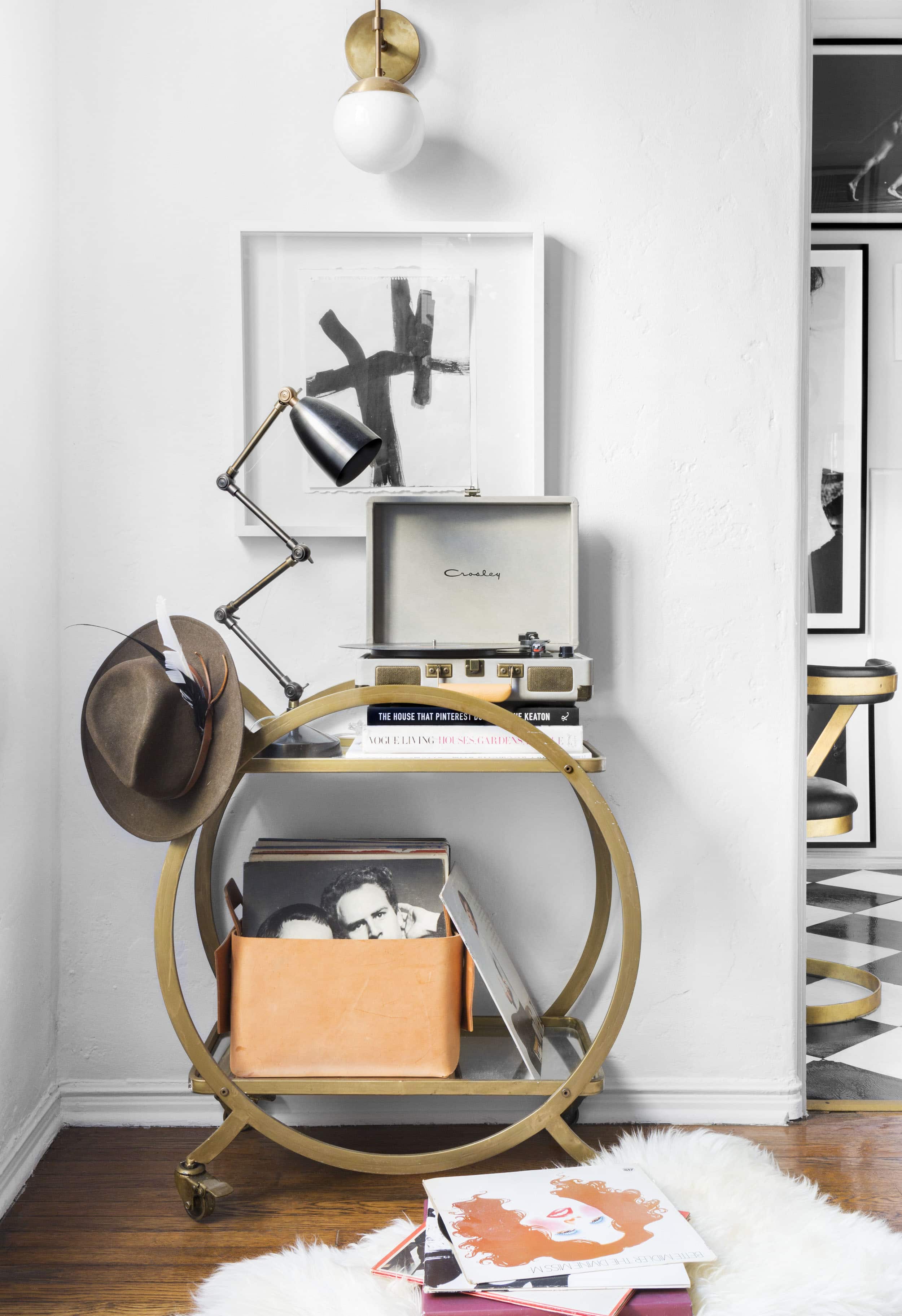 15. Black shell chandelier
It's not often that you would opt for a black chandelier but when it's made out of shells or beads, it encompasses relaxed formal very well.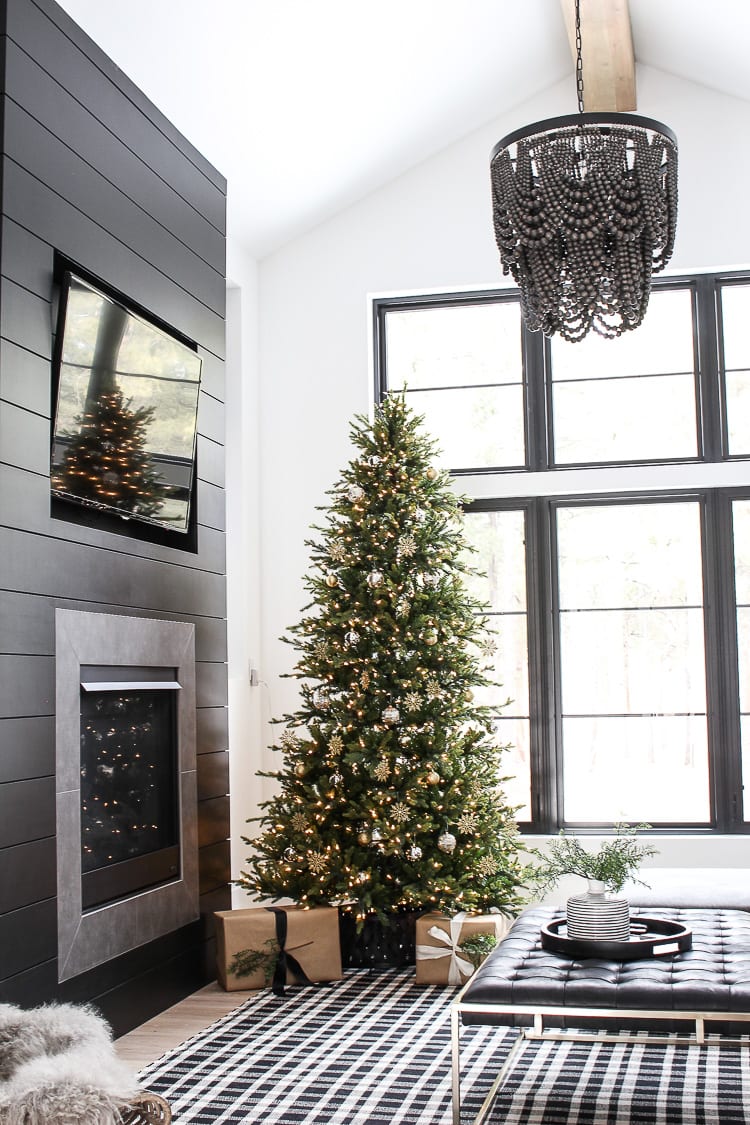 16. Dramatic floor lamp
On the other hand, you could go all out and make a bold statement with a large floor lamp. This one is particularly effective because it stretches up over the sitting chair. Imagine yourself in this space, sitting back and reading a good book with a cup of tea – wouldn't that be nice?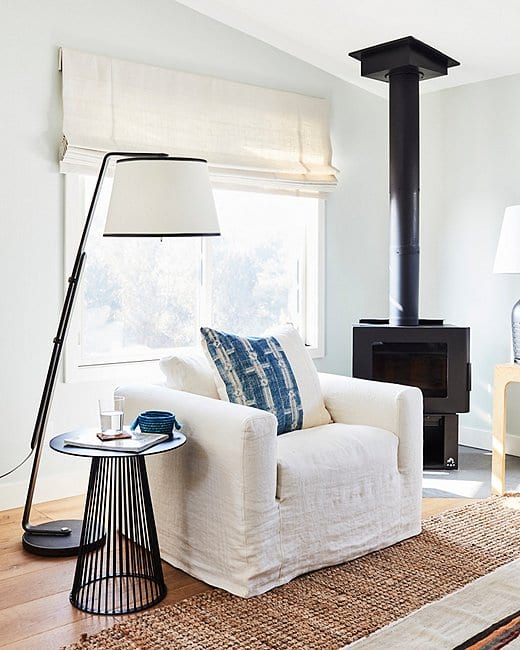 17. Twisted rope
Now you don't see this kind of light every day. If you want something out of the box, this rope-style light might be the choice for you. It would be the perfect option for a cosy cabin or snow retreat.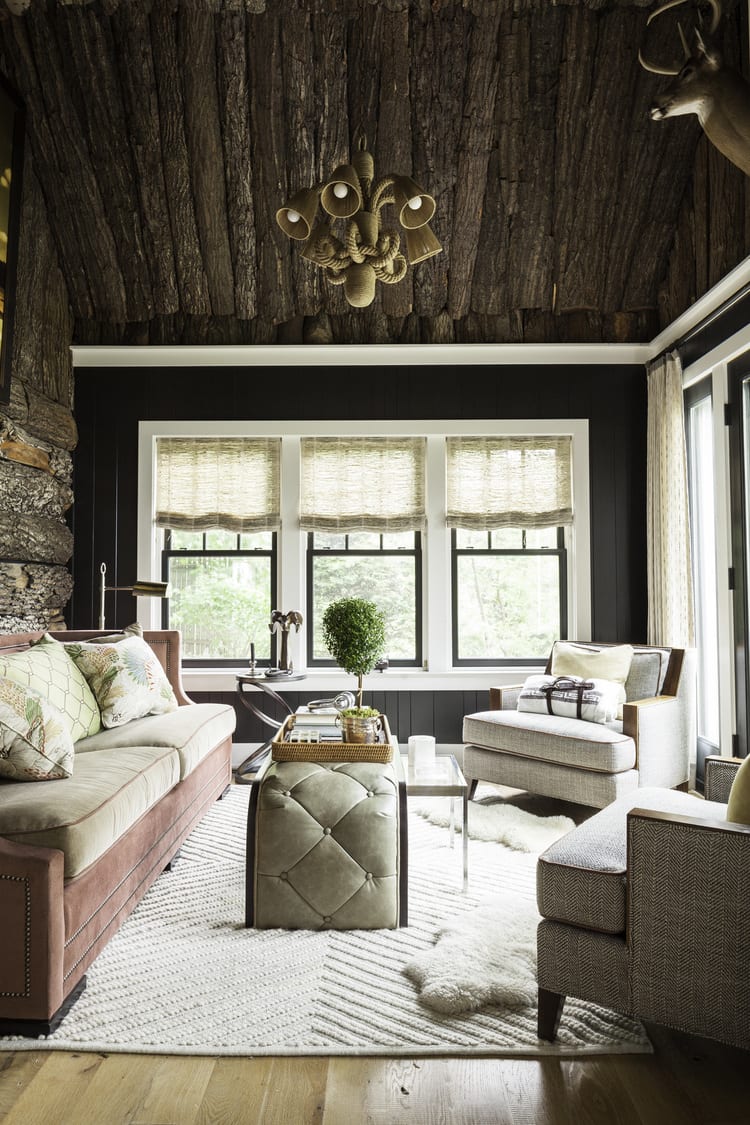 18. Dainty ceiling light
If you want to add a feminine touch to your living room or spruce up your already pretty pink space, why not choose a ceiling light like this one? It looks a little bit like a butterfly or flower, and the rose gold colour looks lovely with the cream-coloured furniture and soft pink walls.
19. Leather and iron
This ceiling light is the perfect choice for a masculine living room. If you've already got dark walls and furniture, then why not add a candle-themed ceiling light with touches of leather and iron. Integrate these design elements throughout the room by using touches of leather and dark metal.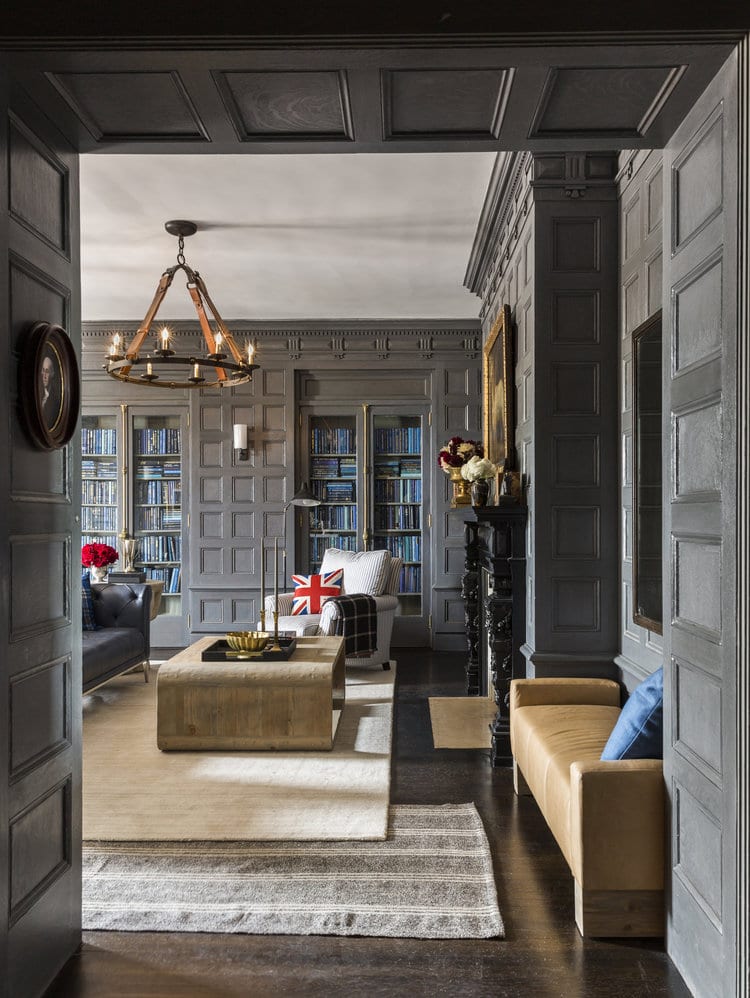 20. Brass table lamp
This mid-century lamp looks great sitting on a marble-white cabinet and against a dark wall. This proves that it's important to think about the colours when you choose your lighting. Think about how the colour of the shade and body of the lamp will match with your existing decor and paint.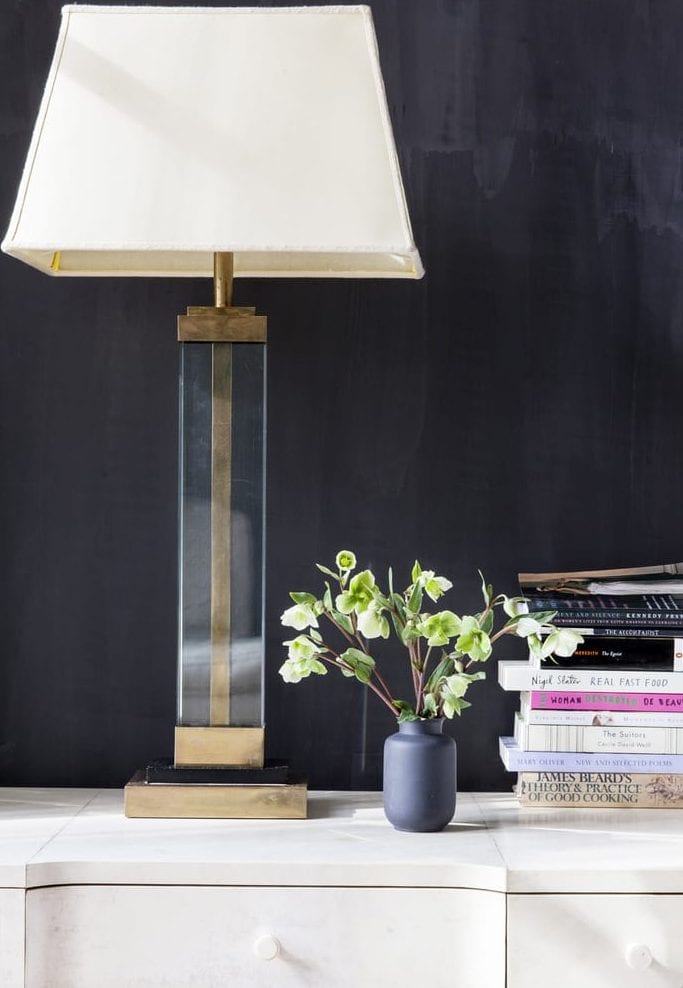 21. Cream ceiling light
Now you don't see this colour used very often in lighting. But this cream ceiling light adds the perfect touch to this eclectic living room. This just shows that you don't have to choose the same old black or white lighting, but that you can go outside the lines!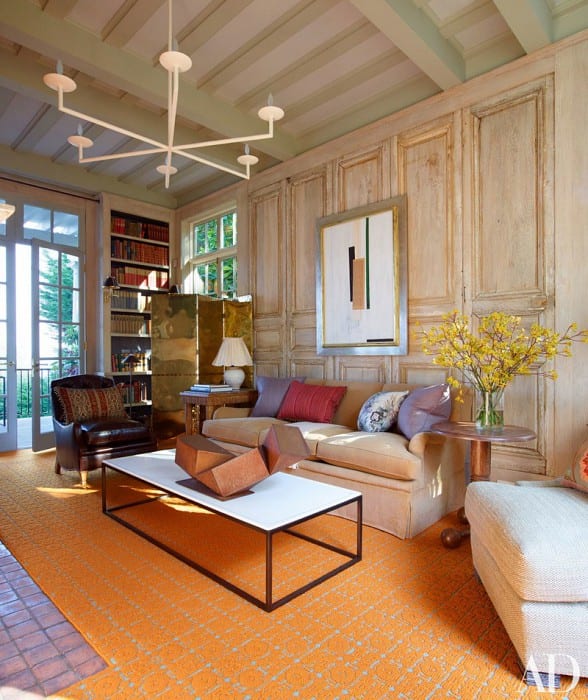 22. Gold spilling chandelier
The unique shape of this chandelier is what makes it stand out from the rest. It looks like it's spilling over and out of the centre. The gold and glass shine beautifully together and look great with the rest of the living room decor, which keeps fairly neutral.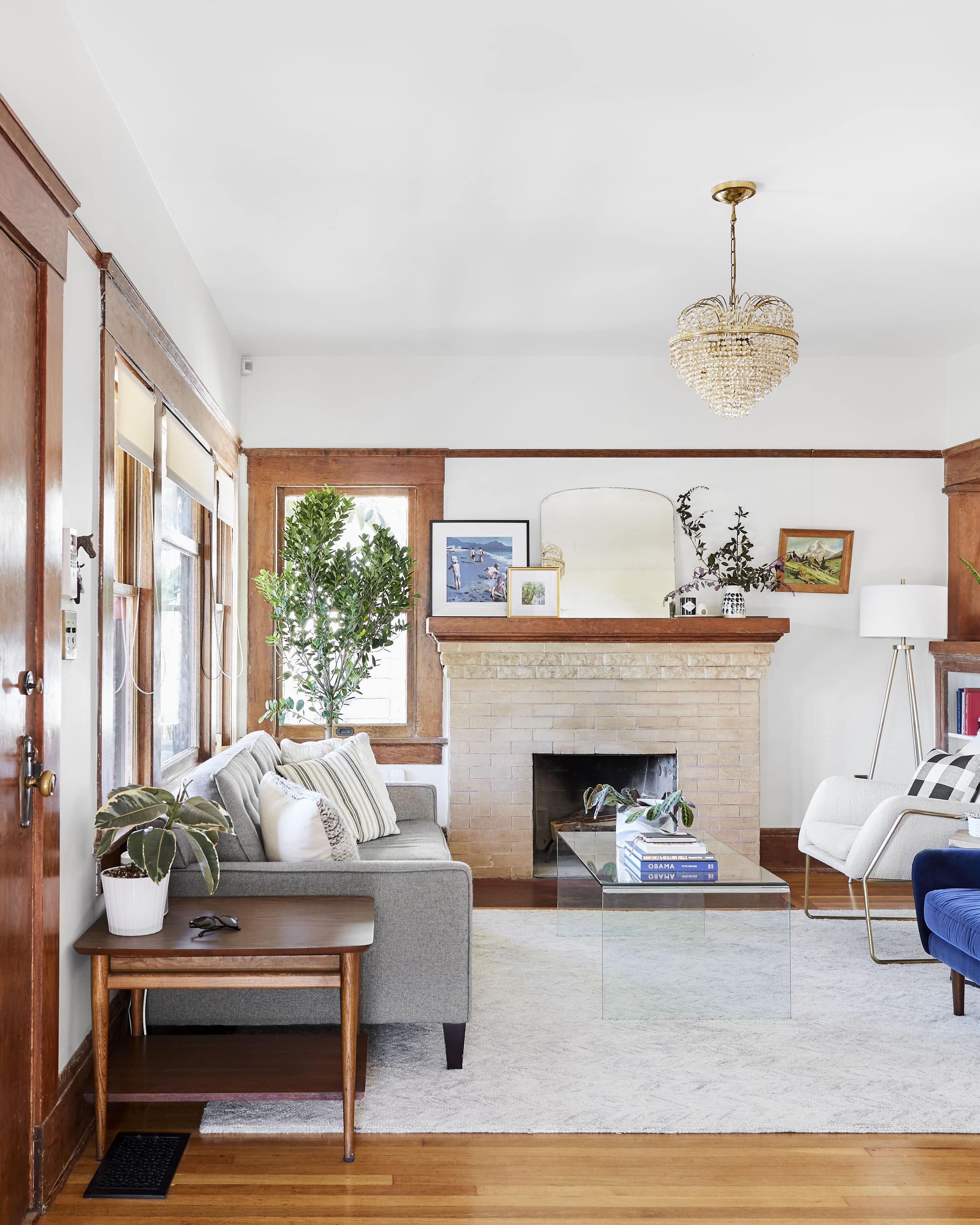 23. Brass lamp over a bookcase
Is there something in your living room that you want to showcase? Maybe it's a unique piece of art or a plant or, like in this case, a bookcase! A wall lamp can help to highlight this feature by drawing people's gaze.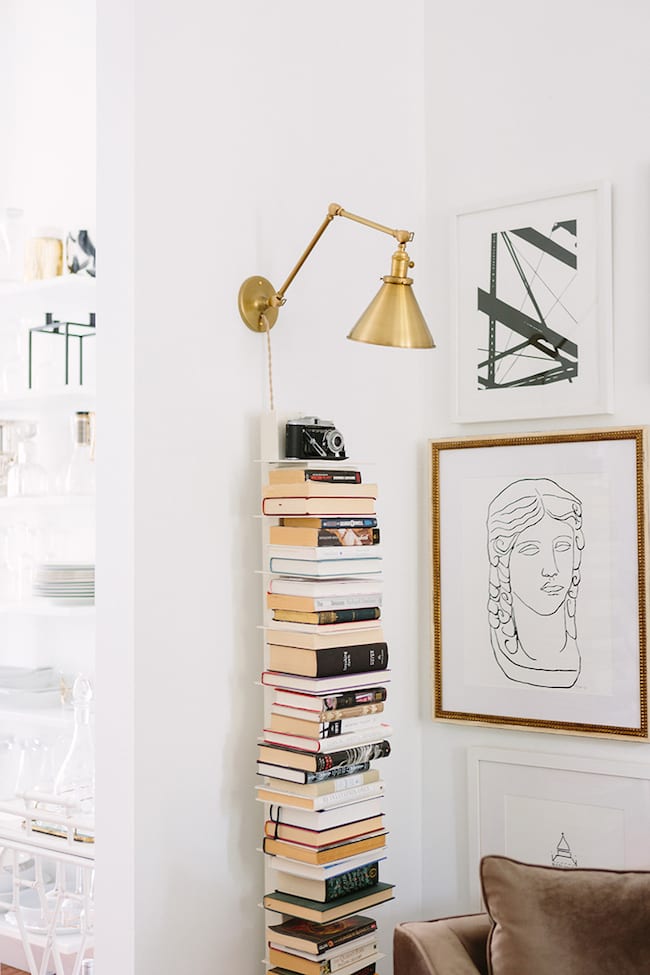 24. Black industrial lighting
You can instantly make your living room more edgy by adding industrial lighting. Take this single suspended lamp, for example. The long cord makes it really stand out.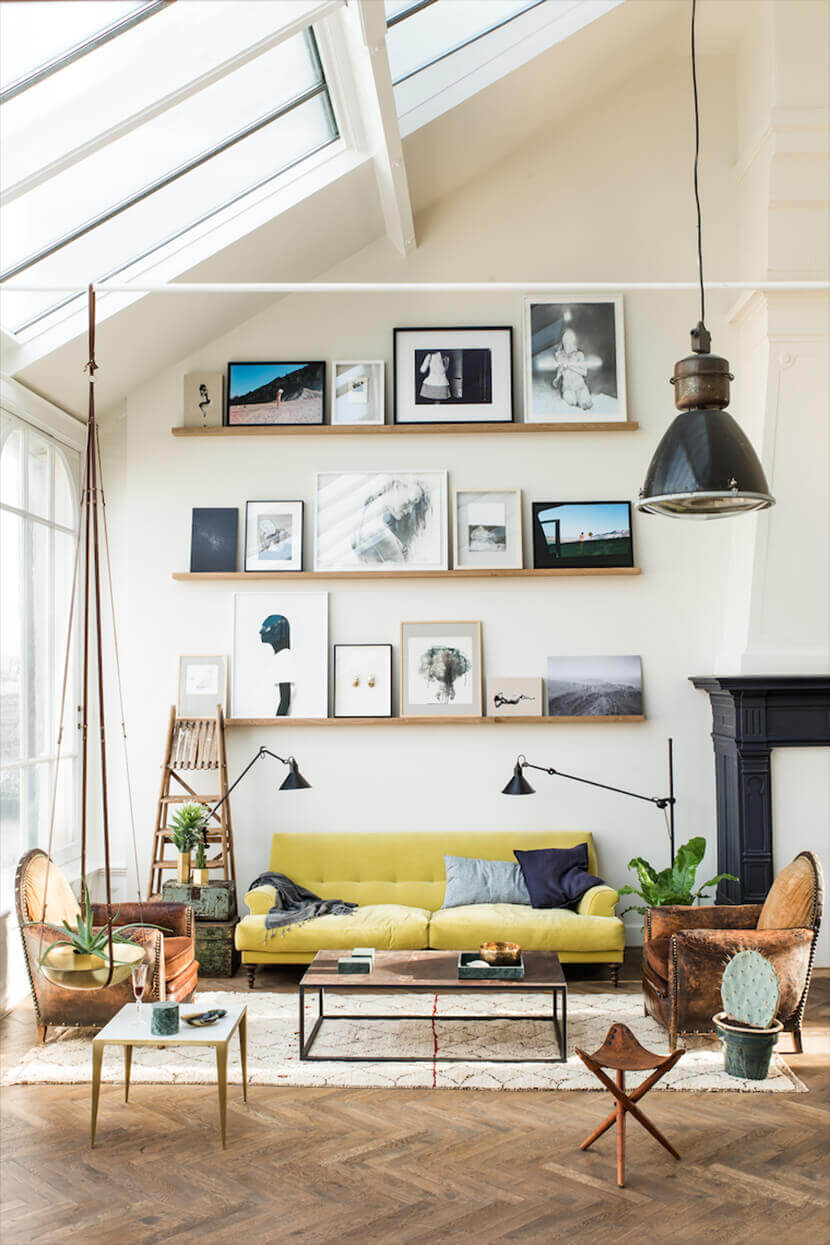 25. Costal pendant light
This lantern-style light is a sure statement piece in this cosy living room. It's a bold choice but because it's in the same colour theme as the rest of the room, it works!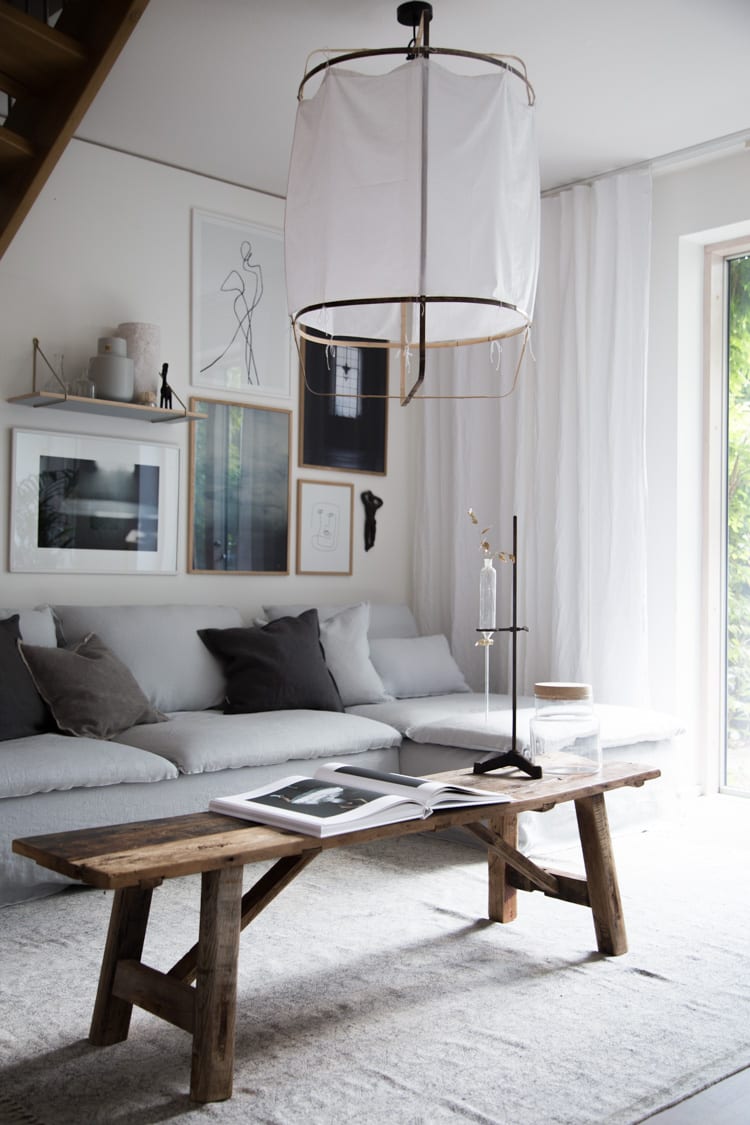 26. Mid-century blue ceiling light
This is a fun and funky choice! And the dark blue light looks striking against the peach-coloured walls. The great thing is that the colour of the ceiling light ties in with the shades in the couches for a beautifully finished living room.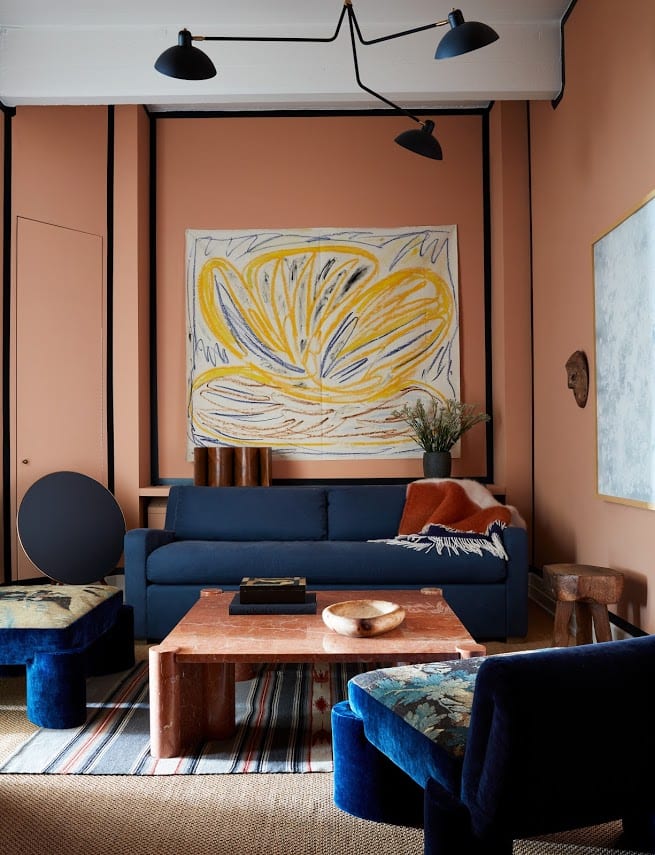 27. Quirky ceiling light
This light is funky! And it adds a whole lot of fun to this living room. When choosing a light for your space, remember that you can always change it later. So why not go with something that's a bit out of the box? The result will be a character-infused space that you love.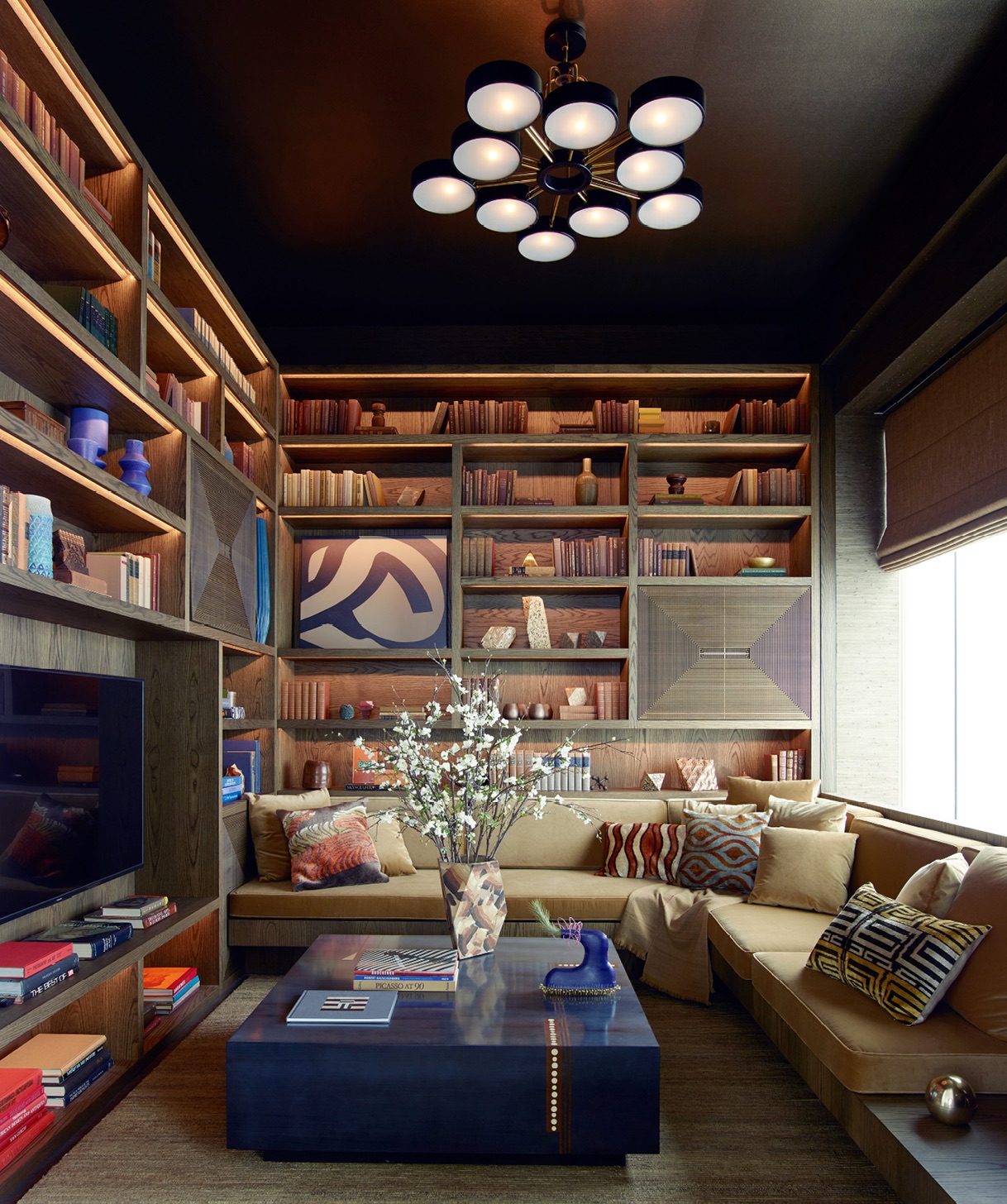 28. Curved black wall lamps
Can you see the thin wall lamps in this picture? I think they look great among the mismatch of paintings, frames, and mirrors. This living room looks very vintage, but these wall lights add a modern flair to the space.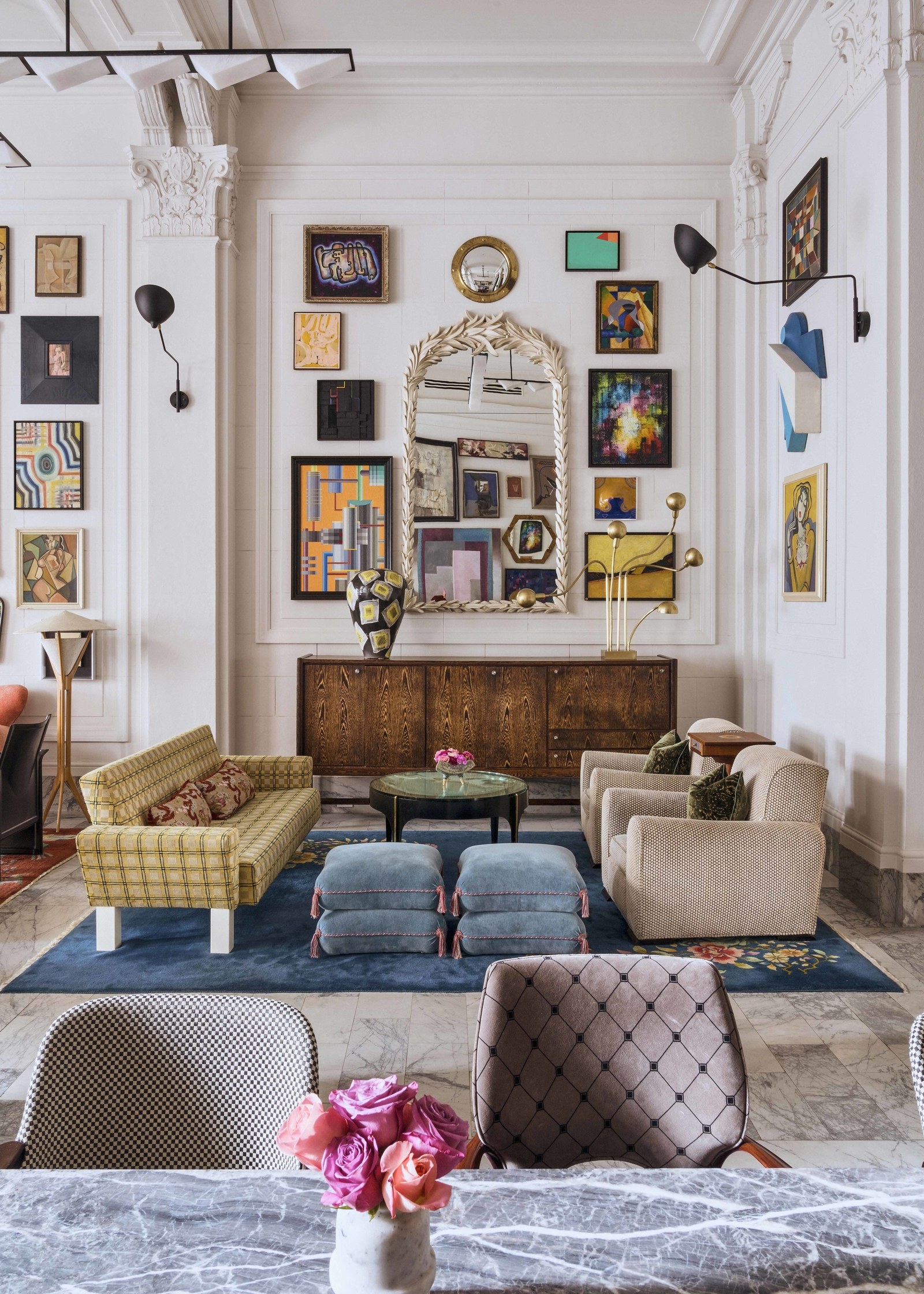 29. Tassel lights
Tassels are everywhere at the moment. Once reserved for curtains they can be found on towels, bags, clothes and now lights. I love this light for a lovely beach coastal design.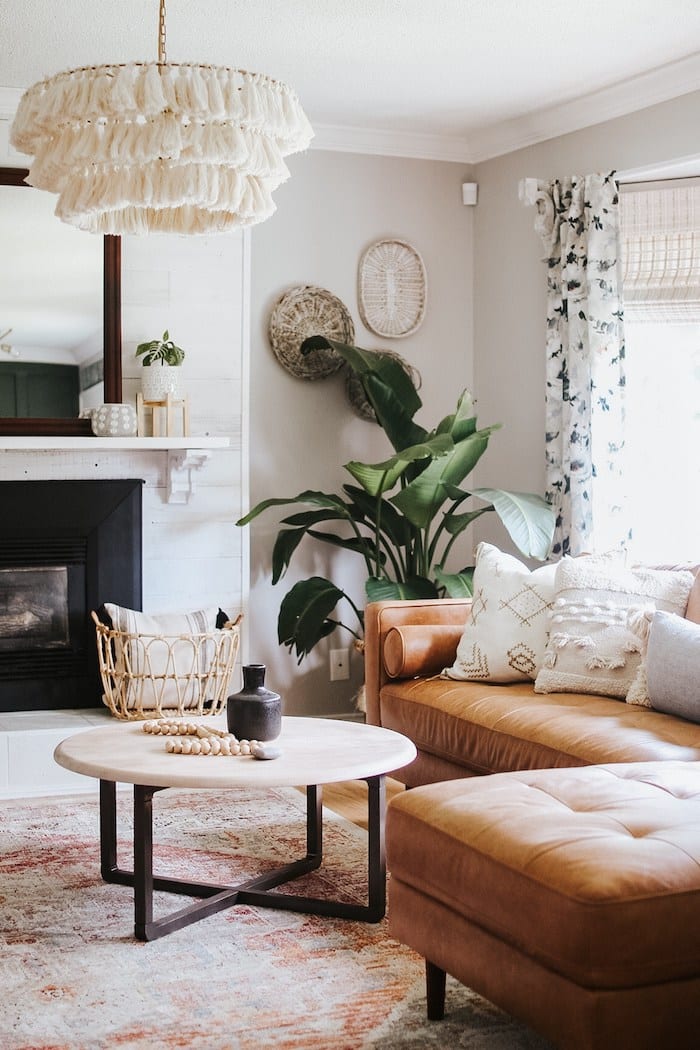 30. A collection of round lights in the corner
Earlier on, you saw a beautiful large round white lantern-like light hanging from the ceiling. This is a twist on that style. Instead of including just one light, this design goes above and beyond to incorporate multiple round white lights in a pod in the corner of the living room. I think this looks really great contrasted against the mostly blue room.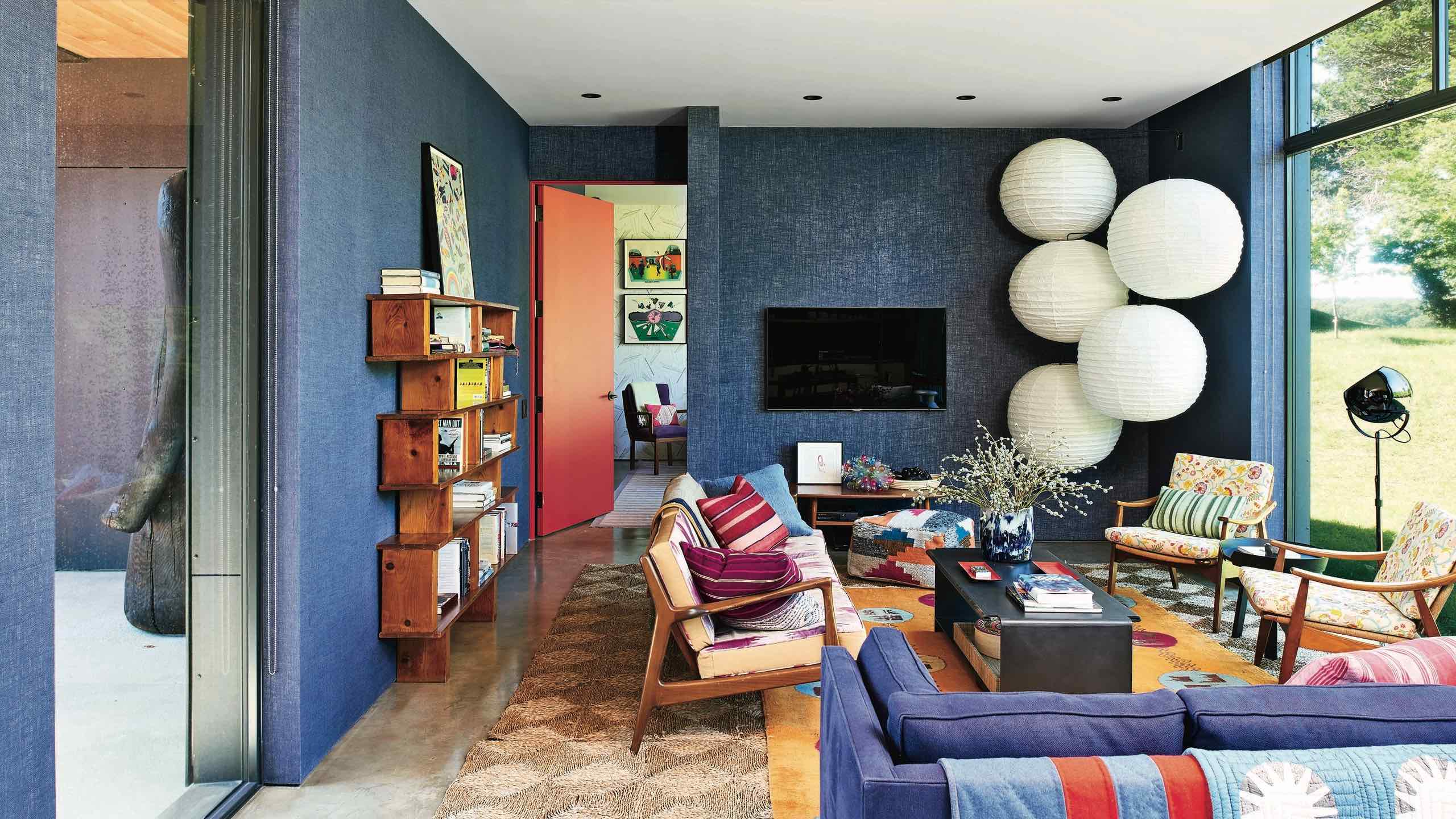 31. Industrial floodlighting
Floodlighting is usually used outdoors to light up large fields, but this design brings it indoors in the living room. This small 'floodlight' style floor lamp adds an industrial touch to this very modern space. It also adds serves as an art piece of its own, by the sheer fact that it isn't any normal household light!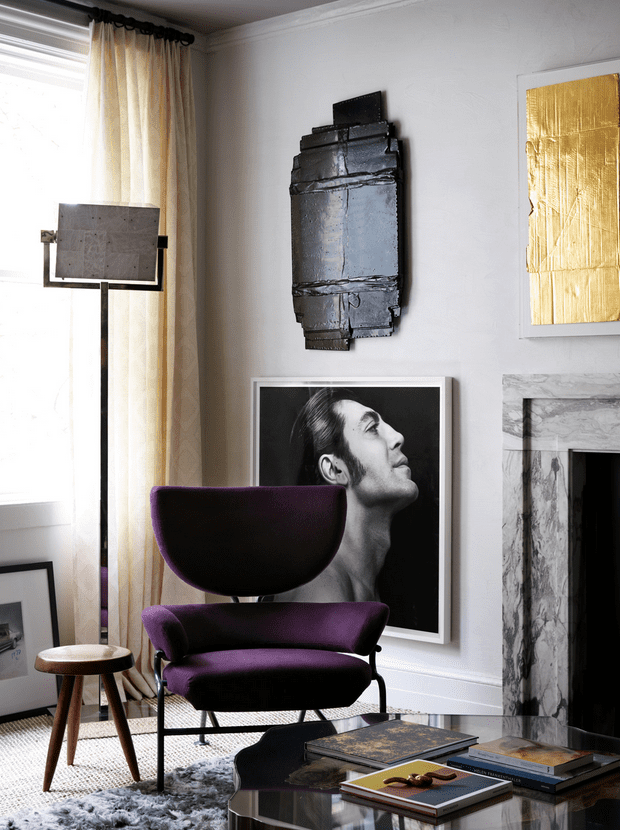 32. Modern lighting
If you're going for ultra-modern, check out this filament light which is mesmerising to look at. Teamed with this dusty blush sofa make it a very warm and romantic room.
33. Art deco light
Art-deco and mid-century styles are having a moment. Again.  So if it's a look that you want to achieve in your home, there is a lot of inspiration out there but for art deco, I love this multi-tiered chandelier.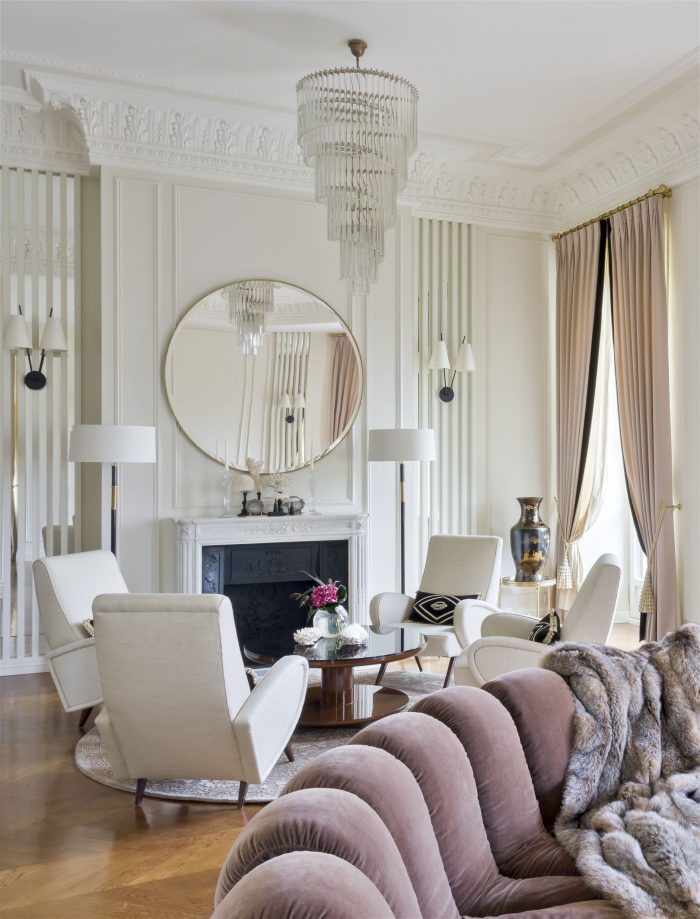 34. Simple in-built ceiling lights
If you want to keep things stripped back and minimal, then consider installing lights into your ceiling as opposed to hanging from the roof or on the wall. I like how these four lights have been arranged in a perfect square above the sitting area.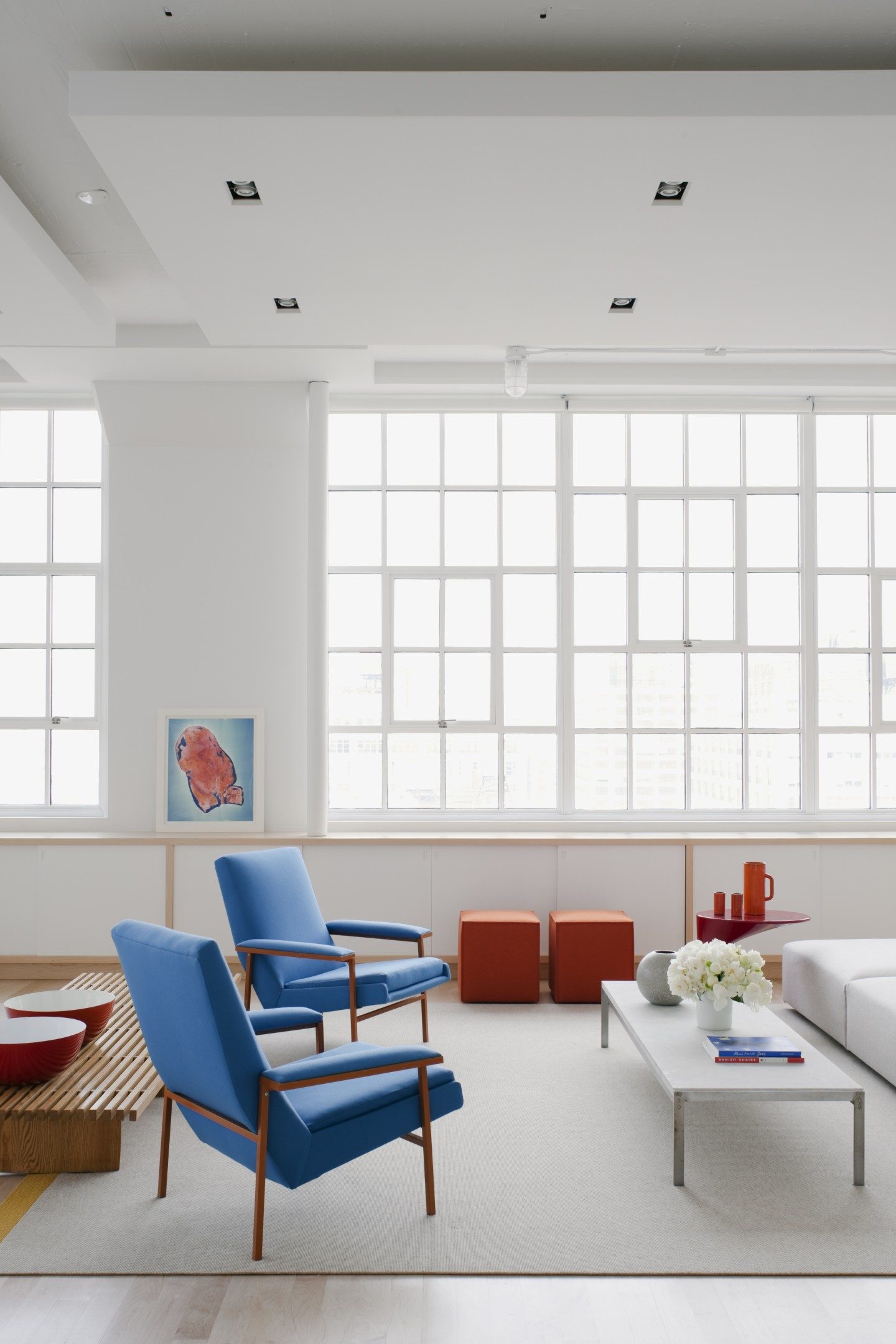 35. White shaded ceiling light
For a modern, clean look, you can't go past this white shade hanging ceiling light. This will work in almost any room, but it will look especially good in a light, all-white space like this one. To keep your living room from looking too mono-coloured, add a splash of colour with a throw rug and a few coloured pillows.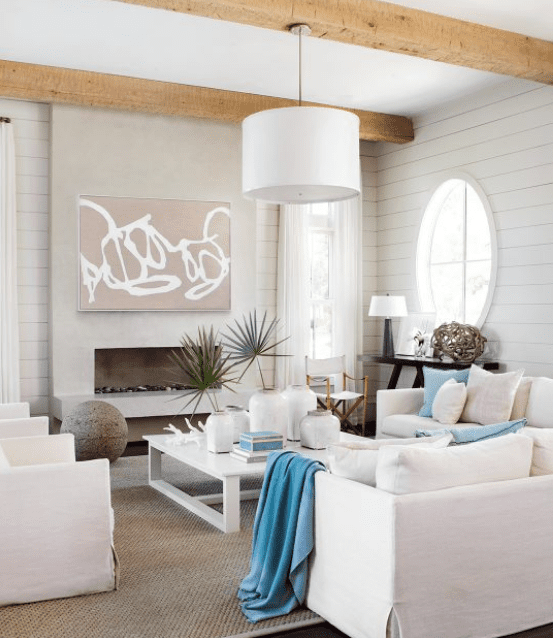 So, there you have it – 35 living room lighting ideas. Which ones were your favourite? And which ones are you going to incorporate in your own living room? I personally love all of the brass and gold lights! There are just so many options but it depends on your personal style and the design of your space.
If you're a minimalist at heart, then you might want to go with simple lights installed in the roof of your ceiling. If you like things a little more glam, then a glassy chandelier might be the choice for you. Or if you like them all, then why not combine a few different styles in the form of table lamps, floor lamps, suspended ceiling lights, and wall lamps. The choice is yours!
Before you go, I'd love to hear from you. Tell me which style is your favourite, and which one you're going to try out in your living room.