Are you thinking about updating your living room? It can be tricky to navigate the array of options – from light and bright to multi-coloured, to dark and moody. But have you considered a grey living room? It makes it a really easy space to continuously re-style and update with new trends and seasons.
Grey is a versatile choice, providing a blank canvas to paint on. It's safe but stylish, and there are so many colours you can combine with it. Try pairing grey with exposed brick, or adding it to brown, white or yellow, or even layering shades of grey to add depth and dimension.
1. Incorporate shades of grey
With so many shades of grey, you certainly don't have to stick to just one and in fact, by using a few different shades it will add dimension and layers to it. Use a different shade for a couch, coffee table, light fittings and of course, paint colour. You can then bring it all together with some monochrome picture frames and other styling items.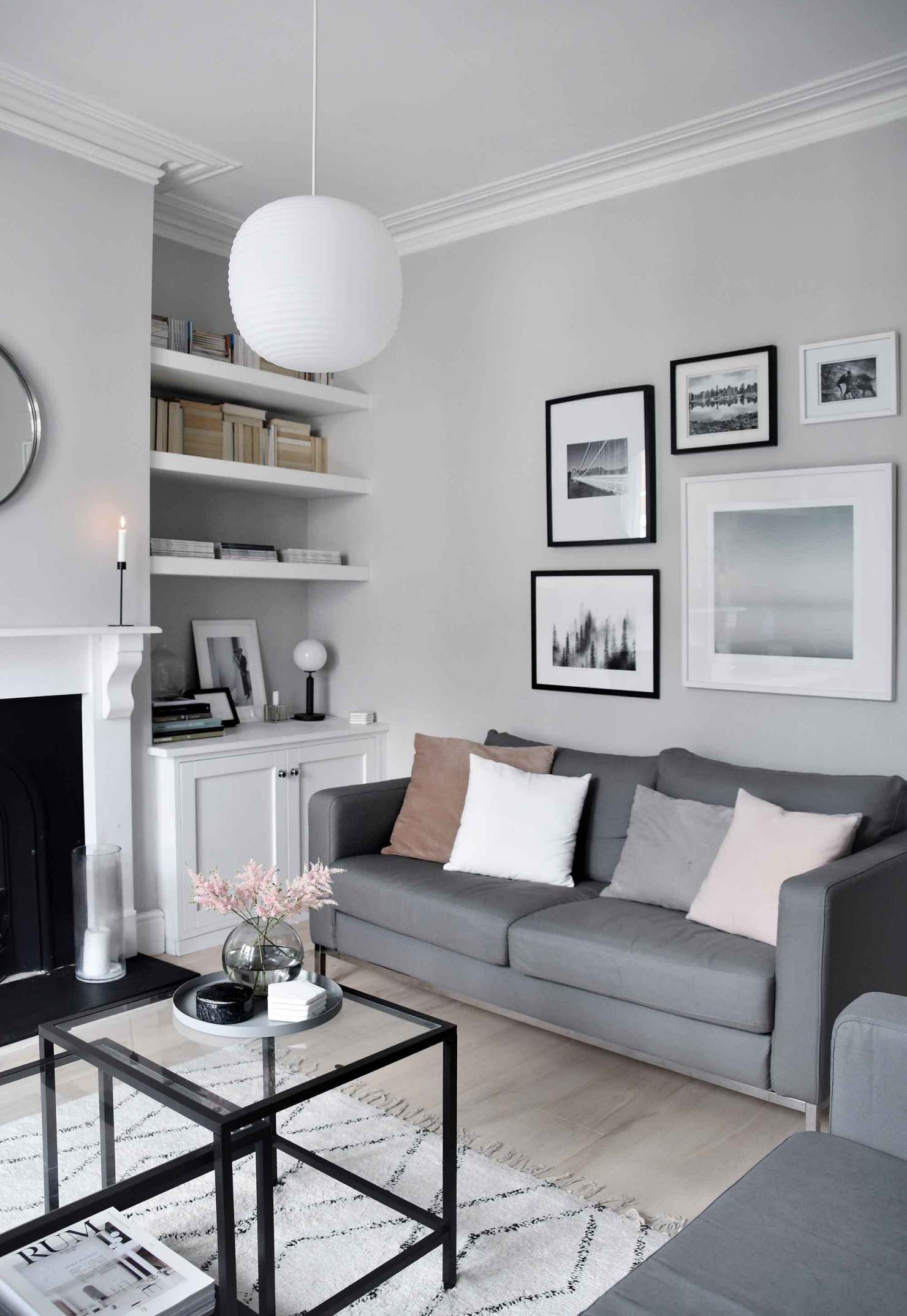 2. Create a gallery wall
This living room has a grey couch but also includes a touch of colour and a lot of detail with a striped rug and animal-print cushions. One way to inject life into a space like this is to create a personalised gallery wall like this one. To achieve a similar look, arrange your gallery wall on the floor (like a puzzle) until you're satisfied; next, start hanging pictures one by one, starting on the right side and slowly moving to the left side.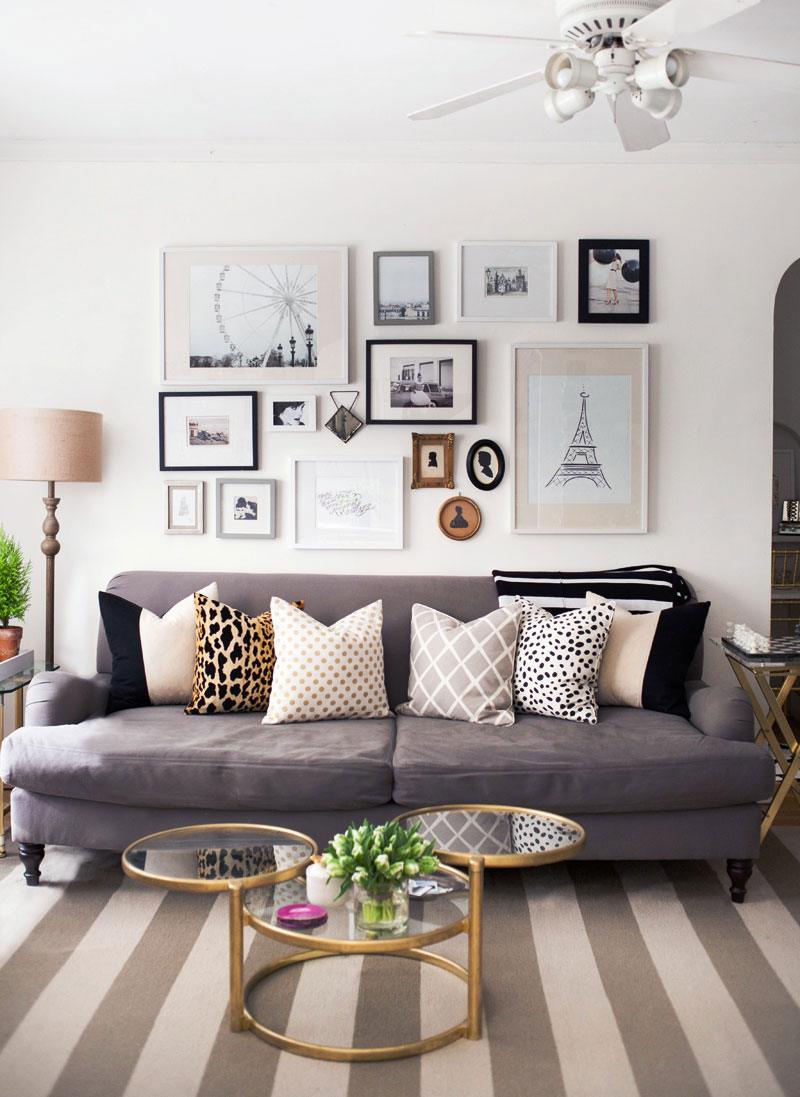 3. Paint a textured grey feature wall
Make a statement in your living room by incorporating a large feature wall. Use textured paint to create a similar look to the one in this picture. Also, use grey flooring to create a streamlined look from floor to walls.
As for the furniture, choose pieces that will stand out against the grey. For example, this living room design incorporates timber furniture with a neutral rug, as well as black lamp shades for the hanging lights.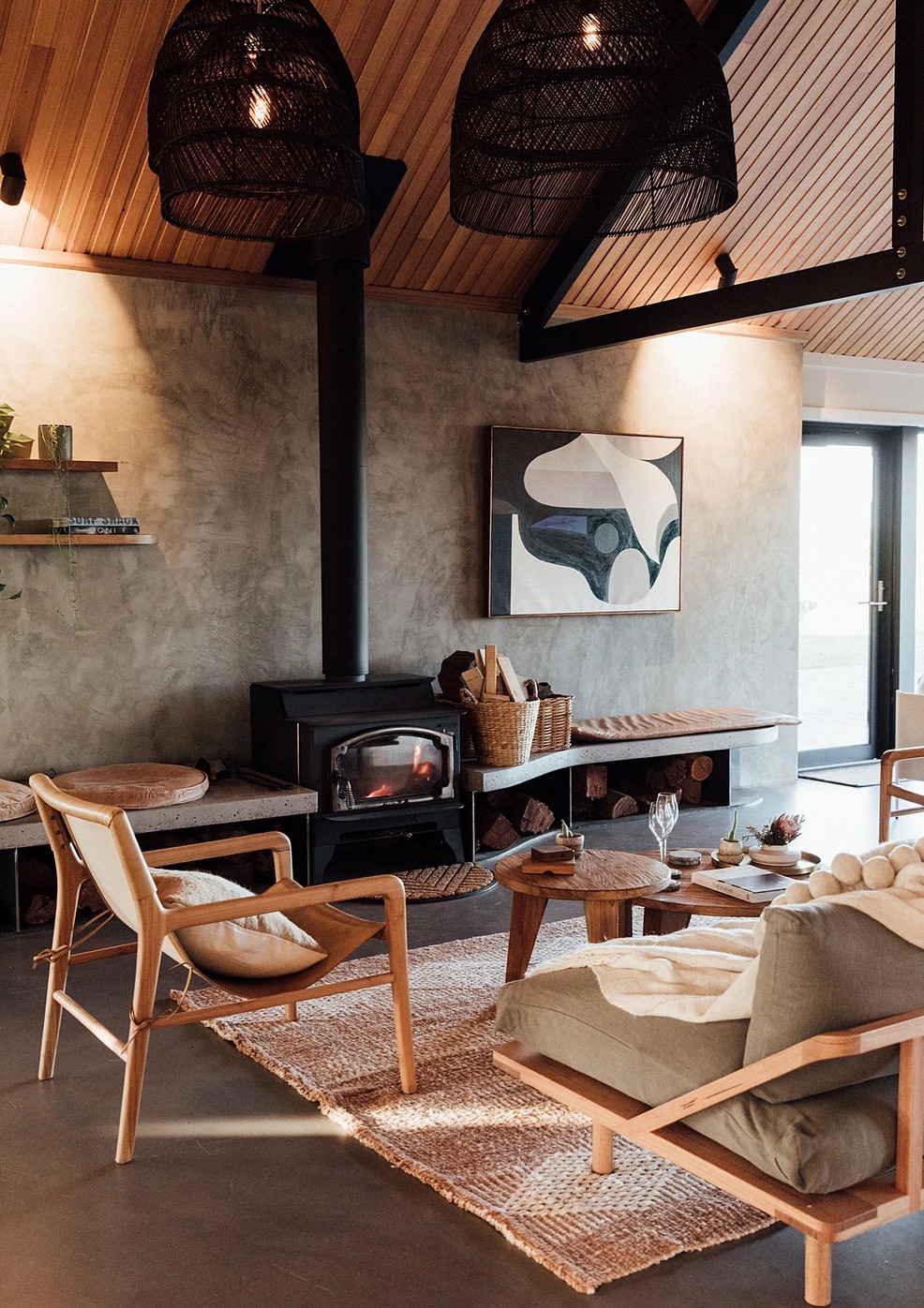 4. Include a simple grey couch
A simple grey couch is a living room staple. And the great thing is that it will suit almost any space or style. You can make it more boho with a vintage rug, or Scandinavian with simple timber furniture and white – the choice is yours!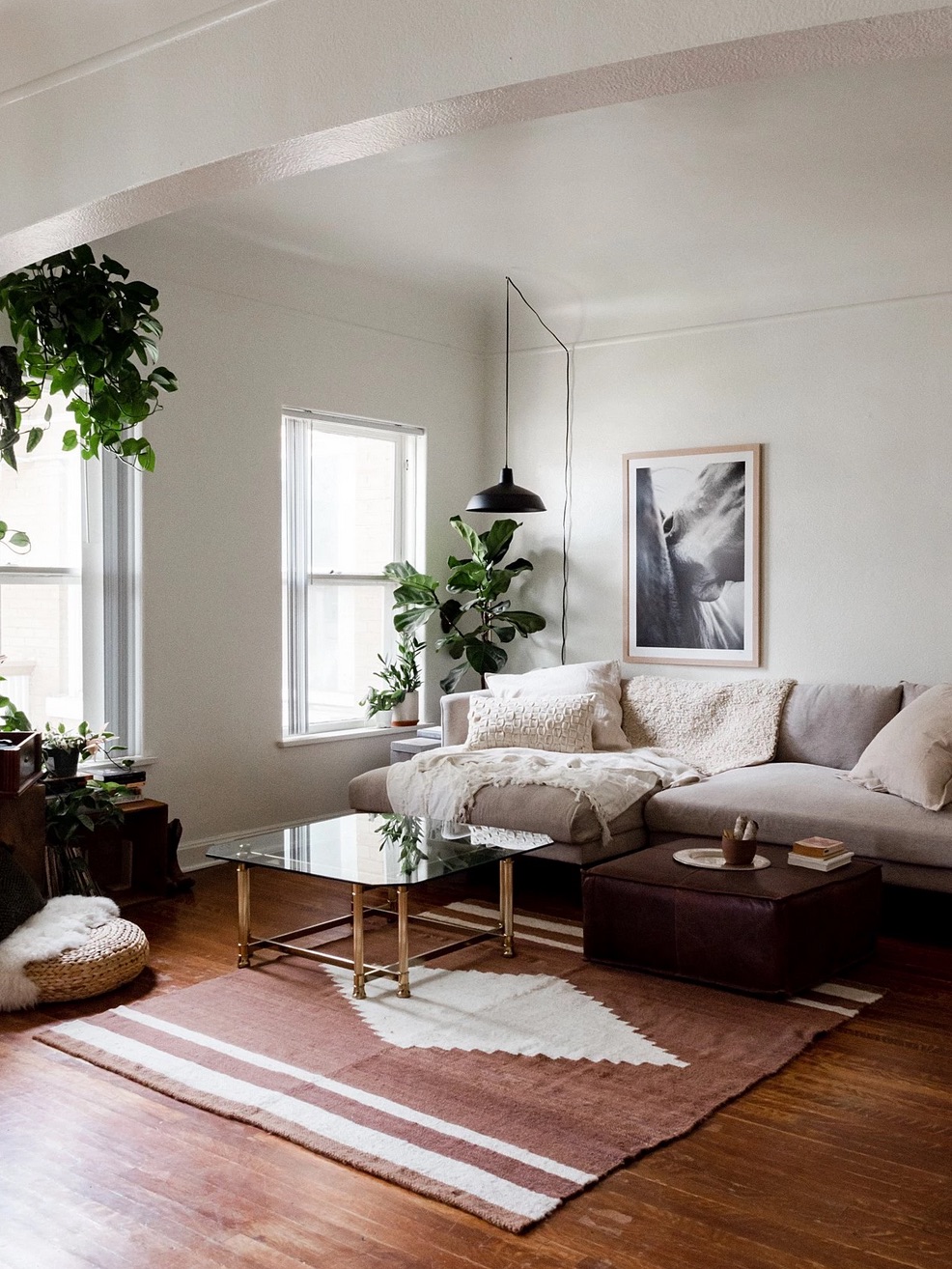 5. Add colourful cushions
Multi-coloured pillows bring so much life to a simple grey couch. Take these ones, for examples. All of these pillows are different shades, and yet each one contributes something different. There's the white pillow on the left, then the grey fluffy pillow, followed by burnt orange, black, soft pink, a cream textured pillow, and a black-and-white patterned pillow.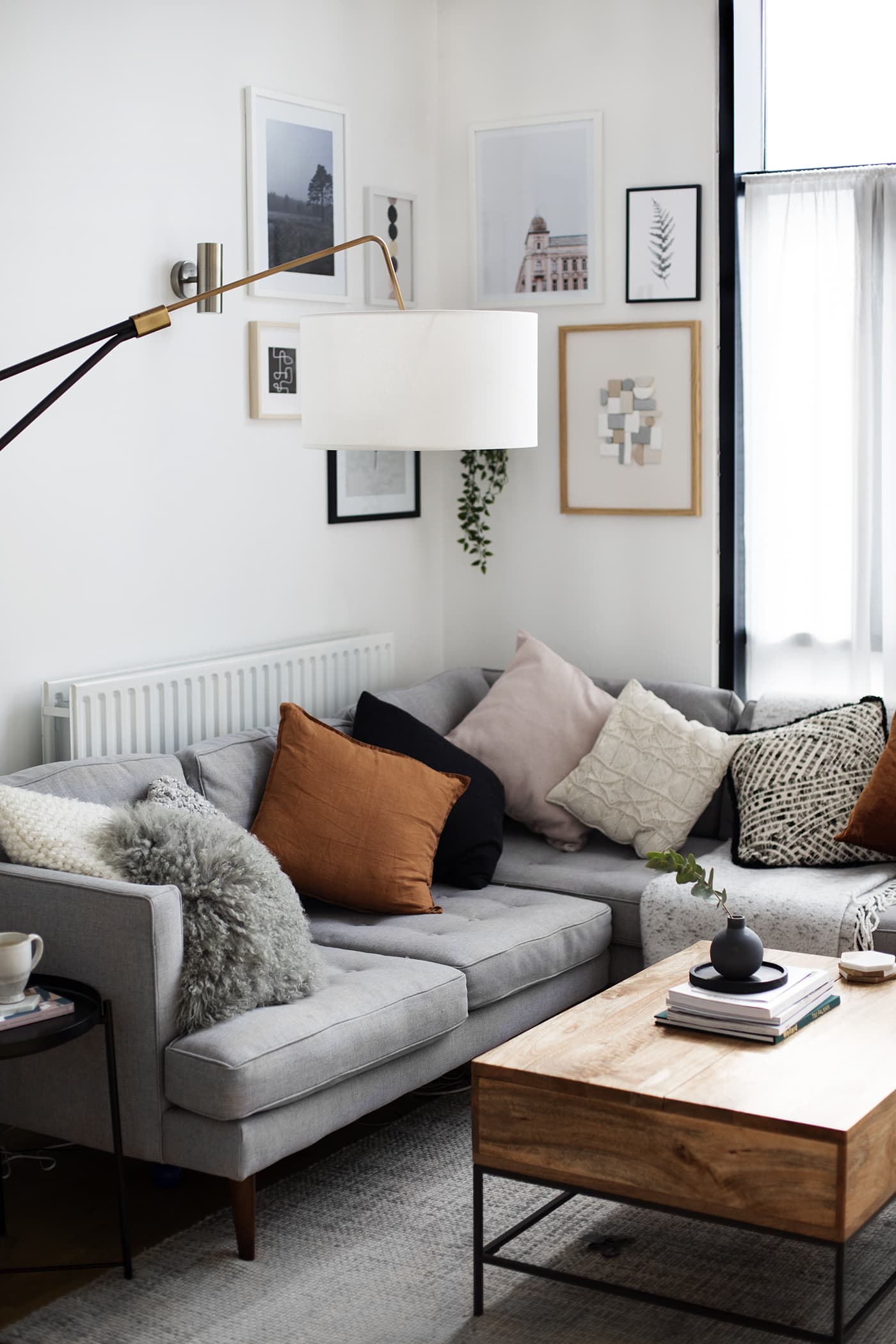 6. Hang a feature print
A colourful piece of art can transform your grey living room into a joy-filled space. Take this print, for example. While it adds a splash of colour, it doesn't complicate the overall mood of the living room. Overall, it creates the perfect space for you and your friends to enjoy while sipping a cuppa.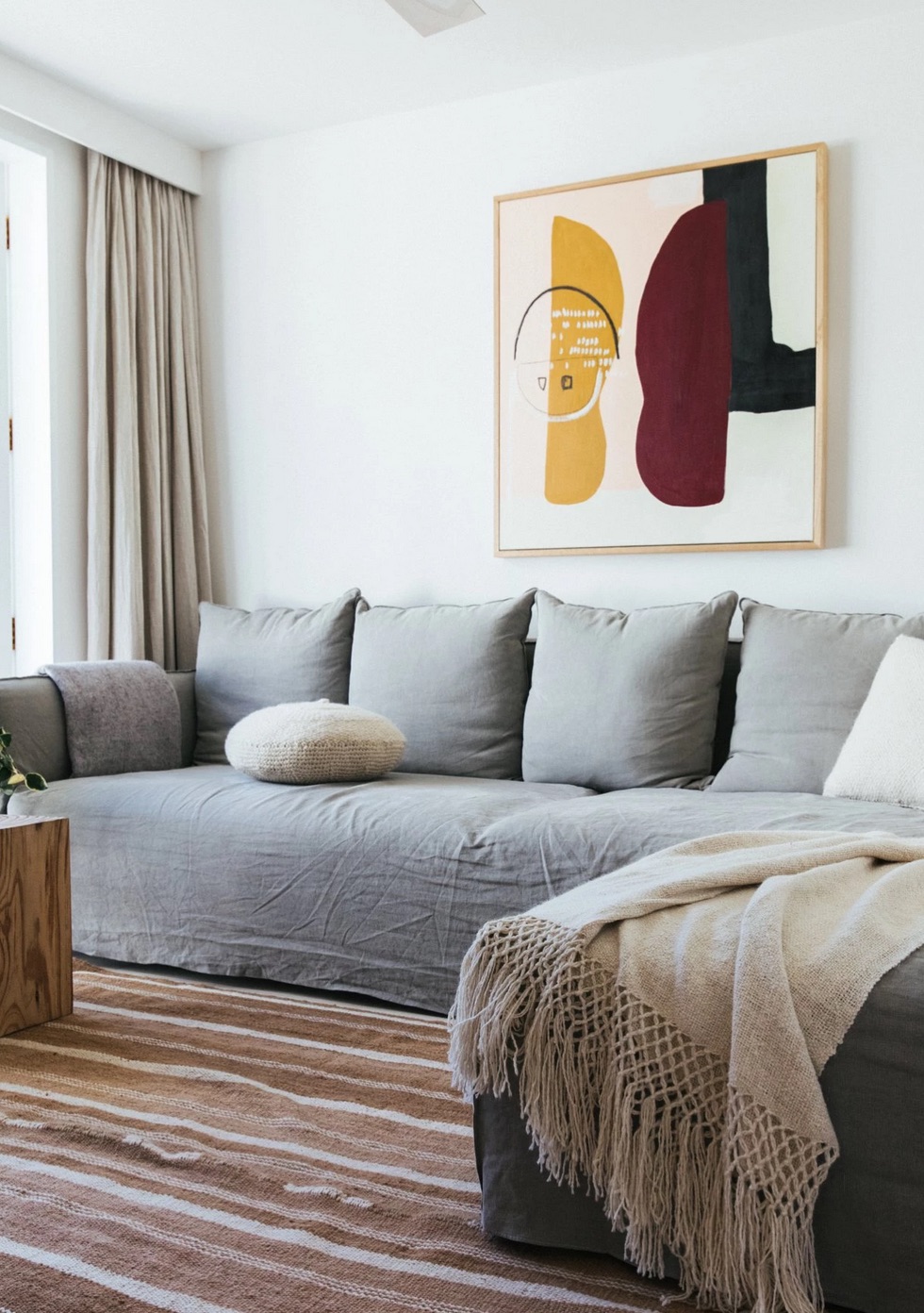 7. Go industrial
If you have an exposed concrete wall, don't be afraid to embrace it! In fact, it can actually add a whole lot of character to your grey living room. When it comes to furniture, choose a simple light grey couch, and add timber accents. And remember to keep your furniture soft and comfortable to add a touch of warmth to what could otherwise be a cool room.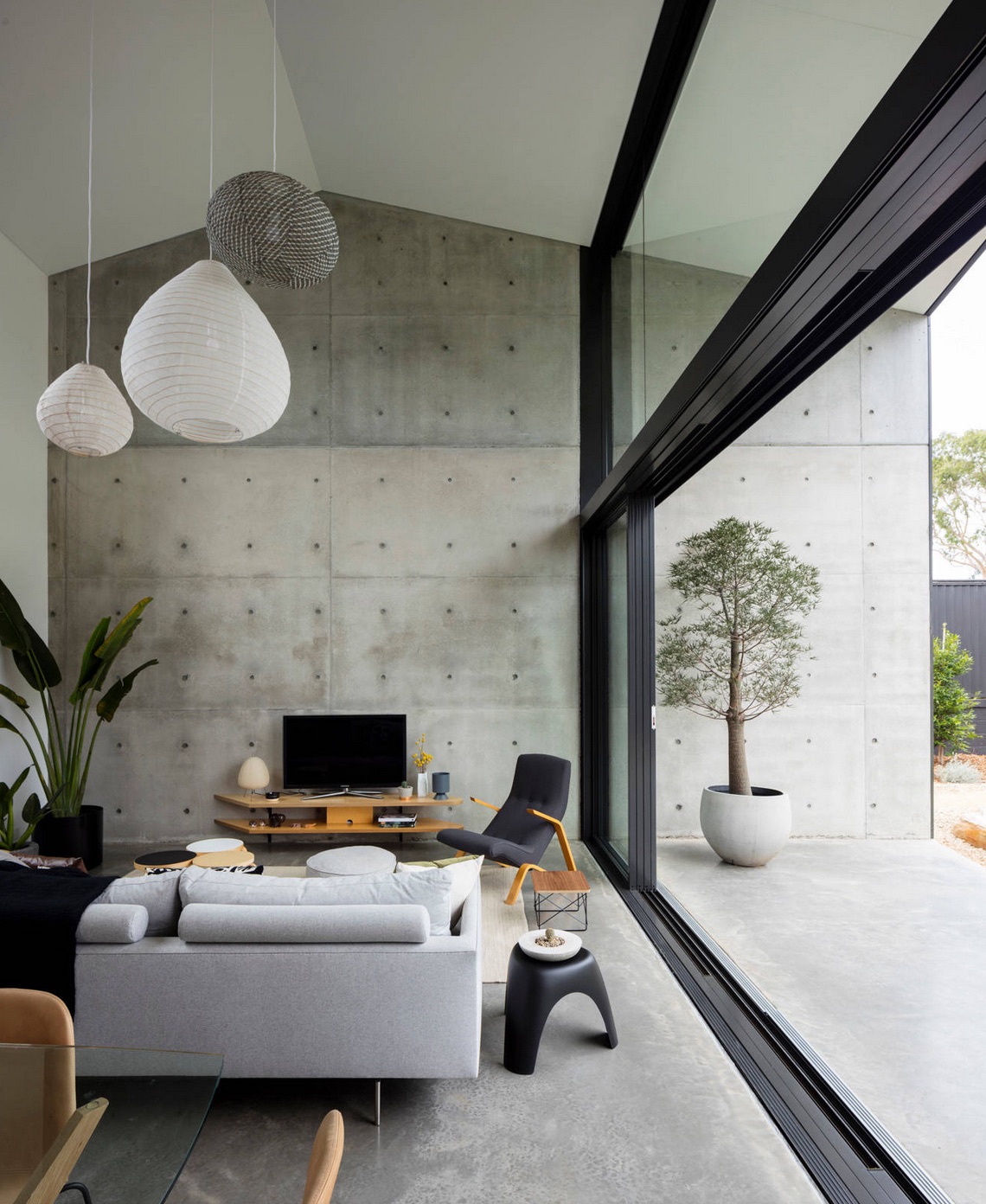 8. Grey and white
If you're the kind of person who spends a lot of time in your living room, then you're going to love this design. Although it includes a lot of white in the couch and fireplace, you can incorporate grey with a textured rug and throw. Imagine cool winter evenings by the fireplace with a hot chocolate in hand, cosied up under a fluffy grey blanket.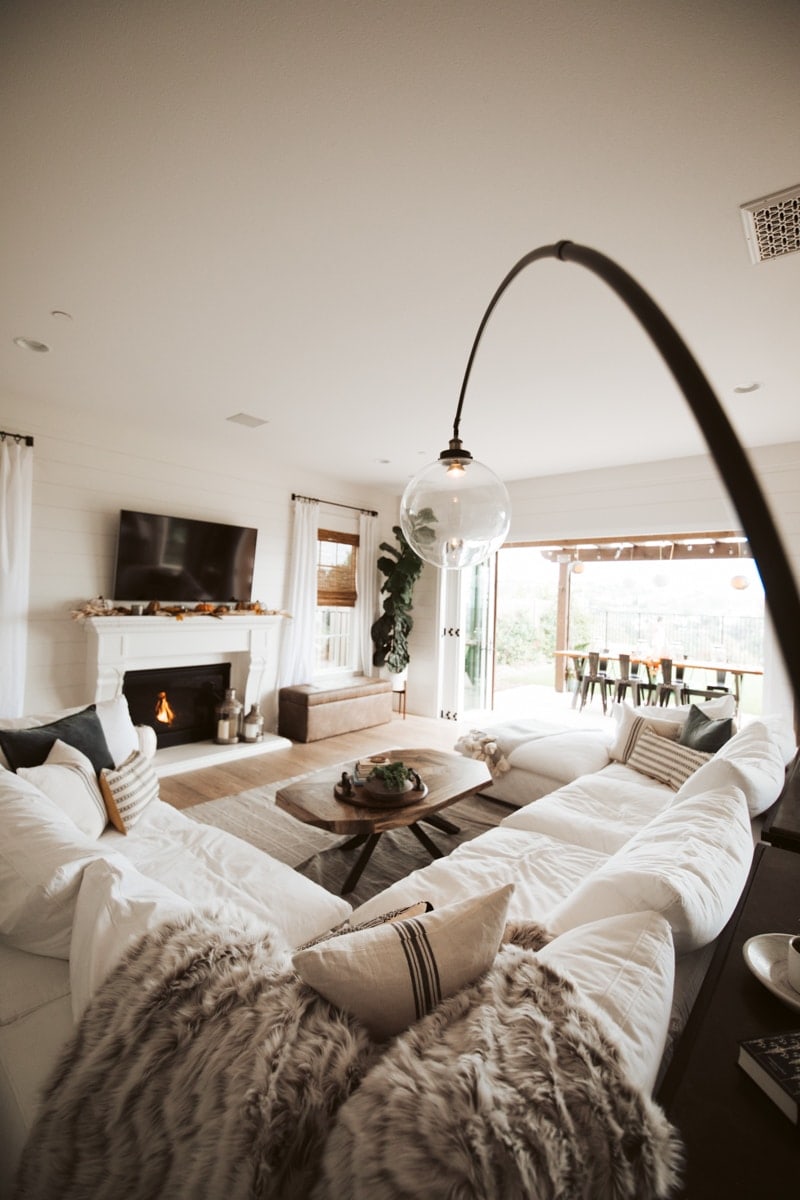 9. Use grey panelling
The grey TV cabinet is the real hero of this living room. The diagonal timber slats add detail to the room, keeping with the geometric design. And the grey armchair fits right in next to the grey wall. Also, the gold touches bring brightness to the room.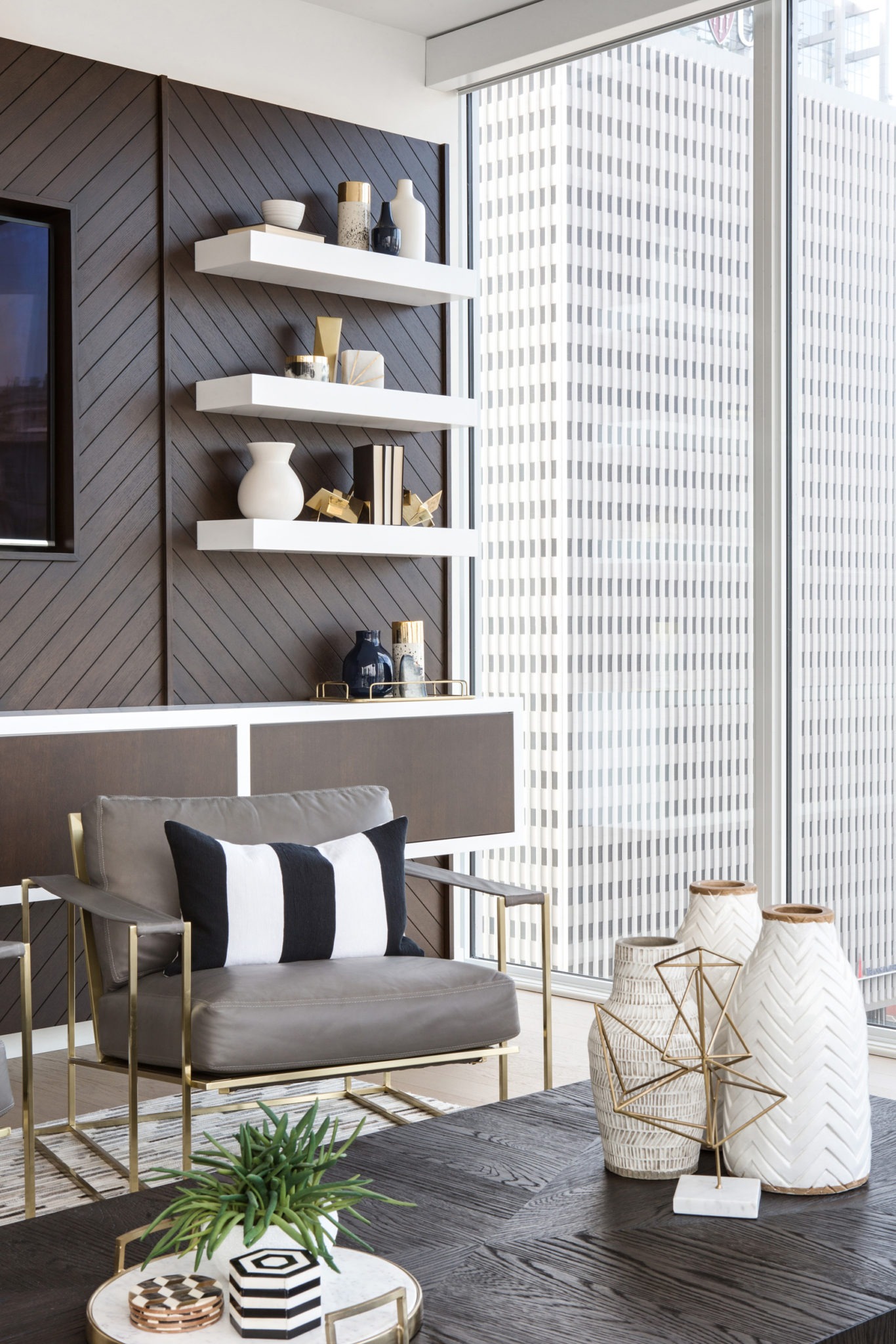 10. Add neutrals and grey
A grey couch serves a perfect base for your living room, allowing you to be more creative with the rest of the room. As for the pillows, go with as little or as much colour as you like. This design incorporates simple rectangular cushions in natural beige, which adds contrast with texture.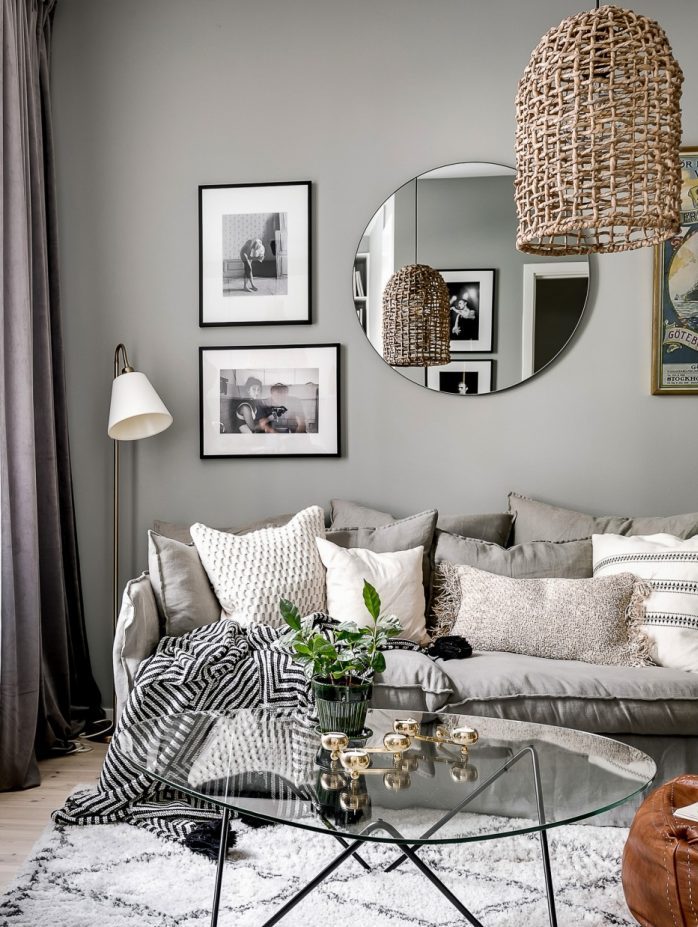 11. Create a cosy corner
If you have a small living room, try a corner couch to create a sense of intimacy whilst enhancing the limited space in your room. While bright colours might be too overpowering, the grey and white combination makes for a tranquil environment.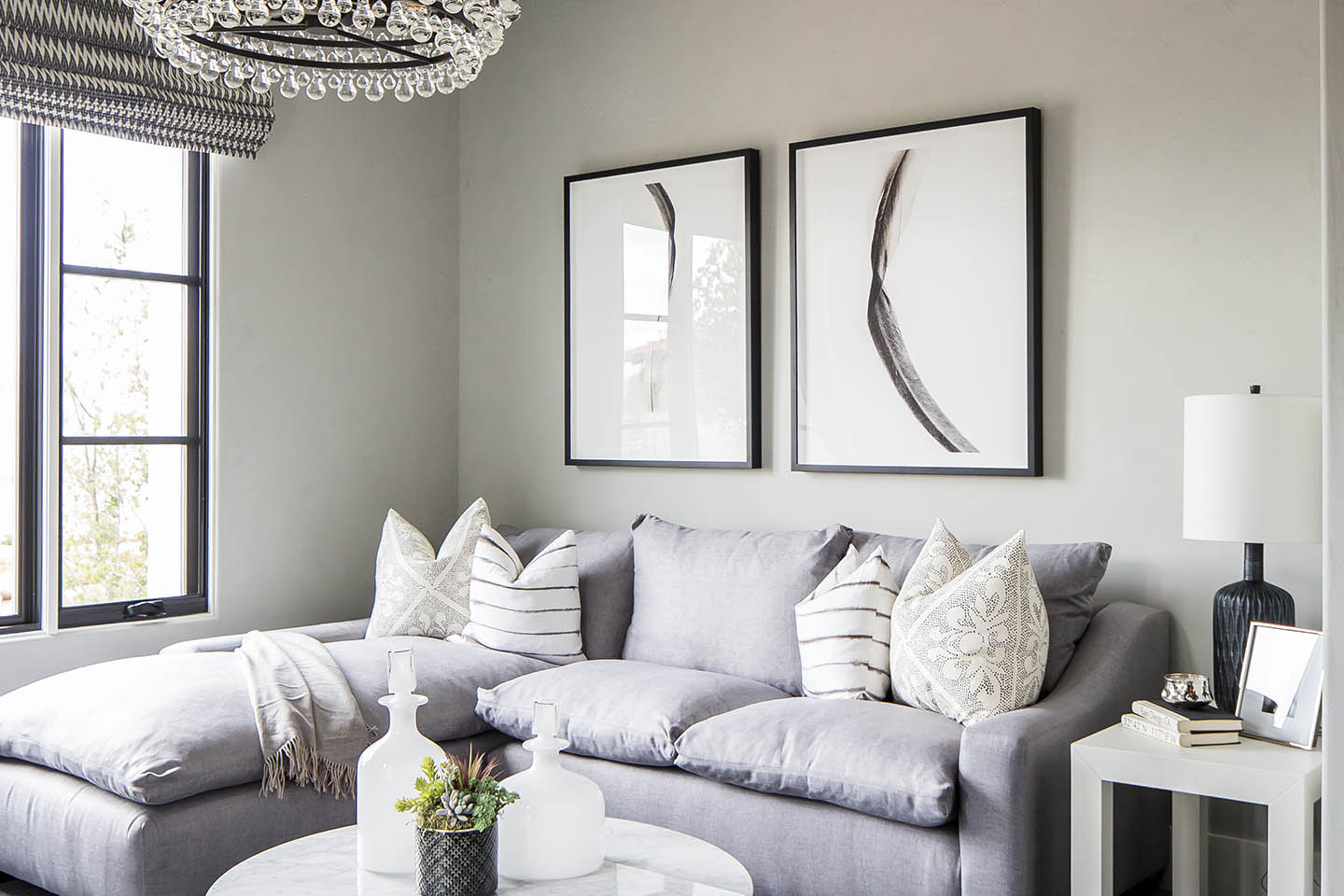 12. Make it moody
This one's a living room for the grown ups. Imagine sitting back and relaxing with a glass of red in hand while catching up on your latest read. Recreate this look for yourself by painting your walls light grey, and adding in dark furniture on a patterned rug. It's important to strike the perfect balance of light and dark to create a sophisticated space that you'll love to lounge in.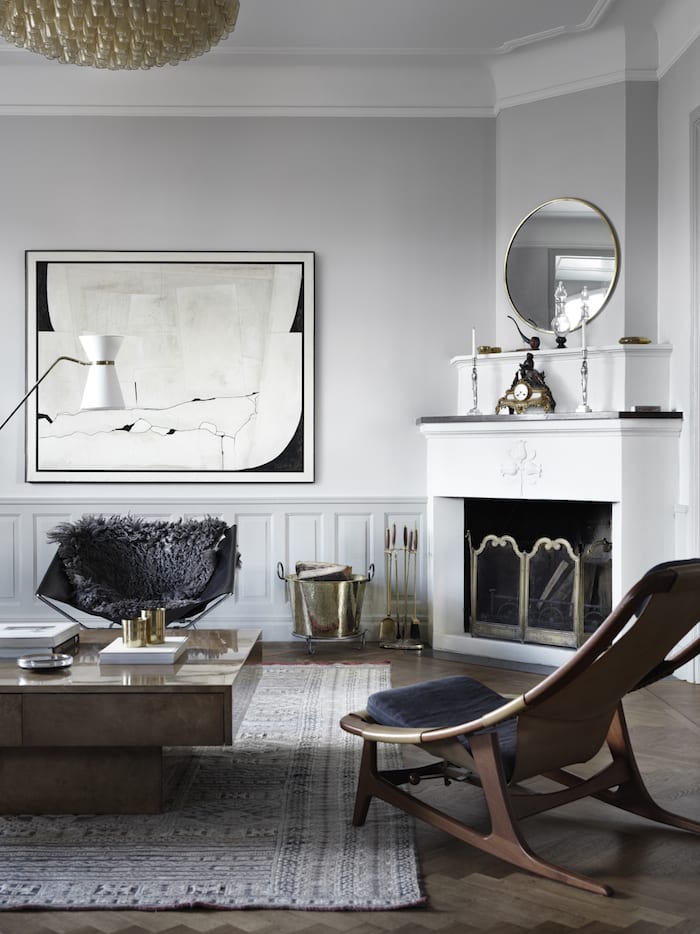 13. Mix the old with the new
If you like something a little bit different, merge the new and the old to create a modern art deco feel to your living room. Use grey as a base and add your favourite colours in the form of paintings and cushions. Also, add colourful pendant lights that will reflect the sun around the room.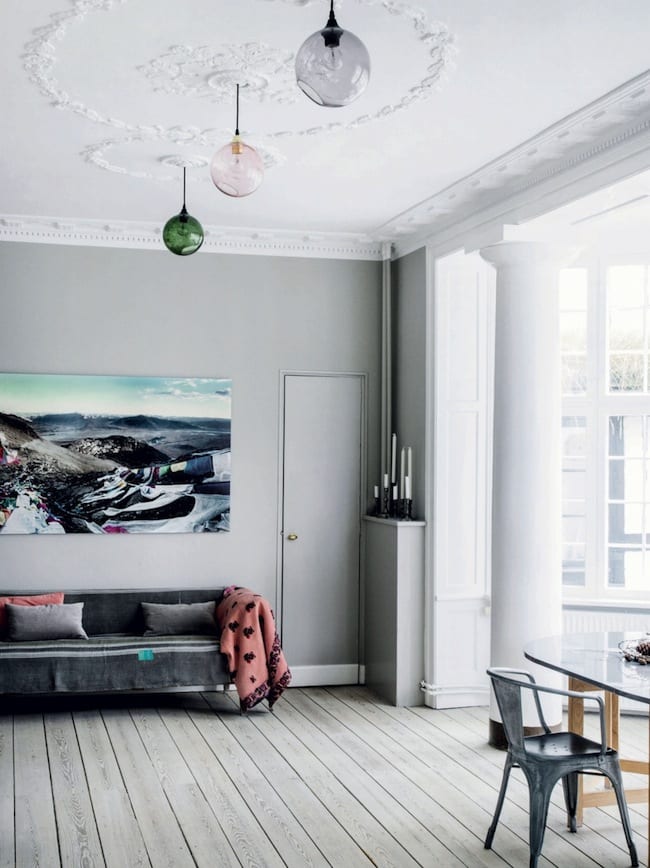 14. Add a grey throw
If you have a mostly cream or white living room, it's important to add another dimension. In this case, that comes in the form of a cosy grey blanket thrown across the couch.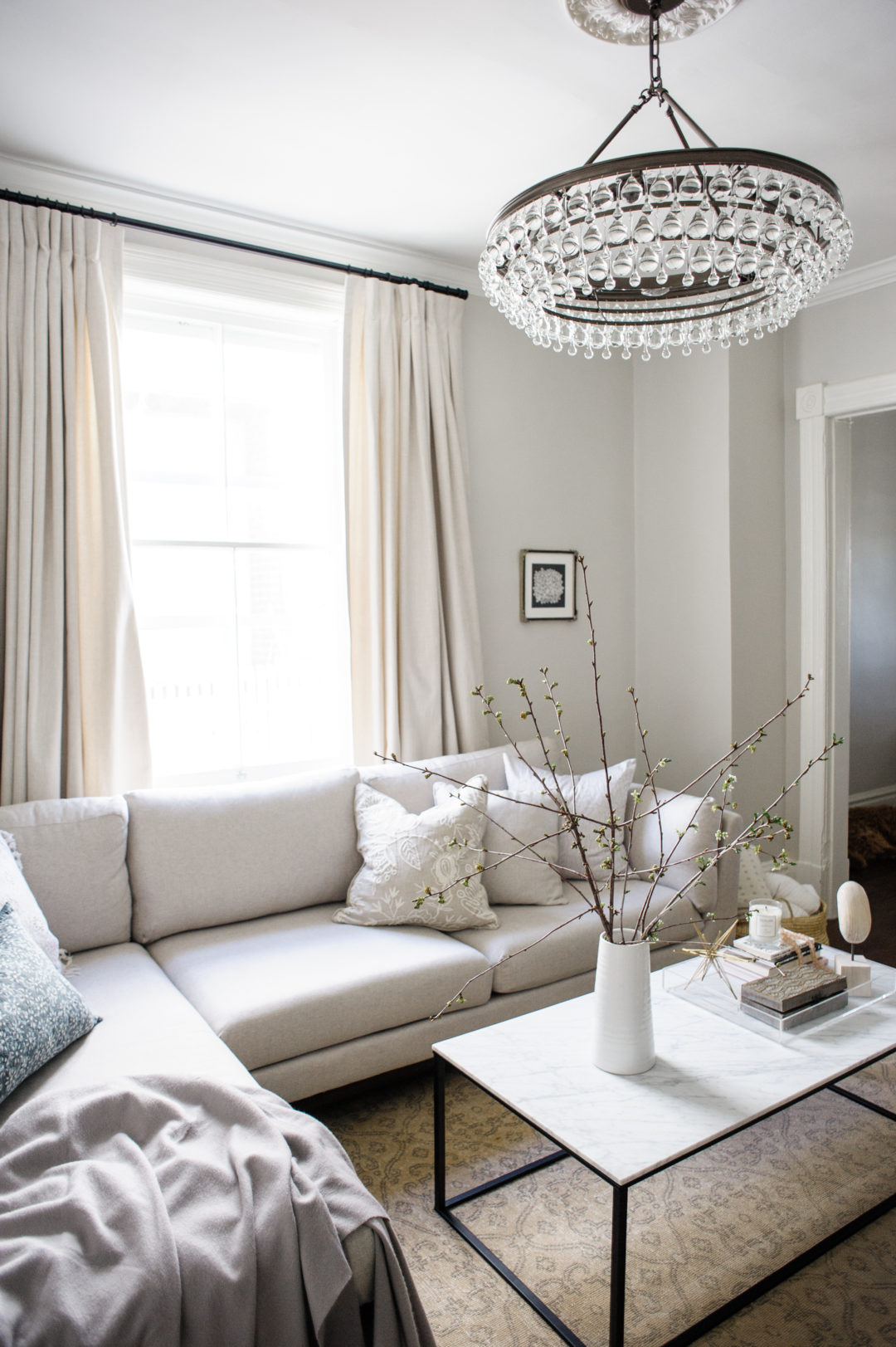 15. Include a dark grey couch
On the other hand, if you prefer dark finishings, you may like this deep grey couch. Intertwine shades of grey into the print on the wall and the pillows on the sofa.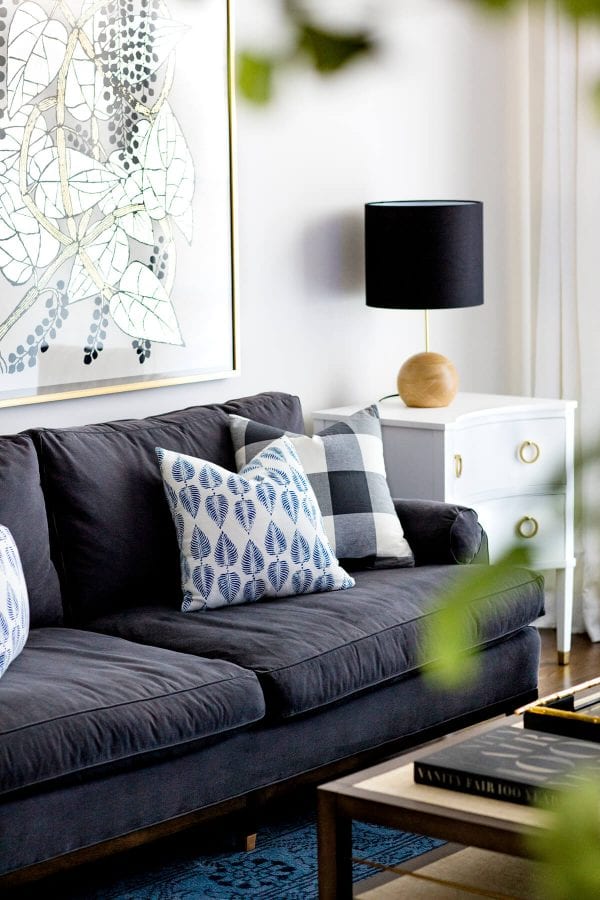 16. Basket of blankets
This is a simple addition to any living room. A grey and neutral basket will add practicality and detail. And if you want to take your grey colour scheme to the next level, include blankets with grey spots like this one.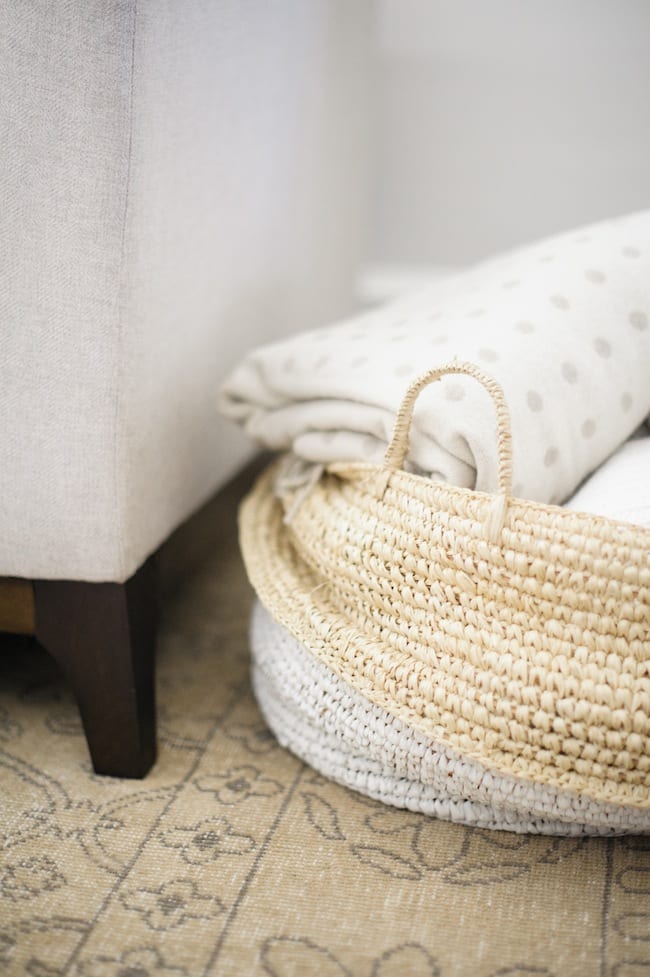 17. Embrace Hampton's style
For an elegant grey living room, choose furniture has a coastal feel. This can be done with lots of grey and hints of white, like the white bookcase in this picture. Don't be afraid to go all out, and paint the walls grey. Add dried flowers on top of the mantelpiece to add height and detail.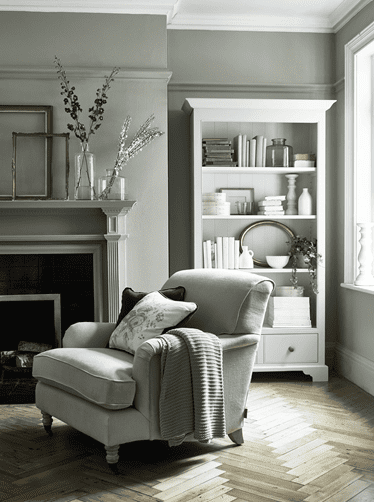 18. Layer different grey tones
Using only one shade of grey can make your living room feel dull and flat. So it's important to create layers with different shades on top of one another. Start with a base grey that you really love, and then add in furniture and accessories in lighter or darker shades.
Take this living room, for example, it includes a deep sofa against the backdrop of a dark wall and lighter living room flooring. The cushions add texture, colour and warmth.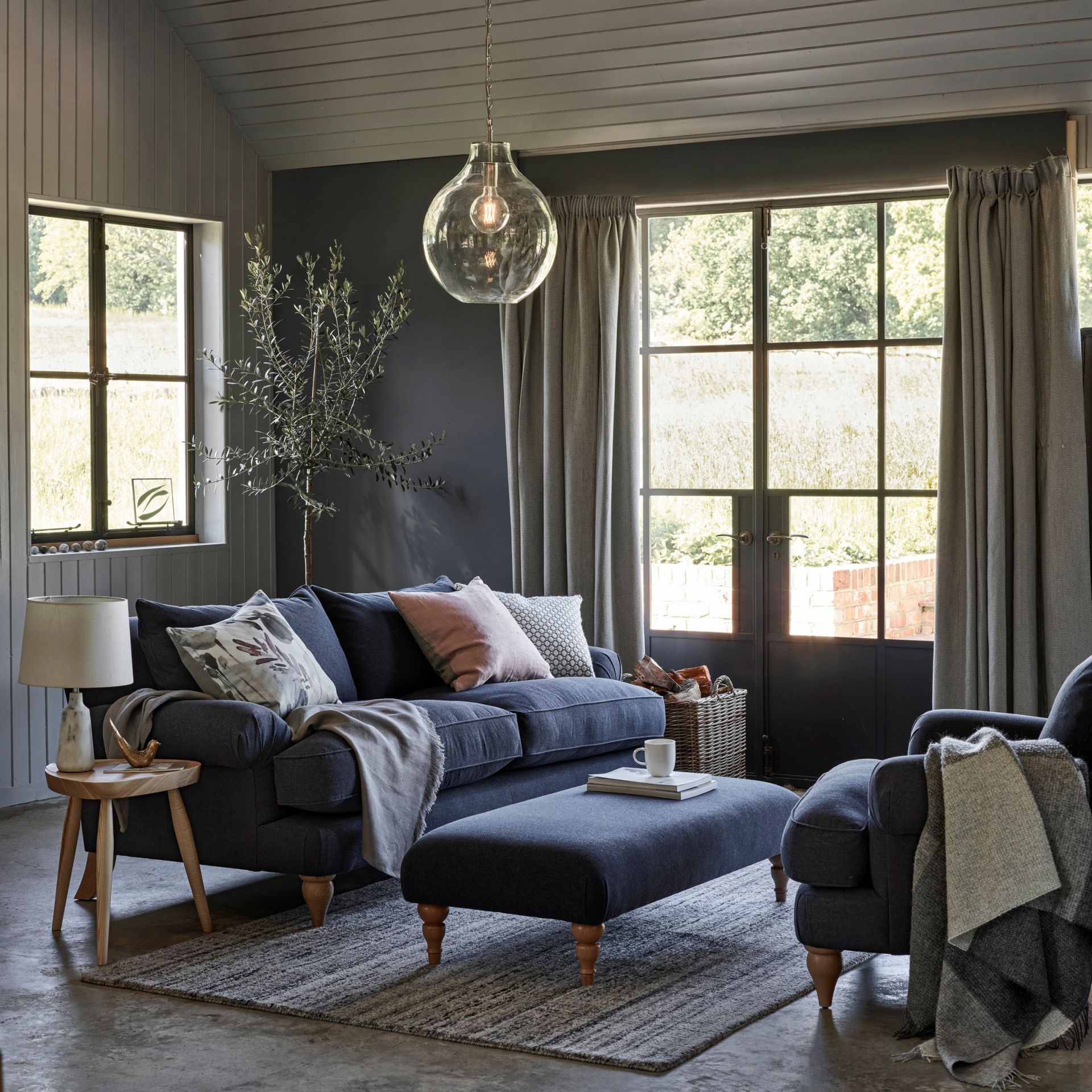 19. Add a grey bookcase
This is one piece of furniture that you don't want to miss. A bookcase is a handy place for not only holding books but also holding personal items and decor.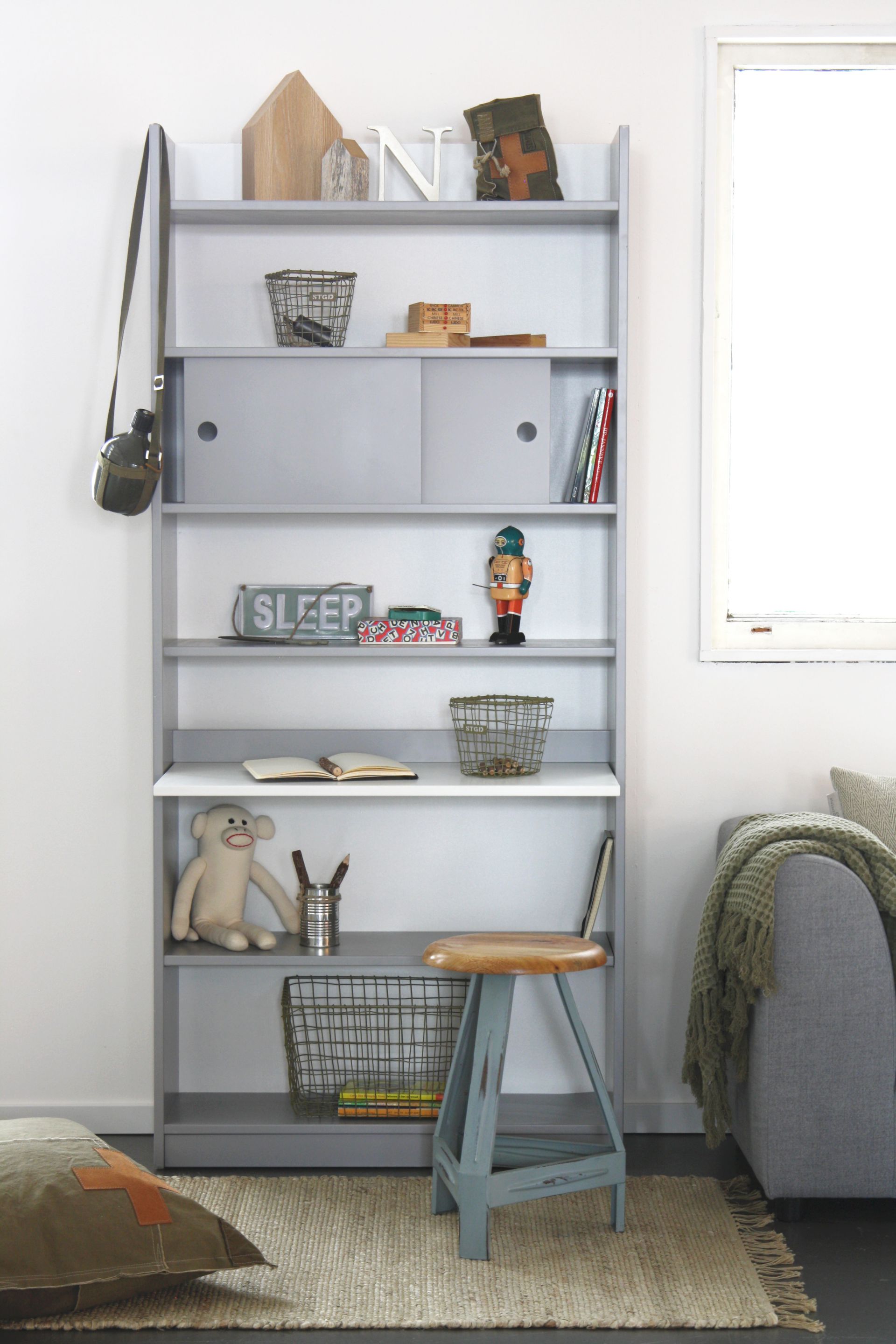 20. Offset grey paint with gold touches
You simply can't go wrong with this colour combination. This living room includes a grey feature wall on the left side behind the fireplace. But it's brightened with a contrasting white wall and gold and blush touches.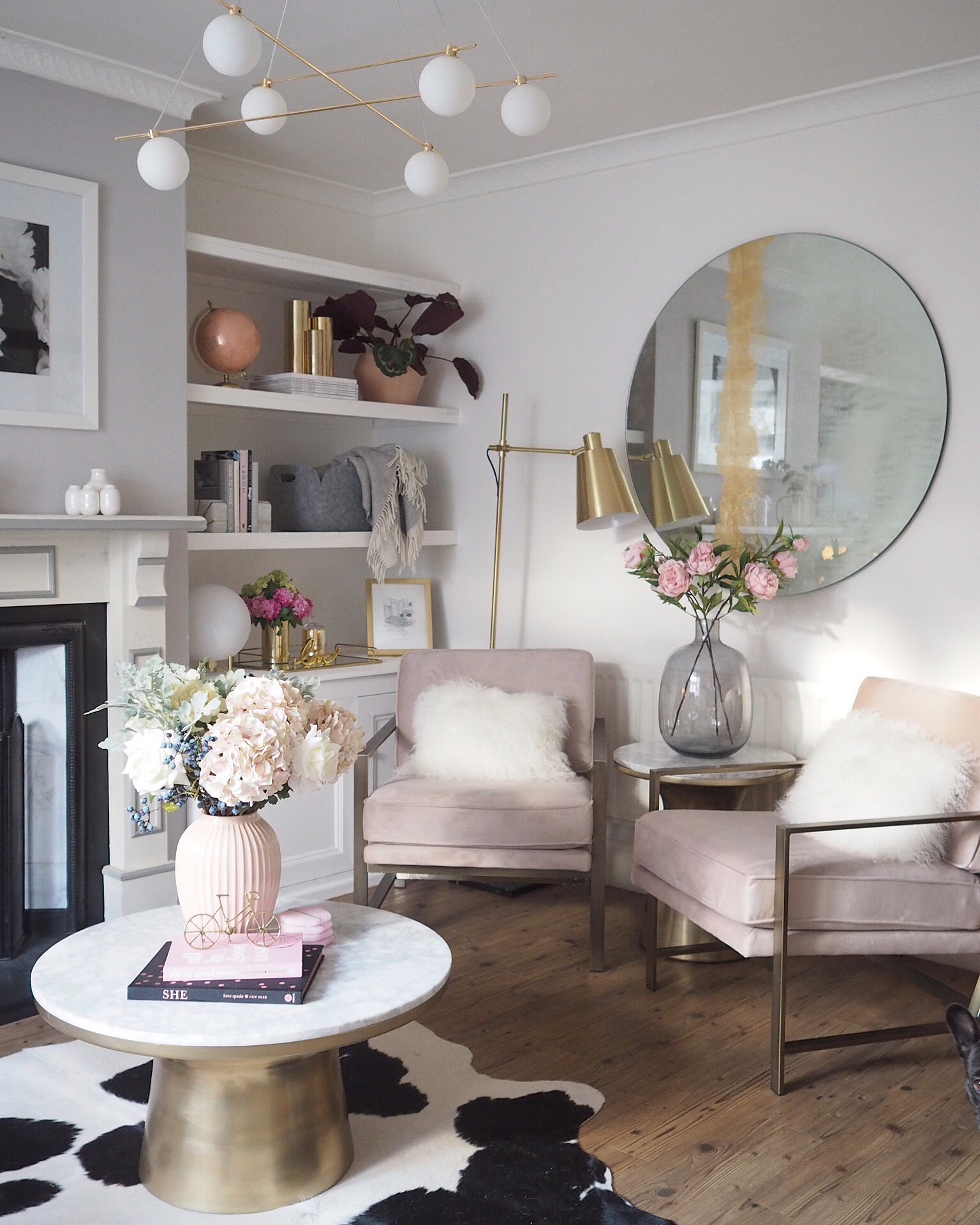 21. Mix different styles
This living room is a mix of industrial meets contemporary Scandinavian style. The panelling on the walls adds a traditional twist to an otherwise modern space, with the black steel lamp and light timber sofa.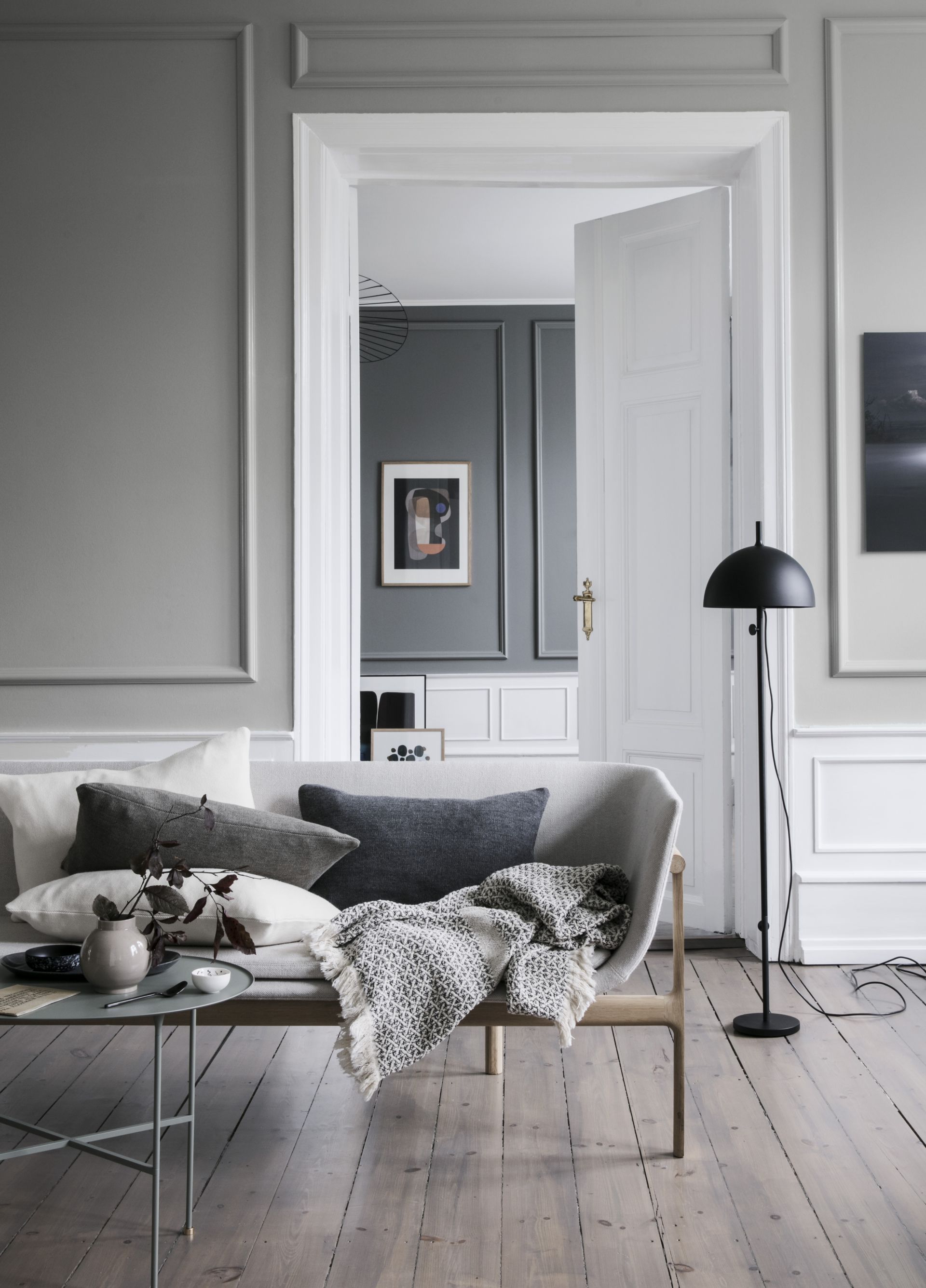 22. Stripped back minimalism
If you like to keep things simple, this might just be the space for you. Create a minimalist light coloured room with grey furniture and pops of greenery for colour.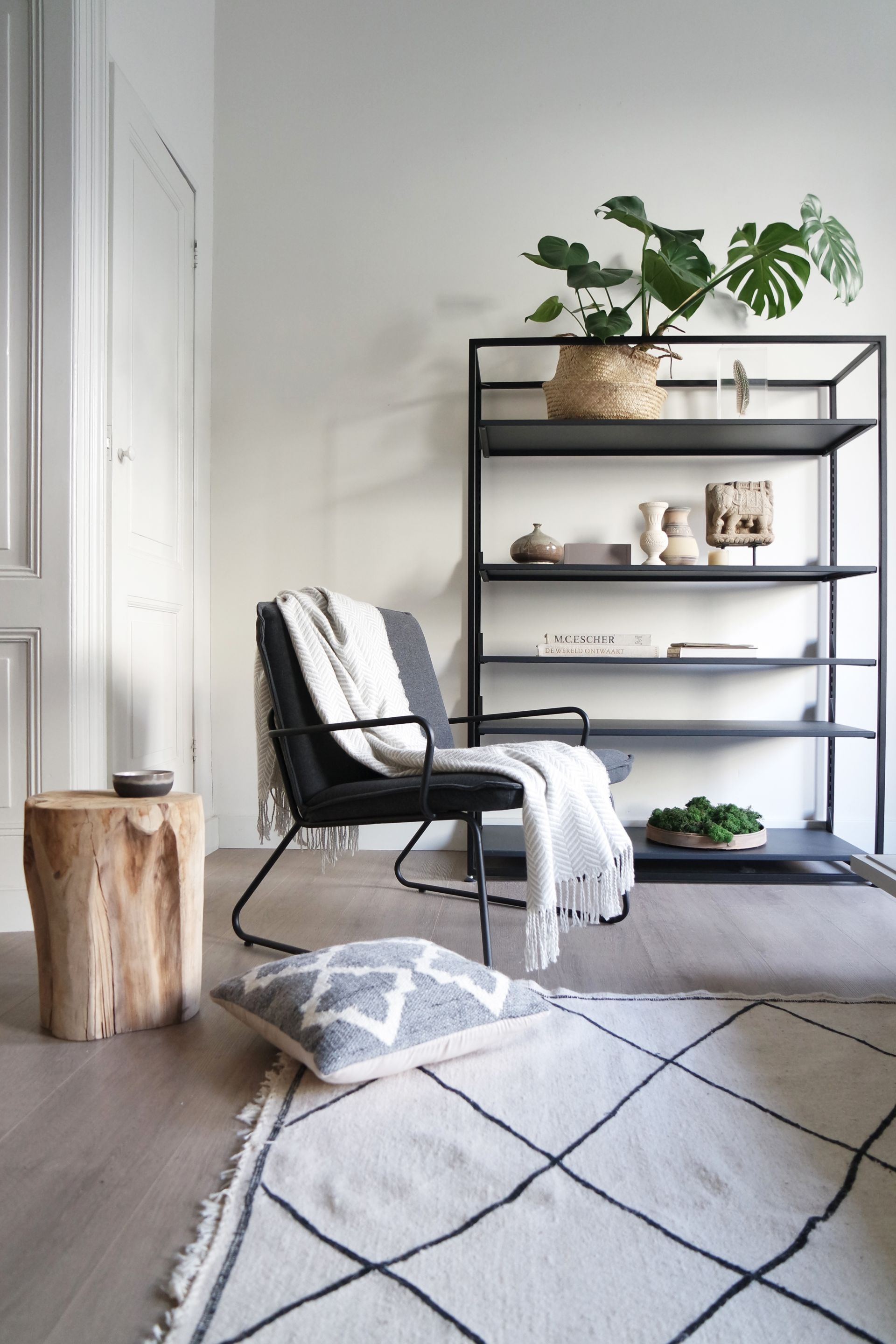 23. Combine deep green and grey
This is a match made in colour heaven. Green is the perfect colour to complement a grey room, and this one is no exception. Add green in the form of small potted plants on your side and coffee tables to break up what would otherwise be a monochromatic space. You can also incorporate deep green in the form of vases and greenery on your mantelpiece.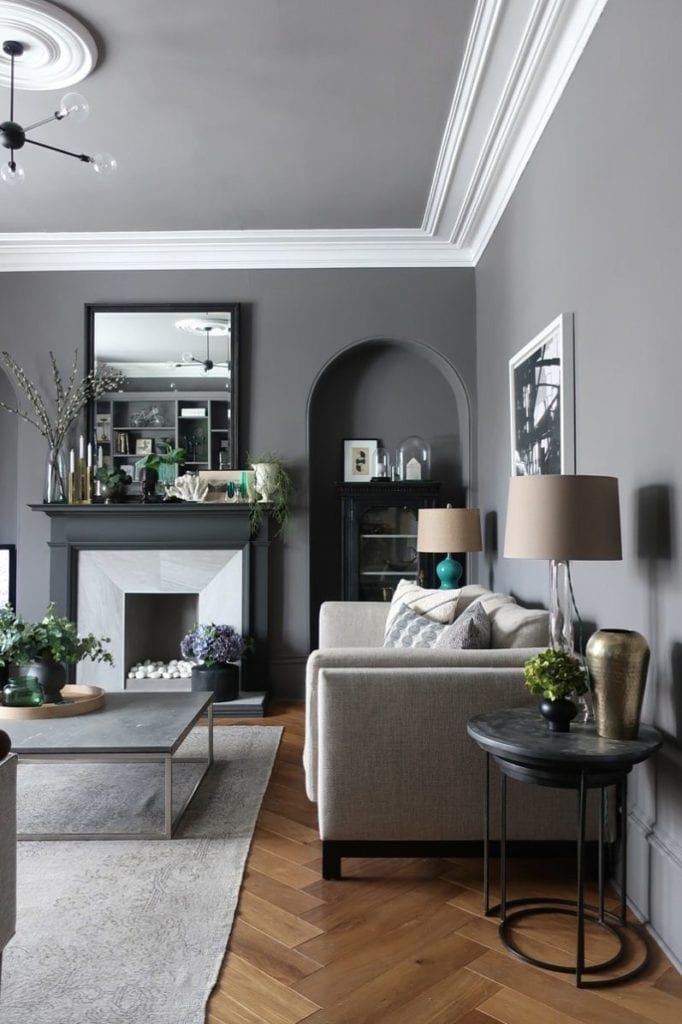 24. Huge display
If you have a large living room, don't let any corner go to waste! Maximise your space by including a large cabinet with many shelves and drawers. You can use this to display books and highlight your favourite family photos and trinkets. And the best thing about this cabinet is that it's so versatile – the grey provides the perfect backdrop for all of your colourful items.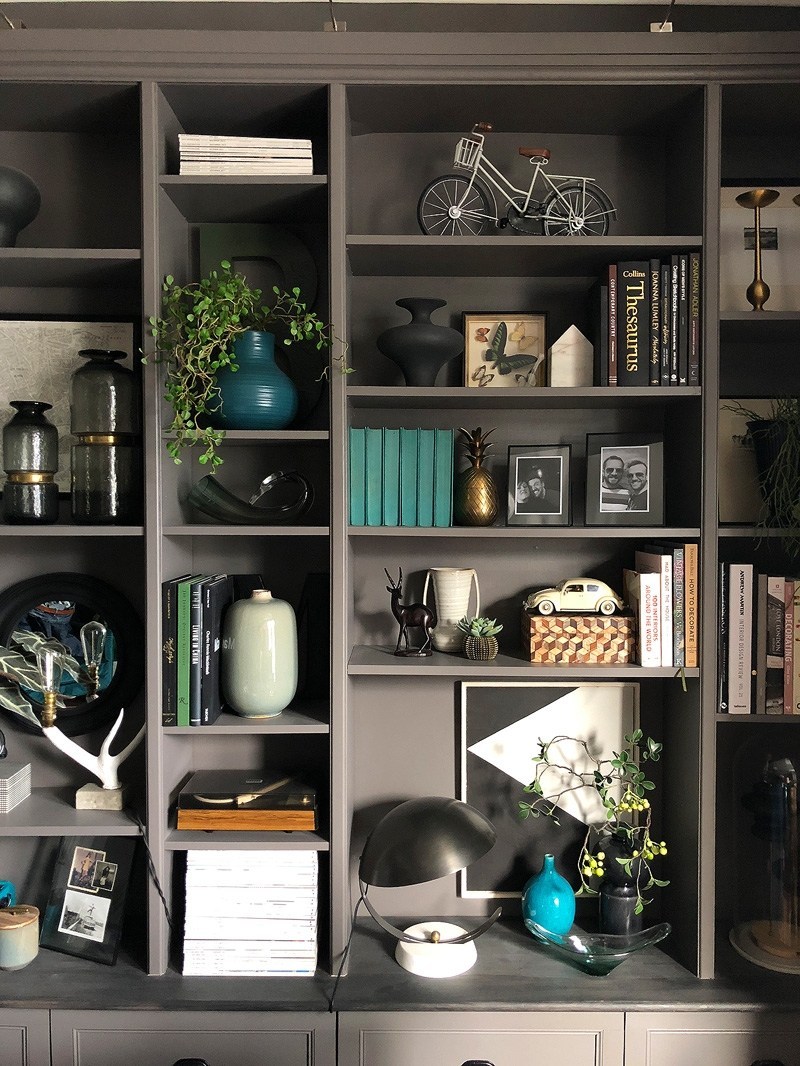 25. Include a speckled couch in your grey living room
If you live in a traditional Queenslander-style home, transform it into a cosy character-filled space with moulding on the walls. And if you're looking for a couch that's a little bit different, then you should consider this speckled grey three-seater option.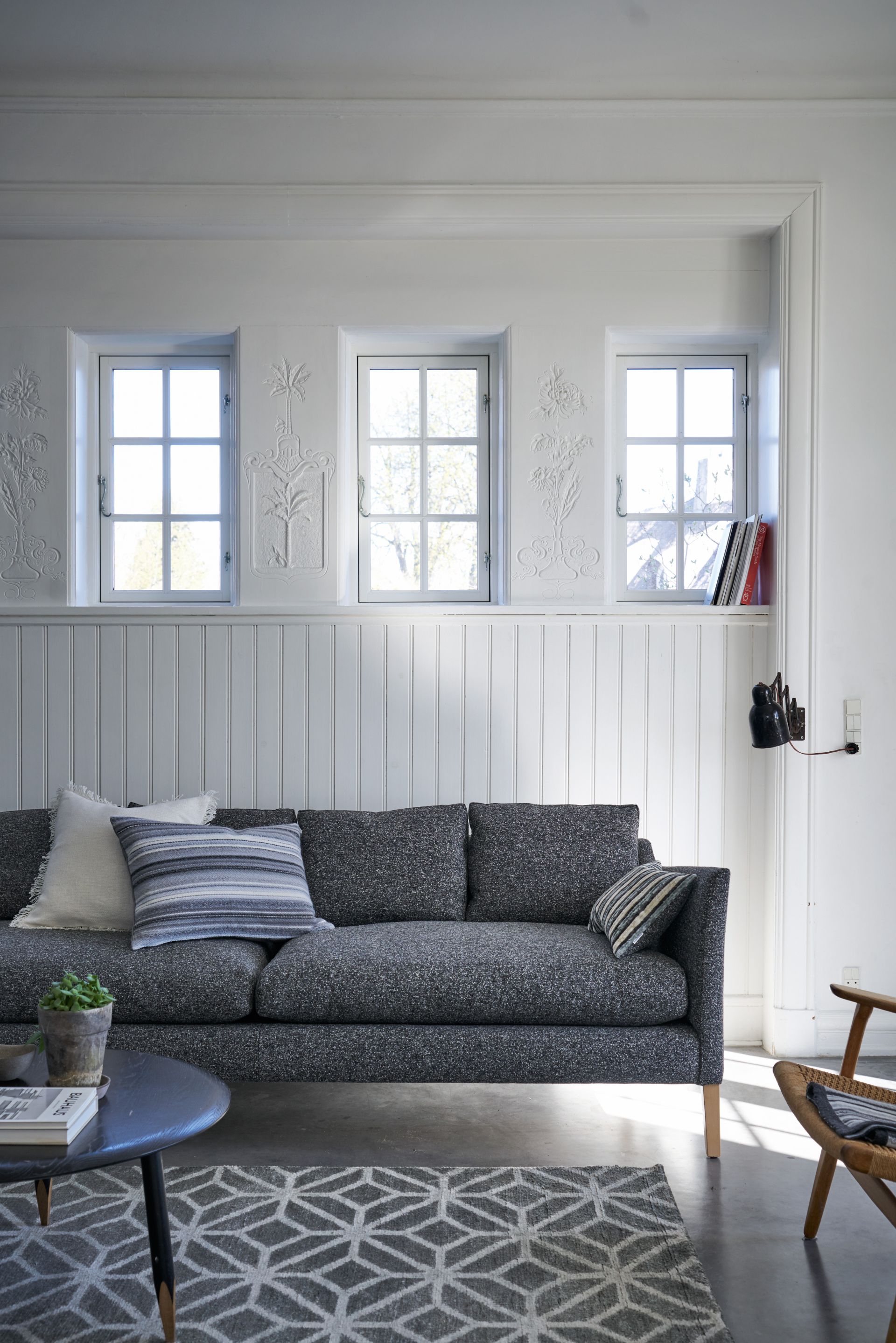 26. Use grey carpet
If you want to add comfort to your room, add grey carpet. And the best thing about it is that it will hide any unwanted stains or marks. It's a perfect choice if you've got young children.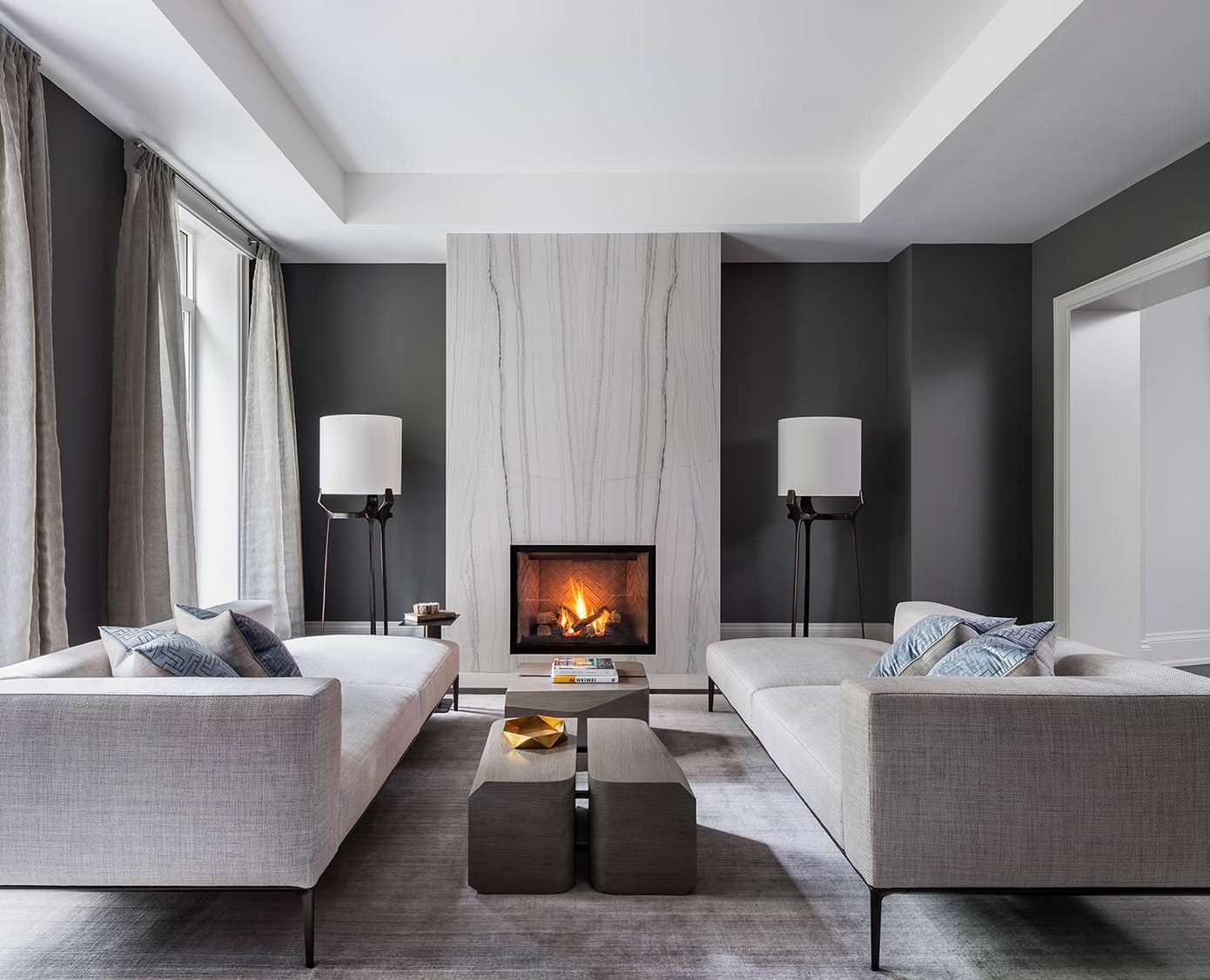 27. Create magic with grey and pastels
This cosy living room has everything you need. The use of pastels softens the space and adds warmth to the grey space. The grey and checkered pillows combined with the palm tree and ocean prints add a coastal touch and ties together the room visually.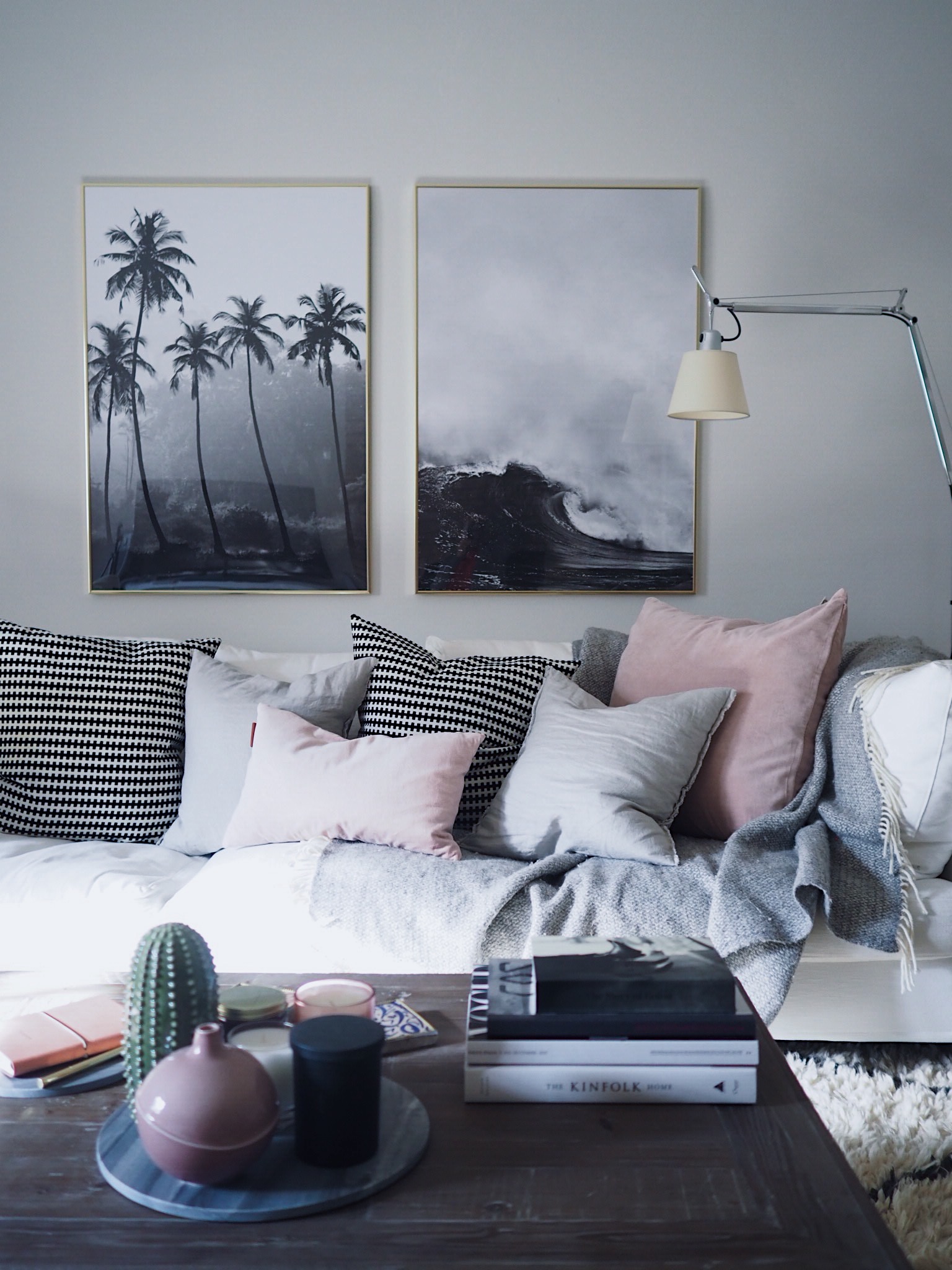 28. Build your colour scheme with a grey rug
When you're not sure how to start designing a living room, look down. The floor is often the best place to begin when you're building a colour scheme. And if you want to incorporate grey, this is a good place to get started. Pick a larger grey rug as a centrepiece or layer your rugs on top of each other for a more laid back, casual approach.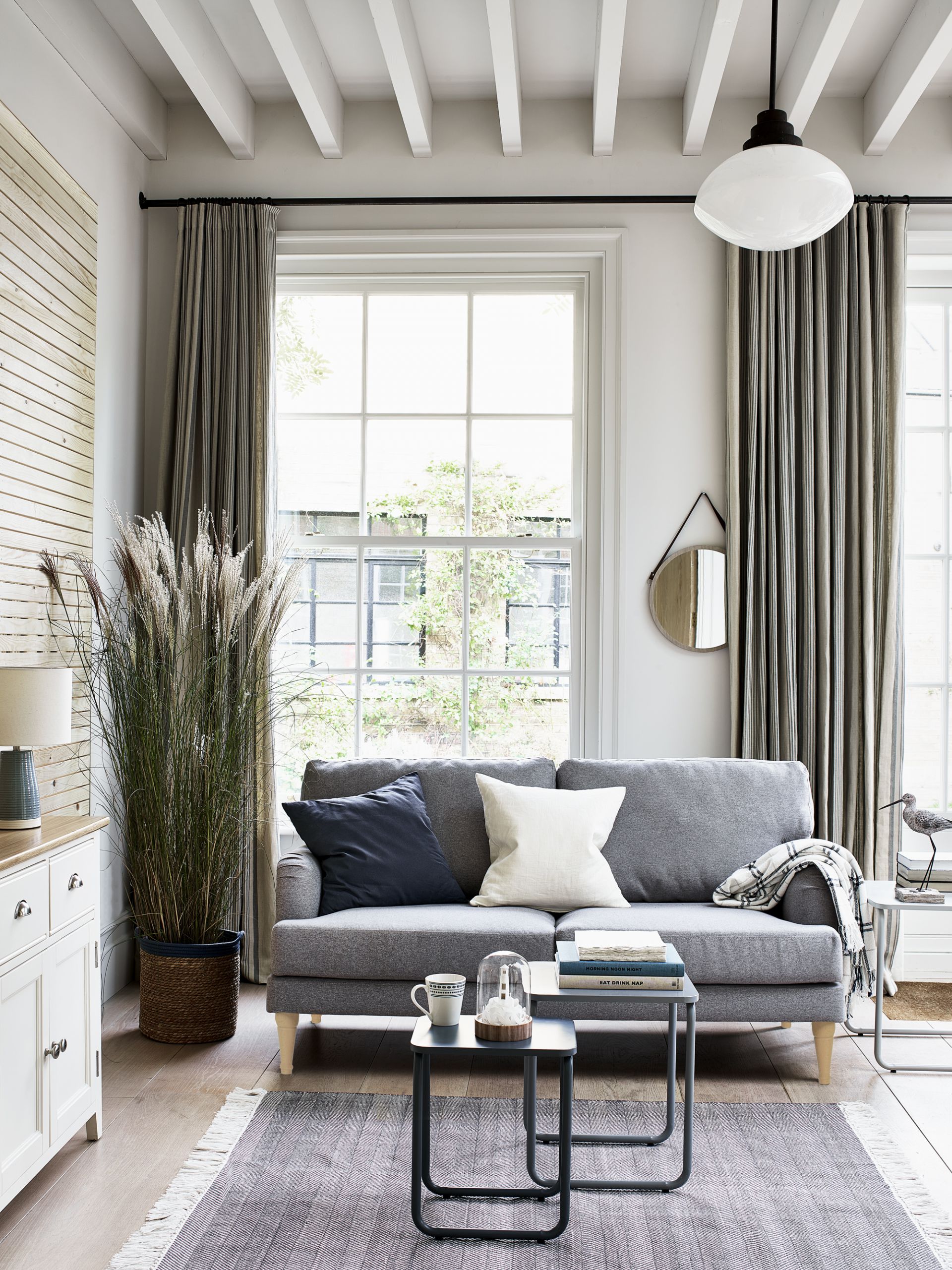 29. Add a daybed
If you've got some time in your day to lay back and relax, then you simply must have a day bed. This is a practical addition to your home that you can use for reading a book or as a spare bed for any extra guests.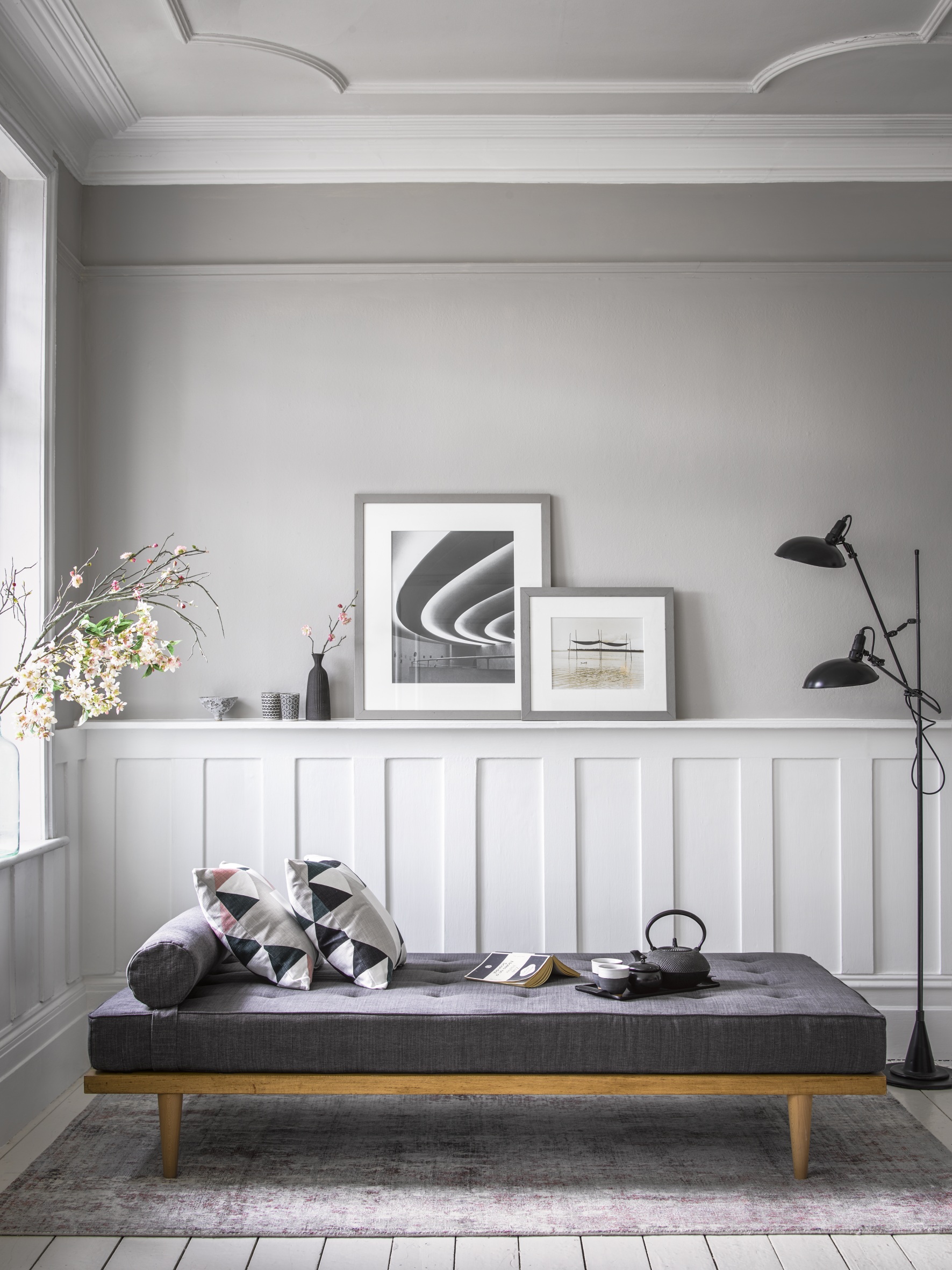 30. Hang a tapestry
Don't leave a blank white wall bare, cover it up with a striking piece of art. Take this palm-print tapestry, for example. It adds a lighter dimension to the room, which is otherwise dark with the deep grey couch and flooring.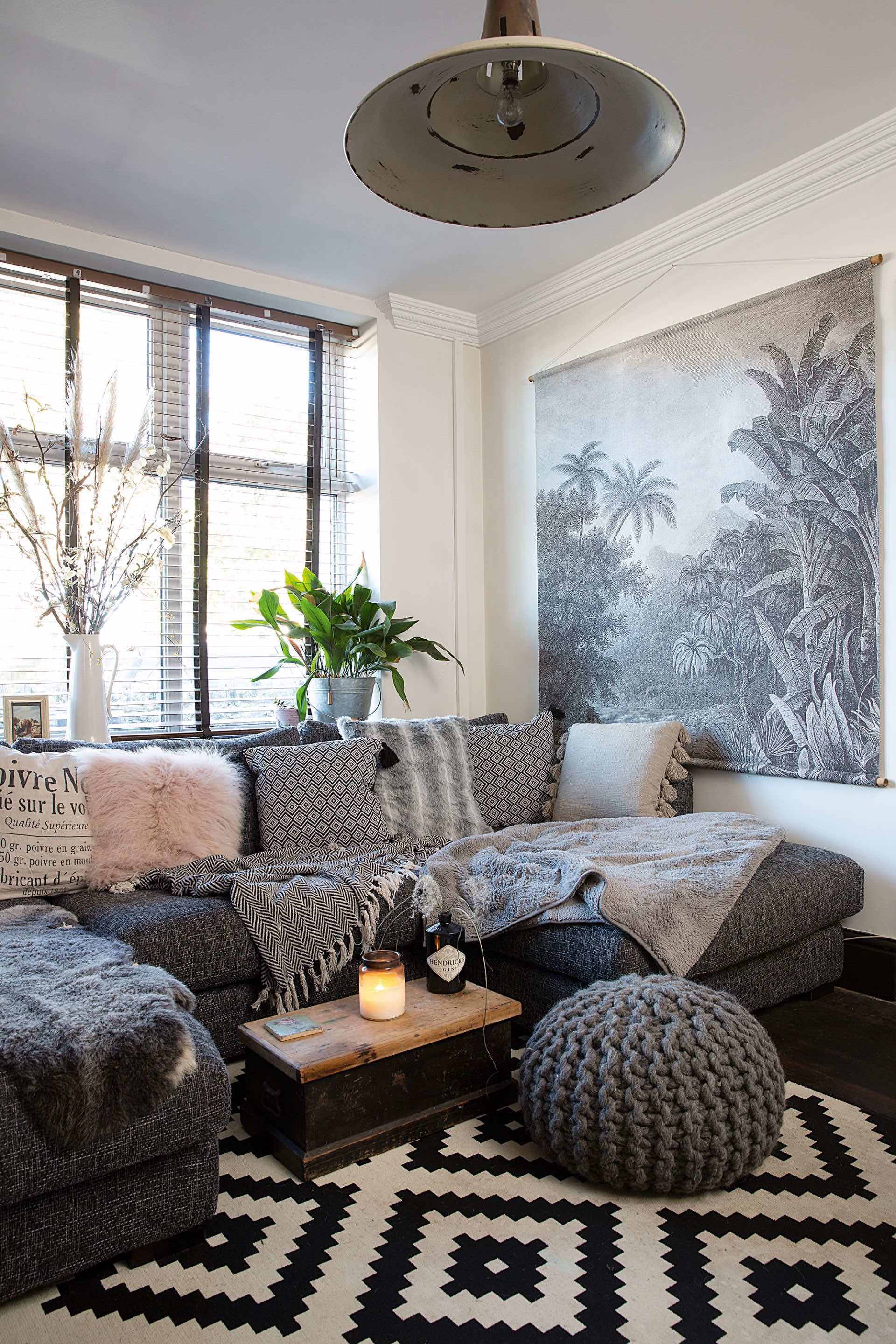 31. Create a light, coastal space
If you're looking for your dream space, look no further than this. The light and bright living room will be your very own peaceful oasis where you can hide away from the world. Let the sunshine filter through the space with multiple wide and tall windows. And keep the colour scheme natural to allow the light to bounce around the room. When it comes to adding that splash of grey, this light couch is the perfect choice for this space.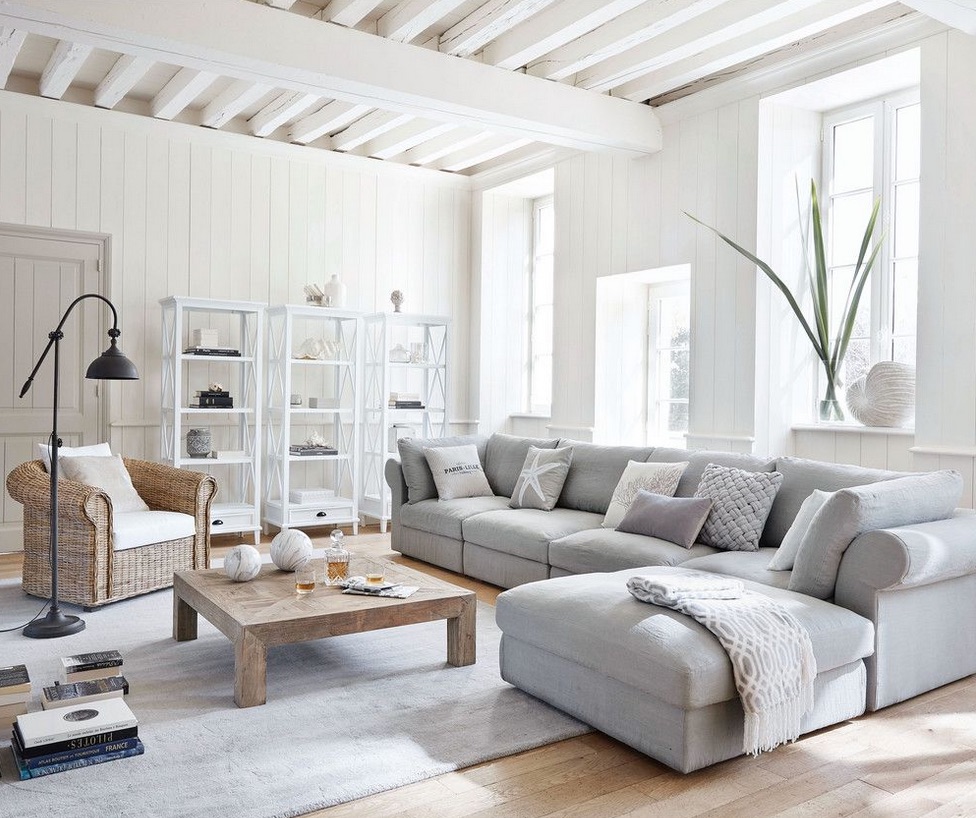 32. Make your grey living room warm and cosy
Add lots of dark grey to add depth to your living room. Combined with a fireplace, this makes for a cosy space that the whole family will love! Just imagine hosting movie nights in this room – your friends won't want to leave.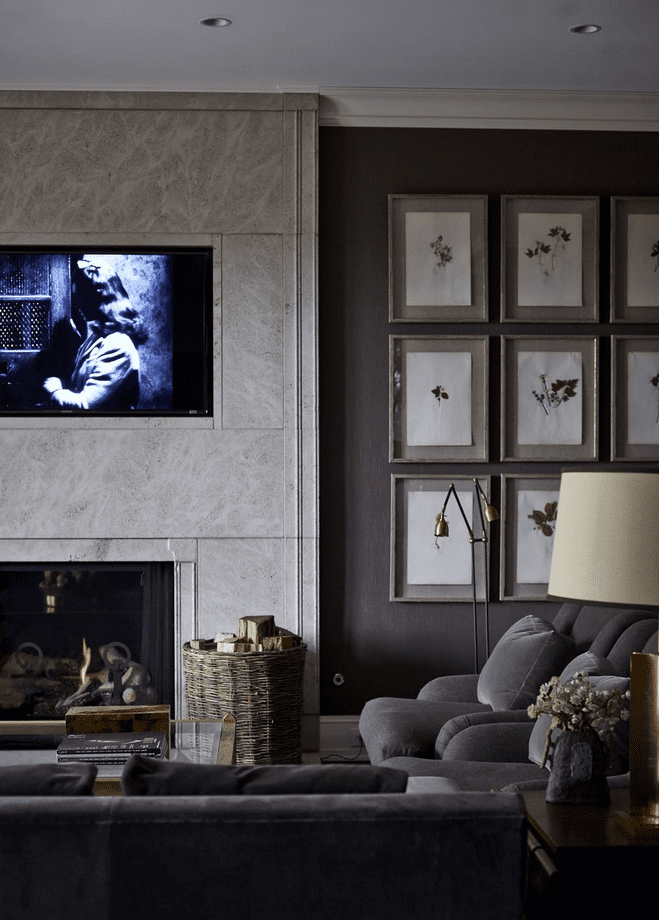 33. Incorporate grey and brown
If you're lucky enough to have industrial elements to your home, leave them in! Take this living room, for example. The exposed brown beams add a whole lot of character to the room. And grey and brown is a timeless colour combination that won't date. You can also add touches of yellow and mustard for colour.
34. Make it modern beach style
Embrace the coastal style with a white, bright living room. This is perfect for you if you live near the beach or simply want to create a coastal vibe. Fill the space with a large couch that the whole family can fit on. Also, you can incorporate a square coffee table big enough to fit a tray and drinks for entertaining.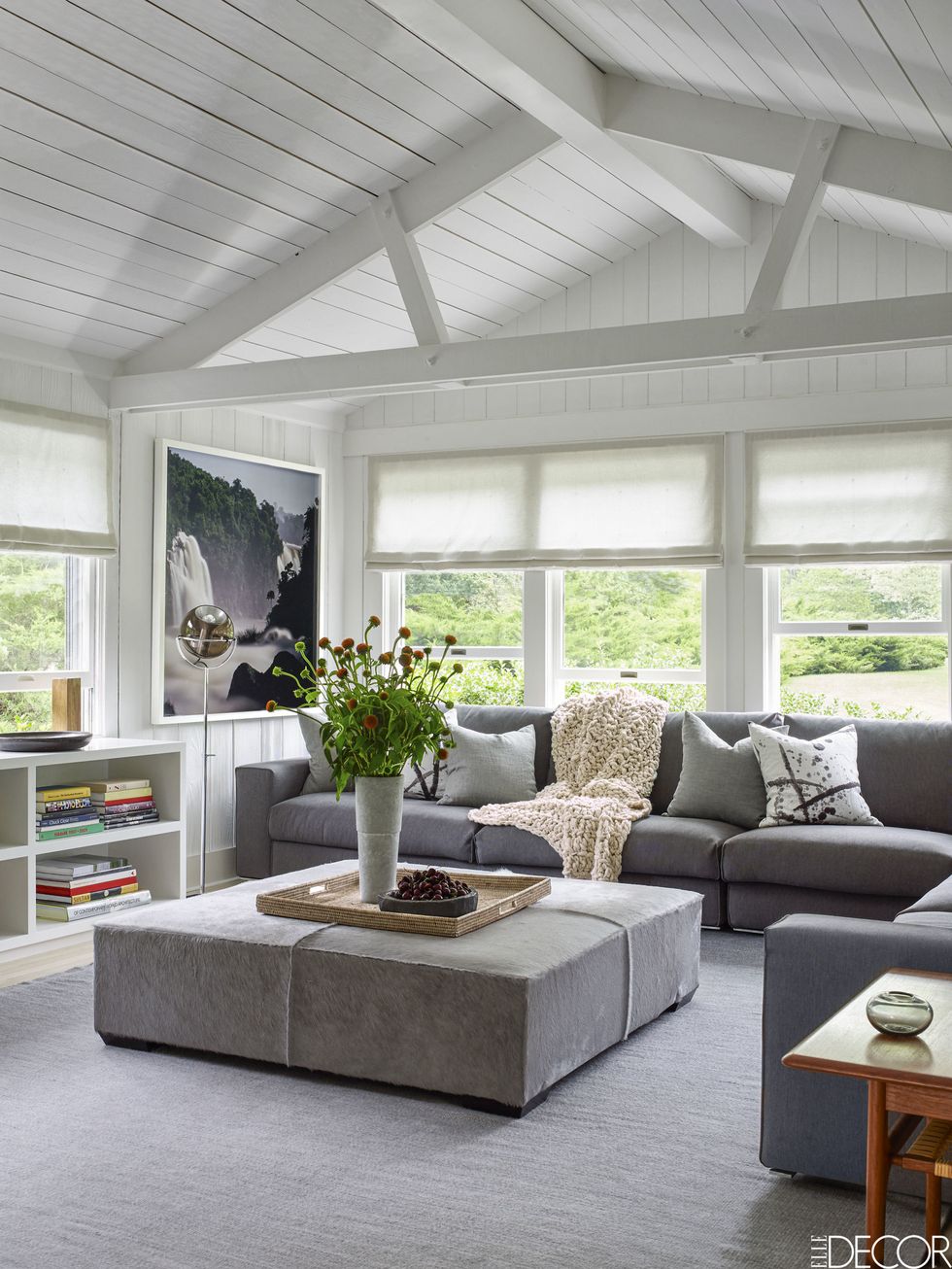 35. Create a contemporary grey living room with a view
Does your living room have a breathtaking view? Don't leave it covered, make the most of it. This living room design uses sheer grey curtains to shade the sun at peak times while allowing you to still see the ocean at other times.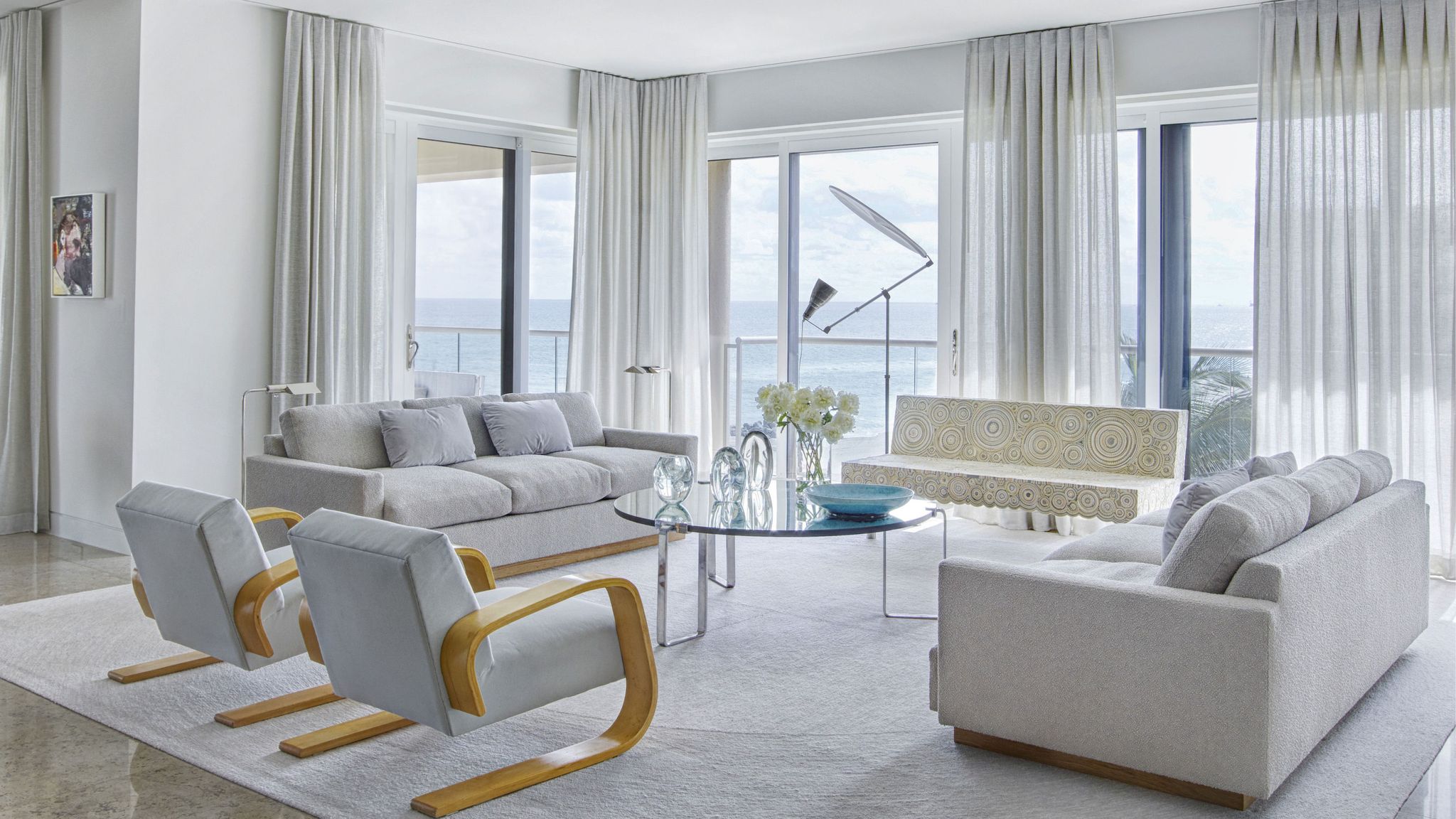 I hope these 35 ideas have given you the inspiration you need to get started on your very own grey living room makeover. But the question remains – what design are you going to choose?
We've covered contemporary styles, Scandinavian-industrial living rooms, grey with brown and grey with pastels, and looked at key furniture pieces like day beds, baskets, bookcases, and more. Start integrating grey into your living room with one idea, or go all out with a few for a space that makes a bold statement.
But before you go, I'd love to hear from you. Comment and tell me which design styles you're going to use.